She ran from the Taliban, is now running for the Legislature
CONCORD, N.H. (AP) — The first time Safiya Wazir saw the New Hampshire Statehouse, she and her parents were trying to get home from a church where they had taken their first English lesson. It was cold, and they were confused.
"We had a hard time finding our way. That's where we ended up going — the Statehouse — and standing right in front of it so the bus could pick us up," she said.
Just over a decade later, the former refugee from Afghanistan is hoping to earn a spot inside the building, filling one of 400 seats in the New Hampshire House, the largest such chamber in any state and fourth largest legislative body in the English-speaking world.
Wazir defeated four-term incumbent Dick Patten in the Sept. 11 Democratic primary in Concord's Ward 8, a blue-collar corner of the capital city. It was a surprising victory for a young, female candidate new to both politics and, compared with her opponent, the country.
"Take that, Donald Trump!" crowed Democratic National Committeewoman Kathy Sullivan in presenting Wazir with a "Courage in Leadership" award this month.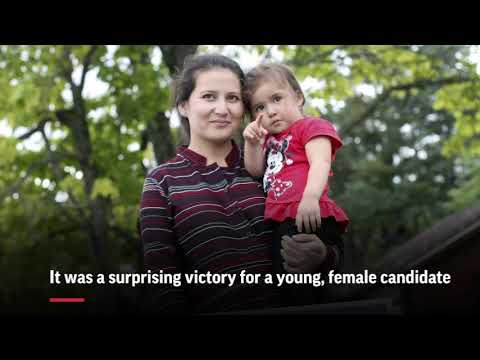 Wazir was 6 when her family fled the Taliban in 1997, and she spent 10 years in Uzbekistan before moving to Concord in 2007. She started high school at age 16, studying the dictionary at night and working jobs at Walmart and Goodwill, became a U.S. citizen in 2013, and earned a business degree from Concord's community college. She and her husband have two daughters and another baby due in January.
In contrast with her cold introduction to the Statehouse, Wazir launched her campaign during the heat of summer, which coincided with the first trimester of her pregnancy.
"I would come back home as a cooked tomato with my face being red, trying to cool down myself," said Wazir, now 27. "I did see all those hardships, but it pays off because the more hard work you do, the more people like you. The more energy that you put in, people really see that somebody is actually working for them."
Patten did not return calls seeking comment but complained to the Concord Monitor that minorities who "have just moved into the city" were "getting everything" over longtime residents.
In an interview, Wazir's Republican opponent, Dennis Soucy, said he has been unfairly labeled as sexist and racist. He described growing up so poor in Manchester that he washed the family's clothes in the polluted Merrimack River and got his first job at age 11.
"I'm the victim here," he said. "We struggled, and here we are — everyone is jumping all over her for doing absolutely nothing, for being a refugee."
A veteran and cancer survivor who retired from work in transportation and surveillance, Soucy said he is running to improve services for veterans and to address the state's opioid crisis.
"We have to take care of our own," he said. "We have to make America what it was."
Wazir, who serves on the board of a social services agency and volunteers with Head Start, said her priorities include improving school safety and education overall, implementing paid family medical leave, expanding access to affordable health care, and making housing more affordable, particularly for young people.
She dismissed her opponents' criticism, saying that she has withstood bullying in the past and that New Hampshire should welcome diversity.
"Our state is aging, and we need younger people to stay in the state in order for us to move forward," Wazir said. "Immigrants or refugees have ideas that they could contribute into this state because every bit of new blood brings new ideas to the state."
Knocking on doors one recent morning, Wazir chatted with Trilly and George Lewis, both of whom said they would vote for her Nov. 6.
"Dick Patten has done a lot of good things over the years, but it's time for him to gracefully move on," said George Lewis, 83. "I believe that Safiya is the kind of person that we need representing us."