3rd body found in Southern California fire zone
MALIBU, Calif. (AP) — A body was found in a burned home Wednesday, and authorities were investigating to determine if it's the third victim of a huge wildfire in Southern California that destroyed hundreds of homes.
Two deaths were previously linked to the weeklong blaze in Ventura and Los Angeles counties that so far has scorched 152 square miles (394 square kilometers), engulfing homes, scenic canyon getaways and celebrity estates. The two unidentified adults were found dead last week in a car overtaken by flames.
The body was found in the ruins of a home in Agoura Hills that had been checked earlier by Los Angeles County sheriff's deputies who hadn't spotted anything in the rubble, authorities said.
Authorities were asked to check by concerned neighbors who had evacuated and returned to find the home burned to the ground and no sign of the owner — a man in his 70s who had chosen to stay — although his cars were still there, homicide Lt. Derrick Alfred said.
On Tuesday, searchers using a cadaver dog returned and discovered badly burned skeletal remains in what may once have been a porch, Alfred said.
The remains were recovered Wednesday, but they haven't yet been officially identified, Alfred said.
The so-called Woolsey Fire started Nov. 8 and quickly became one of the largest and most destructive fires in state history. Firefighters have made steady progress this week but warned many hotspots remain.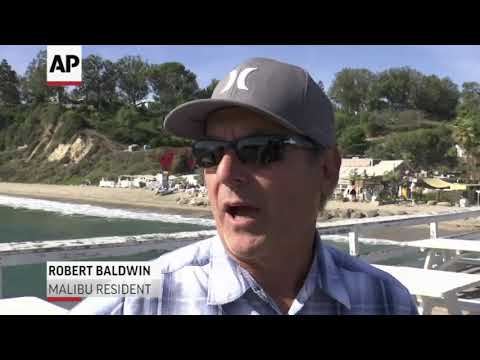 Before sunrise Wednesday there was a flare-up in rugged wilderness at the western end of the Santa Monica Mountains as winds buffeted parts of the region. The flare-up sent a huge column of smoke out to sea as it burned in parklands well away from communities.
The National Weather Service said winds would slack off sufficiently during the afternoon to allow authorities to lower wildfire warnings from their highest "red flag" levels.
Forecasters cautioned, however, that low humidity levels would keep danger levels elevated.
Authorities allowed residents back into several more communities on Tuesday, including a section of Malibu. Other areas have been repopulated since the weekend. As many as 250,000 people were ordered out at the height of the fire.
"We are not out of the woods yet. We still have some incredibly tough conditions ahead of us," Ventura County Fire Chief Mark Lorenzen said Tuesday.
The number of homes and other structures destroyed stood at 483 and another 86 were damaged. Those numbers were expected to rise. More than 80 percent of National Parks Service land in the Santa Monica Mountains National Recreation Area was incinerated.
Some people who stayed behind in coastal communities that were cut off by road closures got supplies by boat. Gas, food, baby wipes and horse pellets were among the items brought ashore in the Paradise Cove area of Malibu. Some residents donned wetsuits and swam ashore with cases of water and beer.
"It's pretty cool. It's really amazing that people out there know that we're kind of stranded here in Malibu," Cherie Millford Smart said.
The area has not seen such a destructive blaze since 1993.
The fire has left an array of hazards, including trees ready to fall, downed power lines, toxins, and water main and gas leaks.
A forecast of possible rain next week would help firefighters but also raised the prospect of potential mud flows.
A new fire erupted late Tuesday about 75 miles (121 kilometers) to the east in the Fontana area of San Bernardino County, but firefighters reported good progress overnight, holding the blaze to 147 acres (59 hectares).
The cause of the Woolsey Fire remained under investigation.
___
Myers reported from Thousand Oaks. Associated Press writers John Antczak and Christopher Weber contributed from Los Angeles.