Reflections on a riot: LA recalls Rodney King 25 years on
LOS ANGELES (AP) — Dee Young remembers April 29, 1992, the way many Americans recall Sept. 11 — it's etched in his memory as the day his world changed forever.
The 27-year-old tow-truck driver had stopped at a popular South Los Angeles fast-food joint that afternoon when he saw hordes of angry people carrying armloads of booze from a liquor store next door.
He later learned he was witnessing the beginning of one of the worst race riots in American history, and it was unfolding in the neighborhood where he rode bikes and flew kites as a child.
The violence erupted after four white police officers were acquitted in the beating of black motorist Rodney King, which was captured on video the previous year. The video showed officers repeatedly striking, kicking and using a stun gun on King, even after he was on the ground.
The uprising seemed to catch the rest of the nation by surprise, but longtime residents say tensions were building in South Los Angeles for years and the King verdict was just the tipping point. Here are some of their stories:
THE TOW-TRUCK DRIVER
Young, who had stopped for a hamburger, quickly decided he'd better get out of there.
Ironically, he drove to his family's auto body shop, which was just a couple of storefronts from the intersection of Florence and Normandie avenues — streets whose names would become ubiquitous as the riot's flashpoint.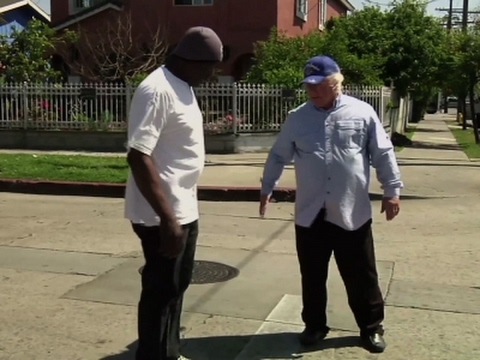 He got there moments after black men dragged white truck driver Reginald Denny from his big rig and beat him nearly to death as millions watched in horror on live TV. One of those watching, black truck driver Bobby Green, rushed to the intersection and rescued him.
"It was chaotic - cars running lights, people in the middle of the street throwing stuff at cars," Young recalled.
The uprising, Young now realizes, was the culmination of a downward spiral in South Los Angeles that started 20 years earlier with the rise of white flight, disinvestment and gangs.
Residents of the predominantly black neighborhoods on the city's sprawling south side had come to complain that police stopped them for no reason other than being black, or in some cases Hispanic. They said white people didn't believe them, and store owners - many of them recently arrived Korean immigrants - saw them more as shoplifters than shoppers.
In the years since, things have gotten "90 percent better," Young says, adding the neighborhood is closer to what he remembers from his idyllic childhood in the 1960s and '70s.
___
WHEN THE BUBBLE BREAKS
Katynja McCory says she lived in a bubble called childhood innocence before the riots.
It was shattered the day her mother told the 13-year-old to get on the floor of their home and stay there, lest she be hit by a stray bullet.
For years, McCory was bused more than 40 miles (64 kilometers) to a predominantly white school in the LA suburb of Calabasas, the only place she ever saw white people during her young years.
Regarding the riot, reality began to sink in when she walked around her neighborhood and saw the destruction: "Oh, laundromat's gone, won't be doing laundry. Oh, coffee shop's gone, won't be having your morning coffee. Oh, your favorite fast-food place is gone."
McCory went on to earn a political science degree from UCLA and returned as a community organizer and political consultant.
___
THE LIQUOR STORE OWNER
An early 1990s survey found South Los Angeles residents thought the biggest blight on their community was not the crack cocaine epidemic, but liquor stores.
They also were suspicious of the Korean immigrants who ran many of the stores, particularly after one owner shot to death a black 15-year-old girl during a dispute over a bottle of juice weeks after King was beaten.
So it seemed strange to some when Korean-American grocer James Oh, 68, decided eight years ago to take over a Tom's Liquor at the corner of Florence and Normandie.
The retired U.S. Army veteran decided he was not only going to make a living there but make a difference while trying to erase stereotypes.
"If you invest your money in the community, you have to be involved in the community," he says. "Communication is everything."
___
THE ONLY WHITE GUY IN SIGHT
Bart Bartholomew was on a police ride-along, looking to photograph gang activity for The New York Times, when word came that the Rodney King verdict was about to be announced.
His escorts quickly took him back to a police station.
Bartholomew pulled a bulletproof jacket from the trunk of his car and put it on as he heard a cop on the station's roof yell, "That's a really good idea today."
Asked where police believed trouble might start, the officer replied, "A liquor store."
A few minutes later, Bartholomew found himself a block from Tom's. Police attempted to arrest a looter, residents said they had the wrong guy, and a scuffle ensued. The cops were hugely outnumbered so they left.
Suddenly Bartholomew found himself the only white guy in a crowd of angry black people.
He was retreating to his car when someone hit him with a two-by-four, shattering his jaw, and others began pounding him and grabbing at his cameras.
Then he felt someone else shadowing him.
"I didn't know who he was, but he felt like a football player. He was big, he was buff, and he was able to push people away from me, and I heard him say, 'Let him go. Let him go. He's only doing his job.'"
Bartholomew's protector shoved him into his vehicle and implored him to leave immediately.
"There is no doubt I could have easily been killed that day were it not for him getting me into my car," he says.
___
BARTHOLOMEW'S RESCUER
They wouldn't meet formally for nearly 25 years, but soon after the riots, Tim Goldman learned Bartholomew was the man he shielded.
"Bart credited me with saving his life, but I didn't look at it that way," he says with a chuckle. "I just helped him get out of there."
The Air Force veteran had recently returned to his childhood home after leaving the military. He was hoping he might land a job with a major airline and was awaiting a call from United Airlines after a promising interview.
"But then the riots happened, and I never heard back," he says quietly.
He was listening to a police scanner when he heard about trouble near Florence and Normandie, blocks from his home, and grabbed his video camera to check it out.
Reporters later tracked down Goldman as the man who saved Bartholomew, but Goldman declined to be interviewed. Eventually he moved to Florida, where he worked as an event planner.
After recently returning home, he agreed with the makers of a documentary that it was time he and Bartholomew met.
He was surprised to learn Bartholomew lived in LA's beachfront neighborhood of Pacific Palisades, where Goldman, now 57, was bused to a largely white school as a teenager.
The pair found they shared a mutual affection for the area, as well as similar interests in sports.
"We've become good friends," Bartholomew says.