With control over some of his most prized real estate holdings in jeopardy, former President Donald Trump says he will make a rare, voluntary trip to court Monday for the start of a civil trial in a lawsuit that has already resulted in a judge ruling that he committed fraud in his business dealings.
[deltaMinutes] mins ago
Now
The Supreme Court seems a bit quieter than in recent years as the justices begin a new term. Major cases await, as they always do.
[deltaMinutes] mins ago
Now
As Chicago struggles to house asylum-seekers, the city is using a shuttle bus center at O'Hare International Airport.
[deltaMinutes] mins ago
Now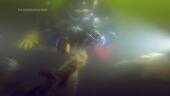 1:51
Scuba divers on ecological mission off NYC coast
A small diving group in New York City is cutting away thickets of fishing line underwater and removing other pollutants to help ease threats to oceans and marine life. (AP Video: Cedar Attanasio and Ted Shaffrey) (Sept. X)
Scuba divers on ecological mission off NYC coast
A small diving group in New York City is cutting away thickets of fishing line underwater and removing other pollutants to help ease threats to oceans and marine life. (AP Video: Cedar Attanasio and Ted Shaffrey) (Sept. X)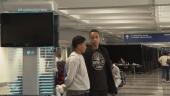 1:59
Chicago struggles to house asylum-seekers
As Chicago has struggled to house asylum-seekers arriving in the city, it's been using a bus center at O'Hare International Airport. The use of airports to house migrants has been rejected elsewhere and it highlights what's been a haphazard response to the crisis. (Oct.1) (AP video: Melissa Winder)
Chicago struggles to house asylum-seekers
As Chicago has struggled to house asylum-seekers arriving in the city, it's been using a bus center at O'Hare International Airport. The use of airports to house migrants has been rejected elsewhere and it highlights what's been a haphazard response to the crisis. (Oct.1) (AP video: Melissa Winder)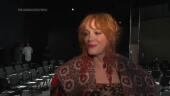 1:42
Christina Hendricks and Pamela Anderson among stars at Westwood show
Christina Hendricks and Pamela Anderson were among the stars that showed up for Andreas Kronthaler's show for Vivienne Westwood at Paris Fashion Week. (Oct. 1)
Christina Hendricks and Pamela Anderson among stars at Westwood show
Christina Hendricks and Pamela Anderson were among the stars that showed up for Andreas Kronthaler's show for Vivienne Westwood at Paris Fashion Week. (Oct. 1)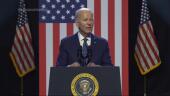 2:22
Biden warns Trump's MAGA 'extremist movement' is a threat to democracy
President Joe Biden issued a dire warning Thursday that Donald Trump and his "extremist" MAGA allies are a serious threat to American democracy. And he urged Americans not to 'sit on the sidelines,' but instead engage to save the nation. (Sept. 28)
Biden warns Trump's MAGA 'extremist movement' is a threat to democracy
President Joe Biden issued a dire warning Thursday that Donald Trump and his "extremist" MAGA allies are a serious threat to American democracy. And he urged Americans not to 'sit on the sidelines,' but instead engage to save the nation. (Sept. 28)
1:47
Minimum wage up to $20 for fast food workers in CA
A new law in California will raise the minimum wage for fast food workers to $20 per hour next year. (Sept.28) (AP Video shot by Terry Chea/ Damian Dovarganes) (AP Production by Ao Gao)
Minimum wage up to $20 for fast food workers in CA
A new law in California will raise the minimum wage for fast food workers to $20 per hour next year. (Sept.28) (AP Video shot by Terry Chea/ Damian Dovarganes) (AP Production by Ao Gao)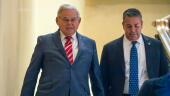 1:09
Menendez tells Senate colleagues he won't resign due to bribery charges
New Jersey Sen. Robert Menendez remained defiant in the face of federal bribery charges, telling a room full of his Senate Democratic colleagues during a closed-door caucus luncheon that he has no plans to resign. (September 28)
Menendez tells Senate colleagues he won't resign due to bribery charges
New Jersey Sen. Robert Menendez remained defiant in the face of federal bribery charges, telling a room full of his Senate Democratic colleagues during a closed-door caucus luncheon that he has no plans to resign. (September 28)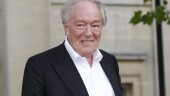 1:01
'Harry Potter' actor Gambon dies aged 82
Veteran actor Michael Gambon, who was known to many for his portrayal of Hogwarts headmaster Albus Dumbledore in six of the eight "Harry Potter" films, has died, his publicist said Thursday. He was 82. (Sept. 28)
'Harry Potter' actor Gambon dies aged 82
Veteran actor Michael Gambon, who was known to many for his portrayal of Hogwarts headmaster Albus Dumbledore in six of the eight "Harry Potter" films, has died, his publicist said Thursday. He was 82. (Sept. 28)
1:37
Judge rules Donald Trump defrauded banks and insurers while building real estate empire
A judge ruled Tuesday that Donald Trump committed fraud for years while building the real estate empire that catapulted him to fame and the White House, and he ordered some of the former president's companies removed from his control and dissolved. (Sept. 27)(AP Video: David R. Martin)
Judge rules Donald Trump defrauded banks and insurers while building real estate empire
A judge ruled Tuesday that Donald Trump committed fraud for years while building the real estate empire that catapulted him to fame and the White House, and he ordered some of the former president's companies removed from his control and dissolved. (Sept. 27)(AP Video: David R. Martin)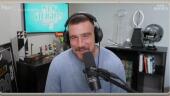 2:08
Travis Kelce notes Taylor Swift's 'bold' appearance at Chiefs game, mum about any relationship
Kansas City tight end Travis Kelce calls Taylor Swift's appearance at the Chiefs' victory over the Chicago Bears "pretty bold" but wants to remain private about any relationship with the superstar singer. (Sept. 27)
Travis Kelce notes Taylor Swift's 'bold' appearance at Chiefs game, mum about any relationship
Kansas City tight end Travis Kelce calls Taylor Swift's appearance at the Chiefs' victory over the Chicago Bears "pretty bold" but wants to remain private about any relationship with the superstar singer. (Sept. 27)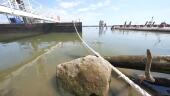 1:46
Salt water wedge in the Mississippi River threatens drinking water in Louisiana
Salt water creeping up the Mississippi River is threatening drinking water supplies in some Louisiana communities, including New Orleans. (Sept. 26)
Salt water wedge in the Mississippi River threatens drinking water in Louisiana
Salt water creeping up the Mississippi River is threatening drinking water supplies in some Louisiana communities, including New Orleans. (Sept. 26)