How people are coping with Hurricane Michael
By The Associated Press
October 10, 2018
People in the crosshairs of Hurricane Michael made last-minute preparations before leaving or hunkering down in hotels, homes and shelters. Here are snapshots of how they were preparing for the monstrous storm and coping after it blew ashore in Florida and headed inland.
'GOING TO BE REAL UGLY'
Hours before landfall, rain and wind buffeted Keaton Beach early Wednesday as Tom Moenich drove the streets in his pickup truck looking for neighbors needing help. His cellphone rang constantly as friends who evacuated pressed him for updates.
"It's going to be real ugly," Moenich said.
The area of Florida east of where the eye of the massive storm made landfall has barely recovered from a flooding surge brought on by Hurricane Hermine in 2016. Michael threatened to be even worse, with forecasters predicting storm surge of 9 feet (2.7 meters) or more in the small coastal community.
"After Hermine the year before last, some of the people still haven't gotten rebuilt from that," said Moenich, a construction worker. "What they did get rebuilt is going to get it again."
Moenich planned to ride out the storm at his home, which sits on higher ground. He had extra gas for his generator. But the potential for high storm surge had him spooked.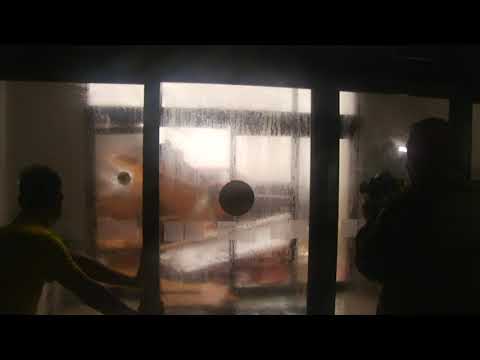 "I'm worried," Moenich said.
Cornell Silveira was securing his boat dock, turning off the water and grabbing some clean clothes at his Keaton Beach home Wednesday morning. Rainwater was already pooling around the palm trees near the end of his driveway. The house sits 10 feet (3 meters) off the ground on thick wooden pilings. That proved high enough during Hermine, but would it be for Michael?
"I'm hoping like anything it will be," Silveira said as he prepared to leave for a friend's house on higher ground. "We didn't board up or anything. If it's that bad, boarding up isn't going to help much anyway."
"YOU COULD SMELL THE PINE"
As winds started to topple trees in Florida's capital, Tallahassee, one of them landed directly onto the chimney of resident Joe Marino.
"It was like an earthquake. The bookshelf shook and a frame fell down. It was weird. We went outside, and you could smell the pine, and there it was: laying on the chimney."
Marino, who works for a veterans organization and lives with his girlfriend and her elderly grandmother, said water started dripping through the chimney, and they feared wind would blow the tree from its perch and send it crashing through the roof. They planned to stay on the first floor.
"Upstairs is a no-go zone."
A PACKED SHELTER
In the Panama City area, not far from landfall, Diane Farris, 57, and her 23-year-old son Waine Hall walked to the shelter nearest their home, Rutherford High School, early Wednesday. There they found about 1,100 people crammed into a space meant for about half as many.
"The cafeteria, gym, all those are full. They're putting people in the hallways and rooms .... There will be more space hopefully because there are more people coming every minute," said Farris, who was experiencing his first hurricane.
Farris was desperate to know where other relatives had wound up. Neither she nor her son had any way to communicate because their lone cellphone got wet on the way to the shelter and quit working.
"I'm worried about my daughter and grandbaby. I don't know where they are. You know, that's hard," she said, choking back tears.
Another shelter occupant, Michigan native Pamela Cowley, was unnerved by heavy rains and winds as Michael approached.
"I'm scared," she said. "I'm worried about the aftermath because they're talking about maybe up to two weeks with no electricity."
HIGH AND DRY?
Ahead of landfall, Chris Oaks sat outside underneath his raised house in St. Marks, Florida, watching storm coverage on a widescreen television Wednesday morning as some neighborhoods around him were already starting to flood. The fisherman was raising up a riding lawn mower and other items off the concrete slab below the house as the hurricane approached.
Asked if he was worried, he quickly said, "No." He added: "″It shouldn't get over a couple of feet above this slab."
He said he's had water flood the area where he was standing, but the living space of his home is raised 17 feet (5 meters) off the ground and he saw no need to evacuate.
Oaks said that if he were closer to the projected landfall, "I'd definitely be gone, but it's a good ways to the west of us."
The massive storm's center would later make landfall about 70 miles (113 km) to the west.
PRESERVING PHOTOS
Meshell Beach, who sells real estate and helps manage rental properties in Keaton Beach, was gathering some photo albums from her sister's house near the beach early Wednesday. It's been a year since Beach finished repairs on the downstairs of her own her own home after Hermine submerged it in 5 feet (1.5 meters) of water.
Beach didn't expect her downstairs level, which she uses for visitors while she lives on the home's second story, to survive Michael.
"It'll be gone," Beach said as she prepared to head inland. "I'm going to make a big outdoor kitchen this time. I'm not doing it all over again."
Meanwhile, she had loaded her downstairs furniture into a rental truck to save it from getting ruined.
"I just filled a U-Haul and took it down and left it beside the road," Beach said. "It's all new furniture."
___
Contributing to this report were Jay Reeves in Panama City, Florida; Russ Bynum in Keaton Beach, Forida; and Brendan Farrington in St. Marks, Florida.
___
For the latest on Hurricane Michael, visit https://www.apnews.com/tag/Hurricanes
All contents © copyright 2019 The Associated Press.
All rights reserved.