Trump tries to boost Ohio GOP candidates on election eve
COLUMBUS, Ohio (AP) — President Donald Trump tried to provide a late boost to Republicans in Ohio Monday on the last full day of campaigning before voters select a new governor as well as decide a U.S. Senate race and some closely contested congressional seats.
Voters also will decide a constitutional amendment Tuesday that proposes reducing sentences for possession of certain drugs, among other measures.
Former Attorney General Eric Holder appeared with Democratic attorney general candidate Steve Dettelbach in Cleveland Monday — a day after stumping for Dettelbach, Democratic gubernatorial candidate Richard Cordray and other Democrats alongside Ohio-born singer-songwriter John Legend.
Cordray is locked in a tight gubernatorial race with Republican Ohio Attorney General Mike DeWine, a former U.S. senator and lieutenant governor who is one of Ohio's most well-known politicians. Cordray previously served as Ohio attorney general and director of the Consumer Financial Protection Bureau.
Trump rallied with DeWine and other Republican candidates Monday afternoon in Cleveland. He urged supporters to elect DeWine and Republicans to keep the country "surging full speed ahead." DeWine, who has gotten campaign help by frequent Trump critic Ohio GOP Gov. John Kasich, thanked and praised Trump.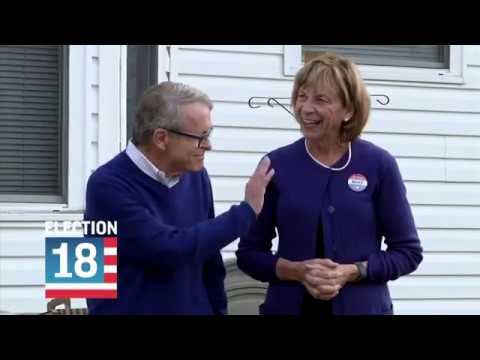 "Everything goes through Ohio," Trump said, reminding the crowd of his decisive victory in the swing state in the 2016 presidential election.
Trump ripped Cordray, whom the president has targeted for criticism including his ties to Massachusetts Sen. Elizabeth Warren.
Democratic U.S. Sen. Sherrod Brown, expected to win a third term against Trump-backed Rep. Jim Renacci, made a fundraising appeal by email for Cordray as Trump arrived in Ohio. He said Cordray will "stand up to Trump anytime his actions would hurt Ohio."
Some of the biggest applause at Cleveland's I-X Center came when Trump introduced his daughter, Ivanka.
A bomb threat was called in to a business near the center Monday morning. Cleveland police said they found nothing. They have not said whether the threat was related in any way to Trump. Evacuated employees were allowed to return to the building after the search. Kasich was out of state, doing a lineup of television appearances.
DeWine embraced Kasich's backing last week at a joint rally and in an ad, as what was initially touted as an unbeatable Republican ticket with running mate Jon Husted, the secretary of state, has struggled to break away in polls.
In a closely contested U.S. House race in central Ohio, Democrat Danny O'Connor and former GOP state Sen. Troy Balderson were making their final pitches to voters in a rematch for Ohio's 12th District. Democrat Aftab Pureval, the Hamilton County clerk of courts, was challenging GOP U.S. Rep. Steve Chabot in the 1st District in southwest Ohio.
Husted's office reported an estimated 1.2 million absentee ballots had been requested and more than 737,000 absentee ballots cast as of Wednesday. That's a 36 percent increase in requests and a nearly 60 percent increase in absentee ballots cast over 2014, the last time Ohio elected statewide officeholders.
A panel of federal judges ruled last week that Ohioans removed from voter registration rolls for not casting ballots over a six-year period will be able to participate in Tuesday's election.
Husted also issued an order the ACLU said should assure that some 20,000 voters in Butler County potentially affected by a printing error on ballot envelopes would have their votes counted.
___
Associated Press writer Dan Sewell contributed in Cincinnati
All contents © copyright 2019 The Associated Press.
All rights reserved.