Best weird AP news: Bear crosses through Colorado race; Florida woman accused of stealing city money to get butt lift; KFC to send chicken sandwich to edge of space on balloon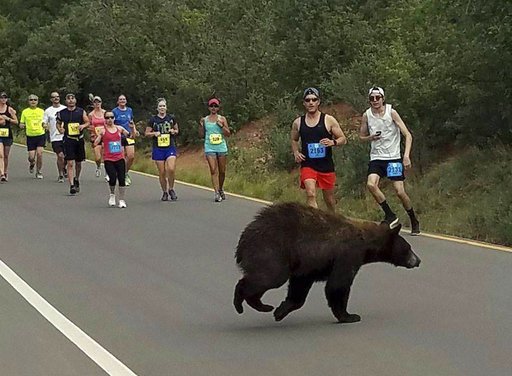 Best weird AP news: Bear crosses through Colorado race; Florida woman accused of stealing city money to get butt lift; KFC to send chicken sandwich to edge of space on balloon
Best weird AP news: Bear crosses through Colorado race; Florida woman accused of stealing city money to get butt lift; KFC to send chicken sandwich to edge of space on balloon
BY RICHARD A. SOMMA
Jun. 15, 2017
We do! Newlyweds accept fire truck ride after bus blaze
AVON, Conn. (AP) _ A newlywed couple had no problem saying "I do" a second time, when Connecticut firefighters asked them if they wanted a ride to their reception after their bus was disabled by a small blaze.
Maria Leonardi and Justin Stone, of New York City, were treated to a 15-minute voyage in a fire engine from a church to her father's home in Avon on Saturday, complete with wailing sirens. Neither had ridden in a fire engine before.
"It was quite a spectacle," Leonardi said. "It just made the best day better."
Firefighters with the Avon Volunteer Fire Department were dispatched to a trolley bus fire outside the West Avon Congregational Church. The bus was supposed to take the couple and their wedding party to the reception at Leonardi's father's home.
The bus driver had put out the small engine fire with an extinguisher by the time firefighters arrived. But that didn't stop them from giving their own gift to the couple _ a lift aboard a big red fire truck.
"Those of us that are married know how much planning it takes," Assistant Fire Chief Joe Speich said. "We wanted to make sure they still had a special day."
The couple had just exchanged their vows and were taking pictures inside the church when word started getting around about the bus being on fire outside. They thought it was a joke at first, until they heard the responding fire engines.
Firefighters felt bad the couple couldn't enjoy the trolley bus ride. So they made them an offer they couldn't refuse.
"We looked at each other and said that would be amazing," Stone said.
That's no normal runner: Bear crosses through Colorado race
COLORADO SPRINGS, Colo. (AP) — Some runners didn't expect to see a bear on their Colorado race route.
Donald Sanborn says he was about 5 miles into the Garden of the Gods 10 Mile Run when the bear ambled across a roadway near Colorado Springs.
Sanborn says the animal seemed to be trying to decide whether to zip across the road filled with runners when a large enough gap finally emerged for the bear to get through.
He says he's encountered bears, elk, turkeys, bobcats and other interesting wildlife on training runs, but hasn't seen an animal like this in a race.
The competition winds through Garden of the Gods Park between Manitou Springs and Colorado Springs.
Woman caught shoplifting said she was studying kleptomania
GILLETTE, Wyo. (AP) _ A Wyoming college student who told officers she was working on a term paper on kleptomania after she was caught shoplifting faces three felony charges.
The Gillette News Record reports (bit.ly/2slU1MA) 23-year-old Lydia Marie Cormaney was arrested on June 5 after trying to leave Walmart with nearly $1,900 worth of merchandise.
Court records say investigators later found thousands of dollars' worth of stolen items in her dorm room. Cormaney told officers she began shoplifting after being forced to move into a new dorm room, away from her roommate who had many of the household items.
She said she was caught once when she tried to leave Walmart with three flat-screen televisions.
Cormaney made an initial court appearance on June 8 and did not enter a plea. A preliminary hearing is set for Wednesday.
Surprise: Woman in serious pain unexpectedly gives birth
MALDEN, Mass. (AP) _ A Massachusetts woman preparing to go to the hospital for serious pain instead gave birth to an unexpected baby girl.
WCVB-TV reports (http://bit.ly/2sirCX8 ) Christine Harvey was waiting for a ride to the hospital when she suddenly went into labor Monday.
Neighbors called 911, but Harvey gave birth to a baby girl before first responders arrived to her Malden home. The family says it was not aware a baby was on the way.
Neighbors have donated clothes and other items.
Harvey's boyfriend, Doug Rogers, says both mother and child are doing well. He says he is "blessed."
The couple has two other children together.
Texas woman calls 911 to complain about wait for nuggets
WACO, Texas (AP) — Police in Central Texas say a woman fell into a foul mood when a fast-food restaurant took too long in delivering her chicken nuggets and she called 911 to complain.
Waco police Sgt. W. Patrick Swanton said Monday the woman wanted the nuggets given to her for free because of the delay.
Swanton says the woman was parked in the drive-thru lane at McDonald's refusing to budge and being confrontational with employees, as vehicles lined up behind her.
A restaurant employee called 911 on Friday night to have police move the woman along and officers were responding when the woman also made her call to 911 to complain.
The unidentified woman was given her money back and told to leave, without her nuggets.
Girl uses 'Hunger Games' to rescue friend with leg wound
GLOUCESTER, Mass. (AP) — A 12-year-old Massachusetts girl used what she learned about creating a tourniquet from "The Hunger Games" to rescue her friend.
The Gloucester Times reports (http://bit.ly/2tbHTKE ) Mackenzie George was playing in a Gloucester marsh with friends June 3 when she slipped and cut her calf open. Megan Gething jumped in to action and tied a pair of shorts around her friend's leg to slow blood loss, using a tip she learned from the young adult science fiction novels.
Megan says all that was going through her mind was helping "Kenzie."
The injured girl was transported to a hospital, where doctors were able to rule out muscle or nerve damage following surgery.
Mackenzie's father says doctors expect a complete recovery in a month.
The Georges say they're thankful for Megan's help.
Michigan city breaks sand angel world record
LUDINGTON, Mich. (AP) — A western Michigan city has broken a mark set by the Guinness World Records for the most people simultaneously making sand angels at a beach.
The Ludington Daily News and The Muskegon Chronicle report 1,387 people angelically assembled on a Lake Michigan beachfront in Ludington and worked their magic for 30 seconds. That far surpasses the roughly 350 who made sand angels for 15 seconds two years ago in Pembrokeshire, United Kingdom.
A Guinness judge verified the record.
The Spectrum Health Ludington Hospital Foundation organized what's been dubbed "Be Someone's Angel." The event, which had a $20 suggested donation, raised money for the hospital's cancer service center.
The effort was part of "Love Ludington" weekend, which also features the opening of the Port of Ludington Maritime Museum.
Pennsylvania family rebuilding after skunk spray ruins home
LATROBE, Pa. (AP) _ A Pennsylvania family is slowly rebuilding their life and their home seven months after a skunk sneaked into their home and ruined it.
Latrobe resident Scott Gray tells WPXI-TV (http://bit.ly/2ruLXsL ) the family's plight is worse than if their home was ruined by fire because their insurance won't cover the damage.
Gray says the skunk apparently sneaked into the house through a doggie door then spent three hours inside with the family's dogs, spraying its noxious scent everywhere.
The family threw away toys, furniture and appliances and had to strip the house down to its wood framing to get rid of the odor.
The family has been living in a small apartment down the street while they rebuild. So far, they've spent more than $30,000.
No 1. courthouse problem: People urinating in the elevator
JONESBORO, Ark. (AP) _ Officials in an Arkansas county have a plea for courthouse visitors: Please stop urinating in our elevator.
Craighead County officials hope new security cameras will deter the steady stream of culprits who have been relieving themselves in the courthouse elevator in Jonesboro, a college town about 115 miles northeast of Little Rock.
Maintenance workers say the problem has persisted for years _ even though the restrooms are only about 25 feet from the elevator.
Officials tell The Jonesboro Sun (http://bit.ly/2ssykJW ) that the cameras, installed last fall, have caught three men in the act, one of whom has been cited for disorderly conduct and fined $105. A third instance was recorded Monday, and county officials say they plan to issue a citation.
Newman the fake architect busted in 'Operation Vandelay Industries'
ALBANY, N.Y. (AP) _ A fake architect named Newman has pleaded guilty to fraud after an investigation New York's attorney general dubbed "Operation Vandelay Industries."
Attorney General Eric Schneiderman's office says Paul J. Newman had rendered fraudulent architectural services since 2010 in Albany, Rensselaer and Saratoga counties. Schneiderman said Wednesday that Newman pleaded guilty to six felonies including grand larceny and fraud. Victims included municipalities and businesses.
Newman is expected to be sentenced to 2-1/3 to 7 years in state prison and pay more than $115,000 in restitution.
Schneiderman dubbed the operation to nab Newman "Vandelay Industries" in reference to a long-running joke on "Seinfeld" about a fictional company by that name. A character named Newman was Jerry's nemesis on the sitcom.
Rotting clams that stunk up neighborhood are being removed
TIVERTON, R.I. (AP) _ The rotting clamshells that were used to pave an access road in a small Rhode Island community are being removed after neighbors complained about the stench and maggots.
WJAR-TV reports (http://bit.ly/2soJ78f ) that workers were at the property Wednesday morning to remove the clams after the property owner was issued a cease-and-desist order giving him until the end of the week to remove them.
A crew with heavy equipment was seen scooping up shells.
The owner used the shells to pave an access road two weeks ago. But they had meat still attached, leading to a putrid smell as it decomposed. Video showed maggots crawling all over the road.
Landmark 'Vegas Vickie' neon cowgirl sign removed
LAS VEGAS (AP) _ The famous neon sign of a cowgirl in downtown Las Vegas has been taken down as part of the construction of a planned casino-resort.
After more than two decades on Freemont Street, "Vegas Vickie" was dismantled Tuesday.
Casino owner Derek Stevens says his company is looking for a home for the neon sign. It was created in 1980 and originally dubbed "Sassy Sally" after a casino of that name.
Stevens' company is planning to transform the space previously occupied by the Las Vegas Club.
Dog-poop dispute ends with man jailed, another with wounded hand
WEST PALM BEACH, Fla. (AP) _ Police in Florida say an argument between two men over dog poop has left one in jail and another with a knife wound to the hand.
The Palm Beach Post reports (http://pbpo.st/2tfQiN5 ) 33-year-old Ricardo Garcia Sanchez was arrested Monday and charged with aggravated battery with a deadly weapon. A police report says he's a property maintenance worker at an apartment complex in West Palm Beach and fought with a resident who he believed allowed his dog to defecate without cleaning up afterward.
Garcia Sanchez admitted to confronting the man about the pet but denied having the knife, which police didn't find. He said he didn't know how the man was injured.
He's being held in Palm Beach County Jail. It's unclear if he has an attorney.
Dog gets face full of quills, followed by lots of calls
DANBURY, N.H. (AP) — Police say a dog that had a run-in with a porcupine and got a face full of quills is doing much better and has been reunited its owner in New Hampshire.
Police in Danbury, New Hampshire, said a Good Samaritan found the dog Saturday on Route 104. Its face and mouth were covered with porcupine quills.
They put a photo of the animal on Facebook, and got flooded with calls asking about the dog's condition.
The dog was taken to a veterinarian, where it took more than four hours to remove the quills.
KFC to send chicken sandwich to edge of space on balloon
LOUISVILLE, Ky. (AP) _ KFC plans to make a space pioneer out of a chicken sandwich next week when it sends it to the edge of the atmosphere with the help of a high-altitude balloon.
The promotional stunt for the Zinger sandwich comes two months after the fast food chain unveiled Rob Lowe playing Kentucky Fried Chicken founder Col. Harland Sanders in a space suit as part of an ad campaign. The ads promised to send the breaded chicken sandwich into space.
KFC is partnering with balloon maker World View on the project. The chain says the launch window opens June 21 for what it says is the longest controlled stratospheric balloon flight with a commercial payload in history. The sandwich will return to earth and bring back telemetry data.
Police: Naked man goes on rampage inside antiques store
PUTNAM, Conn. (AP) _ A Connecticut man is facing charges after police say he went on a naked rampage inside an antiques store.
Police in Putnam responded to the Antiques Marketplace around 12:30 a.m. Wednesday after reports of suspicious activity.
When they arrived, they found glass on the sidewalk and damage to several windows.
Upon entering, officers saw a "completely naked" man knocking over display cases and smashing items.
Police arrested 50-year-old Sean Morisette on charges of third-degree burglary and first-degree criminal mischief.
He is being held on a $10,000 bond pending a court appearance Wednesday. It could not immediately be determined if he has a lawyer.
A cake mistake: Florida baker says new pans ruined desserts
TAMPA, Fla. (AP) _ A Florida bakery claims faulty cake pans created a dessert disaster and has taken the pan-maker to court.
Alessi Bakeries of Tampa says a new, undisclosed component in pans the bakery bought caused the pans to warp, ruining $120,000 of their Tres Leches cakes.
The Tampa Bay Times (http://bit.ly/2t1HDyn) reports Alessi paid $5,000 for about 35,000 pans from US Foods Inc. Once the cakes were baked, the pans wouldn't support the weight of the cakes and became deformed.
Tres Leches is a sponge cake soaked with a mixture of three milks: evaporated milk, sweetened condensed milk, and heavy cream.
Alessi is seeking damages for the ruined cakes, as well as the cost of the pans.
Reached Tuesday, US Foods said it doesn't comment on pending litigation.
Woman accued of stealing city money to get butt lift
GAINESVILLE, Fla. (AP) _ A Florida city says a former employee stole money to get a butt lift.
A Gainesville city report released Wednesday said Natwaina Clark stole $93,000 from the city, using $8,500 on the cosmetic surgery. The Gainesville Sun says (http://bit.ly/2rzKv3x ) the report shows the 33-year-old Clark also used city money for her cable television bill, food, highway tolls, a television and other expenses.
Clark was fired shortly before she was arrested last March 28 and charged with larceny and scheme to defraud. She has pleaded not guilty.
French Spiderman climbs 29-story Spanish hotel without ropes
BARCELONA, Spain (AP) _ French urban climber Alain Robert has scaled a 29-story hotel in Barcelona with his bare hands and in just 20 minutes.
Footage released Tuesday showed 54-year-old Robert, who is known as the "French Spiderman," climbing the 114 meters (374 feet) of the Melia Barcelona Sky hotel without a safety harness.
Robert claimed to have reached the top of the glass-and-steel skyscraper in 20 minutes on Monday, according to his YouTube channel.
He was questioned by police on reaching the top, but was released without charge.