Election security bill backers say delay helps Russia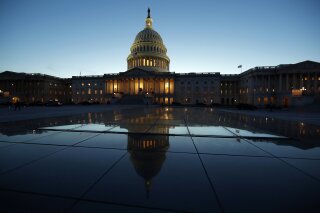 WASHINGTON (AP) — Just two months before the midterm elections, bipartisan legislation to try to prevent foreign hacking into U.S. election systems is stalled in Congress as the White House and some Republicans worry it could exert too much federal control over the states.
Supporters of the bill say the delay could embolden Russia, which targeted election infrastructure in at least 21 states in 2016.
A committee vote on the bipartisan bill was abruptly canceled two weeks ago after objections from some Republican senators and the states they represent. And Republicans and Democrats who are supporting the bill say they don't know when — or if — it will be taken up again in the few remaining weeks Congress is in session before the midterms.
The delay has some concerned that Congress could punt on the only piece of legislation that is designed to fix what went wrong in 2016 — and to prevent Russia or other countries from trying again. There is no evidence that the Russian targeting of state election systems was successful or changed any votes, but lawmakers, intelligence officials and elections experts say that they believe Russia will return in 2018 and beyond with more sophisticated tools.
It also demonstrates Congress' struggle to develop a cohesive response to the Russian interference — especially as President Donald Trump has at times questioned whether it even happened.
The White House issued a lukewarm statement on the election security bill, neither endorsing nor opposing it but saying that "if Congress should choose to continue to pursue" the legislation they want to ensure that it does not duplicate ongoing federal efforts to help states or violate the principles of federalism.
"We cannot support legislation with inappropriate mandates or that moves power or funding from the states to Washington for the planning and operation of elections," said White House spokeswoman Lindsay Walters.
The bill was negotiated over the last year by Republican Sen. James Lankford of Oklahoma and Democratic Sen. Amy Klobuchar of Minnesota. Lankford says the White House did not block the bill, but that Senate Majority Leader Mitch McConnell "had concerns" after hearing from states and other interests that suddenly realized the bill was moving forward. Klobuchar similarly said concerns came from "leadership on the Republican side."
McConnell's office would not comment on his involvement with the bill, or whether he heard from states or other groups about concerns.
Klobuchar, the top Democrat on the House Rules and Administration Committee, the panel that canceled the vote, says Congress is sending the wrong message to Russia by delaying the bill.
By passing the legislation, "you send a message that we are beefing up going forward, as opposed to standing down, which is what this looks like," Klobuchar said of the delay.
Maine Sen. Angus King said he thought there had been a bipartisan desire to fix what went wrong in 2016.
"It is frustrating because, to me, this is low-hanging fruit," said King, an Independent who sits on both the Senate intelligence committee and the Rules Committee. The intelligence panel has been investigating Russia's intervention for almost two years, and improving election security has been one of its top priorities.
Some states have objected to the legislation because it would require all states to use paper ballots as a backup to electronic systems if they want to receive federal election money for voting equipment. While many states are already using paper ballots, a small number say it's too expensive or burdensome.
The legislation would also require that all 50 states conduct audits after elections and direct the Homeland Security Department to immediately notify any states if the federal government detects that they have been hacked. The last requirement came after Homeland Security took almost a year to notify some states that Russians had targeted them in 2016.
The bill has several prominent Republican supporters, including Lankford, Senate Rules Committee Chairman Roy Blunt of Missouri and Senate intelligence committee chairman Richard Burr of North Carolina. But other Republicans, including some in states that don't have paper ballots, have objected to the cost and what they say would be added paperwork.
Kansas Sen. Pat Roberts said he heard from Kansas Gov. Jeff Colyer and Secretary of State Kris Kobach with concerns about the bill and he is not supporting it. He said county officials are already doing a good job and "don't want to be loaded down with paperwork."
Kansas only partially uses paper ballots currently.
Alabama Sen. Richard Shelby said he too has problems with the bill.
"This is a big step, the federal government moving in there," Shelby said.
Roberts and Shelby both sit on the Senate Rules Committee, the panel that canceled the vote.
Several of the states that don't use paper ballots are now in the process of replacing their machines, including Louisiana, South Carolina and Delaware, among others. But others have said it is too expensive or have objected to the legislation setting a new federal mandate.
"Although there has been considerable debate regarding the pros and cons of various voting systems, we believe this is a decision that should be left to state legislatures," Tennessee Secretary of State Tre Hargett said in a statement. Tennessee only partially uses paper ballots now.
Texas has also objected to the bill, saying they would need more federal money if the federal government required new machines.
Lankford says that most states are already using paper ballots, so those who don't do it now should be able to figure it out as well.
"We're not trying to federalize elections," Lankford said. "That's the last thing we want to do."
Separately, the bill has also lost some support from some election integrity groups who said the final, compromised language did not include strong enough requirements for the state audits.
Blunt has not yet said if there will be another vote in the Rules Committee. In a statement, he pinned the bill's hopes on a classified election security briefing that happened Aug. 22, the same day the vote was canceled.
"If that changes enough minds to have significant bipartisan support for the bill, we will report it from the committee," Blunt said.
___
Associated Press writers Frank Bajak in Boston, Christina A. Cassidy in Atlanta, Hannah Grabenstein in Little Rock, Ark., Melinda Deslatte in Baton Rouge, La., Meg Kinnard in Columbia, S.C., Jonathan Mattise in Nashville, Tenn., Will Weissert in Austin, Texas, and John Hannah in Topeka, Kan. contributed to this report.
___
This story has been corrected to show that Shelby is from Alabama, not Mississippi.