Report: KKK chapters drop steeply despite 'hate group' surge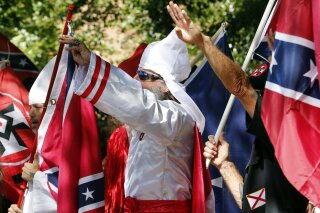 BATON ROUGE, La. (AP) — The number of Ku Klux Klan chapters in the U.S. is plummeting as a new generation of khaki-clad racists rejects hoods and robes for a "hipper" brand of hate, according to a report Wednesday by an organization that tracks far-right extremists.
The Southern Poverty Law Center said its count of Klan groups fell from 130 in 2016 to 72 last year, despite a surge of activity in the broader white supremacist movement.
The Alabama-based law center reported a sharp increase in neo-Nazi groups, from 99 in 2016 to 121 last year. And it counted a total of 954 active "hate groups" in 2017, an increase of 4 percent over the previous year.
Heidi Beirich, director of the SPLC's Intelligence Project, said Klan groups seem to be "collapsing" and struggling to recruit new members because younger white supremacists are turned off by its traditions.
"It's just extremely old-school and, I think, honestly weird to them," she said. "That's not the image that they have of what white nationalism should be."
The Anti-Defamation League said in a report last year that 42 Klan groups were active in 22 states between January 2016 and June 2017. But more than half of them had formed in the previous three years, and their recruiting efforts couldn't compete with other white supremacist groups, the report said.
"Even within the white supremacist movement, they're seen as anachronistic," said Oren Segal, director of the ADL's Center on Extremism. "They're often a small group of people ... and they tend to fade away due to their inability to organize."
Beirich said the law center can't accurately estimate how many people are active members of Klan groups.
"They don't provide their membership lists. They're not going to tell us or, if they give us numbers, they exaggerate," she said.
The Klan's ranks were thinning long before the emergence of a new strain of hate, a loose mix of white supremacy, white nationalism and anti-Semitism. Leaders of this "alt-right" movement have tried to appeal to a broader, younger audience by avoiding Klan or Nazi-style costumes or symbols at their rallies.
Last summer, for instance, dozens of white men wearing polo shirts and khakis carried tiki torches and chanted racist slogans as they marched through the University of Virginia's campus on the night before a woman was killed at a white nationalist rally in Charlottesville.
The law center counted more than 600 groups that "adhere to some form of white supremacist ideology." It also reported an increase in what it calls "black nationalist hate groups," from 193 chapters in 2016 to 233 last year.
Many organizations on the law center's list have vehemently rejected their "hate group" label.
Liberty Counsel Inc., a Florida-based legal advocacy organization, sued last June after a website that maintains a charity database flagged it and 45 other nonprofits for being labeled as hate groups by the law center. But a federal judge in Virginia threw out the lawsuit last month.
On Wednesday, a federal magistrate in Alabama recommended the dismissal of a separate lawsuit that accused the law center of defaming a Florida-based evangelical ministry by designating it as a hate group.
"We're not going to change our definitions on this front because of this pushback," Beirich said.