Sri Lankan lawmakers fight in Parliament over PM dispute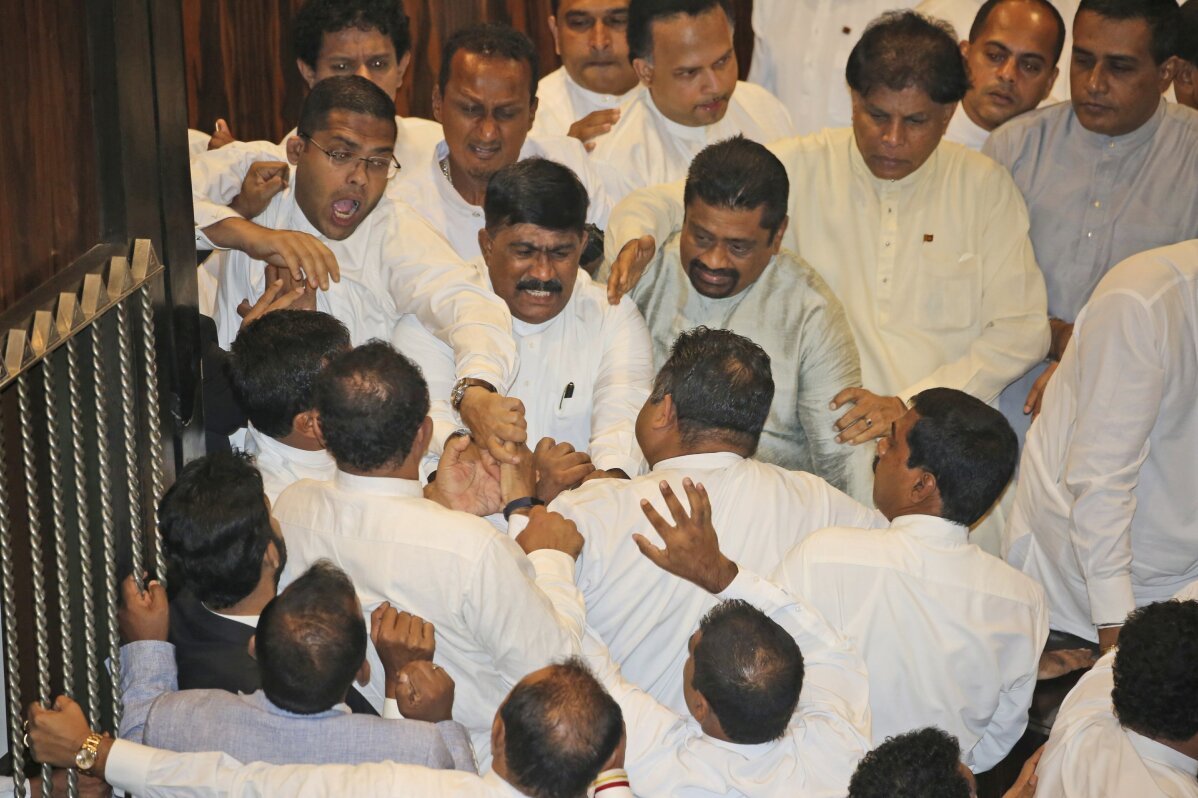 1 of 8

|
Sri Lankan Lawmakers fight in the parliament chamber in Colombo, Sri Lanka, Thursday, Nov. 15, 2018. Rival lawmakers exchanged blows in Sri Lanka's Parliament on Thursday as disputed Prime Minister Mahinda Rajapaksa claimed the speaker had no authority to remove him from office by voice vote. (AP Photo/Lahiru Harshana)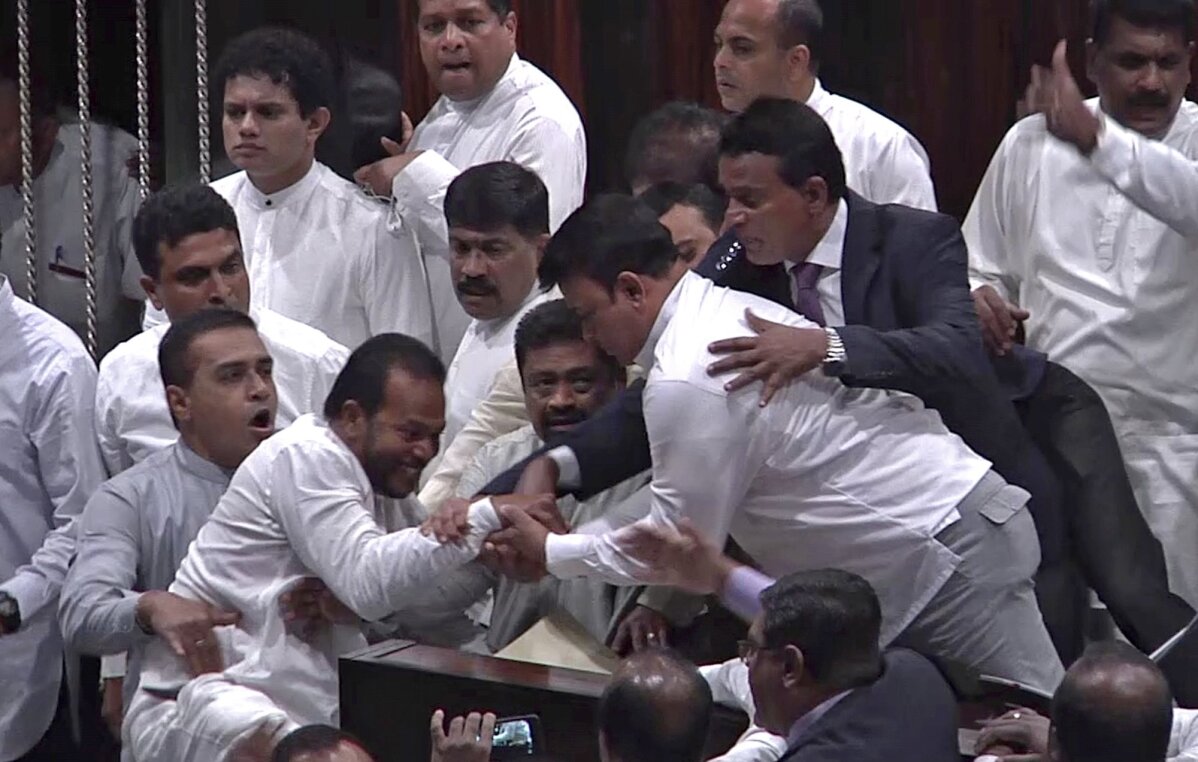 2 of 8

|
In this image made from video, Sri Lanka's lawmakers scuffle at the parliament in Colombo, Thursday, Nov. 15, 2018. Rival lawmakers have exchanged blows in Sri Lanka's Parliament as the disputed Prime Minister Mahinda Rajapaksa claimed the speaker had no authority to remove him from office by voice vote. (AP Photo)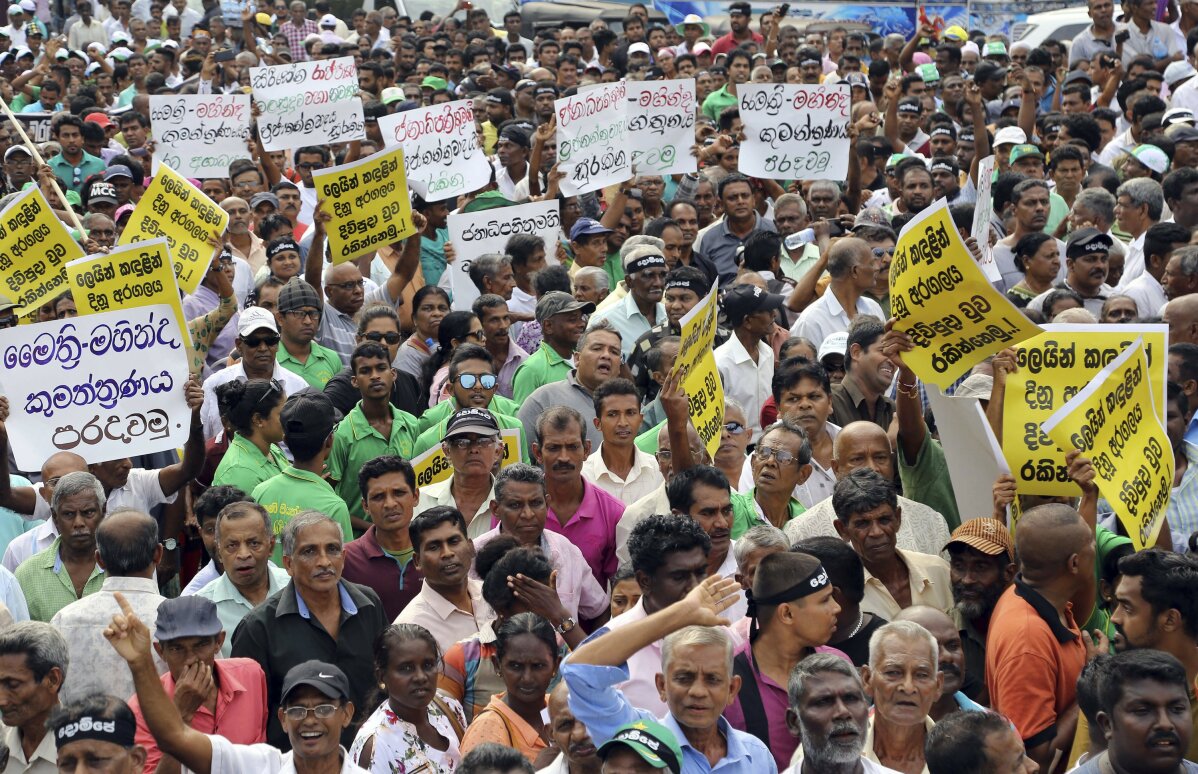 3 of 8

|
Supporters of the United National Party (UNP) and ousted Prime Minister Ranil Wickremesinghe protest against the government of disputed Prime Minister Mahinda Rajapaksa in Colombo, Sri Lanka, Thursday, Nov. 15, 2018. Sri Lanka has been in a crisis since Oct. 26, when President Maithripala Sirisena suddenly fired Wickremesinghe and replaced him with Rajapaksa. Sirisena had also suspended Parliament, apparently to allow Rajapaksa time to gather support among lawmakers. But Wickremesinghe insisted his firing was unconstitutional. He refused to vacate his official residence and demanded that Parliament be summoned to prove he still has support. (AP Photo/Rukmal Gamage)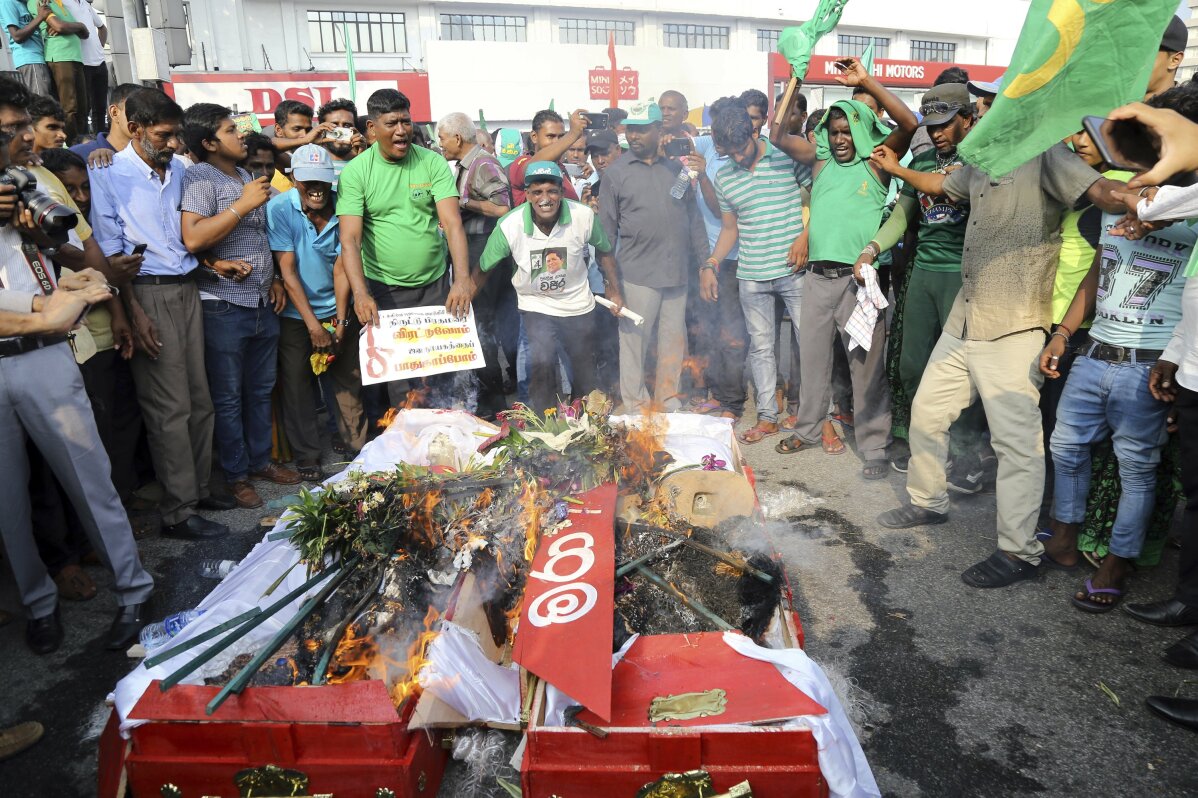 4 of 8

|
Supporters of the United National Party (UNP) and ousted Prime Minister Ranil Wickremesinghe burn coffins to represent the death of democracy during a protest against the government of disputed Prime Minister Mahinda Rajapaksa in Colombo, Sri Lanka, Thursday, Nov. 15, 2018. Sri Lanka has been in a crisis since Oct. 26, when President Maithripala Sirisena suddenly fired Wickremesinghe and replaced him with Rajapaksa. Sirisena had also suspended Parliament, apparently to allow Rajapaksa time to gather support among lawmakers. (AP Photo/Rukmal Gamage)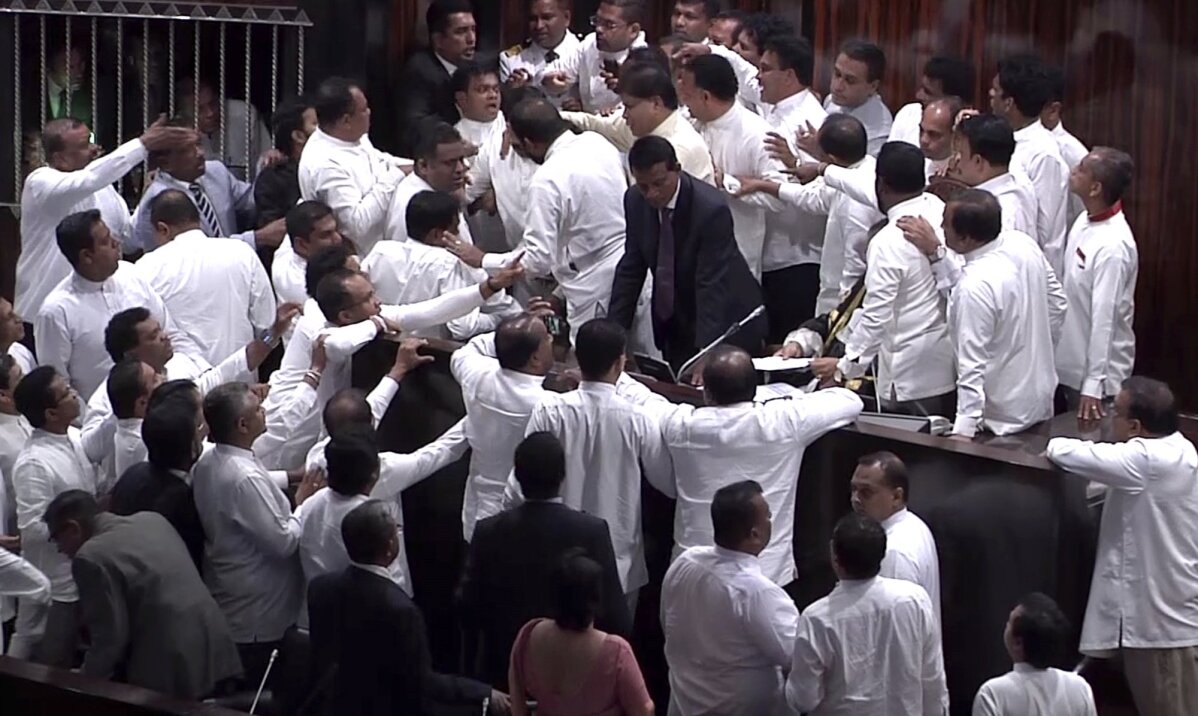 5 of 8

|
In this image made from video, Sri Lanka's lawmakers scuffle at the parliament in Colombo, Thursday, Nov. 15, 2018. Rival lawmakers have exchanged blows in Sri Lanka's Parliament as the disputed Prime Minister Mahinda Rajapaksa claimed the speaker had no authority to remove him from office by voice vote. (AP Photo)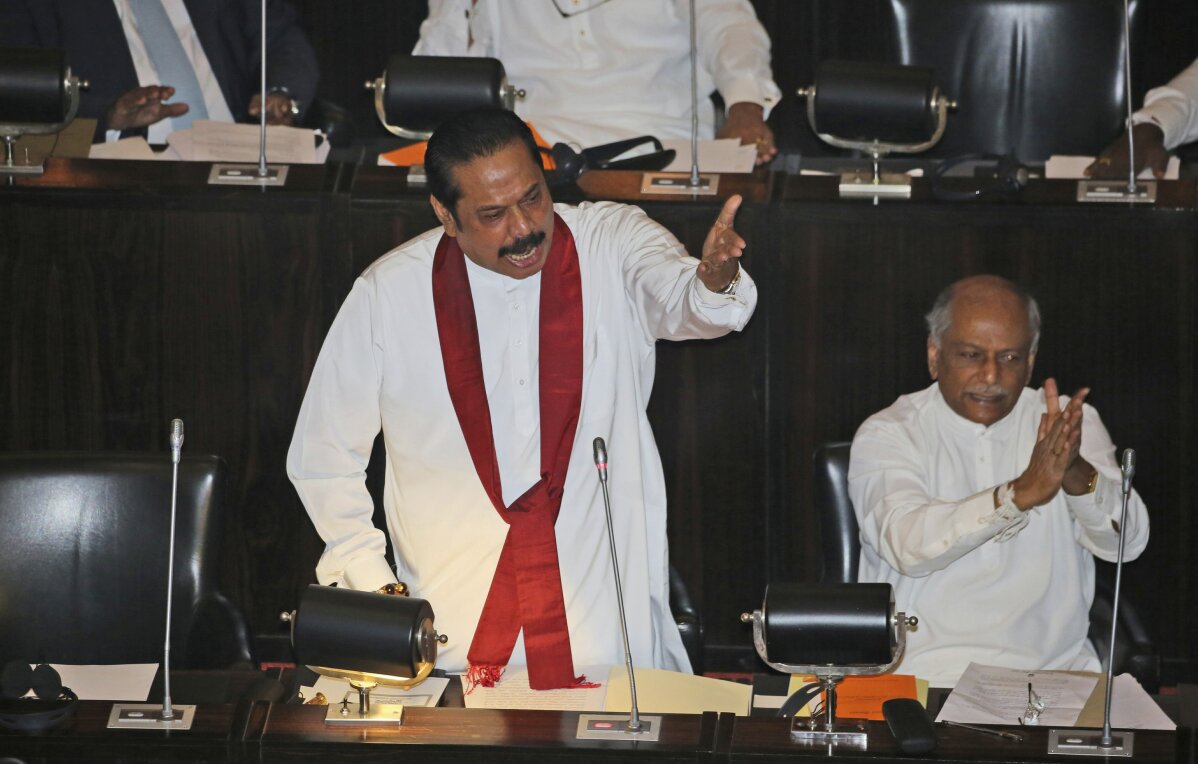 6 of 8

|
Sri Lankan disputed Prime Minister Mahinda Rajapaksa speaks at the parliament chamber in Colombo, Sri Lanka, Thursday, Nov. 15, 2018. Rival lawmakers exchanged blows in Sri Lanka's Parliament on Thursday as disputed Prime Minister Mahinda Rajapaksa claimed the speaker had no authority to remove him from office by voice vote. (AP Photo/Lahiru Harshana)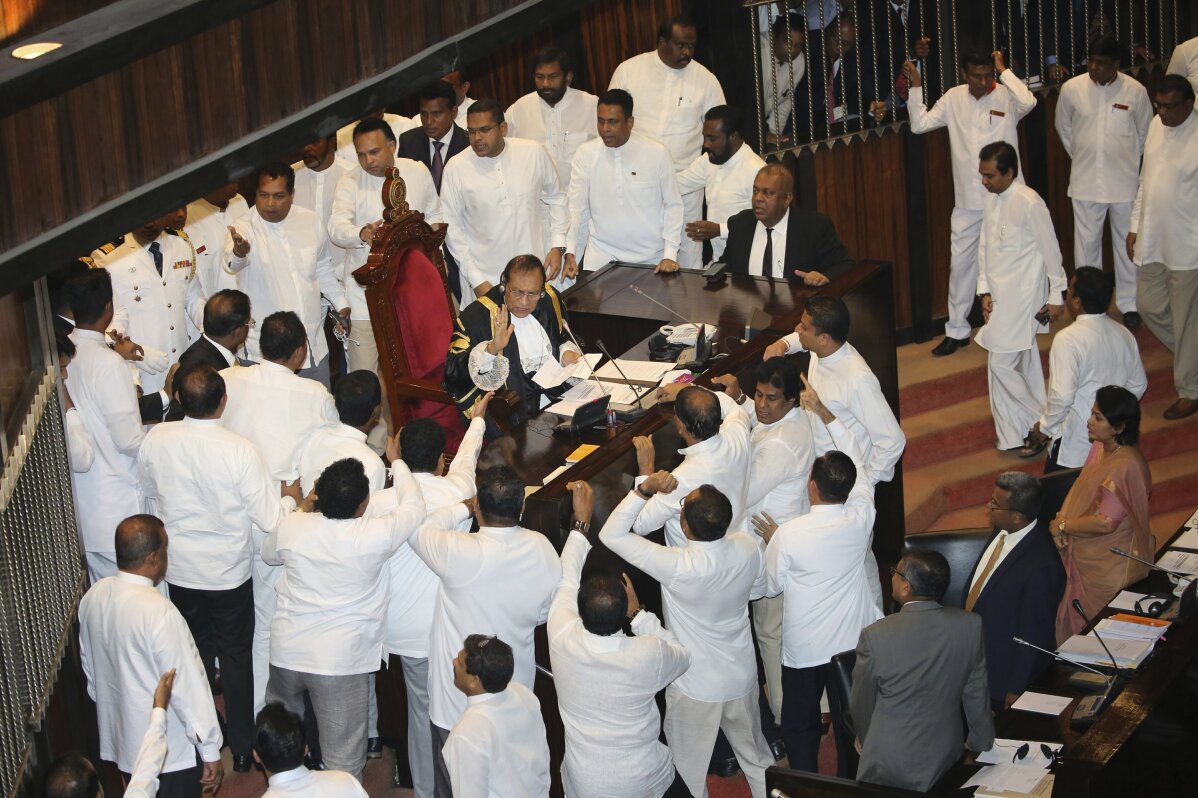 7 of 8

|
Sri Lankan Lawmakers surround speaker Karu Jayasuriya during a session at the parliament chamber in Colombo, Sri Lanka, Thursday, Nov. 15, 2018. Rival lawmakers exchanged blows in Sri Lanka's Parliament on Thursday as disputed Prime Minister Mahinda Rajapaksa claimed the speaker had no authority to remove him from office by voice vote. (AP Photo/Lahiru Harshana)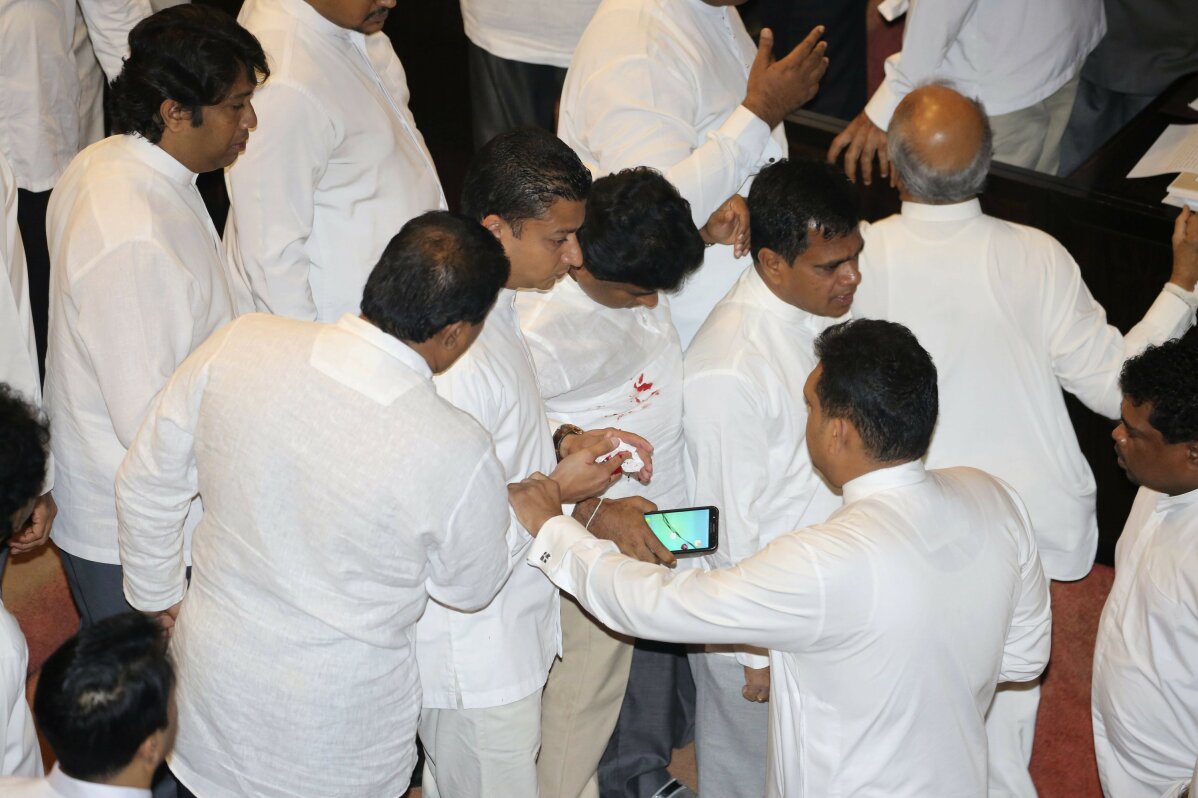 8 of 8

|
Sri Lankan Lawmaker Dilum Amunugama is helped by colleagues after he sustained an injury during a fight in the parliament chamber in Colombo, Sri Lanka, Thursday, Nov. 15, 2018. Rival lawmakers exchanged blows in Sri Lanka's Parliament on Thursday as disputed Prime Minister Mahinda Rajapaksa claimed the speaker had no authority to remove him from office by voice vote. (AP Photo/Lahiru Harshana)
Sri Lankan lawmakers fight in Parliament over PM dispute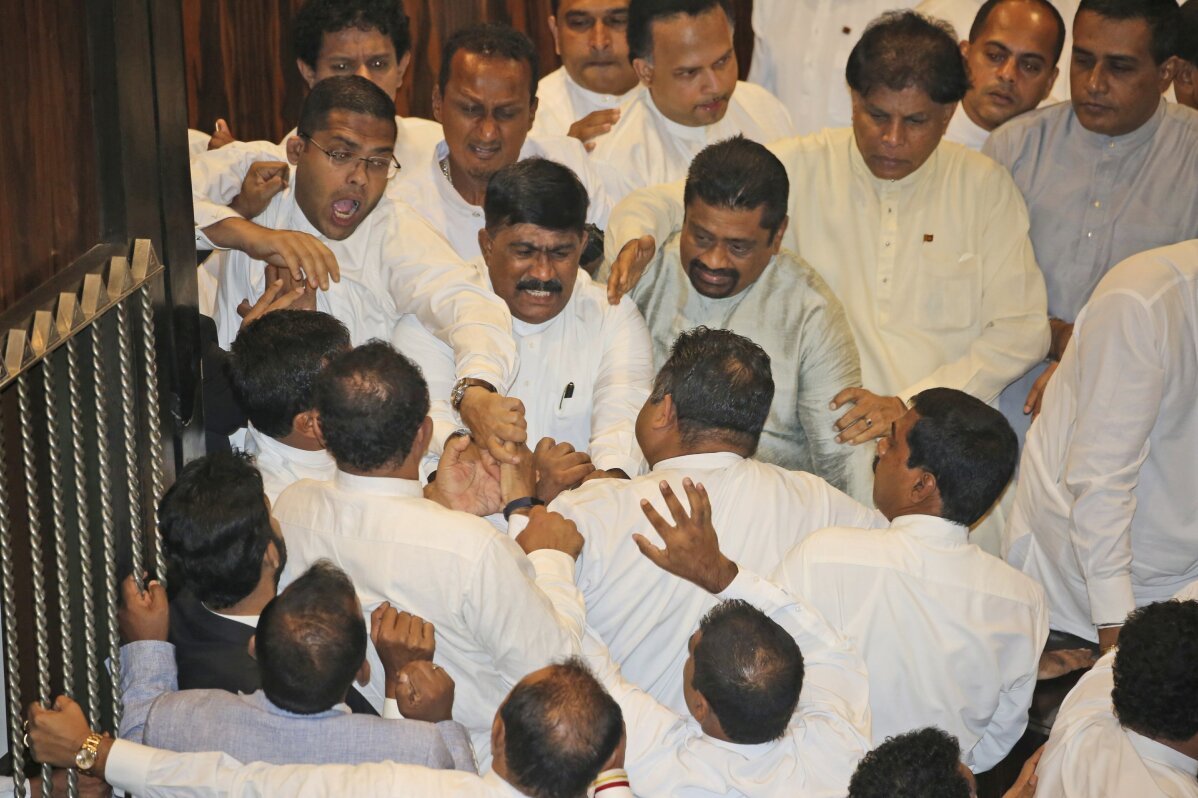 1 of 8

|
Sri Lankan Lawmakers fight in the parliament chamber in Colombo, Sri Lanka, Thursday, Nov. 15, 2018. Rival lawmakers exchanged blows in Sri Lanka's Parliament on Thursday as disputed Prime Minister Mahinda Rajapaksa claimed the speaker had no authority to remove him from office by voice vote. (AP Photo/Lahiru Harshana)
1 of 8
Sri Lankan Lawmakers fight in the parliament chamber in Colombo, Sri Lanka, Thursday, Nov. 15, 2018. Rival lawmakers exchanged blows in Sri Lanka's Parliament on Thursday as disputed Prime Minister Mahinda Rajapaksa claimed the speaker had no authority to remove him from office by voice vote. (AP Photo/Lahiru Harshana)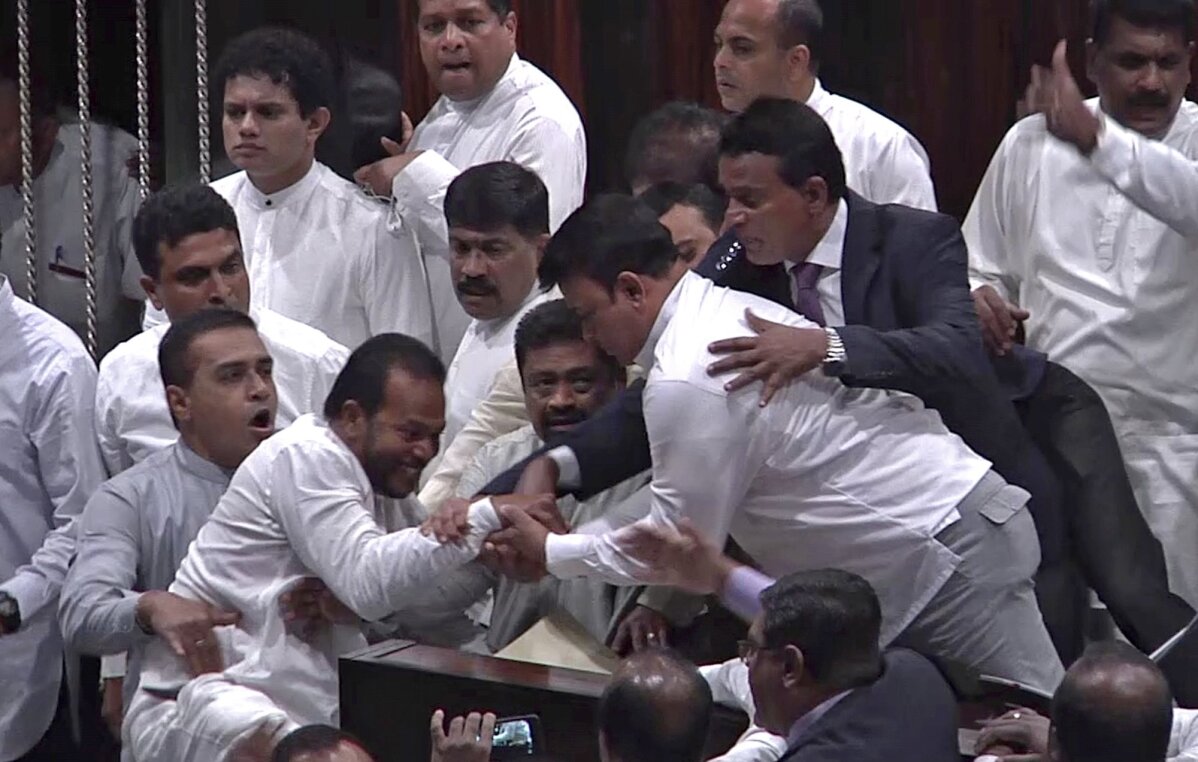 2 of 8

|
In this image made from video, Sri Lanka's lawmakers scuffle at the parliament in Colombo, Thursday, Nov. 15, 2018. Rival lawmakers have exchanged blows in Sri Lanka's Parliament as the disputed Prime Minister Mahinda Rajapaksa claimed the speaker had no authority to remove him from office by voice vote. (AP Photo)
2 of 8
In this image made from video, Sri Lanka's lawmakers scuffle at the parliament in Colombo, Thursday, Nov. 15, 2018. Rival lawmakers have exchanged blows in Sri Lanka's Parliament as the disputed Prime Minister Mahinda Rajapaksa claimed the speaker had no authority to remove him from office by voice vote. (AP Photo)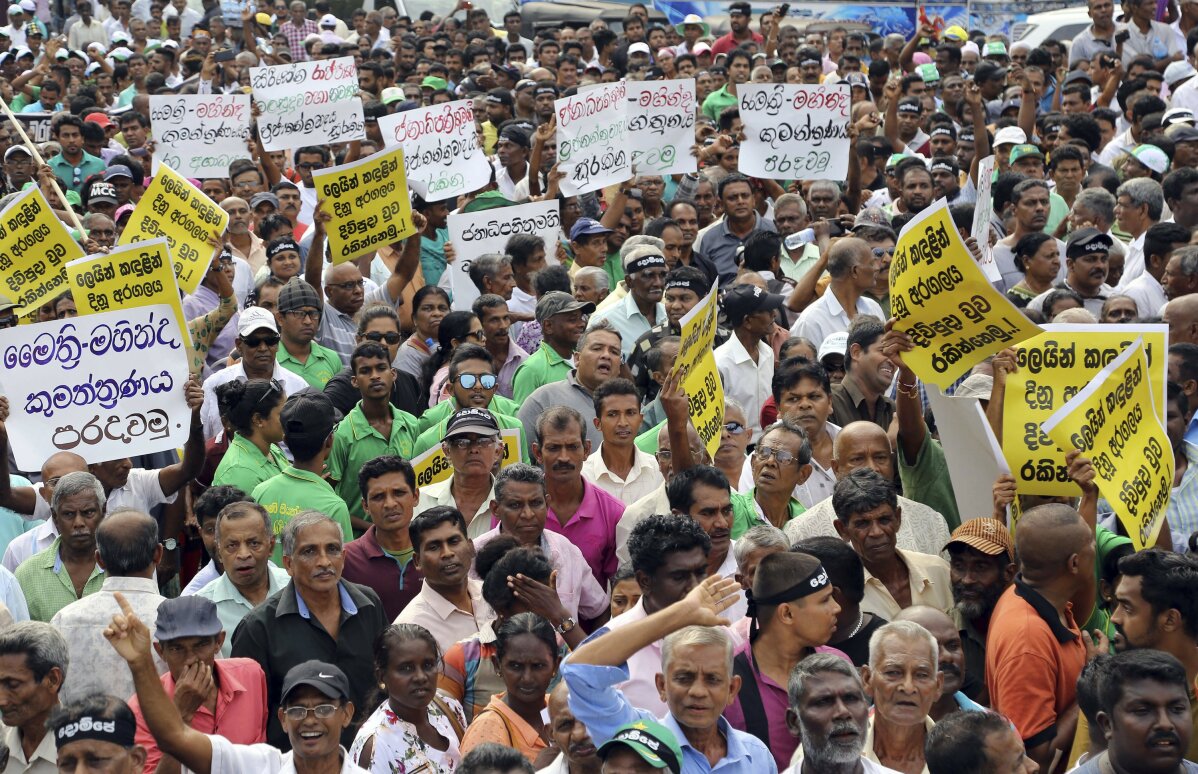 3 of 8

|
Supporters of the United National Party (UNP) and ousted Prime Minister Ranil Wickremesinghe protest against the government of disputed Prime Minister Mahinda Rajapaksa in Colombo, Sri Lanka, Thursday, Nov. 15, 2018. Sri Lanka has been in a crisis since Oct. 26, when President Maithripala Sirisena suddenly fired Wickremesinghe and replaced him with Rajapaksa. Sirisena had also suspended Parliament, apparently to allow Rajapaksa time to gather support among lawmakers. But Wickremesinghe insisted his firing was unconstitutional. He refused to vacate his official residence and demanded that Parliament be summoned to prove he still has support. (AP Photo/Rukmal Gamage)
3 of 8
Supporters of the United National Party (UNP) and ousted Prime Minister Ranil Wickremesinghe protest against the government of disputed Prime Minister Mahinda Rajapaksa in Colombo, Sri Lanka, Thursday, Nov. 15, 2018. Sri Lanka has been in a crisis since Oct. 26, when President Maithripala Sirisena suddenly fired Wickremesinghe and replaced him with Rajapaksa. Sirisena had also suspended Parliament, apparently to allow Rajapaksa time to gather support among lawmakers. But Wickremesinghe insisted his firing was unconstitutional. He refused to vacate his official residence and demanded that Parliament be summoned to prove he still has support. (AP Photo/Rukmal Gamage)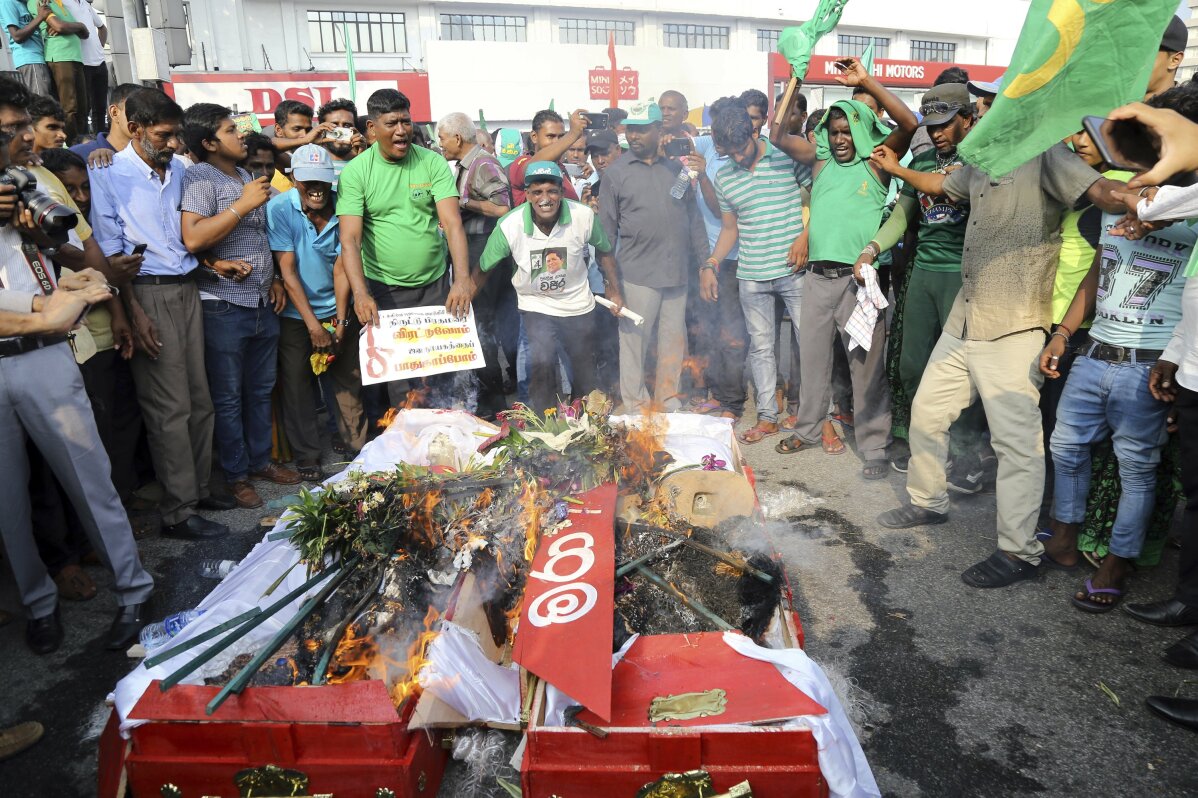 4 of 8

|
Supporters of the United National Party (UNP) and ousted Prime Minister Ranil Wickremesinghe burn coffins to represent the death of democracy during a protest against the government of disputed Prime Minister Mahinda Rajapaksa in Colombo, Sri Lanka, Thursday, Nov. 15, 2018. Sri Lanka has been in a crisis since Oct. 26, when President Maithripala Sirisena suddenly fired Wickremesinghe and replaced him with Rajapaksa. Sirisena had also suspended Parliament, apparently to allow Rajapaksa time to gather support among lawmakers. (AP Photo/Rukmal Gamage)
4 of 8
Supporters of the United National Party (UNP) and ousted Prime Minister Ranil Wickremesinghe burn coffins to represent the death of democracy during a protest against the government of disputed Prime Minister Mahinda Rajapaksa in Colombo, Sri Lanka, Thursday, Nov. 15, 2018. Sri Lanka has been in a crisis since Oct. 26, when President Maithripala Sirisena suddenly fired Wickremesinghe and replaced him with Rajapaksa. Sirisena had also suspended Parliament, apparently to allow Rajapaksa time to gather support among lawmakers. (AP Photo/Rukmal Gamage)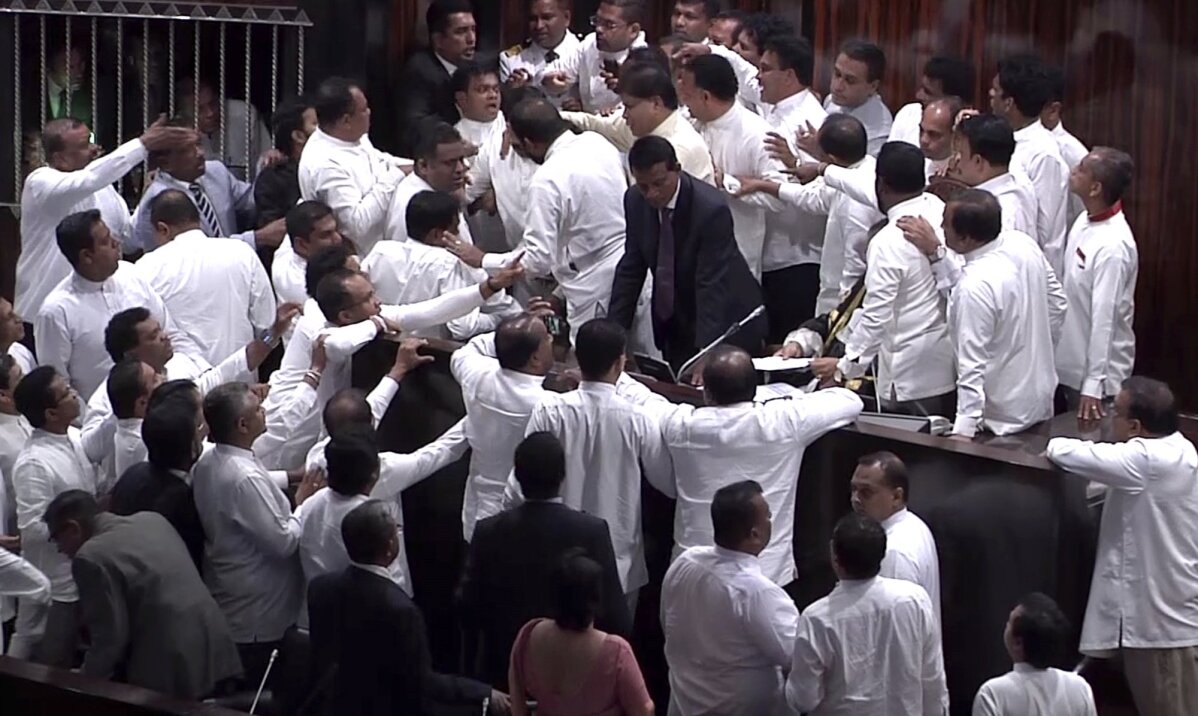 5 of 8

|
In this image made from video, Sri Lanka's lawmakers scuffle at the parliament in Colombo, Thursday, Nov. 15, 2018. Rival lawmakers have exchanged blows in Sri Lanka's Parliament as the disputed Prime Minister Mahinda Rajapaksa claimed the speaker had no authority to remove him from office by voice vote. (AP Photo)
5 of 8
In this image made from video, Sri Lanka's lawmakers scuffle at the parliament in Colombo, Thursday, Nov. 15, 2018. Rival lawmakers have exchanged blows in Sri Lanka's Parliament as the disputed Prime Minister Mahinda Rajapaksa claimed the speaker had no authority to remove him from office by voice vote. (AP Photo)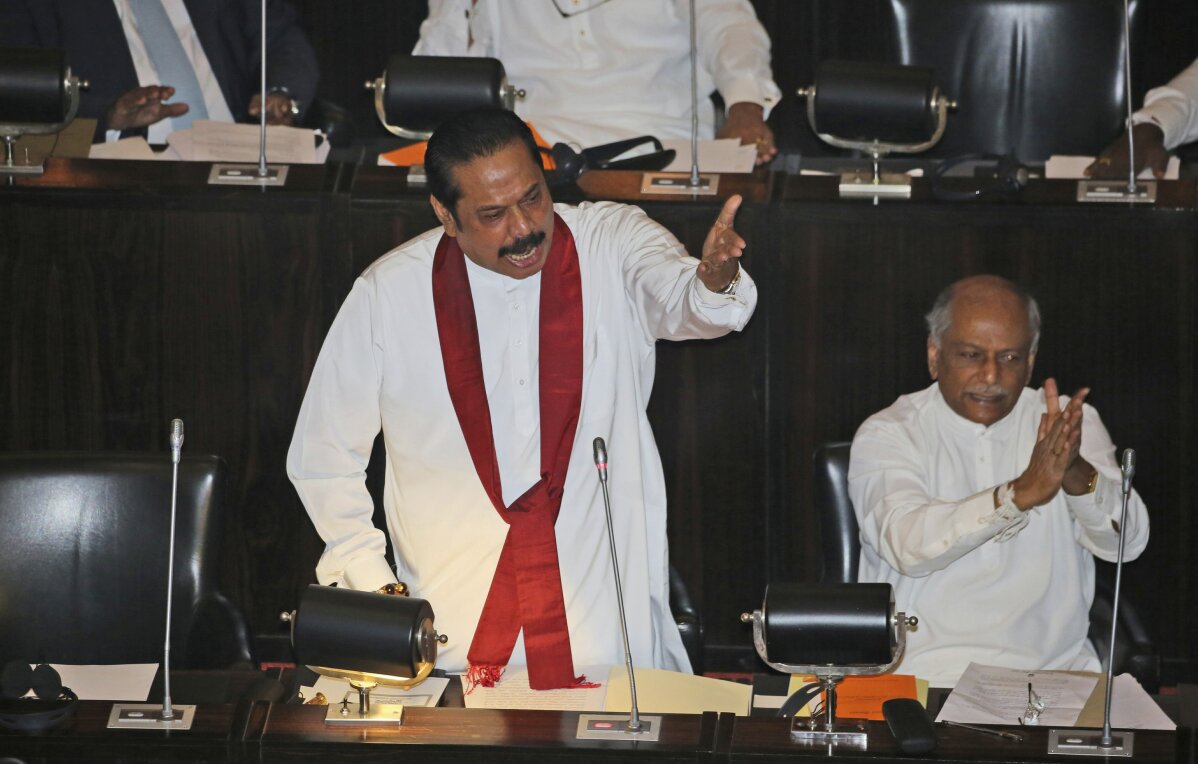 6 of 8

|
Sri Lankan disputed Prime Minister Mahinda Rajapaksa speaks at the parliament chamber in Colombo, Sri Lanka, Thursday, Nov. 15, 2018. Rival lawmakers exchanged blows in Sri Lanka's Parliament on Thursday as disputed Prime Minister Mahinda Rajapaksa claimed the speaker had no authority to remove him from office by voice vote. (AP Photo/Lahiru Harshana)
6 of 8
Sri Lankan disputed Prime Minister Mahinda Rajapaksa speaks at the parliament chamber in Colombo, Sri Lanka, Thursday, Nov. 15, 2018. Rival lawmakers exchanged blows in Sri Lanka's Parliament on Thursday as disputed Prime Minister Mahinda Rajapaksa claimed the speaker had no authority to remove him from office by voice vote. (AP Photo/Lahiru Harshana)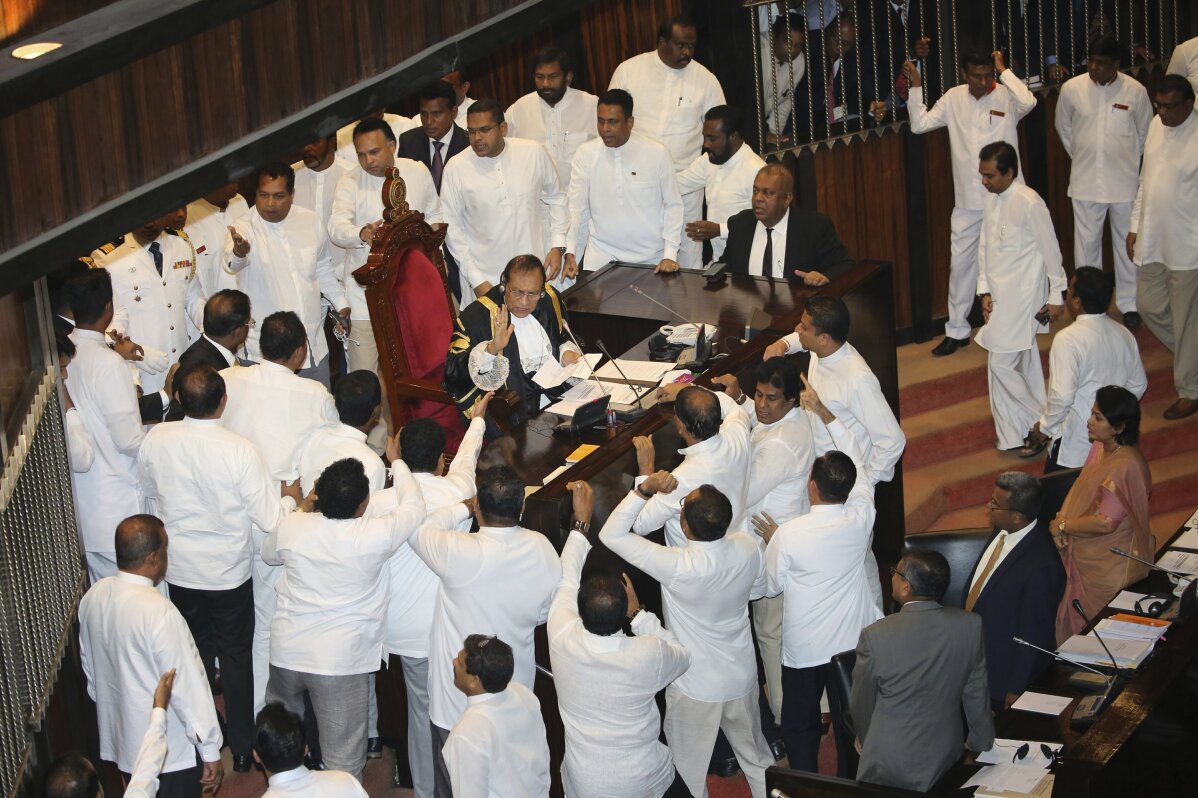 7 of 8

|
Sri Lankan Lawmakers surround speaker Karu Jayasuriya during a session at the parliament chamber in Colombo, Sri Lanka, Thursday, Nov. 15, 2018. Rival lawmakers exchanged blows in Sri Lanka's Parliament on Thursday as disputed Prime Minister Mahinda Rajapaksa claimed the speaker had no authority to remove him from office by voice vote. (AP Photo/Lahiru Harshana)
7 of 8
Sri Lankan Lawmakers surround speaker Karu Jayasuriya during a session at the parliament chamber in Colombo, Sri Lanka, Thursday, Nov. 15, 2018. Rival lawmakers exchanged blows in Sri Lanka's Parliament on Thursday as disputed Prime Minister Mahinda Rajapaksa claimed the speaker had no authority to remove him from office by voice vote. (AP Photo/Lahiru Harshana)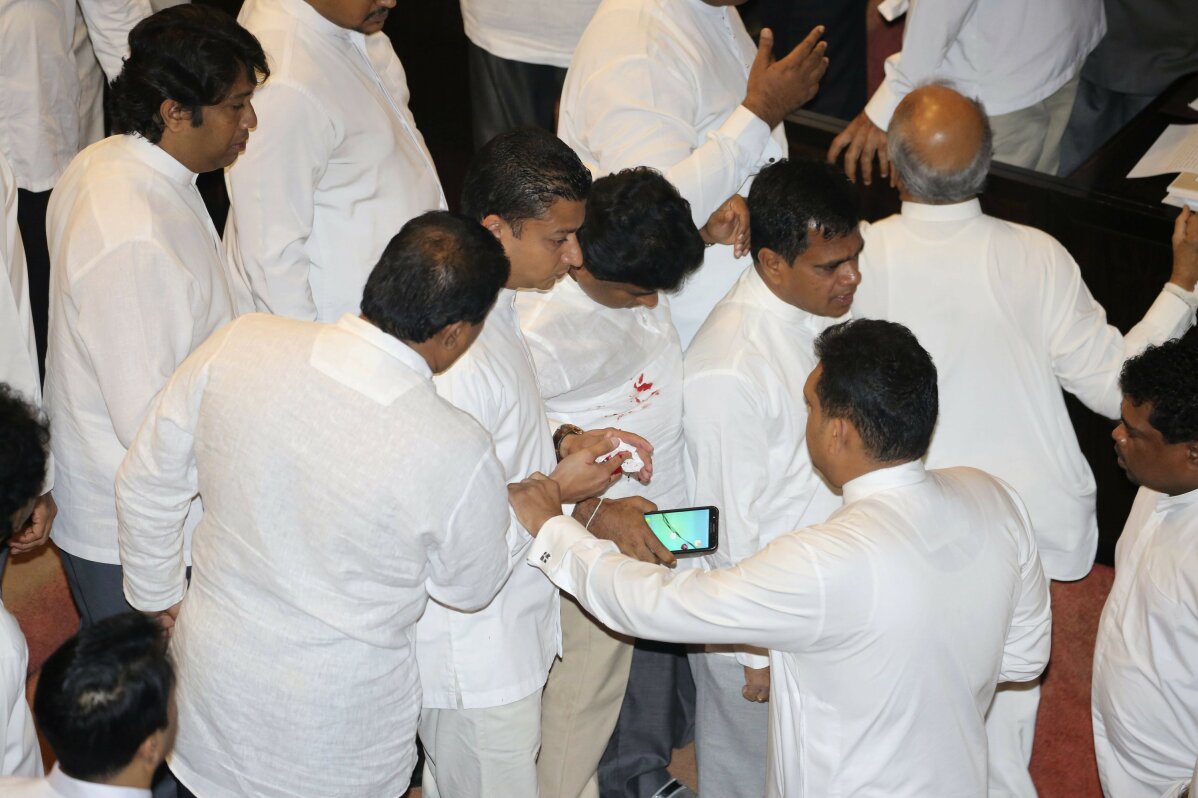 8 of 8

|
Sri Lankan Lawmaker Dilum Amunugama is helped by colleagues after he sustained an injury during a fight in the parliament chamber in Colombo, Sri Lanka, Thursday, Nov. 15, 2018. Rival lawmakers exchanged blows in Sri Lanka's Parliament on Thursday as disputed Prime Minister Mahinda Rajapaksa claimed the speaker had no authority to remove him from office by voice vote. (AP Photo/Lahiru Harshana)
8 of 8
Sri Lankan Lawmaker Dilum Amunugama is helped by colleagues after he sustained an injury during a fight in the parliament chamber in Colombo, Sri Lanka, Thursday, Nov. 15, 2018. Rival lawmakers exchanged blows in Sri Lanka's Parliament on Thursday as disputed Prime Minister Mahinda Rajapaksa claimed the speaker had no authority to remove him from office by voice vote. (AP Photo/Lahiru Harshana)
COLOMBO, Sri Lanka (AP) — As Sri Lanka's president met with opposition lawmakers over a no-confidence vote against his newly appointed prime minister, thousands rallied in support of the prime minister he ousted, burning coffins representing what they called the death of democracy in the Indian Ocean nation.
Earlier Thursday, rival lawmakers exchanged blows in Sri Lanka's Parliament after disputed Prime Minister Mahinda Rajapaksa claimed the speaker had no authority to remove him from office by a voice vote. That happened Wednesday when lawmakers convened for the first time since a political crisis began Oct. 26 with Prime Minister Ranil Wickremesinghe's ouster.
Speaker Karu Jayasuriya told the chamber that the country had no government and there was no prime minister.
Rajapaksa disagreed, saying "a vote should have been taken. Such important motions should not be passed by a voice vote." He accused the speaker of partiality toward his party, the United National Party, led by Wickremesinghe.
Rajapaksa also repeated his call for new elections, suggesting that it was the best way to resolve the crisis.
The brawl erupted after the opposition asked for a vote on Rajapaksa's statement, with some lawmakers supporting him gathering in the middle of the house while others rushed Jayasuriya, tussling for his microphone.
Rajapaksa ally Dilum Amunugama was taken to a hospital with injuries to his hand incurred while trying to take the microphone from the speaker's table.
Several dozen lawmakers in white robes in the 225-member house engaged in the melee, some throwing water bottles, pitching trash cans and landing kicks. Those opposed to Rajapaksa surrounded Jayasuriya to protect him. The commotion went on for about half an hour before Jayasuriya adjourned the house.
"The speaker was under complete siege, he came very close to being physically assaulted by MPs supporting Rajapaksa," said Chandani Kirinde, a senior correspondent of the Sunday Times, a weekly paper in Sri Lanka. "While clashes have happened in the house, this is probably the first time the speaker came under so much intimidation and abuse."
Similarly on Wednesday, Jayasuriya took a voice vote on the no-confidence motion against Rajapaksa after the chamber descended into chaos.
Hours after the parliamentary clashes, President Maithripala Sirisena held an emergency meeting with the leaders of the opposition parties that voted for the no-confidence motion against Rajapaksa.
Sirisena asked that Parliament take up the no-confidence motion again, striking the part that decried Wickremesinghe's ouster and Rajapaksa's appointment as unconstitutional and allow it to be debated and a roll call vote to be taken.
Sri Lanka has been in crisis since Oct. 26, when Sirisena suddenly fired Wickremesinghe and replaced him with Rajapaksa. Rajapaksa, a former president, is considered a hero by some in the ethnic Sinhalese majority for ending a long civil war by crushing ethnic Tamil Tiger rebels. However, his time in power was marred by allegations of wartime atrocities, corruption and nepotism.
Tensions had been building between Sirisena and Wickremesinghe for some time, as the president did not approve of economic reforms introduced by the prime minister. Sirisena has also accused Wickremesinghe and another Cabinet member of plotting to assassinate him, a charge Wickremesinghe has repeatedly denied.
Sirisena also had suspended Parliament, apparently to allow Rajapaksa time to gather support among lawmakers. But Wickremesinghe insisted his firing was unconstitutional. He refused to vacate his official residence and demanded that Parliament be summoned to prove he still has support.
The Supreme Court on Tuesday suspended Sirisena's order to dissolve Parliament and hold new elections next month.
The political turmoil in Sri Lanka has drawn statements of concern from Western governments since Sirisena ousted Wickremesinghe. The United States said Thursday that it was closely following developments and urged all parties "to adhere to the rule of law."
"There is much at stake, and a prolonged crisis will jeopardize Sri Lanka's democracy, economic progress and international reputation," the State Department said.
___
Associated Press writer Matthew Pennington in Washington contributed to this report.