Protesters gather on Gaza frontier, Israeli fire wounds 77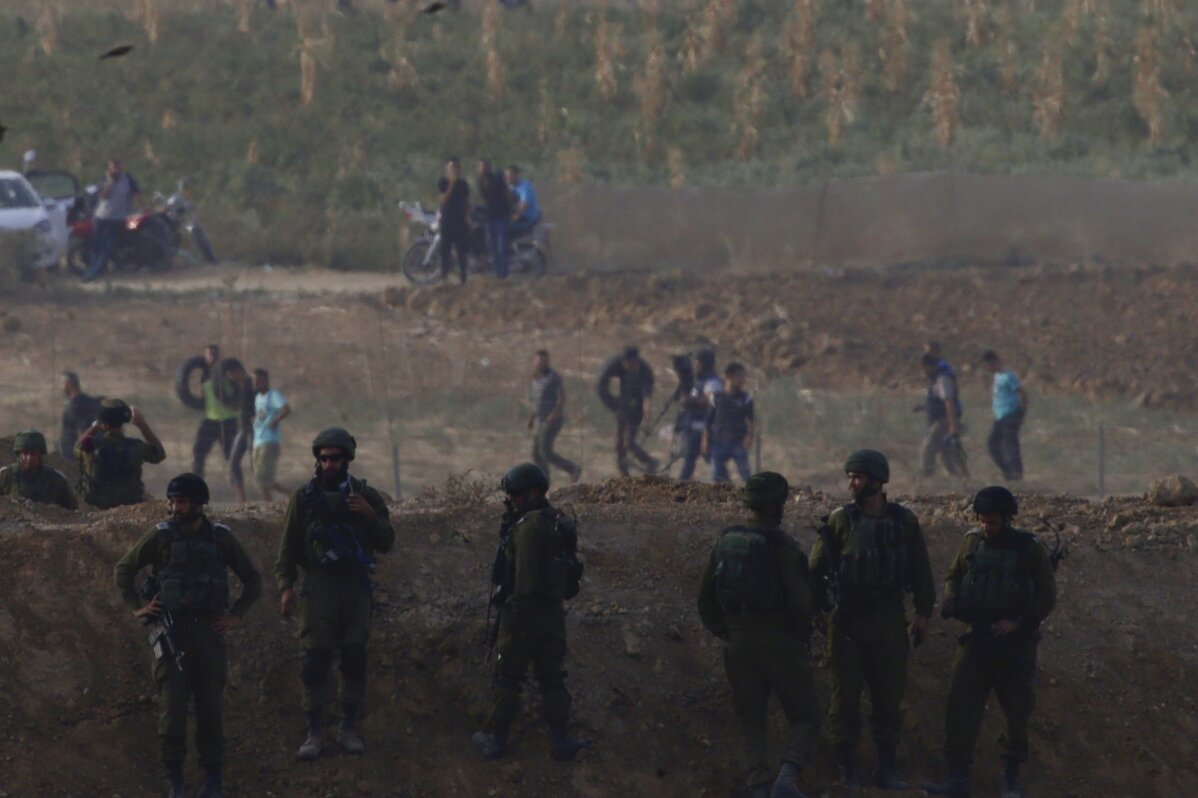 1 of 19

|
Israeli soldiers are positioned as Palestinian protesters arrive during a protest along the Israel Gaza border in Israel, Friday, Oct. 19, 2018. (AP Photo/Ariel Schalit)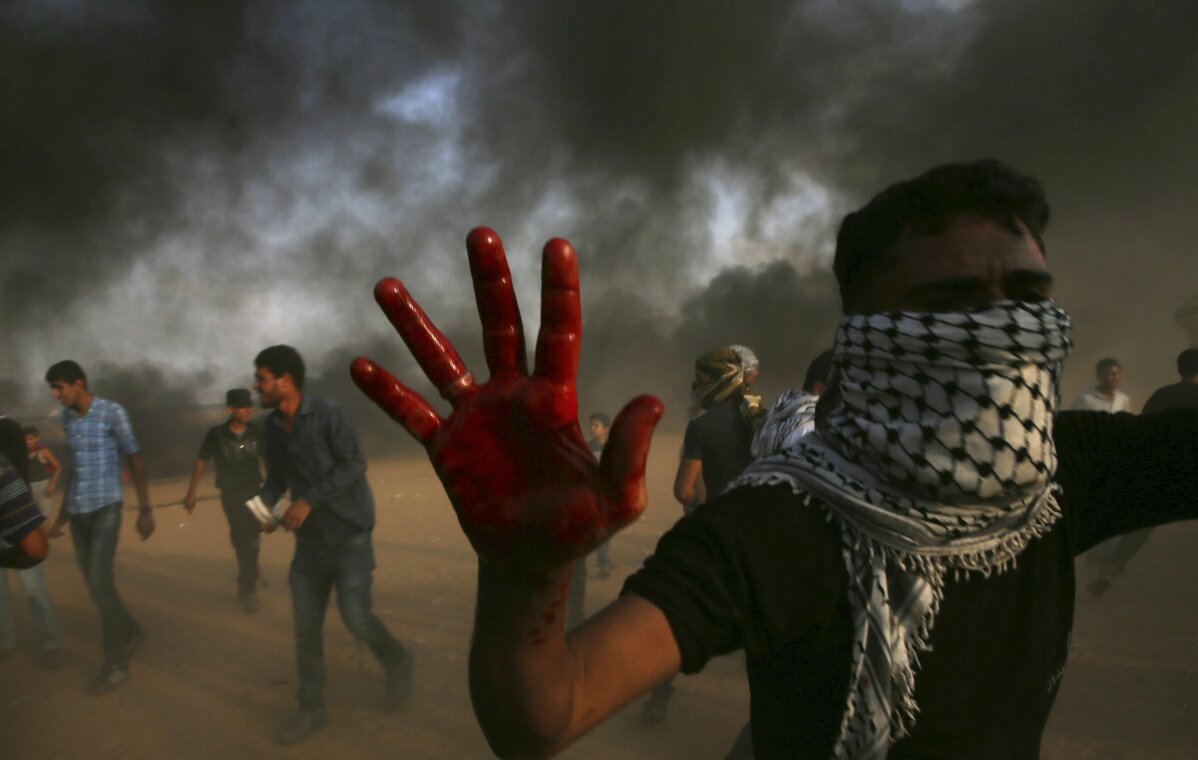 2 of 19

|
A protester shows his bloody hand while helping a wounded youth as others burn tires near the fence of the Gaza Strip border with Israel east of Khan Younis, southern Gaza Strip, Friday, Oct. 19, 2018. (AP Photo/Adel Hana)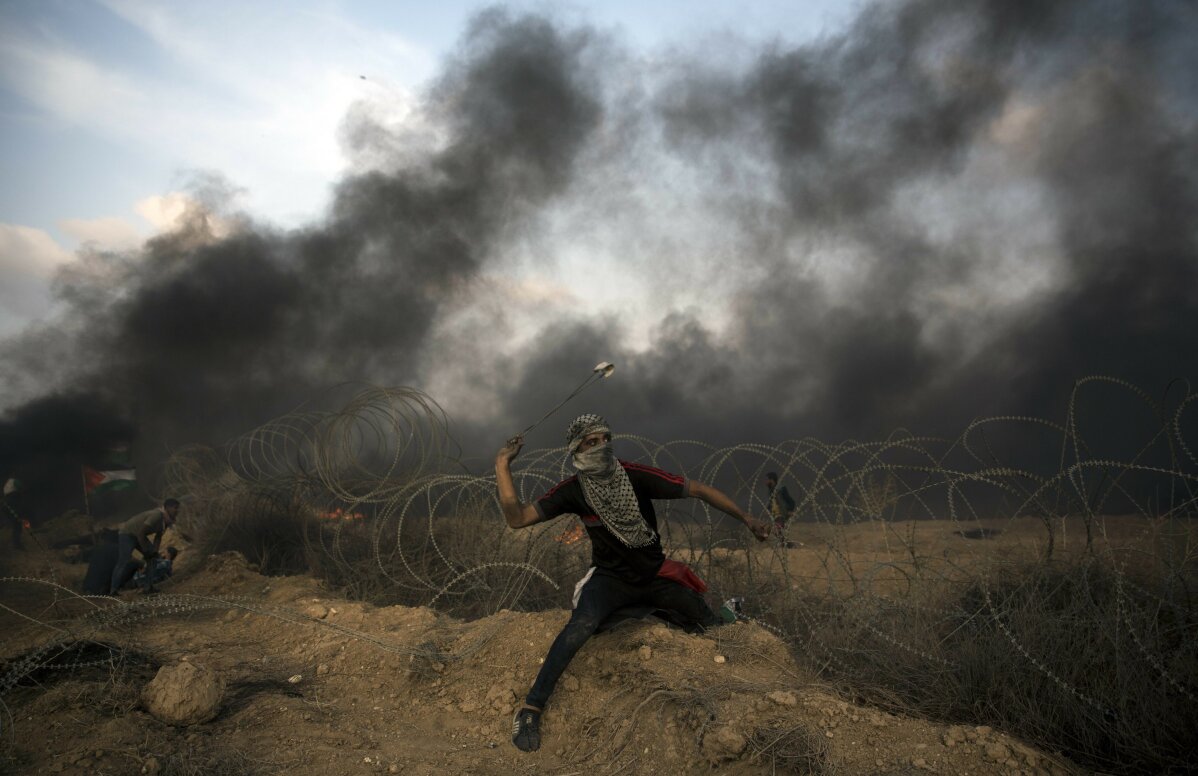 3 of 19

|
A Palestinian protester hurls stones towards Israeli troops at the Gaza Strip's border with Israel, Friday, Oct. 19, 2018. (AP Photo/Khalil Hamra)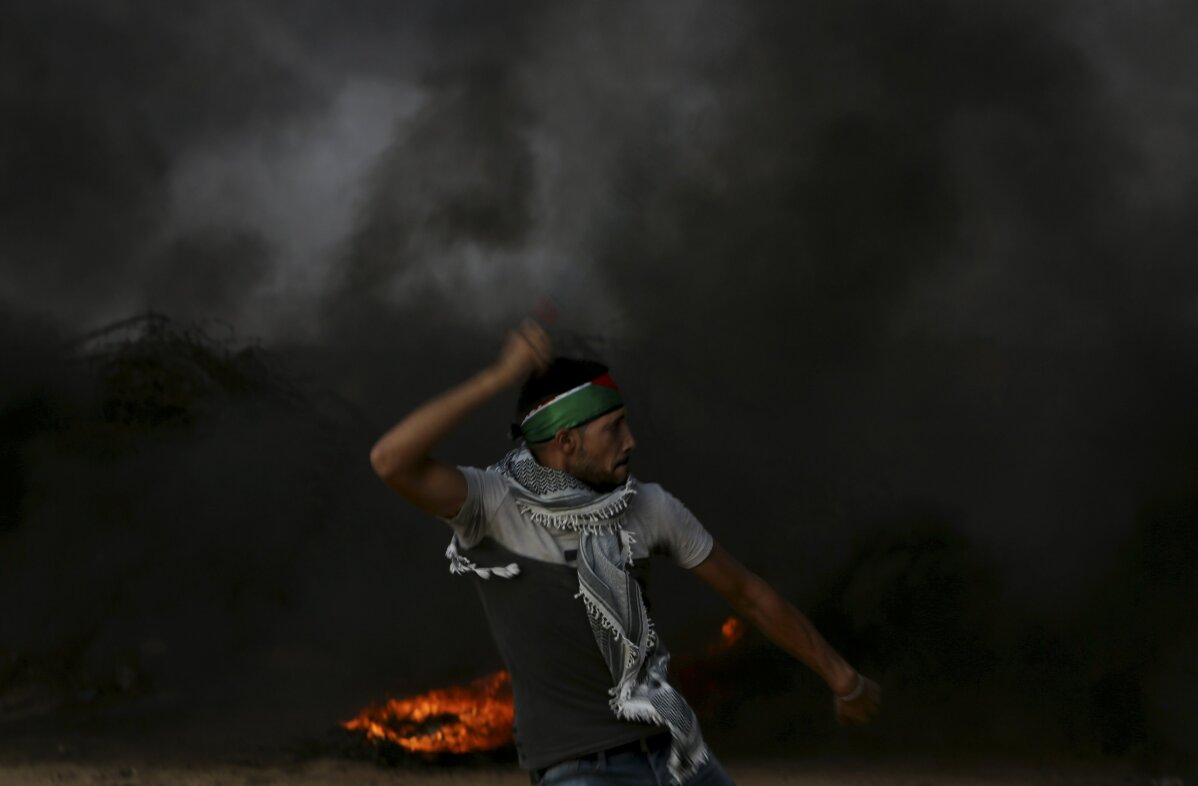 4 of 19

|
A protester hurls stones while others burn tires near the fence of the Gaza Strip border with Israel, east of Khan Younis, southern Gaza Strip, Friday, Oct. 19, 2018. (AP Photo/Adel Hana)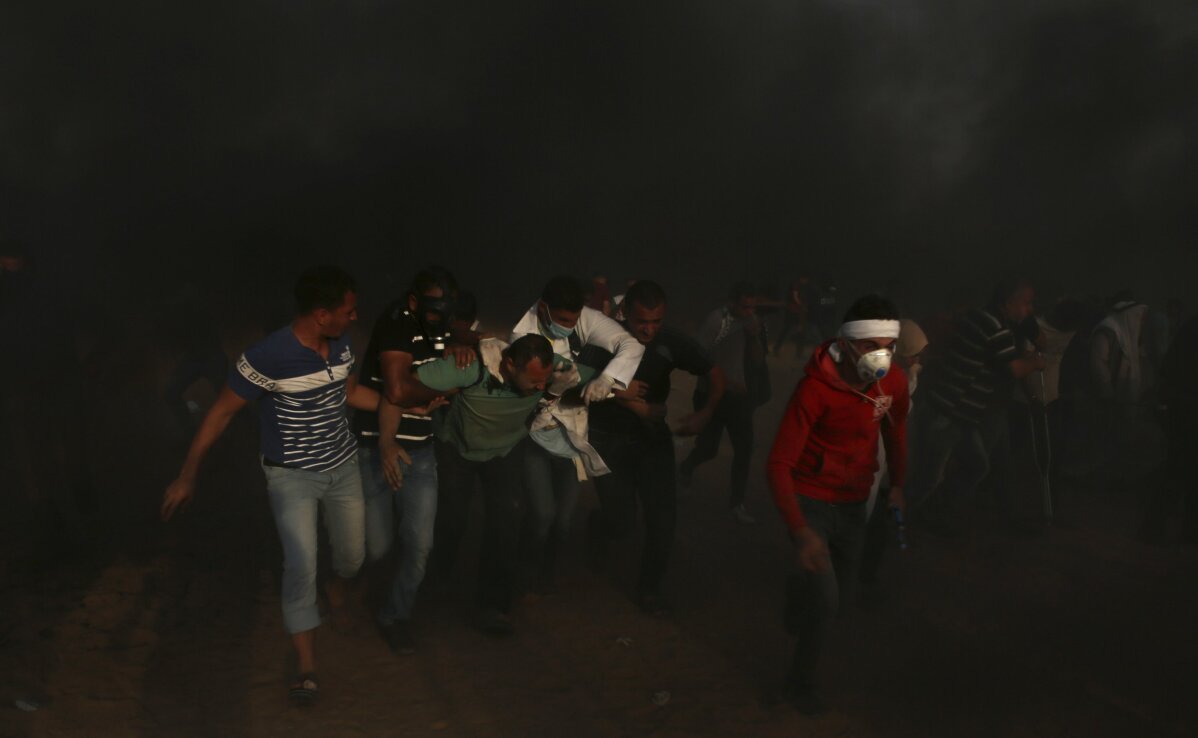 5 of 19

|
Medics and protesters evacuate a seriously wounded youth who was shot in his back, from near the fence of the Gaza Strip border with Israel east of Khan Younis, southern Gaza Strip, Friday, Oct. 19, 2018. (AP Photo/Adel Hana)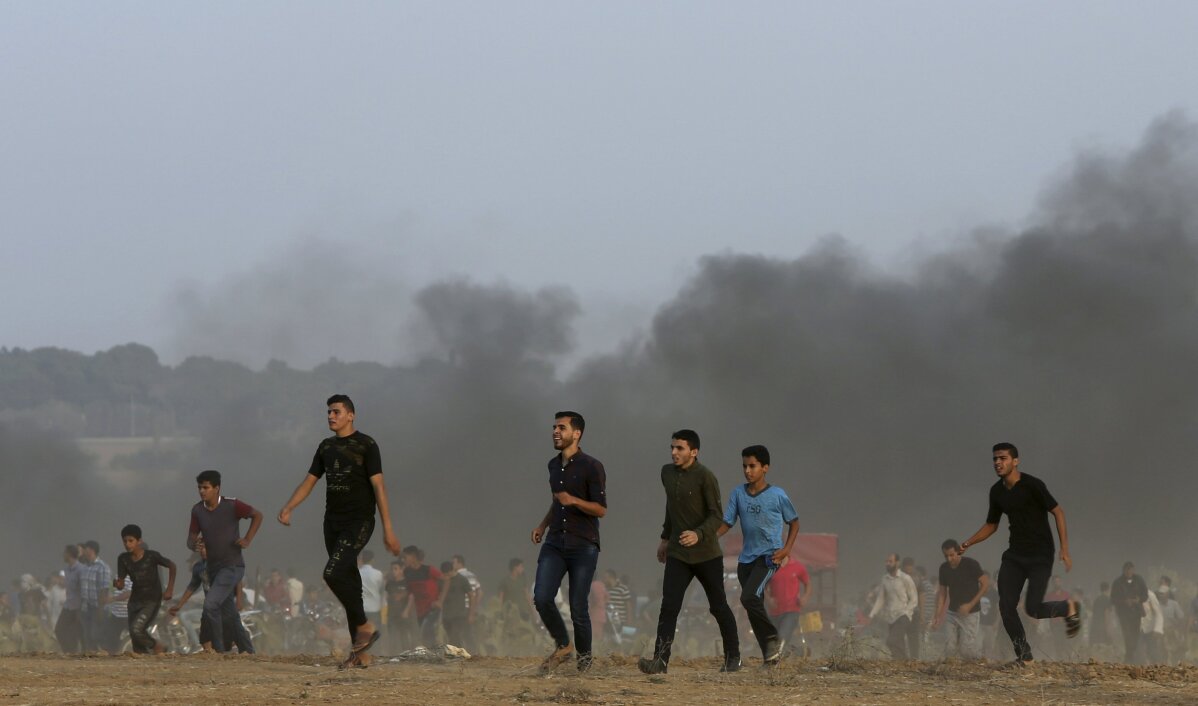 6 of 19

|
Protesters run to inspect the site of an Israeli airstrike near the Gaza Strip border with Israel east of Khan Younis, southern Gaza Strip, Friday, Oct. 19, 2018. (AP Photo/Adel Hana)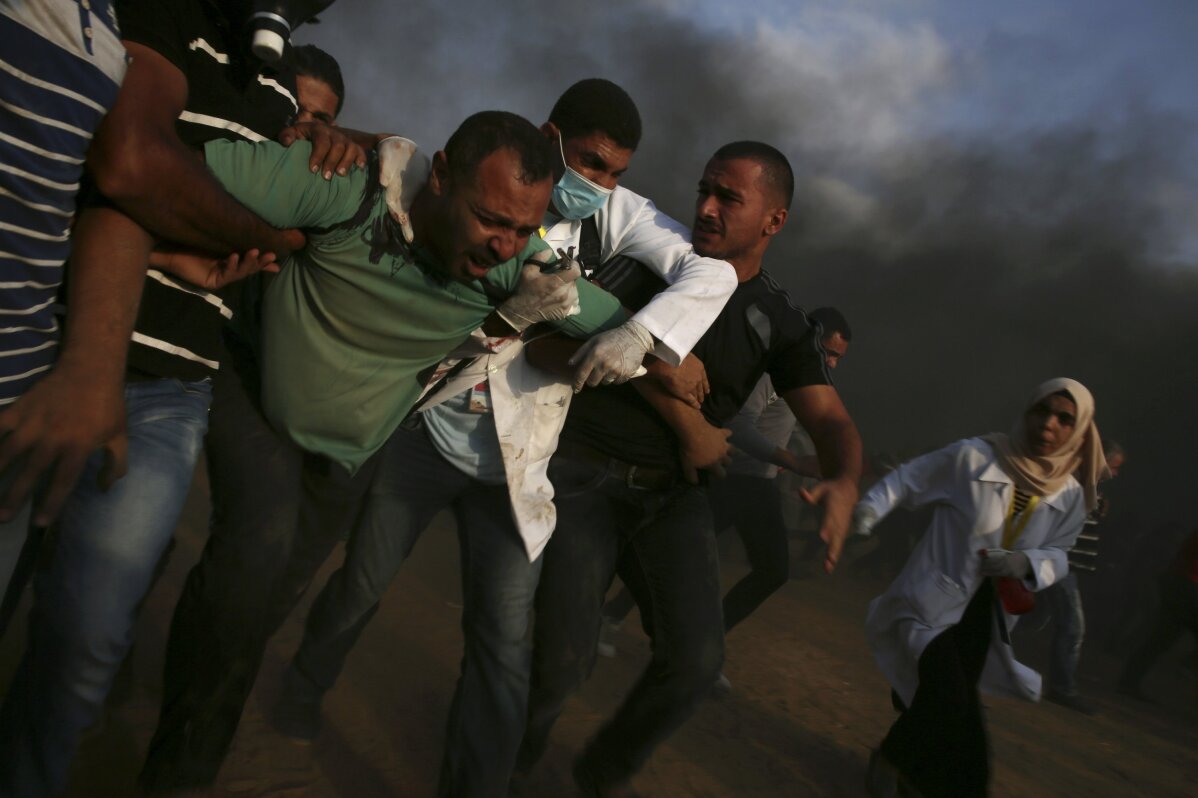 7 of 19

|
Medics and protesters evacuate a serious wounded youth who was shot at his back, from near the fence of the Gaza Strip border with Israel east of Khan Younis, southern Gaza Strip, Friday, Oct. 19, 2018. (AP Photo/Adel Hana)
8 of 19

|
Protesters burn tires while other wave his national near the fence of the Gaza Strip border with Israel east of Khan Younis, southern Gaza Strip, Friday, Oct. 19, 2018. (AP Photo/Adel Hana)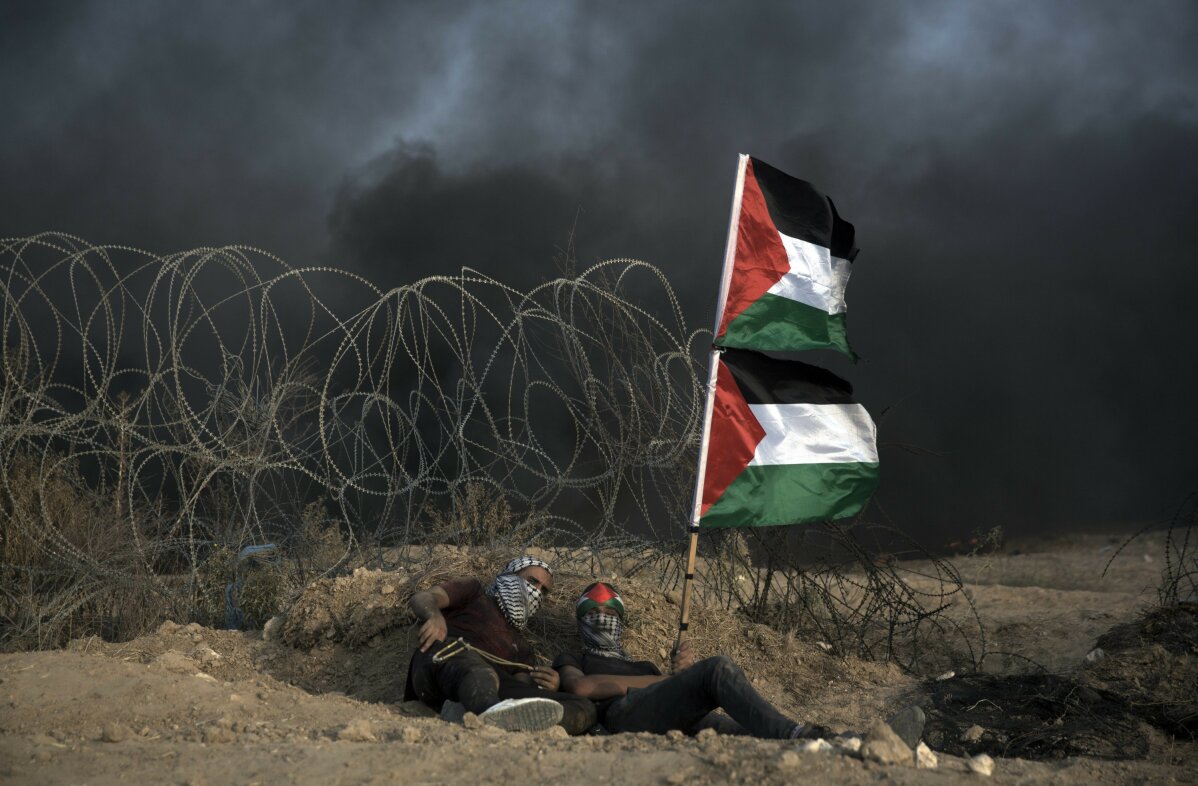 9 of 19

|
Palestinian protesters take cover at the Gaza Strip's border with Israel, Friday, Oct. 19, 2018. (AP Photo/Khalil Hamra)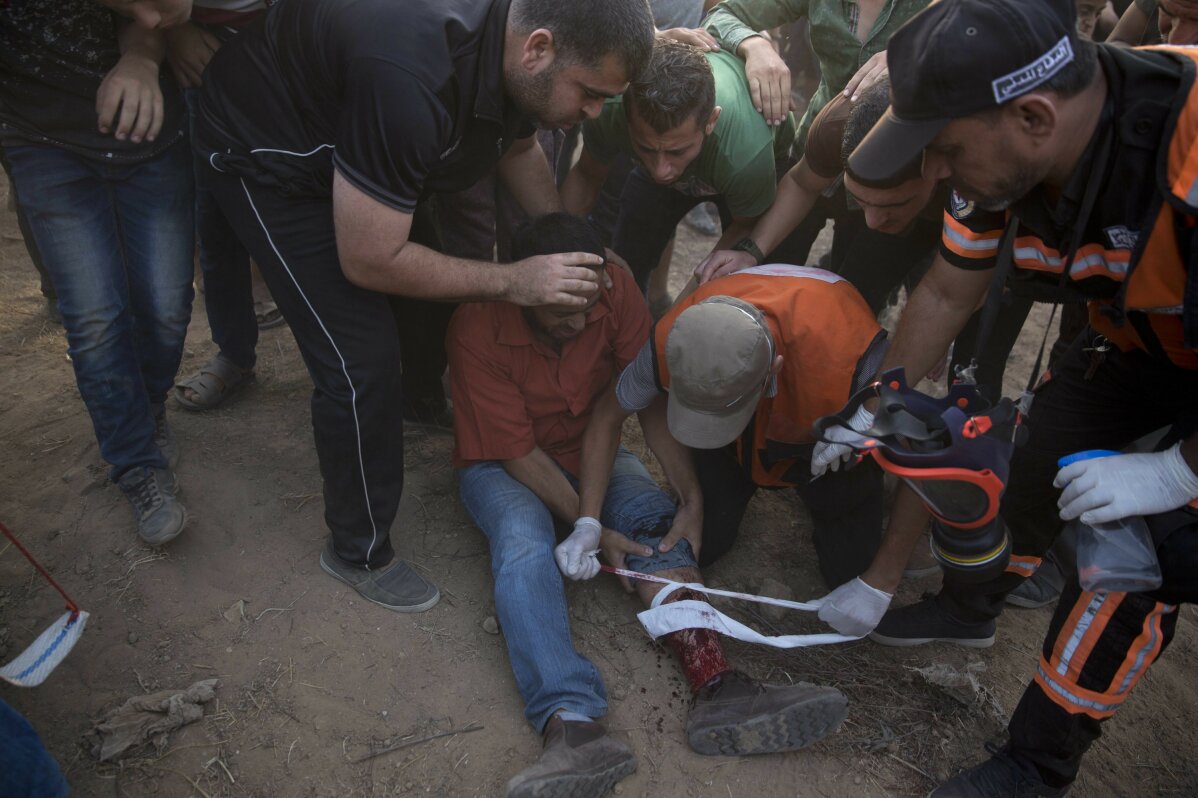 10 of 19

|
Palestinian medics treat a wounded protester was shot by Israeli troops at the Gaza Strip's border with Israel, Friday, Oct. 19, 2018. (AP Photo/Khalil Hamra)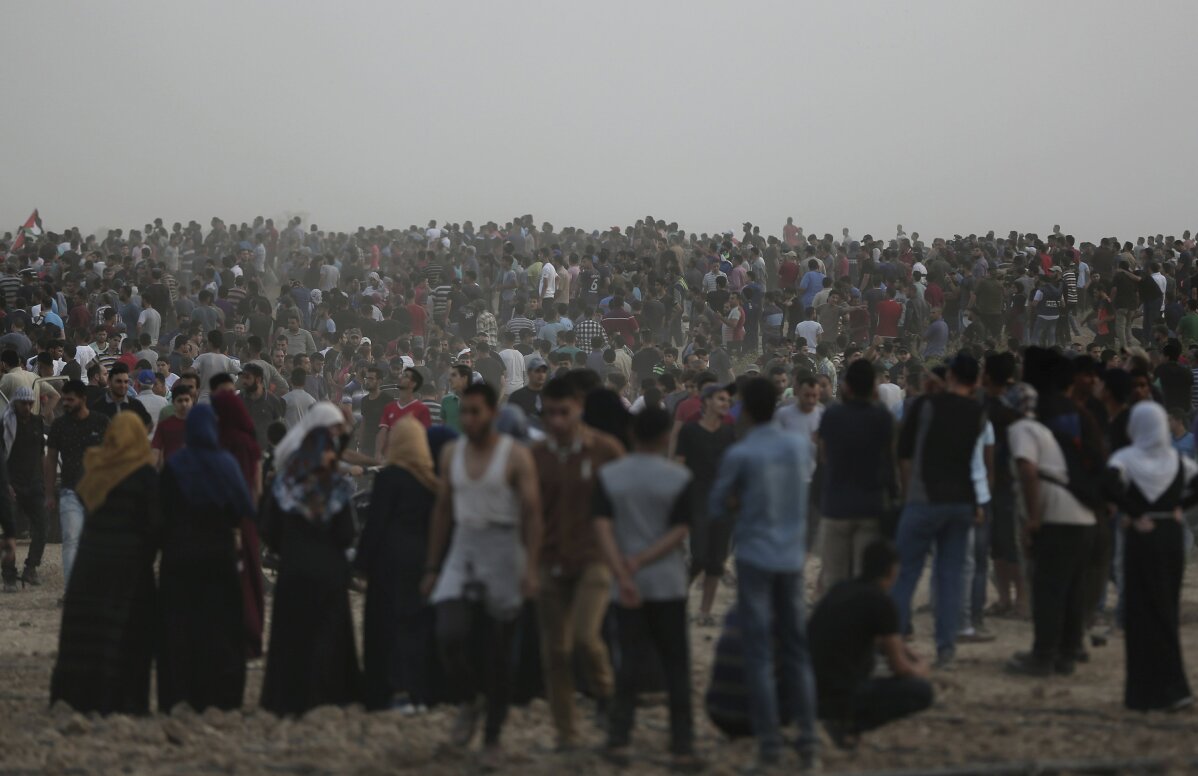 11 of 19

|
Palestinians protest at the Gaza Strip's border with Israel, Friday, Oct. 19, 2018. (AP Photo/Khalil Hamra)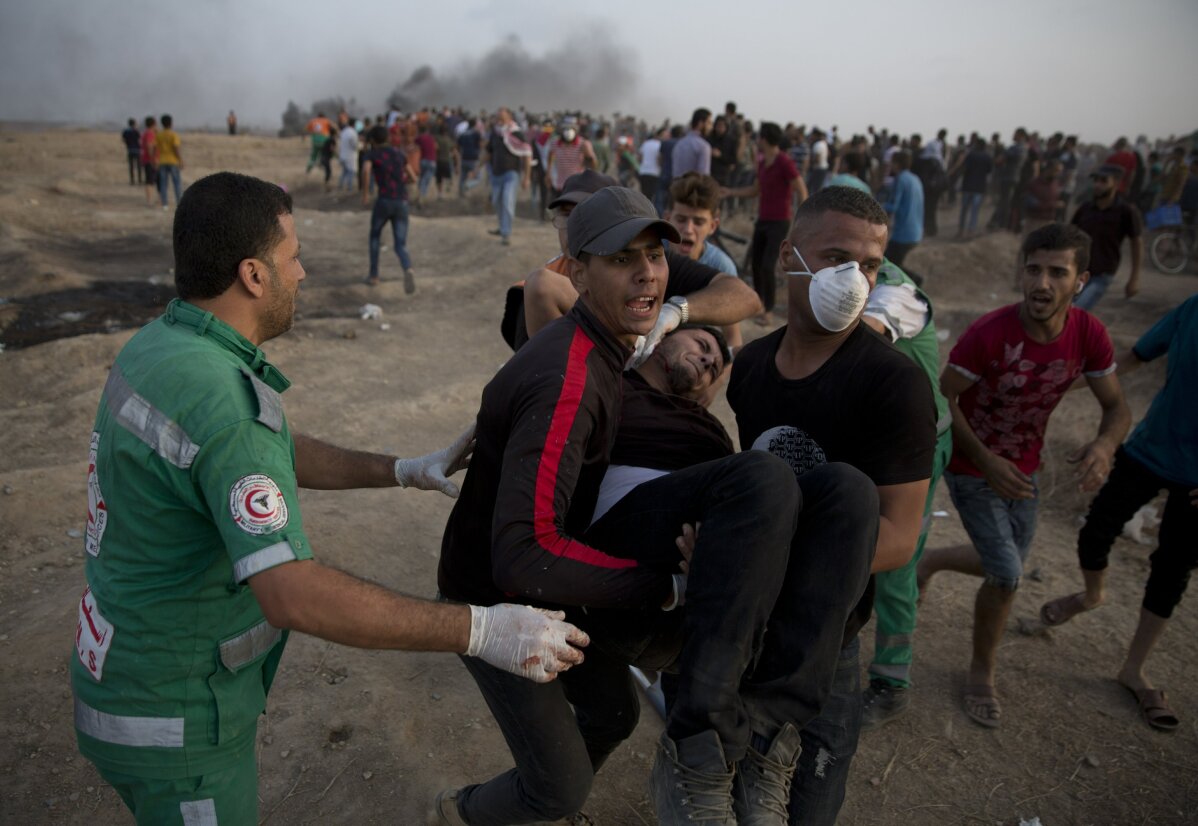 12 of 19

|
Palestinians evacuate a wounded protester at the Gaza Strip's border with Israel, Friday, Oct. 19, 2018. (AP Photo/Khalil Hamra)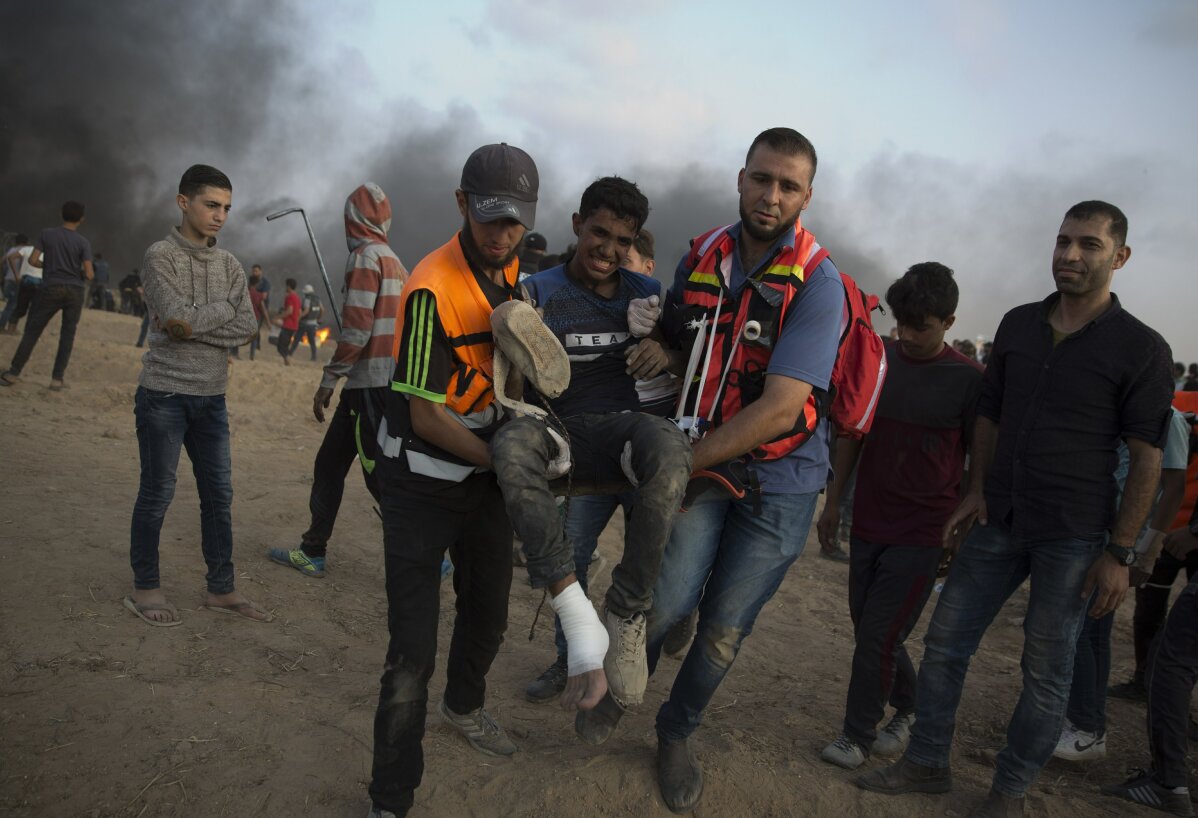 13 of 19

|
Palestinian medics evacuate a wounded protester at the Gaza Strip's border with Israel, Friday, Oct. 19, 2018. (AP Photo/Khalil Hamra)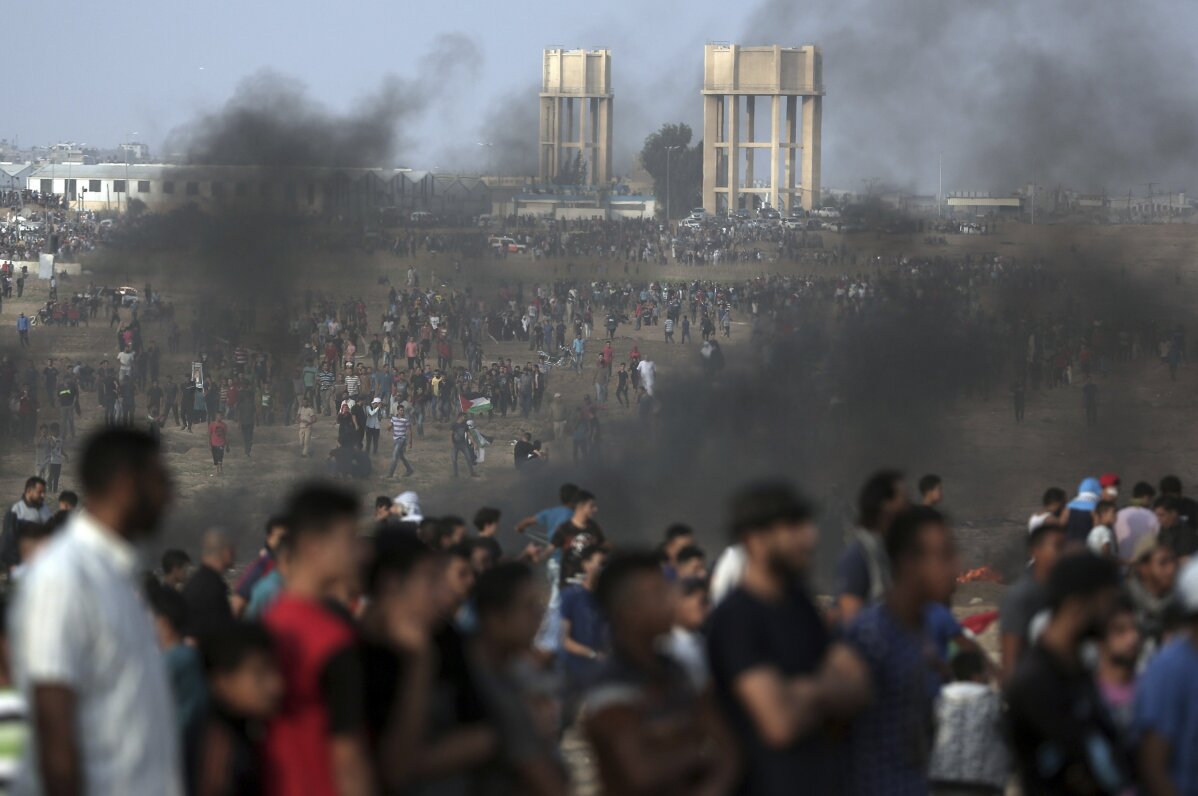 14 of 19

|
Palestinians protest at the Gaza Strip's border with Israel, Friday, Oct. 19, 2018. (AP Photo/Khalil Hamra)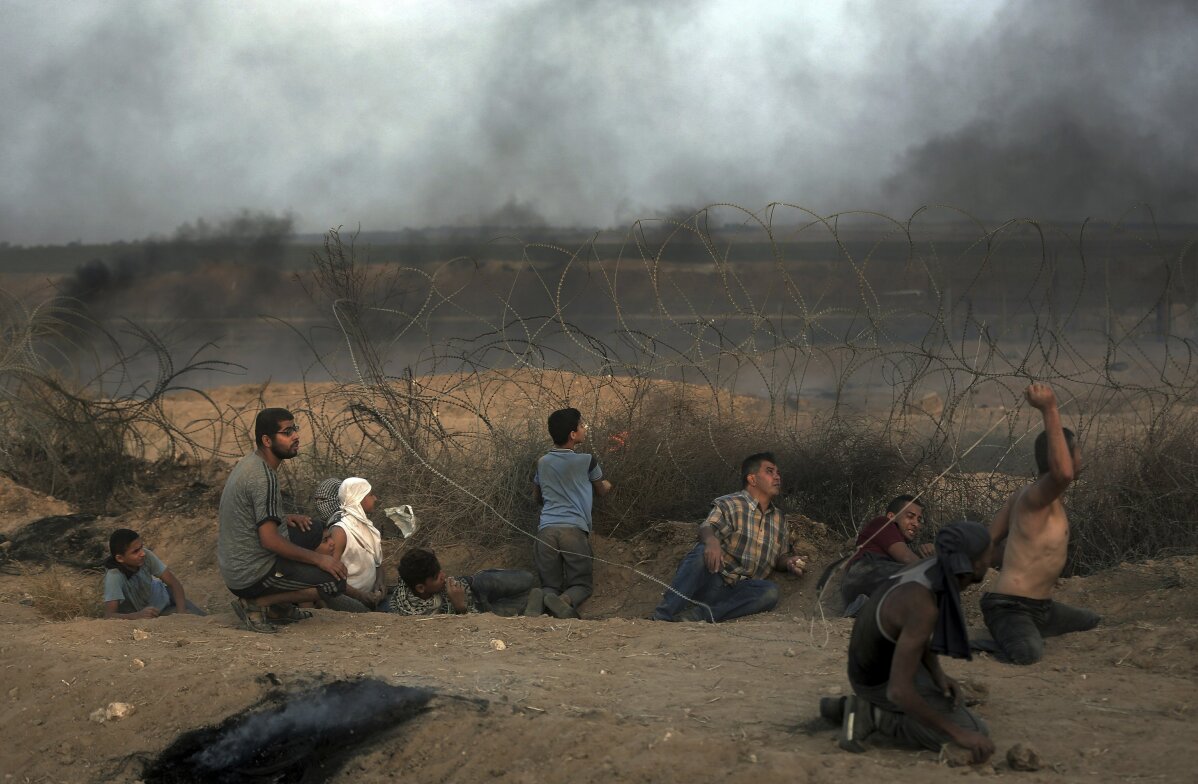 15 of 19

|
Palestinian protesters take a cover during a protest at the Gaza Strip's border with Israel, Friday, Oct. 19, 2018. (AP Photo/Khalil Hamra)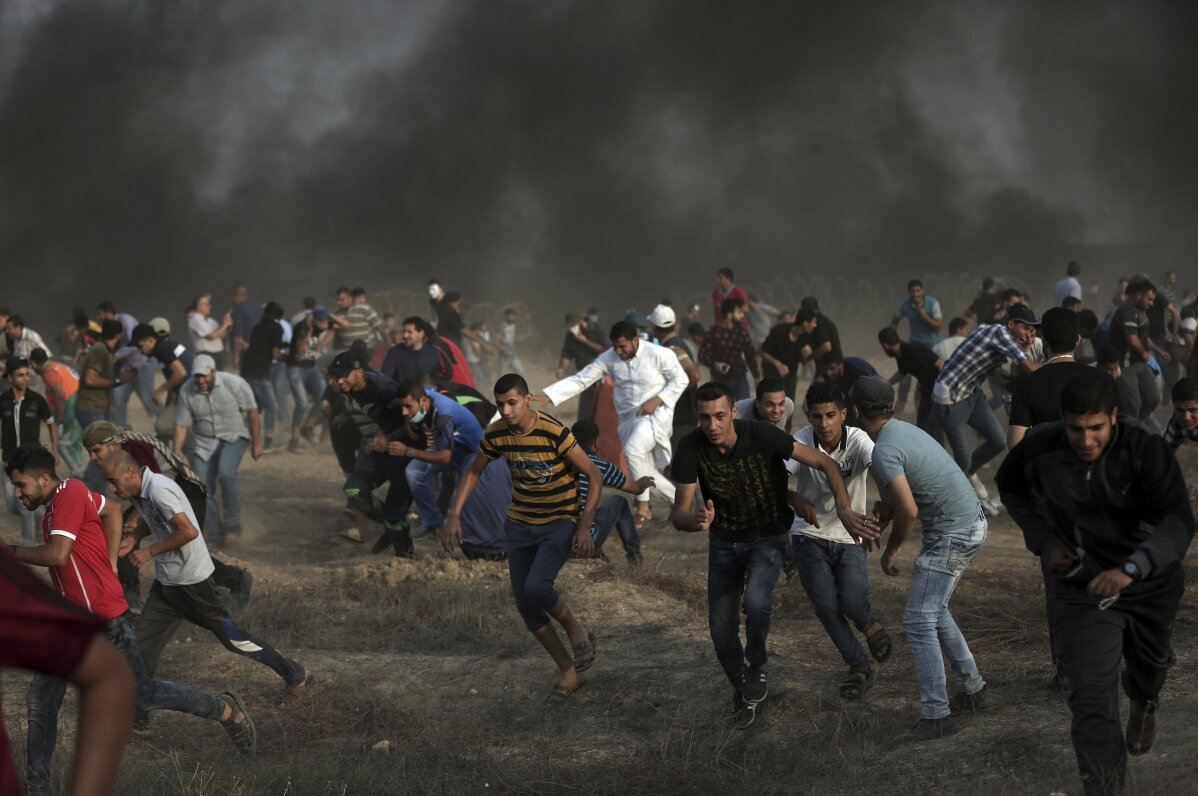 16 of 19

|
Palestinian protesters run for cover from teargas fired by Israeli troops during a protest at the Gaza Strip's border with Israel, Friday, Oct. 19, 2018. (AP Photo/Khalil Hamra)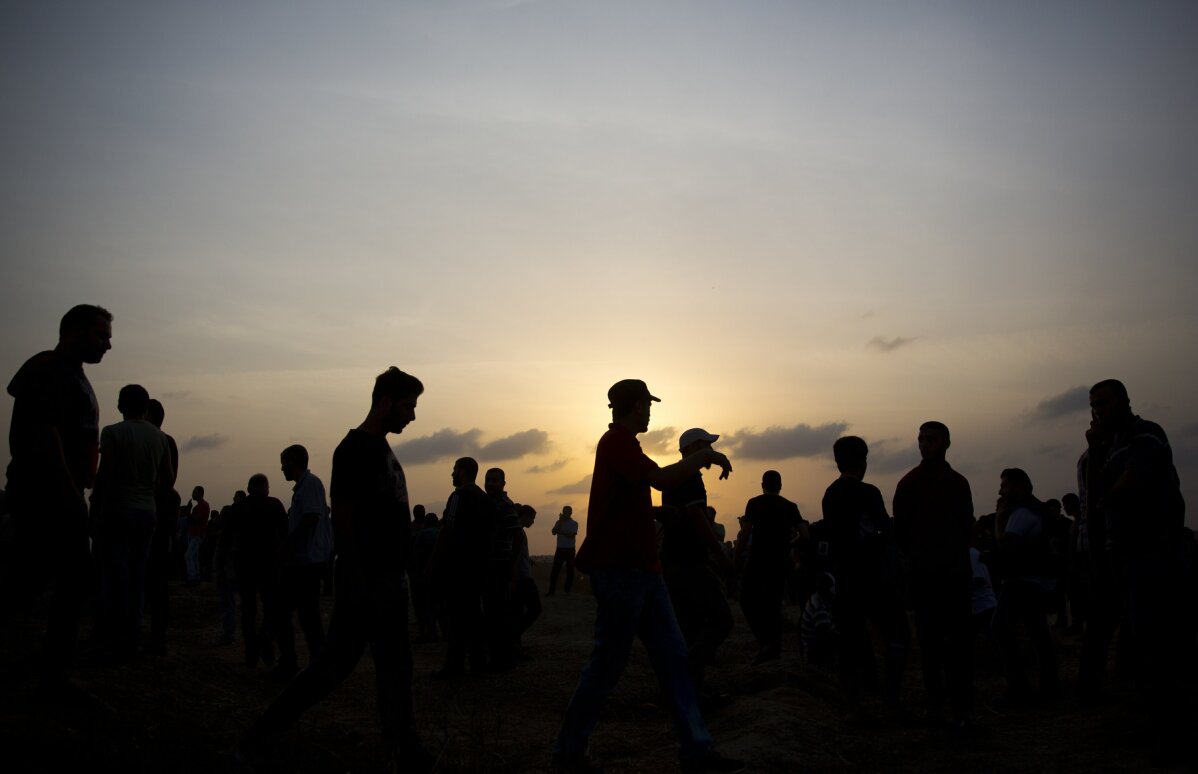 17 of 19

|
Palestinian protesters gather as they attend a protest at the Gaza Strip's border with Israel, Friday, Oct. 19, 2018. (AP Photo/Khalil Hamra)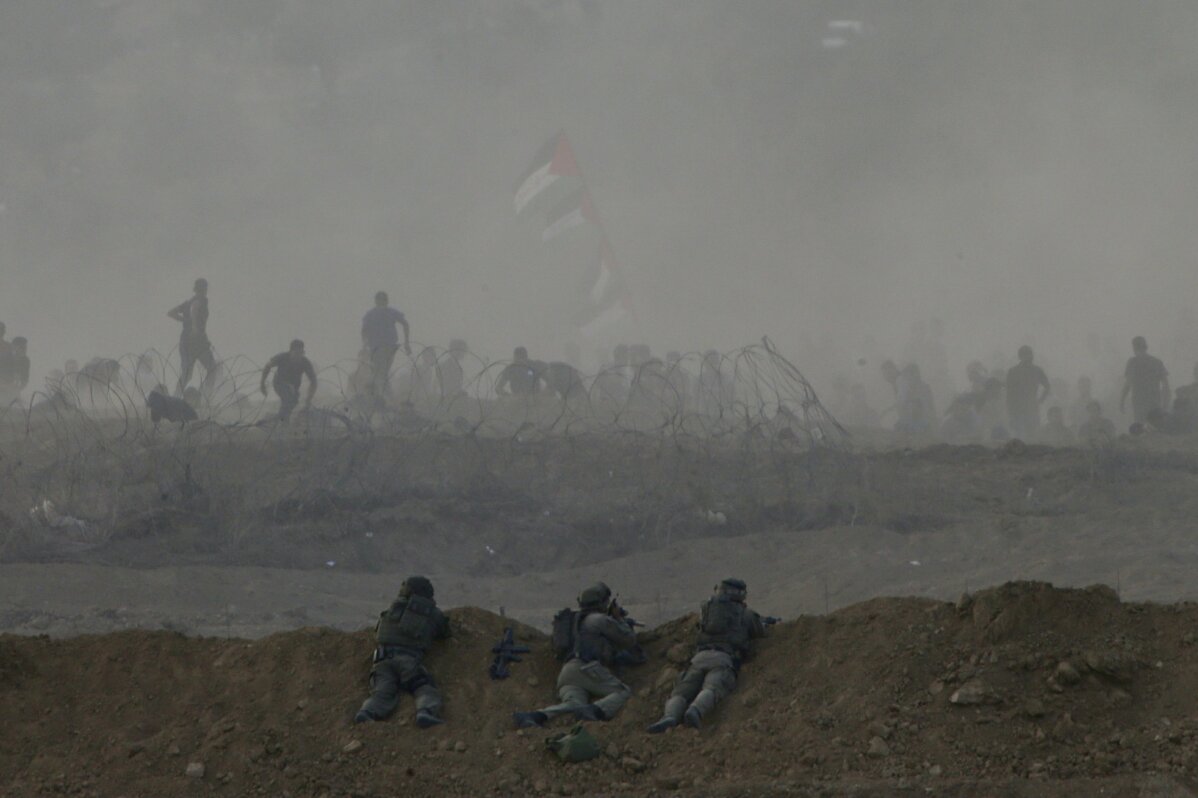 18 of 19

|
Israeli soldiers are positioned on a sand berm as Palestinian protesters run from tear gas fired by Israeli troops during a protest along the Israel Gaza border, Israel, Friday, Oct. 19, 2018. (AP Photo/Ariel Schalit)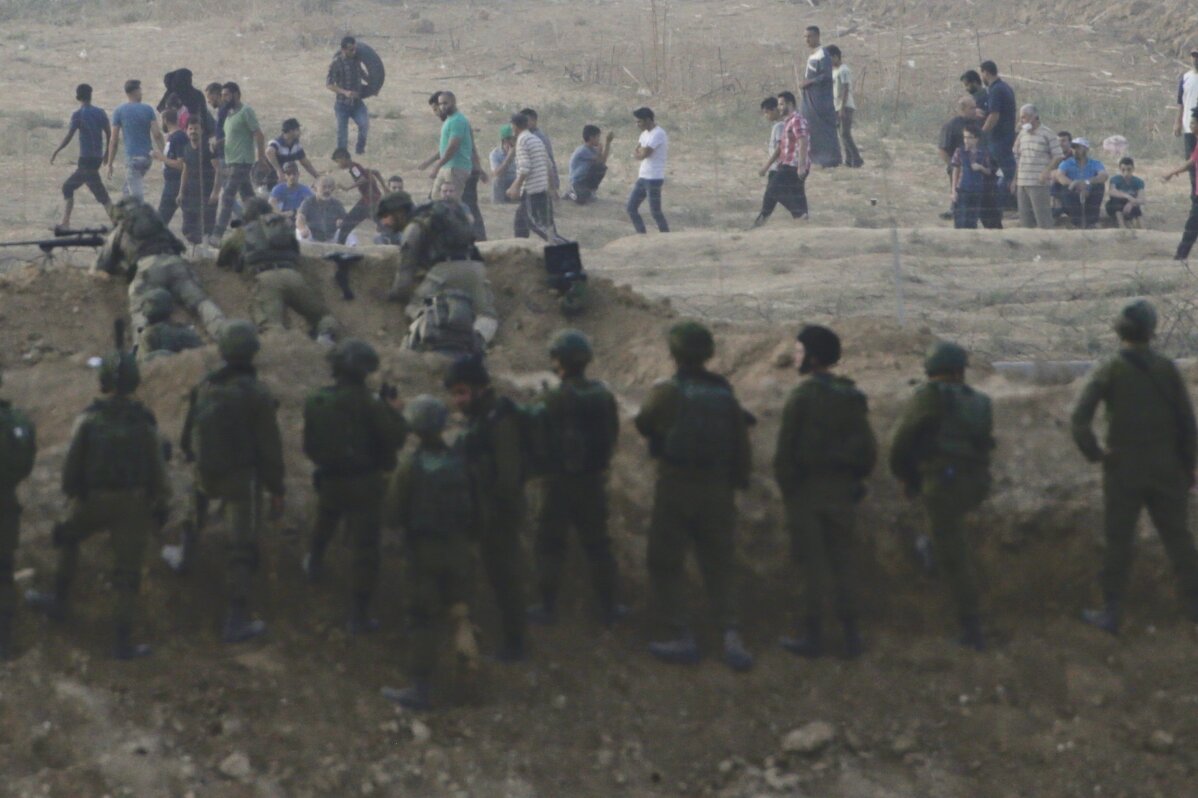 19 of 19

|
Israeli soldiers stand guard as Palestinian protesters arrive during a protest along the Israel Gaza border, Israel , Friday, Oct. 19, 2018. (AP Photo/Ariel Schalit)
Protesters gather on Gaza frontier, Israeli fire wounds 77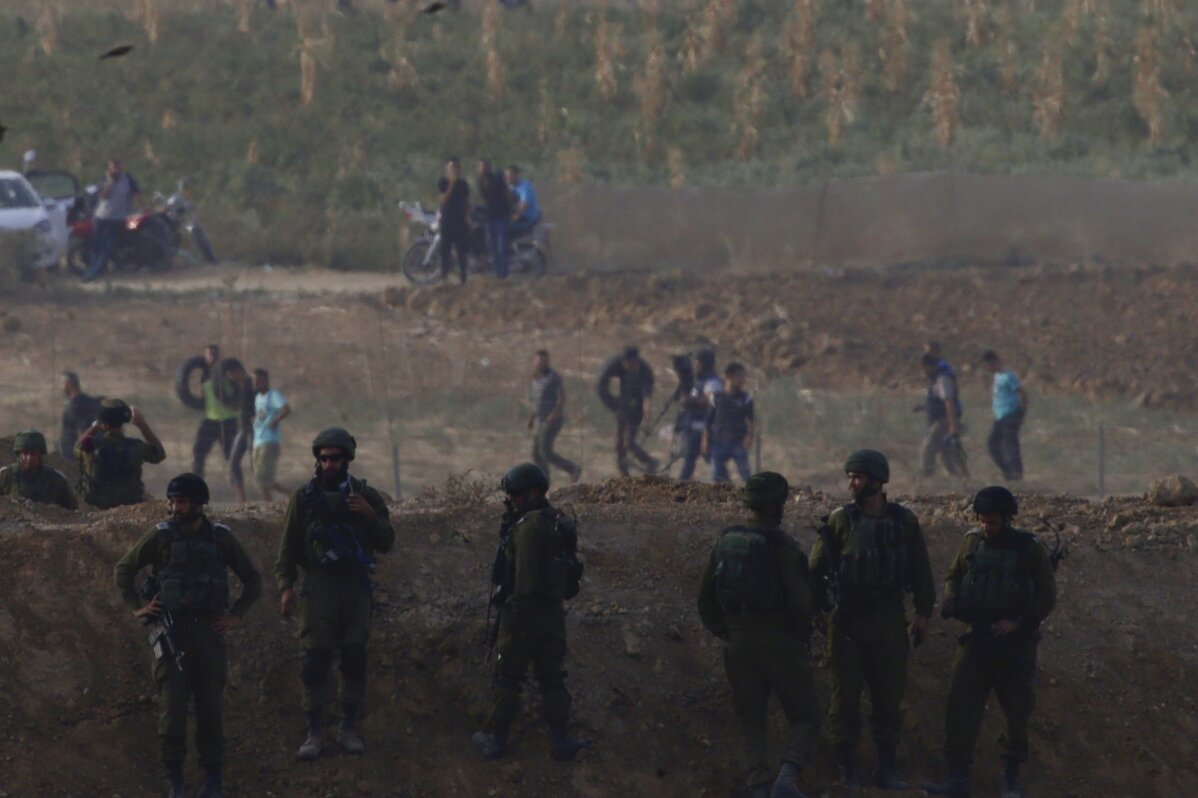 1 of 19

|
Israeli soldiers are positioned as Palestinian protesters arrive during a protest along the Israel Gaza border in Israel, Friday, Oct. 19, 2018. (AP Photo/Ariel Schalit)
1 of 19
Israeli soldiers are positioned as Palestinian protesters arrive during a protest along the Israel Gaza border in Israel, Friday, Oct. 19, 2018. (AP Photo/Ariel Schalit)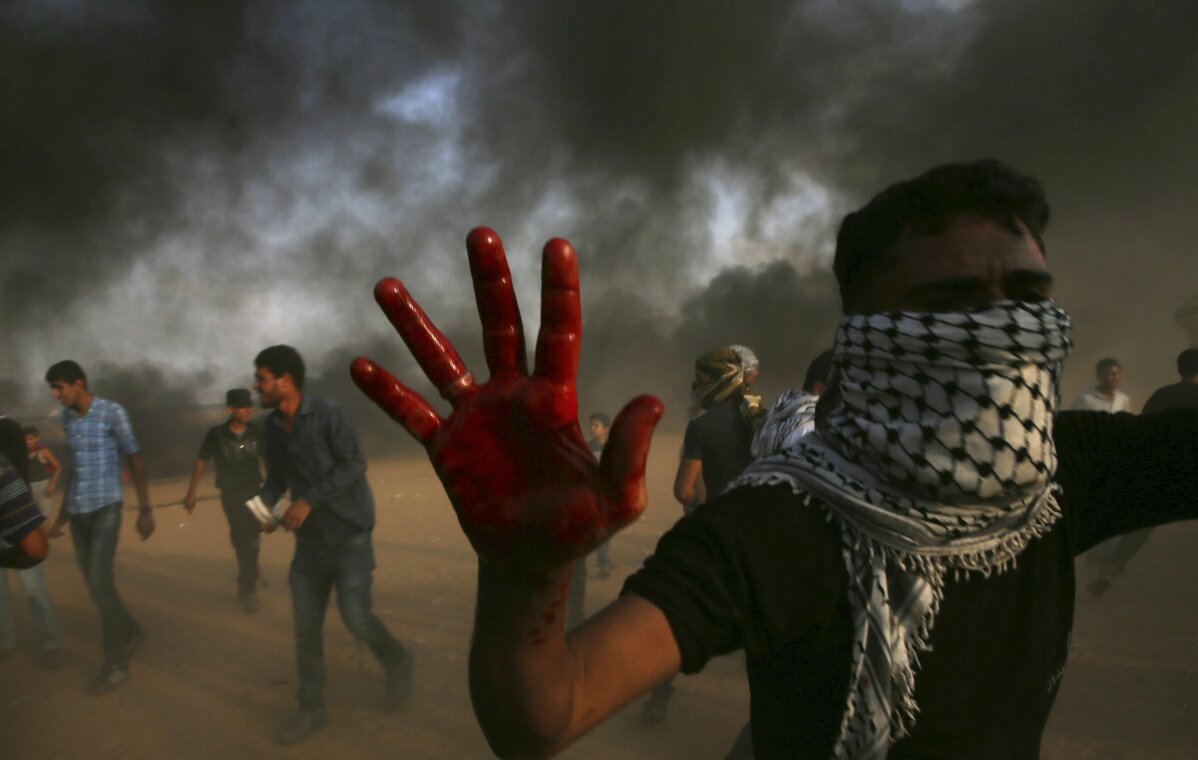 2 of 19

|
A protester shows his bloody hand while helping a wounded youth as others burn tires near the fence of the Gaza Strip border with Israel east of Khan Younis, southern Gaza Strip, Friday, Oct. 19, 2018. (AP Photo/Adel Hana)
2 of 19
A protester shows his bloody hand while helping a wounded youth as others burn tires near the fence of the Gaza Strip border with Israel east of Khan Younis, southern Gaza Strip, Friday, Oct. 19, 2018. (AP Photo/Adel Hana)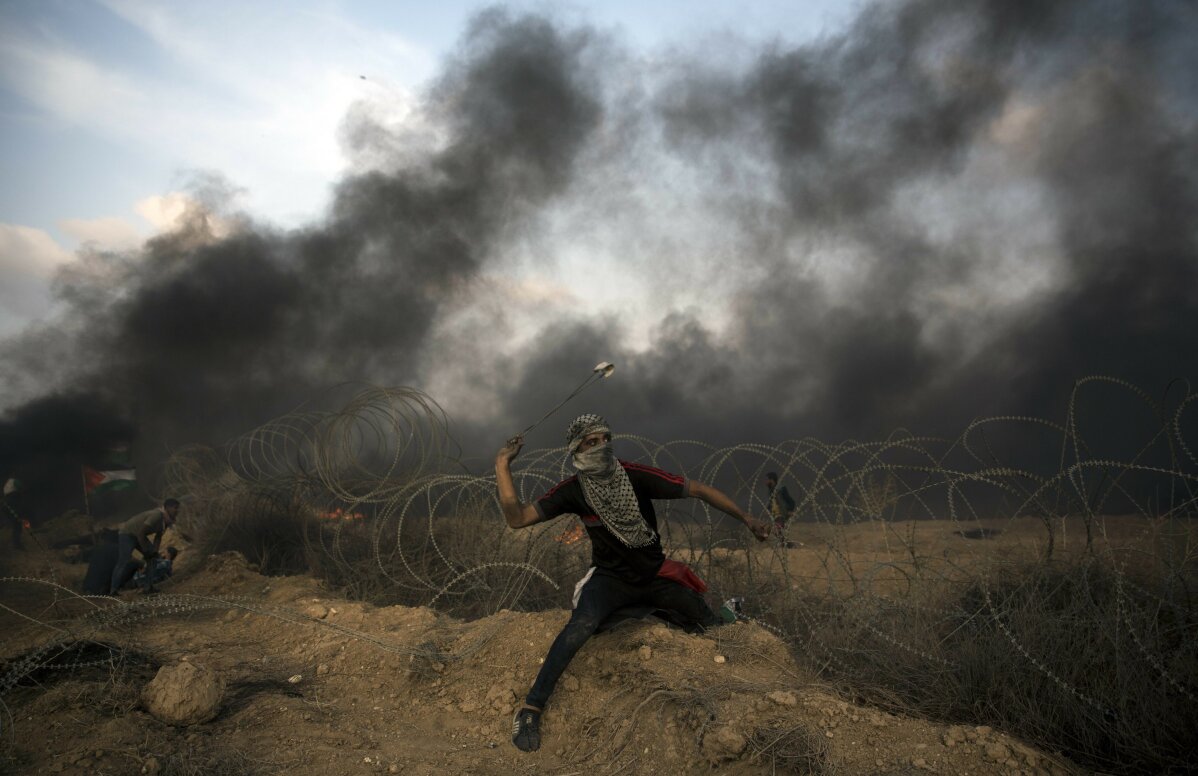 3 of 19

|
A Palestinian protester hurls stones towards Israeli troops at the Gaza Strip's border with Israel, Friday, Oct. 19, 2018. (AP Photo/Khalil Hamra)
3 of 19
A Palestinian protester hurls stones towards Israeli troops at the Gaza Strip's border with Israel, Friday, Oct. 19, 2018. (AP Photo/Khalil Hamra)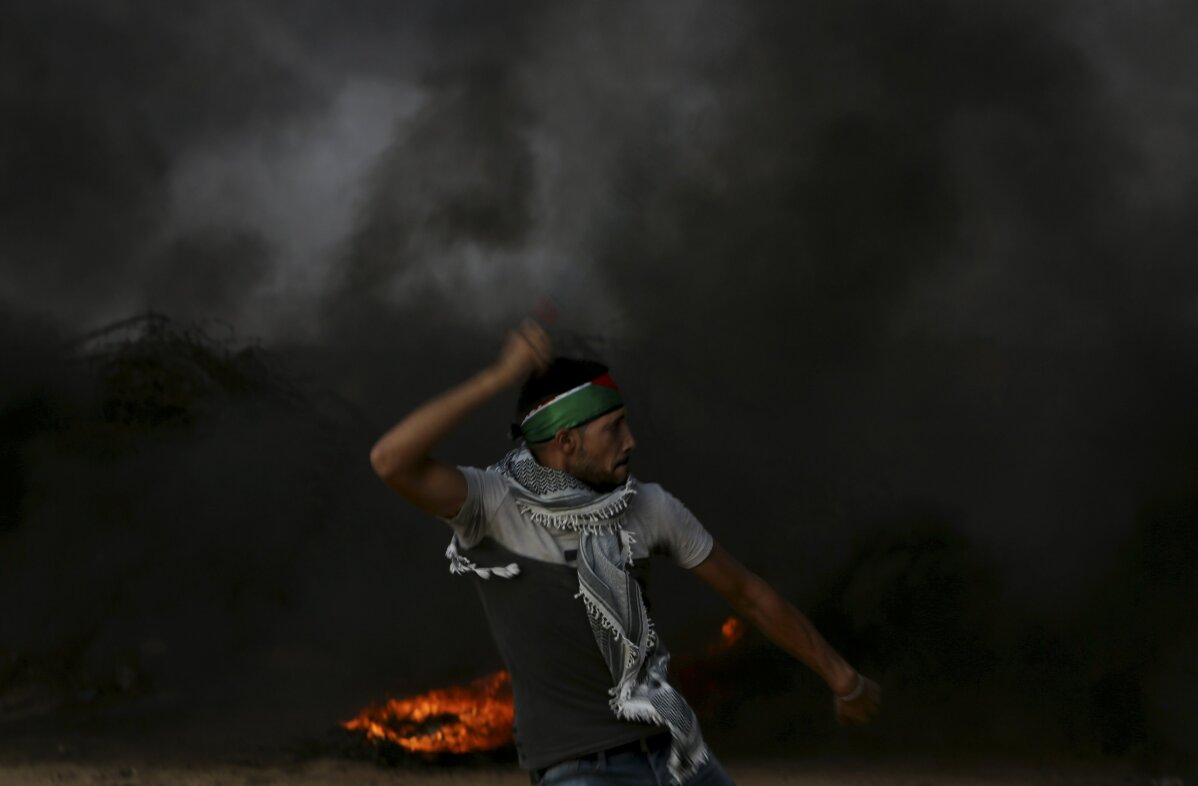 4 of 19

|
A protester hurls stones while others burn tires near the fence of the Gaza Strip border with Israel, east of Khan Younis, southern Gaza Strip, Friday, Oct. 19, 2018. (AP Photo/Adel Hana)
4 of 19
A protester hurls stones while others burn tires near the fence of the Gaza Strip border with Israel, east of Khan Younis, southern Gaza Strip, Friday, Oct. 19, 2018. (AP Photo/Adel Hana)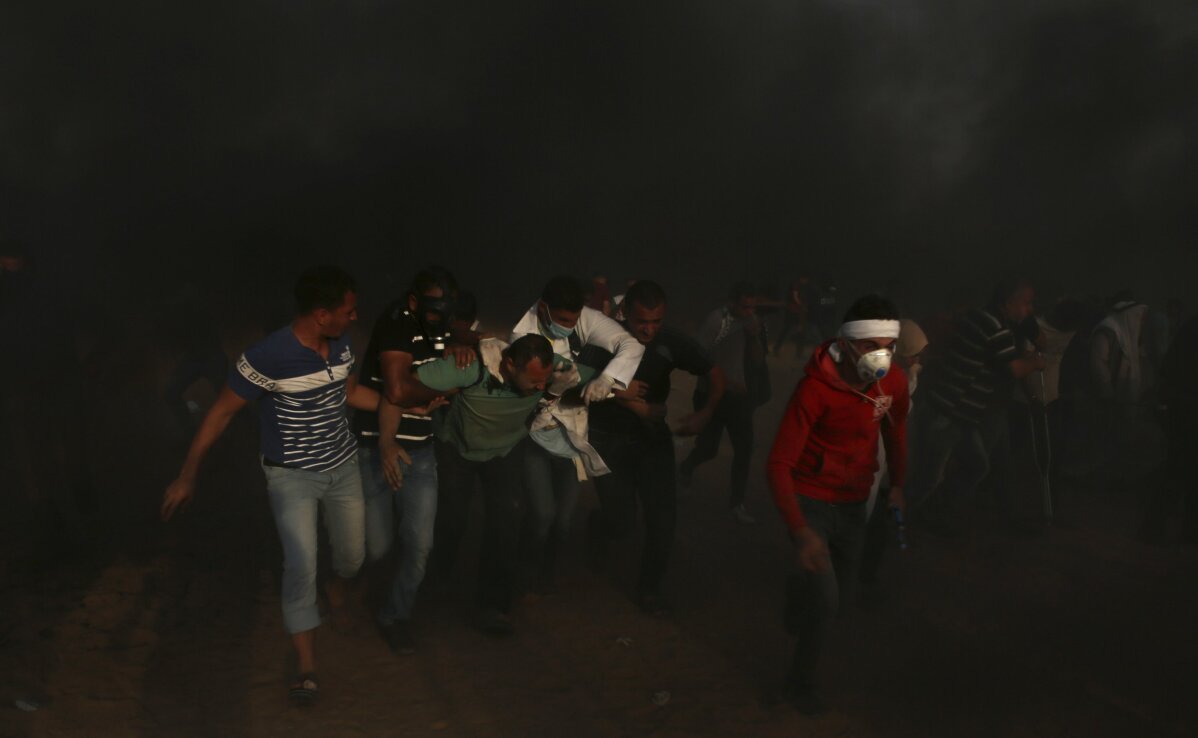 5 of 19

|
Medics and protesters evacuate a seriously wounded youth who was shot in his back, from near the fence of the Gaza Strip border with Israel east of Khan Younis, southern Gaza Strip, Friday, Oct. 19, 2018. (AP Photo/Adel Hana)
5 of 19
Medics and protesters evacuate a seriously wounded youth who was shot in his back, from near the fence of the Gaza Strip border with Israel east of Khan Younis, southern Gaza Strip, Friday, Oct. 19, 2018. (AP Photo/Adel Hana)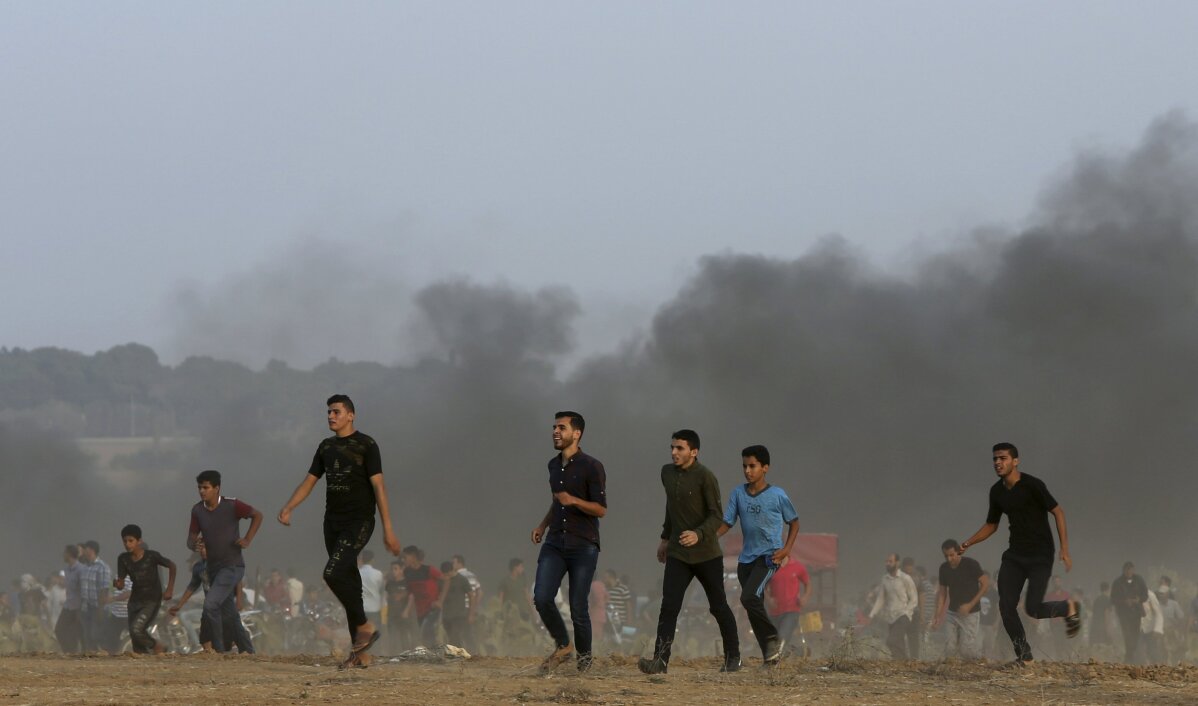 6 of 19

|
Protesters run to inspect the site of an Israeli airstrike near the Gaza Strip border with Israel east of Khan Younis, southern Gaza Strip, Friday, Oct. 19, 2018. (AP Photo/Adel Hana)
6 of 19
Protesters run to inspect the site of an Israeli airstrike near the Gaza Strip border with Israel east of Khan Younis, southern Gaza Strip, Friday, Oct. 19, 2018. (AP Photo/Adel Hana)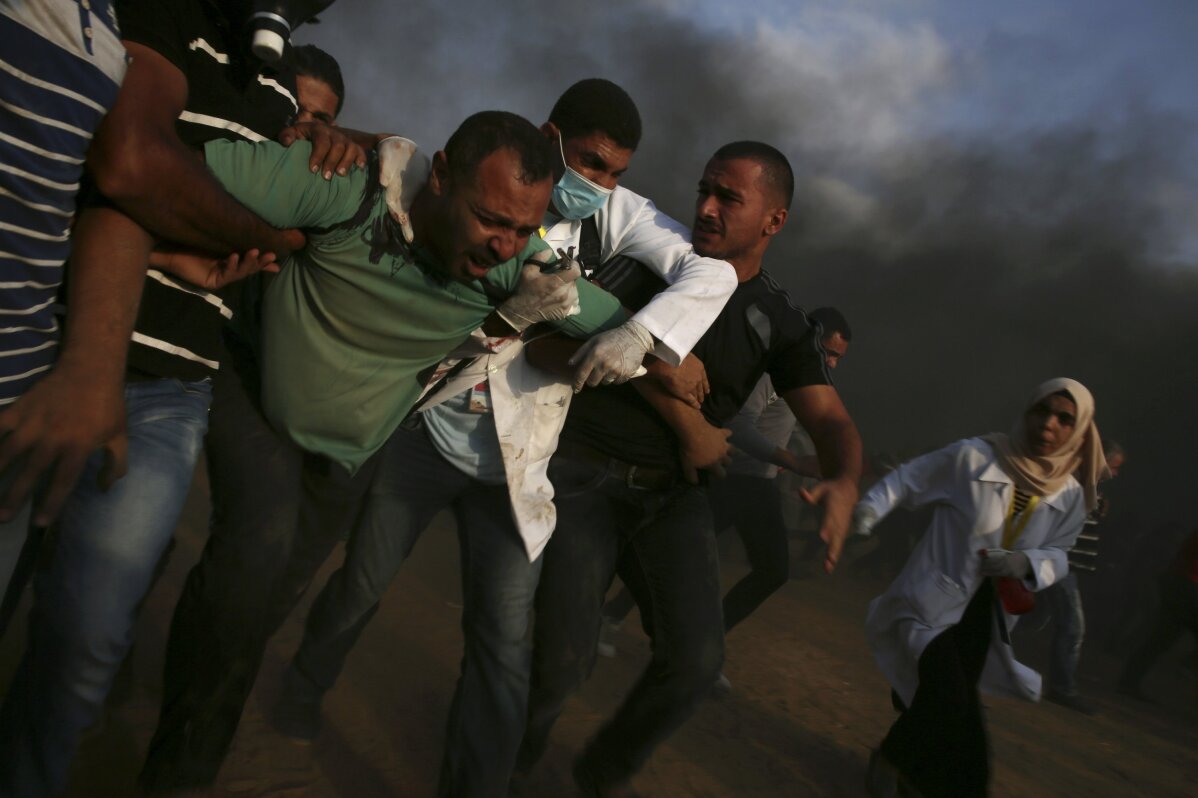 7 of 19

|
Medics and protesters evacuate a serious wounded youth who was shot at his back, from near the fence of the Gaza Strip border with Israel east of Khan Younis, southern Gaza Strip, Friday, Oct. 19, 2018. (AP Photo/Adel Hana)
7 of 19
Medics and protesters evacuate a serious wounded youth who was shot at his back, from near the fence of the Gaza Strip border with Israel east of Khan Younis, southern Gaza Strip, Friday, Oct. 19, 2018. (AP Photo/Adel Hana)
8 of 19

|
Protesters burn tires while other wave his national near the fence of the Gaza Strip border with Israel east of Khan Younis, southern Gaza Strip, Friday, Oct. 19, 2018. (AP Photo/Adel Hana)
8 of 19
Protesters burn tires while other wave his national near the fence of the Gaza Strip border with Israel east of Khan Younis, southern Gaza Strip, Friday, Oct. 19, 2018. (AP Photo/Adel Hana)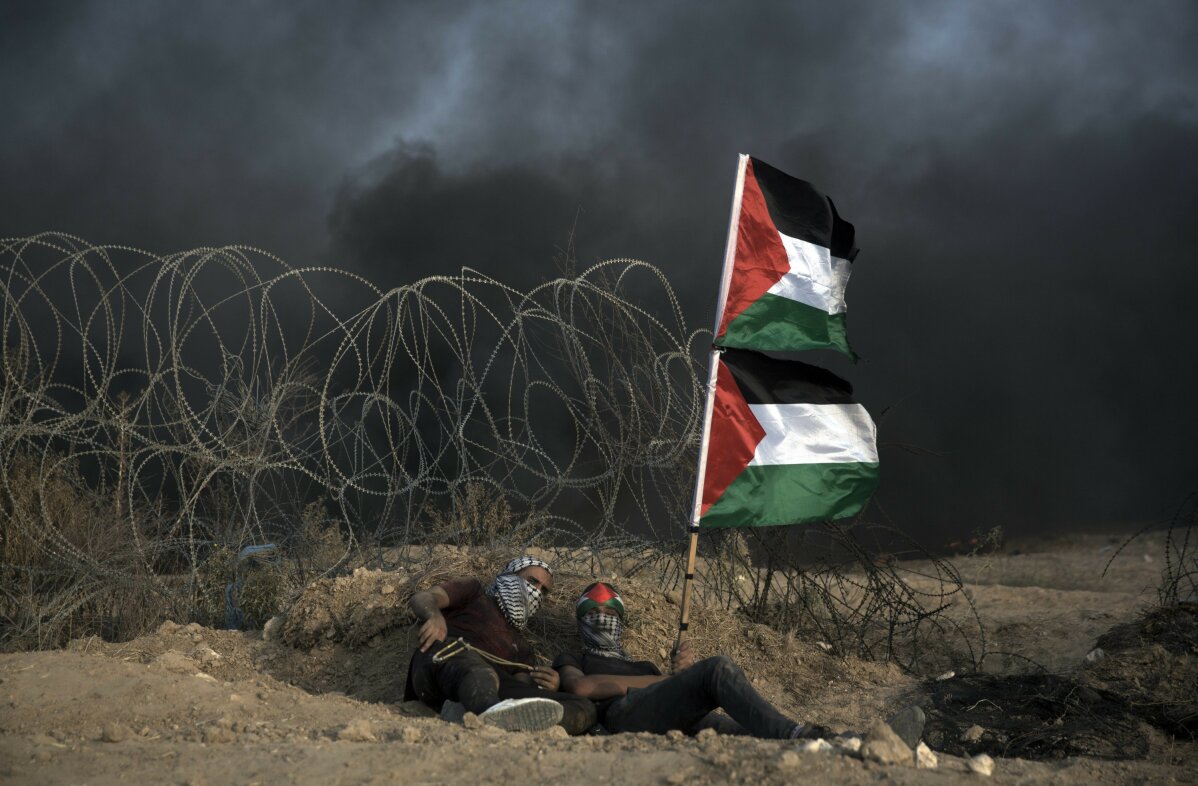 9 of 19

|
Palestinian protesters take cover at the Gaza Strip's border with Israel, Friday, Oct. 19, 2018. (AP Photo/Khalil Hamra)
9 of 19
Palestinian protesters take cover at the Gaza Strip's border with Israel, Friday, Oct. 19, 2018. (AP Photo/Khalil Hamra)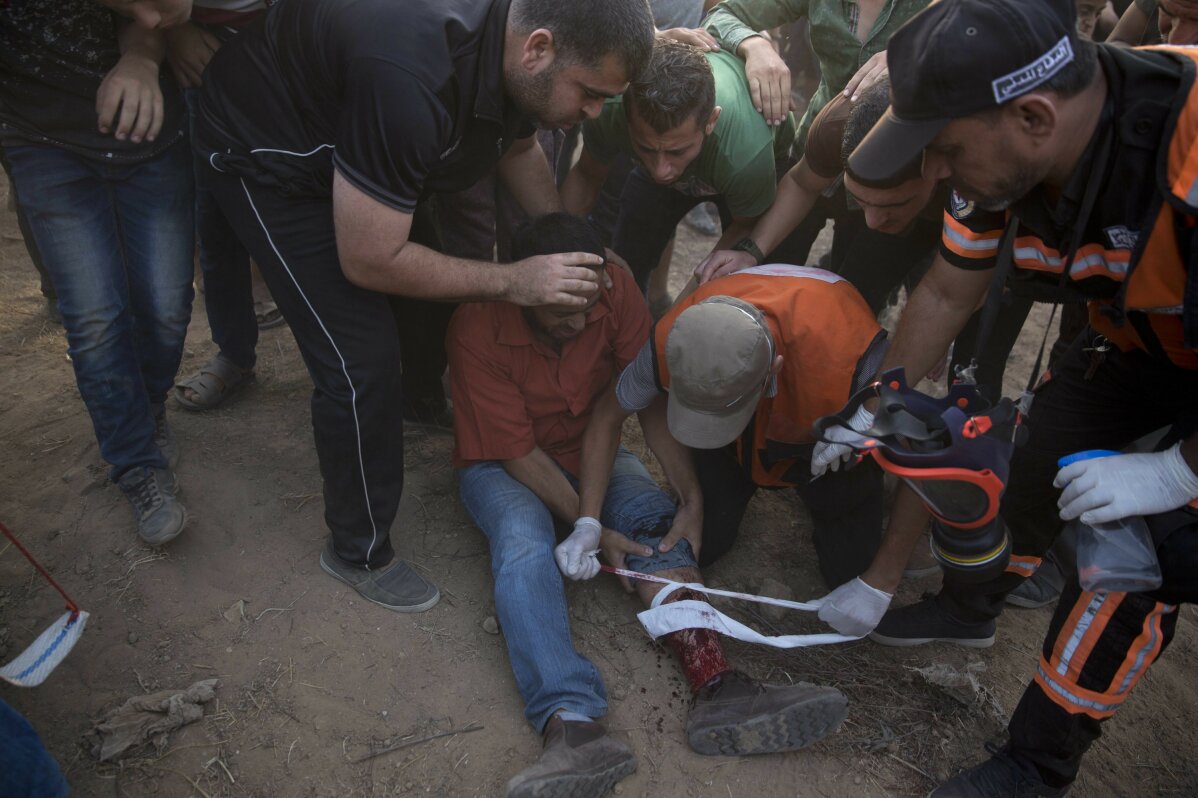 10 of 19

|
Palestinian medics treat a wounded protester was shot by Israeli troops at the Gaza Strip's border with Israel, Friday, Oct. 19, 2018. (AP Photo/Khalil Hamra)
10 of 19
Palestinian medics treat a wounded protester was shot by Israeli troops at the Gaza Strip's border with Israel, Friday, Oct. 19, 2018. (AP Photo/Khalil Hamra)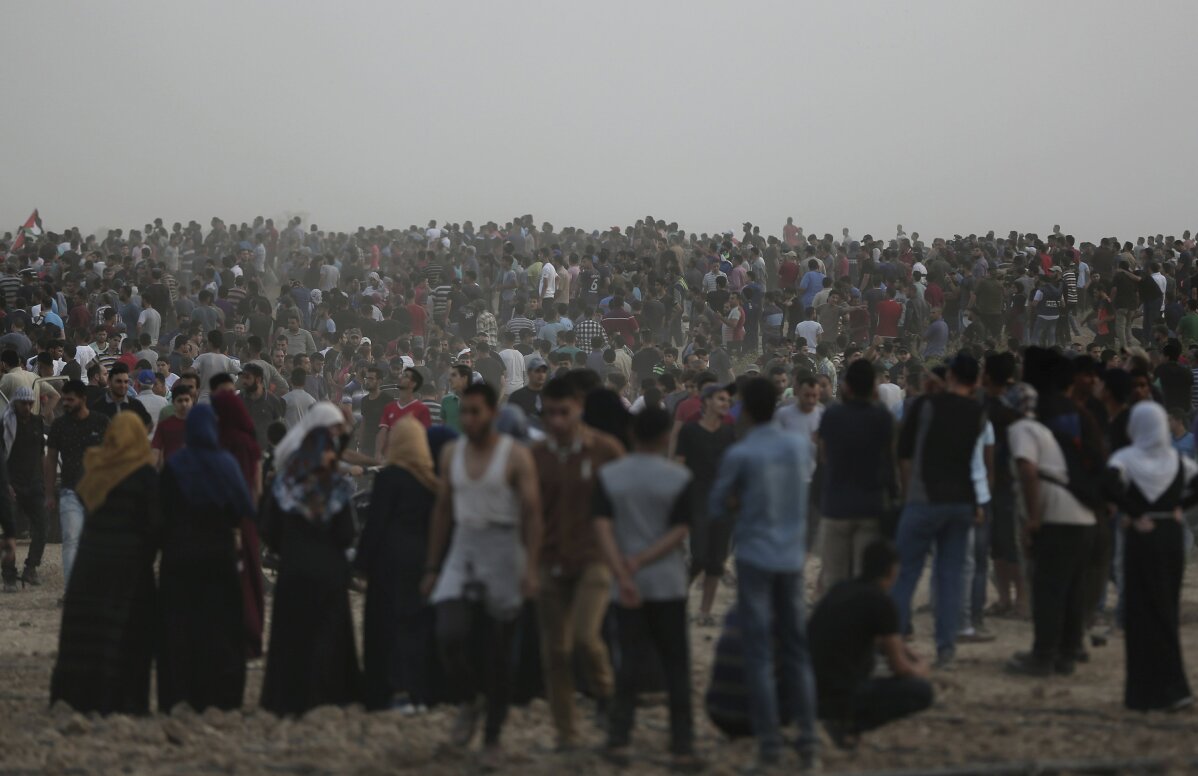 11 of 19

|
Palestinians protest at the Gaza Strip's border with Israel, Friday, Oct. 19, 2018. (AP Photo/Khalil Hamra)
11 of 19
Palestinians protest at the Gaza Strip's border with Israel, Friday, Oct. 19, 2018. (AP Photo/Khalil Hamra)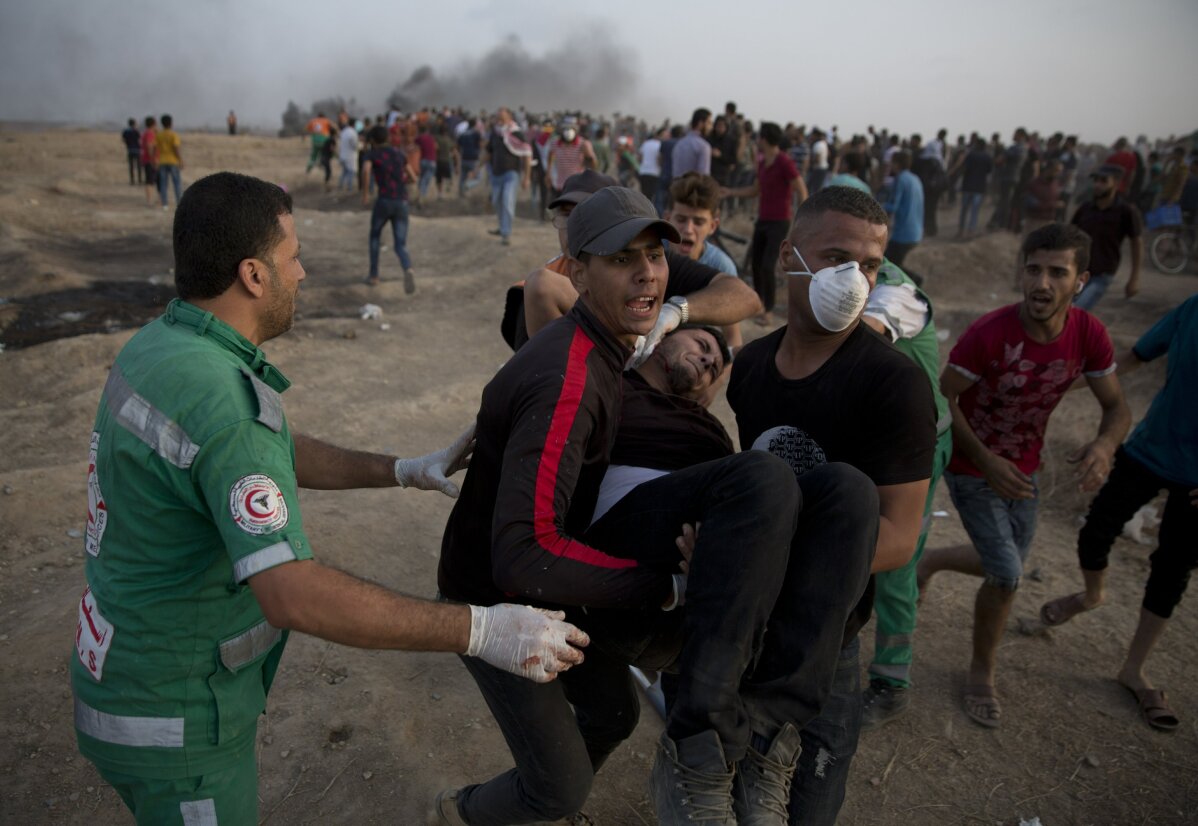 12 of 19

|
Palestinians evacuate a wounded protester at the Gaza Strip's border with Israel, Friday, Oct. 19, 2018. (AP Photo/Khalil Hamra)
12 of 19
Palestinians evacuate a wounded protester at the Gaza Strip's border with Israel, Friday, Oct. 19, 2018. (AP Photo/Khalil Hamra)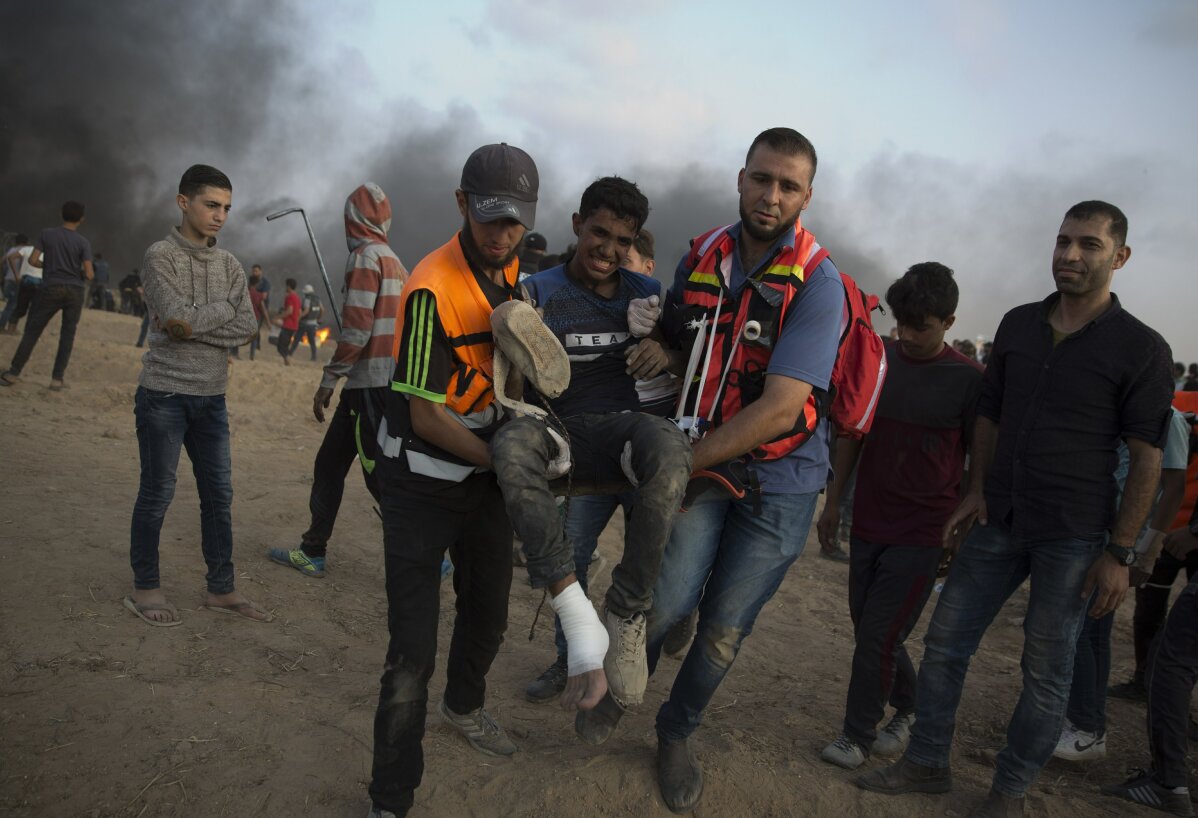 13 of 19

|
Palestinian medics evacuate a wounded protester at the Gaza Strip's border with Israel, Friday, Oct. 19, 2018. (AP Photo/Khalil Hamra)
13 of 19
Palestinian medics evacuate a wounded protester at the Gaza Strip's border with Israel, Friday, Oct. 19, 2018. (AP Photo/Khalil Hamra)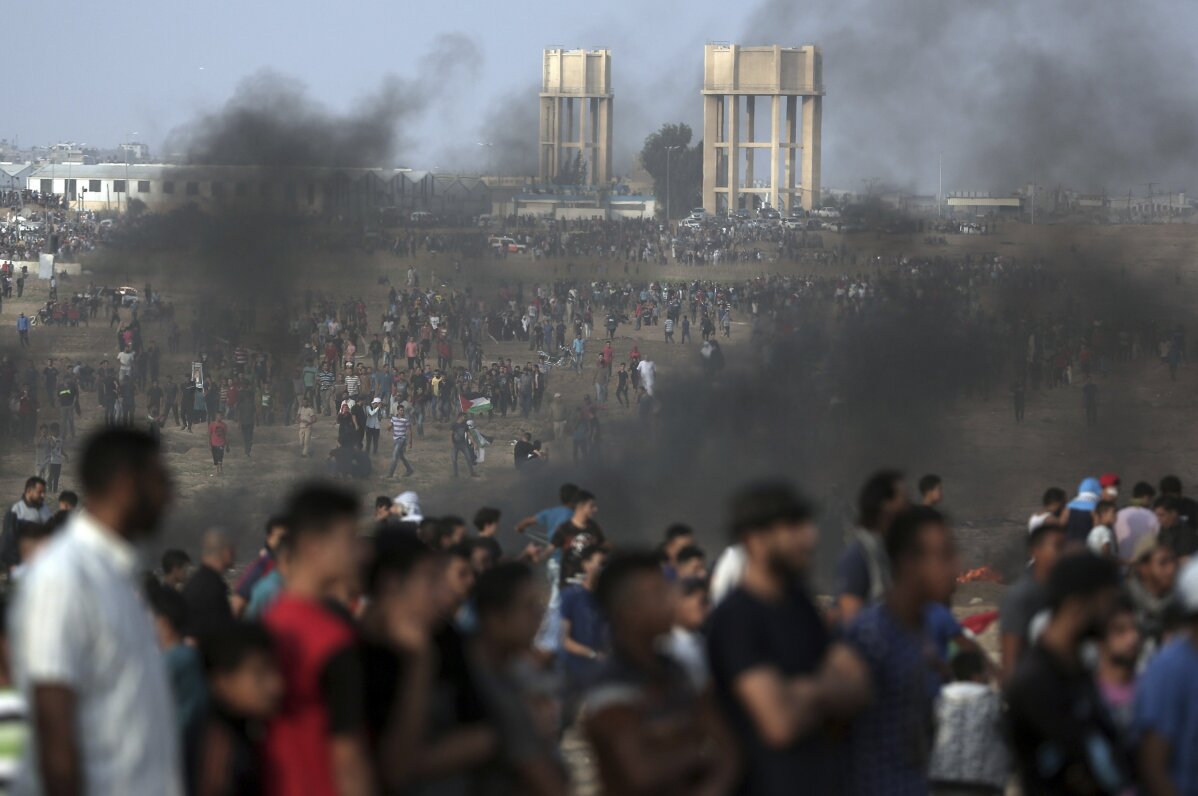 14 of 19

|
Palestinians protest at the Gaza Strip's border with Israel, Friday, Oct. 19, 2018. (AP Photo/Khalil Hamra)
14 of 19
Palestinians protest at the Gaza Strip's border with Israel, Friday, Oct. 19, 2018. (AP Photo/Khalil Hamra)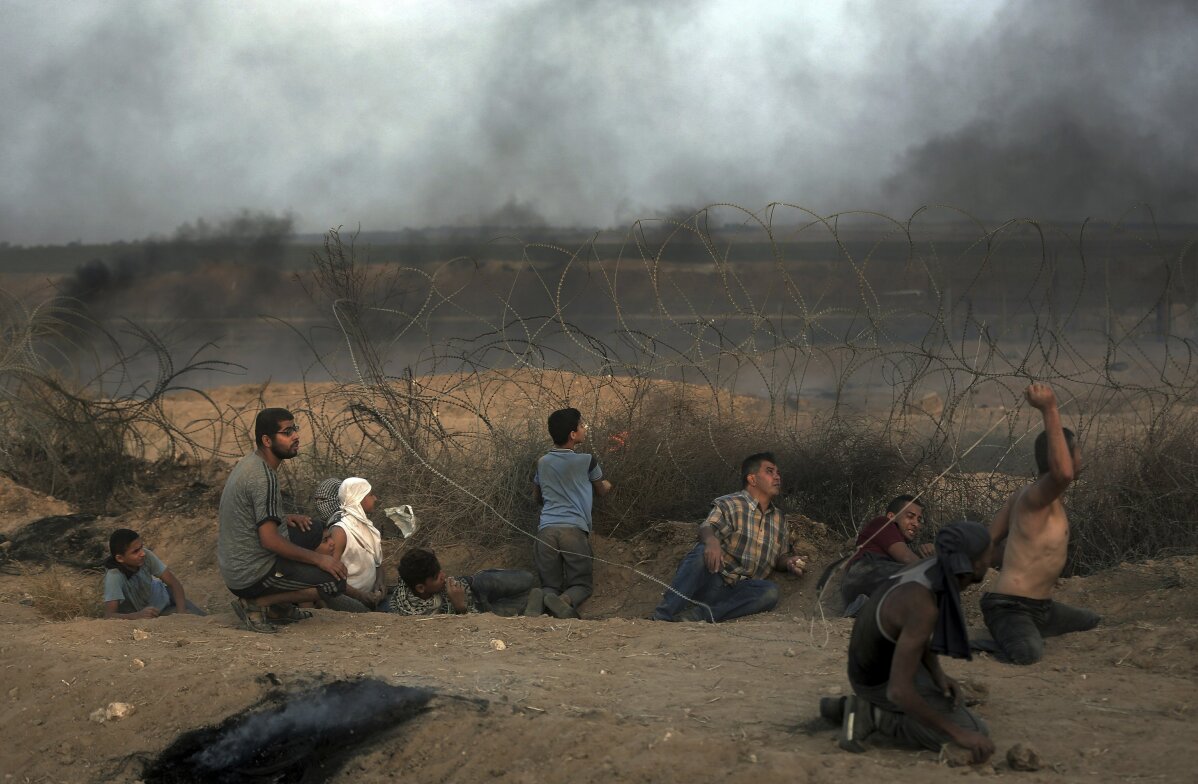 15 of 19

|
Palestinian protesters take a cover during a protest at the Gaza Strip's border with Israel, Friday, Oct. 19, 2018. (AP Photo/Khalil Hamra)
15 of 19
Palestinian protesters take a cover during a protest at the Gaza Strip's border with Israel, Friday, Oct. 19, 2018. (AP Photo/Khalil Hamra)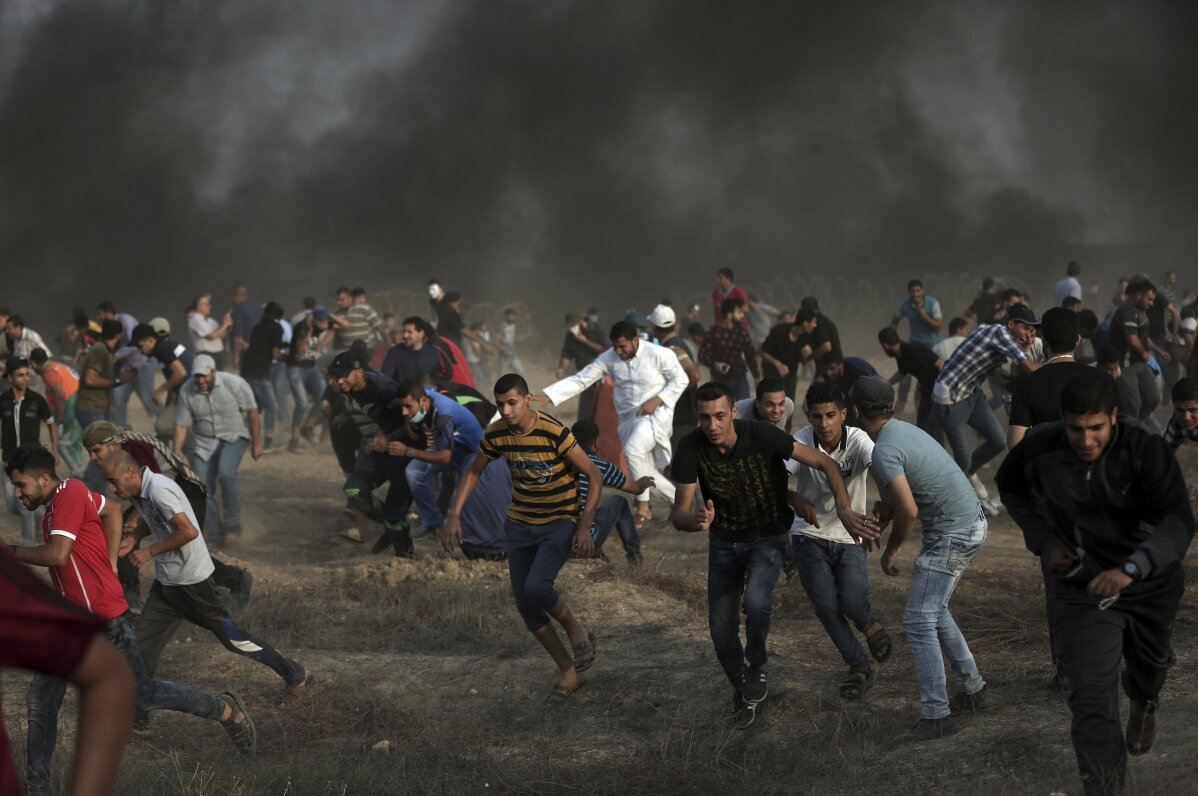 16 of 19

|
Palestinian protesters run for cover from teargas fired by Israeli troops during a protest at the Gaza Strip's border with Israel, Friday, Oct. 19, 2018. (AP Photo/Khalil Hamra)
16 of 19
Palestinian protesters run for cover from teargas fired by Israeli troops during a protest at the Gaza Strip's border with Israel, Friday, Oct. 19, 2018. (AP Photo/Khalil Hamra)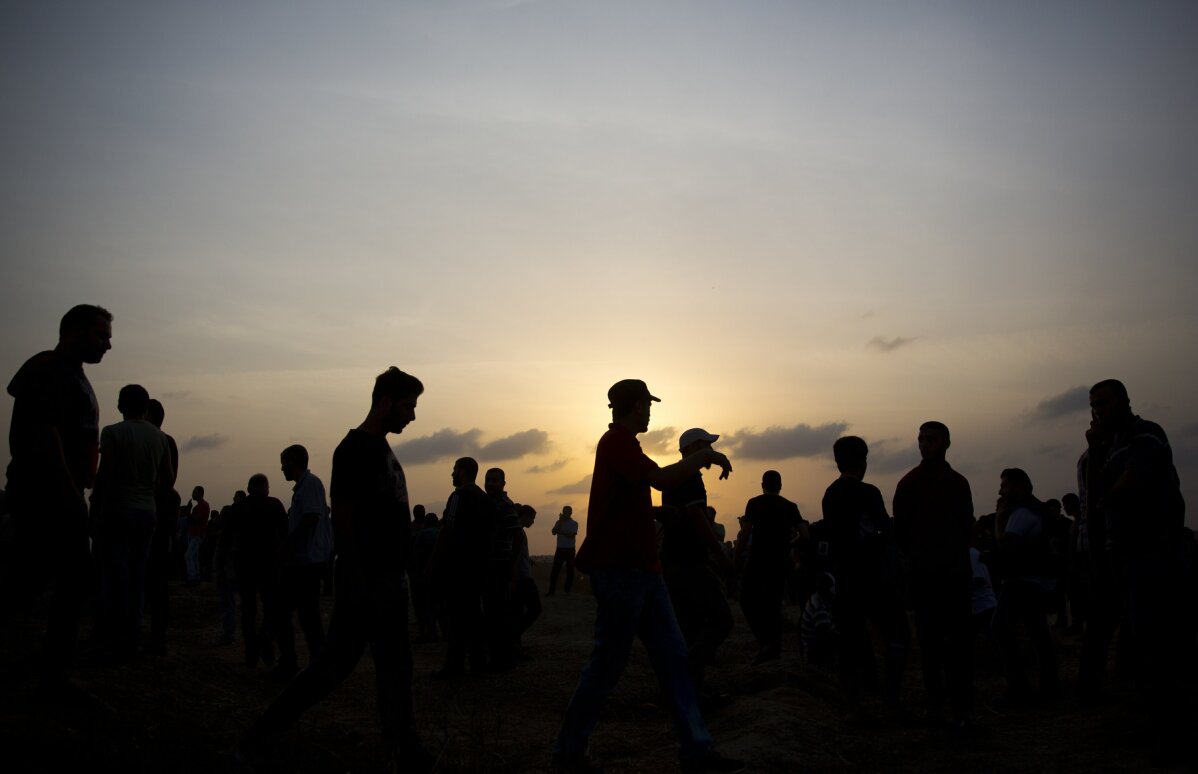 17 of 19

|
Palestinian protesters gather as they attend a protest at the Gaza Strip's border with Israel, Friday, Oct. 19, 2018. (AP Photo/Khalil Hamra)
17 of 19
Palestinian protesters gather as they attend a protest at the Gaza Strip's border with Israel, Friday, Oct. 19, 2018. (AP Photo/Khalil Hamra)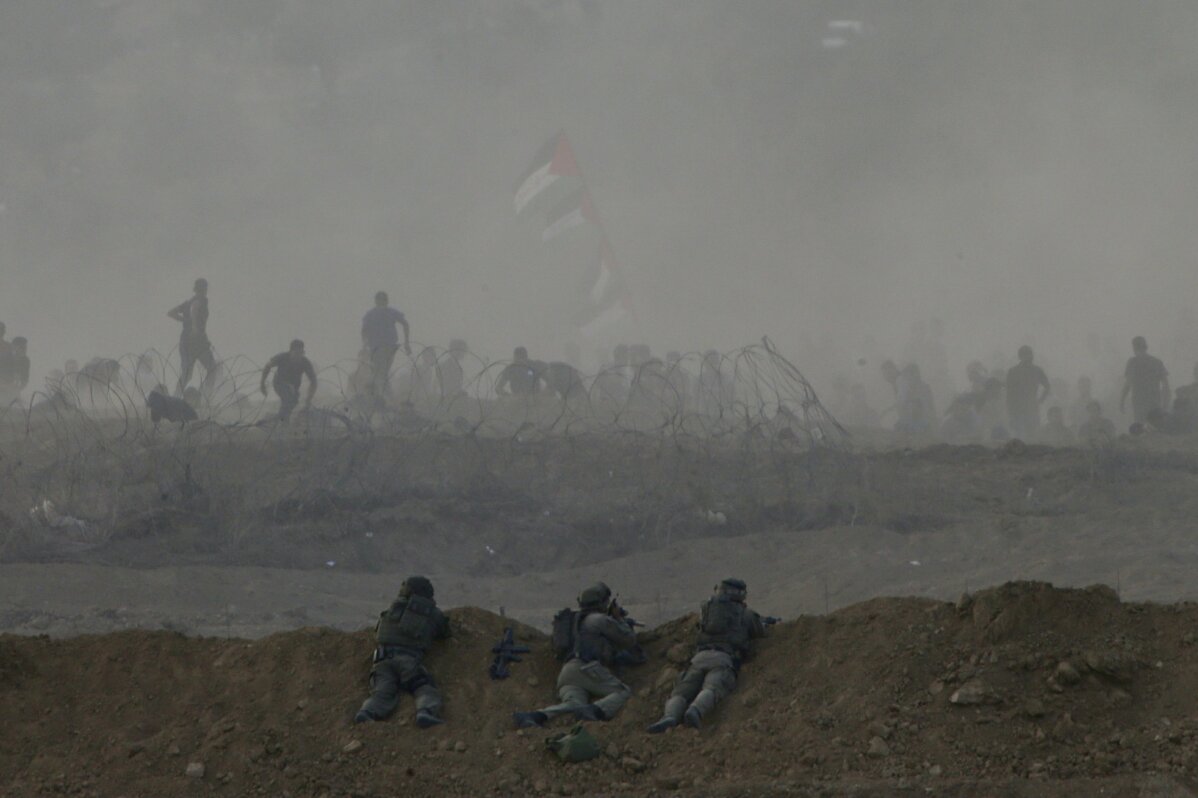 18 of 19

|
Israeli soldiers are positioned on a sand berm as Palestinian protesters run from tear gas fired by Israeli troops during a protest along the Israel Gaza border, Israel, Friday, Oct. 19, 2018. (AP Photo/Ariel Schalit)
18 of 19
Israeli soldiers are positioned on a sand berm as Palestinian protesters run from tear gas fired by Israeli troops during a protest along the Israel Gaza border, Israel, Friday, Oct. 19, 2018. (AP Photo/Ariel Schalit)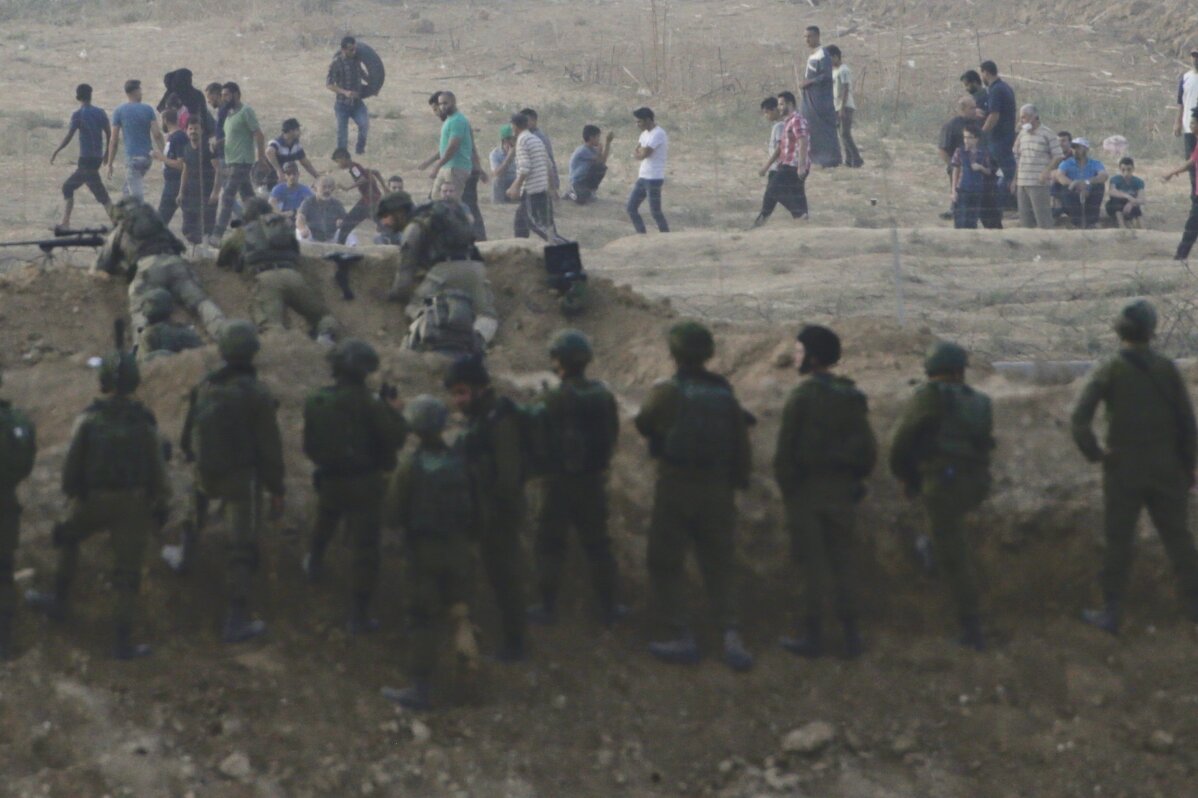 19 of 19

|
Israeli soldiers stand guard as Palestinian protesters arrive during a protest along the Israel Gaza border, Israel , Friday, Oct. 19, 2018. (AP Photo/Ariel Schalit)
19 of 19
Israeli soldiers stand guard as Palestinian protesters arrive during a protest along the Israel Gaza border, Israel , Friday, Oct. 19, 2018. (AP Photo/Ariel Schalit)
GAZA CITY, Gaza Strip (AP) — Thousands of Palestinians massed Friday along Israel's frontier, with dozens approaching and breaching the perimeter fence that separates Gaza from Israel, even as Egypt stepped up efforts reach a lasting cease-fire between the territory's Hamas rulers and Israel.
The militant Hamas group praised the turnout as a challenge to Israel, which was mulling a large-scale military response after a rocket was fired from Gaza on Wednesday and destroyed a house in southern Israel.
Gaza's Health Ministry reported 77 Palestinians were wounded by Israeli fire and six of them were in serious condition.
"The Israeli enemy's threats have effectively motivated the crowds to participate powerfully in the protest," said Fawzi Barhoum, a spokesman for Hamas, which has staged the protests since March.
The large attendance was a test to Egypt's efforts to push Hamas into scaling down the protests and rein in marchers who venture out to the fence and breach it, triggering deadly Israeli fire.
At least 156 Palestinians have been killed by Israeli fire since the protests began more than six months ago, and an Israeli soldier was killed by a Palestinian sniper.
Protesters Friday burnt tires and threw rocks with slingshots toward the heavily guarded fence. Hamas' al-Aqsa TV aired footage of Palestinians climbing over the fence and others breaching it and entering into Israeli territory. Others used cutters to tear down parts of the barrier.
Israeli forces showered the demonstrators with tear gas and occasionally live fire.
In southern Gaza Strip, an aircraft hit a group of Palestinians launching flaming kites and balloons toward Israel near one protest location, the Israeli military said.
Earlier on Friday, the United Nations' Mideast peace envoy urged Israel and the Palestinians to exercise restraint ahead of the protests.
"In light of today's planned Gaza march, I urge all to exercise restraint, to proceed in a peaceful manner, and to avoid escalation," Nickolay Mladenov said in a statement. "The U.N. is working with Egypt and its partners to avoid violence, address all humanitarian issues and support reconciliation."
Egyptian intelligence officials met with Hamas and Israeli officials on Thursday in efforts to broker a cease-fire and ease months of deadly border protests. Egypt and the U.N. have attempted to negotiate a truce between Israel and Hamas for weeks in a bid to ease tensions in the beleaguered Gaza Strip.
Hamas has said the protests will continue until there is an easing of the Egyptian-Israeli blockade of the Palestinian enclave that was imposed after the Islamic group seized control of Gaza from the Palestinian Authority in 2007 in an armed coup.
The protests have intensified in recent weeks as Egyptian and U.N. cease-fire negotiations have faltered, and cross-border violence earlier this week has brought tensions to a simmer.
On Wednesday, a rocket fired from the Gaza Strip destroyed a house in the Israeli city of Beersheba in the worst bout of violence in recent weeks. Israel retaliated with airstrikes and has beefed up its military forces along the border.
Israeli Prime Minister Benjamin Netanyahu's Security Cabinet resolved to retaliate more severely to cross-border attacks, but has thus far refrained from further action, suggesting it was giving the Egyptians a chance to restore calm.
.