Trump's summer of discontent bleeds into high-stakes fall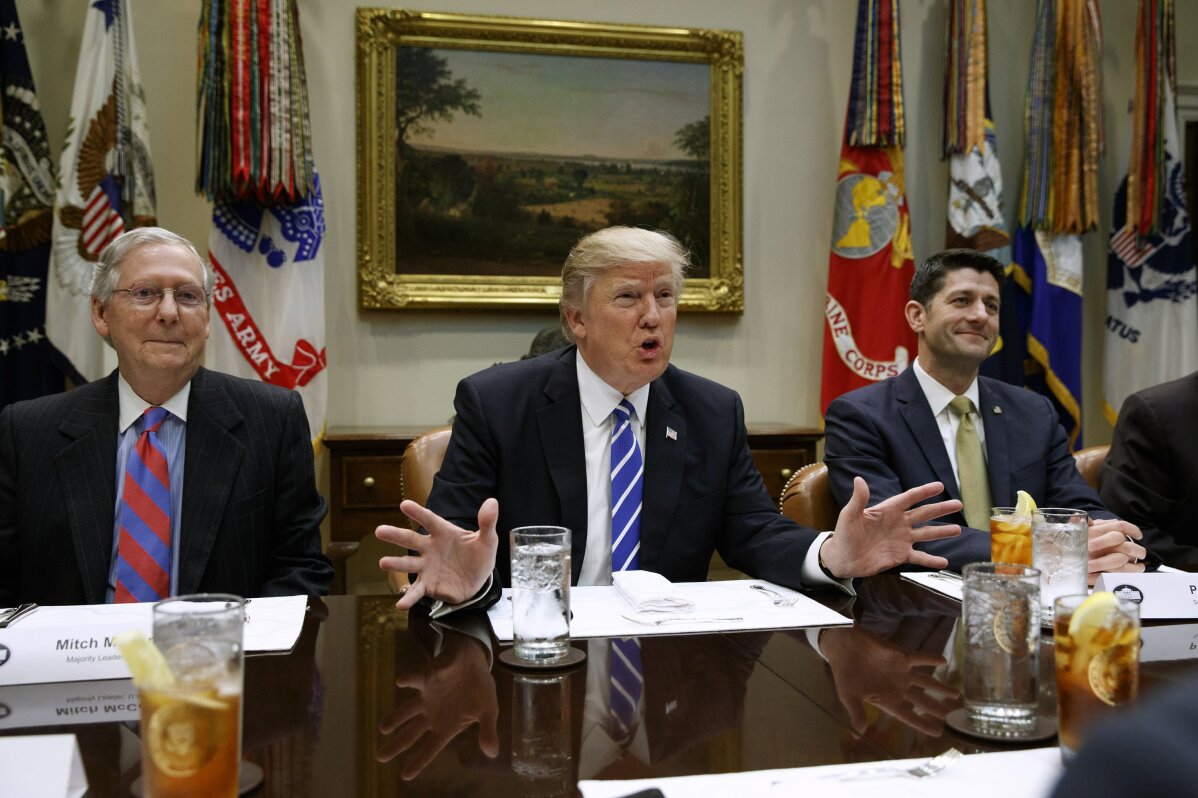 1 of 2

|
FILE - In this March 1, 2017, file photo President Donald Trump, flanked by Senate Majority Leader Mitch McConnell of Ky., left, and House Speaker Paul Ryan of Wis., speaks in the Roosevelt Room of the White House in Washington. After a summer of staff shake-ups and self-made crises, President Donald Trump is emerging politically damaged, personally agitated and continuing to buck at the confines of his office, according to some of his close allies. (AP Photo/Evan Vucci, File)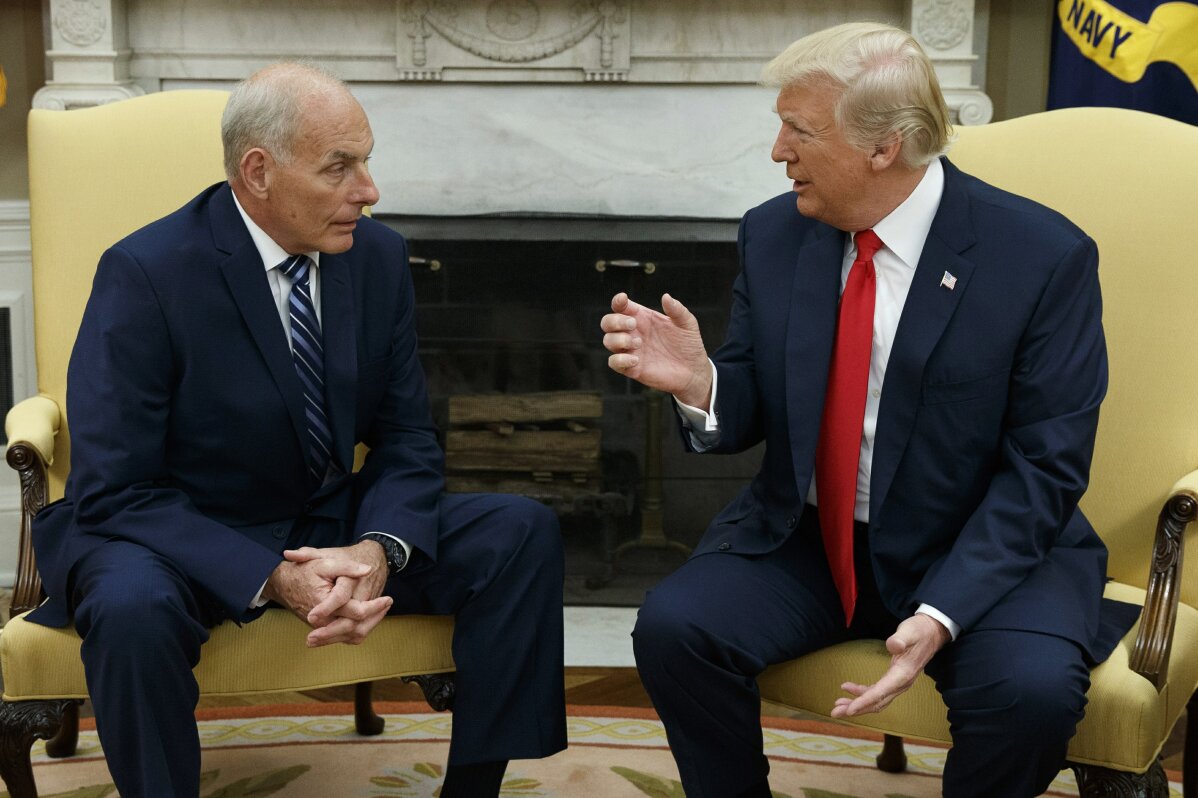 2 of 2

|
In this July 31, 2017 photo, President Donald Trump talks with new White House Chief of Staff John Kelly after he was privately sworn in during a ceremony in the Oval Office with President Donald Trump in Washington. After a summer of staff shake-ups and self-made crises, President Trump is emerging politically damaged, personally agitated and continuing to buck at the confines of his office, according to some of his close allies. (AP Photo/Evan Vucci)
Trump's summer of discontent bleeds into high-stakes fall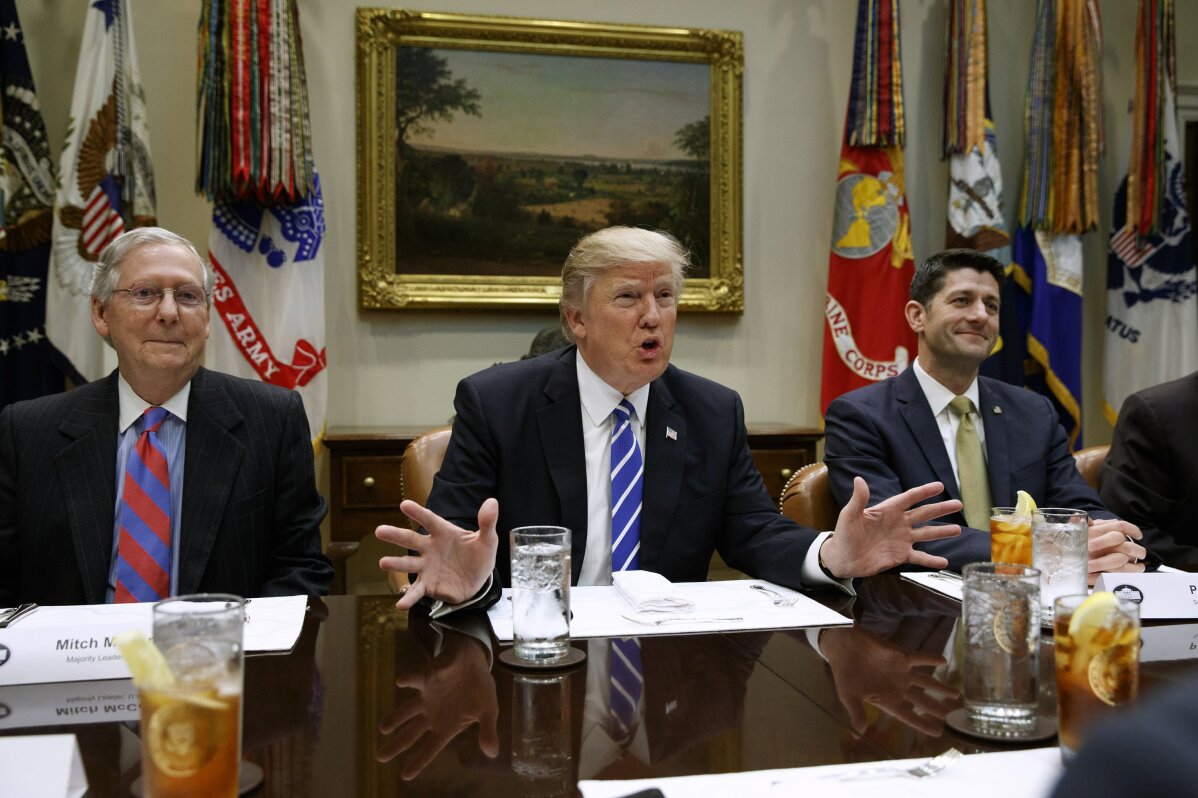 1 of 2

|
FILE - In this March 1, 2017, file photo President Donald Trump, flanked by Senate Majority Leader Mitch McConnell of Ky., left, and House Speaker Paul Ryan of Wis., speaks in the Roosevelt Room of the White House in Washington. After a summer of staff shake-ups and self-made crises, President Donald Trump is emerging politically damaged, personally agitated and continuing to buck at the confines of his office, according to some of his close allies. (AP Photo/Evan Vucci, File)
1 of 2
FILE - In this March 1, 2017, file photo President Donald Trump, flanked by Senate Majority Leader Mitch McConnell of Ky., left, and House Speaker Paul Ryan of Wis., speaks in the Roosevelt Room of the White House in Washington. After a summer of staff shake-ups and self-made crises, President Donald Trump is emerging politically damaged, personally agitated and continuing to buck at the confines of his office, according to some of his close allies. (AP Photo/Evan Vucci, File)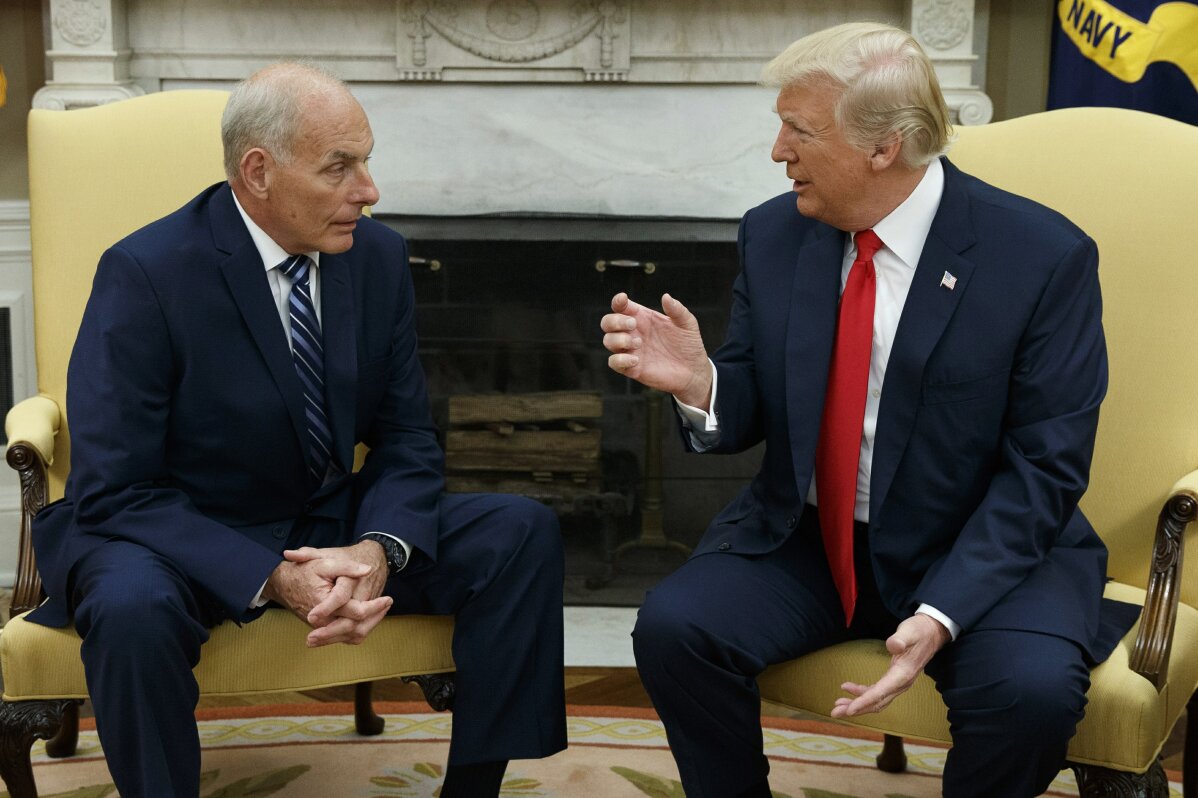 2 of 2

|
In this July 31, 2017 photo, President Donald Trump talks with new White House Chief of Staff John Kelly after he was privately sworn in during a ceremony in the Oval Office with President Donald Trump in Washington. After a summer of staff shake-ups and self-made crises, President Trump is emerging politically damaged, personally agitated and continuing to buck at the confines of his office, according to some of his close allies. (AP Photo/Evan Vucci)
2 of 2
In this July 31, 2017 photo, President Donald Trump talks with new White House Chief of Staff John Kelly after he was privately sworn in during a ceremony in the Oval Office with President Donald Trump in Washington. After a summer of staff shake-ups and self-made crises, President Trump is emerging politically damaged, personally agitated and continuing to buck at the confines of his office, according to some of his close allies. (AP Photo/Evan Vucci)
WASHINGTON (AP) — After a summer of staff shake-ups and self-made crises, President Donald Trump is emerging politically damaged, personally agitated and continuing to buck at the confines of his office, according to some close allies.
For weeks, the West Wing has been upended by a reorganization that Trump has endorsed and, later, second-guessed, including his choice of retired Marine Gen. John Kelly as chief of staff. The president recently lashed out at Kelly after a boisterous rally in Phoenix, an incident relayed by a person with knowledge of the matter. In private conversations, Trump has leveled indiscriminate and harsh criticism on the rest of his remaining team.
Seven months into his tenure, Trump has yet to put his mark on any signature legislation and his approval ratings are sagging. Fellow Republicans have grown weary of his volatility, and Trump spent the summer tangling with some of the same lawmakers he'll need to work with in the coming weeks to pass a government funding bill, raise the country's borrowing limit and make a difficult bid for tax overhaul legislation.
"He's in a weak position," said Christopher Ruddy, the CEO of Newsmax and a longtime Trump friend. "A lot of the Republican establishment has not been supportive, his poll numbers are down and he has spent most of his early presidency appealing to his base while most presidents would be seeking more consensus."
That sentiment was echoed in interviews with 10 White House officials, Republican operatives and others with close ties to the president. Most spoke on the condition of anonymity because they were not authorized to disclose private conversations with the president and his staff.
Some White House officials believe Trump did find his footing during the response to Harvey, which they say has given him an opening to demonstrate presidential leadership. Trump has eagerly promoted the federal government's response and recovery efforts, and on Saturday was making his second visit to the region in a week.
The White House has asked Congress for an initial $7.9 billion in emergency aid, a request expected to win quick approval.
During an Oval Office event Friday, Trump struck a rare unifying tone: "As Americans, we know that no challenge is too great for us to overcome — no challenge."
But the government's largely well-received handling of the storm has not soothed Trump's own frustrations, according to those who speak with him regularly. Trump told one associate he missed his old life in New York. And he's become increasingly focused on the prospect of losing support among his core supporters — the voters he once said would stick with him even if he shot someone on New York's Fifth Avenue.
"I don't think it's a worry or a concern as much as it's a reality," Roger Stone, a longtime informal adviser to the president, said of Trump's preoccupation with his base. "It's a reality that he understands politically."
Polls show Trump losing a bit of ground with some of his core constituencies. A Fox News survey released last week put Trump's overall approval rating at 41 percent, and notably cited a 7 percentage point drop among conservatives and a 9 point drop among whites without a college degree, one of Trump's strongest voting groups.
The recent reorganization in the White House has done little to determine the ideological course of Trump's presidency or shed light on how he will approach the looming showdowns in Congress.
While strategist Steve Bannon, who repeatedly preached to Trump the importance of fulfilling his campaign promises, left the White House shortly after Kelly's arrival, the president has made aggressive moves on some of the issues Bannon promoted. Trump said he would shut down the government next month unless Republicans give him money to build a wall along the U.S.-Mexico border and he issued a controversial pardon for former Sheriff Joe Arpaio of Arizona. Trump is also considering rolling back deportation protections for young people brought to the U.S. illegally as children, a step he previously intimated to top advisers that he would rather avoid.
Some Republican lawmakers, including House Speaker Paul Ryan of Wisconsin, are urging Trump to keep those immigration protections, and longtime allies are encouraging him to think beyond the wishes of the voters who pack Trump's raucous rallies.
"Steve Bannon got the president and a lot of people believing they had to fulfill a checklist number of promises I don't believe his supporters require him to do that," Ruddy said. He added that as long as Trump appeals only to that group of voters, he will be focused only on "a fraction of conservatives, a minority viewpoint."
Kelly's mark on policy and the direction of the administration remains uncertain. He is not viewed as particularly ideological, though White House officials praised his work putting in place Trump's travel ban and other immigration policies when he ran the Department of Homeland Security during the first six months of the administration.
So far, Kelly has largely focused on tightening up West Wing protocols and ousting staff that he deemed problematic or unproductive. He moved quickly to limit the flow of information to Trump from some of the news sources Bannon promoted, including Breitbart News, where the conservative provocateur has returned after leaving the White House.
Trump developed a deep respect for Kelly during his tenure at Homeland Security. But he's chafed at some of Kelly's attempts to limit his access to information or former campaign officials, who became accustomed to frequent, easy access to the president. Some Trump advisers outside the West Wing believe the relationship between Trump and Kelly is inevitably doomed, given their dramatically different personalities and styles.
But there is no sign that another shake-up is imminent, and Trump has sought to quiet speculation in the media about an emerging rift.
"General John Kelly is doing a great job as Chief of Staff," Trump said Friday on Twitter. "I could not be happier or more impressed."
___
Associated Press writer Jill Colvin and AP Polling Director Emily Swanson contributed to this report.
___
Follow Julie Pace at http://twitter.com/jpaceDC