Officials cite 'terrorist attack' document in compound case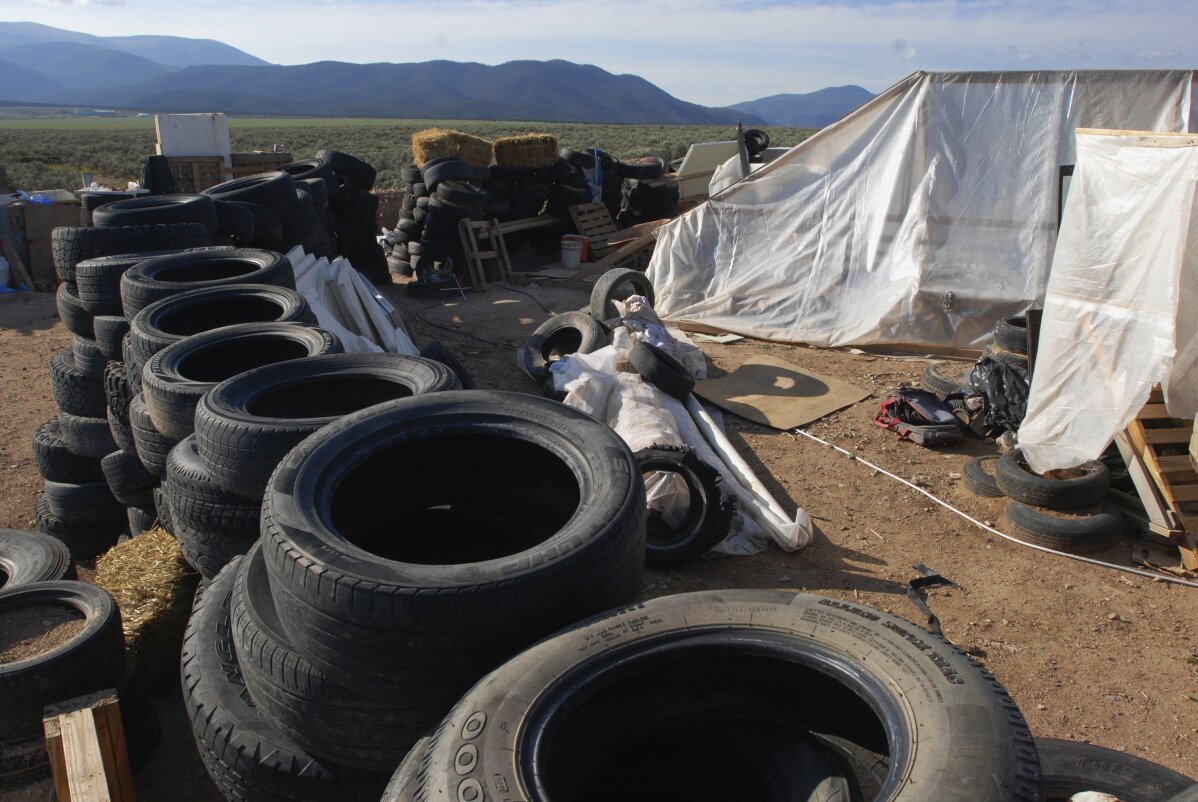 1 of 2

|
FILE - In this Aug. 10, 2018, file photo, is a makeshift living compound in Amalia, N.M. Prosecutors seeking to keep two men and three women jailed on child-abuse charges in northern New Mexico now say they seized a document entitled "Phases of a Terrorist Attack" at the filthy desert compound where 11 children and a dead boy were found. In a court filing Friday, Aug. 24, 2018, prosecutors said the hand-written document had instructions for "The one-time terrorist" and mentioned an unnamed place called "the ideal attack site." (AP Photo/Morgan Lee, File)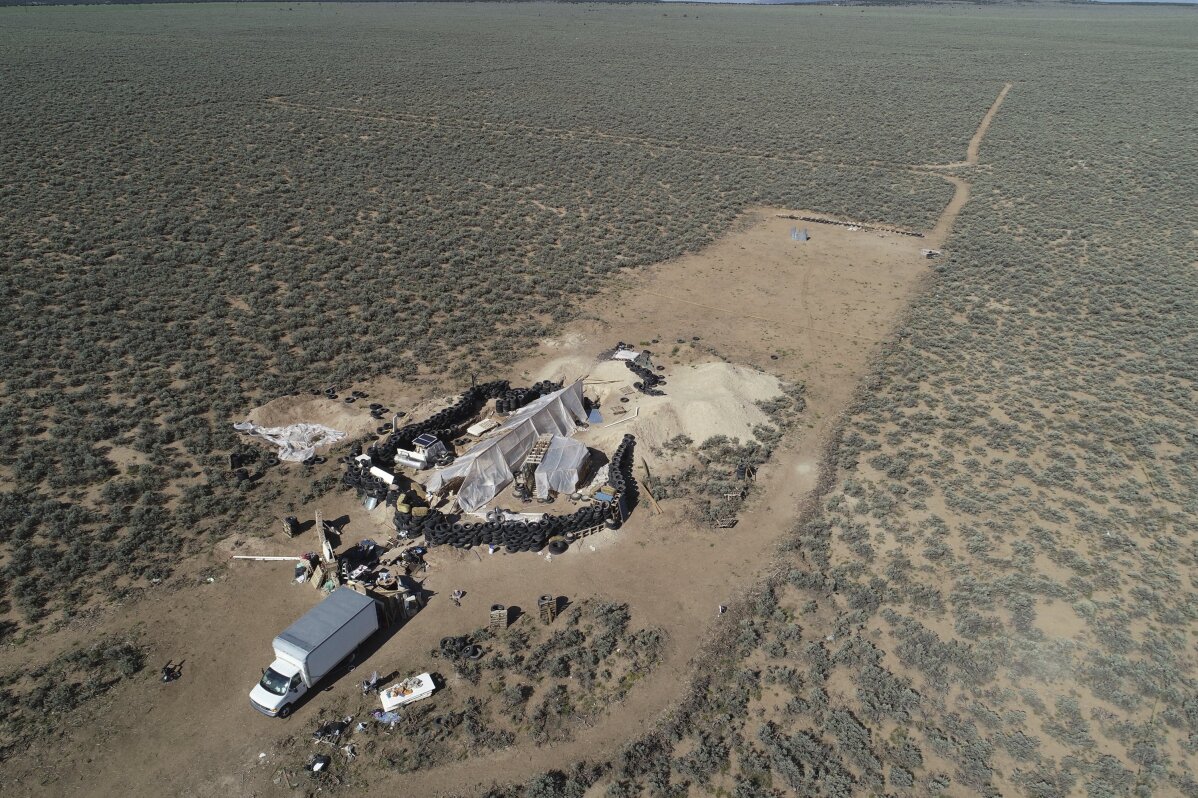 2 of 2

|
FILE - In this Friday, Aug. 10, 2018 file photo aerial view of a makeshift compound is seen in the desert area of Amalia, N.M. Prosecutors seeking to keep two men and three women jailed on child-abuse charges in northern New Mexico now say they seized a document entitled "Phases of a Terrorist Attack" at the filthy desert compound where 11 children and a dead boy were found. In a court filing Friday, Aug. 24, 2018, prosecutors said the hand-written document had instructions for "The one-time terrorist" and mentioned an unnamed place called "the ideal attack site." (AP Photo/Brian Skoloff, File)
Officials cite 'terrorist attack' document in compound case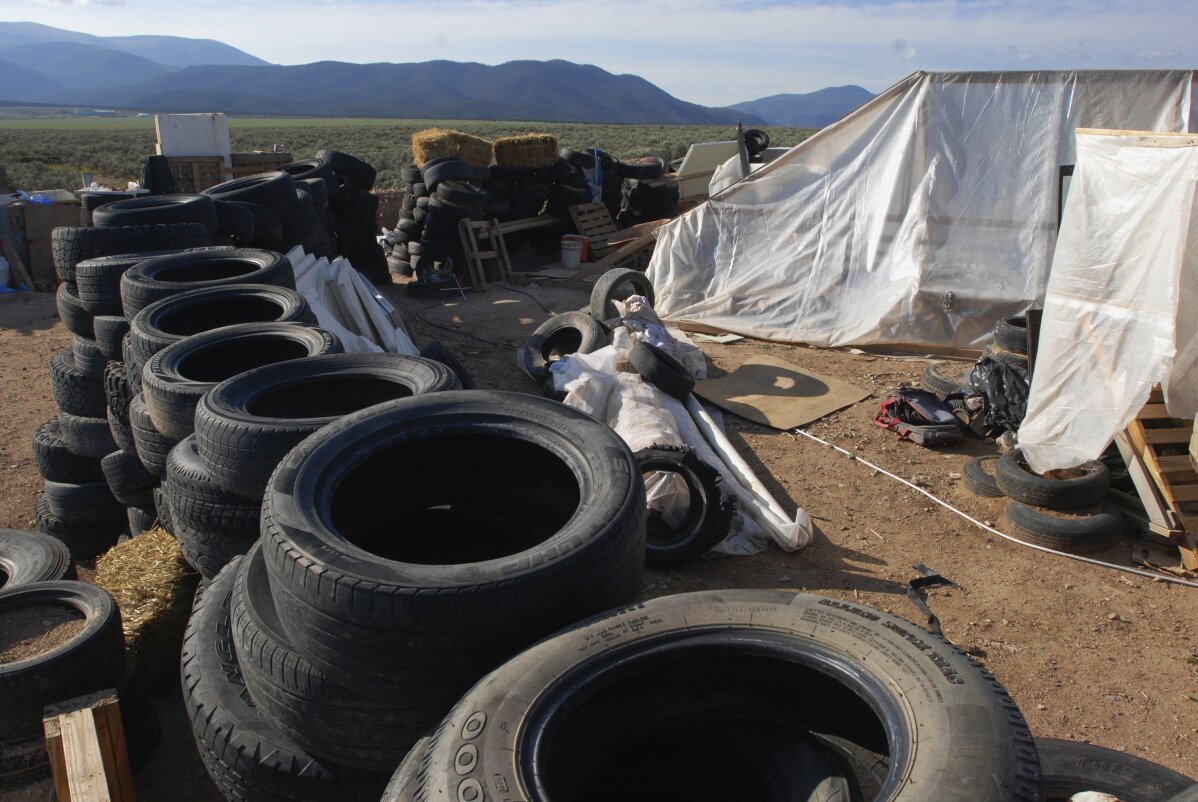 1 of 2

|
FILE - In this Aug. 10, 2018, file photo, is a makeshift living compound in Amalia, N.M. Prosecutors seeking to keep two men and three women jailed on child-abuse charges in northern New Mexico now say they seized a document entitled "Phases of a Terrorist Attack" at the filthy desert compound where 11 children and a dead boy were found. In a court filing Friday, Aug. 24, 2018, prosecutors said the hand-written document had instructions for "The one-time terrorist" and mentioned an unnamed place called "the ideal attack site." (AP Photo/Morgan Lee, File)
1 of 2
FILE - In this Aug. 10, 2018, file photo, is a makeshift living compound in Amalia, N.M. Prosecutors seeking to keep two men and three women jailed on child-abuse charges in northern New Mexico now say they seized a document entitled "Phases of a Terrorist Attack" at the filthy desert compound where 11 children and a dead boy were found. In a court filing Friday, Aug. 24, 2018, prosecutors said the hand-written document had instructions for "The one-time terrorist" and mentioned an unnamed place called "the ideal attack site." (AP Photo/Morgan Lee, File)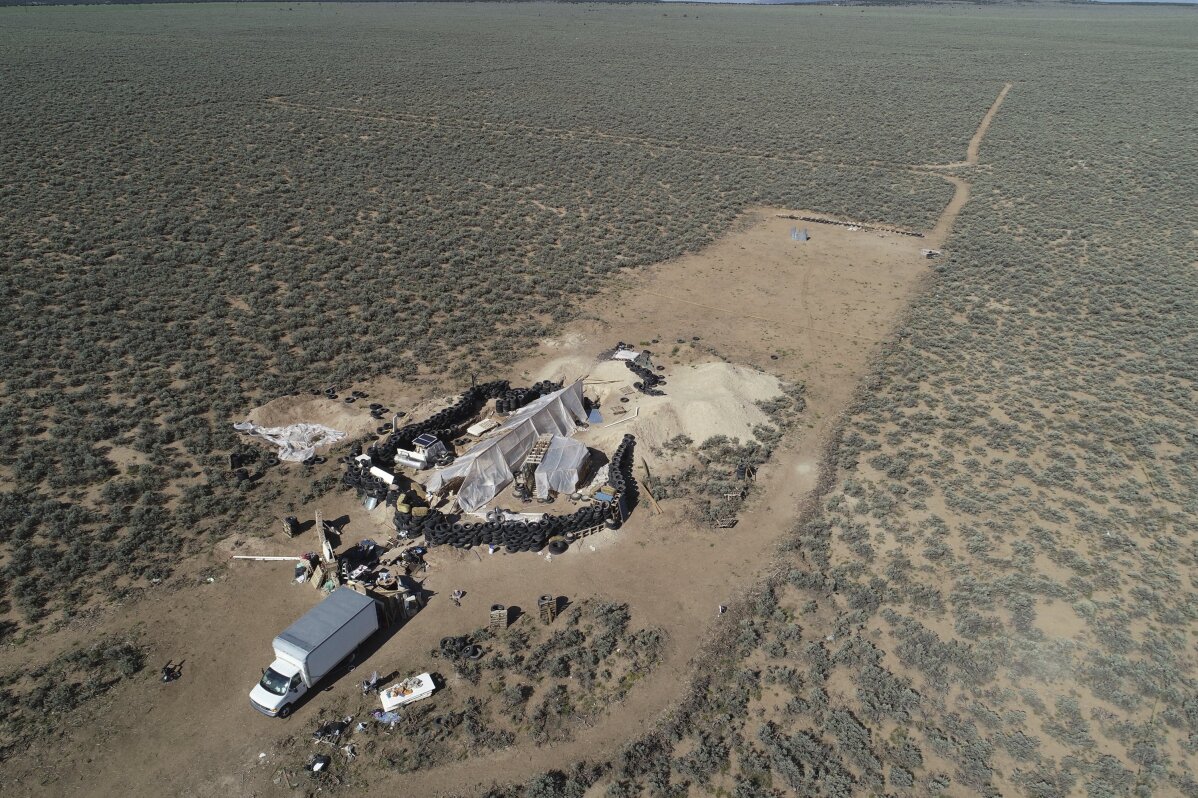 2 of 2

|
FILE - In this Friday, Aug. 10, 2018 file photo aerial view of a makeshift compound is seen in the desert area of Amalia, N.M. Prosecutors seeking to keep two men and three women jailed on child-abuse charges in northern New Mexico now say they seized a document entitled "Phases of a Terrorist Attack" at the filthy desert compound where 11 children and a dead boy were found. In a court filing Friday, Aug. 24, 2018, prosecutors said the hand-written document had instructions for "The one-time terrorist" and mentioned an unnamed place called "the ideal attack site." (AP Photo/Brian Skoloff, File)
2 of 2
FILE - In this Friday, Aug. 10, 2018 file photo aerial view of a makeshift compound is seen in the desert area of Amalia, N.M. Prosecutors seeking to keep two men and three women jailed on child-abuse charges in northern New Mexico now say they seized a document entitled "Phases of a Terrorist Attack" at the filthy desert compound where 11 children and a dead boy were found. In a court filing Friday, Aug. 24, 2018, prosecutors said the hand-written document had instructions for "The one-time terrorist" and mentioned an unnamed place called "the ideal attack site." (AP Photo/Brian Skoloff, File)
SANTA FE, N.M. (AP) — A hand-written document called "Phases of a Terrorist Attack," was seized from a remote New Mexico desert compound where authorities found 11 children living in wretched conditions, and later a dead 3-year-old boy, prosecutors said.
The document, cited in a court filing Friday by state prosecutors, included vague instructions for "the one-time terrorist" and mentioned an unnamed place called "the ideal attack site."
Prosecutors wrote that new interviews with some of the children taken from the site revealed that one of the adults, Lucas Morton, stated he wished to die in jihad as a martyr, and that defendants Jany Leveille and defendant Subhannah Wahhaj joked about dying in jihad.
Morton's attorney did not respond immediately to requests for comment. Megan Mitsunaga, who represents Subhannah Wahhaj, said the she has not seen any evidence to support the accusation against her client. Leveille's attorney could not be reached.
The document was filed Friday as part of the prosecutors' fight to keep all five adults found at the compound jailed. They are challenging a judge's ruling earlier this month that would release the adults to house arrest with ankle bracelets. They remain in custody amid death threats against the judge and concerns for the defendants' own security.
Leveille and the father of the dead boy, Siraj Ibn Wahhaj (see-DAHJ' IBN wah-HAJ'), are confronting additional barriers to release. Federal immigration officials say Leveille, a native of Haiti, is detained on accusations she unlawfully overstayed a visitor visa for 20 years.
Both were charged Friday with child abuse resulting in death in connection with Wahhaj's 3-year-old son Abdul-ghani, whose remains were found inside a tunnel at the compound three days after an initial law enforcement raid this month.
A warrant outlining the charges contends the couple denied proper medical care to the severely disabled boy even as he appeared to go through seizures and heart failure.
Wahhaj and Leveille have yet to appear in court on the new charges or enter pleas. Leveille's attorney, Kelly Golightley, said her client maintains her innocence.
The documents referenced in Friday's filing did not make clear whether there was an actual attack plan, or merely an aspirational desire for violence, and no terrorism-related charges have been filed.
Prosecutors said Monday the hand-written document was mentioned briefly at a hearing in which District Court Judge Sarah Backus rebuffed prosecutors, saying they "completely failed to establish its origin."
Mitsunaga has said she hasn't seen any evidence that supports her client's continued detention.
"I think that Judge Backus already made it perfectly clear that she didn't think the accusations were well founded and that they were not grounds to hold them preventively," she said. "And I don't see any new evidence to rebut her findings."
Thomas Clark, the attorney for Siraj Ibn Wahhaj, said Monday that he has not received new information from prosecutors about his client and declined comment.
All five defendants have been pleaded not guilty to child neglect charges.
In the documents filed Friday, prosecutors quote an extensive account of the Abdul-ghani's death as written in a journal entry that they attribute to Leveille, indicating that Abdul-ghani died in late December 2017 as the exhausted boy's heartbeat faded in and out during a religious ritual aimed at casting out demonic spirits.
The boy initially was reported missing last year from Jonesboro, Georgia, by his mother after Siraj Ibn Wahhaj said he was taking the child to a park and didn't return.
The ritual and the boy's death were described at earlier court hearings by an FBI agent who drew on information from interviews with teenagers who lived at the compound. The descriptions conform with aspects of an alternative, meditative Islamic healing ritual called ruqya.
Prosecutors have alleged that older children were trained to handle firearms to potentially participate in possible attacks on teachers, schools and banks — plans that would go into effect after Abdul-ghani's anticipated resurrection.
Prosecutors say that children from the compound told investigators that corrupt institutions or individuals would be confronted after the resurrection — and that those who did not believe Leveille's message would be shot or otherwise attacked by Siraj Ibn Wahhaj.
One child named an Atlanta hospital as a specific "corrupt institution," prosecutors said in the new court filings. Prosecutors also say that Leveille mentioned the hospital in a personal journal seized by authorities on a thumb drive.