Detroit saying farewell in royal fashion to Queen of Soul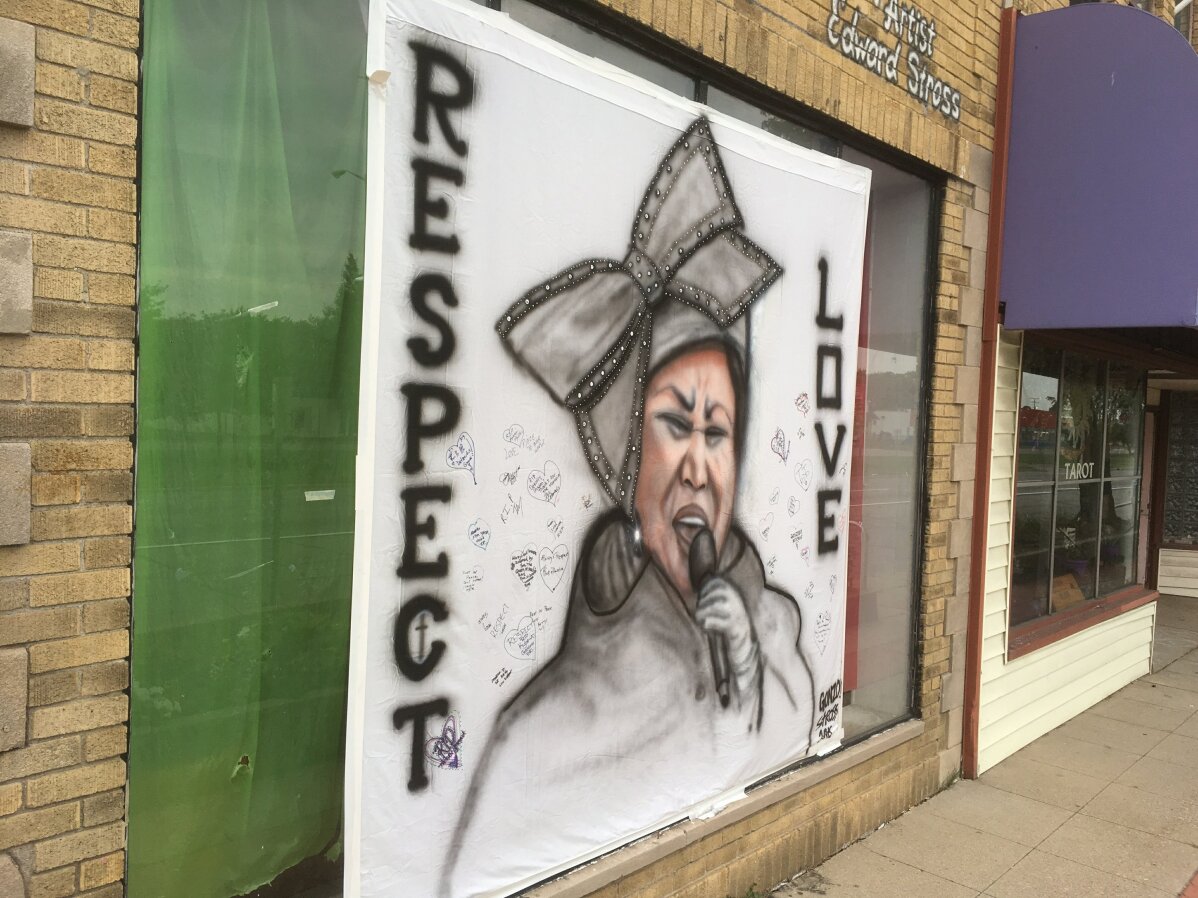 1 of 8

|
A portrait of Aretha Franklin hangs outside the studio of artist Edward Stross in Roseville, Mich., on Saturday, Aug. 25, 2018. Franklin's fans left messages on the canvas. Detroit's Queen of Soul died on Aug. 16. Her funeral will be held on Aug. 31. (AP Photo/Ed White)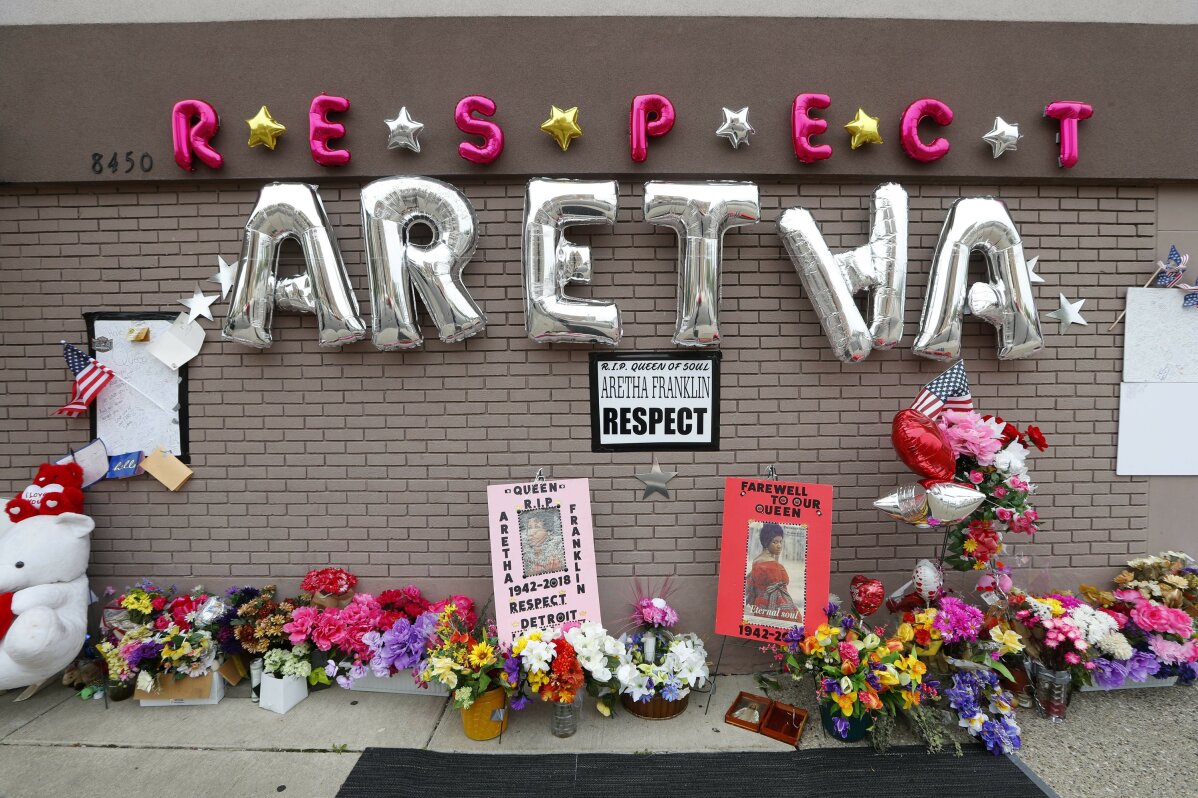 2 of 8

|
Memorial items hang on New Bethel Baptist Church in Detroit, Monday, Aug. 27, 2018. Aretha Franklin's funeral will be held at Greater Grace Temple in Detroit. Franklin died Aug. 16, 2018 of pancreatic cancer at the age of 76.(AP Photo/Paul Sancya)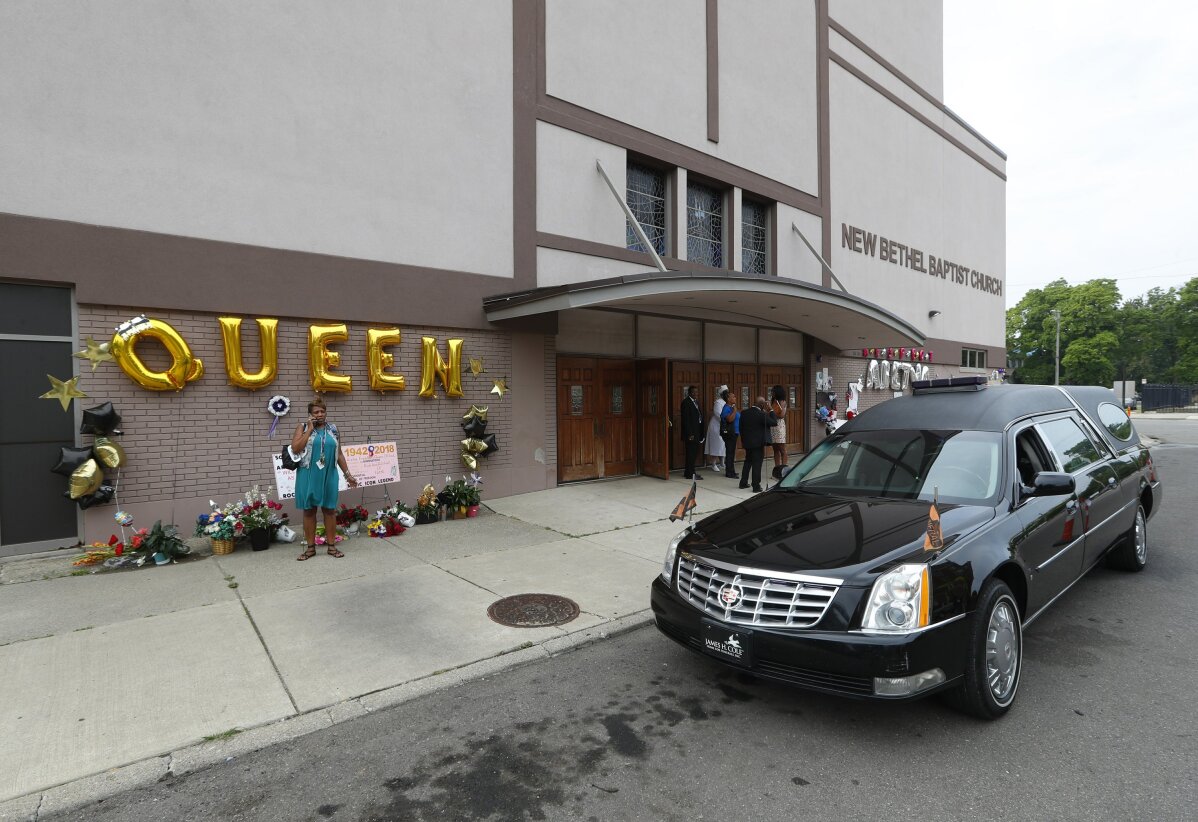 3 of 8

|
Memorial items hang on New Bethel Baptist Church in Detroit, Monday, Aug. 27, 2018. Aretha Franklin's funeral will be held at Greater Grace Temple in Detroit. Franklin died Aug. 16, 2018 of pancreatic cancer at the age of 76.(AP Photo/Paul Sancya)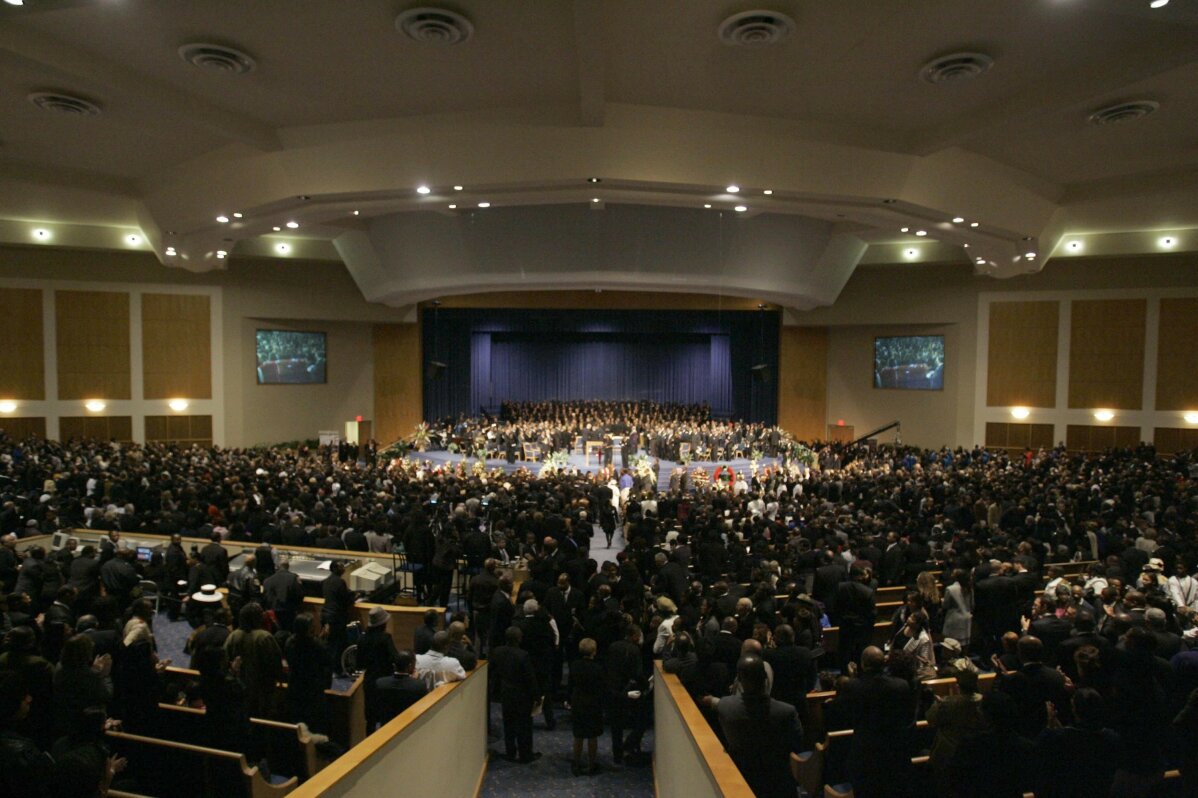 4 of 8

|
FILE-- In this Nov. 2, 2005 file photo, people attend the funeral for Rosa Parks at the Greater Grace Temple in Detroit. Aretha Franklin's funeral will be held at Greater Grace Temple in Detroit Friday, Aug. 31, 208. Franklin died Aug. 16, 2018 of pancreatic cancer at the age of 76. (AP Photo/Carlos Osorio)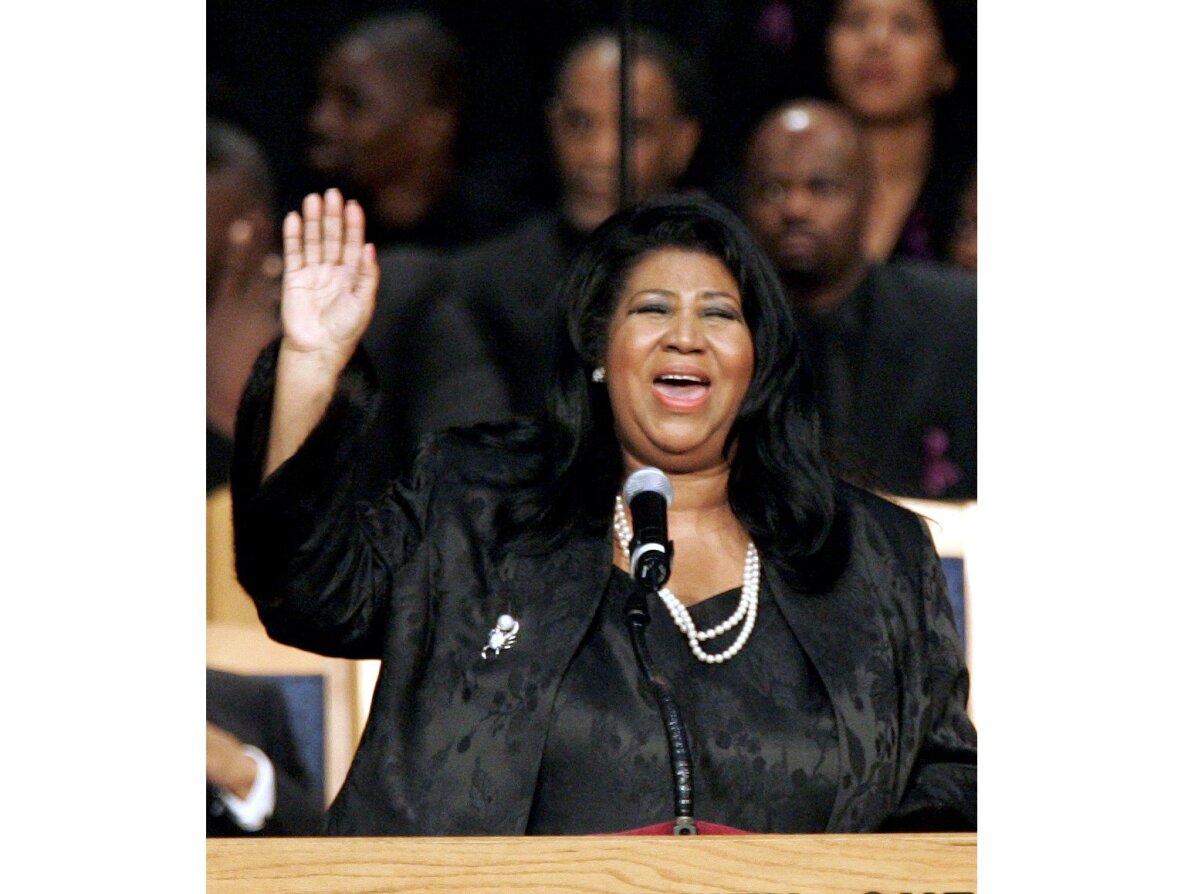 5 of 8

|
FILE-- In this Nov. 2, 2005 file photo, Aretha Franklin sings during the funeral for civil rights pioneer Rosa Parks at the Greater Grace Temple in Detroit. Franklin died Aug. 16, 2018 of pancreatic cancer at the age of 76. (AP Photo/Carlos Osorio)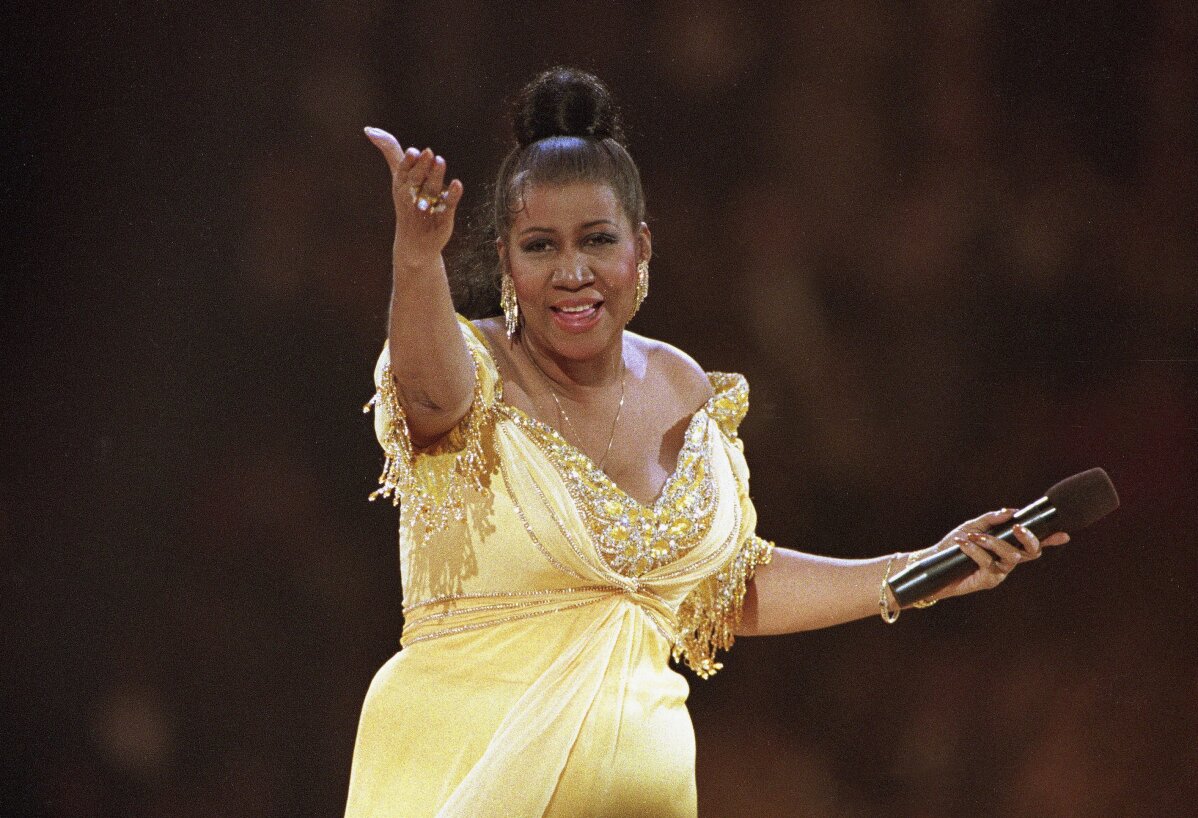 6 of 8

|
FILE - In this Jan. 19, 1993 file photo, singer Aretha Franklin performs at the inaugural gala for President Bill Clinton in Washington. Franklin died on Aug. 16, 2018, at her home in Detroit. She was 76. Public viewings are planned Tuesday and Wednesday at the Charles H. Wright Museum of African American History, which is also where civil rights icon Rosa Parks lay in repose after her 2005 death. (AP Photo/Amy Sancetta, File)
7 of 8

|
Wanda Williams prepares t-shirts outside New Bethel Baptist Church in Detroit, Monday, Aug. 27, 2018. Aretha Franklin's funeral will be held at Greater Grace Temple in Detroit. Franklin died Aug. 16, 2018 of pancreatic cancer at the age of 76.(AP Photo/Paul Sancya)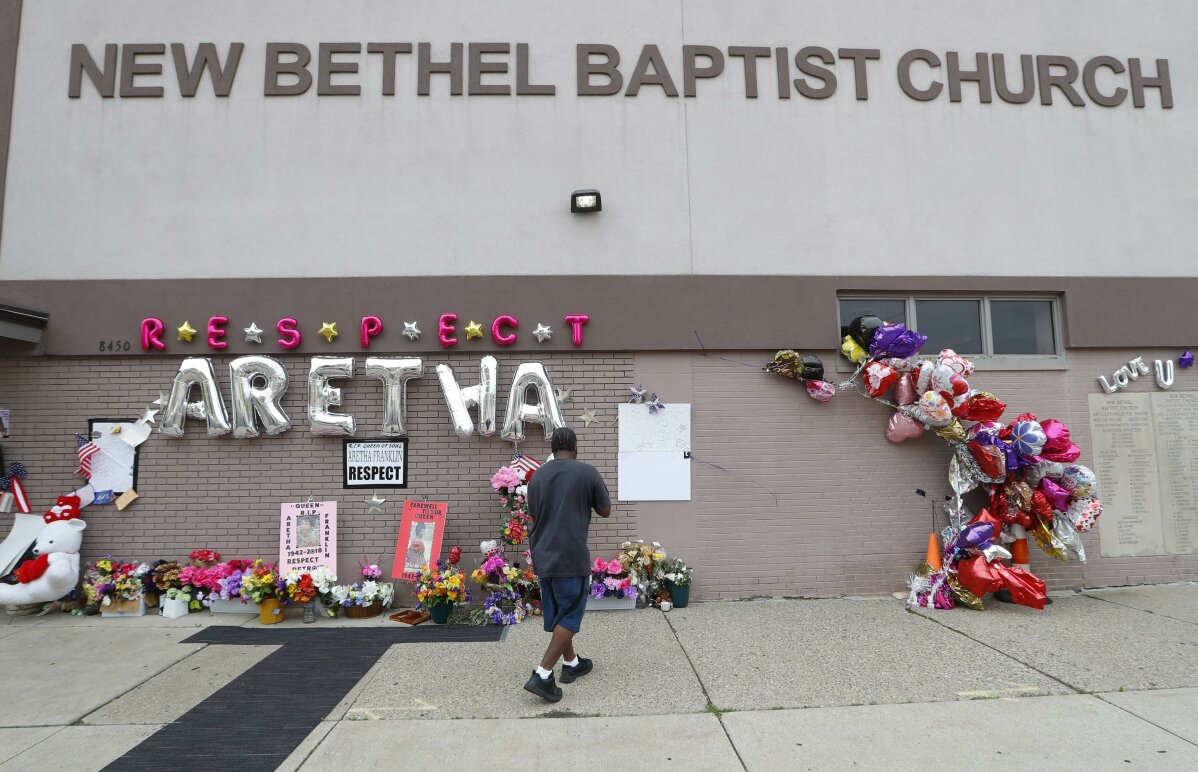 8 of 8

|
A pedestrian views memorial items at New Bethel Baptist Church in Detroit, Monday, Aug. 27, 2018. Aretha Franklin's funeral will be held at Greater Grace Temple in Detroit. Franklin died Aug. 16, 2018 of pancreatic cancer at the age of 76. (AP Photo/Paul Sancya)
Detroit saying farewell in royal fashion to Queen of Soul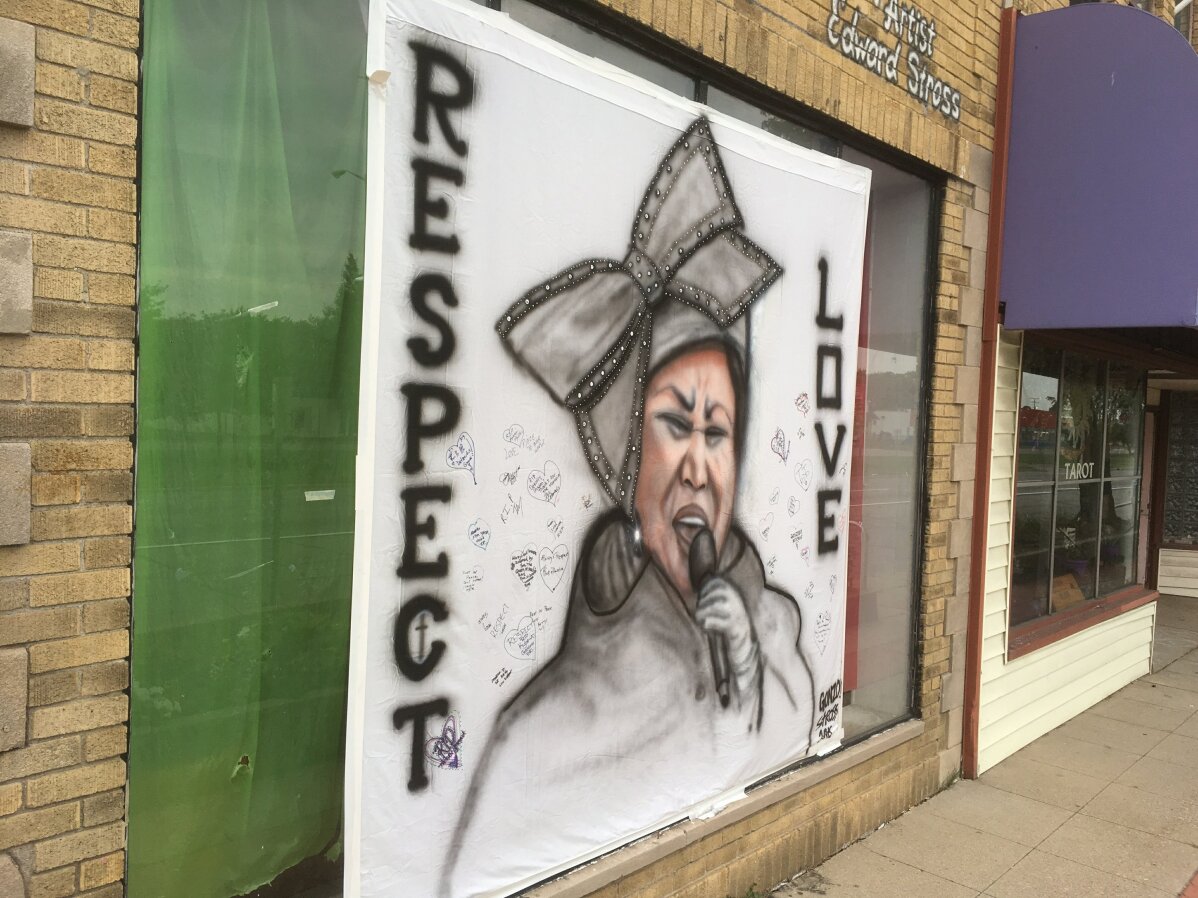 1 of 8

|
A portrait of Aretha Franklin hangs outside the studio of artist Edward Stross in Roseville, Mich., on Saturday, Aug. 25, 2018. Franklin's fans left messages on the canvas. Detroit's Queen of Soul died on Aug. 16. Her funeral will be held on Aug. 31. (AP Photo/Ed White)
1 of 8
A portrait of Aretha Franklin hangs outside the studio of artist Edward Stross in Roseville, Mich., on Saturday, Aug. 25, 2018. Franklin's fans left messages on the canvas. Detroit's Queen of Soul died on Aug. 16. Her funeral will be held on Aug. 31. (AP Photo/Ed White)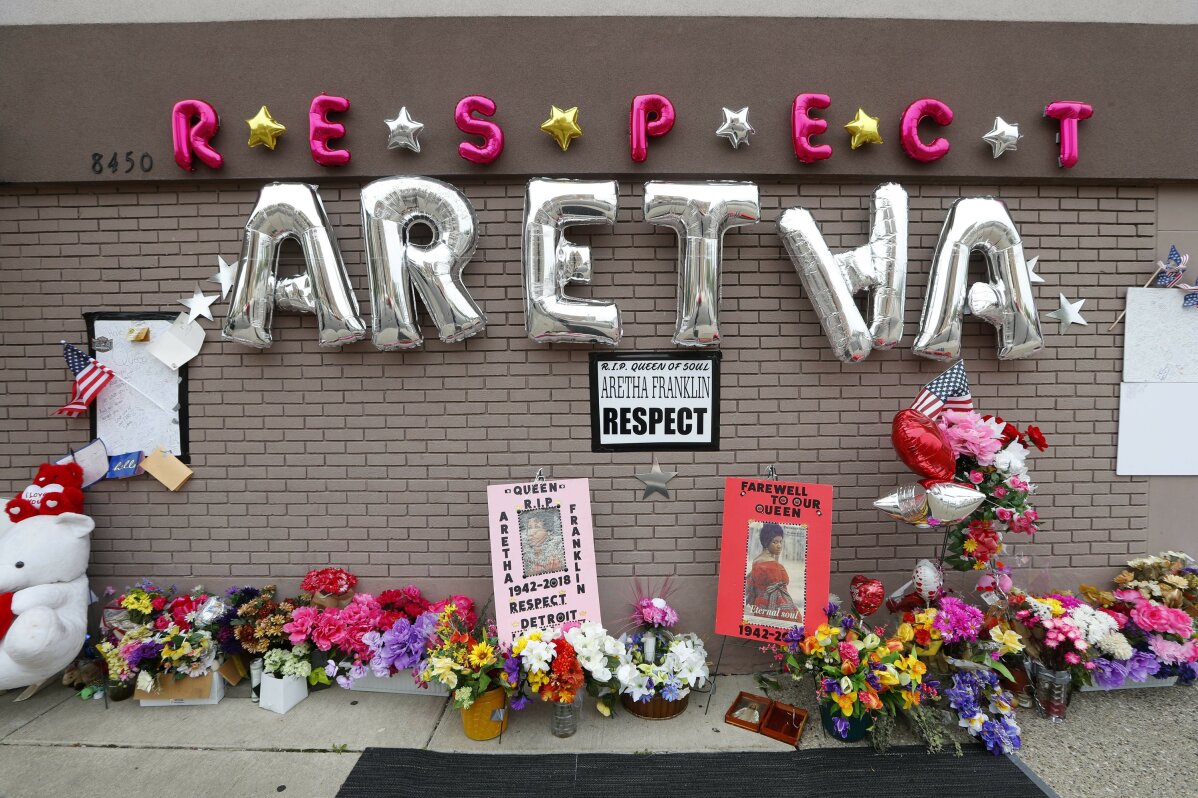 2 of 8

|
Memorial items hang on New Bethel Baptist Church in Detroit, Monday, Aug. 27, 2018. Aretha Franklin's funeral will be held at Greater Grace Temple in Detroit. Franklin died Aug. 16, 2018 of pancreatic cancer at the age of 76.(AP Photo/Paul Sancya)
2 of 8
Memorial items hang on New Bethel Baptist Church in Detroit, Monday, Aug. 27, 2018. Aretha Franklin's funeral will be held at Greater Grace Temple in Detroit. Franklin died Aug. 16, 2018 of pancreatic cancer at the age of 76.(AP Photo/Paul Sancya)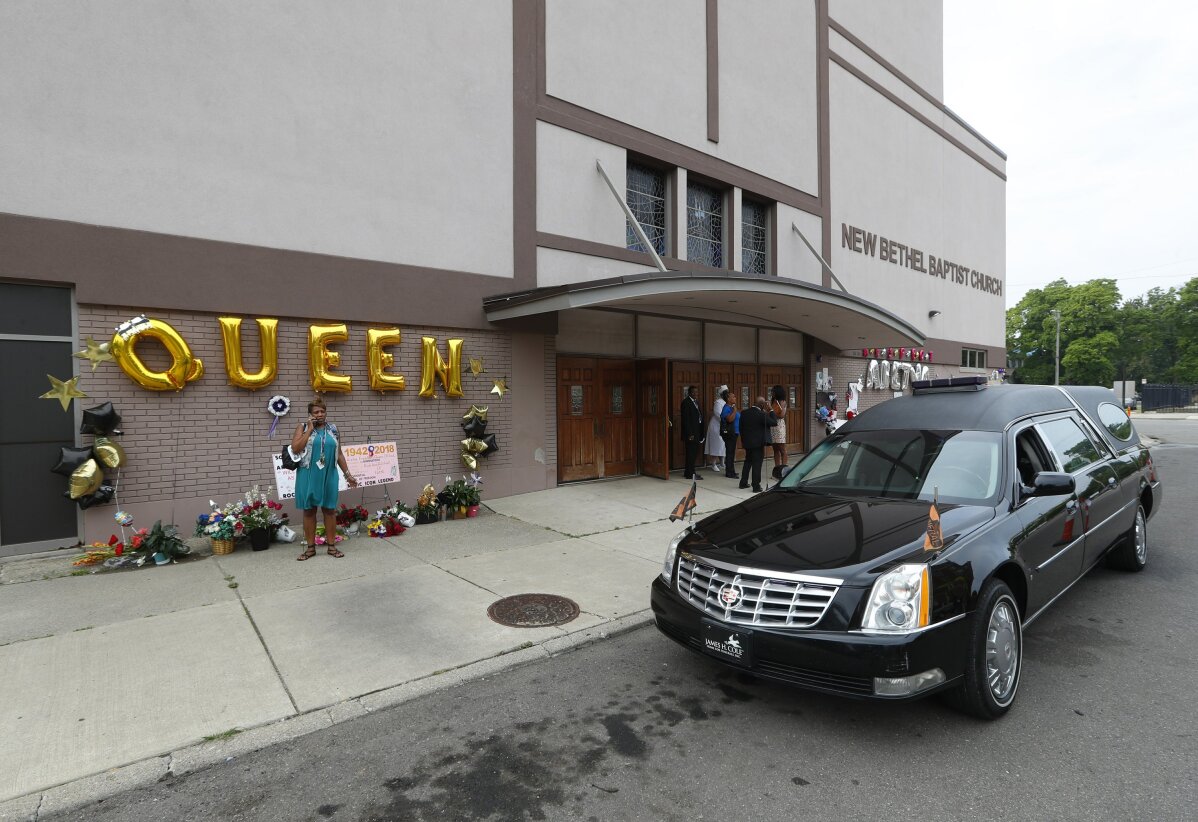 3 of 8

|
Memorial items hang on New Bethel Baptist Church in Detroit, Monday, Aug. 27, 2018. Aretha Franklin's funeral will be held at Greater Grace Temple in Detroit. Franklin died Aug. 16, 2018 of pancreatic cancer at the age of 76.(AP Photo/Paul Sancya)
3 of 8
Memorial items hang on New Bethel Baptist Church in Detroit, Monday, Aug. 27, 2018. Aretha Franklin's funeral will be held at Greater Grace Temple in Detroit. Franklin died Aug. 16, 2018 of pancreatic cancer at the age of 76.(AP Photo/Paul Sancya)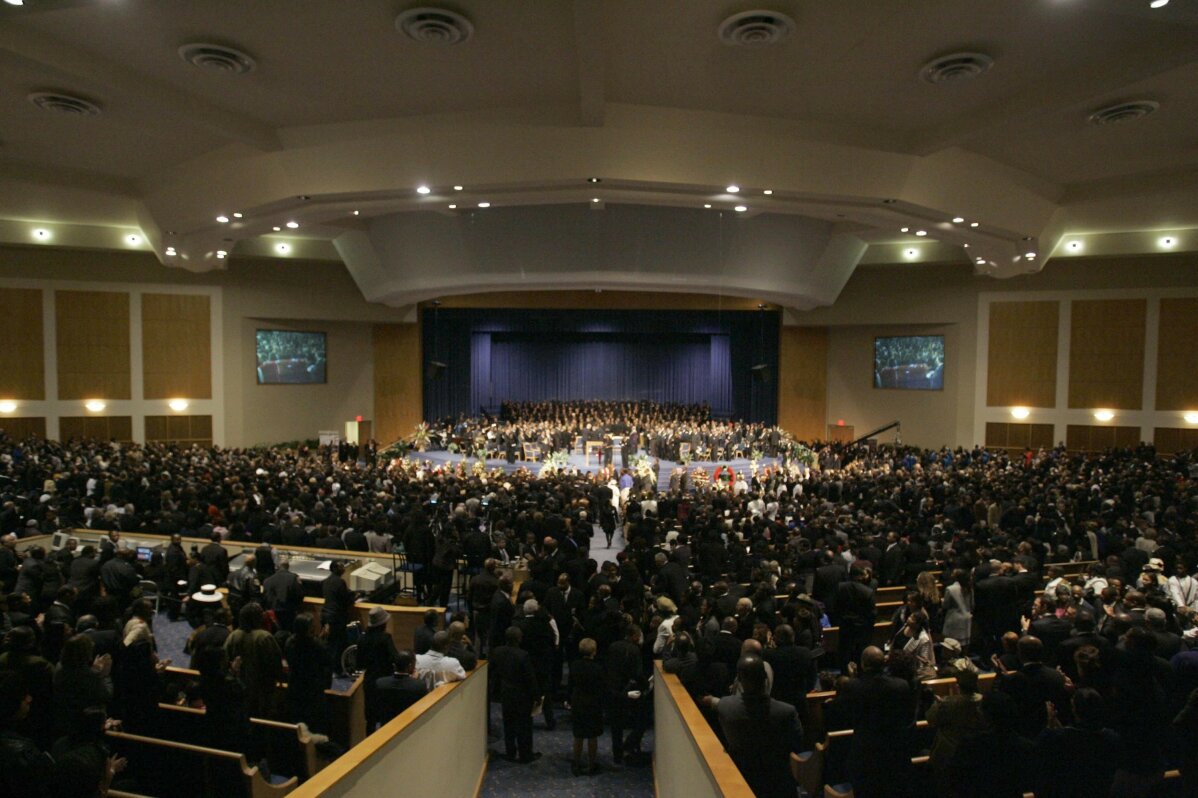 4 of 8

|
FILE-- In this Nov. 2, 2005 file photo, people attend the funeral for Rosa Parks at the Greater Grace Temple in Detroit. Aretha Franklin's funeral will be held at Greater Grace Temple in Detroit Friday, Aug. 31, 208. Franklin died Aug. 16, 2018 of pancreatic cancer at the age of 76. (AP Photo/Carlos Osorio)
4 of 8
FILE-- In this Nov. 2, 2005 file photo, people attend the funeral for Rosa Parks at the Greater Grace Temple in Detroit. Aretha Franklin's funeral will be held at Greater Grace Temple in Detroit Friday, Aug. 31, 208. Franklin died Aug. 16, 2018 of pancreatic cancer at the age of 76. (AP Photo/Carlos Osorio)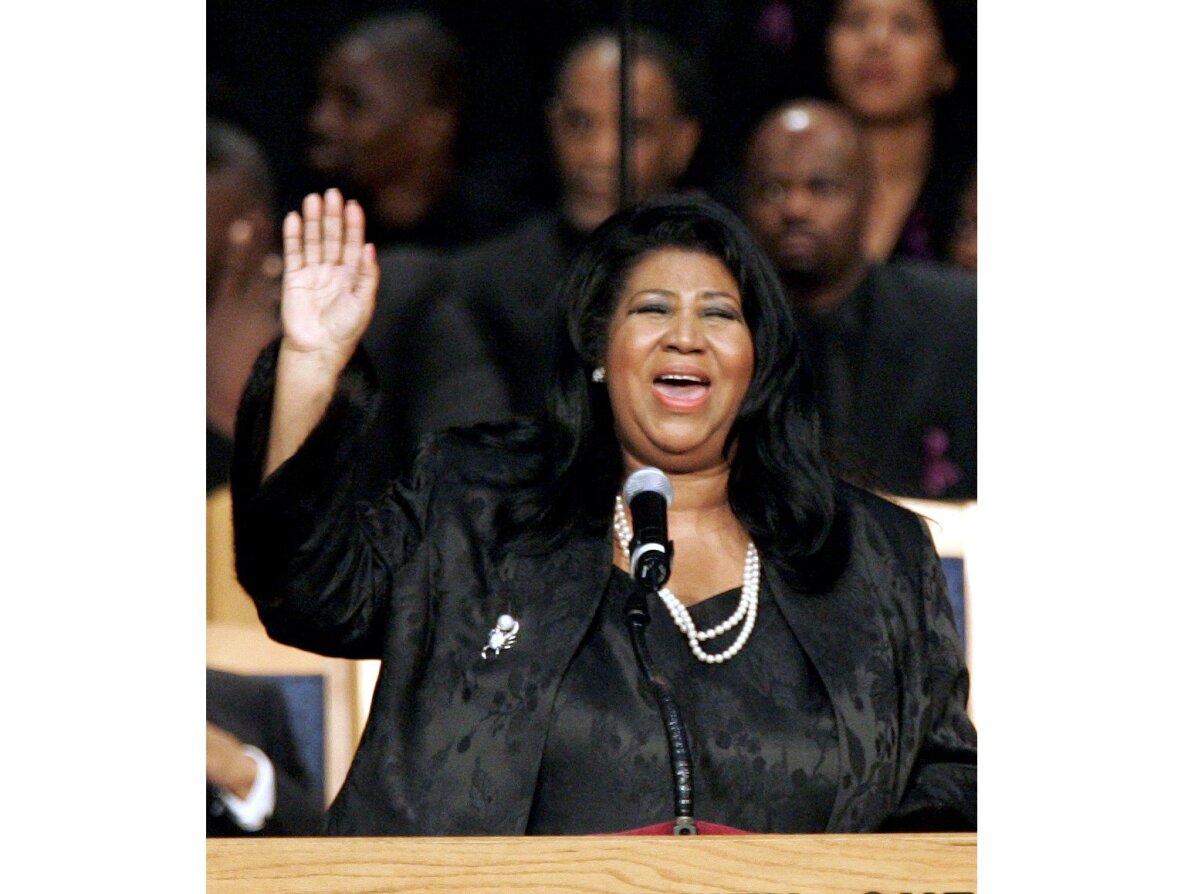 5 of 8

|
FILE-- In this Nov. 2, 2005 file photo, Aretha Franklin sings during the funeral for civil rights pioneer Rosa Parks at the Greater Grace Temple in Detroit. Franklin died Aug. 16, 2018 of pancreatic cancer at the age of 76. (AP Photo/Carlos Osorio)
5 of 8
FILE-- In this Nov. 2, 2005 file photo, Aretha Franklin sings during the funeral for civil rights pioneer Rosa Parks at the Greater Grace Temple in Detroit. Franklin died Aug. 16, 2018 of pancreatic cancer at the age of 76. (AP Photo/Carlos Osorio)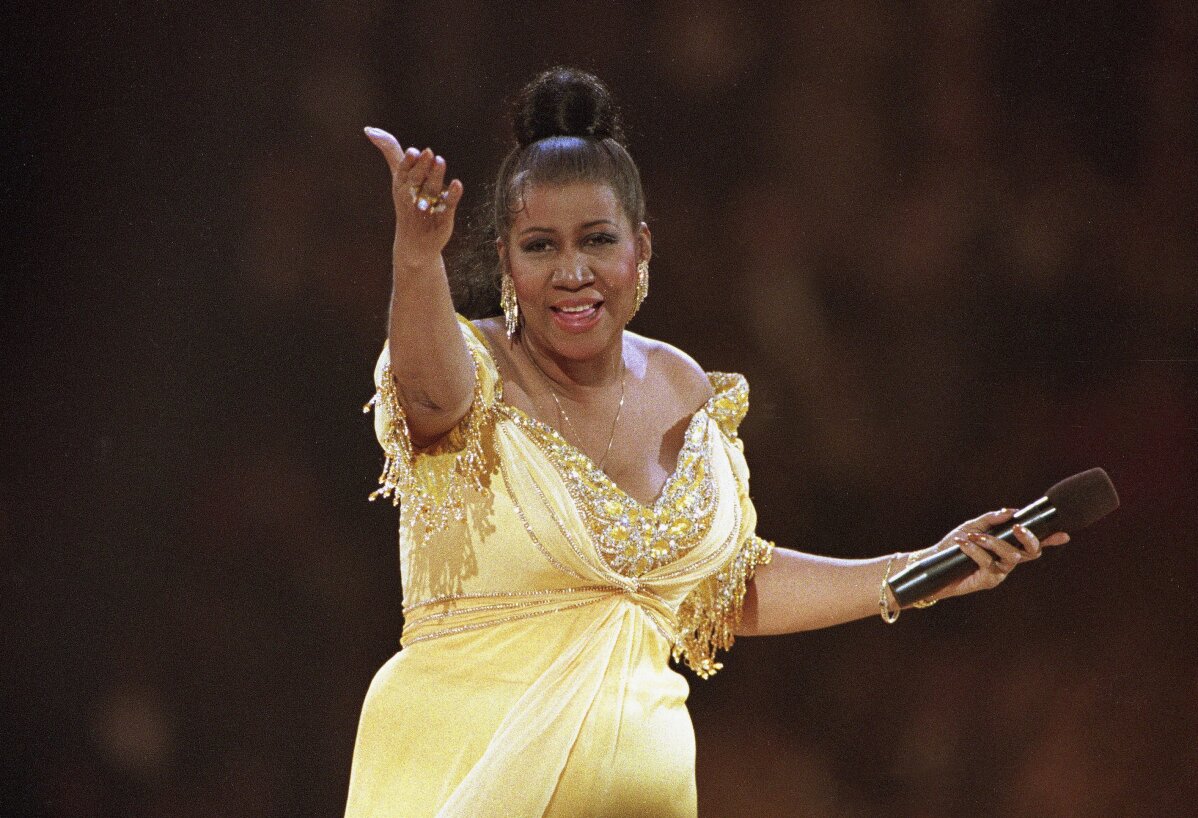 6 of 8

|
FILE - In this Jan. 19, 1993 file photo, singer Aretha Franklin performs at the inaugural gala for President Bill Clinton in Washington. Franklin died on Aug. 16, 2018, at her home in Detroit. She was 76. Public viewings are planned Tuesday and Wednesday at the Charles H. Wright Museum of African American History, which is also where civil rights icon Rosa Parks lay in repose after her 2005 death. (AP Photo/Amy Sancetta, File)
6 of 8
FILE - In this Jan. 19, 1993 file photo, singer Aretha Franklin performs at the inaugural gala for President Bill Clinton in Washington. Franklin died on Aug. 16, 2018, at her home in Detroit. She was 76. Public viewings are planned Tuesday and Wednesday at the Charles H. Wright Museum of African American History, which is also where civil rights icon Rosa Parks lay in repose after her 2005 death. (AP Photo/Amy Sancetta, File)
7 of 8

|
Wanda Williams prepares t-shirts outside New Bethel Baptist Church in Detroit, Monday, Aug. 27, 2018. Aretha Franklin's funeral will be held at Greater Grace Temple in Detroit. Franklin died Aug. 16, 2018 of pancreatic cancer at the age of 76.(AP Photo/Paul Sancya)
7 of 8
Wanda Williams prepares t-shirts outside New Bethel Baptist Church in Detroit, Monday, Aug. 27, 2018. Aretha Franklin's funeral will be held at Greater Grace Temple in Detroit. Franklin died Aug. 16, 2018 of pancreatic cancer at the age of 76.(AP Photo/Paul Sancya)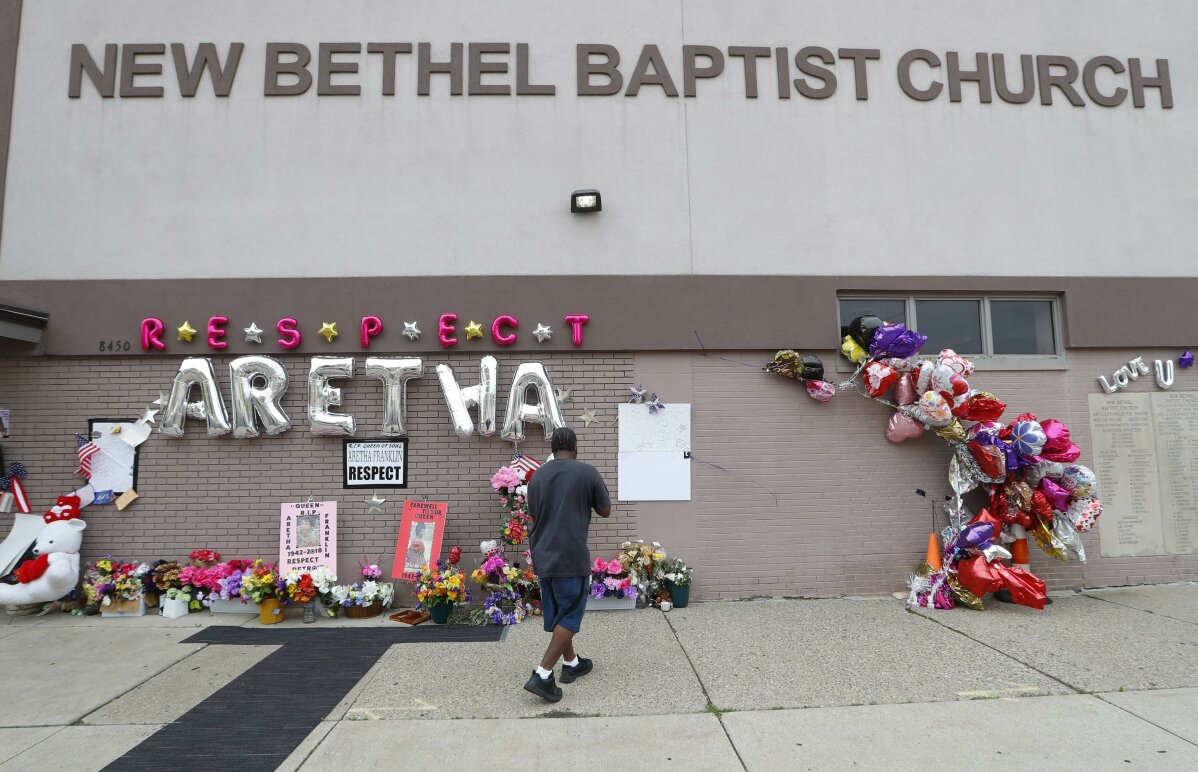 8 of 8

|
A pedestrian views memorial items at New Bethel Baptist Church in Detroit, Monday, Aug. 27, 2018. Aretha Franklin's funeral will be held at Greater Grace Temple in Detroit. Franklin died Aug. 16, 2018 of pancreatic cancer at the age of 76. (AP Photo/Paul Sancya)
8 of 8
A pedestrian views memorial items at New Bethel Baptist Church in Detroit, Monday, Aug. 27, 2018. Aretha Franklin's funeral will be held at Greater Grace Temple in Detroit. Franklin died Aug. 16, 2018 of pancreatic cancer at the age of 76. (AP Photo/Paul Sancya)
DETROIT (AP) — Aretha Franklin had admirers the world over, but there's no doubt the flame burned brightest in Detroit — the place she was raised and remained for most of her life.
It's difficult to separate the singer from the city, so you better think that her town is saying farewell in royal fashion to its Queen of Soul, with a concert, public viewings and a funeral that's expected to be attended by at least one former president, civil rights leaders and many other musical luminaries.
Here are some of the events and ways in which Detroit is paying respect to Franklin, who died Aug. 16 of pancreatic cancer at the age of 76:
___
RESPECT
Public viewings are planned Tuesday and Wednesday at the Charles H. Wright Museum of African American History, which is also where civil rights icon Rosa Parks lay in repose after her 2005 death.
Thousands of mourners are expected to come to the museum, which had been the largest black museum in the United States until the National Museum of African American History and Culture opened in Washington, D.C., in 2016.
___
AMAZING GRACE
The Friday funeral at Detroit's Greater Grace Temple is billed as an event for friends and family only.
The all-star lineup of performers includes Stevie Wonder, Faith Hill, Jennifer Hudson, Fantasia and Shirley Caesar. Also slated to perform are Ron Isley, Chaka Khan, Yolanda Adams, Jennifer Holliday and Franklin's son, Edward Franklin.
The service will reflect Franklin's strong gospel roots. Among the gospel voices expected to fill Greater Grace include Marvin Sapp, the Clark Sisters and Vanessa Bell Armstrong.
VIPs aren't expected to be limited to the musical kind: Scheduled to speak at the service is former President Bill Clinton, whose inaugurations featured performances by Franklin. Others include the Revs. Jesse Jackson and Al Sharpton, Bishop T. D. Jakes, Cicely Tyson, former U.S. Attorney General Eric Holder, Clive Davis and Michigan Gov. Rick Snyder.
Smokey Robinson also plans to pay tribute with words, not music. The Motown "Miracle" and Franklin grew up together and delivered a spine-tingling duet on Soul Train in 1979.
The Rev. Jasper Williams Jr., pastor of Atlanta's Salem Baptist Church, will deliver the eulogy.
It's expected to be a marathon service, perhaps lasting five hours or more.
The church also hosted Parks' funeral, at which Franklin sang.
___
FREEWAY OF LOVE
Greater Grace Temple is calling on people with pink Cadillacs to line up before the funeral in an effort to create a "Freeway of Love" in tribute to Franklin. That's a nod to her funky '80s tune of the same name that prominently featured the car in the lyrics and video.
Those who line the route get a special perk: The driver of the Caddy and one extra person will be admitted to the funeral.
___
I SAY A LITTLE PRAYER
After the funeral, Franklin will be entombed at Woodlawn Cemetery in Detroit, along with her father, Rev. C.L. Franklin; brother Cecil Franklin; sisters Carolyn Franklin and Erma Franklin; and nephew, Thomas Garrett. Woodlawn also is the final resting place for Parks and many of the Motor City's musical elite, including members of the Four Tops.
___
ROCK STEADY
The night before the funeral, a riverfront amphitheater will rock and roll with musical tributes to Franklin.
Chene Park will host the genre-spanning Thursday evening concert, which is scheduled to feature Gladys Knight, Johnny Gill, Dee Dee Bridgewater, Angie Stone, Keith Washington and many others. The free tickets were all claimed shortly after going on sale Monday morning.
The Four Tops also will be among those performing. Abdul "Duke" Fakir said he was honored that his famed Motown group was invited to perform. The lone, surviving original member of the quartet said he and his bandmates shared a special bond with Franklin on stages and in studios over the decades.
"I'm happy — we always love to do anything we can for 'little sis,'" he said, adding that the performances "should be awe-inspiring."
___
For more, visit https://apnews.com/tag/ArethaFranklin . Follow Jeff Karoub on Twitter at https://twitter.com/jeffkaroub and find more of his work at https://apnews.com/search/jeff%20karoub