Paul Simon wraps up farewell tour back home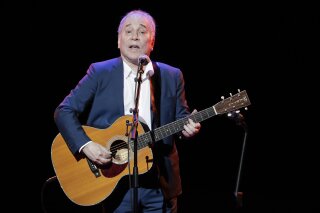 NEW YORK (AP) — Paul Simon ended his final concert tour under a moonlit sky on home turf Saturday, telling an audience in a Queens, N.Y. park that their cheers "mean more than you can know."
Simon performed at Flushing Meadows Corona Park, which he said was a 20-minute bicycle ride from where he grew up, ending the landmark night with his first big hit, "The Sound of Silence."
The 76-year-old Simon isn't retiring, and hasn't ruled out occasional future performances. But he's said this is his last time out on the road, and he isn't alone among his peers; Elton John and Kiss are also doing goodbye swings.
New York City Mayor Bill DeBlasio introduced Simon, calling him "one of the greatest New York City artists of all time." The return to New York raised memories of Simon's two iconic shows in Manhattan's Central Park, in 1981 with former partner Art Garfunkel and in 1991 on his own.
Simon didn't directly address the special nature of this occasion, and his only guest was wife Edie Brickell, who came out to whistle the solo in "Me and Julio Down By the Schoolyard." But there were many references to familiar surroundings, like when he paused and beamed at an airplane descending over the park as he prepared to sing "Homeward Bound."
"Welcome to New York," he said.
When Simon finished singing "Kodachrome," with its memorable line about "the crap I learned in high school," he said, "take that, Forest Hills High School."
But, he conceded, "I actually had a good time there."
The crowd cheered when Simon sang about the "queen of Corona" in "Me & Julio Down By the Schoolyard."
"How much fun is it to sing a song about Corona in Corona?" he said.
The former high school baseball player brought out a glove and a ball, saying he wanted to play catch. He twice threw the ball into the audience and the return throws sailed over his head. But on the third, Simon caught a perfect strike.
His 26-song set spanned more than 50 years. A staple of the 1960s folk-rock scene with Garfunkel, Simon explored music from around the world as a solo artist. His band contained guitarists from Nigeria and South Africa, and a classical sextet. His recent work has been his most musically challenging, and in a new disc he revisits overlooked songs from the past four decades. He's a Rock and Roll Hall of Fame member for both stages of his career.
The only references to Garfunkel were a couple of fleeting pictures during a nostalgic montage on the video screen. As Simon prepared to sing "Bridge Over Troubled Water," he said that "I'm going to reclaim my lost child." He had originally given the giant hit to Garfunkel to sing.
An often dour performer, Simon has been animated and talkative during the final shows. He seems eager for the freedom that awaits him, said Robert Hilburn, who wrote the biography "Paul Simon: A Life" that was released this spring.
"The thing that strikes me is that he's been happy, relieved," Hilburn said. "There's a burden off of him."
During an earlier show in Portland, Oregon, Simon playfully "penalized" himself for flubbing the lyrics to one song by singing an old Simon & Garfunkel hit he confessed to hating: "The 59th Street Bridge Song (Feelin' Groovy)."