The Latest: FEMA Chief: Florida damage among worst he's seen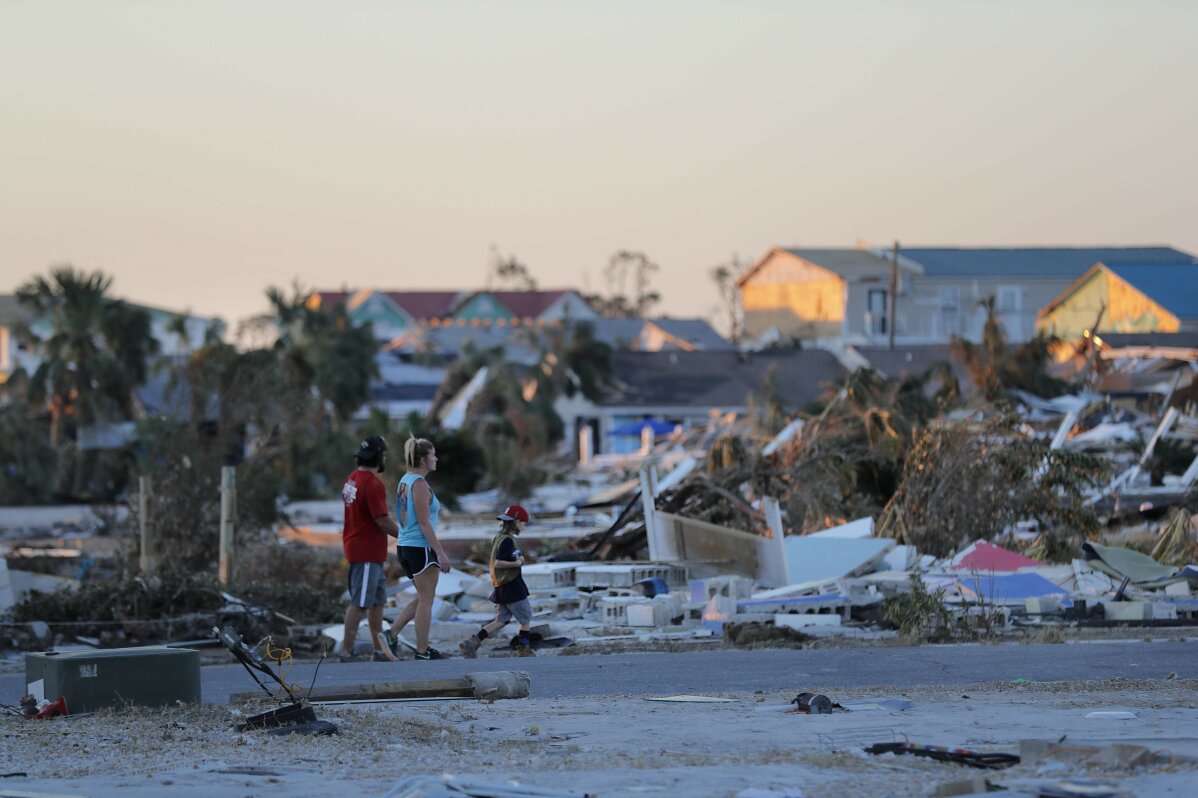 1 of 15

|
People walk amidst rubble in the aftermath of Hurricane Michael in Mexico Beach, Fla., Saturday, Oct. 13, 2018. (AP Photo/Gerald Herbert)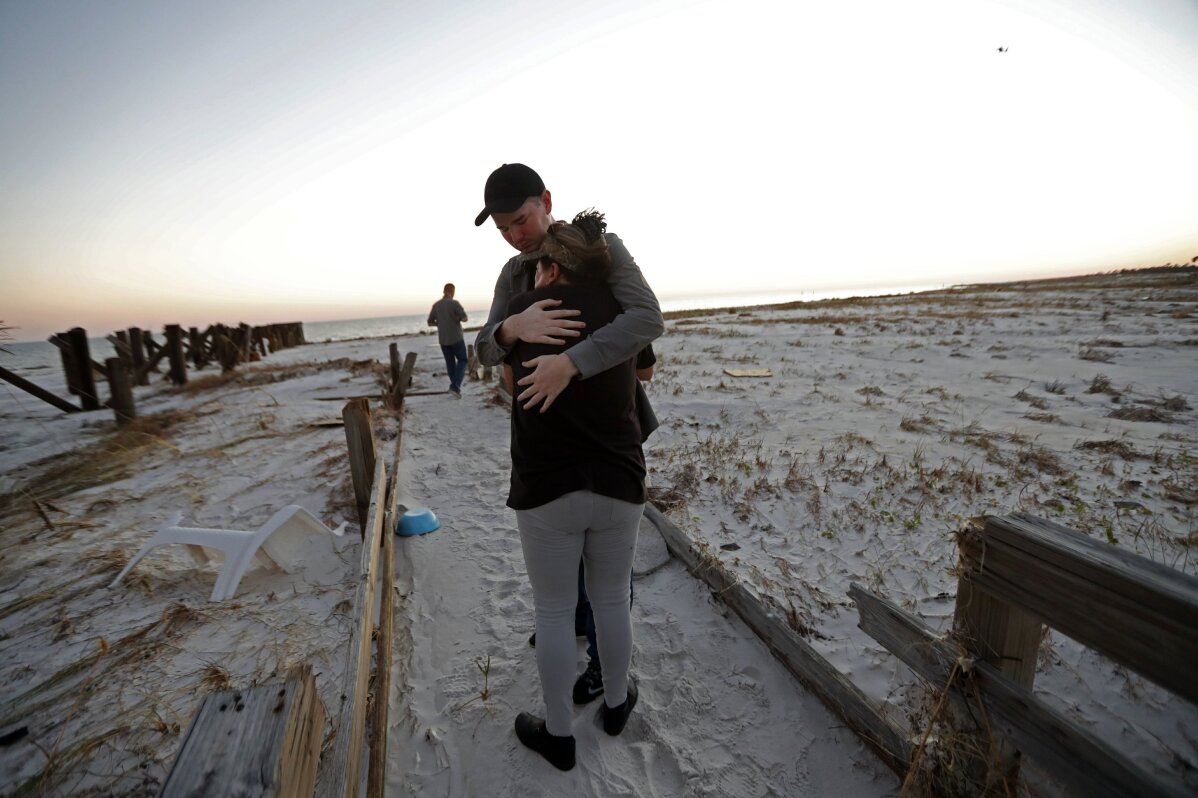 2 of 15

|
Matthew Fortner hugs his mother, Lavonia Fortner, as they walk to view the beach for what they feel is the last time, after they sifted through the rubble of her father-in-law's destroyed home in the aftermath of Hurricane Michael in Mexico Beach, Fla., Saturday, Oct. 13, 2018. (AP Photo/Gerald Herbert)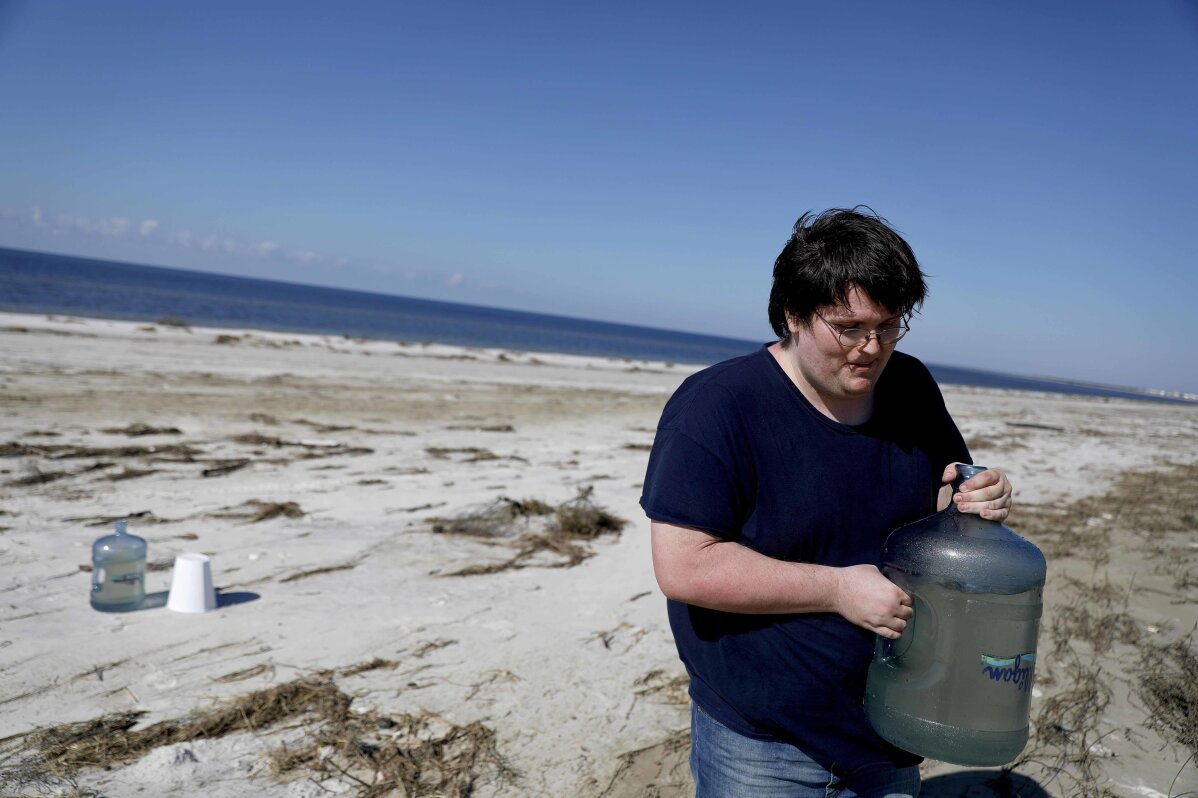 3 of 15

|
Josh Starnes collects water from the gulf to flush toilets at his damaged home from hurricane Michael in Mexico Beach, Fla., Sunday, Oct. 14, 2018. (AP Photo/David Goldman)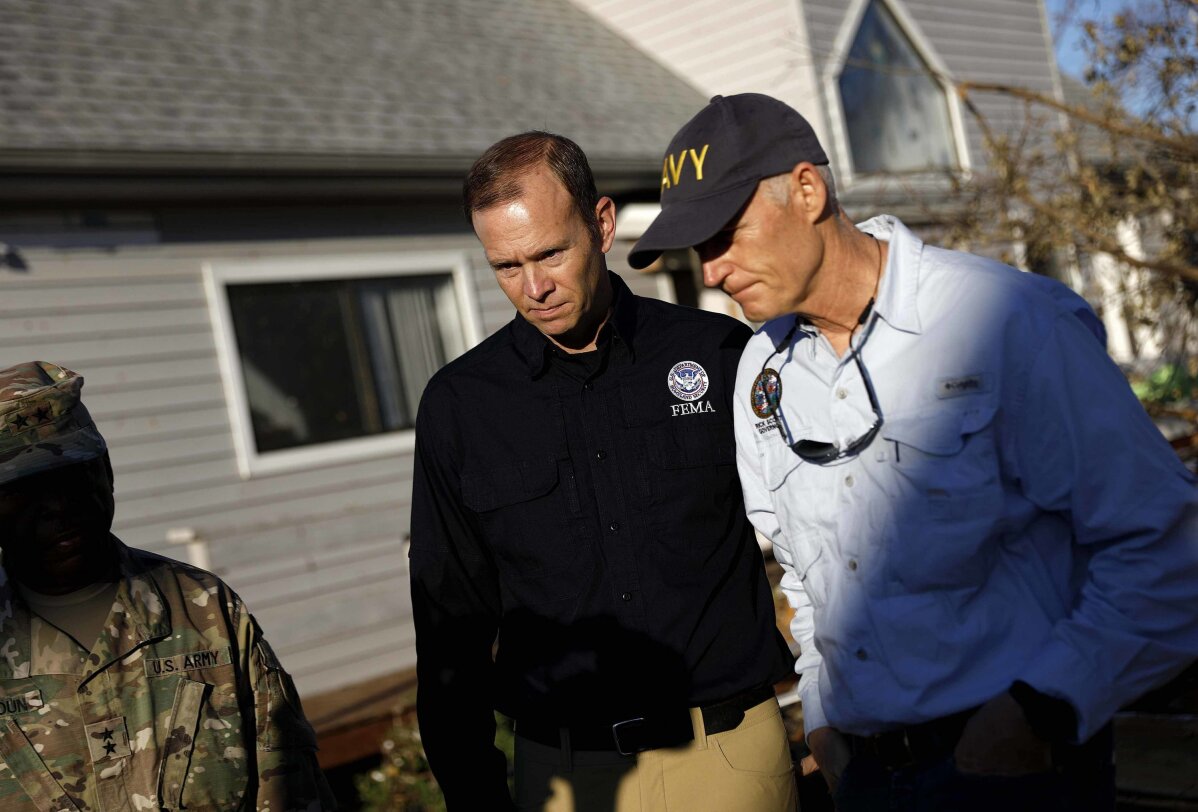 4 of 15

|
Federal Emergency Management Agency Administrator Brock Long, left, and Florida Gov. Rick Scott talk with the media in Mexico Beach, Fla., Sunday, Oct. 14, 2018. (AP Photo/David Goldman)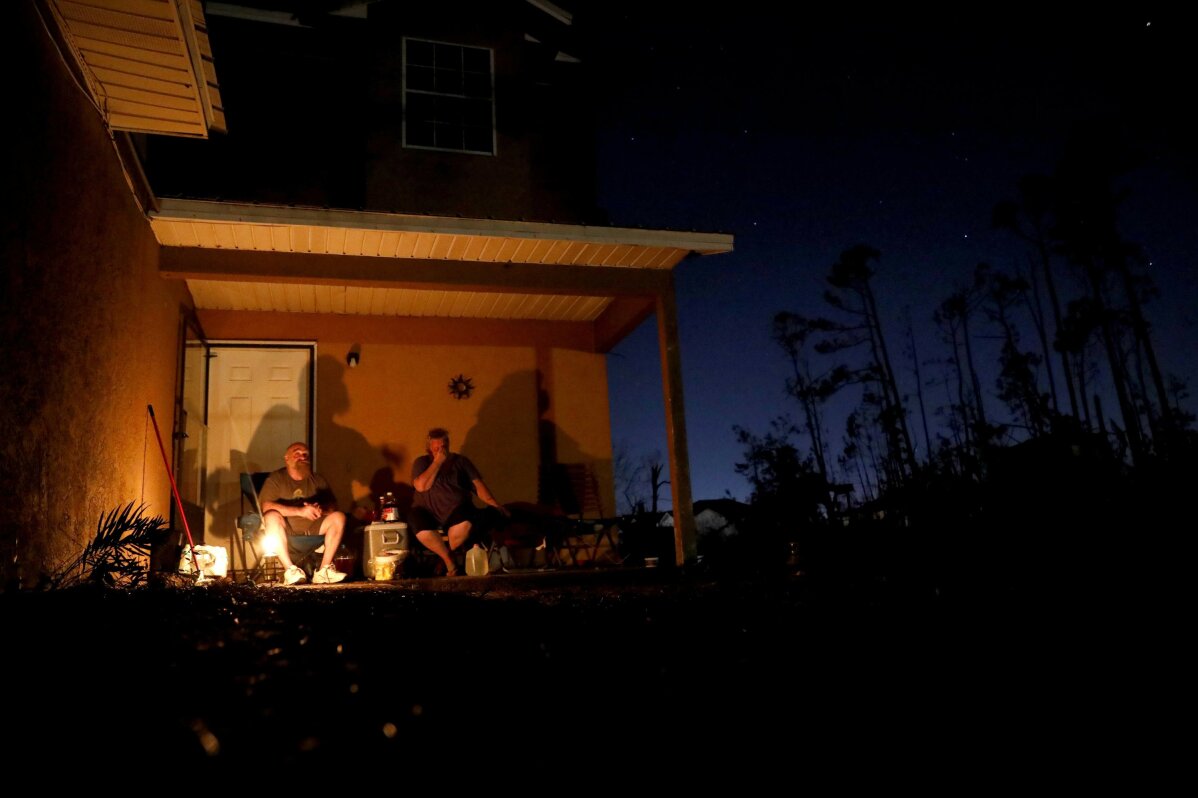 5 of 15

|
Diane Hoal, right, and Mark Bove sit by a torch as they prepare to spend their fourth night without power since Hurricane Michael damaged their home in Panama City, Fla., Saturday, Oct. 13, 2018. (AP Photo/David Goldman)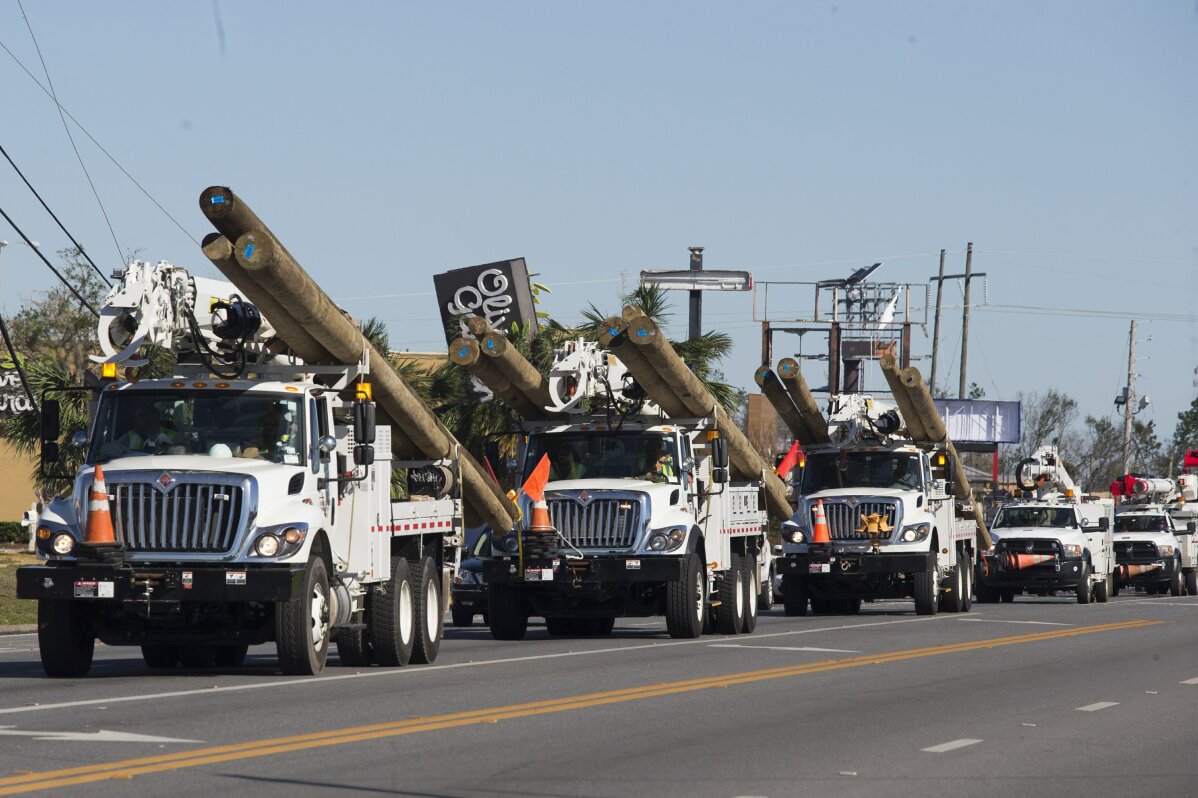 6 of 15

|
Public Service Company of Oklahoma utility trucks deliver utility poles and trucks in Panama City, Fla., Saturday, Oct. 13, 2018, as part of the continuing relief effort after Hurricane Michael. (Joshua Boucher/News Herald via AP)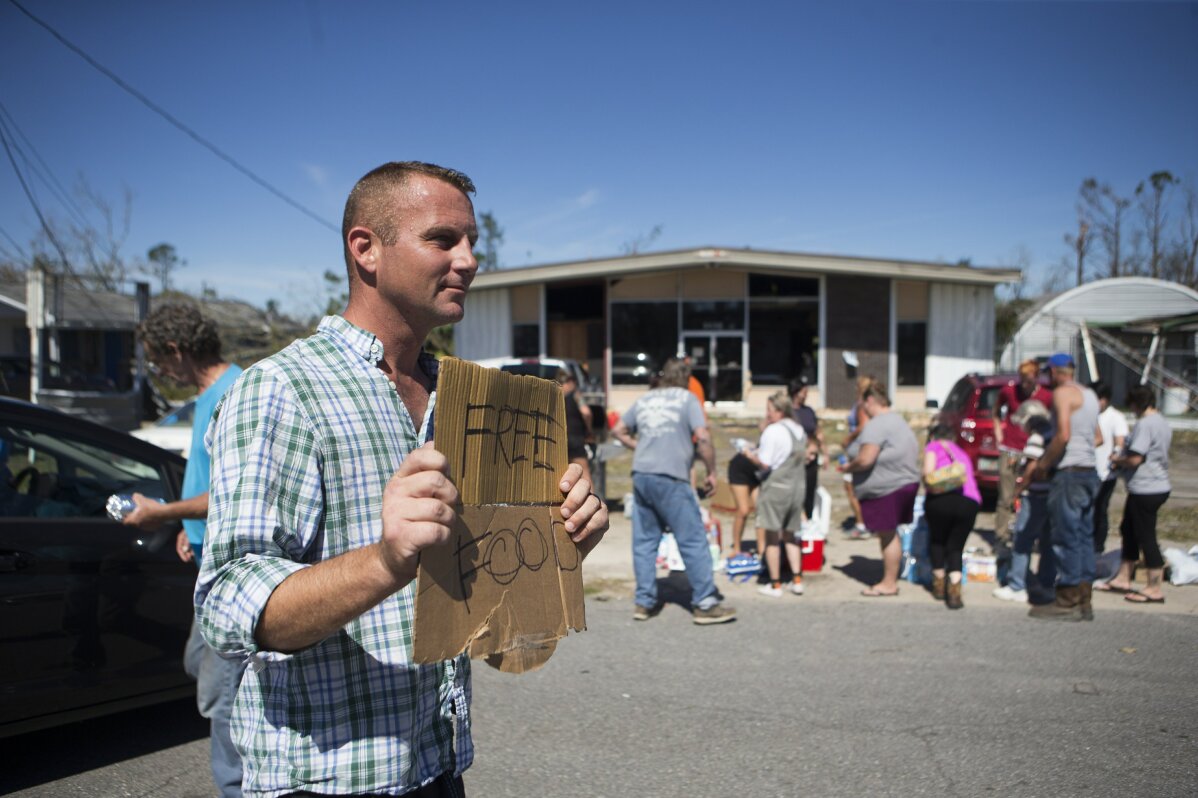 7 of 15

|
In this Friday, Oct. 12, 2018, photo, Justin Rascoe holds a sign advertising free food in Panama City, Fla., after Hurricane Michael swept through the area. He and his family felt they had more than enough, so decided to give away as much as they could. (Joshua Boucher/News Herald via AP)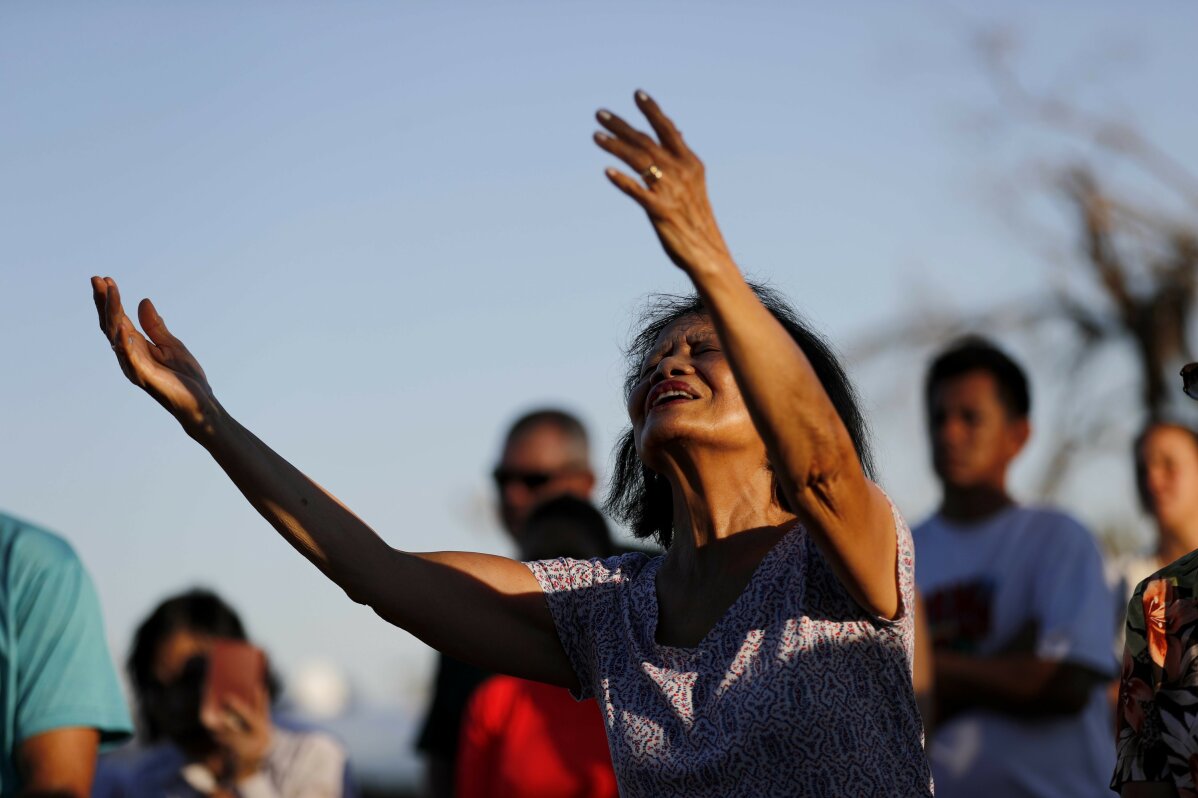 8 of 15

|
Letty Cervantes prays during Mass which was moved outdoors due to damage to Saint Dominic Catholic Church from Hurricane Michael in Panama City, Fla., Saturday, Oct. 13, 2018. (AP Photo/David Goldman)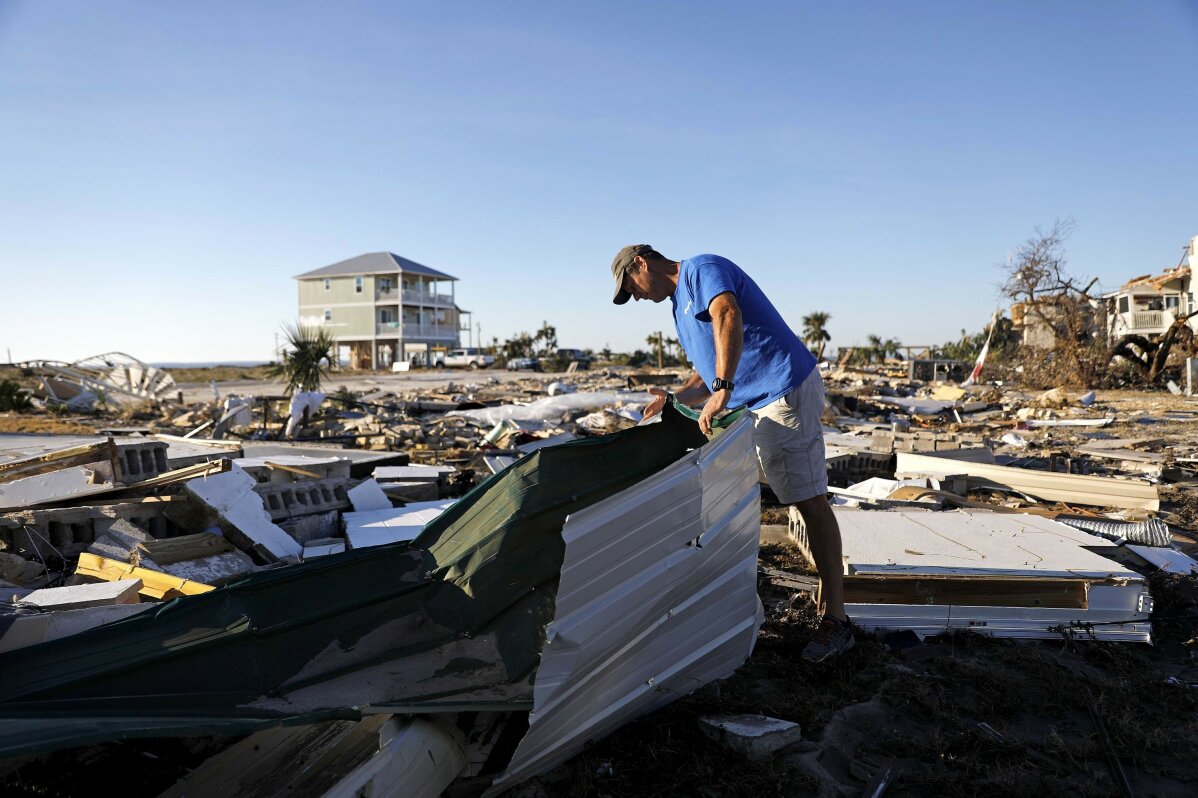 9 of 15

|
Mike Jackson sifts through debris looking for remnants of his home which was destroyed by hurricane Michael in Mexico Beach, Fla., Saturday, Oct. 13, 2018. (AP Photo/David Goldman)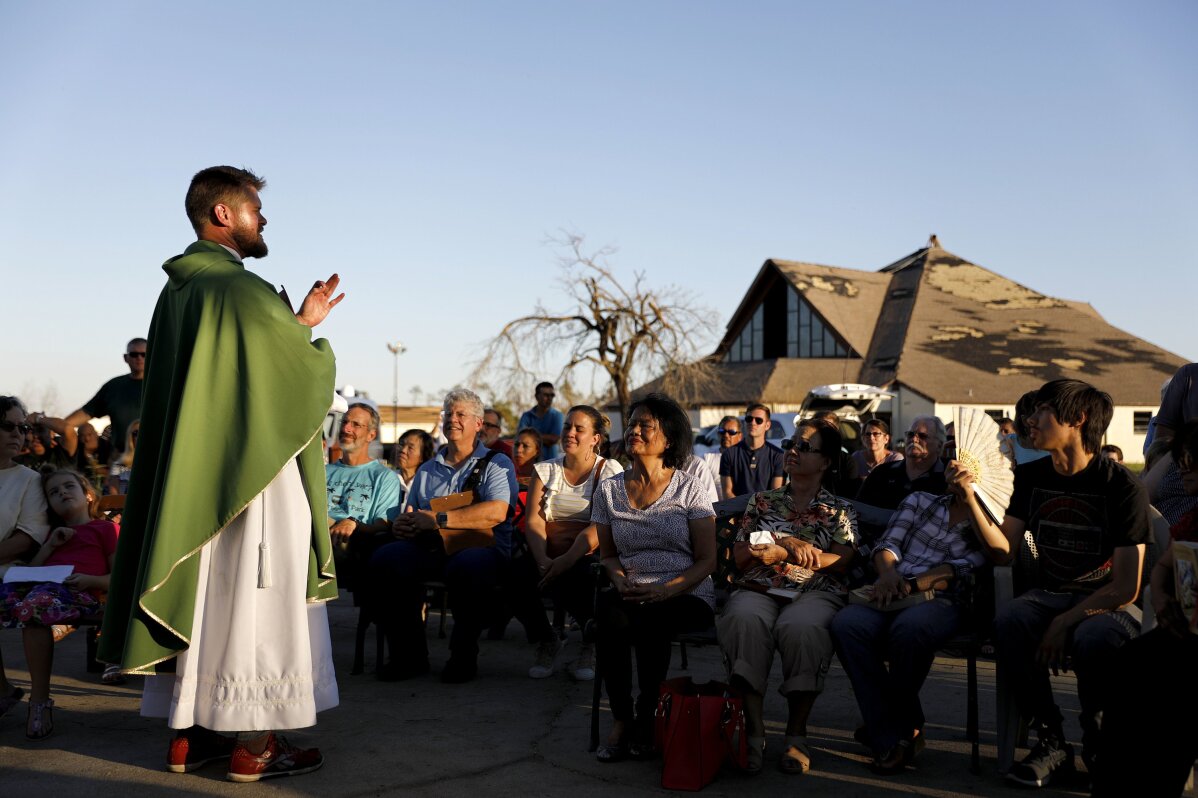 10 of 15

|
Father Michael Nixon holds Mass outside Saint Dominic Catholic Church which stands damaged in the background form hurricane Michael in Panama City, Fla., Saturday, Oct. 13, 2018. (AP Photo/David Goldman)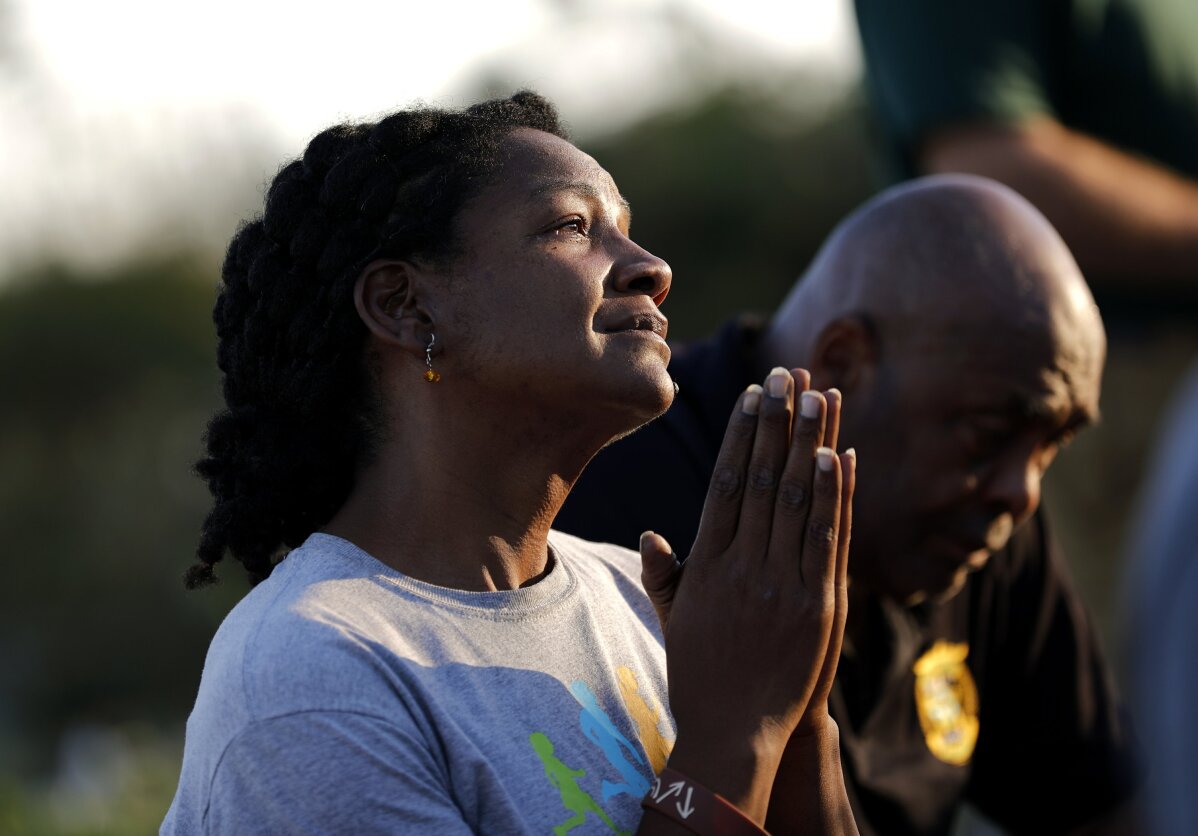 11 of 15

|
Lora McCalister-Cruel prays during Mass which was moved outdoors due to damage from Hurricane Michael inside Saint Dominic Catholic Church in Panama City, Fla., Saturday, Oct. 13, 2018. (AP Photo/David Goldman)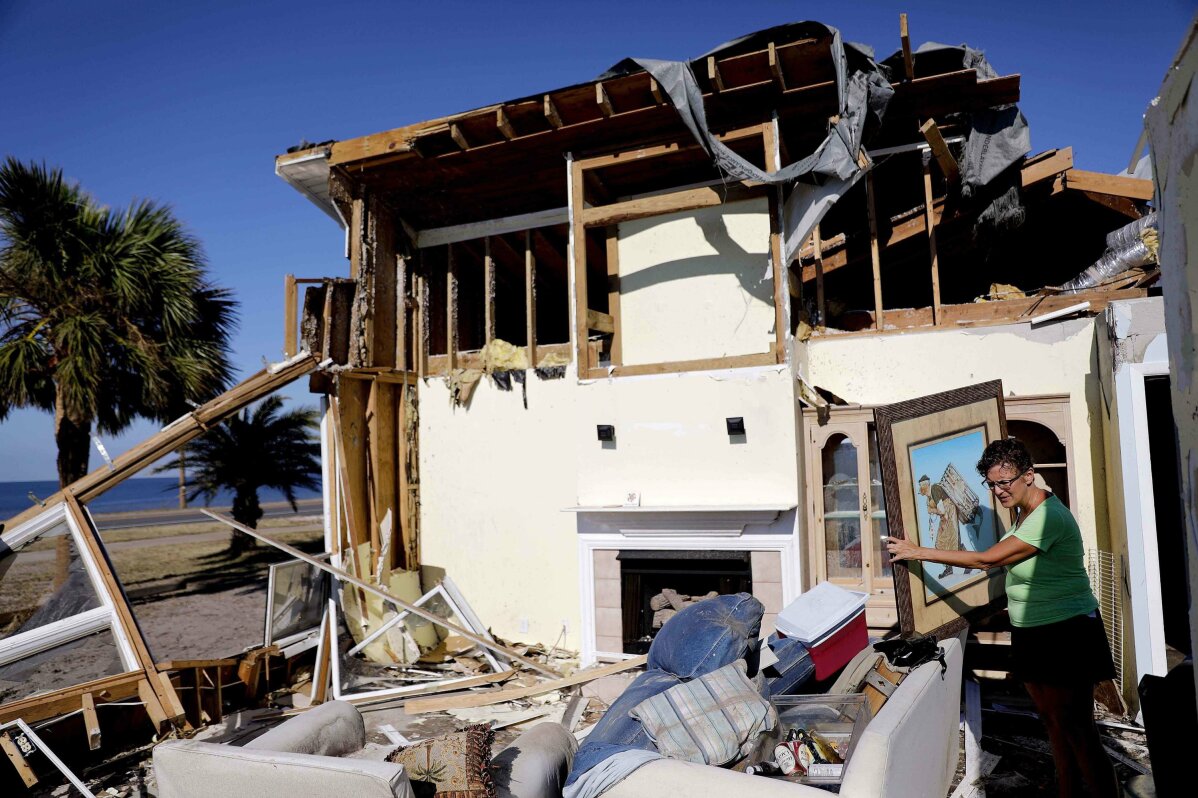 12 of 15

|
Marla Wood pulls a framed art piece out of the rubble of her damaged home from Hurricane Michael in Mexico Beach, Fla., Sunday, Oct. 14, 2018. (AP Photo/David Goldman)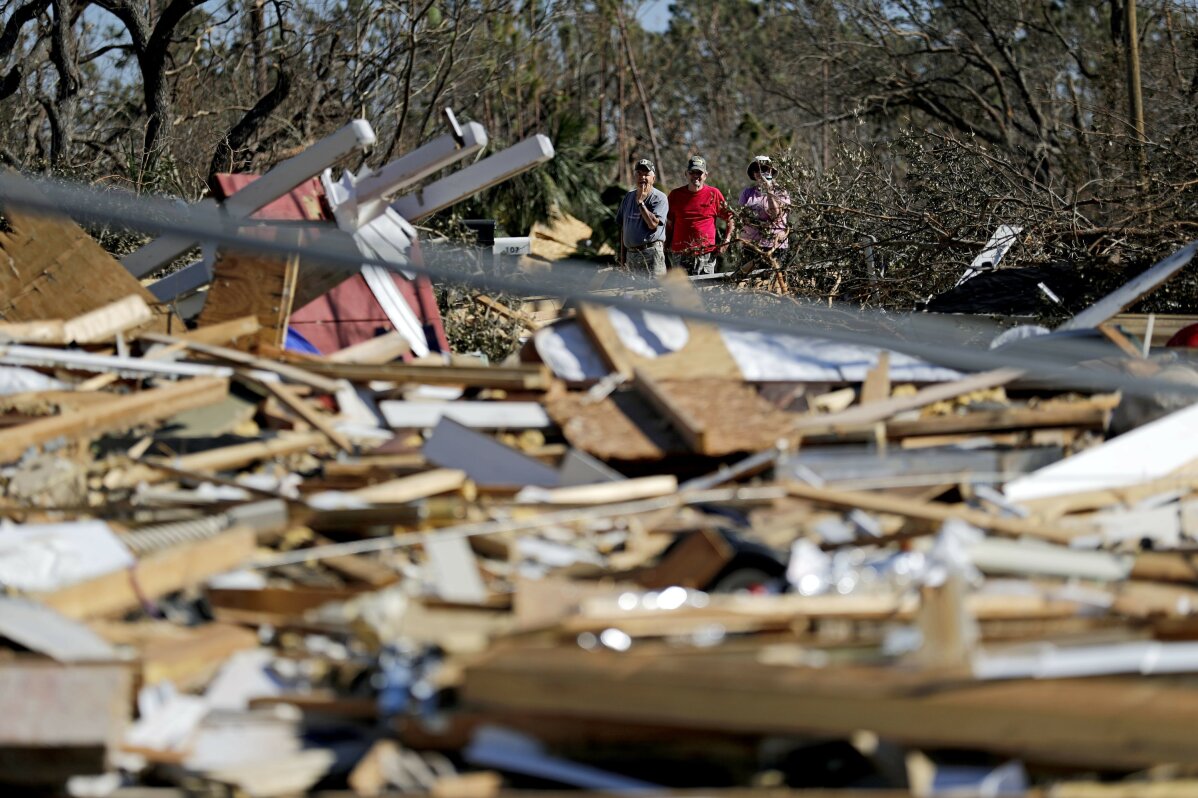 13 of 15

|
Residents look down their street which is blocked off by debris from Hurricane Michael in Mexico Beach, Fla., Saturday, Oct. 13, 2018. (AP Photo/David Goldman)
14 of 15

|
Michael Cain, right, and Jackie Slusser calm tempers between motorists as they wait in line for gas during a shortage in the aftermath of hurricane Michael in Southport, Fla., Saturday, Oct. 13, 2018. (AP Photo/David Goldman)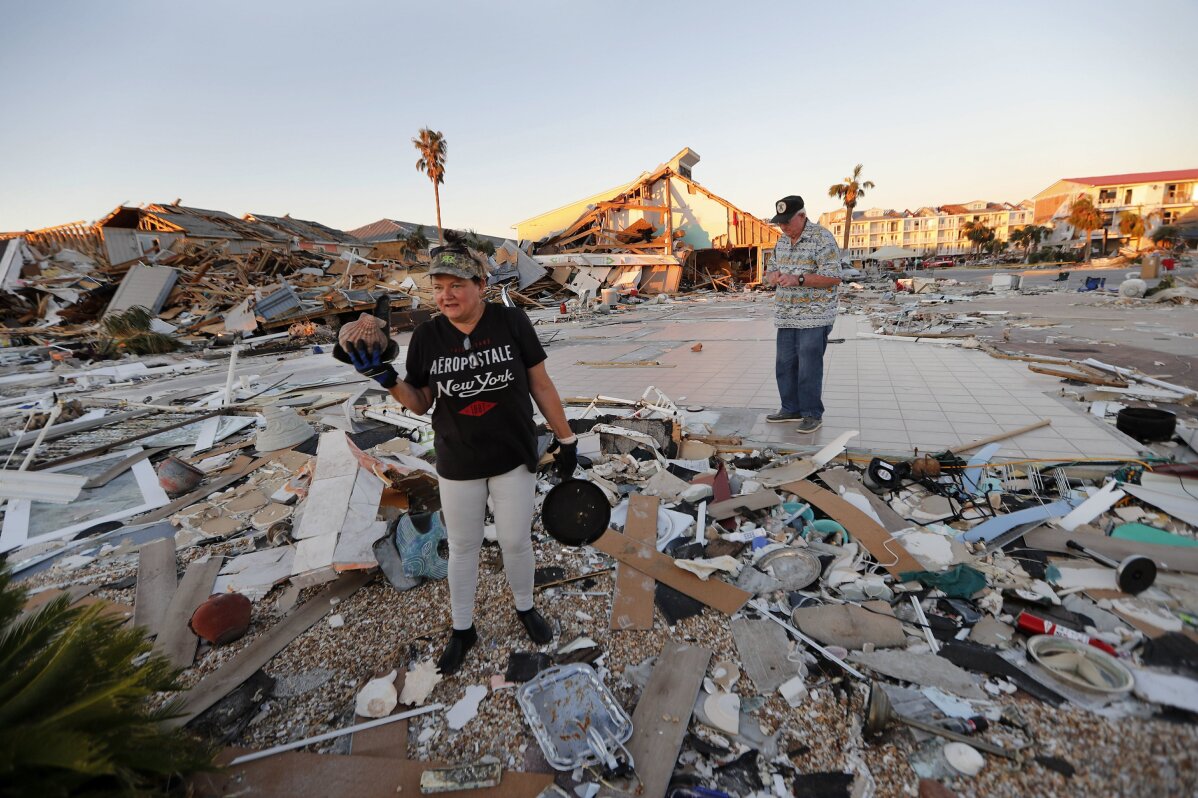 15 of 15

|
Lavonia Fortner helps her father-in-law, John E. Fortner, search for memorabilia his wife collected, in the aftermath of Hurricane Michael in Mexico Beach, Fla., Saturday, Oct. 13, 2018. His wife died in 2010 but his home was destroyed by the storm. (AP Photo/Gerald Herbert)
The Latest: FEMA Chief: Florida damage among worst he's seen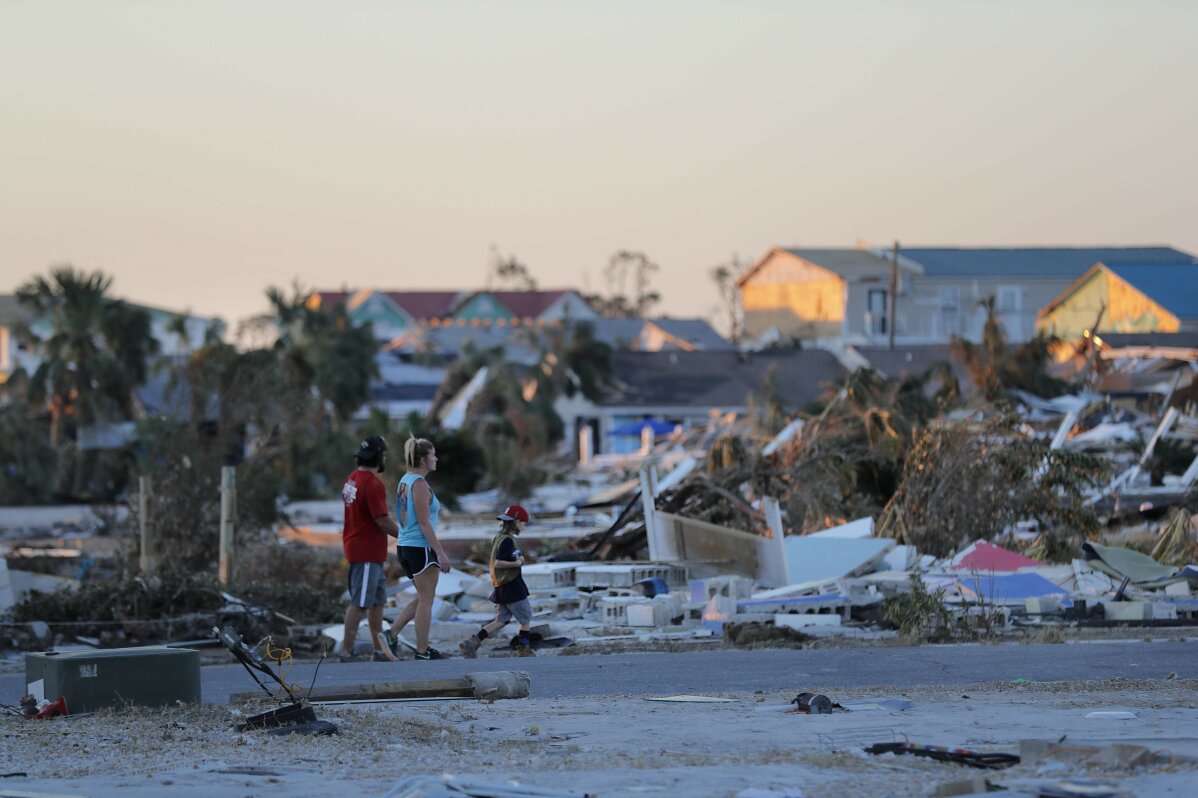 1 of 15

|
People walk amidst rubble in the aftermath of Hurricane Michael in Mexico Beach, Fla., Saturday, Oct. 13, 2018. (AP Photo/Gerald Herbert)
1 of 15
People walk amidst rubble in the aftermath of Hurricane Michael in Mexico Beach, Fla., Saturday, Oct. 13, 2018. (AP Photo/Gerald Herbert)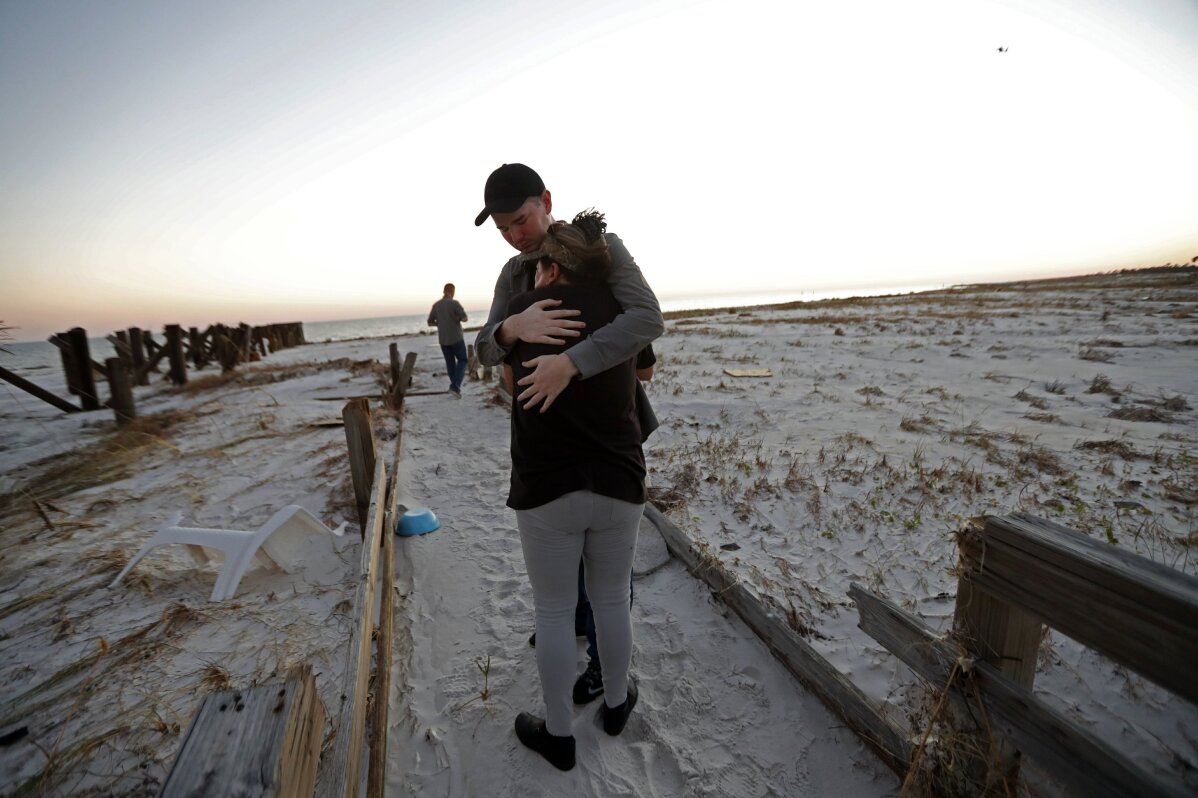 2 of 15

|
Matthew Fortner hugs his mother, Lavonia Fortner, as they walk to view the beach for what they feel is the last time, after they sifted through the rubble of her father-in-law's destroyed home in the aftermath of Hurricane Michael in Mexico Beach, Fla., Saturday, Oct. 13, 2018. (AP Photo/Gerald Herbert)
2 of 15
Matthew Fortner hugs his mother, Lavonia Fortner, as they walk to view the beach for what they feel is the last time, after they sifted through the rubble of her father-in-law's destroyed home in the aftermath of Hurricane Michael in Mexico Beach, Fla., Saturday, Oct. 13, 2018. (AP Photo/Gerald Herbert)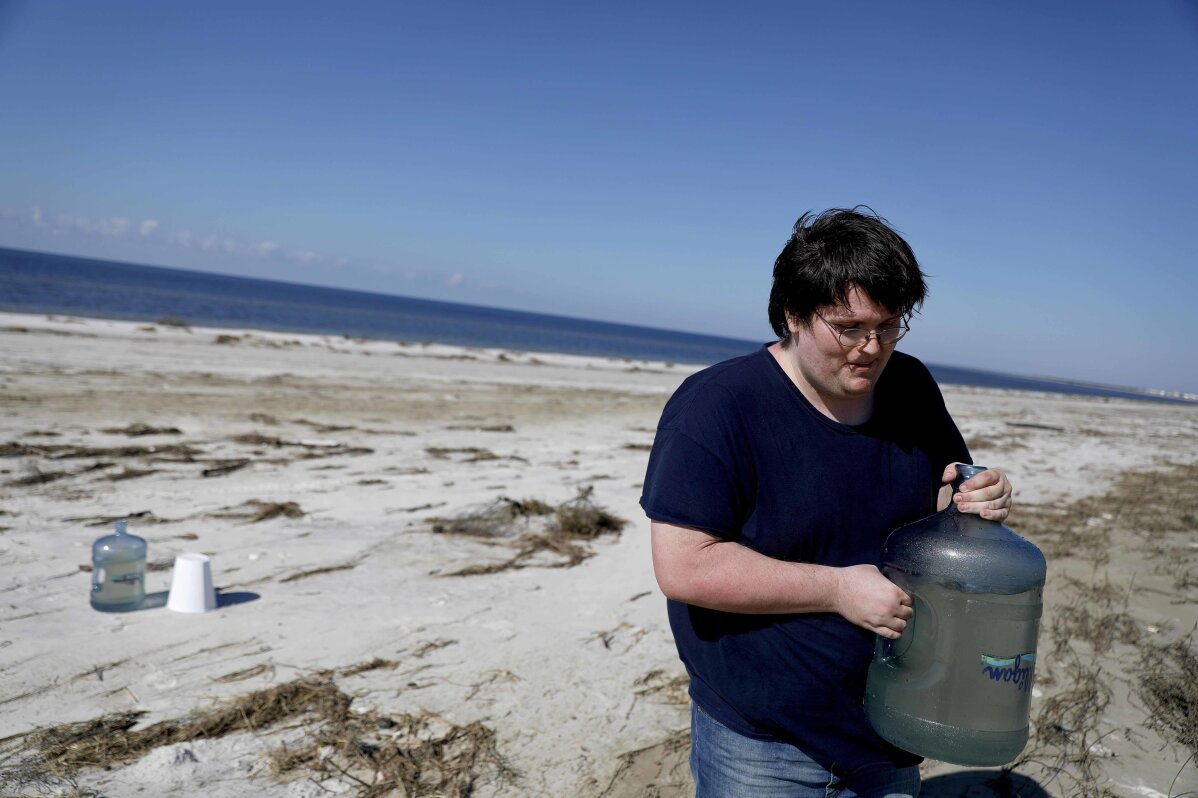 3 of 15

|
Josh Starnes collects water from the gulf to flush toilets at his damaged home from hurricane Michael in Mexico Beach, Fla., Sunday, Oct. 14, 2018. (AP Photo/David Goldman)
3 of 15
Josh Starnes collects water from the gulf to flush toilets at his damaged home from hurricane Michael in Mexico Beach, Fla., Sunday, Oct. 14, 2018. (AP Photo/David Goldman)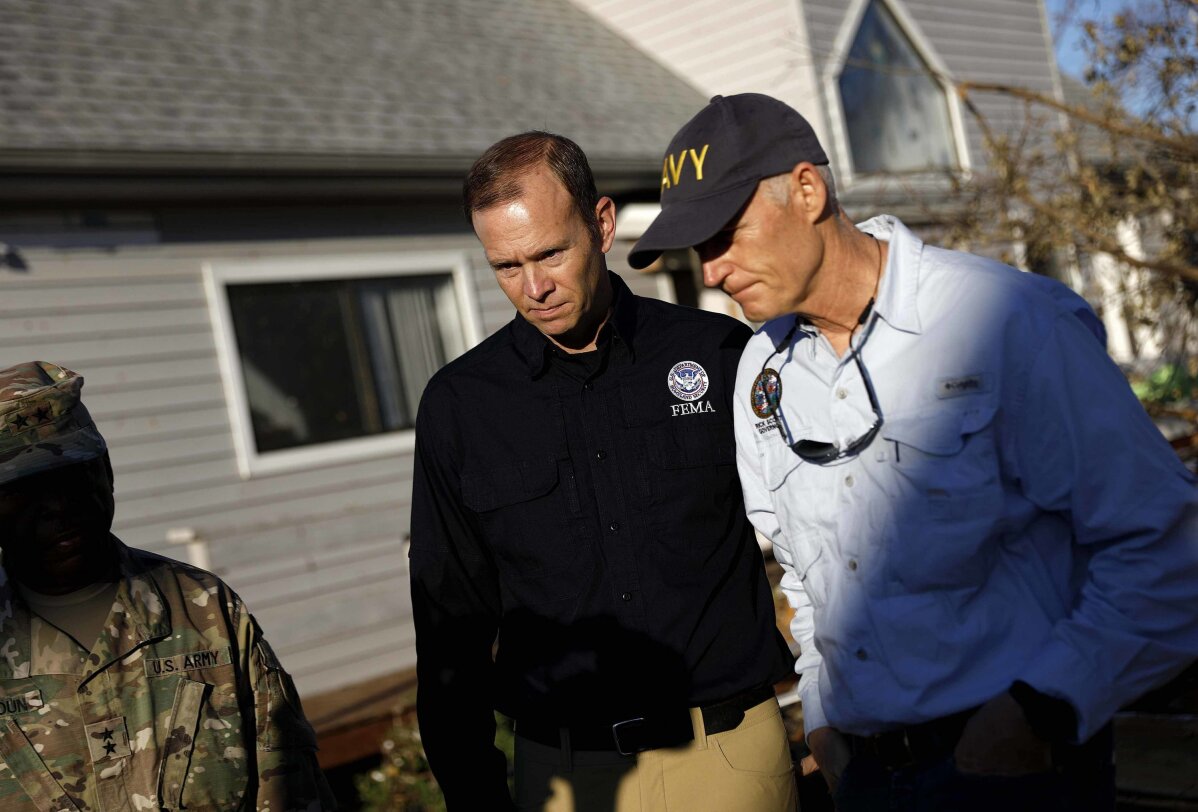 4 of 15

|
Federal Emergency Management Agency Administrator Brock Long, left, and Florida Gov. Rick Scott talk with the media in Mexico Beach, Fla., Sunday, Oct. 14, 2018. (AP Photo/David Goldman)
4 of 15
Federal Emergency Management Agency Administrator Brock Long, left, and Florida Gov. Rick Scott talk with the media in Mexico Beach, Fla., Sunday, Oct. 14, 2018. (AP Photo/David Goldman)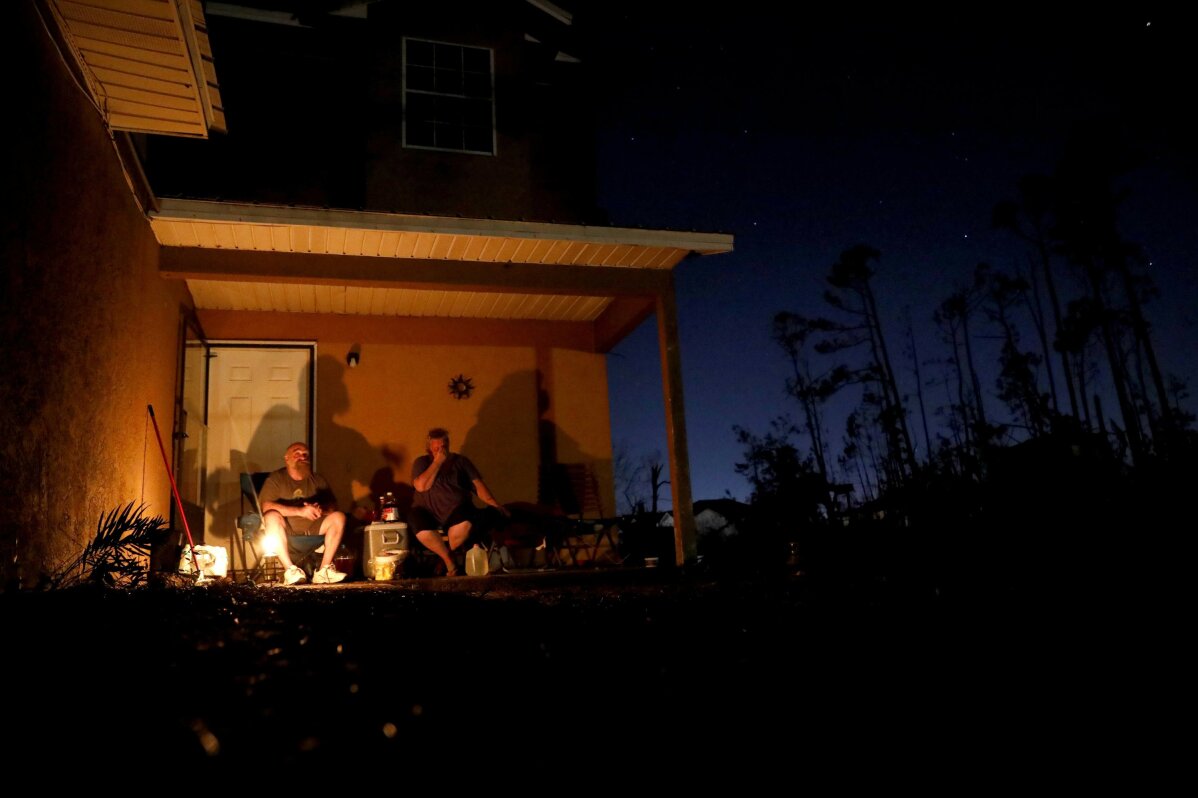 5 of 15

|
Diane Hoal, right, and Mark Bove sit by a torch as they prepare to spend their fourth night without power since Hurricane Michael damaged their home in Panama City, Fla., Saturday, Oct. 13, 2018. (AP Photo/David Goldman)
5 of 15
Diane Hoal, right, and Mark Bove sit by a torch as they prepare to spend their fourth night without power since Hurricane Michael damaged their home in Panama City, Fla., Saturday, Oct. 13, 2018. (AP Photo/David Goldman)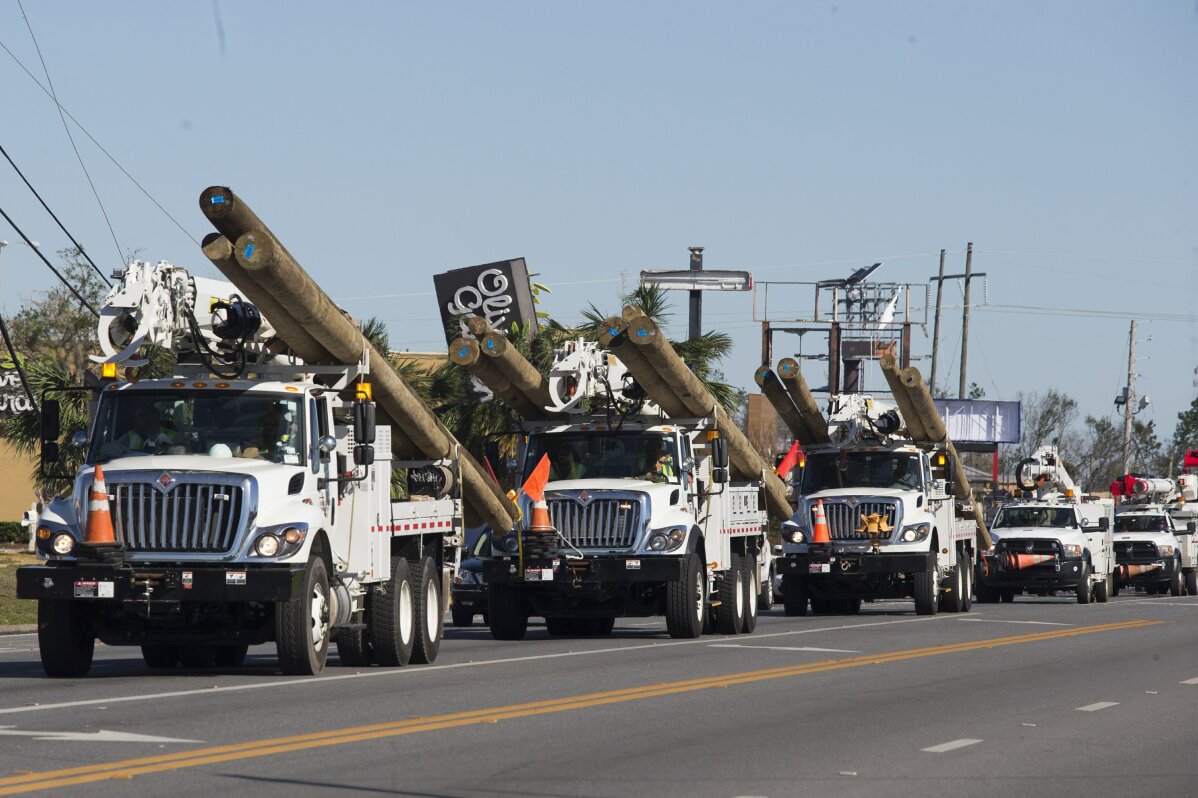 6 of 15

|
Public Service Company of Oklahoma utility trucks deliver utility poles and trucks in Panama City, Fla., Saturday, Oct. 13, 2018, as part of the continuing relief effort after Hurricane Michael. (Joshua Boucher/News Herald via AP)
6 of 15
Public Service Company of Oklahoma utility trucks deliver utility poles and trucks in Panama City, Fla., Saturday, Oct. 13, 2018, as part of the continuing relief effort after Hurricane Michael. (Joshua Boucher/News Herald via AP)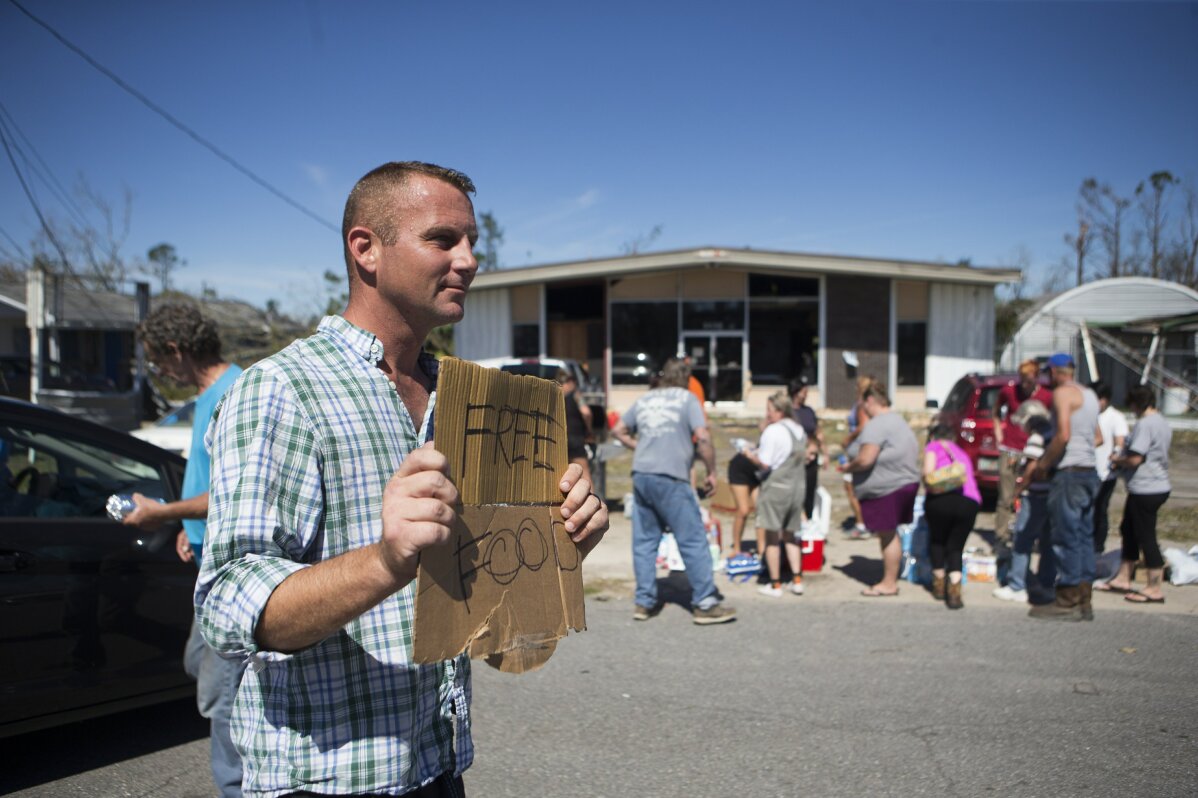 7 of 15

|
In this Friday, Oct. 12, 2018, photo, Justin Rascoe holds a sign advertising free food in Panama City, Fla., after Hurricane Michael swept through the area. He and his family felt they had more than enough, so decided to give away as much as they could. (Joshua Boucher/News Herald via AP)
7 of 15
In this Friday, Oct. 12, 2018, photo, Justin Rascoe holds a sign advertising free food in Panama City, Fla., after Hurricane Michael swept through the area. He and his family felt they had more than enough, so decided to give away as much as they could. (Joshua Boucher/News Herald via AP)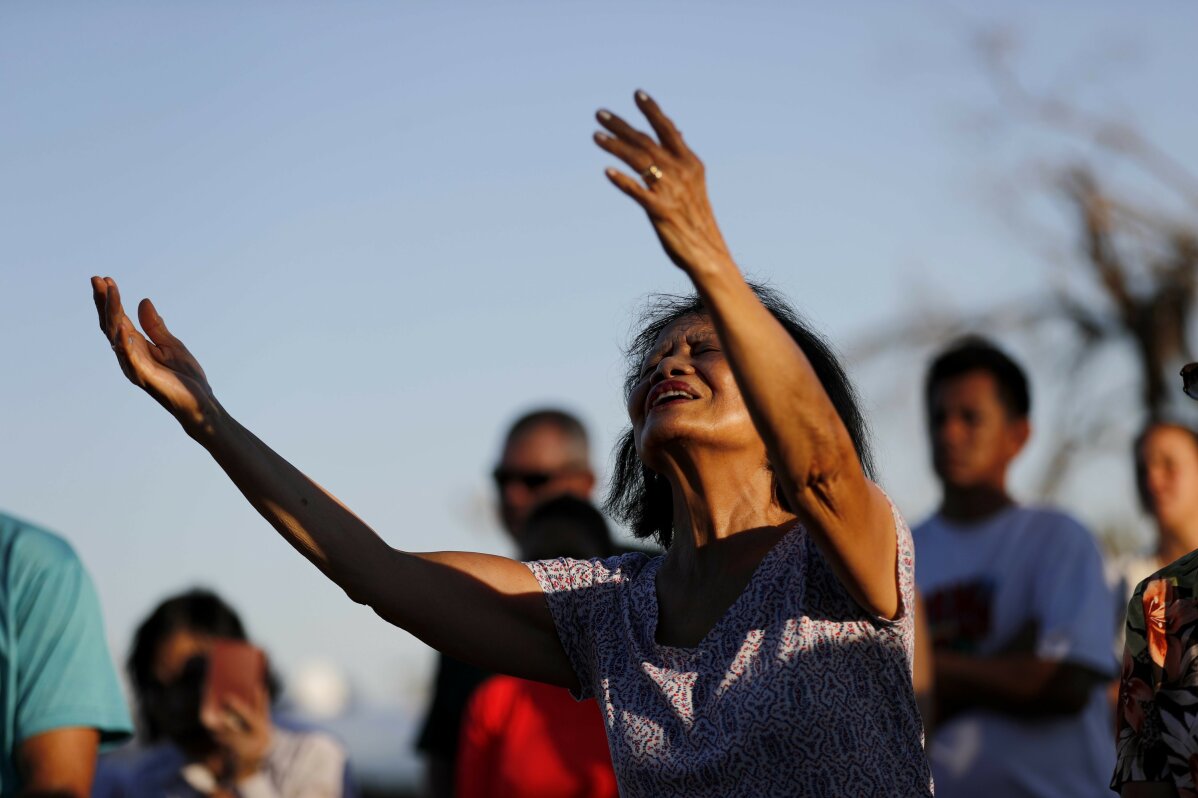 8 of 15

|
Letty Cervantes prays during Mass which was moved outdoors due to damage to Saint Dominic Catholic Church from Hurricane Michael in Panama City, Fla., Saturday, Oct. 13, 2018. (AP Photo/David Goldman)
8 of 15
Letty Cervantes prays during Mass which was moved outdoors due to damage to Saint Dominic Catholic Church from Hurricane Michael in Panama City, Fla., Saturday, Oct. 13, 2018. (AP Photo/David Goldman)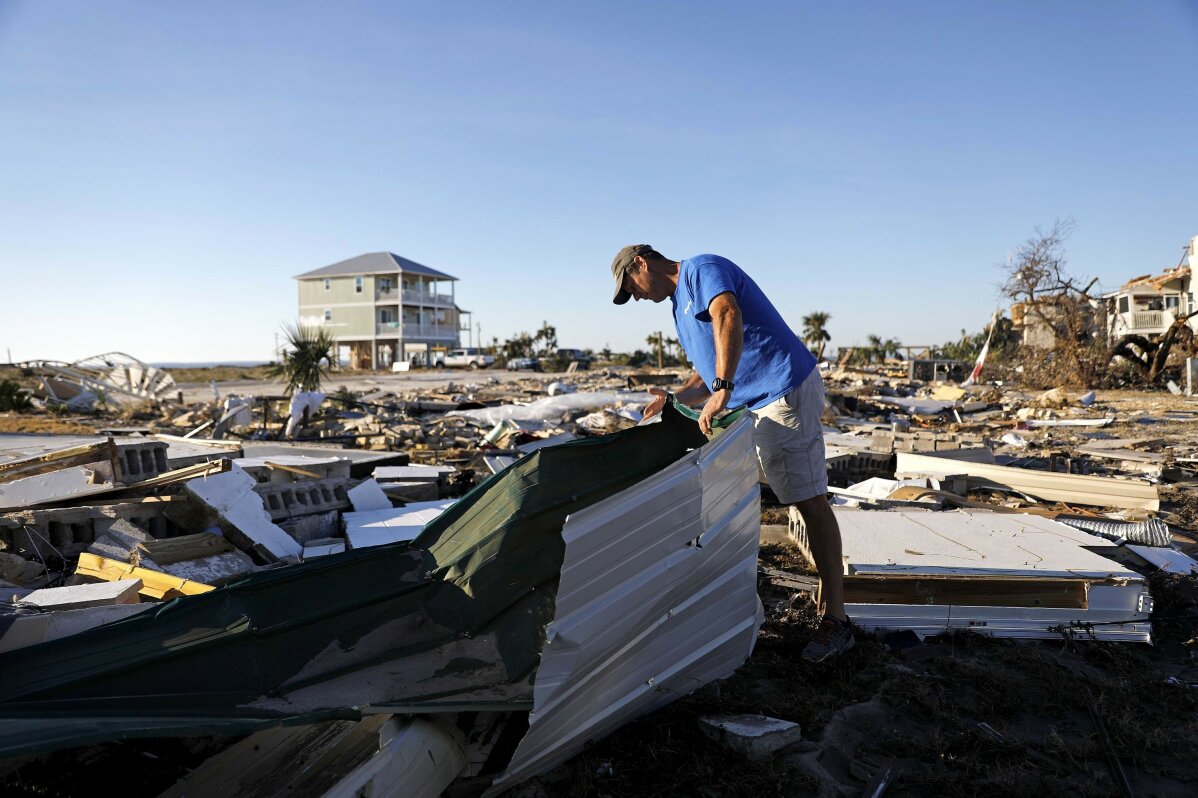 9 of 15

|
Mike Jackson sifts through debris looking for remnants of his home which was destroyed by hurricane Michael in Mexico Beach, Fla., Saturday, Oct. 13, 2018. (AP Photo/David Goldman)
9 of 15
Mike Jackson sifts through debris looking for remnants of his home which was destroyed by hurricane Michael in Mexico Beach, Fla., Saturday, Oct. 13, 2018. (AP Photo/David Goldman)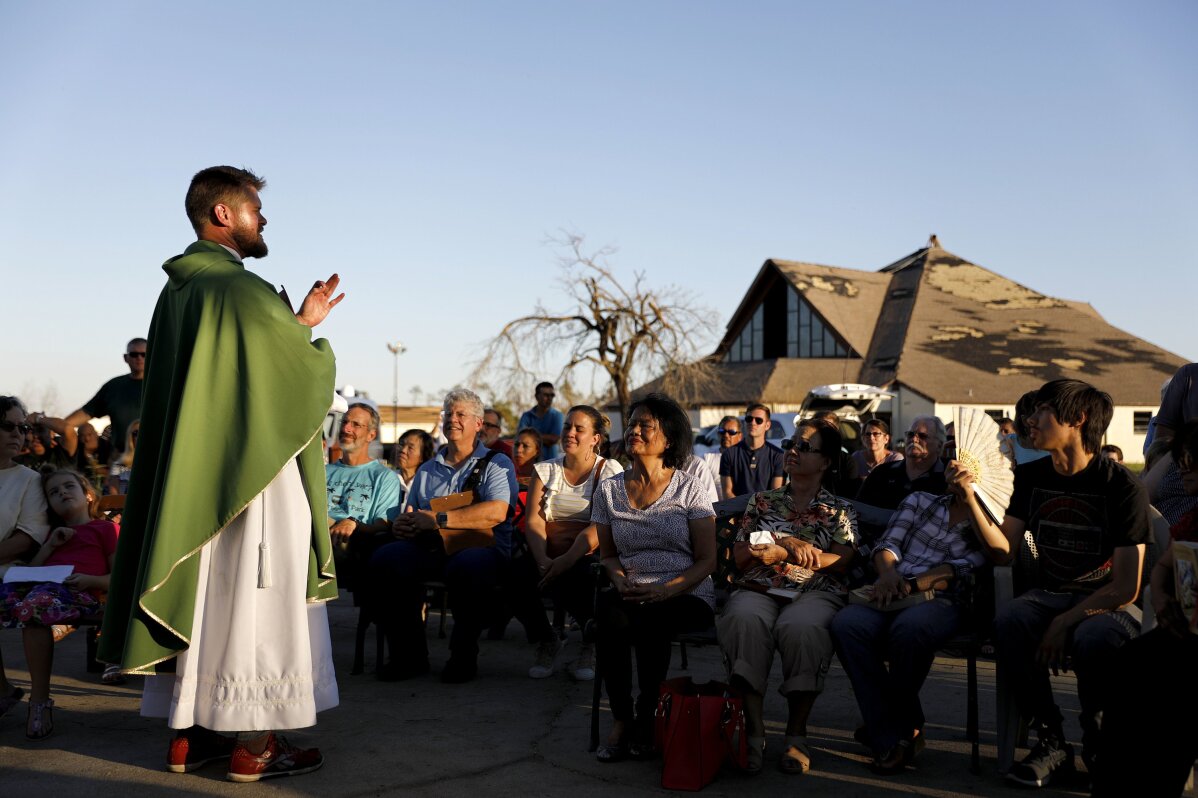 10 of 15

|
Father Michael Nixon holds Mass outside Saint Dominic Catholic Church which stands damaged in the background form hurricane Michael in Panama City, Fla., Saturday, Oct. 13, 2018. (AP Photo/David Goldman)
10 of 15
Father Michael Nixon holds Mass outside Saint Dominic Catholic Church which stands damaged in the background form hurricane Michael in Panama City, Fla., Saturday, Oct. 13, 2018. (AP Photo/David Goldman)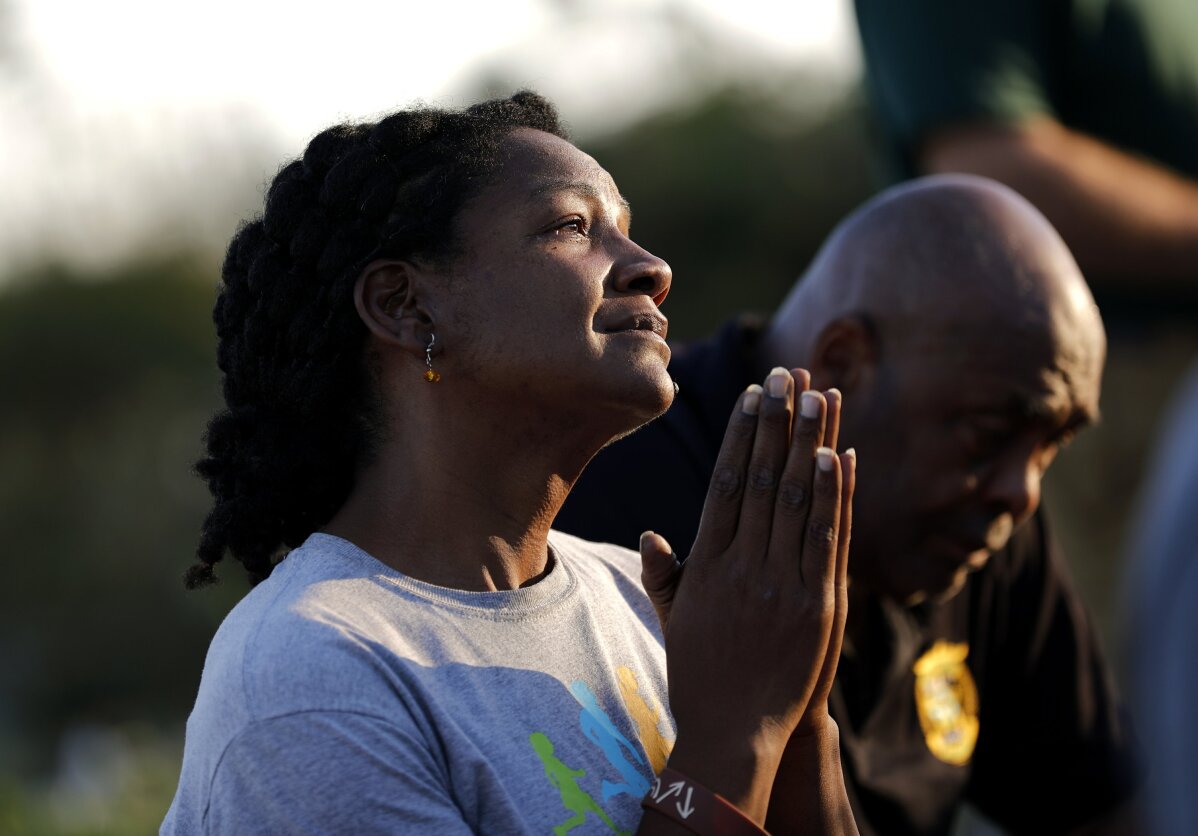 11 of 15

|
Lora McCalister-Cruel prays during Mass which was moved outdoors due to damage from Hurricane Michael inside Saint Dominic Catholic Church in Panama City, Fla., Saturday, Oct. 13, 2018. (AP Photo/David Goldman)
11 of 15
Lora McCalister-Cruel prays during Mass which was moved outdoors due to damage from Hurricane Michael inside Saint Dominic Catholic Church in Panama City, Fla., Saturday, Oct. 13, 2018. (AP Photo/David Goldman)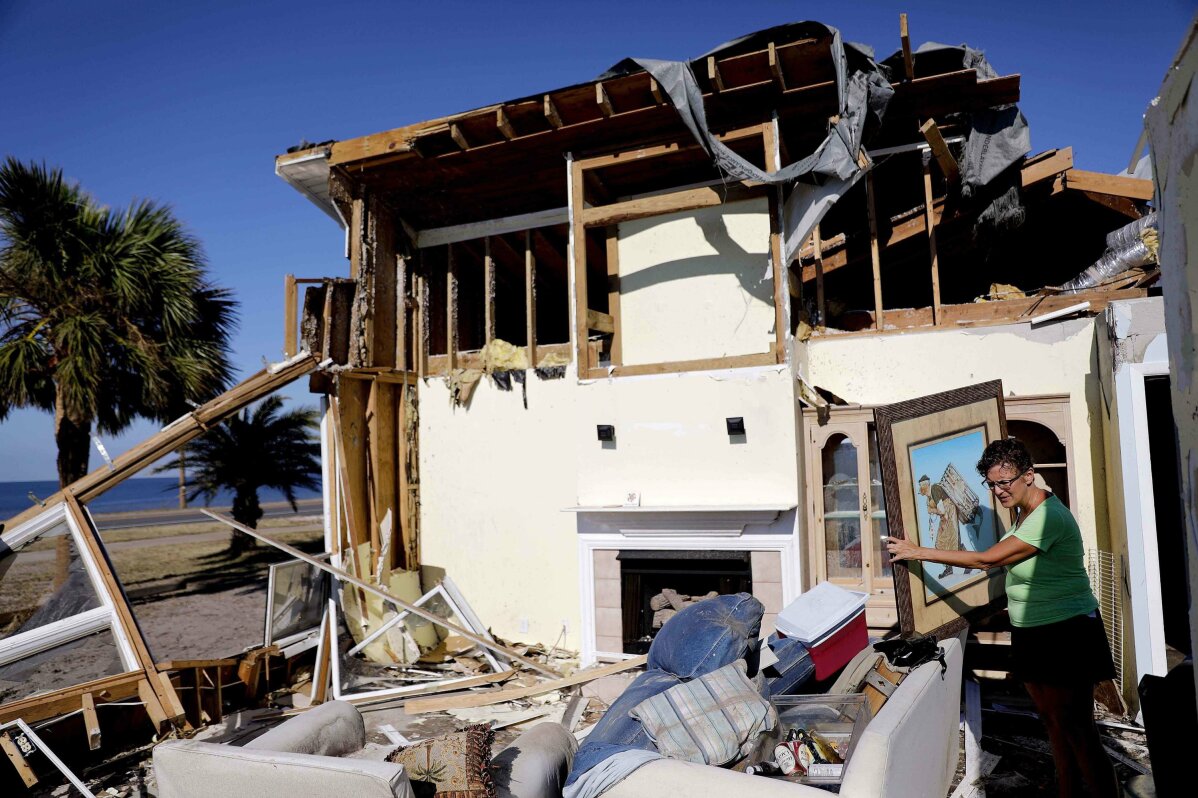 12 of 15

|
Marla Wood pulls a framed art piece out of the rubble of her damaged home from Hurricane Michael in Mexico Beach, Fla., Sunday, Oct. 14, 2018. (AP Photo/David Goldman)
12 of 15
Marla Wood pulls a framed art piece out of the rubble of her damaged home from Hurricane Michael in Mexico Beach, Fla., Sunday, Oct. 14, 2018. (AP Photo/David Goldman)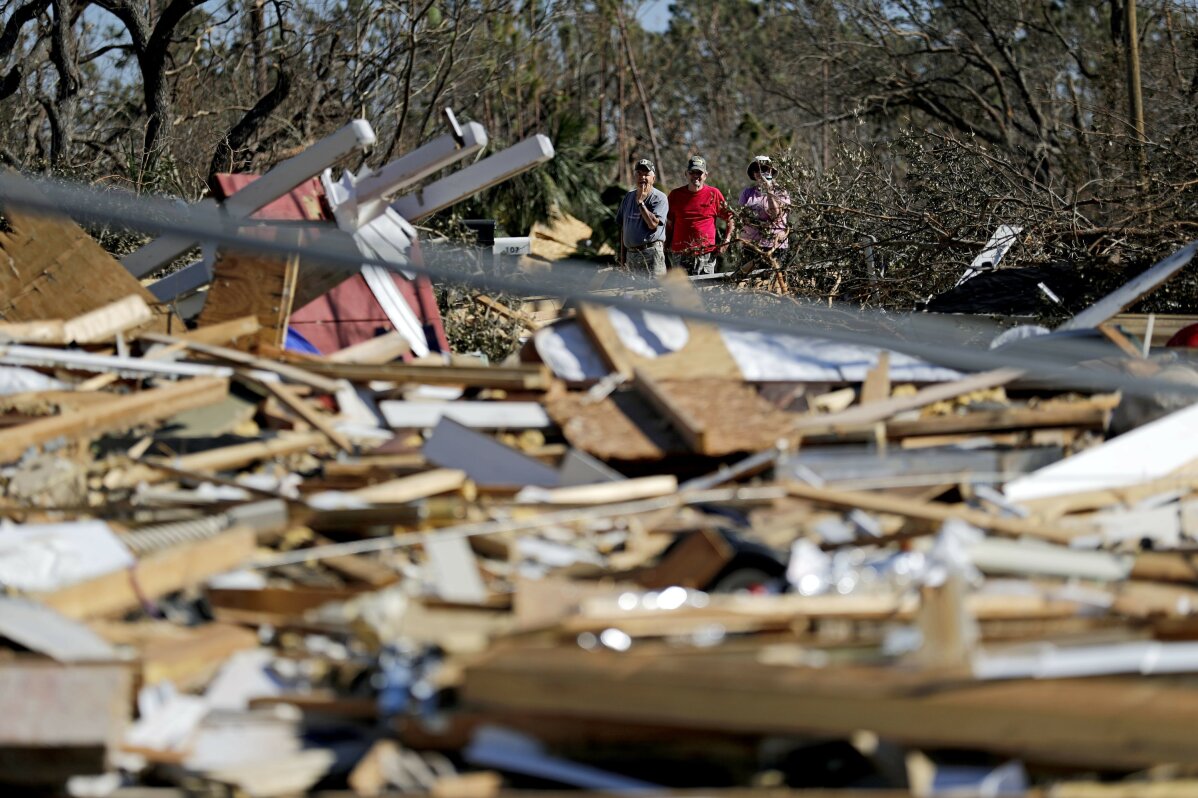 13 of 15

|
Residents look down their street which is blocked off by debris from Hurricane Michael in Mexico Beach, Fla., Saturday, Oct. 13, 2018. (AP Photo/David Goldman)
13 of 15
Residents look down their street which is blocked off by debris from Hurricane Michael in Mexico Beach, Fla., Saturday, Oct. 13, 2018. (AP Photo/David Goldman)
14 of 15

|
Michael Cain, right, and Jackie Slusser calm tempers between motorists as they wait in line for gas during a shortage in the aftermath of hurricane Michael in Southport, Fla., Saturday, Oct. 13, 2018. (AP Photo/David Goldman)
14 of 15
Michael Cain, right, and Jackie Slusser calm tempers between motorists as they wait in line for gas during a shortage in the aftermath of hurricane Michael in Southport, Fla., Saturday, Oct. 13, 2018. (AP Photo/David Goldman)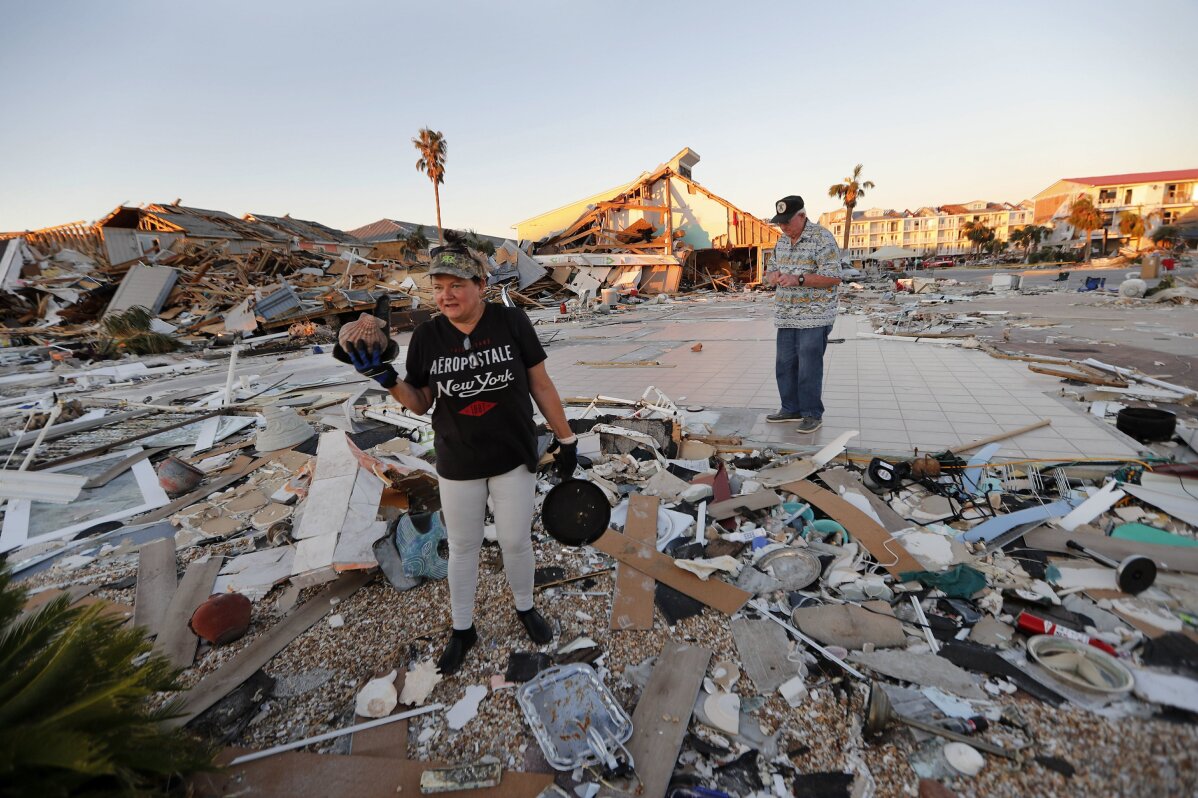 15 of 15

|
Lavonia Fortner helps her father-in-law, John E. Fortner, search for memorabilia his wife collected, in the aftermath of Hurricane Michael in Mexico Beach, Fla., Saturday, Oct. 13, 2018. His wife died in 2010 but his home was destroyed by the storm. (AP Photo/Gerald Herbert)
15 of 15
Lavonia Fortner helps her father-in-law, John E. Fortner, search for memorabilia his wife collected, in the aftermath of Hurricane Michael in Mexico Beach, Fla., Saturday, Oct. 13, 2018. His wife died in 2010 but his home was destroyed by the storm. (AP Photo/Gerald Herbert)
TALLAHASSEE, Fla. (AP) — The Latest on communities struggling in the aftermath of Hurricane Michael (all times local):
7:00 p.m.
Federal Emergency Management Agency chief Brock Long is calling the damage left by Hurricane Michael some of the worst he's ever seen.
Long toured several towns in Florida's Panhandle on Sunday with Gov. Rick Scott. Long said afterward the storm damage will require officials to help meet housing needs of displaced residents for the next several months.
Long previously said that he has expected the death toll to rise due to the deadly storm. But both he and Scott sidestepped questions on whether they anticipate more deaths to be announced in the days ahead.
Long also added that FEMA employees were going to start going through shelters and in damaged neighborhoods to start registering people for federal assistance that is available to residents after a disaster.
___
5:20 p.m.
Georgia emergency officials say approximately 120,000 customers in the state remain without power after Hurricane Michael.
An emailed statement Sunday afternoon from the Georgia Emergency Management and Homeland Security Agency said that included customers of Georgia Power, the cooperatvies of the Georgia Electric Membership Corporation and various municipalities.
Georgia EMC was reporting more than 66,700 outages as of 4 p.m. Sunday; Georgia Power, more than 22,600.
___
4:40 p.m.
The North Carolina city of Greensboro says flooding from Tropical Storm Michael caused more than 1 million gallons of untreated wastewater to overflow from its facilities.
The city announced the spills Saturday evening. It says the largest discharge was 800,000 gallons that flowed over a 16-hour period into a creek.
According to the News & Record, the city says the downstream areas were inspected and cleaned up where necessary.
Flooding during Hurricane Florence last month also caused sewage overflows in Greensboro.
___
2:35 p.m.
U.S. Sen. Bill Nelson says that Tyndall Air Force Base in Florida's Panhandle was destroyed, but he's promising the base will be rebuilt.
Nelson on Sunday visited the military base just days after Hurricane Michael tore across the region. The Florida Democrat said that older buildings on the base were demolished, while newer structures are in need of substantial repair. He also said that some of the hangars were damaged severely.
After Hurricane Andrew hit South Florida in 1992 an air force base in Homestead was closed due to substantial damage. But Nelson, who sits on the Senate Armed Forces Committee, said that fears that Tyndall will close are in his opinion "unfounded." He said that Tyndall is in a strategic location for its training missions.
The base was home to some of the nation's most advanced fighter jets but Nelson said he could not comment on how many planes were on the base during the storm or how many were damaged.
___
2:30 p.m.
Thousands of people are likely to be without power in Florida's Panhandle for at least another week.
Gulf Power officials announced Sunday that they expect to have power restored to 95 percent of those hit by Hurricane Michael by Oct. 24 - or two weeks after the storm hit, leaving a trail of ruins across the region. Gulf Power is the main utility serving most of the area devastated by the deadly storm.
Some areas —such as Panama City Beach— will get power restored in the next two days. But the electric utility said it will take longer for downtown Panama City and other towns closer to where Michael roared onshore.
Gulf Power head Stan Connally called Michael an "unprecedented storm." The utility has brought in thousands of utility workers from around the country to help with the restoration effort.
Currently, there are nearly 192,000 customers in Florida without electricity.
___
1 p.m.
The White House says President Donald Trump plans to visit Florida and Georgia on Monday to survey damage caused by Hurricane Michael.
Trump will be accompanied by first lady Melania Trump. The White House isn't identifying areas the president will visit.
Michael barreled into the Florida Panhandle last week as a Category 4 hurricane with 155 mph winds that practically flattened the town of Mexico Beach. The storm then raced through Georgia, the Carolinas and Virginia, killing at least 17 people so far.
At a campaign rally Saturday in Kentucky, Trump praised individuals involved in the massive recovery effort and pledged that "we will not rest until the job is done."
Trump toured parts of the Carolinas last month after Hurricane Florence.
___
10:40 a.m.
Florida officials have evacuated almost 3,000 inmates after two prisons were damaged during Hurricane Michael.
The Department of Corrections said Saturday that the inmates were evacuated from the Gulf Correctional Institution and Annex and a portion of Calhoun Correctional Institution.
The facilities sustained significant roof damage, as well as damage to infrastructure critical for security.
Three prisons - the Gulf institution and annex, the Gulf Forestry Camp, and Panama City Work Release Center are closed until further damage assessments are made.
No inmates or staff members were injured. The agency says inmate locations will be updated on its website within 24 hours.
___
Search and rescue personnel are continuing to comb through the ruins of a small Florida Panhandle community destroyed by Hurricane Michael, which has left hundreds thousands without power and without easy access to supplies.
So far, one body has been found in Mexico Beach, but authorities say there is little doubt the death toll will rise. The tally of lives lost across the South stood at 15.
Crews with dogs went door-to-door Saturday in Mexico Beach, pushing aside debris to get inside badly damaged structures in a second wave of searches following what they described as an initial, "hasty" search of the area.
Authorities have set up distribution centers to dole out food and water to victims. They've also set up a triage tent to treat residents stepping on nails and cutting themselves on debris.