Mexico: Relationship with US closer than assumed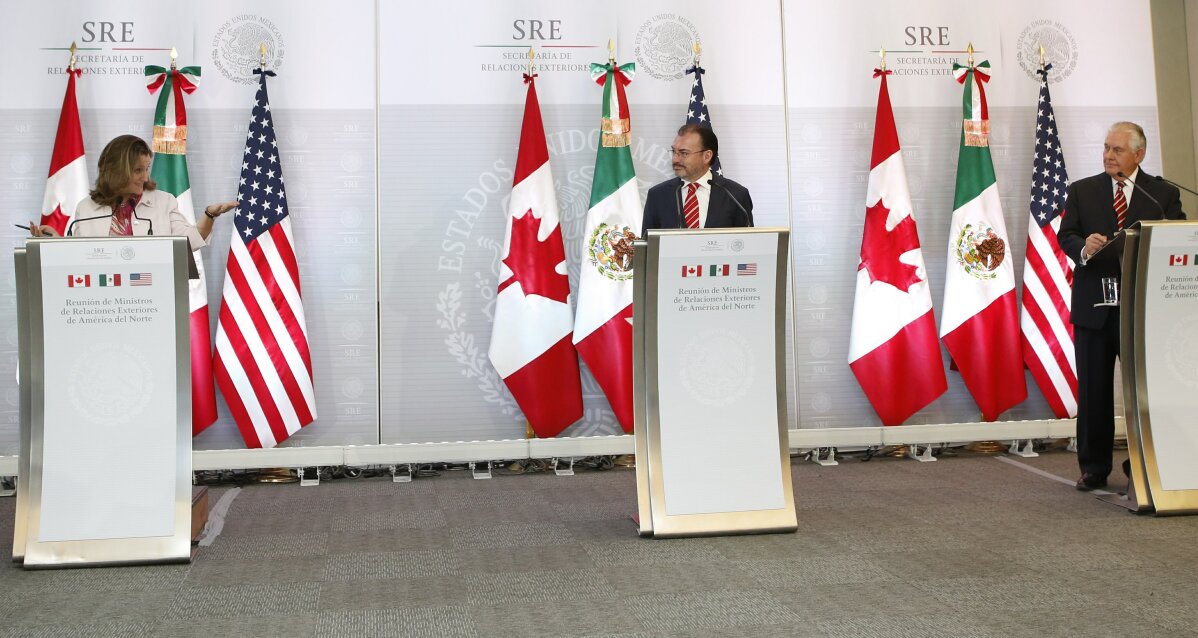 1 of 9

|
Chrystia Freeland, left, talks during a joint press conference with Mexican Foreign Minister Luis Videgaray, center, and U.S. Secretary of State Rex Tillerson, in Mexico City, Friday, Feb. 2, 2018. (AP Photo/Rebecca Blackwell)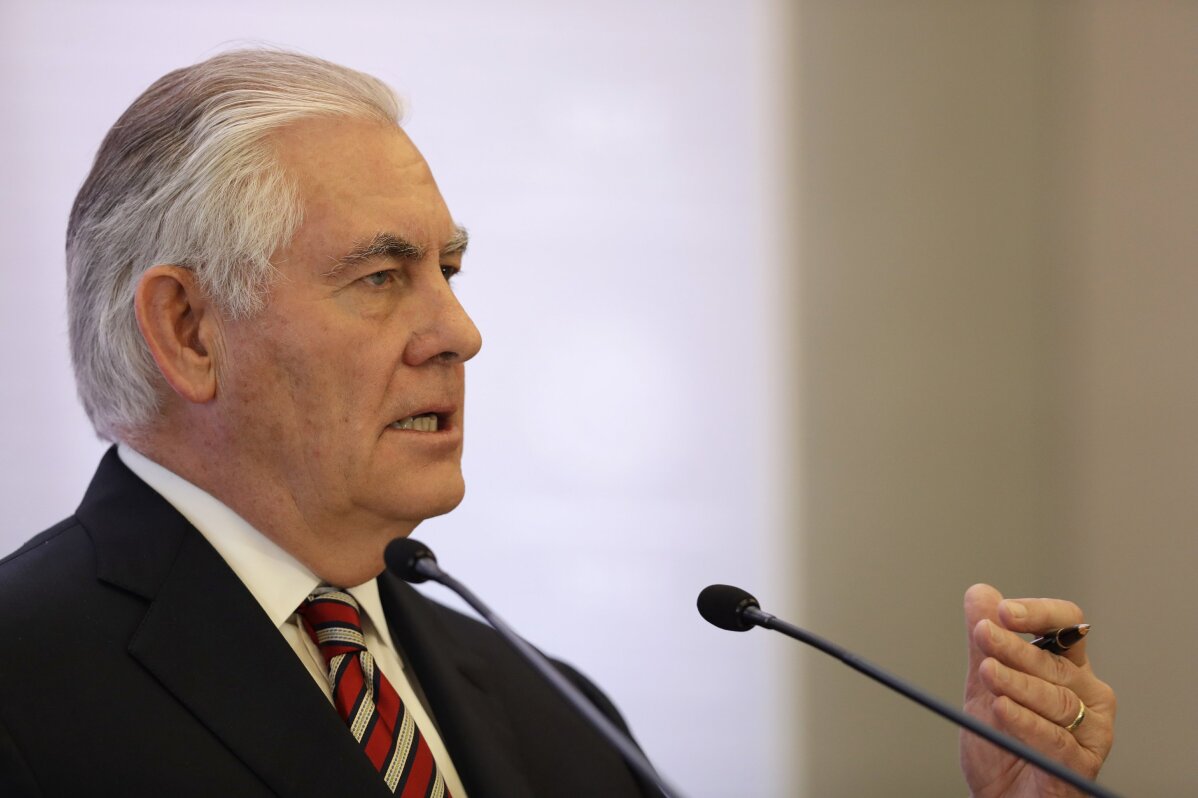 2 of 9

|
U.S. Secretary of State Rex Tillerson takes part in a joint press conference in Mexico City, Friday, Feb. 2, 2018. Tillerson's Mexico stop kicks off a weeklong trip to Latin America which will take him to Argentina, Peru, and Colombia, with a final stop in Jamaica. (AP Photo/Rebecca Blackwell)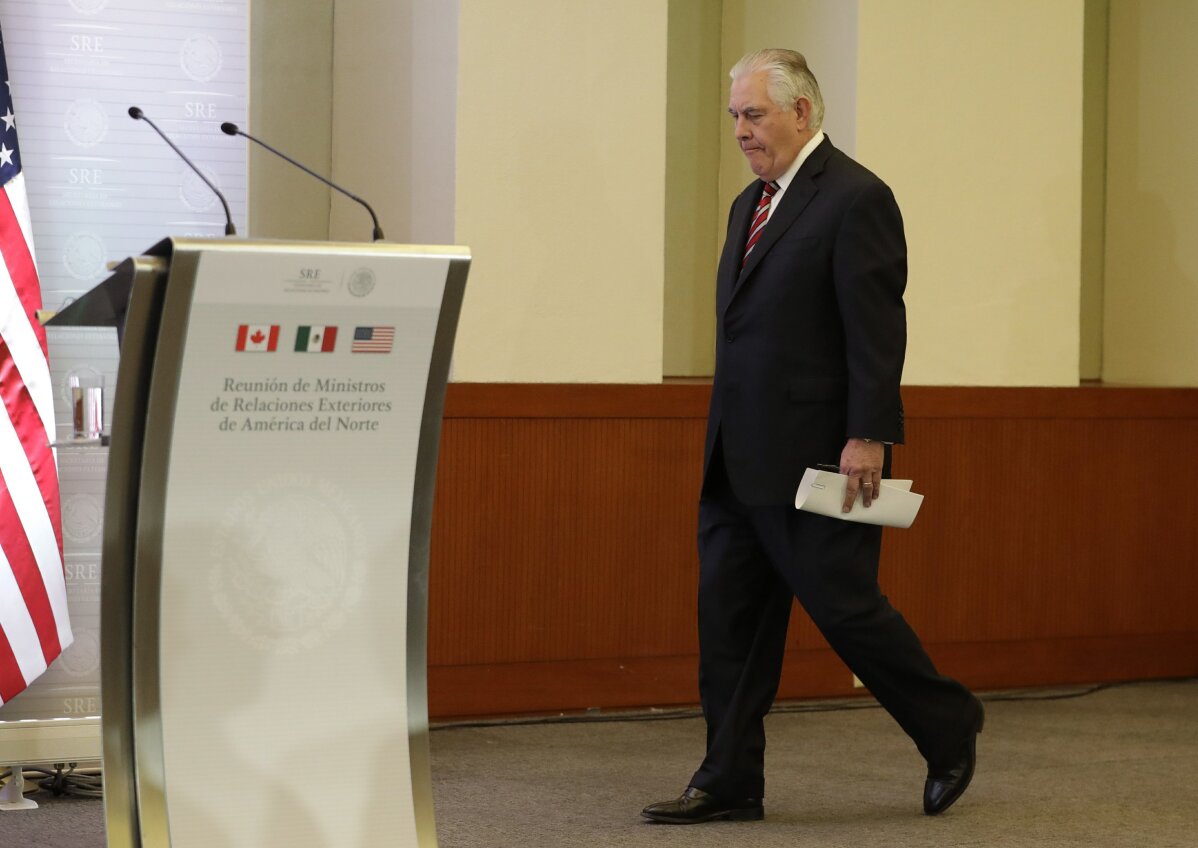 3 of 9

|
U.S. Secretary of State Rex Tillerson walks to a podium to take part in a joint press conference in Mexico City, Friday, Feb. 2, 2018. Tillerson's Mexico stop kicks off a weeklong trip to Latin America which will take him to Argentina, Peru, and Colombia, with a final stop in Jamaica. (AP Photo/Rebecca Blackwell)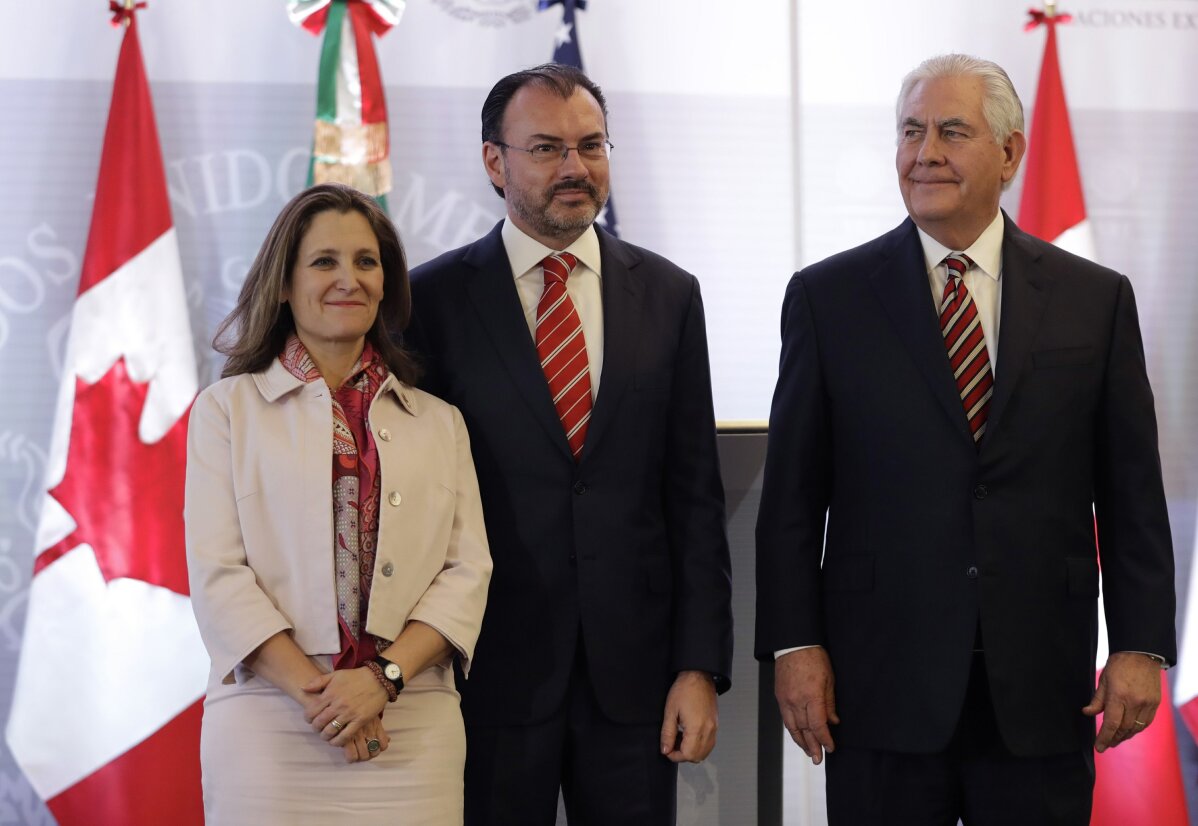 4 of 9

|
Canada's Minister of Foreign Affairs Chrystia Freeland, from left, Mexican Foreign Minister Luis Videgaray, and U.S. Secretary of State Rex Tillerson, pose for a group photo at the end of their joint press conference in Mexico City, Friday, Feb. 2, 2018. Tillerson's Mexico stop kicks off a weeklong trip to Latin America which will take him to Argentina, Peru, and Colombia, with a final stop in Jamaica. (AP Photo/Rebecca Blackwell)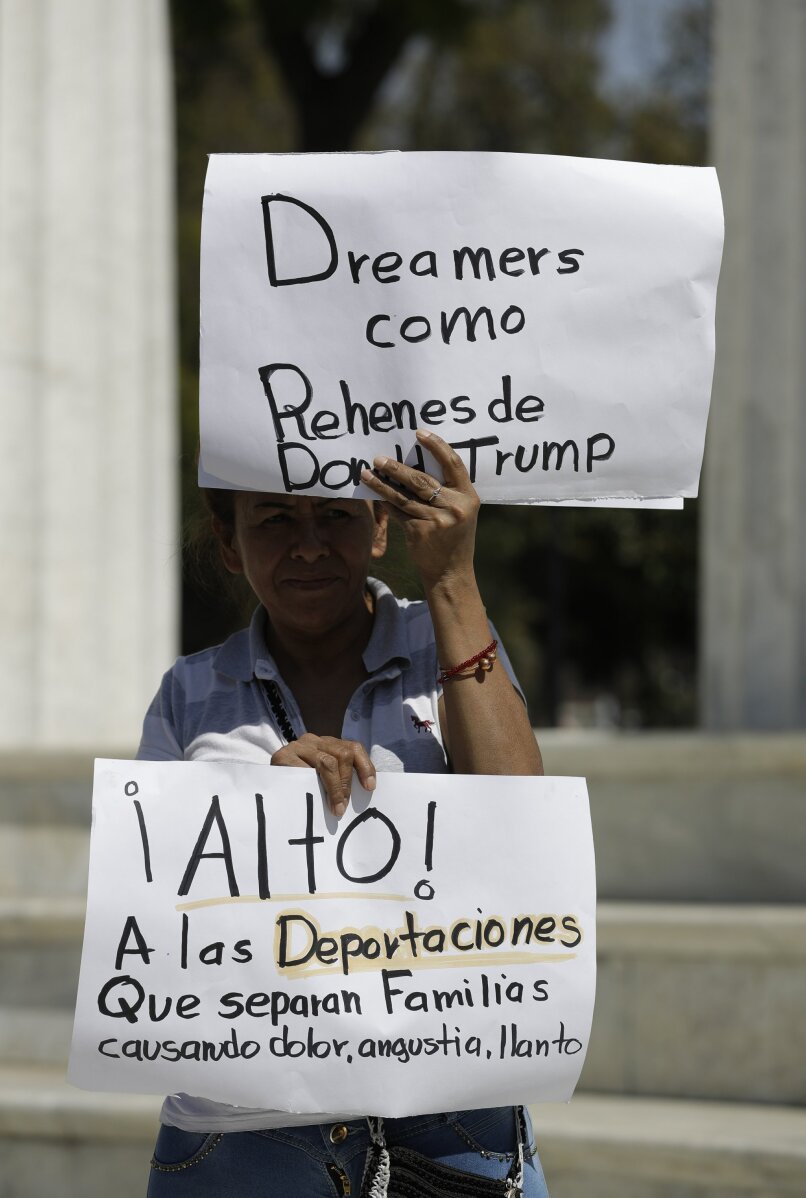 5 of 9

|
A woman holds up signs reading in Spanish: "Dreamers as prisoners of Donald Trump," and "Stop deportations that separate families, causing pain, anguish, and tears", as a handful of demonstrators protested outside the Ministry of Foreign Relations, where U.S. Secretary of State Rex Tillerson was meeting with his Mexican and Canadian counterparts in Mexico City, Friday, Feb. 2, 2018. Tillerson's Mexico stop kicks off a weeklong trip to Latin America which will take him to Argentina, Peru, and Colombia, with a final stop in Jamaica. (AP Photo/Rebecca Blackwell)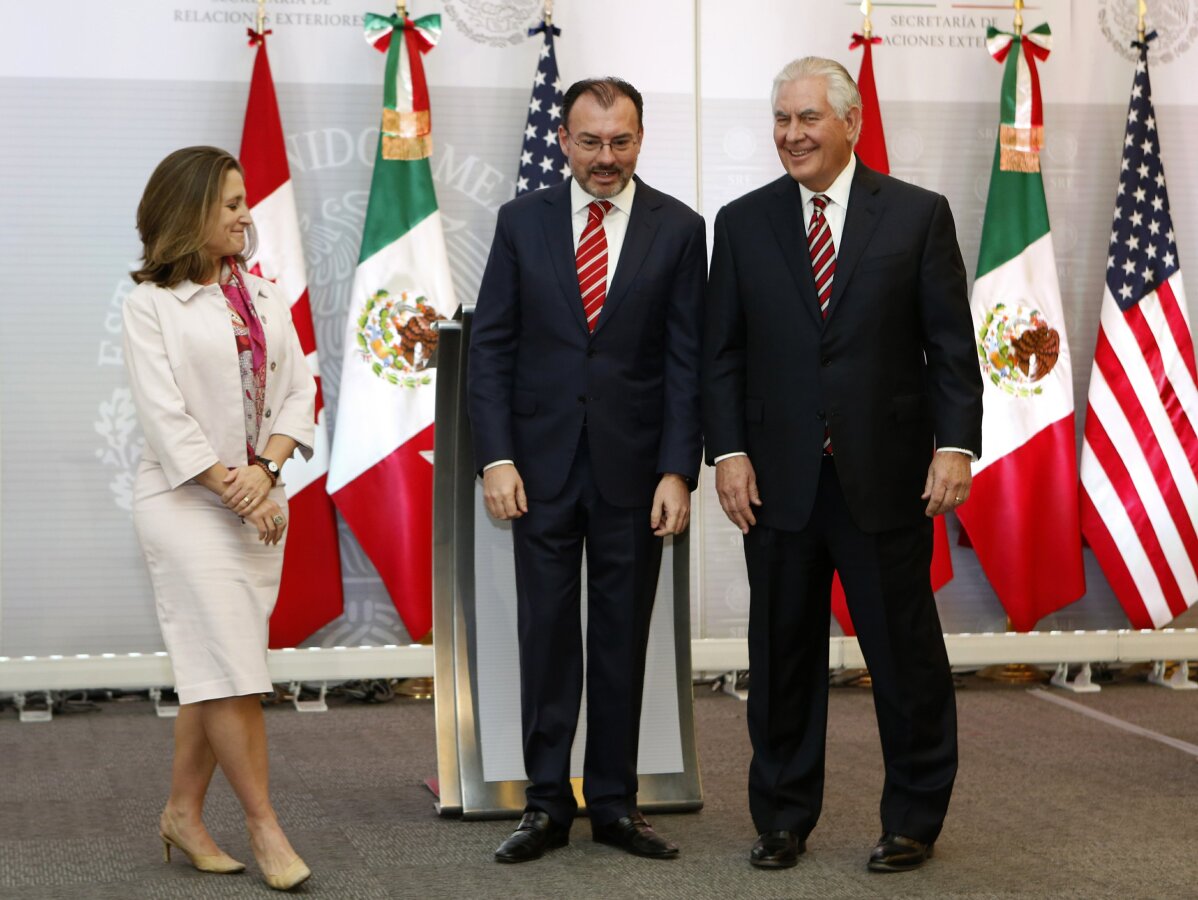 6 of 9

|
Canada's Minister of Foreign Affairs Chrystia Freeland, from left, Mexican Foreign Minister Luis Videgaray, and U.S. Secretary of State Rex Tillerson, take their position for a group photo at the end of their joint press conference in Mexico City, Friday, Feb. 2, 2018. Tillerson's Mexico stop kicks off a weeklong trip to Latin America which will take him to Argentina, Peru, and Colombia, with a final stop in Jamaica. (AP Photo/Rebecca Blackwell)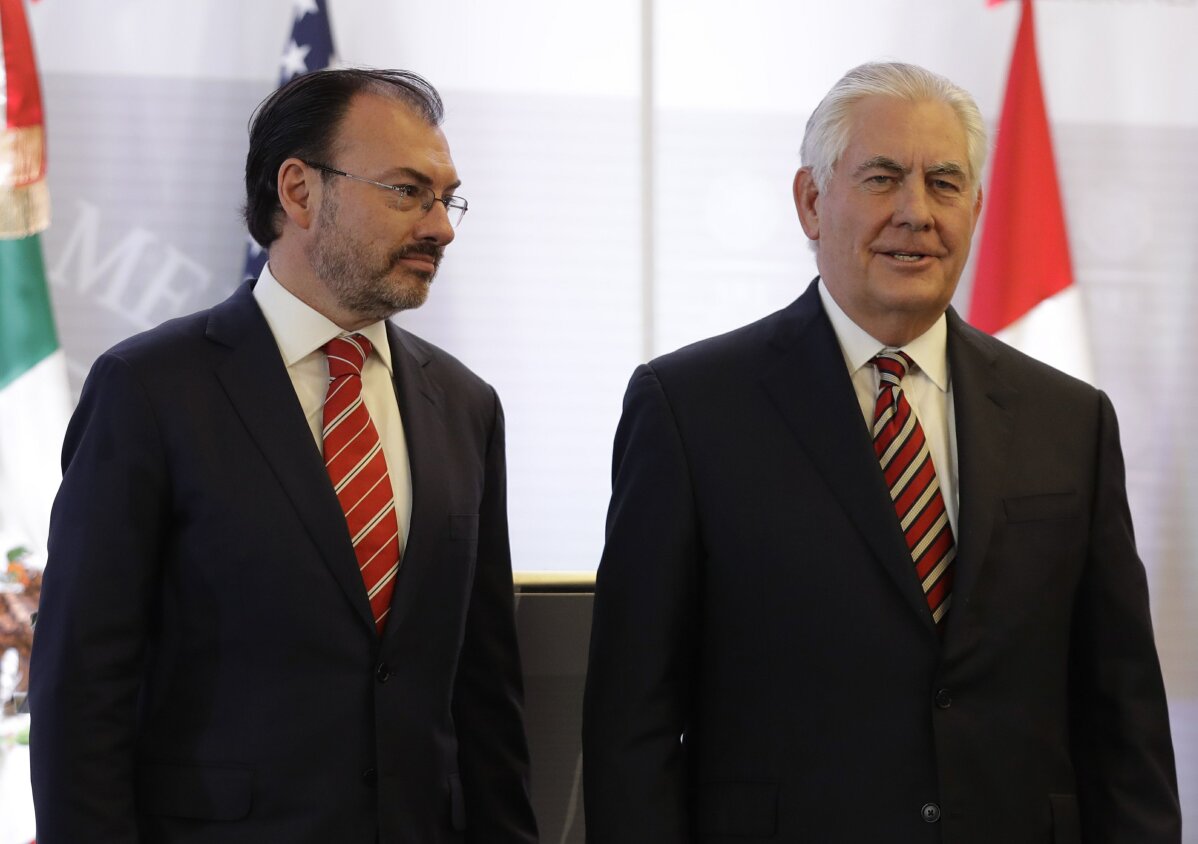 7 of 9

|
Mexican Foreign Minister Luis Videgaray, and U.S. Secretary of State Rex Tillerson, pose for photos at the end of a joint press conference in Mexico City, Friday, Feb. 2, 2018. Tillerson's Mexico stop kicks off a weeklong trip to Latin America which will take him to Argentina, Peru, and Colombia, with a final stop in Jamaica. (AP Photo/Rebecca Blackwell)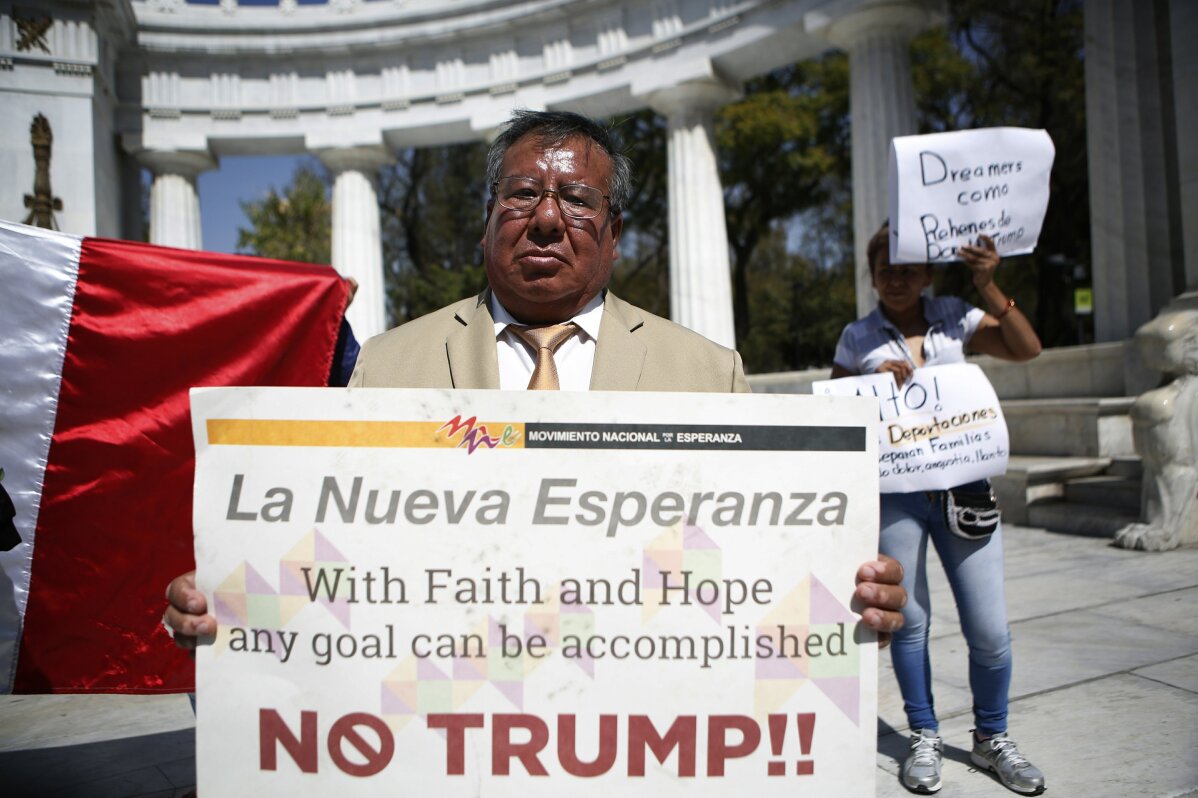 8 of 9

|
A man holds a sign with a message that reads in English and Spanish: "The new hope. With faith and hope any goal can be accomplished. No Trump!!", as a handful of demonstrators protested outside the Ministry of Foreign Relations, where U.S. Secretary of State Rex Tillerson was meeting with his Mexican and Canadian counterparts in Mexico City, Friday, Feb. 2, 2018. Tillerson's Mexico stop kicks off a weeklong trip to Latin America which will take him to Argentina, Peru, and Colombia, with a final stop in Jamaica. (AP Photo/Rebecca Blackwell)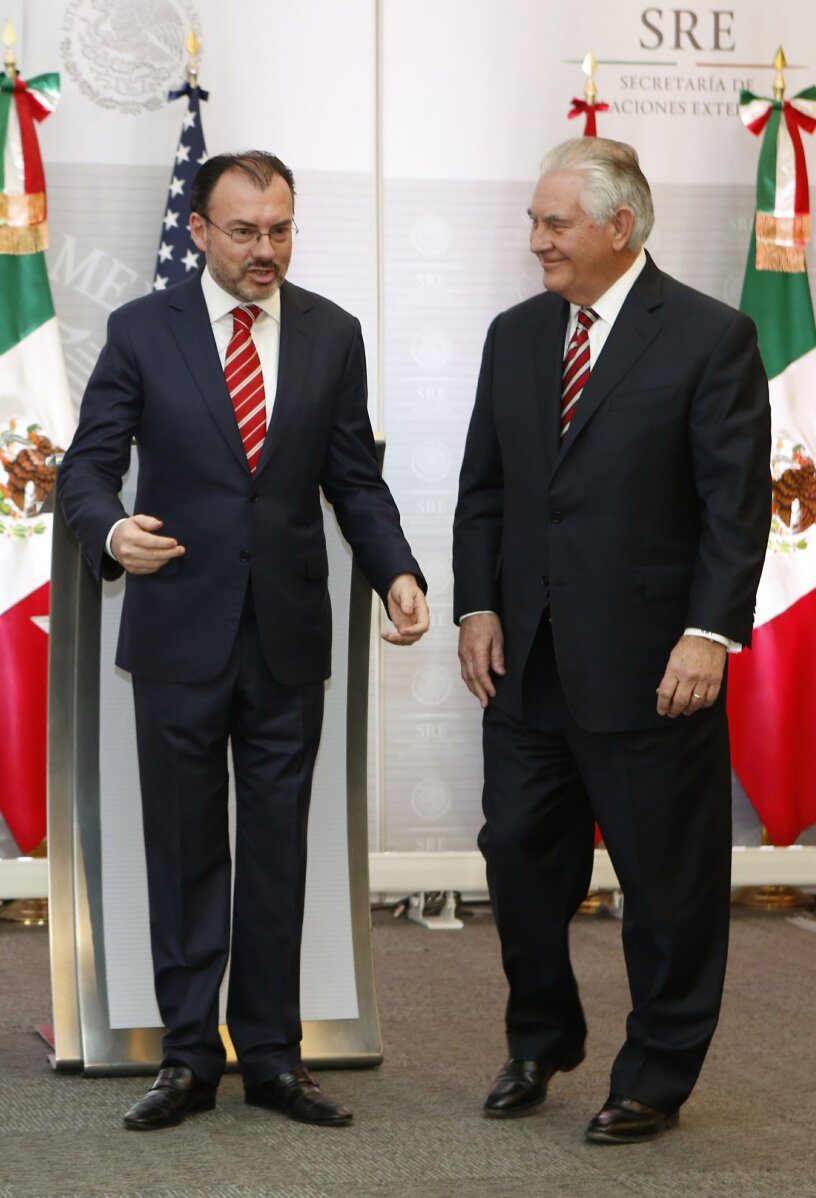 9 of 9

|
Mexican Foreign Minister Luis Videgaray, and U.S. Secretary of State Rex Tillerson, share a light moment at the end of a joint press conference in Mexico City, Friday, Feb. 2, 2018. Tillerson's Mexico stop kicks off a weeklong trip to Latin America which will take him to Argentina, Peru, and Colombia, with a final stop in Jamaica. (AP Photo/Rebecca Blackwell)
Mexico: Relationship with US closer than assumed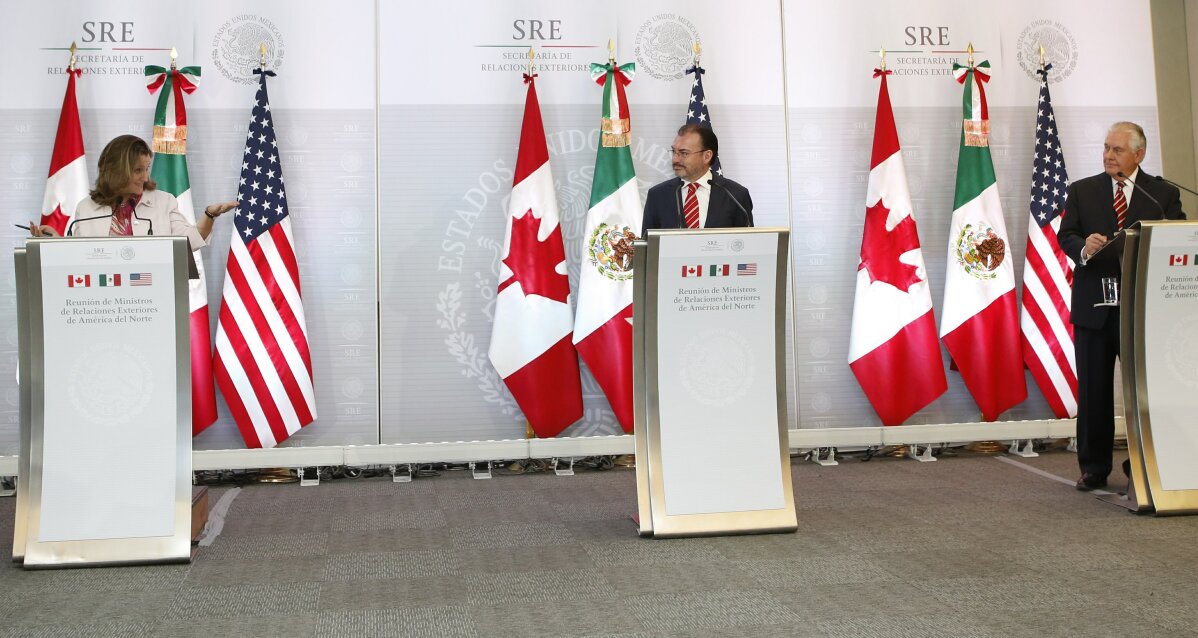 1 of 9

|
Chrystia Freeland, left, talks during a joint press conference with Mexican Foreign Minister Luis Videgaray, center, and U.S. Secretary of State Rex Tillerson, in Mexico City, Friday, Feb. 2, 2018. (AP Photo/Rebecca Blackwell)
1 of 9
Chrystia Freeland, left, talks during a joint press conference with Mexican Foreign Minister Luis Videgaray, center, and U.S. Secretary of State Rex Tillerson, in Mexico City, Friday, Feb. 2, 2018. (AP Photo/Rebecca Blackwell)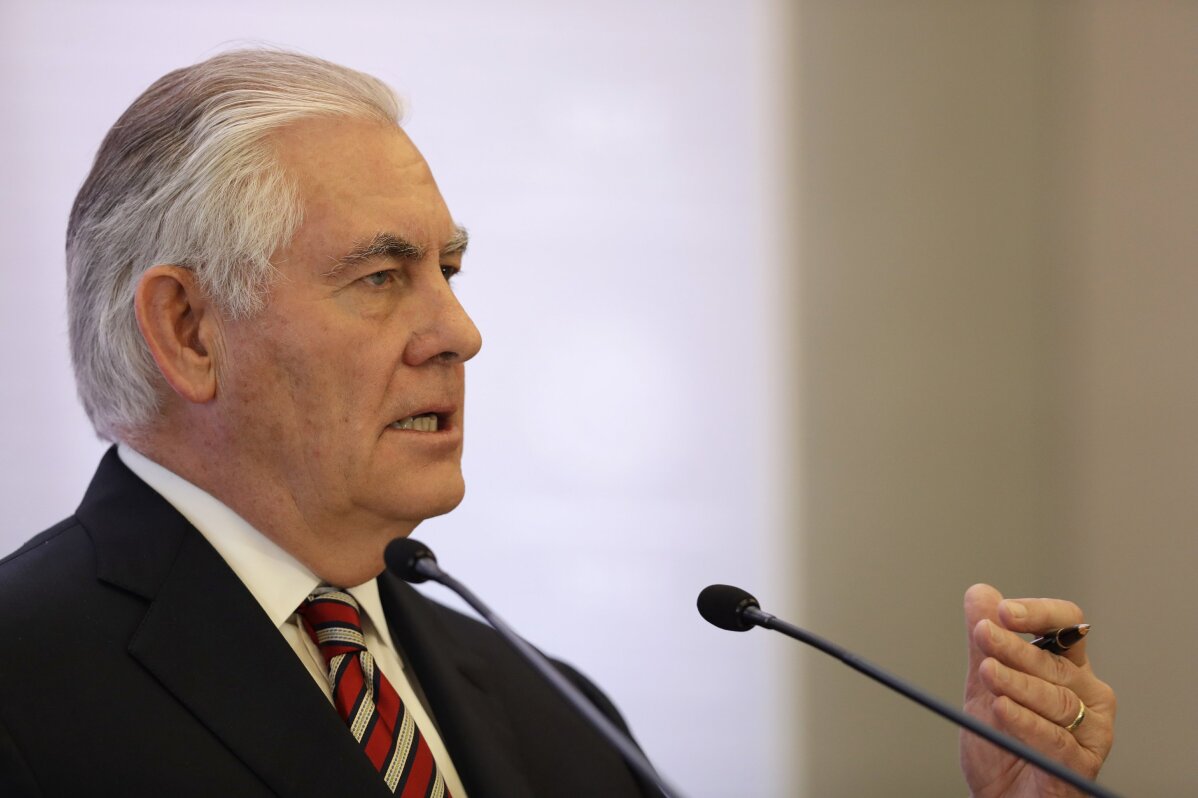 2 of 9

|
U.S. Secretary of State Rex Tillerson takes part in a joint press conference in Mexico City, Friday, Feb. 2, 2018. Tillerson's Mexico stop kicks off a weeklong trip to Latin America which will take him to Argentina, Peru, and Colombia, with a final stop in Jamaica. (AP Photo/Rebecca Blackwell)
2 of 9
U.S. Secretary of State Rex Tillerson takes part in a joint press conference in Mexico City, Friday, Feb. 2, 2018. Tillerson's Mexico stop kicks off a weeklong trip to Latin America which will take him to Argentina, Peru, and Colombia, with a final stop in Jamaica. (AP Photo/Rebecca Blackwell)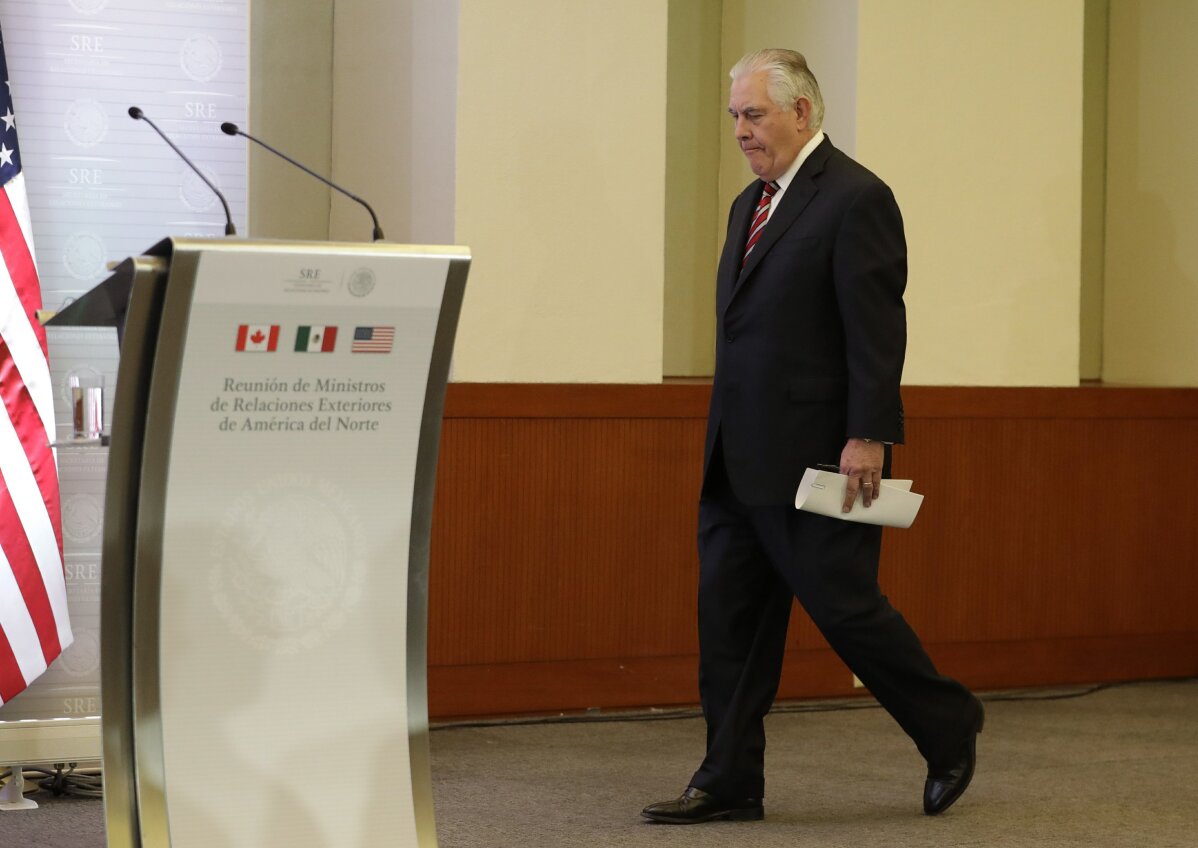 3 of 9

|
U.S. Secretary of State Rex Tillerson walks to a podium to take part in a joint press conference in Mexico City, Friday, Feb. 2, 2018. Tillerson's Mexico stop kicks off a weeklong trip to Latin America which will take him to Argentina, Peru, and Colombia, with a final stop in Jamaica. (AP Photo/Rebecca Blackwell)
3 of 9
U.S. Secretary of State Rex Tillerson walks to a podium to take part in a joint press conference in Mexico City, Friday, Feb. 2, 2018. Tillerson's Mexico stop kicks off a weeklong trip to Latin America which will take him to Argentina, Peru, and Colombia, with a final stop in Jamaica. (AP Photo/Rebecca Blackwell)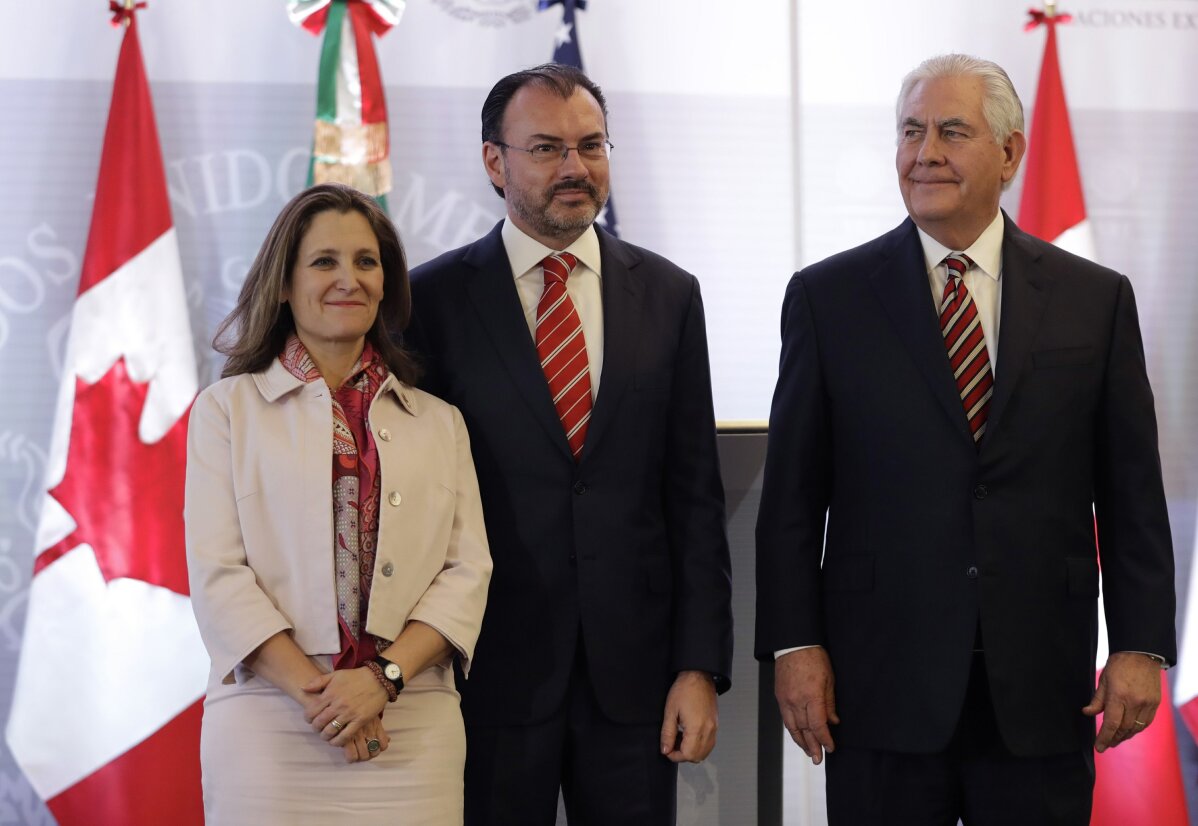 4 of 9

|
Canada's Minister of Foreign Affairs Chrystia Freeland, from left, Mexican Foreign Minister Luis Videgaray, and U.S. Secretary of State Rex Tillerson, pose for a group photo at the end of their joint press conference in Mexico City, Friday, Feb. 2, 2018. Tillerson's Mexico stop kicks off a weeklong trip to Latin America which will take him to Argentina, Peru, and Colombia, with a final stop in Jamaica. (AP Photo/Rebecca Blackwell)
4 of 9
Canada's Minister of Foreign Affairs Chrystia Freeland, from left, Mexican Foreign Minister Luis Videgaray, and U.S. Secretary of State Rex Tillerson, pose for a group photo at the end of their joint press conference in Mexico City, Friday, Feb. 2, 2018. Tillerson's Mexico stop kicks off a weeklong trip to Latin America which will take him to Argentina, Peru, and Colombia, with a final stop in Jamaica. (AP Photo/Rebecca Blackwell)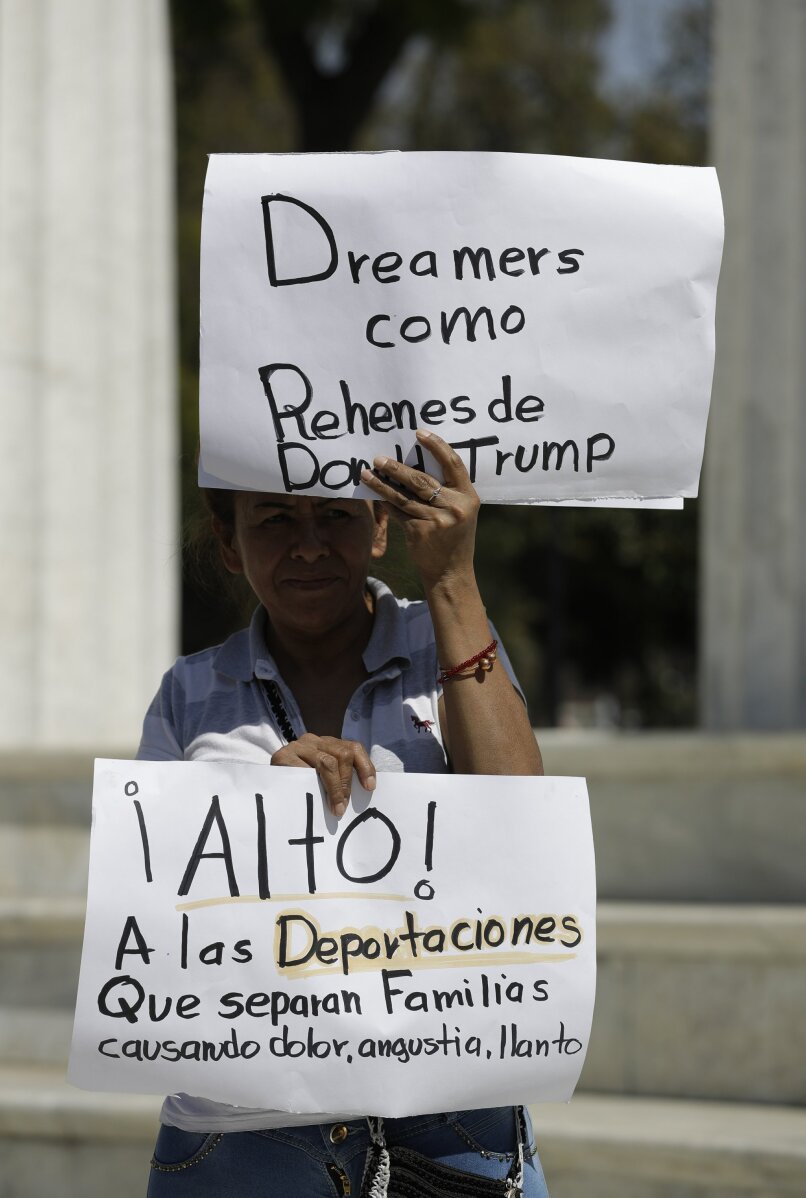 5 of 9

|
A woman holds up signs reading in Spanish: "Dreamers as prisoners of Donald Trump," and "Stop deportations that separate families, causing pain, anguish, and tears", as a handful of demonstrators protested outside the Ministry of Foreign Relations, where U.S. Secretary of State Rex Tillerson was meeting with his Mexican and Canadian counterparts in Mexico City, Friday, Feb. 2, 2018. Tillerson's Mexico stop kicks off a weeklong trip to Latin America which will take him to Argentina, Peru, and Colombia, with a final stop in Jamaica. (AP Photo/Rebecca Blackwell)
5 of 9
A woman holds up signs reading in Spanish: "Dreamers as prisoners of Donald Trump," and "Stop deportations that separate families, causing pain, anguish, and tears", as a handful of demonstrators protested outside the Ministry of Foreign Relations, where U.S. Secretary of State Rex Tillerson was meeting with his Mexican and Canadian counterparts in Mexico City, Friday, Feb. 2, 2018. Tillerson's Mexico stop kicks off a weeklong trip to Latin America which will take him to Argentina, Peru, and Colombia, with a final stop in Jamaica. (AP Photo/Rebecca Blackwell)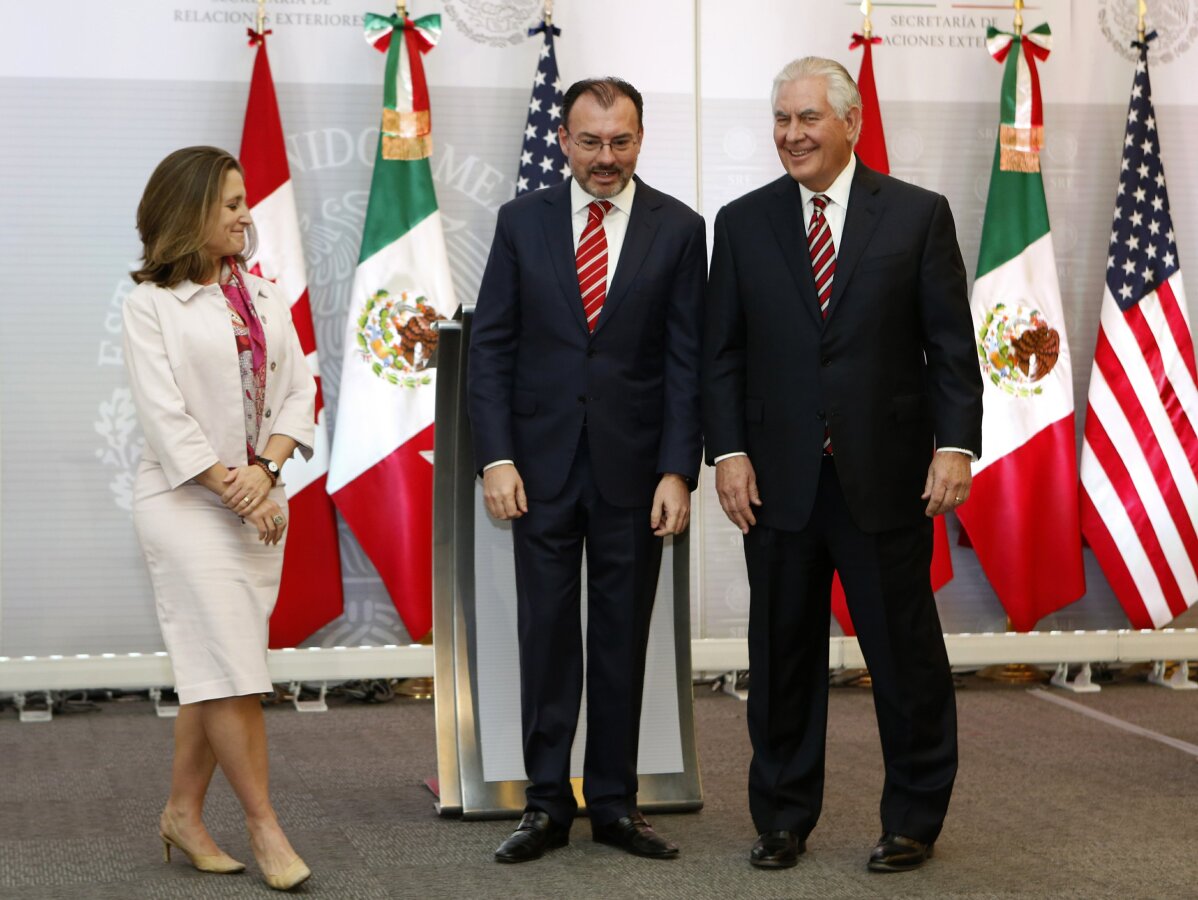 6 of 9

|
Canada's Minister of Foreign Affairs Chrystia Freeland, from left, Mexican Foreign Minister Luis Videgaray, and U.S. Secretary of State Rex Tillerson, take their position for a group photo at the end of their joint press conference in Mexico City, Friday, Feb. 2, 2018. Tillerson's Mexico stop kicks off a weeklong trip to Latin America which will take him to Argentina, Peru, and Colombia, with a final stop in Jamaica. (AP Photo/Rebecca Blackwell)
6 of 9
Canada's Minister of Foreign Affairs Chrystia Freeland, from left, Mexican Foreign Minister Luis Videgaray, and U.S. Secretary of State Rex Tillerson, take their position for a group photo at the end of their joint press conference in Mexico City, Friday, Feb. 2, 2018. Tillerson's Mexico stop kicks off a weeklong trip to Latin America which will take him to Argentina, Peru, and Colombia, with a final stop in Jamaica. (AP Photo/Rebecca Blackwell)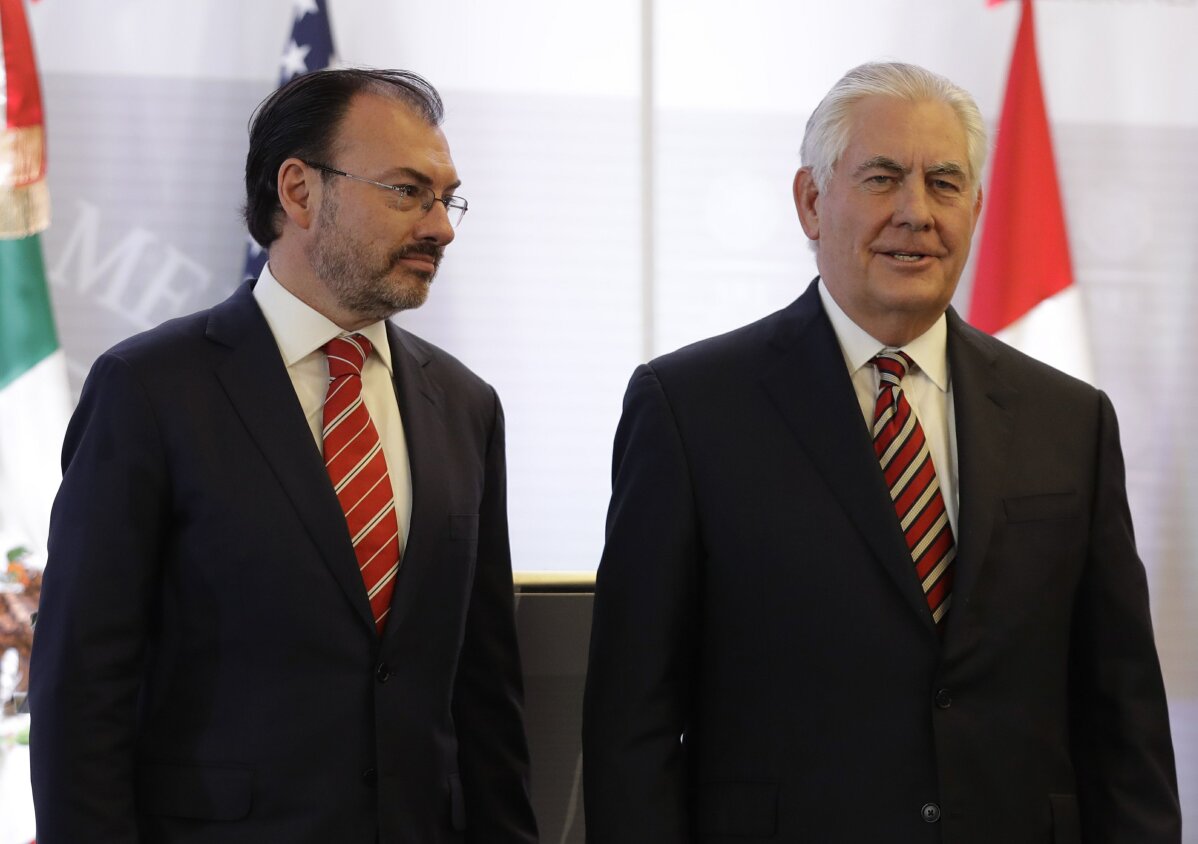 7 of 9

|
Mexican Foreign Minister Luis Videgaray, and U.S. Secretary of State Rex Tillerson, pose for photos at the end of a joint press conference in Mexico City, Friday, Feb. 2, 2018. Tillerson's Mexico stop kicks off a weeklong trip to Latin America which will take him to Argentina, Peru, and Colombia, with a final stop in Jamaica. (AP Photo/Rebecca Blackwell)
7 of 9
Mexican Foreign Minister Luis Videgaray, and U.S. Secretary of State Rex Tillerson, pose for photos at the end of a joint press conference in Mexico City, Friday, Feb. 2, 2018. Tillerson's Mexico stop kicks off a weeklong trip to Latin America which will take him to Argentina, Peru, and Colombia, with a final stop in Jamaica. (AP Photo/Rebecca Blackwell)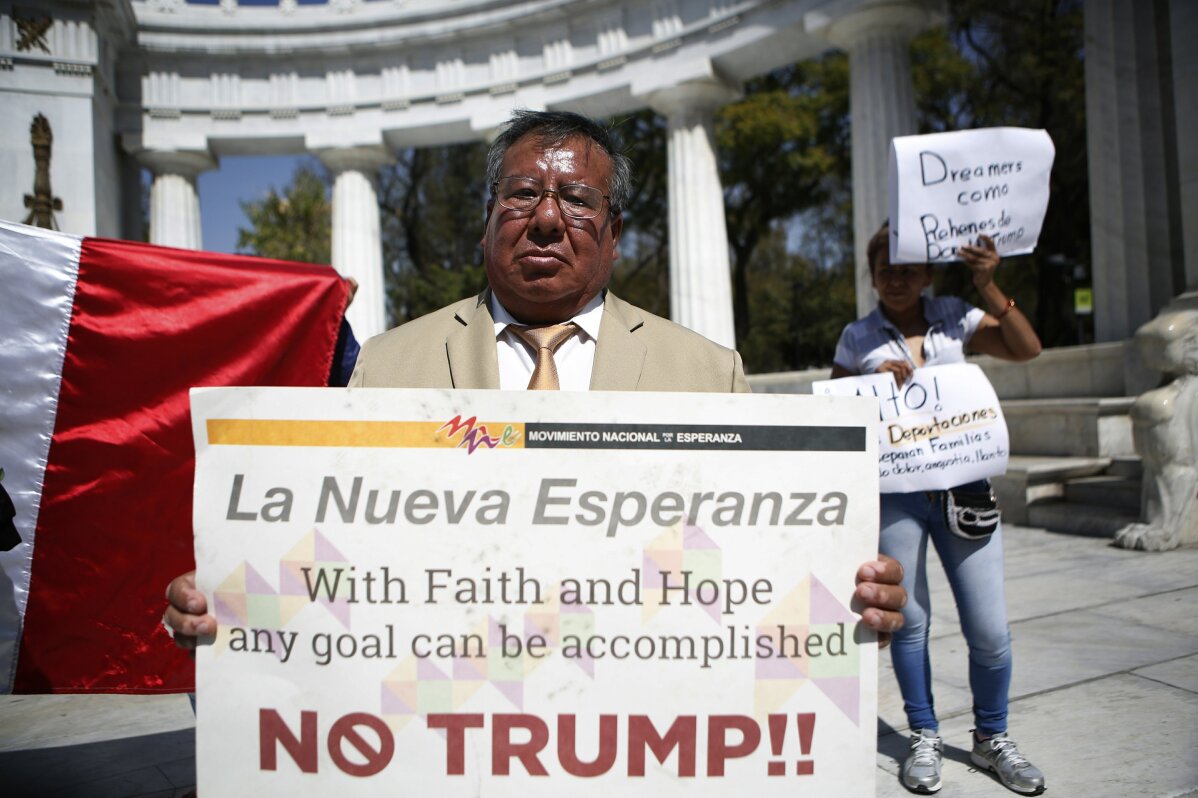 8 of 9

|
A man holds a sign with a message that reads in English and Spanish: "The new hope. With faith and hope any goal can be accomplished. No Trump!!", as a handful of demonstrators protested outside the Ministry of Foreign Relations, where U.S. Secretary of State Rex Tillerson was meeting with his Mexican and Canadian counterparts in Mexico City, Friday, Feb. 2, 2018. Tillerson's Mexico stop kicks off a weeklong trip to Latin America which will take him to Argentina, Peru, and Colombia, with a final stop in Jamaica. (AP Photo/Rebecca Blackwell)
8 of 9
A man holds a sign with a message that reads in English and Spanish: "The new hope. With faith and hope any goal can be accomplished. No Trump!!", as a handful of demonstrators protested outside the Ministry of Foreign Relations, where U.S. Secretary of State Rex Tillerson was meeting with his Mexican and Canadian counterparts in Mexico City, Friday, Feb. 2, 2018. Tillerson's Mexico stop kicks off a weeklong trip to Latin America which will take him to Argentina, Peru, and Colombia, with a final stop in Jamaica. (AP Photo/Rebecca Blackwell)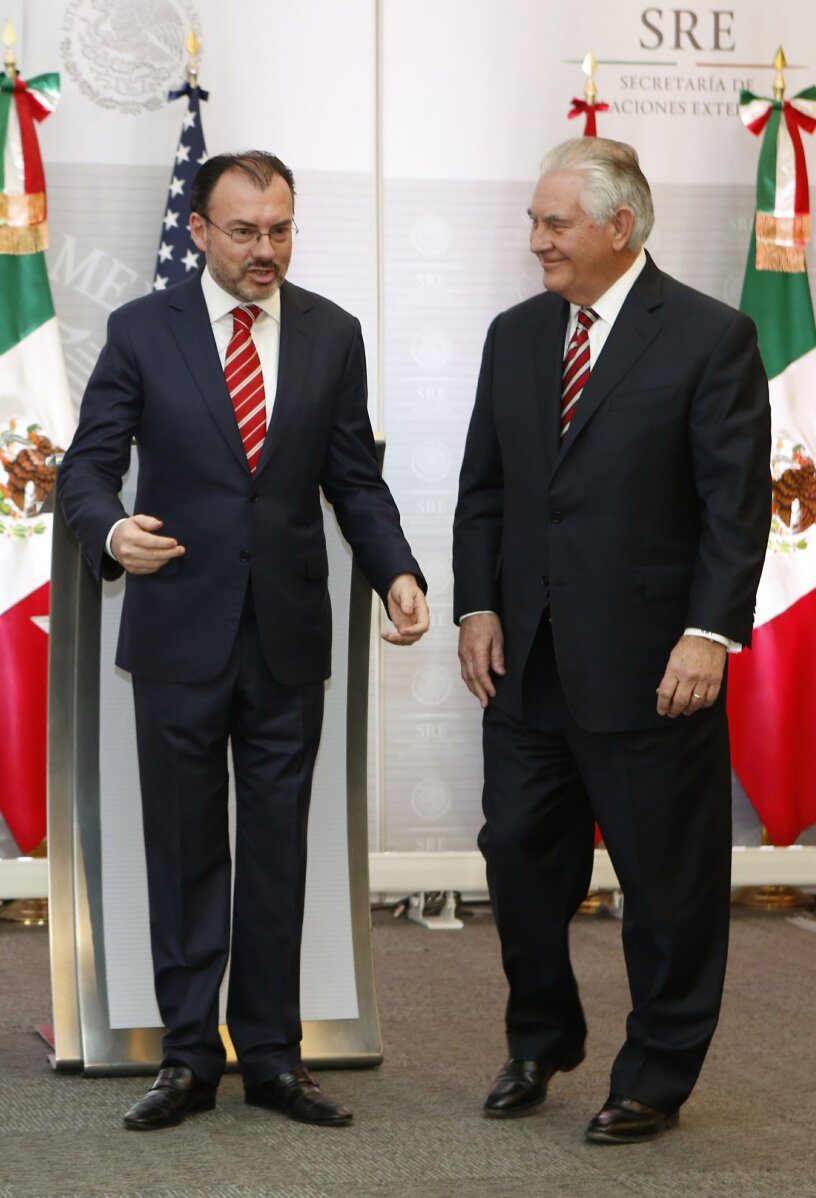 9 of 9

|
Mexican Foreign Minister Luis Videgaray, and U.S. Secretary of State Rex Tillerson, share a light moment at the end of a joint press conference in Mexico City, Friday, Feb. 2, 2018. Tillerson's Mexico stop kicks off a weeklong trip to Latin America which will take him to Argentina, Peru, and Colombia, with a final stop in Jamaica. (AP Photo/Rebecca Blackwell)
9 of 9
Mexican Foreign Minister Luis Videgaray, and U.S. Secretary of State Rex Tillerson, share a light moment at the end of a joint press conference in Mexico City, Friday, Feb. 2, 2018. Tillerson's Mexico stop kicks off a weeklong trip to Latin America which will take him to Argentina, Peru, and Colombia, with a final stop in Jamaica. (AP Photo/Rebecca Blackwell)
MEXICO CITY (AP) — Mexico's foreign relations secretary said Friday that it might come as a surprise but his country's relationship with the United States today is "more fluid" and "closer" than it was with previous U.S. administrations.
Mexico has had well-publicized disagreements with President Donald Trump during the past year over trade, immigration and payment for a proposed border wall. But Foreign Relations Secretary Luis Videgaray said that "with the Trump administration, we're committed to having a very close communication and that has proven to be a tremendous benefit for the relationship."
"It might be surprising to some people, but that's a fact of life," Videgaray said at a joint news conference in Mexico with U.S. Secretary of State Rex Tillerson and Canadian Foreign Affairs Minister Chrystia Freeland. The three countries are currently renegotiating the North American Free Trade Agreement.
Tillerson's stop in Mexico kicked off a six-day Latin America trip that will also take him to Panama, Argentina, Peru, Colombia and Jamaica. He was greeted in Mexico City by a handful of protesters holding up signs reading "Dreamers, Trump's hostages," and "We are workers, not terrorists, not criminals."
The three spoke about security concerns, especially the trafficking in opiates and synthetic opiates like fentanyl that have caused a wave of overdose deaths.
"Given the deadly nature of the opioid crisis, we must do more to attack the business model of those who traffic drugs and guns," said Tillerson.
Asked about reports of Russian meddling in Mexico's July 1 presidential elections, Tillerson said "we know that Russia has fingerprints on elections around the world ... my advice to Mexico would be to pay attention."
The three officials said they also discussed the political and economic crisis in Venezuela and its government's decision to push up presidential elections to April under conditions that opponents say overwhelmingly favor President Nicolas Maduro, who is so far the only candidate.
"We shared our concerns for the humanitarian crisis that has unfolded in Venezuela," Tillerson said. "We all urge the Maduro regime to return to free, open credible, democratic elections."
Videgaray was quick to note that Mexico has limits on how far it will go in pressuring Venezuela.
"Mexico will in no case support any option that implies violence," Videgaray said.
Tillerson said the United States wants to see a "peaceful transition."
"If President Maduro would return to the Venezuelan constitution, restore the duly elected assembly, dismantle the illegitimate constituent assembly and return to free and fair elections, then he's happy to stay and run in the free and fair elections," Tillerson said. "If he wants to step aside and let someone else run in them, that's fine."
Venezuelan officials condemned Tillerson's remarks earlier Thursday at the University of Texas. Tillerson said that throughout the course of Latin America's history it has often been the military which has stepped in to "manage a peaceful transition."
That stung the Venezuelan government, whose soldiers have reportedly been going hungry like much of the rest of the population.
Venezuelan Defense Minister Vladimir Padrino Lopez went on state television Friday, flanked by a half-dozen military officers in uniform, to denounce Tillerson's comments. He said Venezuela's military is united and would never succumb to the influence of a foreign power.
"You don't know what you are doing," he said. "I invite you to correct yourself."
Venezuelan officials accused Tillerson of using his current trip to increase pressure on governments around the region to join the U.S. in "a perverse plan of aggressions against Venezuela."
___
AP writer Christine Armario contributed to this report from Bogota, Colombia