Republicans seek to change Montana primary to thwart Tester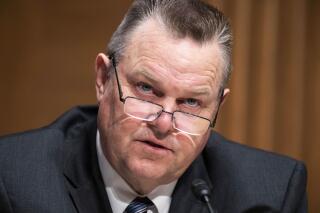 HELENA, Mont. (AP) — Republican state lawmakers in Montana are advancing legislation that would alter next year's U.S. Senate primary in an apparent bid to thwart the reelection of Sen. Jon Tester, one of several Democrats on the ballot in GOP-leaning states.
The measure would allow the top two candidates in the primary, no matter their party, to win slots on the 2024 general election ballot. It's now before House lawmakers after passing in the Senate by a 27-23 vote on Tuesday.
Seven Republicans joined all of the chamber's Democrats in voting against the measure.
In January Tester announced his bid for a fourth term in a seat that Republicans are eager to recapture after more than two decades. He's the last remaining Democrat to hold a statewide political office in Montana after the GOP dominated recent elections.
Democrats in the U.S. Senate hold a 51-49 majority heading into the election. They will be defending 23 seats, including three held by independents who caucus with Democrats. Republicans will be defending just 10 seats.
"I think we all know what this is about," Senate Minority Leader Pat Flowers said Monday as Montana lawmakers debated whether to alter the primary. "This is just brazen partisanship targeting a single race. This isn't fair. This isn't what Montanans want. They don't want one-party rule, they want us to have fair elections and this bill is not that."
By allowing only two candidates to advance, it could keep third parties off the general election ballot. Past races for Tester's seat were close enough that the absence of third party candidates hypothetically could have tipped the balance in favor of Republicans.
"I think the only reason you need to be scared of it is if you don't think your guy can win," said Republican Sen. Carl Glimm.
The primary format for other offices, including election to the U.S. House, would not be changed.
If the bill passes, it would only affect the 2024 U.S. Senate race. The sponsor, Republican Sen. Greg Hertz, said that would give the 2025 legislature the opportunity to "review the results of this election. How did it work? How did our voters like it?" and whether the top-two primary should be expanded to other races.