US greets talk of NK nuke concessions with hope, skepticism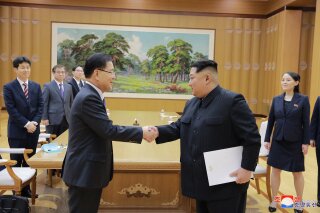 WASHINGTON (AP) — President Donald Trump greeted North Korea's reported willingness to negotiate away its atomic weapons with both hope and skepticism Tuesday, insisting a potential diplomatic breakthrough be tested against the North's long history of deception and threats to target U.S. cities with nuclear missiles.
"I really believe they are sincere," Trump said at a White House news conference, sounding more optimistic than his intelligence chief, Dan Coats, who told a Senate hearing he has "very, very low confidence" that North Korean leader Kim Jong Un intends to give up his nuclear arms.
"Maybe this is a breakthrough. I seriously doubt it," Coats said.
A senior South Korean presidential adviser said Tuesday that Kim expressed a willingness to discuss nuclear disarmament and halt nuclear and missile tests during future talks with the United States. The North didn't confirm those concessions, which would amount to a dramatic about-face for a nation that has frequently vowed to preserve its nuclear arsenal at any cost.
Chung Eui-yong, the South Korean official who spoke after participating in talks with Kim in Pyongyang, also said the North Korean dictator had agreed to meet with South Korea's president at a border village in late April.
North Korea didn't announce what South Korea on Tuesday described as agreements between the rivals. But the North's state media earlier reported Kim had "openhearted" talks with South Korean envoys, expressed his willingness to "vigorously advance" North-South relations and made a "satisfactory" agreement on the inter-Korean summit talks.
Trump, who last fall told Secretary of State Rex Tillerson he was "wasting his time" trying to talk with the North, tweeted Tuesday that "possible progress" had been made in North Korea's capital and that all sides were making serious efforts. He added: "May be false hope, but the U.S. is ready to go hard in either direction!"
Later, in an Oval Office photo session with Swedish Prime Minister Stefan Lofven, Trump said the North Koreans "seem to be acting positively," but that the prospects will be clearer when diplomacy moves to the next stage.
"We have come certainly a long way, at least rhetorically, with North Korea," Trump said. Of the possibility for peacefully resolving the nations' deep differences, he said: "It'd be a great thing for the world, would be a great for North Korea, it would be a great thing for the peninsula. But we'll see what happens."
In Chung's account, Kim indicated he would not need to keep nuclear weapons if military threats against North Korea were removed and his nation received a credible security guarantee. That suggests the possibility Kim will insist in any deal that the U.S. withdraw its nearly 28,000 troops from South Korea. The North sees those forces and their periodic exercises with South Korean troops as a threat to invade the North.
The White House issued a brief statement from Vice President Mike Pence suggesting nothing has changed in that area. A U.S. official said there were no plans to scrap the war games envisioned for next month.
"All options are on the table, and our posture toward the regime will not change until we see credible, verifiable and concrete steps toward denuclearization," Pence said.
Separately, highlighting a less-discussed dimension of the standoff with North Korea, the Pentagon's military intelligence chief told a Senate hearing that Kim has taken a "far different" approach to military preparedness than his father, Kim Jong Il, by imposing greater rigor and discipline in army training. Lt. Gen. Robert Ashley, director of the Defense Intelligence Agency, called it a "big change" and implied the improvements should be taken into account in considering the prospect of war on the Korean peninsula.
North Korea's willingness to hold a "candid dialogue" with the United States to discuss denuclearization and establish diplomatic relations follows a year of increased fears of war, with Kim and Trump exchanging fiery rhetoric and crude insults over Kim's barrage of weapons tests. The Trump administration also pushed through some of the harshest economic sanctions any country has ever faced.
Trump said Kim's apparent willingness to negotiate is likely due to the sanctions, and China's role in applying them.
Still, there is wide skepticism that Tuesday's developments will bring genuine peace between the Koreas, which have a long history of failing to follow through with major rapprochement agreements. The United States has made it clear it doesn't want empty talks with North Korea and that all options, including military measures, are in play until the North actually surrenders its nuclear weapons, believed to number around 30.
"We have seen nothing to indicate ... that he would be willing to give up those weapons," Coats said.
Chung said the two Koreas would hold a summit at a South Korea-controlled facility. He said Kim and South Korean President Moon Jae-in will establish a "hotline" communication channel to lower military tensions, and would speak together before the get-together.
It would be the third such summit since the Koreas' 1945 division. Kim Jong Il met liberal South Korean presidents in Pyongyang in 2000 and 2007. They resulted in a series of cooperative projects that were scuttled during subsequent conservative administrations in South Korea.
___
Hyung-jin Kim reported from South Korea.