Guatemalan ex-president, Oxfam chief held in corruption case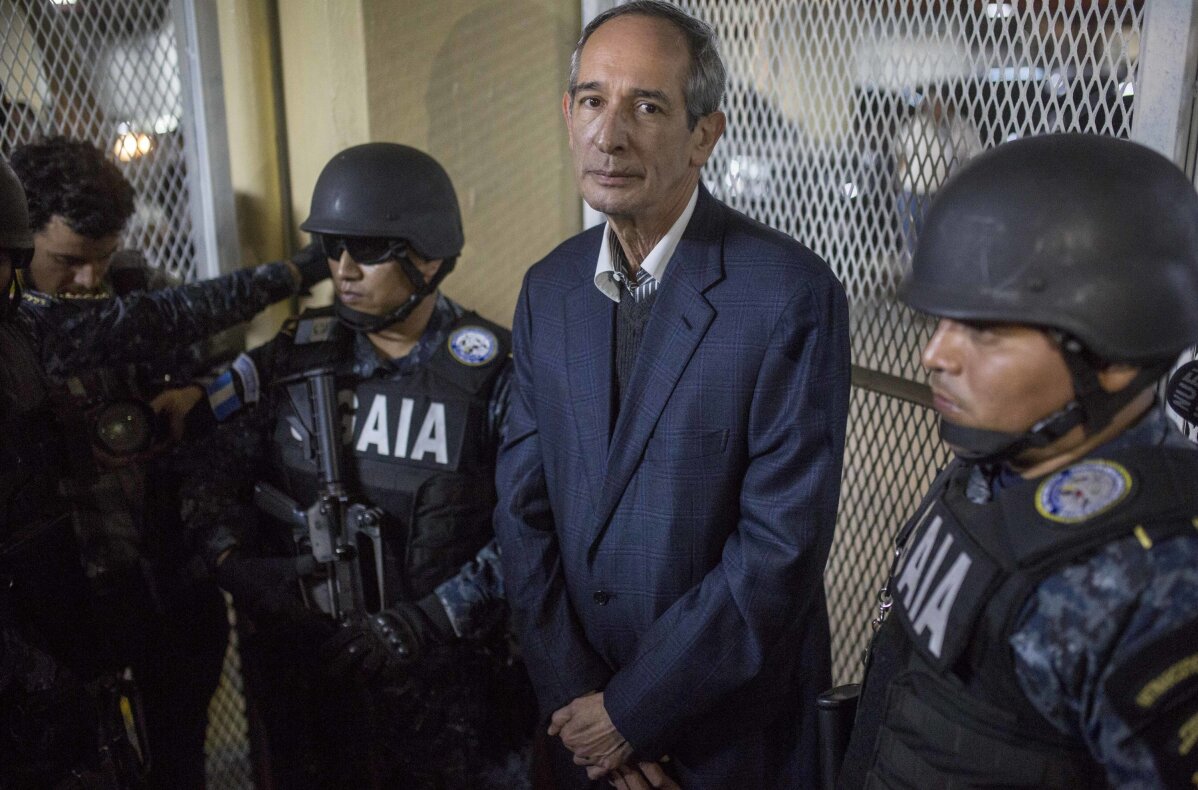 1 of 6

|
Former Guatemalan President Alvaro Colom is flanked by police in a courtroom in Guatemala City, Tuesday, Feb. 13, 2018. Colom, who governed from 2008 to 2012, has been detained in a corruption case according to special prosecutor Juan Francisco Sandoval. (AP Photo/Luis Soto)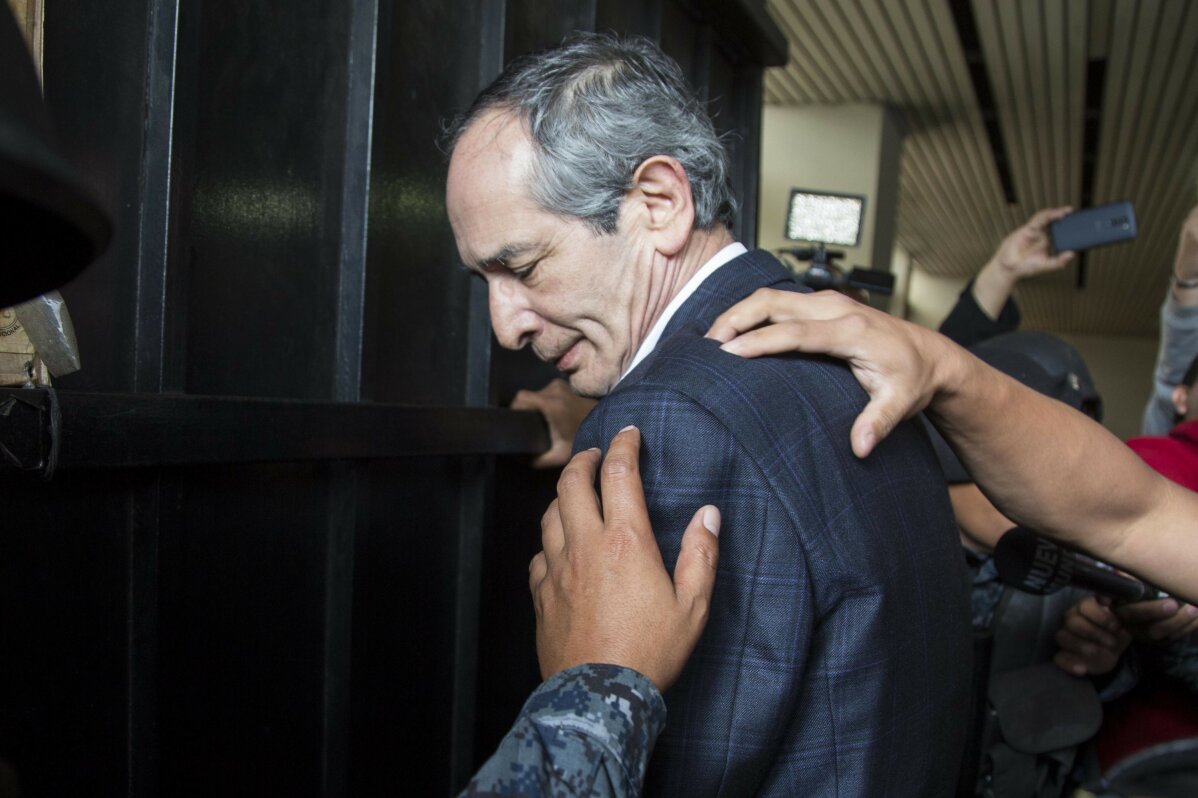 2 of 6

|
Police officers pat down former Guatemalan President Alvaro Colom before escorting him into a courthouse in Guatemala City, Tuesday, Feb. 13, 2018. Colom, who governed from 2008 to 2012, has been detained in a corruption case according to special prosecutor Juan Francisco Sandoval. (AP Photo/Luis Soto)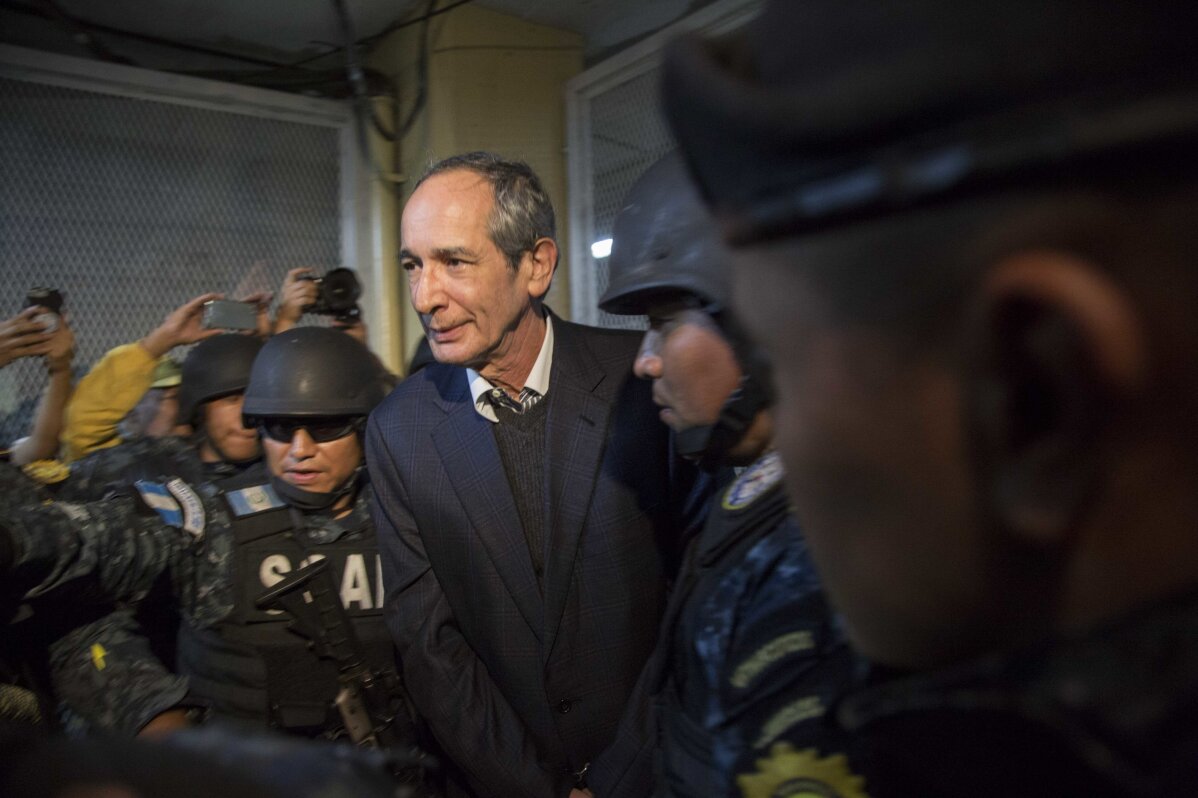 3 of 6

|
Former Guatemalan President Alvaro Colom is escorted by police to a courtroom in Guatemala City, Tuesday, Feb. 13, 2018. Colom, who governed from 2008 to 2012, has been detained in a corruption case according to special prosecutor Juan Francisco Sandoval. (AP Photo/Luis Soto)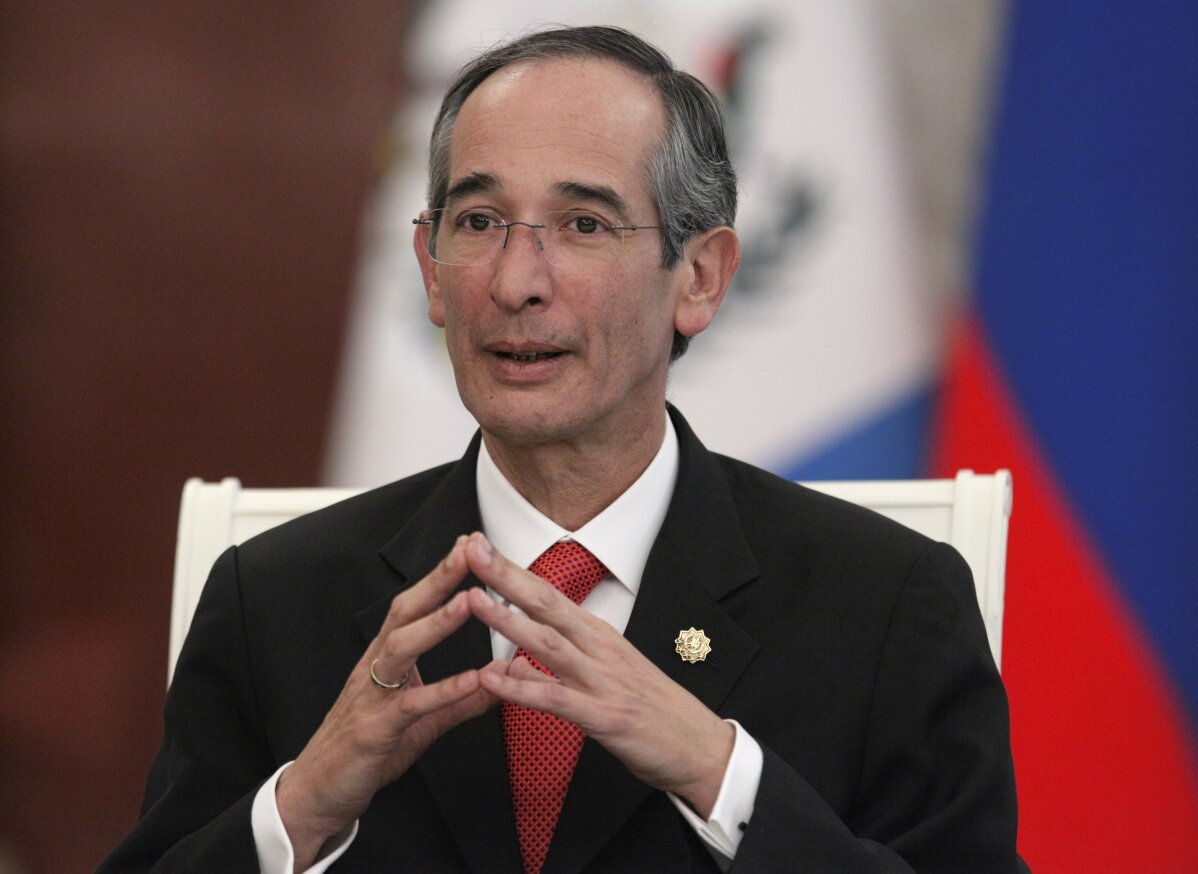 4 of 6

|
CORRECTS DATE OF ARREST - FILE - In this March 22, 2010 file photo, then Guatemalan President Alvaro Colom attends a meeting with his Russian counterpart, in Moscow's Kremlin, Russia. Prosecutors detained former Guatemalan President Alvaro Colom in a corruption case, on Tuesday, Feb. 13, 2018. Colom governed from 2008 to 2012, and is the latest in a series of former presidents to face legal problems. (AP Photo/Alexander Zemlianichenko, File)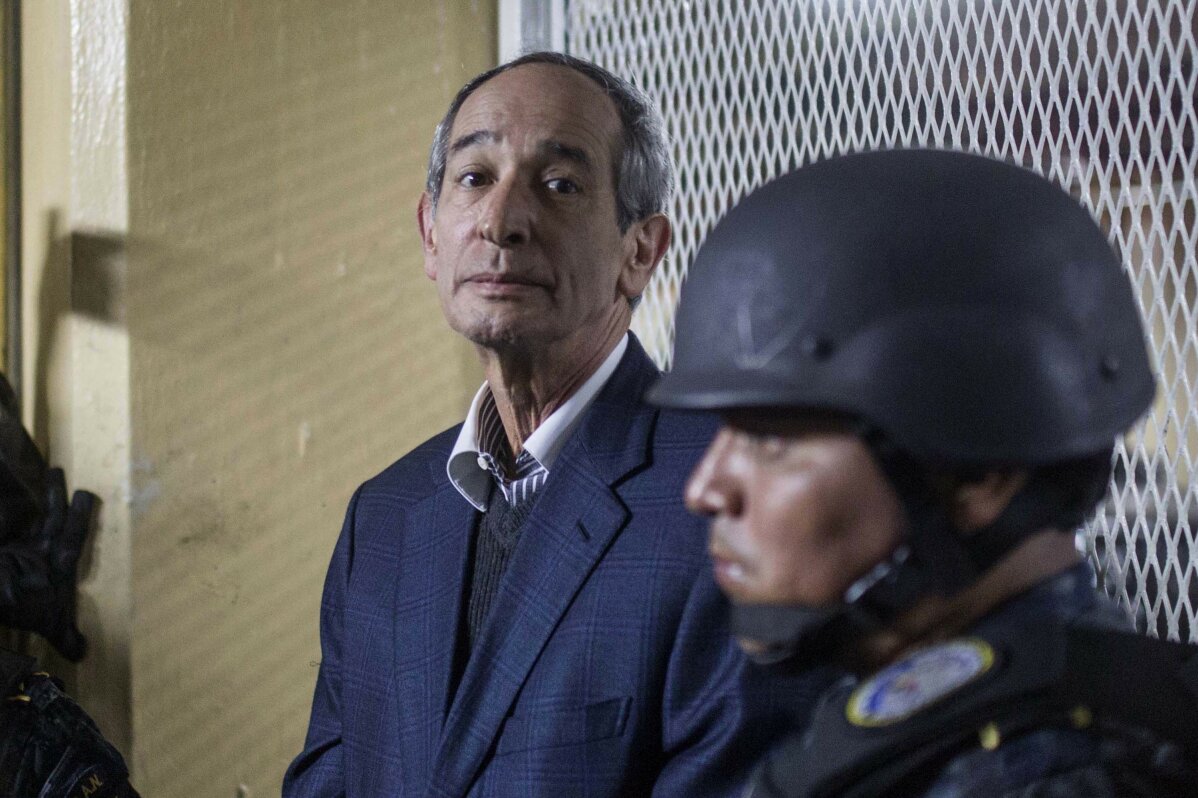 5 of 6

|
Former Guatemalan President Alvaro Colom is flanked by police as they wait to enter a holding cell in a courthouse, in Guatemala City, Tuesday, Feb. 13, 2018. Colom, who governed from 2008 to 2012, has been detained in a corruption case according to special prosecutor Juan Francisco Sandoval. (AP Photo/Luis Soto)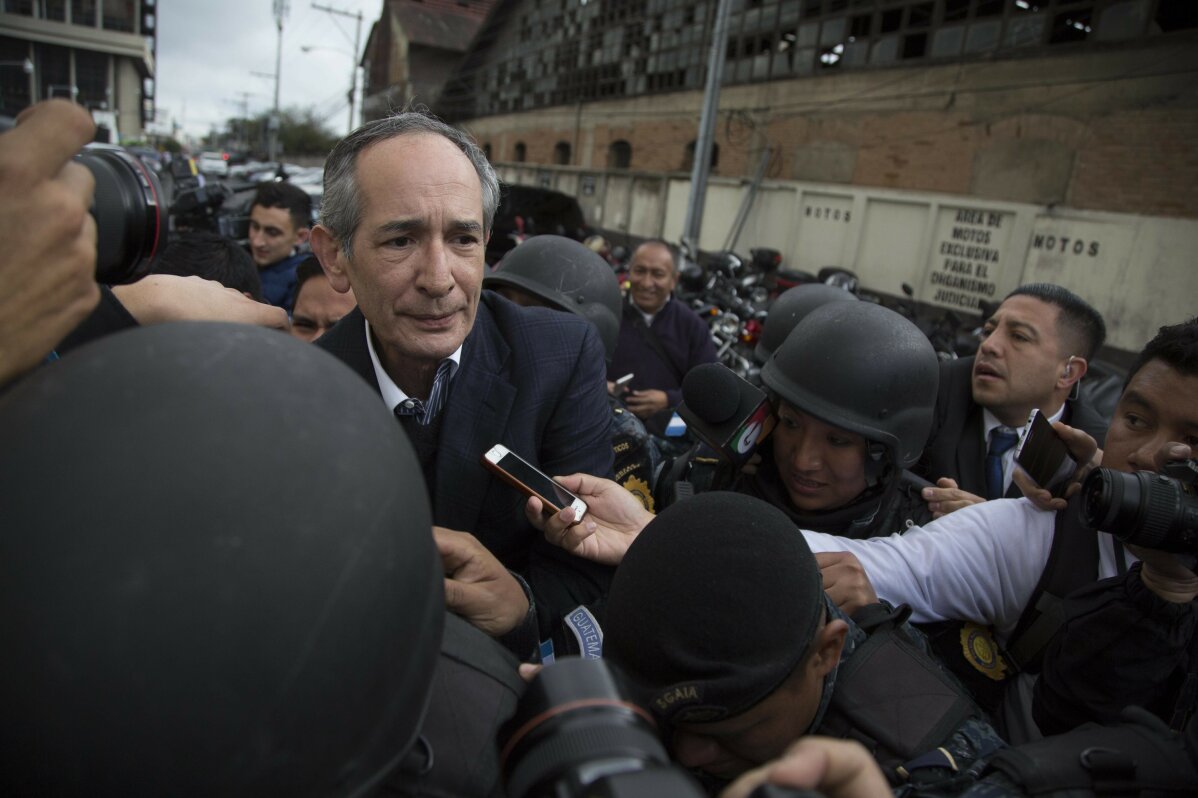 6 of 6

|
Former Guatemalan President Alvaro Colom, left, is escorted by police to a courtroom in Guatemala City, Tuesday, Feb. 13, 2018. Colom, who governed from 2008 to 2012, has been detained in a corruption case according to special prosecutor Juan Francisco Sandoval. (AP Photo/Luis Soto)
Guatemalan ex-president, Oxfam chief held in corruption case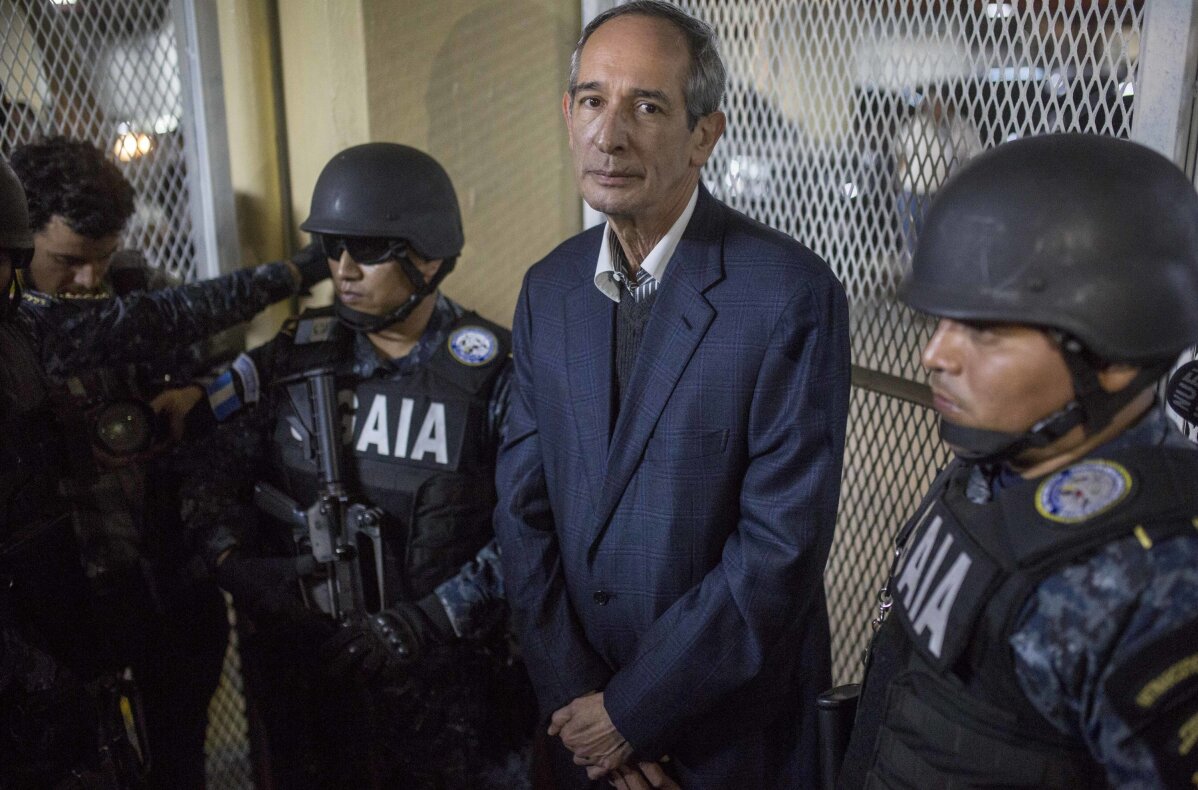 1 of 6

|
Former Guatemalan President Alvaro Colom is flanked by police in a courtroom in Guatemala City, Tuesday, Feb. 13, 2018. Colom, who governed from 2008 to 2012, has been detained in a corruption case according to special prosecutor Juan Francisco Sandoval. (AP Photo/Luis Soto)
1 of 6
Former Guatemalan President Alvaro Colom is flanked by police in a courtroom in Guatemala City, Tuesday, Feb. 13, 2018. Colom, who governed from 2008 to 2012, has been detained in a corruption case according to special prosecutor Juan Francisco Sandoval. (AP Photo/Luis Soto)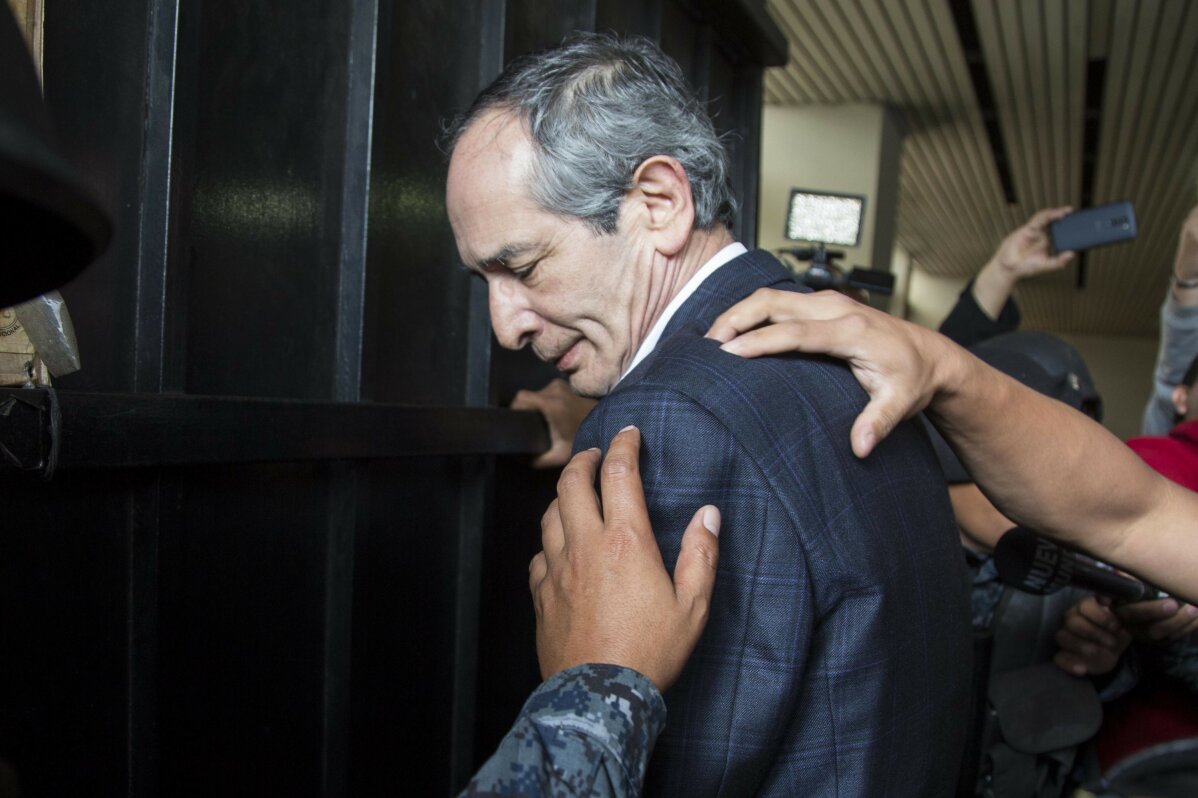 2 of 6

|
Police officers pat down former Guatemalan President Alvaro Colom before escorting him into a courthouse in Guatemala City, Tuesday, Feb. 13, 2018. Colom, who governed from 2008 to 2012, has been detained in a corruption case according to special prosecutor Juan Francisco Sandoval. (AP Photo/Luis Soto)
2 of 6
Police officers pat down former Guatemalan President Alvaro Colom before escorting him into a courthouse in Guatemala City, Tuesday, Feb. 13, 2018. Colom, who governed from 2008 to 2012, has been detained in a corruption case according to special prosecutor Juan Francisco Sandoval. (AP Photo/Luis Soto)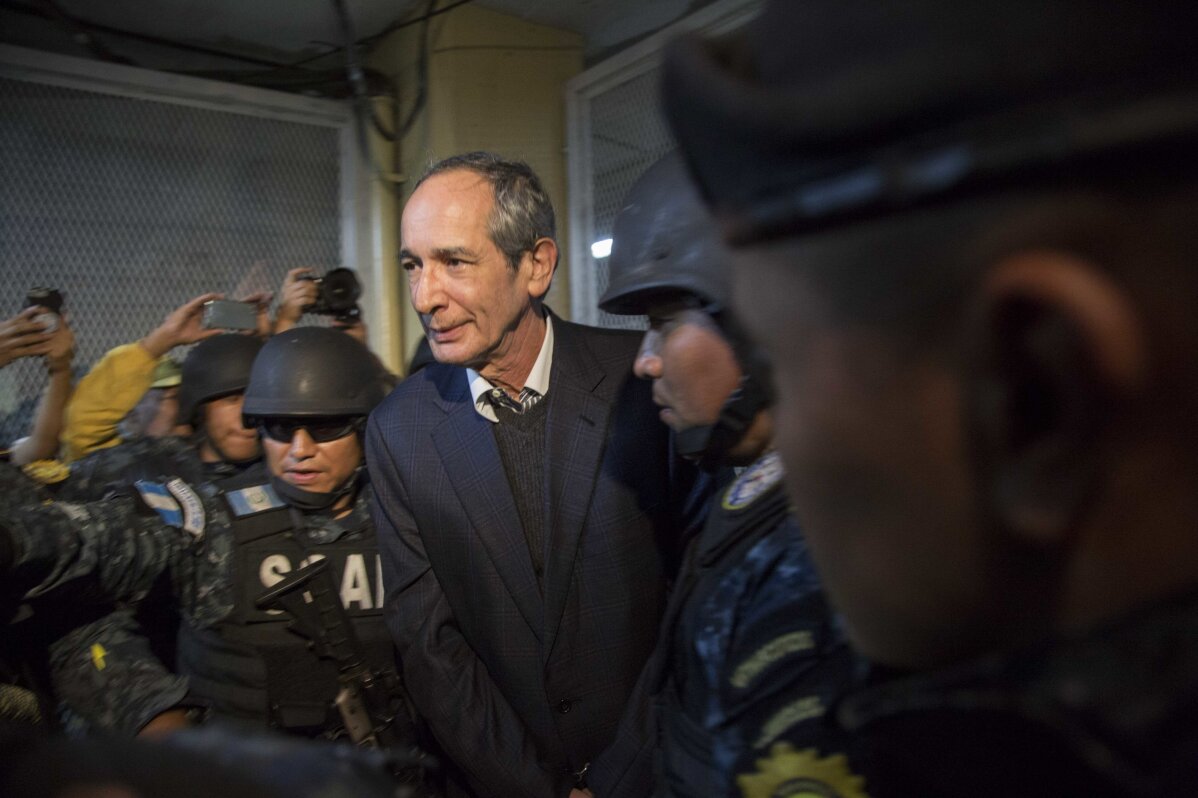 3 of 6

|
Former Guatemalan President Alvaro Colom is escorted by police to a courtroom in Guatemala City, Tuesday, Feb. 13, 2018. Colom, who governed from 2008 to 2012, has been detained in a corruption case according to special prosecutor Juan Francisco Sandoval. (AP Photo/Luis Soto)
3 of 6
Former Guatemalan President Alvaro Colom is escorted by police to a courtroom in Guatemala City, Tuesday, Feb. 13, 2018. Colom, who governed from 2008 to 2012, has been detained in a corruption case according to special prosecutor Juan Francisco Sandoval. (AP Photo/Luis Soto)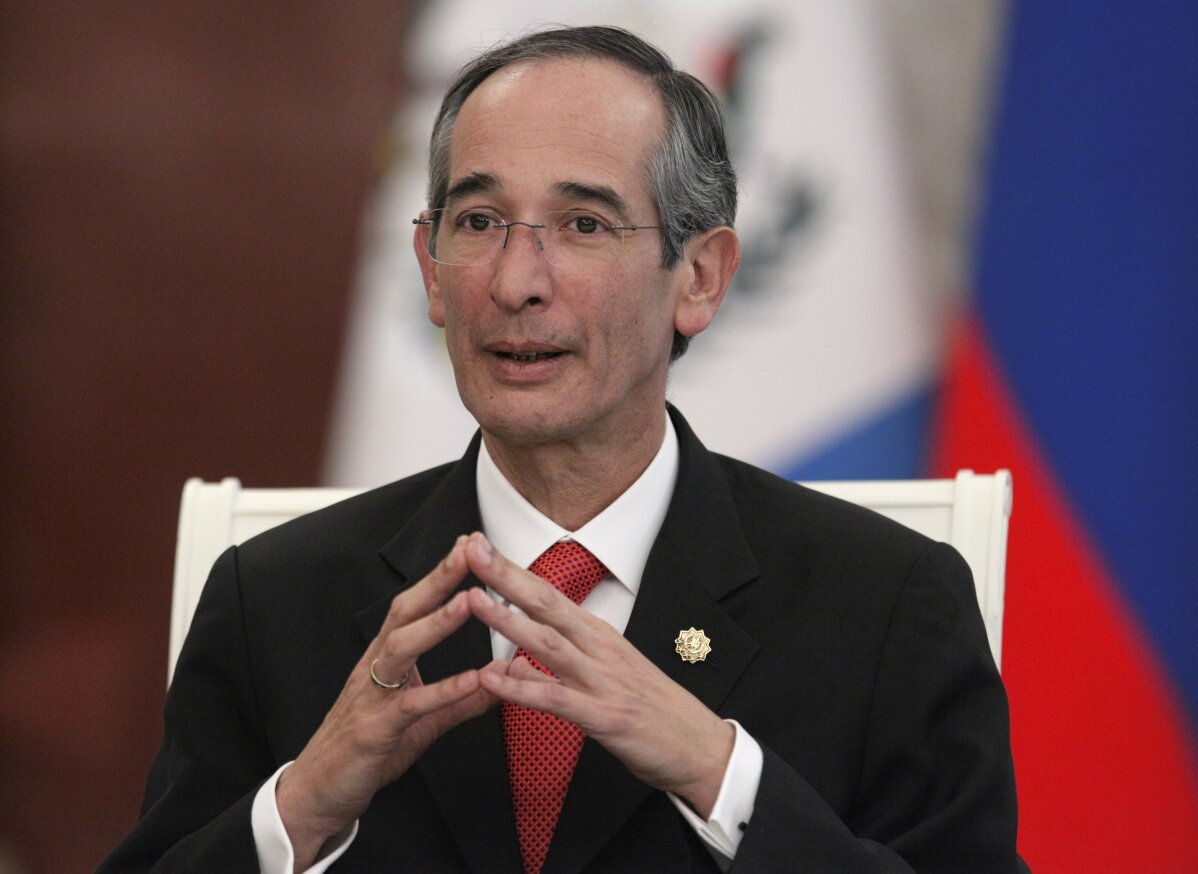 4 of 6

|
CORRECTS DATE OF ARREST - FILE - In this March 22, 2010 file photo, then Guatemalan President Alvaro Colom attends a meeting with his Russian counterpart, in Moscow's Kremlin, Russia. Prosecutors detained former Guatemalan President Alvaro Colom in a corruption case, on Tuesday, Feb. 13, 2018. Colom governed from 2008 to 2012, and is the latest in a series of former presidents to face legal problems. (AP Photo/Alexander Zemlianichenko, File)
4 of 6
CORRECTS DATE OF ARREST - FILE - In this March 22, 2010 file photo, then Guatemalan President Alvaro Colom attends a meeting with his Russian counterpart, in Moscow's Kremlin, Russia. Prosecutors detained former Guatemalan President Alvaro Colom in a corruption case, on Tuesday, Feb. 13, 2018. Colom governed from 2008 to 2012, and is the latest in a series of former presidents to face legal problems. (AP Photo/Alexander Zemlianichenko, File)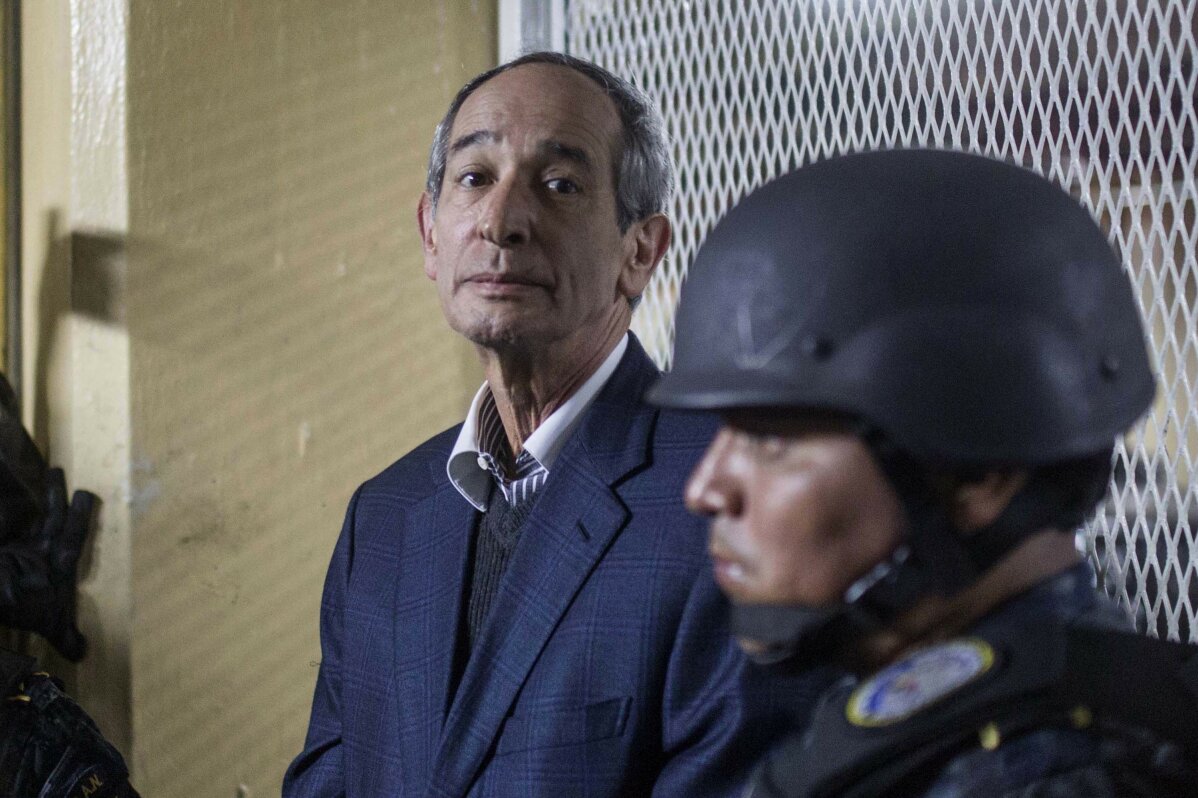 5 of 6

|
Former Guatemalan President Alvaro Colom is flanked by police as they wait to enter a holding cell in a courthouse, in Guatemala City, Tuesday, Feb. 13, 2018. Colom, who governed from 2008 to 2012, has been detained in a corruption case according to special prosecutor Juan Francisco Sandoval. (AP Photo/Luis Soto)
5 of 6
Former Guatemalan President Alvaro Colom is flanked by police as they wait to enter a holding cell in a courthouse, in Guatemala City, Tuesday, Feb. 13, 2018. Colom, who governed from 2008 to 2012, has been detained in a corruption case according to special prosecutor Juan Francisco Sandoval. (AP Photo/Luis Soto)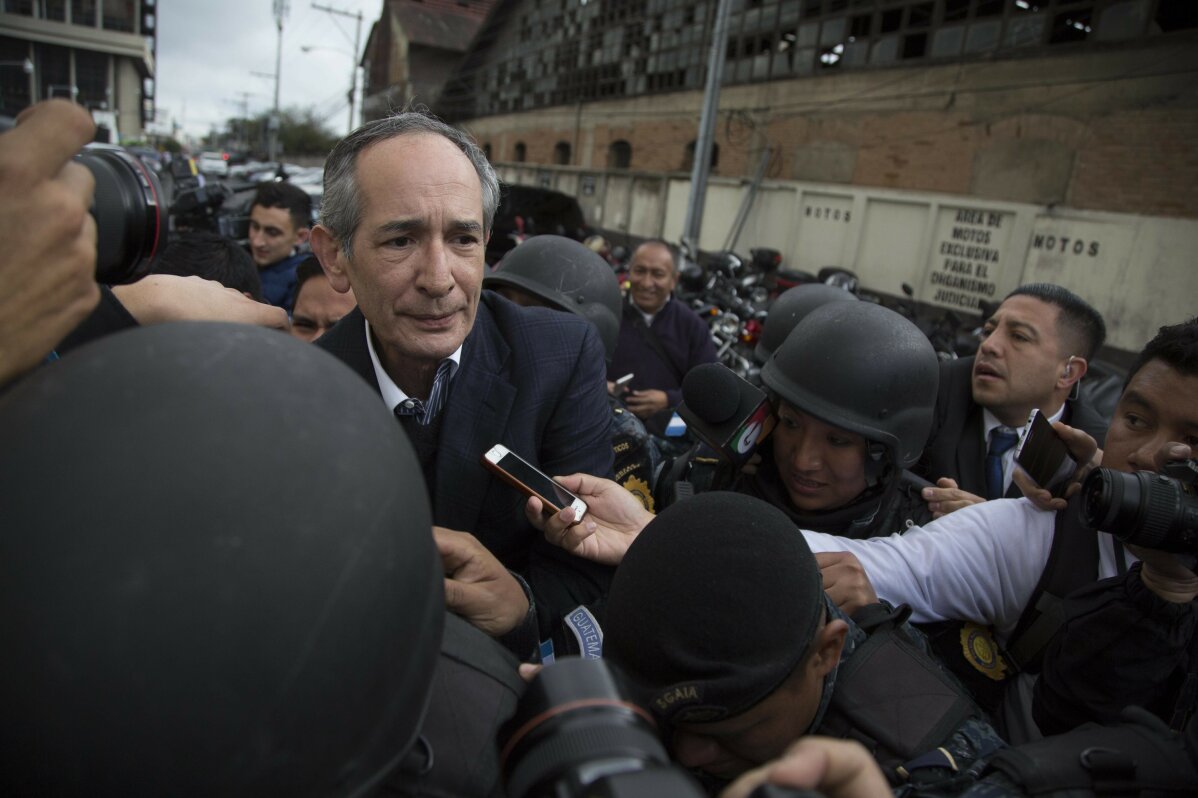 6 of 6

|
Former Guatemalan President Alvaro Colom, left, is escorted by police to a courtroom in Guatemala City, Tuesday, Feb. 13, 2018. Colom, who governed from 2008 to 2012, has been detained in a corruption case according to special prosecutor Juan Francisco Sandoval. (AP Photo/Luis Soto)
6 of 6
Former Guatemalan President Alvaro Colom, left, is escorted by police to a courtroom in Guatemala City, Tuesday, Feb. 13, 2018. Colom, who governed from 2008 to 2012, has been detained in a corruption case according to special prosecutor Juan Francisco Sandoval. (AP Photo/Luis Soto)
GUATEMALA CITY (AP) — Prosecutors said Tuesday they have detained ex-President Alvaro Colom and nearly his entire former Cabinet, including the current chairman of Oxfam International, in a Guatemala corruption case involving a bus concession.
Colom, who governed in 2008-2012, is the latest in a series of former Guatemalan presidents to face legal problems. He was recently named by the Organization of American States as an envoy to Honduras in a bid to help sort out a highly disputed election there.
Colom said after appearing making a court appearance that as far as he knows, the concession was handled properly. He added that he hopes justice is done in the case.
Special prosecutor Juan Francisco Sandoval, who said Colom was arrested Tuesday, is looking into questionable purchases of public buses for Guatemala City. Sandoval said those arrested face charges of fraud and embezzlement.
Sandoval said the detentions included the former ministers of the interior, finance, defense, economy, education, labor, environment, health, sports and culture, and energy and mines. Ex-Finance Minister Alberto Fuentes Knight is the Oxfam chairman.
The global nonprofit said in a statement that it did not know the nature of formal charges against Fuentes.
"However," it said, "he has been entirely open with his Oxfam board and executive that he has been among former officials being investigated as part of a budgetary transaction made by the Guatemalan government while he was finance minister."
"He has assured us that he has cooperated fully with the investigation in the confidence he did not knowingly transgress rules or procedures," the group added.
The case centers on a public bus company known as Transurbano. The government auctioned off 25-year concessions for Guatemala City bus routes, and the private companies that won the contracts were later exempted from taxes.
Prosecutors say the process was deeply flawed and included subsidies and other measures that benefited public servants. The United Nations anti-corruption mission in Guatemala participated in the investigation.
Chief prosecutor Thelma Aldana said later Tuesday at a news conference that investigators suspect the government was defrauded out of $35 million.
A number of Guatemalan ex-presidents and other high-ranking officials have been swept in a series of corruption probes.
They include a customs fraud scandal that allegedly sent kickbacks to then-President Otto Perez Molina and Vice President Roxana Baldetti, leading both to resign in 2015. They have been jailed awaiting trial, but more than 100 defense filings have delayed the process.
Alfonso Portillo, Guatemala's president in 2000-2004, was extradited to the United States and pleaded guilty to money laundering conspiracy in 2014. Portillo acknowledged taking $2.5 million in bribes from the government of Taiwan to continue Guatemala's diplomatic recognition of Taipei.
___
Associated Press writer Danica Kirka in London contributed to this report.