Sri Lanka govt faces pressure over torture, rape allegations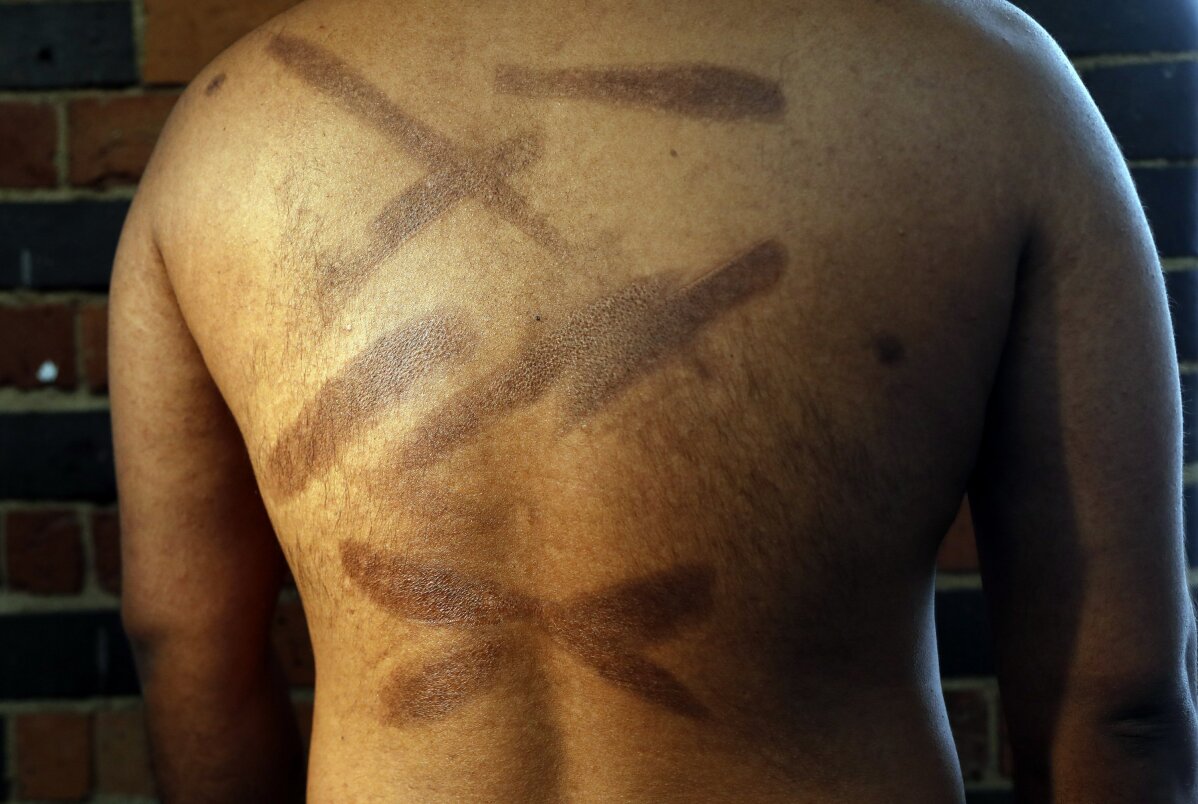 1 of 2

|
In this July 18, 2017, photo, a Sri Lankan man known as Witness #199 shows the scars on his back during an interview in London. He has tried to commit suicide multiple times because of the traumatic memories of his rape and torture. Raped, branded and beaten repeatedly, more than 50 ethnic Tamil men seeking political asylum in Europe have come forward to say they were abducted and tortured under Sri Lanka's current regime. (AP Photo/Frank Augstein)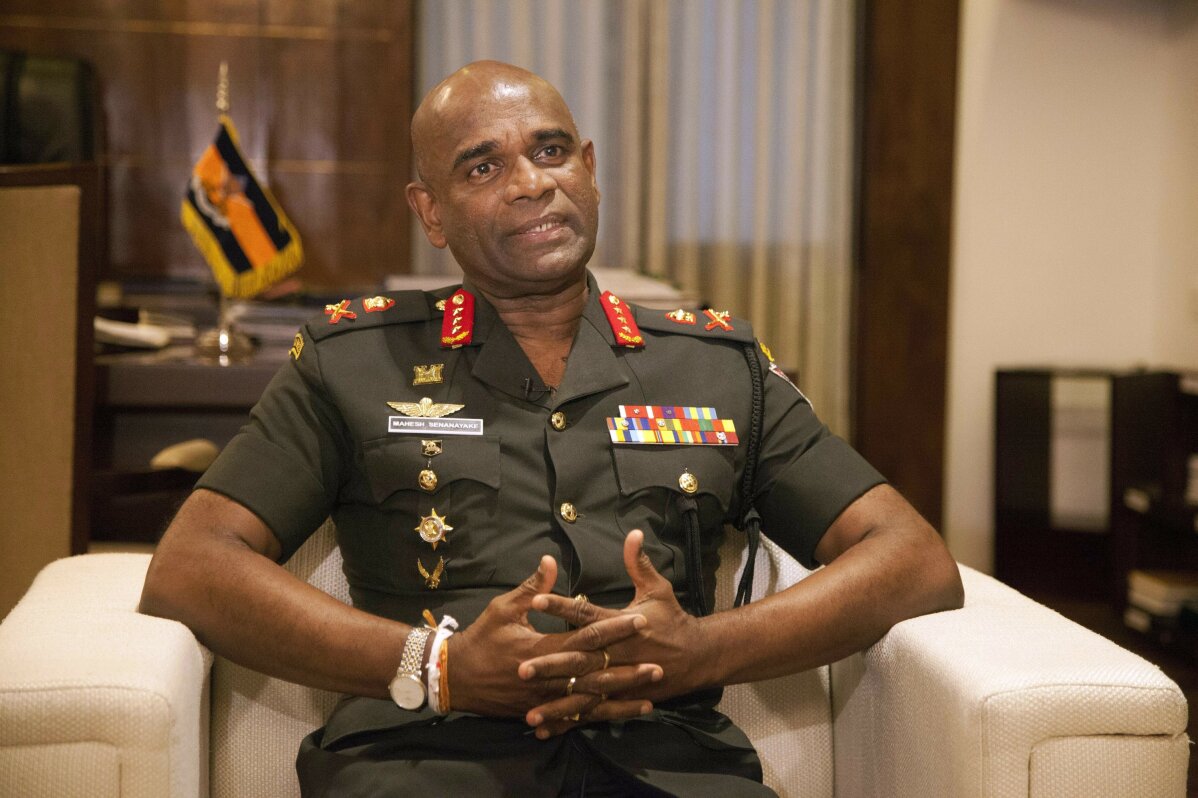 2 of 2

|
Lieutenant General Mahesh Senanayake the Commander of the Sri Lankan Army speaks during an interview in Colombo, Sri Lanka on Oct. 31, 2017. Senanayake denied that Sri Lankan soldiers or members of the Criminal Investigations Department, a police unit that investigates serious crimes, could have been involved in interrogating or abusing Tamils after the war. Sri Lanka says it will investigate allegations by more than 50 ethnic Tamils that they were abducted and tortured by police or army soldiers long after the end of the island nation's bloody civil war. (AP Photo/Shonal Ganguly)
Sri Lanka govt faces pressure over torture, rape allegations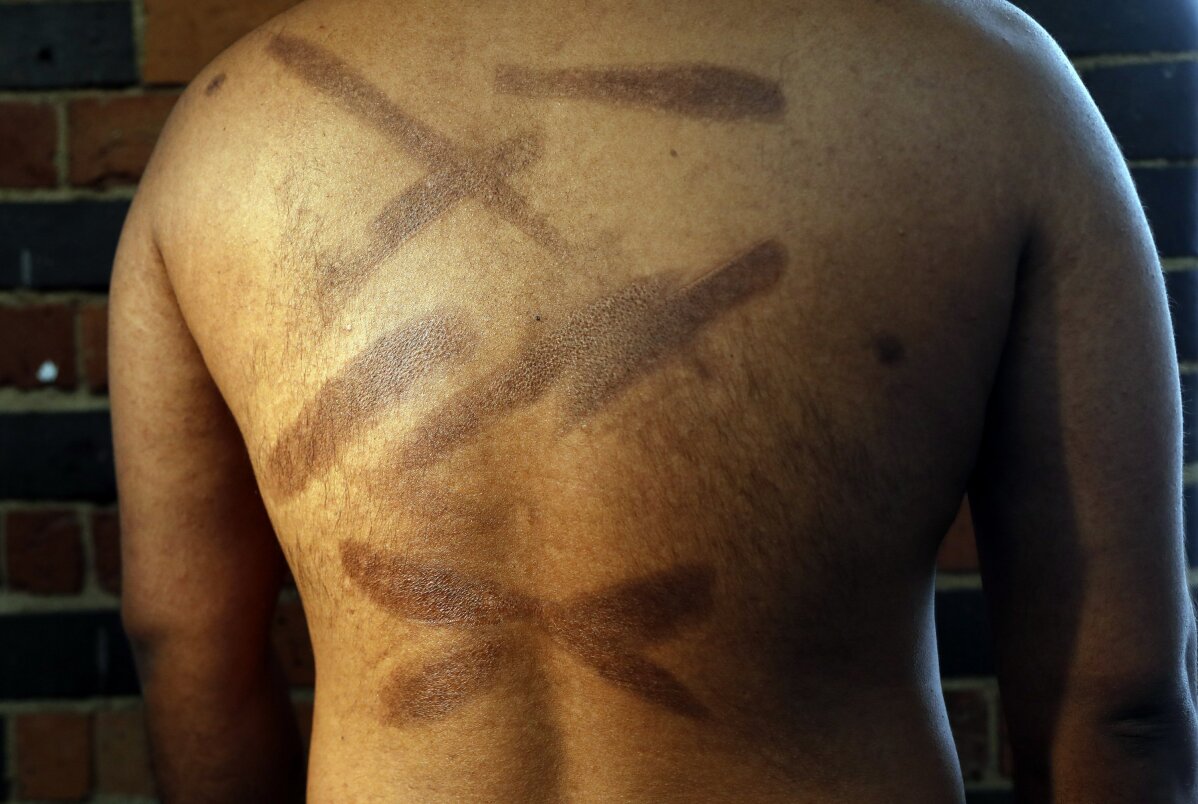 1 of 2

|
In this July 18, 2017, photo, a Sri Lankan man known as Witness #199 shows the scars on his back during an interview in London. He has tried to commit suicide multiple times because of the traumatic memories of his rape and torture. Raped, branded and beaten repeatedly, more than 50 ethnic Tamil men seeking political asylum in Europe have come forward to say they were abducted and tortured under Sri Lanka's current regime. (AP Photo/Frank Augstein)
1 of 2
In this July 18, 2017, photo, a Sri Lankan man known as Witness #199 shows the scars on his back during an interview in London. He has tried to commit suicide multiple times because of the traumatic memories of his rape and torture. Raped, branded and beaten repeatedly, more than 50 ethnic Tamil men seeking political asylum in Europe have come forward to say they were abducted and tortured under Sri Lanka's current regime. (AP Photo/Frank Augstein)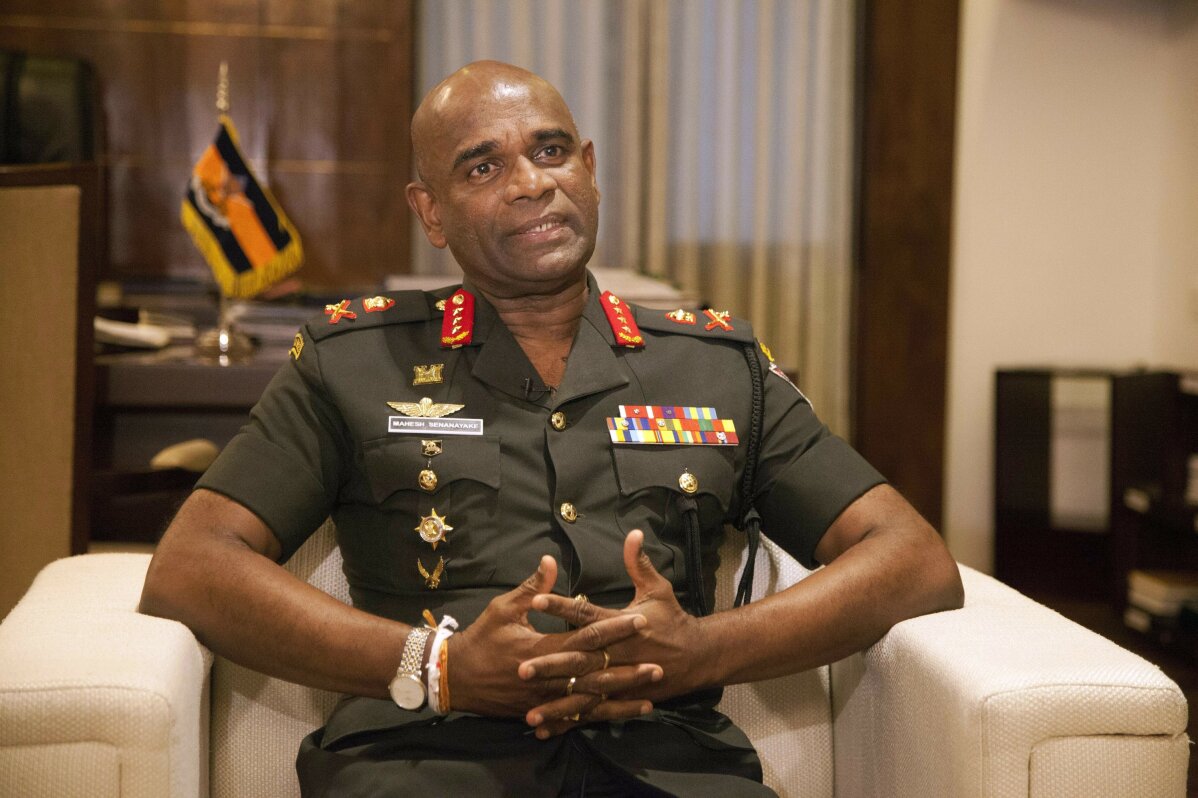 2 of 2

|
Lieutenant General Mahesh Senanayake the Commander of the Sri Lankan Army speaks during an interview in Colombo, Sri Lanka on Oct. 31, 2017. Senanayake denied that Sri Lankan soldiers or members of the Criminal Investigations Department, a police unit that investigates serious crimes, could have been involved in interrogating or abusing Tamils after the war. Sri Lanka says it will investigate allegations by more than 50 ethnic Tamils that they were abducted and tortured by police or army soldiers long after the end of the island nation's bloody civil war. (AP Photo/Shonal Ganguly)
2 of 2
Lieutenant General Mahesh Senanayake the Commander of the Sri Lankan Army speaks during an interview in Colombo, Sri Lanka on Oct. 31, 2017. Senanayake denied that Sri Lankan soldiers or members of the Criminal Investigations Department, a police unit that investigates serious crimes, could have been involved in interrogating or abusing Tamils after the war. Sri Lanka says it will investigate allegations by more than 50 ethnic Tamils that they were abducted and tortured by police or army soldiers long after the end of the island nation's bloody civil war. (AP Photo/Shonal Ganguly)
GENEVA (AP) — Sri Lanka's government faced increasing pressure Friday to answer for alleged human rights violations following an Associated Press investigation that found more than 50 men who said they were raped, branded or tortured as recently as this year.
The men's anguished descriptions of their abuses come nearly a decade after Sri Lanka's civil war ended and days ahead of a review of the Indian Ocean nation by the U.N.'s top human rights body.
Doctors, psychologists, lawmakers and rights groups have appealed to the United Nations to investigate the new allegations published by The Associated Press on Wednesday. The AP reviewed 32 medical and psychological evaluations and interviewed 20 men who said they were accused of trying to revive a rebel group on the losing side of Sri Lanka's 26-year civil war. All the men are members of the country's Tamil ethnic minority.
Although combat ended in 2009, they say the torture and abuse occurred from early 2016 to as recently as July of this year.
Sen. Patrick Leahy, D-Vt., the top ranking Democrat on the subcommittee that oversees U.S. foreign aid, said the U.S. Senate Appropriations Committee has made aid to the government conditional on its compliance with international standards for arrest and detention, as well as accountability for war crimes.
Sri Lanka has received $76 million in U.S. foreign assistance since 2015.
"These accounts of torture are horrific and contradict the Sri Lankan government's professed commitment to reconciliation and justice," Leahy said, adding, "I will be looking for convincing evidence that torture has ended and those responsible are being punished."
Several doctors wrote to U.N. Human Rights chief Zeid Ra'ad al-Hussein and called for an independent investigation.
"As forensic experts, we have collectively seen many hundreds of Sri Lankans who have fled their country following torture over the years," the physicians' letter said. "We continue to receive a worrying number of cases from Sri Lanka despite the change of government."
One of the men in the AP investigation said he was held for 21 days in a small room where he was raped 12 times, burned with cigarettes, beaten with iron rods and hung upside-down. Another man described being abducted from home by five men, driven to a prison, and taken to a "torture room" pocked with blood splatters on the wall.
Most of the men say they their captors identified themselves as members of the Criminal Investigations Department, a police unit that investigates serious crimes. Some, however, said it appeared their interrogators were soldiers.
Rep. Eliot Engel, top-ranking Democrat on the House Foreign Affairs Committee, said policymakers in Washington cannot ignore the torture reports.
"The seriousness of these reports should also make the United States wary of advancing our military relationship with Sri Lanka until a full accounting has occurred," he said Friday.
Sri Lanka's diplomatic mission in Geneva did not respond to repeated calls or an email Friday seeking comment.
U.N. human rights office spokesman Rupert Colville said, "We are currently looking into these alarming allegations to work out the best way for them to be further investigated."
The AP's investigation into the recent Sri Lankan torture allegations came months after another investigation in which the AP found that 134 U.N. peacekeepers from Sri Lanka were implicated in a child sex ring in Haiti between 2004 and 2007. Despite evidence of child rape, no Sri Lankan peacekeeper was ever prosecuted.
In August, rights groups in South America filed lawsuits against Gen. Jagath Jayasuriya, a Sri Lankan ambassador in the region. He is accused of overseeing military units that attacked hospitals and killed, disappeared and tortured thousands of people at the end of the country's civil war.
Upon the ambassador's return to Sri Lanka, President Maithripala Sirisena vowed that neither Jayasuriya nor any other "war hero" would face prosecution — a pledge that rights groups said illustrates continued impunity in Sri Lanka.
Sri Lanka, which has denied the allegations of torture and war crimes, goes before the U.N.'s Human Rights Council in Geneva next week as part of a regular examination known as the Universal Periodic Review. All 193 U.N. member states usually undergo such reviews about every 4-1/2 years, but Wednesday's review may hold added significance.
The new allegations suggest that Sri Lanka still has not stopped using torture — a practice it was highly criticized for during and after the war against the Tamil Tigers rebel group.
Yasmin Sooka, director of the South Africa-based Foundation for Human Rights, said she hopes the review will spur member states to ask Sri Lanka tough questions. She also urged the U.N. to establish an independent body to investigate the allegations — much like it did in Guatemala.
"There is no real framework for witness security in Sri Lanka," said Sooka. "As it stands now, the very people who are accused of such violations would essentially be in charge of investigating themselves."
Many ethnic minority Tamils contend the government continues to target them as part of a larger plan to destroy their culture. Tamils speak a different language and are largely Hindu, unlike the country's largely Buddhist Sinhalese majority.
More than 100,000 people were estimated to have died in the war, including at least up to 40,000 civilians in its final months, according to U.N. estimates. Sri Lankan authorities have denied targeting civilians and dispute the death toll.
Justice C.V. Wigneswaran, chief minister for Sri Lanka's Northern Province and a former Supreme Court judge, sent a letter to the AP on Friday confirming similar rights abuses he has heard from Tamils in his northern constituency. He said he has previously urged the U.N. rights chief to demand an independent investigation.
"Unfortunately, this was overlooked," he told the AP on Friday. "If the international mechanism was in place it would have acted as a deterrent to these military sadists."
Despite Sri Lanka's failure so far to investigate war crimes allegations stemming from its 26-year civil war against the Tamils and the latest accusations, the country's international profile is on the rise.
It still participates in U.N. peacekeeping missions and recently was asked to sit on a U.N. leadership committee trying to combat sexual abuse, despite its peacekeepers being implicated in the Haiti sex ring.
U.N. spokesman Stephane Dujarric told The Associated Press late Friday that Secretary-General Antonio Guterres invited all 193 U.N. member states to be a part of the Circle of Leadership on sex abuse "and it is particularly important for troop-contributing countries to play a role."
Dujarric said all troops and police who are put forward for U.N. peacekeeping missions are investigated "to ensure that they do not have a prior history of misconduct, including sexual exploitation and abuse, while serving in a U.N. peace operation."
___
Katy Daigle in Colombo, Sri Lanka, and Matthew Pennington and Richard Lardner in Washington contributed to this report.