After Kansas loss, Kobach could join Trump administration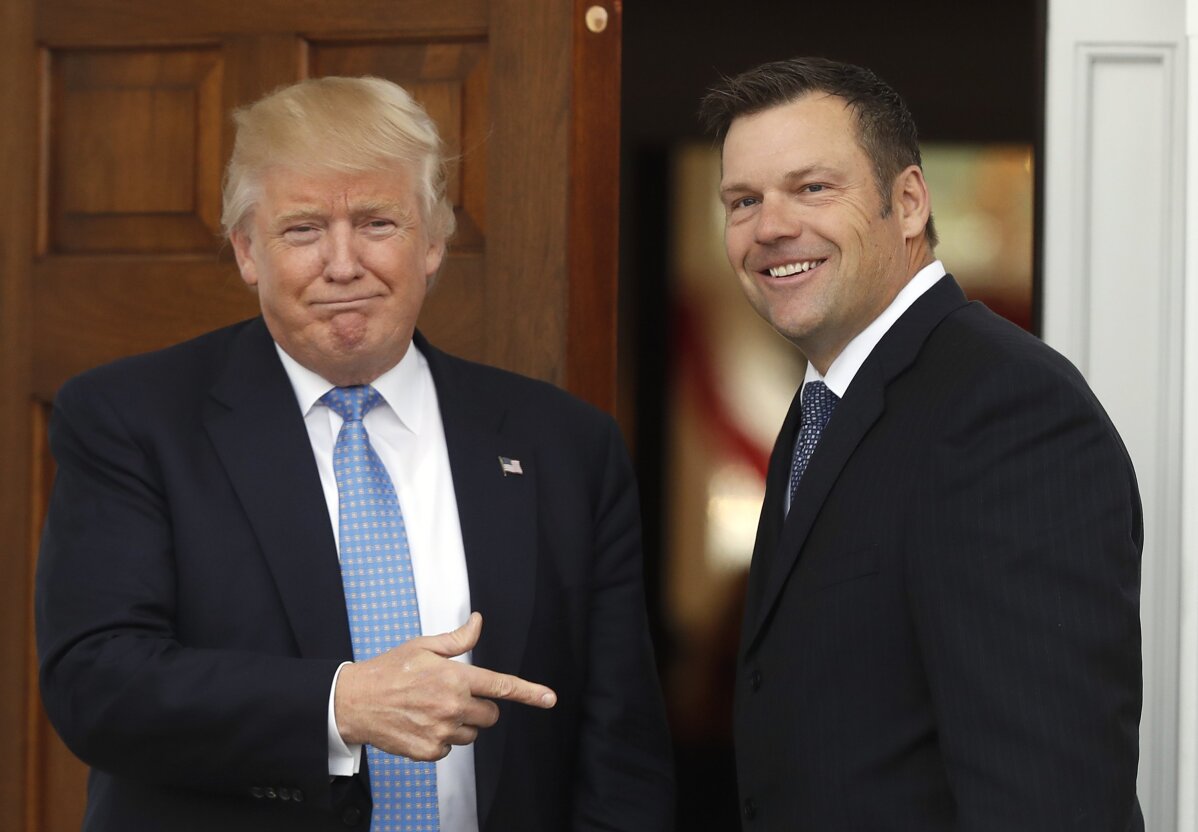 1 of 3

|
FILE - In this Nov. 20, 2016, file photo, President-elect Donald Trump greets Kansas Secretary of State Kris Kobach, as he arrives at the Trump National Golf Club Bedminster clubhouse in Bedminster, N.J. Kobach rode his national reputation as an activist fighting illegal immigration and illegal voting to a spot leading Trump's short-lived voter fraud commission and the GOP nomination for Kansas governor as Trump's chosen candidate. That approach may have been rejected by Kansas voters, but it's likely to help him land his next high-profile role, and many fellow Republicans assume it will be a job in Trump's administration. (AP Photo/Carolyn Kaster, File)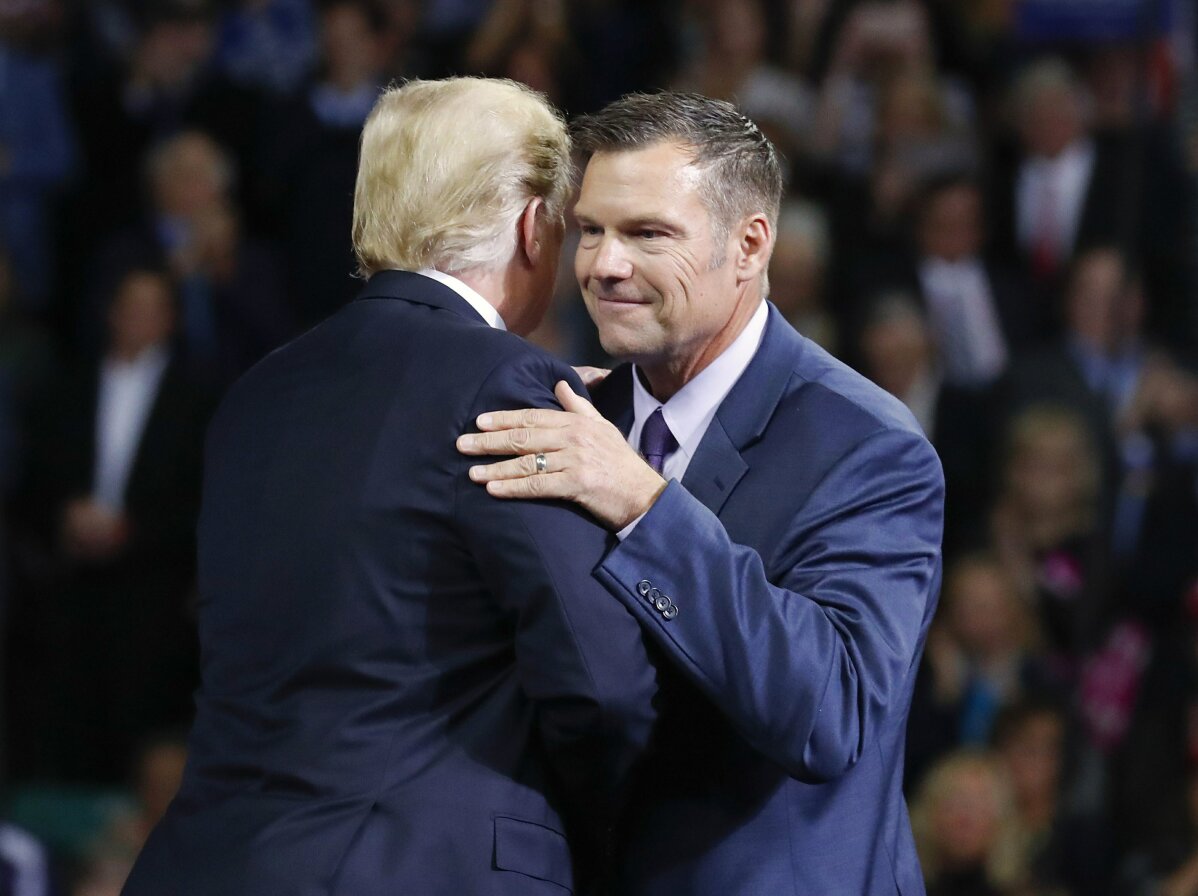 2 of 3

|
FILE - In this Oct. 6, 2018, file photo, President Donald Trump, left, takes the stage with Republican gubernatorial candidate Secretary of State Kris Kobach during a campaign rally in Topeka, Kan. Kobach rode his national reputation as an activist fighting illegal immigration and illegal voting to a spot leading Trump's short-lived voter fraud commission and the GOP nomination for Kansas governor as Trump's chosen candidate. That approach may have been rejected by Kansas voters, but it's likely to help him land his next high-profile role, and many fellow Republicans assume it will be a job in Trump's administration. (AP Photo/Pablo Martinez Monsivais, File)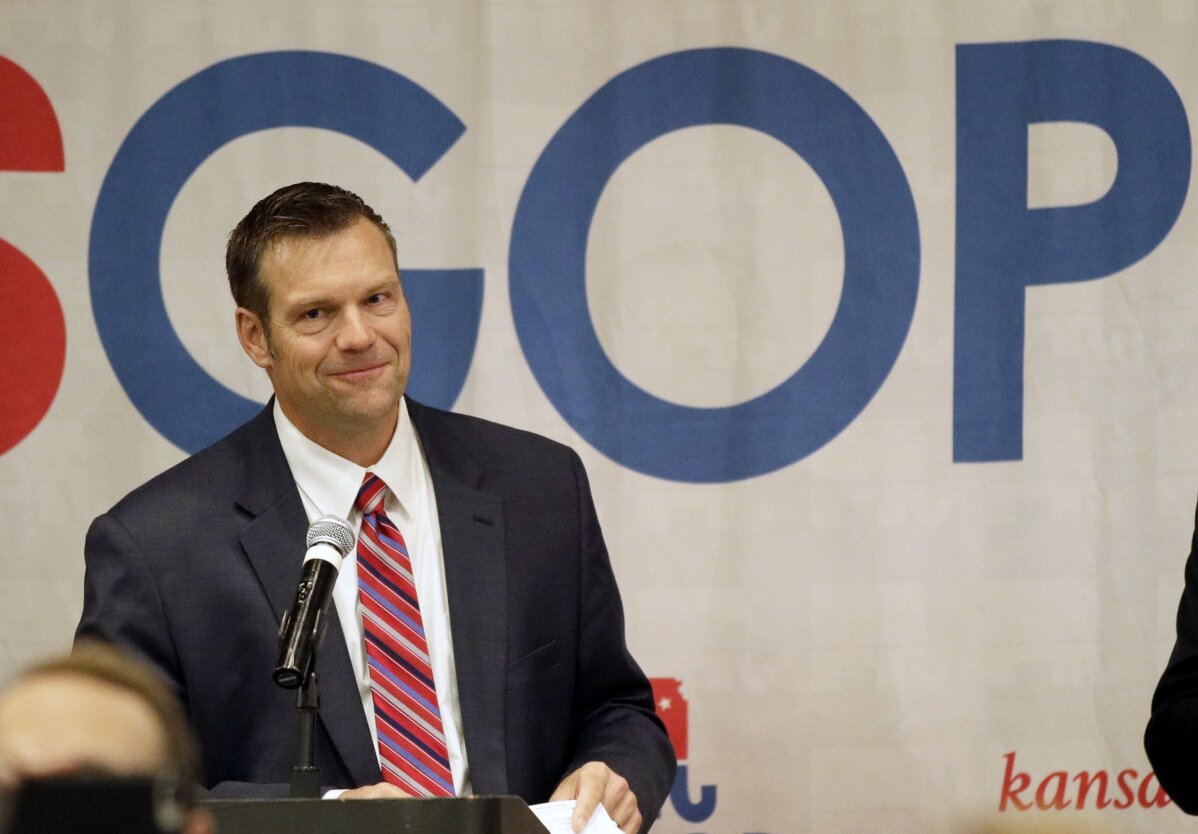 3 of 3

|
FILE - In this Nov. 6, 2018, file photo, Kansas Republican gubernatorial candidate Kris Kobach speaks during an election night rally in Topeka, Kan. Kobach rode his national reputation as an activist fighting illegal immigration and illegal voting to a spot leading President Donald Trump's short-lived voter fraud commission and the GOP nomination for Kansas governor as Trump's chosen candidate. That approach may have been rejected by Kansas voters, but it's likely to help him land his next high-profile role, and many fellow Republicans assume it will be a job in Trump's administration. (AP Photo/Orlin Wagner, File)
After Kansas loss, Kobach could join Trump administration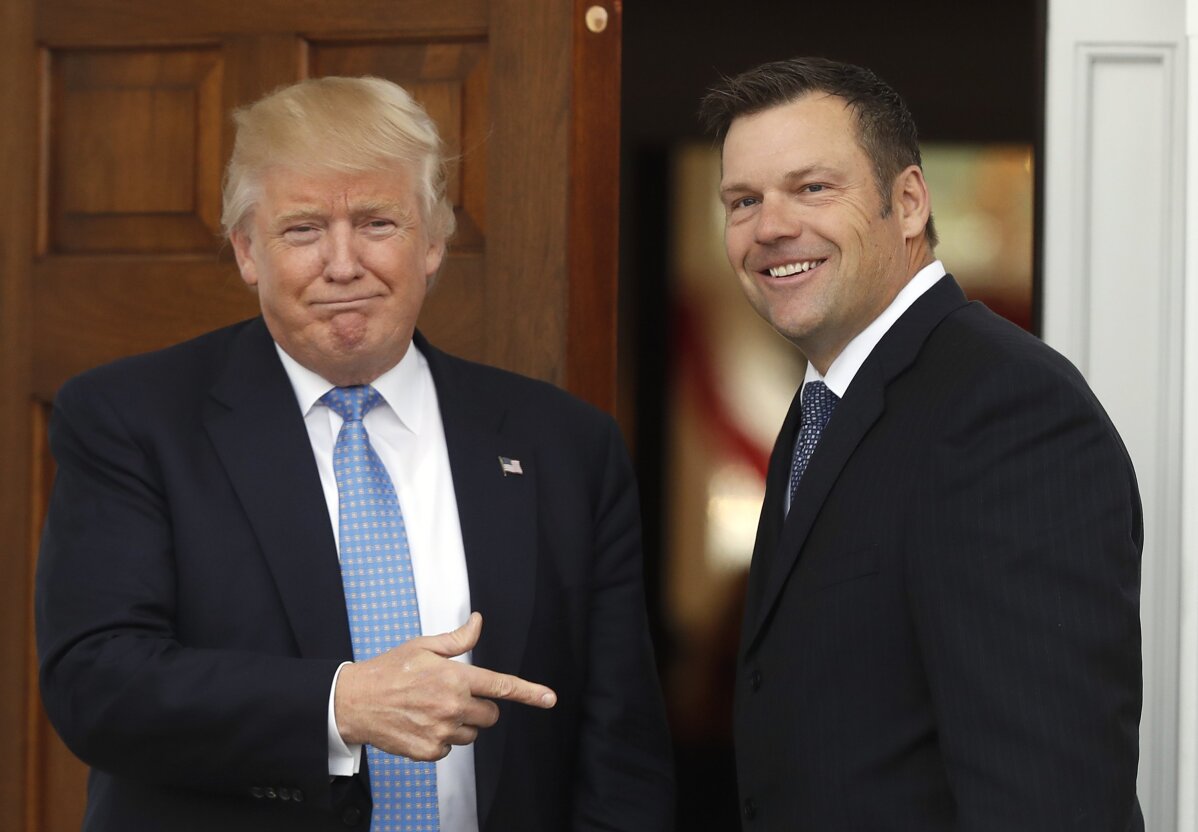 1 of 3

|
FILE - In this Nov. 20, 2016, file photo, President-elect Donald Trump greets Kansas Secretary of State Kris Kobach, as he arrives at the Trump National Golf Club Bedminster clubhouse in Bedminster, N.J. Kobach rode his national reputation as an activist fighting illegal immigration and illegal voting to a spot leading Trump's short-lived voter fraud commission and the GOP nomination for Kansas governor as Trump's chosen candidate. That approach may have been rejected by Kansas voters, but it's likely to help him land his next high-profile role, and many fellow Republicans assume it will be a job in Trump's administration. (AP Photo/Carolyn Kaster, File)
1 of 3
FILE - In this Nov. 20, 2016, file photo, President-elect Donald Trump greets Kansas Secretary of State Kris Kobach, as he arrives at the Trump National Golf Club Bedminster clubhouse in Bedminster, N.J. Kobach rode his national reputation as an activist fighting illegal immigration and illegal voting to a spot leading Trump's short-lived voter fraud commission and the GOP nomination for Kansas governor as Trump's chosen candidate. That approach may have been rejected by Kansas voters, but it's likely to help him land his next high-profile role, and many fellow Republicans assume it will be a job in Trump's administration. (AP Photo/Carolyn Kaster, File)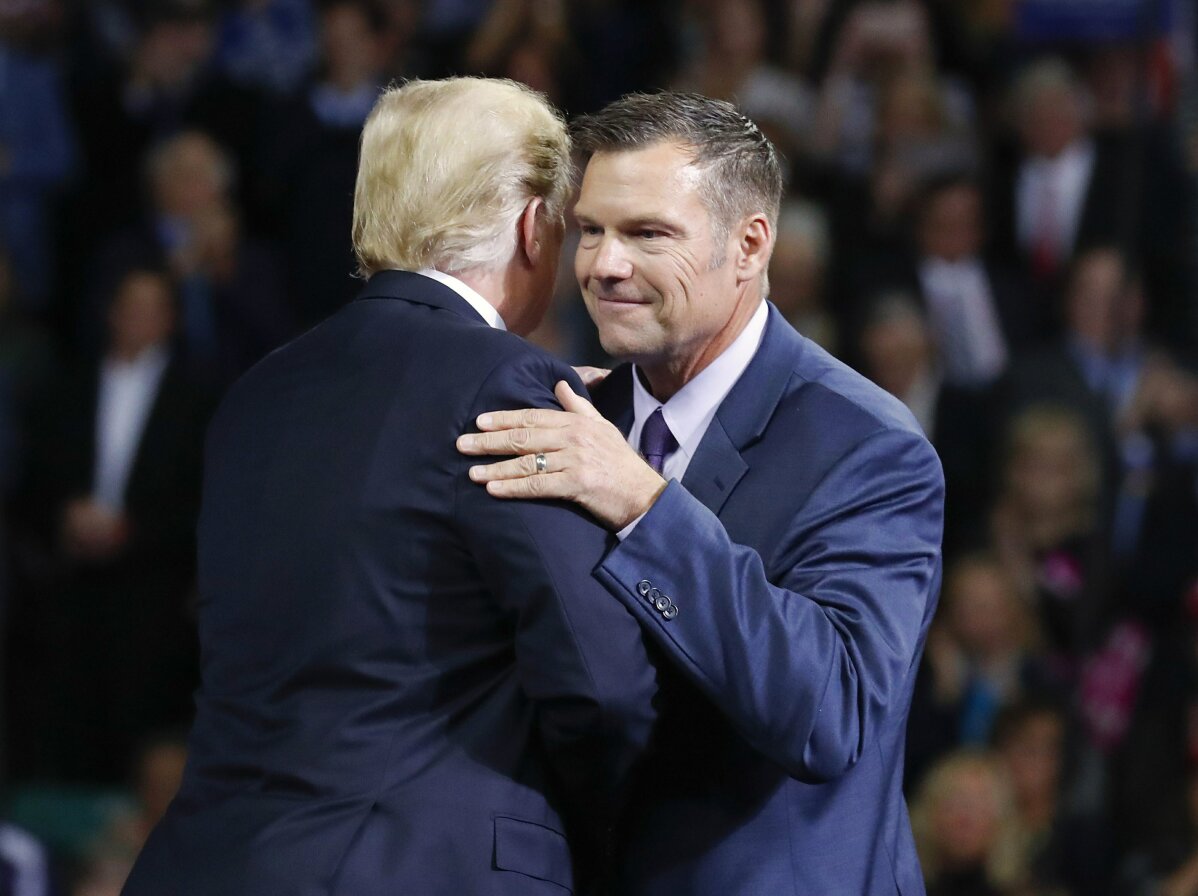 2 of 3

|
FILE - In this Oct. 6, 2018, file photo, President Donald Trump, left, takes the stage with Republican gubernatorial candidate Secretary of State Kris Kobach during a campaign rally in Topeka, Kan. Kobach rode his national reputation as an activist fighting illegal immigration and illegal voting to a spot leading Trump's short-lived voter fraud commission and the GOP nomination for Kansas governor as Trump's chosen candidate. That approach may have been rejected by Kansas voters, but it's likely to help him land his next high-profile role, and many fellow Republicans assume it will be a job in Trump's administration. (AP Photo/Pablo Martinez Monsivais, File)
2 of 3
FILE - In this Oct. 6, 2018, file photo, President Donald Trump, left, takes the stage with Republican gubernatorial candidate Secretary of State Kris Kobach during a campaign rally in Topeka, Kan. Kobach rode his national reputation as an activist fighting illegal immigration and illegal voting to a spot leading Trump's short-lived voter fraud commission and the GOP nomination for Kansas governor as Trump's chosen candidate. That approach may have been rejected by Kansas voters, but it's likely to help him land his next high-profile role, and many fellow Republicans assume it will be a job in Trump's administration. (AP Photo/Pablo Martinez Monsivais, File)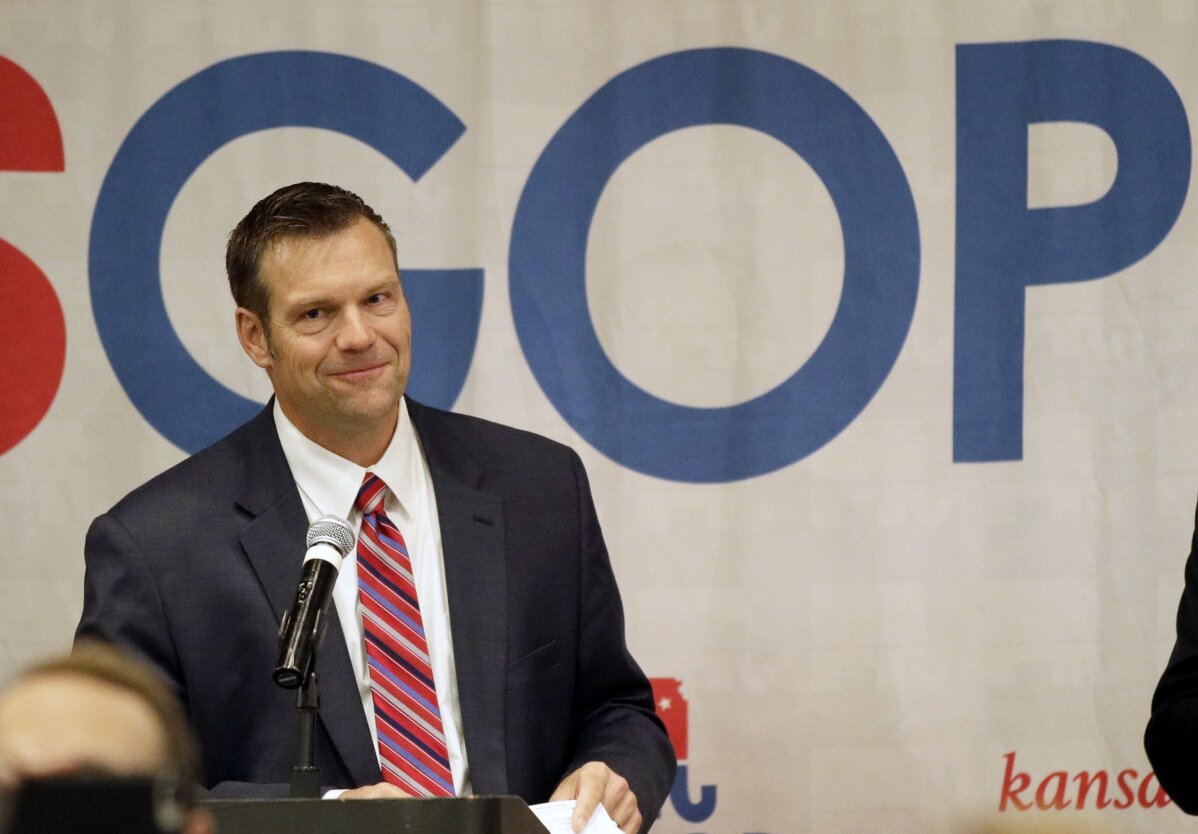 3 of 3

|
FILE - In this Nov. 6, 2018, file photo, Kansas Republican gubernatorial candidate Kris Kobach speaks during an election night rally in Topeka, Kan. Kobach rode his national reputation as an activist fighting illegal immigration and illegal voting to a spot leading President Donald Trump's short-lived voter fraud commission and the GOP nomination for Kansas governor as Trump's chosen candidate. That approach may have been rejected by Kansas voters, but it's likely to help him land his next high-profile role, and many fellow Republicans assume it will be a job in Trump's administration. (AP Photo/Orlin Wagner, File)
3 of 3
FILE - In this Nov. 6, 2018, file photo, Kansas Republican gubernatorial candidate Kris Kobach speaks during an election night rally in Topeka, Kan. Kobach rode his national reputation as an activist fighting illegal immigration and illegal voting to a spot leading President Donald Trump's short-lived voter fraud commission and the GOP nomination for Kansas governor as Trump's chosen candidate. That approach may have been rejected by Kansas voters, but it's likely to help him land his next high-profile role, and many fellow Republicans assume it will be a job in Trump's administration. (AP Photo/Orlin Wagner, File)
TOPEKA, Kan. (AP) — Kris Kobach rode his national reputation as an advocate for tough immigration and voting rules to a job atop President Donald Trump's short-lived election-fraud commission. But Kansas voters rejected his no-apologies conservatism in this week's election for governor.
Now the Republican's hard-line, in-your-face approach could help him land his next political position, possibly in the Trump administration.
Kobach's name immediately popped up Wednesday, after Attorney General Jeff Sessions was forced to resign. If Trump picks someone else to replace Sessions, Kobach's name is almost certain to surface again when Trump has another big post to fill.
"I guarantee you that if there is a place that he can find, he'll find a home for Kris," said state Rep. John Whitmer, a conservative Wichita Republican and a Kobach ally.
Kobach, whose term as Kansas secretary of state ends in January, did not immediately return cellphone messages Thursday seeking comment. Whitmer said Kobach had planned to go hunting. Kobach spokeswoman Danedri Herbert texted, "No comment," in response to a question about the speculation that Kobach was being considered for U.S. attorney general.
In his concession speech late Tuesday, the 52-year-old Ivy League graduate dropped no hints about his future. He told supporters at a Topeka hotel, "This one just wasn't God's will."
"The Republicans are going to be fighting for the values we hold dear, regardless of which offices we Republicans hold," he said.
In nearly eight years as secretary of state of state, Kobach turned what had been a backwater of state politics into a high-profile office by successfully pushing for laws to require all voters to show a photo ID at the polls and new voters to provide papers documenting their U.S. citizenship when registering.
Kansas went further than any other state in enforcing a proof-of-citizenship requirement in voter registration until a federal judge struck down that law in June as an unconstitutional violation of voting rights. The state has appealed, and the case is likely to outlast Kobach's tenure.
Before becoming vice chairman of the president's voter fraud commission, Kobach was a source behind Trump's unsubstantiated claim that millions of votes were cast illegally in the 2016 presidential race for Democrat Hillary Clinton, who won the popular vote.
An early supporter of Trump's presidential campaign, Kobach advised the campaign and later the White House on homeland security issues.
The day before the August primary, Trump tweeted his "full & total Endorsement!" of Kobach, which helped him narrowly defeat GOP Gov. Jeff Colyer. Trump had a rally in Topeka in October partly to boost Kobach's campaign, telling the crowd he would have liked to put Kobach in his administration.
"President Trump is very supportive of Kris Kobach," state GOP Chairman Kelly Arnold said. "And I expect a place will be found for him."
Republicans expanded their narrow 51-49 majority in the U.S Senate, potentially making a Kobach confirmation easier.
The narrow GOP majority had presented a possible obstacle. In July 2017, Trump nominated then-Kansas Gov. Sam Brownback as U.S. ambassador at large for international freedom. But the Senate did not vote to confirm the appointment until January. Vice President Mike Pence had to break a tie.
Kobach has been more of a lightning rod than Brownback and lost the governor's race because he alienated moderate GOP and independent voters. Frank Sharry, the executive director of the pro-immigration group America's Voice, celebrated Kobach's loss with a statement calling him "one of the leading anti-immigrant voices in American politics."
"If Trump wants to nominate him, it's going to be a fight," said Zachary Mueller, a member of the group's digital communications team. "What was made very loud and clear on Tuesday was that Kansans said that he wasn't fit to lead the state of Kansas."
In a May 2017 interview with The Associated Press, Kobach said he had been offered an undersecretary's position in the Department of Homeland Security and a White House position coordinating immigration enforcement. The interview was after Trump named him to the election fraud commission but before Kobach formally launched his campaign for governor.
He said he faced "a tough, tough decision" on both. One factor in not taking the jobs, he said, was the likely inability to "unilaterally make a decision and then say, 'OK, we're going to carry this out.'"
Kobach, who has five young daughters, also had misgivings about leaving Kansas. He said he viewed going to Washington as a "real sacrifice" for his family because "we would be less happy on a day-to-day level."
___
Follow John Hanna on Twitter: https://twitter.com/apjdhanna .