Officer killed, 6 other officers wounded in South Carolina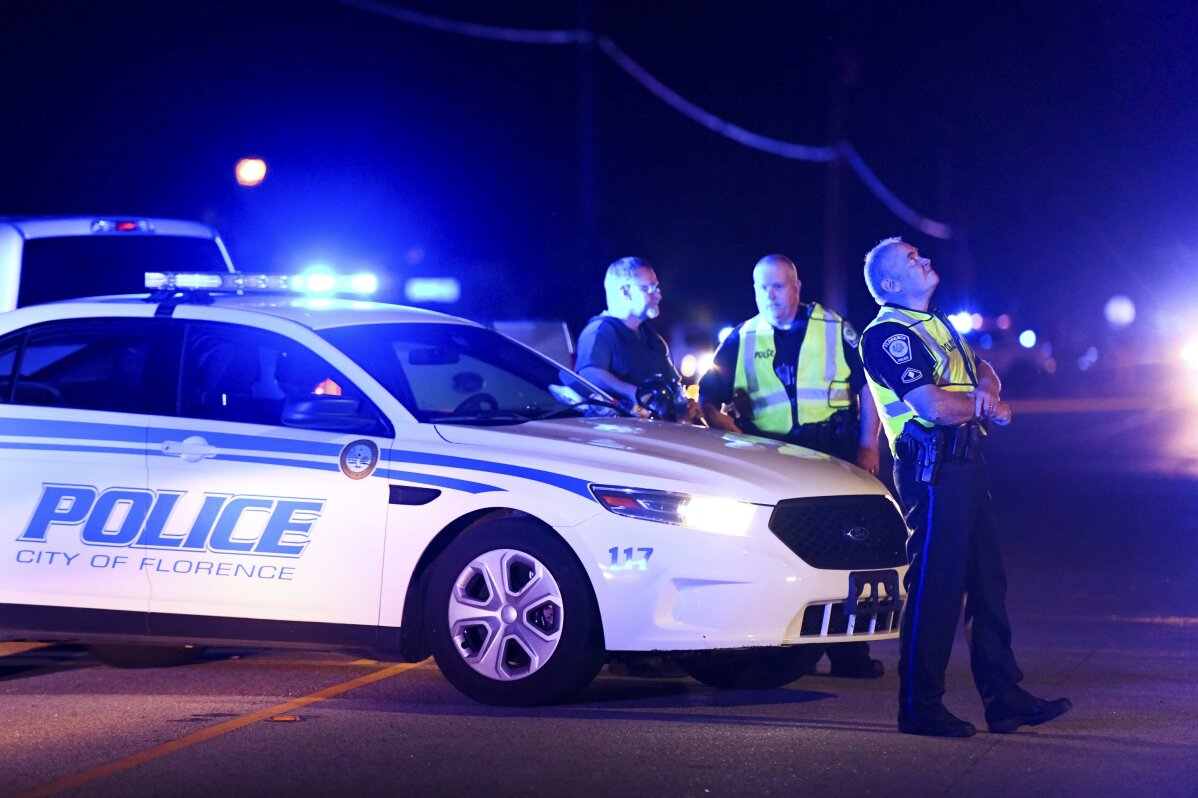 1 of 8

|
Authorities direct traffic on Hoffmeyer Road near the Vintage Place neighborhood where several law enforcement officers were shot, one fatally, Wednesday, Oct. 3, 2018, in Florence, S.C. (AP Photo/Sean Rayford)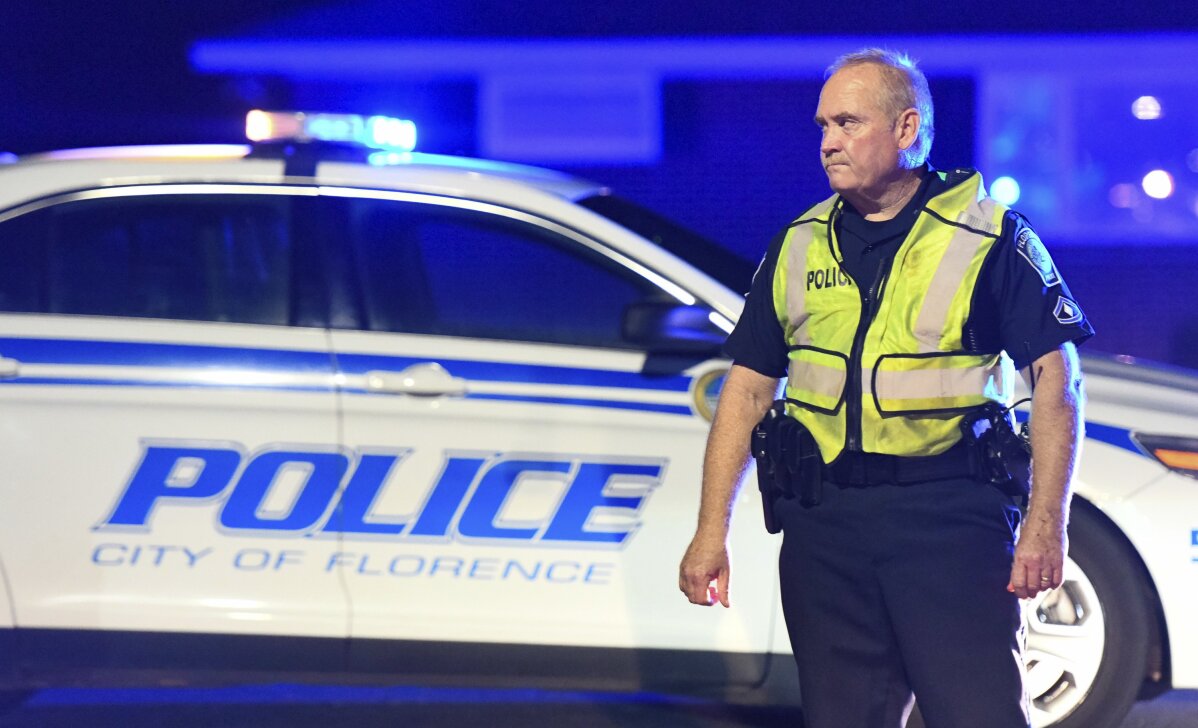 2 of 8

|
A police officer directs traffic on Hoffmeyer Road near the Vintage Place neighborhood where three deputies and two city officers were shot Wednesday, Oct. 3, 2018, in Florence, S.C. (AP Photo/Sean Rayford)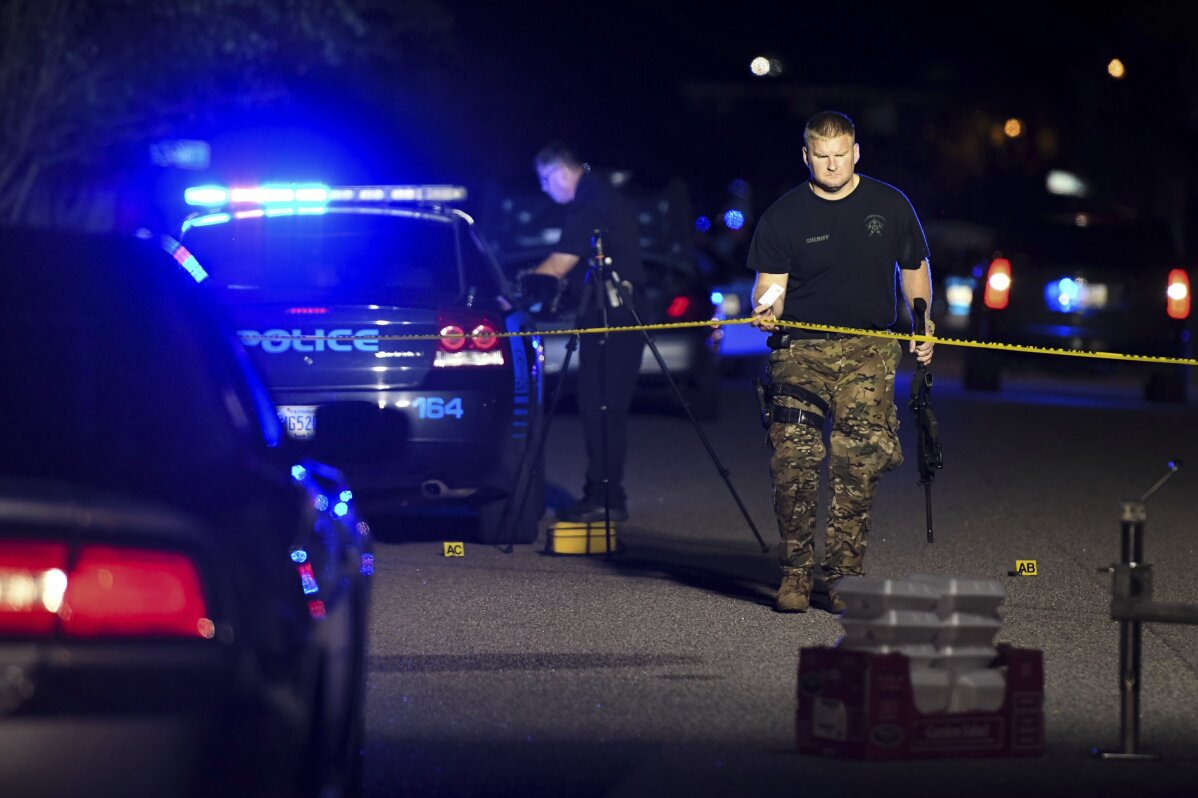 3 of 8

|
A sheriff's deputy exits the crime scene on Ashton Drive in the Vintage Place neighborhood where several members of law enforcement were shot, one fatally, Wednesday, Oct. 3, 2018, in Florence, S.C. (AP Photo/Sean Rayford)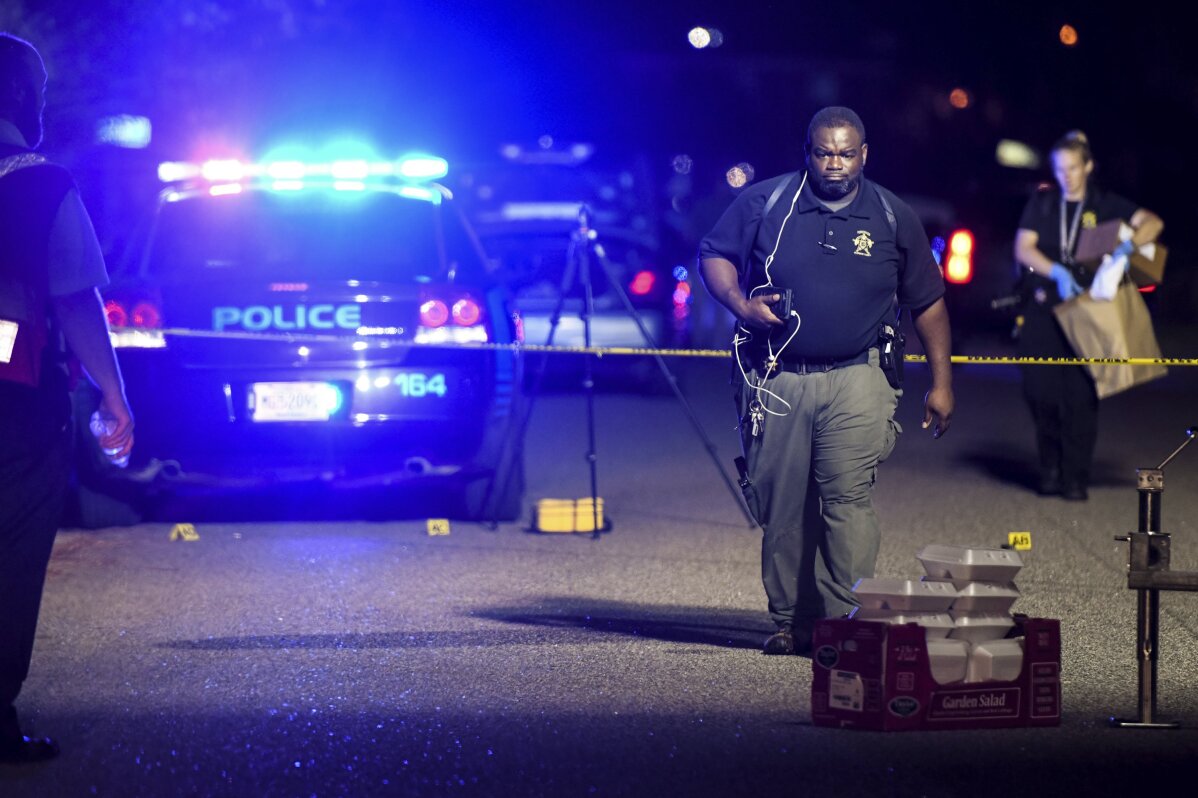 4 of 8

|
A forensics team member exits the crime scene on Ashton Drive in the Vintage Place neighborhood where several members of law enforcement were shot, one fatally, Wednesday, Oct. 3, 2018, in Florence, S.C. (AP Photo/Sean Rayford)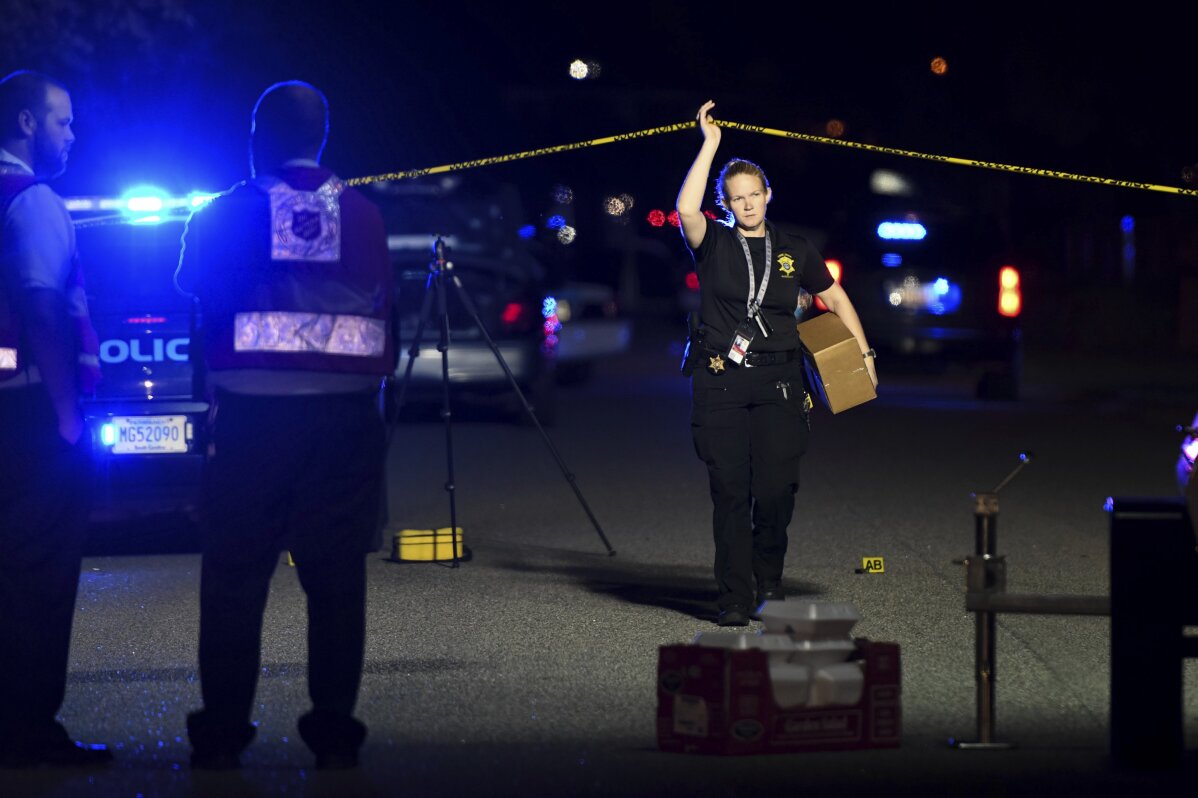 5 of 8

|
A member of the sheriff's department exits the crime scene on Ashton Drive in the Vintage Place neighborhood where several members of law enforcement were shot, one fatally, Wednesday, Oct. 3, 2018, in Florence, S.C. (AP Photo/Sean Rayford)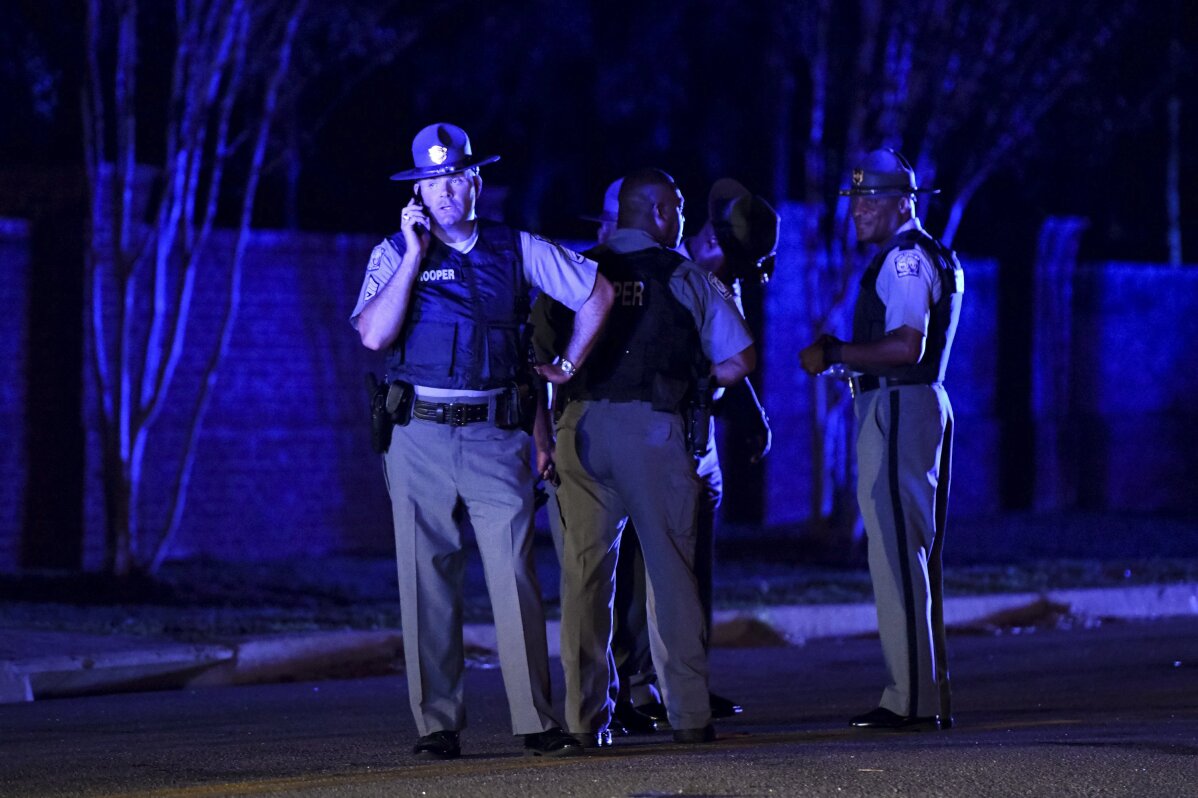 6 of 8

|
South Carolina state troopers gather on Hoffmeyer Road near the Vintage Place neighborhood where several law enforcement officers were shot, one fatally, Wednesday, Oct. 3, 2018, in Florence, S.C. (AP Photo/Sean Rayford)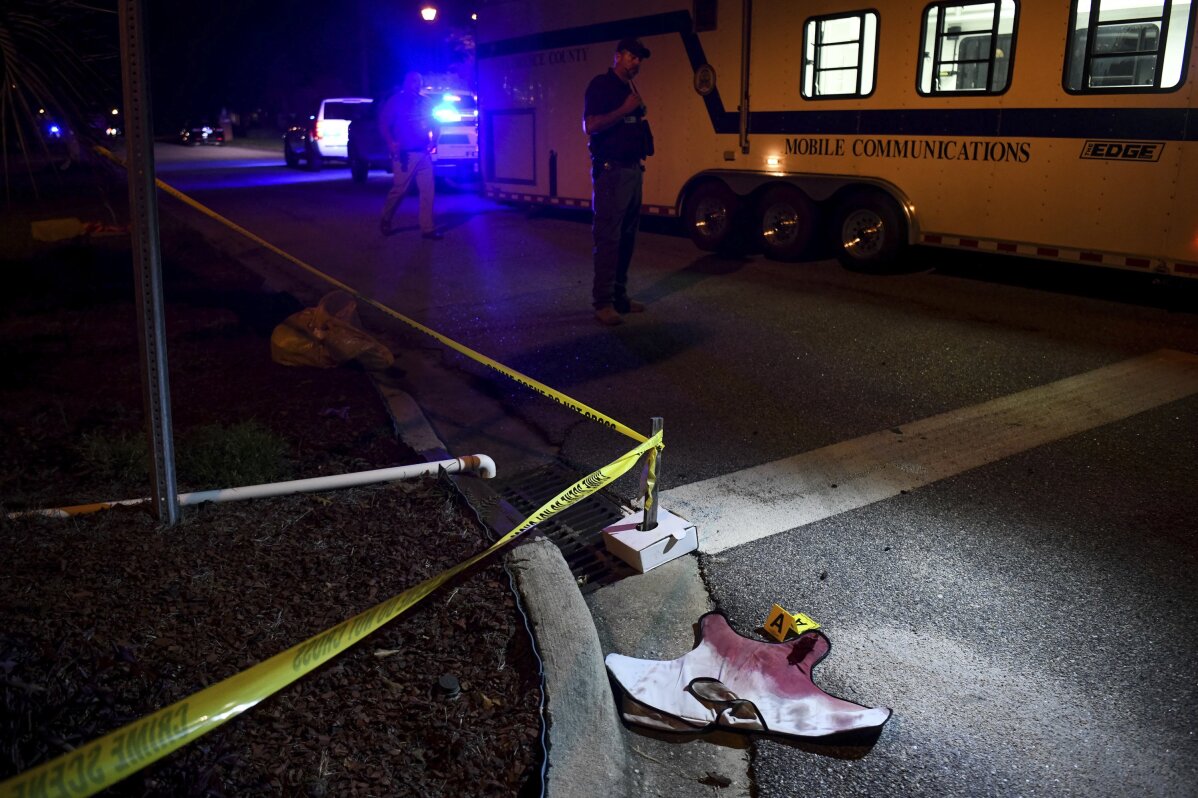 7 of 8

|
Blood-soaked evidence lies on Saxon Drive in the Vintage Place neighborhood where several members of law enforcement were shot, one fatally, Wednesday, Oct. 3, 2018, in Florence, S.C. (AP Photo/Sean Rayford)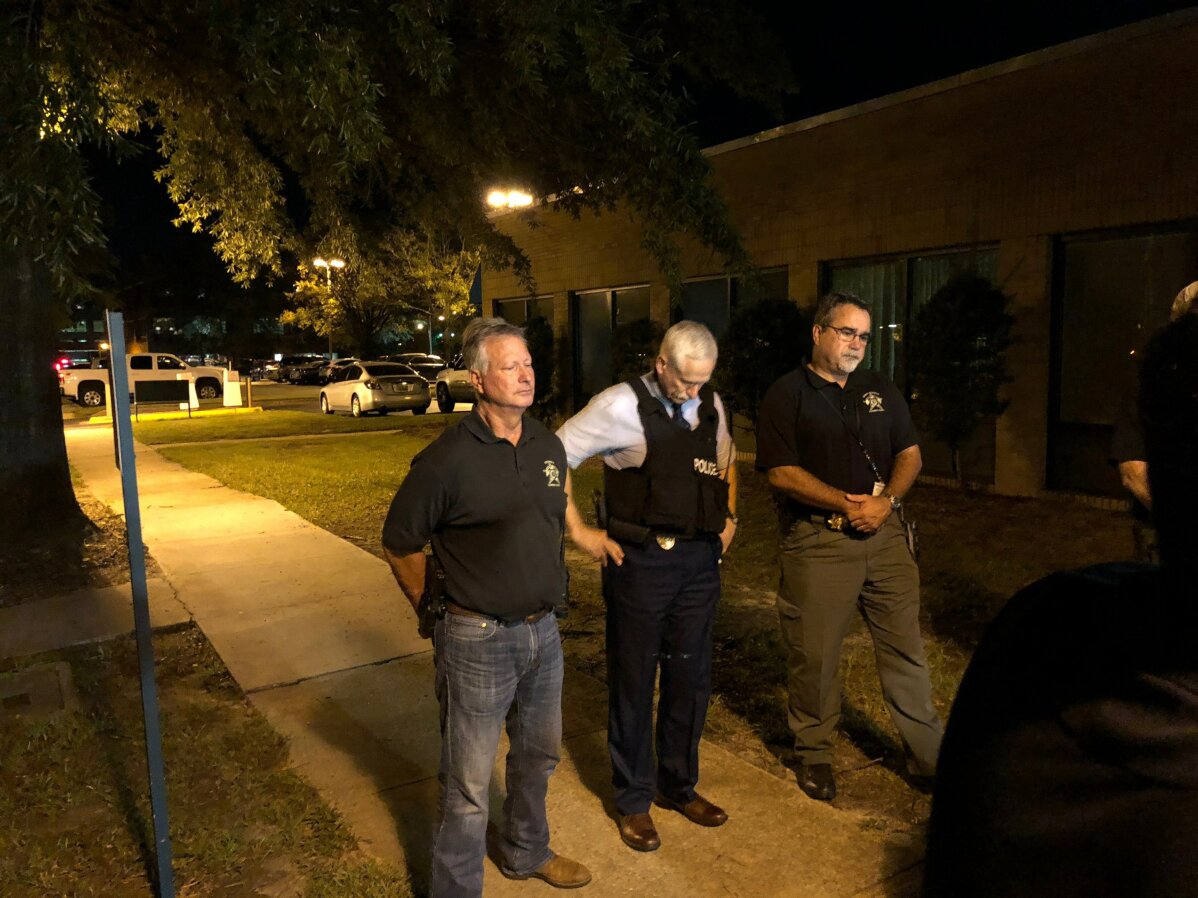 8 of 8

|
Florence County Sheriff Kenney Boone, from left, Florence Police Chief Allen Heidler and Florence County Chief Deputy Glenn Kirby speak to the media following a shooting where several law enforcement officers were shot, one fatally, Wednesday, Oct. 3, 2018, in Florence, S.C. (AP Photo/Jeffrey Collins)
Officer killed, 6 other officers wounded in South Carolina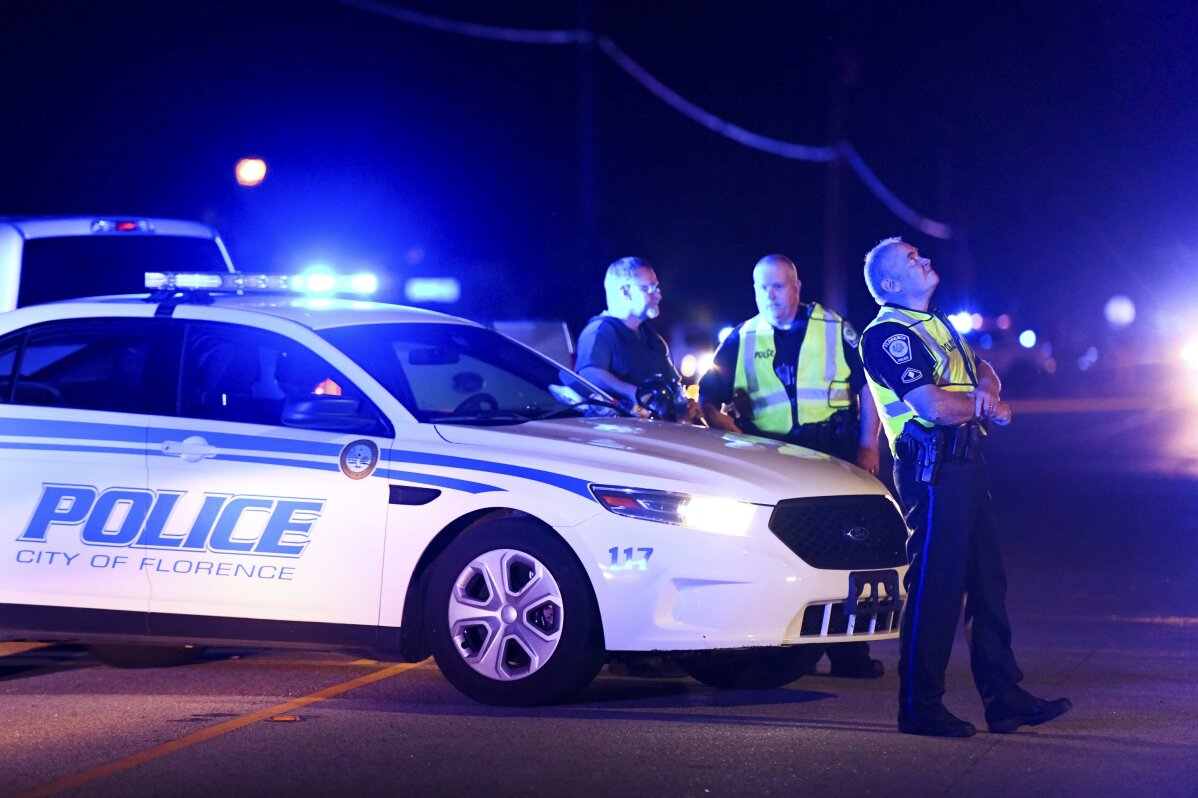 1 of 8

|
Authorities direct traffic on Hoffmeyer Road near the Vintage Place neighborhood where several law enforcement officers were shot, one fatally, Wednesday, Oct. 3, 2018, in Florence, S.C. (AP Photo/Sean Rayford)
1 of 8
Authorities direct traffic on Hoffmeyer Road near the Vintage Place neighborhood where several law enforcement officers were shot, one fatally, Wednesday, Oct. 3, 2018, in Florence, S.C. (AP Photo/Sean Rayford)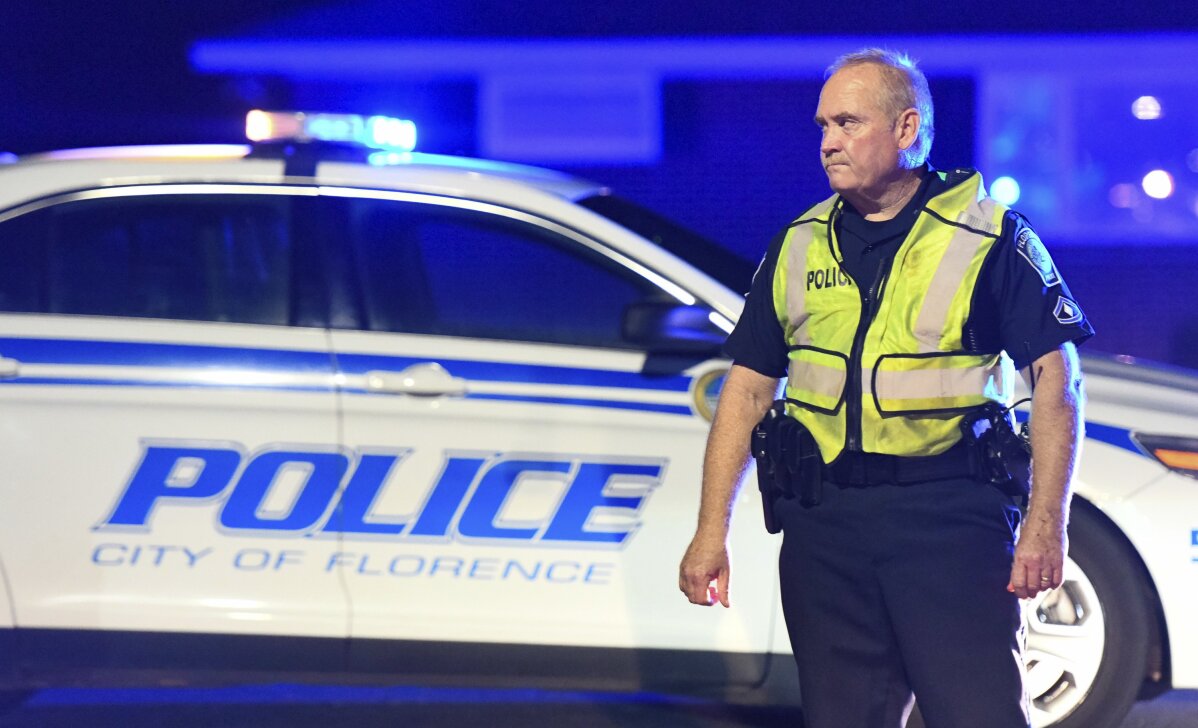 2 of 8

|
A police officer directs traffic on Hoffmeyer Road near the Vintage Place neighborhood where three deputies and two city officers were shot Wednesday, Oct. 3, 2018, in Florence, S.C. (AP Photo/Sean Rayford)
2 of 8
A police officer directs traffic on Hoffmeyer Road near the Vintage Place neighborhood where three deputies and two city officers were shot Wednesday, Oct. 3, 2018, in Florence, S.C. (AP Photo/Sean Rayford)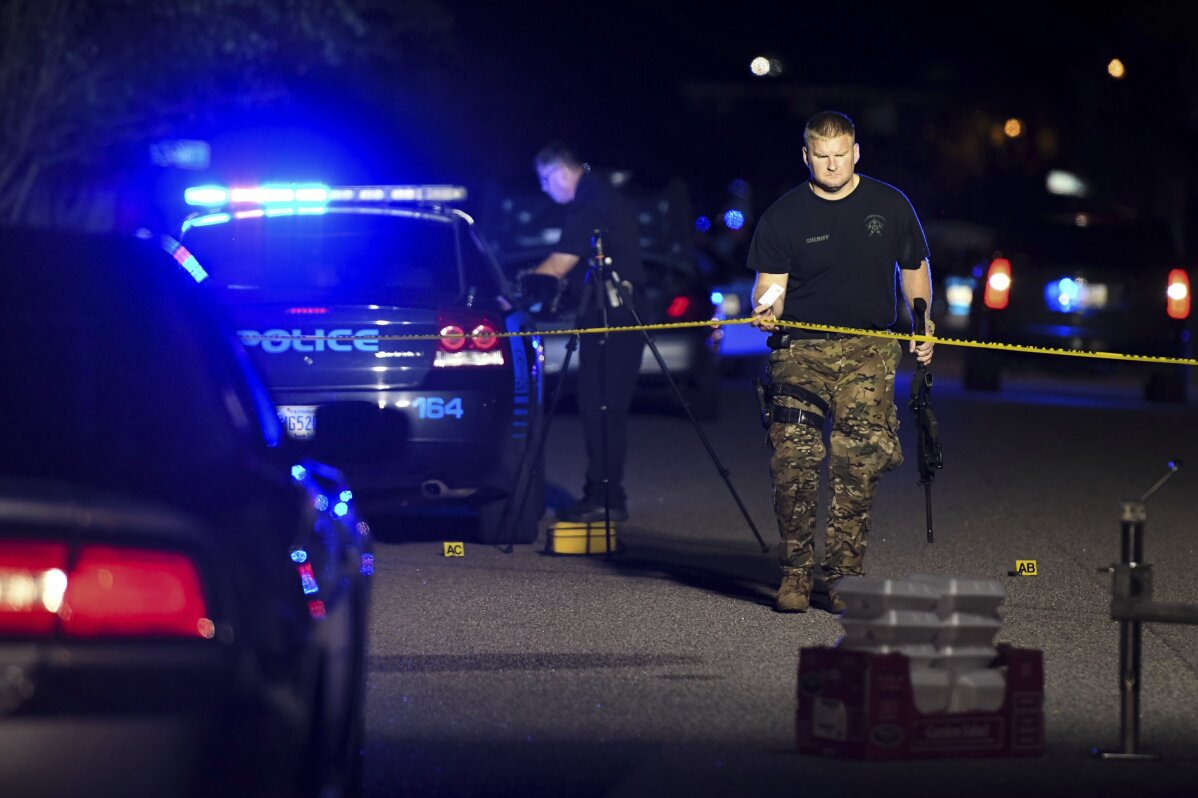 3 of 8

|
A sheriff's deputy exits the crime scene on Ashton Drive in the Vintage Place neighborhood where several members of law enforcement were shot, one fatally, Wednesday, Oct. 3, 2018, in Florence, S.C. (AP Photo/Sean Rayford)
3 of 8
A sheriff's deputy exits the crime scene on Ashton Drive in the Vintage Place neighborhood where several members of law enforcement were shot, one fatally, Wednesday, Oct. 3, 2018, in Florence, S.C. (AP Photo/Sean Rayford)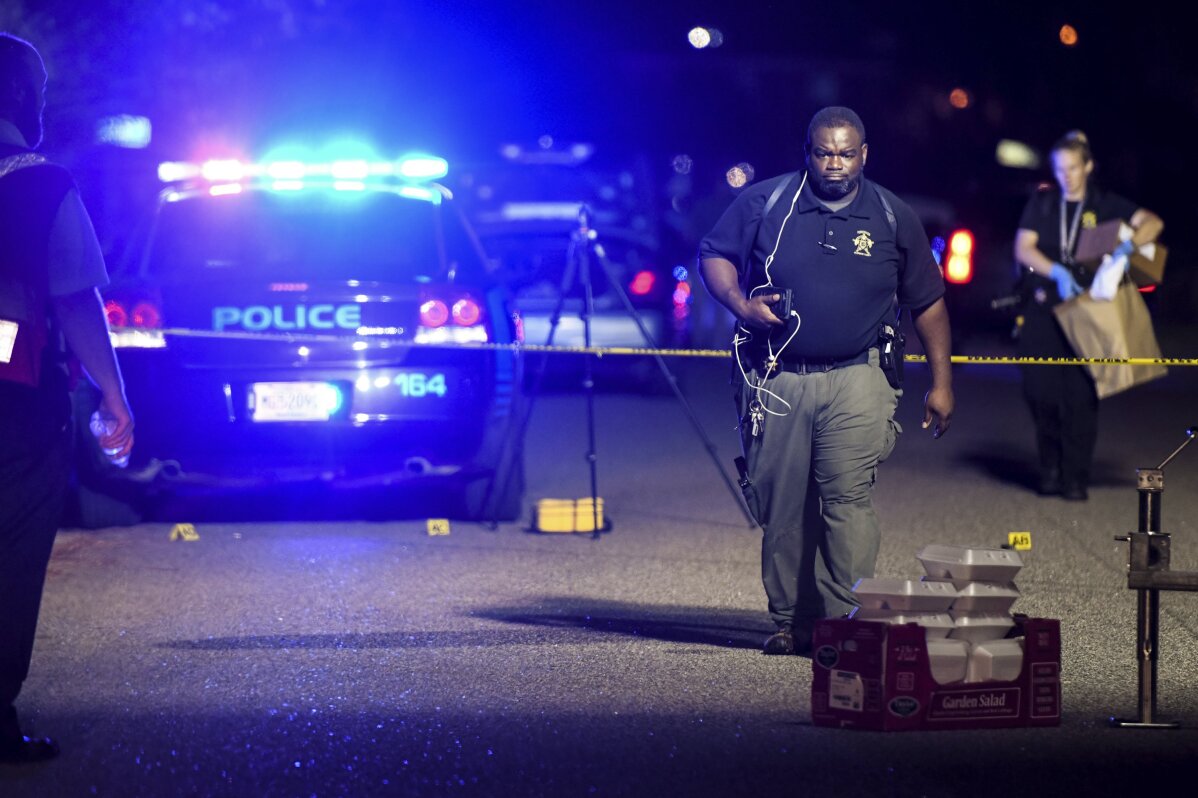 4 of 8

|
A forensics team member exits the crime scene on Ashton Drive in the Vintage Place neighborhood where several members of law enforcement were shot, one fatally, Wednesday, Oct. 3, 2018, in Florence, S.C. (AP Photo/Sean Rayford)
4 of 8
A forensics team member exits the crime scene on Ashton Drive in the Vintage Place neighborhood where several members of law enforcement were shot, one fatally, Wednesday, Oct. 3, 2018, in Florence, S.C. (AP Photo/Sean Rayford)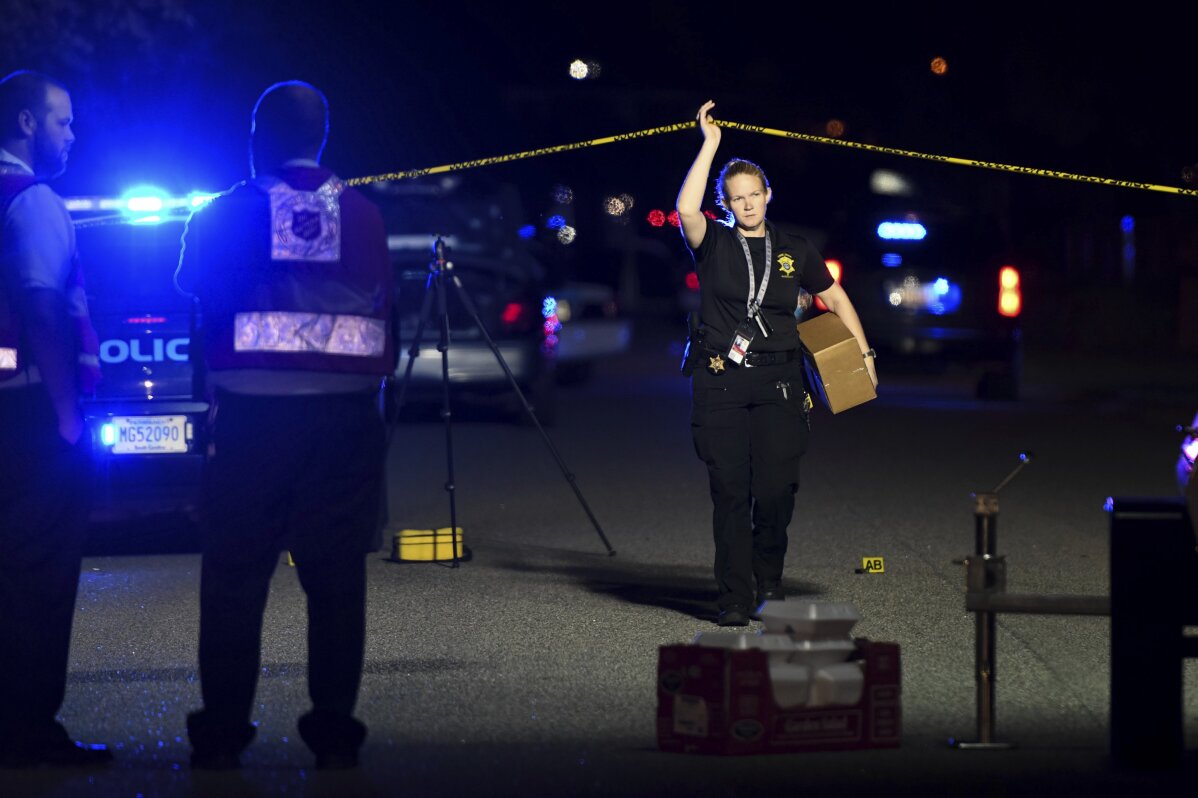 5 of 8

|
A member of the sheriff's department exits the crime scene on Ashton Drive in the Vintage Place neighborhood where several members of law enforcement were shot, one fatally, Wednesday, Oct. 3, 2018, in Florence, S.C. (AP Photo/Sean Rayford)
5 of 8
A member of the sheriff's department exits the crime scene on Ashton Drive in the Vintage Place neighborhood where several members of law enforcement were shot, one fatally, Wednesday, Oct. 3, 2018, in Florence, S.C. (AP Photo/Sean Rayford)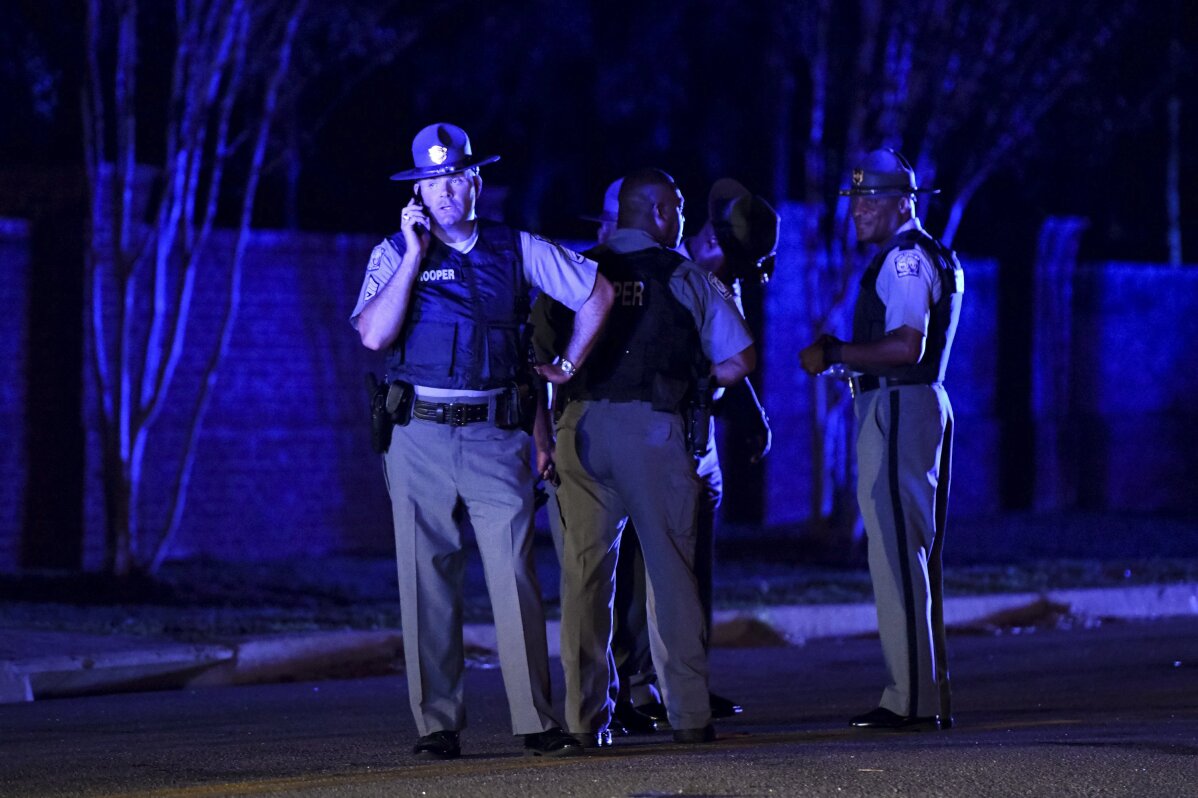 6 of 8

|
South Carolina state troopers gather on Hoffmeyer Road near the Vintage Place neighborhood where several law enforcement officers were shot, one fatally, Wednesday, Oct. 3, 2018, in Florence, S.C. (AP Photo/Sean Rayford)
6 of 8
South Carolina state troopers gather on Hoffmeyer Road near the Vintage Place neighborhood where several law enforcement officers were shot, one fatally, Wednesday, Oct. 3, 2018, in Florence, S.C. (AP Photo/Sean Rayford)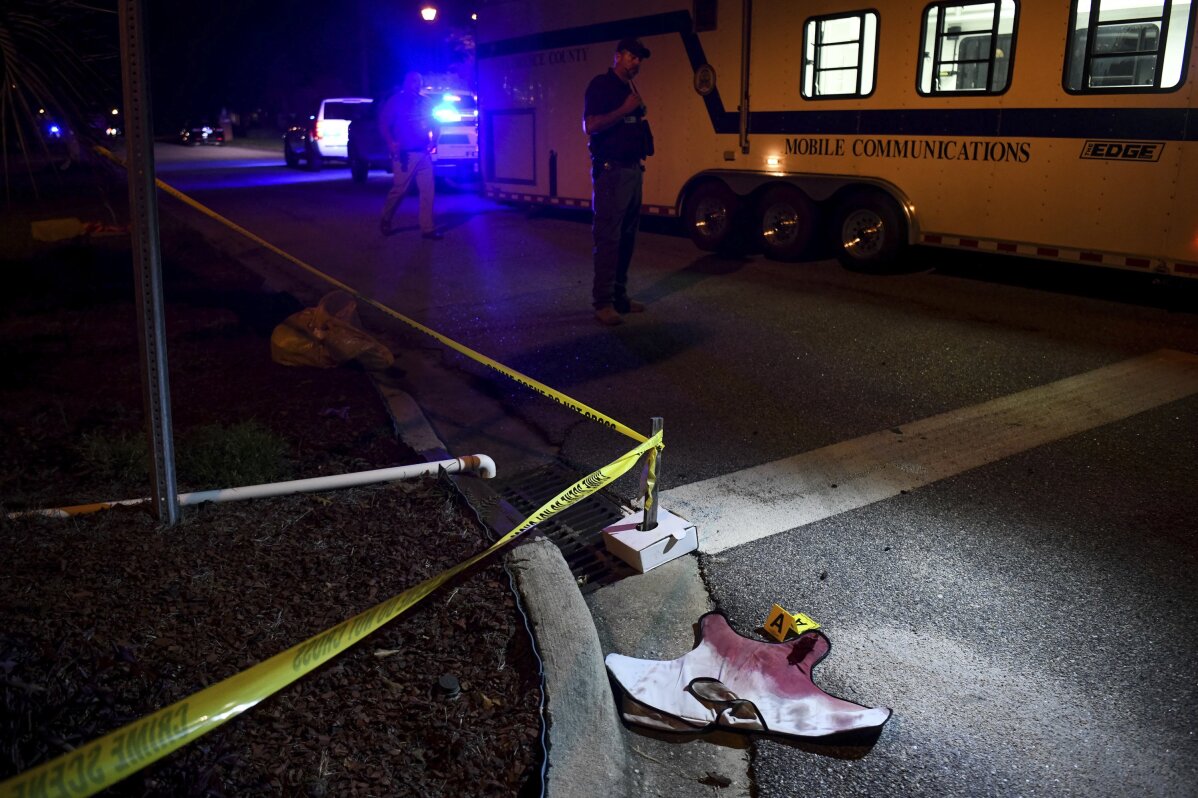 7 of 8

|
Blood-soaked evidence lies on Saxon Drive in the Vintage Place neighborhood where several members of law enforcement were shot, one fatally, Wednesday, Oct. 3, 2018, in Florence, S.C. (AP Photo/Sean Rayford)
7 of 8
Blood-soaked evidence lies on Saxon Drive in the Vintage Place neighborhood where several members of law enforcement were shot, one fatally, Wednesday, Oct. 3, 2018, in Florence, S.C. (AP Photo/Sean Rayford)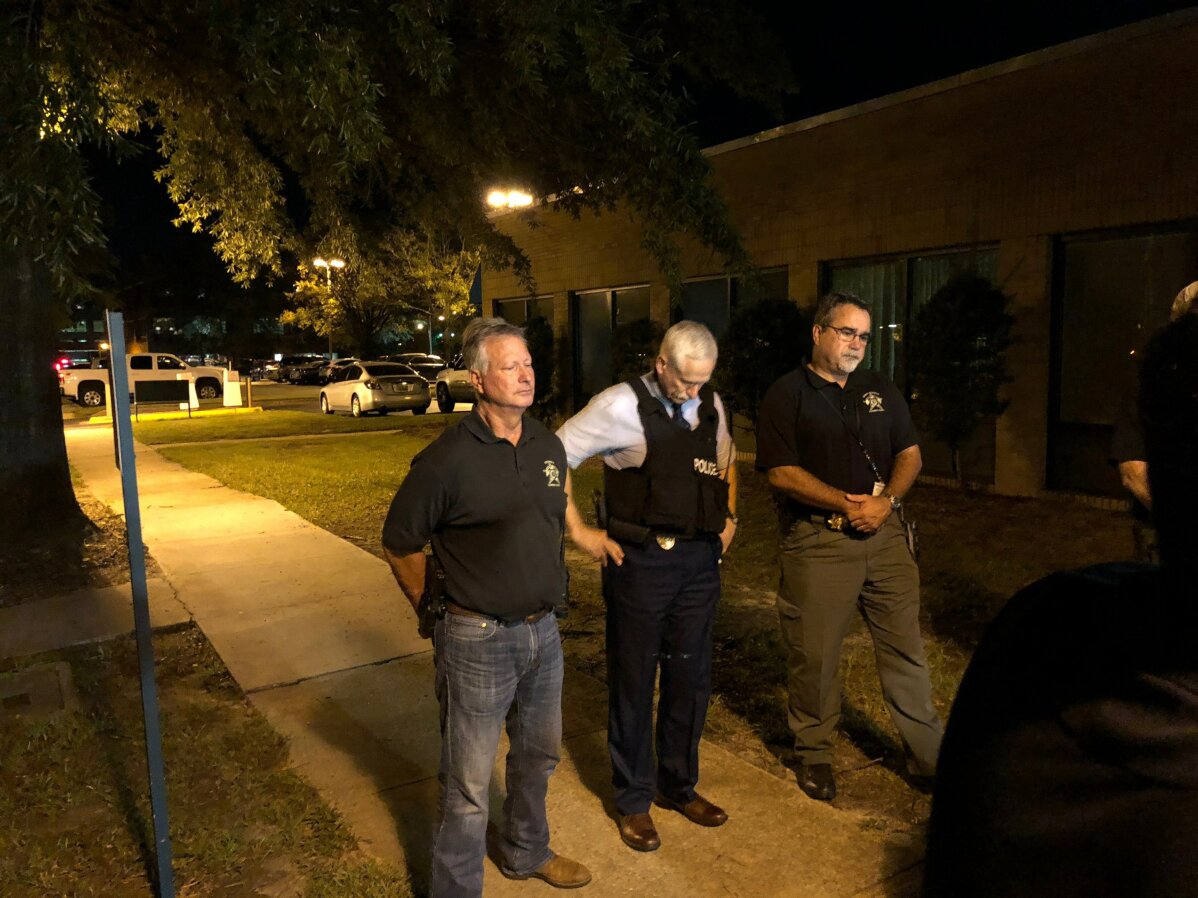 8 of 8

|
Florence County Sheriff Kenney Boone, from left, Florence Police Chief Allen Heidler and Florence County Chief Deputy Glenn Kirby speak to the media following a shooting where several law enforcement officers were shot, one fatally, Wednesday, Oct. 3, 2018, in Florence, S.C. (AP Photo/Jeffrey Collins)
8 of 8
Florence County Sheriff Kenney Boone, from left, Florence Police Chief Allen Heidler and Florence County Chief Deputy Glenn Kirby speak to the media following a shooting where several law enforcement officers were shot, one fatally, Wednesday, Oct. 3, 2018, in Florence, S.C. (AP Photo/Jeffrey Collins)
FLORENCE, S.C. (AP) — Seven South Carolina law enforcement officers were shot Wednesday, one fatally, in a confrontation with a man who held children hostage as he fired on the officers, officials said.
The suspect was taken into custody and the children weren't hurt after a two-hour standoff in an upscale neighborhood just outside of Florence, not far from areas that were devastated by flooding from Hurricane Florence, authorities said.
The man shot three Florence County deputies from inside a home as they came to serve a warrant around 4 p.m. Wednesday, Florence County Sheriff's Maj. Mike Nunn said.
The suspect then shot four Florence city police officers, one fatally, as officers from all around the area swarmed in to help, Florence Police Chief Allen Heidler said.
A bullet-proof vehicle had to be used to rescue the wounded officers as the man held children hostage inside for two hours, Nunn said.
Officials refused to say why they were serving a warrant. They also did not name him or the wounded officers, nor did they give the conditions for the wounded.
City of Florence spokesman John Wukela identified the fallen officer to The Associated Press as Terrence Carraway of Darlington. Carraway, 52, had just celebrated 30 years as a police officer in the city, Wukela said. He was pronounced dead at a local hospital. An autopsy will be performed at Medical University of South Carolina in Charleston, according to the coronor's office.
Both Heidler and Florence County Sheriff Kenney Boone had tears in their eyes as they spoke to reporters about two hours after the standoff ended.
"I want you to pray for the family who lost the bravest police officer I have ever known," Heidler said, visibly overcome by emotion at the news conference.
Condolences and outpourings of support rolled in at news of the shooting.
"This is simply devastating news from Florence," Gov. Henry McMaster tweeted. "The selfless acts of bravery from the men and women in law enforcement is real, just like the power of prayer is real."
Thom Berry, spokesman for the State Law Enforcement Division, said the agency had sent crime scene technicians to assist officials in Florence but were not immediately requested to help with any investigation.
Boone said investigators from Richland County would help investigate the shooting. He did not say why he wasn't using state police like most law enforcement agencies do in officer shootings in South Carolina.
Authorities said the shootings happened in Vintage Place, an upscale neighborhood west of the city. Neighbors said the community is full of brick homes and well-kept yards. Property records show several houses valued at more than $400,000.
Bobby Goin stood outside waiting for police to let him back to his home where his wife and granddaughter heard gunshots from the home back further in the neighborhood.
"Surprised is probably an understatement," Goin said of the shooting in the neighborhood where he has lived for 20 years. "The worst thing that goes on around here is that someone runs a stop sign and it gets posted on Facebook."
This is the second shooting of multiple police officers in South Carolina this year. In January, a 47-year-old former banker shot four officers in York County, killing one, after his wife called 911 to report he beat her. Christian McCall pleaded guilty and was sentenced to life without parole.
Florence, a city in South Carolina's northeastern corner home to roughly 37,000, sits at the convergence of Interstates 95 and 20. It's the largest city in the region known as the Pee Dee, where flooding from Hurricane Florence devastated areas to the east and south.
___
Kinnard reported from Columbia, South Carolina. Monica Mathur in New York contributed to this report.