Report: Tibetan dies of self-immolation in protest of China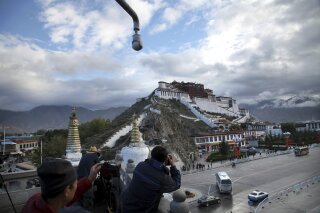 BEIJING (AP) — A Tibetan man set himself on fire and died in a protest earlier this week calling for the return of the region's exiled Buddhist leader, the Dalai Lama, a rights monitoring group reported.
The Washington, D.C.-based International Campaign for Tibet said 23-year-old Dorbe self-immolated on Sunday in Ngaba county, a traditionally Tibetan region of Sichuan province.
The group reported that Dorbe wished long life to the Dalai Lama before setting himself on fire, becoming the 154st Tibetan to self-immolate since the protests began in 2009. Such acts have grown increasingly rare in recent years amid a smothering security crackdown by the Chinese authorities.
Many Tibetans use just one name.
China insists Tibet has been part of its territory for centuries, but many Tibetans say they were essentially independent for most of that time. The Dalai Lama fled to India in 1959 amid an abortive uprising against China's heavy-handed rule imposed after the People's Liberation Army's battled its way into the Himalayan region nine years earlier.
The self-immolations by Tibetans monks, nuns and laypeople aim to highlight harsh government regulations and the oppression of Tibet's Buddhist culture, as well as appeal for the return of the Dalai Lama.
The region is closed to foreign media, making it virtually impossible to confirm reported self-immolations. Government officials routinely deny any knowledge of such incidents.