Fox disciplines employees who set up Trump aide appearance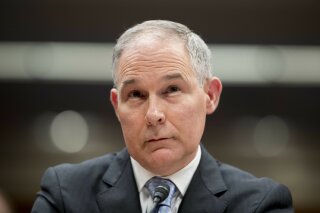 NEW YORK (AP) — Fox News Channel said Tuesday that it is disciplining employees involved in an email exchange with an aide to President Trump's former EPA administrator Scott Pruitt to craft a "Fox & Friends" interview with the environmental chief last year.
The emails showed one of Pruitt's aides suggesting the interview, passing along "talking points" and given the chance by a Fox producer to approve a script written to introduce Pruitt.
The messages were uncovered through a Freedom of Information Act request by the Sierra Club and first reported by The Daily Beast. It's another example of closeness between Fox News and the Trump administration, where the president's communications director is a former Fox executive. Fox's most popular personality, Sean Hannity, appeared onstage at a Trump rally shortly before the midterm election.
Fox would not say who was being disciplined, noting that it was a personnel matter, and what that discipline involved. Earlier, the network had said that "this is not standard practice whatsoever and the matter is being addressed internally with those involved."
In May 2017, former Environmental Protection Agency press representative Amy Graham wrote to Fox, saying Pruitt would be in New York and able to come to Fox's studio to talk about reforms Pruitt was making to help communities poorly served by President Barack Obama's administration.
"Pruitt has been outspoken about the lack of environmental accomplishments under the Obama administration, calling President Obama 'no environmental savior' and he would like to expand on these comments," Graham wrote.
"Fox & Friends" producer Andrew Murray agreed to the interview. When Graham wrote back that "we really need to stick with this as the topic" and needed confirmation that would be the case, Murray agreed. He assigned the segment to another producer, Diana Aloi.
Pruitt resigned 14 months after the interview took place, following a flurry of stories about ethical lapses including excessive spending for travel and security, trying to get his wife a job and circumventing the White House to get raises for top aides.
Aloi asked for "bullet points" on what Pruitt would like to discuss and Graham wrote back with several. Later, Aloi sent her a four-paragraph introductory script, asking "would this be OK as the setup to the segment?"
The script talked about a new direction at the EPA "after the Obama administration left behind a huge toxic mess. More than 1,300 Superfund sites, which are heavily contaminated, still require clean-ups. So why was President Obama touted as an environmental savior if all these problems still exist?"
Graham wrote back, "Yes — perfect."
It's not uncommon for journalists and representatives for newsmakers to talk in advance about topics that may be covered in an interview. Promises not to address certain subjects are considered off limits by most reporters, with script approval an even greater ethical lapse.
When Pruitt appeared the next day, "Fox & Friends" host Brian Kilmeade said that "President Trump is doing his best to drain the swamp and much of that draining happened at the Environmental Protection Agency after the Obama administration left behind — get this — a huge toxic mess."
Host Ainsley Earhardt continued, "more than 1,300 Superfund sites, which are heavily contaminated, still require cleanup."
The third host, Steve Doocy, said to Pruitt, "the press made President Obama out to be the environmental savior and yet when you look at the number of toxic dumps left on your plate, it's a big number."
"Absolutely," Pruitt said.
During congressional testimony earlier this year, Pruitt said that Trump's EPA in 2017 had removed more polluted sites across the country than the previous administration had the previous year. The EPA had declared seven Superfund site cleanups to be complete in 2017, compared to two in 2016. Yet records showed that construction work at all seven of those sites were completed years before Pruitt became EPA chief in February 2017.
At one point in the interview, Earhardt said that "we're talking about memos and what's happening in the White House. This is what the American public really needs to be focused on, right? Jobs, our personal safety, protecting our kids from cancer."
It wasn't exactly clear what she was referring to, although on the day the interview was arranged a big story was about a memo former FBI director James Comey had written to himself about Trump asking him to stop an investigation into former national security adviser Michael Flynn.
Kilmeade did end the interview with a question that had not been discussed during the arrangements, about the Trump administration and its views about the Paris climate change accord.
___
Associated Press correspondents Michael Biesecker and Ellen Knickmeyer in Washington contributed to this report.