Protesters, Democrats want immigrant families reunited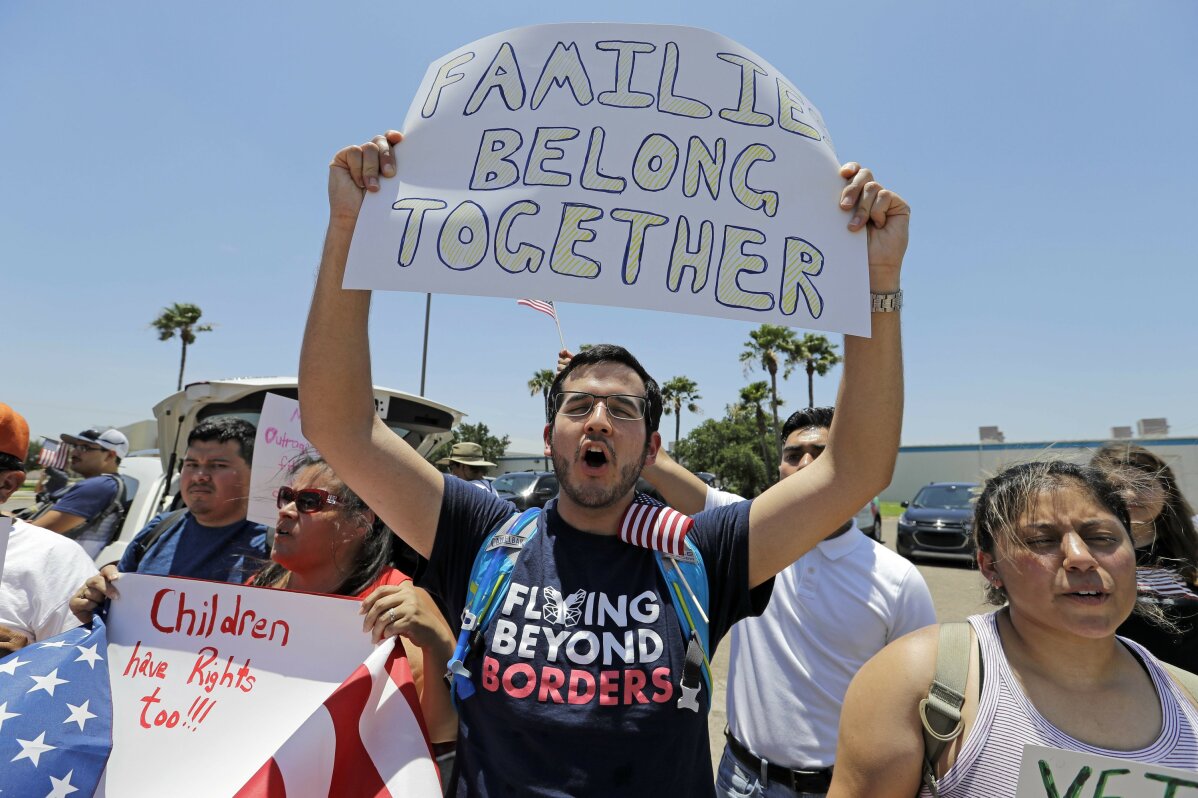 1 of 16

|
Kristopher Coca yells during a protest outside the U.S. Border Patrol Central Processing Center Saturday, June 23, 2018, in McAllen, Texas. The protest occurred amid an uproar over the Trump administration's practice of separating immigrant families caught on the southwest border. President Donald Trump signed an order this week to keep families detained together during immigration proceedings. (AP Photo/David J. Phillip)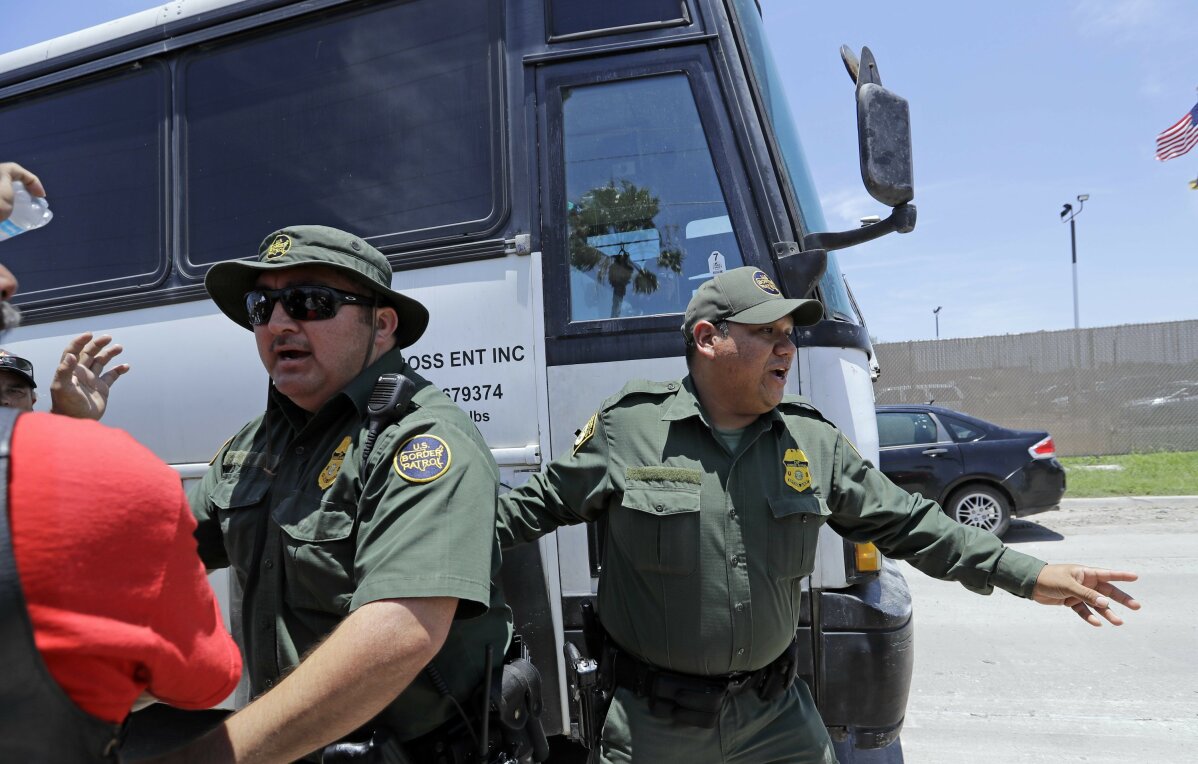 2 of 16

|
U.S. Border Patrol agents move clear the street to allow a bus with immigrant children onboard to move after protestors blocked it's movement outside the U.S. Border Patrol Central Processing Center Saturday, June 23, 2018, in McAllen, Texas. The protest occurred amid an uproar over the Trump administration's practice of separating immigrant families caught on the southwest border. President Donald Trump signed an order this week to keep families detained together during immigration proceedings. (AP Photo/David J. Phillip)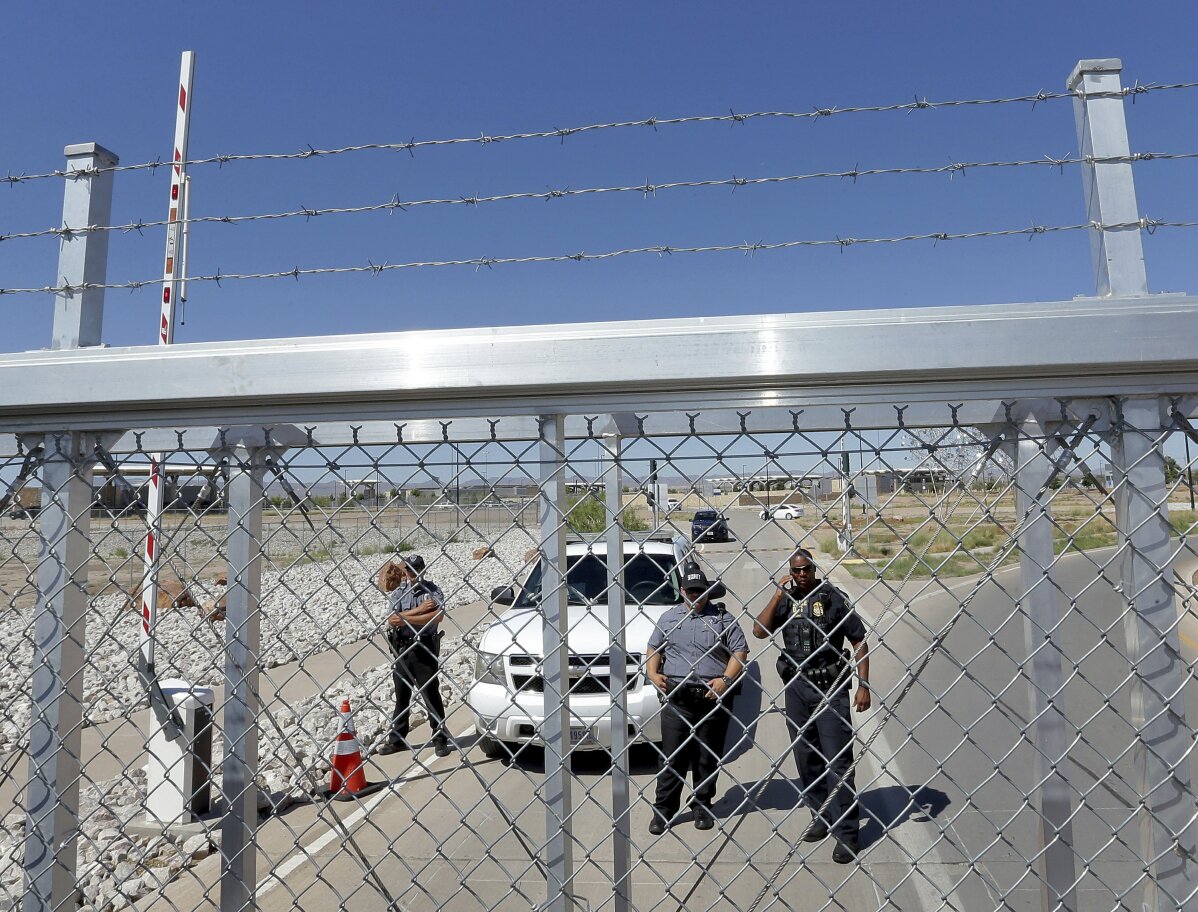 3 of 16

|
Department of Homeland Security and Customs and Border Patrol agents stand behind a closed gate at the Port of Entry facility, where tent shelters are being used to house separated family members, Thursday, June 21, 2018, in Fabens, Texas. President Donald Trump on Wednesday signed an order to stop the separations. Justice Department lawyers are working on a legal challenge to allow families to be detained longer than 20 days. (AP Photo/Matt York)
4 of 16

|
Detainees are seen inside a facility, where tent shelters are being used to house separated family members at the Port of Entry, Thursday, June 21, 2018, in Fabens, Texas. President Donald Trump on Wednesday signed an order to stop the separations. Justice Department lawyers are working on a legal challenge to allow families to be detained longer than 20 days. (AP Photo/Matt York)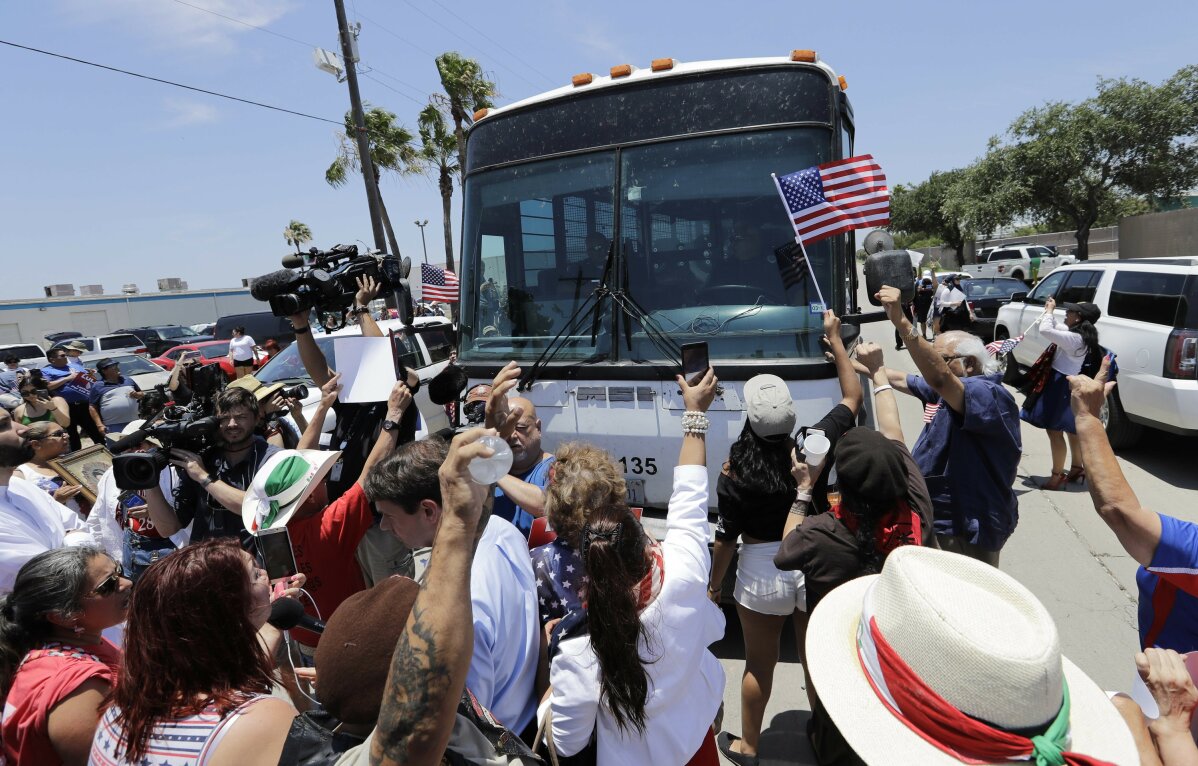 5 of 16

|
Demonstrators block a bus with immigrant children onboard during a protest outside the U.S. Border Patrol Central Processing Center Saturday, June 23, 2018, in McAllen, Texas. Extra law enforcement officials were called in to help control the scene and allow the bus to move out. (AP Photo/David J. Phillip)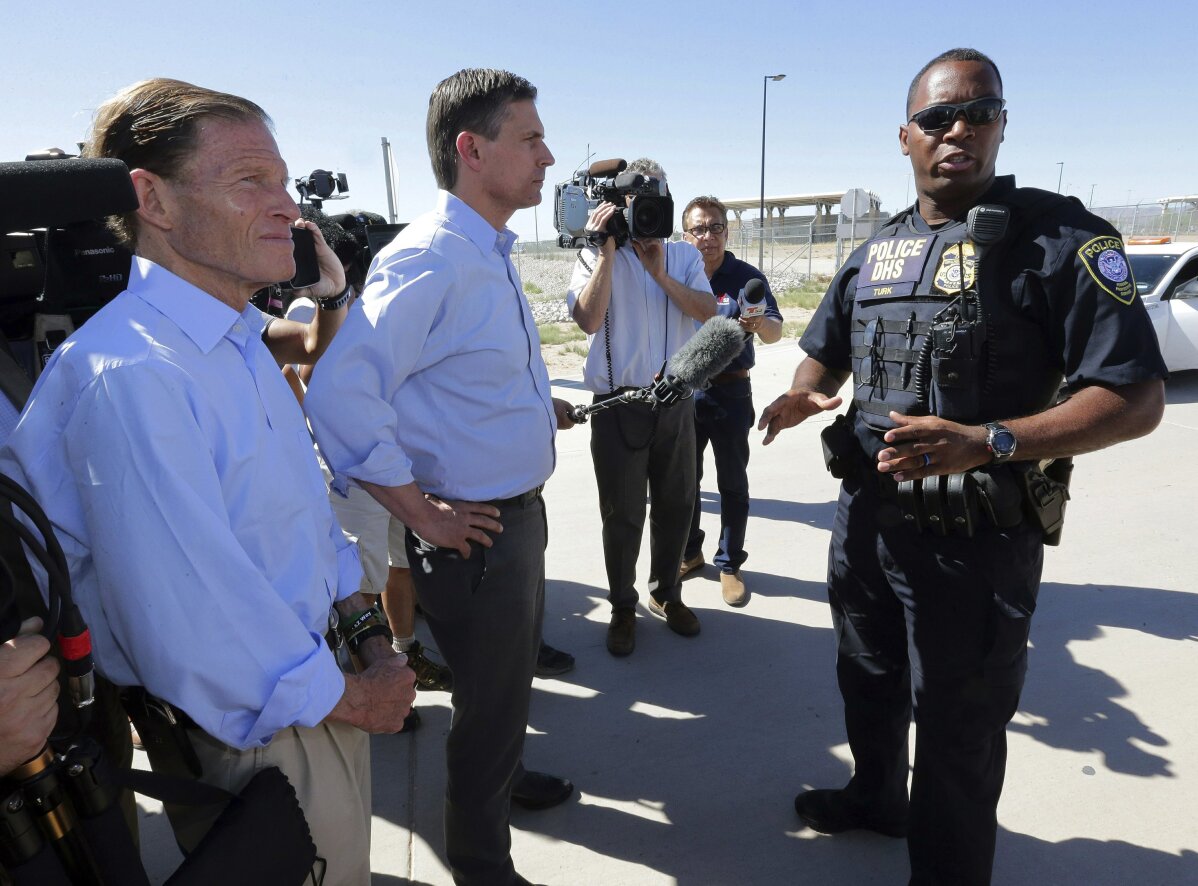 6 of 16

|
U.S. Sen. Martin Heinrich, D-N.M., center, and U.S. Sen. Richard Blumenthal, D-Ct., left, speak with a Dept. of Homeland Security agent as they arrive to tour the Fabens Port-of-Entry facility which houses tent shelters used to hold separated family members, Friday, June 22, 2018, in Fabens, Texas. President Donald Trump's order ending the policy of separating immigrant families at the border leaves a host of unanswered questions, including what happens to the children already taken from their parents and where the government will house all the newly detained migrants in a system already bursting at the seams. (AP Photo/Matt York)
7 of 16

|
Mexico backdrops the Fabens Port-of-Entry which houses tent shelters used to hold separated migrant family members along the International border, Friday, June 22, in Fabens, Texas. The U.N human rights office says President Donald Trump's decision to stop the U.S. policy separating migrant parents from their children doesn't go far enough. (AP Photo/Matt York)
8 of 16

|
U.S. Sen. Richard Blumenthal, Conn., speaks as U.S. Sen. Tom Udall, D-NM, right, listens after a tour of the Fabens Port-of-Entry facility which houses tent shelters used to hold separated family members, Friday, June 22, 2018, in Fabens, Texas. President Donald Trump's order ending the policy of separating immigrant families at the border leaves a host of unanswered questions, including what happens to the more than 2,300 children already taken from their parents and where the government will house all the newly detained migrants in a system already bursting at the seams. (AP Photo/Matt York)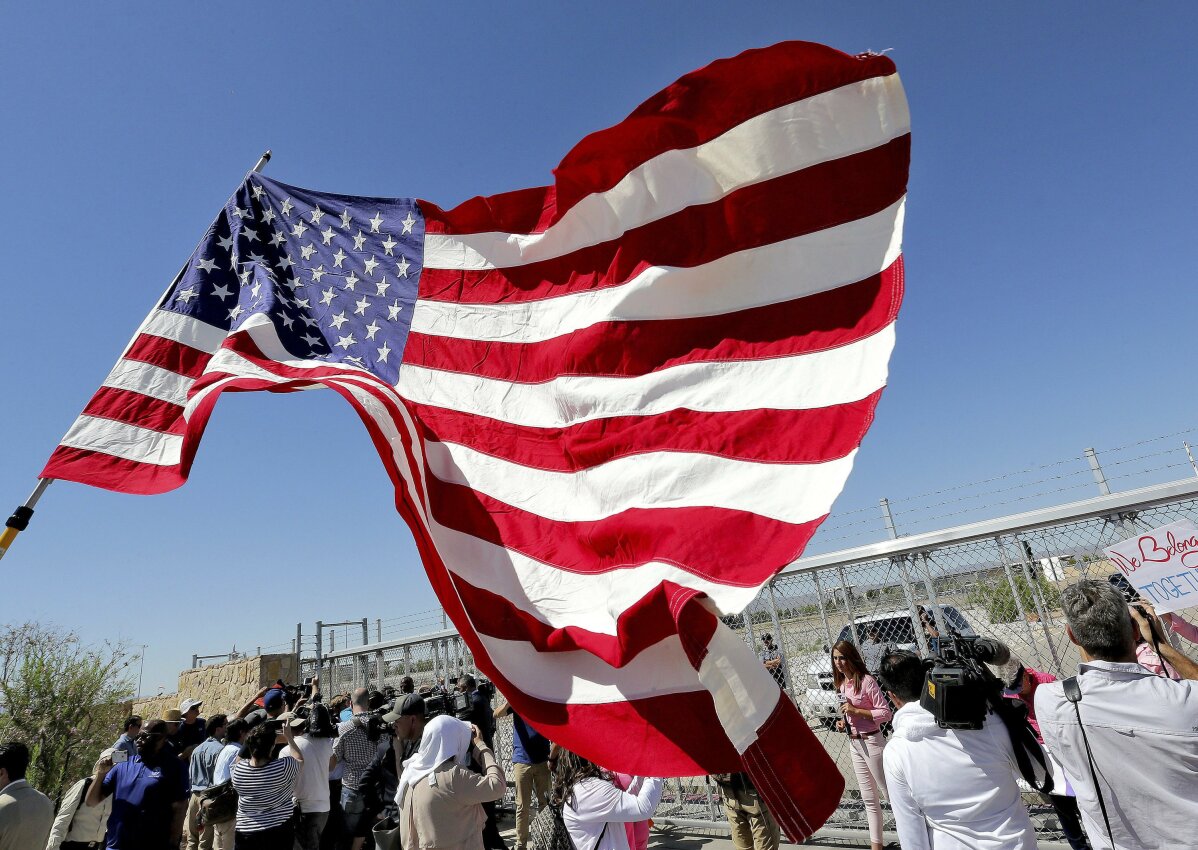 9 of 16

|
Protesters and media gather outside a closed gate at the Port of Entry facility, where tent shelters are being used to house separated family members, Thursday, June 21, 2018, in Fabens, Texas. President Donald Trump on Wednesday signed an order to stop the separations. Justice Department lawyers are working on a legal challenge to allow families to be detained longer than 20 days. (AP Photo/Matt York)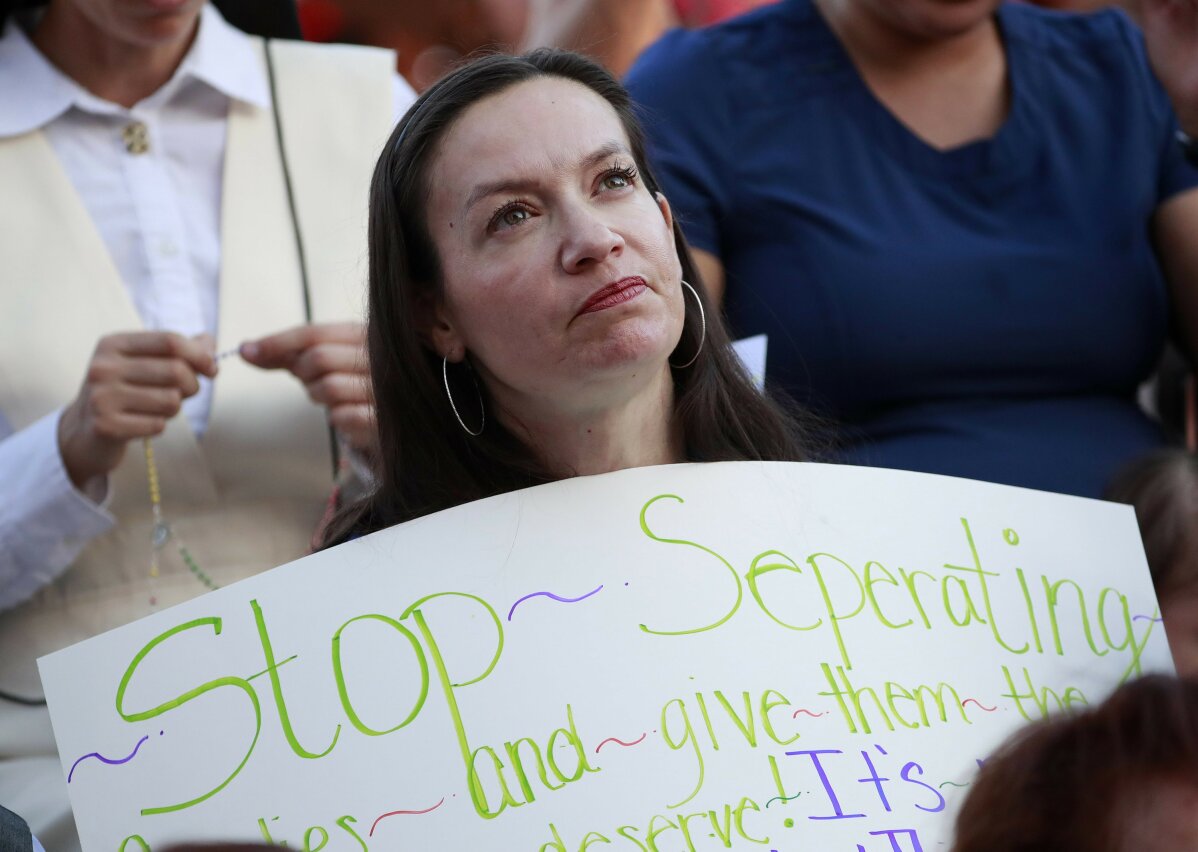 10 of 16

|
People gather at Saint Mark Catholic Church for a solidarity with migrants vigil, Thursday, June 21, 2018 in El Paso, Texas. President Donald Trump's order ending the policy of separating immigrant families at the border leaves a host of unanswered questions, including what happens to the more than 2,300 children already taken from their parents and where the government will house all the newly detained migrants in a system already bursting at the seams. (AP Photo/Matt York)
11 of 16

|
An immigrant child looks out from a U.S. Border Patrol bus leaving as protesters block the street outside the U.S. Border Patrol Central Processing Center Saturday, June 23, 2018, in McAllen, Texas. Additional law enforcement officials were called in to help control the crowd and allow the bus to move. (AP Photo/David J. Phillip)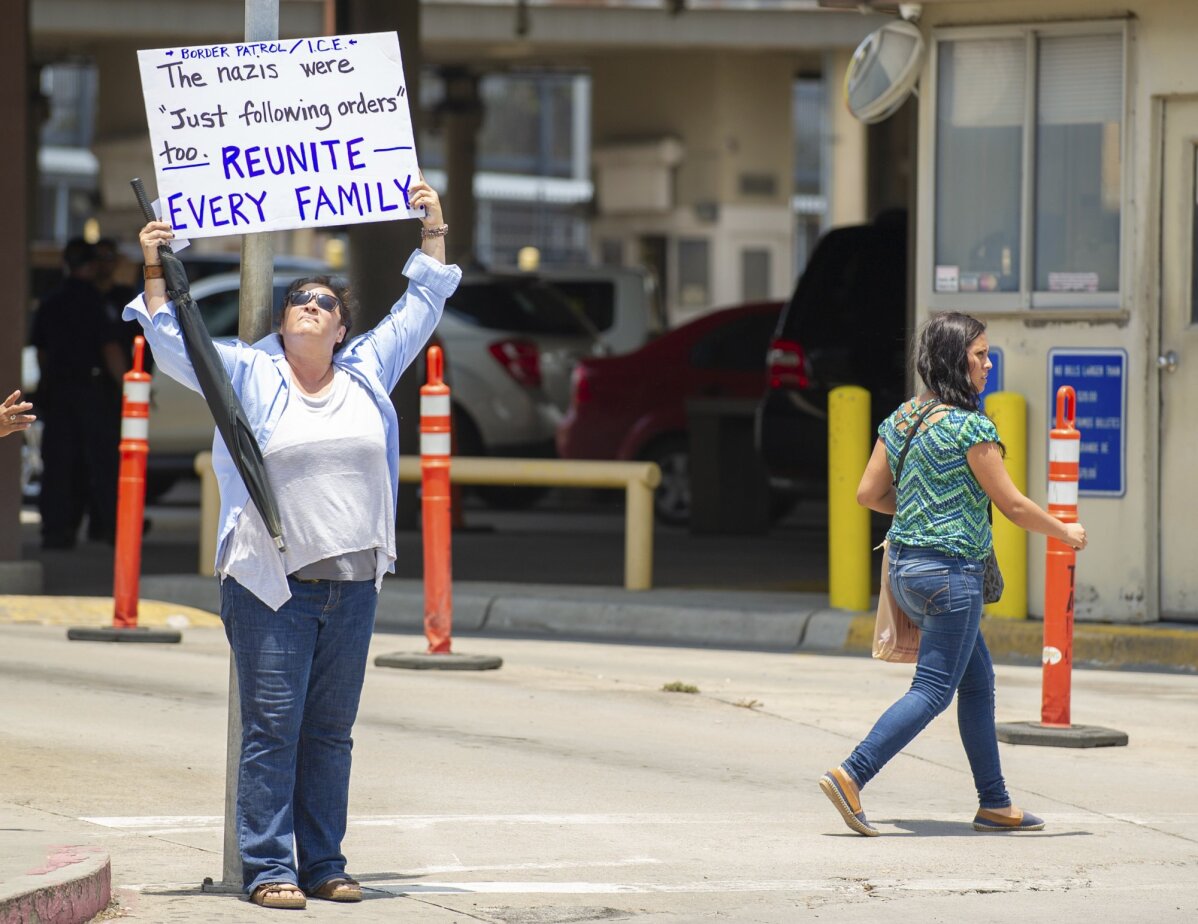 12 of 16

|
An unidentified woman holds a sign in front of the Customs and Border Protection port of entry Saturday, June 23, 2018, at the Gateway International Bridge in Brownsville, Texas. A group of demonstrators held a march decrying recent immigration policy practices. (Jason Hoekema/The Brownsville Herald via AP)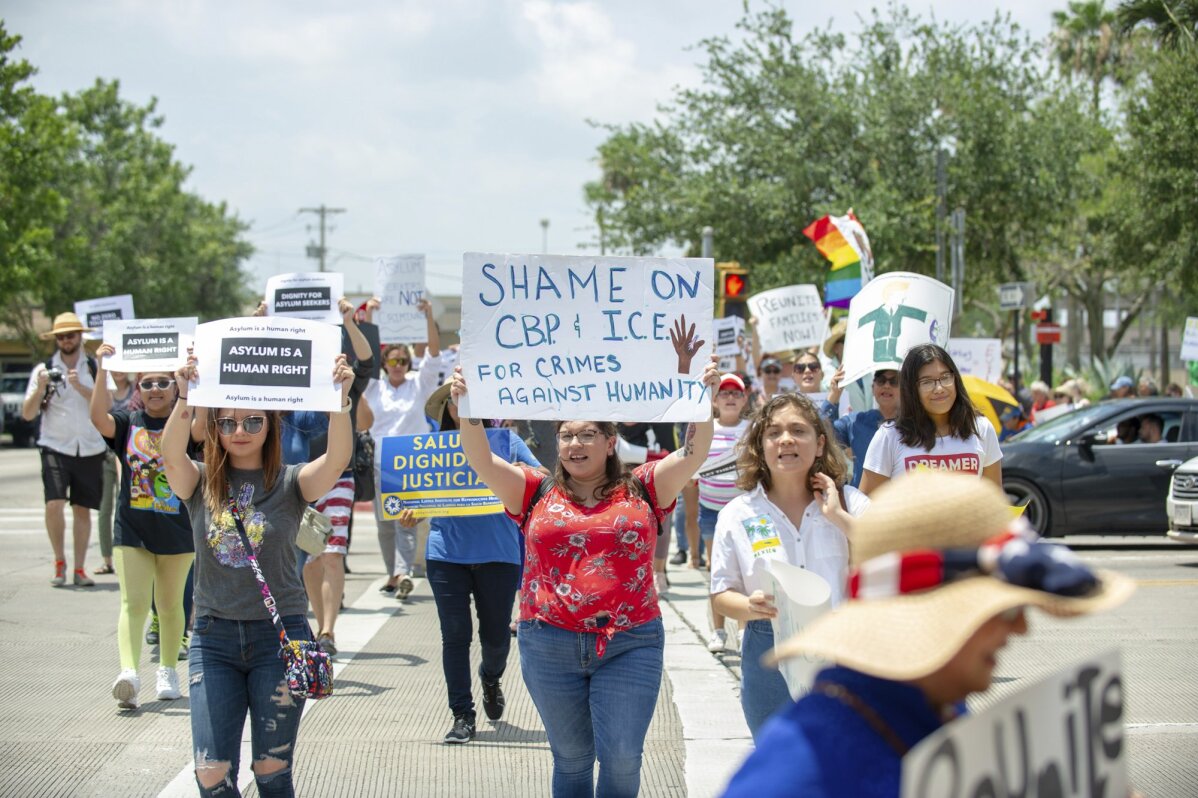 13 of 16

|
Demonstrators participate in an organized march Saturday, June 23, 2018, near the Gateway International Bridge in downtown Brownsville, Texas. (Jason Hoekema/The Brownsville Herald via AP)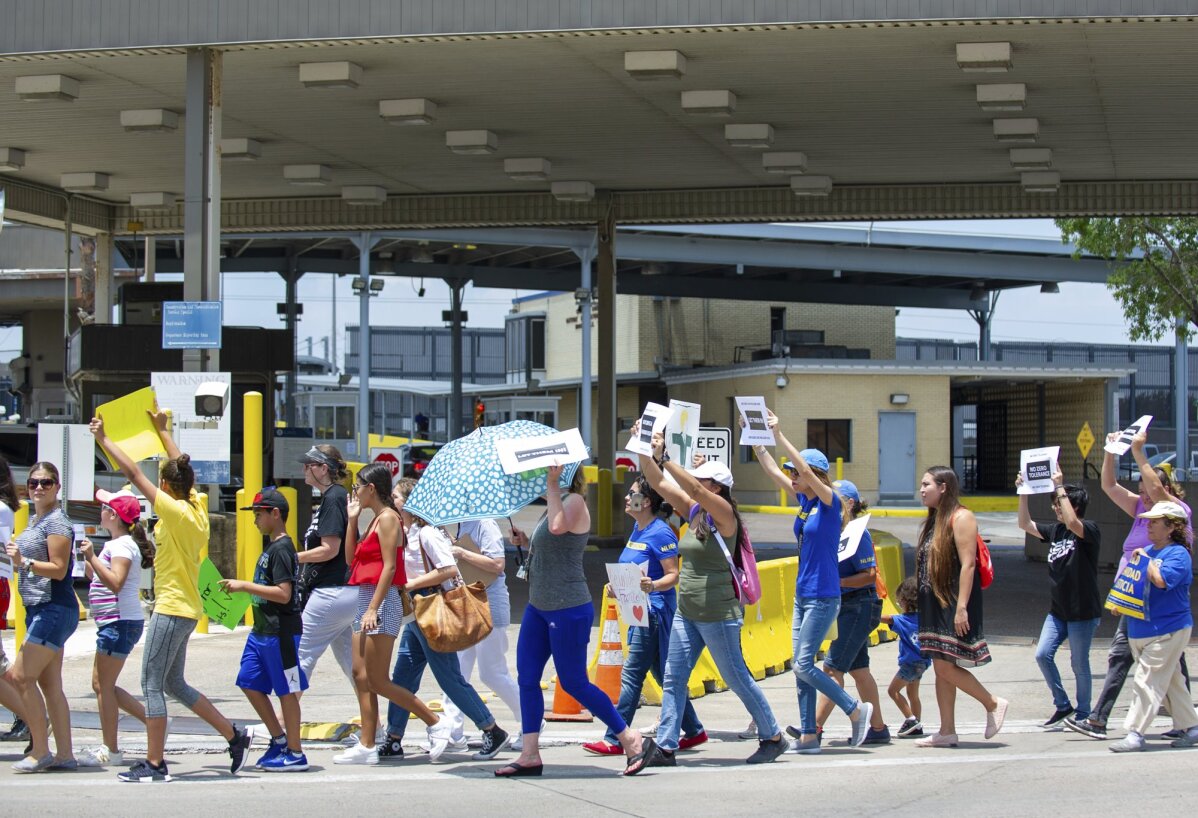 14 of 16

|
Demonstrators march past the Customs and Boarder Protection port of entry Saturday, June 23, 2018, at the Gateway International Bridge in downtown Brownsville, Texas. (Jason Hoekema/The Brownsville Herald via AP)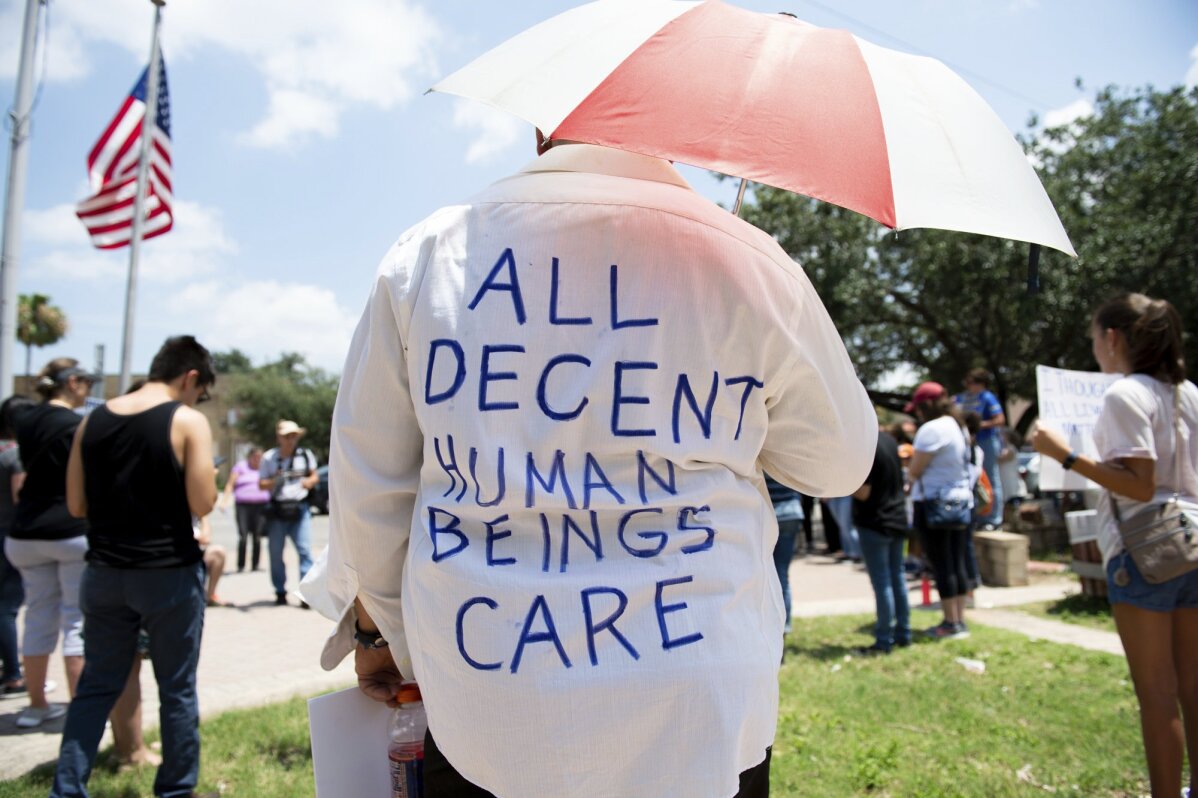 15 of 16

|
An unidentified man participates in a demonstration Saturday, June 23, 2018, near the Gateway International Bridge in Brownsville, Texas. The handwritten message on the shirt is a response to a garment recently worn by First Lady Melania Trump before her visit to McAllen, Texas (Jason Hoekema/The Brownsville Herald via AP)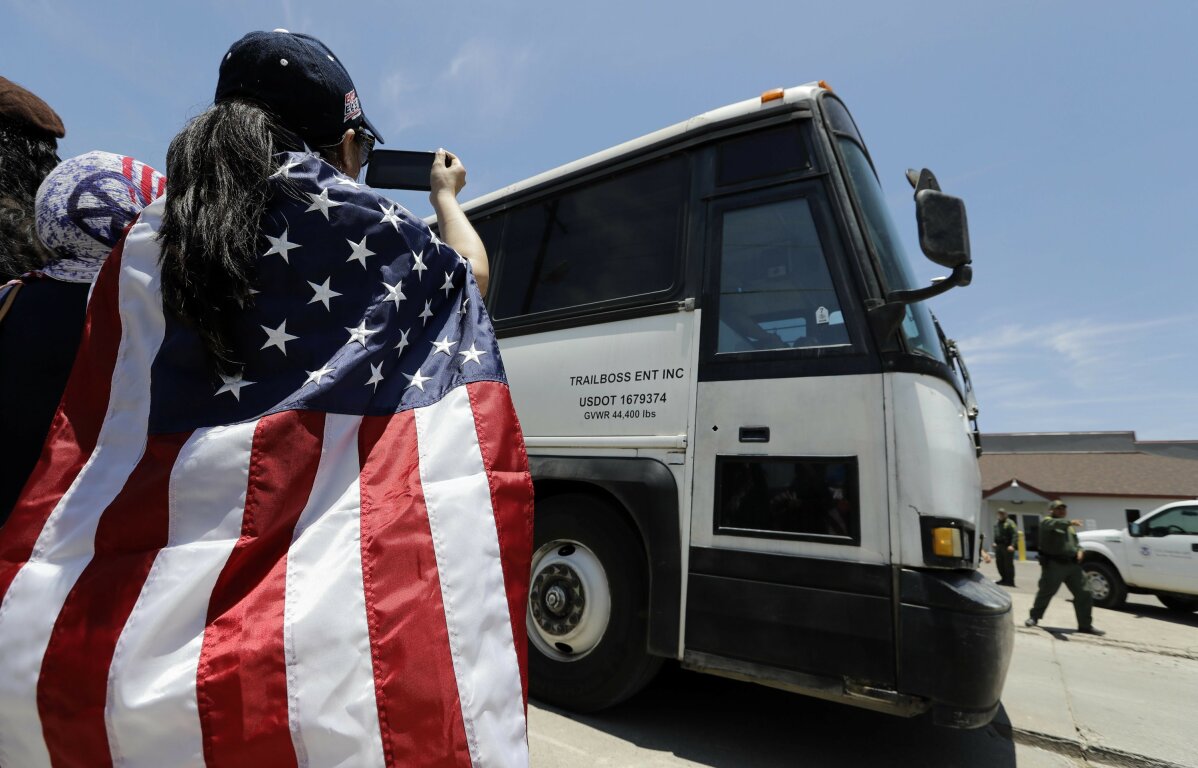 16 of 16

|
A demonstrator watches as a bus with immigrant children onboard tries to move outside the U.S. Border Patrol Central Processing Center Saturday, June 23, 2018, in McAllen, Texas. Protestors blocked the bus from moving until extra law enforcement cleared the street. (AP Photo/David J. Phillip)
Protesters, Democrats want immigrant families reunited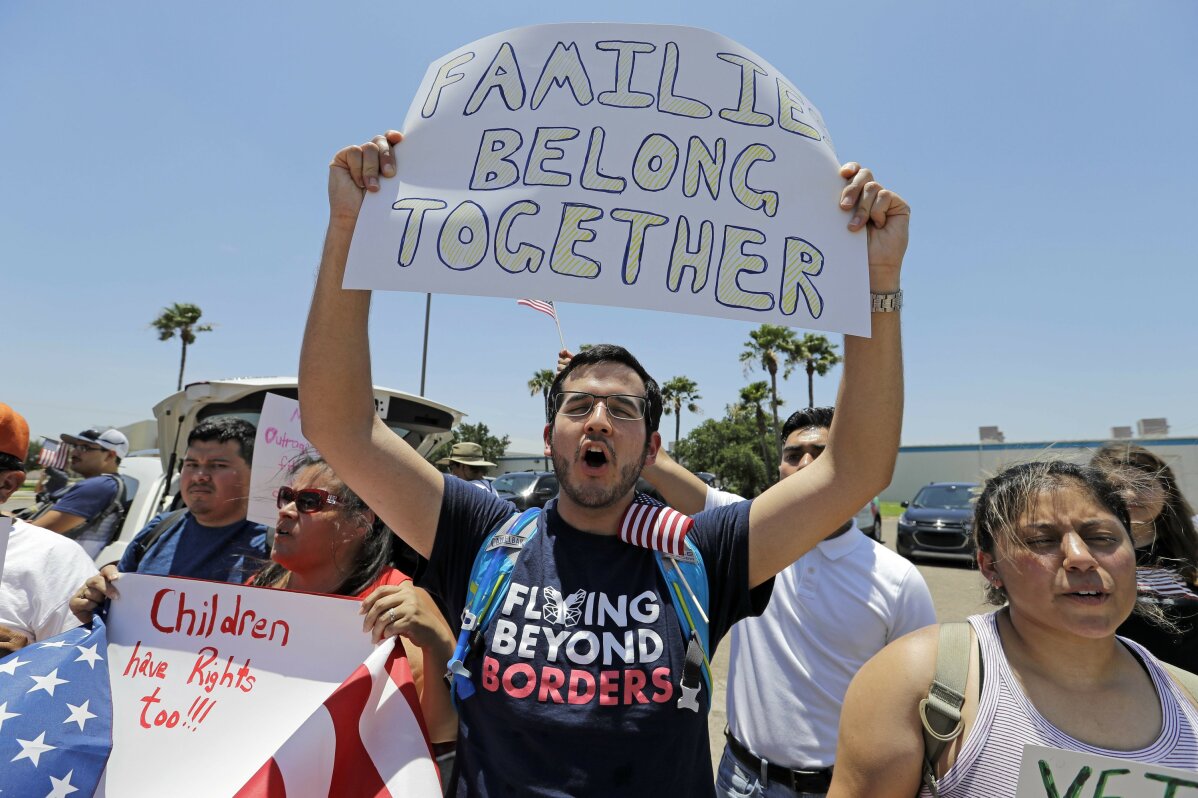 1 of 16

|
Kristopher Coca yells during a protest outside the U.S. Border Patrol Central Processing Center Saturday, June 23, 2018, in McAllen, Texas. The protest occurred amid an uproar over the Trump administration's practice of separating immigrant families caught on the southwest border. President Donald Trump signed an order this week to keep families detained together during immigration proceedings. (AP Photo/David J. Phillip)
1 of 16
Kristopher Coca yells during a protest outside the U.S. Border Patrol Central Processing Center Saturday, June 23, 2018, in McAllen, Texas. The protest occurred amid an uproar over the Trump administration's practice of separating immigrant families caught on the southwest border. President Donald Trump signed an order this week to keep families detained together during immigration proceedings. (AP Photo/David J. Phillip)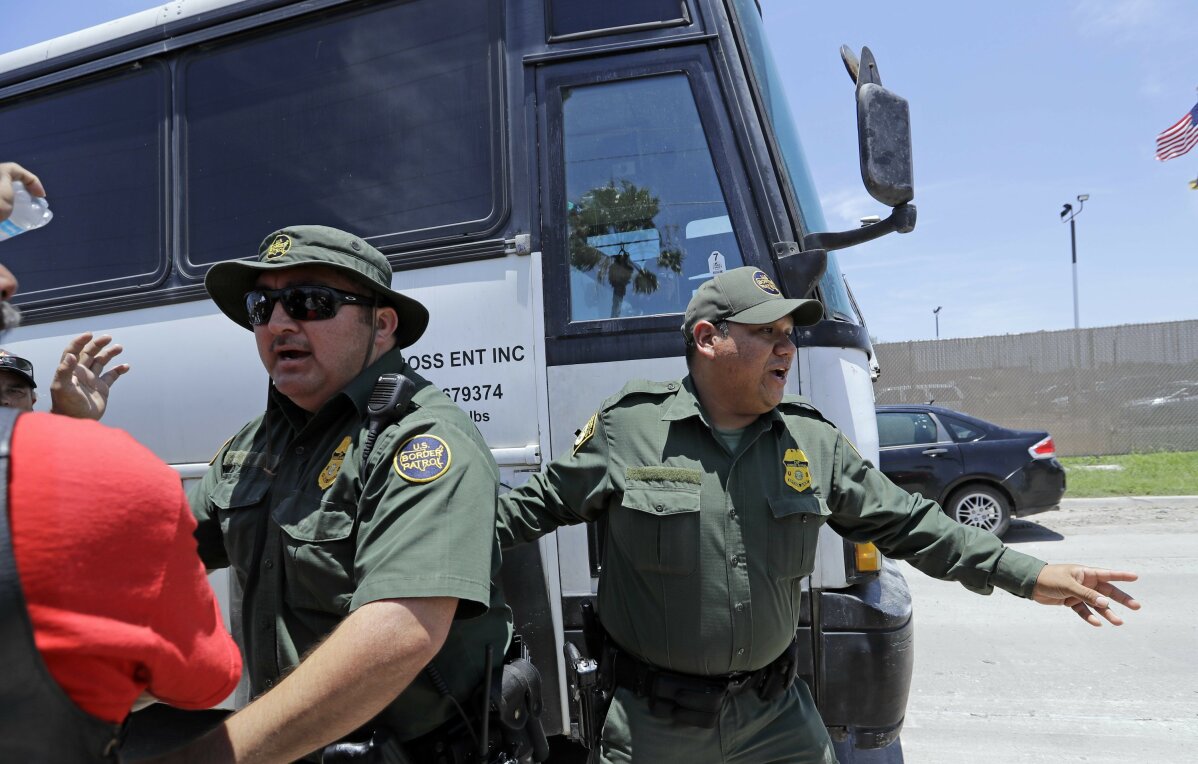 2 of 16

|
U.S. Border Patrol agents move clear the street to allow a bus with immigrant children onboard to move after protestors blocked it's movement outside the U.S. Border Patrol Central Processing Center Saturday, June 23, 2018, in McAllen, Texas. The protest occurred amid an uproar over the Trump administration's practice of separating immigrant families caught on the southwest border. President Donald Trump signed an order this week to keep families detained together during immigration proceedings. (AP Photo/David J. Phillip)
2 of 16
U.S. Border Patrol agents move clear the street to allow a bus with immigrant children onboard to move after protestors blocked it's movement outside the U.S. Border Patrol Central Processing Center Saturday, June 23, 2018, in McAllen, Texas. The protest occurred amid an uproar over the Trump administration's practice of separating immigrant families caught on the southwest border. President Donald Trump signed an order this week to keep families detained together during immigration proceedings. (AP Photo/David J. Phillip)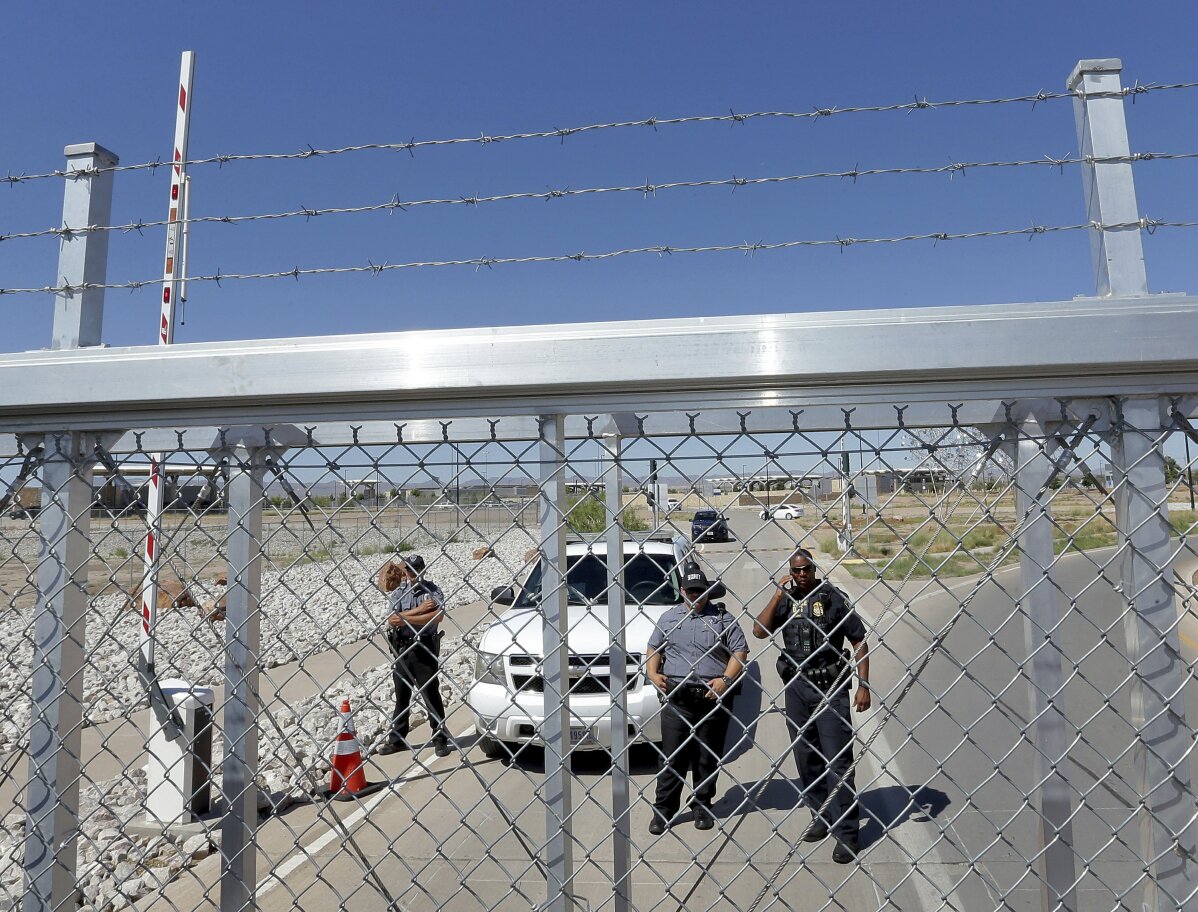 3 of 16

|
Department of Homeland Security and Customs and Border Patrol agents stand behind a closed gate at the Port of Entry facility, where tent shelters are being used to house separated family members, Thursday, June 21, 2018, in Fabens, Texas. President Donald Trump on Wednesday signed an order to stop the separations. Justice Department lawyers are working on a legal challenge to allow families to be detained longer than 20 days. (AP Photo/Matt York)
3 of 16
Department of Homeland Security and Customs and Border Patrol agents stand behind a closed gate at the Port of Entry facility, where tent shelters are being used to house separated family members, Thursday, June 21, 2018, in Fabens, Texas. President Donald Trump on Wednesday signed an order to stop the separations. Justice Department lawyers are working on a legal challenge to allow families to be detained longer than 20 days. (AP Photo/Matt York)
4 of 16

|
Detainees are seen inside a facility, where tent shelters are being used to house separated family members at the Port of Entry, Thursday, June 21, 2018, in Fabens, Texas. President Donald Trump on Wednesday signed an order to stop the separations. Justice Department lawyers are working on a legal challenge to allow families to be detained longer than 20 days. (AP Photo/Matt York)
4 of 16
Detainees are seen inside a facility, where tent shelters are being used to house separated family members at the Port of Entry, Thursday, June 21, 2018, in Fabens, Texas. President Donald Trump on Wednesday signed an order to stop the separations. Justice Department lawyers are working on a legal challenge to allow families to be detained longer than 20 days. (AP Photo/Matt York)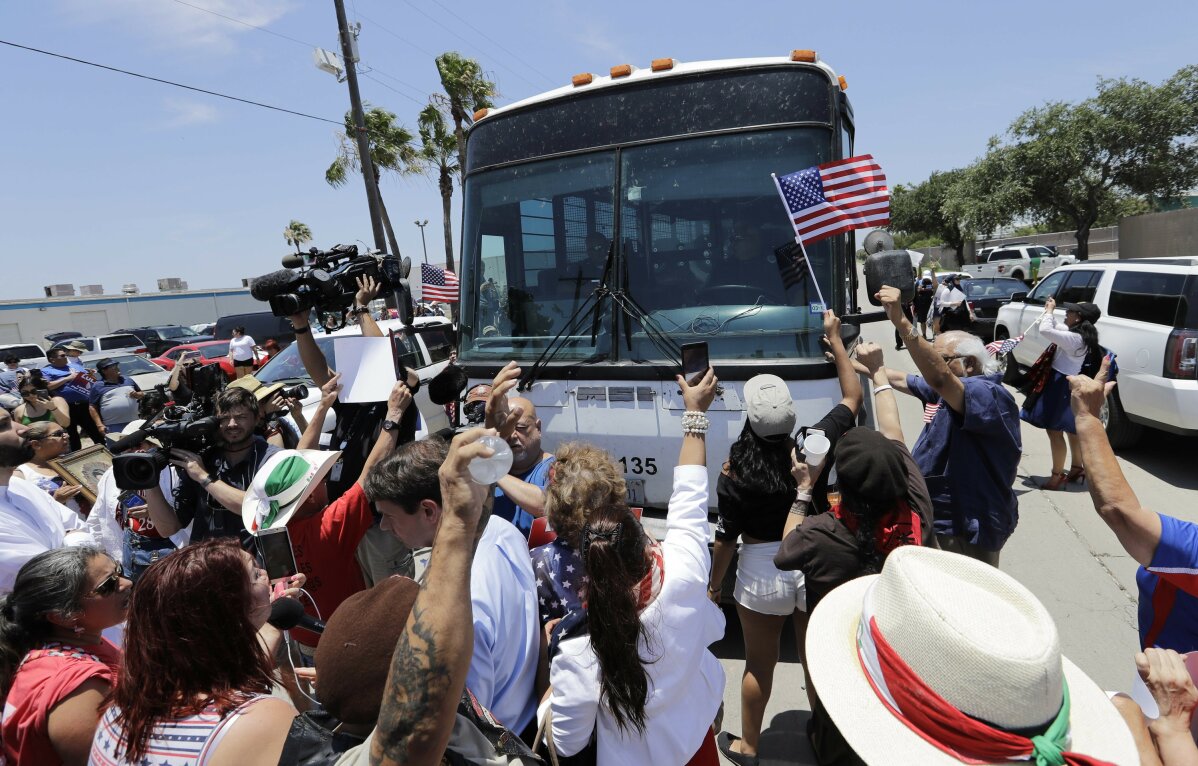 5 of 16

|
Demonstrators block a bus with immigrant children onboard during a protest outside the U.S. Border Patrol Central Processing Center Saturday, June 23, 2018, in McAllen, Texas. Extra law enforcement officials were called in to help control the scene and allow the bus to move out. (AP Photo/David J. Phillip)
5 of 16
Demonstrators block a bus with immigrant children onboard during a protest outside the U.S. Border Patrol Central Processing Center Saturday, June 23, 2018, in McAllen, Texas. Extra law enforcement officials were called in to help control the scene and allow the bus to move out. (AP Photo/David J. Phillip)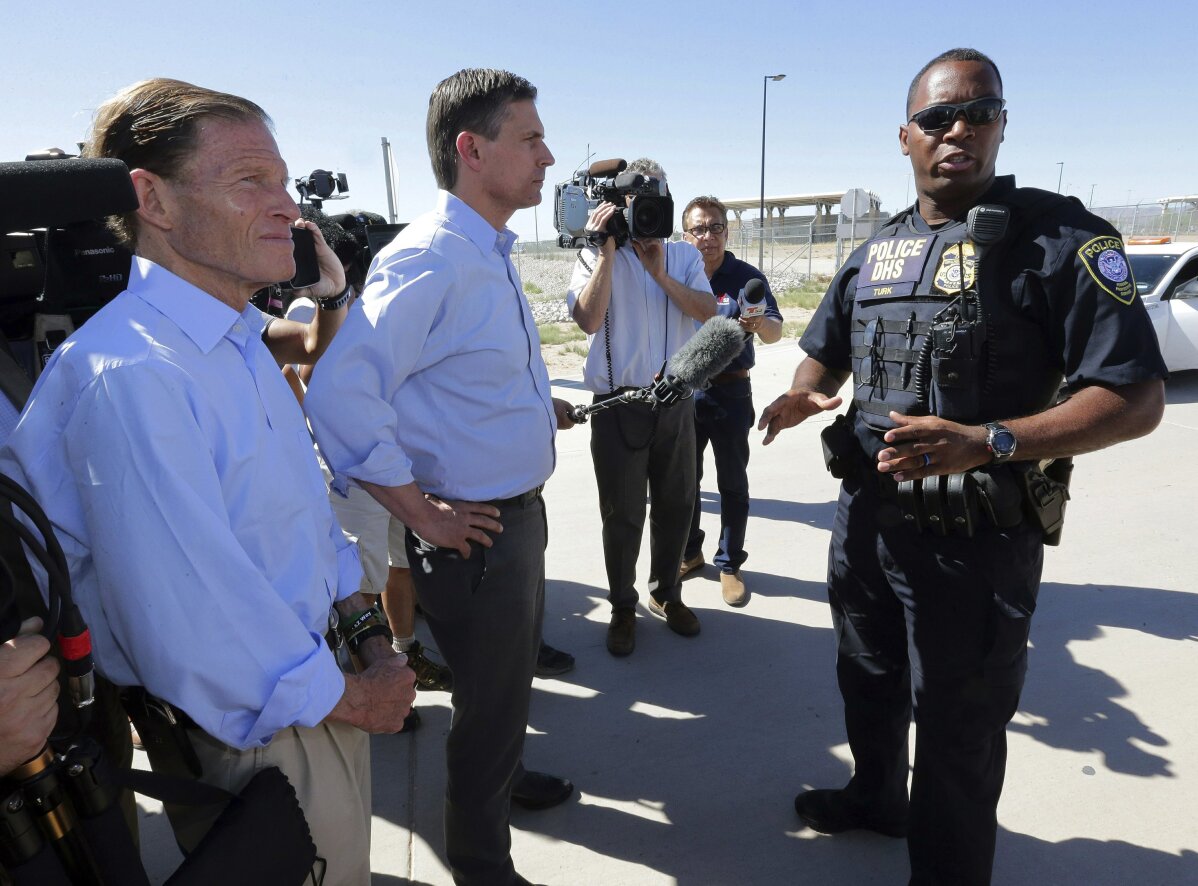 6 of 16

|
U.S. Sen. Martin Heinrich, D-N.M., center, and U.S. Sen. Richard Blumenthal, D-Ct., left, speak with a Dept. of Homeland Security agent as they arrive to tour the Fabens Port-of-Entry facility which houses tent shelters used to hold separated family members, Friday, June 22, 2018, in Fabens, Texas. President Donald Trump's order ending the policy of separating immigrant families at the border leaves a host of unanswered questions, including what happens to the children already taken from their parents and where the government will house all the newly detained migrants in a system already bursting at the seams. (AP Photo/Matt York)
6 of 16
U.S. Sen. Martin Heinrich, D-N.M., center, and U.S. Sen. Richard Blumenthal, D-Ct., left, speak with a Dept. of Homeland Security agent as they arrive to tour the Fabens Port-of-Entry facility which houses tent shelters used to hold separated family members, Friday, June 22, 2018, in Fabens, Texas. President Donald Trump's order ending the policy of separating immigrant families at the border leaves a host of unanswered questions, including what happens to the children already taken from their parents and where the government will house all the newly detained migrants in a system already bursting at the seams. (AP Photo/Matt York)
7 of 16

|
Mexico backdrops the Fabens Port-of-Entry which houses tent shelters used to hold separated migrant family members along the International border, Friday, June 22, in Fabens, Texas. The U.N human rights office says President Donald Trump's decision to stop the U.S. policy separating migrant parents from their children doesn't go far enough. (AP Photo/Matt York)
7 of 16
Mexico backdrops the Fabens Port-of-Entry which houses tent shelters used to hold separated migrant family members along the International border, Friday, June 22, in Fabens, Texas. The U.N human rights office says President Donald Trump's decision to stop the U.S. policy separating migrant parents from their children doesn't go far enough. (AP Photo/Matt York)
8 of 16

|
U.S. Sen. Richard Blumenthal, Conn., speaks as U.S. Sen. Tom Udall, D-NM, right, listens after a tour of the Fabens Port-of-Entry facility which houses tent shelters used to hold separated family members, Friday, June 22, 2018, in Fabens, Texas. President Donald Trump's order ending the policy of separating immigrant families at the border leaves a host of unanswered questions, including what happens to the more than 2,300 children already taken from their parents and where the government will house all the newly detained migrants in a system already bursting at the seams. (AP Photo/Matt York)
8 of 16
U.S. Sen. Richard Blumenthal, Conn., speaks as U.S. Sen. Tom Udall, D-NM, right, listens after a tour of the Fabens Port-of-Entry facility which houses tent shelters used to hold separated family members, Friday, June 22, 2018, in Fabens, Texas. President Donald Trump's order ending the policy of separating immigrant families at the border leaves a host of unanswered questions, including what happens to the more than 2,300 children already taken from their parents and where the government will house all the newly detained migrants in a system already bursting at the seams. (AP Photo/Matt York)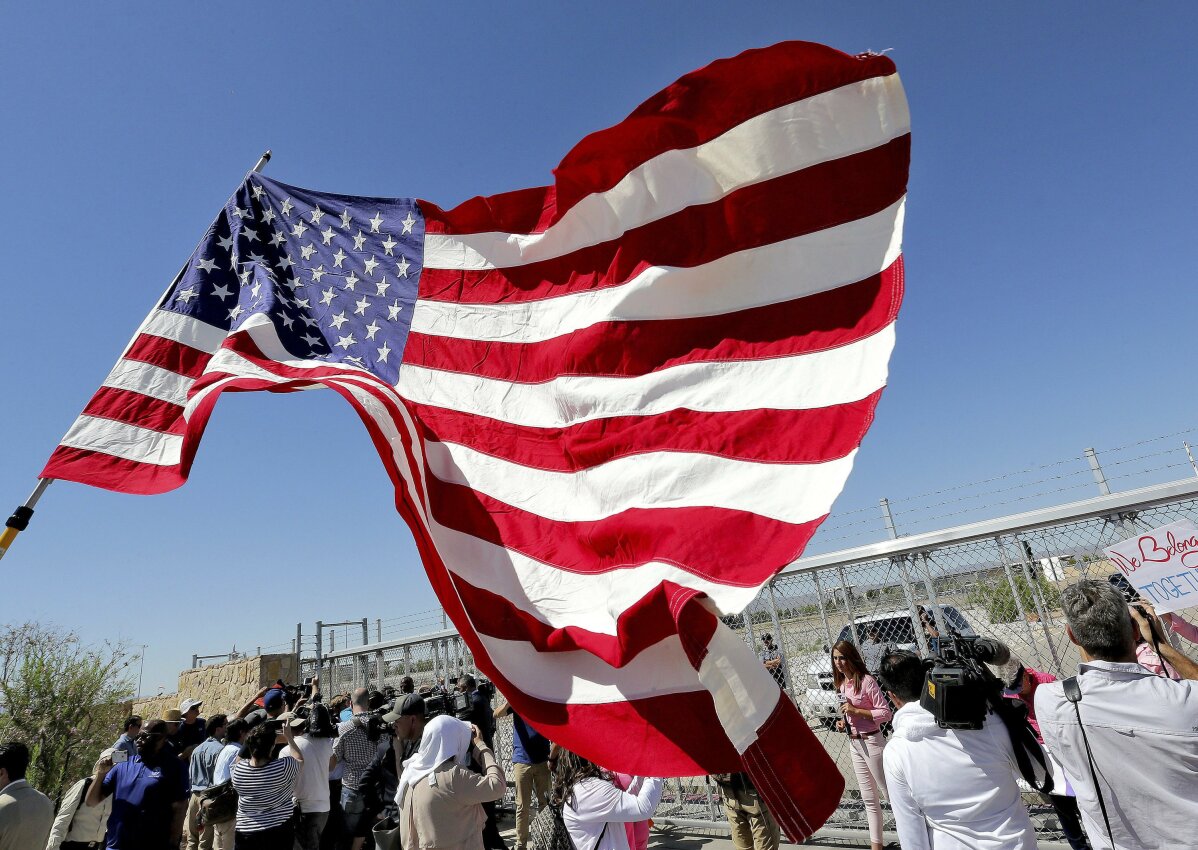 9 of 16

|
Protesters and media gather outside a closed gate at the Port of Entry facility, where tent shelters are being used to house separated family members, Thursday, June 21, 2018, in Fabens, Texas. President Donald Trump on Wednesday signed an order to stop the separations. Justice Department lawyers are working on a legal challenge to allow families to be detained longer than 20 days. (AP Photo/Matt York)
9 of 16
Protesters and media gather outside a closed gate at the Port of Entry facility, where tent shelters are being used to house separated family members, Thursday, June 21, 2018, in Fabens, Texas. President Donald Trump on Wednesday signed an order to stop the separations. Justice Department lawyers are working on a legal challenge to allow families to be detained longer than 20 days. (AP Photo/Matt York)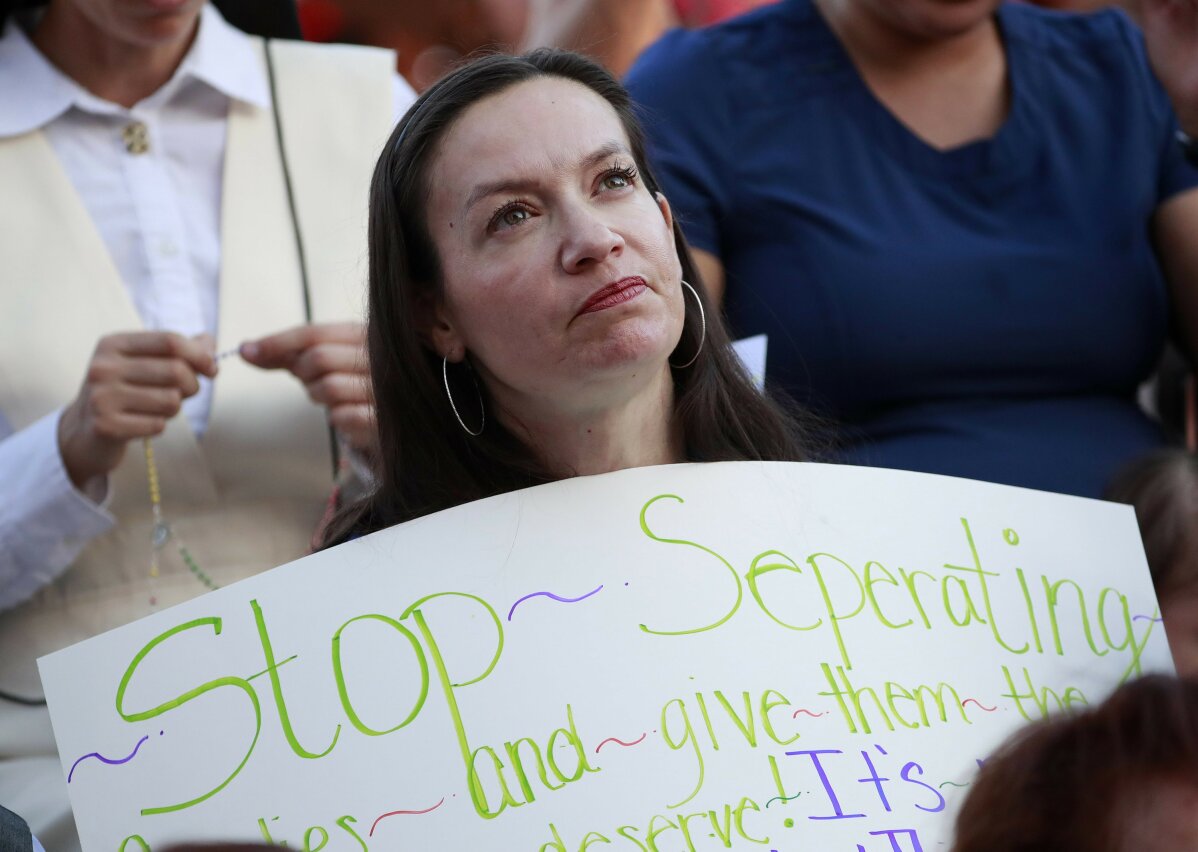 10 of 16

|
People gather at Saint Mark Catholic Church for a solidarity with migrants vigil, Thursday, June 21, 2018 in El Paso, Texas. President Donald Trump's order ending the policy of separating immigrant families at the border leaves a host of unanswered questions, including what happens to the more than 2,300 children already taken from their parents and where the government will house all the newly detained migrants in a system already bursting at the seams. (AP Photo/Matt York)
10 of 16
People gather at Saint Mark Catholic Church for a solidarity with migrants vigil, Thursday, June 21, 2018 in El Paso, Texas. President Donald Trump's order ending the policy of separating immigrant families at the border leaves a host of unanswered questions, including what happens to the more than 2,300 children already taken from their parents and where the government will house all the newly detained migrants in a system already bursting at the seams. (AP Photo/Matt York)
11 of 16

|
An immigrant child looks out from a U.S. Border Patrol bus leaving as protesters block the street outside the U.S. Border Patrol Central Processing Center Saturday, June 23, 2018, in McAllen, Texas. Additional law enforcement officials were called in to help control the crowd and allow the bus to move. (AP Photo/David J. Phillip)
11 of 16
An immigrant child looks out from a U.S. Border Patrol bus leaving as protesters block the street outside the U.S. Border Patrol Central Processing Center Saturday, June 23, 2018, in McAllen, Texas. Additional law enforcement officials were called in to help control the crowd and allow the bus to move. (AP Photo/David J. Phillip)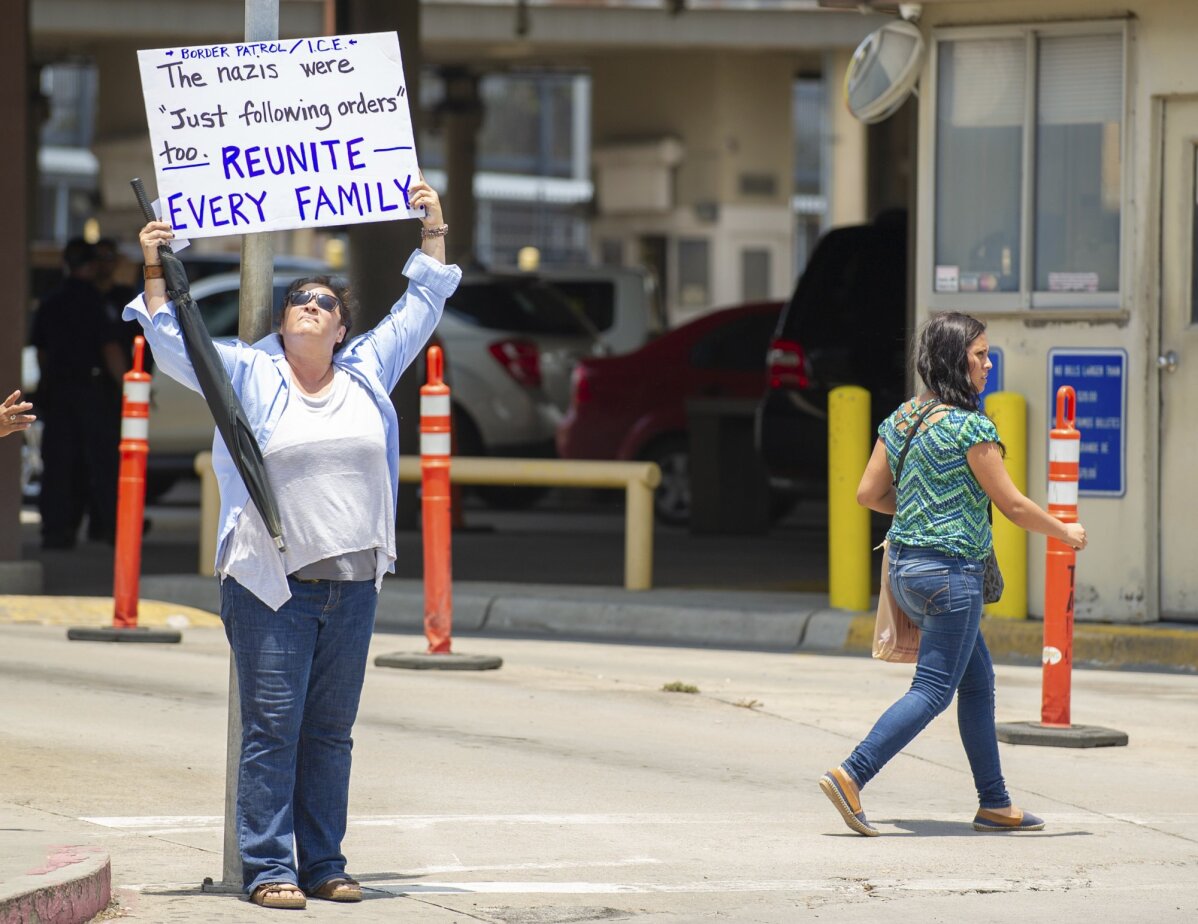 12 of 16

|
An unidentified woman holds a sign in front of the Customs and Border Protection port of entry Saturday, June 23, 2018, at the Gateway International Bridge in Brownsville, Texas. A group of demonstrators held a march decrying recent immigration policy practices. (Jason Hoekema/The Brownsville Herald via AP)
12 of 16
An unidentified woman holds a sign in front of the Customs and Border Protection port of entry Saturday, June 23, 2018, at the Gateway International Bridge in Brownsville, Texas. A group of demonstrators held a march decrying recent immigration policy practices. (Jason Hoekema/The Brownsville Herald via AP)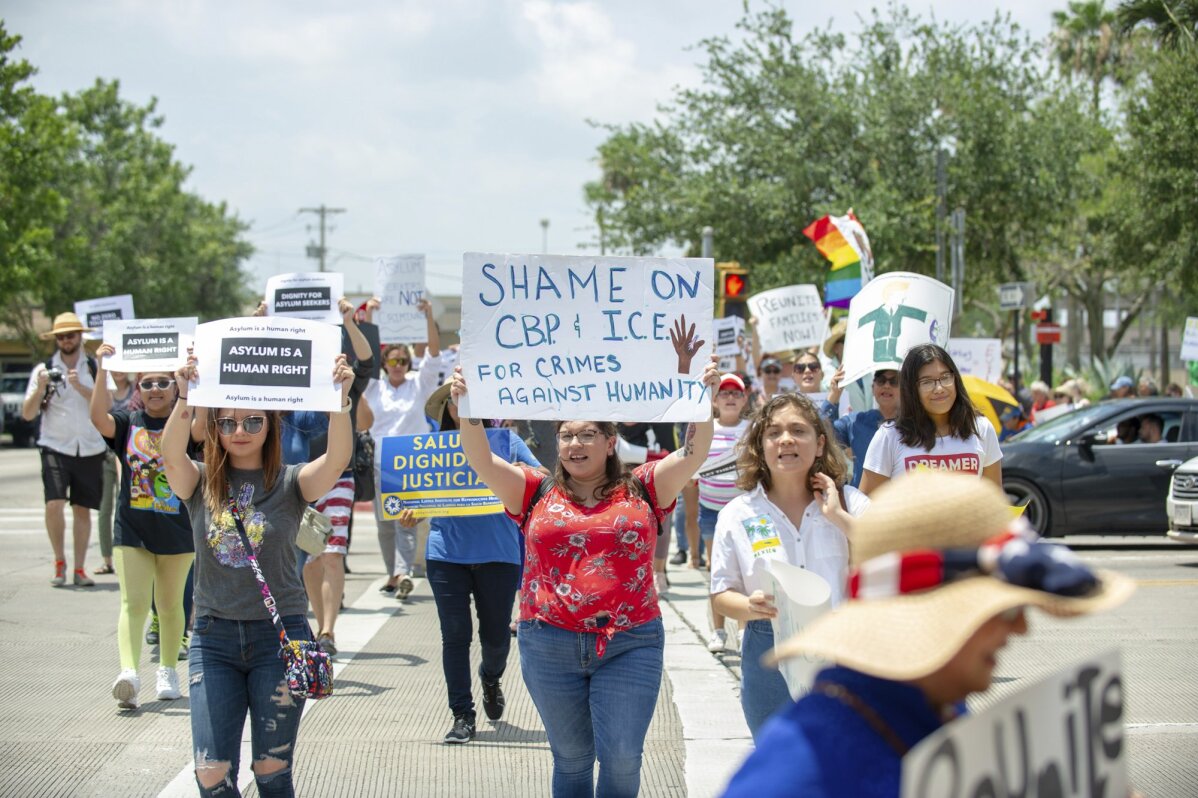 13 of 16

|
Demonstrators participate in an organized march Saturday, June 23, 2018, near the Gateway International Bridge in downtown Brownsville, Texas. (Jason Hoekema/The Brownsville Herald via AP)
13 of 16
Demonstrators participate in an organized march Saturday, June 23, 2018, near the Gateway International Bridge in downtown Brownsville, Texas. (Jason Hoekema/The Brownsville Herald via AP)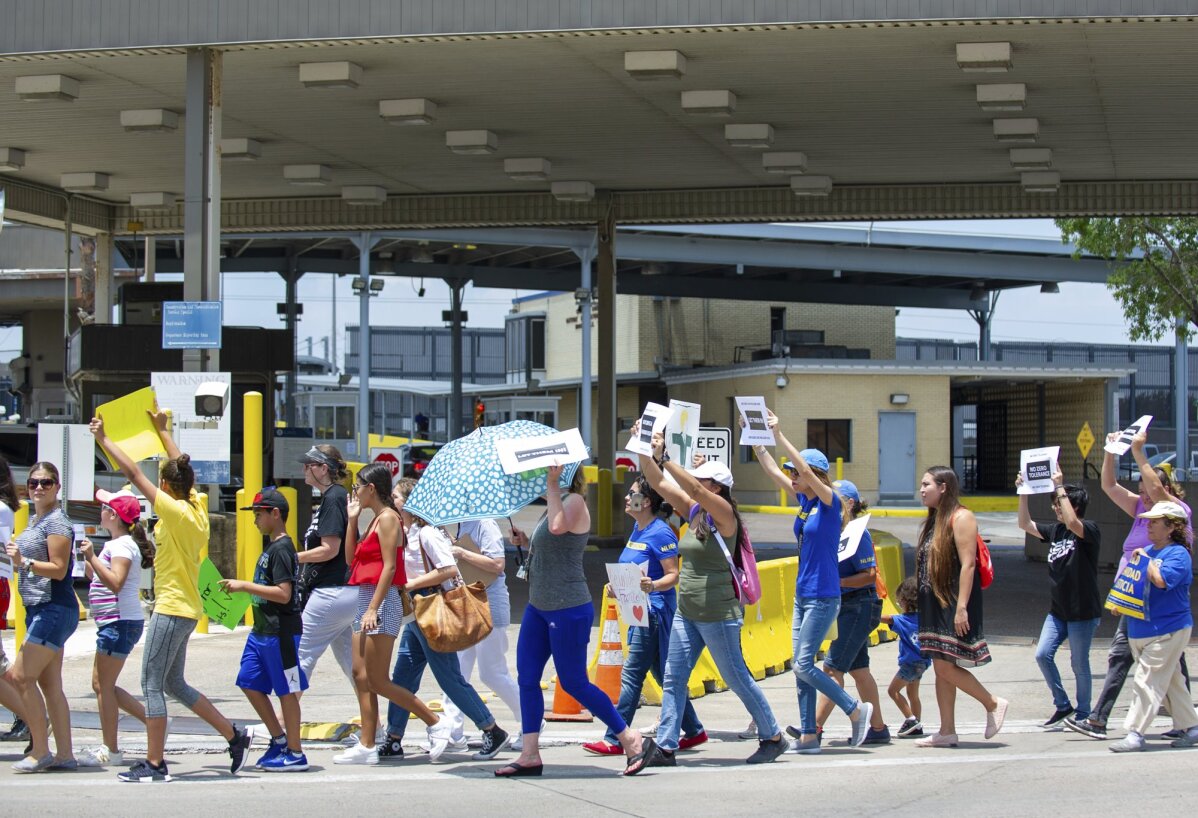 14 of 16

|
Demonstrators march past the Customs and Boarder Protection port of entry Saturday, June 23, 2018, at the Gateway International Bridge in downtown Brownsville, Texas. (Jason Hoekema/The Brownsville Herald via AP)
14 of 16
Demonstrators march past the Customs and Boarder Protection port of entry Saturday, June 23, 2018, at the Gateway International Bridge in downtown Brownsville, Texas. (Jason Hoekema/The Brownsville Herald via AP)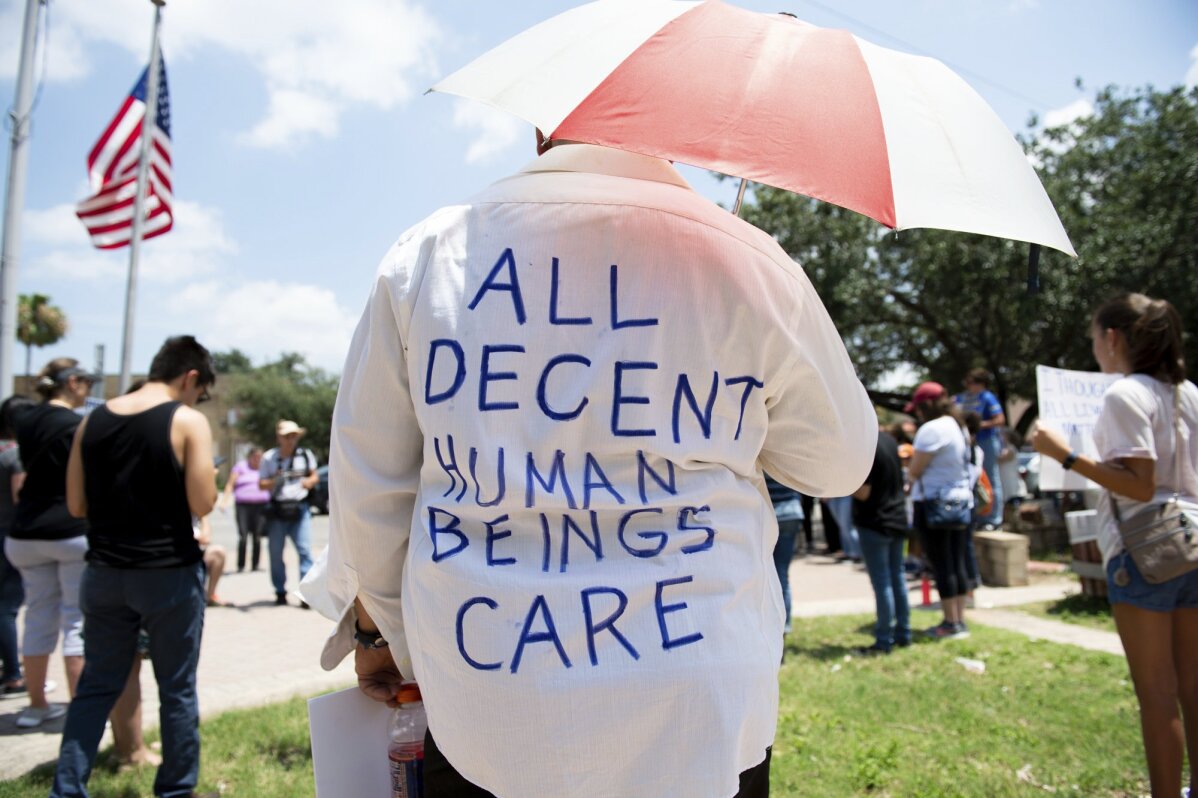 15 of 16

|
An unidentified man participates in a demonstration Saturday, June 23, 2018, near the Gateway International Bridge in Brownsville, Texas. The handwritten message on the shirt is a response to a garment recently worn by First Lady Melania Trump before her visit to McAllen, Texas (Jason Hoekema/The Brownsville Herald via AP)
15 of 16
An unidentified man participates in a demonstration Saturday, June 23, 2018, near the Gateway International Bridge in Brownsville, Texas. The handwritten message on the shirt is a response to a garment recently worn by First Lady Melania Trump before her visit to McAllen, Texas (Jason Hoekema/The Brownsville Herald via AP)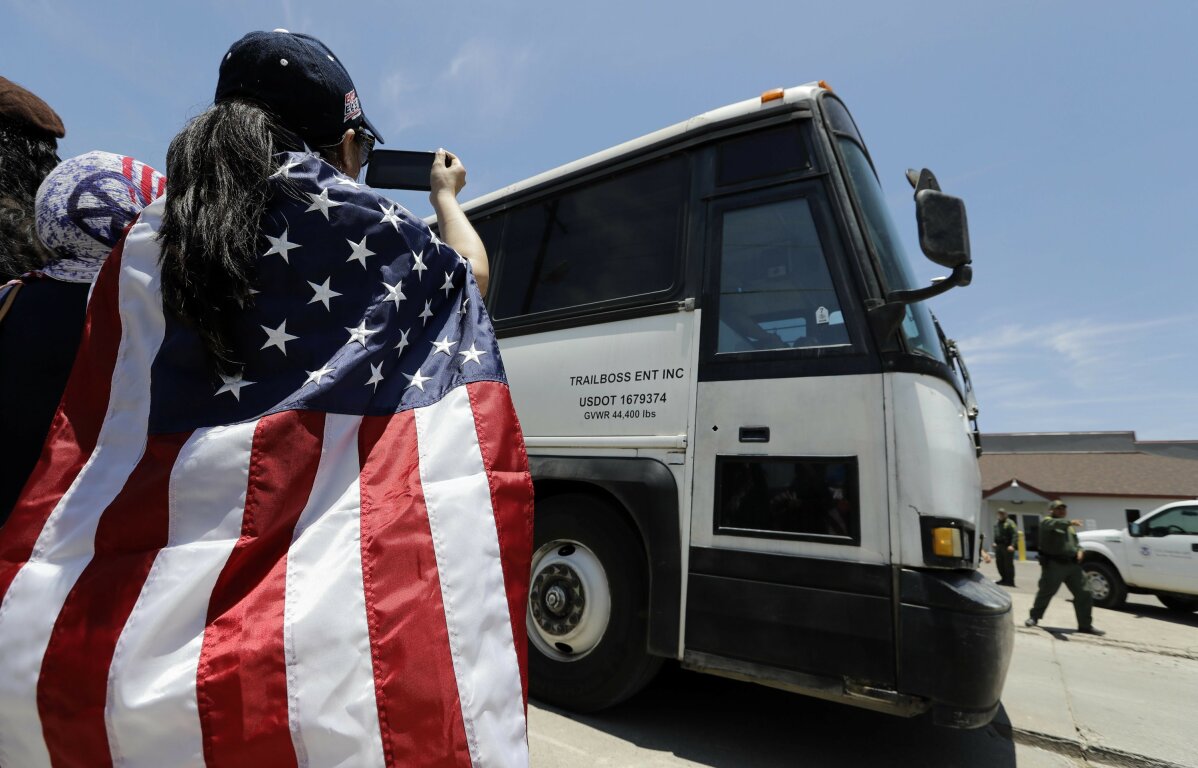 16 of 16

|
A demonstrator watches as a bus with immigrant children onboard tries to move outside the U.S. Border Patrol Central Processing Center Saturday, June 23, 2018, in McAllen, Texas. Protestors blocked the bus from moving until extra law enforcement cleared the street. (AP Photo/David J. Phillip)
16 of 16
A demonstrator watches as a bus with immigrant children onboard tries to move outside the U.S. Border Patrol Central Processing Center Saturday, June 23, 2018, in McAllen, Texas. Protestors blocked the bus from moving until extra law enforcement cleared the street. (AP Photo/David J. Phillip)
MCALLEN, Texas (AP) — Demonstrators led rallies and protests Saturday to decry the separation of immigrant parents from their children by U.S. border authorities, while Democratic lawmakers said they aren't convinced the Trump administration has any real plan to reunite them.
Hundreds of people rallied near a Homestead, Florida, facility where immigrant children are being held. Demonstrators marched in San Diego carrying signs reading "Free the Kids" and "Keep Families Together" and in other California cities.
Outside a Border Patrol processing facility in McAllen, Texas, protesters carrying American flags temporarily blocked a bus carrying immigrants and shouted "Shame! Shame!" at border agents.
"Something has to be done," said Gabriel Rosales, the League of United Latin American Citizens' national vice president for the southwest. "This is not something that's OK in America today. And ours is to show those kids that they have people here in the United States that care."
The demonstrations came days after the Trump administration reversed course in the face of public and political outrage and had authorities stop separating immigrant families caught crossing the U.S.-Mexico border.
In recent weeks, more than 2,300 children were taken from their families under a "zero-tolerance" policy in which people entering the U.S. illegally face prosecution. While the family separations were ended, confusion has ensued, with parents left searching for their children.
The administration says it will now seek to detain immigrant families during their immigration proceedings, which has also stoked an outcry.
Department of Homeland Security spokesman Tyler Houlton issued a statement that criticized protests in Portland, Oregon, against immigration enforcement activities that closed federal immigration offices there this week, but did not address the other demonstrations occurring around the country Saturday.
Evelyn Stauffer, a spokeswoman for the Department of Health and Human Services, said her agency is trying to help reunite families or place unaccompanied immigrant children with an appropriate sponsor.
In Florida, Argentine immigrant Maria Bilbao said she joined the protest because she came to the country 17 years ago with her then-9-year-old son and understands the fear of being separated from a child.
"What is happening in this country is disgusting," said Bilbao, who worked as a cleaning woman before becoming a legal resident and now works for an immigrant rights group. "They should be letting people go to the outside so they can work and contribute to this country."
More protests are planned for next weekend in states from Connecticut to California.
A group of 25 Democratic lawmakers who toured the border processing facility in McAllen, Texas, said they hadn't seen a clear federal system for reuniting those who were split up. Everyone — even infants — is assigned "A'' or alien numbers, only to be given different identification numbers by other federal agencies.
They described seeing children sleeping behind bars, on concrete floors and under emergency "mylar" heat-resistant blankets.
"There are still thousands of children who are out there right now untethered to their parents and no coherent system to fix that," Rep. Joe Courtney, a Democrat from Connecticut, told reporters after the tour.
Immigration lawyers are also trying to help facilitate reunions. At criminal court hearings in McAllen, one lawyer identified parents separated from their children, and immigration attorney Jodi Goodwin said she followed up with them at a detention facility in Port Isabel, Texas, to collect information about their cases and their children.
Goodwin said she has been inundated with requests from the parents, and the list is still growing.
"Once you end up talking with one parent they tell you that there are 70 other parents in their dorm that are also separated and can I help them," she said, adding that Immigration and Customs Enforcement had asked her to share the information so they could assist. "We haven't tapped out on the number of adults that have been separated."
Tens of thousands of immigrants traveling with their families have been caught on the U.S.-Mexico border in recent years, many fleeing gang violence in Central America. About 9,000 such family units have been caught in each of the last three months, according to U.S. border authorities.
The Trump administration announced plans in April to prosecute all immigrants caught along the southwest border with illegally entering the country. Parents were jailed and children were taken to government-contracted shelters.
The administration says it will continue with prosecutions and seek to detain families together during their immigration proceedings. Immigration officials have said they could seek up to 15,000 beds in family detention facilities, and the Pentagon is drawing up plans to house as many as 20,000 unaccompanied immigrant children on military bases.
The administration also is seeking changes to a decades-old settlement governing the detention of immigrant children to try to be able to detain children with their parents in family detention centers for longer periods of time.
___
AP photographers David J. Phillip in McAllen, Texas and Brynn Anderson in Homestead, Florida, and writers Terry Spencer, in Ft. Lauderdale, Florida, Amy Taxin in Santa Ana, California and Michael Balsamo in Los Angeles contributed to this report.