Pelley out, Mason temporarily in as CBS evening news anchor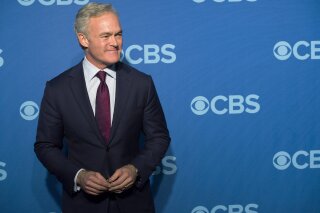 NEW YORK (AP) — CBS' effort to brand itself as the home of hard-edged newscasts has achieved commercial success in the morning, but not so much in the evening — and "CBS Evening News" anchor Scott Pelley paid the price for it with his job.
The network announced Wednesday that Pelley will return full time to "60 Minutes," the flagship newsmagazine where he divided his time in the six years since he replaced Katie Couric as evening news anchor. Twenty-year CBS veteran Anthony Mason will fill in on the evening news until a permanent successor is chosen.
The transition has already been a little messy: CBS had intended to announce it next week, but when workers began packing Pelley's belongings at his evening news office into boxes Tuesday word of his departure spread.
CBS News, with its influence diminished at the turn of the decade, sought to mold its newscasts in the meatier image of "60 Minutes." It named the newsmagazine's most influential correspondent, Pelley, as evening anchor and installed the team of Charlie Rose, Gayle King and Norah O'Donnell at the newly named "CBS This Morning."
The strategy has worked beyond the network's dreams in the morning. Once invisible, CBS is now competitive with ABC's "Good Morning America" and NBC's "Today" show — still third but gaining fast. Pelley won respect and early ratings success in the evening. But he was never truly competitive with ABC and NBC, and lately he has slid further behind.
Pelley's onscreen demeanor — "strict and steeling, disavowing both charm and irony" — was appropriate for the nation's mood after last decade's financial crisis, said news consultant Andrew Tyndall, who studies the content of evening newscasts. But it has proven less so for the Donald Trump era. Despite a heightened interest in news that has propelled cable personalities like Rachel Maddow to new heights, the evening newscasts haven't benefited. Collectively, the three networks reach 24.2 million each night, down 4 percent from last year, the Nielsen ratings company said.
In recent months, Pelley has attracted attention, and anger from Trump's supporters, for blunt assessments of the Republican president's moves.
CBS gave no public reason for removing Pelley. In such situations, ratings usually tell the story.
But CBS executives stressed the importance of having Pelley full time at "60 Minutes."
"The milestone 50th season of '60 Minutes' requires Scott's full contribution, and we look forward to important reporting from him for many years to come," CBS News President David Rhodes said.
Pelley, 59, was on assignment overseas Wednesday. He'll be back at the "CBS Evening News" Monday for a short period before Mason takes over. In a statement, Pelley said CBS "has been great to me for nearly 30 years."
"I'm glad to accept this assignment with continuing gratitude," he said.
There had been behind-the-scenes signals a shift was coming. As Pelley heads into a job where his day-to-day presence in the office is less important, he has recently bought a ranch in Texas and put a house in Connecticut on the market.
It's unclear whether Mason will be a candidate for the full-time job. Potential candidates include CBS' Jeff Glor and CNN's Jake Tapper or Anderson Cooper. But in a reflection of television news' changed circumstances, other CBS personalities like O'Donnell or "Face the Nation" host John Dickerson aren't expected to be candidates.
The role of evening news anchor was once clearly the top job in broadcast journalism but now has less influence. And CBS would be loath to break up its morning team because that's where it makes more money, industry observers said.
"It would be a mistake to take from this that people don't want a solid news program," said Lee Kamlet, a former ABC News producer and dean of the communications school at Quinnipiac University. "But they are more inclined to want it in the morning, when they haven't been on their news and social media feeds throughout the night."
For all the attention Maddow and other cable personalities get, however, Pelley routinely reached twice as many people each night.
Pelley's newscast had more international news and a tougher tone than its rivals, but it wasn't necessarily breaking news-dependent, Tyndall said. It was more dependent on its own video than special effects; in short, it looked more like "60 Minutes," he said.