Relatives struggle with Wisconsin deaths of Girl Scout, mom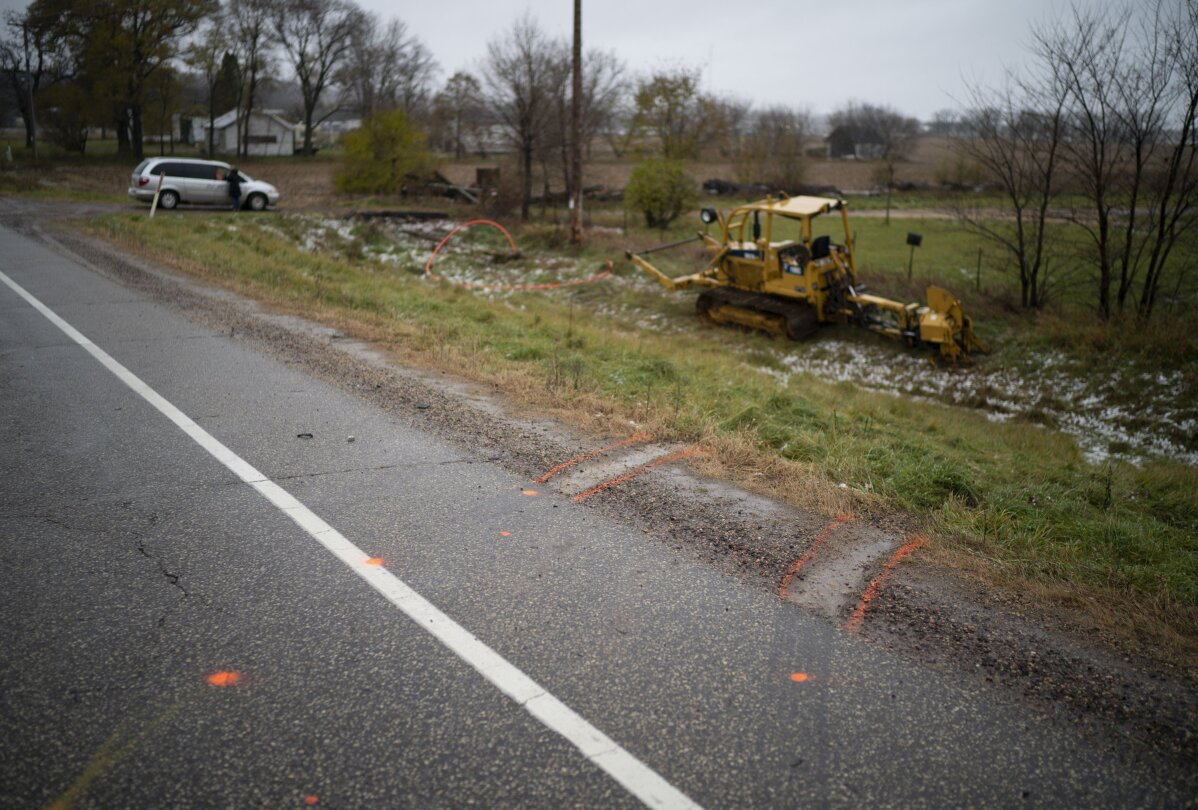 1 of 10

|
Tire tracks marked with spray paint lead to where a vehicle struck three Girl Scouts and an an adult chaperone on Sunday, Nov. 4, 2018 in Lake Hallie, Wis. The western Wisconsin community is grieving the deaths of three girls and an adult who were collecting trash along a rural highway when police say a pickup truck veered off the road and hit them before speeding away. (Jeff Wheeler/Star Tribune via AP)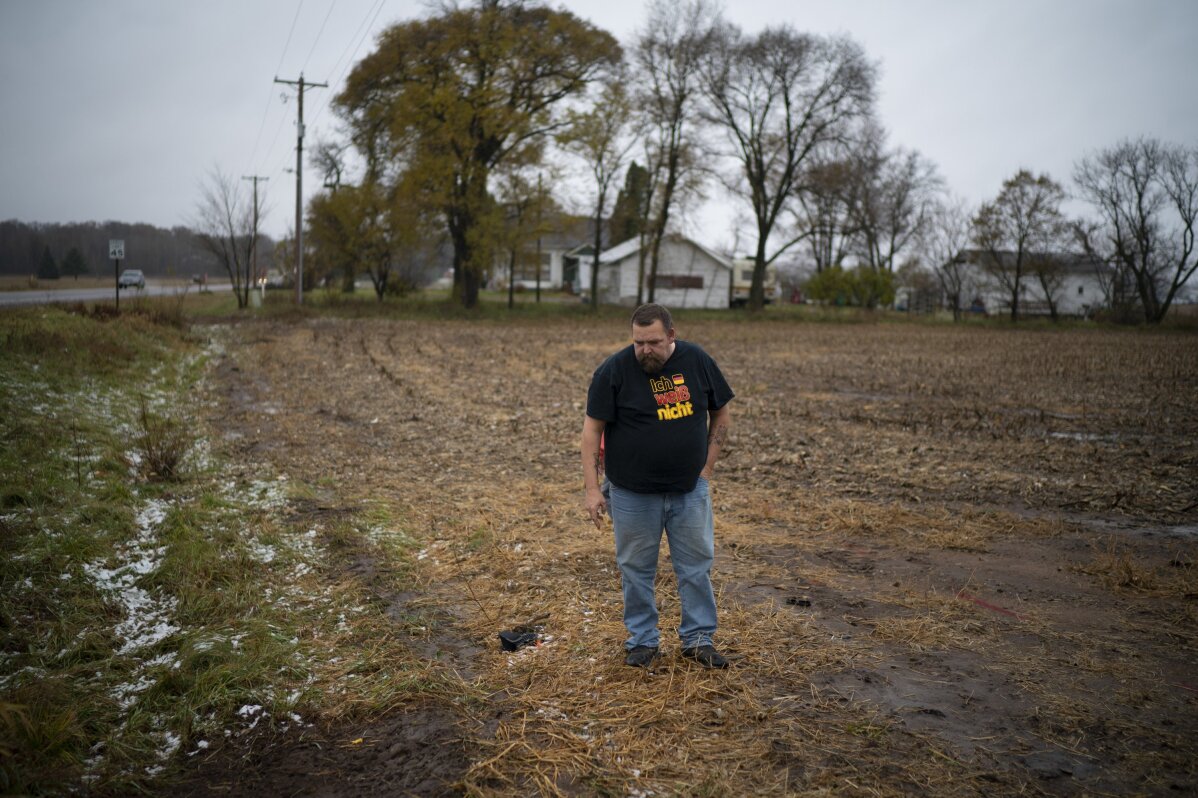 2 of 10

|
A relative of the adult victim struck and killed by a vehicle Saturday looks at the path he thought the truck took when it veered off Wisconsin County Hwy. P, Sunday, Nov. 4, 2018. The western Wisconsin community is grieving the deaths of three Girl Scouts and an adult who were collecting trash along a rural highway when police say a pickup truck veered off the road and hit them before speeding away. (Jeff Wheeler/Star Tribune via AP)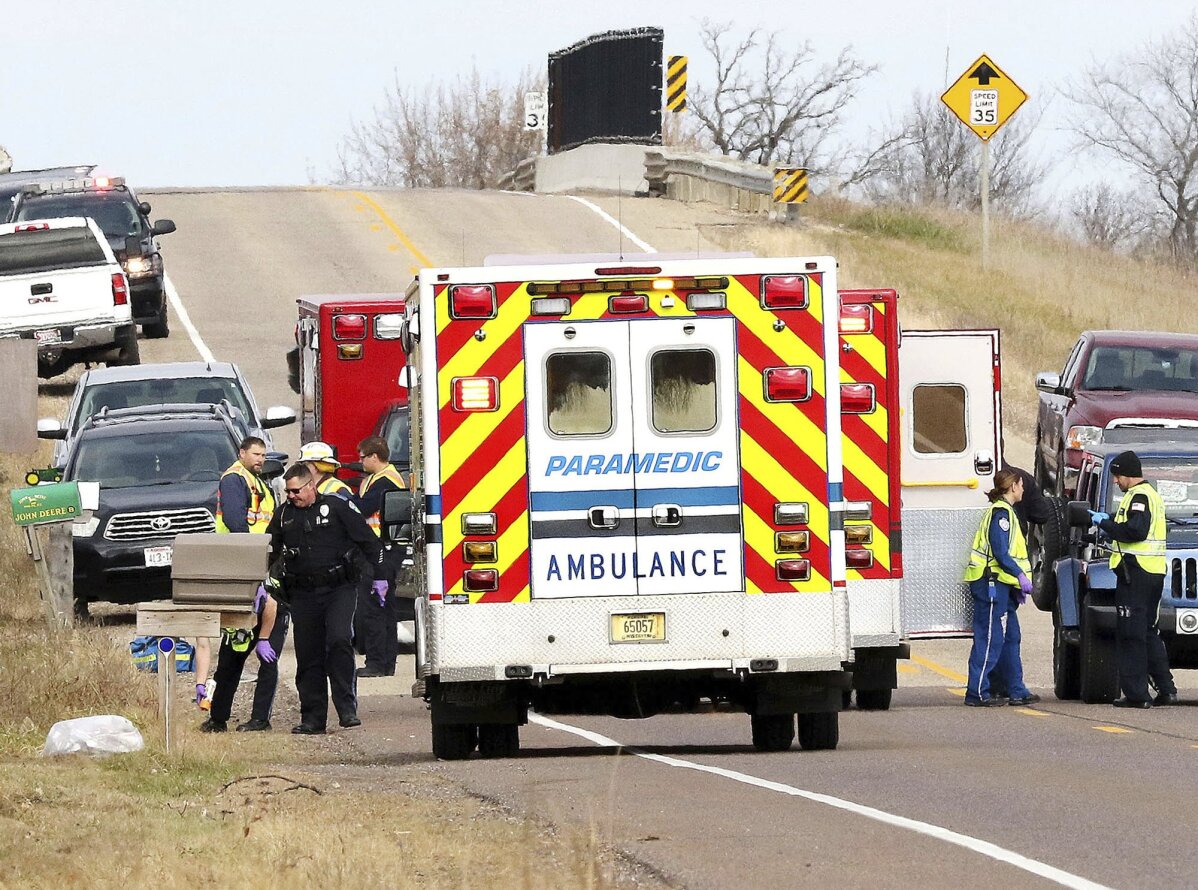 3 of 10

|
Emergency medical personnel gather at the scene of a hit-and-run accident Saturday, Nov. 3, 2018, in Lake Hallie, Wis., that killed two girls and an adult. (Steve Kinderman/The Eau Claire Leader-Telegram via AP)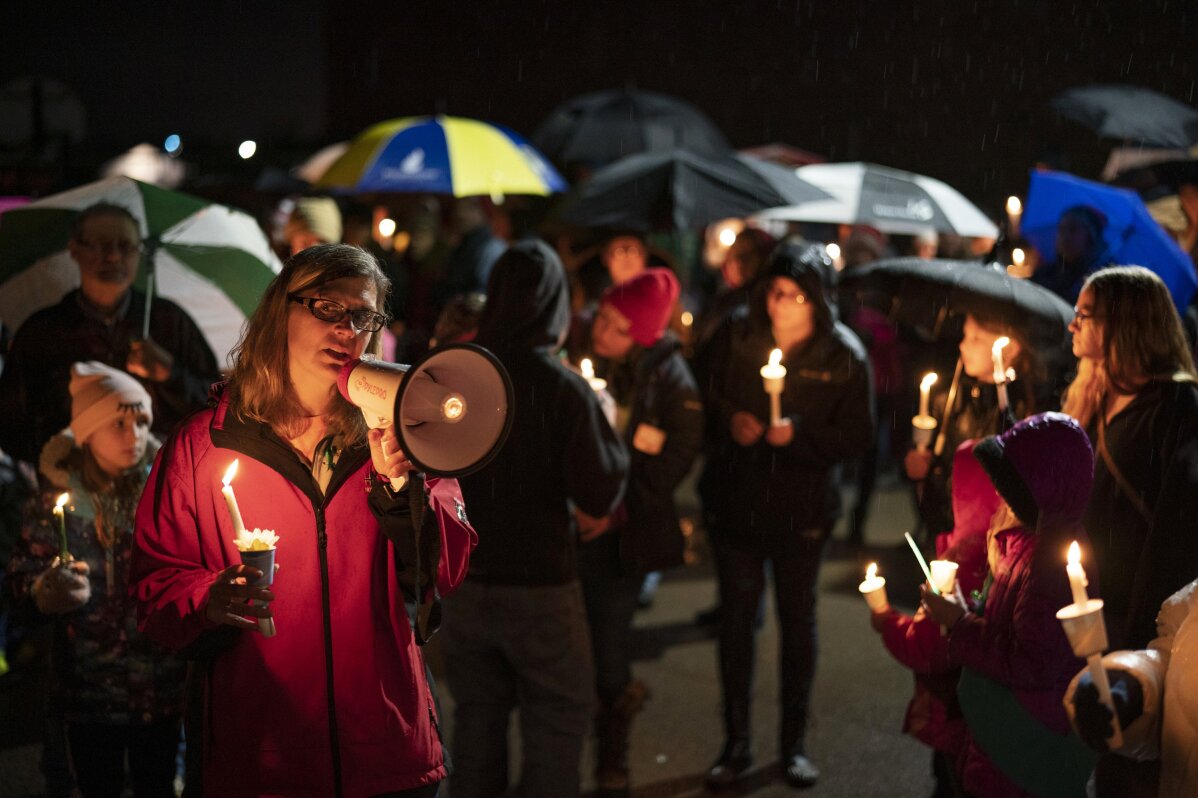 4 of 10

|
Sherri Jasper, a Girl Scout board member and counselor at Halmstad Elementary School, leads the program for a candlelight vigil at the school in Chippewa Falls, Wis., Sunday evening, Nov. 4, 2018. The western Wisconsin community on Sunday was grieving the deaths of three Girl Scouts and a parent who were collecting trash Saturday along a rural highway when police say a pickup truck veered off the road and hit them before speeding away. The 21-year-old driver, Colten Treu of Chippewa Falls, sped off but later surrendered. He will be charged with four counts of homicide, Lake Hallie police Sgt. Daniel Sokup said. (Jeff Wheeler/Star Tribune via AP)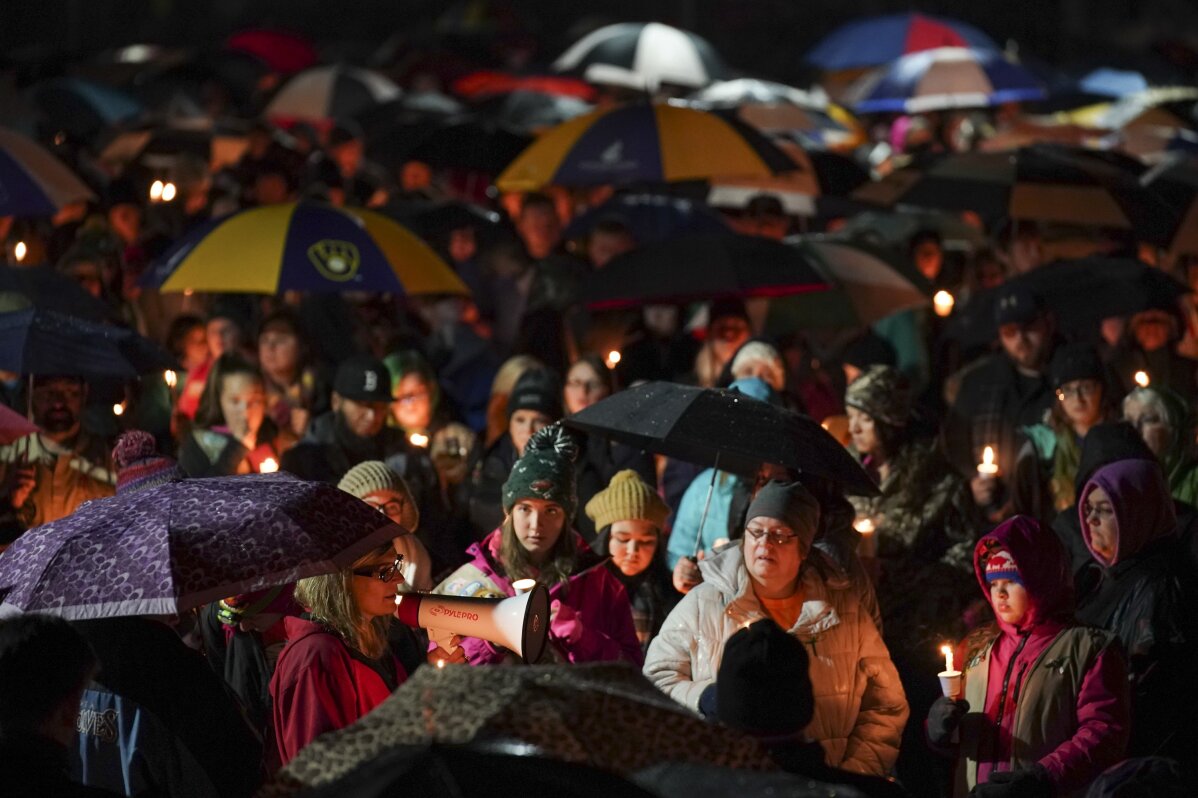 5 of 10

|
Sherri Jasper, a Girl Scout board member and counselor at Halmstad Elementary School, leads the program for a candlelight vigil at the school in Chippewa Falls, Wis., Sunday evening, Nov. 4, 2018. The western Wisconsin community on Sunday was grieving the deaths of three Girl Scouts and a parent who were collecting trash Saturday along a rural highway when police say a pickup truck veered off the road and hit them before speeding away. The 21-year-old driver, Colten Treu of Chippewa Falls, sped off but later surrendered. He will be charged with four counts of homicide, Lake Hallie police Sgt. Daniel Sokup said. (Jeff Wheeler/Star Tribune via AP)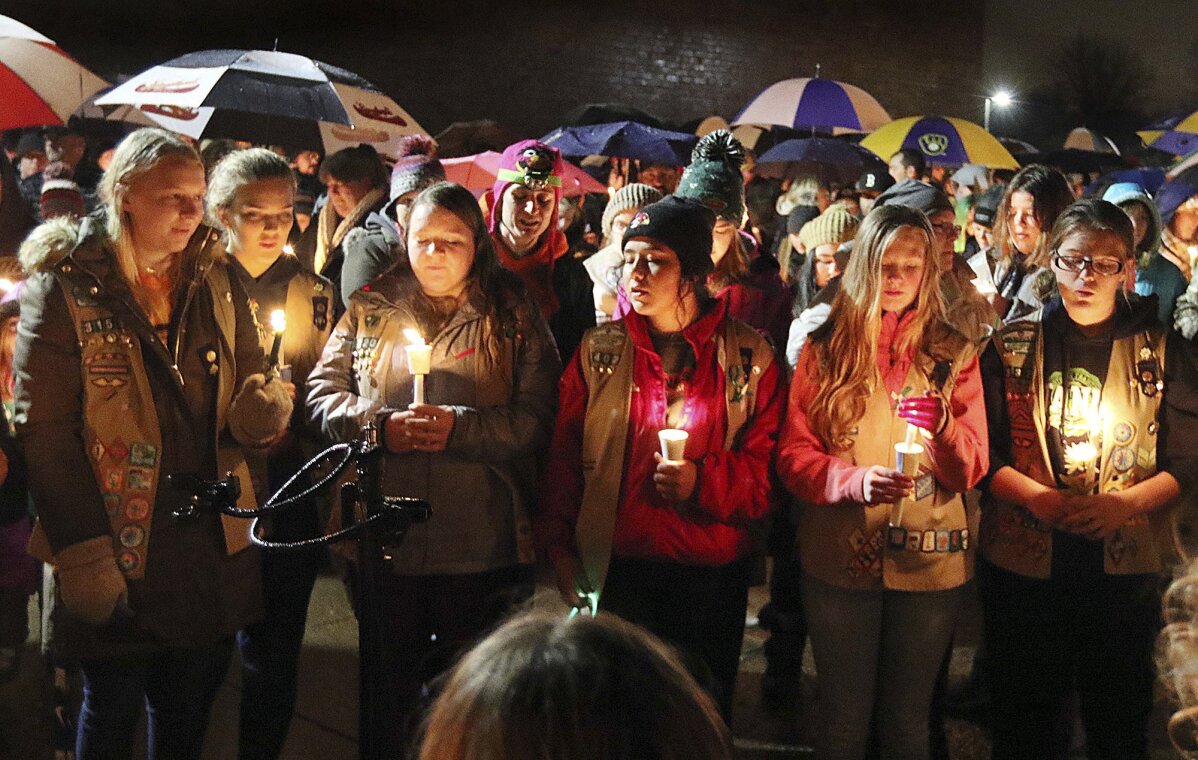 6 of 10

|
Girl Scouts sing as hundreds of community members turn out in the rain Sunday evening, Nov. 4, 2018, for a candlelight vigil at Halmstad Elementary School in Chippewa Falls, Wis., in remembrance of three fourth grade Girl Scouts and a parent who died Saturday, after being struck by a pickup truck while their troop was picking up trash along a rural highway. The 21-year-old driver, Colten Treu of Chippewa Falls, sped off but later surrendered. He will be charged with four counts of homicide, Lake Hallie police Sgt. Daniel Sokup said. (Steve Kinderman/The Eau Claire Leader-Telegram via AP)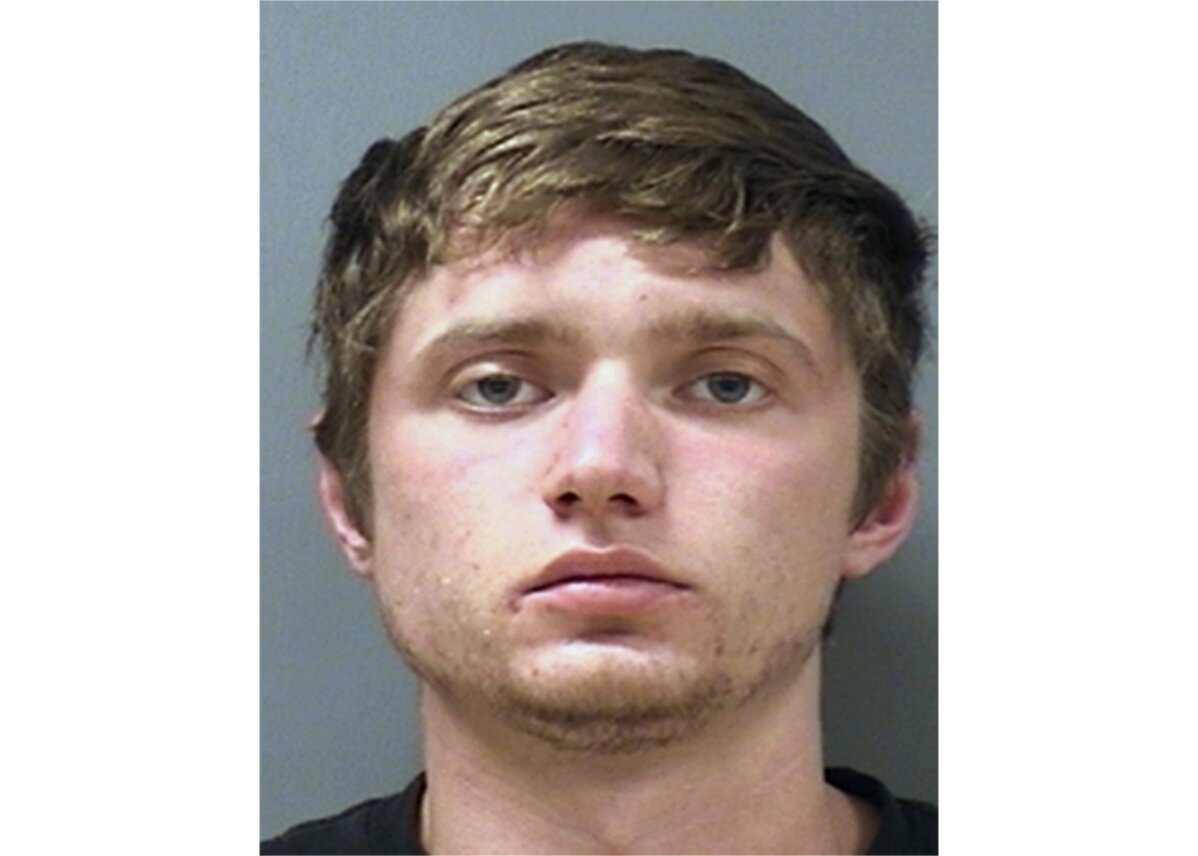 7 of 10

|
This photo provided by the Chippewa County Sheriff's Office in Wisconsin shows Colten Treu, who is accused of striking and killing three Girl Scouts and a parent and critically injuring a fourth girl who were picking up trash along a rural roadway near Chippewa Falls, Wis., on Saturday, Nov. 3, 2018. Treu was being held in the Chippewa County Jail on 13 possible charges, including four counts of intoxicated use of a motor vehicle. (Chippewa County (Wis.) Sheriff's Office via AP)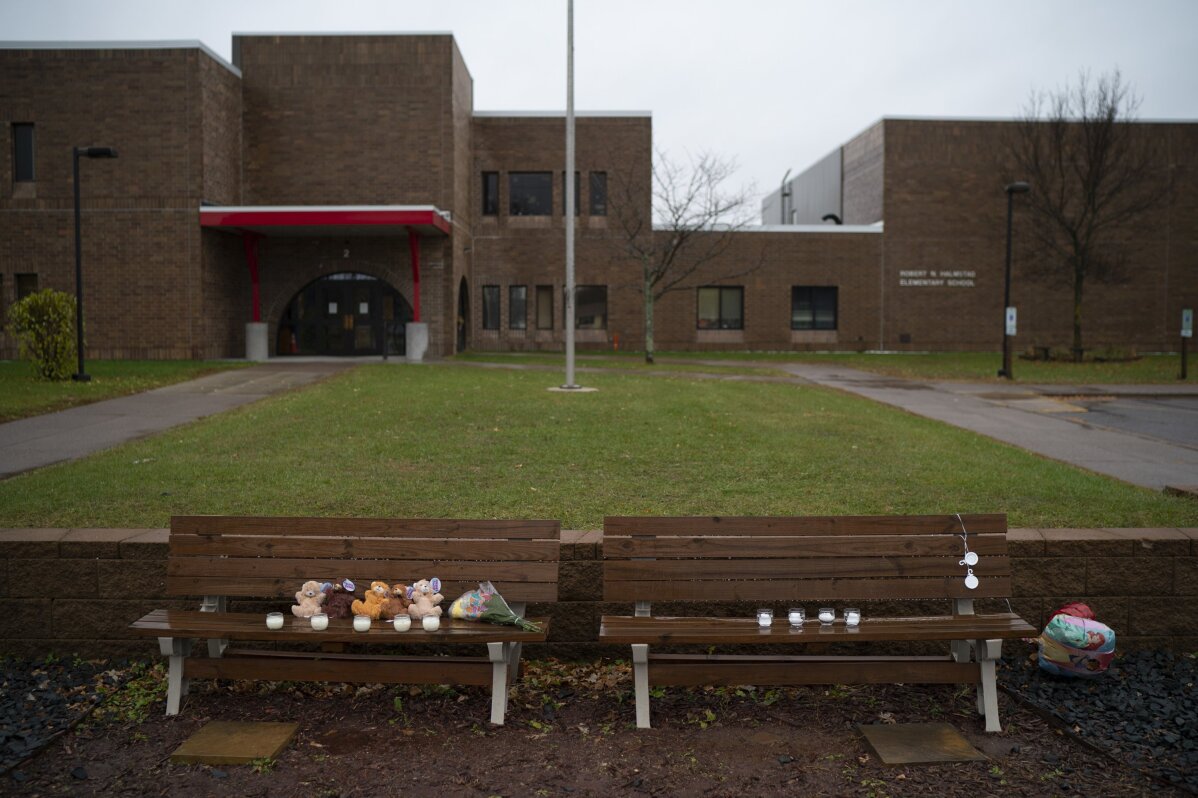 8 of 10

|
Teddy bears, flowers, and candles were placed on benches outside Halmstad Elementary School in Chippewa Falls, Wis. as a memorial to the three Girl Scouts who were struck and killed by a driver who fled the scene, Sunday, Nov. 4, 2018. The western Wisconsin community is grieving the deaths of three girls and an adult who were collecting trash along a rural highway when police say a pickup truck veered off the road and hit them before speeding away. (Jeff Wheeler/Star Tribune via AP)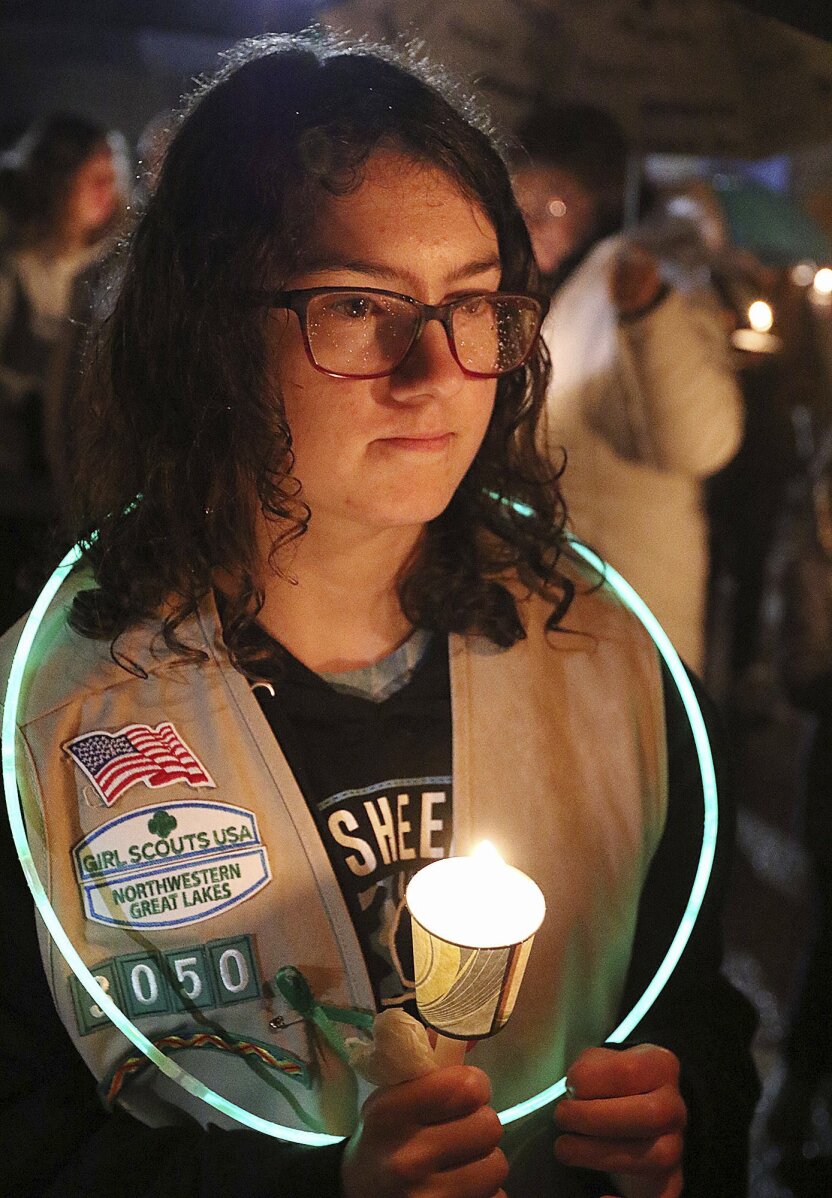 9 of 10

|
Girl Scout Jessica Lauterbach, 12, of Altoona, Wis., attends a candlelight vigil at Halmstad Elementary School in Chippewa Falls, Wis., Sunday evening, Nov. 4, 2018, in remembrance of three fourth grade Girl Scouts and a parent who died Saturday, after being struck by a pickup truck while their troop was picking up trash along a rural highway. The 21-year-old driver, Colten Treu of Chippewa Falls, sped off but later surrendered. He will be charged with four counts of homicide, Lake Hallie police Sgt. Daniel Sokup said. (Steve Kinderman/The Eau Claire Leader-Telegram via AP)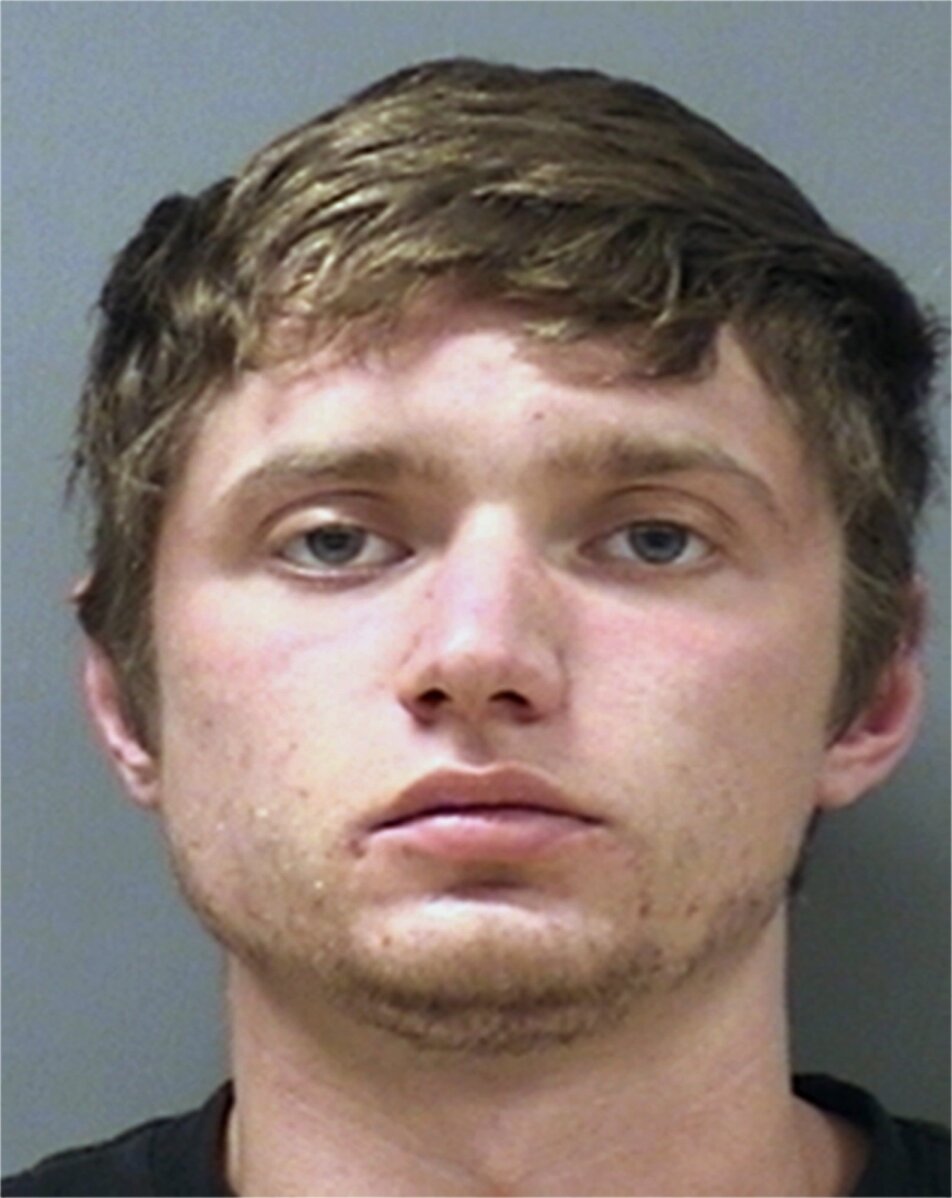 10 of 10

|
This photo provided by the Chippewa County Sheriff's Office in Wisconsin shows Colten Treu, who is accused of striking and killing three Girl Scouts and a parent and critically injuring a fourth girl who were picking up trash along a rural roadway near Chippewa Falls, Wis., on Saturday, Nov. 3, 2018. Treu was being held in the Chippewa County Jail on 13 possible charges, including four counts of intoxicated use of a motor vehicle. (Chippewa County (Wis.) Sheriff's Office via AP)
Relatives struggle with Wisconsin deaths of Girl Scout, mom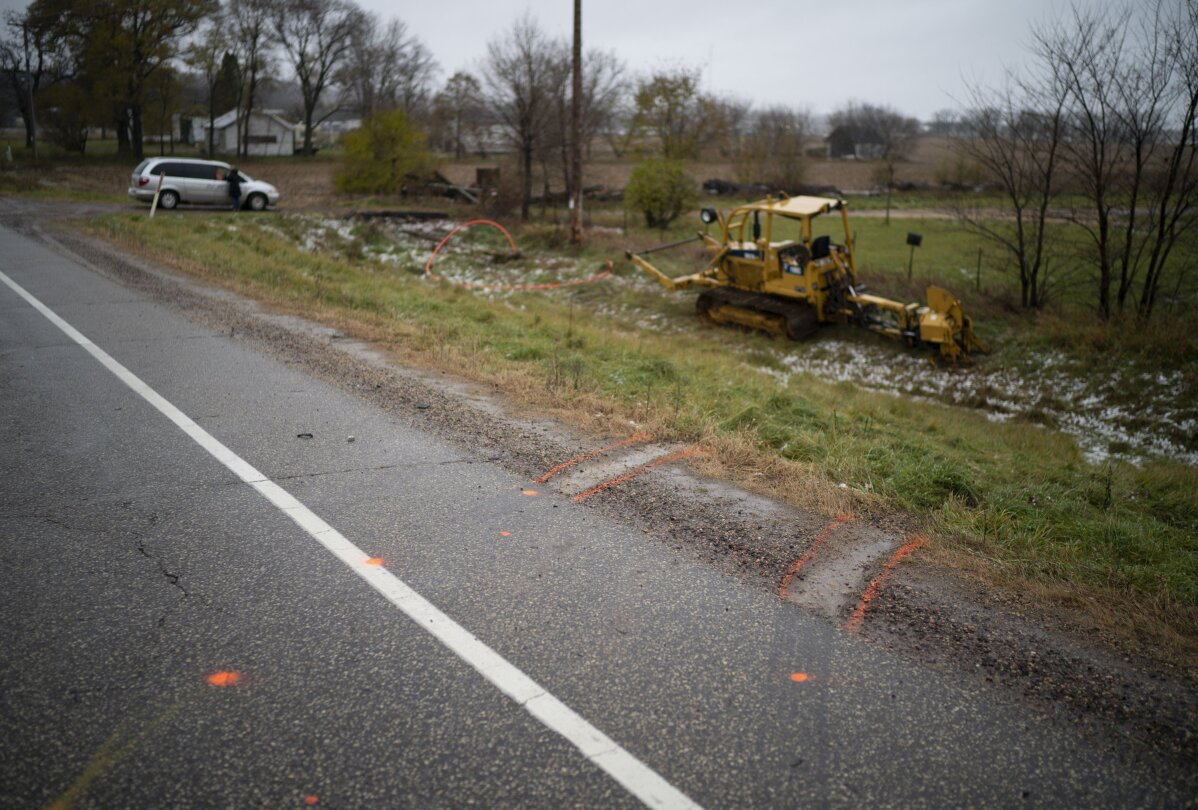 1 of 10

|
Tire tracks marked with spray paint lead to where a vehicle struck three Girl Scouts and an an adult chaperone on Sunday, Nov. 4, 2018 in Lake Hallie, Wis. The western Wisconsin community is grieving the deaths of three girls and an adult who were collecting trash along a rural highway when police say a pickup truck veered off the road and hit them before speeding away. (Jeff Wheeler/Star Tribune via AP)
1 of 10
Tire tracks marked with spray paint lead to where a vehicle struck three Girl Scouts and an an adult chaperone on Sunday, Nov. 4, 2018 in Lake Hallie, Wis. The western Wisconsin community is grieving the deaths of three girls and an adult who were collecting trash along a rural highway when police say a pickup truck veered off the road and hit them before speeding away. (Jeff Wheeler/Star Tribune via AP)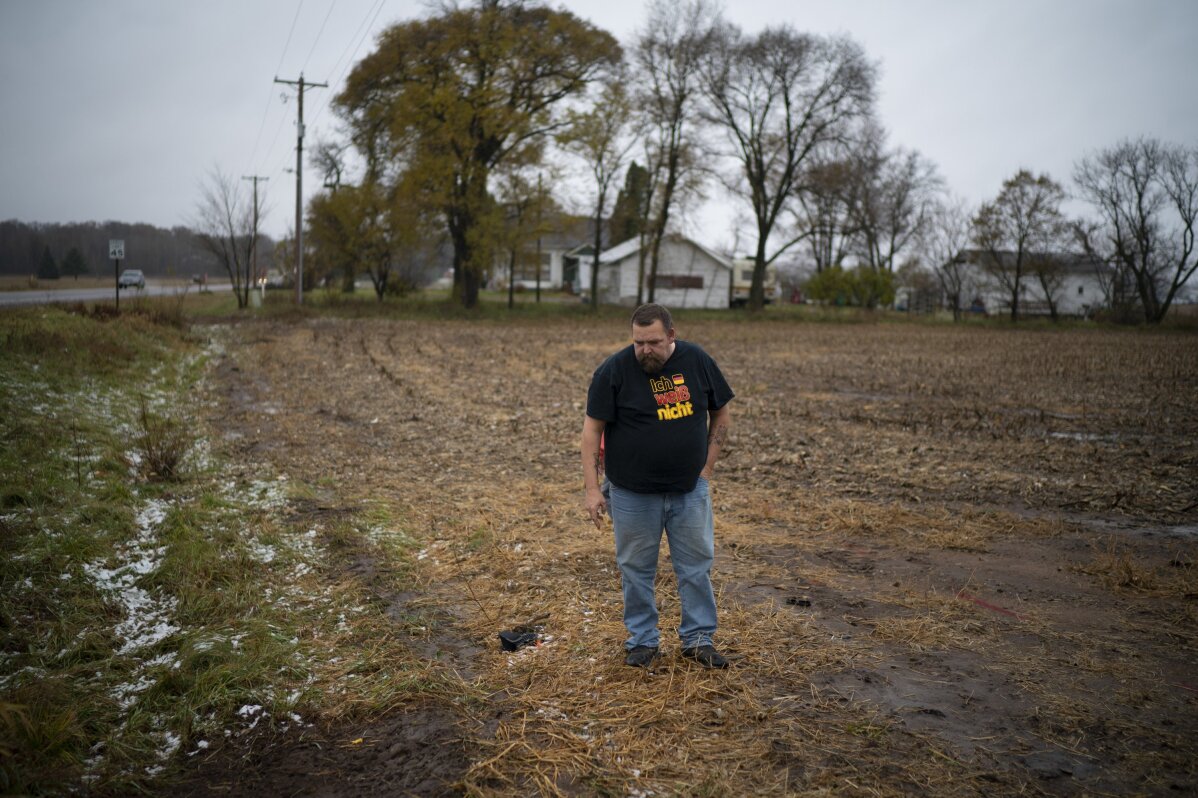 2 of 10

|
A relative of the adult victim struck and killed by a vehicle Saturday looks at the path he thought the truck took when it veered off Wisconsin County Hwy. P, Sunday, Nov. 4, 2018. The western Wisconsin community is grieving the deaths of three Girl Scouts and an adult who were collecting trash along a rural highway when police say a pickup truck veered off the road and hit them before speeding away. (Jeff Wheeler/Star Tribune via AP)
2 of 10
A relative of the adult victim struck and killed by a vehicle Saturday looks at the path he thought the truck took when it veered off Wisconsin County Hwy. P, Sunday, Nov. 4, 2018. The western Wisconsin community is grieving the deaths of three Girl Scouts and an adult who were collecting trash along a rural highway when police say a pickup truck veered off the road and hit them before speeding away. (Jeff Wheeler/Star Tribune via AP)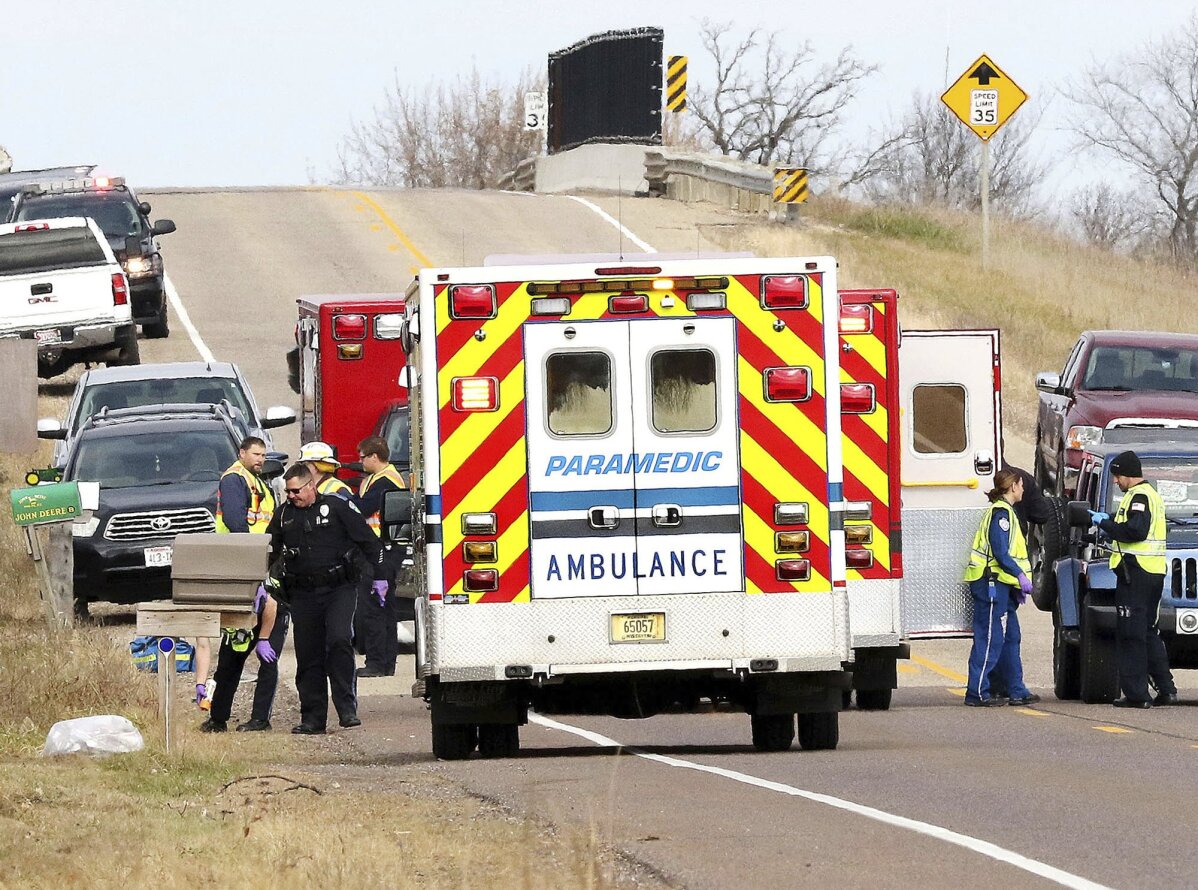 3 of 10

|
Emergency medical personnel gather at the scene of a hit-and-run accident Saturday, Nov. 3, 2018, in Lake Hallie, Wis., that killed two girls and an adult. (Steve Kinderman/The Eau Claire Leader-Telegram via AP)
3 of 10
Emergency medical personnel gather at the scene of a hit-and-run accident Saturday, Nov. 3, 2018, in Lake Hallie, Wis., that killed two girls and an adult. (Steve Kinderman/The Eau Claire Leader-Telegram via AP)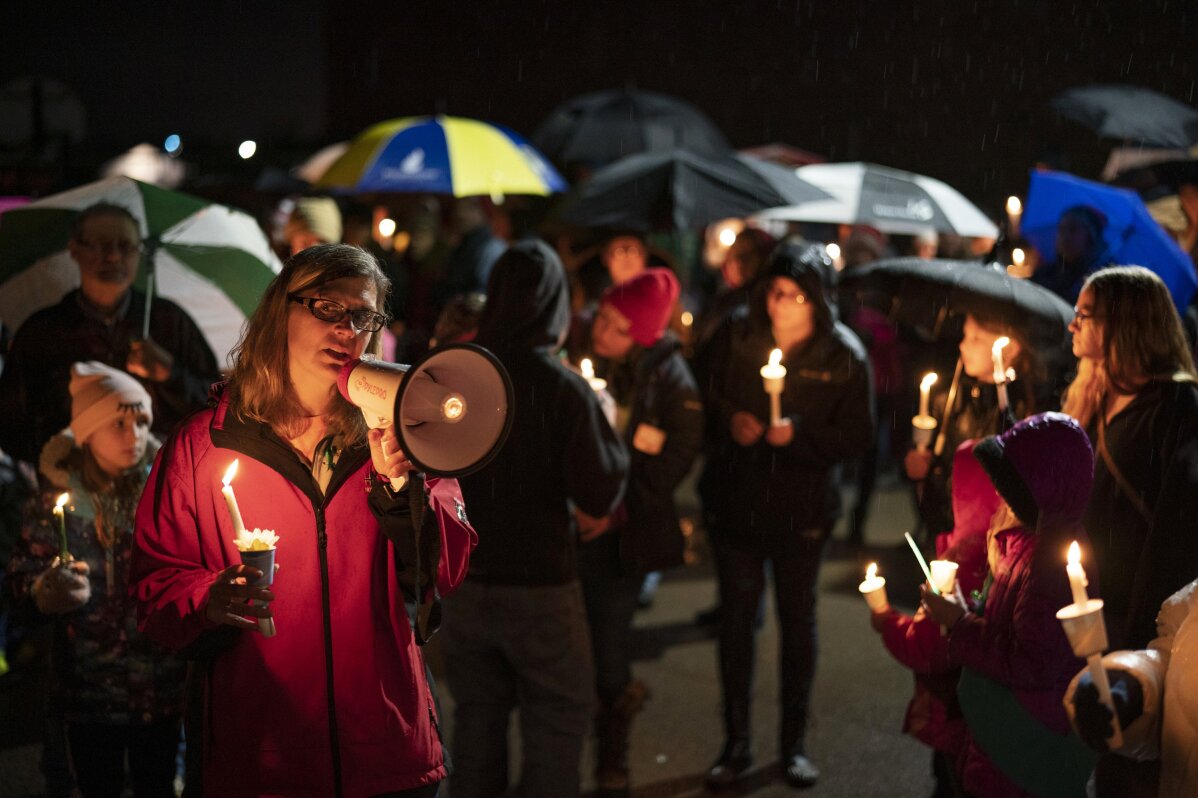 4 of 10

|
Sherri Jasper, a Girl Scout board member and counselor at Halmstad Elementary School, leads the program for a candlelight vigil at the school in Chippewa Falls, Wis., Sunday evening, Nov. 4, 2018. The western Wisconsin community on Sunday was grieving the deaths of three Girl Scouts and a parent who were collecting trash Saturday along a rural highway when police say a pickup truck veered off the road and hit them before speeding away. The 21-year-old driver, Colten Treu of Chippewa Falls, sped off but later surrendered. He will be charged with four counts of homicide, Lake Hallie police Sgt. Daniel Sokup said. (Jeff Wheeler/Star Tribune via AP)
4 of 10
Sherri Jasper, a Girl Scout board member and counselor at Halmstad Elementary School, leads the program for a candlelight vigil at the school in Chippewa Falls, Wis., Sunday evening, Nov. 4, 2018. The western Wisconsin community on Sunday was grieving the deaths of three Girl Scouts and a parent who were collecting trash Saturday along a rural highway when police say a pickup truck veered off the road and hit them before speeding away. The 21-year-old driver, Colten Treu of Chippewa Falls, sped off but later surrendered. He will be charged with four counts of homicide, Lake Hallie police Sgt. Daniel Sokup said. (Jeff Wheeler/Star Tribune via AP)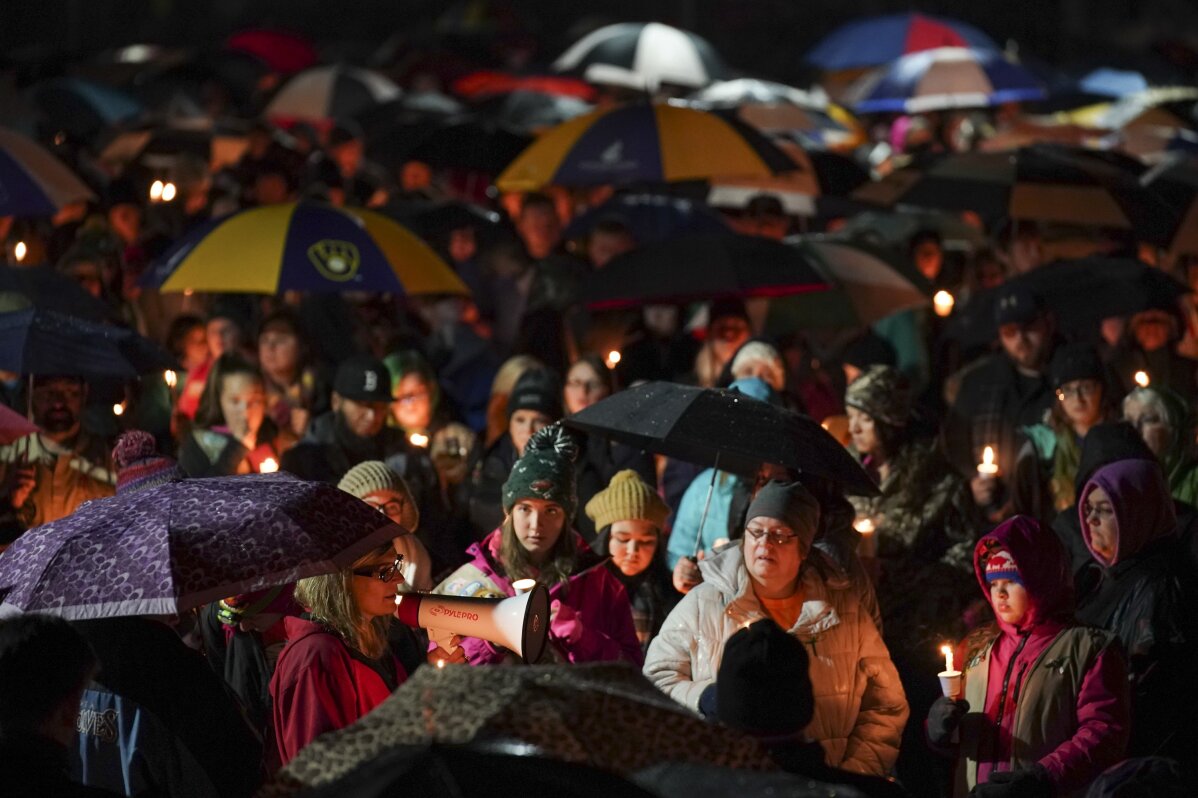 5 of 10

|
Sherri Jasper, a Girl Scout board member and counselor at Halmstad Elementary School, leads the program for a candlelight vigil at the school in Chippewa Falls, Wis., Sunday evening, Nov. 4, 2018. The western Wisconsin community on Sunday was grieving the deaths of three Girl Scouts and a parent who were collecting trash Saturday along a rural highway when police say a pickup truck veered off the road and hit them before speeding away. The 21-year-old driver, Colten Treu of Chippewa Falls, sped off but later surrendered. He will be charged with four counts of homicide, Lake Hallie police Sgt. Daniel Sokup said. (Jeff Wheeler/Star Tribune via AP)
5 of 10
Sherri Jasper, a Girl Scout board member and counselor at Halmstad Elementary School, leads the program for a candlelight vigil at the school in Chippewa Falls, Wis., Sunday evening, Nov. 4, 2018. The western Wisconsin community on Sunday was grieving the deaths of three Girl Scouts and a parent who were collecting trash Saturday along a rural highway when police say a pickup truck veered off the road and hit them before speeding away. The 21-year-old driver, Colten Treu of Chippewa Falls, sped off but later surrendered. He will be charged with four counts of homicide, Lake Hallie police Sgt. Daniel Sokup said. (Jeff Wheeler/Star Tribune via AP)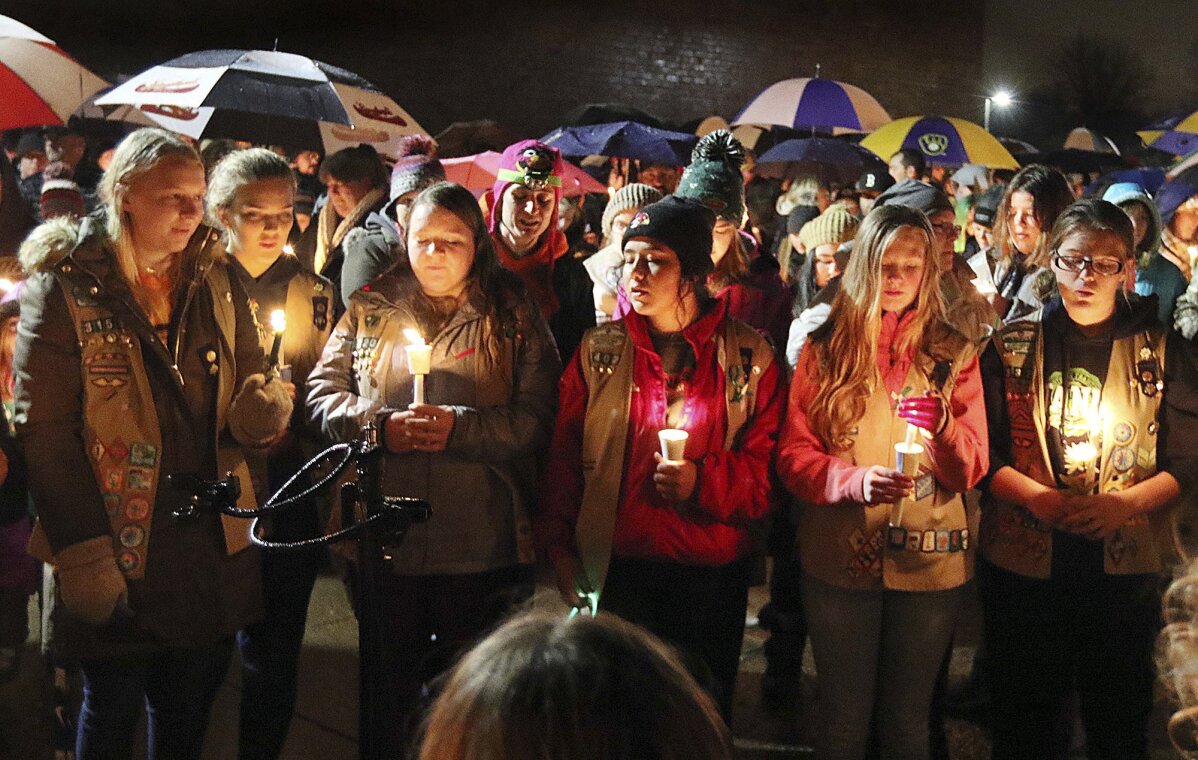 6 of 10

|
Girl Scouts sing as hundreds of community members turn out in the rain Sunday evening, Nov. 4, 2018, for a candlelight vigil at Halmstad Elementary School in Chippewa Falls, Wis., in remembrance of three fourth grade Girl Scouts and a parent who died Saturday, after being struck by a pickup truck while their troop was picking up trash along a rural highway. The 21-year-old driver, Colten Treu of Chippewa Falls, sped off but later surrendered. He will be charged with four counts of homicide, Lake Hallie police Sgt. Daniel Sokup said. (Steve Kinderman/The Eau Claire Leader-Telegram via AP)
6 of 10
Girl Scouts sing as hundreds of community members turn out in the rain Sunday evening, Nov. 4, 2018, for a candlelight vigil at Halmstad Elementary School in Chippewa Falls, Wis., in remembrance of three fourth grade Girl Scouts and a parent who died Saturday, after being struck by a pickup truck while their troop was picking up trash along a rural highway. The 21-year-old driver, Colten Treu of Chippewa Falls, sped off but later surrendered. He will be charged with four counts of homicide, Lake Hallie police Sgt. Daniel Sokup said. (Steve Kinderman/The Eau Claire Leader-Telegram via AP)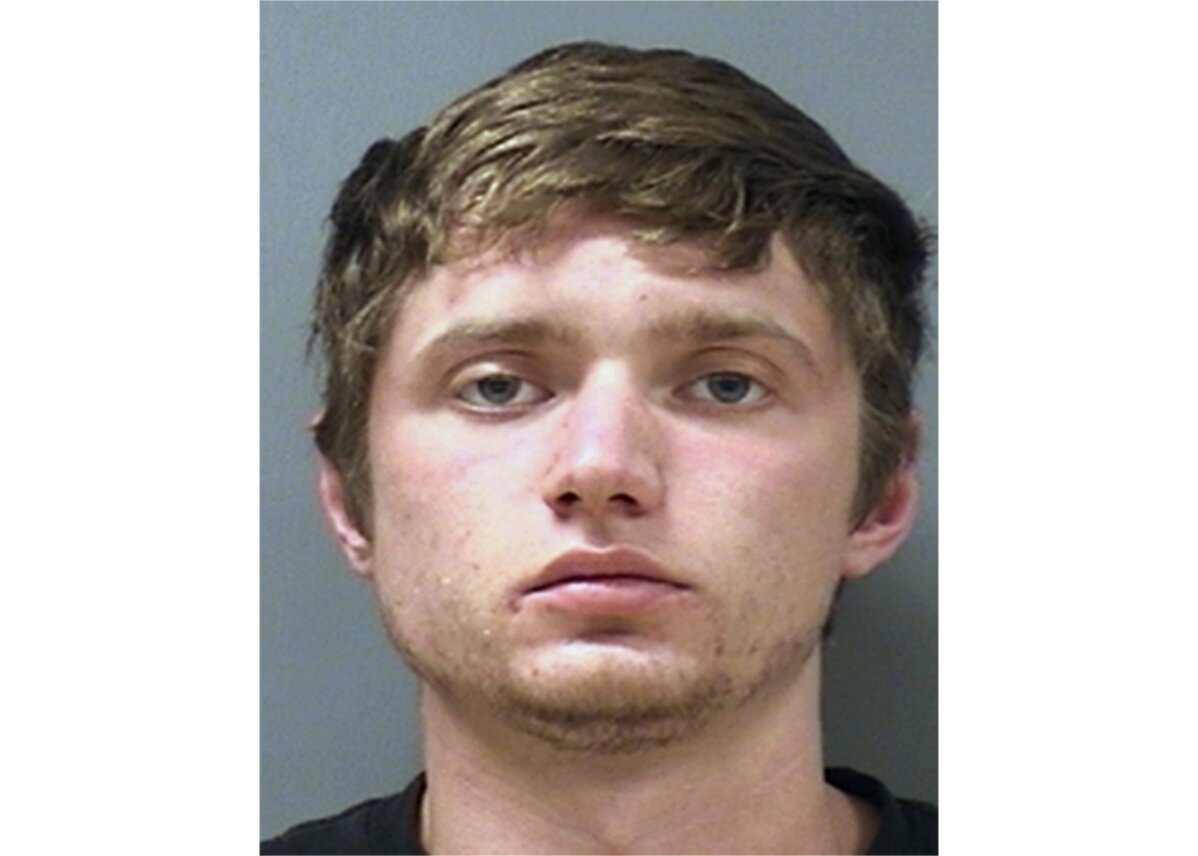 7 of 10

|
This photo provided by the Chippewa County Sheriff's Office in Wisconsin shows Colten Treu, who is accused of striking and killing three Girl Scouts and a parent and critically injuring a fourth girl who were picking up trash along a rural roadway near Chippewa Falls, Wis., on Saturday, Nov. 3, 2018. Treu was being held in the Chippewa County Jail on 13 possible charges, including four counts of intoxicated use of a motor vehicle. (Chippewa County (Wis.) Sheriff's Office via AP)
7 of 10
This photo provided by the Chippewa County Sheriff's Office in Wisconsin shows Colten Treu, who is accused of striking and killing three Girl Scouts and a parent and critically injuring a fourth girl who were picking up trash along a rural roadway near Chippewa Falls, Wis., on Saturday, Nov. 3, 2018. Treu was being held in the Chippewa County Jail on 13 possible charges, including four counts of intoxicated use of a motor vehicle. (Chippewa County (Wis.) Sheriff's Office via AP)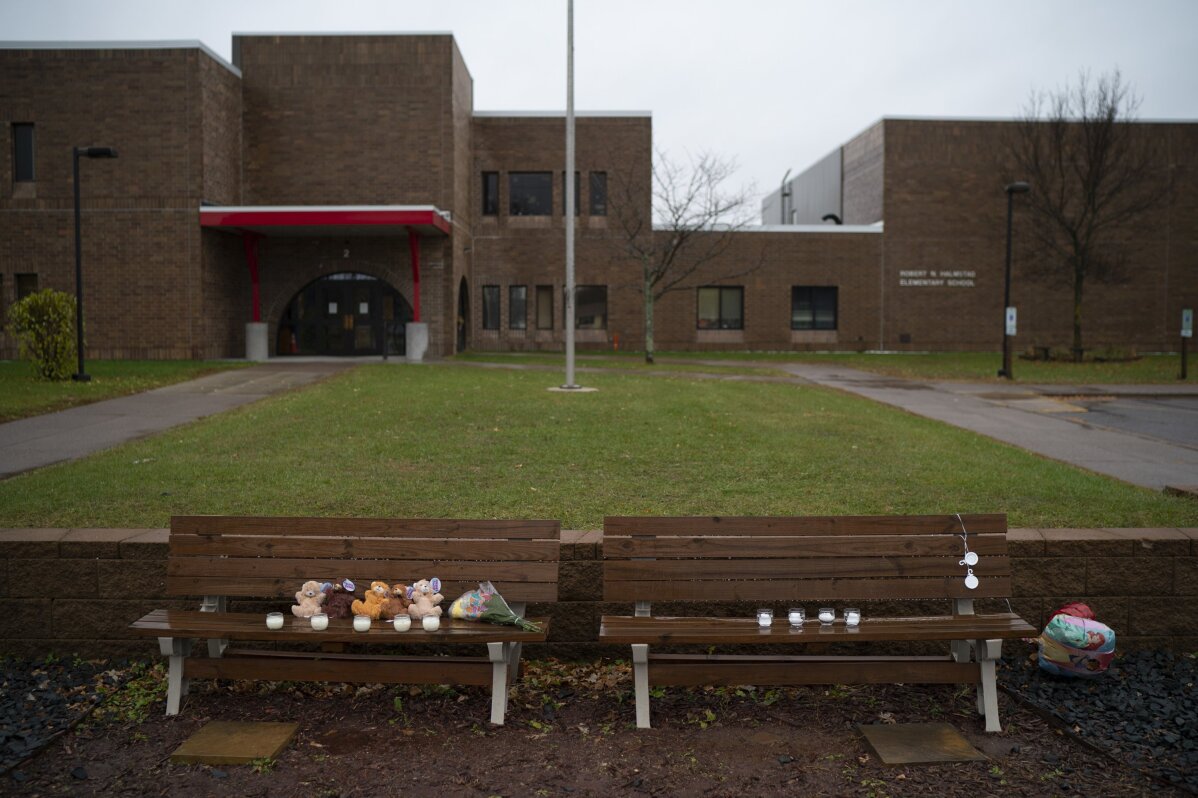 8 of 10

|
Teddy bears, flowers, and candles were placed on benches outside Halmstad Elementary School in Chippewa Falls, Wis. as a memorial to the three Girl Scouts who were struck and killed by a driver who fled the scene, Sunday, Nov. 4, 2018. The western Wisconsin community is grieving the deaths of three girls and an adult who were collecting trash along a rural highway when police say a pickup truck veered off the road and hit them before speeding away. (Jeff Wheeler/Star Tribune via AP)
8 of 10
Teddy bears, flowers, and candles were placed on benches outside Halmstad Elementary School in Chippewa Falls, Wis. as a memorial to the three Girl Scouts who were struck and killed by a driver who fled the scene, Sunday, Nov. 4, 2018. The western Wisconsin community is grieving the deaths of three girls and an adult who were collecting trash along a rural highway when police say a pickup truck veered off the road and hit them before speeding away. (Jeff Wheeler/Star Tribune via AP)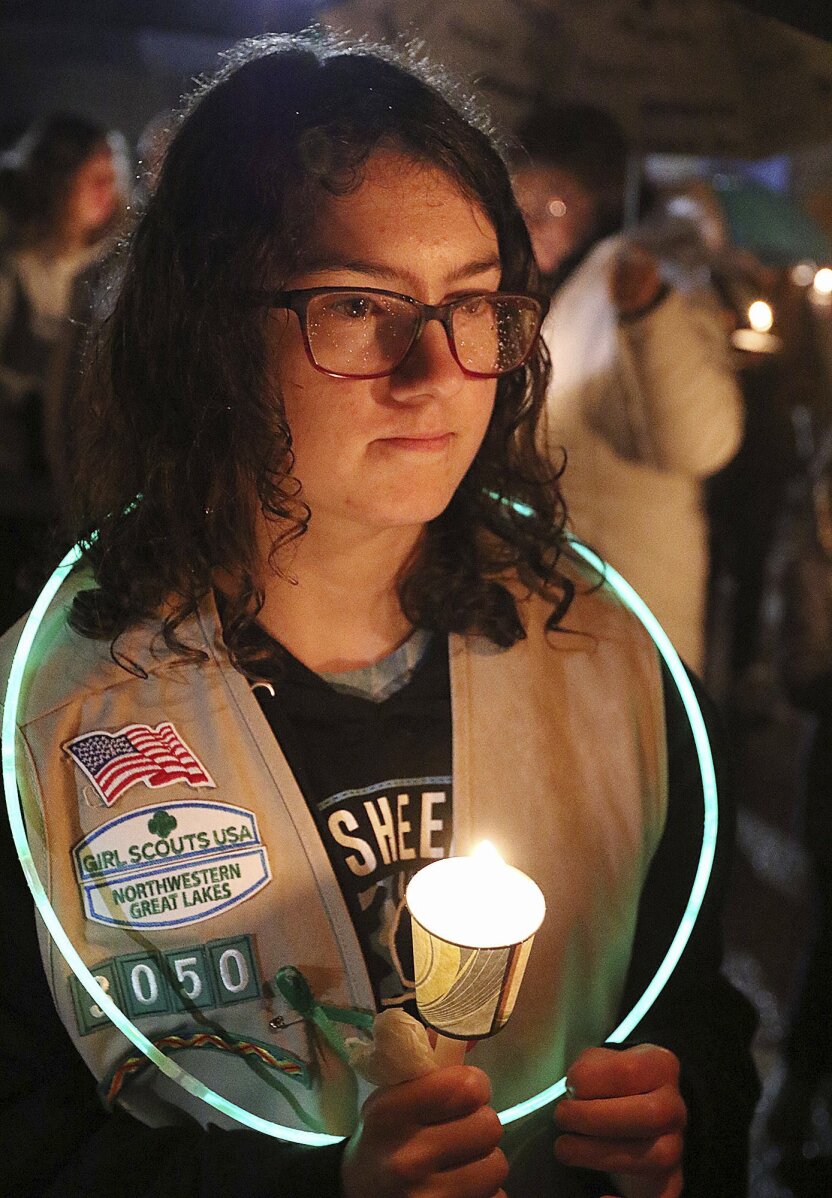 9 of 10

|
Girl Scout Jessica Lauterbach, 12, of Altoona, Wis., attends a candlelight vigil at Halmstad Elementary School in Chippewa Falls, Wis., Sunday evening, Nov. 4, 2018, in remembrance of three fourth grade Girl Scouts and a parent who died Saturday, after being struck by a pickup truck while their troop was picking up trash along a rural highway. The 21-year-old driver, Colten Treu of Chippewa Falls, sped off but later surrendered. He will be charged with four counts of homicide, Lake Hallie police Sgt. Daniel Sokup said. (Steve Kinderman/The Eau Claire Leader-Telegram via AP)
9 of 10
Girl Scout Jessica Lauterbach, 12, of Altoona, Wis., attends a candlelight vigil at Halmstad Elementary School in Chippewa Falls, Wis., Sunday evening, Nov. 4, 2018, in remembrance of three fourth grade Girl Scouts and a parent who died Saturday, after being struck by a pickup truck while their troop was picking up trash along a rural highway. The 21-year-old driver, Colten Treu of Chippewa Falls, sped off but later surrendered. He will be charged with four counts of homicide, Lake Hallie police Sgt. Daniel Sokup said. (Steve Kinderman/The Eau Claire Leader-Telegram via AP)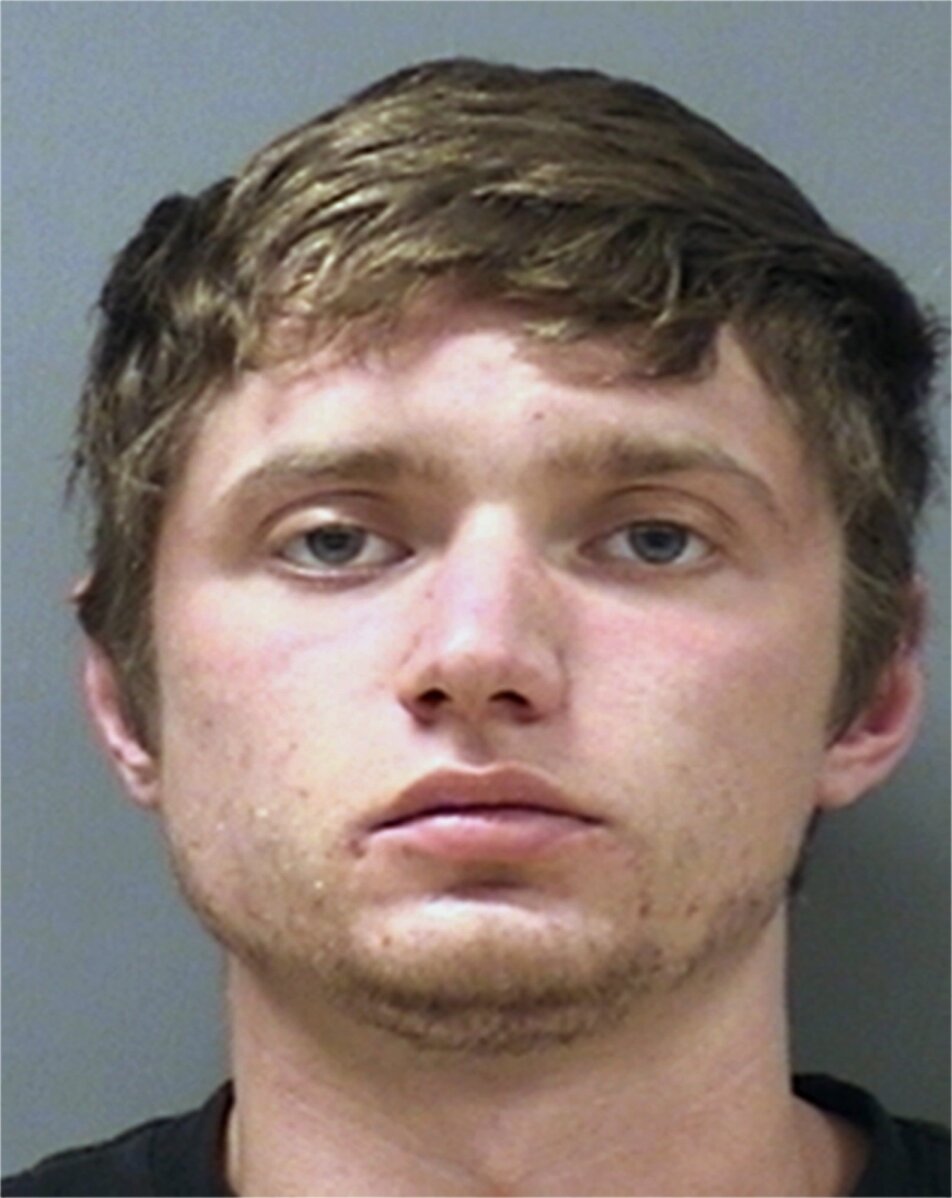 10 of 10

|
This photo provided by the Chippewa County Sheriff's Office in Wisconsin shows Colten Treu, who is accused of striking and killing three Girl Scouts and a parent and critically injuring a fourth girl who were picking up trash along a rural roadway near Chippewa Falls, Wis., on Saturday, Nov. 3, 2018. Treu was being held in the Chippewa County Jail on 13 possible charges, including four counts of intoxicated use of a motor vehicle. (Chippewa County (Wis.) Sheriff's Office via AP)
10 of 10
This photo provided by the Chippewa County Sheriff's Office in Wisconsin shows Colten Treu, who is accused of striking and killing three Girl Scouts and a parent and critically injuring a fourth girl who were picking up trash along a rural roadway near Chippewa Falls, Wis., on Saturday, Nov. 3, 2018. Treu was being held in the Chippewa County Jail on 13 possible charges, including four counts of intoxicated use of a motor vehicle. (Chippewa County (Wis.) Sheriff's Office via AP)
MILWAUKEE (AP) — Relatives of a Girl Scout and her mother who were killed in a hit-and-run crash in Wisconsin that also claimed the lives of two other girls struggled Monday to come to terms with their sudden, heartbreaking loss, saying "we all expect them to come back."
Sara Jo Schneider, 32, and her 10-year-old daughter Haylee Hickle were among a group of adults and children who were picking up trash in the ditches of a rural highway when a pickup truck that veered off the road struck them Saturday morning, said police in Lake Hallie, a town about 95 miles (152 kilometers) east of Minneapolis. The truck driver later told authorities he was inhaling chemical vapors before the crash.
Schneider's mother, Judy Schneider said her daughter and granddaughter's deaths are "still not real for any of us," and her 6-year-old grandson, Jasper, can't grasp what happened.
"He doesn't understand," Schneider said. "He said, 'If the doctors work real hard, sometimes God lets them come back.'"
Lake Hallie police said the 21-year-old pickup driver, Colten Treu, and a passenger told investigators they had been huffing just before striking the Girl Scout troop. Authorities said Treu sped off after the collision, but surrendered hours later. He is being held in the Chippewa County Jail on $250,000 bond and faces 13 possible charges, including four counts of intoxicated use of a motor vehicle.
Treu made his first court appearance Monday and has another hearing scheduled for Tuesday, when prosecutors are expected to formally charge him.
Schneider said her daughter, granddaughter and grandson moved in with her a couple of years ago and they expected the house in the Town of Lafayette to be their "forever home."
"It was a little piece of heaven," she said. Now, she said, "It's going to be hollow."
Nine-year-old Jayna Kelley and 10-year-old Autum Helgeson, both of Lake Hallie, were also killed. Another 10-year-old girl who was struck was in stable condition at a hospital Monday.
The Girl Scouts out on the highway that day were all fourth-graders at Halmstad and Southview elementary schools in the Chippewa Falls School District. The children and their adult chaperones wore bright green safety vests as they walked along both sides of County Highway P, which they had adopted as a community service project.
Hundreds of community members huddled under umbrellas in the rain Sunday evening for a candlelight vigil outside Halmstad Elementary. Girl Scouts sang songs in memory of the victims, who were members of Troop 3055. A makeshift memorial of teddy bears, balloons and candles was set up on two wooden benches.
Schneider said her daughter's "favorite time with her kids was all in their jammies, curled up to watch a movie."
She said Haylee and her mom "were both exceptional artists" and Haylee dreamed of being an animator. She hated bugs, loved reading "Warrior Cats" books, and could sketch "a wonderful picture in 15 minutes or less," Schneider recalled.
Haylee also enjoyed painting and working on clay pottery with her mother. Haylee's father died when she was 3, Schneider said.
"Haylee would've never made it if she lost her mother," the grandmother said. "And Sara would've never been able to come back from losing Haylee."
___
Associated Press researcher Jennifer Farrar in New York contributed to this story.
___
The Latest developments: https://bit.ly/2ztjggZ