Attitudes, legal standards help make police convictions rare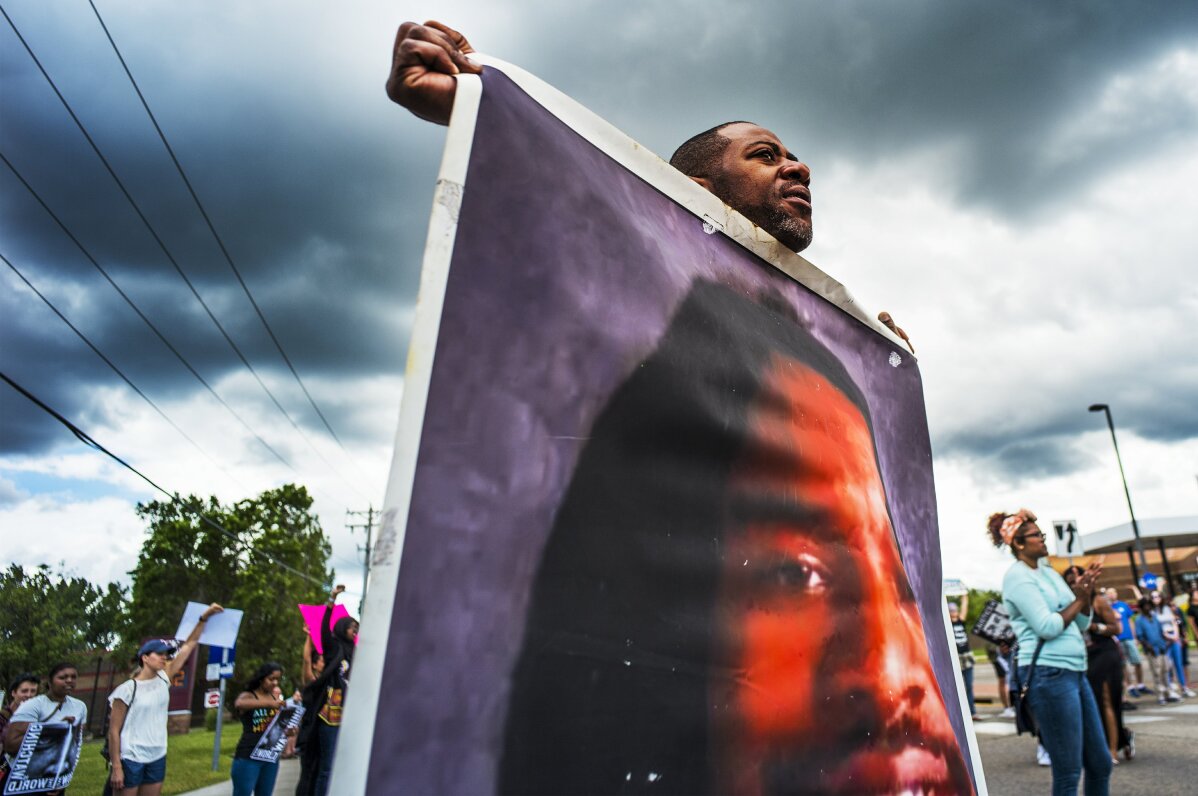 1 of 5

|
John Thompson, who said he was a close friend of Philando Castile, protests during a demonstration, Sunday, June 18, 2017, in St. Anthony, Minn. The protesters marched against the acquittal of Officer Jeronimo Yanez, was found not guilty of manslaughter for shooting Castile during a traffic stop. (Richard Tsong-Taatarii/Star Tribune via AP)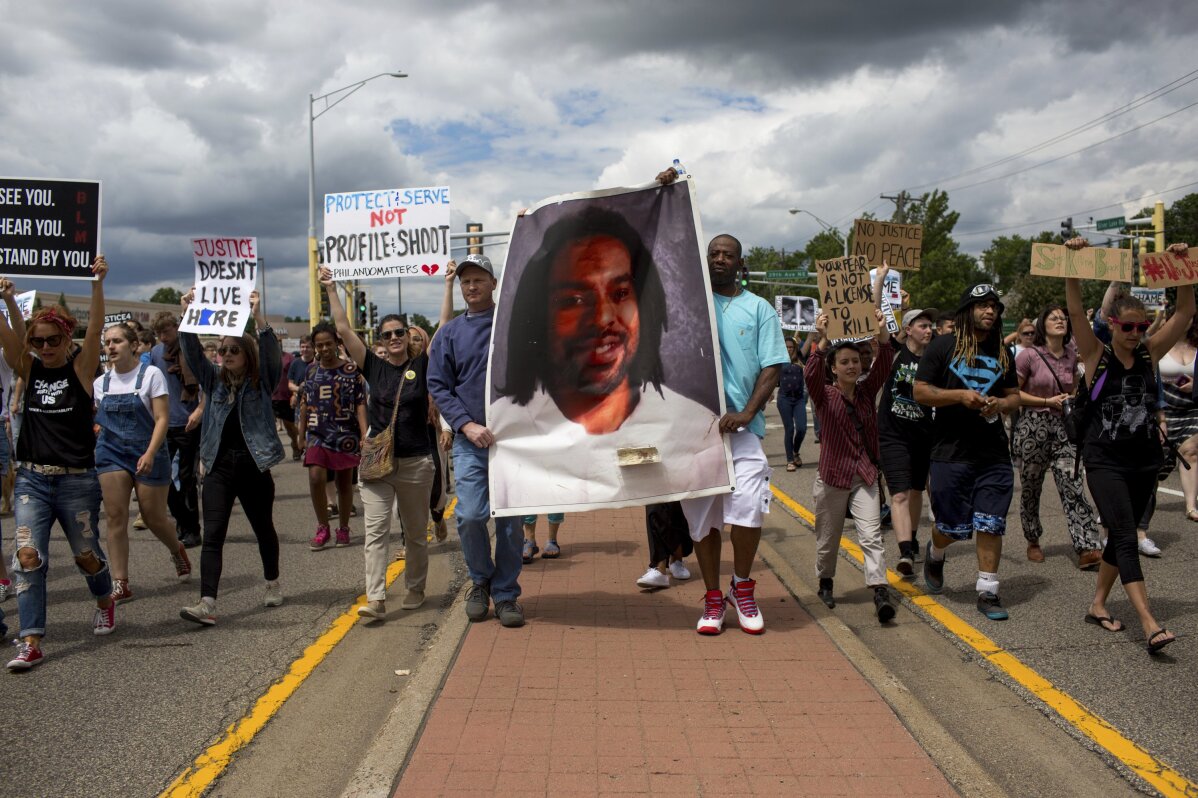 2 of 5

|
Protesters hold an image Philando Castile and march down the street during a protest, Sunday, June 18, 2017, in St. Anthony, Minn. The protesters marched against the acquittal of Officer Jeronimo Yanez, was found not guilty of manslaughter for shooting Castile during a traffic stop. (Courtney Pedroza/Star Tribune via AP)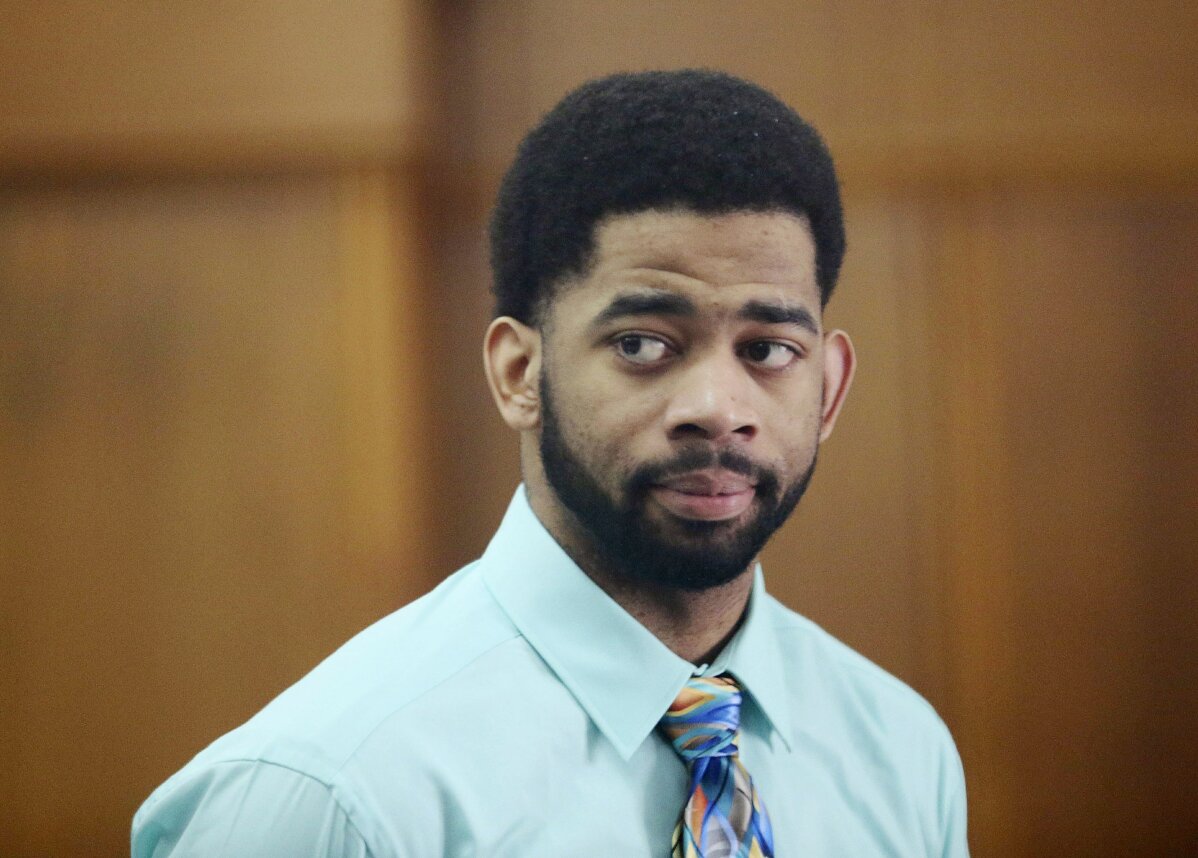 3 of 5

|
FILE - In this Tuesday, June 20, 2017, file photo, former Milwaukee police officer Dominique Heaggan-Brown appears in Milwaukee County Court in Milwaukee. A jury on Wednesday, June 21, acquitted Heaggan-Brown of first-degree reckless homicide in the killing of Sylville Smith, a 23-year-old black man, on Aug. 13, 2016. (Michael Sears/Milwaukee Journal-Sentinel via AP, Pool, File)
4 of 5

|
Protesters chant outside the Hamilton County Courthouse during a demonstration calling for justice in the murder trial against Ray Tensing, Monday, June 19, 2017, in Cincinnati. Tensing, the former University of Cincinnati police officer, is charged with murdering Sam DuBose during a routine traffic stop on July 19, 2015. (AP Photo/John Minchillo)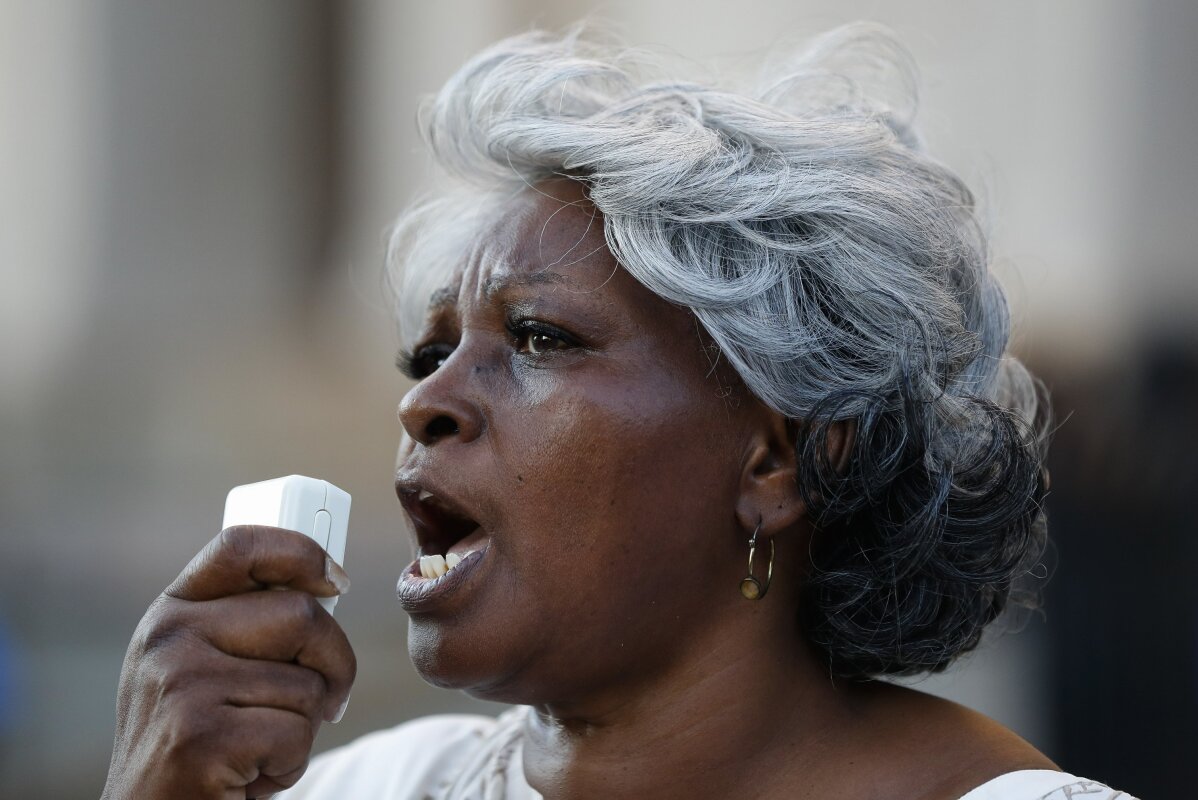 5 of 5

|
Audrey DuBose, the mother of Sam DuBose, speaks to the crowd outside the Hamilton County Courthouse during a demonstration calling for justice in the murder trial against Ray Tensing, Monday, June 19, 2017, in Cincinnati. Tensing, the former University of Cincinnati police officer, is charged with murdering Sam DuBose during a routine traffic stop on July 19, 2015. (AP Photo/John Minchillo)
Attitudes, legal standards help make police convictions rare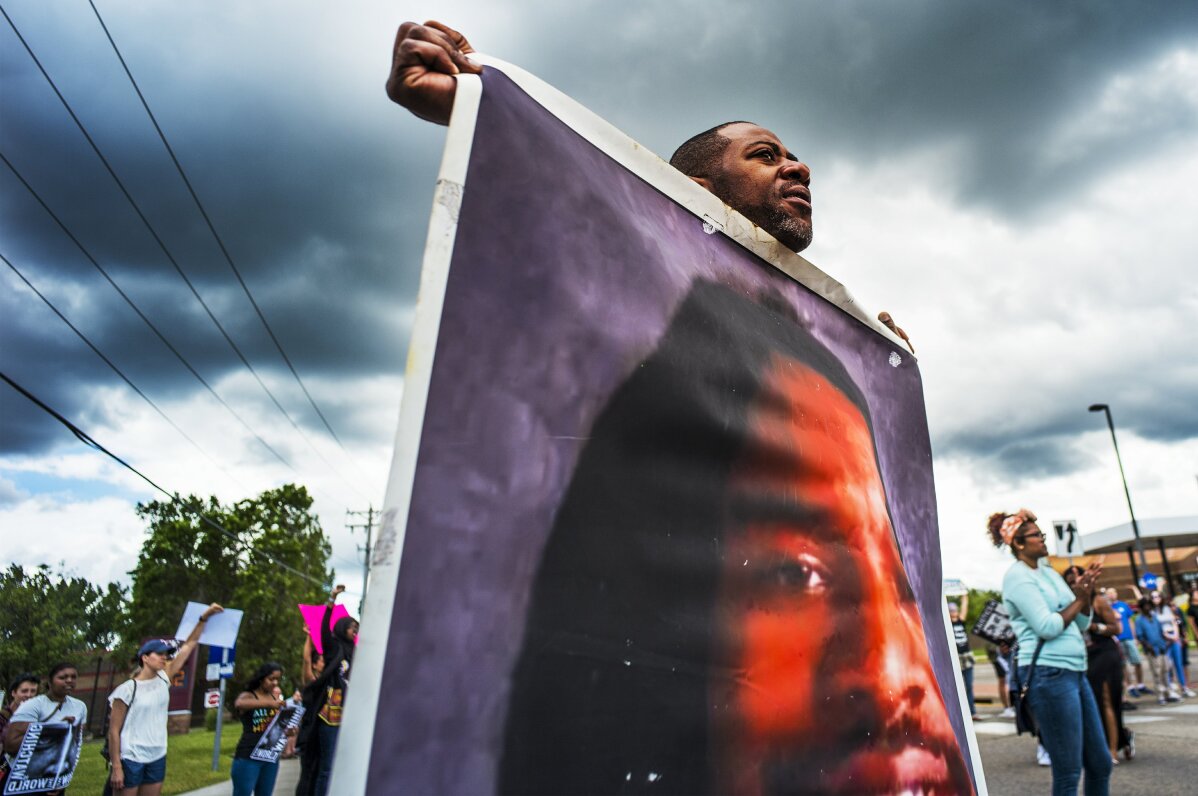 1 of 5

|
John Thompson, who said he was a close friend of Philando Castile, protests during a demonstration, Sunday, June 18, 2017, in St. Anthony, Minn. The protesters marched against the acquittal of Officer Jeronimo Yanez, was found not guilty of manslaughter for shooting Castile during a traffic stop. (Richard Tsong-Taatarii/Star Tribune via AP)
1 of 5
John Thompson, who said he was a close friend of Philando Castile, protests during a demonstration, Sunday, June 18, 2017, in St. Anthony, Minn. The protesters marched against the acquittal of Officer Jeronimo Yanez, was found not guilty of manslaughter for shooting Castile during a traffic stop. (Richard Tsong-Taatarii/Star Tribune via AP)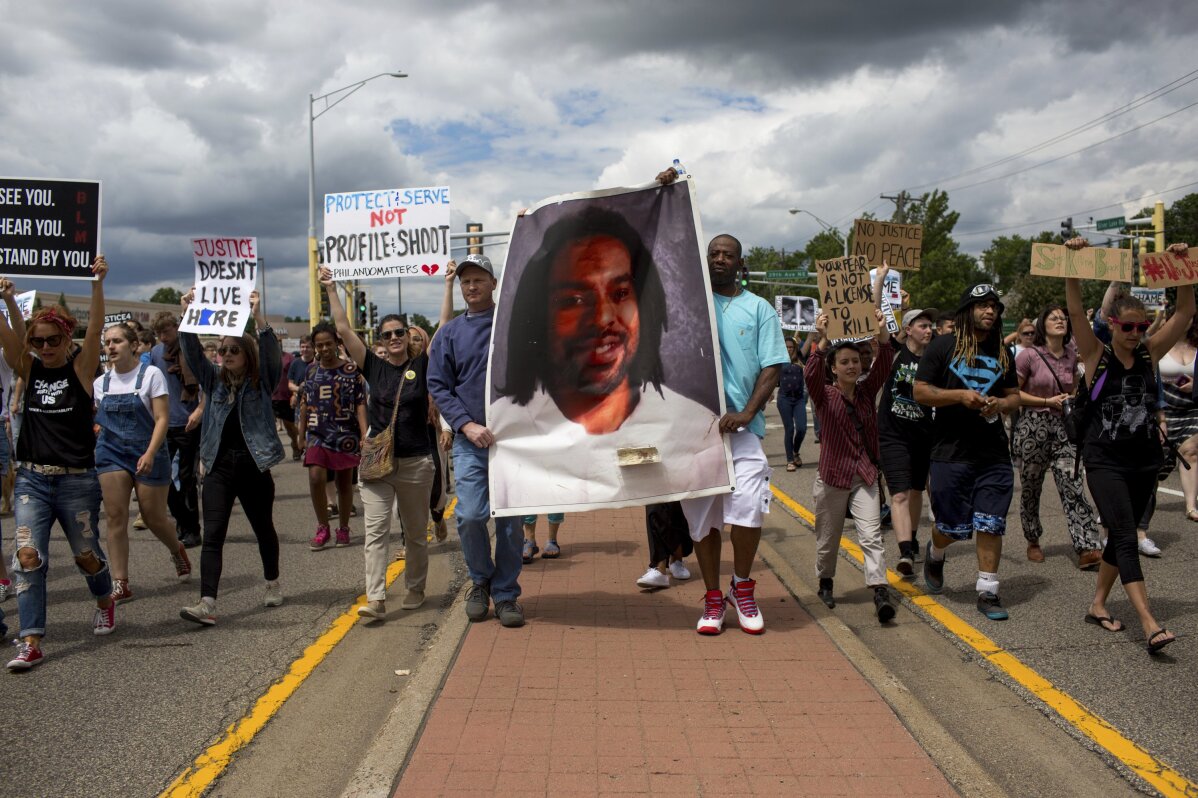 2 of 5

|
Protesters hold an image Philando Castile and march down the street during a protest, Sunday, June 18, 2017, in St. Anthony, Minn. The protesters marched against the acquittal of Officer Jeronimo Yanez, was found not guilty of manslaughter for shooting Castile during a traffic stop. (Courtney Pedroza/Star Tribune via AP)
2 of 5
Protesters hold an image Philando Castile and march down the street during a protest, Sunday, June 18, 2017, in St. Anthony, Minn. The protesters marched against the acquittal of Officer Jeronimo Yanez, was found not guilty of manslaughter for shooting Castile during a traffic stop. (Courtney Pedroza/Star Tribune via AP)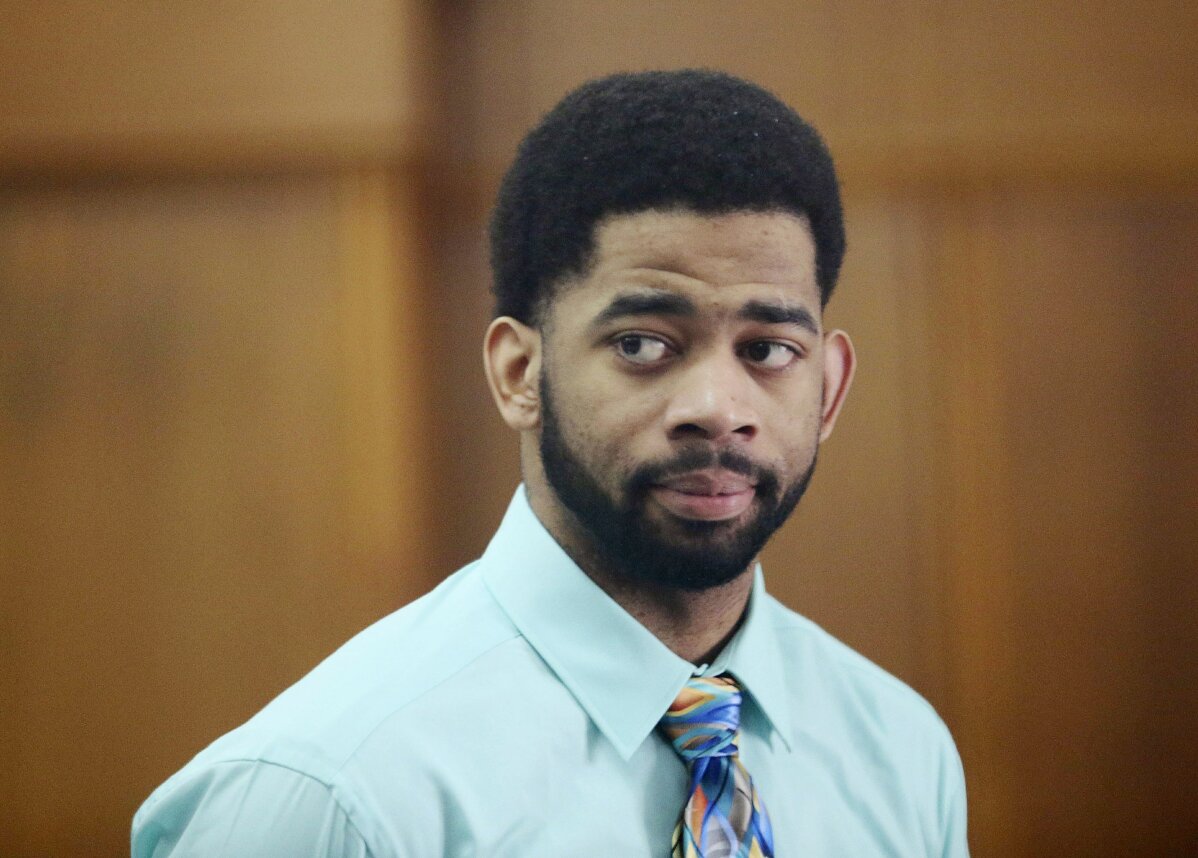 3 of 5

|
FILE - In this Tuesday, June 20, 2017, file photo, former Milwaukee police officer Dominique Heaggan-Brown appears in Milwaukee County Court in Milwaukee. A jury on Wednesday, June 21, acquitted Heaggan-Brown of first-degree reckless homicide in the killing of Sylville Smith, a 23-year-old black man, on Aug. 13, 2016. (Michael Sears/Milwaukee Journal-Sentinel via AP, Pool, File)
3 of 5
FILE - In this Tuesday, June 20, 2017, file photo, former Milwaukee police officer Dominique Heaggan-Brown appears in Milwaukee County Court in Milwaukee. A jury on Wednesday, June 21, acquitted Heaggan-Brown of first-degree reckless homicide in the killing of Sylville Smith, a 23-year-old black man, on Aug. 13, 2016. (Michael Sears/Milwaukee Journal-Sentinel via AP, Pool, File)
4 of 5

|
Protesters chant outside the Hamilton County Courthouse during a demonstration calling for justice in the murder trial against Ray Tensing, Monday, June 19, 2017, in Cincinnati. Tensing, the former University of Cincinnati police officer, is charged with murdering Sam DuBose during a routine traffic stop on July 19, 2015. (AP Photo/John Minchillo)
4 of 5
Protesters chant outside the Hamilton County Courthouse during a demonstration calling for justice in the murder trial against Ray Tensing, Monday, June 19, 2017, in Cincinnati. Tensing, the former University of Cincinnati police officer, is charged with murdering Sam DuBose during a routine traffic stop on July 19, 2015. (AP Photo/John Minchillo)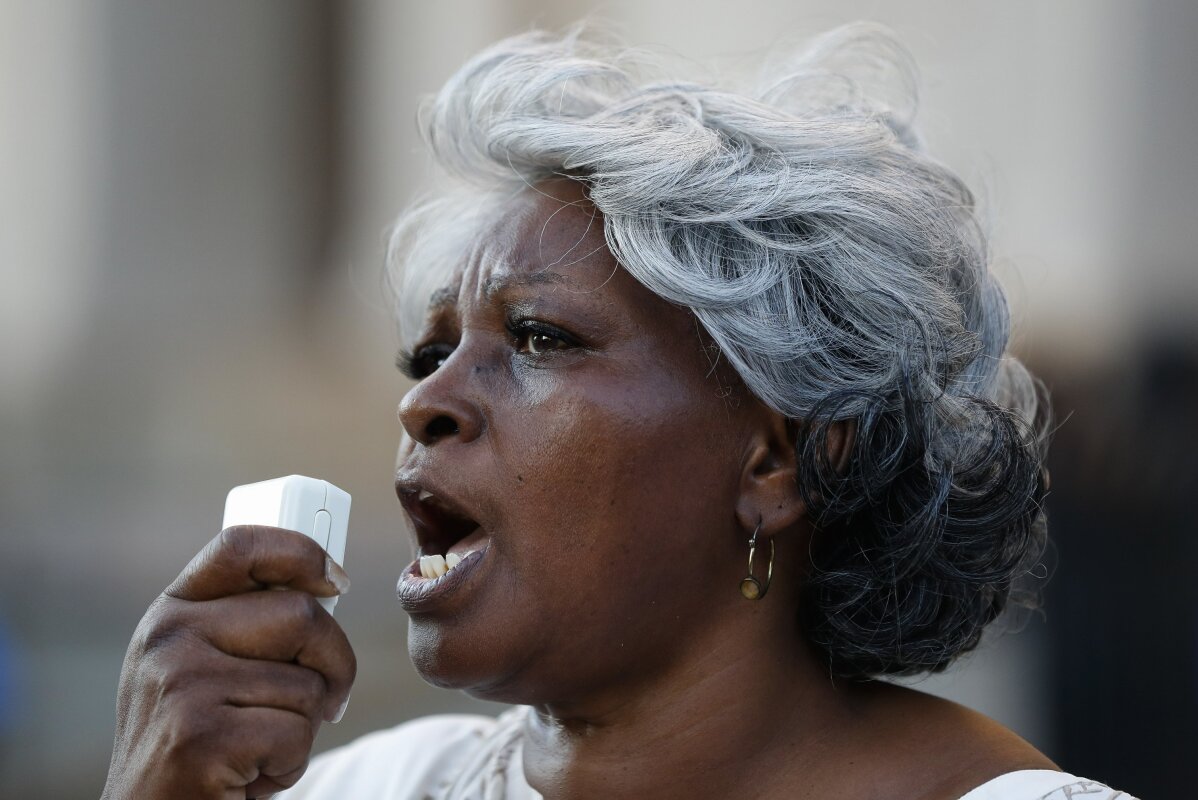 5 of 5

|
Audrey DuBose, the mother of Sam DuBose, speaks to the crowd outside the Hamilton County Courthouse during a demonstration calling for justice in the murder trial against Ray Tensing, Monday, June 19, 2017, in Cincinnati. Tensing, the former University of Cincinnati police officer, is charged with murdering Sam DuBose during a routine traffic stop on July 19, 2015. (AP Photo/John Minchillo)
5 of 5
Audrey DuBose, the mother of Sam DuBose, speaks to the crowd outside the Hamilton County Courthouse during a demonstration calling for justice in the murder trial against Ray Tensing, Monday, June 19, 2017, in Cincinnati. Tensing, the former University of Cincinnati police officer, is charged with murdering Sam DuBose during a routine traffic stop on July 19, 2015. (AP Photo/John Minchillo)
PHILADELPHIA (AP) — In the three years since fatal police shootings of unarmed black people launched the Black Lives Matter movement, few officers have been charged and none has been convicted by juries in the highest-profile deaths that inspired protests across the country.
Experts cite a confluence of factors, including racial bias, attitudes toward law enforcement and the challenge of showing precisely what an officer was thinking in a high-pressure situation. In the end, many jurors are simply reluctant to reject the accounts provided by police.
"They just don't want to second-guess officers in those life-or-death decisions," said Philip Stinson, a criminologist at Bowling Green State University in Ohio. "They think, 'What if that was me? What if that was my child who was the police officer?'"
A jury last week acquitted the Minnesota officer who fatally shot Philando Castile, whose girlfriend livestreamed the moments after the shooting on Facebook. Then on Wednesday, jurors acquitted a black police officer of first-degree reckless homicide in the killing of a black Milwaukee man who threw away the gun he was carrying during a brief foot chase after a traffic stop.
Meanwhile, a jury in Cincinnati is scheduled to deliberate for a fourth day Thursday in the second trial of Ray Tensing, a white former University of Cincinnati officer charged with murder and voluntary manslaughter. He shot Sam DuBose, an unarmed black driver, during a 2015 traffic stop. The first trial in November ended with a hung jury.
A closer look at some factors that work against the prosecution or conviction of officers:
___
RACIAL BIAS
Studies have shown conscious and unconscious fear of African-American men plays out in numerous ways, including in exchanges between police and blacks.
"People think that black men are violent and dangerous," said Georgetown University professor and former federal prosecutor Paul Butler. "What the law does is respond to that fear by trying to contain the threat. The issue is always, 'Did the police act reasonably?'"
When the question is put before a jury, jurors must decide whether it was reasonable for an officer to think his or her life was in danger.
"That bias makes it much more reasonable to think that the black man posed a threat," Butler said.
___
PERCEPTIONS OF LAW ENFORCEMENT
Race also plays a role in how people view the role of police. A recent Pew survey found that fewer than half of blacks surveyed felt the police did an excellent or good job of protecting people from crime compared with nearly 80 percent of whites.
The same poll found that 75 percent of whites believed police used the right amount of force for each situation compared with 33 percent of blacks, and that 70 percent of whites believed the law holds officers accountable when misconduct occurs compared with 31 percent of blacks.
"Policing is structured in a way that favors the officer over the civilian," said Sam Sinyangwe, co-founder of Campaign Zero, which seeks to reduce police killings. "In many ways, the laws and institutions that have been created in this country have been in the context of those beliefs. It's not a coincidence that those two things align."
___
PROOF VS. INTENT
A conviction on charges of homicide or murder often requires prosecutors to establish the suspect's intent, which can be difficult in the split-second exchanges between police and civilians.
Many police shooting trials center on a self-defense strategy. Stinson found that almost 40 percent of cases in which officers were charged with murder or manslaughter since 2005 ended in mistrials or acquittals when officers testified they feared for their lives.
"It's about your character, about what you meant to do," said Phil Goff, president and co-founder of the Center for Policing Equity. "These are not officers who got up that day looking to shoot black people."
In Tensing's trials, both sides called use-of-force experts and other witnesses to testify about police training. The prosecution said Tensing could have de-escalated the situation and did not need to shoot. Defense witnesses said officers are trained to "stop the threat" if they believe they are in danger.
Tensing, 27, testified in both trials, tearfully saying that he feared he could be dragged or run over as DuBose tried to drive away from what began as a stop for missing a front license plate.
"I meant to stop the threat," he told jurors Friday. "I didn't shoot to kill him. I didn't shoot to wound him. I shot to stop his actions."
A video-analysis expert hired by prosecutors said his frame-by-frame review of the former officer's body camera video showed Tensing was not being dragged by the car.
In her closing argument Monday, prosecutor Stacey DeGraffenreid said Tensing repeatedly used "stop the threat" and "feared for my life" in his testimony as "buzzwords" he learned in training to justify the shooting.
Donyetta Bailey, president of the Black Lawyers Association of Cincinnati, said she understands how jurors could have difficulty convicting in some cases. But in others, she added, juries seem to disregard the facts, such as in the shooting of Walter Scott in South Carolina as he was running away from officers, and in the Castile slaying.
The police officer in the South Carolina case, Michael Slager, was tried on murder charges, but the jury deadlocked. He later pleaded guilty to a federal charge of violating Scott's civil rights and is awaiting sentencing.
"We don't view police officers the same in our community," Bailey said Wednesday. "I think (white jurors) view them as not being capable of any wrong even when the facts ... show the other side."
Some activists and criminal justice reform advocates say there are legal and systemic factors that can predetermine the outcome.
"Law enforcement is one of the most protected groups in our country," said Black Lives Matter co-founder Patrisse Cullors. "We don't have a judicial system that is set up to hold them accountable."
___
Sewell reported from Cincinnati.