Netflix's doping documentary "Icarus" wins best documentary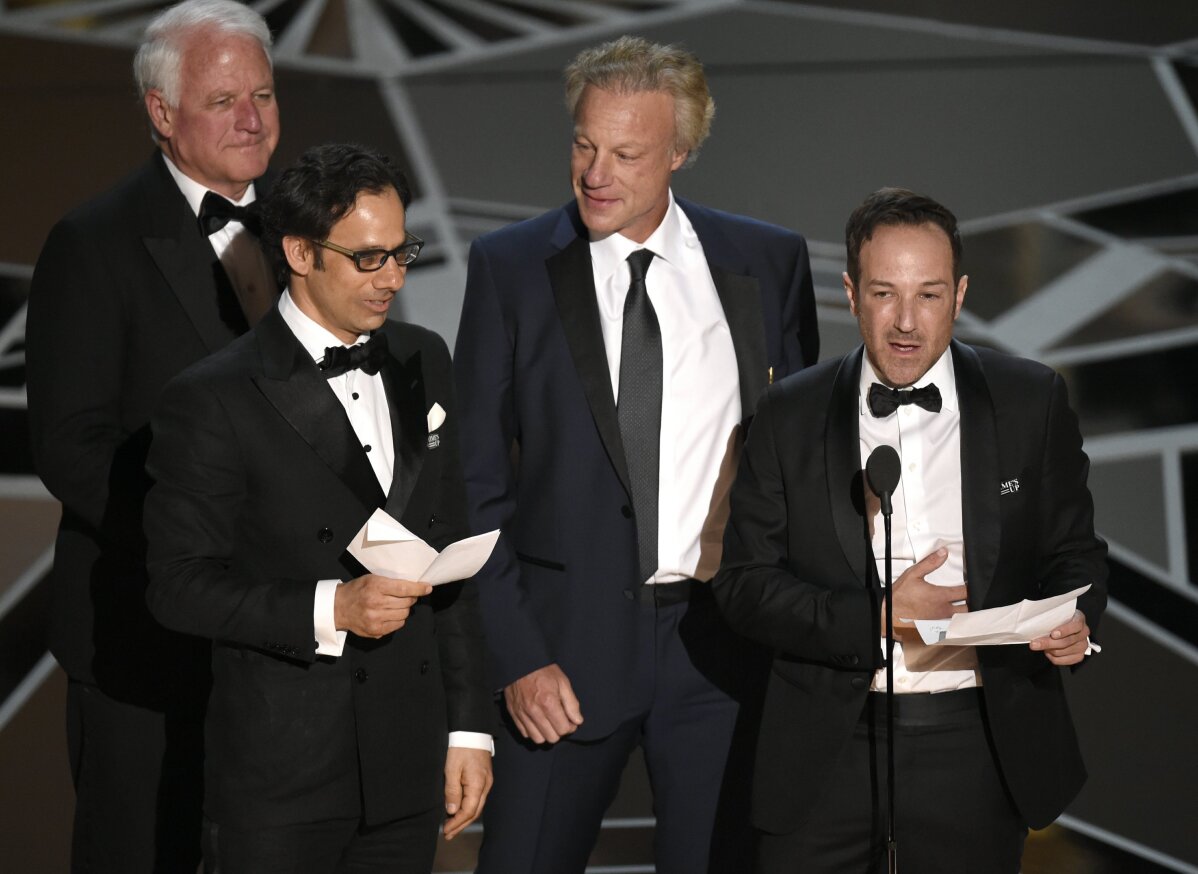 1 of 4

|
James R. Swartz, from left, Dan Cogan, David Fialkow, and Bryan Fogel accept the award for best documentary feature for "Icarus" at the Oscars on Sunday, March 4, 2018, at the Dolby Theatre in Los Angeles. (Photo by Chris Pizzello/Invision/AP)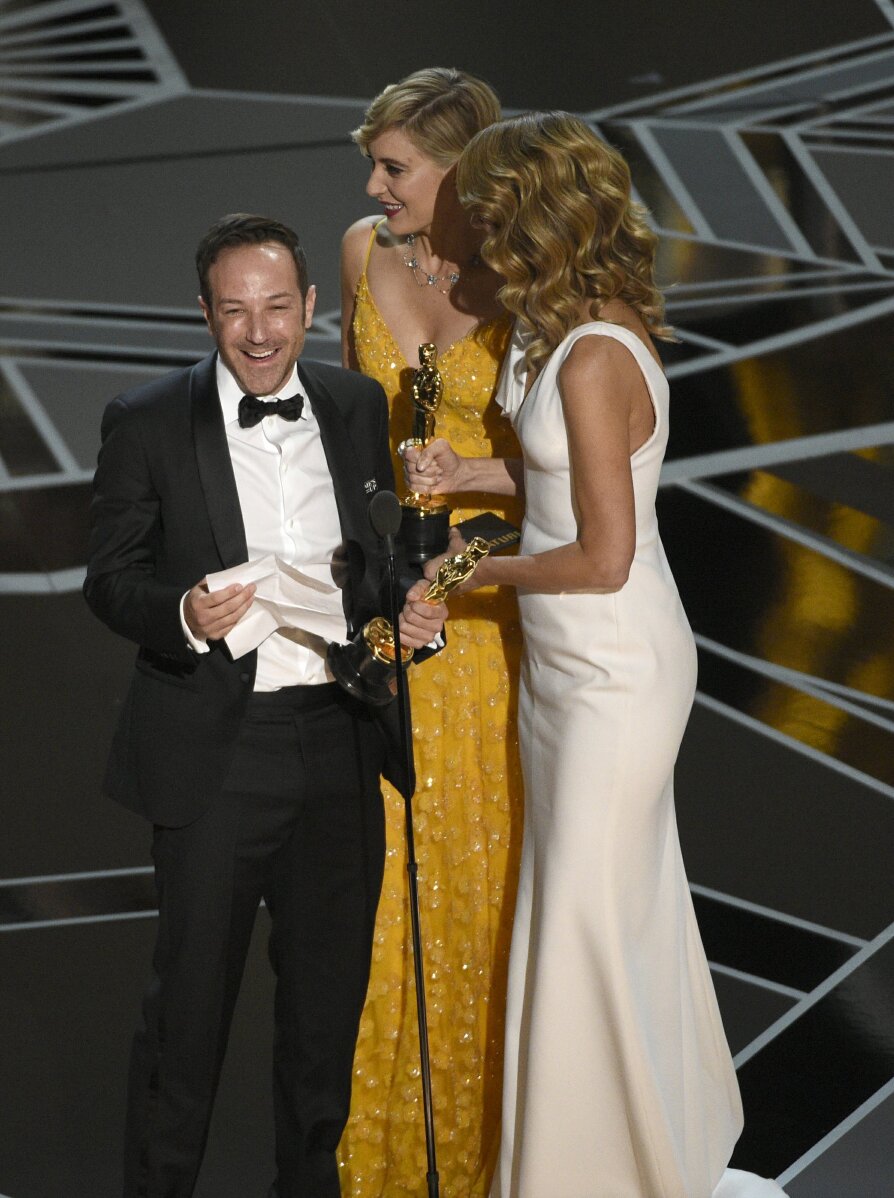 2 of 4

|
Laura Dern, from right, and Greta Gerwig present Bryan Fogel with the award for best documentary feature for "Icarus" at the Oscars on Sunday, March 4, 2018, at the Dolby Theatre in Los Angeles. (Photo by Chris Pizzello/Invision/AP)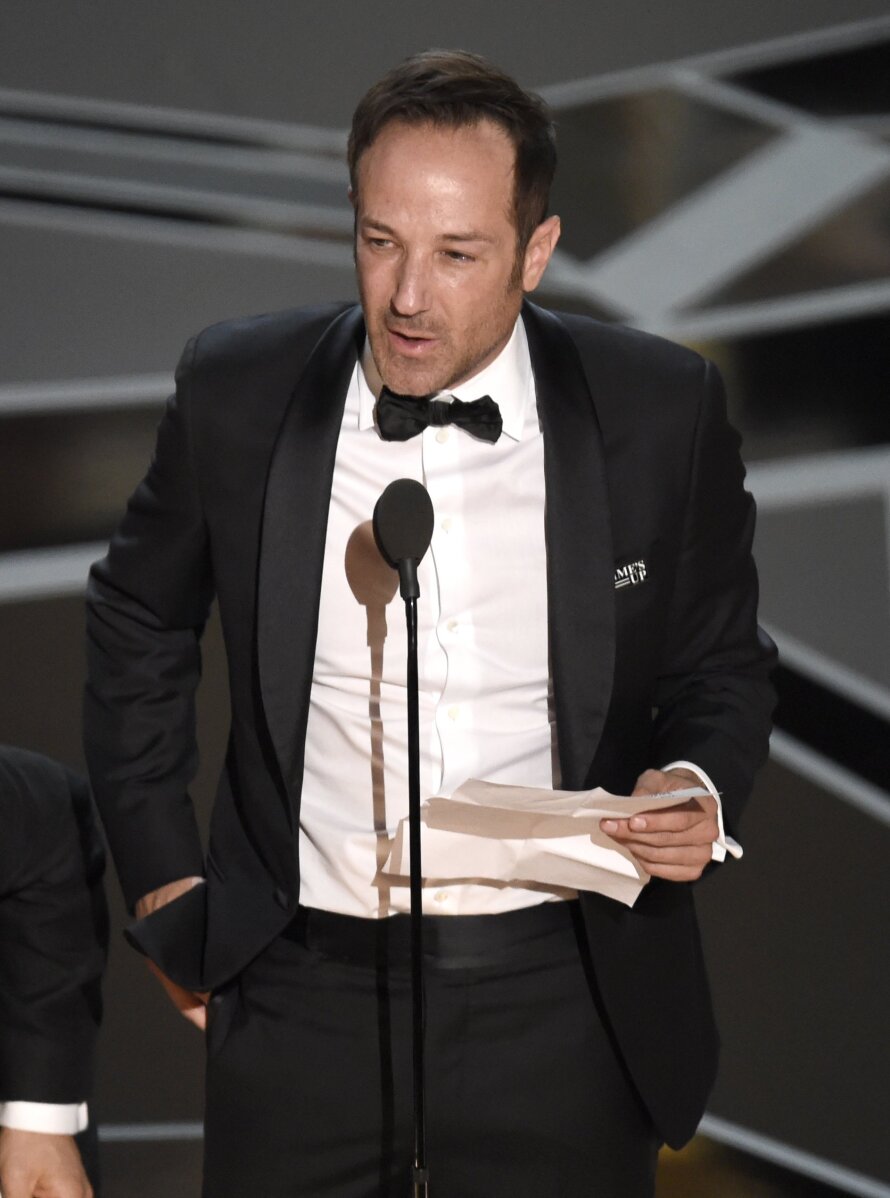 3 of 4

|
Bryan Fogel accepts the award for best documentary feature for "Icarus" at the Oscars on Sunday, March 4, 2018, at the Dolby Theatre in Los Angeles. (Photo by Chris Pizzello/Invision/AP)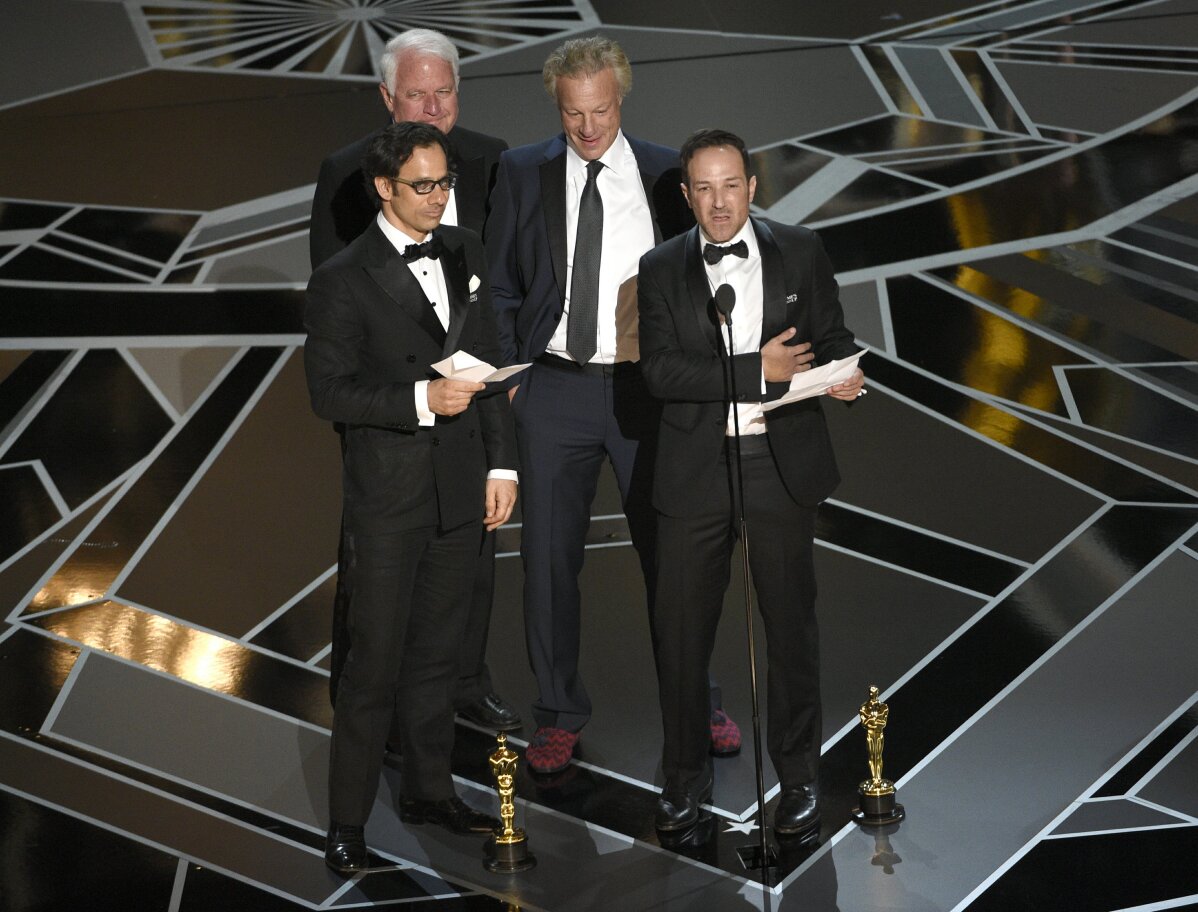 4 of 4

|
Dan Cogan, from left, James R. Swartz, David Fialkow, and Bryan Fogel accept the award for best documentary feature for "Icarus" at the Oscars on Sunday, March 4, 2018, at the Dolby Theatre in Los Angeles. (Photo by Chris Pizzello/Invision/AP)
Netflix's doping documentary "Icarus" wins best documentary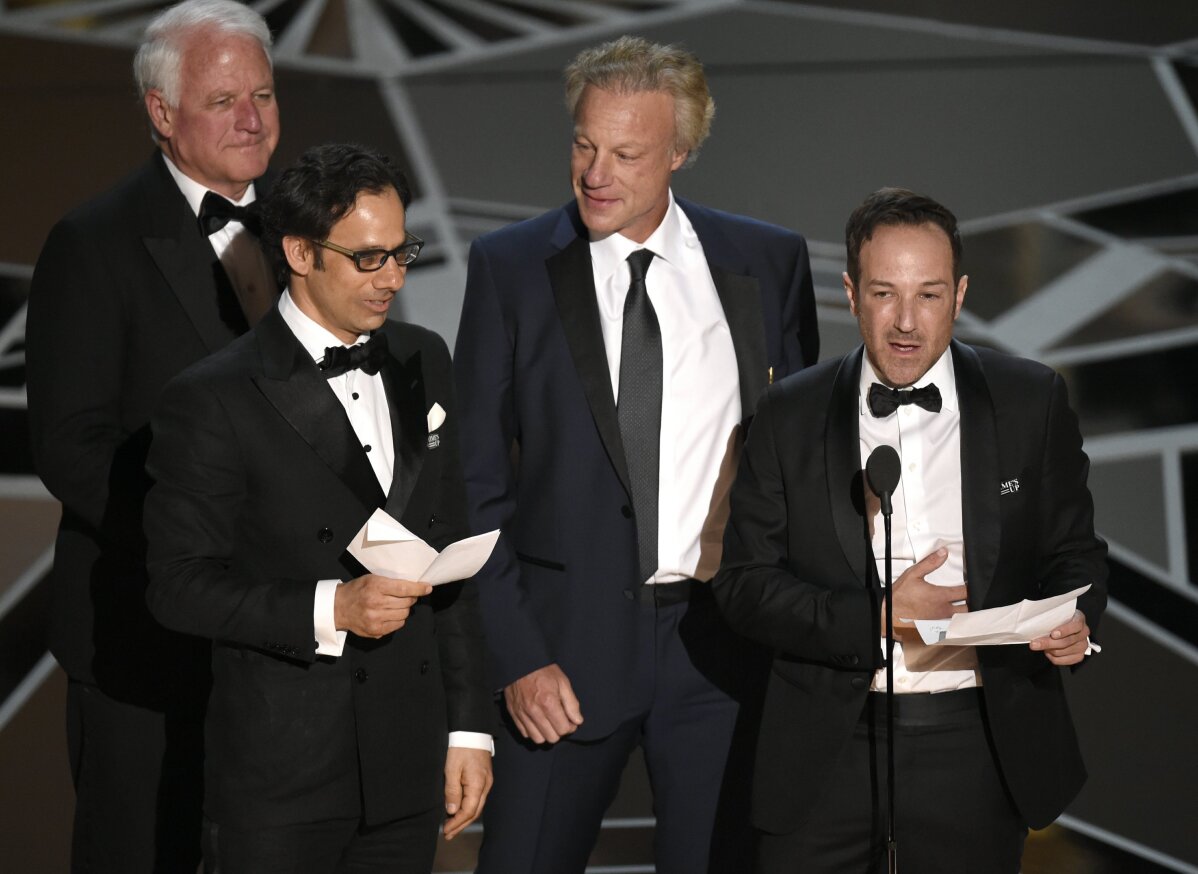 1 of 4

|
James R. Swartz, from left, Dan Cogan, David Fialkow, and Bryan Fogel accept the award for best documentary feature for "Icarus" at the Oscars on Sunday, March 4, 2018, at the Dolby Theatre in Los Angeles. (Photo by Chris Pizzello/Invision/AP)
1 of 4
James R. Swartz, from left, Dan Cogan, David Fialkow, and Bryan Fogel accept the award for best documentary feature for "Icarus" at the Oscars on Sunday, March 4, 2018, at the Dolby Theatre in Los Angeles. (Photo by Chris Pizzello/Invision/AP)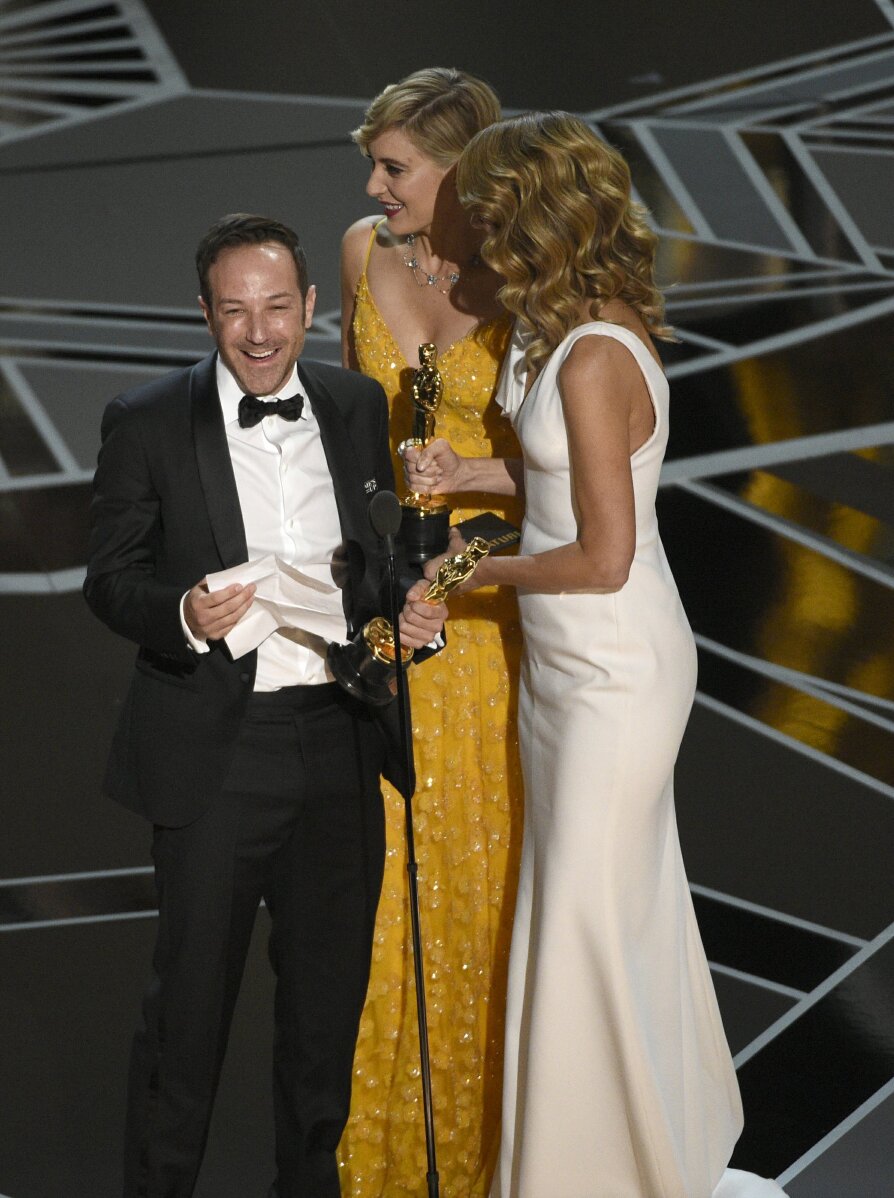 2 of 4

|
Laura Dern, from right, and Greta Gerwig present Bryan Fogel with the award for best documentary feature for "Icarus" at the Oscars on Sunday, March 4, 2018, at the Dolby Theatre in Los Angeles. (Photo by Chris Pizzello/Invision/AP)
2 of 4
Laura Dern, from right, and Greta Gerwig present Bryan Fogel with the award for best documentary feature for "Icarus" at the Oscars on Sunday, March 4, 2018, at the Dolby Theatre in Los Angeles. (Photo by Chris Pizzello/Invision/AP)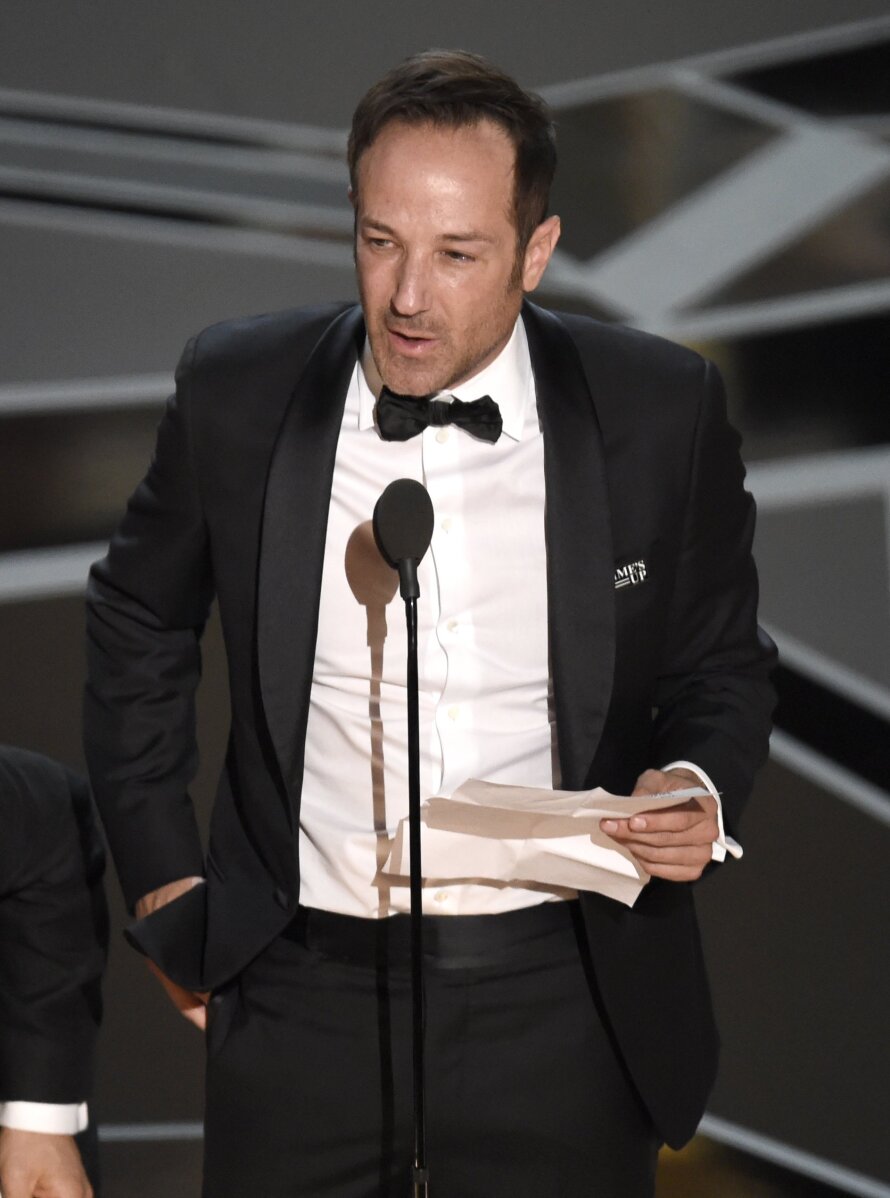 3 of 4

|
Bryan Fogel accepts the award for best documentary feature for "Icarus" at the Oscars on Sunday, March 4, 2018, at the Dolby Theatre in Los Angeles. (Photo by Chris Pizzello/Invision/AP)
3 of 4
Bryan Fogel accepts the award for best documentary feature for "Icarus" at the Oscars on Sunday, March 4, 2018, at the Dolby Theatre in Los Angeles. (Photo by Chris Pizzello/Invision/AP)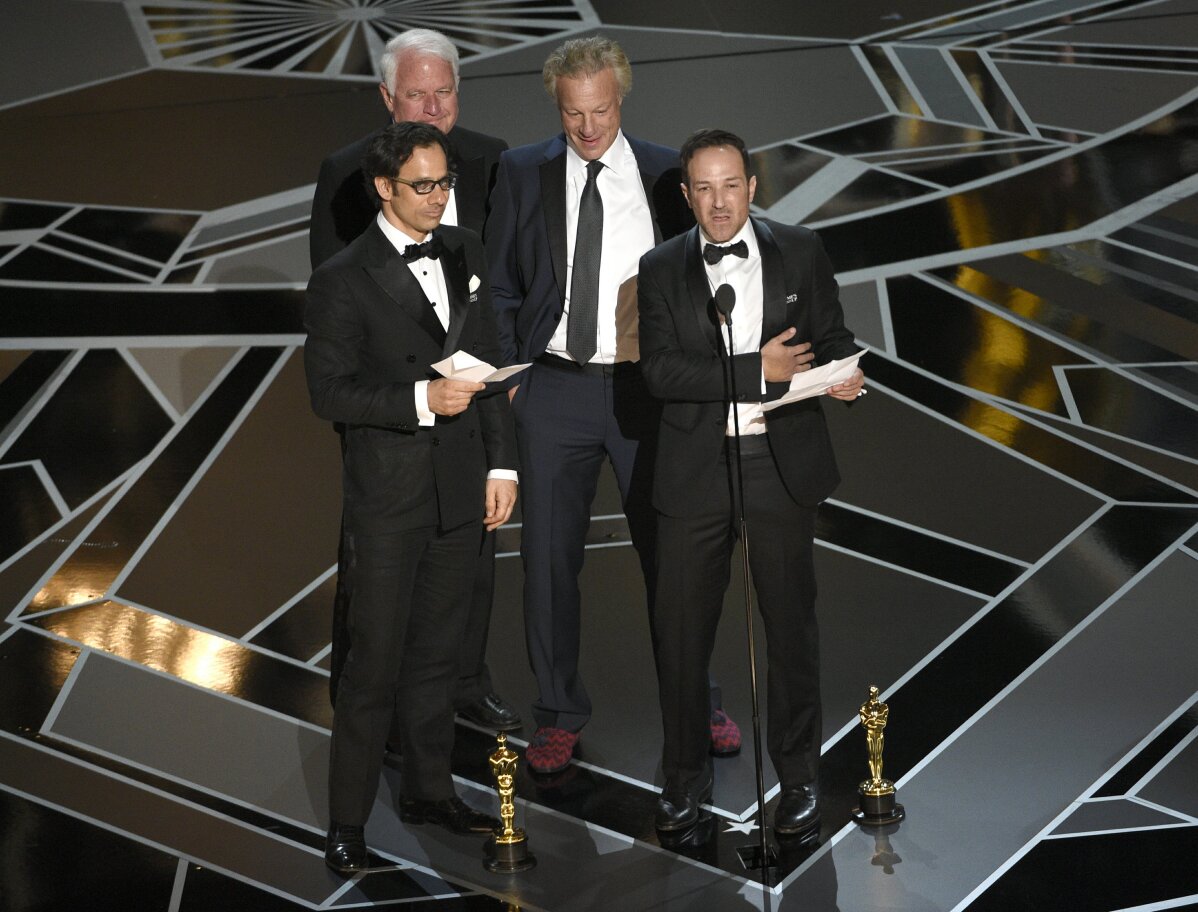 4 of 4

|
Dan Cogan, from left, James R. Swartz, David Fialkow, and Bryan Fogel accept the award for best documentary feature for "Icarus" at the Oscars on Sunday, March 4, 2018, at the Dolby Theatre in Los Angeles. (Photo by Chris Pizzello/Invision/AP)
4 of 4
Dan Cogan, from left, James R. Swartz, David Fialkow, and Bryan Fogel accept the award for best documentary feature for "Icarus" at the Oscars on Sunday, March 4, 2018, at the Dolby Theatre in Los Angeles. (Photo by Chris Pizzello/Invision/AP)
LOS ANGELES (AP) — Bryan Fogel's sports doping documentary "Icarus," which exposed the state sponsored doping program of Russia's Olympic athletes won best documentary at the Academy Awards Sunday.
It beat out both Agnes Varda's feel-good "Faces Places," which took the Film Independent Spirt Award Saturday, and the harrowing White Helmets documentary "Last Men in Aleppo."
Fogel dedicated the award to Grigory Rodchenkov, "our fearless whistleblower who now lives in grave danger," he said. Rodchenkov is the former director of Russia's Anti-Doping Center, who became an unlikely whistleblower against the decades-long corruption exposed in the film.
"We hope 'Icarus' is a wake-up call, yes about Russia but more than that about the importance of telling the truth," Fogel said.
Fogel also emotionally thanked his parents on the stage, but far away from the sight of the television cameras, his mother, in the very back of one of the upper decks in the auditorium, shrieked and waved at her Oscar-winning son.
Each documentary nominated had its own compelling story behind the story. In addition to Varda being the oldest Oscar-nominee, at 89, and the nail-biter of whether or not the "Aleppo" filmmakers would be able to make the ceremony with the travel ban (they did), "Strong Island" made history for its nomination of the first transgender filmmaker for its director Yance Ford, and "Abacus: Small Enough to Jail," which was the first documentary nomination for its long-overlooked director Steve James.
---
AP Entertainment Writer Andrew Dalton contributed from Los Angeles.
---
For full coverage of awards season, visit https://apnews.com/tag/AwardsSeason