South African city set to seize land in national 'test case'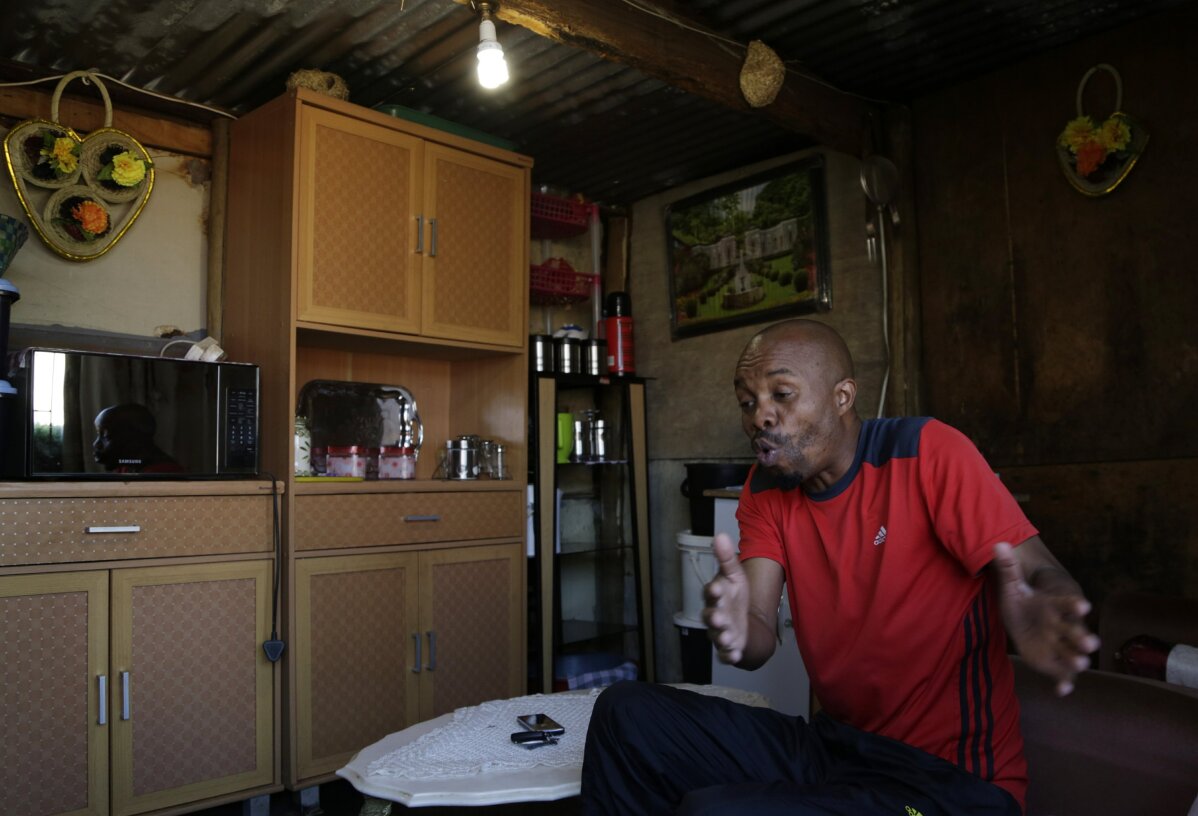 1 of 4

|
Somsy Matso, a community leader in the local housing fight, speaks whilst sitting inside his shacks that his mother first occupied in 1994, at Winnie Mandela Informal Settlement in Tembisa, of east of Johannesburg, South Africa, Tuesday, Oct. 16, 2018. As South Africa's passionate debate over land redistribution grows, one city outside Johannesburg is preparing what the mayor calls a "test case" for the nation _ the seizure of hundreds of acres of land from private owners, without paying for it, to build low-cost housing. (AP Photo/Themba Hadebe)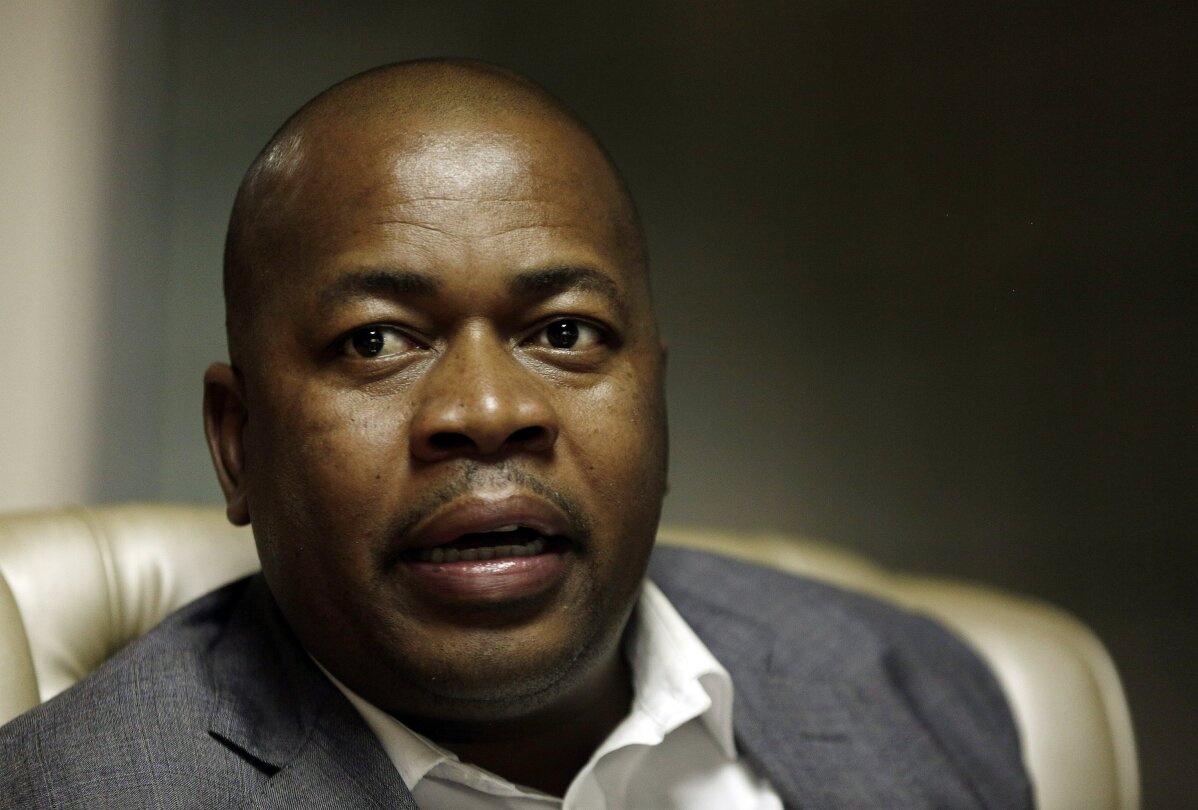 2 of 4

|
Ekurhuleni's Executive Mayor Mzwandile Masina speaks during an interview with The Associated Press in Germiston east of Johannesburg, South Africa, Tuesday, Oct. 16, 2018. As South Africa's passionate debate over land redistribution grows, one city outside Johannesburg is preparing what the mayor calls a "test case" for the nation _ the seizure of hundreds of acres of land from private owners, without paying for it, to build low-cost housing. (AP Photo/Themba Hadebe)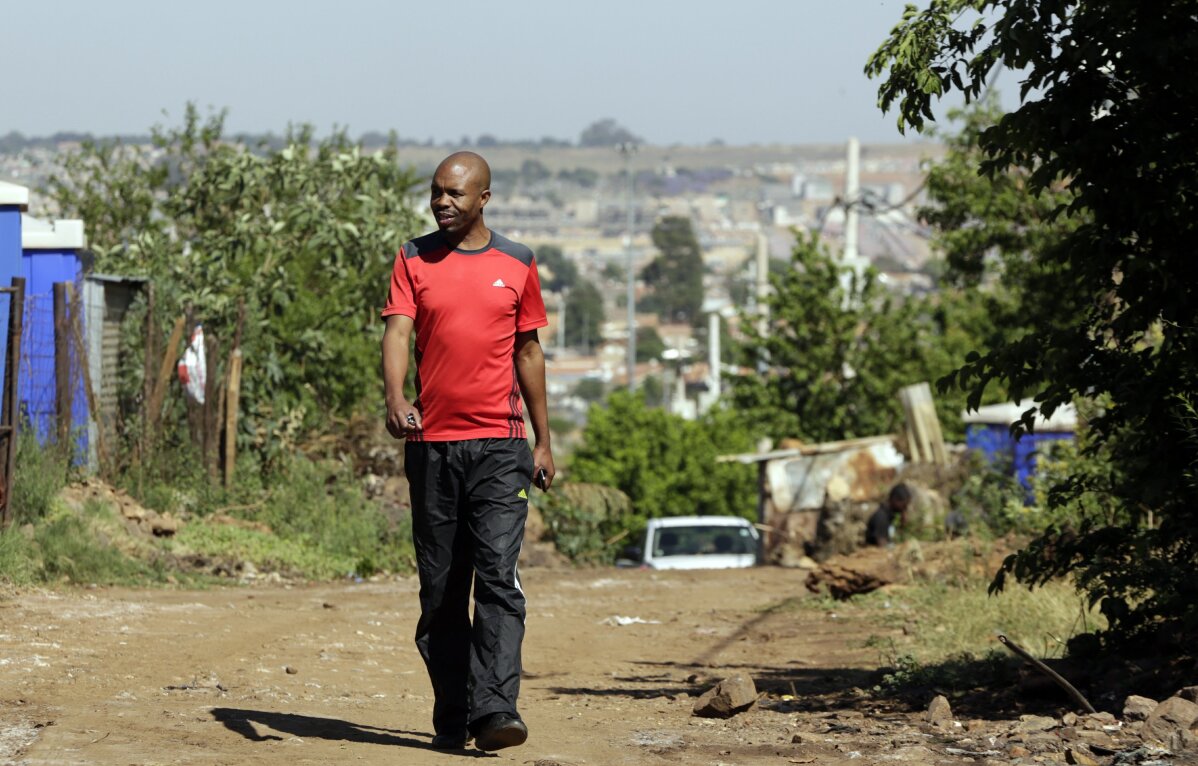 3 of 4

|
Somsy Matso, a community leader in the local housing fight, walks along a street at Winnie Mandela Informal Settlement in Tembisa, of east of Johannesburg, South Africa, Tuesday, Oct. 16, 2018. As South Africa's passionate debate over land redistribution grows, one city outside Johannesburg is preparing what the mayor calls a "test case" for the nation _ the seizure of hundreds of acres of land from private owners, without paying for it, to build low-cost housing. (AP Photo/Themba Hadebe)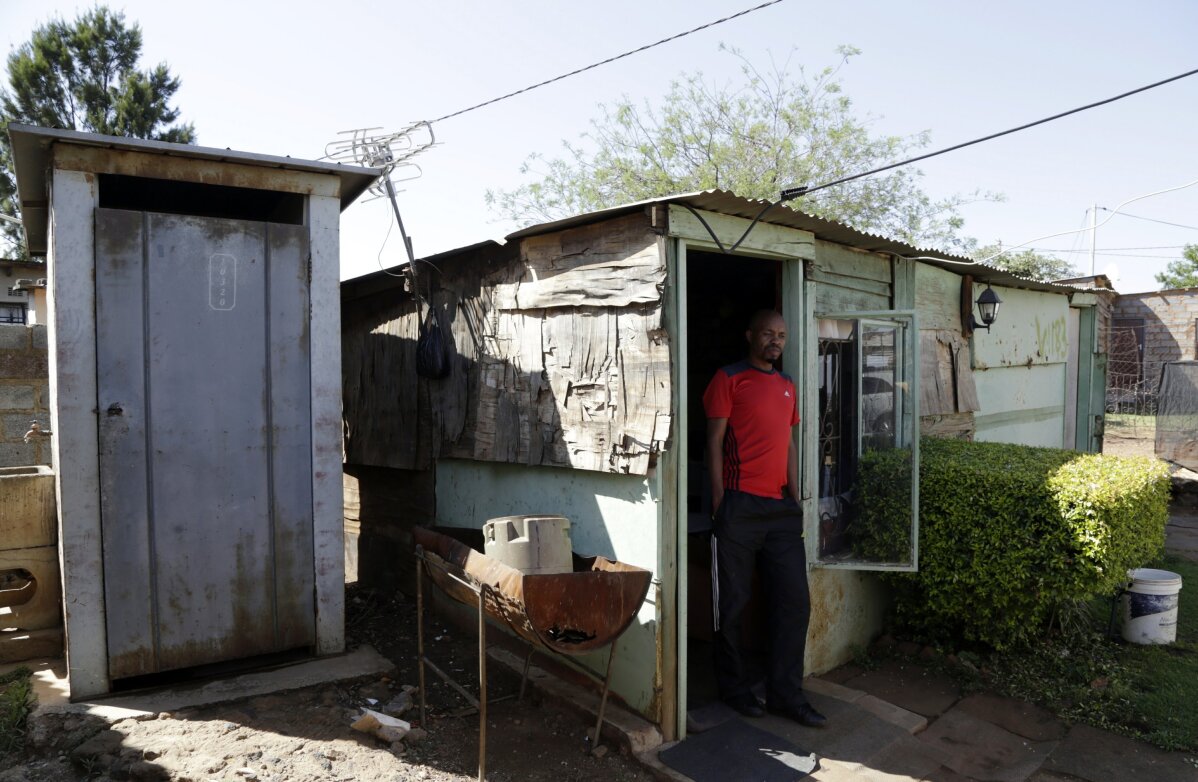 4 of 4

|
Somsy Matso, a community leader in the local housing fight, stands at the door of his shacks that his mother first occupied in 1994, at Winnie Mandela Informal Settlement in Tembisa, of east of Johannesburg, South Africa, Tuesday, Oct. 16, 2018. As South Africa's passionate debate over land redistribution grows, one city outside Johannesburg is preparing what the mayor calls a "test case" for the nation _ the seizure of hundreds of acres of land from private owners, without paying for it, to build low-cost housing. (AP Photo/Themba Hadebe)
South African city set to seize land in national 'test case'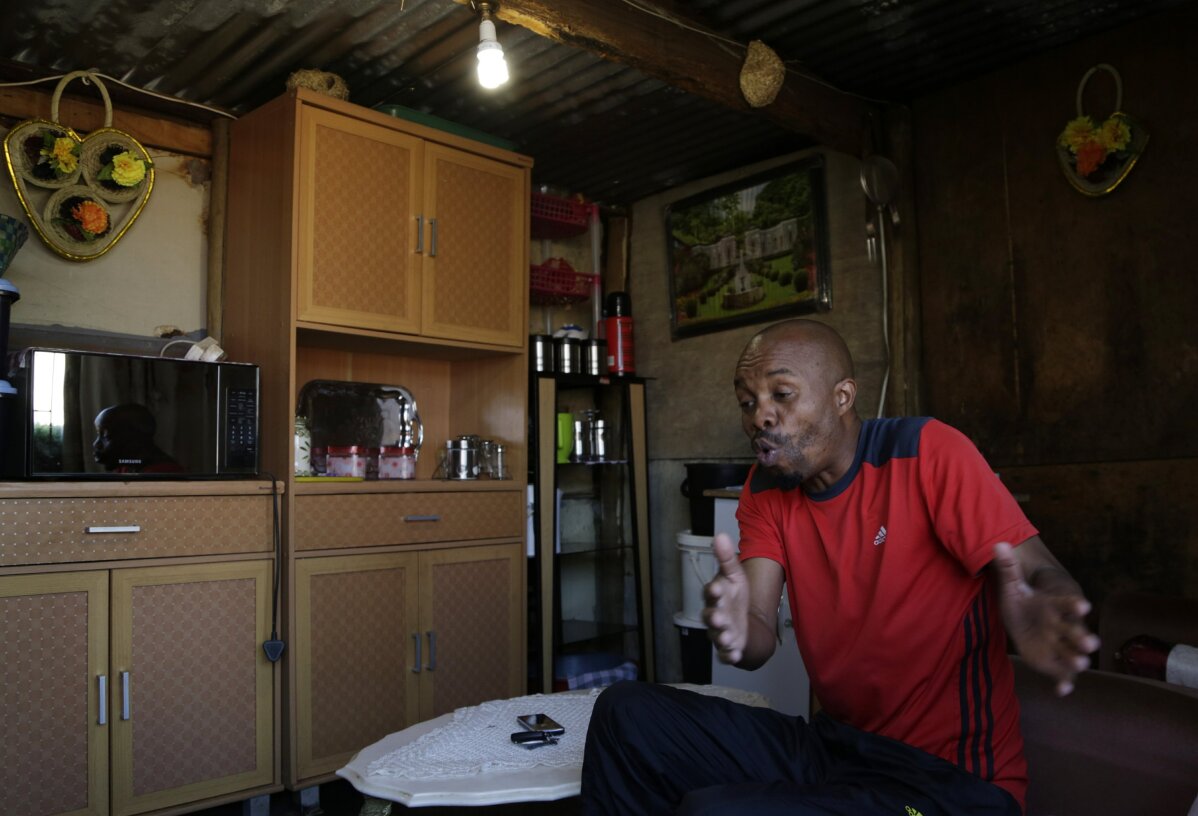 1 of 4

|
Somsy Matso, a community leader in the local housing fight, speaks whilst sitting inside his shacks that his mother first occupied in 1994, at Winnie Mandela Informal Settlement in Tembisa, of east of Johannesburg, South Africa, Tuesday, Oct. 16, 2018. As South Africa's passionate debate over land redistribution grows, one city outside Johannesburg is preparing what the mayor calls a "test case" for the nation _ the seizure of hundreds of acres of land from private owners, without paying for it, to build low-cost housing. (AP Photo/Themba Hadebe)
1 of 4
Somsy Matso, a community leader in the local housing fight, speaks whilst sitting inside his shacks that his mother first occupied in 1994, at Winnie Mandela Informal Settlement in Tembisa, of east of Johannesburg, South Africa, Tuesday, Oct. 16, 2018. As South Africa's passionate debate over land redistribution grows, one city outside Johannesburg is preparing what the mayor calls a "test case" for the nation _ the seizure of hundreds of acres of land from private owners, without paying for it, to build low-cost housing. (AP Photo/Themba Hadebe)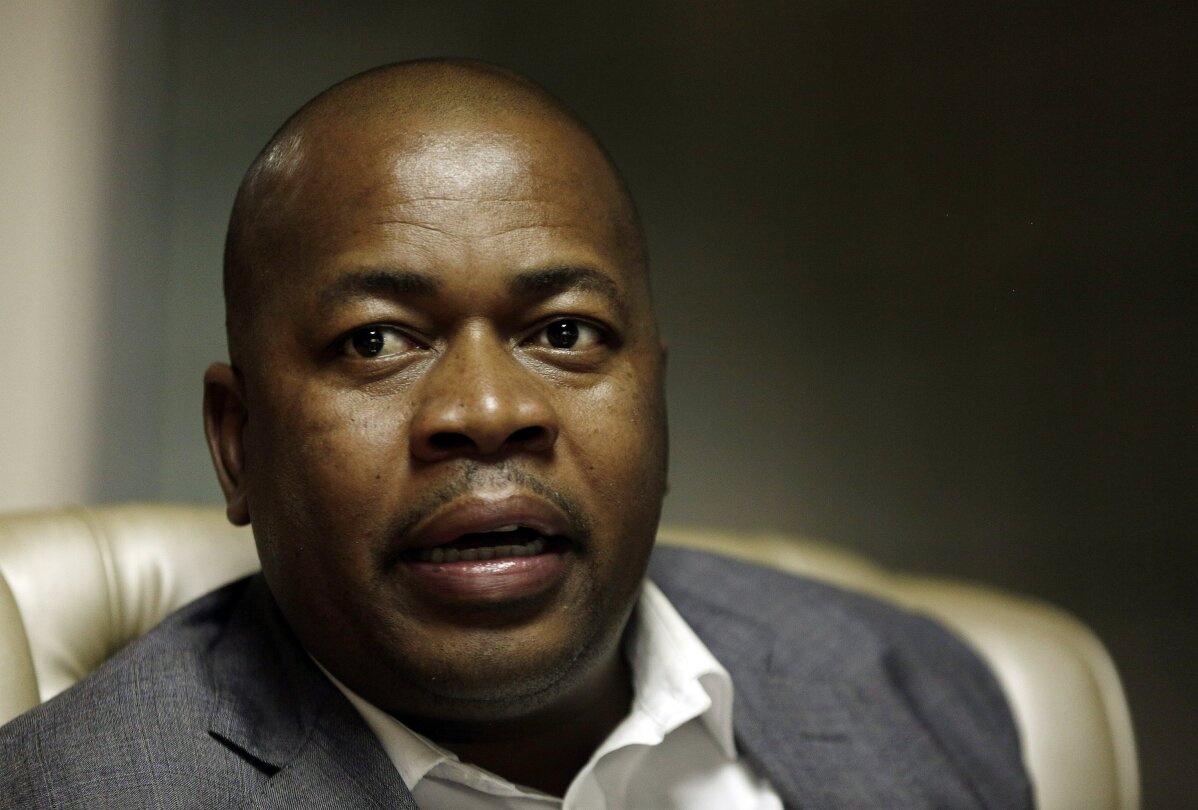 2 of 4

|
Ekurhuleni's Executive Mayor Mzwandile Masina speaks during an interview with The Associated Press in Germiston east of Johannesburg, South Africa, Tuesday, Oct. 16, 2018. As South Africa's passionate debate over land redistribution grows, one city outside Johannesburg is preparing what the mayor calls a "test case" for the nation _ the seizure of hundreds of acres of land from private owners, without paying for it, to build low-cost housing. (AP Photo/Themba Hadebe)
2 of 4
Ekurhuleni's Executive Mayor Mzwandile Masina speaks during an interview with The Associated Press in Germiston east of Johannesburg, South Africa, Tuesday, Oct. 16, 2018. As South Africa's passionate debate over land redistribution grows, one city outside Johannesburg is preparing what the mayor calls a "test case" for the nation _ the seizure of hundreds of acres of land from private owners, without paying for it, to build low-cost housing. (AP Photo/Themba Hadebe)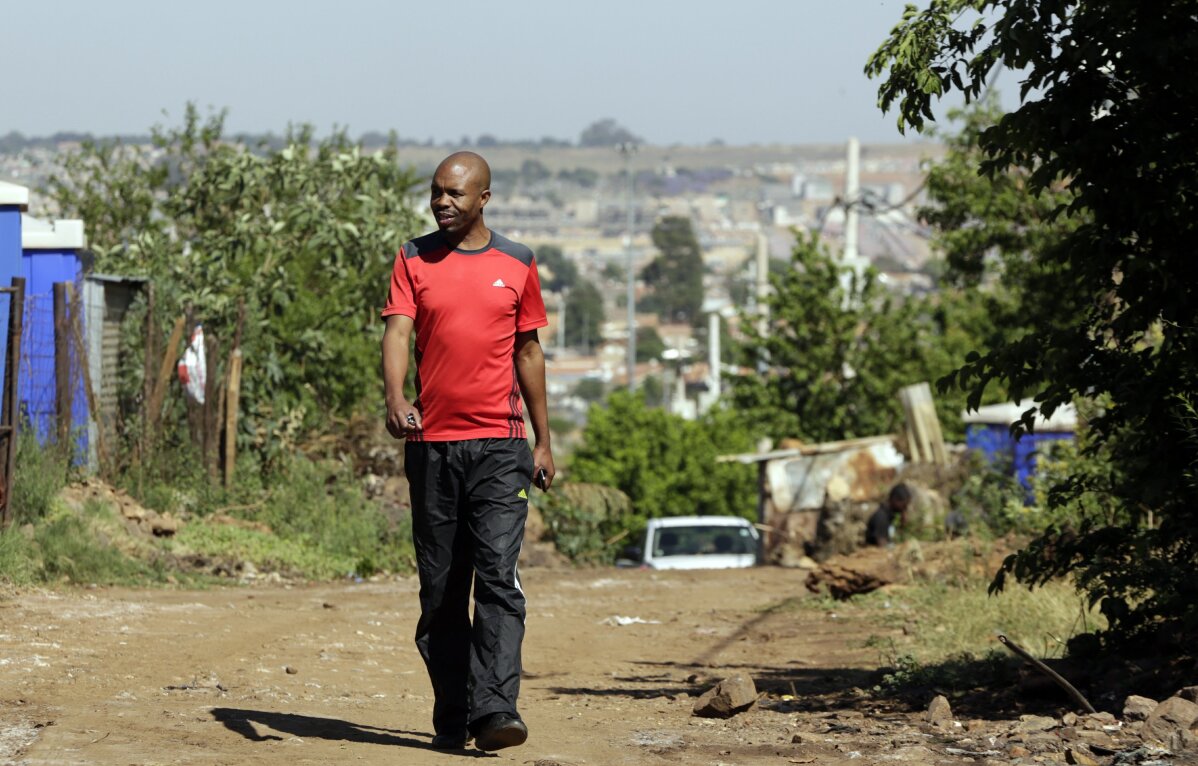 3 of 4

|
Somsy Matso, a community leader in the local housing fight, walks along a street at Winnie Mandela Informal Settlement in Tembisa, of east of Johannesburg, South Africa, Tuesday, Oct. 16, 2018. As South Africa's passionate debate over land redistribution grows, one city outside Johannesburg is preparing what the mayor calls a "test case" for the nation _ the seizure of hundreds of acres of land from private owners, without paying for it, to build low-cost housing. (AP Photo/Themba Hadebe)
3 of 4
Somsy Matso, a community leader in the local housing fight, walks along a street at Winnie Mandela Informal Settlement in Tembisa, of east of Johannesburg, South Africa, Tuesday, Oct. 16, 2018. As South Africa's passionate debate over land redistribution grows, one city outside Johannesburg is preparing what the mayor calls a "test case" for the nation _ the seizure of hundreds of acres of land from private owners, without paying for it, to build low-cost housing. (AP Photo/Themba Hadebe)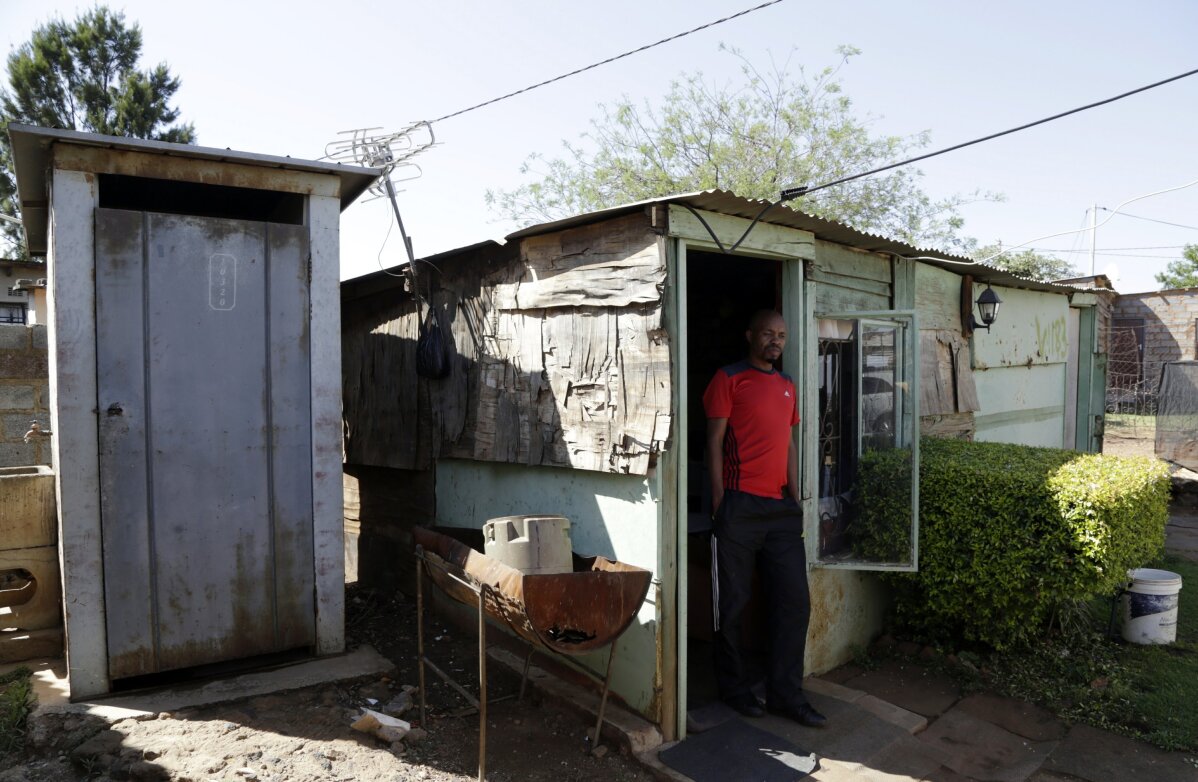 4 of 4

|
Somsy Matso, a community leader in the local housing fight, stands at the door of his shacks that his mother first occupied in 1994, at Winnie Mandela Informal Settlement in Tembisa, of east of Johannesburg, South Africa, Tuesday, Oct. 16, 2018. As South Africa's passionate debate over land redistribution grows, one city outside Johannesburg is preparing what the mayor calls a "test case" for the nation _ the seizure of hundreds of acres of land from private owners, without paying for it, to build low-cost housing. (AP Photo/Themba Hadebe)
4 of 4
Somsy Matso, a community leader in the local housing fight, stands at the door of his shacks that his mother first occupied in 1994, at Winnie Mandela Informal Settlement in Tembisa, of east of Johannesburg, South Africa, Tuesday, Oct. 16, 2018. As South Africa's passionate debate over land redistribution grows, one city outside Johannesburg is preparing what the mayor calls a "test case" for the nation _ the seizure of hundreds of acres of land from private owners, without paying for it, to build low-cost housing. (AP Photo/Themba Hadebe)
EKURHULENI, South Africa (AP) — As South Africa's passionate debate over land redistribution grows, one city outside Johannesburg is preparing what the mayor calls a "test case" for the nation — the seizure of hundreds of acres of land from private owners, without paying for it, to build low-cost housing.
Like other South African cities, Ekurhuleni faces a dire housing crunch, with some 600,000 of its nearly 4 million people living in "informal settlements" and a shortage of land to build homes.
Last month, Ekurhuleni's city council voted in favor of forging ahead with "expropriation without compensation," a legal tool that the ruling African National Congress says is necessary to correct the historic injustices of apartheid and distribute land more equitably.
Nearly a quarter-century after the end of white-minority rule, white South Africans comprise just 8 percent of the population but still hold most of the individually owned private land, keeping most economic power in the hands of a few and making the country one of the most unequal societies in the world.
In July, President Cyril Ramaphosa said the ANC planned to amend the constitution to allow for expropriation without compensation, sparking concerns that the move could destabilize the fragile economy and spur conflict in an already socially divided nation.
In August, President Donald Trump waded into the controversy by tweeting - incorrectly - that South Africa had begun seizing farms and that high numbers of farmers were being killed.
The ANC has sought to reassure people inside and outside the country that its efforts to ensure the majority of black South Africans have better access to land - a long-standing party promise - will be legal and should not be cause for alarm. Ramaphosa has said everyone should "relax" about the land reform process and that it would "end up very well."
Ekurhuleni's Executive Mayor Mzwandile Masina, who heads the local ANC-led coalition, echoed the president, saying landowners in South Africa don't need to be "scared."
"Our policy is not to take the land by force," Masina told The Associated Press. "Our policy is to make sure the land is shared amongst those that need it."
Ekurhuleni plans to expropriate about 865 acres (350 hectares) of land in the city limits, both private and government-owned, that has been vacant for decades and develop it to relieve pressure in vast tracts of ramshackle dwellings. The mayor did not identify the landowners.
The conditions in these settlements are "horrible for human beings," Masina said. "We are not going to expropriate land and keep it for ourselves."
He expects the city to be taken to court once it notifies landowners of its intent to seize their property - and that is the point, he says.
The municipality wants the case to force a ruling on whether expropriating land in the public interest is legal as the nation's laws stand, or whether the constitution needs to be amended.
Whether the court case will pan out favorably for the city is unclear.
"You can't guarantee the outcome," said Ben Cousins, research chair in poverty, land and agrarian studies at the University of Western Cape. "The court may find you do have to pay some level of compensation. It could backfire quite badly."
The move has already put Masina's political life on the line. The opposition Democratic Alliance party has tabled a motion of no confidence in the mayor for Oct. 25.
Though South Africa's land reform debate is often focused on farmland, the demand for urban land is intense, particularly in the economic hub of Gauteng province, which includes Johannesburg.
The Ekurhuleni test case is part of a new push in Gauteng to "release" land to residents every week, giving parcels to people who need it for homes or businesses.
Dikgang Uhuru Moiloa, head of the provincial department of Human Settlements, says the government is starting the program by redistributing state-owned land but is also looking at privately owned land that is not being used, as is the case in Ekurhuleni.
"We have to be very rational," Moiloa said. "We can't just chase people out of land, their livelihoods, and providing food for the nation. We can't do that. Those that use the land effectively definitely will have to be left to use the land effectively."
In the meantime, there are more than 1.2 million people registered and waiting for government-subsidized housing in the province, and the government can only provide 26,000 homes a year. "It's a huge backlog," Moiloa said.
In Ekurhuleni's Winnie Mandela Informal Settlement, a sprawling complex of tiny homes pieced together with cement blocks, plywood and corrugated tin, more than 11,000 people registered for government housing in the late 1990s and many are still waiting to get it.
The mayor says the city has invested "a substantial amount of money" to improve living conditions, installing electricity and building schools.
But some say they feel left in the dark about their future.
Somsy Matso, a community leader in the housing fight, lives in a small complex of shacks that his mother first occupied in 1994. She applied and was approved for a government house, Matso said, but it has yet to materialize.
"The (city officials) are just quiet," Matso said. "They are not saying anything."
___
Follow Africa news at https://twitter.com/AP_Africa