AP FACT CHECK: Trump stirs up a hurricane story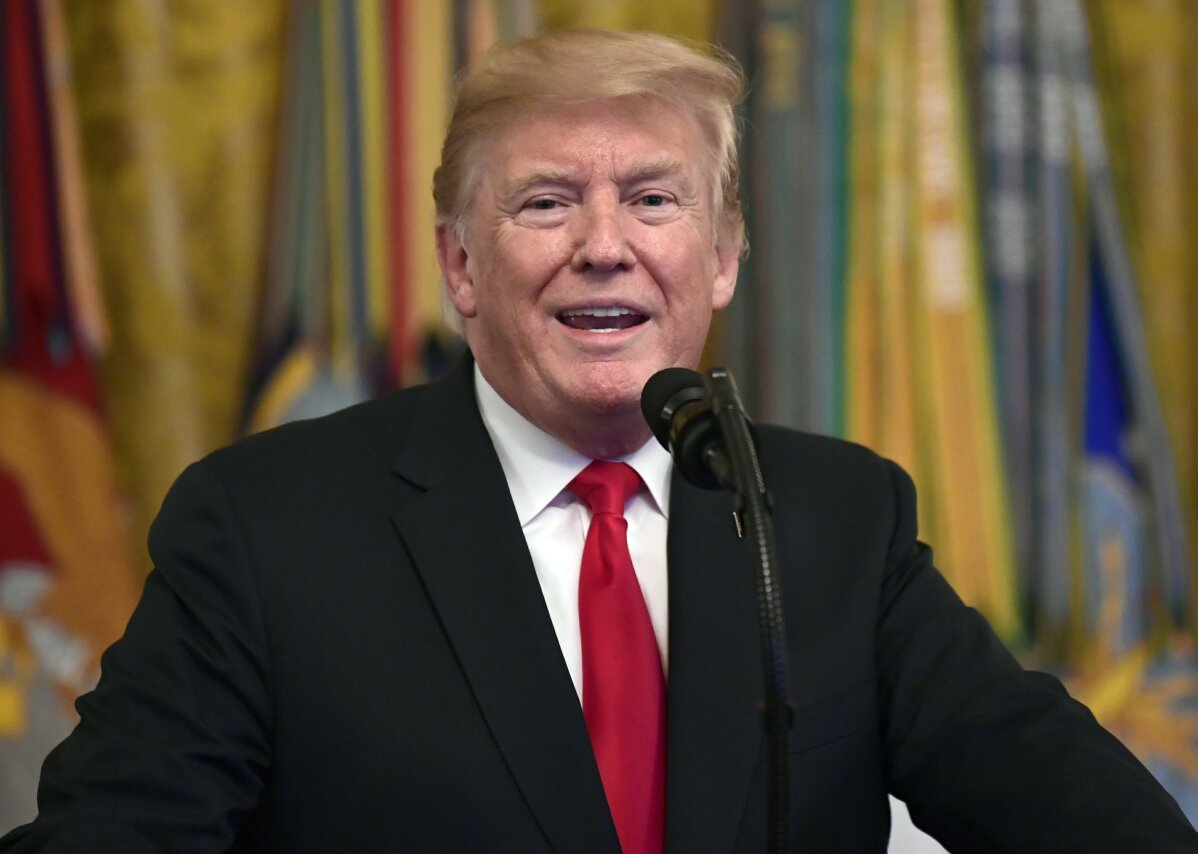 1 of 3

|
FILE - In this Sept. 12, 2018, file photo, President Donald Trump speaks during a Congressional Medal of Honor Society Reception in the East Room of the White House in Washington. Top Florida Republicans have been quick to say Trump is wrong about the death toll in Puerto Rico. (AP Photo/Susan Walsh, File)
2 of 3

|
House Speaker Paul Ryan of Wis., speaks during a news conference, Thursday, Sept. 13, 2018, in Washington. Behind him are House Majority Whip Steve Scalise, R-La., and Rep. Cathy McMorris Rodgers, R-Wash., right. Ryan is rejecting President Donald Trump's assertion an official government death toll for last year's hurricane in Puerto Rico is wrong. The Wisconsin Republican says he has "no reason to dispute" a study that found nearly 3,000 people on the island died from Hurricane Maria last year. (AP Photo/Jacquelyn Martin)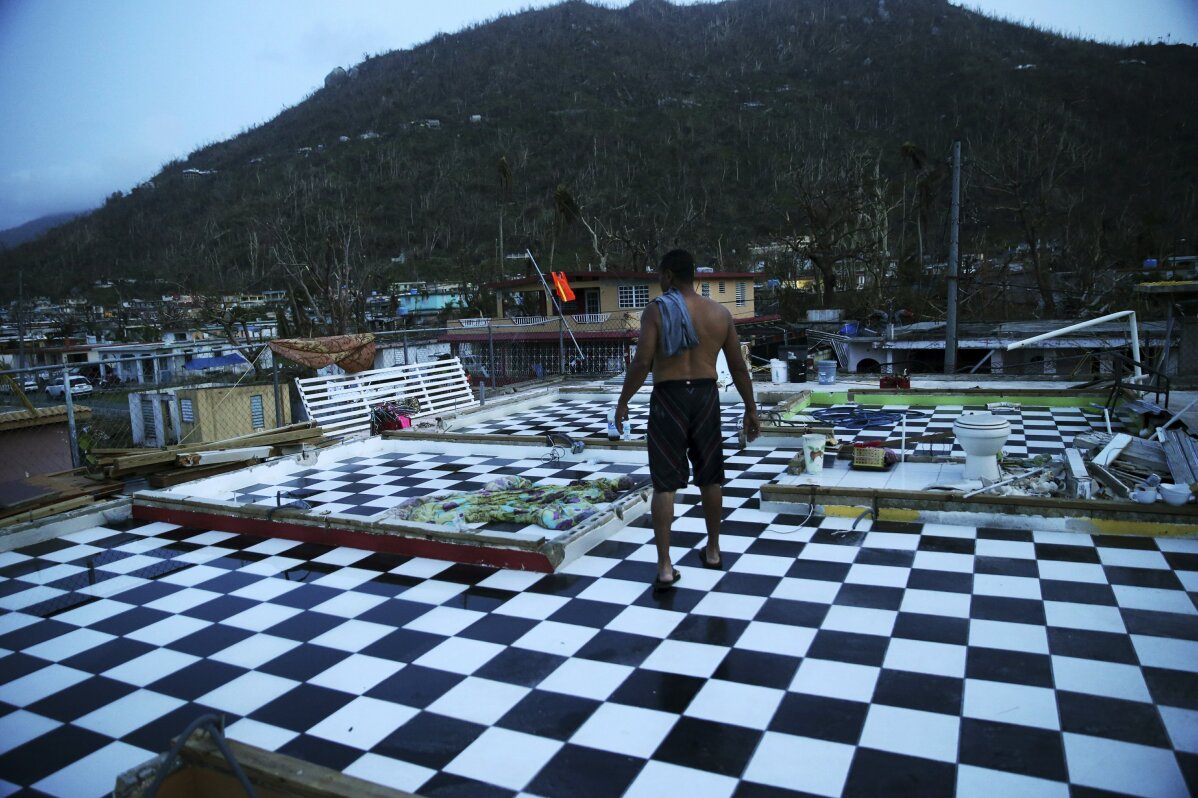 3 of 3

|
FILE - In this Sept. 26, 2017 file photo, Nestor Serrano walks on the upstairs floor of his home, where the walls were blown off, in the aftermath of Hurricane Maria, in Yabucoa, Puerto Rico. President Donald Trump's assertion on Wednesday, Sept. 12, 2018, that the federal government's response to Hurricane Maria was "an incredible, unsung success" is falling flat in Puerto Rico, where islanders are still struggling to recover a year later. For many, Trump's boast is hard to square with their daily reality: Blackouts remain common, and nearly 60,000 homes have only a makeshift roof. (AP Photo/Gerald Herbert, File)
AP FACT CHECK: Trump stirs up a hurricane story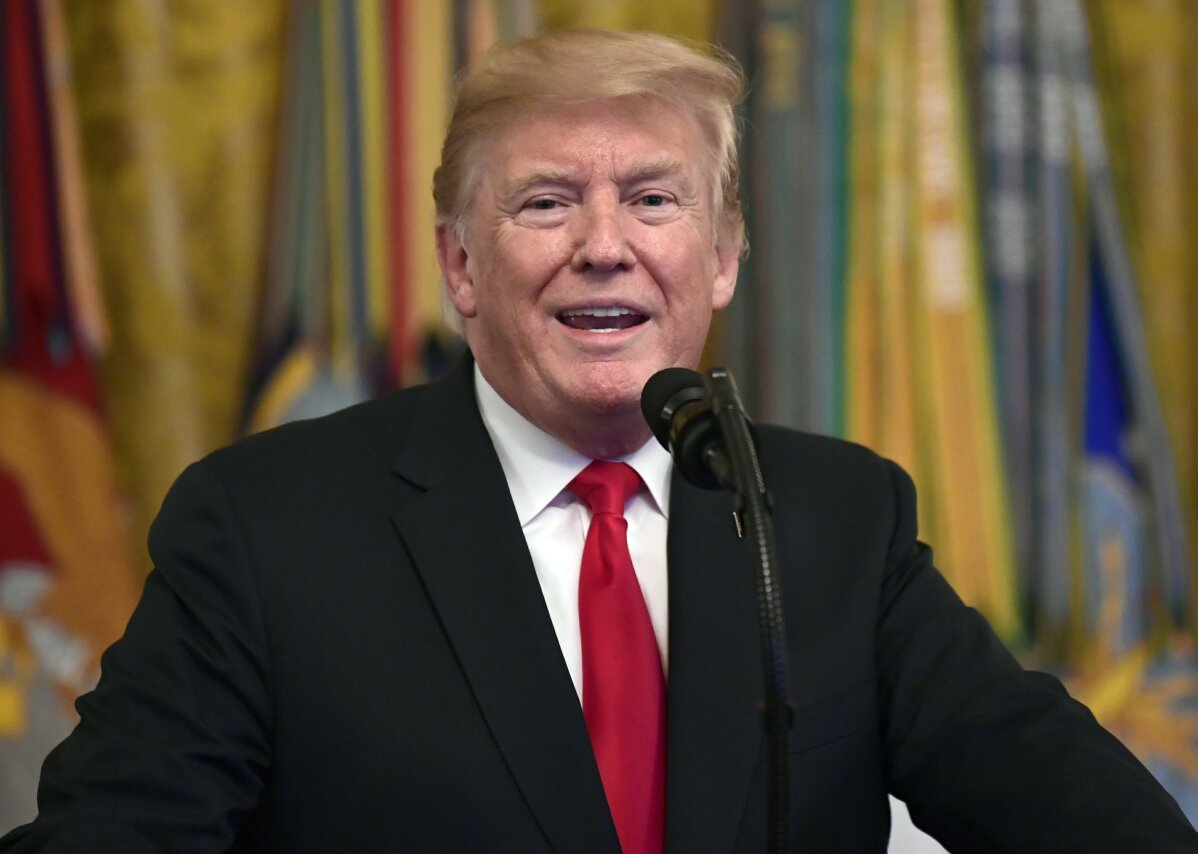 1 of 3

|
FILE - In this Sept. 12, 2018, file photo, President Donald Trump speaks during a Congressional Medal of Honor Society Reception in the East Room of the White House in Washington. Top Florida Republicans have been quick to say Trump is wrong about the death toll in Puerto Rico. (AP Photo/Susan Walsh, File)
1 of 3
FILE - In this Sept. 12, 2018, file photo, President Donald Trump speaks during a Congressional Medal of Honor Society Reception in the East Room of the White House in Washington. Top Florida Republicans have been quick to say Trump is wrong about the death toll in Puerto Rico. (AP Photo/Susan Walsh, File)
2 of 3

|
House Speaker Paul Ryan of Wis., speaks during a news conference, Thursday, Sept. 13, 2018, in Washington. Behind him are House Majority Whip Steve Scalise, R-La., and Rep. Cathy McMorris Rodgers, R-Wash., right. Ryan is rejecting President Donald Trump's assertion an official government death toll for last year's hurricane in Puerto Rico is wrong. The Wisconsin Republican says he has "no reason to dispute" a study that found nearly 3,000 people on the island died from Hurricane Maria last year. (AP Photo/Jacquelyn Martin)
2 of 3
House Speaker Paul Ryan of Wis., speaks during a news conference, Thursday, Sept. 13, 2018, in Washington. Behind him are House Majority Whip Steve Scalise, R-La., and Rep. Cathy McMorris Rodgers, R-Wash., right. Ryan is rejecting President Donald Trump's assertion an official government death toll for last year's hurricane in Puerto Rico is wrong. The Wisconsin Republican says he has "no reason to dispute" a study that found nearly 3,000 people on the island died from Hurricane Maria last year. (AP Photo/Jacquelyn Martin)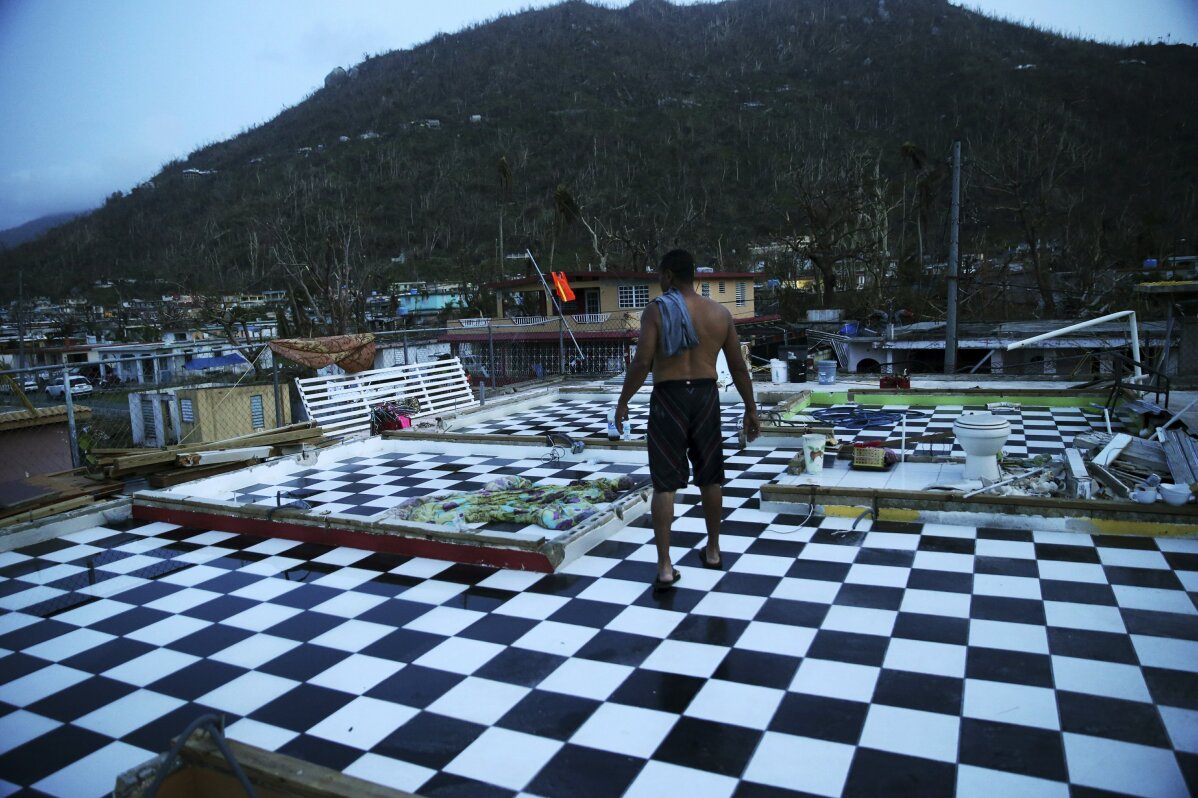 3 of 3

|
FILE - In this Sept. 26, 2017 file photo, Nestor Serrano walks on the upstairs floor of his home, where the walls were blown off, in the aftermath of Hurricane Maria, in Yabucoa, Puerto Rico. President Donald Trump's assertion on Wednesday, Sept. 12, 2018, that the federal government's response to Hurricane Maria was "an incredible, unsung success" is falling flat in Puerto Rico, where islanders are still struggling to recover a year later. For many, Trump's boast is hard to square with their daily reality: Blackouts remain common, and nearly 60,000 homes have only a makeshift roof. (AP Photo/Gerald Herbert, File)
3 of 3
FILE - In this Sept. 26, 2017 file photo, Nestor Serrano walks on the upstairs floor of his home, where the walls were blown off, in the aftermath of Hurricane Maria, in Yabucoa, Puerto Rico. President Donald Trump's assertion on Wednesday, Sept. 12, 2018, that the federal government's response to Hurricane Maria was "an incredible, unsung success" is falling flat in Puerto Rico, where islanders are still struggling to recover a year later. For many, Trump's boast is hard to square with their daily reality: Blackouts remain common, and nearly 60,000 homes have only a makeshift roof. (AP Photo/Gerald Herbert, File)
WASHINGTON (AP) — President Donald Trump is concocting a story that the death toll from last year's Hurricane Maria in Puerto Rico was invented by Democrats to make him look bad. Some fellow Republicans dissociated themselves from his false claims and acknowledged the veracity of an independent study that attributed nearly 3,000 deaths to the 2017 storm and its aftermath.
A look at his statements:
TRUMP: "3000 people did not die in the two hurricanes that hit Puerto Rico. When I left the Island, AFTER the storm had hit, they had anywhere from 6 to 18 deaths. As time went by it did not go up by much. Then, a long time later, they started to report really large numbers, like 3000.... This was done by the Democrats in order to make me look as bad as possible when I was successfully raising Billions of Dollars to help rebuild Puerto Rico. If a person died for any reason, like old age, just add them onto the list. Bad politics. I love Puerto Rico!" —tweets Thursday.
THE FACTS: Trump's denial of nearly 3,000 deaths is baseless, however imprecise estimated death tolls can be from a disaster.
Independent researchers at George Washington University estimated 2,975 excess deaths related to Hurricane Maria in the six months following the hurricane, which hit last September. Puerto Rico Gov. Ricardo Rossello commissioned the study and accepted the death toll as the best available. Rossello rejected the findings of a different study that estimated more than 4,000 died, saying he found the GWU research with its lower number to be scientifically sound.
The study found that 22 percent more people died than would have been expected during that period in a year without the storm. Its central finding has been roughly corroborated by other, similar studies. A second phase will examine the circumstances of specific deaths to arrive at a more precise number.
"We are scientists," Dr. Carlos Santos-Burgoa, the lead researcher on the study, told The Associated Press. "We are public health people. We are committed to the health of the population. We try to reach the truth, and we try to understand what is damaging the people in order to prevent disease."
Santos-Burgoa is a well-known expert in global health, particularly Latin America.
Trump's claim that the death toll was no more than 18 when he visited Puerto Rico, nearly two weeks after the storm, ignores the fact that the U.S. territory's official death toll was raised to 34 later that day, Oct. 3. After that, it climbed to 64. With services devastated, most power out, many people desperate for food and water and roads impassable, it was impossible to know how many died directly from Maria or from floodwaters or deprivation in its immediate aftermath.
That's why the official death toll remained relatively low until researchers could examine death records and gain a broader understanding of people's circumstances.
It took years to assess the death toll from Hurricane Katrina in 2005 despite the relative accessibility of the Gulf Coast, for example. About 1,800 died from Katrina.
Trump was a one-man island in attributing the Puerto Rican death estimate to Democrats. House Speaker Paul Ryan, R-Wis., saw "no reason to dispute" the estimate. Sen. Marco Rubio, R-Fla., tweeted his support of the 3,000 finding and lamented that "These days even tragedy becomes political." Several other Republican lawmakers from Florida similarly rejected Trump's words. Democrats were outraged.
Puerto Rico's government is run by the New Progressive Party, a pro-statehood, Puerto Rico-only party made up of both Republicans and Democrats. Rossello is a Democrat who has been generally supportive of Trump.
Trump's reference to "two hurricanes" reflects that Hurricane Irma brushed past the island as a Category 5 storm two weeks before Maria made a direct hit as a Category 4.
COUNTING THE DEAD:
Even as Trump visited Puerto Rico in October, deaths were mounting from lack of fresh water and power. People's medical equipment failed. They couldn't get medicine, diseases spread from contaminated water, and with hospitals and clinics damaged or destroyed, they couldn't get care for ongoing ailments that can become life-threatening without proper care.
On that trip, Trump jumped to the conclusion that Puerto Rico was bouncing back, congratulating the island for escaping the higher death toll of "a real catastrophe like Katrina" and describing the Puerto Rico recovery as "nothing short of a miracle" even as people struggled to find water and food outside the capital city in wide swaths of an island where only 5 percent of electricity customers had power back.
The U.S. Centers for Disease Control and Prevention provides doctors with a set of recommendations for counting such deaths as caused by natural disasters, but the guidelines were almost never followed by Puerto Rican doctors in the chaos after the storm.
Santos-Burgoa said the stress of the moment and confusion over how deaths were supposed to be noted contributed to an underreporting of how many died from the storm.
Disaster deaths are usually categorized as direct or indirect. For a hurricane, direct deaths include people who drown in a storm surge or flooding, are hit by flying debris or crushed in a wind-toppled building. Indirect deaths are from heart attacks, house fires, electrocutions from downed power lines, car accidents and others fatalities that are less clearly tied to the elements. The National Hurricane Center, when it gives hurricane tallies, only reports direct deaths.
Death certificates are the primary source of official death statistics in the U.S. but can take time and don't always include the circumstances. Reports from emergency officials can also count.
___
Associated Press writers Michael Weissenstein in Havana, Danica Coto in San Juan, Puerto Rico, and Colleen Long in Washington contributed to this report.
___
GWU study: https://tinyurl.com/yd83unyt
__
Find AP Fact Checks at http://apne.ws/2kbx8bd
Follow @APFactCheck on Twitter: https://twitter.com/APFactCheck