Grisly 24-hour period leaves 4 dead in Venezuela unrest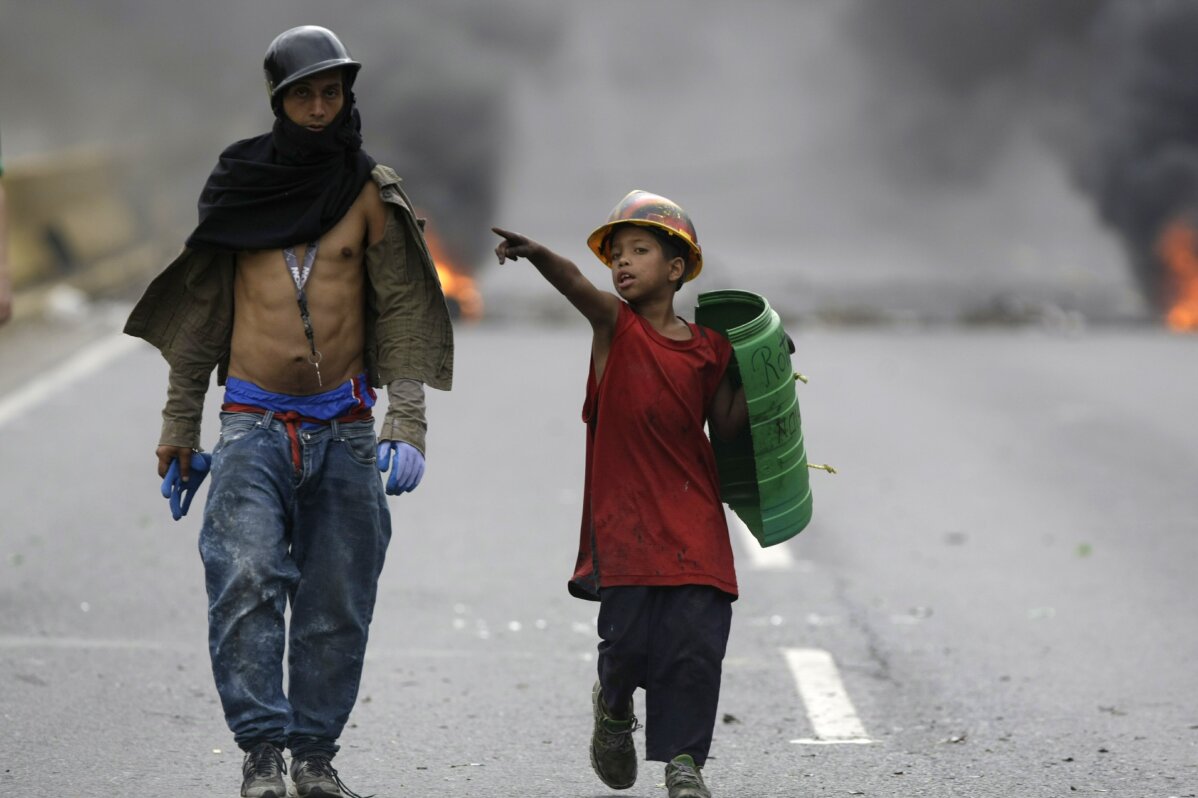 1 of 6

|
A demonstrator and boy wearing a helmet and holding a shield, walk on a blocked highway as a barricade burns in the background, during a national sit-in against President Nicolas Maduro, in Caracas, Venezuela, Monday, May 15, 2017. Opposition leaders are demanding immediate presidential elections. (AP Photo/Fernando Llano)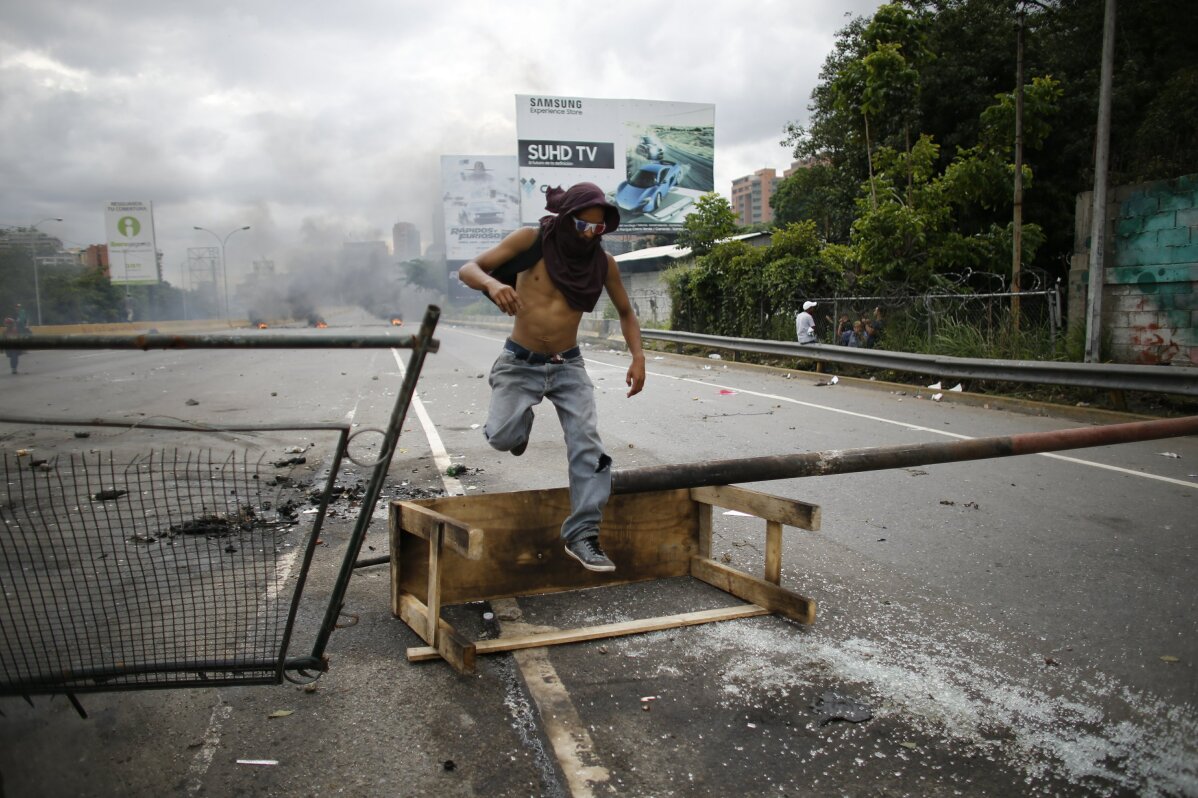 2 of 6

|
A demonstrator jumps over a barricade during a national sit-in against President Nicolas Maduro, in Caracas, Venezuela, Monday, May 15, 2017. Opposition leaders are demanding immediate presidential elections. (AP Photo/Ariana Cubillos)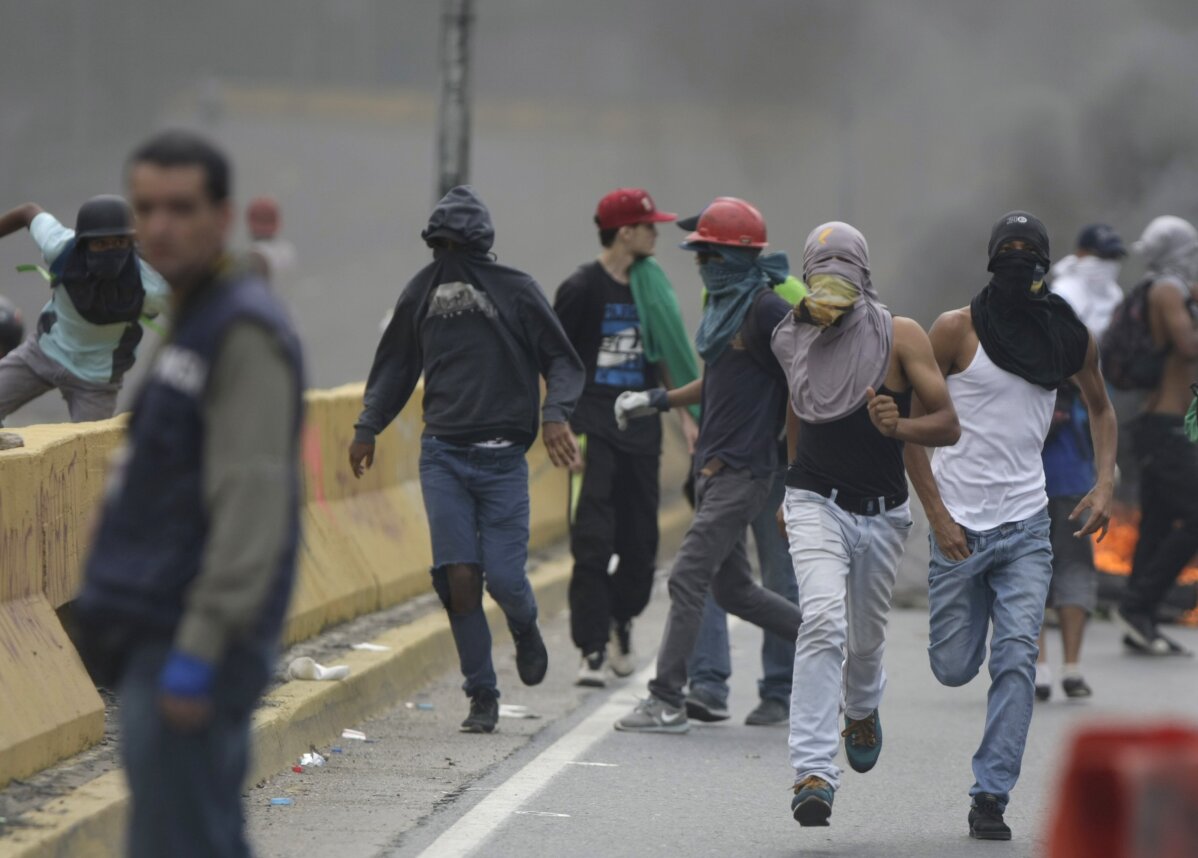 3 of 6

|
Demonstrators run on a closed highway during a national sit-in against President Nicolas Maduro, in Caracas, Venezuela, Monday, May 15, 2017. Opposition leaders are demanding immediate presidential elections. (AP Photo/Fernando Llano)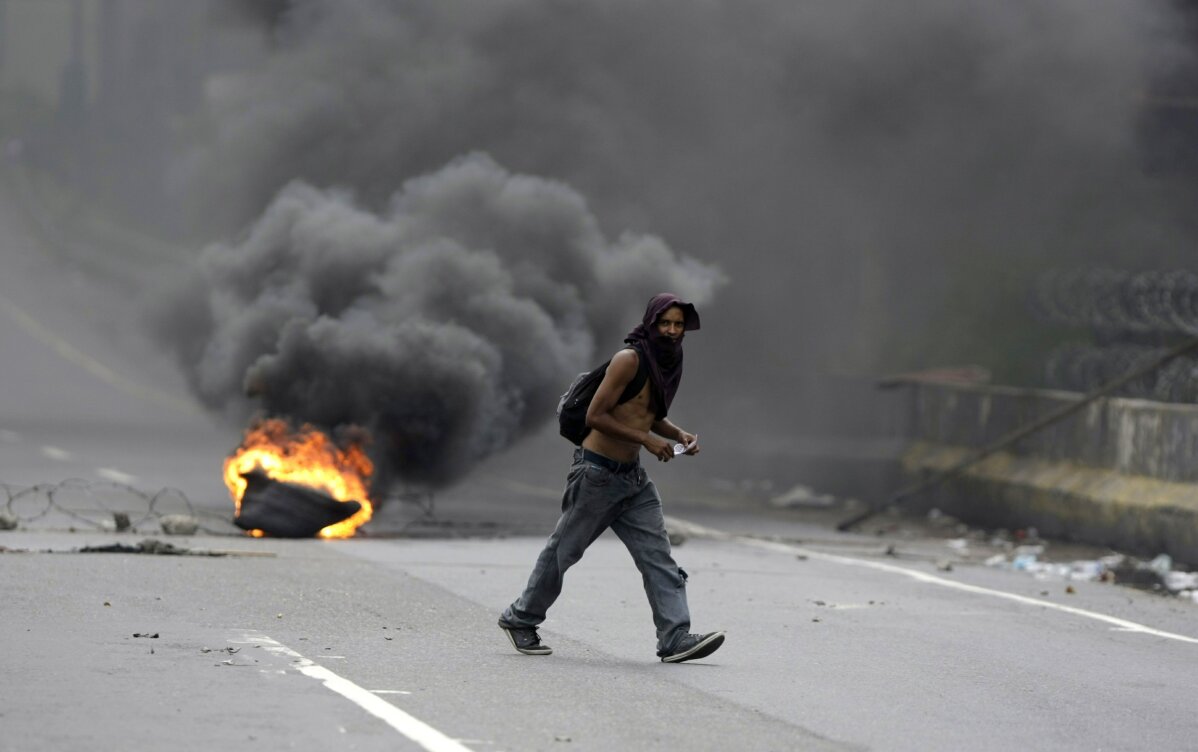 4 of 6

|
A demonstrators walks by to a burning barricaded on a highway during a national sit-in against President Nicolas Maduro, in Caracas, Venezuela, Monday, May 15, 2017. Opposition leaders are demanding immediate presidential elections. (AP Photo/Fernando Llano)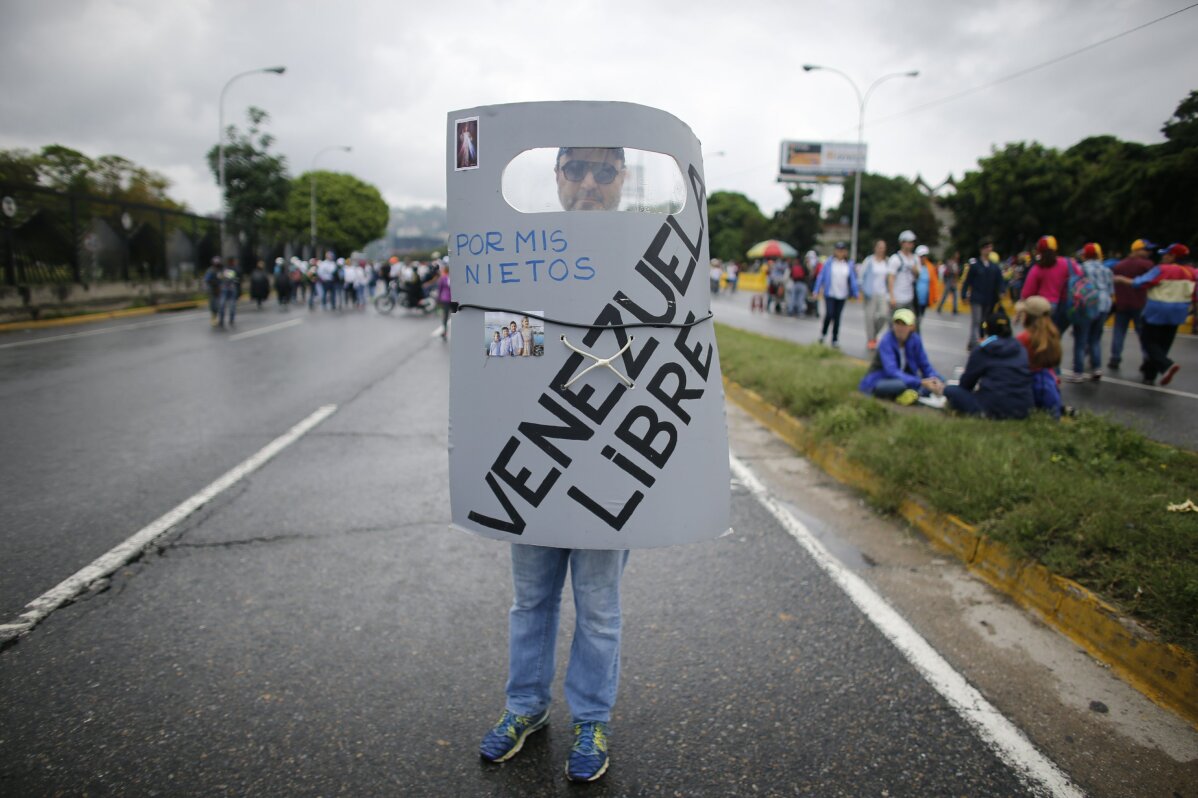 5 of 6

|
A man peers from behind his makeshift shield carrying the Spanish messages "For my grandchildren" and "Free Venezuela" on a highway during a national sit-in against President Nicolas Maduro, in Caracas, Venezuela, Monday, May 15, 2017. Opposition leaders are demanding immediate presidential elections. (AP Photo/Ariana Cubillos)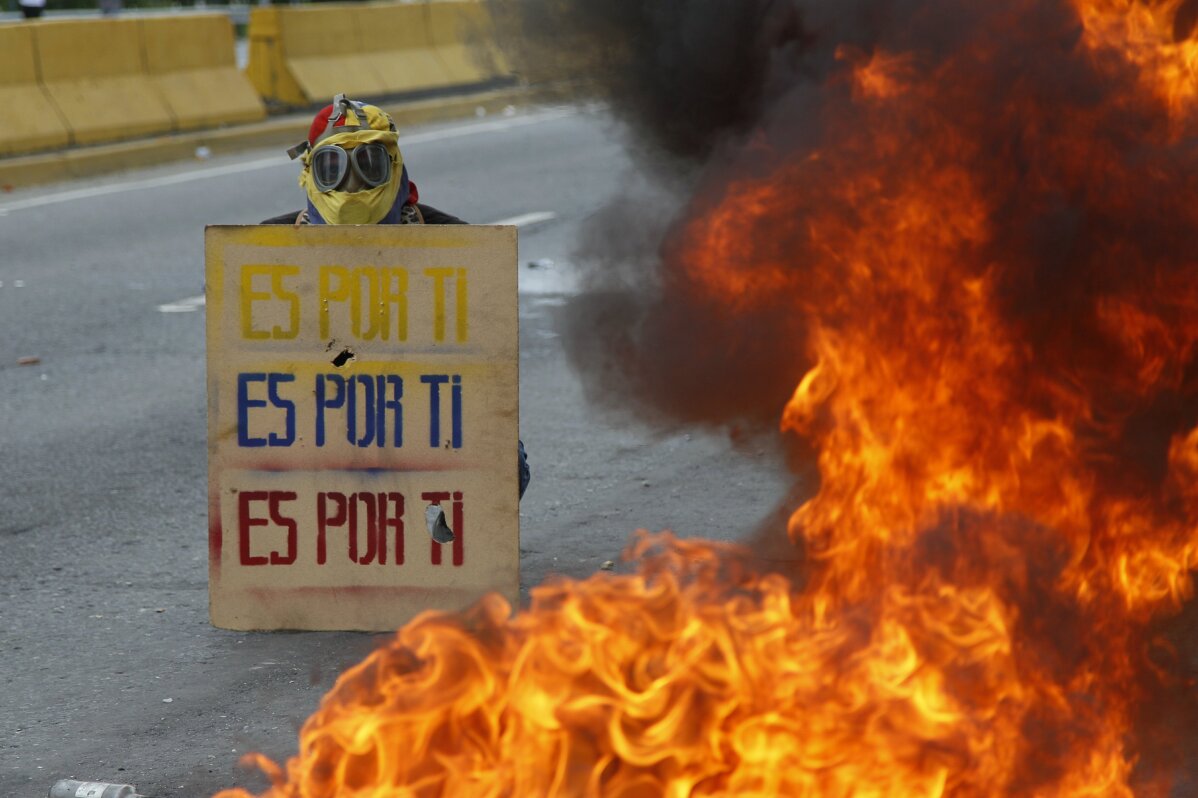 6 of 6

|
A demonstrator hols a sign that doubles a shield that reads in Spanish "It's for you," during a national sit-in against President Nicolas Maduro, in Caracas, Venezuela, Monday, May 15, 2017. Opposition leaders are demanding immediate presidential elections. (AP Photo/Ariana Cubillos)
Grisly 24-hour period leaves 4 dead in Venezuela unrest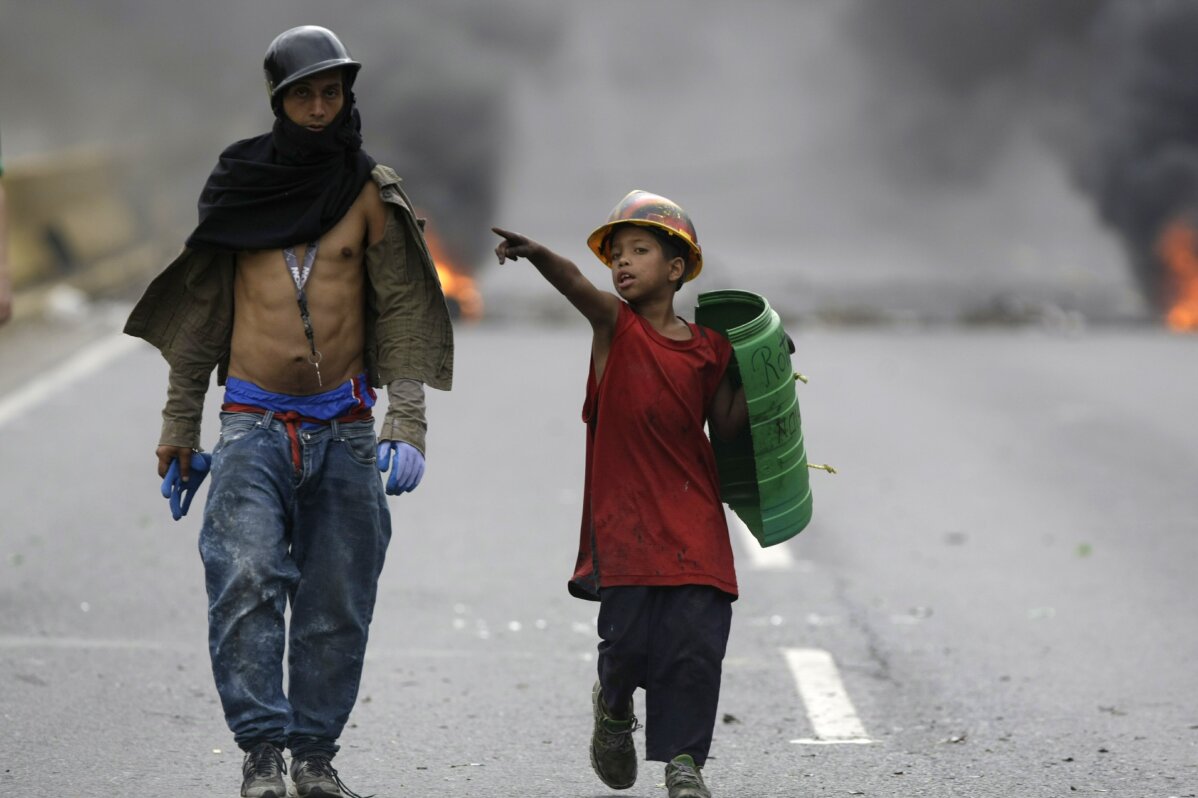 1 of 6

|
A demonstrator and boy wearing a helmet and holding a shield, walk on a blocked highway as a barricade burns in the background, during a national sit-in against President Nicolas Maduro, in Caracas, Venezuela, Monday, May 15, 2017. Opposition leaders are demanding immediate presidential elections. (AP Photo/Fernando Llano)
1 of 6
A demonstrator and boy wearing a helmet and holding a shield, walk on a blocked highway as a barricade burns in the background, during a national sit-in against President Nicolas Maduro, in Caracas, Venezuela, Monday, May 15, 2017. Opposition leaders are demanding immediate presidential elections. (AP Photo/Fernando Llano)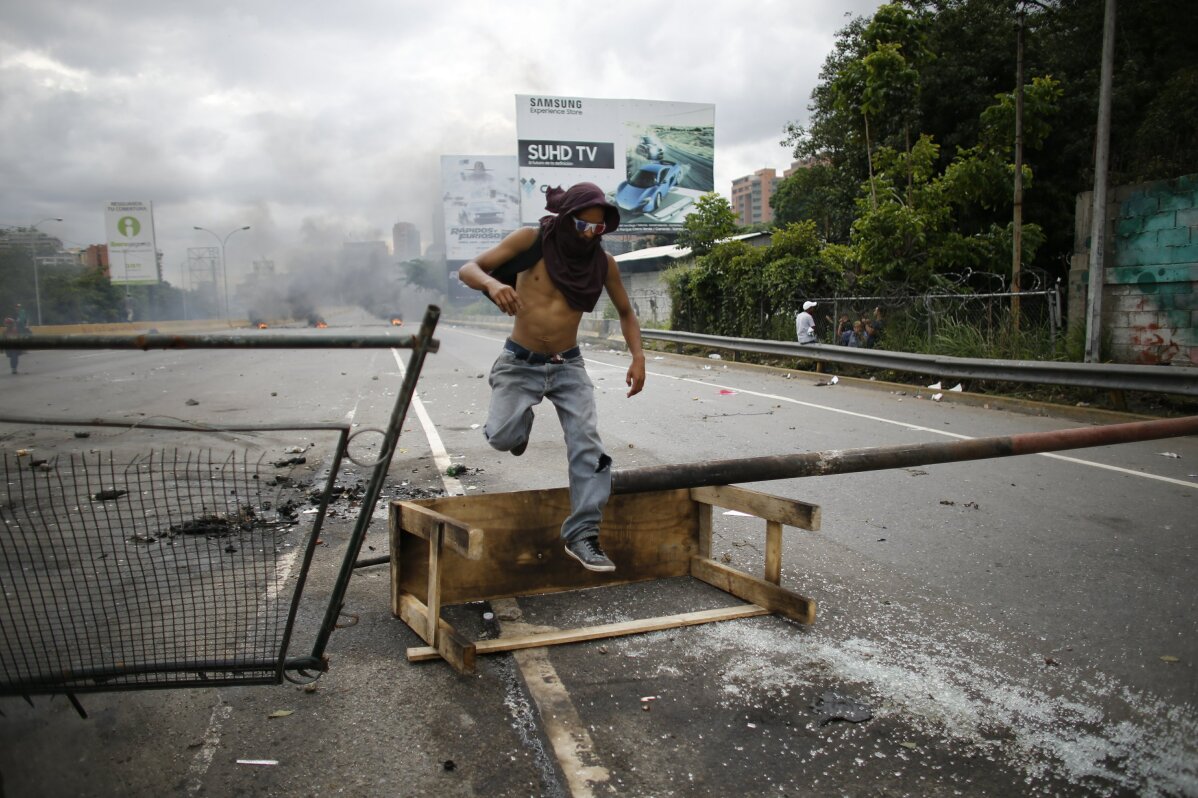 2 of 6

|
A demonstrator jumps over a barricade during a national sit-in against President Nicolas Maduro, in Caracas, Venezuela, Monday, May 15, 2017. Opposition leaders are demanding immediate presidential elections. (AP Photo/Ariana Cubillos)
2 of 6
A demonstrator jumps over a barricade during a national sit-in against President Nicolas Maduro, in Caracas, Venezuela, Monday, May 15, 2017. Opposition leaders are demanding immediate presidential elections. (AP Photo/Ariana Cubillos)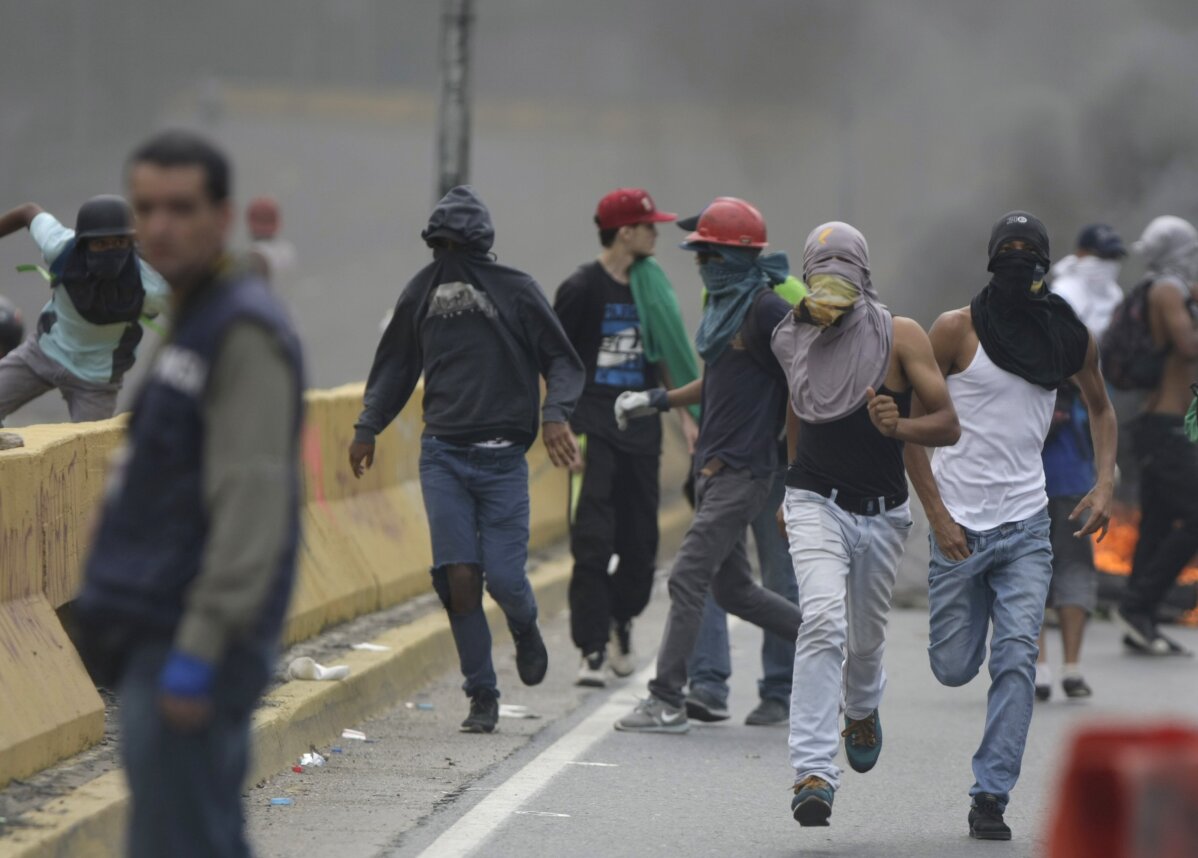 3 of 6

|
Demonstrators run on a closed highway during a national sit-in against President Nicolas Maduro, in Caracas, Venezuela, Monday, May 15, 2017. Opposition leaders are demanding immediate presidential elections. (AP Photo/Fernando Llano)
3 of 6
Demonstrators run on a closed highway during a national sit-in against President Nicolas Maduro, in Caracas, Venezuela, Monday, May 15, 2017. Opposition leaders are demanding immediate presidential elections. (AP Photo/Fernando Llano)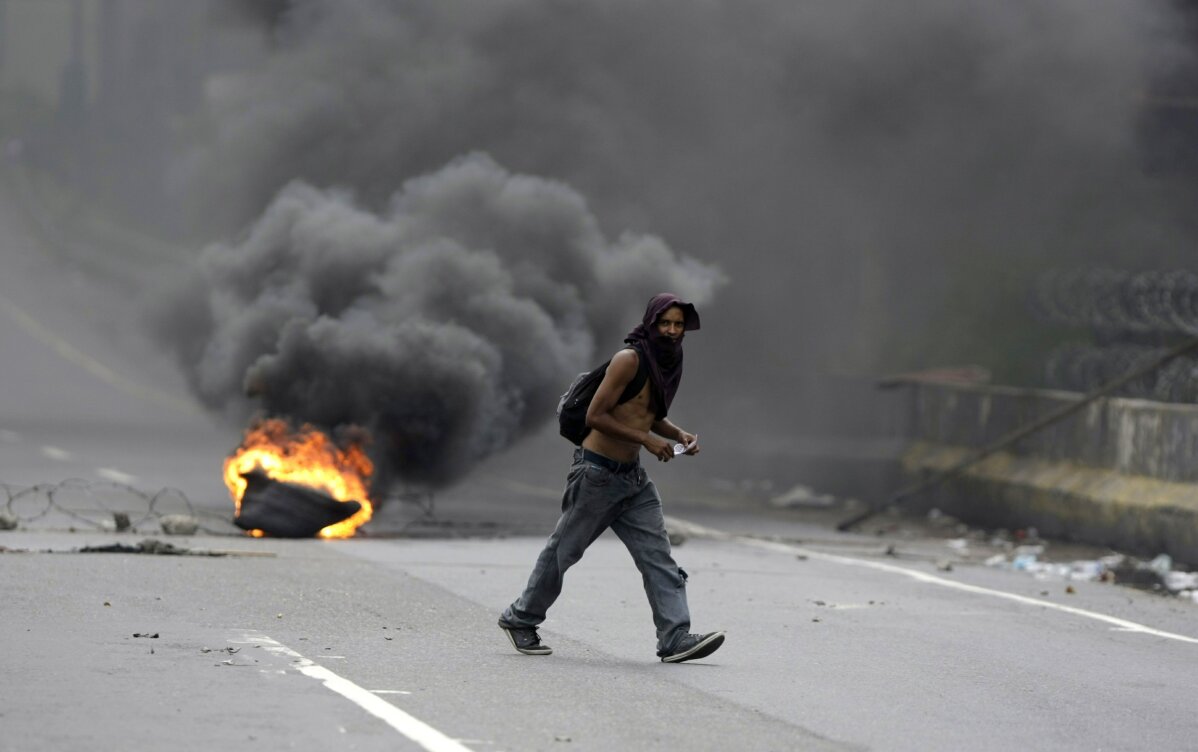 4 of 6

|
A demonstrators walks by to a burning barricaded on a highway during a national sit-in against President Nicolas Maduro, in Caracas, Venezuela, Monday, May 15, 2017. Opposition leaders are demanding immediate presidential elections. (AP Photo/Fernando Llano)
4 of 6
A demonstrators walks by to a burning barricaded on a highway during a national sit-in against President Nicolas Maduro, in Caracas, Venezuela, Monday, May 15, 2017. Opposition leaders are demanding immediate presidential elections. (AP Photo/Fernando Llano)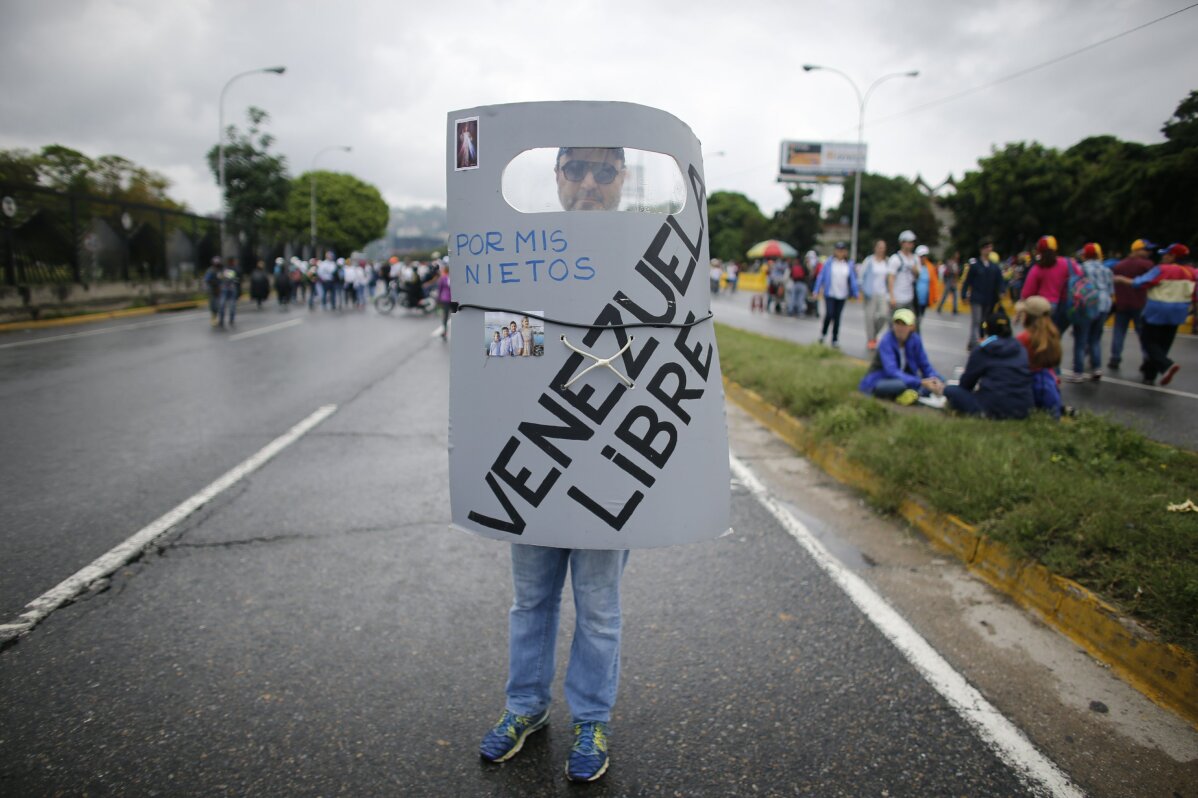 5 of 6

|
A man peers from behind his makeshift shield carrying the Spanish messages "For my grandchildren" and "Free Venezuela" on a highway during a national sit-in against President Nicolas Maduro, in Caracas, Venezuela, Monday, May 15, 2017. Opposition leaders are demanding immediate presidential elections. (AP Photo/Ariana Cubillos)
5 of 6
A man peers from behind his makeshift shield carrying the Spanish messages "For my grandchildren" and "Free Venezuela" on a highway during a national sit-in against President Nicolas Maduro, in Caracas, Venezuela, Monday, May 15, 2017. Opposition leaders are demanding immediate presidential elections. (AP Photo/Ariana Cubillos)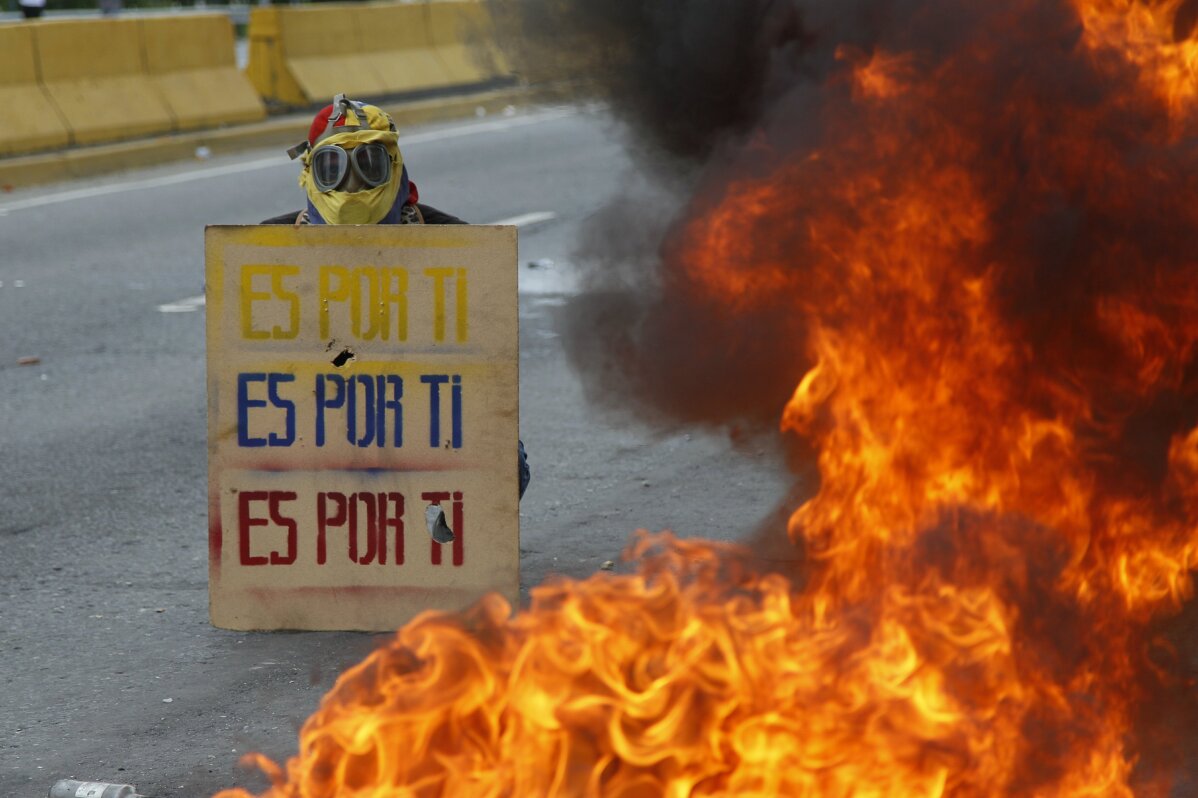 6 of 6

|
A demonstrator hols a sign that doubles a shield that reads in Spanish "It's for you," during a national sit-in against President Nicolas Maduro, in Caracas, Venezuela, Monday, May 15, 2017. Opposition leaders are demanding immediate presidential elections. (AP Photo/Ariana Cubillos)
6 of 6
A demonstrator hols a sign that doubles a shield that reads in Spanish "It's for you," during a national sit-in against President Nicolas Maduro, in Caracas, Venezuela, Monday, May 15, 2017. Opposition leaders are demanding immediate presidential elections. (AP Photo/Ariana Cubillos)
CARACAS, Venezuela (AP) — Business owners shuttered shops, a burned police station stood charred black and a state officer in western Venezuela was under arrest Tuesday following a spasm of violence that resulted in at least four deaths in anti-government protests.
An especially grisly 24 hours of turmoil coming after nearly two months of political unrest had nervous residents staying indoors in restive cities like San Cristobal near the border with Colombia.
Authorities announced Tuesday that four men ranging in age from 17 to 33 had died from gunshot wounds at separate protests over the preceding day. Diego Hernandez, 33, and Luis Alviarez, 18, were killed in Tachira, while Yeison Mora Castillo, 17, died near a protest farther east in the state of Barinas on Monday. Diego Arellano, 31, died during surgery Tuesday after being shot at a demonstration south of Caracas.
Friends and relatives of Arellano gathered outside the clinic where he died and sang the national anthem as his body was removed from the facility.
The nation's chief prosecutor said it was charging a 27-year-old state police officer in Hernandez's death, whose final moments were purportedly captured in a video circulating on social media. The footage shows a bystander ripping open Hernandez's blue T-shirt as he lay lifeless on the pavement, his eyes open and fixed, revealing a bloody wound underneath. "They killed him!" someone screams.
The weeks of protests were set off by the socialist government's move to nullify the opposition-controlled congress in late March, but demonstrations have escalated into a vehicle for airing grievances against the government for triple-digit inflation, food shortages and a rise in crime.
The flare-up of violence outside Venezuela's capital this week added to a grim and growing list of casualties from unrest. More than three dozen people have died, most of them young men shot at protests or killed during looting. Hundreds more have been injured in near-daily demonstrations by the opposition that frequently end with state security unleashing tear gas, water cannon and rubber bullets at protesters.
Arrests have been made in seven homicides. In four of those cases, state or national police officers have been charged. Civilians were charged in three others, but no details released on their motives.
The opposition blames the bloodshed on state security forces using excessive force and on groups of armed, pro-government civilians known as "colectivos." President Nicolas Maduro says far-right extremists are working with criminal gangs to foment the violence.
International pressure on the troubled South American nation has been increasing.
Diplomats at the United Nations said U.N. Assistant Secretary-General for Political Affairs Miroslav Jenca would brief the council Wednesday on the situation in Venezuela. The diplomats, who agreed to discuss the planned session only on condition of anonymity, said the closed meeting would focus on efforts by regional organizations to solve the crisis.
On Monday, the Organization of American States voted to hold a rare foreign ministers' meeting later this month to discuss the crisis. The Washington-based group's secretary, Luis Almagro, issued a statement Tuesday renewing his call for Venezuela to hold an early presidential election.
Almagro singled out the leader of Venezuela's national guard, Antonio Jose Benavides Torres, and Interior Minister Nestor Reverol, saying they "lead the two institutions charged with the use of force in Venezuela. In this sense, they are both responsible for every aggression, every shot and every death."
Both men stood by their officers on Twitter, repeating earlier accusations that right-wing "terrorists" are responsible for the violence, questioning whether protesters are peaceful while sharing photos of burned buildings and buses. Videos of the violence in Tachira on Monday showed protesters throwing rocks and in one case setting an armored truck on fire.
Venezuela's embattled president is pledging to resolve the nation's crisis by convening a special assembly to rewrite the constitution, a proposal the opposition is refusing to participate in. An official gazette circulated Tuesday showed Maduro is extending a previously declared state of emergency, which the document states permits the restriction of certain civic rights.
Opposition leaders called on Venezuelans to gather in the streets in protest again Wednesday evening.
___
Associated Press writer Hannah Dreier reported this story in Caracas and AP writer Christine Armario reported from Bogota, Colombia.
___
Hannah Dreier is on Twitter at https://twitter.com/hannahdreier . Christine Armario is on Twitter at https://twitter.com/cearmario . Read more of AP's Venezuela coverage here: https://www.ap.org/explore/venezuela-undone .