Divers recover jet flight recorder from Indonesia seafloor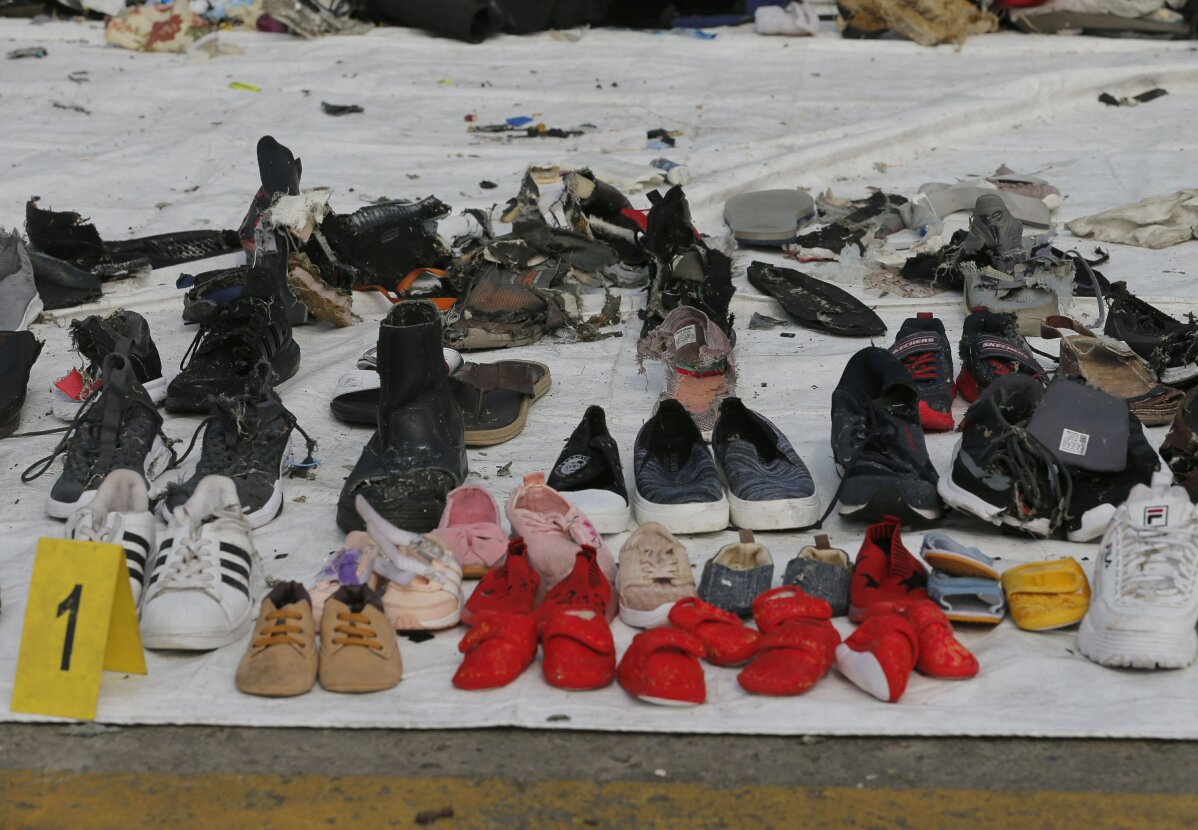 1 of 18

|
Shoes and other personal belongings retrieved from the waters where a Lion Air jet is believed to have crashed are displayed for family members of the passengers for identification at Tanjung Priok Port in Jakarta, Indonesia, Wednesday, Oct. 31, 2018. A massive search effort has identified the possible seabed location of the crashed Lion Air jet, Indonesia's military chief said Wednesday, as experts carried out the grim task of identifying dozens of body parts recovered from a 15-nautical-mile-wide search area. (AP Photo/Tatan Syuflana)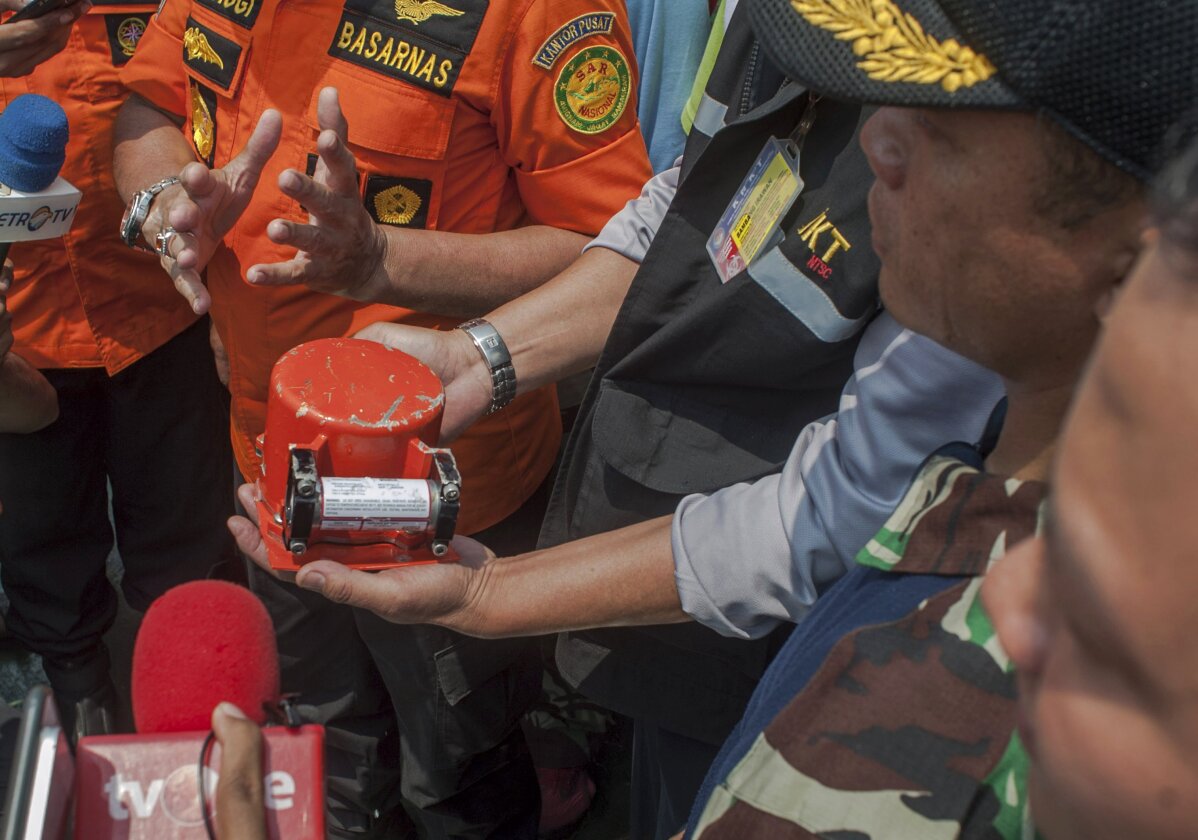 2 of 18

|
A member of National Transportation Safety Committee holds the flight data recorder from the crashed Lion Air jet as Chief of National Search and Rescue Agency Muhammad Syaugi gestures during a press conference on board of a research ship Baruna Jaya anchored in the waters of Tanjung Karawang, Indonesia, Thursday, Nov. 1, 2018. Divers on Thursday recovered the flight data recorder from the Boeing 737 MAX 8 plane crashed early Monday on the seafloor, a crucial development in the investigation into what caused the 2-month-old plane to plunge into Indonesian seas earlier this week, killing all its passengers. (AP Photo/Fauzy Chaniago)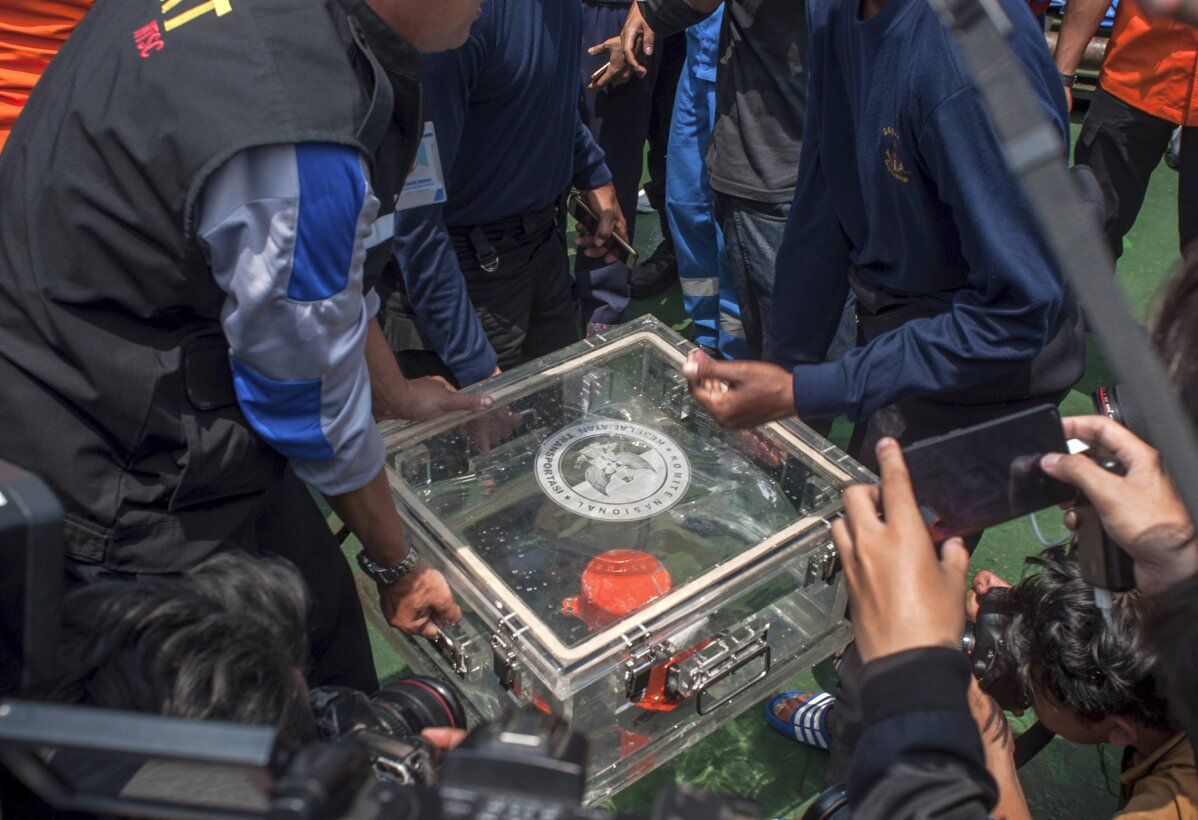 3 of 18

|
Members of National Transportation Safety Committee lift a box containing the flight data recorder from the crashed Lion Air jet onboard a rescue ship anchored in the waters of Tanjung Karawang, Indonesia, Thursday, Nov. 1, 2018. Divers on Thursday recovered the flight data recorder from the Boeing 737 MAX 8 plane crashed early Monday on the seafloor, a crucial development in the investigation into what caused the 2-month-old plane to plunge into Indonesian seas earlier this week, killing all its passengers. (AP Photo/Fauzy Chaniago)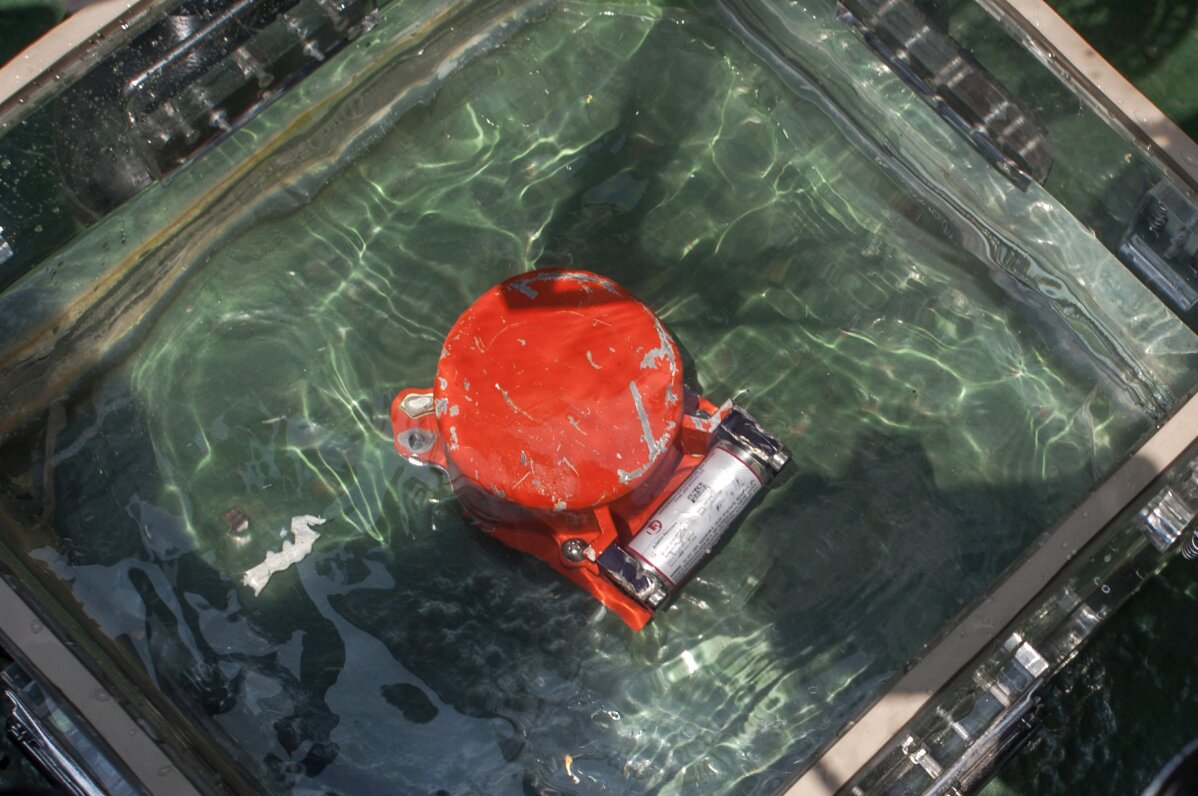 4 of 18

|
The flight data recorder from the crashed Lion Air jet sits inside a fresh water-filled box on board of a research ship Baruna Jaya in the waters of Tanjung Karawang, Indonesia, Thursday, Nov. 1, 2018. Divers on Thursday recovered the flight data recorder from the Boeing 737 MAX 8 plane crashed early Monday on the seafloor, a crucial development in the investigation into what caused the 2-month-old plane to plunge into Indonesian seas earlier this week, killing all its passengers. (AP Photo/Fauzy Chaniago)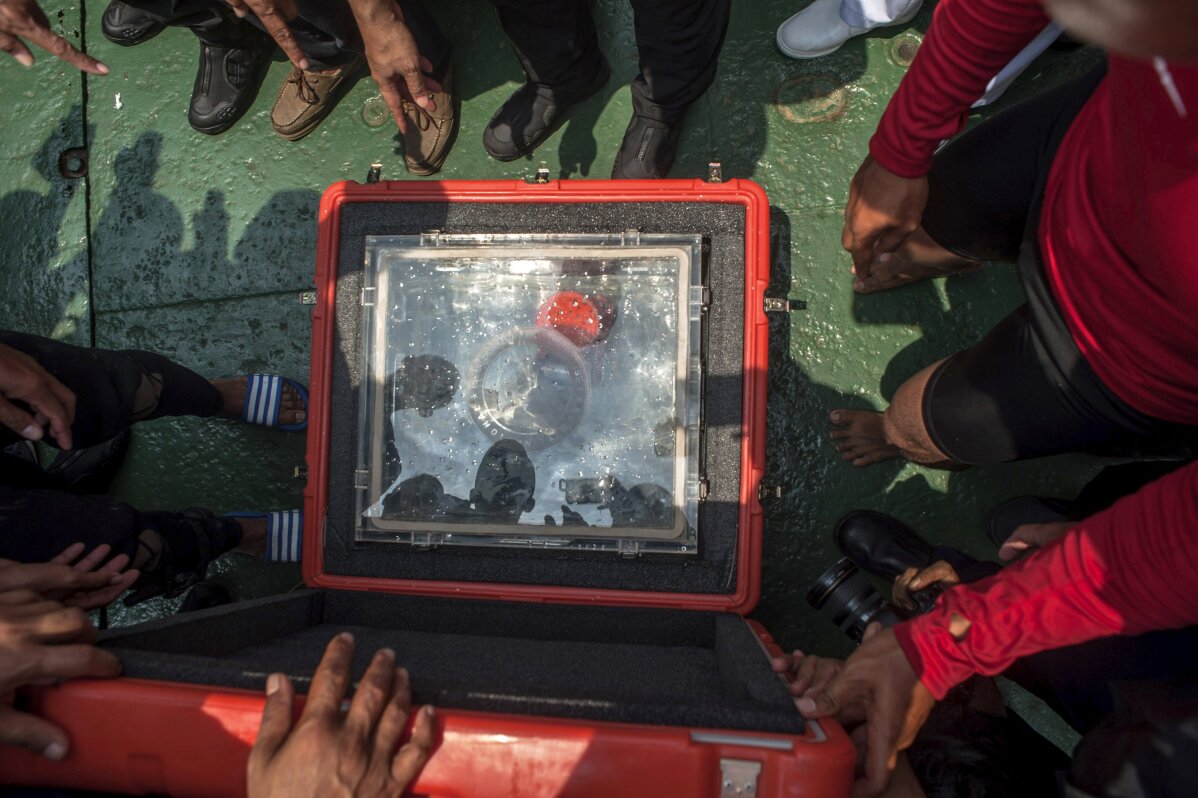 5 of 18

|
Divers stand around a box containing the flight data recorder from the crashed Lion Air jet on board of a research ship Baruna Jaya anchored in the waters of Tanjung Karawang, Indonesia, Thursday, Nov. 1, 2018. Divers on Thursday recovered the flight data recorder from the Boeing 737 MAX 8 plane crashed early Monday on the seafloor, a crucial development in the investigation into what caused the 2-month-old plane to plunge into Indonesian seas earlier this week, killing all its passengers. (AP Photo/Fauzy Chaniago)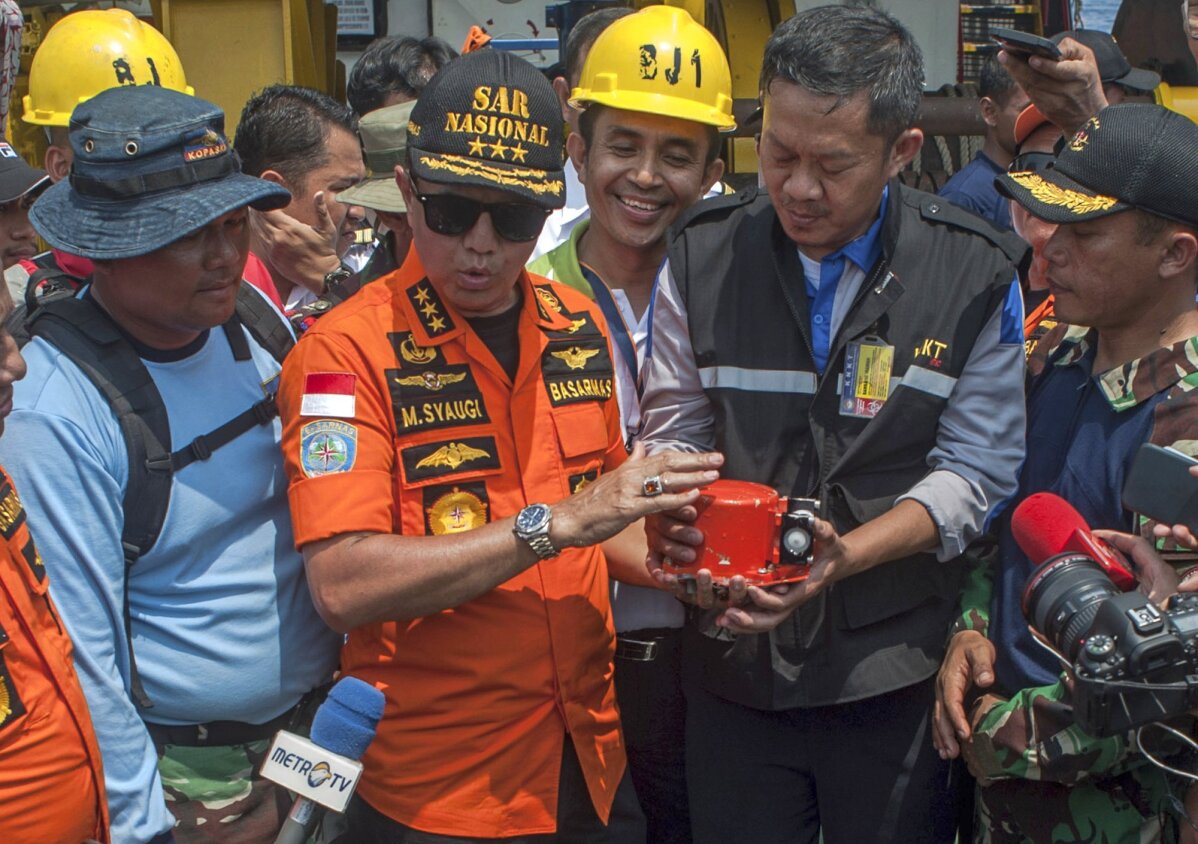 6 of 18

|
Chief of National Search and Rescue Agency Muhammad Syaugi, center, holds the flight data recorder from the crashed Lion Air jet during a press conference, onboard rescue ship anchored in the waters of Tanjung Karawang, Indonesia, Thursday, Nov. 1, 2018. Divers on Thursday recovered the flight data recorder from the Boeing 737 MAX 8 plane crashed early Monday on the seafloor, a crucial development in the investigation into what caused the 2-month-old plane to plunge into Indonesian seas earlier this week, killing all its passengers. (AP Photo/Fauzy Chaniago)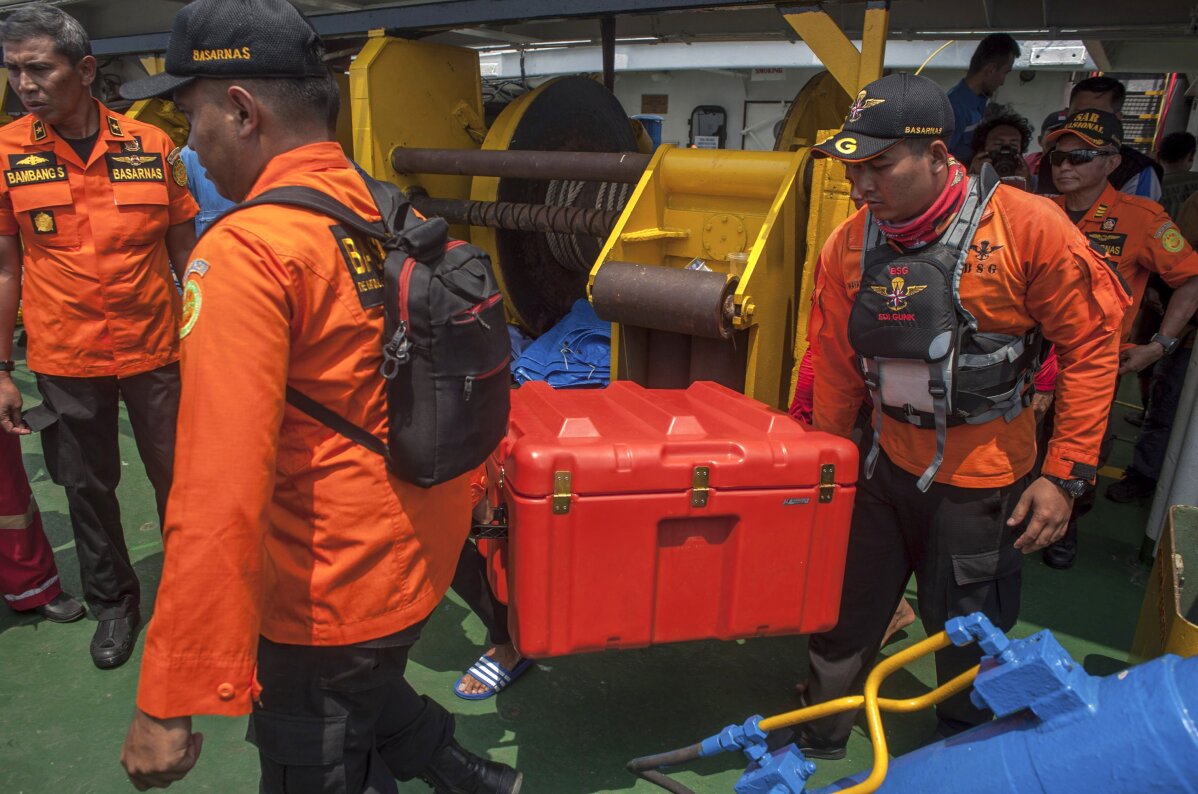 7 of 18

|
Rescuers carry a box containing the flight data recorder from the crashed Lion Air jet on board of a research ship Baruna Jaya anchored in the waters of Tanjung Karawang, Indonesia, Thursday, Nov. 1, 2018. Divers on Thursday recovered the flight data recorder from the Boeing 737 MAX 8 plane crashed early Monday on the seafloor, a crucial development in the investigation into what caused the 2-month-old plane to plunge into Indonesian seas earlier this week, killing all its passengers. (AP Photo/Fauzy Chaniago)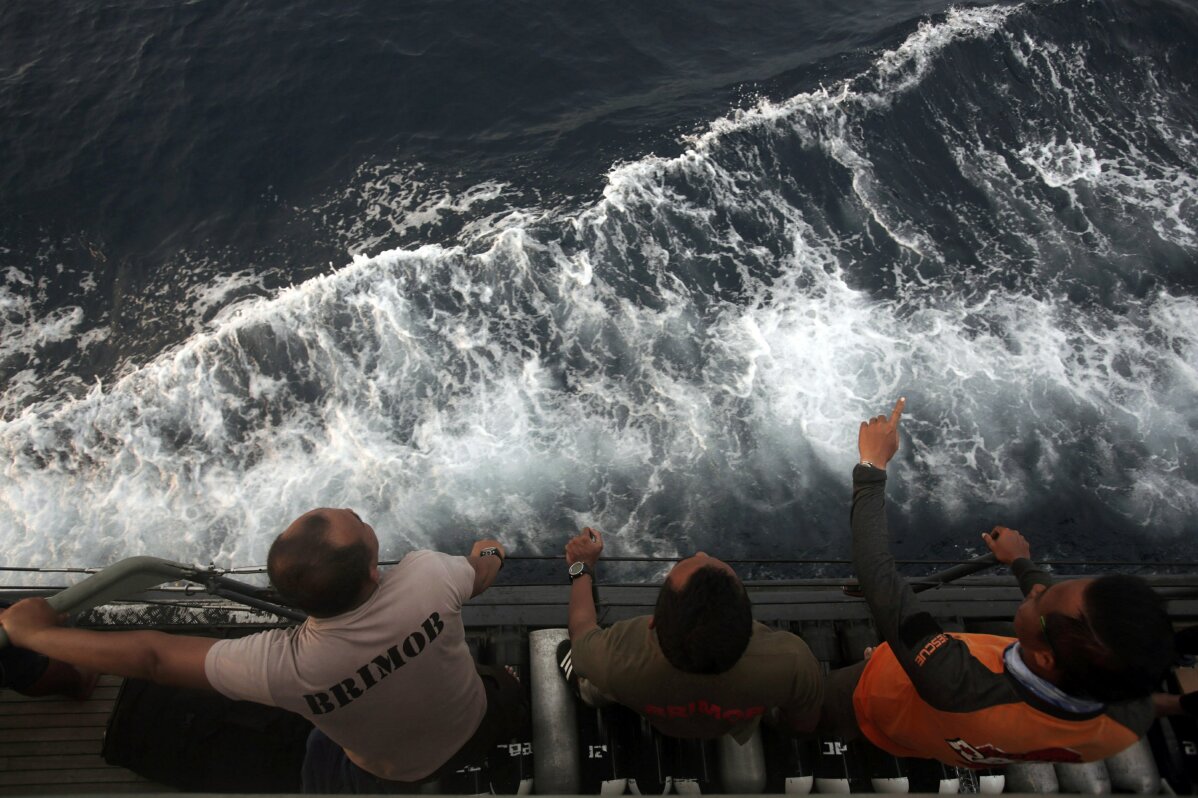 8 of 18

|
Rescuers scan the horizon during a search operation for the victims of Lion Air plane crash in the waters of Tanjung Karawang, Indonesia, Wednesday, Oct. 31, 2018. A massive search effort has identified the possible seabed location of the crashed Lion Air jet, Indonesia's military chief said Wednesday, as experts carried out the grim task of identifying dozens of body parts recovered from a 15-nautical-mile-wide search area. (AP Photo/Binsar Bakkara)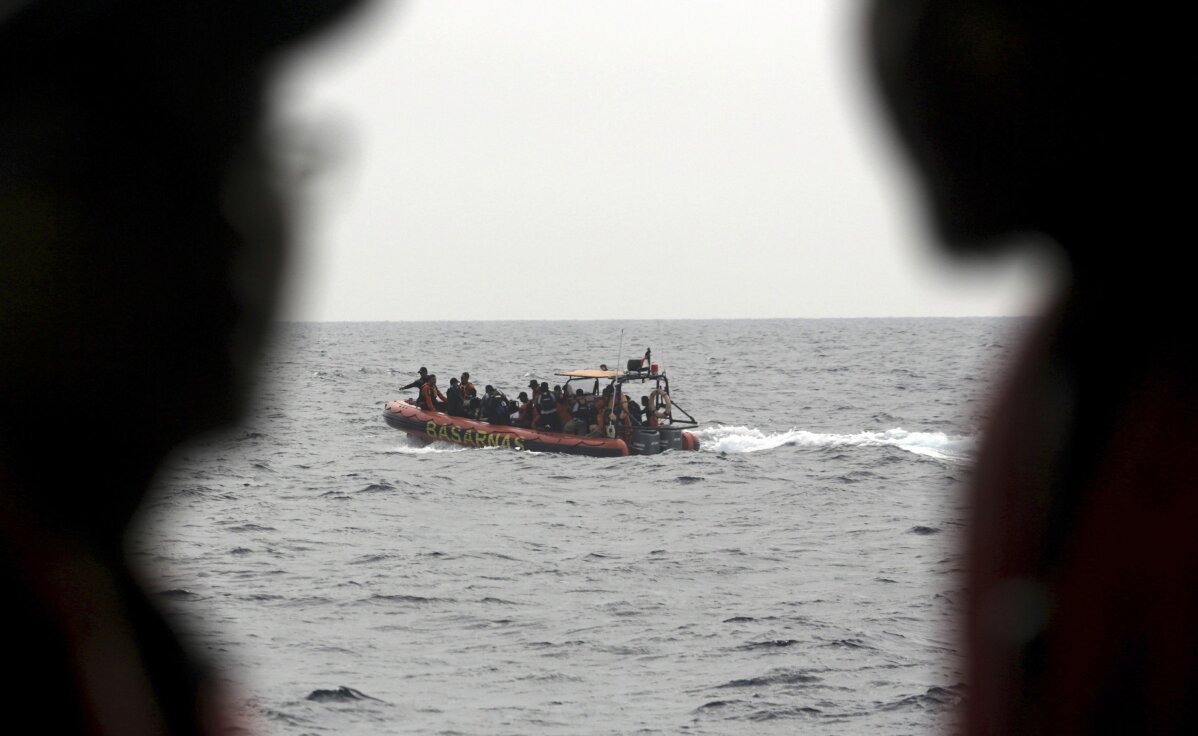 9 of 18

|
Rescue divers sit on a rubber boat during a search operation for the victims of Lion Air plane crash in the waters of Tanjung Karawang, Indonesia, Wednesday, Oct. 31, 2018. A massive search effort has identified the possible seabed location of the crashed Lion Air jet, Indonesia's military chief said Wednesday, as experts carried out the grim task of identifying dozens of body parts recovered from a 15-nautical-mile-wide search area. (AP Photo/Binsar Bakkara)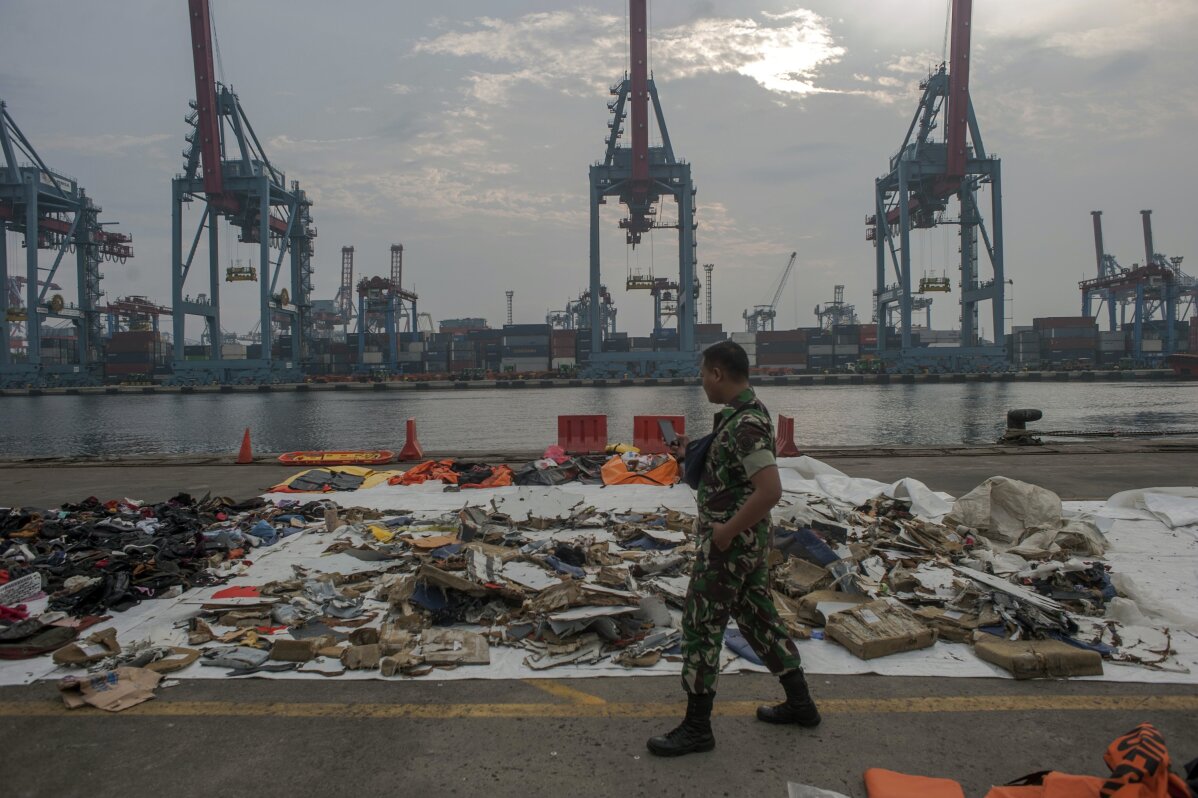 10 of 18

|
An Indonesian soldiers walk past debris retrieved from the waters where Lion Air flight JT 610 is believed to have crashed at Tanjung Priok Port in Jakarta, Indonesia, Wednesday, Oct. 31, 2018. A massive search effort has identified the possible seabed location of the crashed Lion Air jet, Indonesia's military chief said Wednesday, as experts carried out the grim task of identifying dozens of body parts recovered from a 15-nautical-mile-wide search area. (AP Photo/Fauzy Chaniago)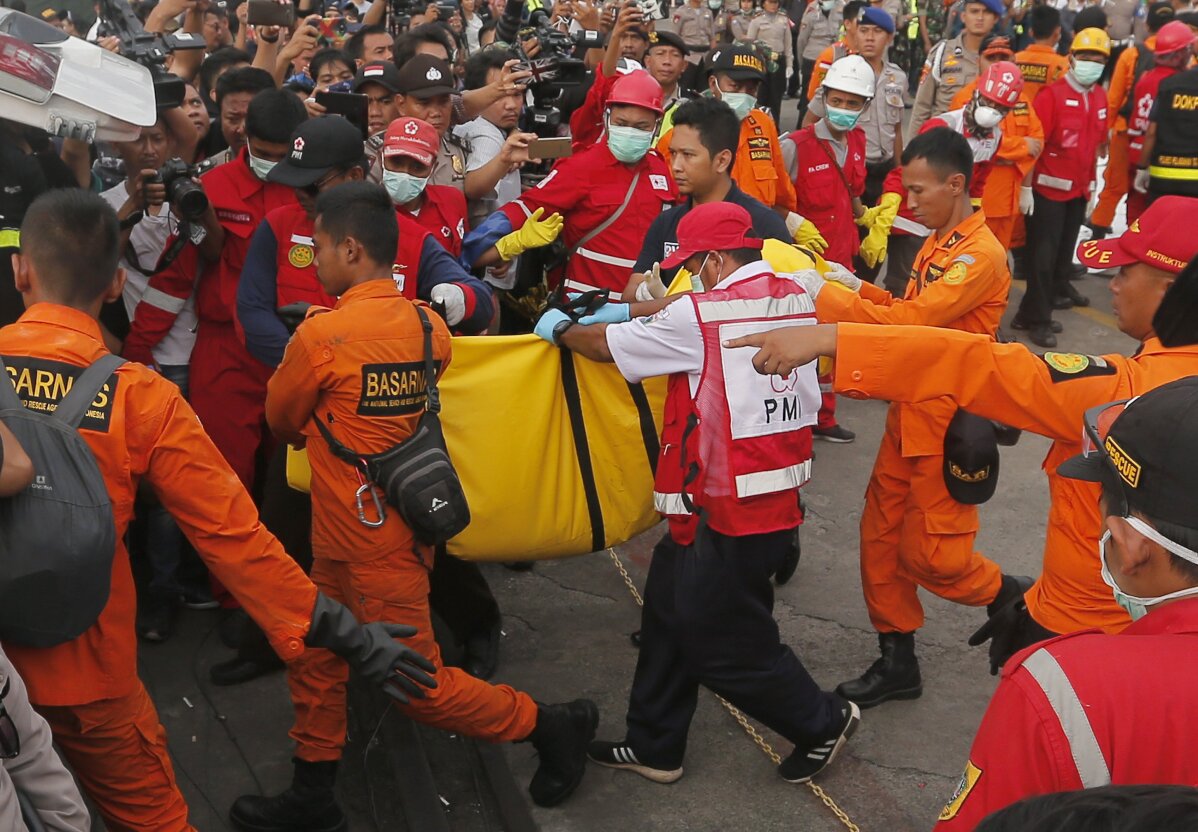 11 of 18

|
Rescuers carry a body bag containing the remains of the victims of Lion Air plane crash at Tanjung Priok Port in Jakarta, Indonesia, Wednesday, Oct. 31, 2018. A massive search effort has identified the possible seabed location of the crashed Lion Air jet, Indonesia's military chief said Wednesday, as experts carried out the grim task of identifying dozens of body parts recovered from a 15-nautical-mile-wide search area. (AP Photo/Tatan Syuflana)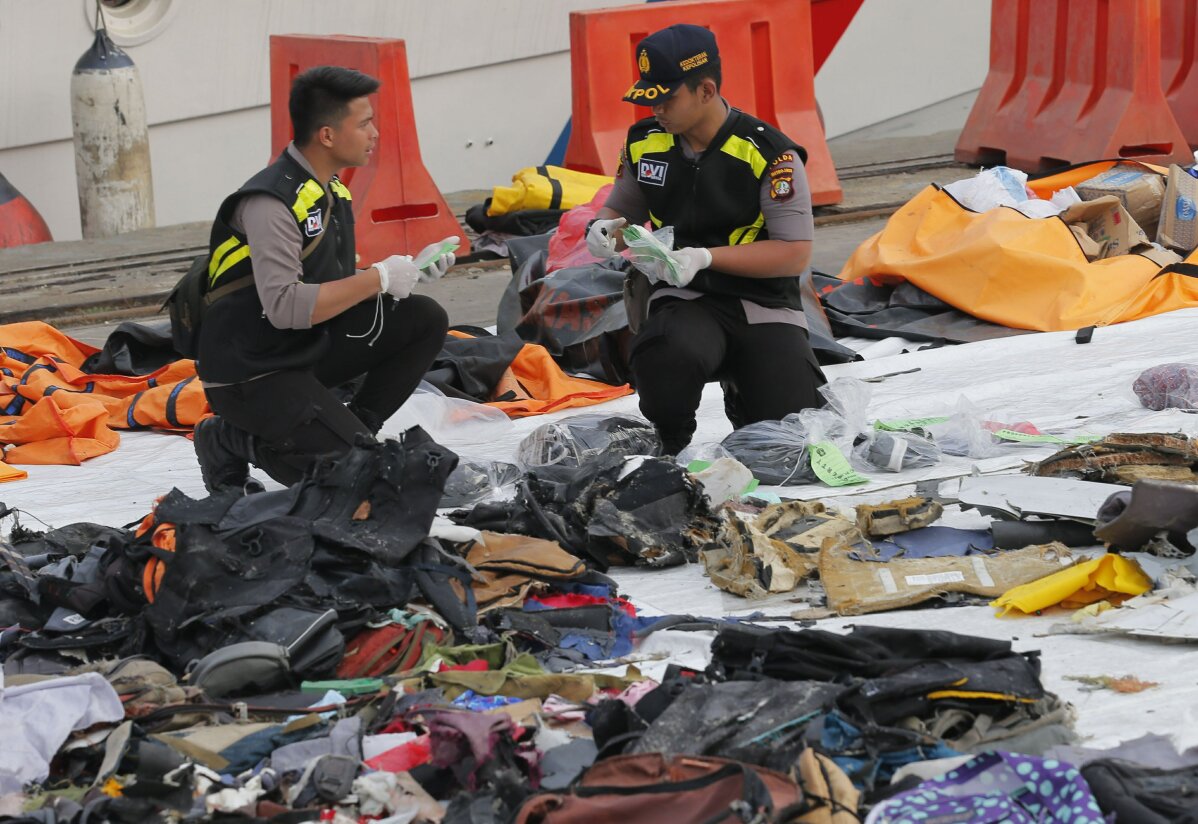 12 of 18

|
Members of police forensic team inspect personal belongings retrieved from the waters where Lion Air flight JT 610 is believed to have crashed, at Tanjung Priok Port in Jakarta, Indonesia, Wednesday, Oct. 31, 2018. A massive search effort has identified the possible seabed location of the crashed Lion Air jet, Indonesia's military chief said Wednesday, as experts carried out the grim task of identifying dozens of body parts recovered from a 15-nautical-mile-wide search area. (AP Photo/Tatan Syuflana)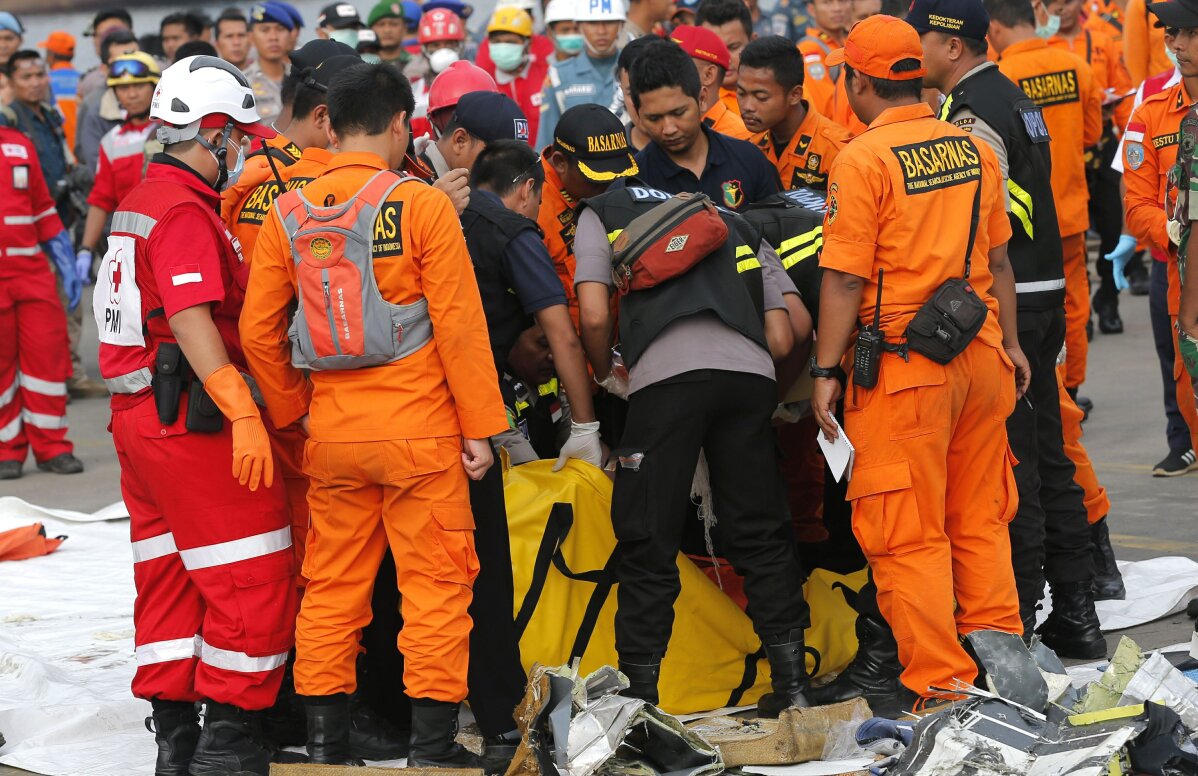 13 of 18

|
Rescuers inspect a body bag containing the remains of the victims of Lion Air plane crash at Tanjung Priok Port in Jakarta, Indonesia, Wednesday, Oct. 31, 2018. A massive search effort has identified the possible seabed location of the crashed Lion Air jet, Indonesia's military chief said Wednesday, as experts carried out the grim task of identifying dozens of body parts recovered from a 15-nautical-mile-wide search area. (AP Photo/Tatan Syuflana)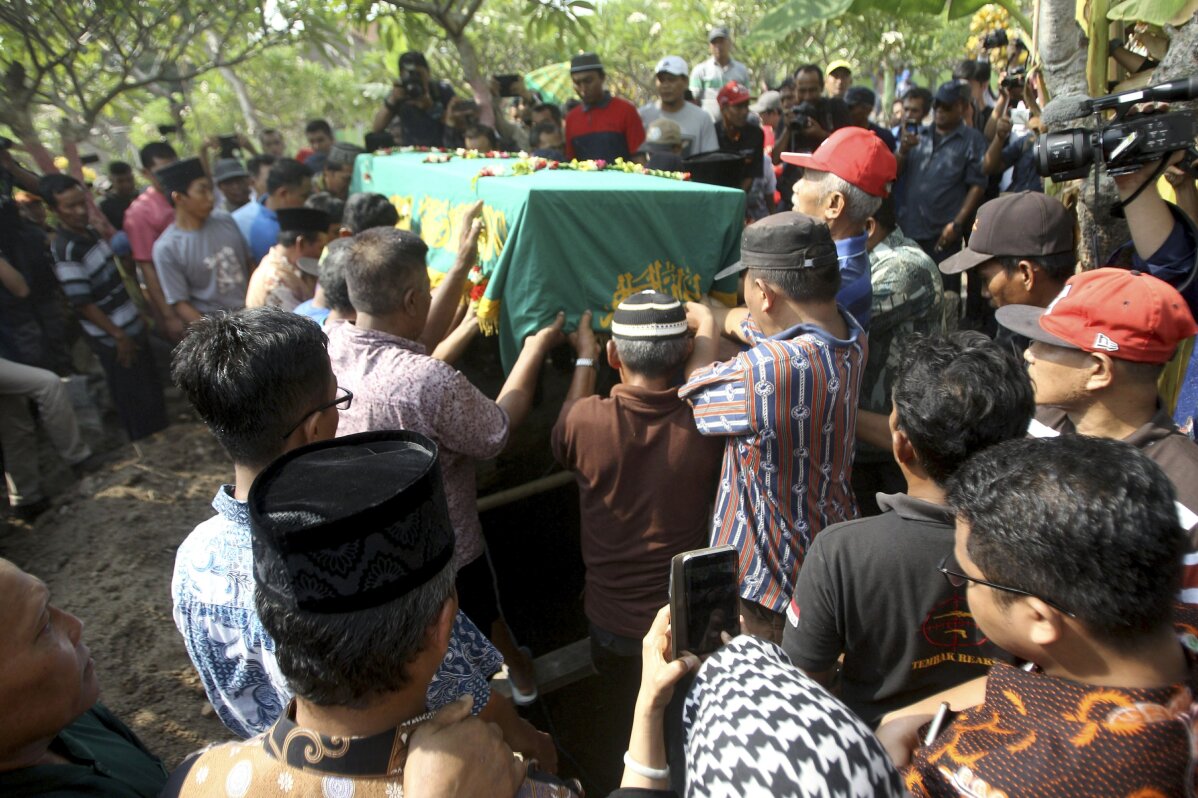 14 of 18

|
Relatives lower the coffin containing the remains of Jannatun Cintya Dewi, one of the victims of a Lion Air plane crash, into the grave during her funeral in Sidoarjo, East Java, Indonesia, Thursday, Nov. 1, 2018. Divers on Thursday recovered the flight data recorder from the Boeing 737 MAX 8 plane crashed early Monday on the seafloor, a crucial development in the investigation into what caused the 2-month-old plane to plunge into Indonesian seas earlier this week, killing all people on board. (AP Photo/Trisnadi)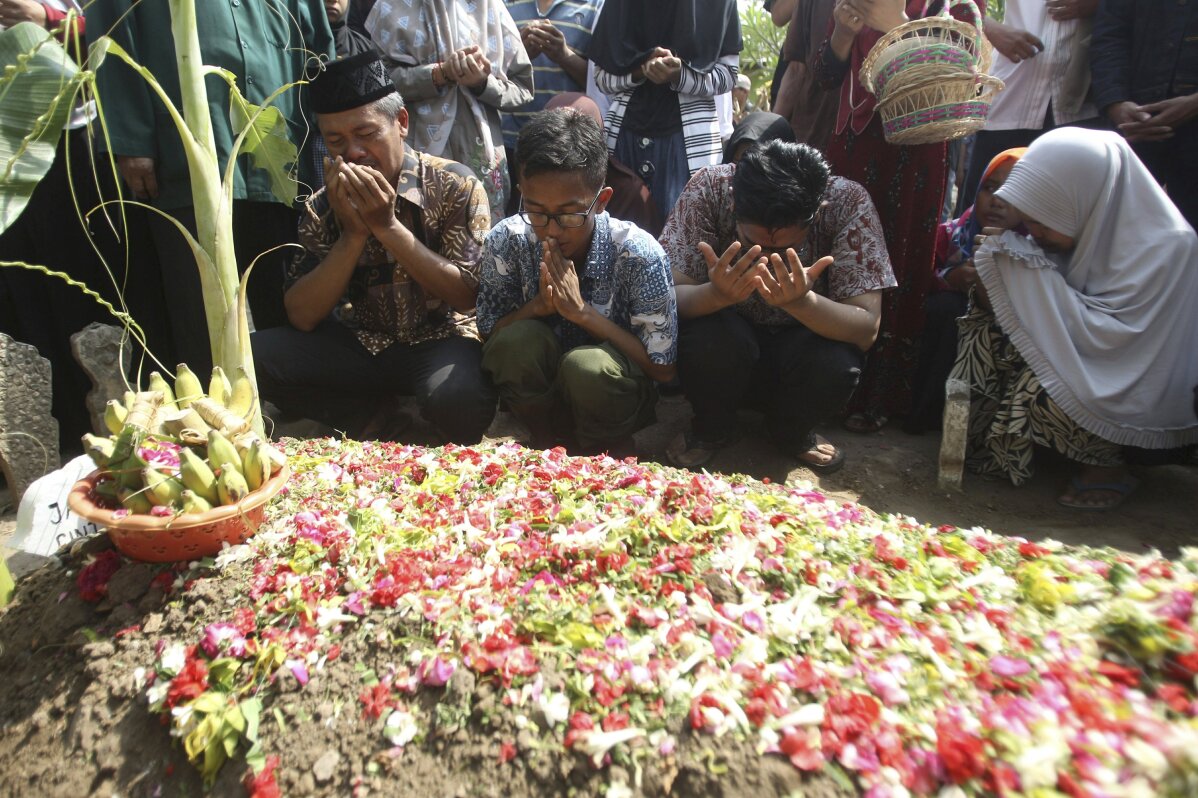 15 of 18

|
Bambang Supriyadi, left, the father of Jannatun Cintya Dewi, a victim of a Lion Air plane crash, prays at the grave of his daughter during her funeral in Sidoarjo, East Java, Indonesia, Thursday, Nov. 1, 2018. Divers on Thursday recovered the flight data recorder from the Boeing 737 MAX 8 plane crashed early Monday on the seafloor, a crucial development in the investigation into what caused the 2-month-old plane to plunge into Indonesian seas earlier this week, killing all people on board. (AP Photo/Trisnadi)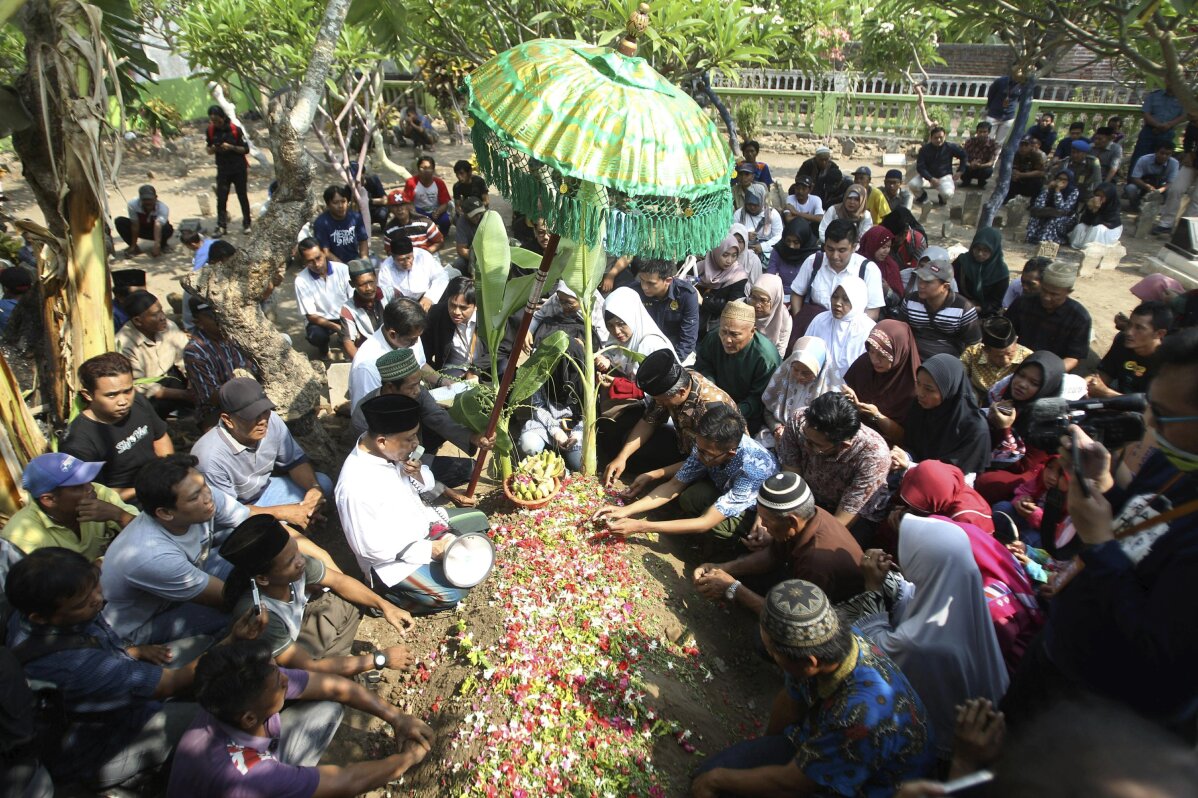 16 of 18

|
Relatives pray at the grave of Jannatun Cintya Dewi, a victim of a Lion Air plane crash, during her funeral in Sidoarjo, East Java, Indonesia, Thursday, Nov. 1, 2018. Divers on Thursday recovered the flight data recorder from the Boeing 737 MAX 8 plane crashed early Monday on the seafloor, a crucial development in the investigation into what caused the 2-month-old plane to plunge into Indonesian seas earlier this week, killing all people on board. (AP Photo/Trisnadi)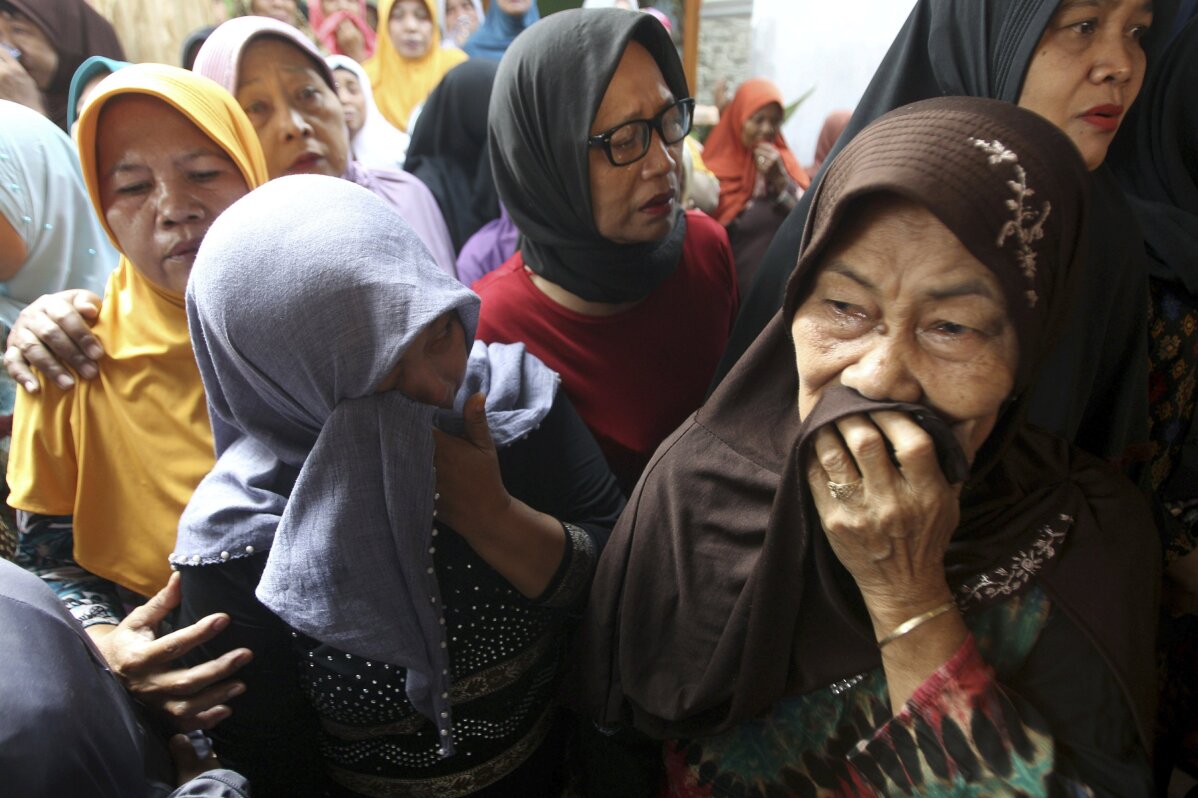 17 of 18

|
Relatives weep during the funeral of Jannatun Cintya Dewi, a victim of a Lion Air plane crash, in Sidoarjo, East Java, Indonesia, Thursday, Nov. 1, 2018. Divers on Thursday recovered the flight data recorder from the Boeing 737 MAX 8 plane crashed early Monday on the seafloor, a crucial development in the investigation into what caused the 2-month-old plane to plunge into Indonesian seas earlier this week, killing all people on board. (AP Photo/Trisnadi)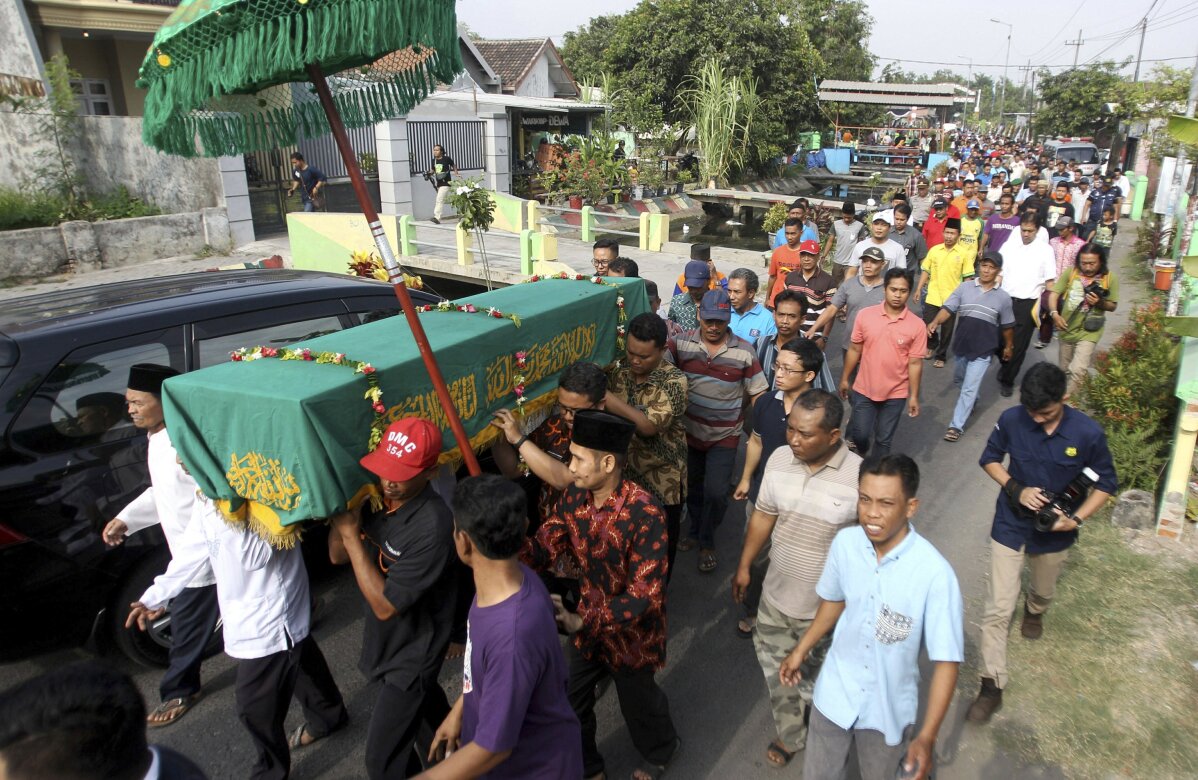 18 of 18

|
Relatives carry the coffin containing the remains of Jannatun Cintya Dewi, a victim of a Lion Air plane crash, during her funeral in Sidoarjo, East Java, Indonesia, Thursday, Nov. 1, 2018. Divers on Thursday recovered the flight data recorder from the Boeing 737 MAX 8 plane crashed early Monday on the seafloor, a crucial development in the investigation into what caused the 2-month-old plane to plunge into Indonesian seas earlier this week, killing all people on board. (AP Photo/Trisnadi)
Divers recover jet flight recorder from Indonesia seafloor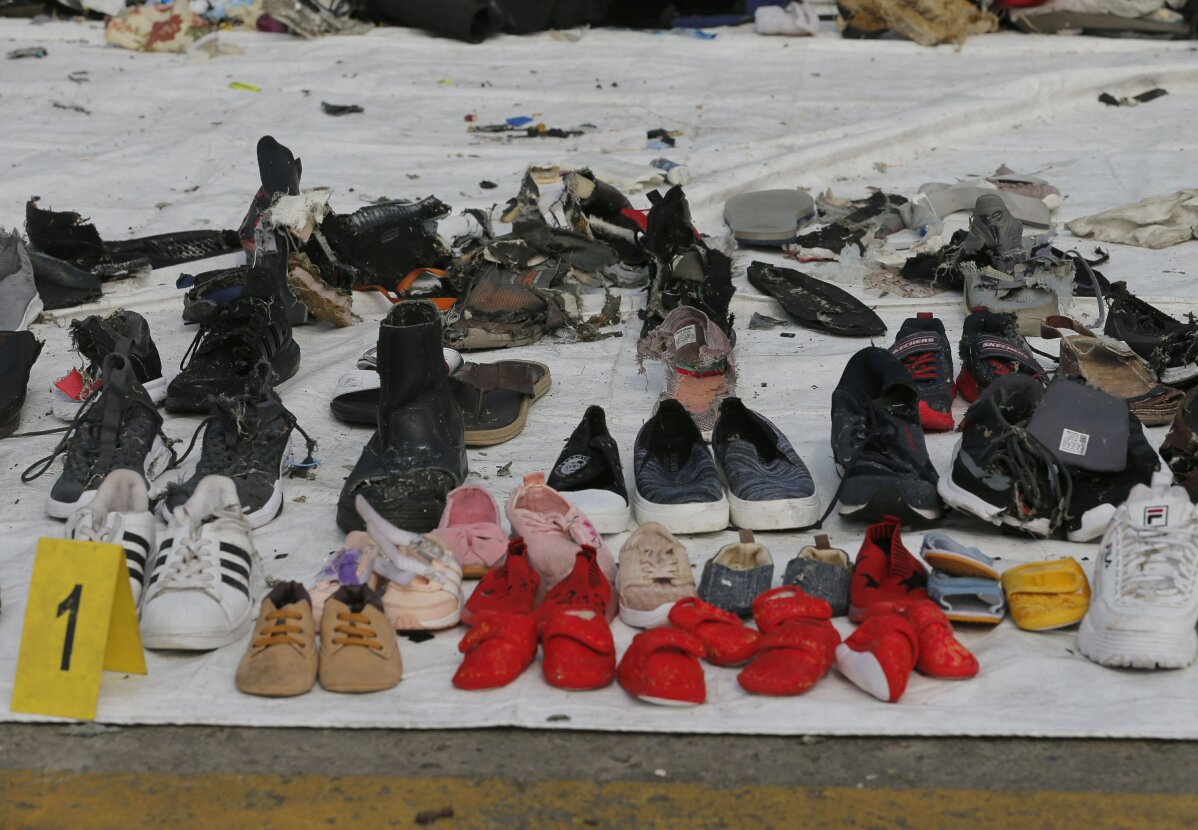 1 of 18

|
Shoes and other personal belongings retrieved from the waters where a Lion Air jet is believed to have crashed are displayed for family members of the passengers for identification at Tanjung Priok Port in Jakarta, Indonesia, Wednesday, Oct. 31, 2018. A massive search effort has identified the possible seabed location of the crashed Lion Air jet, Indonesia's military chief said Wednesday, as experts carried out the grim task of identifying dozens of body parts recovered from a 15-nautical-mile-wide search area. (AP Photo/Tatan Syuflana)
1 of 18
Shoes and other personal belongings retrieved from the waters where a Lion Air jet is believed to have crashed are displayed for family members of the passengers for identification at Tanjung Priok Port in Jakarta, Indonesia, Wednesday, Oct. 31, 2018. A massive search effort has identified the possible seabed location of the crashed Lion Air jet, Indonesia's military chief said Wednesday, as experts carried out the grim task of identifying dozens of body parts recovered from a 15-nautical-mile-wide search area. (AP Photo/Tatan Syuflana)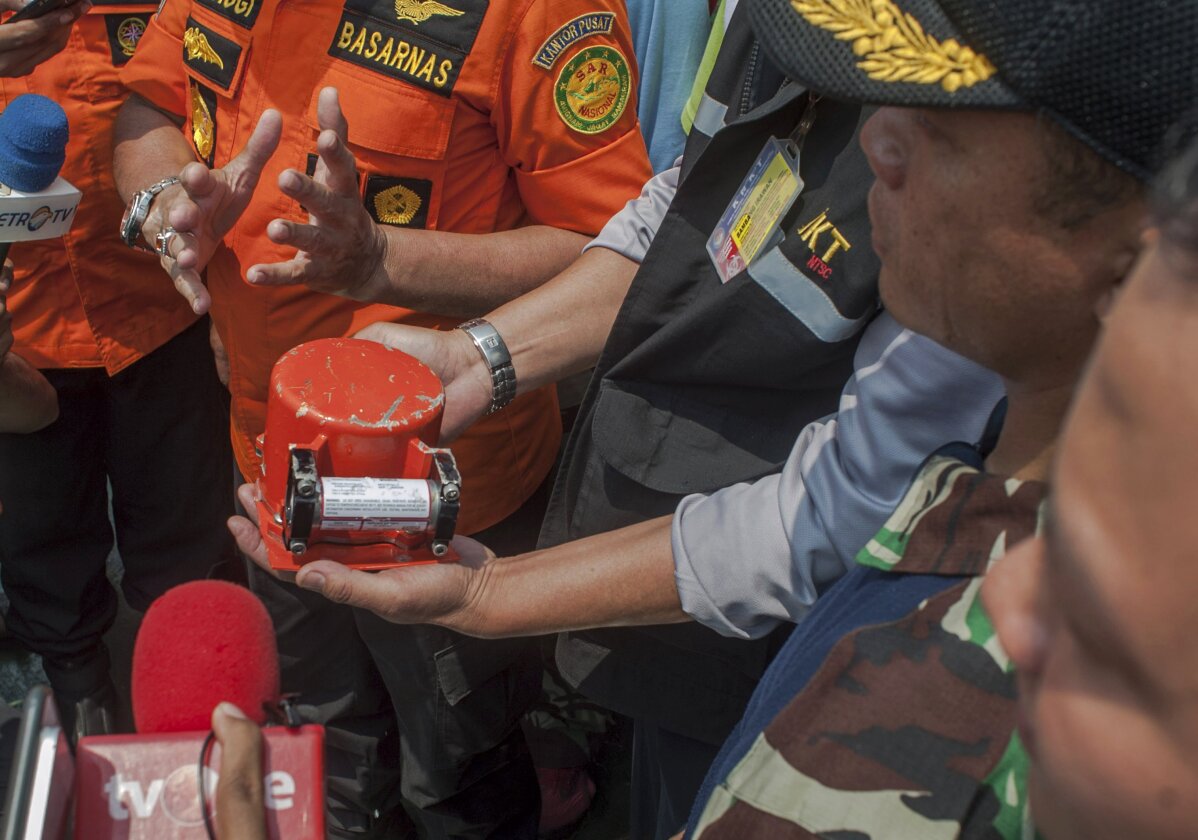 2 of 18

|
A member of National Transportation Safety Committee holds the flight data recorder from the crashed Lion Air jet as Chief of National Search and Rescue Agency Muhammad Syaugi gestures during a press conference on board of a research ship Baruna Jaya anchored in the waters of Tanjung Karawang, Indonesia, Thursday, Nov. 1, 2018. Divers on Thursday recovered the flight data recorder from the Boeing 737 MAX 8 plane crashed early Monday on the seafloor, a crucial development in the investigation into what caused the 2-month-old plane to plunge into Indonesian seas earlier this week, killing all its passengers. (AP Photo/Fauzy Chaniago)
2 of 18
A member of National Transportation Safety Committee holds the flight data recorder from the crashed Lion Air jet as Chief of National Search and Rescue Agency Muhammad Syaugi gestures during a press conference on board of a research ship Baruna Jaya anchored in the waters of Tanjung Karawang, Indonesia, Thursday, Nov. 1, 2018. Divers on Thursday recovered the flight data recorder from the Boeing 737 MAX 8 plane crashed early Monday on the seafloor, a crucial development in the investigation into what caused the 2-month-old plane to plunge into Indonesian seas earlier this week, killing all its passengers. (AP Photo/Fauzy Chaniago)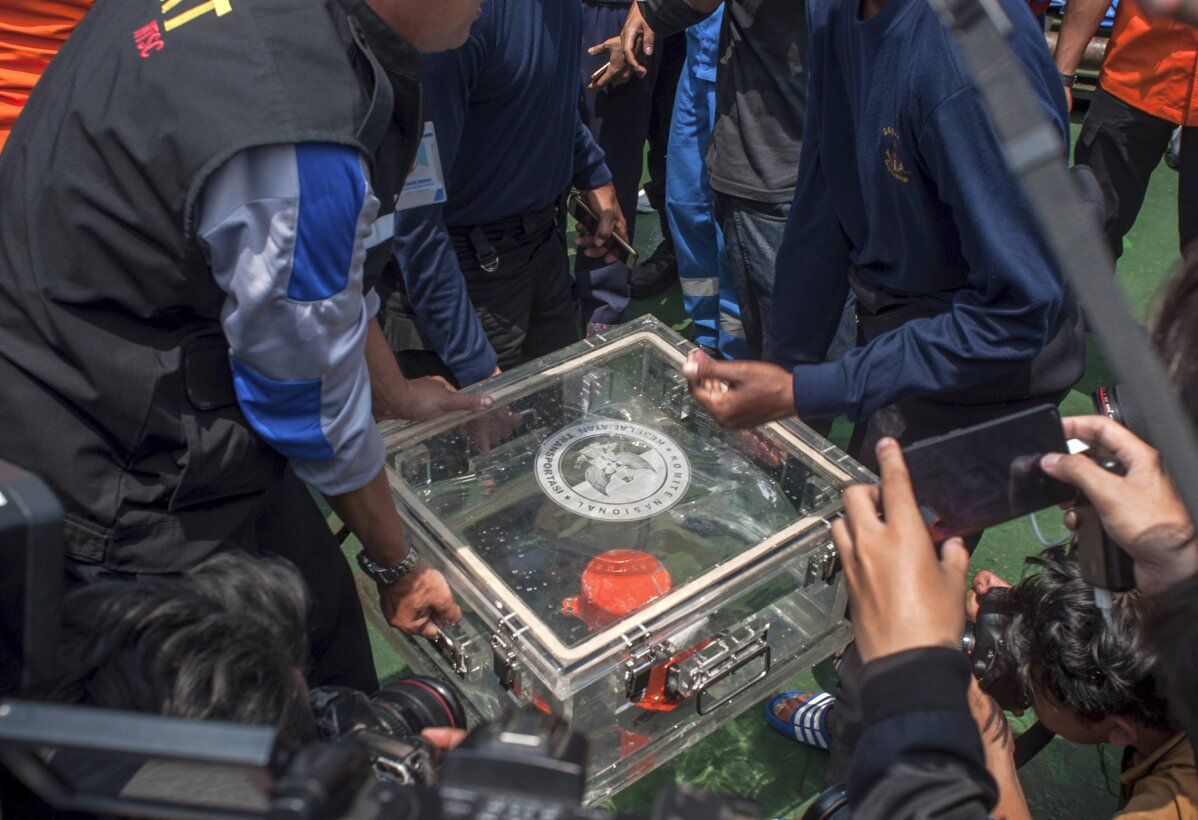 3 of 18

|
Members of National Transportation Safety Committee lift a box containing the flight data recorder from the crashed Lion Air jet onboard a rescue ship anchored in the waters of Tanjung Karawang, Indonesia, Thursday, Nov. 1, 2018. Divers on Thursday recovered the flight data recorder from the Boeing 737 MAX 8 plane crashed early Monday on the seafloor, a crucial development in the investigation into what caused the 2-month-old plane to plunge into Indonesian seas earlier this week, killing all its passengers. (AP Photo/Fauzy Chaniago)
3 of 18
Members of National Transportation Safety Committee lift a box containing the flight data recorder from the crashed Lion Air jet onboard a rescue ship anchored in the waters of Tanjung Karawang, Indonesia, Thursday, Nov. 1, 2018. Divers on Thursday recovered the flight data recorder from the Boeing 737 MAX 8 plane crashed early Monday on the seafloor, a crucial development in the investigation into what caused the 2-month-old plane to plunge into Indonesian seas earlier this week, killing all its passengers. (AP Photo/Fauzy Chaniago)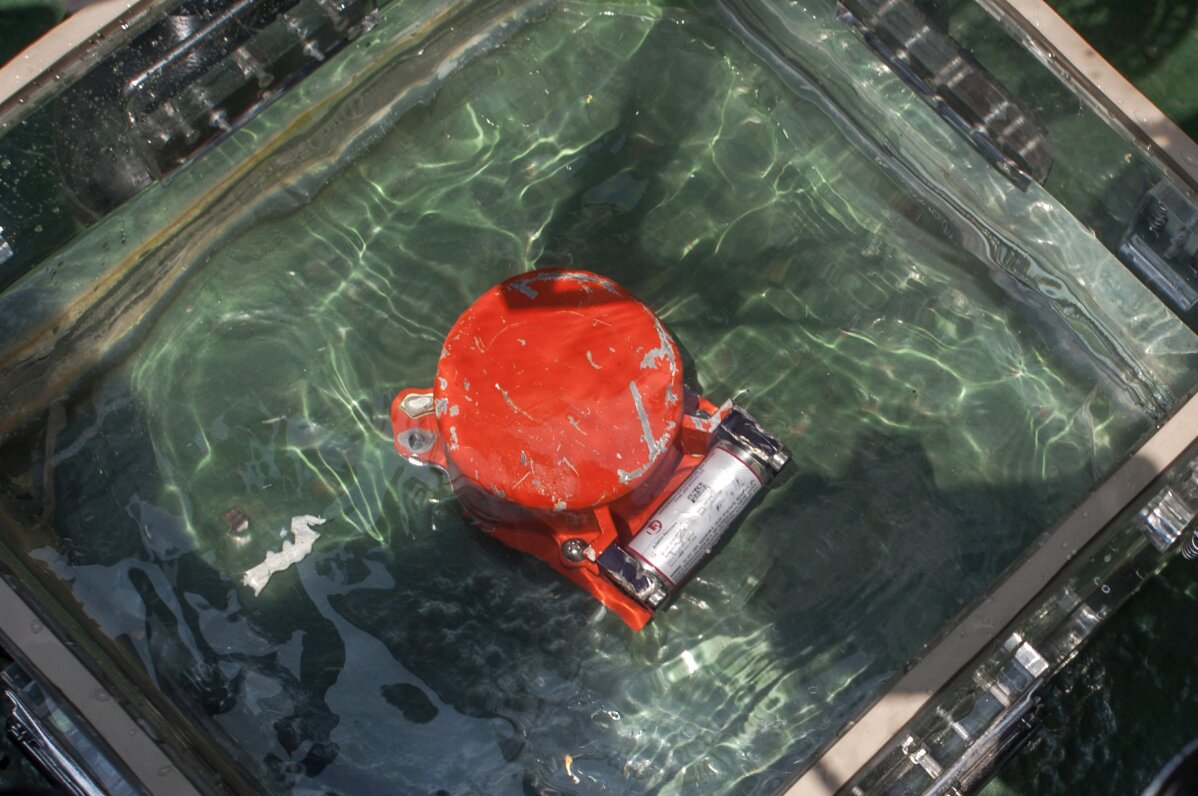 4 of 18

|
The flight data recorder from the crashed Lion Air jet sits inside a fresh water-filled box on board of a research ship Baruna Jaya in the waters of Tanjung Karawang, Indonesia, Thursday, Nov. 1, 2018. Divers on Thursday recovered the flight data recorder from the Boeing 737 MAX 8 plane crashed early Monday on the seafloor, a crucial development in the investigation into what caused the 2-month-old plane to plunge into Indonesian seas earlier this week, killing all its passengers. (AP Photo/Fauzy Chaniago)
4 of 18
The flight data recorder from the crashed Lion Air jet sits inside a fresh water-filled box on board of a research ship Baruna Jaya in the waters of Tanjung Karawang, Indonesia, Thursday, Nov. 1, 2018. Divers on Thursday recovered the flight data recorder from the Boeing 737 MAX 8 plane crashed early Monday on the seafloor, a crucial development in the investigation into what caused the 2-month-old plane to plunge into Indonesian seas earlier this week, killing all its passengers. (AP Photo/Fauzy Chaniago)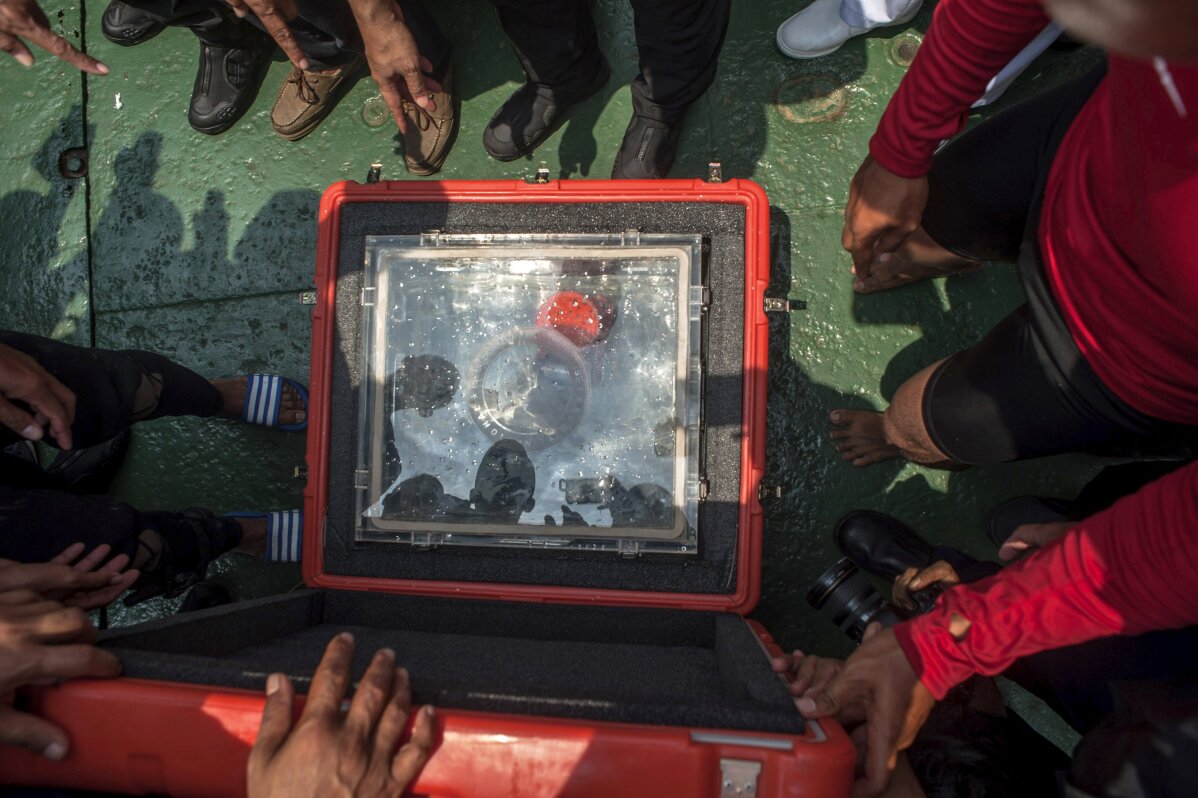 5 of 18

|
Divers stand around a box containing the flight data recorder from the crashed Lion Air jet on board of a research ship Baruna Jaya anchored in the waters of Tanjung Karawang, Indonesia, Thursday, Nov. 1, 2018. Divers on Thursday recovered the flight data recorder from the Boeing 737 MAX 8 plane crashed early Monday on the seafloor, a crucial development in the investigation into what caused the 2-month-old plane to plunge into Indonesian seas earlier this week, killing all its passengers. (AP Photo/Fauzy Chaniago)
5 of 18
Divers stand around a box containing the flight data recorder from the crashed Lion Air jet on board of a research ship Baruna Jaya anchored in the waters of Tanjung Karawang, Indonesia, Thursday, Nov. 1, 2018. Divers on Thursday recovered the flight data recorder from the Boeing 737 MAX 8 plane crashed early Monday on the seafloor, a crucial development in the investigation into what caused the 2-month-old plane to plunge into Indonesian seas earlier this week, killing all its passengers. (AP Photo/Fauzy Chaniago)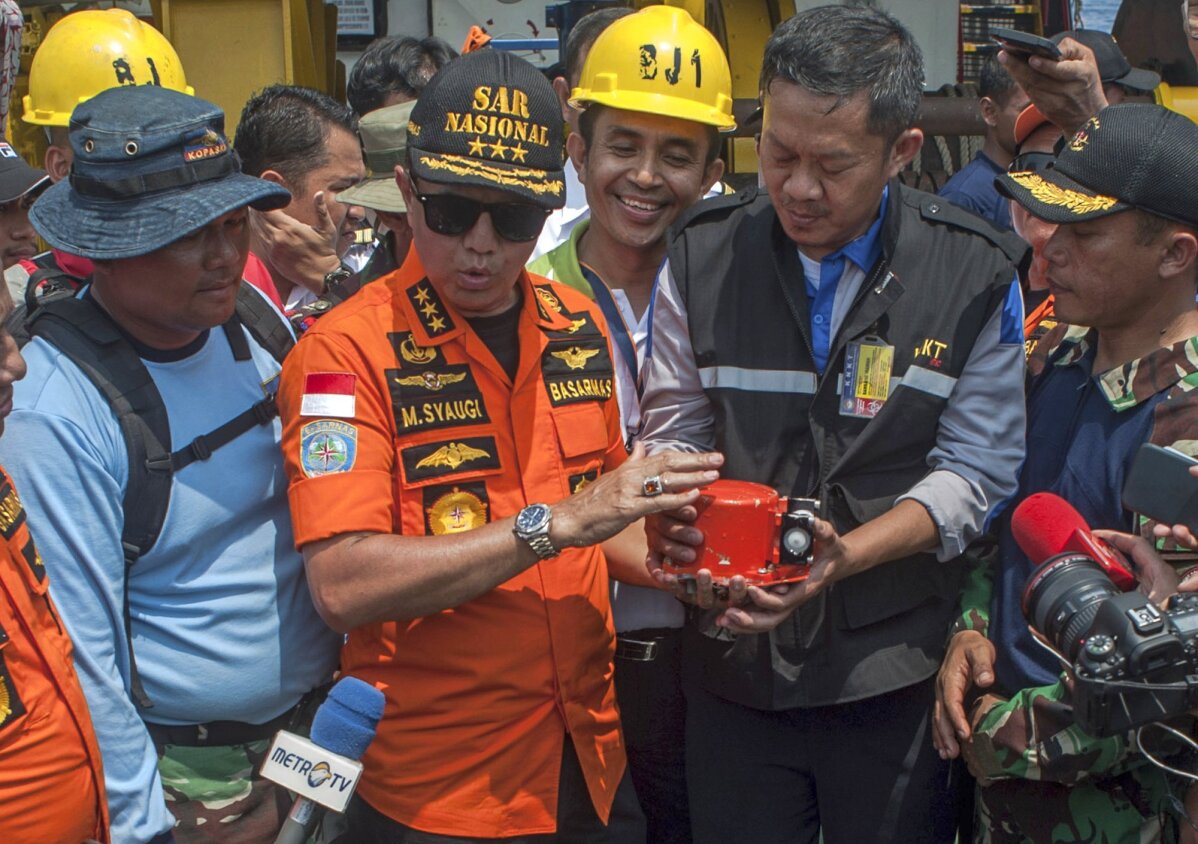 6 of 18

|
Chief of National Search and Rescue Agency Muhammad Syaugi, center, holds the flight data recorder from the crashed Lion Air jet during a press conference, onboard rescue ship anchored in the waters of Tanjung Karawang, Indonesia, Thursday, Nov. 1, 2018. Divers on Thursday recovered the flight data recorder from the Boeing 737 MAX 8 plane crashed early Monday on the seafloor, a crucial development in the investigation into what caused the 2-month-old plane to plunge into Indonesian seas earlier this week, killing all its passengers. (AP Photo/Fauzy Chaniago)
6 of 18
Chief of National Search and Rescue Agency Muhammad Syaugi, center, holds the flight data recorder from the crashed Lion Air jet during a press conference, onboard rescue ship anchored in the waters of Tanjung Karawang, Indonesia, Thursday, Nov. 1, 2018. Divers on Thursday recovered the flight data recorder from the Boeing 737 MAX 8 plane crashed early Monday on the seafloor, a crucial development in the investigation into what caused the 2-month-old plane to plunge into Indonesian seas earlier this week, killing all its passengers. (AP Photo/Fauzy Chaniago)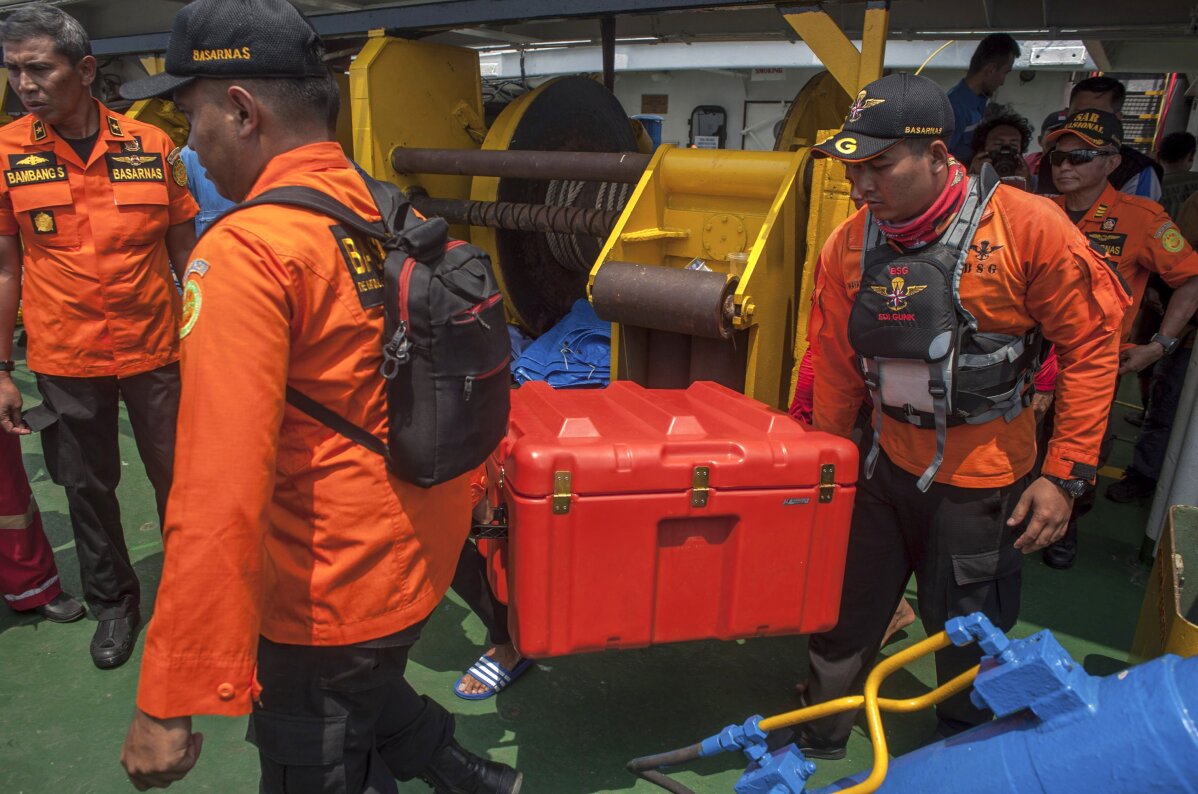 7 of 18

|
Rescuers carry a box containing the flight data recorder from the crashed Lion Air jet on board of a research ship Baruna Jaya anchored in the waters of Tanjung Karawang, Indonesia, Thursday, Nov. 1, 2018. Divers on Thursday recovered the flight data recorder from the Boeing 737 MAX 8 plane crashed early Monday on the seafloor, a crucial development in the investigation into what caused the 2-month-old plane to plunge into Indonesian seas earlier this week, killing all its passengers. (AP Photo/Fauzy Chaniago)
7 of 18
Rescuers carry a box containing the flight data recorder from the crashed Lion Air jet on board of a research ship Baruna Jaya anchored in the waters of Tanjung Karawang, Indonesia, Thursday, Nov. 1, 2018. Divers on Thursday recovered the flight data recorder from the Boeing 737 MAX 8 plane crashed early Monday on the seafloor, a crucial development in the investigation into what caused the 2-month-old plane to plunge into Indonesian seas earlier this week, killing all its passengers. (AP Photo/Fauzy Chaniago)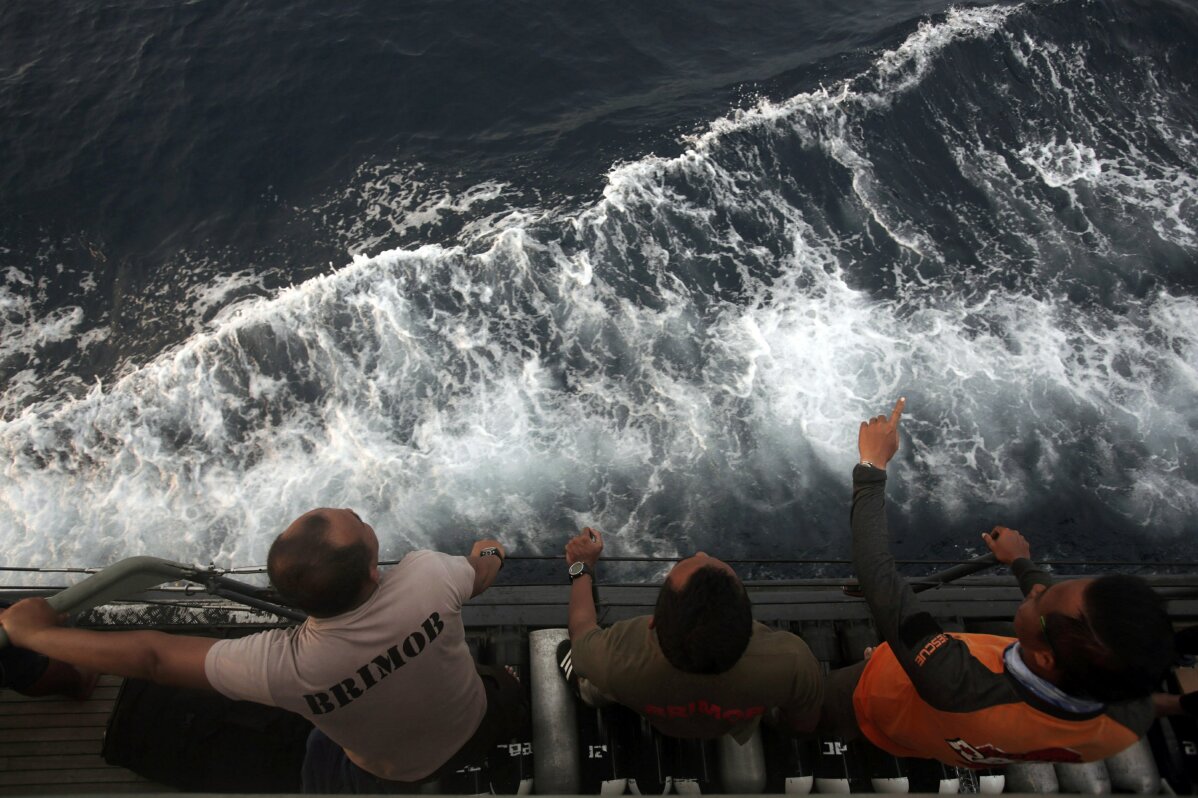 8 of 18

|
Rescuers scan the horizon during a search operation for the victims of Lion Air plane crash in the waters of Tanjung Karawang, Indonesia, Wednesday, Oct. 31, 2018. A massive search effort has identified the possible seabed location of the crashed Lion Air jet, Indonesia's military chief said Wednesday, as experts carried out the grim task of identifying dozens of body parts recovered from a 15-nautical-mile-wide search area. (AP Photo/Binsar Bakkara)
8 of 18
Rescuers scan the horizon during a search operation for the victims of Lion Air plane crash in the waters of Tanjung Karawang, Indonesia, Wednesday, Oct. 31, 2018. A massive search effort has identified the possible seabed location of the crashed Lion Air jet, Indonesia's military chief said Wednesday, as experts carried out the grim task of identifying dozens of body parts recovered from a 15-nautical-mile-wide search area. (AP Photo/Binsar Bakkara)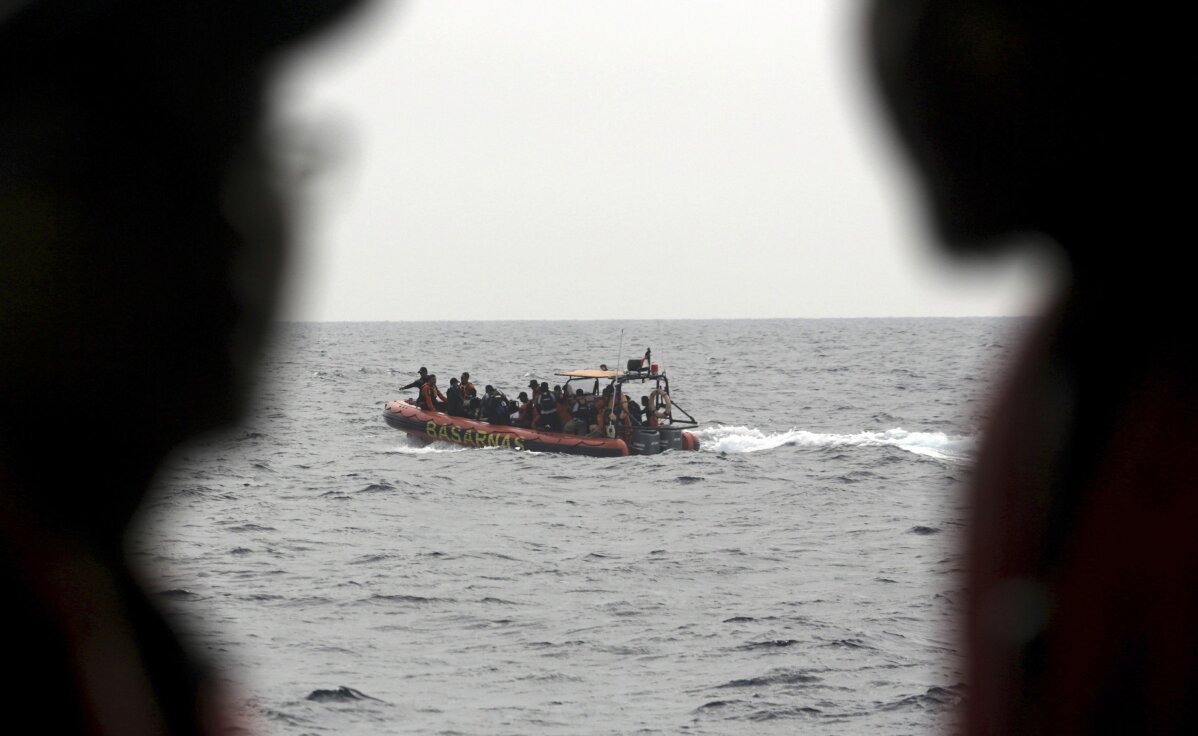 9 of 18

|
Rescue divers sit on a rubber boat during a search operation for the victims of Lion Air plane crash in the waters of Tanjung Karawang, Indonesia, Wednesday, Oct. 31, 2018. A massive search effort has identified the possible seabed location of the crashed Lion Air jet, Indonesia's military chief said Wednesday, as experts carried out the grim task of identifying dozens of body parts recovered from a 15-nautical-mile-wide search area. (AP Photo/Binsar Bakkara)
9 of 18
Rescue divers sit on a rubber boat during a search operation for the victims of Lion Air plane crash in the waters of Tanjung Karawang, Indonesia, Wednesday, Oct. 31, 2018. A massive search effort has identified the possible seabed location of the crashed Lion Air jet, Indonesia's military chief said Wednesday, as experts carried out the grim task of identifying dozens of body parts recovered from a 15-nautical-mile-wide search area. (AP Photo/Binsar Bakkara)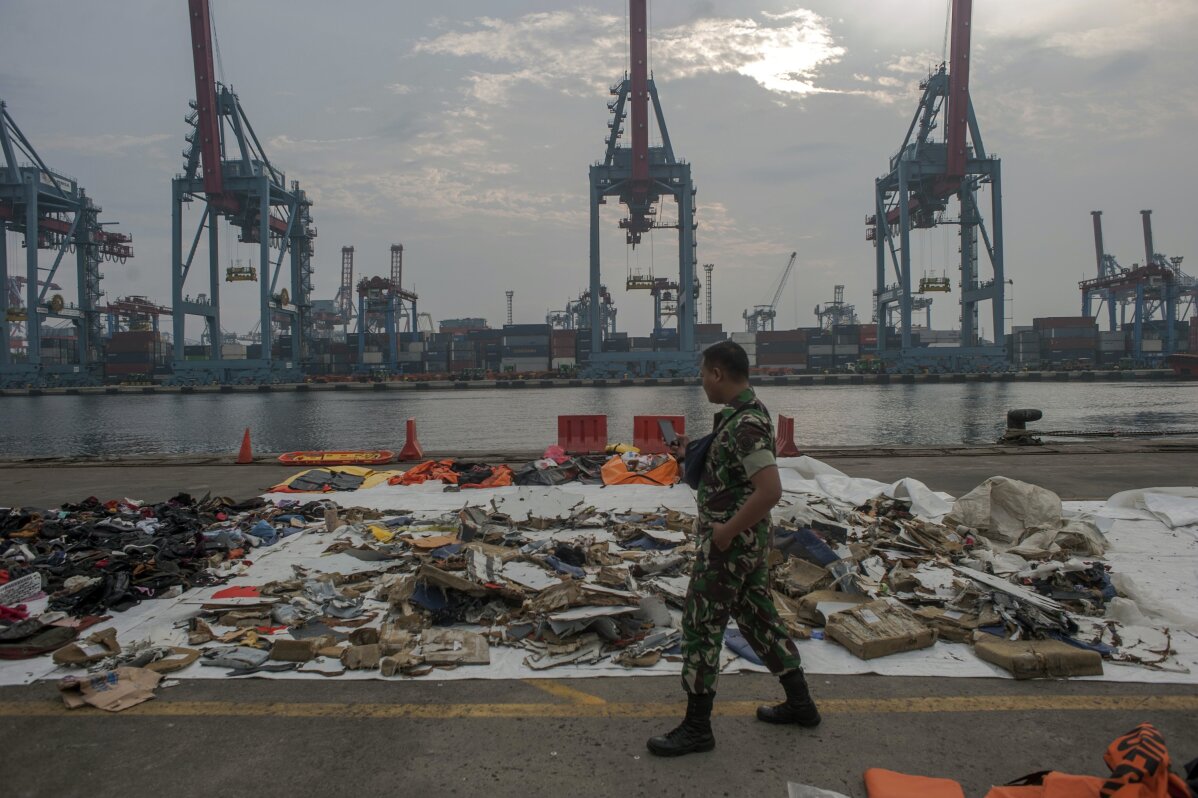 10 of 18

|
An Indonesian soldiers walk past debris retrieved from the waters where Lion Air flight JT 610 is believed to have crashed at Tanjung Priok Port in Jakarta, Indonesia, Wednesday, Oct. 31, 2018. A massive search effort has identified the possible seabed location of the crashed Lion Air jet, Indonesia's military chief said Wednesday, as experts carried out the grim task of identifying dozens of body parts recovered from a 15-nautical-mile-wide search area. (AP Photo/Fauzy Chaniago)
10 of 18
An Indonesian soldiers walk past debris retrieved from the waters where Lion Air flight JT 610 is believed to have crashed at Tanjung Priok Port in Jakarta, Indonesia, Wednesday, Oct. 31, 2018. A massive search effort has identified the possible seabed location of the crashed Lion Air jet, Indonesia's military chief said Wednesday, as experts carried out the grim task of identifying dozens of body parts recovered from a 15-nautical-mile-wide search area. (AP Photo/Fauzy Chaniago)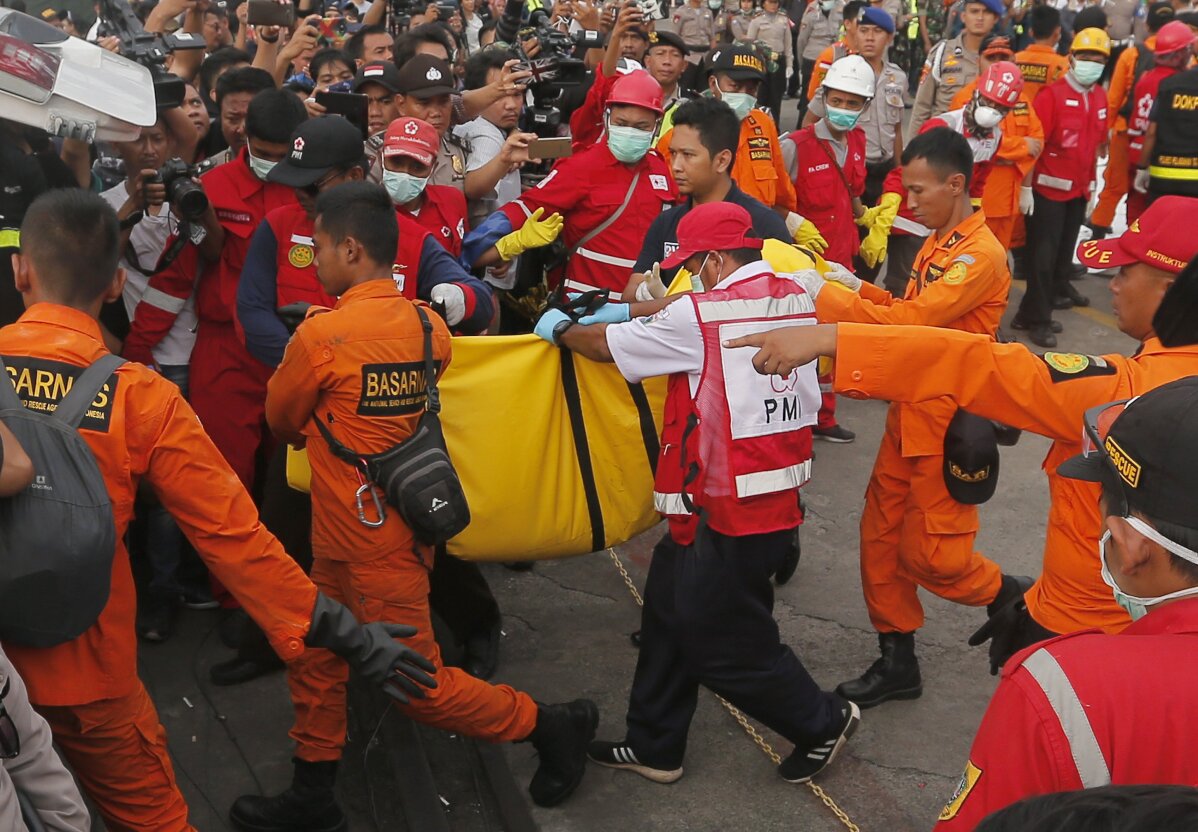 11 of 18

|
Rescuers carry a body bag containing the remains of the victims of Lion Air plane crash at Tanjung Priok Port in Jakarta, Indonesia, Wednesday, Oct. 31, 2018. A massive search effort has identified the possible seabed location of the crashed Lion Air jet, Indonesia's military chief said Wednesday, as experts carried out the grim task of identifying dozens of body parts recovered from a 15-nautical-mile-wide search area. (AP Photo/Tatan Syuflana)
11 of 18
Rescuers carry a body bag containing the remains of the victims of Lion Air plane crash at Tanjung Priok Port in Jakarta, Indonesia, Wednesday, Oct. 31, 2018. A massive search effort has identified the possible seabed location of the crashed Lion Air jet, Indonesia's military chief said Wednesday, as experts carried out the grim task of identifying dozens of body parts recovered from a 15-nautical-mile-wide search area. (AP Photo/Tatan Syuflana)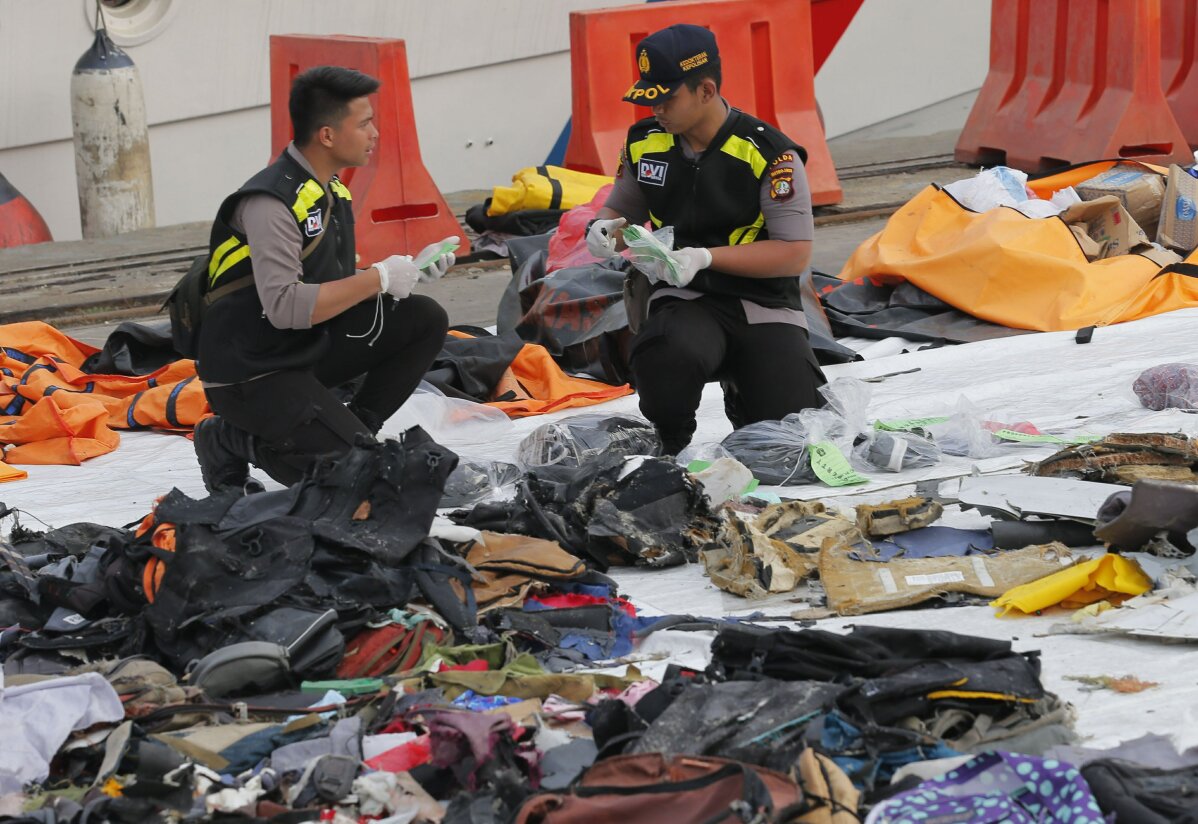 12 of 18

|
Members of police forensic team inspect personal belongings retrieved from the waters where Lion Air flight JT 610 is believed to have crashed, at Tanjung Priok Port in Jakarta, Indonesia, Wednesday, Oct. 31, 2018. A massive search effort has identified the possible seabed location of the crashed Lion Air jet, Indonesia's military chief said Wednesday, as experts carried out the grim task of identifying dozens of body parts recovered from a 15-nautical-mile-wide search area. (AP Photo/Tatan Syuflana)
12 of 18
Members of police forensic team inspect personal belongings retrieved from the waters where Lion Air flight JT 610 is believed to have crashed, at Tanjung Priok Port in Jakarta, Indonesia, Wednesday, Oct. 31, 2018. A massive search effort has identified the possible seabed location of the crashed Lion Air jet, Indonesia's military chief said Wednesday, as experts carried out the grim task of identifying dozens of body parts recovered from a 15-nautical-mile-wide search area. (AP Photo/Tatan Syuflana)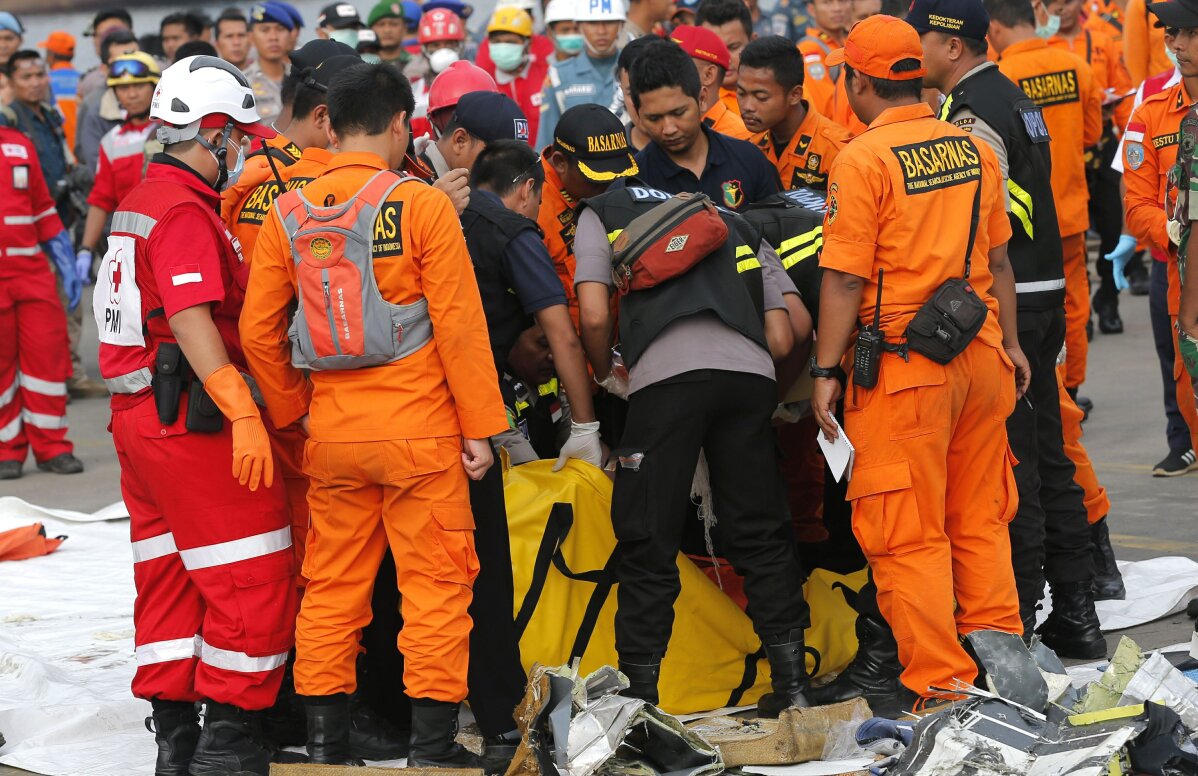 13 of 18

|
Rescuers inspect a body bag containing the remains of the victims of Lion Air plane crash at Tanjung Priok Port in Jakarta, Indonesia, Wednesday, Oct. 31, 2018. A massive search effort has identified the possible seabed location of the crashed Lion Air jet, Indonesia's military chief said Wednesday, as experts carried out the grim task of identifying dozens of body parts recovered from a 15-nautical-mile-wide search area. (AP Photo/Tatan Syuflana)
13 of 18
Rescuers inspect a body bag containing the remains of the victims of Lion Air plane crash at Tanjung Priok Port in Jakarta, Indonesia, Wednesday, Oct. 31, 2018. A massive search effort has identified the possible seabed location of the crashed Lion Air jet, Indonesia's military chief said Wednesday, as experts carried out the grim task of identifying dozens of body parts recovered from a 15-nautical-mile-wide search area. (AP Photo/Tatan Syuflana)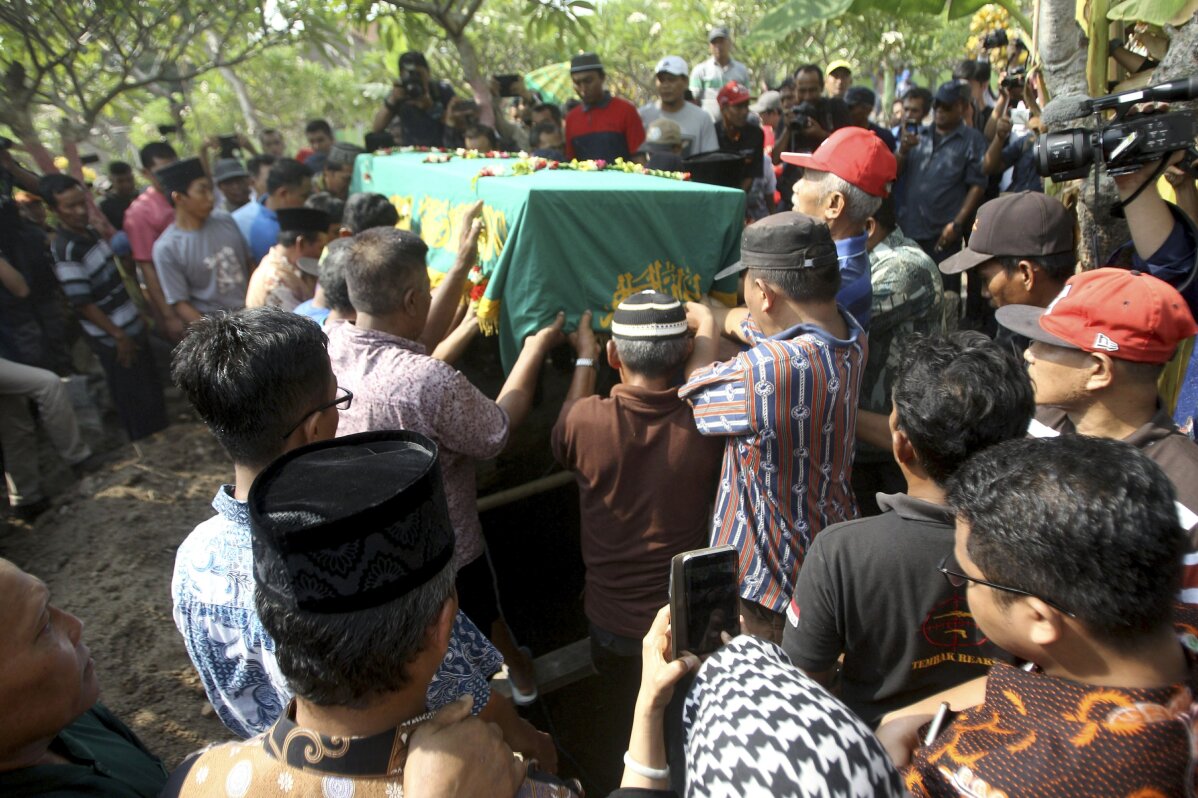 14 of 18

|
Relatives lower the coffin containing the remains of Jannatun Cintya Dewi, one of the victims of a Lion Air plane crash, into the grave during her funeral in Sidoarjo, East Java, Indonesia, Thursday, Nov. 1, 2018. Divers on Thursday recovered the flight data recorder from the Boeing 737 MAX 8 plane crashed early Monday on the seafloor, a crucial development in the investigation into what caused the 2-month-old plane to plunge into Indonesian seas earlier this week, killing all people on board. (AP Photo/Trisnadi)
14 of 18
Relatives lower the coffin containing the remains of Jannatun Cintya Dewi, one of the victims of a Lion Air plane crash, into the grave during her funeral in Sidoarjo, East Java, Indonesia, Thursday, Nov. 1, 2018. Divers on Thursday recovered the flight data recorder from the Boeing 737 MAX 8 plane crashed early Monday on the seafloor, a crucial development in the investigation into what caused the 2-month-old plane to plunge into Indonesian seas earlier this week, killing all people on board. (AP Photo/Trisnadi)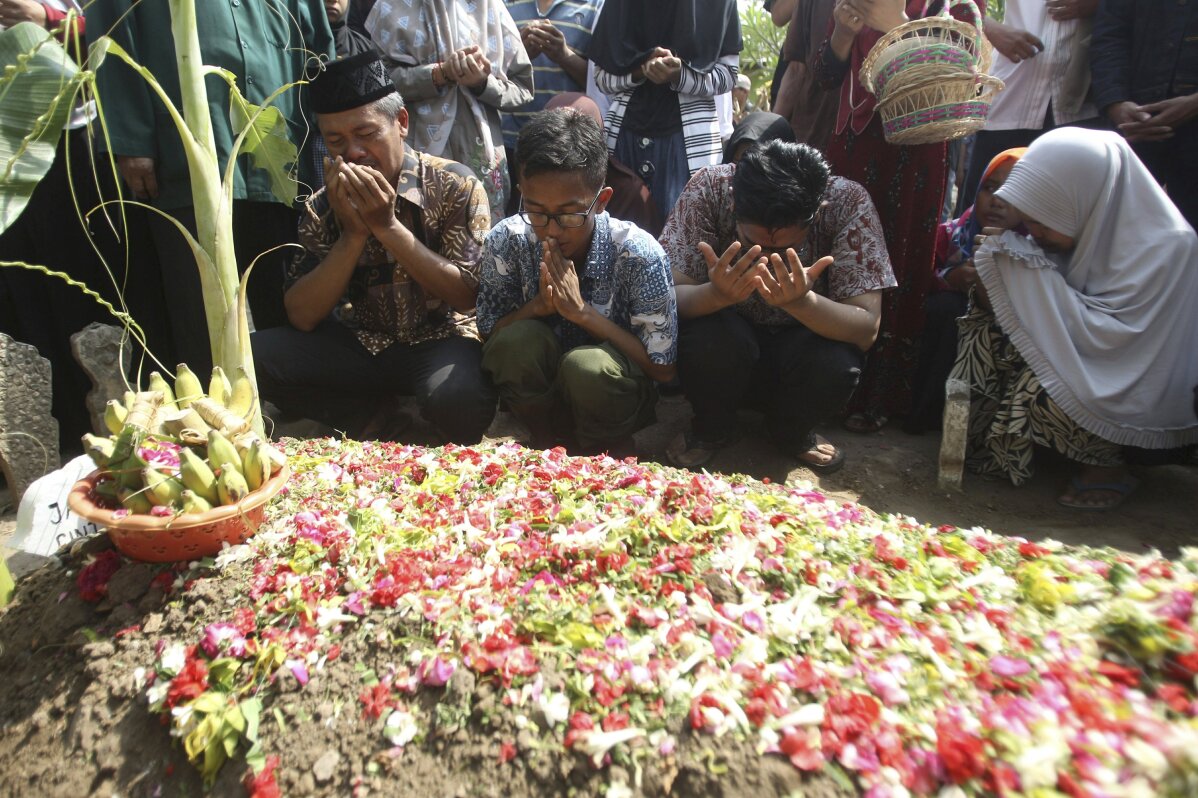 15 of 18

|
Bambang Supriyadi, left, the father of Jannatun Cintya Dewi, a victim of a Lion Air plane crash, prays at the grave of his daughter during her funeral in Sidoarjo, East Java, Indonesia, Thursday, Nov. 1, 2018. Divers on Thursday recovered the flight data recorder from the Boeing 737 MAX 8 plane crashed early Monday on the seafloor, a crucial development in the investigation into what caused the 2-month-old plane to plunge into Indonesian seas earlier this week, killing all people on board. (AP Photo/Trisnadi)
15 of 18
Bambang Supriyadi, left, the father of Jannatun Cintya Dewi, a victim of a Lion Air plane crash, prays at the grave of his daughter during her funeral in Sidoarjo, East Java, Indonesia, Thursday, Nov. 1, 2018. Divers on Thursday recovered the flight data recorder from the Boeing 737 MAX 8 plane crashed early Monday on the seafloor, a crucial development in the investigation into what caused the 2-month-old plane to plunge into Indonesian seas earlier this week, killing all people on board. (AP Photo/Trisnadi)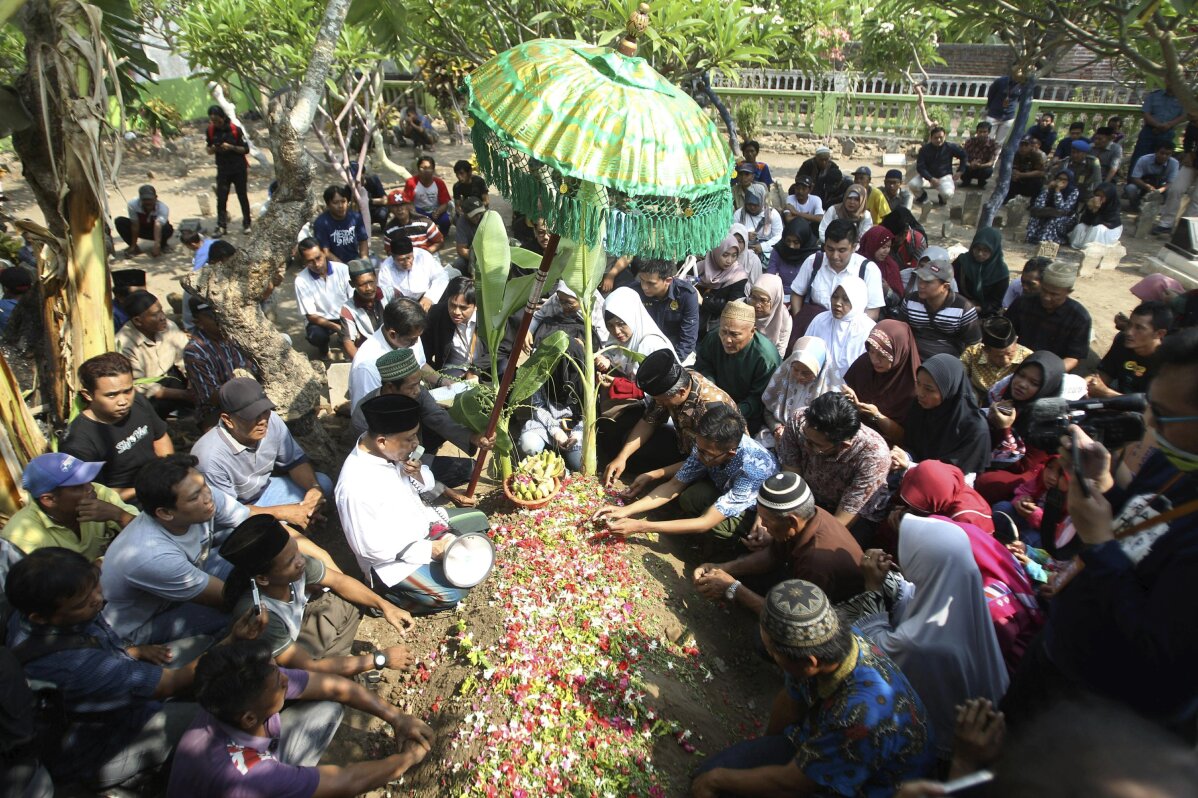 16 of 18

|
Relatives pray at the grave of Jannatun Cintya Dewi, a victim of a Lion Air plane crash, during her funeral in Sidoarjo, East Java, Indonesia, Thursday, Nov. 1, 2018. Divers on Thursday recovered the flight data recorder from the Boeing 737 MAX 8 plane crashed early Monday on the seafloor, a crucial development in the investigation into what caused the 2-month-old plane to plunge into Indonesian seas earlier this week, killing all people on board. (AP Photo/Trisnadi)
16 of 18
Relatives pray at the grave of Jannatun Cintya Dewi, a victim of a Lion Air plane crash, during her funeral in Sidoarjo, East Java, Indonesia, Thursday, Nov. 1, 2018. Divers on Thursday recovered the flight data recorder from the Boeing 737 MAX 8 plane crashed early Monday on the seafloor, a crucial development in the investigation into what caused the 2-month-old plane to plunge into Indonesian seas earlier this week, killing all people on board. (AP Photo/Trisnadi)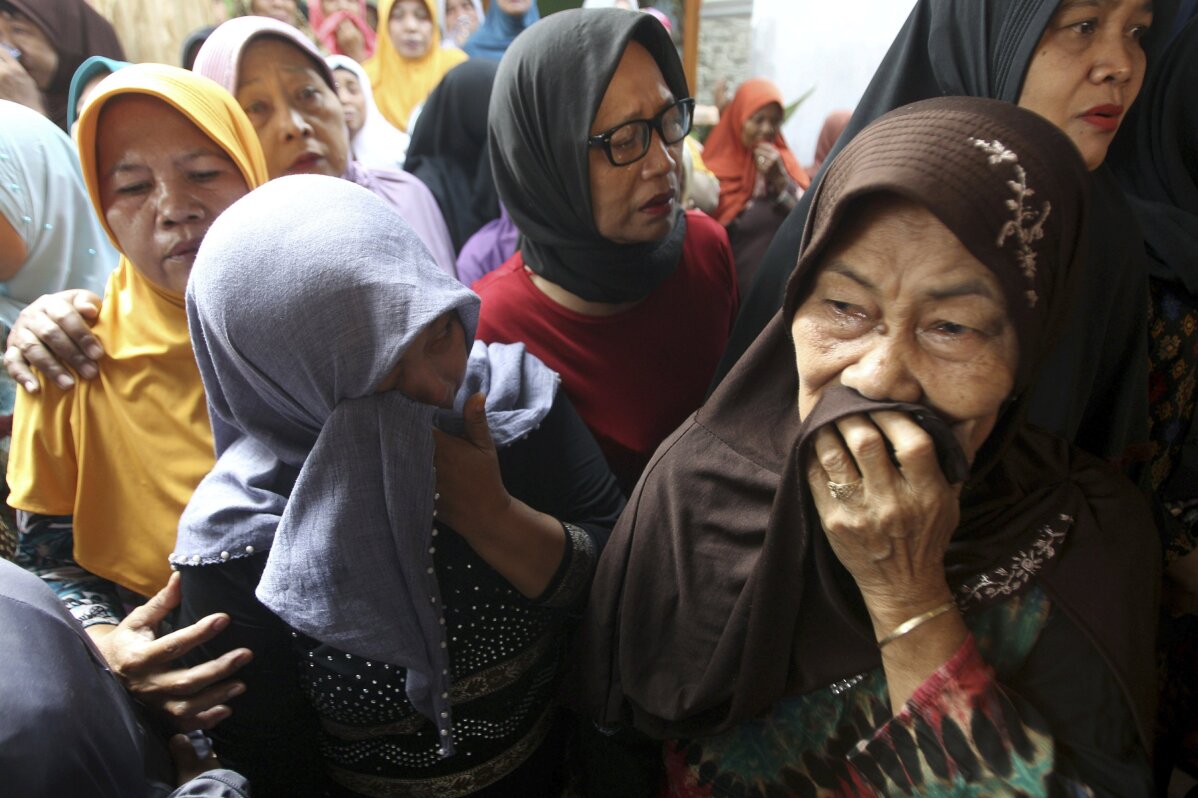 17 of 18

|
Relatives weep during the funeral of Jannatun Cintya Dewi, a victim of a Lion Air plane crash, in Sidoarjo, East Java, Indonesia, Thursday, Nov. 1, 2018. Divers on Thursday recovered the flight data recorder from the Boeing 737 MAX 8 plane crashed early Monday on the seafloor, a crucial development in the investigation into what caused the 2-month-old plane to plunge into Indonesian seas earlier this week, killing all people on board. (AP Photo/Trisnadi)
17 of 18
Relatives weep during the funeral of Jannatun Cintya Dewi, a victim of a Lion Air plane crash, in Sidoarjo, East Java, Indonesia, Thursday, Nov. 1, 2018. Divers on Thursday recovered the flight data recorder from the Boeing 737 MAX 8 plane crashed early Monday on the seafloor, a crucial development in the investigation into what caused the 2-month-old plane to plunge into Indonesian seas earlier this week, killing all people on board. (AP Photo/Trisnadi)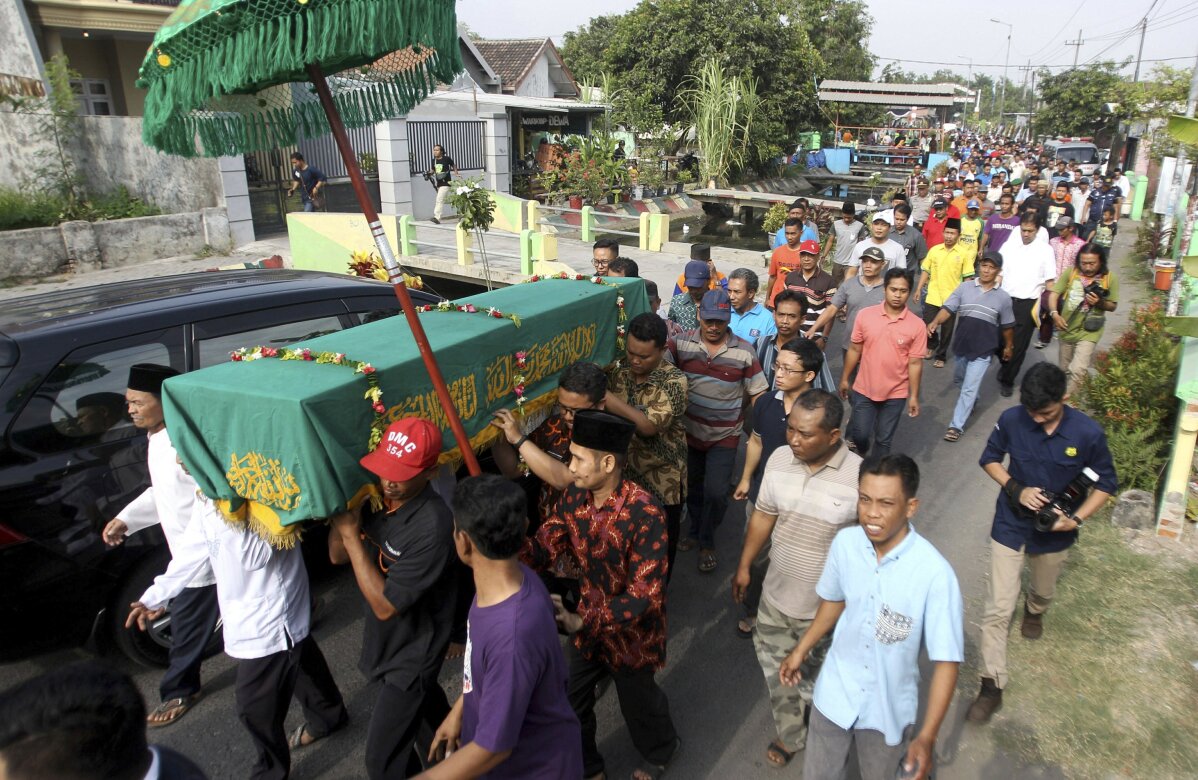 18 of 18

|
Relatives carry the coffin containing the remains of Jannatun Cintya Dewi, a victim of a Lion Air plane crash, during her funeral in Sidoarjo, East Java, Indonesia, Thursday, Nov. 1, 2018. Divers on Thursday recovered the flight data recorder from the Boeing 737 MAX 8 plane crashed early Monday on the seafloor, a crucial development in the investigation into what caused the 2-month-old plane to plunge into Indonesian seas earlier this week, killing all people on board. (AP Photo/Trisnadi)
18 of 18
Relatives carry the coffin containing the remains of Jannatun Cintya Dewi, a victim of a Lion Air plane crash, during her funeral in Sidoarjo, East Java, Indonesia, Thursday, Nov. 1, 2018. Divers on Thursday recovered the flight data recorder from the Boeing 737 MAX 8 plane crashed early Monday on the seafloor, a crucial development in the investigation into what caused the 2-month-old plane to plunge into Indonesian seas earlier this week, killing all people on board. (AP Photo/Trisnadi)
JAKARTA, Indonesia (AP) — Divers in Indonesia recovered one of the crashed Lion Air jet's flight recorders from the seafloor on Thursday, a crucial development in the investigation into what caused the 2-month-old plane to plunge into the ocean earlier this week, killing 189 people. Relatives, meanwhile, buried the first victim to be identified and prayed at her flower-covered grave.
TV showed footage of two divers after they surfaced, swimming to an inflatable vessel and placing the bright orange device into a large container that was transferred to a search-and-rescue ship.
"I was desperate because the current below was strong but I am confident of the tools given to me," said navy 1st Sgt. Hendra, who uses a single name. After narrowing the possible location, "I started digging and cleaning the debris until I finally found an orange object," he told TV, standing on the deck of a ship next to his diving mates.
The Boeing 737 MAX 8 plane crashed early Monday just minutes after takeoff from the Indonesian capital, Jakarta. It was the worst airline disaster in Indonesia in more than two decades and renewed concerns about safety in its fast-growing aviation industry, which was recently removed from European Union and U.S. blacklists.
Navy Col. Monang Sitompul told local TV an object believed to be part of the aircraft's fuselage was also seen on the seafloor.
Minutes after the device was taken out of the sea, Bambang Irawan, an investigator with the transport safety committee, said it was the flight data recorder.
But at a later news conference, another investigator, Ony Soeryo Wibowo, said they still haven't determined if it's the flight data or cockpit voice recorder. It was displayed inside a clear container submerged in water to prevent damage from rapidly drying out.
"Their forms are similar," he said. Speaking about the overall investigation's progress, Wibowo said, "We have collected data and did find some problems, but it must be investigated further."
The flight data recorder is expected to provide investigators with detailed information about the flight such as altitude, airspeed and heading. The voice recorder also provides valuable information — not only the cockpit crew's voices but engine sounds, instrumentation warnings and other audio that investigators can interpret. The U.S. National Transportation Safety Board says sophisticated computer and audio equipment is used to extract and translate the data into an understandable format.
The recorder was recovered from a depth of about 30 meters (98 feet), some 500 meters (1,640 feet) from where the plane lost contact, said search and rescue agency head Muhammad Syaugi.
"The currents below the sea are still strong which makes it difficult for divers, but they persistently faced it," he said.
Relatives of 24-year-old Jannatun Cintya Dewi, whose remains were identified Wednesday, carried her body in a coffin covered in green cloth along a road in an East Java district to the burial place, followed by dozens of people in a solemn procession.
Her father and others knelt by the grave, which was sprinkled with red, white and yellow flowers, and prayed.
Other families face a longer wait to bury loved ones. Police medical experts say results from DNA tests needed for identification in many cases will take 4-8 days and remains are still being found.
U.S. National Transportation Safety Board investigators including from Boeing visited the Jakarta port on Thursday and picked through debris collected from the sea including pieces of aircraft and passenger belongings.
Data from flight-tracking sites show the plane had erratic speed and altitude in the early minutes of a flight on Sunday and on its fatal flight Monday. Safety experts caution, however, that the data must be checked for accuracy against the flight data recorder.
Several passengers on the Sunday flight from Bali to Jakarta have recounted problems that included a long-delayed takeoff for an engine check and terrifying descents in the first 10 minutes in the air.
Lion Air has ordered 50 of the MAX 8 planes and one of its subsidiary airlines was the first to operate the new generation jet last year.
Transport Minister Budi Karya Sumadi said inspections of Boeing MAX 8 planes operated by Lion Air and national carrier Garuda have found no problems but the checks are continuing.
He said the Directorate-General of Air Transportation has asked Lion Air to remove four key officials from duty — its director of maintenance and engineering, quality control manager, flight maintenance manager and release manager — so they can assist the investigation. He said their aircraft maintenance engineer licenses have been suspended.
Investigators say a preliminary report into the accident could be released within a month but complete findings will take several months more.
The Lion Air crash is the worst airline disaster in Indonesia since 1997, when 234 people died on a Garuda flight near Medan. In December 2014, an AirAsia flight from Surabaya to Singapore plunged into the sea, killing all 162 on board.
Indonesian airlines were barred in 2007 from flying to Europe because of safety concerns, though several were allowed to resume services in the following decade. The ban was completely lifted in June. The U.S. lifted a decadelong ban in 2016.
Lion Air, a discount carrier, is one of Indonesia's youngest and biggest airlines, flying to dozens of domestic and international destinations. It has been expanding aggressively in Southeast Asia, a fast-growing region of more than 600 million people.