Trump claims Hurricane Maria death toll rose 'like magic'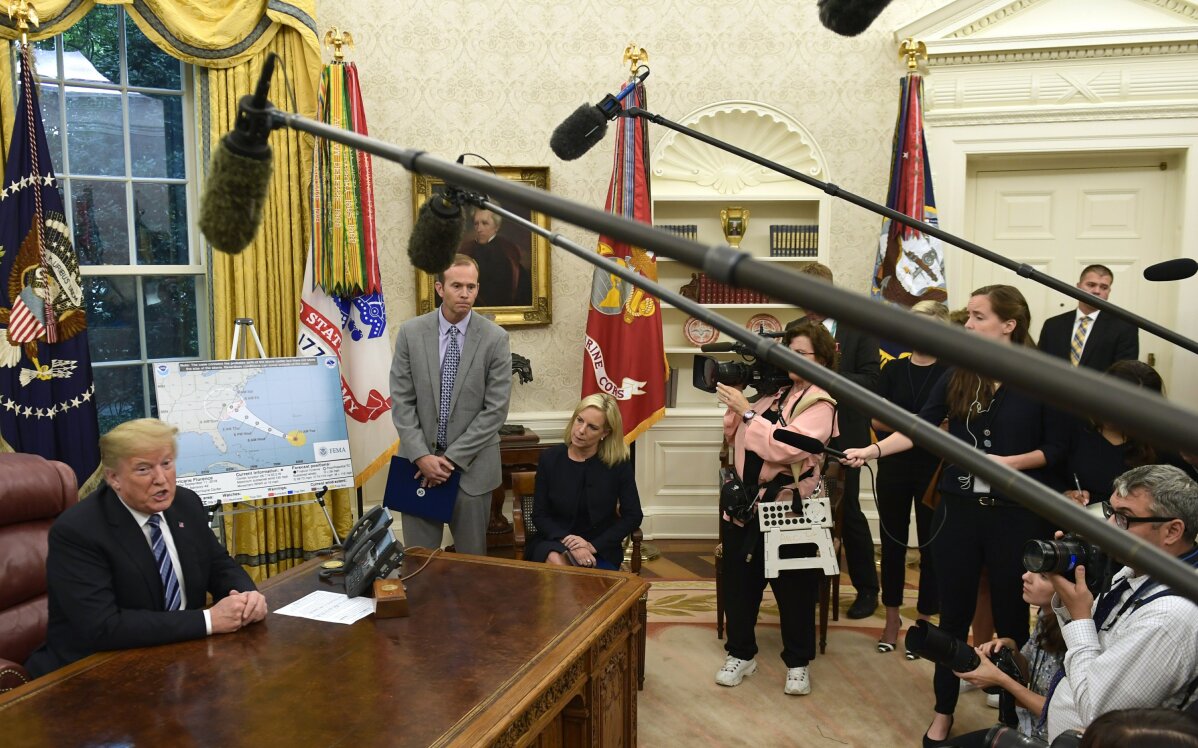 1 of 4

|
President Donald Trump, left, joined by FEMA Administrator Brock Long, second from left, and Homeland Security Secretary Kirstjen Nielsen, center, speaks during a briefing on Hurricane Florence in the Oval Office of the White House in Washington, Tuesday, Sept. 11, 2018. (AP Photo/Susan Walsh)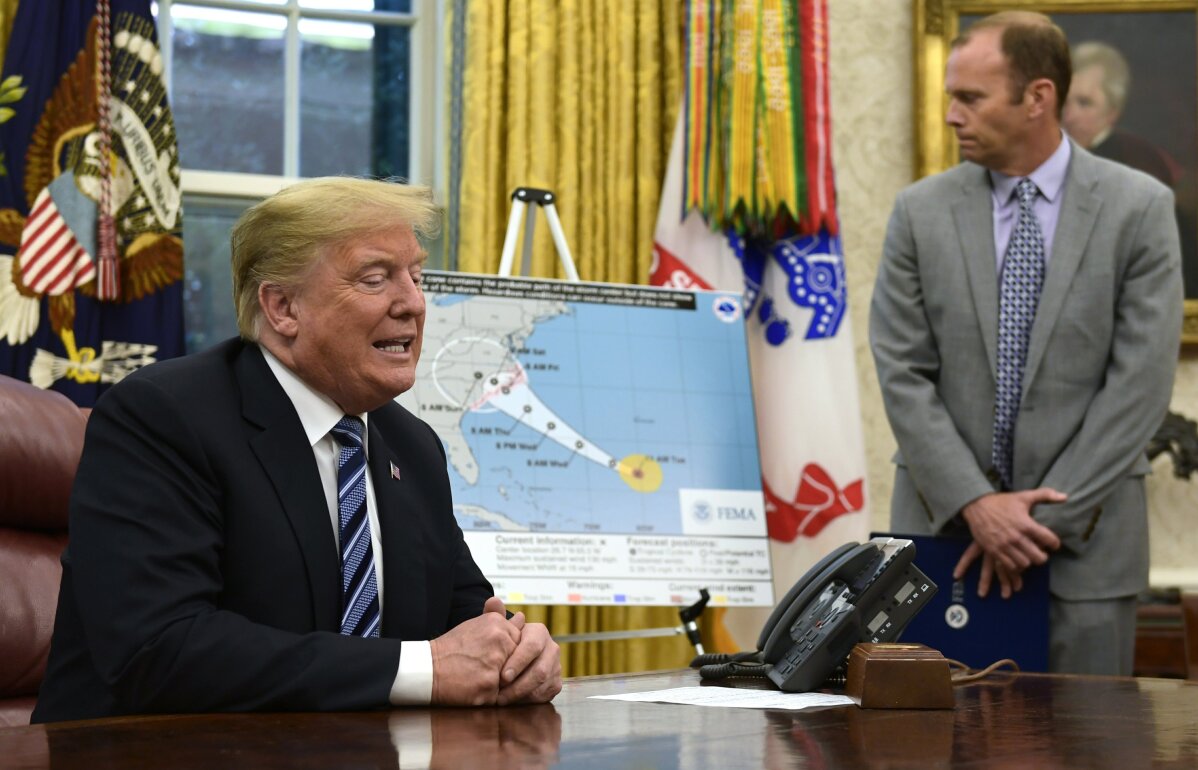 2 of 4

|
President Donald Trump, left, talks about Hurricane Florence during a briefing in the Oval Office of the White House in Washington, Tuesday, Sept. 11, 2018, as FEMA Administrator Brock Long listens at right. (AP Photo/Susan Walsh)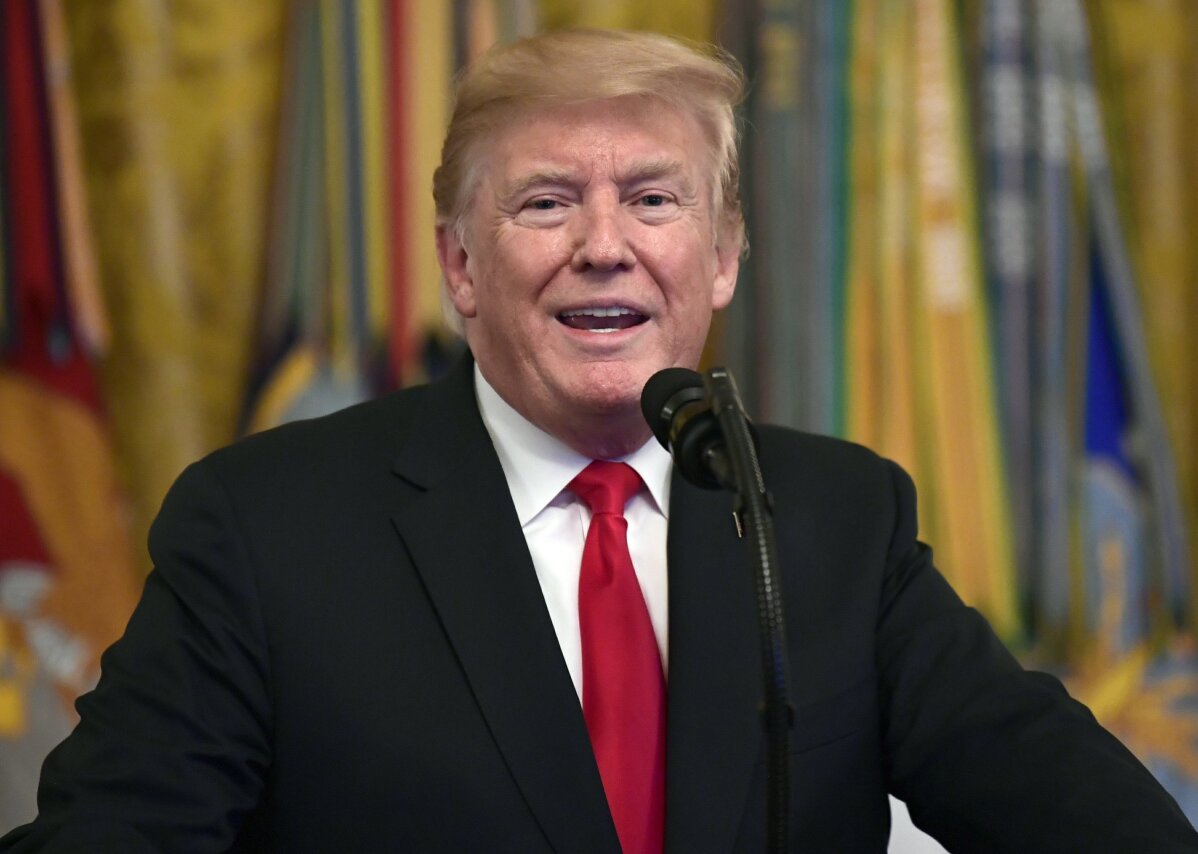 3 of 4

|
President Donald Trump speaks during a Congressional Medal of Honor Society Reception in the East Room of the White House in Washington, Wednesday, Sept. 12, 2018. (AP Photo/Susan Walsh)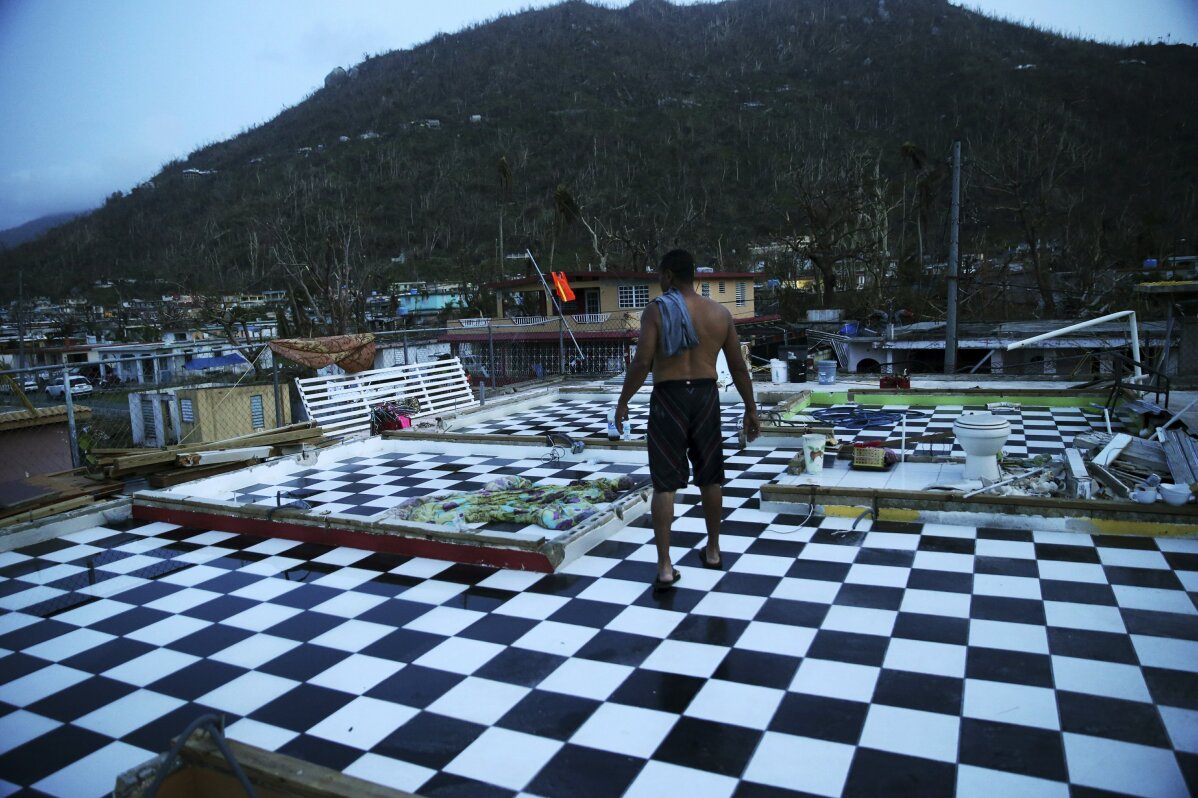 4 of 4

|
FILE - In this Sept. 26, 2017 file photo, Nestor Serrano walks on the upstairs floor of his home, where the walls were blown off, in the aftermath of Hurricane Maria, in Yabucoa, Puerto Rico. President Donald Trump's assertion on Wednesday, Sept. 12, 2018, that the federal government's response to Hurricane Maria was "an incredible, unsung success" is falling flat in Puerto Rico, where islanders are still struggling to recover a year later. For many, Trump's boast is hard to square with their daily reality: Blackouts remain common, and nearly 60,000 homes have only a makeshift roof. (AP Photo/Gerald Herbert, File)
Trump claims Hurricane Maria death toll rose 'like magic'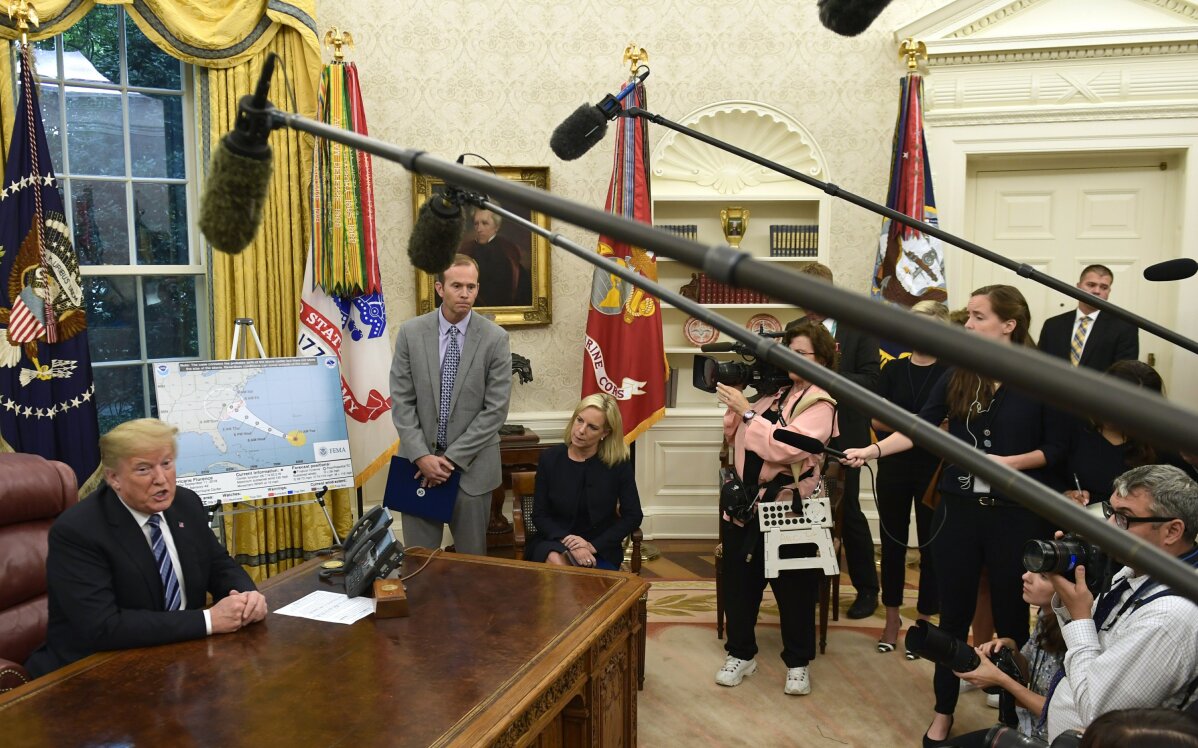 1 of 4

|
President Donald Trump, left, joined by FEMA Administrator Brock Long, second from left, and Homeland Security Secretary Kirstjen Nielsen, center, speaks during a briefing on Hurricane Florence in the Oval Office of the White House in Washington, Tuesday, Sept. 11, 2018. (AP Photo/Susan Walsh)
1 of 4
President Donald Trump, left, joined by FEMA Administrator Brock Long, second from left, and Homeland Security Secretary Kirstjen Nielsen, center, speaks during a briefing on Hurricane Florence in the Oval Office of the White House in Washington, Tuesday, Sept. 11, 2018. (AP Photo/Susan Walsh)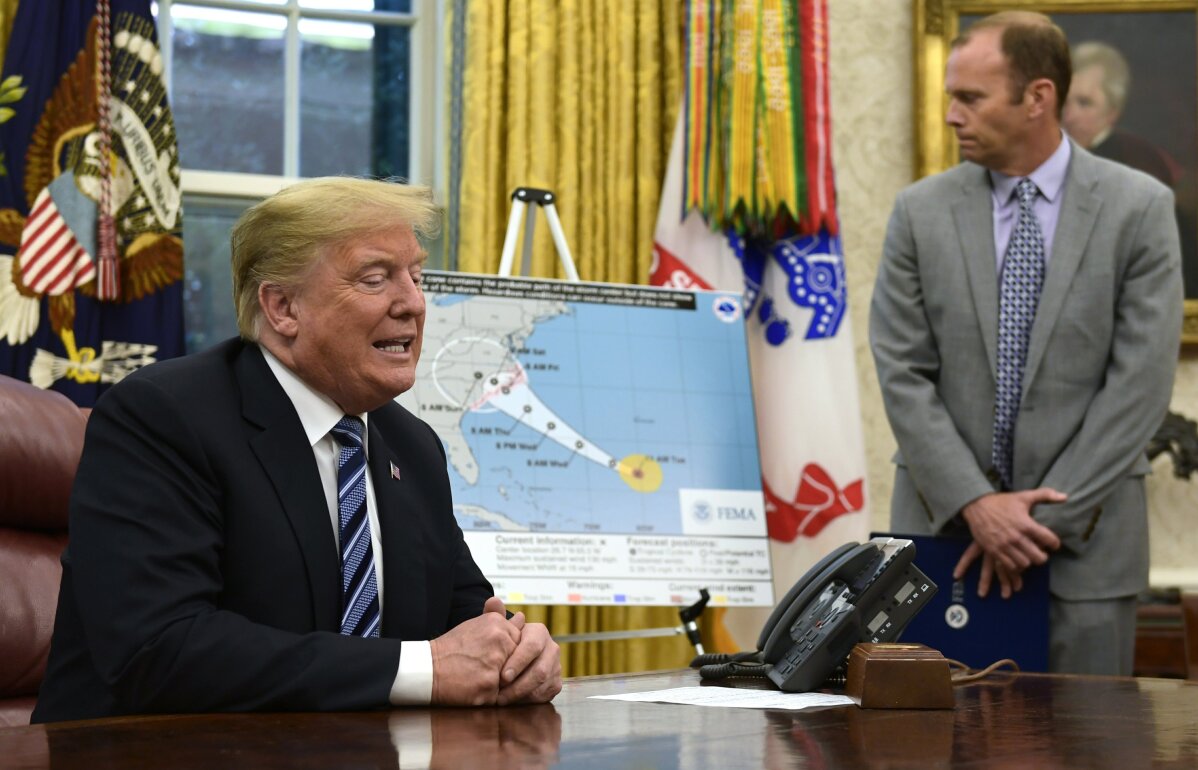 2 of 4

|
President Donald Trump, left, talks about Hurricane Florence during a briefing in the Oval Office of the White House in Washington, Tuesday, Sept. 11, 2018, as FEMA Administrator Brock Long listens at right. (AP Photo/Susan Walsh)
2 of 4
President Donald Trump, left, talks about Hurricane Florence during a briefing in the Oval Office of the White House in Washington, Tuesday, Sept. 11, 2018, as FEMA Administrator Brock Long listens at right. (AP Photo/Susan Walsh)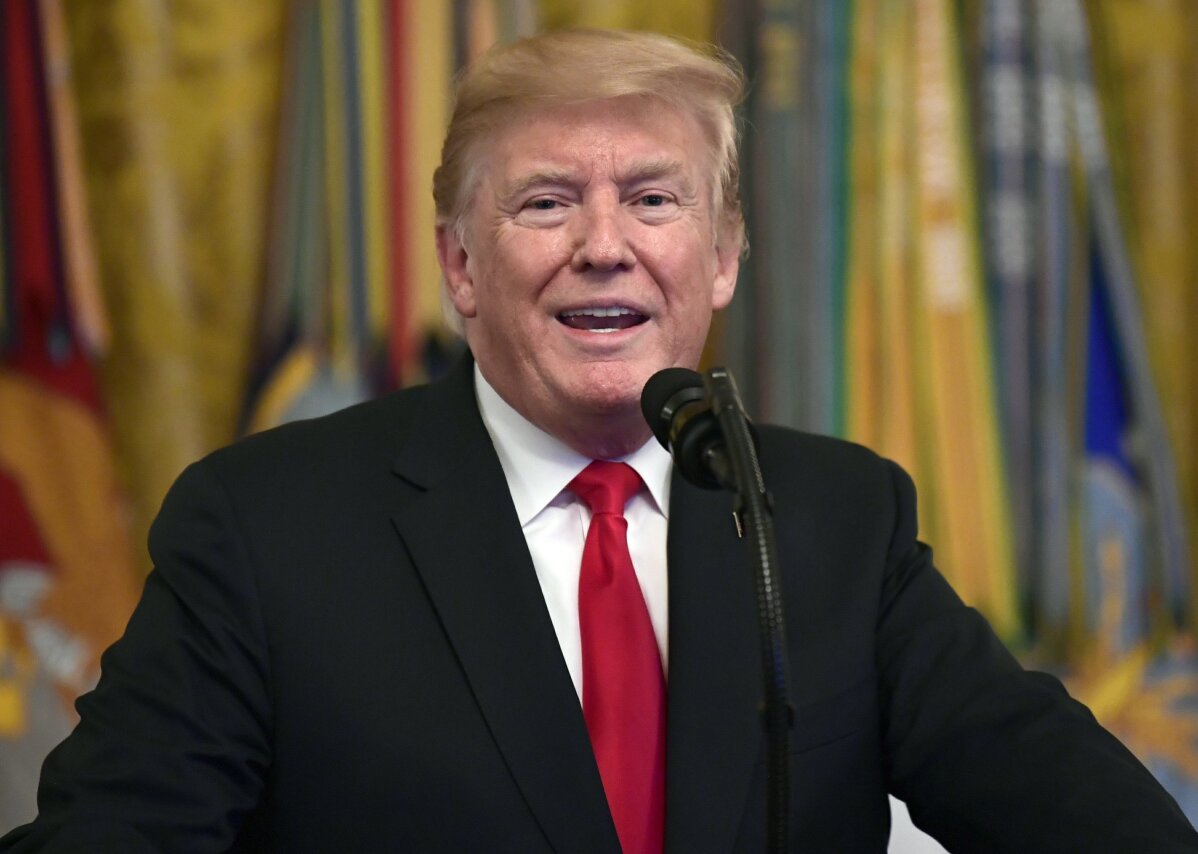 3 of 4

|
President Donald Trump speaks during a Congressional Medal of Honor Society Reception in the East Room of the White House in Washington, Wednesday, Sept. 12, 2018. (AP Photo/Susan Walsh)
3 of 4
President Donald Trump speaks during a Congressional Medal of Honor Society Reception in the East Room of the White House in Washington, Wednesday, Sept. 12, 2018. (AP Photo/Susan Walsh)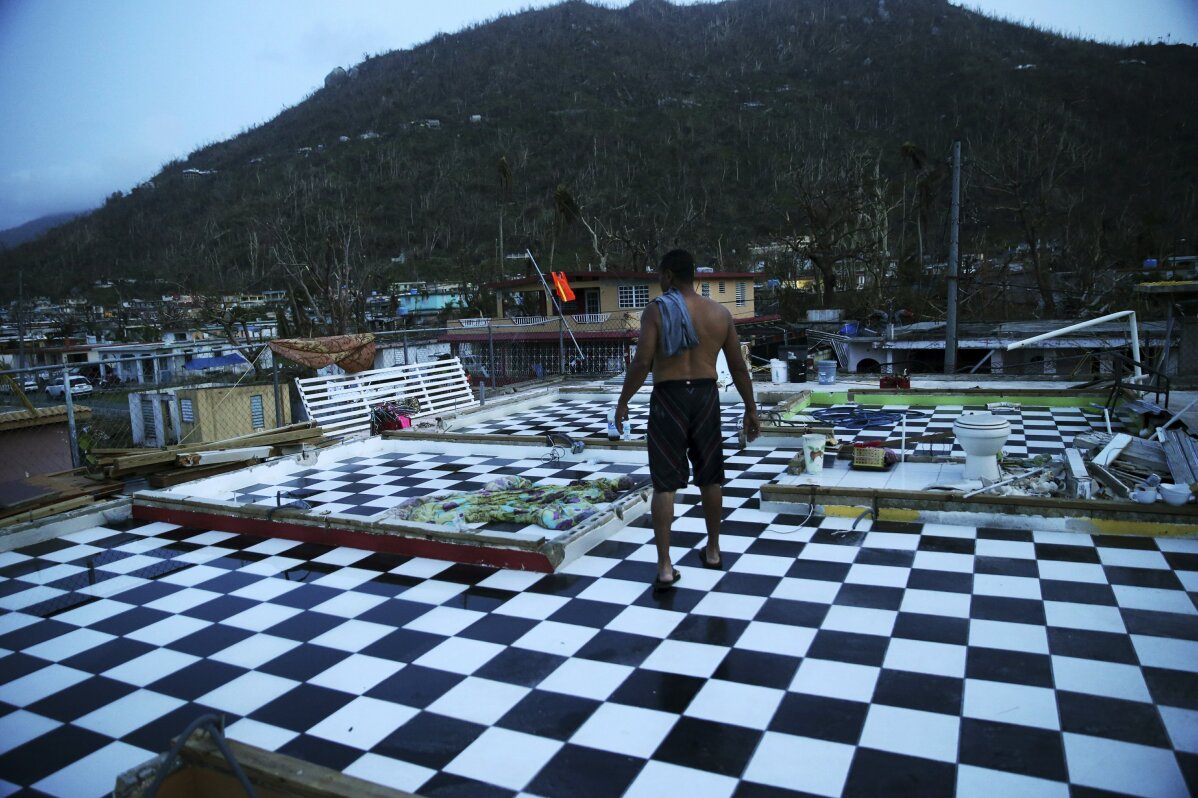 4 of 4

|
FILE - In this Sept. 26, 2017 file photo, Nestor Serrano walks on the upstairs floor of his home, where the walls were blown off, in the aftermath of Hurricane Maria, in Yabucoa, Puerto Rico. President Donald Trump's assertion on Wednesday, Sept. 12, 2018, that the federal government's response to Hurricane Maria was "an incredible, unsung success" is falling flat in Puerto Rico, where islanders are still struggling to recover a year later. For many, Trump's boast is hard to square with their daily reality: Blackouts remain common, and nearly 60,000 homes have only a makeshift roof. (AP Photo/Gerald Herbert, File)
4 of 4
FILE - In this Sept. 26, 2017 file photo, Nestor Serrano walks on the upstairs floor of his home, where the walls were blown off, in the aftermath of Hurricane Maria, in Yabucoa, Puerto Rico. President Donald Trump's assertion on Wednesday, Sept. 12, 2018, that the federal government's response to Hurricane Maria was "an incredible, unsung success" is falling flat in Puerto Rico, where islanders are still struggling to recover a year later. For many, Trump's boast is hard to square with their daily reality: Blackouts remain common, and nearly 60,000 homes have only a makeshift roof. (AP Photo/Gerald Herbert, File)
WASHINGTON (AP) — As Tropical Storm Florence inundated the Carolinas on Friday, President Donald Trump circled back to his claim that the official death toll from a devastating storm a year earlier in Puerto Rico was inflated and said the number of dead seemed to rise from double digits to 3,000 "like magic."
Public health experts have estimated that nearly 3,000 perished because of the effects of Hurricane Maria. But Trump, whose efforts to help the island territory recover have been persistently criticized, has repeatedly questioned that number over the last couple of days.
"FIFTY TIMES LAST ORIGINAL NUMBER - NO WAY!" he tweeted late Friday.
Trump falsely accused Democrats on Thursday of inflating the Puerto Rican toll to make him "look as bad as possible." He said just six to 18 people had been reported dead when he visited two weeks after the October 2017 storm and suggested that many had been added later "if a person died for any reason, like old age."
When Trump visited Puerto Rico, the death toll at the time was indeed 16 people. The number was later raised to 64, but the government then commissioned an independent study to determine how many died because of post-storm conditions. That study — conducted by the Milken Institute School of Public Health at George Washington University — estimated 2,975 deaths.
The deaths fell in two categories: direct and indirect. Direct deaths include such fatalities as drownings in a storm surge or being crushed in a wind-toppled building. Indirect deaths are harder to count because they can include such things as heart attacks, electrocutions from downed power lines and failure to receive dialysis because the power is out — and those kinds of fatalities can happen after a storm has ended but while an area is struggling to restore electricity, clean water and other health and safety services.
Dr. Carlos Santos-Burgoa — the lead researcher on the study and a well-known expert in global health, particularly Latin America — told The Associated Press that the initial figure of 64 deaths reflected only people whose death certificates cited the storm. He said the latest figure was more accurate and stressed that every death in the six months following the storm was not attributed to the hurricane.
"We are scientists. We are public health people. We are committed to the health of the population. We try to reach the truth, and we try to understand what is damaging the people in order to prevent disease," he said.
But Trump suggested Friday that it was questionable that the Puerto Rican government commissioned the study from an outside group.
"They hired GWU Research to tell them how many people had died in Puerto Rico (how would they not know this?)," Trump wrote. "This method was never done with previous hurricanes because other jurisdictions know how many people were killed. FIFTY TIMES LAST ORIGINAL NUMBER - NO WAY!"
Puerto Rico Gov. Ricardo Rossello told CBS New York on Thursday that the government had sought the study and "tried to make this process a completely independent process."
Trump's anger over the death toll drew swift rebukes from elected officials and residents of the island, where blackouts remain common, 60,000 homes still have makeshift roofs and 13 percent of municipalities lack stable phone or internet service. Even some Republicans suggested the president had gone too far Thursday.
"Casualties don't make a person look bad," House Speaker Paul Ryan said. "So I have no reason to dispute those numbers."
Throughout his presidency, Trump has struggled to publicly express empathy at times of national crises, sparking outrage during his post-Maria visit when he feuded with San Juan Mayor Carmen Yulin Cruz and tossed out paper towels to victims like he was shooting baskets. In recent days, Trump publicly lauded his own administration's response to Maria and privately groused over storm-related news coverage that he saw as overly focused on Puerto Rico, according to two Republican advisers close to the White House who weren't authorized to speak publicly and talked to The Associated Press on Thursday on condition of anonymity.
The White House defended the president on Thursday.
"As the President said, every death from Hurricane Maria is a horror. Before, during, and after the two massive hurricanes, the President directed the entire Administration to provide unprecedented support to Puerto Rico," White House spokesman Hogan Gidley said. "President Trump was responding to the liberal media and the San Juan Mayor who sadly, have tried to exploit the devastation by pushing out a constant stream of misinformation and false accusations."
Gidley cited studies that attributed fewer than 3,000 deaths on the island to Maria.
Rep. Elijah E. Cummings, ranking Democrat on the House Committee on Oversight and Government Reform, sent a letter to the GOP majority Thursday calling for the panel to request documents from the White House relating to the Puerto Rico response.
Trump maintained as recently as Tuesday that his response to the storm was an "incredible unsung success."
Trump's latest grumbling on the Maria death toll comes as Tropical Storm Florence inundates the Carolinas, killing at least four people.
___
Associated Press reporters Colleen Long, Lauran Neergaard, Ashley Thomas and Alan Fram in Washington, Danica Coto in San Juan, Puerto Rico, Michael Weissenstein in Havana, Cuba, and Jennifer Peltz in New York contributed to this report.