US, allies band together to expel Russians over spy case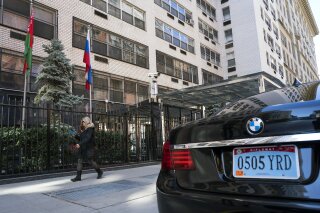 WASHINGTON (AP) — From Washington to Warsaw, Western nations banded together Monday to expel more than 100 Russian diplomats they accused of being spies, punishing Moscow for its alleged poisoning of an ex-intelligence officer in Britain.
President Donald Trump, under constant political heat for his reluctance to challenge Russia, ordered 60 of its diplomats out of the U.S. — all of them spies, the White House said. The United States called it the largest expulsion of Russian spies in American history, and also shuttered Russia's consulate in Seattle, deeming it a counterintelligence threat.
All told, at least 21 countries have ousted more than 135 Russians, including 23 kicked out earlier by the U.K.
"Together we have sent a message that we will not tolerate Russia's continued attempts to flout international law and undermine our values," British Prime Minister Theresa May told Parliament.
The American moves illustrated an increased willingness by Trump's administration to push back on the Kremlin, even as the president himself steadfastly avoids challenging Russian President Vladimir Putin personally or directly. Less than a week ago, Trump congratulated Putin for his re-election but didn't raise the March 4 spy poisoning, Russia's alleged election-meddling in the U.S. or its own tainted voting process, prompting dismayed critiques even from Trump's fellow Republicans.
In a choreographed show of trans-Atlantic unity, the U.S. and European allies carefully timed their announcements for maximum effect.
Within a few hours, at least 16 European Union nations expelled Russians, with more likely to follow. Germany, Poland and France each said it planned to boot four Russian diplomats, the Czech Republic and Lithuania ousted three and Italy, two. Canada also took action, kicking out four Russians and denying three who have applied to enter the country.
The list included nations in Russia's backyard that have perhaps the most at stake. Ukraine, a non-EU country with its own conflicts with Moscow, was expelling 13 Russians. All three Baltic states said they would make diplomats leave.
Almost all of the countries said publicly that those being expelled were actually Russians intelligence operatives working under diplomatic cover.
Moscow threatened retaliation of the tit-for-tat variety, suggesting it would kick out an equal number of foreign diplomats. Russia's Embassy in Washington responded to the Seattle consulate closure by asking its Twitter followers to "vote" which U.S. consulate should be shuttered in turn: St. Petersburg, Yekaterinburg or Vladivostok.
"This is an attempt on the lives of Russian citizens on the territory of Great Britain," Russia's Foreign Ministry said. "It goes without saying that this unfriendly move by this group of countries will not go unnoticed."
Yet it was unclear whether the expulsions, which may be inconvenient for Moscow but don't take aim at its economy, would be enough to alter Putin's behavior.
"There is no actual deterrence and squeeze," said James Nixey, head of the Russia program at think-tank Chatham House. "There is, so far, no cyber-response, no financial response."
Still, the dueling allegations added to a serious escalation of tension and distrust between Russia and the West, intensified most recently by a bizarre poisoning this month that evoked the spy-vs.-spy rivalries of the Cold War.
Britain has accused Moscow of using the Soviet-developed nerve agent Novichok to poison Sergei Skripal, a former Russian military intelligence officer convicted of spying for the U.K., and his daughter, Yulia, on British soil. The two remain in critical condition and unconscious. The U.S., France and Germany have agreed it's highly likely Russia was responsible. Russia has denied responsibility, while accusing Britain of leading a global charge against it without proof.
The expulsions came with a chorus of condemnation for the Kremlin — for the poisoning, Russian spying and other Western grievances. Poland's Foreign Minister, Jacek Czaputowicz, called it "the right response to the unfriendly, aggressive actions of Russia." In the Czech Republic, where Russian officials have claimed the poison may have originated, Prime Minister Andrej Babis dismissed that allegation as "an utter lie."
And the United States warned of an "unacceptably high" number of Russian spies in the U.S., describing them as a national security threat. Among the 60 Russians expelled were a dozen posted to Russia's mission to the United Nations who senior U.S. officials said were engaged in "aggressive collection" of intelligence on American soil.
"When we see these espionage tactics that are taking place right here at the heart of the U.N., we can't have that," said Nikki Haley, Trump's envoy to the U.N.
In Washington, Russia's ambassador was summoned early in the morning and told his diplomats have one week to leave the U.S. and must evacuate the Consulate General in Seattle by April 2. Located on the 25th floor of a large, downtown office building, the consulate is a particular counter-intelligence concern because of its close proximity to a U.S. submarine base and a Boeing Co. facility, said U.S. officials.
The officials said they estimated Russia had roughly 100 intelligence officials in the U.S., suggesting that dozens will remain even after the 60 are expelled. The officials weren't authorized to be identified by name and spoke on condition of anonymity.
Trump has repeatedly wavered on whether he believes Moscow was behind the election meddling, despite assessments from U.S. intelligence agencies and the special counsel investigation into Russia's actions and potential collusion with Trump's campaign. But this month, Trump's administration hit Russians with its first sanctions for the campaign interference, and also accused Moscow of an elaborate plot to hack America's electric grid and infrastructure.
Even lawmakers who have scolded Trump the loudest for failing to confront Russia for spying and election meddling praised the expulsions Monday. Sen. John McCain, R-Ariz., called it "a welcome step forward in holding Putin accountable."
The U.S. has kicked out scores of Russians before, though never a group this size. In 1986 the Reagan administration expelled 55, and in 2001 the George W. Bush administration ejected 50 Russians in retaliation for the Robert Hanssen spy case.
___
Lawless reported from London. Associated Press writers Matthew Lee in Washington, Chris Grygiel in Seattle, Vladimir Isachenkov in Moscow, Raf Casert in Brussels, Jennifer Peltz at the United Nations, Sylvia Corbett in Paris, Monika Scislowska in Warsaw and Rob Gillies in Toronto contributed to this report.