Flooding: Dam breach at Duke plant; coal ash could spill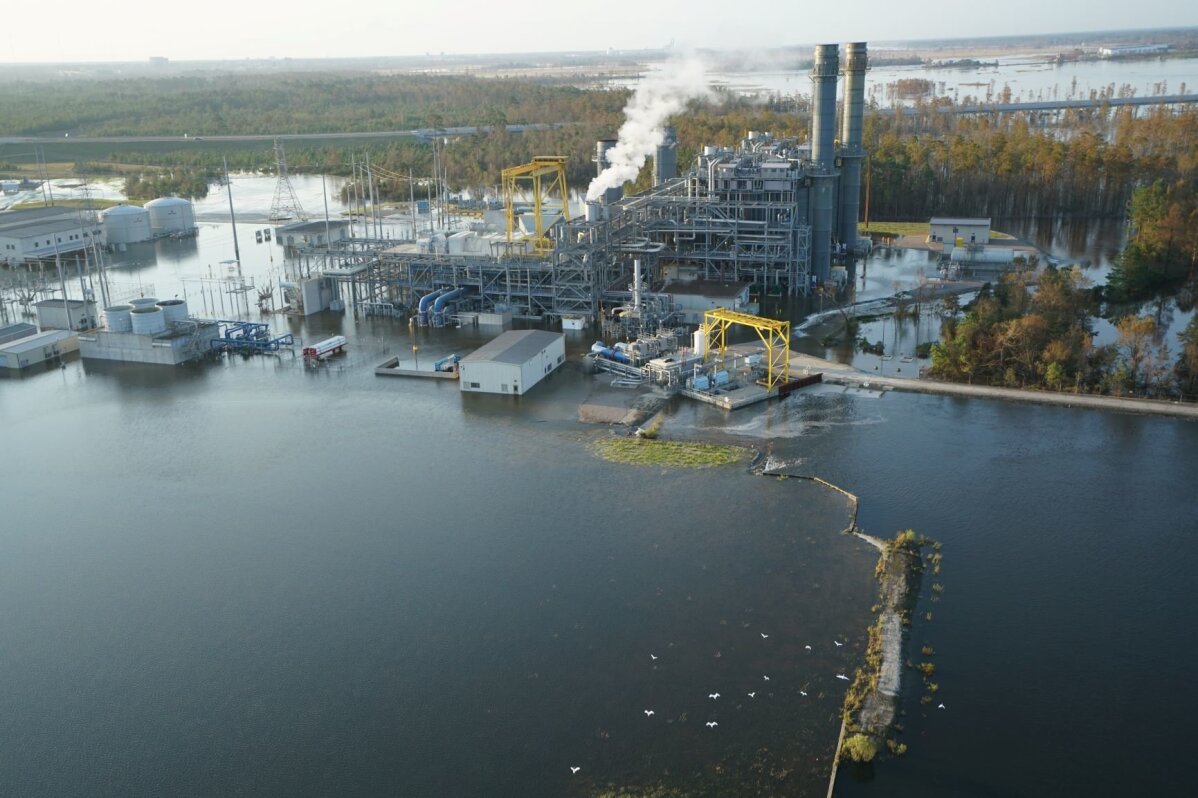 1 of 7

|
In this Sept. 21, 2018, photo released by Duke Energy, the L.V. Sutton Plant near Wilmington, N.C., is inundated by flood waters from the nearby Cape Fear River, triggering a shutdown and the evacuation of employees. Floodwaters also breached a dam at the electricity generating plant on Friday and overtopped a coal ash dump, potentially spilling toxic materials into the river. (Duke Energy via AP)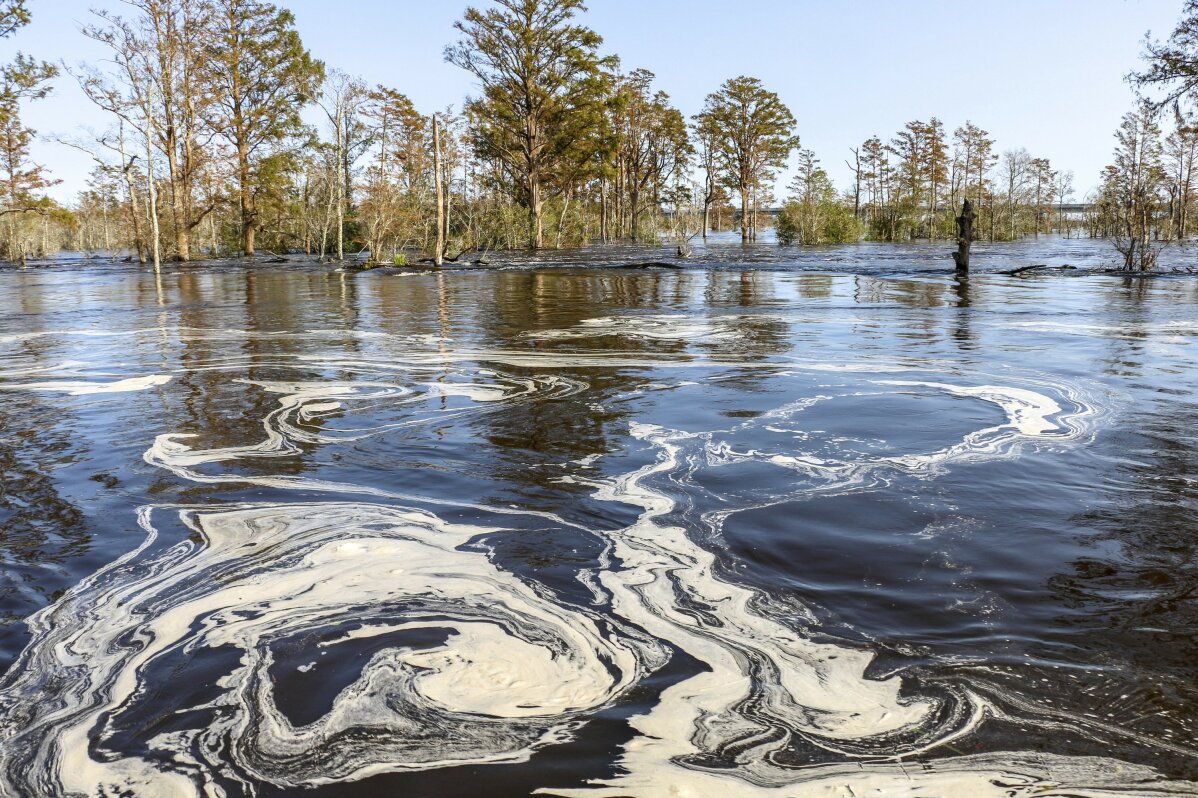 2 of 7

|
In this Sept. 21, 2018, photo provided by Earthjustice, an environmental advocacy group, gray muck floats on top of the Cape Fear River near the L.V. Sutton Plant near Wilmington, N.C. Floodwaters breached a dam at the electricity generating plant on Friday and overtopped a coal ash dump, potentially spilling toxic materials into the river. (Peter Harrison/Earthjustice via AP)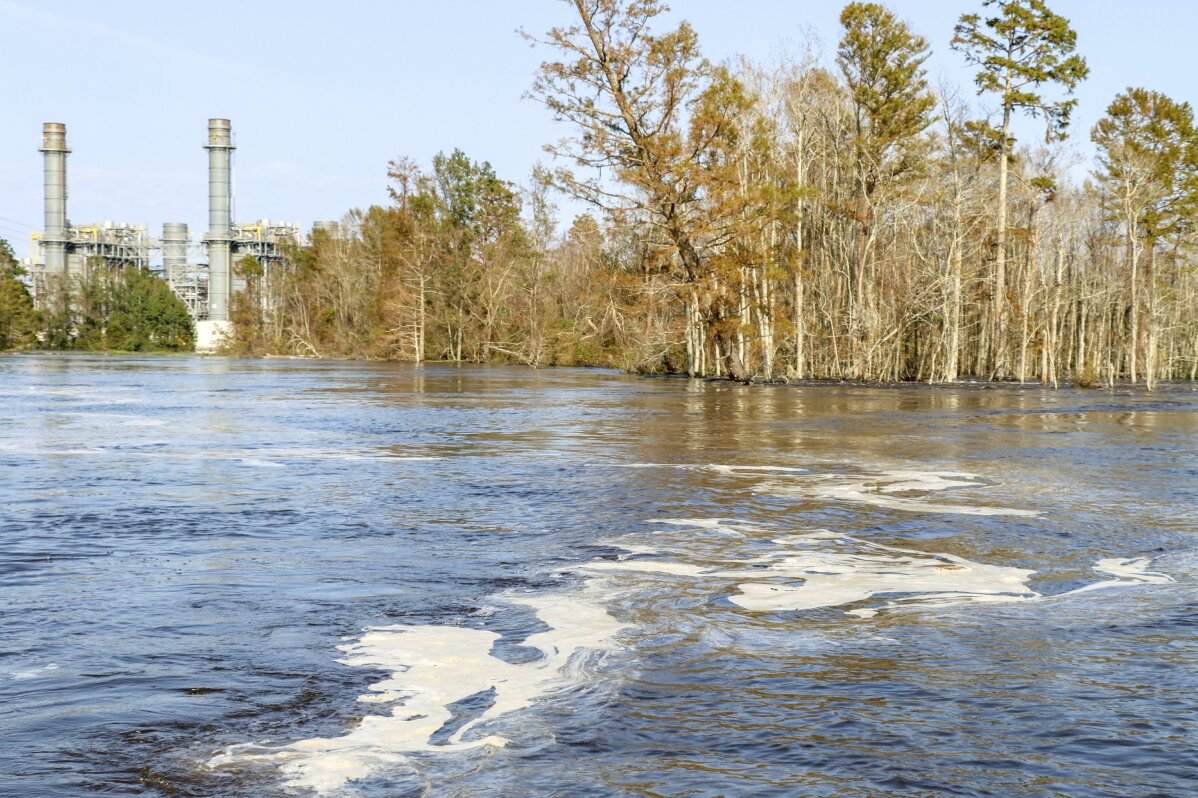 3 of 7

|
In this Sept. 21, 2018, photo provided by Earthjustice, an environmental advocacy group, gray muck floats on top of the Cape Fear River near the L.V. Sutton Plant near Wilmington, N.C. Floodwaters breached a dam at the electricity generating plant on Friday and overtopped a coal ash dump, potentially spilling toxic materials into the river. (Peter Harrison/Earthjustice via AP)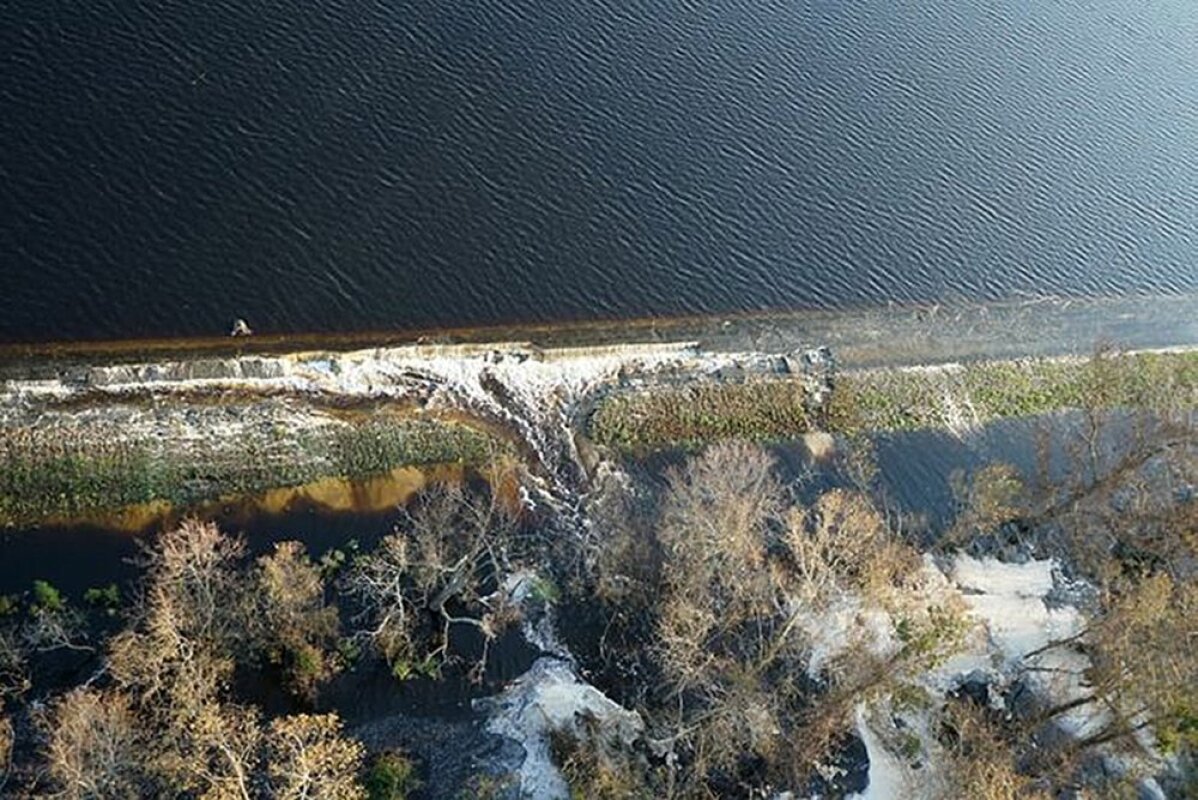 4 of 7

|
In this photo released Friday, Sept. 21, 2018, by Duke Energy, Gray material that Duke Energy characterized as lightweight coal combustion byproducts could be seen Friday floating on the top of the lake, near Wilmington, N.C. The ash left over when coal is burned to generate electricity coal ash contains an array of components, including mercury, lead, arsenic and other toxic heavy metals. The inundated basin contains at the plant 400,000 cubic yards of ash.(Duke Energy via AP)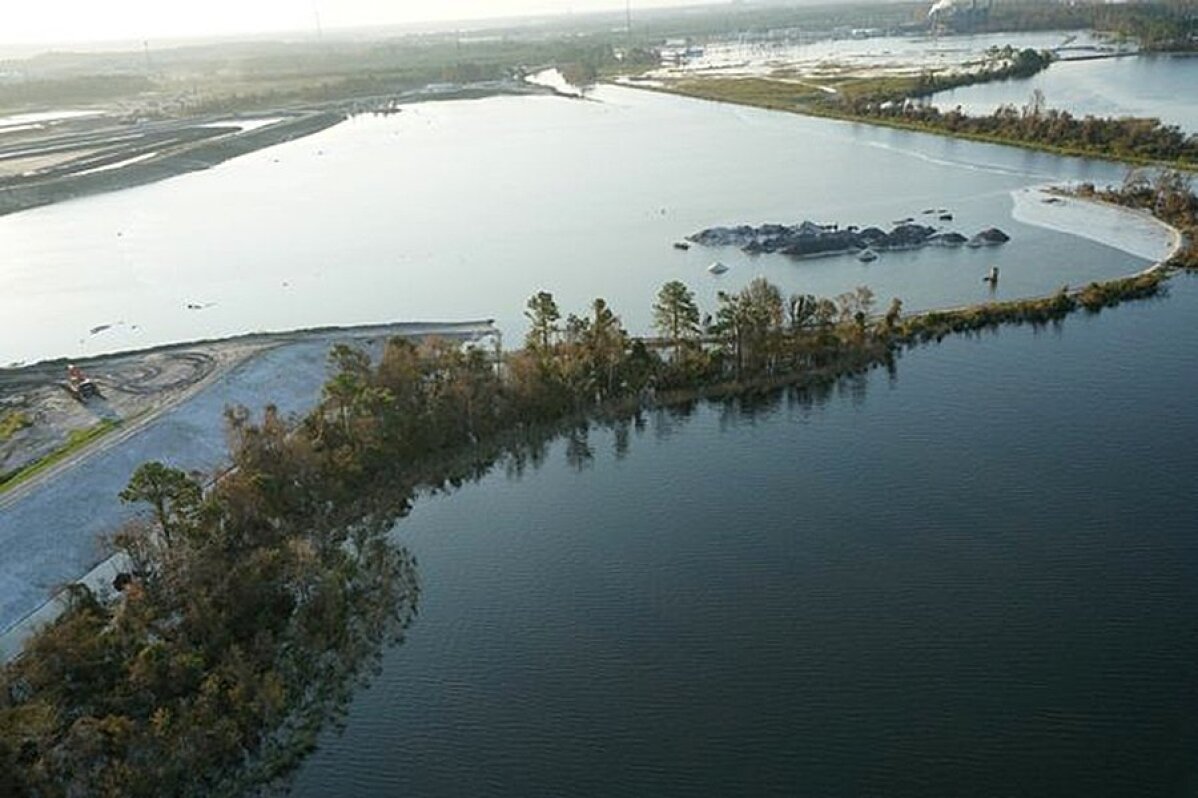 5 of 7

|
In this photo released by Duke Energy, The Sutton 1971 coal ash basin is seen Sept. 21, 2018, near Wilmington, N.C. Duke spokeswoman Paige Sheehan said Friday that floodwaters continue to overtop an earthen dike at the north side of Sutton Lake, a 1,100-acre (445-hectare) reservoir at the L.V. Sutton Power Station. (Duke Energy via AP)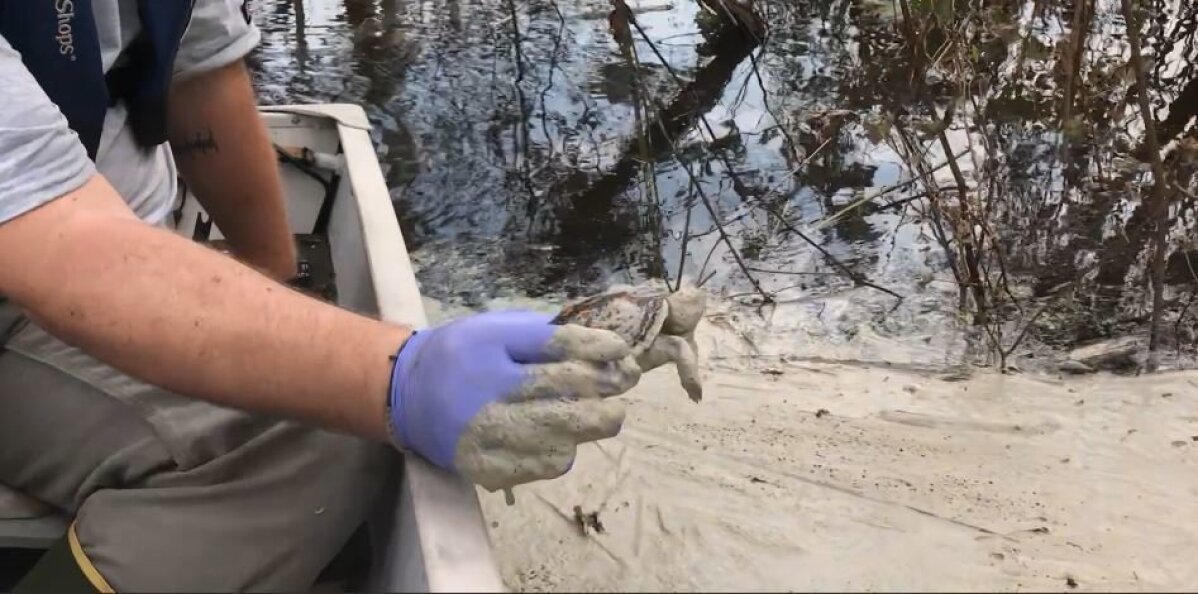 6 of 7

|
In this screen grab from a Sept. 21, 2018, video provided to The Associated Press by Earthjustice, an environmental advocacy group, a turtle is plucked from gray muck along the Cape Fear River near the L.V. Sutton Plant near Wilmington, N.C. Floodwaters breached a dam at the electricity generating plant on Friday and overtopped a coal ash dump, potentially spilling toxic materials into the river. (Peter Harrison/Earthjustice via AP)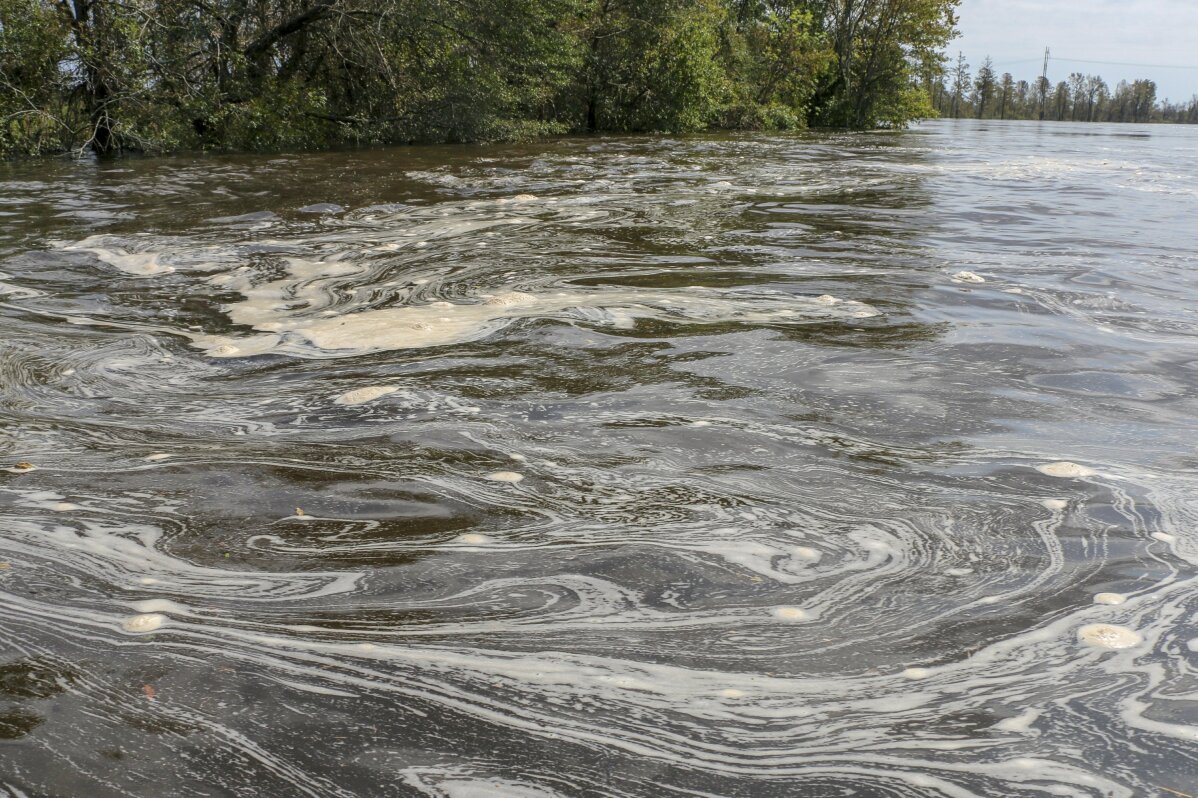 7 of 7

|
In this Sept. 21, 2018, photo provided by Earthjustice, an environmental advocacy group, gray muck floats on top of the Cape Fear River near the L.V. Sutton Plant near Wilmington, N.C. Floodwaters breached a dam at the electricity generating plant on Friday and overtopped a coal ash dump, potentially spilling toxic materials into the river. (Peter Harrison/Earthjustice via AP)
Flooding: Dam breach at Duke plant; coal ash could spill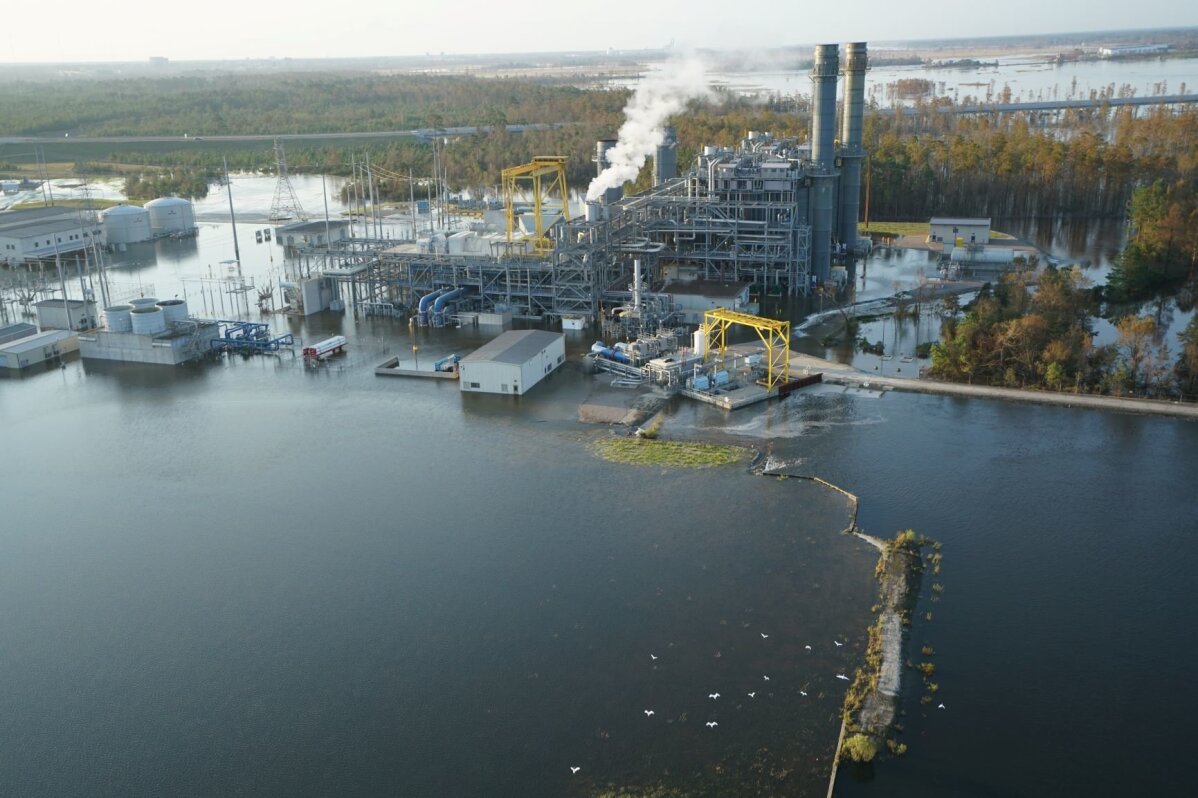 1 of 7

|
In this Sept. 21, 2018, photo released by Duke Energy, the L.V. Sutton Plant near Wilmington, N.C., is inundated by flood waters from the nearby Cape Fear River, triggering a shutdown and the evacuation of employees. Floodwaters also breached a dam at the electricity generating plant on Friday and overtopped a coal ash dump, potentially spilling toxic materials into the river. (Duke Energy via AP)
1 of 7
In this Sept. 21, 2018, photo released by Duke Energy, the L.V. Sutton Plant near Wilmington, N.C., is inundated by flood waters from the nearby Cape Fear River, triggering a shutdown and the evacuation of employees. Floodwaters also breached a dam at the electricity generating plant on Friday and overtopped a coal ash dump, potentially spilling toxic materials into the river. (Duke Energy via AP)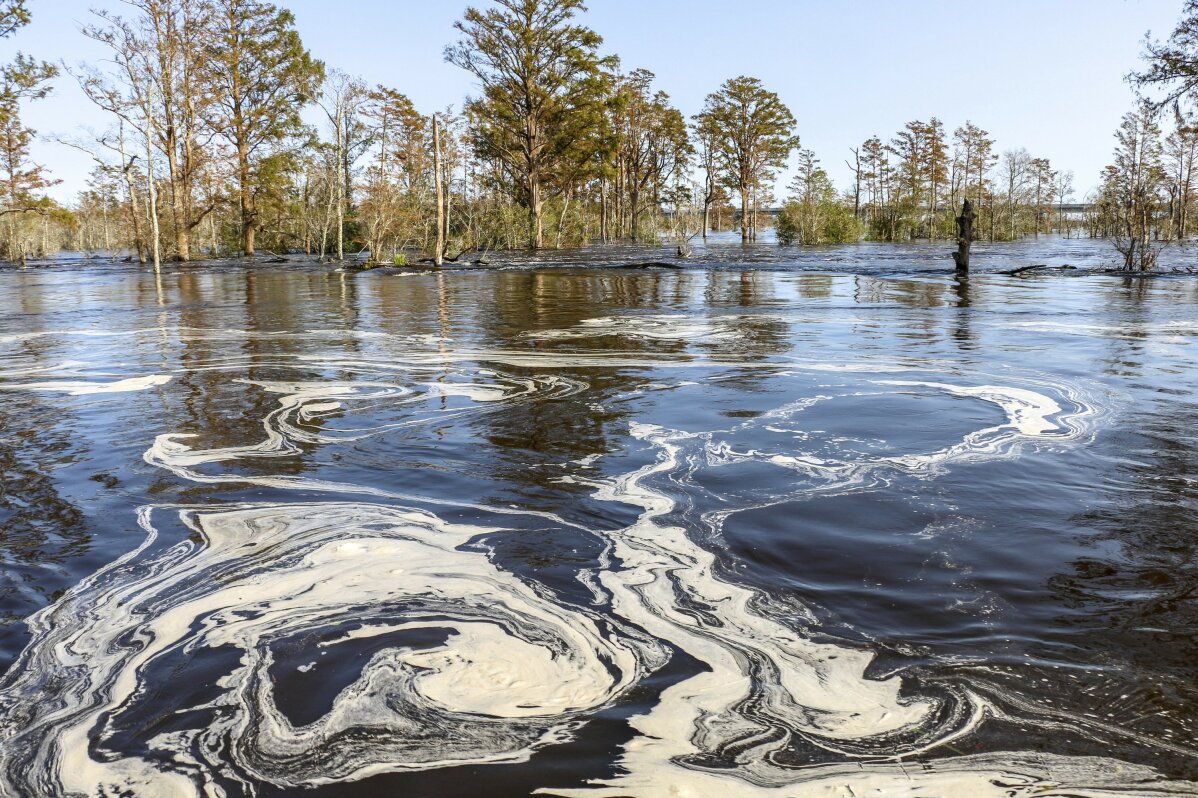 2 of 7

|
In this Sept. 21, 2018, photo provided by Earthjustice, an environmental advocacy group, gray muck floats on top of the Cape Fear River near the L.V. Sutton Plant near Wilmington, N.C. Floodwaters breached a dam at the electricity generating plant on Friday and overtopped a coal ash dump, potentially spilling toxic materials into the river. (Peter Harrison/Earthjustice via AP)
2 of 7
In this Sept. 21, 2018, photo provided by Earthjustice, an environmental advocacy group, gray muck floats on top of the Cape Fear River near the L.V. Sutton Plant near Wilmington, N.C. Floodwaters breached a dam at the electricity generating plant on Friday and overtopped a coal ash dump, potentially spilling toxic materials into the river. (Peter Harrison/Earthjustice via AP)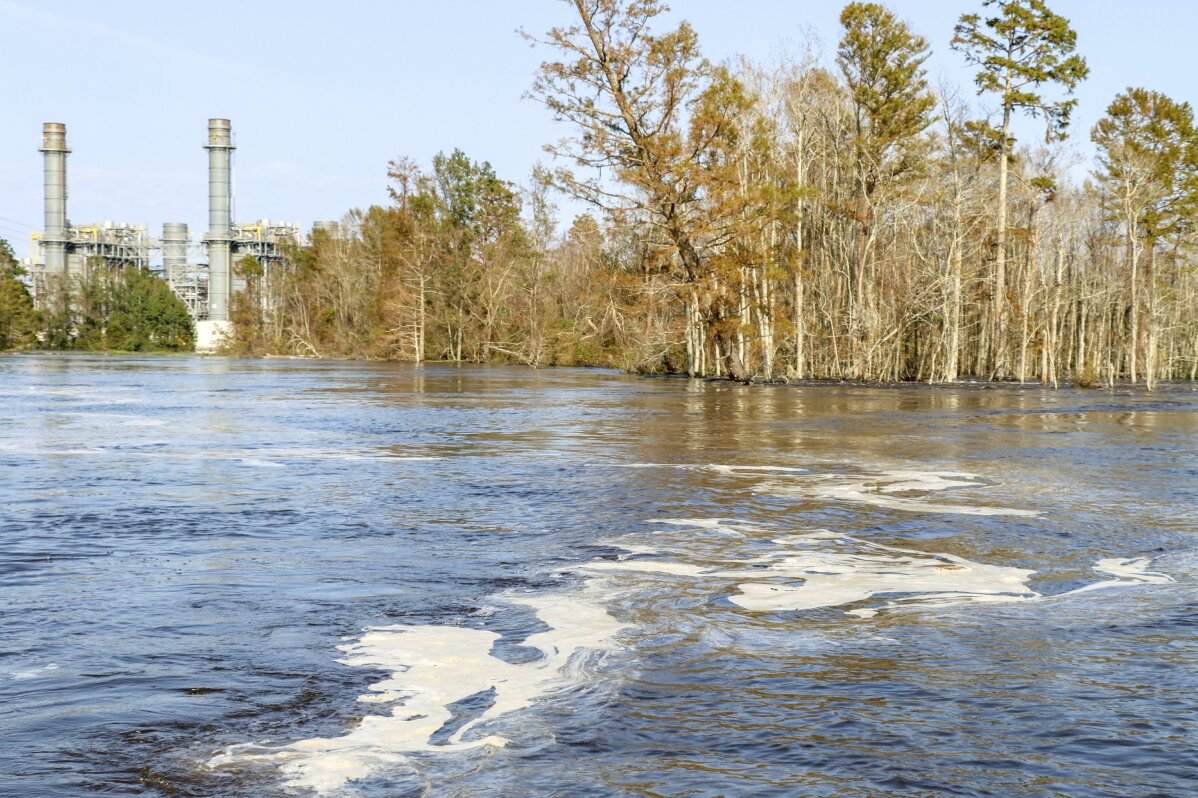 3 of 7

|
In this Sept. 21, 2018, photo provided by Earthjustice, an environmental advocacy group, gray muck floats on top of the Cape Fear River near the L.V. Sutton Plant near Wilmington, N.C. Floodwaters breached a dam at the electricity generating plant on Friday and overtopped a coal ash dump, potentially spilling toxic materials into the river. (Peter Harrison/Earthjustice via AP)
3 of 7
In this Sept. 21, 2018, photo provided by Earthjustice, an environmental advocacy group, gray muck floats on top of the Cape Fear River near the L.V. Sutton Plant near Wilmington, N.C. Floodwaters breached a dam at the electricity generating plant on Friday and overtopped a coal ash dump, potentially spilling toxic materials into the river. (Peter Harrison/Earthjustice via AP)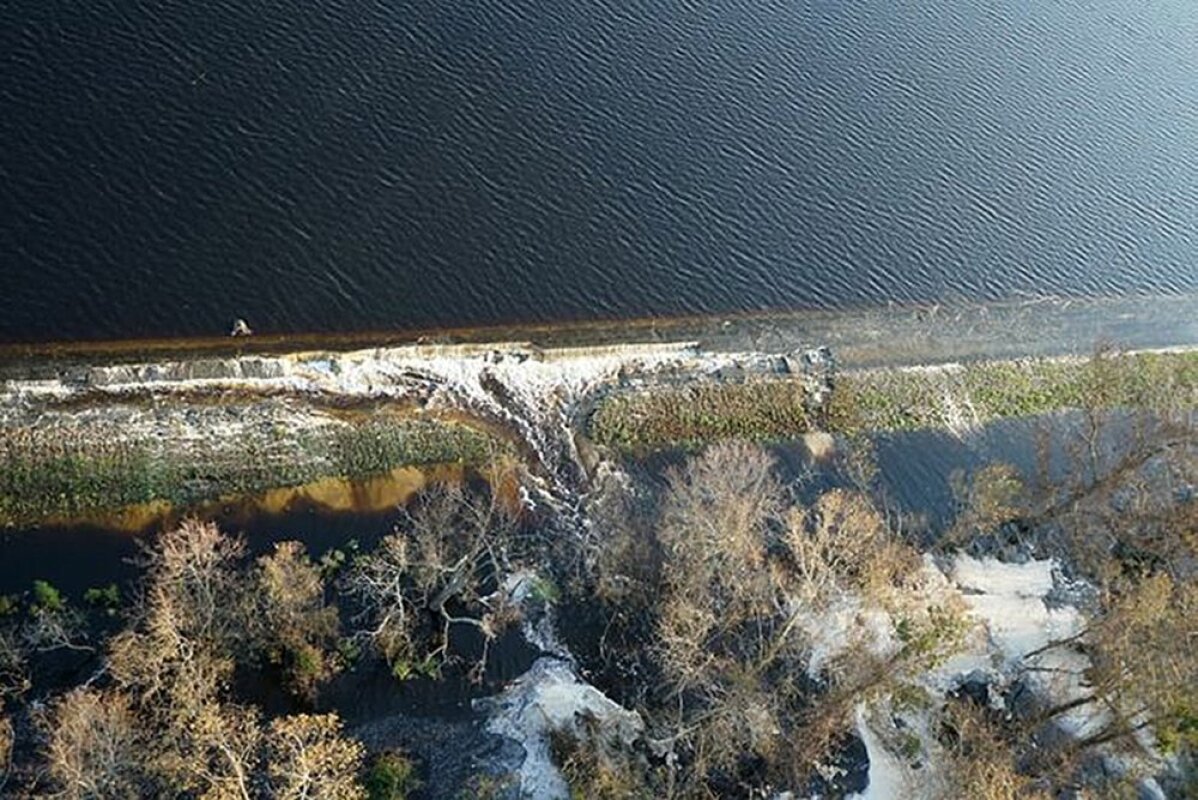 4 of 7

|
In this photo released Friday, Sept. 21, 2018, by Duke Energy, Gray material that Duke Energy characterized as lightweight coal combustion byproducts could be seen Friday floating on the top of the lake, near Wilmington, N.C. The ash left over when coal is burned to generate electricity coal ash contains an array of components, including mercury, lead, arsenic and other toxic heavy metals. The inundated basin contains at the plant 400,000 cubic yards of ash.(Duke Energy via AP)
4 of 7
In this photo released Friday, Sept. 21, 2018, by Duke Energy, Gray material that Duke Energy characterized as lightweight coal combustion byproducts could be seen Friday floating on the top of the lake, near Wilmington, N.C. The ash left over when coal is burned to generate electricity coal ash contains an array of components, including mercury, lead, arsenic and other toxic heavy metals. The inundated basin contains at the plant 400,000 cubic yards of ash.(Duke Energy via AP)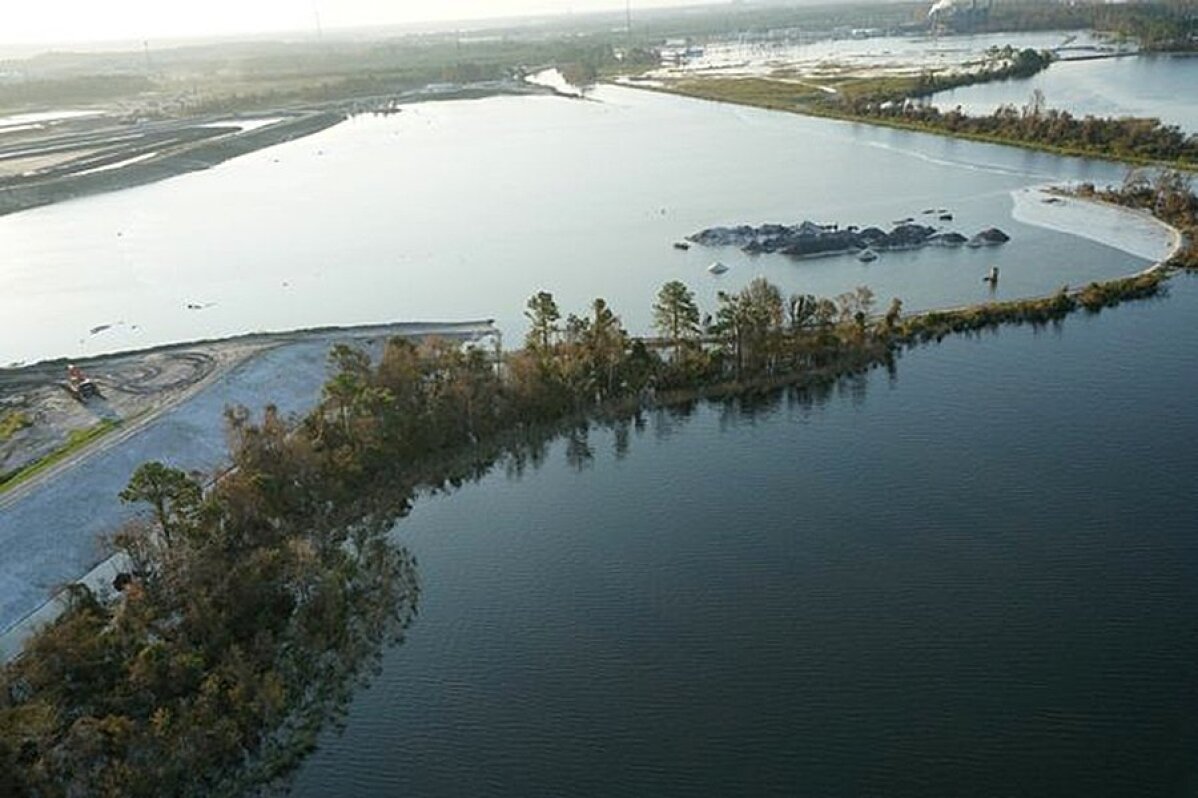 5 of 7

|
In this photo released by Duke Energy, The Sutton 1971 coal ash basin is seen Sept. 21, 2018, near Wilmington, N.C. Duke spokeswoman Paige Sheehan said Friday that floodwaters continue to overtop an earthen dike at the north side of Sutton Lake, a 1,100-acre (445-hectare) reservoir at the L.V. Sutton Power Station. (Duke Energy via AP)
5 of 7
In this photo released by Duke Energy, The Sutton 1971 coal ash basin is seen Sept. 21, 2018, near Wilmington, N.C. Duke spokeswoman Paige Sheehan said Friday that floodwaters continue to overtop an earthen dike at the north side of Sutton Lake, a 1,100-acre (445-hectare) reservoir at the L.V. Sutton Power Station. (Duke Energy via AP)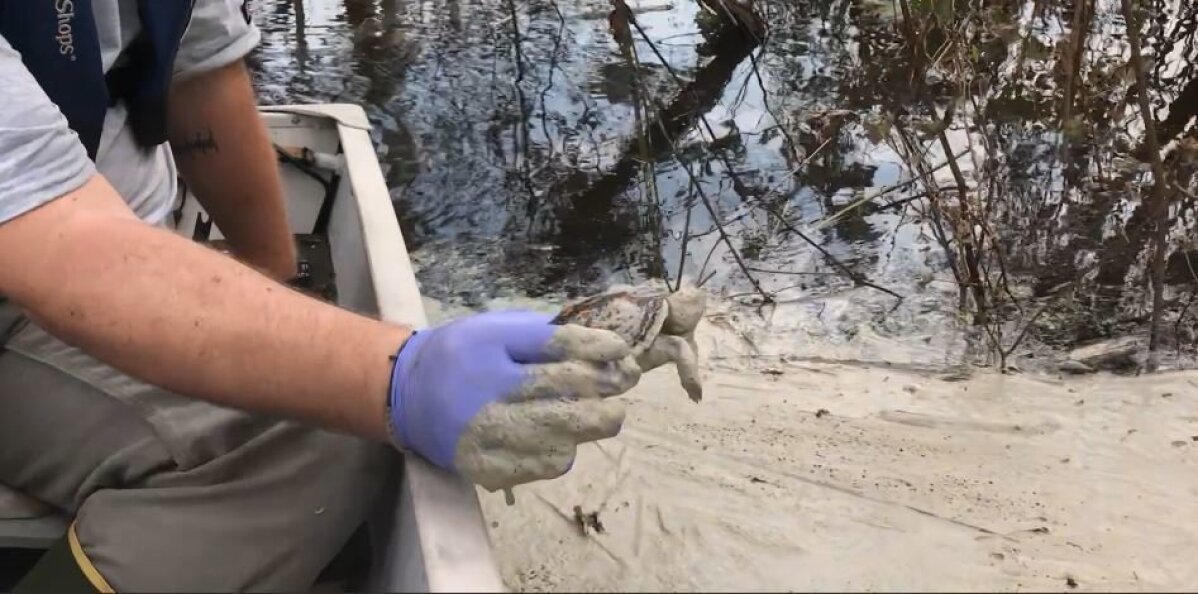 6 of 7

|
In this screen grab from a Sept. 21, 2018, video provided to The Associated Press by Earthjustice, an environmental advocacy group, a turtle is plucked from gray muck along the Cape Fear River near the L.V. Sutton Plant near Wilmington, N.C. Floodwaters breached a dam at the electricity generating plant on Friday and overtopped a coal ash dump, potentially spilling toxic materials into the river. (Peter Harrison/Earthjustice via AP)
6 of 7
In this screen grab from a Sept. 21, 2018, video provided to The Associated Press by Earthjustice, an environmental advocacy group, a turtle is plucked from gray muck along the Cape Fear River near the L.V. Sutton Plant near Wilmington, N.C. Floodwaters breached a dam at the electricity generating plant on Friday and overtopped a coal ash dump, potentially spilling toxic materials into the river. (Peter Harrison/Earthjustice via AP)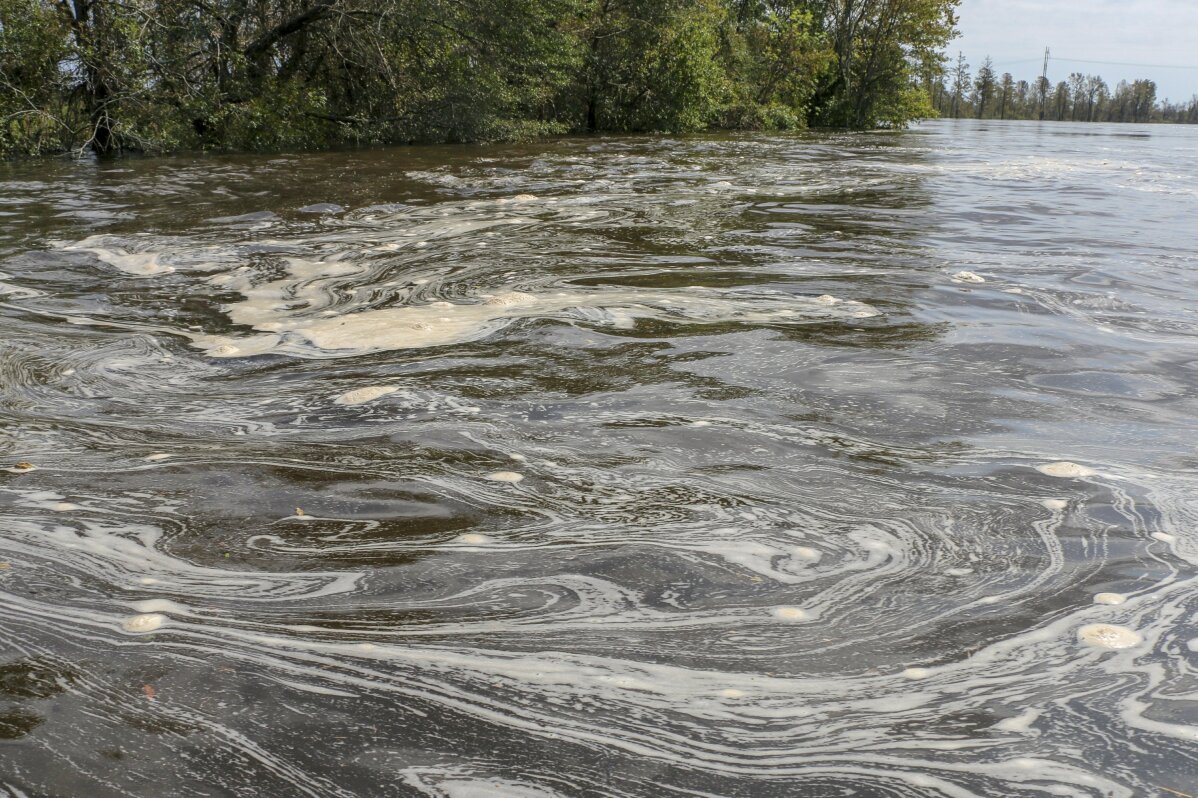 7 of 7

|
In this Sept. 21, 2018, photo provided by Earthjustice, an environmental advocacy group, gray muck floats on top of the Cape Fear River near the L.V. Sutton Plant near Wilmington, N.C. Floodwaters breached a dam at the electricity generating plant on Friday and overtopped a coal ash dump, potentially spilling toxic materials into the river. (Peter Harrison/Earthjustice via AP)
7 of 7
In this Sept. 21, 2018, photo provided by Earthjustice, an environmental advocacy group, gray muck floats on top of the Cape Fear River near the L.V. Sutton Plant near Wilmington, N.C. Floodwaters breached a dam at the electricity generating plant on Friday and overtopped a coal ash dump, potentially spilling toxic materials into the river. (Peter Harrison/Earthjustice via AP)
WILMINGTON, N.C. (AP) — Florence's floodwaters breached a dam holding back a large reservoir at a Wilmington power plant Friday, and coal ash from an adjacent dump could be flowing into the nearby Cape Fear River.
Duke Energy spokeswoman Paige Sheehan said the utility doesn't believe the breach at the L.V. Sutton Power Station poses a significant threat of increased flooding to nearby communities.
Floodwaters breached several points overnight in the earthen dam at Sutton Lake, the plant's 1,100-acre (445-hectare) reservoir. Lake water then flooded one of three large coal ash dumps lining the lakeshore.
Sheehan said the company can't rule out that ash might be escaping the flooded dump into the river.
No environmental regulators were at the scene as of sundown Friday, with officials citing unsafe conditions.
The ash left over when coal is burned to generate electricity contains mercury, lead, arsenic and other toxic heavy metals. Duke said Friday the inundated basin at the plant contains about 400,000 cubic yards (305,820 cubic meters) of ash.
The area received more than 30 inches (75 centimeters) of rain from former Hurricane Florence, with the Cape Fear River still rising Friday and expected to crest Sunday and remain at flood stage through early next week.
Gray material the company characterized as "coal combustion byproducts" could be seen floating in the lake and river.
Earthjustice, an environmental advocacy group with a boat in the river, provided The Associated Press with images Friday showing wide gray slicks in the water. A team member plucked a turtle from the muck and rinsed it off.
"Any big spill like this raises concerns about the impacts on the estuary ecosystem in the lower Cape Fear River," said Pete Harrison, a staff attorney with Earthjustice on the boat. "This is Duke's third coal ash spill in the aftermath of Hurricane Florence, and it looks like it's the biggest yet."
North Carolina's top environmental regulator said the possible environmental harm isn't yet known. No state inspectors had arrived by late Friday, though officials said they would be there as soon as conditions are considered safe for personnel to navigate the river and be onsite.
"What we don't know at this point is if any coal ash has filtered into the Cape Fear River," said Mike Regan, secretary for the state Department of Environmental Quality, at a news conference in Raleigh. "We plan to conduct flyovers."
Environmental Protection Agency regional administrator Trey Glenn said his staff was monitoring the situation at Sutton from the state Emergency Operations Center in Raleigh, about 150 miles (240 kilometers) northwest of the Sutton plant. He said dozens of EPA staff were scattered throughout the region impacted by Florence, checking on toxic waste sites and oil storage facilities.
"EPA serves in a support role to the impacted states and has offered assistance to North Carolina to help them respond to the reported Sutton coal ash incident," Glenn said. "As of this evening, North Carolina has not requested additional support."
With no regulators at the Sutton plant, it was left to Duke employees to collect water samples that would be tested in the company's in-house lab. Environmental groups also collected samples from the river that would be sent to a private lab.
Security personnel for Duke blocked access Friday to Sutton Lake Road, leading to a public dock on the reservoir, a popular boating and fishing site.
Duke denied a request for an Associated Press reporter to cross the barricade, saying the lake situation "continues to change" and is "not safe."
Sutton Lake is the former cooling pond for a coal-fired plant Duke retired in 2013 and replaced with a new generating station running off natural gas. Duke said that power plant was shut down overnight and all employees safely evacuated.
The breach at the Wilmington site is separate from last weekend's reported rupture at a nearby coal ash landfill, which spilled enough material to fill 180 dump trucks.
Duke's ash waste management has faced intense scrutiny since a drainage pipe collapsed under a waste pit at an old plant in Eden in 2014, triggering a massive spill that coated miles (kilometers) of the Dan River in gray sludge. The utility later agreed to plead guilty to nine Clean Water Act violations and pay $102 million in fines and restitution for illegally discharging pollution from ash dumps at five North Carolina power plants. It plans to close all its ash dumps by 2029.
At the separate Duke plant near Goldsboro, three old coal-ash dumps capped with soil and trees were underwater Thursday after the Neuse River flooded.
Staff from the environmental group Waterkeeper Alliance visited the flooded dumps at the H.F. Lee Power Plant by boat Wednesday, took photographs and collected samples of gray sludge washing into the floodwaters.
State environmental regulators visited the site Thursday, but said they were unable to make a full assessment because of high water levels. The Duke spokeswoman Sheehan said any coal ash release at the Goldsboro site appeared "minimal."
Meanwhile, South Carolina's state-owned utility said it expected floodwaters to enter a coal ash pond at one of its closed power plants. Santee Cooper spokeswoman Mollie Gore said the overtopping of an ash basin at the Granger plant near Conway should not be environmentally significant.
Gore said nearly all the ash has been removed from the basin and water pumped in to prevent the dike from breaking. The company had placed a 2 ½-foot (72-centimeter) high inflatable berm around the top of a second pond that has more coal ash in it. She estimates 200,000 tons (181 million kilograms) of ash are in a corner of the pond furthest from the rising Waccamaw River.
___
Associated Press reporter Jeffrey Collins contributed from Columbia, S.C.
___
Biesecker reported from Washington. Follow him at http://twitter.com/mbieseck