China confirms 2,700 cases of virus, 40 counted elsewhere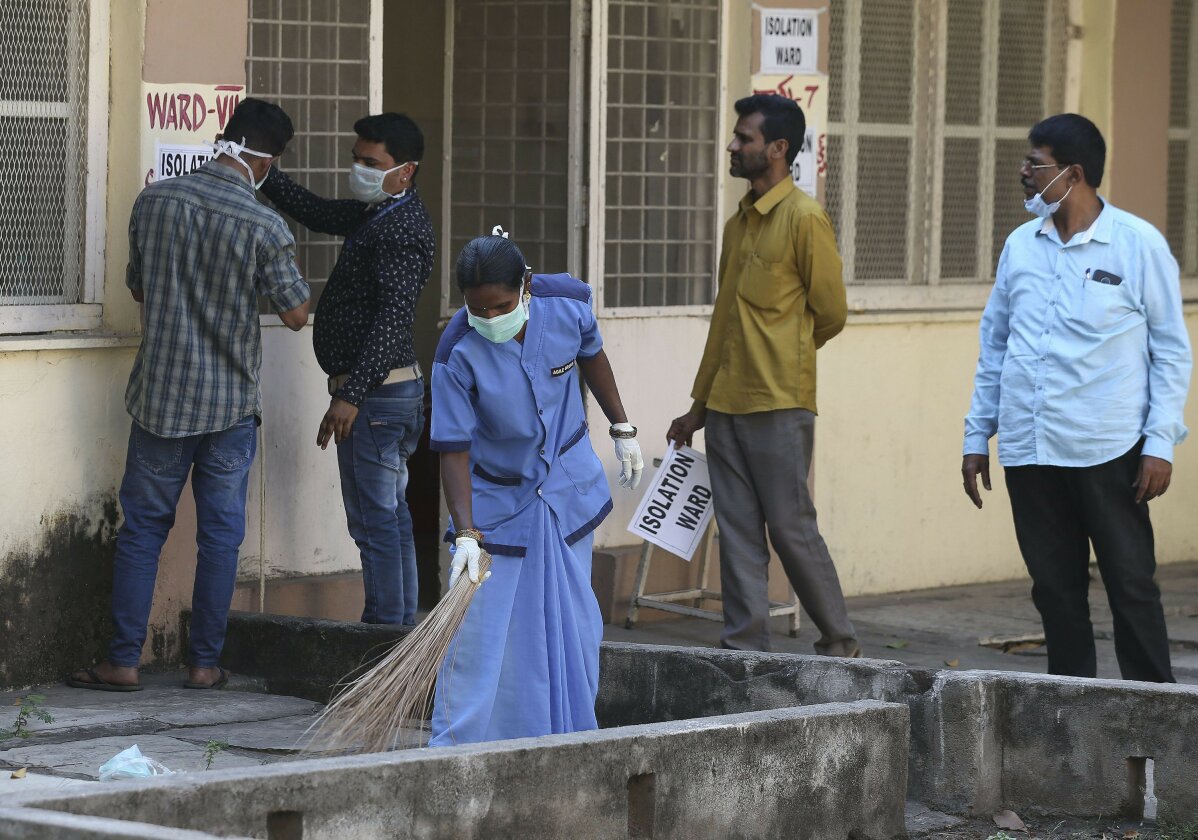 1 of 18

|
Indian hospital staff prepare an isolation ward to keep people returning from China under observation at the Government Fever Hospital in Hyderabad, India, Monday, Jan. 27, 2020. Countries with citizens in the central Chinese city that's the epicenter of a viral outbreak are planning evacuations as the number of illnesses grow and China takes drastic measures to try to stop the spread of the virus. (AP Photo/Mahesh Kumar A.)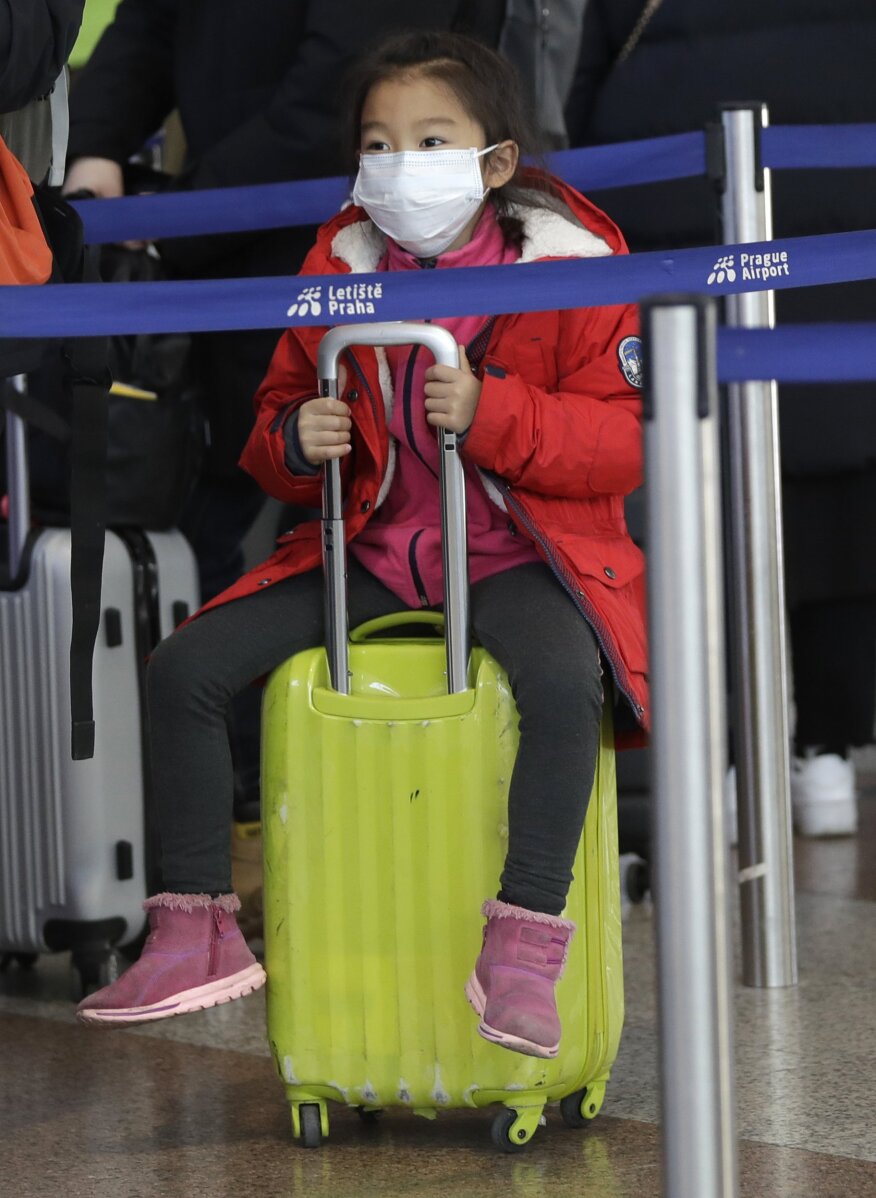 2 of 18

|
A girl wearing a mask sits on a suitcase while waiting to check-in to a flight to Shanghai at the Vaclav Havel International Airport in Prague, Czech Republic, Monday, Jan. 27, 2020. Prague's international airport is launching an information campaign for travellers who develop symptoms possibly linked to a new coronavirus illness. (AP Photo/Petr David Josek)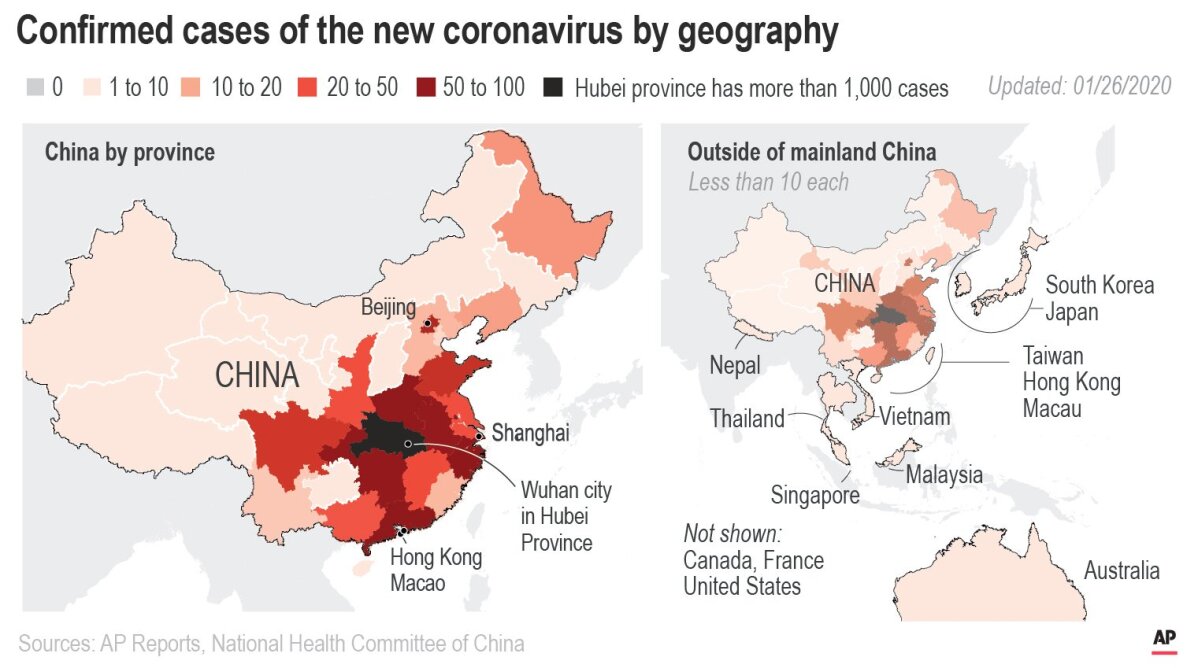 3 of 18

|
UPDATES titles in each map; map highlights areas with cases of the new coronavirus.;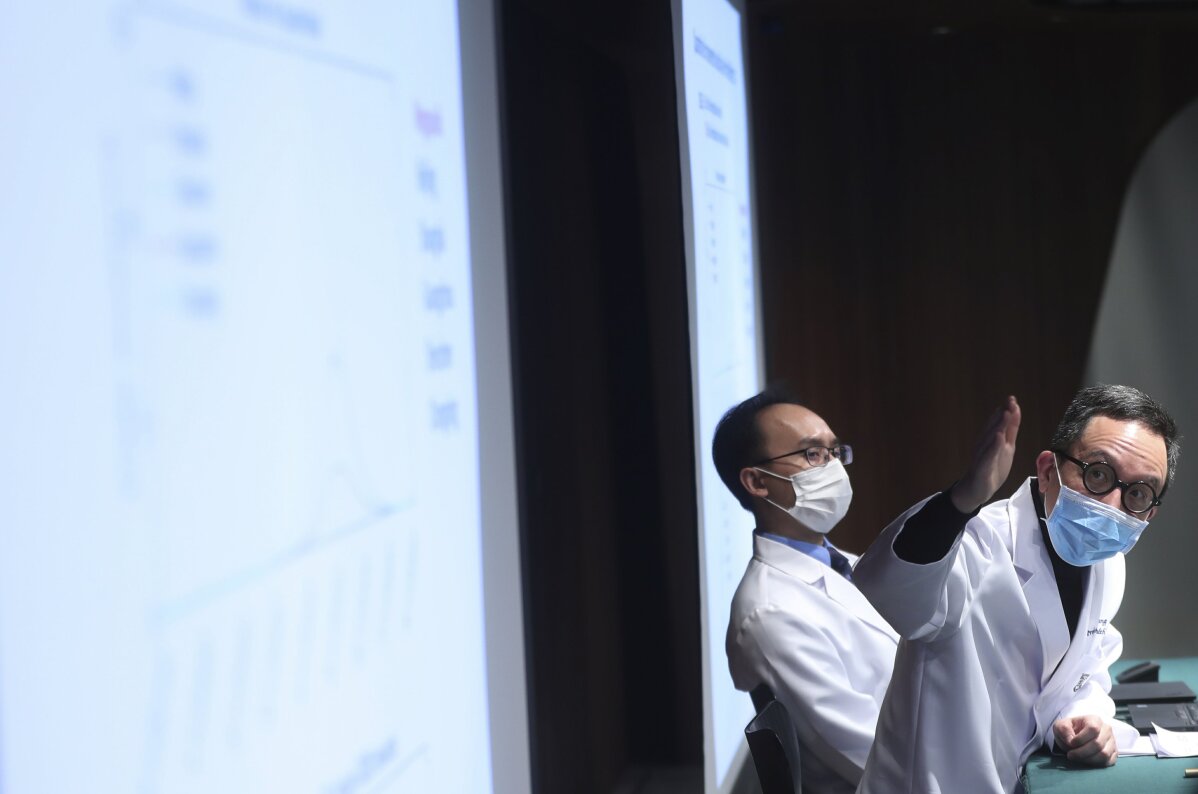 4 of 18

|
Chair Professor of public Health Medicine Gabriel Leung talks to journalists during a press conference in Hong Kong, Monday, Jan. 27, 2020. Hong Kong announced it would bar entry to visitors from the mainland province at the center of the outbreak. Travel agencies were ordered to cancel group tours nationwide following a warning the virus's ability to spread was increasing.(AP Photo/Achmad Ibrahim)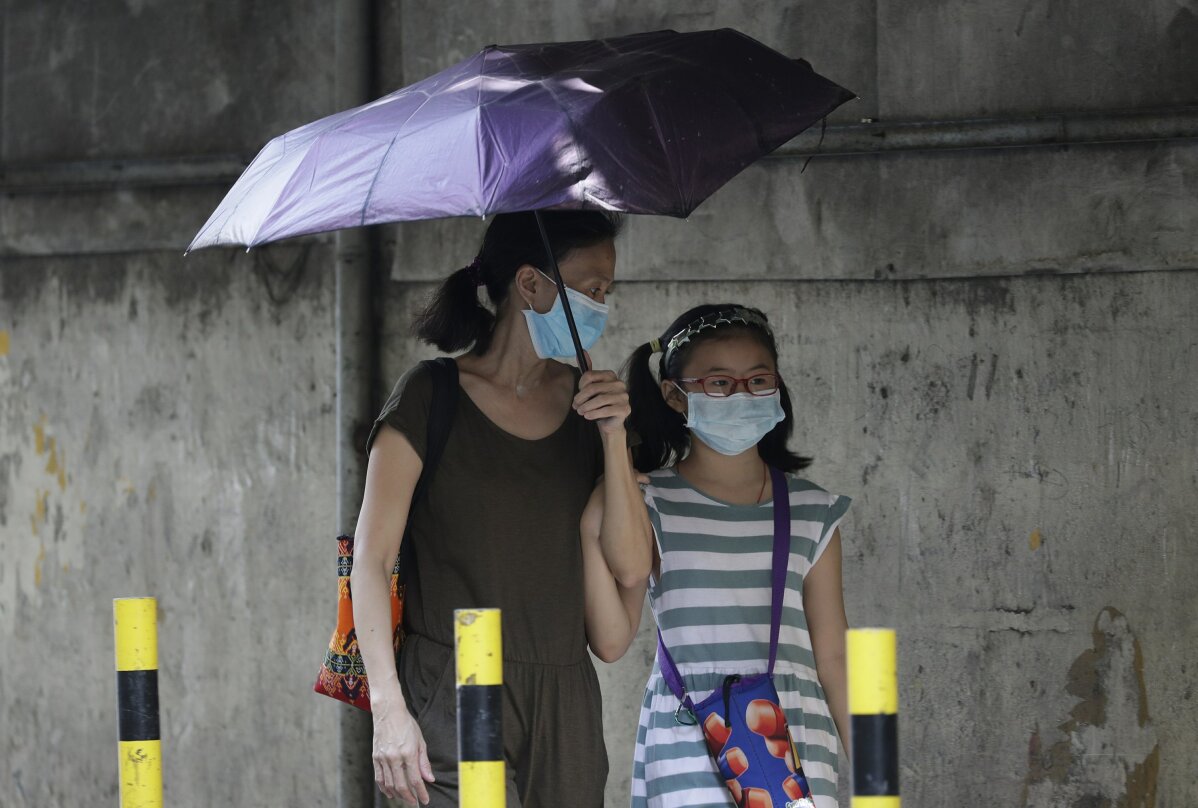 5 of 18

|
People wear masks as they pass by a Chinese-Filipino school that suspended classes in Manila, Philippines on Monday, Jan. 27, 2020. Several Chinese-Filipino schools in the area suspended classes as a precautionary measure in the spread of the new viral disease after the Chinese New Year holiday. The Philippines has no reported case of the new virus till now. (AP Photo/Aaron Favila)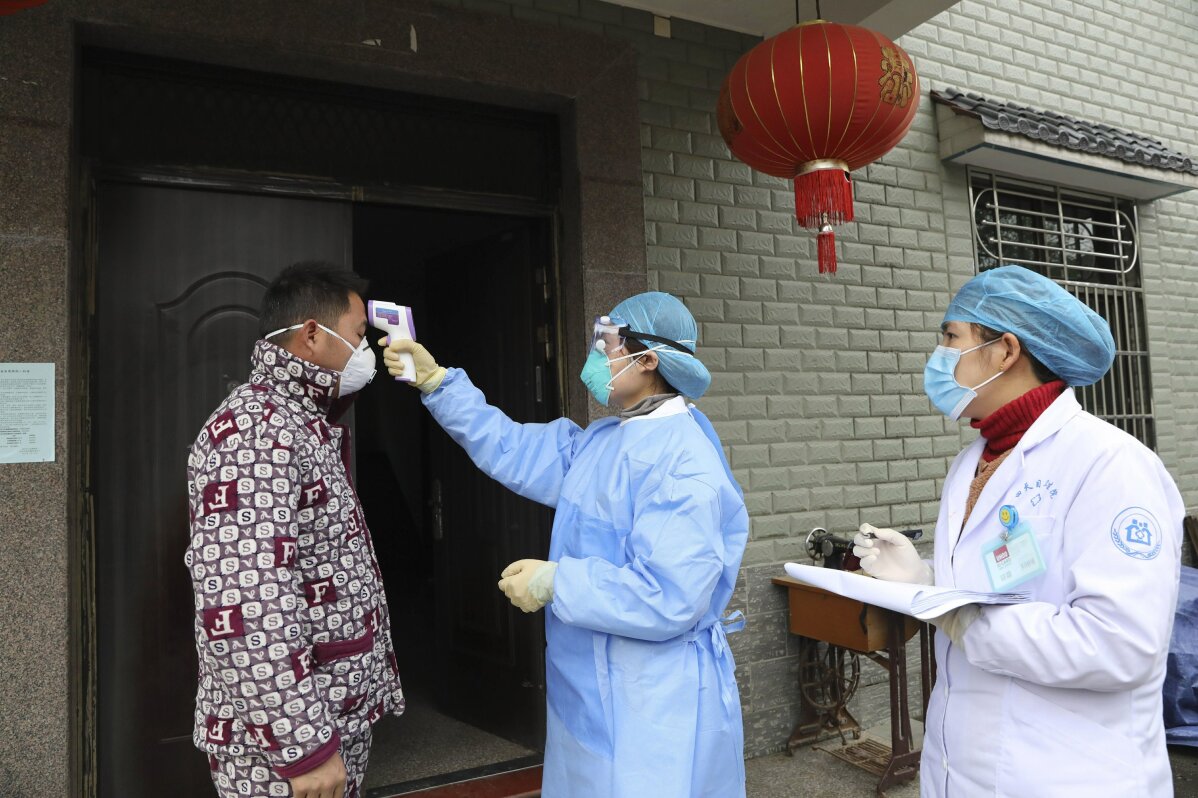 6 of 18

|
Community health workers check the temperature of a person who recently returned from Hubei Province, center of a virus outbreak, in Hangzhou in eastern China's Zhejiang Province, Monday, Jan. 27, 2020. China on Monday expanded sweeping efforts to contain a viral disease by extending the Lunar New Year holiday to keep the public at home and avoid spreading infection. (Chinatopix via AP)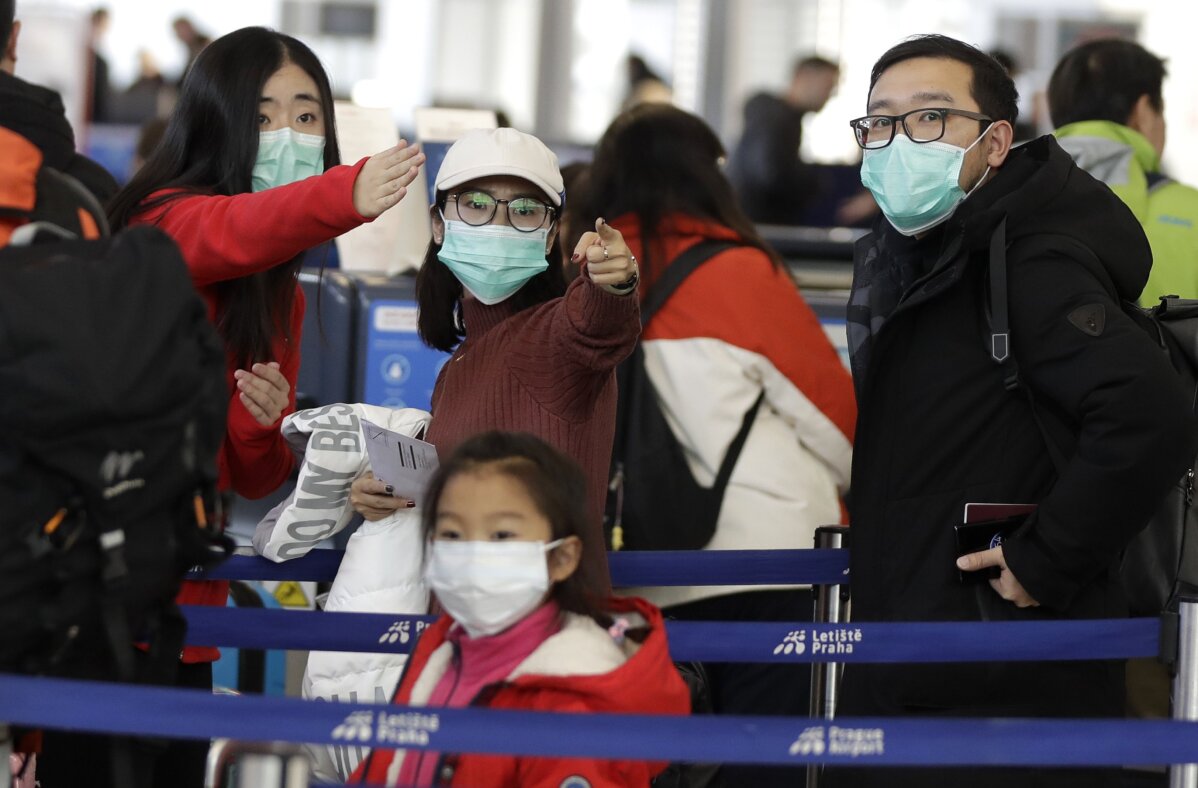 7 of 18

|
Passengers wearing masks wait in a line to check-in to a flight to Shanghai at the Vaclav Havel International Airport in Prague, Czech Republic, Monday, Jan. 27, 2020. Prague's international airport is launching an information campaign for travellers who develop symptoms possibly linked to a new coronavirus illness. (AP Photo/Petr David Josek)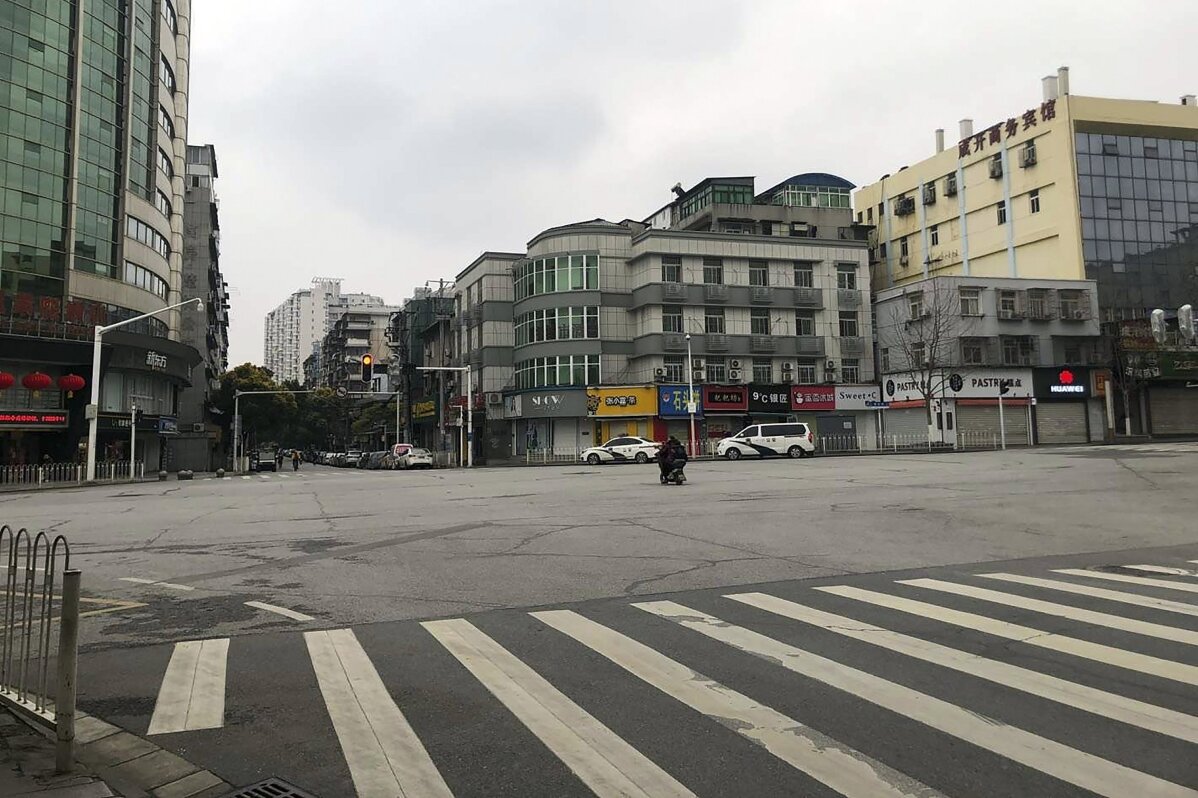 8 of 18

|
In this photo provided to the Associated Press, a person on a scooter crosses an empty intersection in Wuhan in central China's Hubei Province, Monday, Jan. 27, 2020. China on Monday expanded sweeping efforts to contain a viral disease by extending the Lunar New Year holiday to keep the public at home and avoid spreading infection. (AP Photo)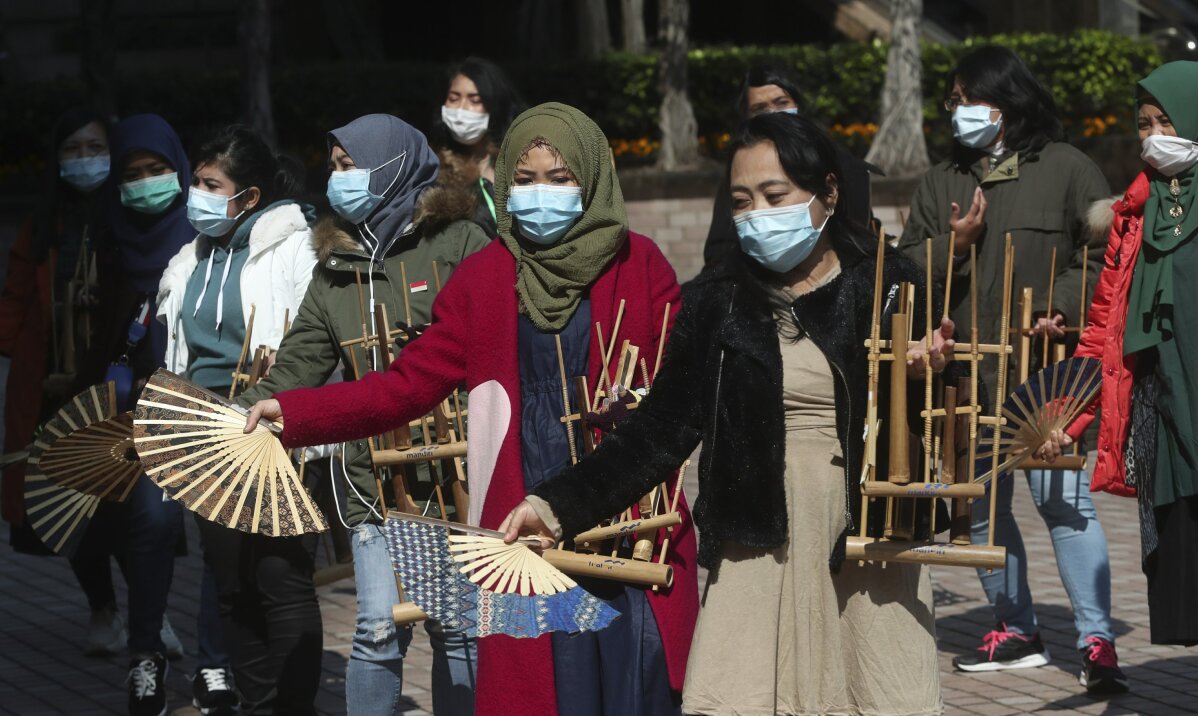 9 of 18

|
Indonesian migrant workers wear face masks as they play the traditional music instrument "angklung" in Hong Kong, Monday, Jan. 27, 2020. Hong Kong announced it would bar entry to visitors from the mainland province at the center of the outbreak. Travel agencies were ordered to cancel group tours nationwide following a warning the virus's ability to spread was increasing.(AP Photo/Achmad Ibrahim)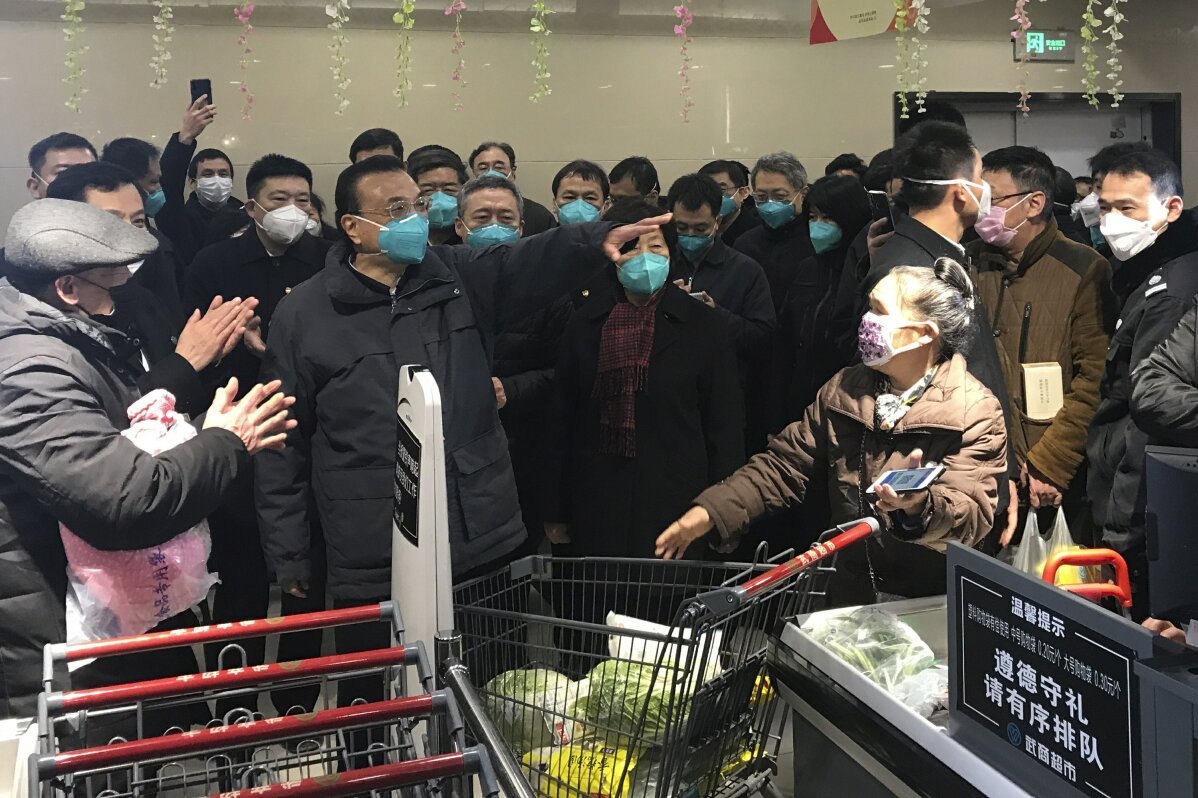 10 of 18

|
Chinese Premier Li Keqiang, center left talks to shoppers at a supermarket in Wuhan in central China's Hubei province Monday, Jan. 27, 2020. On Monday, China's No. 2 leader, Premier Li Keqiang, visited Wuhan to "guide epidemic prevention work," the Cabinet website said. (Chinatopix Via AP)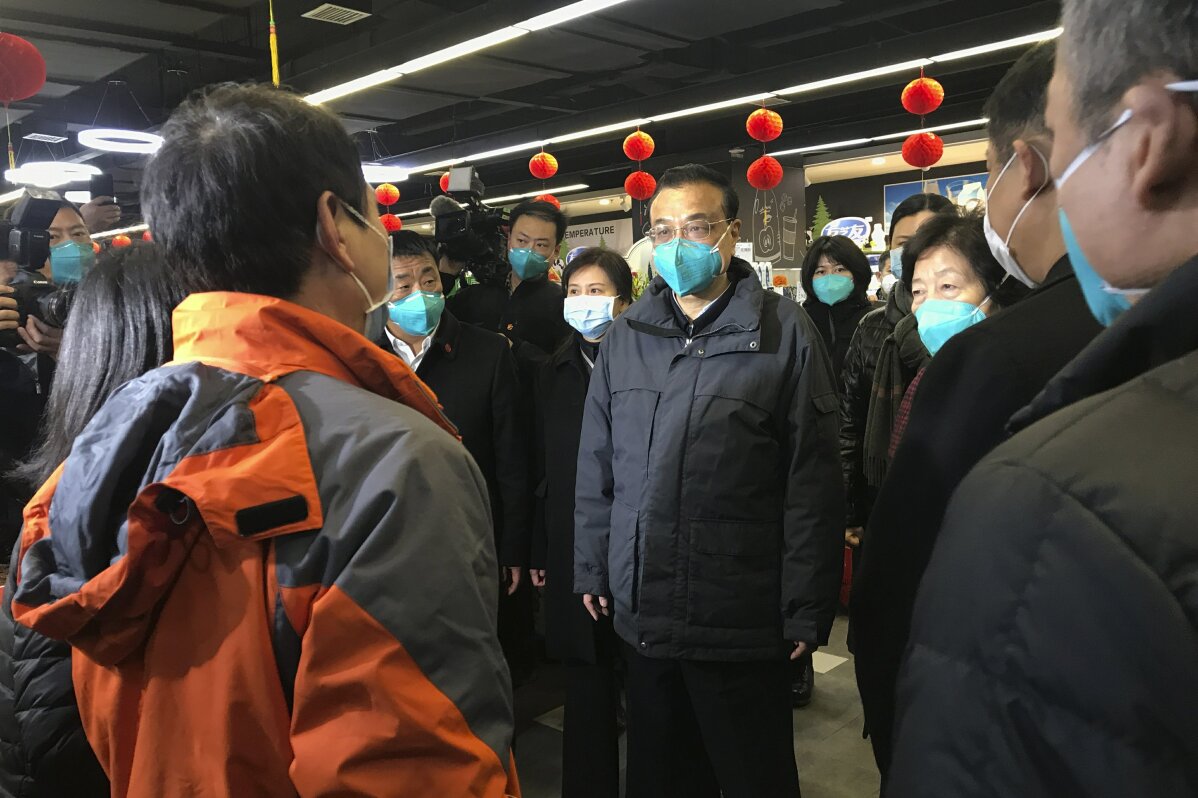 11 of 18

|
Chinese Premier Li Keqiang, center, talks to shoppers at a supermarket in Wuhan in central China's Hubei province Monday, Jan. 27, 2020. On Monday, China's No. 2 leader, Premier Li Keqiang, visited Wuhan to "guide epidemic prevention work," the Cabinet website said. (Chinatopix Via AP)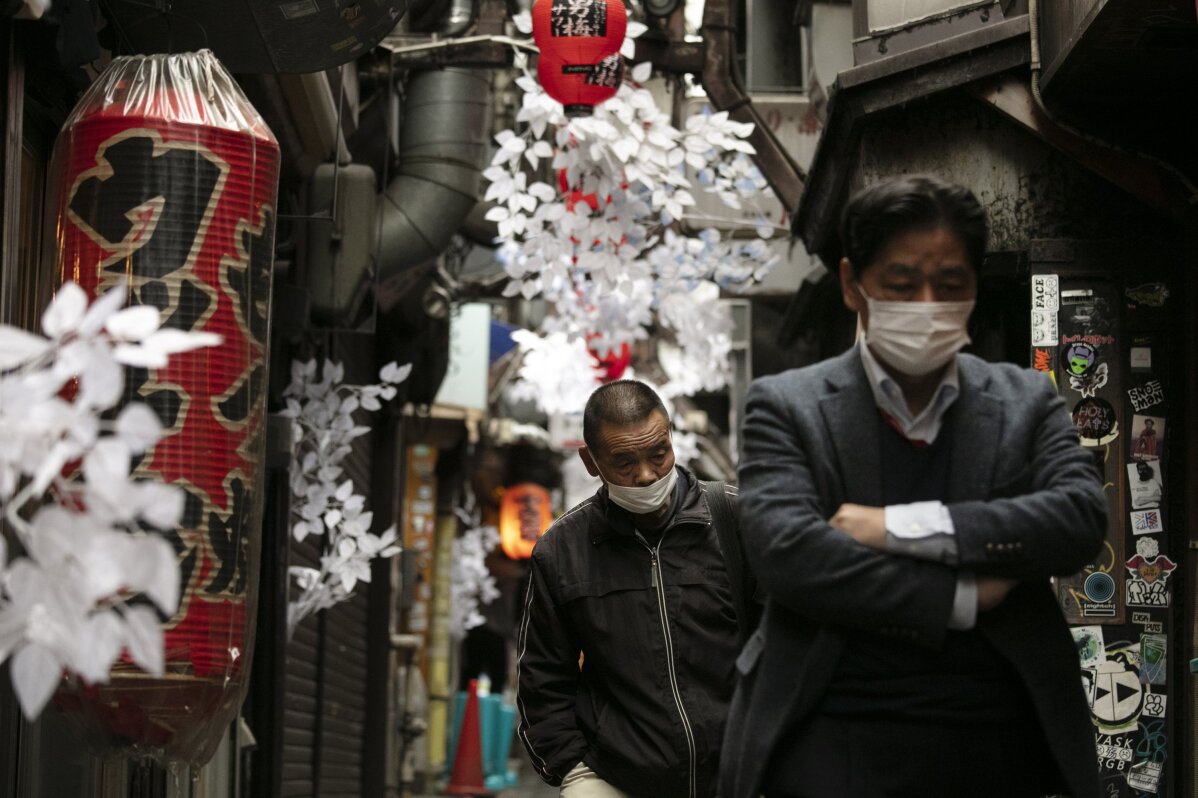 12 of 18

|
Two men wearing protective face masks walk through a narrow alleyway Monday, Jan. 27, 2020, in the Shinjuku district of Tokyo. (AP Photo/Jae C. Hong)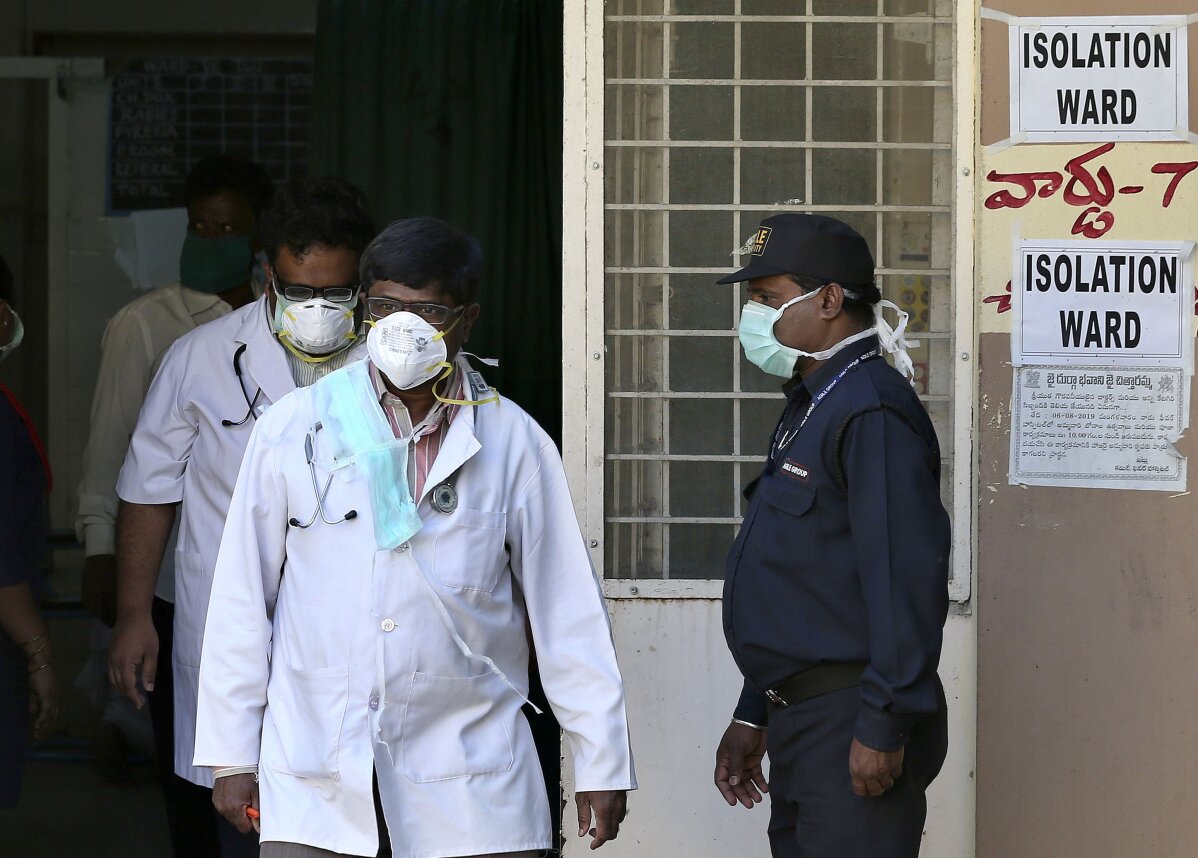 13 of 18

|
Indian doctors come out of an isolation ward after attending to people who returned from China and under observation at the Government Fever Hospital in Hyderabad, India, Monday, Jan. 27, 2020. Countries with citizens in the central Chinese city that's the epicenter of a viral outbreak are planning evacuations as the number of illnesses grow and China takes drastic measures to try to stop the spread of the virus. (AP Photo/Mahesh Kumar A.)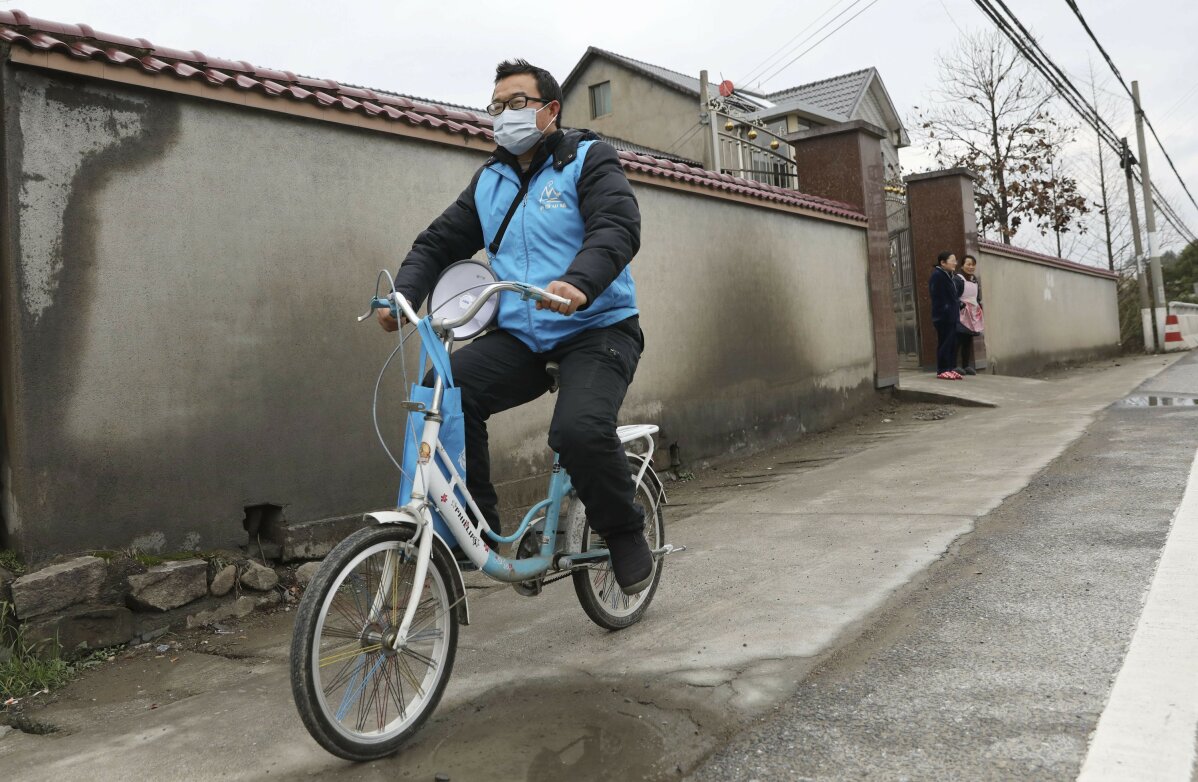 14 of 18

|
A community health worker rides a bicycle while carrying a loudspeaker broadcasting virus control information in Hangzhou in eastern China's Zhejiang Province, Monday, Jan. 27, 2020. China on Monday expanded sweeping efforts to contain a viral disease by extending the Lunar New Year holiday to keep the public at home and avoid spreading infection. (Chinatopix via AP)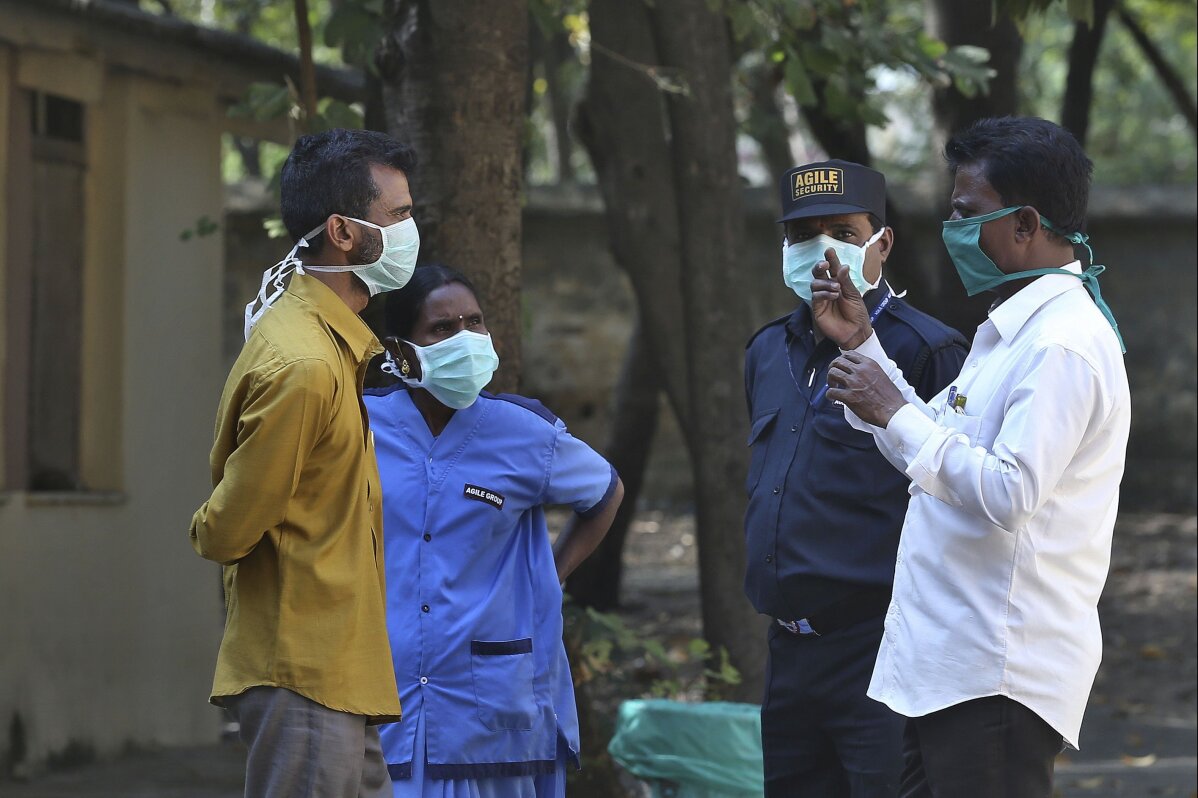 15 of 18

|
Indian hospital staff chat outside an isolation ward where people who returned from China are kept under observation at the Government Fever Hospital in Hyderabad, India, Monday, Jan. 27, 2020. Countries with citizens in the central Chinese city that's the epicenter of a viral outbreak are planning evacuations as the number of illnesses grow and China takes drastic measures to try to stop the spread of the virus. (AP Photo/Mahesh Kumar A.)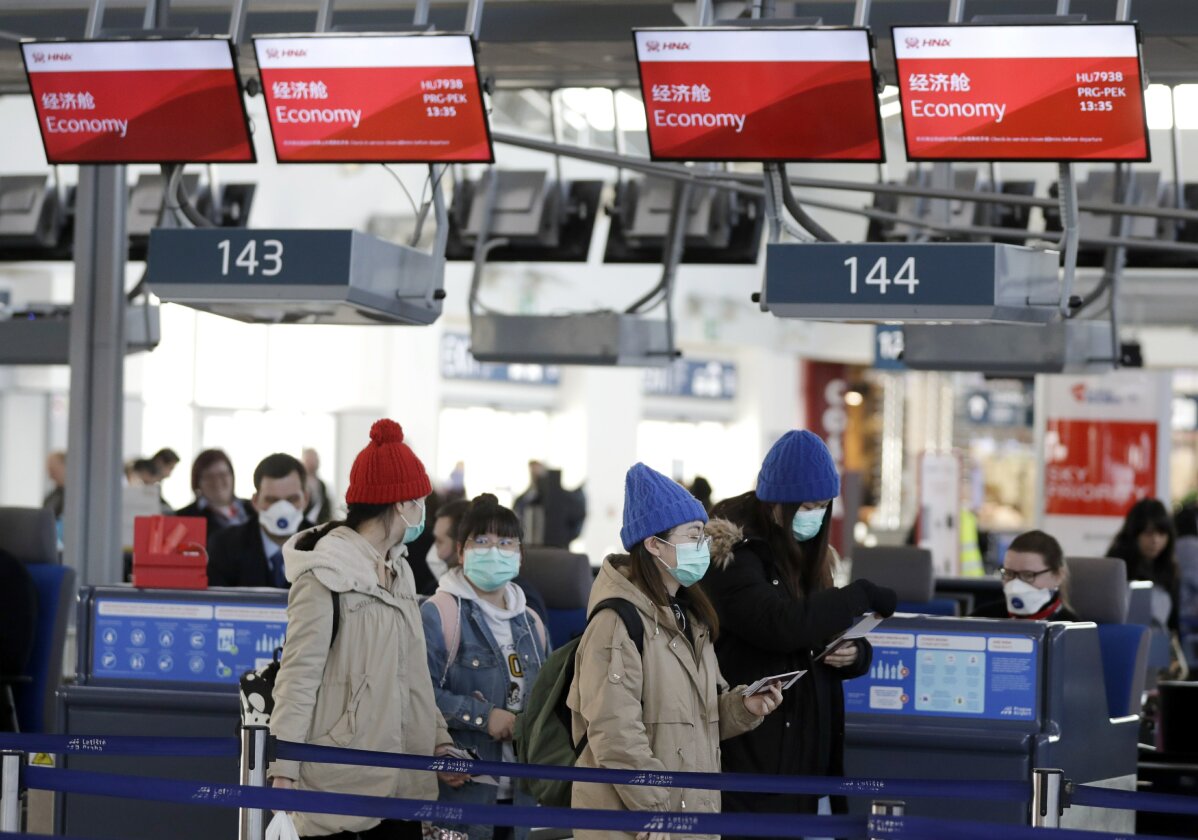 16 of 18

|
Passengers wearing masks check their boarding passes after checking-in to a flight to Beijing at the Vaclav Havel International Airport in Prague, Czech Republic, Monday, Jan. 27, 2020. Prague's international airport is launching an information campaign for travellers who develop symptoms possibly linked to a new coronavirus illness. (AP Photo/Petr David Josek)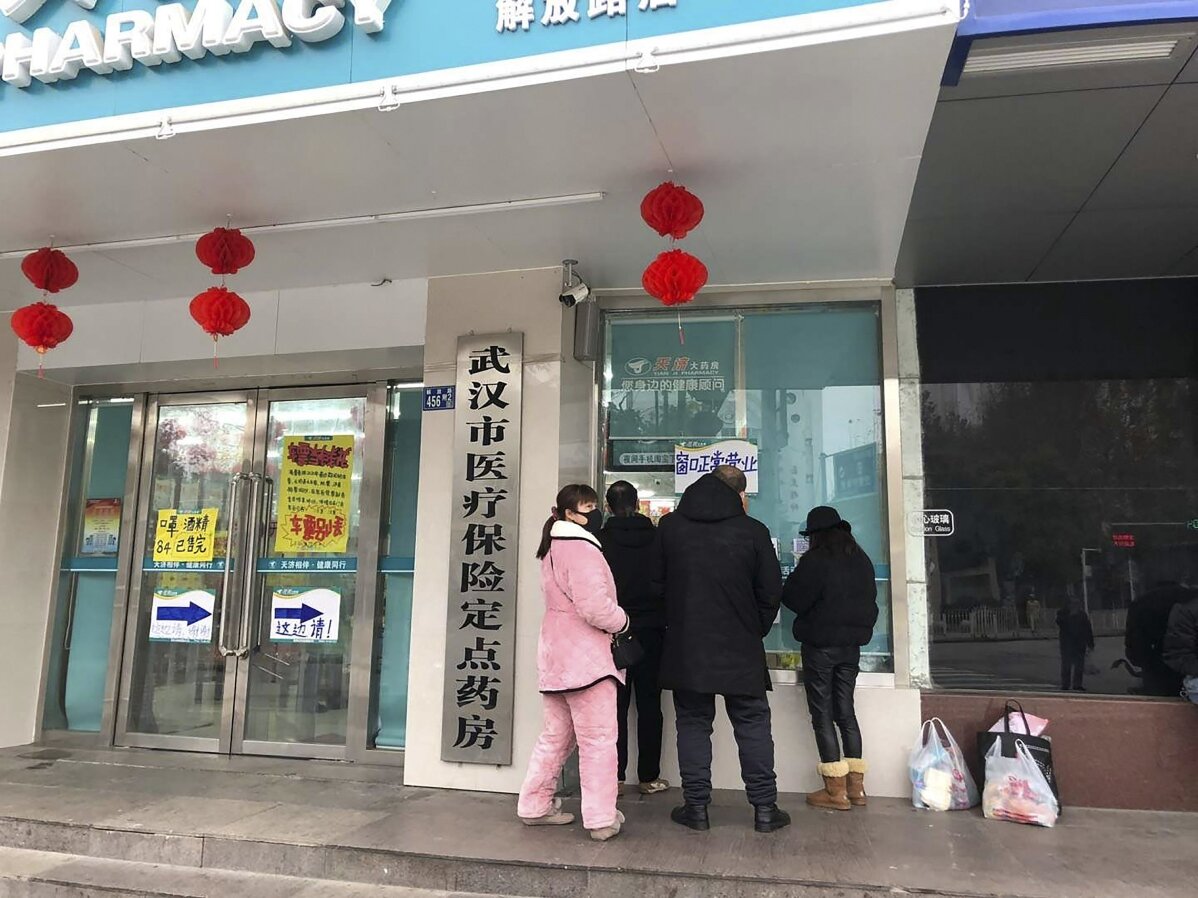 17 of 18

|
In this photo provided to the Associated Press, people line up at the window of a pharmacy in Wuhan in central China's Hubei Province, Monday, Jan. 27, 2020. China on Monday expanded sweeping efforts to contain a viral disease by extending the Lunar New Year holiday to keep the public at home and avoid spreading infection. (AP Photo)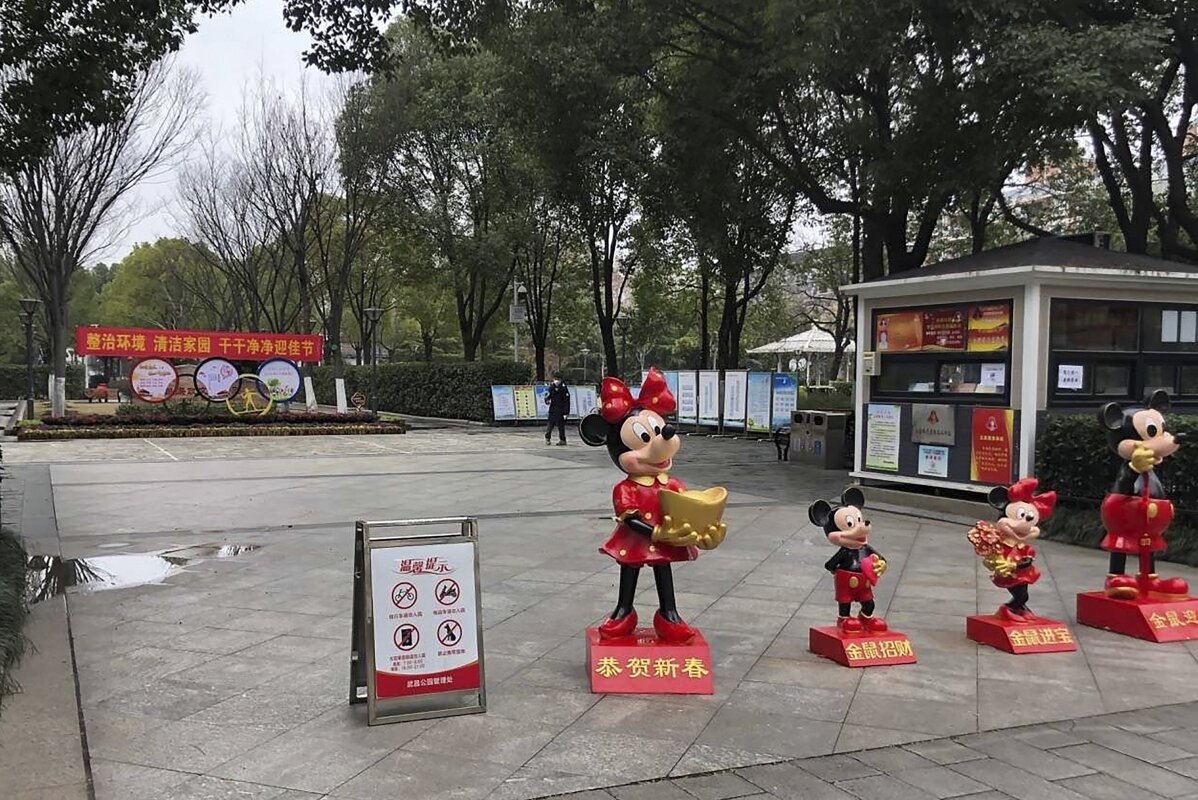 18 of 18

|
In this photo provided to the Associated Press, a man wearing a face mask walks past Minnie and Mickey Mouse themed Lunar New Year decorations at a park in Wuhan in central China's Hubei Province, Monday, Jan. 27, 2020. China on Monday expanded sweeping efforts to contain a viral disease by extending the Lunar New Year holiday to keep the public at home and avoid spreading infection. (AP Photo)
China confirms 2,700 cases of virus, 40 counted elsewhere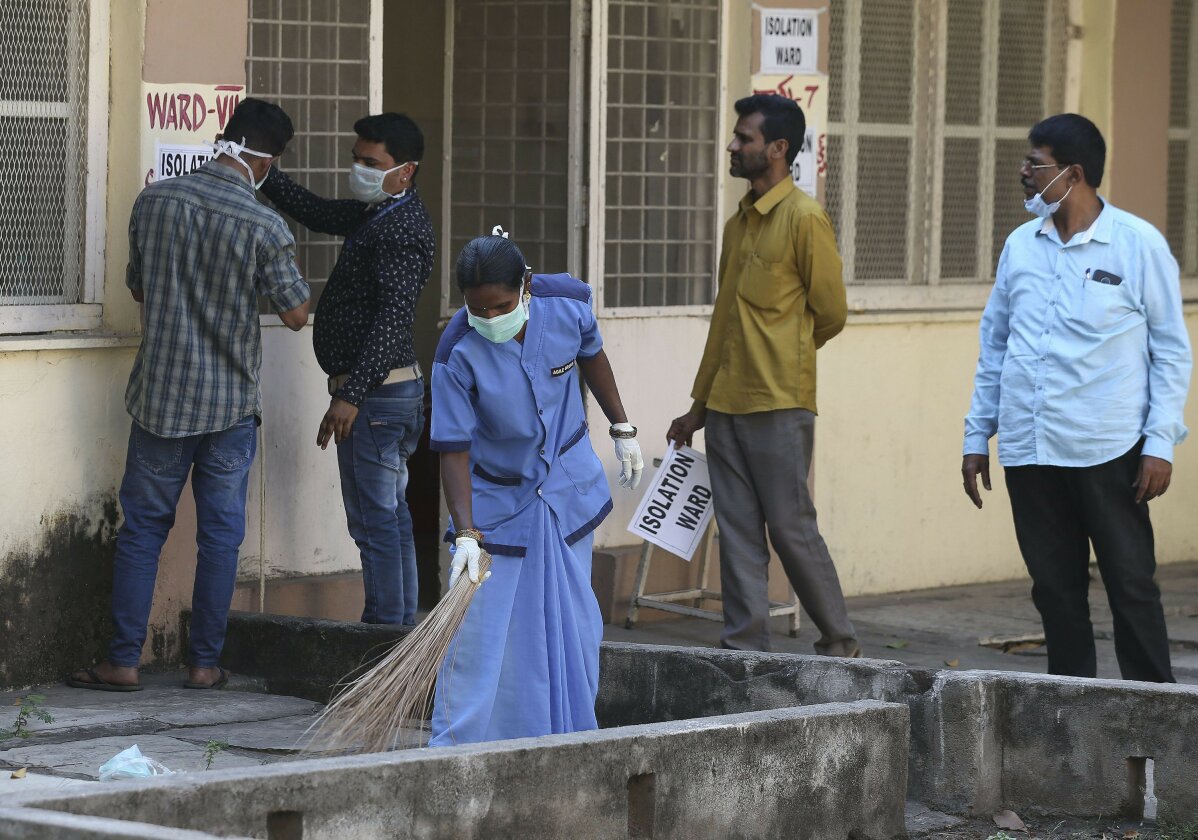 1 of 18

|
Indian hospital staff prepare an isolation ward to keep people returning from China under observation at the Government Fever Hospital in Hyderabad, India, Monday, Jan. 27, 2020. Countries with citizens in the central Chinese city that's the epicenter of a viral outbreak are planning evacuations as the number of illnesses grow and China takes drastic measures to try to stop the spread of the virus. (AP Photo/Mahesh Kumar A.)
1 of 18
Indian hospital staff prepare an isolation ward to keep people returning from China under observation at the Government Fever Hospital in Hyderabad, India, Monday, Jan. 27, 2020. Countries with citizens in the central Chinese city that's the epicenter of a viral outbreak are planning evacuations as the number of illnesses grow and China takes drastic measures to try to stop the spread of the virus. (AP Photo/Mahesh Kumar A.)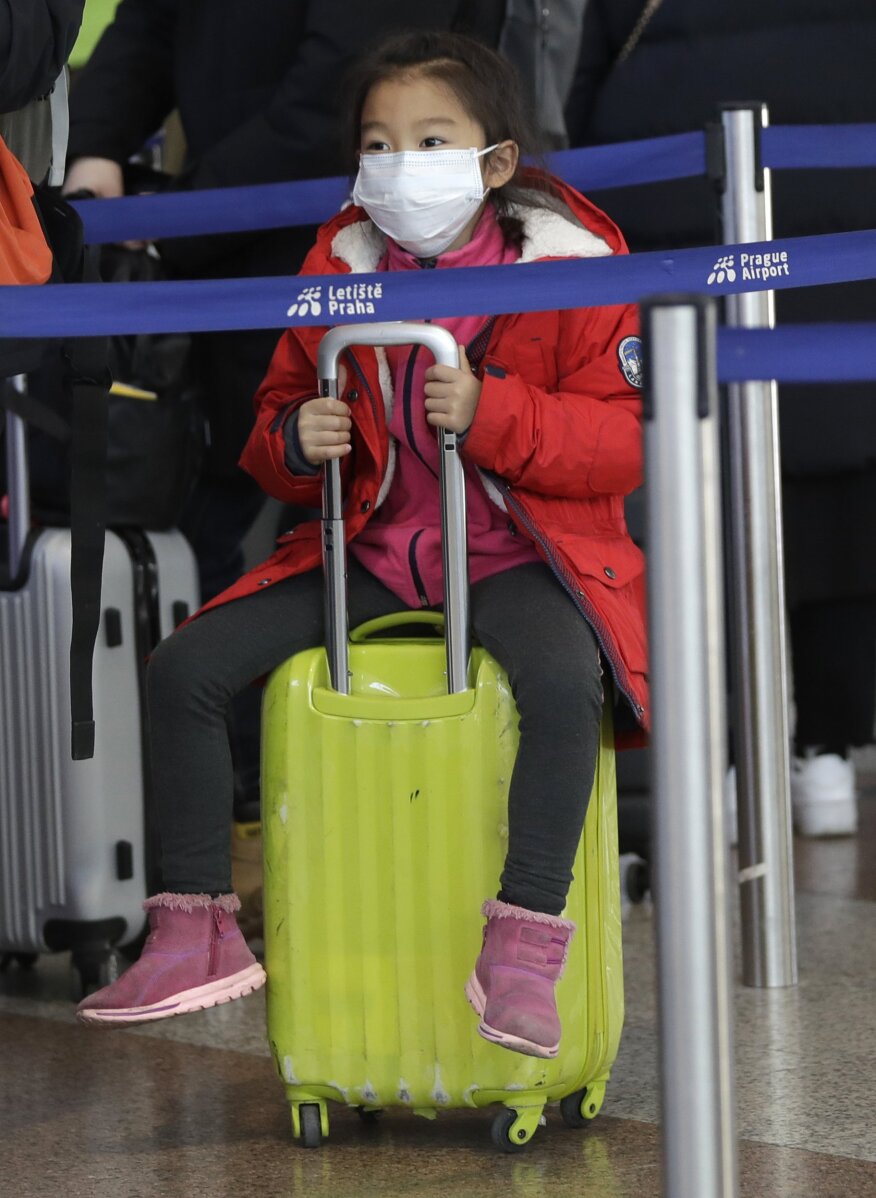 2 of 18

|
A girl wearing a mask sits on a suitcase while waiting to check-in to a flight to Shanghai at the Vaclav Havel International Airport in Prague, Czech Republic, Monday, Jan. 27, 2020. Prague's international airport is launching an information campaign for travellers who develop symptoms possibly linked to a new coronavirus illness. (AP Photo/Petr David Josek)
2 of 18
A girl wearing a mask sits on a suitcase while waiting to check-in to a flight to Shanghai at the Vaclav Havel International Airport in Prague, Czech Republic, Monday, Jan. 27, 2020. Prague's international airport is launching an information campaign for travellers who develop symptoms possibly linked to a new coronavirus illness. (AP Photo/Petr David Josek)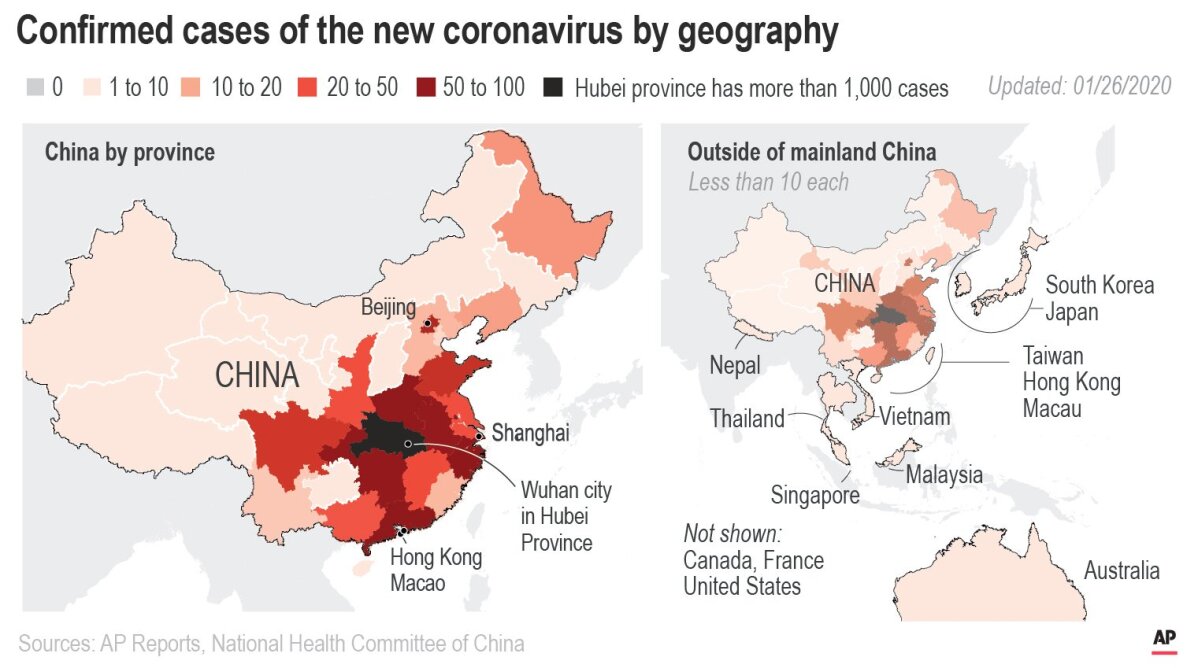 3 of 18

|
UPDATES titles in each map; map highlights areas with cases of the new coronavirus.;
3 of 18
UPDATES titles in each map; map highlights areas with cases of the new coronavirus.;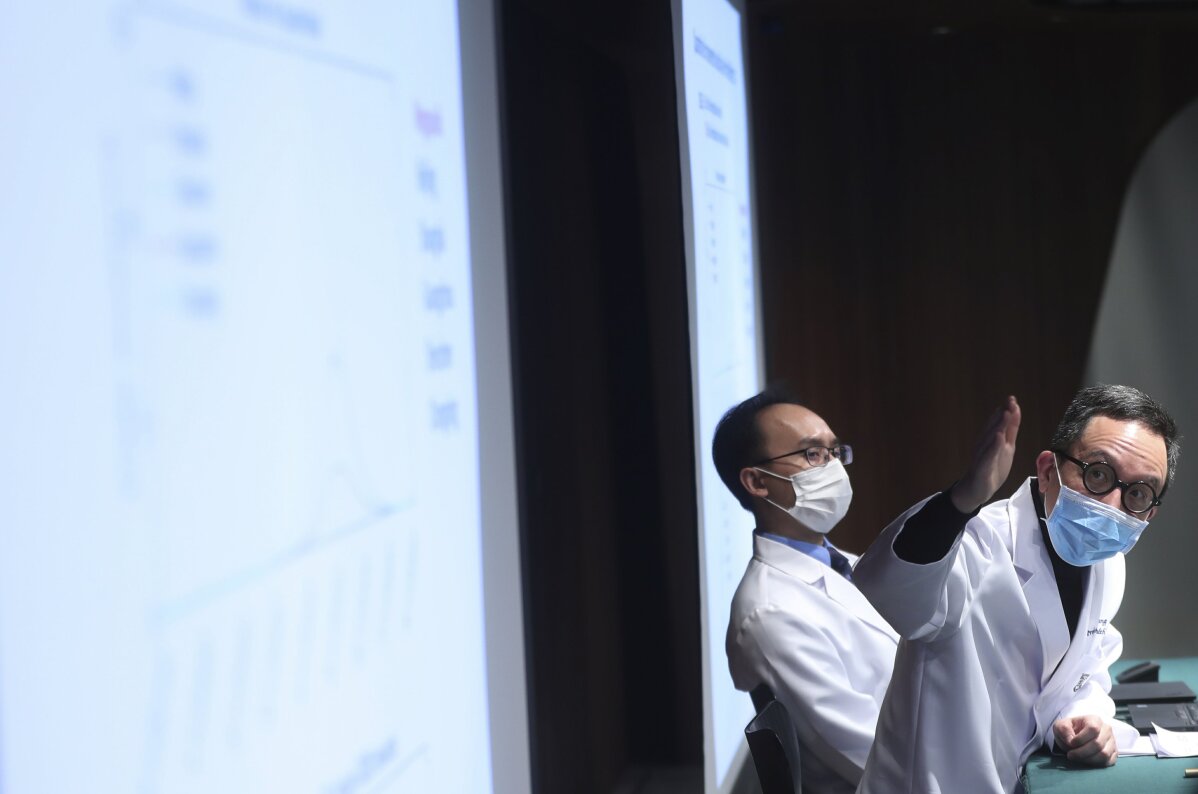 4 of 18

|
Chair Professor of public Health Medicine Gabriel Leung talks to journalists during a press conference in Hong Kong, Monday, Jan. 27, 2020. Hong Kong announced it would bar entry to visitors from the mainland province at the center of the outbreak. Travel agencies were ordered to cancel group tours nationwide following a warning the virus's ability to spread was increasing.(AP Photo/Achmad Ibrahim)
4 of 18
Chair Professor of public Health Medicine Gabriel Leung talks to journalists during a press conference in Hong Kong, Monday, Jan. 27, 2020. Hong Kong announced it would bar entry to visitors from the mainland province at the center of the outbreak. Travel agencies were ordered to cancel group tours nationwide following a warning the virus's ability to spread was increasing.(AP Photo/Achmad Ibrahim)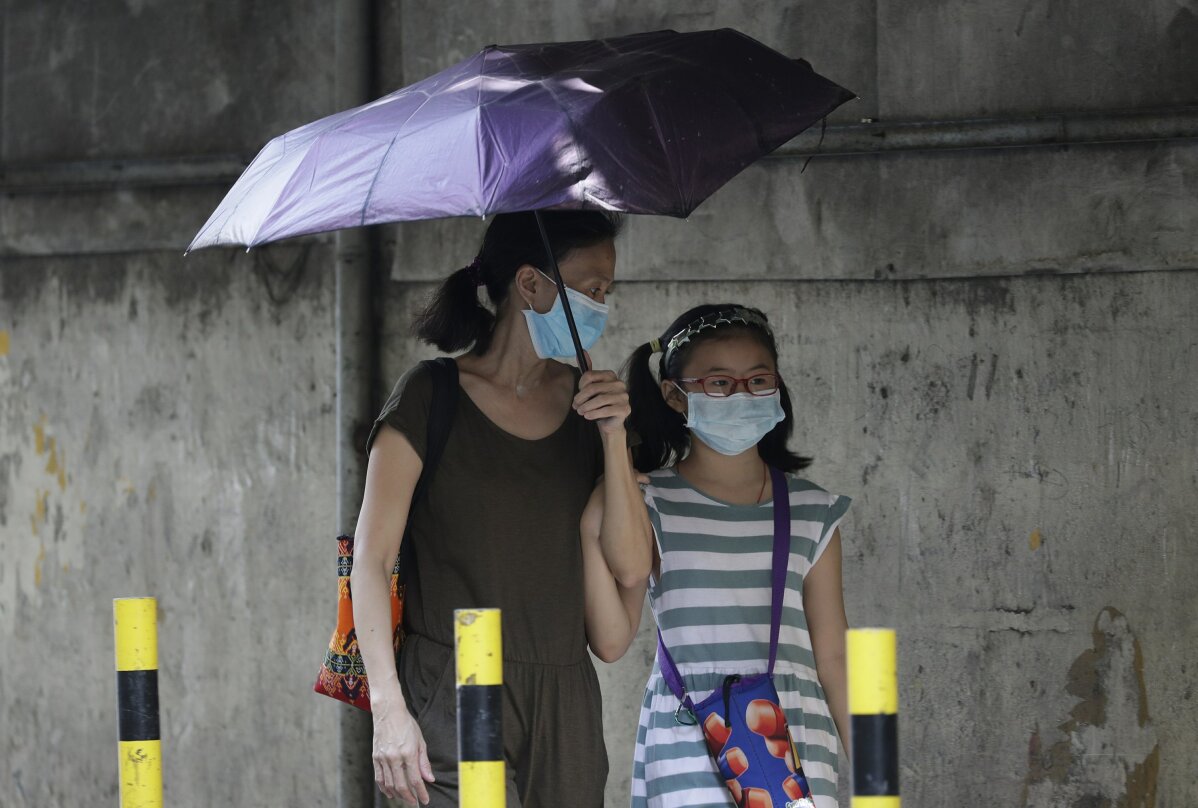 5 of 18

|
People wear masks as they pass by a Chinese-Filipino school that suspended classes in Manila, Philippines on Monday, Jan. 27, 2020. Several Chinese-Filipino schools in the area suspended classes as a precautionary measure in the spread of the new viral disease after the Chinese New Year holiday. The Philippines has no reported case of the new virus till now. (AP Photo/Aaron Favila)
5 of 18
People wear masks as they pass by a Chinese-Filipino school that suspended classes in Manila, Philippines on Monday, Jan. 27, 2020. Several Chinese-Filipino schools in the area suspended classes as a precautionary measure in the spread of the new viral disease after the Chinese New Year holiday. The Philippines has no reported case of the new virus till now. (AP Photo/Aaron Favila)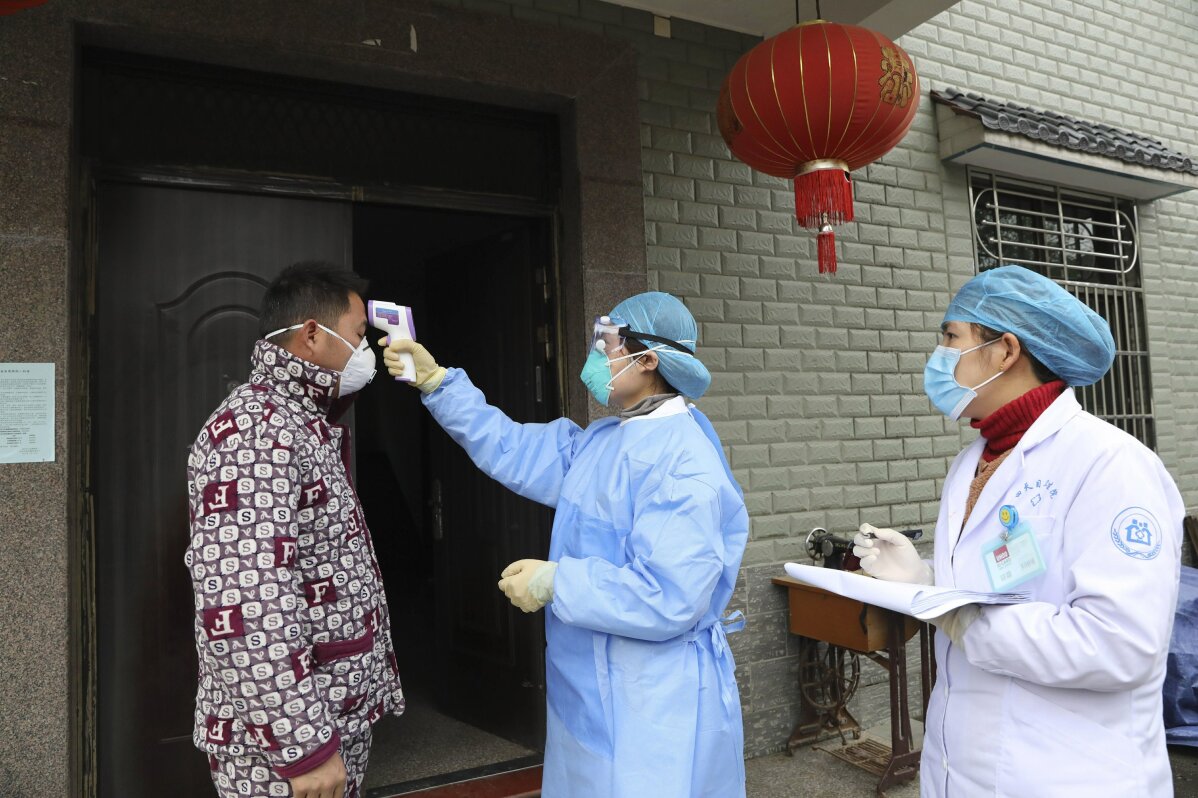 6 of 18

|
Community health workers check the temperature of a person who recently returned from Hubei Province, center of a virus outbreak, in Hangzhou in eastern China's Zhejiang Province, Monday, Jan. 27, 2020. China on Monday expanded sweeping efforts to contain a viral disease by extending the Lunar New Year holiday to keep the public at home and avoid spreading infection. (Chinatopix via AP)
6 of 18
Community health workers check the temperature of a person who recently returned from Hubei Province, center of a virus outbreak, in Hangzhou in eastern China's Zhejiang Province, Monday, Jan. 27, 2020. China on Monday expanded sweeping efforts to contain a viral disease by extending the Lunar New Year holiday to keep the public at home and avoid spreading infection. (Chinatopix via AP)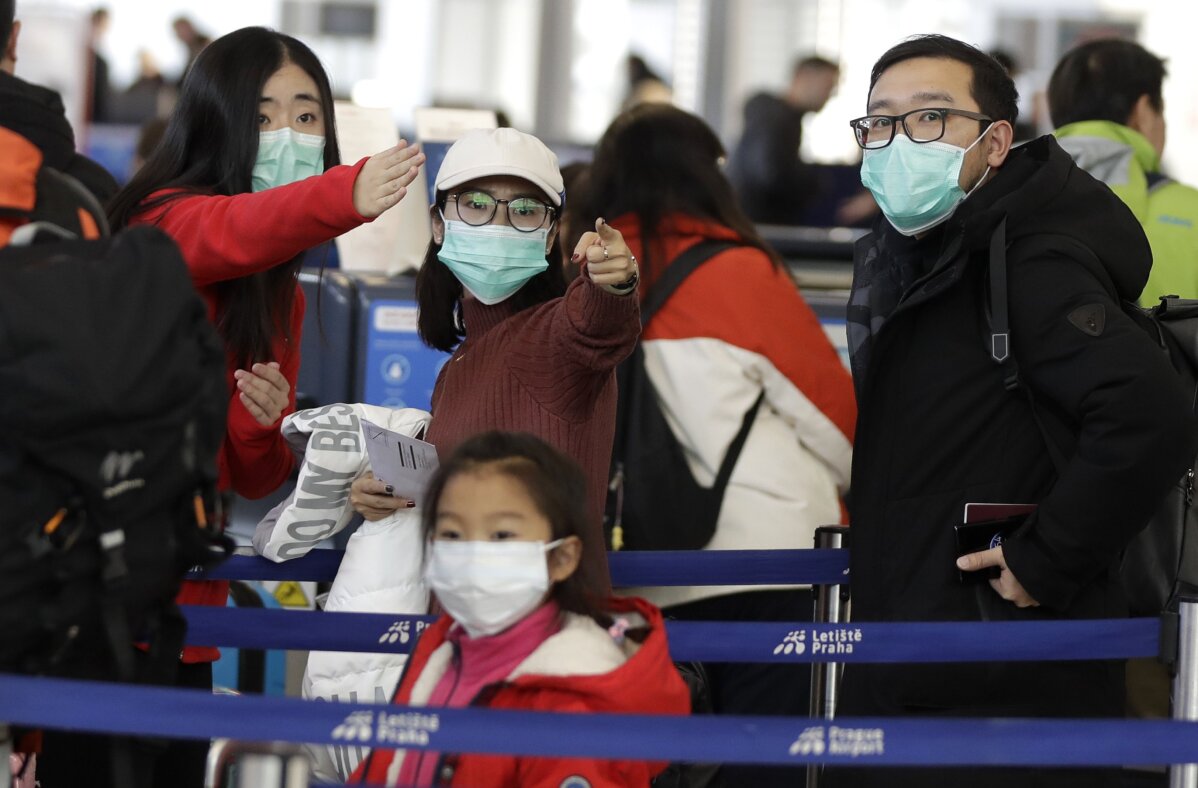 7 of 18

|
Passengers wearing masks wait in a line to check-in to a flight to Shanghai at the Vaclav Havel International Airport in Prague, Czech Republic, Monday, Jan. 27, 2020. Prague's international airport is launching an information campaign for travellers who develop symptoms possibly linked to a new coronavirus illness. (AP Photo/Petr David Josek)
7 of 18
Passengers wearing masks wait in a line to check-in to a flight to Shanghai at the Vaclav Havel International Airport in Prague, Czech Republic, Monday, Jan. 27, 2020. Prague's international airport is launching an information campaign for travellers who develop symptoms possibly linked to a new coronavirus illness. (AP Photo/Petr David Josek)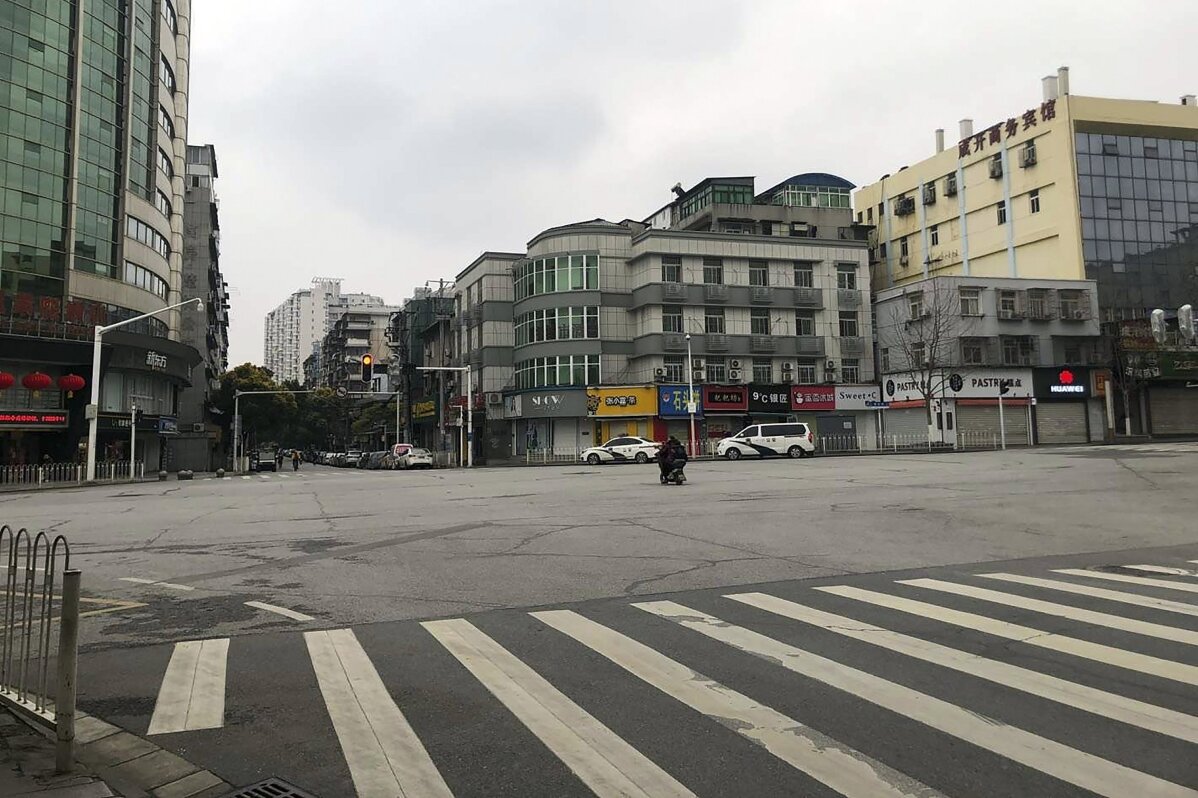 8 of 18

|
In this photo provided to the Associated Press, a person on a scooter crosses an empty intersection in Wuhan in central China's Hubei Province, Monday, Jan. 27, 2020. China on Monday expanded sweeping efforts to contain a viral disease by extending the Lunar New Year holiday to keep the public at home and avoid spreading infection. (AP Photo)
8 of 18
In this photo provided to the Associated Press, a person on a scooter crosses an empty intersection in Wuhan in central China's Hubei Province, Monday, Jan. 27, 2020. China on Monday expanded sweeping efforts to contain a viral disease by extending the Lunar New Year holiday to keep the public at home and avoid spreading infection. (AP Photo)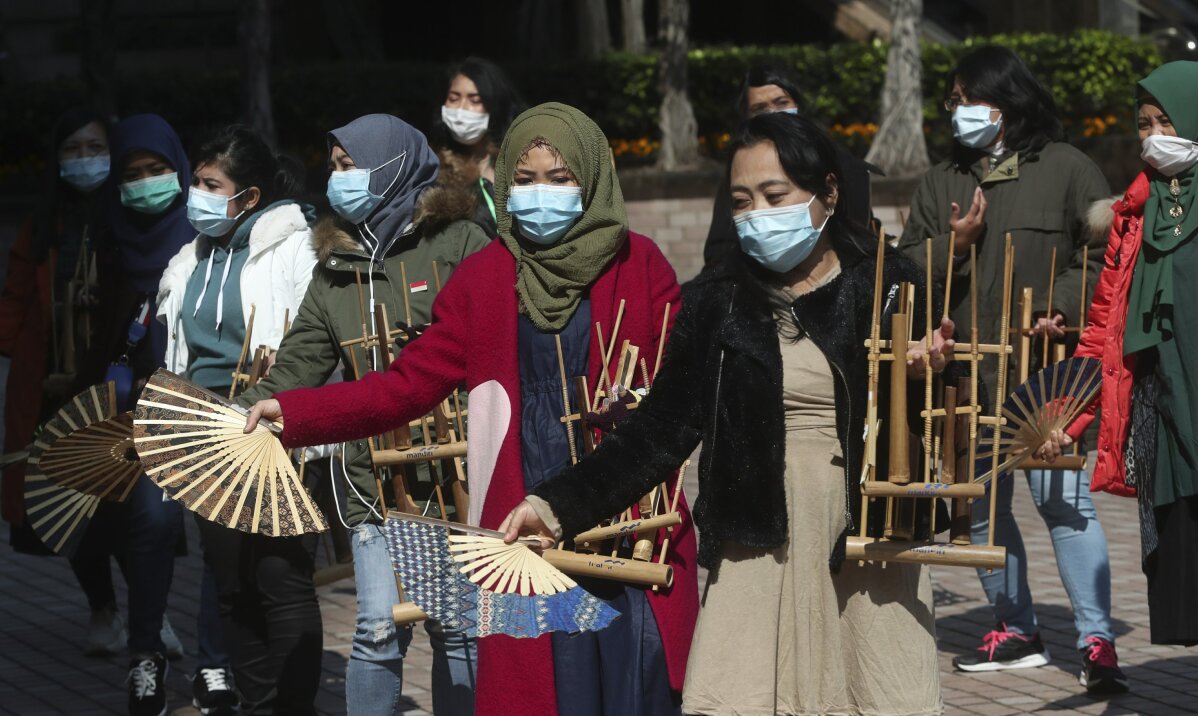 9 of 18

|
Indonesian migrant workers wear face masks as they play the traditional music instrument "angklung" in Hong Kong, Monday, Jan. 27, 2020. Hong Kong announced it would bar entry to visitors from the mainland province at the center of the outbreak. Travel agencies were ordered to cancel group tours nationwide following a warning the virus's ability to spread was increasing.(AP Photo/Achmad Ibrahim)
9 of 18
Indonesian migrant workers wear face masks as they play the traditional music instrument "angklung" in Hong Kong, Monday, Jan. 27, 2020. Hong Kong announced it would bar entry to visitors from the mainland province at the center of the outbreak. Travel agencies were ordered to cancel group tours nationwide following a warning the virus's ability to spread was increasing.(AP Photo/Achmad Ibrahim)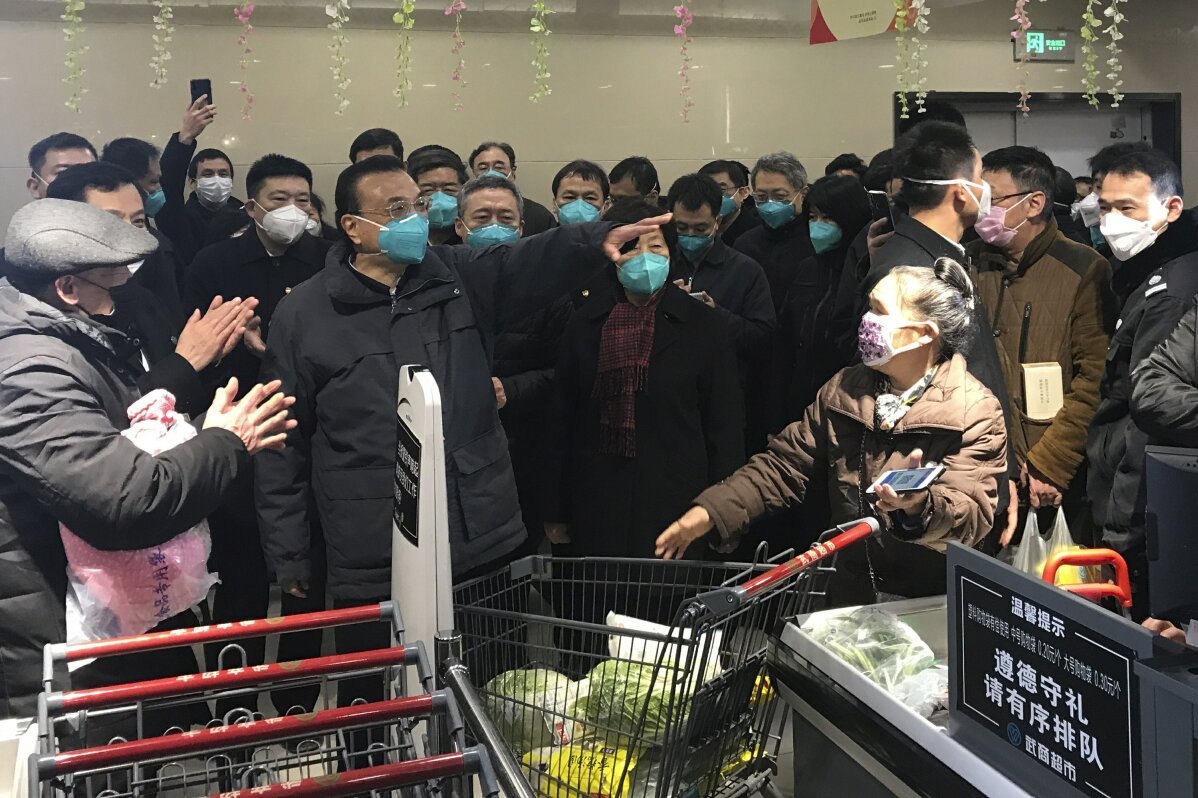 10 of 18

|
Chinese Premier Li Keqiang, center left talks to shoppers at a supermarket in Wuhan in central China's Hubei province Monday, Jan. 27, 2020. On Monday, China's No. 2 leader, Premier Li Keqiang, visited Wuhan to "guide epidemic prevention work," the Cabinet website said. (Chinatopix Via AP)
10 of 18
Chinese Premier Li Keqiang, center left talks to shoppers at a supermarket in Wuhan in central China's Hubei province Monday, Jan. 27, 2020. On Monday, China's No. 2 leader, Premier Li Keqiang, visited Wuhan to "guide epidemic prevention work," the Cabinet website said. (Chinatopix Via AP)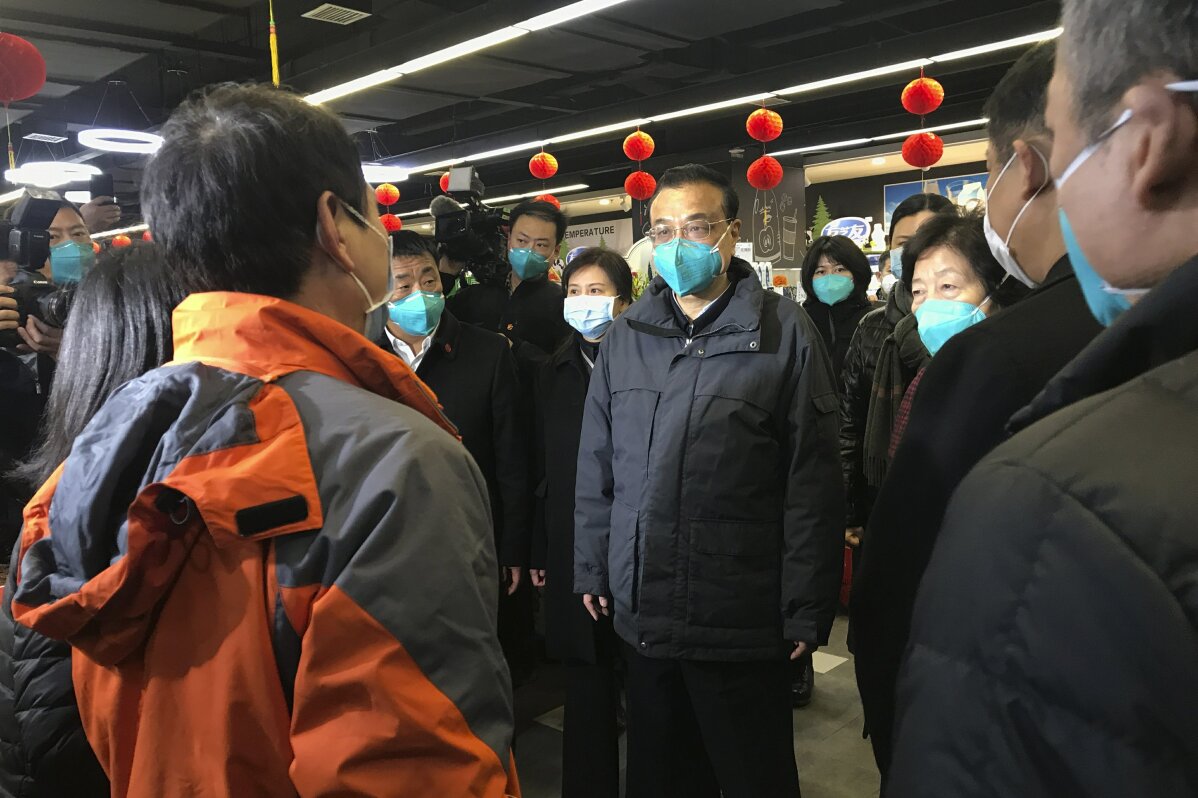 11 of 18

|
Chinese Premier Li Keqiang, center, talks to shoppers at a supermarket in Wuhan in central China's Hubei province Monday, Jan. 27, 2020. On Monday, China's No. 2 leader, Premier Li Keqiang, visited Wuhan to "guide epidemic prevention work," the Cabinet website said. (Chinatopix Via AP)
11 of 18
Chinese Premier Li Keqiang, center, talks to shoppers at a supermarket in Wuhan in central China's Hubei province Monday, Jan. 27, 2020. On Monday, China's No. 2 leader, Premier Li Keqiang, visited Wuhan to "guide epidemic prevention work," the Cabinet website said. (Chinatopix Via AP)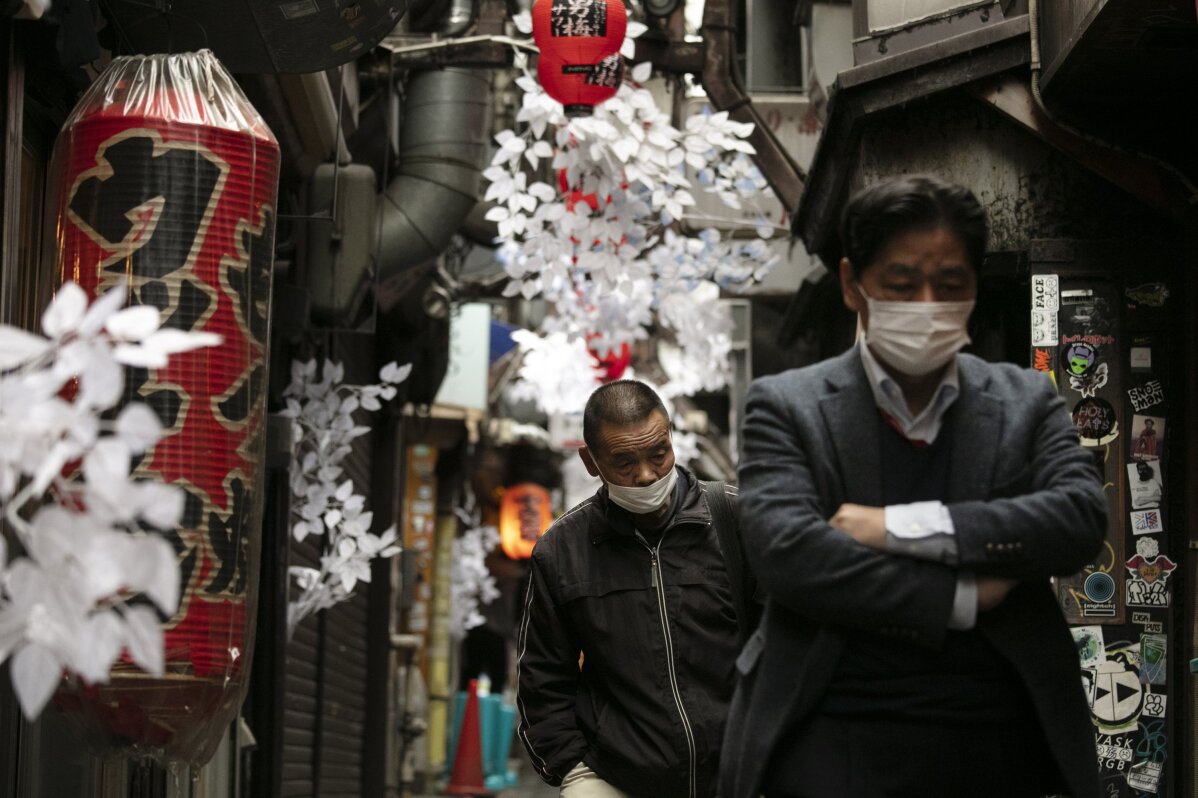 12 of 18

|
Two men wearing protective face masks walk through a narrow alleyway Monday, Jan. 27, 2020, in the Shinjuku district of Tokyo. (AP Photo/Jae C. Hong)
12 of 18
Two men wearing protective face masks walk through a narrow alleyway Monday, Jan. 27, 2020, in the Shinjuku district of Tokyo. (AP Photo/Jae C. Hong)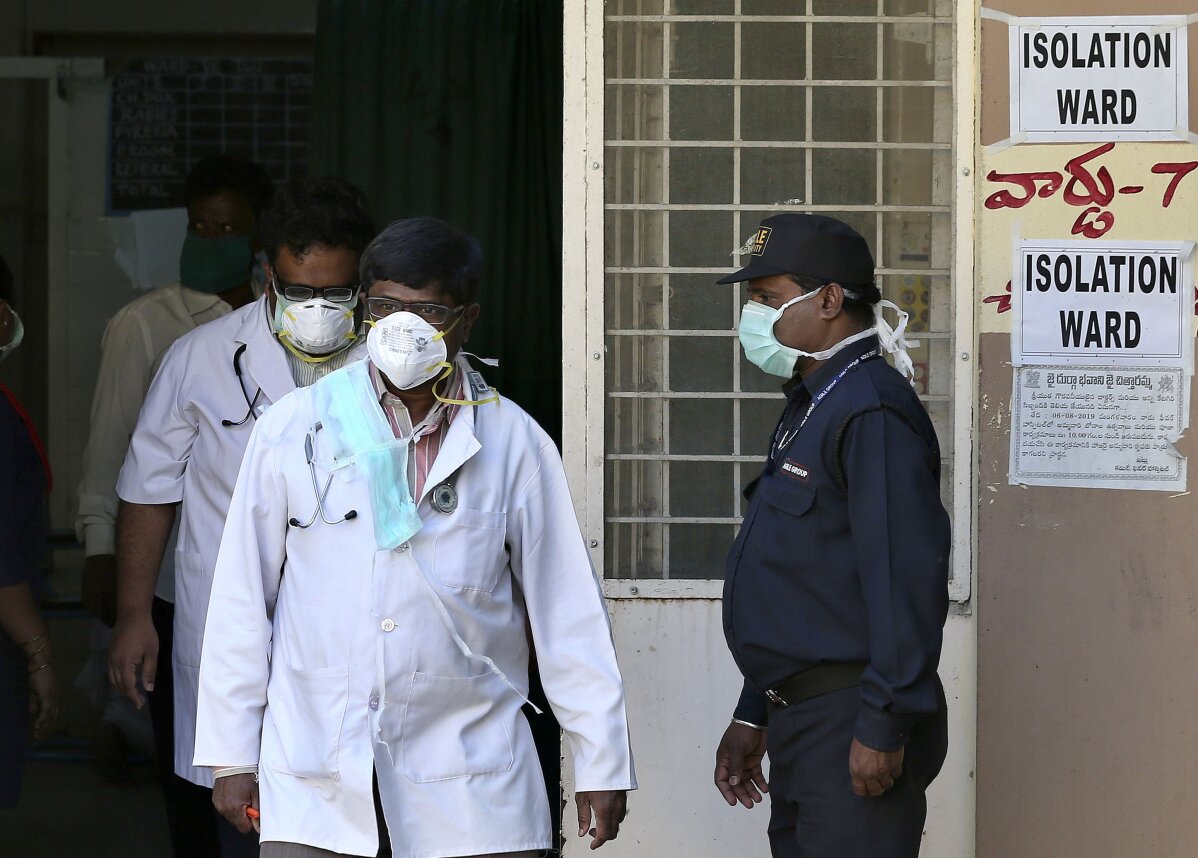 13 of 18

|
Indian doctors come out of an isolation ward after attending to people who returned from China and under observation at the Government Fever Hospital in Hyderabad, India, Monday, Jan. 27, 2020. Countries with citizens in the central Chinese city that's the epicenter of a viral outbreak are planning evacuations as the number of illnesses grow and China takes drastic measures to try to stop the spread of the virus. (AP Photo/Mahesh Kumar A.)
13 of 18
Indian doctors come out of an isolation ward after attending to people who returned from China and under observation at the Government Fever Hospital in Hyderabad, India, Monday, Jan. 27, 2020. Countries with citizens in the central Chinese city that's the epicenter of a viral outbreak are planning evacuations as the number of illnesses grow and China takes drastic measures to try to stop the spread of the virus. (AP Photo/Mahesh Kumar A.)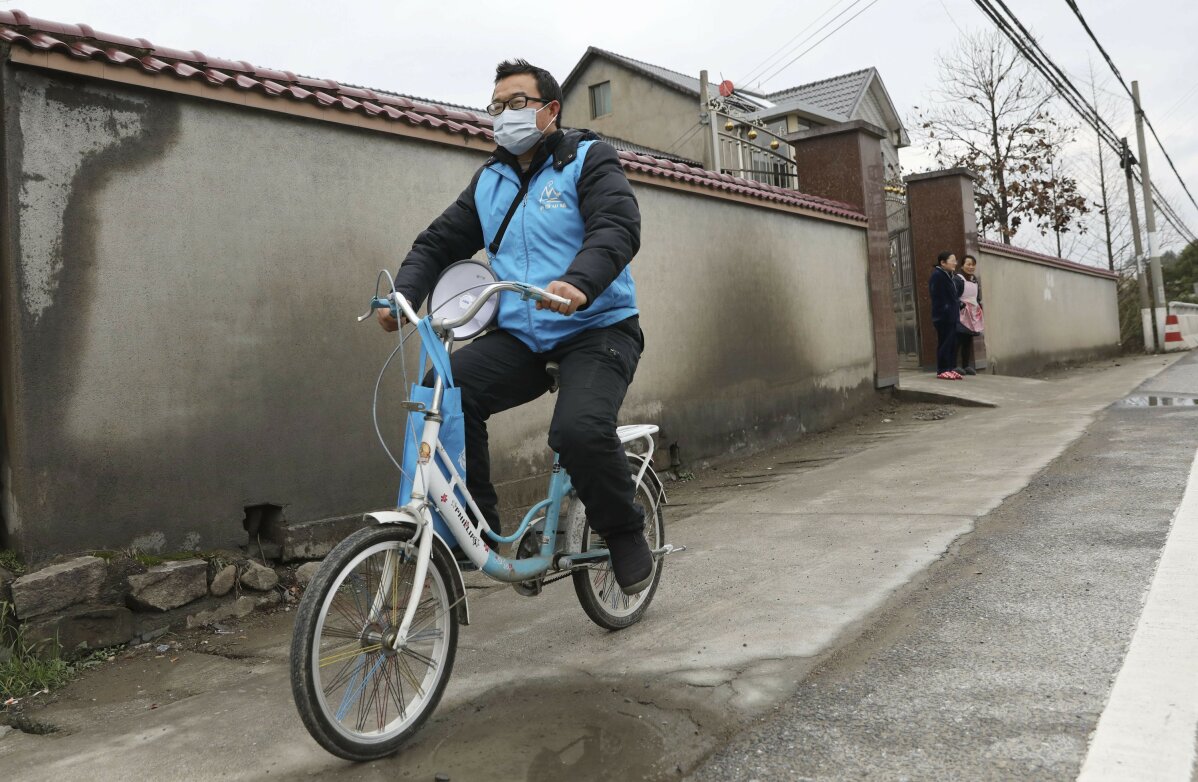 14 of 18

|
A community health worker rides a bicycle while carrying a loudspeaker broadcasting virus control information in Hangzhou in eastern China's Zhejiang Province, Monday, Jan. 27, 2020. China on Monday expanded sweeping efforts to contain a viral disease by extending the Lunar New Year holiday to keep the public at home and avoid spreading infection. (Chinatopix via AP)
14 of 18
A community health worker rides a bicycle while carrying a loudspeaker broadcasting virus control information in Hangzhou in eastern China's Zhejiang Province, Monday, Jan. 27, 2020. China on Monday expanded sweeping efforts to contain a viral disease by extending the Lunar New Year holiday to keep the public at home and avoid spreading infection. (Chinatopix via AP)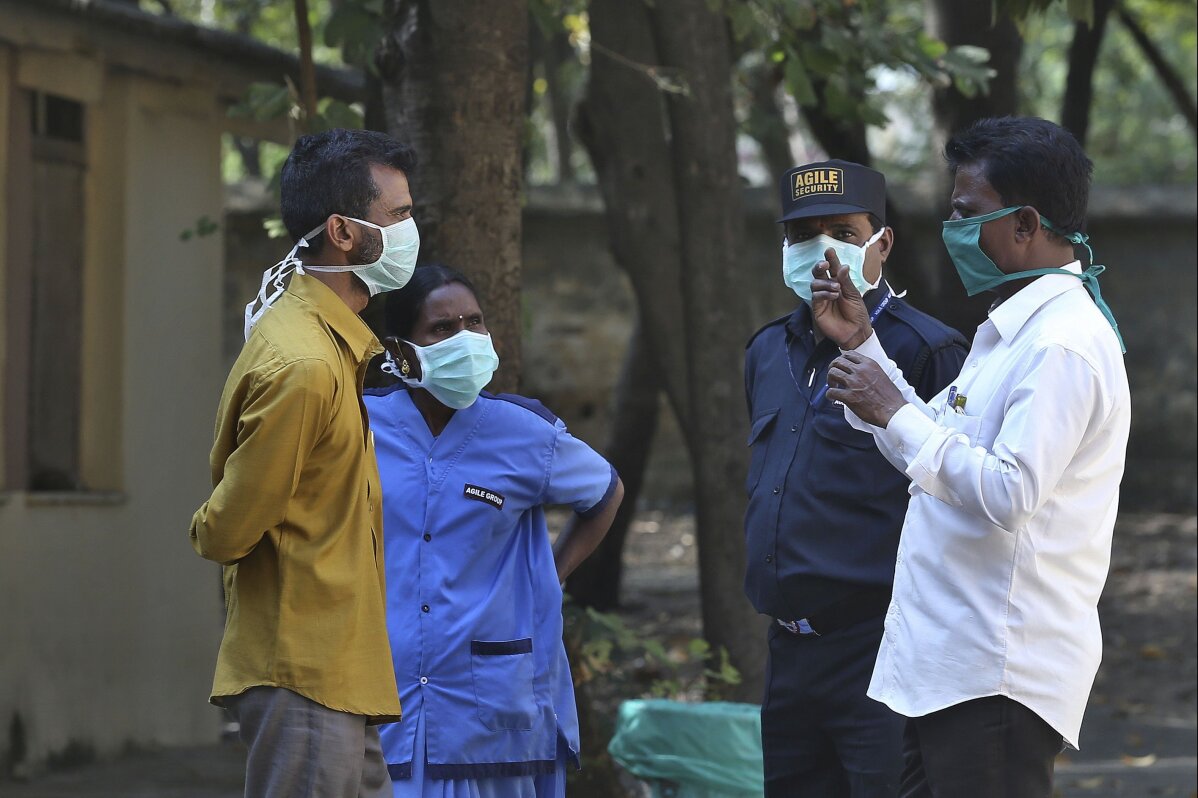 15 of 18

|
Indian hospital staff chat outside an isolation ward where people who returned from China are kept under observation at the Government Fever Hospital in Hyderabad, India, Monday, Jan. 27, 2020. Countries with citizens in the central Chinese city that's the epicenter of a viral outbreak are planning evacuations as the number of illnesses grow and China takes drastic measures to try to stop the spread of the virus. (AP Photo/Mahesh Kumar A.)
15 of 18
Indian hospital staff chat outside an isolation ward where people who returned from China are kept under observation at the Government Fever Hospital in Hyderabad, India, Monday, Jan. 27, 2020. Countries with citizens in the central Chinese city that's the epicenter of a viral outbreak are planning evacuations as the number of illnesses grow and China takes drastic measures to try to stop the spread of the virus. (AP Photo/Mahesh Kumar A.)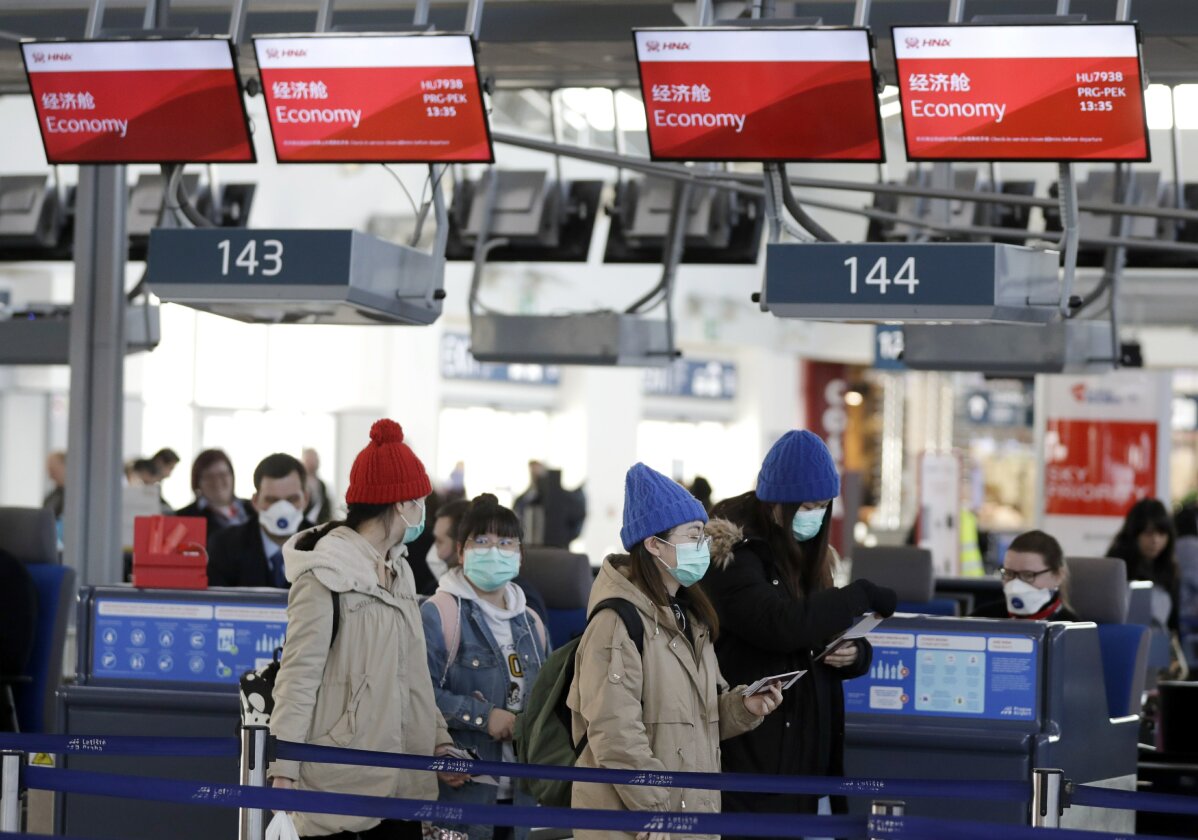 16 of 18

|
Passengers wearing masks check their boarding passes after checking-in to a flight to Beijing at the Vaclav Havel International Airport in Prague, Czech Republic, Monday, Jan. 27, 2020. Prague's international airport is launching an information campaign for travellers who develop symptoms possibly linked to a new coronavirus illness. (AP Photo/Petr David Josek)
16 of 18
Passengers wearing masks check their boarding passes after checking-in to a flight to Beijing at the Vaclav Havel International Airport in Prague, Czech Republic, Monday, Jan. 27, 2020. Prague's international airport is launching an information campaign for travellers who develop symptoms possibly linked to a new coronavirus illness. (AP Photo/Petr David Josek)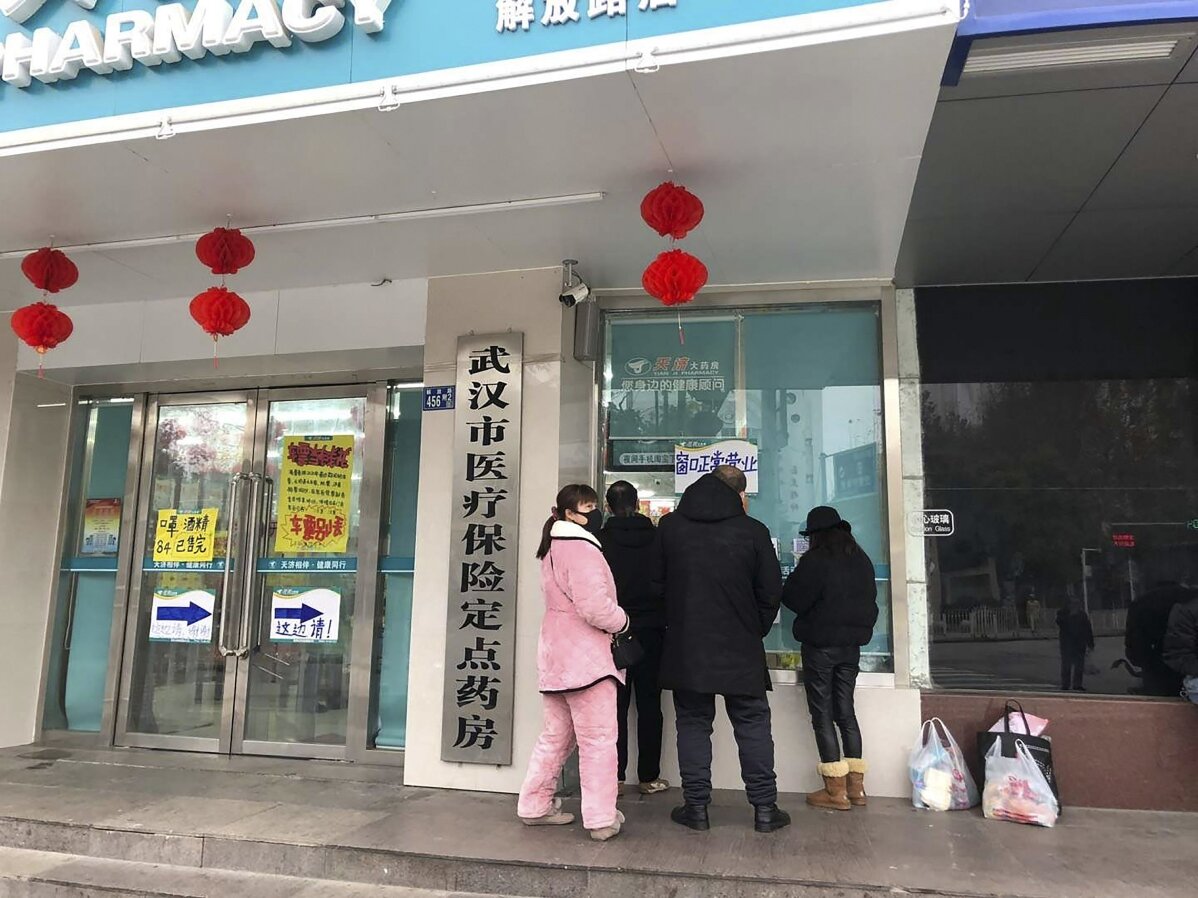 17 of 18

|
In this photo provided to the Associated Press, people line up at the window of a pharmacy in Wuhan in central China's Hubei Province, Monday, Jan. 27, 2020. China on Monday expanded sweeping efforts to contain a viral disease by extending the Lunar New Year holiday to keep the public at home and avoid spreading infection. (AP Photo)
17 of 18
In this photo provided to the Associated Press, people line up at the window of a pharmacy in Wuhan in central China's Hubei Province, Monday, Jan. 27, 2020. China on Monday expanded sweeping efforts to contain a viral disease by extending the Lunar New Year holiday to keep the public at home and avoid spreading infection. (AP Photo)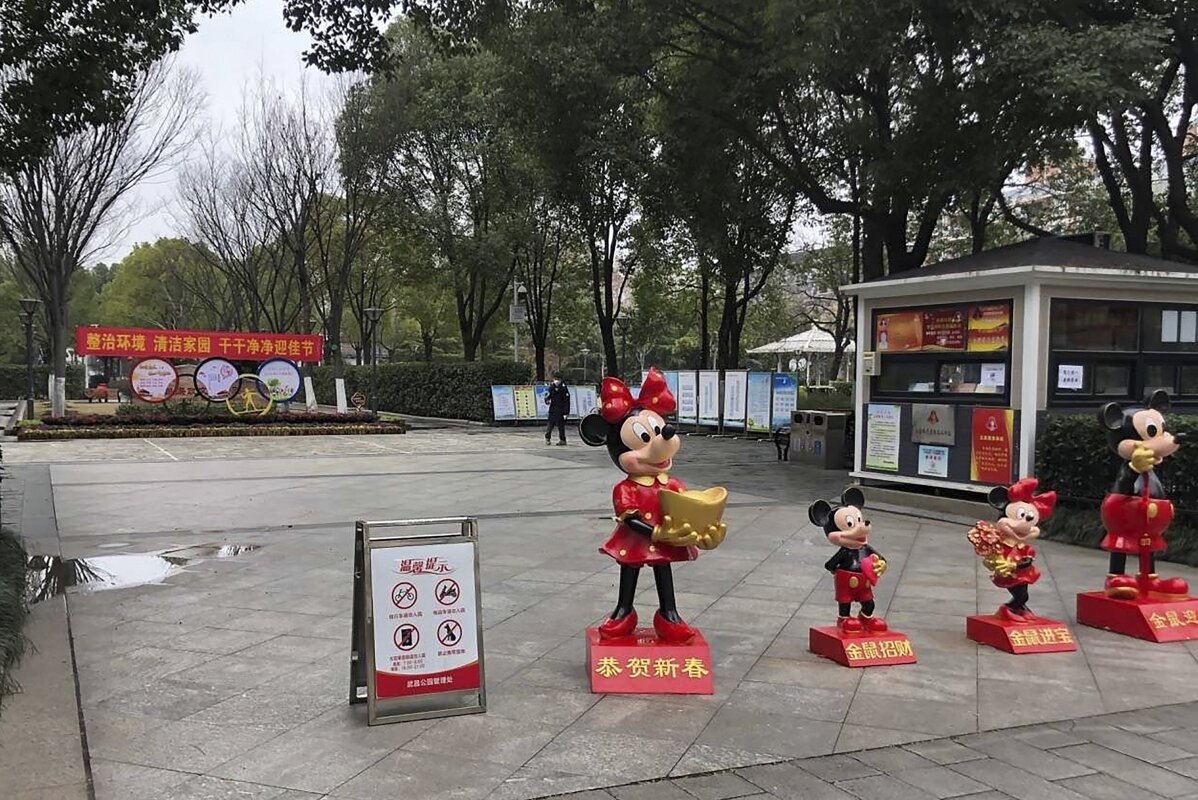 18 of 18

|
In this photo provided to the Associated Press, a man wearing a face mask walks past Minnie and Mickey Mouse themed Lunar New Year decorations at a park in Wuhan in central China's Hubei Province, Monday, Jan. 27, 2020. China on Monday expanded sweeping efforts to contain a viral disease by extending the Lunar New Year holiday to keep the public at home and avoid spreading infection. (AP Photo)
18 of 18
In this photo provided to the Associated Press, a man wearing a face mask walks past Minnie and Mickey Mouse themed Lunar New Year decorations at a park in Wuhan in central China's Hubei Province, Monday, Jan. 27, 2020. China on Monday expanded sweeping efforts to contain a viral disease by extending the Lunar New Year holiday to keep the public at home and avoid spreading infection. (AP Photo)
China has confirmed more than 2,700 cases of a new virus, with 81 deaths. Most have been in the central city of Wuhan where the illness first surfaced last month. More than 40 cases have been confirmed in other places with virtually all of them involving Chinese tourists or people who visited Wuhan recently.
Some details on cases confirmed as of midday Monday Beijing time:
— China: 2,744 cases on the mainland, with 769 of those newly confirmed in the 24 hours through midnight Sunday. In addition, Hong Kong has eight cases and Macao has five. Nearly all of the 81 deaths have been in central Hubei province, with five elsewhere in China.
— United States: 5, 2 in southern California and 1 each in Washington state, Chicago, and Arizona.
— Thailand: 8
— Australia: 5
— South Korea: 4
— Japan: 4
— Singapore: 4
— Malaysia: 4
— France: 3
— Taiwan: 3
— Vietnam: 2
— Canada: 2
— Nepal: 1
— Cambodia: 1