Trump conducts more Supreme Court interviews, hears concerns
1 of 7

|
President Donald Trump arrives to speak to a "Salute to Service" dinner, Tuesday, July 3, 2018, in White Sulphur Springs, W.Va. (AP Photo/Evan Vucci)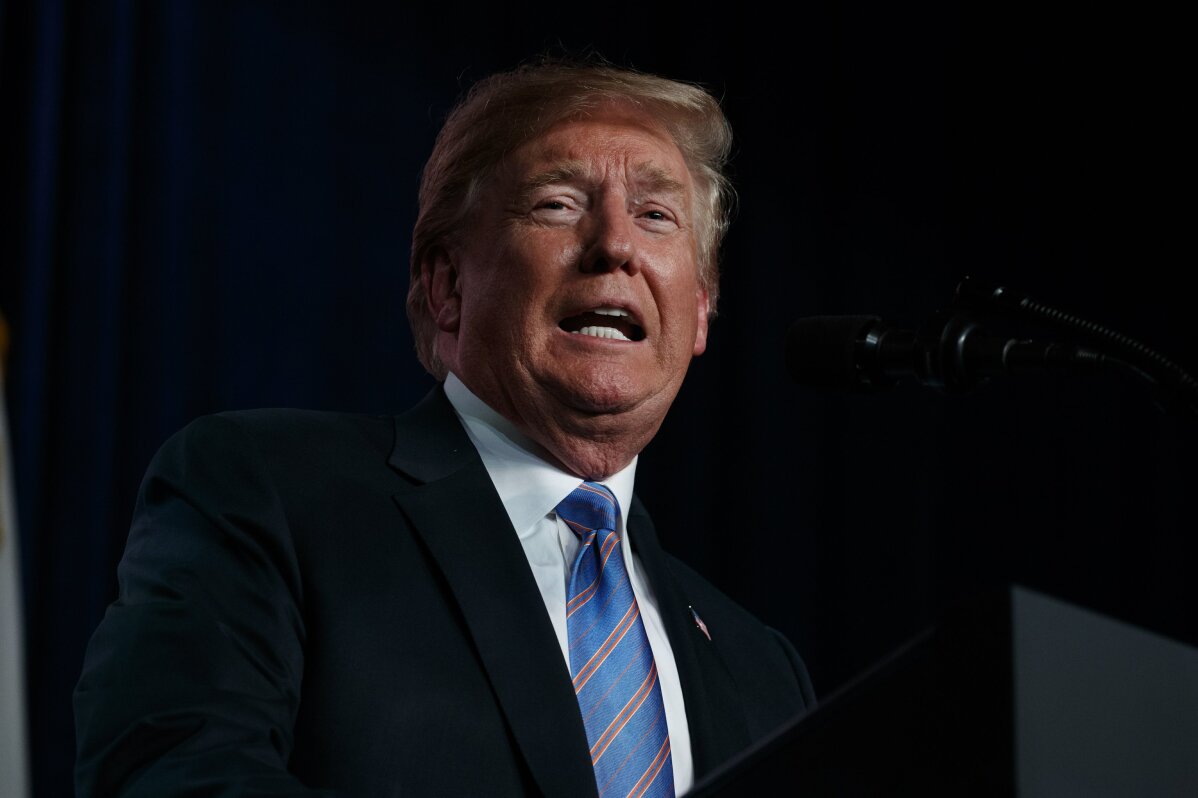 2 of 7

|
President Donald Trump speaks during a "Salute to Service" dinner, Tuesday, July 3, 2018, in White Sulphur Springs, W.Va. (AP Photo/Evan Vucci)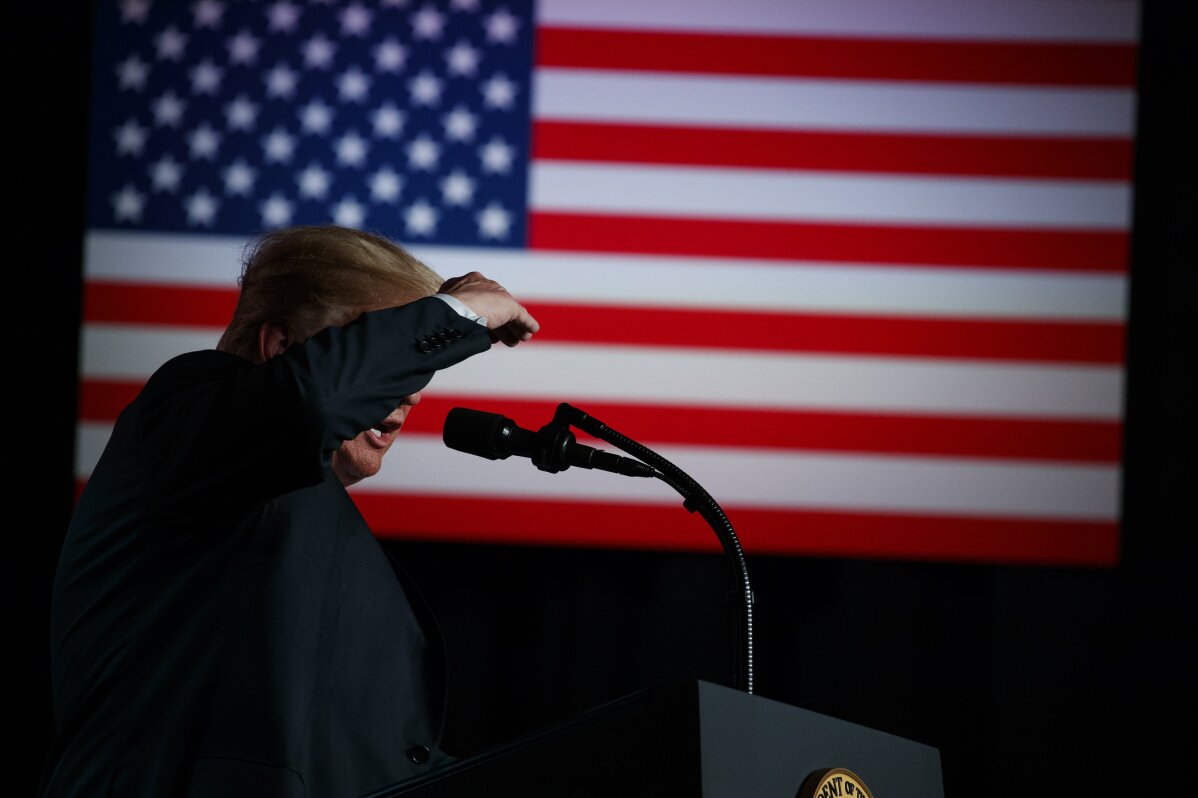 3 of 7

|
President Donald Trump speaks during a "Salute to Service" dinner, Tuesday, July 3, 2018, in White Sulphur Springs, W.Va. (AP Photo/Evan Vucci)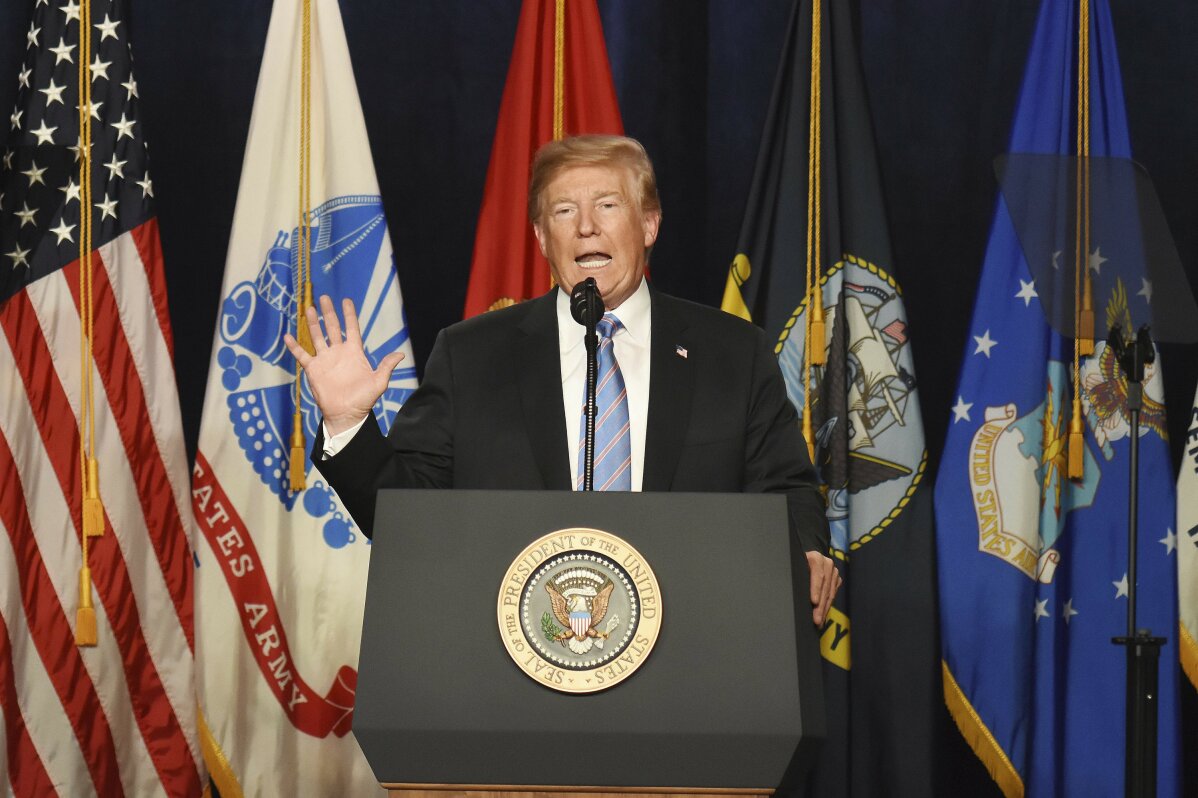 4 of 7

|
President Donald Trump speaks to the audience during his remarks at a Salute to Service charity dinner in conjunction with the PGA Tour's Greenbrier Classic at The Greenbrier in White Sulphur Springs, W.Va., Tuesday, July 3, 2018. Trump celebrated active-duty service members and veterans during a military tribute Tuesday on the eve of Independence Day. (AP Photo/Chris Jackson)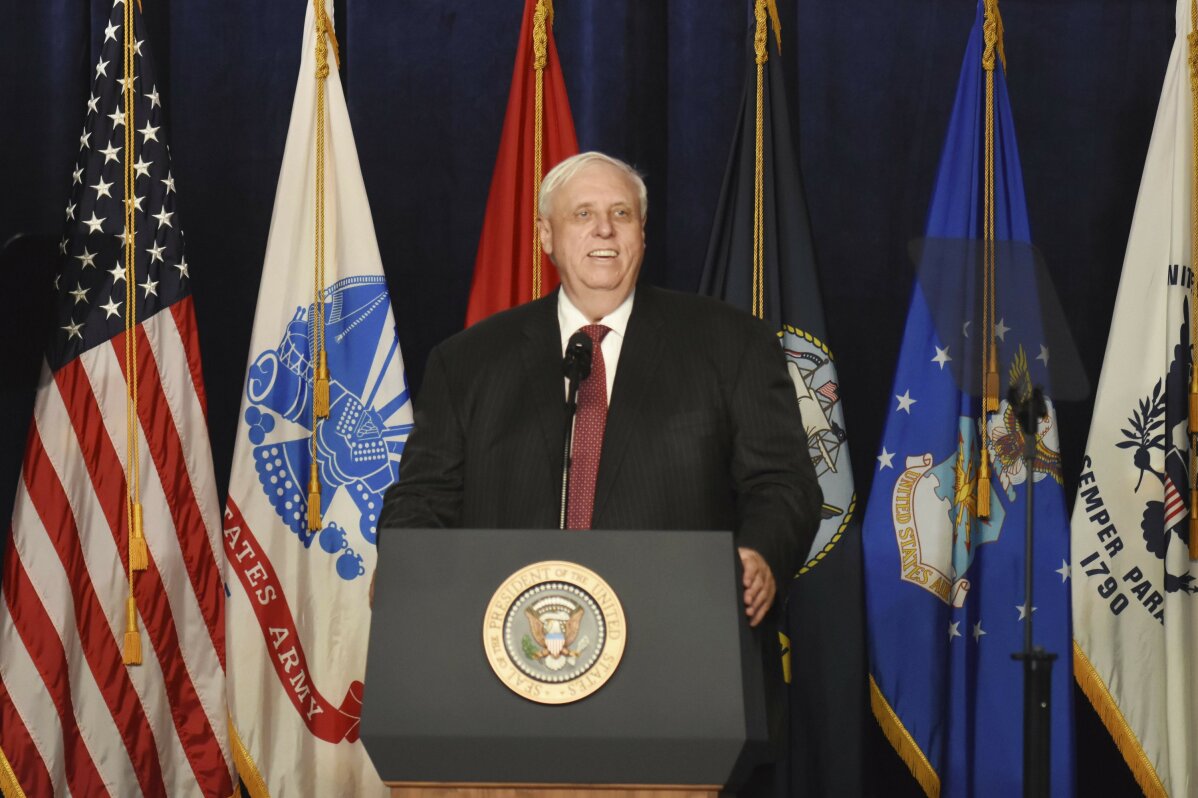 5 of 7

|
West Virginia Gov. Jim Justice speaks at a Salute to Service charity dinner in conjunction with the PGA Tour's Greenbrier Classic at The Greenbrier in White Sulphur Springs, W.Va., Tuesday, July 3, 2018. Trump celebrated active-duty service members and veterans during a military tribute Tuesday on the eve of Independence Day. (AP Photo/Chris Jackson)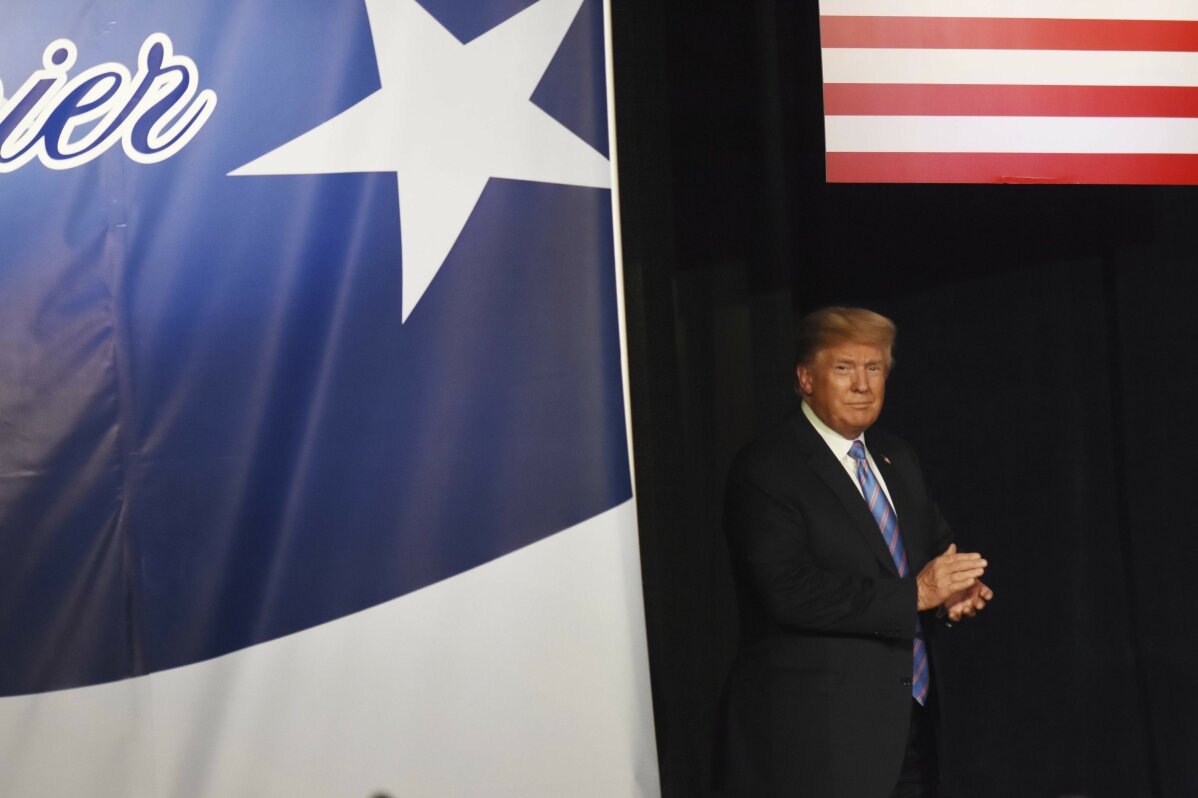 6 of 7

|
President Donald Trump walks onto the stage prior to his remarks at a Salute to Service charity dinner in conjunction with the PGA Tour's Greenbrier Classic at The Greenbrier in White Sulphur Springs, W.Va., Tuesday, July 3, 2018. Trump celebrated active-duty service members and veterans during a military tribute Tuesday on the eve of Independence Day. (AP Photo/Chris Jackson)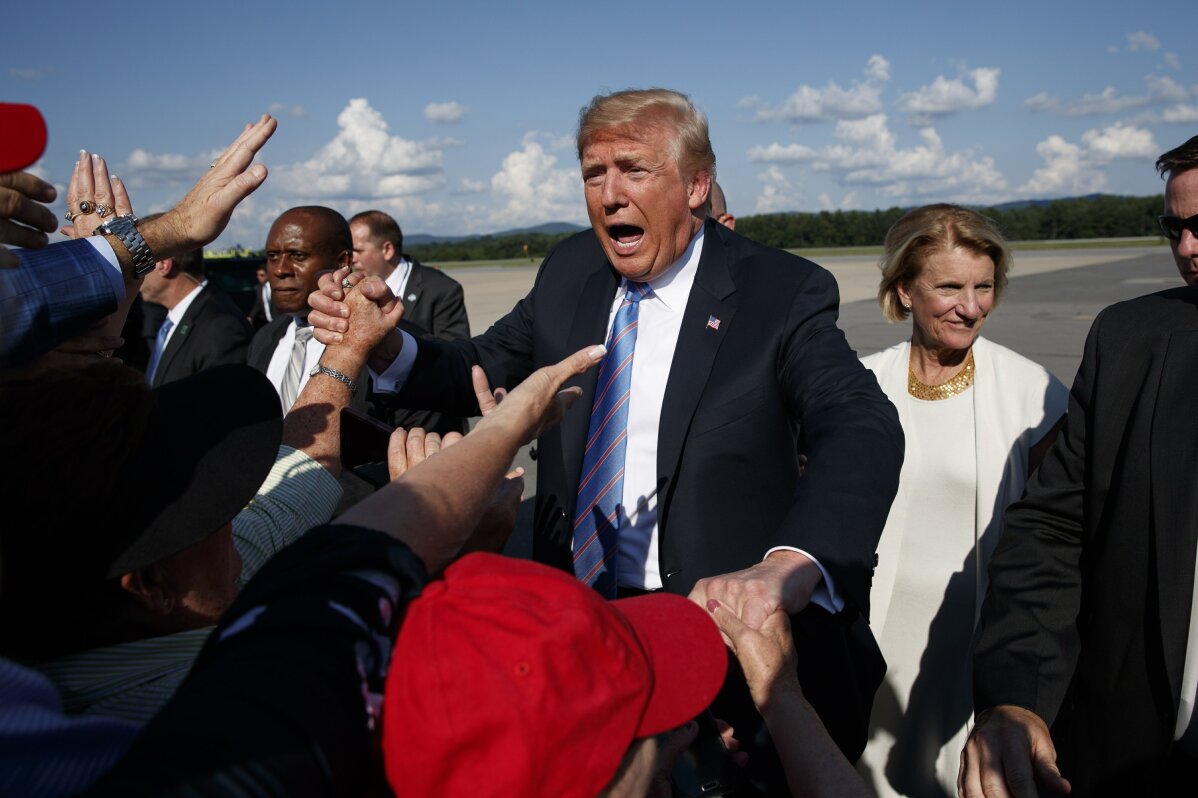 7 of 7

|
President Donald Trump greets supporters after arriving at the Greenbrier Valley Airport in Lewisburg, W.Va., before attending a "Salute to Service" dinner, Tuesday, July 3, 2018, in White Sulphur Springs, W.Va. (AP Photo/Evan Vucci)
Trump conducts more Supreme Court interviews, hears concerns
1 of 7

|
President Donald Trump arrives to speak to a "Salute to Service" dinner, Tuesday, July 3, 2018, in White Sulphur Springs, W.Va. (AP Photo/Evan Vucci)
1 of 7
President Donald Trump arrives to speak to a "Salute to Service" dinner, Tuesday, July 3, 2018, in White Sulphur Springs, W.Va. (AP Photo/Evan Vucci)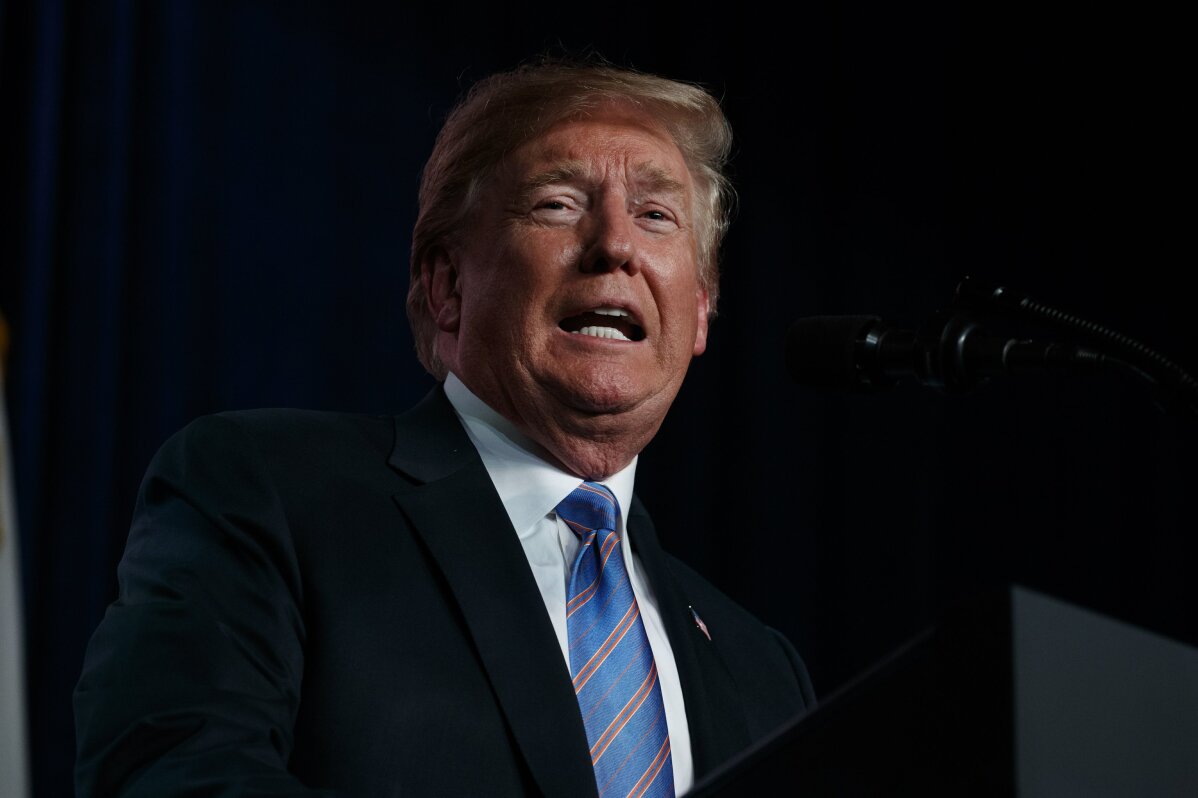 2 of 7

|
President Donald Trump speaks during a "Salute to Service" dinner, Tuesday, July 3, 2018, in White Sulphur Springs, W.Va. (AP Photo/Evan Vucci)
2 of 7
President Donald Trump speaks during a "Salute to Service" dinner, Tuesday, July 3, 2018, in White Sulphur Springs, W.Va. (AP Photo/Evan Vucci)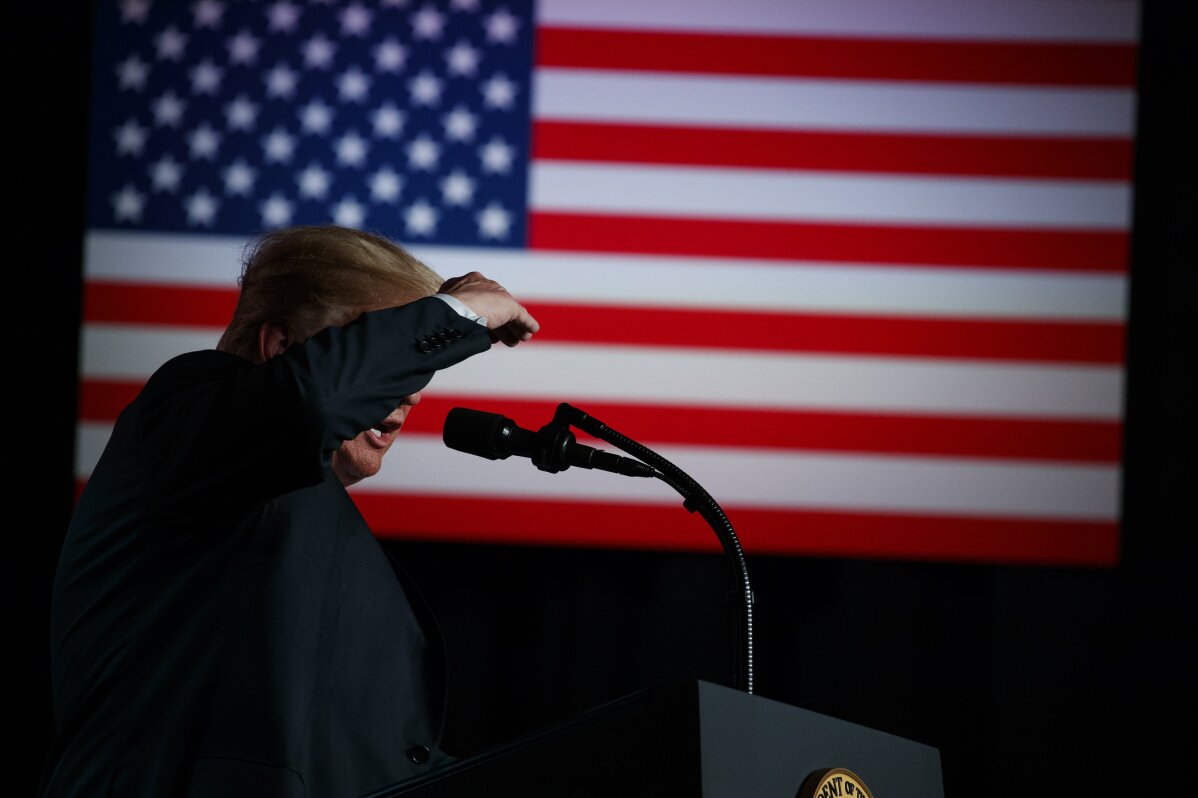 3 of 7

|
President Donald Trump speaks during a "Salute to Service" dinner, Tuesday, July 3, 2018, in White Sulphur Springs, W.Va. (AP Photo/Evan Vucci)
3 of 7
President Donald Trump speaks during a "Salute to Service" dinner, Tuesday, July 3, 2018, in White Sulphur Springs, W.Va. (AP Photo/Evan Vucci)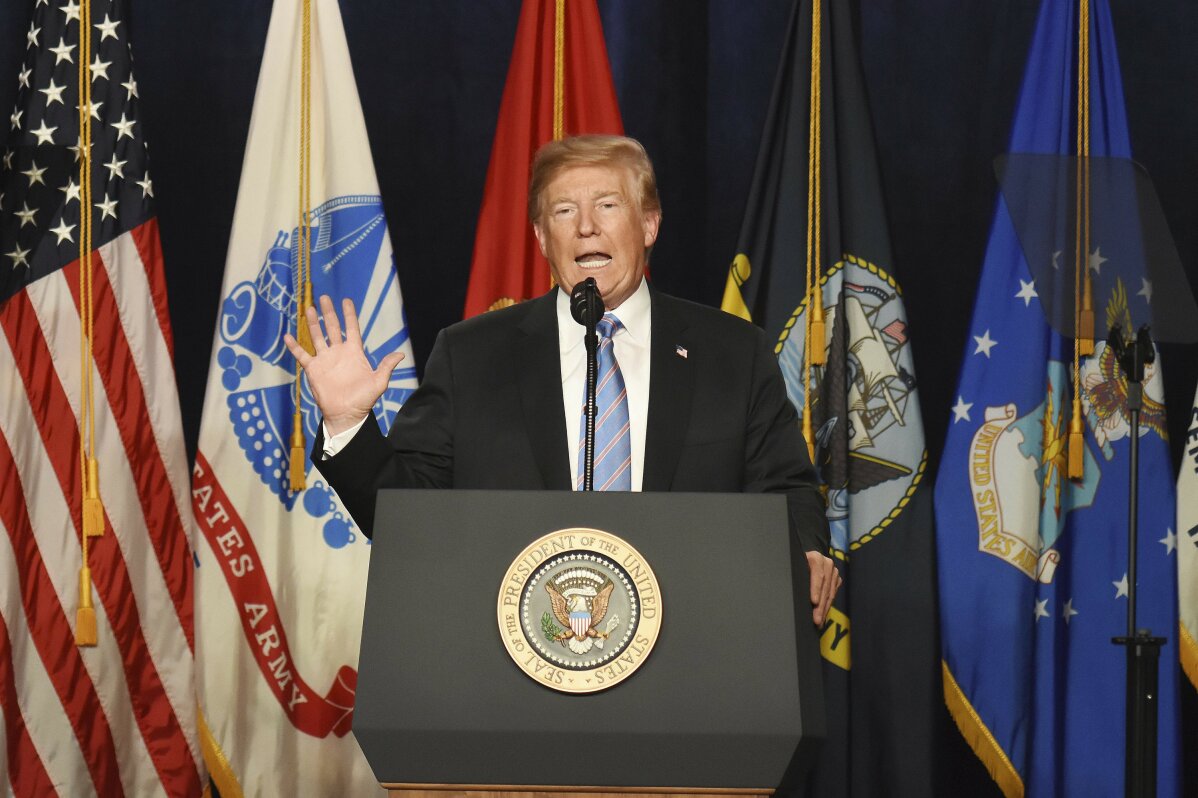 4 of 7

|
President Donald Trump speaks to the audience during his remarks at a Salute to Service charity dinner in conjunction with the PGA Tour's Greenbrier Classic at The Greenbrier in White Sulphur Springs, W.Va., Tuesday, July 3, 2018. Trump celebrated active-duty service members and veterans during a military tribute Tuesday on the eve of Independence Day. (AP Photo/Chris Jackson)
4 of 7
President Donald Trump speaks to the audience during his remarks at a Salute to Service charity dinner in conjunction with the PGA Tour's Greenbrier Classic at The Greenbrier in White Sulphur Springs, W.Va., Tuesday, July 3, 2018. Trump celebrated active-duty service members and veterans during a military tribute Tuesday on the eve of Independence Day. (AP Photo/Chris Jackson)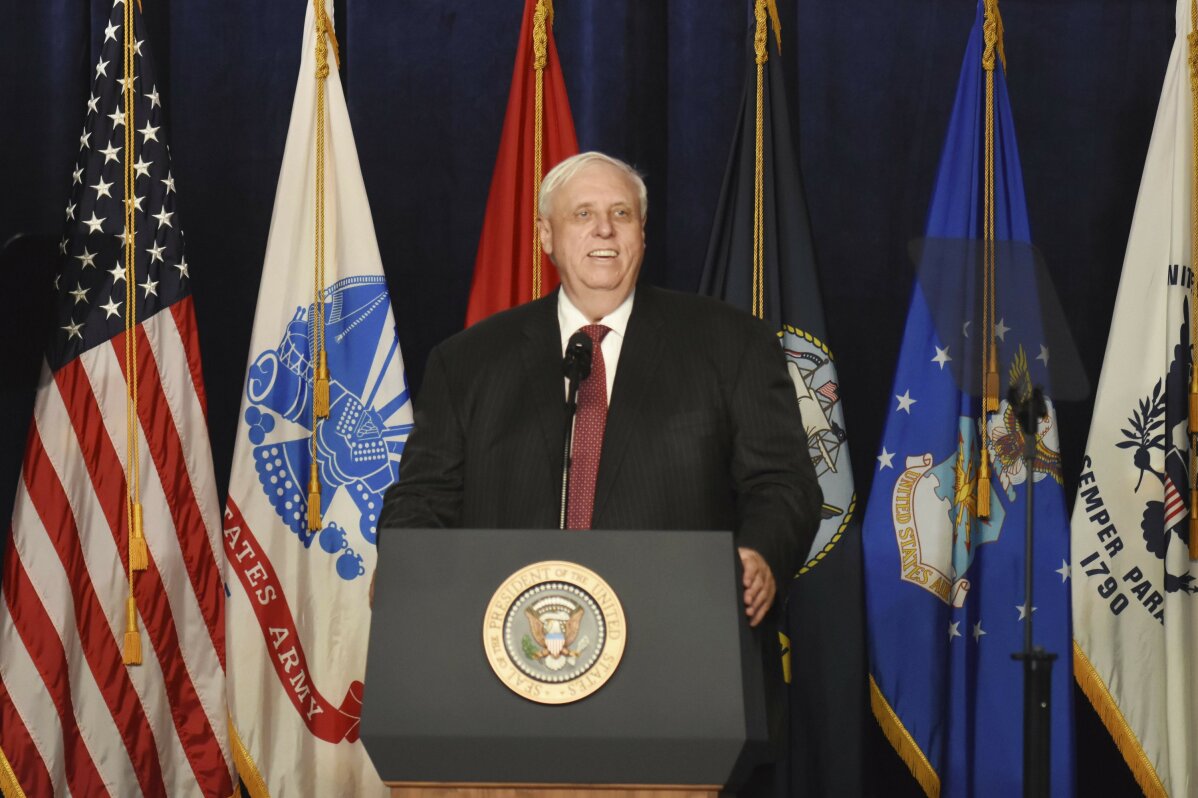 5 of 7

|
West Virginia Gov. Jim Justice speaks at a Salute to Service charity dinner in conjunction with the PGA Tour's Greenbrier Classic at The Greenbrier in White Sulphur Springs, W.Va., Tuesday, July 3, 2018. Trump celebrated active-duty service members and veterans during a military tribute Tuesday on the eve of Independence Day. (AP Photo/Chris Jackson)
5 of 7
West Virginia Gov. Jim Justice speaks at a Salute to Service charity dinner in conjunction with the PGA Tour's Greenbrier Classic at The Greenbrier in White Sulphur Springs, W.Va., Tuesday, July 3, 2018. Trump celebrated active-duty service members and veterans during a military tribute Tuesday on the eve of Independence Day. (AP Photo/Chris Jackson)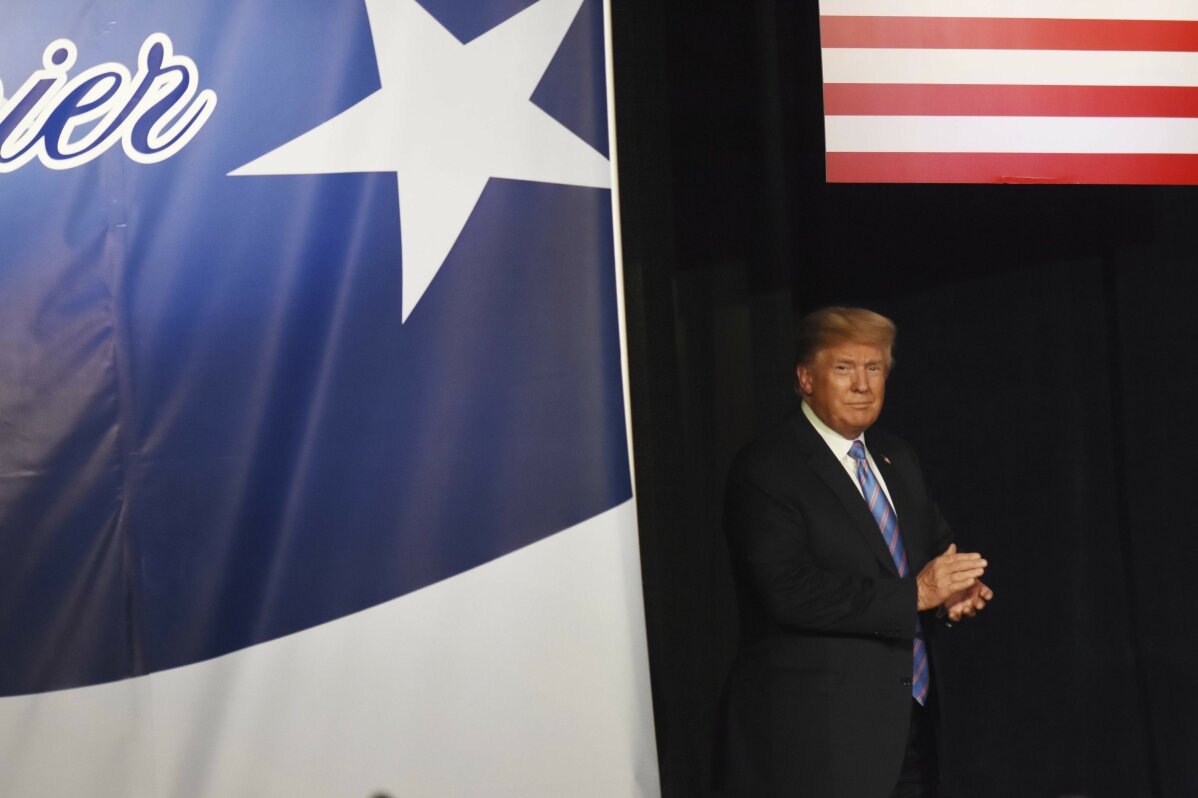 6 of 7

|
President Donald Trump walks onto the stage prior to his remarks at a Salute to Service charity dinner in conjunction with the PGA Tour's Greenbrier Classic at The Greenbrier in White Sulphur Springs, W.Va., Tuesday, July 3, 2018. Trump celebrated active-duty service members and veterans during a military tribute Tuesday on the eve of Independence Day. (AP Photo/Chris Jackson)
6 of 7
President Donald Trump walks onto the stage prior to his remarks at a Salute to Service charity dinner in conjunction with the PGA Tour's Greenbrier Classic at The Greenbrier in White Sulphur Springs, W.Va., Tuesday, July 3, 2018. Trump celebrated active-duty service members and veterans during a military tribute Tuesday on the eve of Independence Day. (AP Photo/Chris Jackson)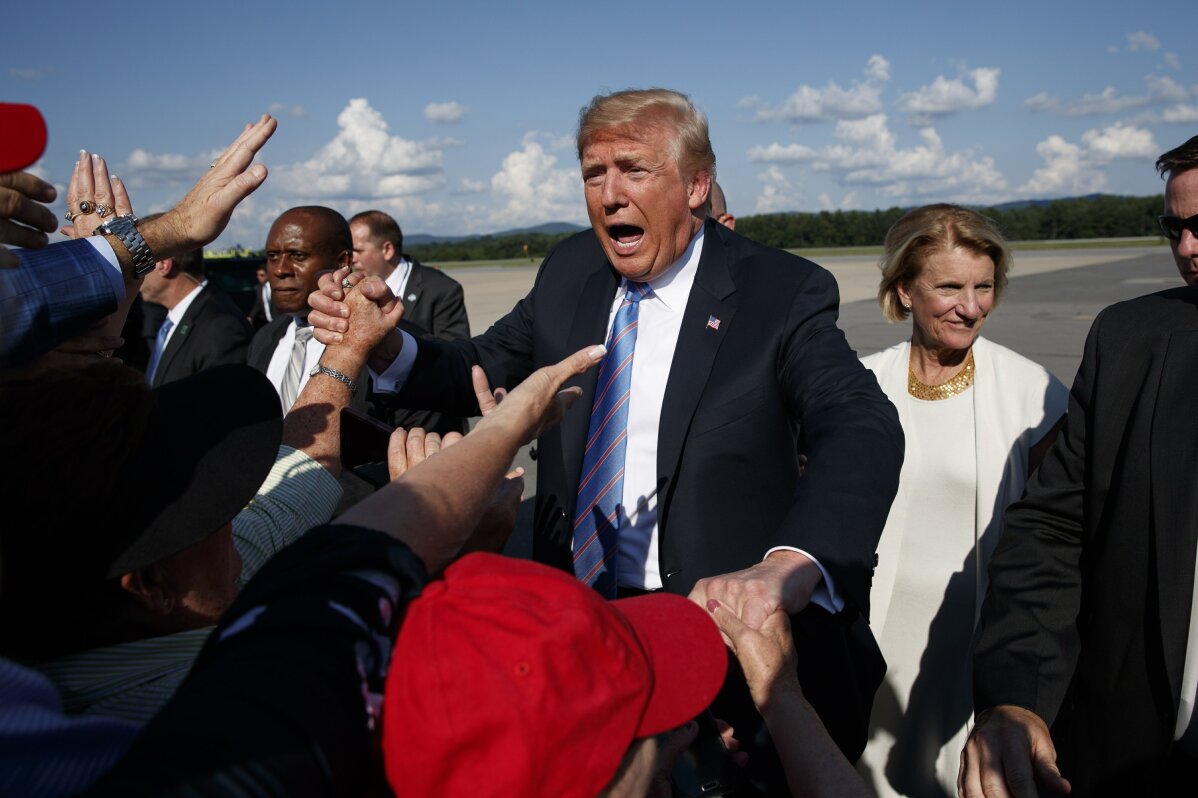 7 of 7

|
President Donald Trump greets supporters after arriving at the Greenbrier Valley Airport in Lewisburg, W.Va., before attending a "Salute to Service" dinner, Tuesday, July 3, 2018, in White Sulphur Springs, W.Va. (AP Photo/Evan Vucci)
7 of 7
President Donald Trump greets supporters after arriving at the Greenbrier Valley Airport in Lewisburg, W.Va., before attending a "Salute to Service" dinner, Tuesday, July 3, 2018, in White Sulphur Springs, W.Va. (AP Photo/Evan Vucci)
WASHINGTON (AP) — President Donald Trump spoke with three more potential Supreme Court candidates on Tuesday as a key senator privately aired concerns about one of the contenders.
As Trump weighs his options, he has heard from Sen. Rand Paul, R-Ky., who has expressed reservations about one top potential nominee, Brett Kavanaugh, according to a person familiar with the call but not authorized to publicly disclose details of it. The activity around Kavanaugh was an early glimpse of the frenzied jockeying around the short list of candidates in the run-up to Trump's July 9 announcement.
With a narrow 51-49 GOP majority in the Senate, losing any Republican senator could begin to doom a nominee. Paul's objections echo those made by outside conservative groups over Kavanaugh, who is seen as a top contender for the vacancy but who activists warn is too much of an establishment-aligned choice.
Trump has said he'll choose his nominee from a list of 25 candidates vetted by conservative groups. Top contenders include federal appeals judges Kavanaugh, Raymond Kethledge, Amul Thapar and Amy Coney Barrett — all of whom spoke with Trump on Monday.
"These are very talented people, brilliant people," Trump said Tuesday during an appearance in West Virginia. "We're going to give you a great one."
The White House says Trump has spoken to seven candidates. There were the four interviews Monday, as well as a conversation with Republican Sen. Mike Lee of Utah, who is not regarded as a top contender but who is being pushed by key conservatives.
Trump has also spoken with Thomas Hardiman, who has served with Trump's sister on the 3rd U.S. Circuit Court of Appeals in Philadelphia, according to a person familiar with the conversation who also was not authorized to publicly discuss it.
Another candidate considered a top contender is Joan Larsen, who serves on the federal appeals court in Cincinnati.
Trump's choice to replace Kennedy — a swing vote on the nine-member court — has the potential to remake the court for a generation as part of precedent-shattering decisions on abortion, health care, gay marriage and other issues. Recognizing the stakes, many Democrats have lined up in opposition to any Trump pick, and Republicans lawmakers and activists are seeking to shape the president's decision.
For his part, Trump has sought advice from White House counsel Don McGahn, outside advisers like Leonard Leo, on leave from the Federalist Society, and has been making calls to lawmakers, including Paul.
Paul has told colleagues that he may not vote for Kavanaugh if the judge is nominated, citing Kavanaugh's role during the Bush administration on cases involving executive privilege and the disclosure of documents to Congress, said the person familiar with Paul's conversations who spoke to The Associated Press on condition of anonymity.
The senator has more than once threatened to withhold his vote on key Trump priorities citing ideological disagreements, most recently the nomination of Secretary of State Mike Pompeo. But Paul has repeatedly yielded to Trump's personal lobbying to back his nominees and legislation, often citing unspecified concessions from the president.
Paul's office did not respond to requests for comment.
His concerns mirror comments from some conservatives who view Kavanaugh as a more establishment-aligned pick on abortion and issues related to the Fourth Amendment right against unreasonable searches and seizures. Some also raised concern about his approach to the Affordable Care Act.
"Trump's list is full of great nominees, but Kavanaugh raises several concerns among libertarian and pro-life activists at a time when we need to be united," said Wesley Denton, communications director for the Conservative Partnership Institute, an organization that works closely with lawmakers on Capitol Hill.
The president also spoke by phone with Lee on Monday, as first reported by the Deseret News and later confirmed by the senator's office, which characterized it as an interview. Asked about the call, White House spokesman Raj Shah said only, "Yesterday, the President spoke on the phone with Sen. Mike Lee." Lee is the only lawmaker on Trump's list of potential justices.
There have also been lobbying efforts around other candidates.
Some conservatives have pointed to Kethledge as a potential justice in the mold of Gorsuch; both once served as law clerks to Kennedy. Kethledge, a Michigan Law graduate who has been a Michigan-based appellate court judge for the past decade, would add academic diversity to a court steeped in the Ivy League.
"The court could use some perspectives that were forged in different kinds of regions of the country and different kinds of academic backgrounds," said former Michigan Sen. Spence Abraham, who hired Kethledge as a young staffer in the 1990s.
Since Trump said his short list includes at least two women, speculation has focused on Barrett, a former law clerk to Justice Antonin Scalia and a longtime Notre Dame Law School professor who serves on the 7th U.S. Circuit Court of Appeals. Conservative groups rallied around Barrett after her confirmation hearing last year featured questioning from Democrats over how her Roman Catholic faith would affect her decisions.
Former House speaker and Trump ally Newt Gingrich tweeted Monday: "Judge Amy Coney Barrett would make an outstanding Supreme Court Justice. Her clarity and intellectual strength in the Senate hearings for her current judgeship showed an intellect and a depth of thought that would be powerful on the Supreme Court."
But her short tenure on the bench may work against her. And Democrats claim that Barrett — like the other picks — would favor overturning Roe v. Wade, the 1973 case that affirmed a woman's right to abortion, and would weaken President Barack Obama's 2010 health care law.
Since the start of his 2016 campaign, Trump has embraced anti-abortion groups and vowed to appoint federal judges who will favor efforts to roll back abortion rights. But he told reporters Friday that he would not question potential high-court nominees about their views on abortion, saying it was "inappropriate to discuss."
Sen. Susan Collins, R-Maine, has said she would oppose any nominee she believed would overturn Roe v. Wade, stressing she wants to back a judge who would show respect for settled law such as the Roe decision.
___
Associated Press writer Zeke Miller contributed to this report.