At least 44 killed as dam bursts in Kenya, officials say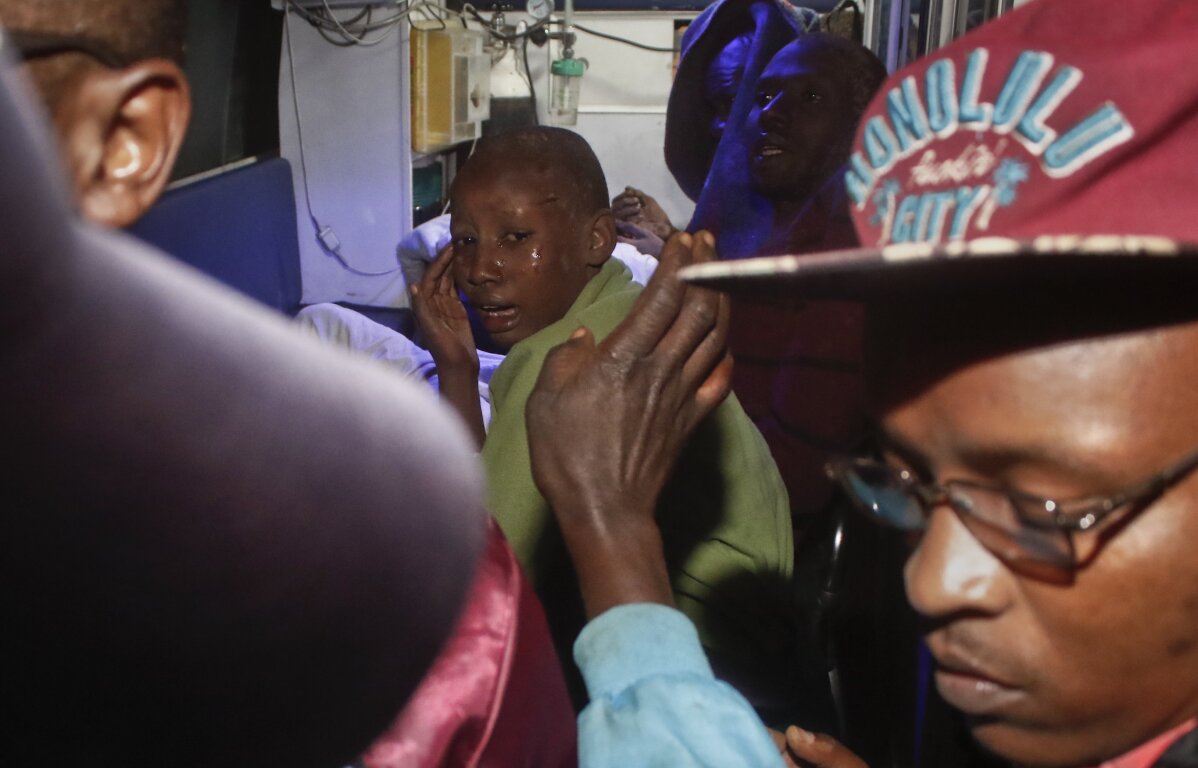 1 of 10

|
A child affected by the floods is taken away by ambulance during the early hours of Thursday, May 10, 2018 near Solai, in Kenya's Rift Valley. Water burst through the banks of the Patel Dam in Nakuru County late Wednesday night after heavy rains, sweeping away hundreds of homes and killing dozens. (AP Photo)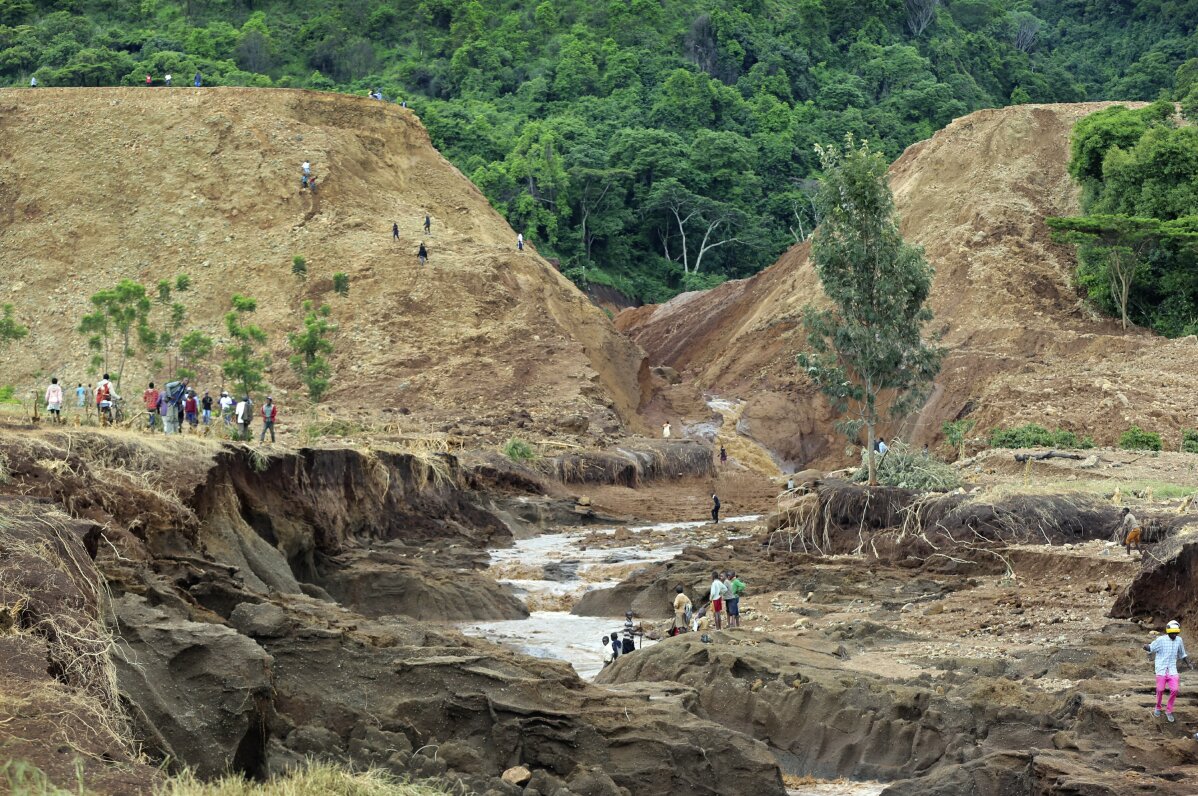 2 of 10

|
People gather in front of the broken banks of the Patel dam near Solai, in Kenya's Rift Valley, Thursday, May 10, 2018. A dam burst its banks in Kenya's Rift Valley, killing at least 41 people and forcing hundreds from their homes, officials said Thursday. At least 20 of the dead were children, police said. (AP Photo)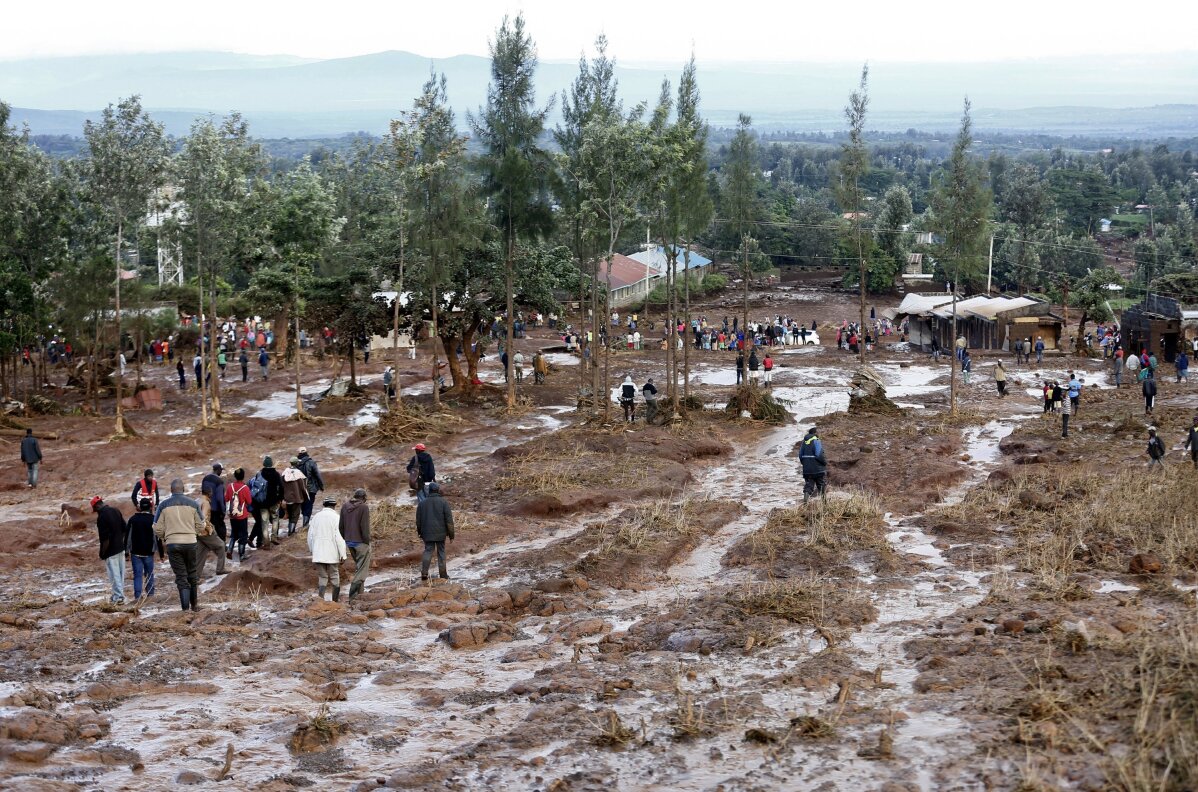 3 of 10

|
People walk through an area swept away by waters from the Patel dam near Solai, in Kenya's Rift Valley, Thursday, May 10, 2018. A dam burst its banks in Kenya's Rift Valley, killing at least 41 people and forcing hundreds from their homes, officials said Thursday. At least 20 of the dead were children, police said. (AP Photo)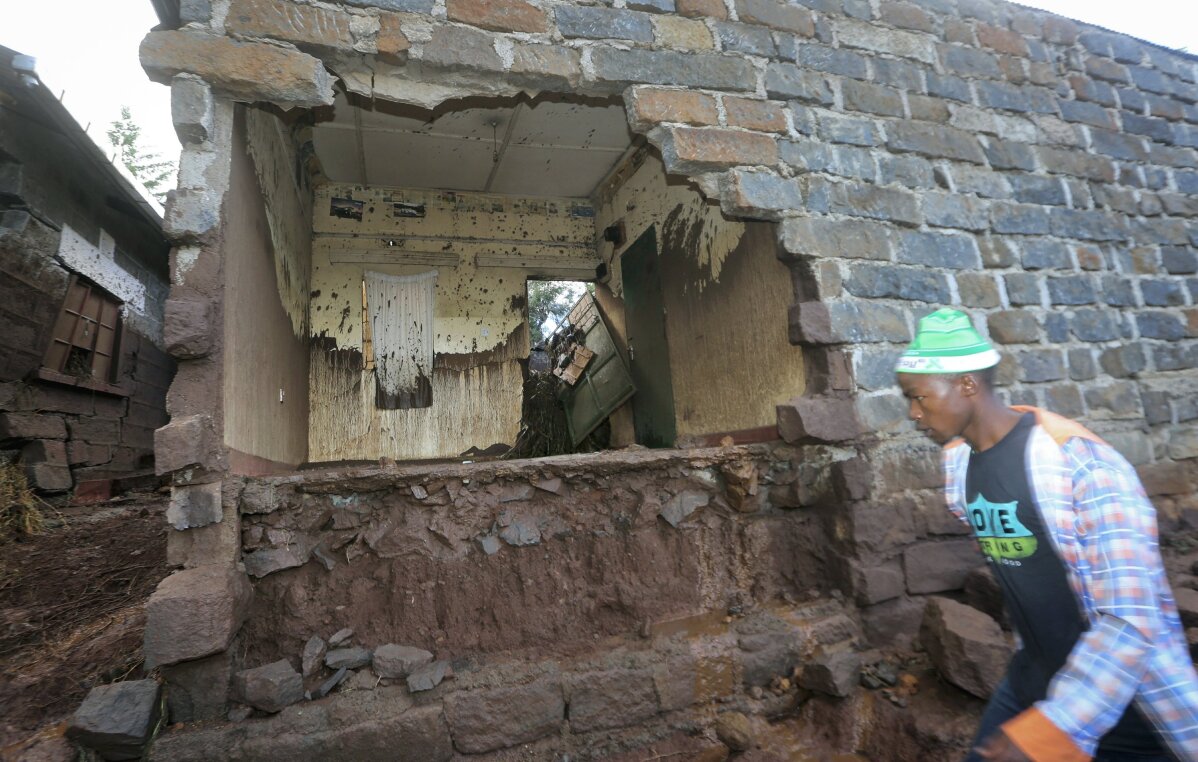 4 of 10

|
A man walks past a house damaged by flooding, near Solai, in Kenya's Rift Valley, Thursday, May 10, 2018. A dam burst its banks in Kenya's Rift Valley, killing at least 41 people and forcing hundreds from their homes, officials said Thursday. At least 20 of the dead were children, police said. (AP Photo)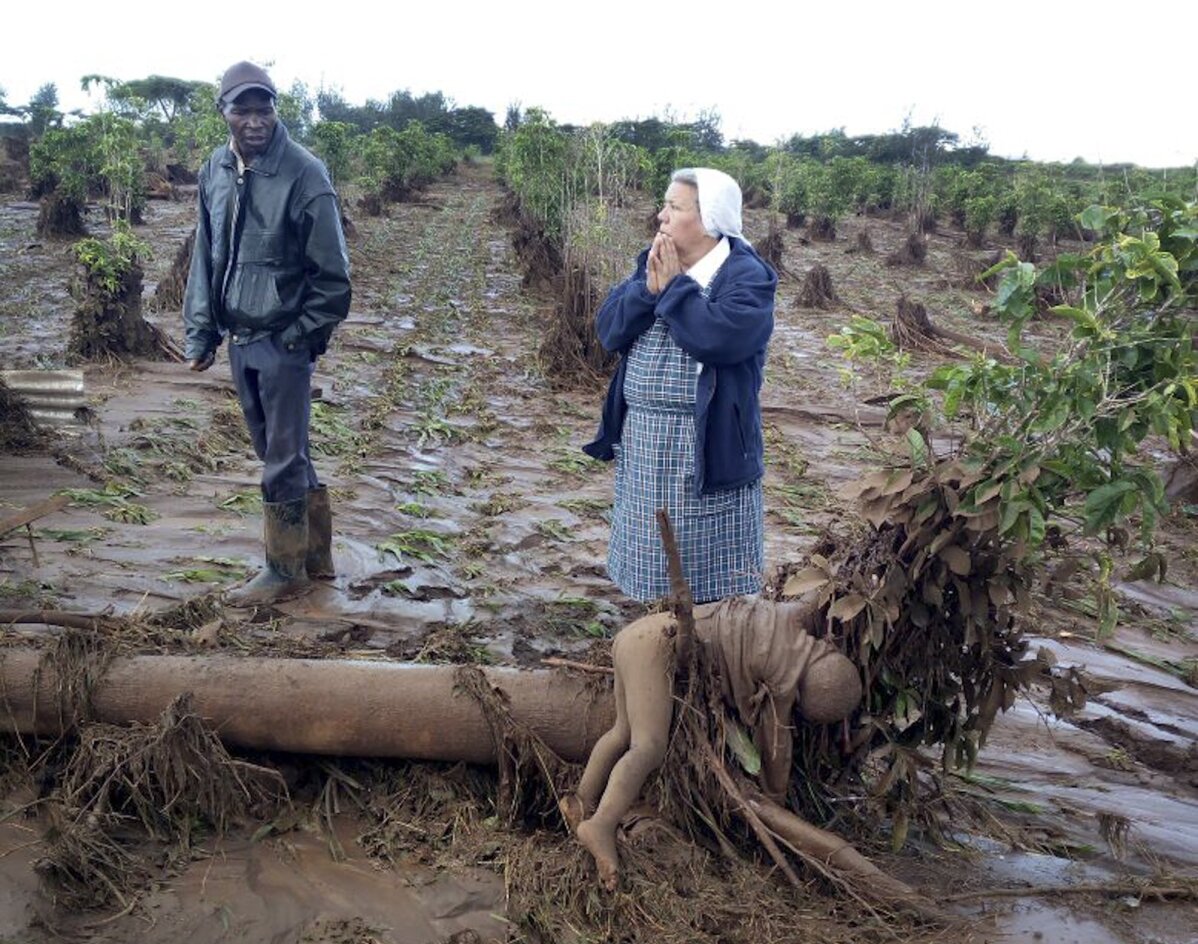 5 of 10

|
EDS NOTE GRAPHIC CONTENT : A nun reacts as she stands near the dead body of a child covered in mud, while a local resident looks on, at the scene of deadly floods near Solai, in Kenya's Rift Valley, Thursday, May 10, 2018. The Patel Dam burst its banks late Wednesday night after heavy rains, sweeping away hundreds of homes and killing some dozens, many of them children. (AP Photo)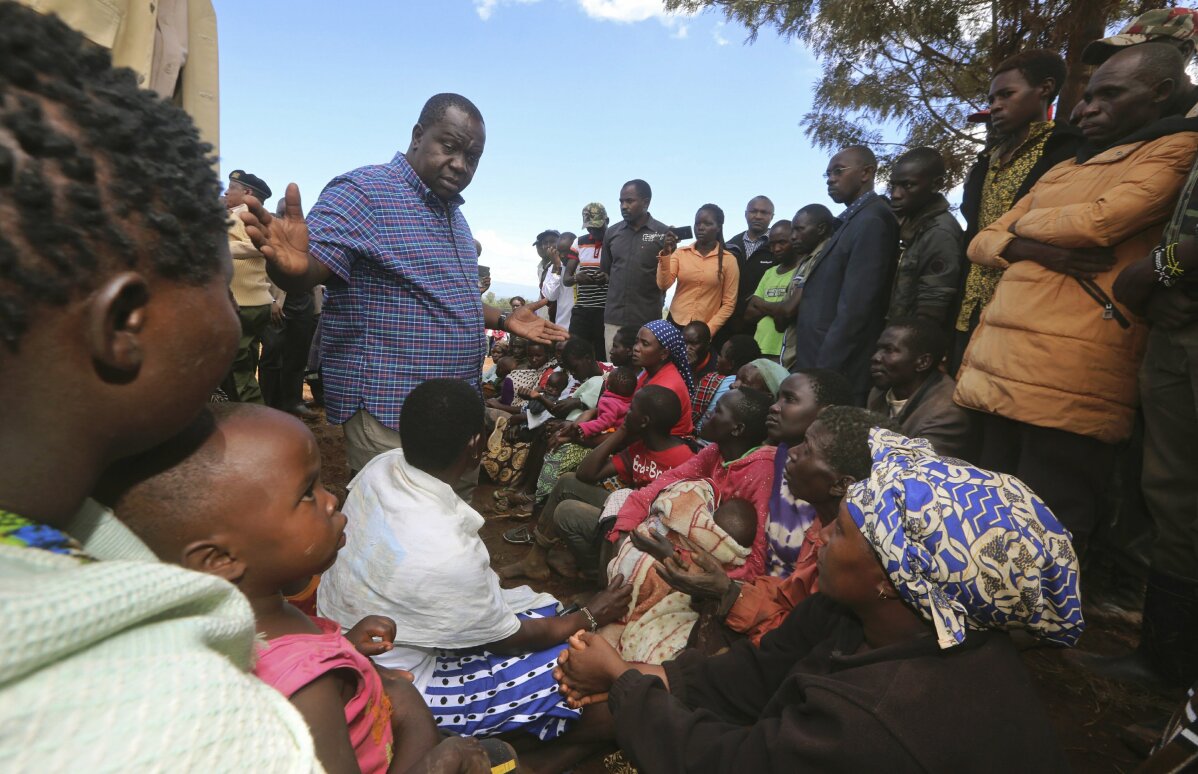 6 of 10

|
Survivors of the flooding huddle together in Kenya's Rift Valley, near Solai, Thursday, May 10, 2018. A dam burst its banks in Kenya's Rift Valley, killing at least 41 people and forcing hundreds from their homes, officials said Thursday. At least 20 of the dead were children, police said. (AP Photo)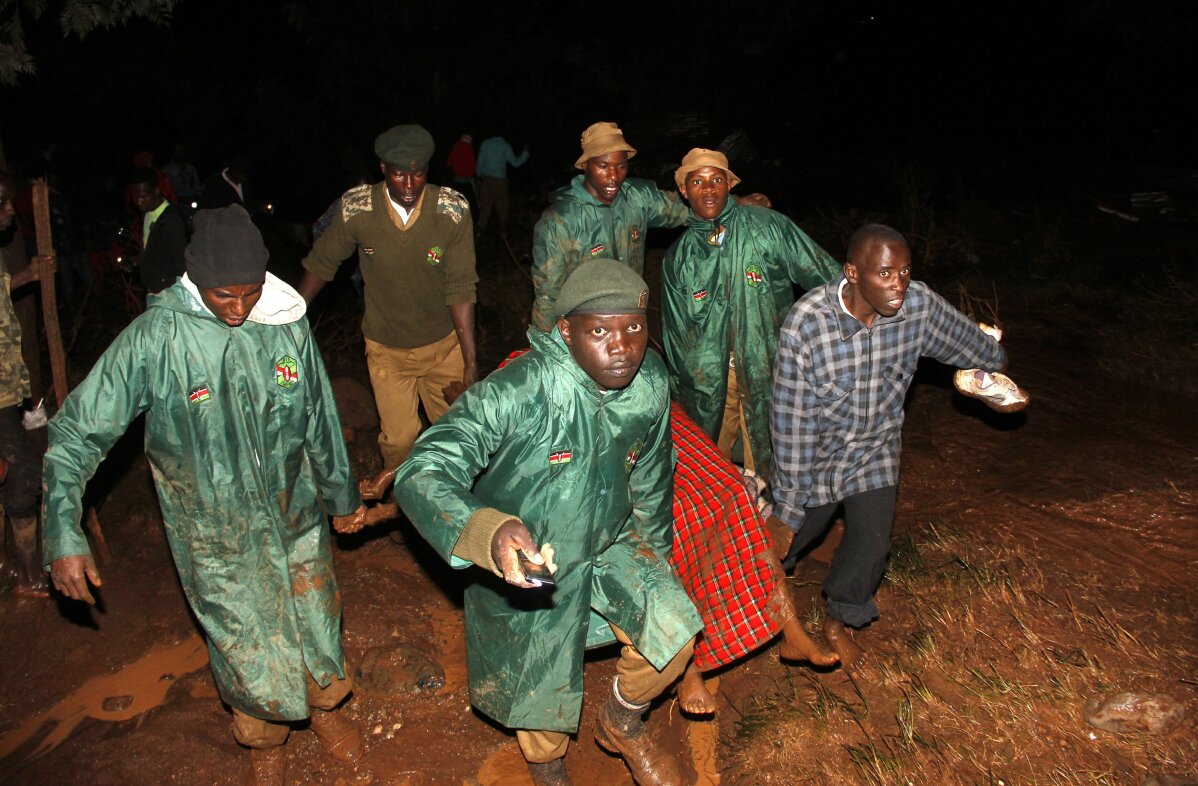 7 of 10

|
Members of the National Youth Service carry away a dead body covered in a blanket during the early hours of Thursday, May 10, 2018 near Solai, in Kenya's Rift Valley. Water burst through the banks of the Patel Dam in Nakuru County late Wednesday night after heavy rains, sweeping away hundreds of homes and killing dozens. (AP Photo)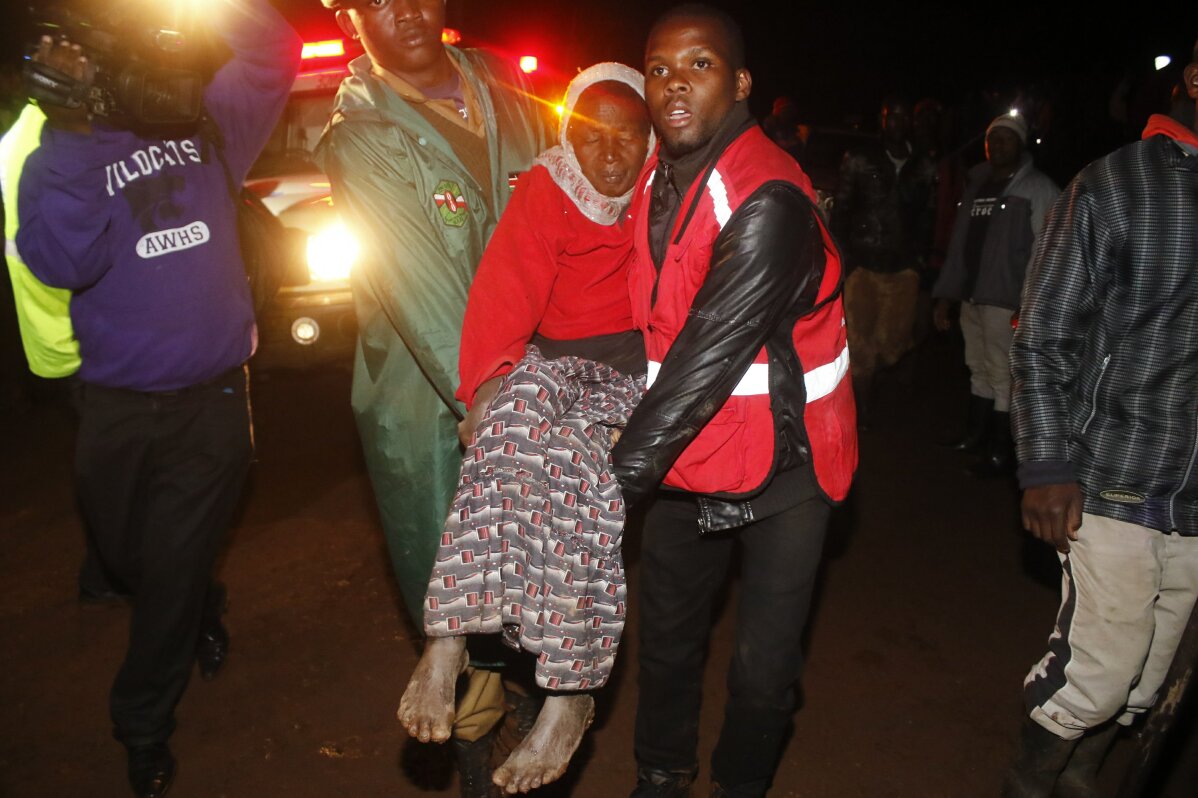 8 of 10

|
A paramedic carries an injured woman during the early hours of Thursday, May 10, 2018, near Solai, in Kenya's Rift Valley. Water burst through the banks of the Patel Dam in Nakuru County late Wednesday night after heavy rains, sweeping away hundreds of homes and killing dozens. (AP Photo)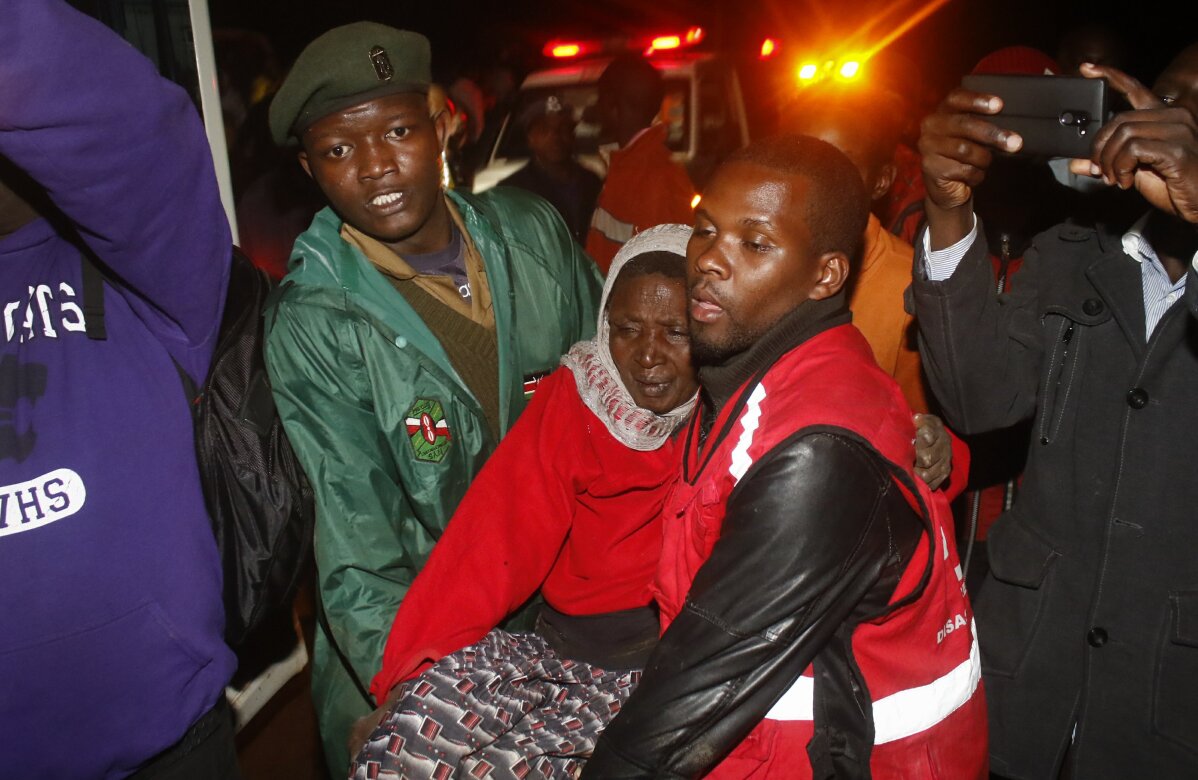 9 of 10

|
A paramedic carries an injured woman during the early hours of Thursday, May 10, 2018, near Solai, in Kenya's Rift Valley. Water burst through the banks of the Patel Dam in Nakuru County late Wednesday night after heavy rains, sweeping away hundreds of homes and killing dozens. (AP Photo)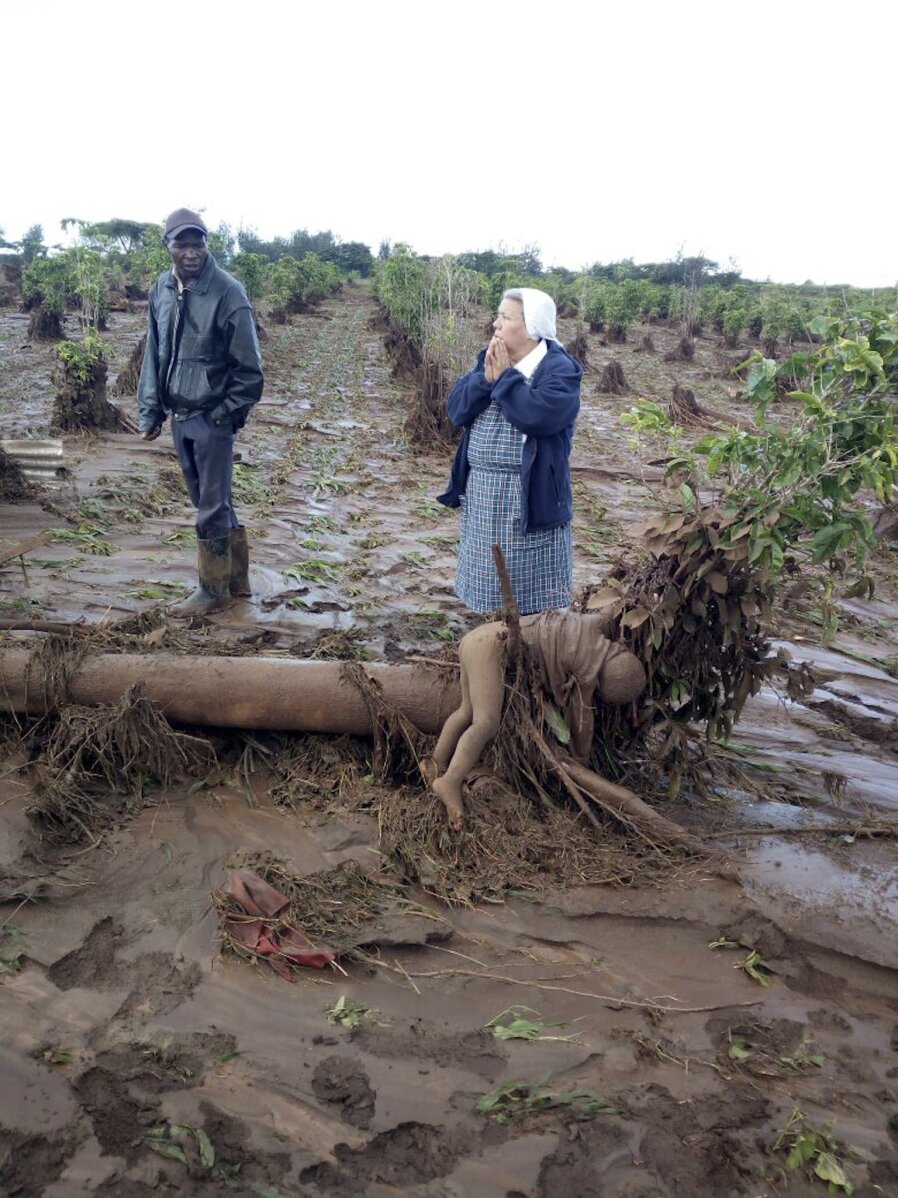 10 of 10

|
EDS NOTE GRAPHIC CONTENT : A nun reacts as she stands near the dead body of a child covered in mud, while a local resident looks on, at the scene of deadly floods near Solai, in Kenya's Rift Valley, Thursday, May 10, 2018. The Patel Dam burst its banks late Wednesday night after heavy rains, sweeping away hundreds of homes and killing some dozens, many of them children. (AP Photo)
At least 44 killed as dam bursts in Kenya, officials say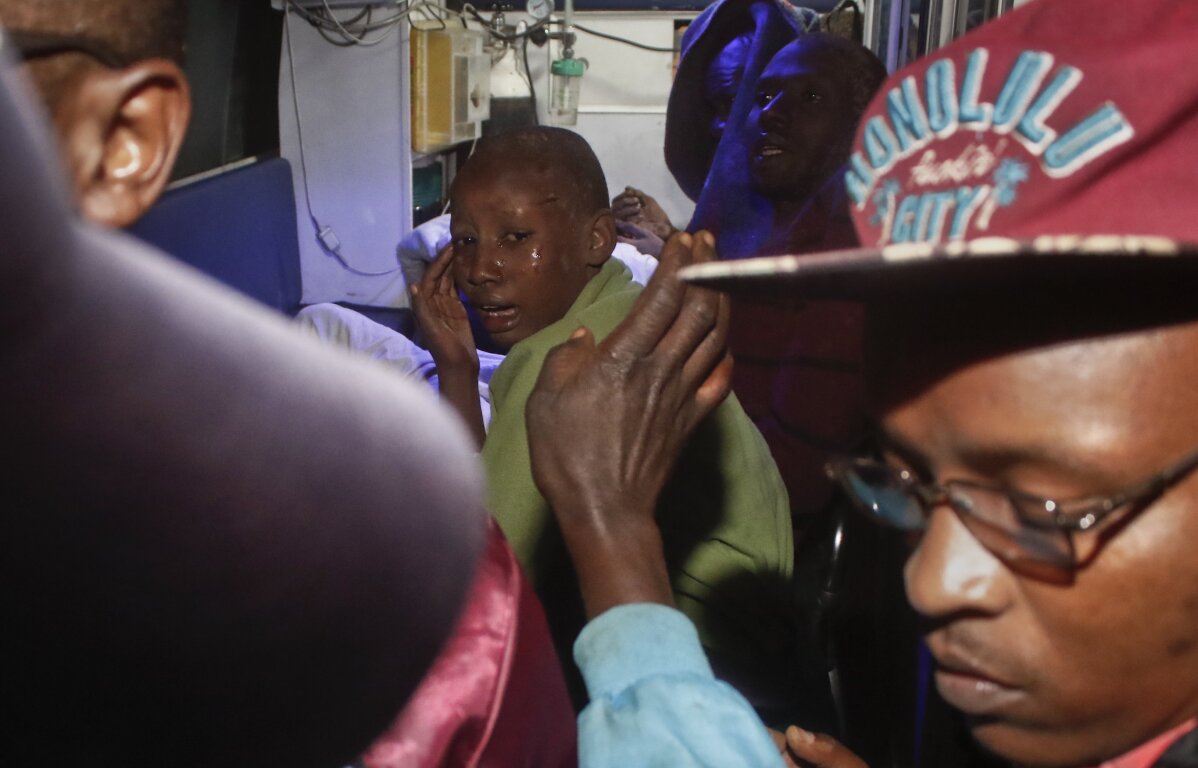 1 of 10

|
A child affected by the floods is taken away by ambulance during the early hours of Thursday, May 10, 2018 near Solai, in Kenya's Rift Valley. Water burst through the banks of the Patel Dam in Nakuru County late Wednesday night after heavy rains, sweeping away hundreds of homes and killing dozens. (AP Photo)
1 of 10
A child affected by the floods is taken away by ambulance during the early hours of Thursday, May 10, 2018 near Solai, in Kenya's Rift Valley. Water burst through the banks of the Patel Dam in Nakuru County late Wednesday night after heavy rains, sweeping away hundreds of homes and killing dozens. (AP Photo)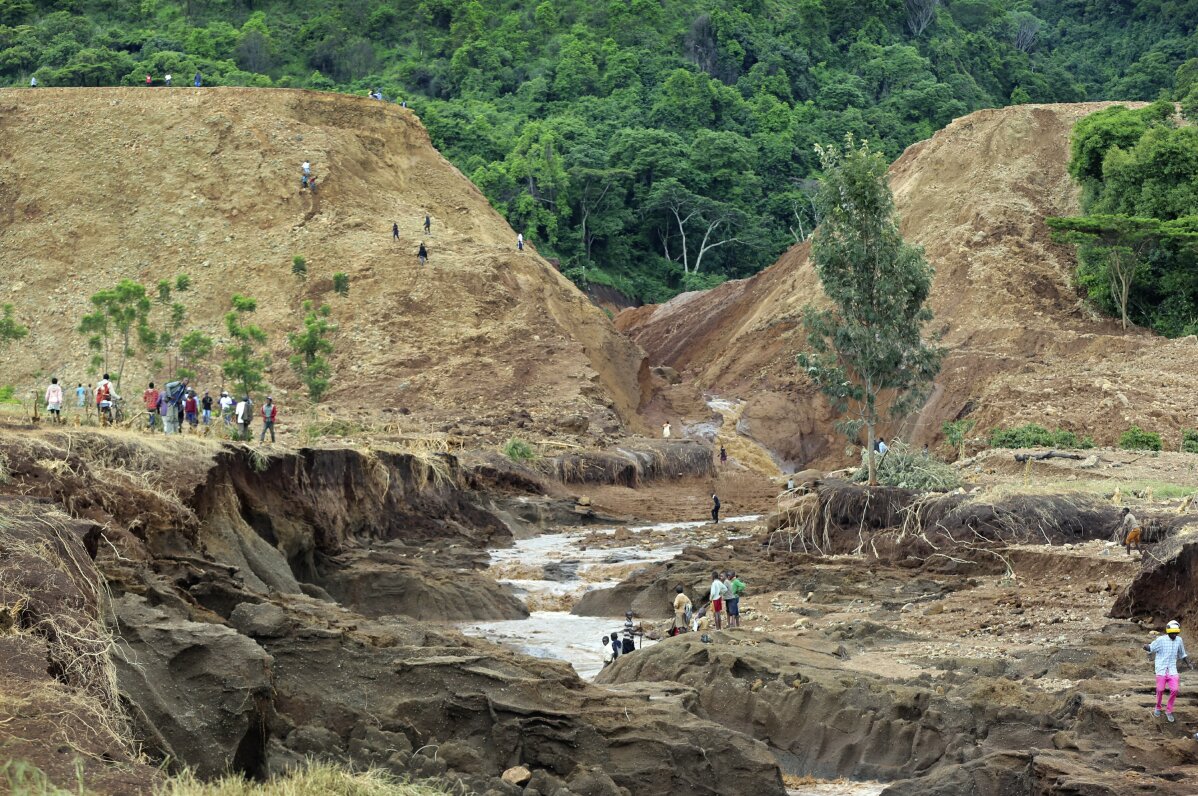 2 of 10

|
People gather in front of the broken banks of the Patel dam near Solai, in Kenya's Rift Valley, Thursday, May 10, 2018. A dam burst its banks in Kenya's Rift Valley, killing at least 41 people and forcing hundreds from their homes, officials said Thursday. At least 20 of the dead were children, police said. (AP Photo)
2 of 10
People gather in front of the broken banks of the Patel dam near Solai, in Kenya's Rift Valley, Thursday, May 10, 2018. A dam burst its banks in Kenya's Rift Valley, killing at least 41 people and forcing hundreds from their homes, officials said Thursday. At least 20 of the dead were children, police said. (AP Photo)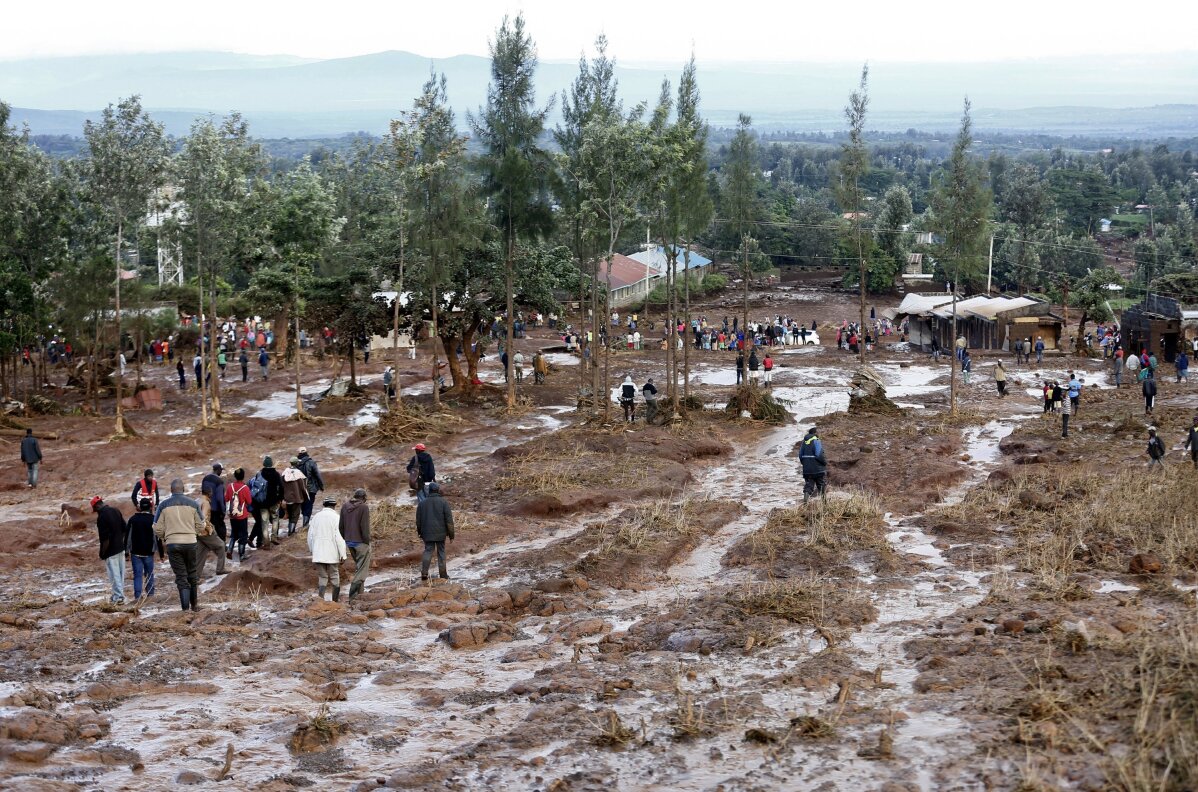 3 of 10

|
People walk through an area swept away by waters from the Patel dam near Solai, in Kenya's Rift Valley, Thursday, May 10, 2018. A dam burst its banks in Kenya's Rift Valley, killing at least 41 people and forcing hundreds from their homes, officials said Thursday. At least 20 of the dead were children, police said. (AP Photo)
3 of 10
People walk through an area swept away by waters from the Patel dam near Solai, in Kenya's Rift Valley, Thursday, May 10, 2018. A dam burst its banks in Kenya's Rift Valley, killing at least 41 people and forcing hundreds from their homes, officials said Thursday. At least 20 of the dead were children, police said. (AP Photo)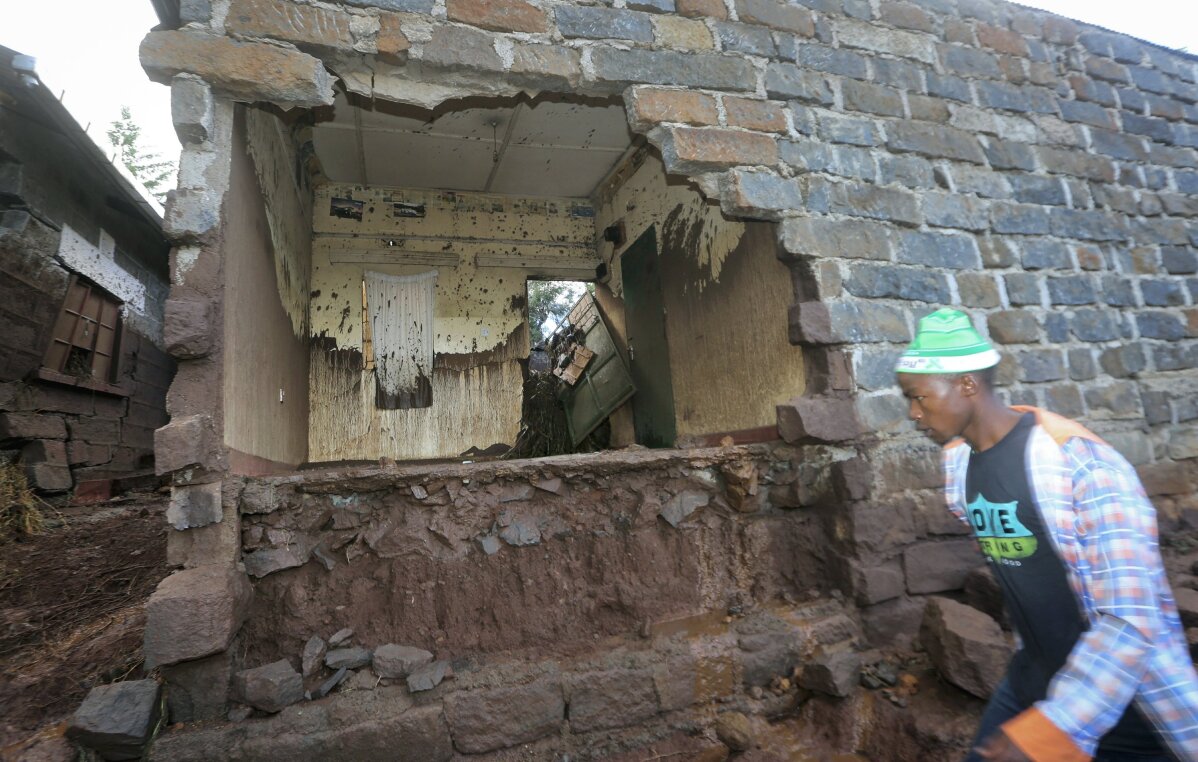 4 of 10

|
A man walks past a house damaged by flooding, near Solai, in Kenya's Rift Valley, Thursday, May 10, 2018. A dam burst its banks in Kenya's Rift Valley, killing at least 41 people and forcing hundreds from their homes, officials said Thursday. At least 20 of the dead were children, police said. (AP Photo)
4 of 10
A man walks past a house damaged by flooding, near Solai, in Kenya's Rift Valley, Thursday, May 10, 2018. A dam burst its banks in Kenya's Rift Valley, killing at least 41 people and forcing hundreds from their homes, officials said Thursday. At least 20 of the dead were children, police said. (AP Photo)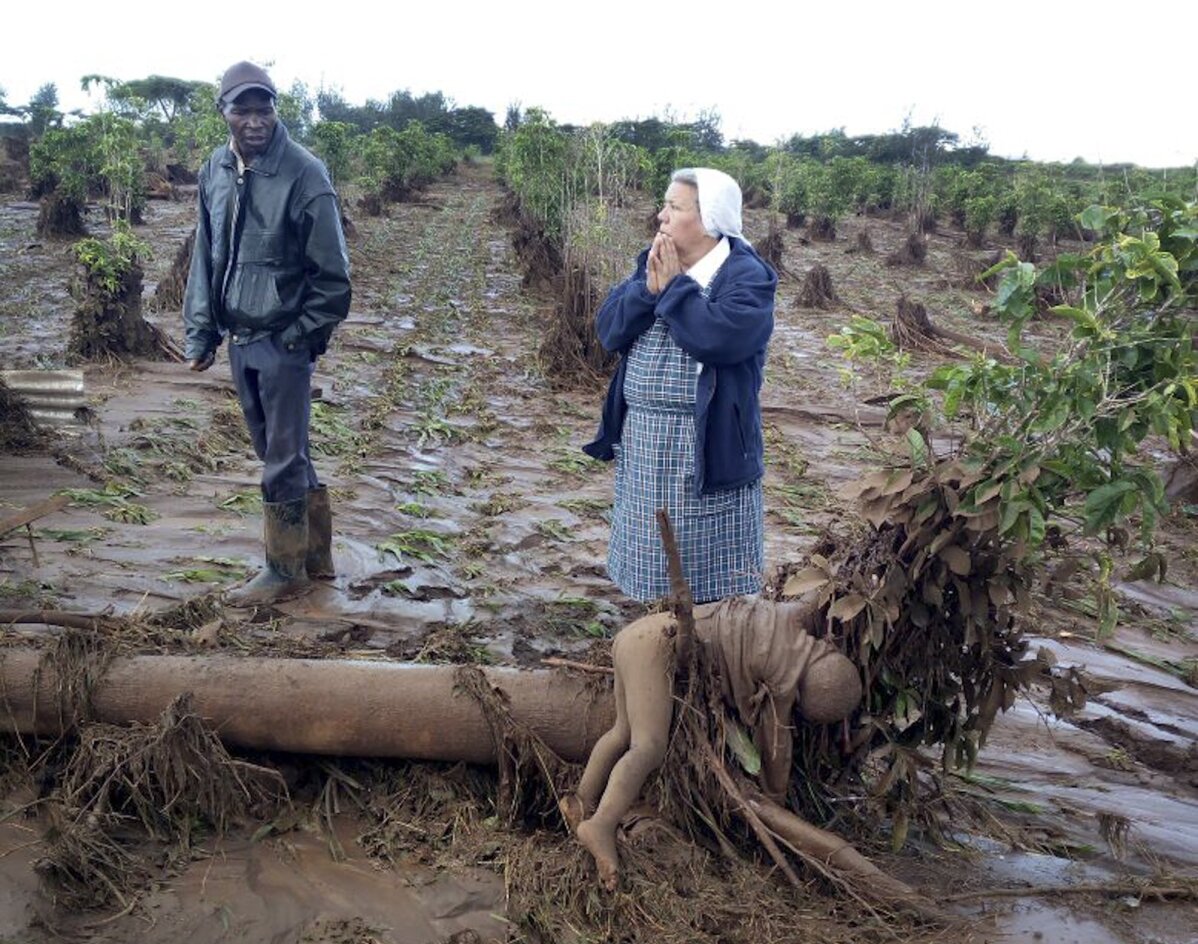 5 of 10

|
EDS NOTE GRAPHIC CONTENT : A nun reacts as she stands near the dead body of a child covered in mud, while a local resident looks on, at the scene of deadly floods near Solai, in Kenya's Rift Valley, Thursday, May 10, 2018. The Patel Dam burst its banks late Wednesday night after heavy rains, sweeping away hundreds of homes and killing some dozens, many of them children. (AP Photo)
5 of 10
EDS NOTE GRAPHIC CONTENT : A nun reacts as she stands near the dead body of a child covered in mud, while a local resident looks on, at the scene of deadly floods near Solai, in Kenya's Rift Valley, Thursday, May 10, 2018. The Patel Dam burst its banks late Wednesday night after heavy rains, sweeping away hundreds of homes and killing some dozens, many of them children. (AP Photo)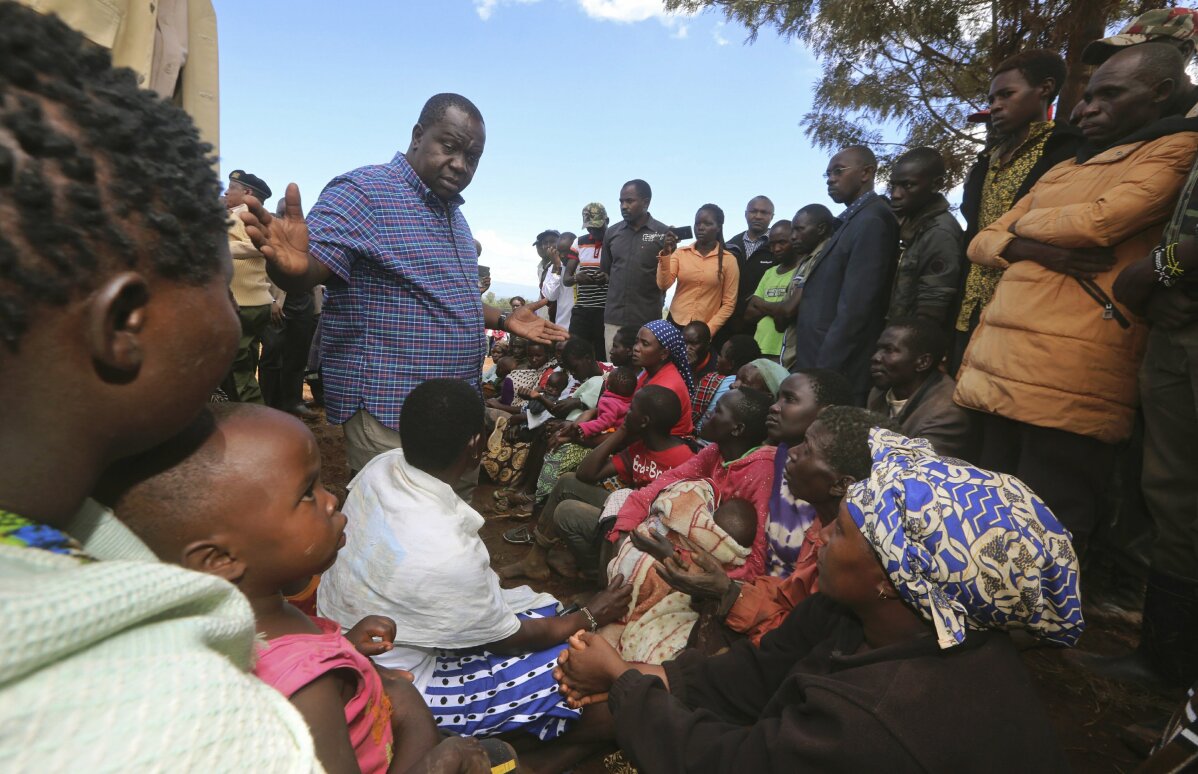 6 of 10

|
Survivors of the flooding huddle together in Kenya's Rift Valley, near Solai, Thursday, May 10, 2018. A dam burst its banks in Kenya's Rift Valley, killing at least 41 people and forcing hundreds from their homes, officials said Thursday. At least 20 of the dead were children, police said. (AP Photo)
6 of 10
Survivors of the flooding huddle together in Kenya's Rift Valley, near Solai, Thursday, May 10, 2018. A dam burst its banks in Kenya's Rift Valley, killing at least 41 people and forcing hundreds from their homes, officials said Thursday. At least 20 of the dead were children, police said. (AP Photo)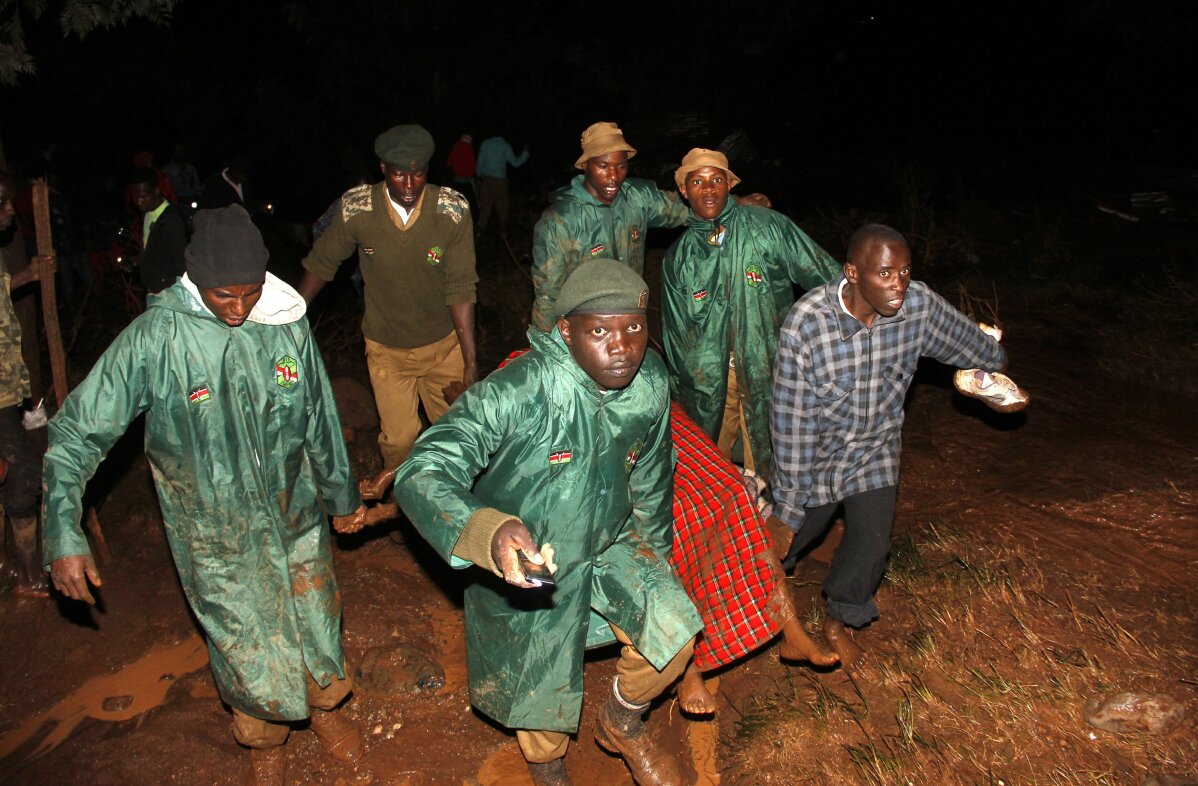 7 of 10

|
Members of the National Youth Service carry away a dead body covered in a blanket during the early hours of Thursday, May 10, 2018 near Solai, in Kenya's Rift Valley. Water burst through the banks of the Patel Dam in Nakuru County late Wednesday night after heavy rains, sweeping away hundreds of homes and killing dozens. (AP Photo)
7 of 10
Members of the National Youth Service carry away a dead body covered in a blanket during the early hours of Thursday, May 10, 2018 near Solai, in Kenya's Rift Valley. Water burst through the banks of the Patel Dam in Nakuru County late Wednesday night after heavy rains, sweeping away hundreds of homes and killing dozens. (AP Photo)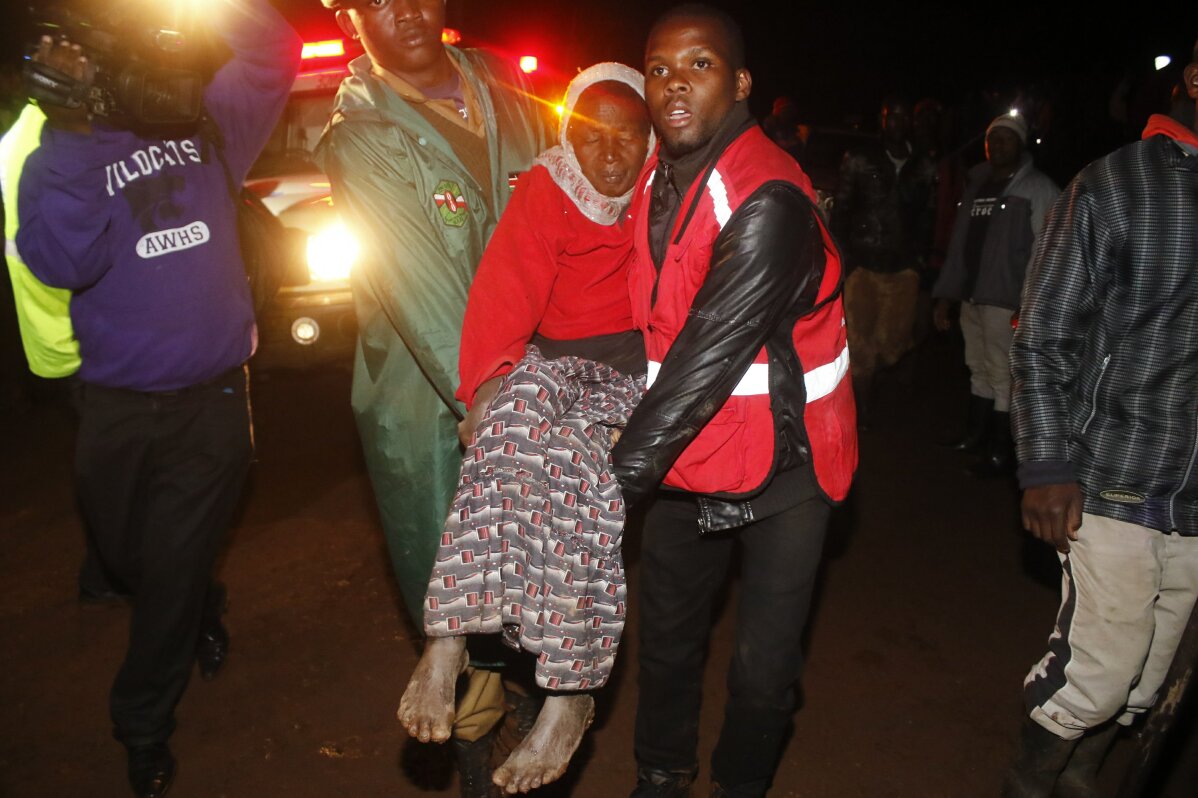 8 of 10

|
A paramedic carries an injured woman during the early hours of Thursday, May 10, 2018, near Solai, in Kenya's Rift Valley. Water burst through the banks of the Patel Dam in Nakuru County late Wednesday night after heavy rains, sweeping away hundreds of homes and killing dozens. (AP Photo)
8 of 10
A paramedic carries an injured woman during the early hours of Thursday, May 10, 2018, near Solai, in Kenya's Rift Valley. Water burst through the banks of the Patel Dam in Nakuru County late Wednesday night after heavy rains, sweeping away hundreds of homes and killing dozens. (AP Photo)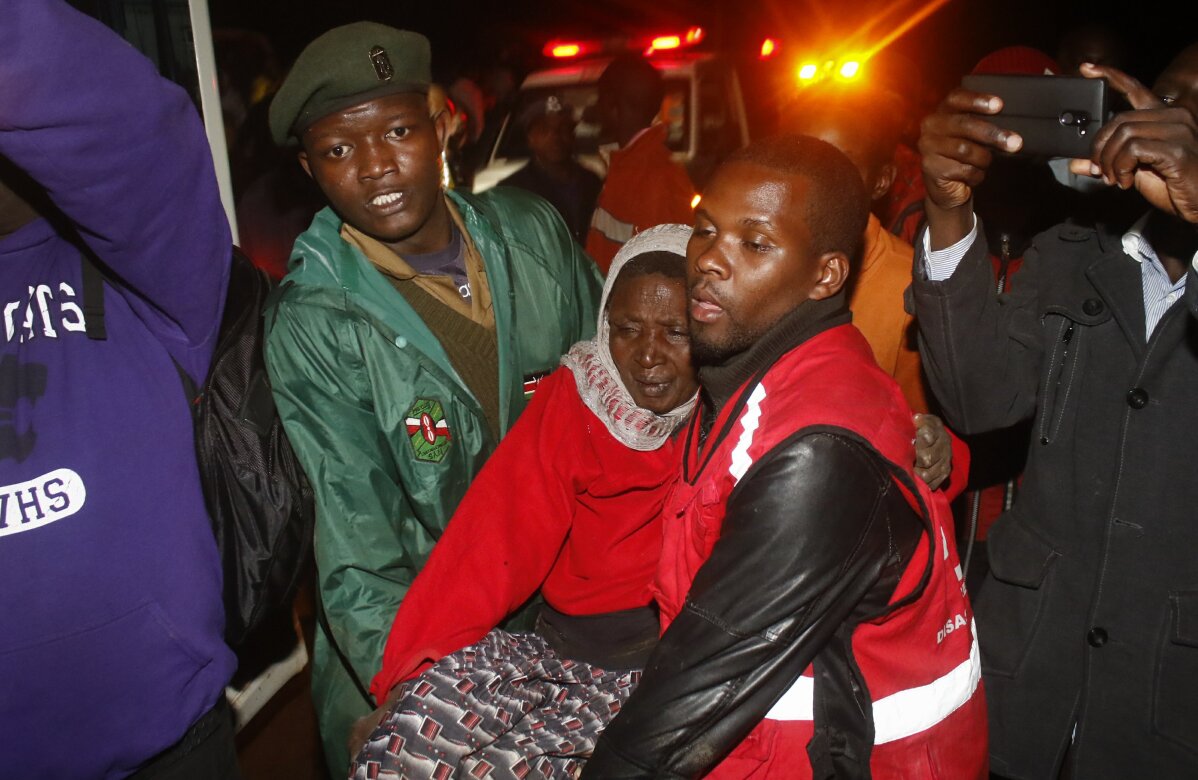 9 of 10

|
A paramedic carries an injured woman during the early hours of Thursday, May 10, 2018, near Solai, in Kenya's Rift Valley. Water burst through the banks of the Patel Dam in Nakuru County late Wednesday night after heavy rains, sweeping away hundreds of homes and killing dozens. (AP Photo)
9 of 10
A paramedic carries an injured woman during the early hours of Thursday, May 10, 2018, near Solai, in Kenya's Rift Valley. Water burst through the banks of the Patel Dam in Nakuru County late Wednesday night after heavy rains, sweeping away hundreds of homes and killing dozens. (AP Photo)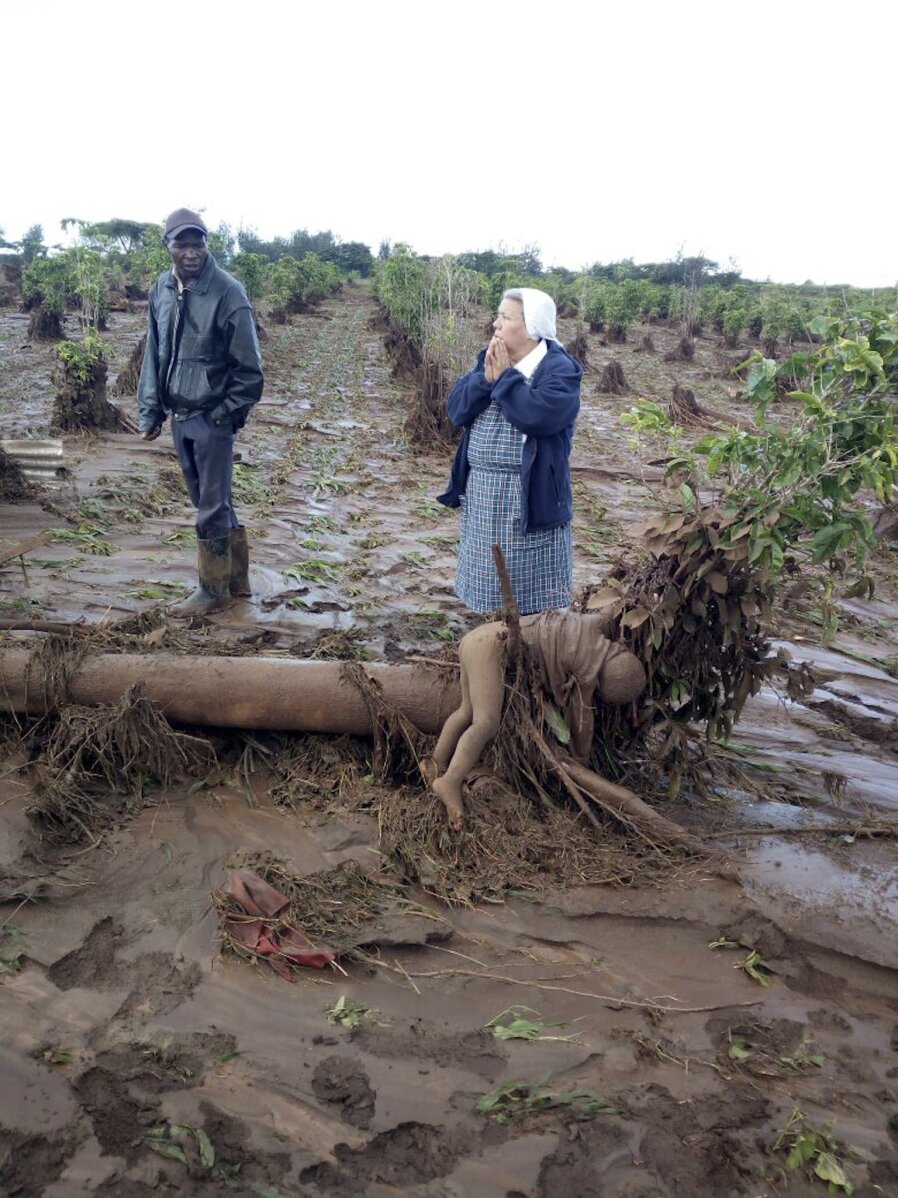 10 of 10

|
EDS NOTE GRAPHIC CONTENT : A nun reacts as she stands near the dead body of a child covered in mud, while a local resident looks on, at the scene of deadly floods near Solai, in Kenya's Rift Valley, Thursday, May 10, 2018. The Patel Dam burst its banks late Wednesday night after heavy rains, sweeping away hundreds of homes and killing some dozens, many of them children. (AP Photo)
10 of 10
EDS NOTE GRAPHIC CONTENT : A nun reacts as she stands near the dead body of a child covered in mud, while a local resident looks on, at the scene of deadly floods near Solai, in Kenya's Rift Valley, Thursday, May 10, 2018. The Patel Dam burst its banks late Wednesday night after heavy rains, sweeping away hundreds of homes and killing some dozens, many of them children. (AP Photo)
NAIROBI, Kenya (AP) — Villagers said it started with a loud rumble, then houses collapsed one by one under an approaching wall of water.
"We took our children and rushed to higher ground," farmer Joseph Maina told The Associated Press. Their home was submerged and their crops were washed away but unlike dozens of others, they survived.
At least 44 were dead and another 40 were missing Thursday after a dam swollen by weeks of seasonal rains burst in Kenya's Rift Valley, sweeping away hundreds of homes and sending people fleeing, officials said.
At least 20 of the dead were children.
"Many people are missing. It is a disaster," said Rongai town police chief Joseph Kioko.
The bursting of the Patel Dam in Solai, Nakuru County, on Wednesday night was the deadliest single incident yet in the seasonal rains that have killed more than 170 people in Kenya since March. The floods hit as the East African nation was recovering from a severe drought that affected half of the country.
Almost an entire village was swept away by silt and water from the burst dam, said Gideon Kibunja, the county police chief in charge of criminal investigations. Officials said homes over a radius of nearly 2 kilometers (1.2 miles) were submerged.
Forty people have been reported missing, Regional Commissioner Mwongo Chimwanga said, while about 40 others were rescued from the mud and taken to local hospitals.
The area has seven dams used by a commercial farm, said Keffa Mageni, an official with an advocacy group that helps to resettle displaced people. With the heavy seasonal rains the dams do not have an outlet, he said.
"There are two other dams which are leaking," one resident, Stephen Nganga, said. He asked the government to investigate them for the residents' safety.
Interior Cabinet Secretary Fred Matiangi, visiting the scene, said the government had launched investigations to determine the stability of the other dams.
Nakuru County Governor Lee Kinyanjui said water from one of the other dams will be discharged to avoid a disaster and that a village near that dam will be evacuated.
More than 225,000 people in Kenya have been displaced from their homes since March, according to the government. Military helicopters and personnel in the past week have been deployed to rescue people marooned by the flooding.
The dam burst has again raised concerns about the state of Kenya's infrastructure. The National Construction Authority in the past has blamed contractors of bypassing building codes to save on cost.
In April 2016 a residential building in the capital, Nairobi, collapsed during rains, killing 52 people. Last May the wall of a hospital collapsed due to rains, killing six people in Kenya's second largest city, Mombasa.
___
Follow Africa news at https://twitter.com/AP_Africa