Governor, GOP challenger face off at Trebek-hosted forum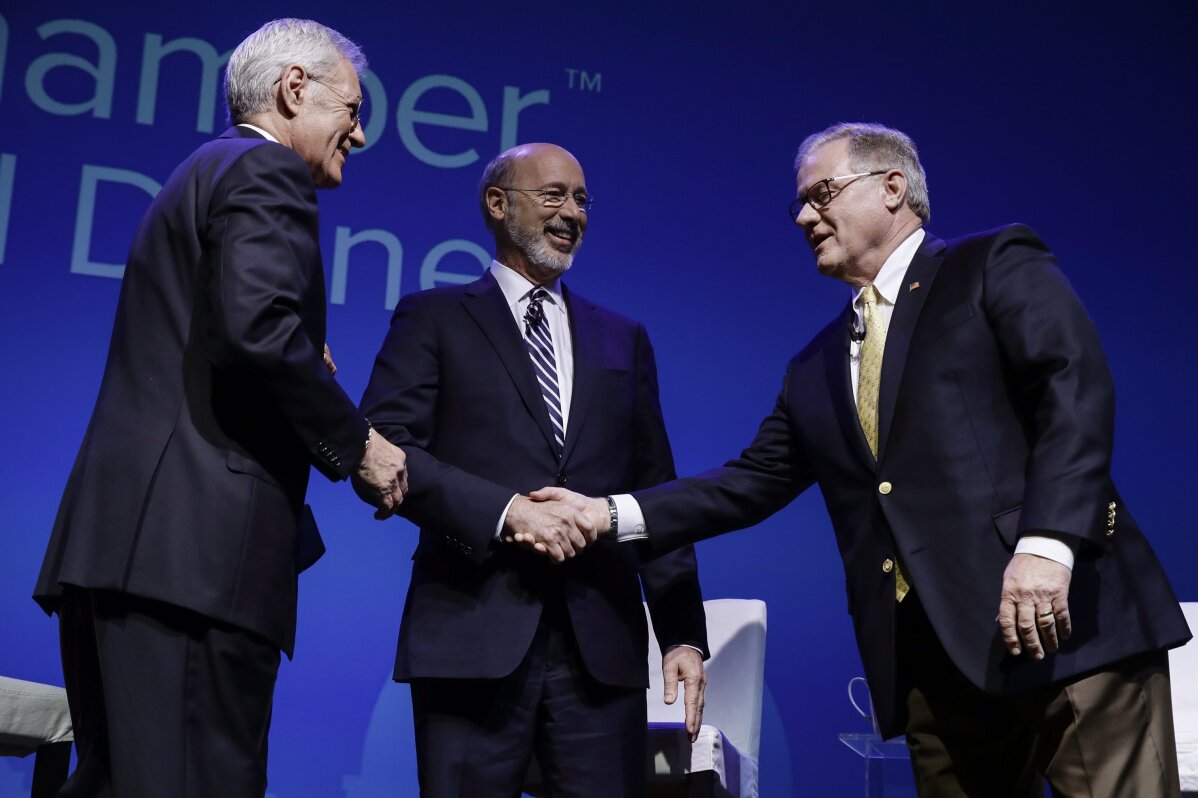 1 of 8

|
Democratic Gov. Tom Wolf, center, and Republican Scott Wagner, right, shake hands as moderator Alex Trebek looks on at a gubernatorial debate in Hershey, Pa., Monday, Oct. 1, 2018. The debate is hosted by the Pennsylvania Chamber of Business and Industry. (AP Photo/Matt Rourke)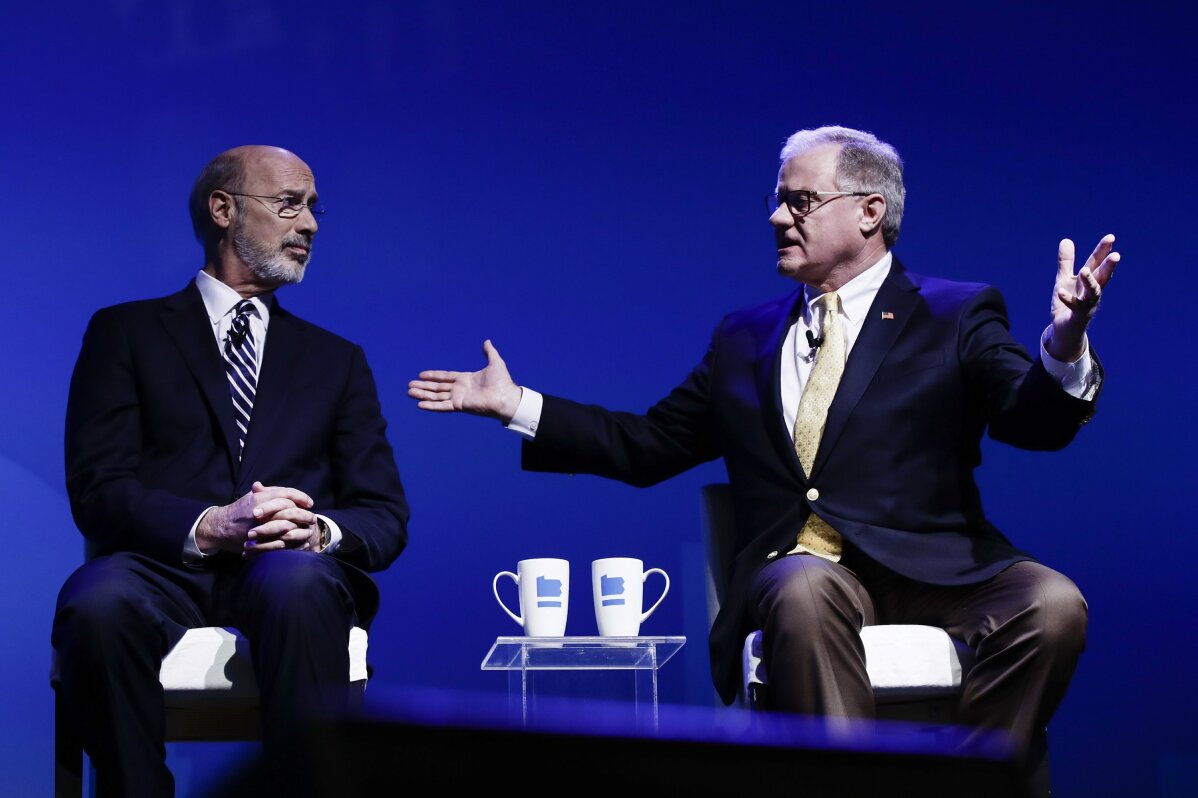 2 of 8

|
Republican Scott Wagner, right, and Democratic Gov. Tom Wolf take part in a gubernatorial debate in Hershey, Pa., Monday, Oct. 1, 2018. The debate is hosted by the Pennsylvania Chamber of Business and Industry. (AP Photo/Matt Rourke)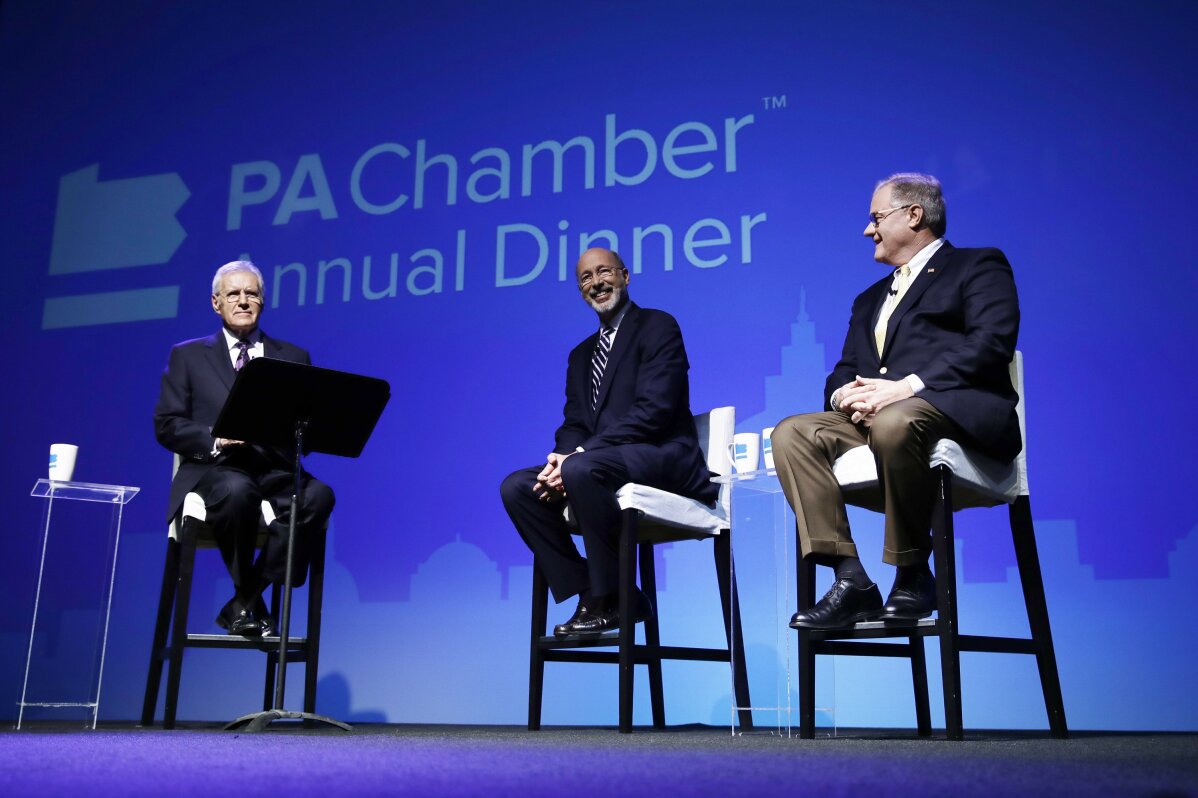 3 of 8

|
Alex Trebek, left, moderates a gubernatorial debate between Democratic Gov. Tom Wolf, center, and Republican Scott Wagner in Hershey, Pa., Monday, Oct. 1, 2018. The debate is hosted by the Pennsylvania Chamber of Business and Industry. (AP Photo/Matt Rourke)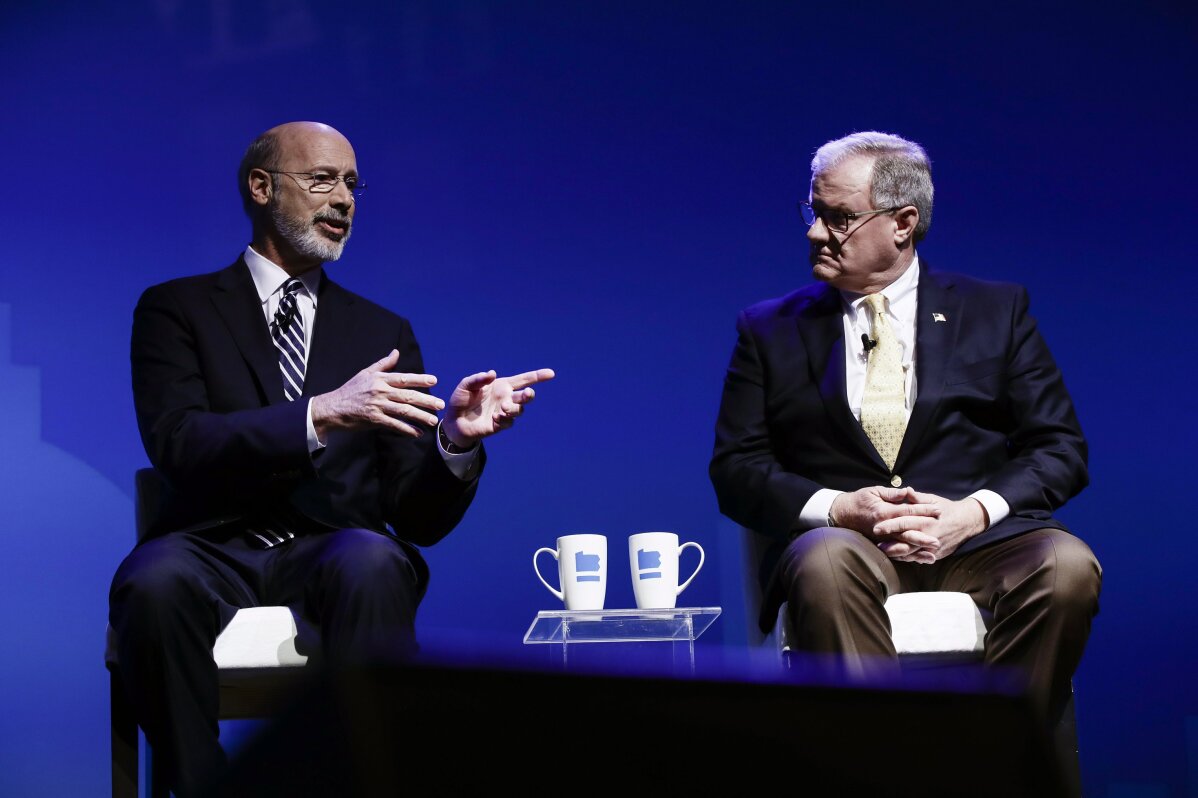 4 of 8

|
Democratic Gov. Tom Wolf, left, and Republican Scott Wagner take part in a gubernatorial debate in Hershey, Pa., Monday, Oct. 1, 2018. The debate is hosted by the Pennsylvania Chamber of Business and Industry. (AP Photo/Matt Rourke)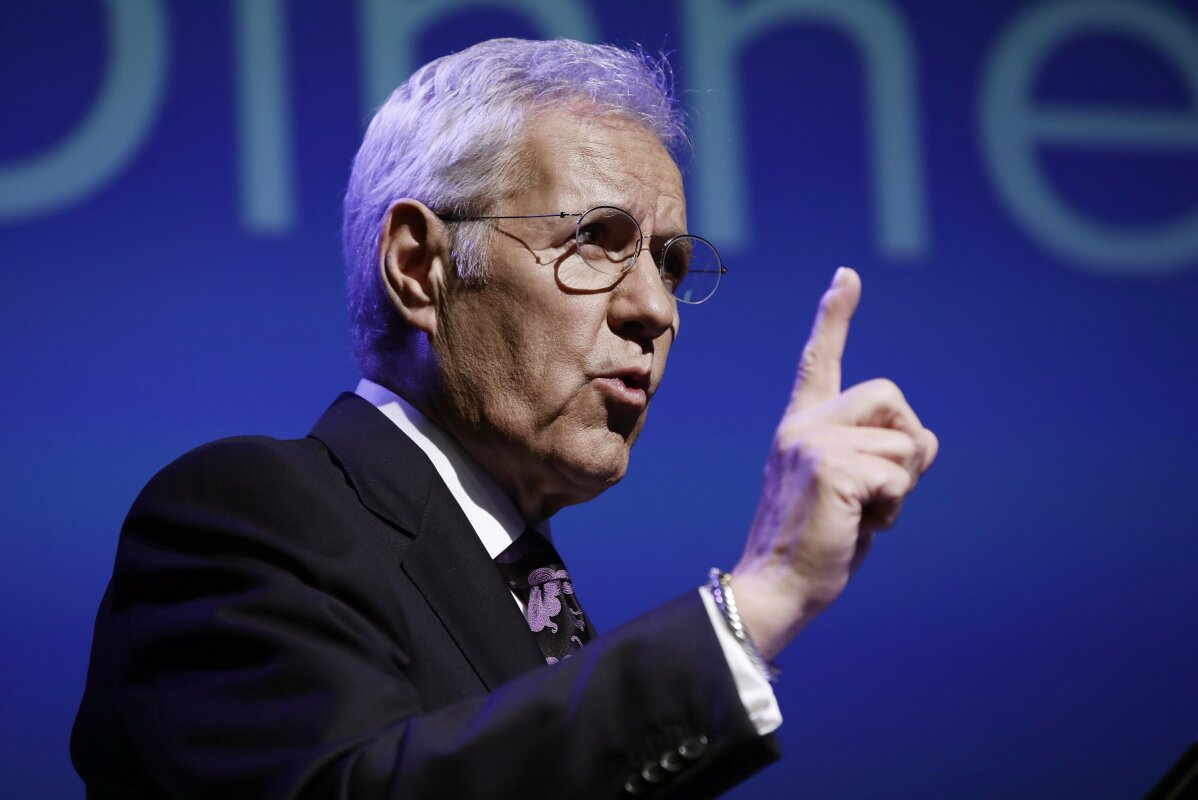 5 of 8

|
Moderator Alex Trebek speaks during a gubernatorial debate between Democratic Gov. Tom Wolf and Republican Scott Wagner in Hershey, Pa., Monday, Oct. 1, 2018. The debate is hosted by the Pennsylvania Chamber of Business and Industry. (AP Photo/Matt Rourke)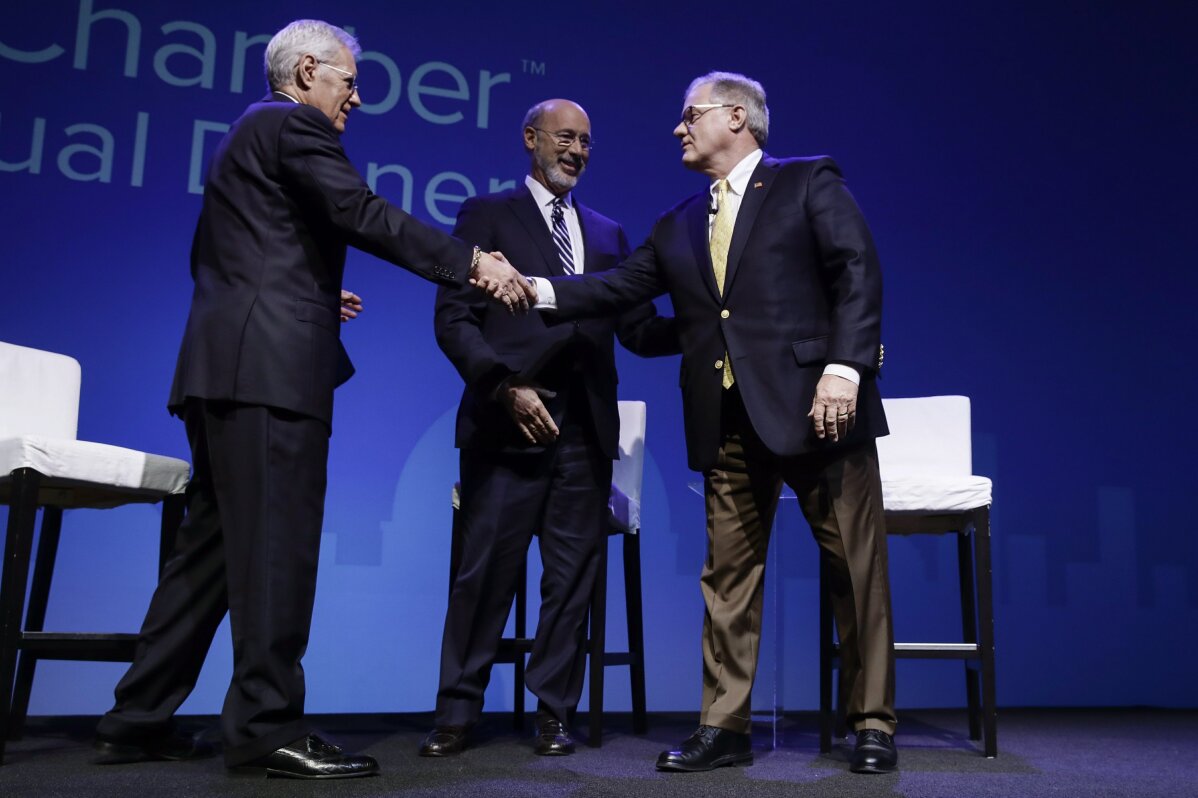 6 of 8

|
Republican Scott Wagner, right, shake hands with moderator Alex Trebek, left, as Democratic Gov. Tom Wolf, center, looks on at a gubernatorial debate in Hershey, Pa., Monday, Oct. 1, 2018. The debate is hosted by the Pennsylvania Chamber of Business and Industry. (AP Photo/Matt Rourke)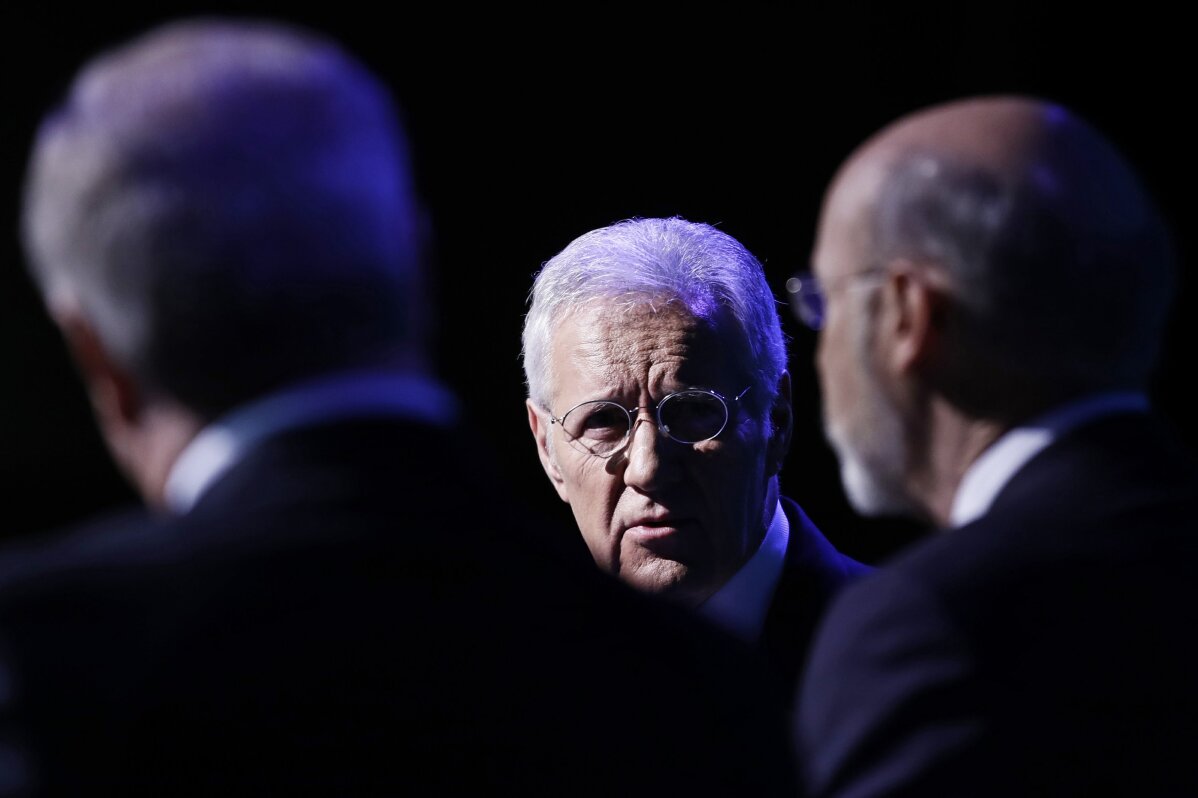 7 of 8

|
Moderator Alex Trebek, center, speaks during a gubernatorial debate between Democratic Gov. Tom Wolf, right, and Republican Scott Wagner in Hershey, Pa., Monday, Oct. 1, 2018. The debate is hosted by the Pennsylvania Chamber of Business and Industry. (AP Photo/Matt Rourke)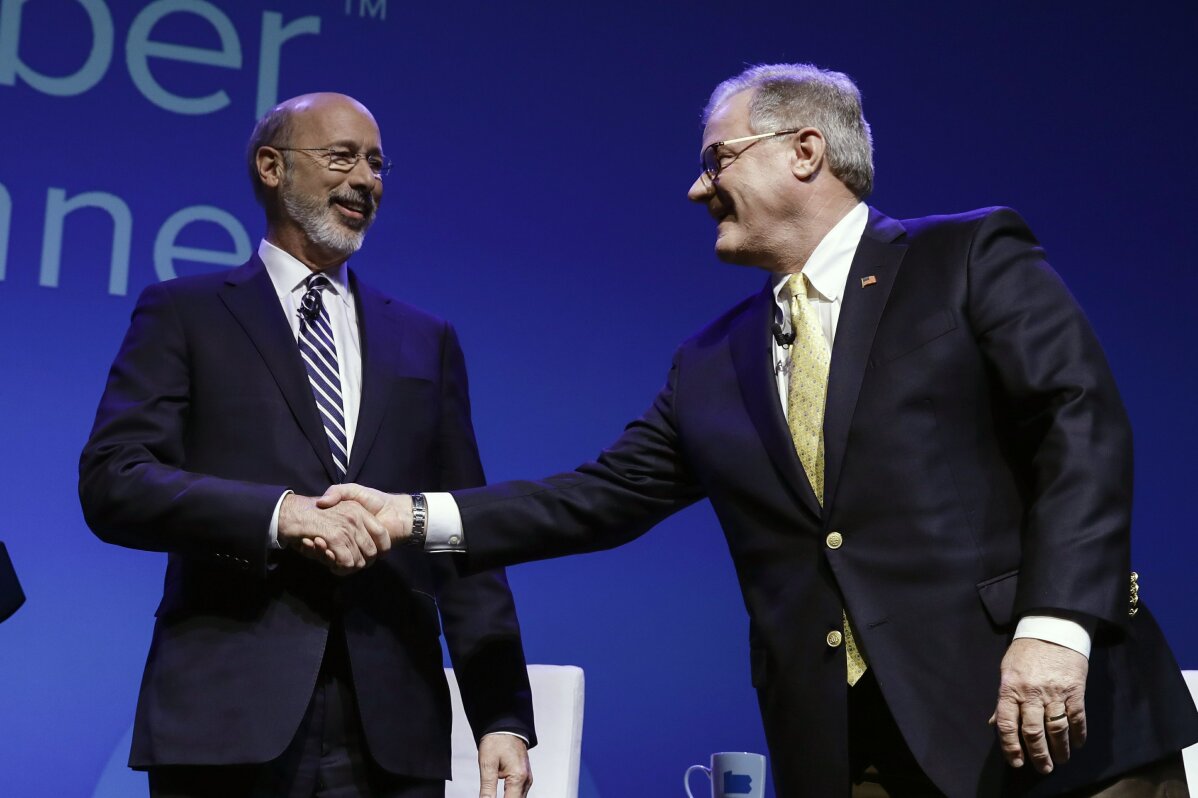 8 of 8

|
Democratic Gov. Tom Wolf, left, and Republican Scott Wagner shake hands at a gubernatorial debate in Hershey, Pa., Monday, Oct. 1, 2018. The debate is hosted by the Pennsylvania Chamber of Business and Industry. (AP Photo/Matt Rourke)
Governor, GOP challenger face off at Trebek-hosted forum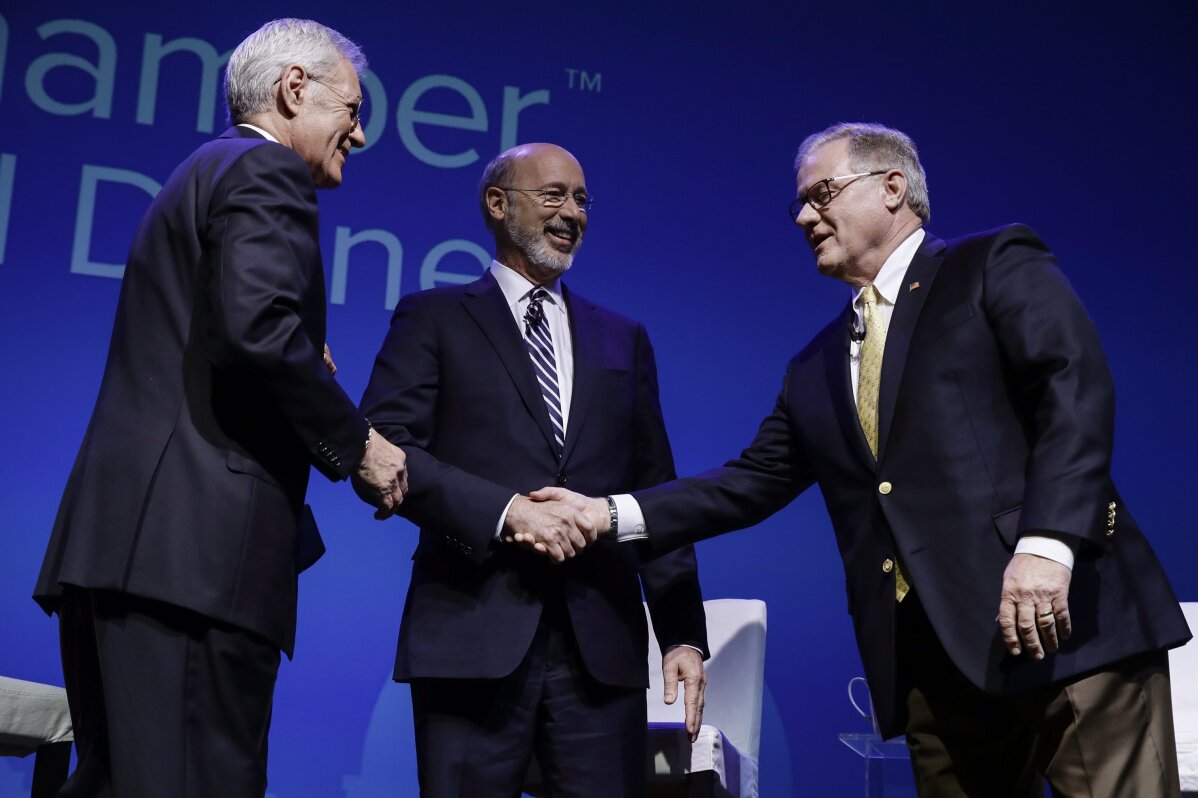 1 of 8

|
Democratic Gov. Tom Wolf, center, and Republican Scott Wagner, right, shake hands as moderator Alex Trebek looks on at a gubernatorial debate in Hershey, Pa., Monday, Oct. 1, 2018. The debate is hosted by the Pennsylvania Chamber of Business and Industry. (AP Photo/Matt Rourke)
1 of 8
Democratic Gov. Tom Wolf, center, and Republican Scott Wagner, right, shake hands as moderator Alex Trebek looks on at a gubernatorial debate in Hershey, Pa., Monday, Oct. 1, 2018. The debate is hosted by the Pennsylvania Chamber of Business and Industry. (AP Photo/Matt Rourke)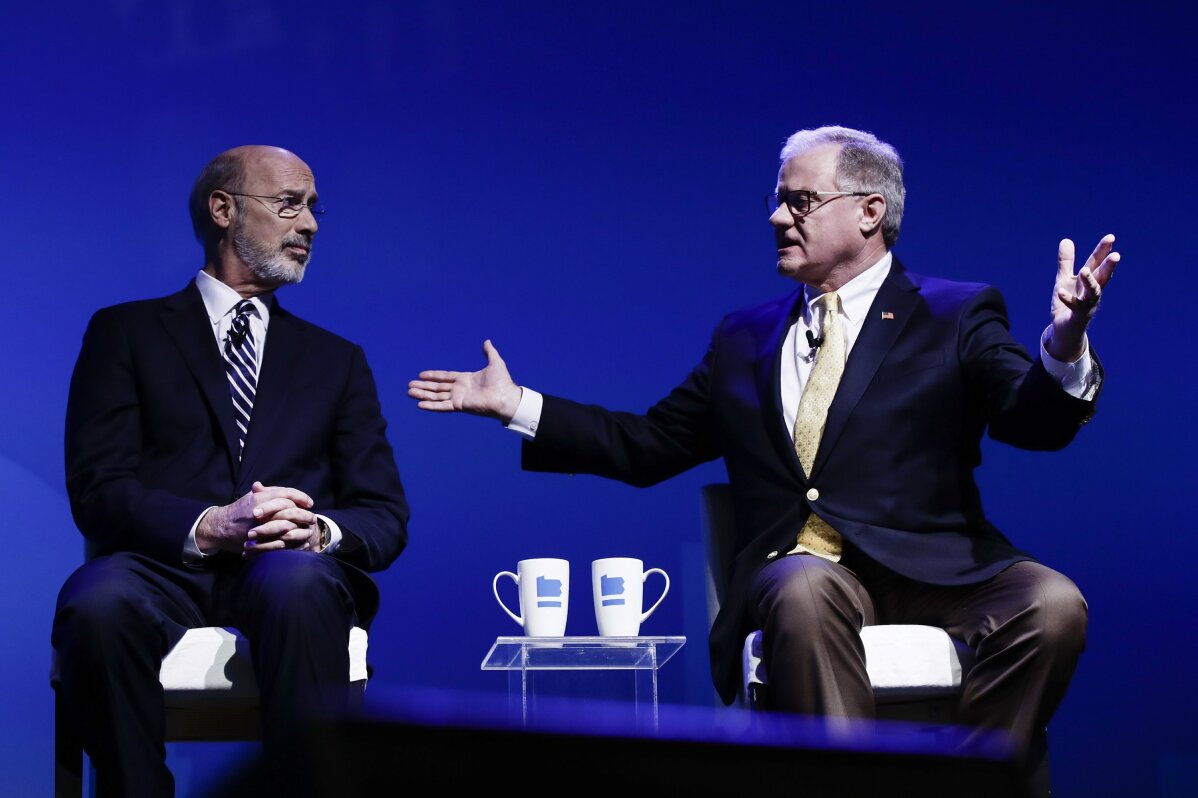 2 of 8

|
Republican Scott Wagner, right, and Democratic Gov. Tom Wolf take part in a gubernatorial debate in Hershey, Pa., Monday, Oct. 1, 2018. The debate is hosted by the Pennsylvania Chamber of Business and Industry. (AP Photo/Matt Rourke)
2 of 8
Republican Scott Wagner, right, and Democratic Gov. Tom Wolf take part in a gubernatorial debate in Hershey, Pa., Monday, Oct. 1, 2018. The debate is hosted by the Pennsylvania Chamber of Business and Industry. (AP Photo/Matt Rourke)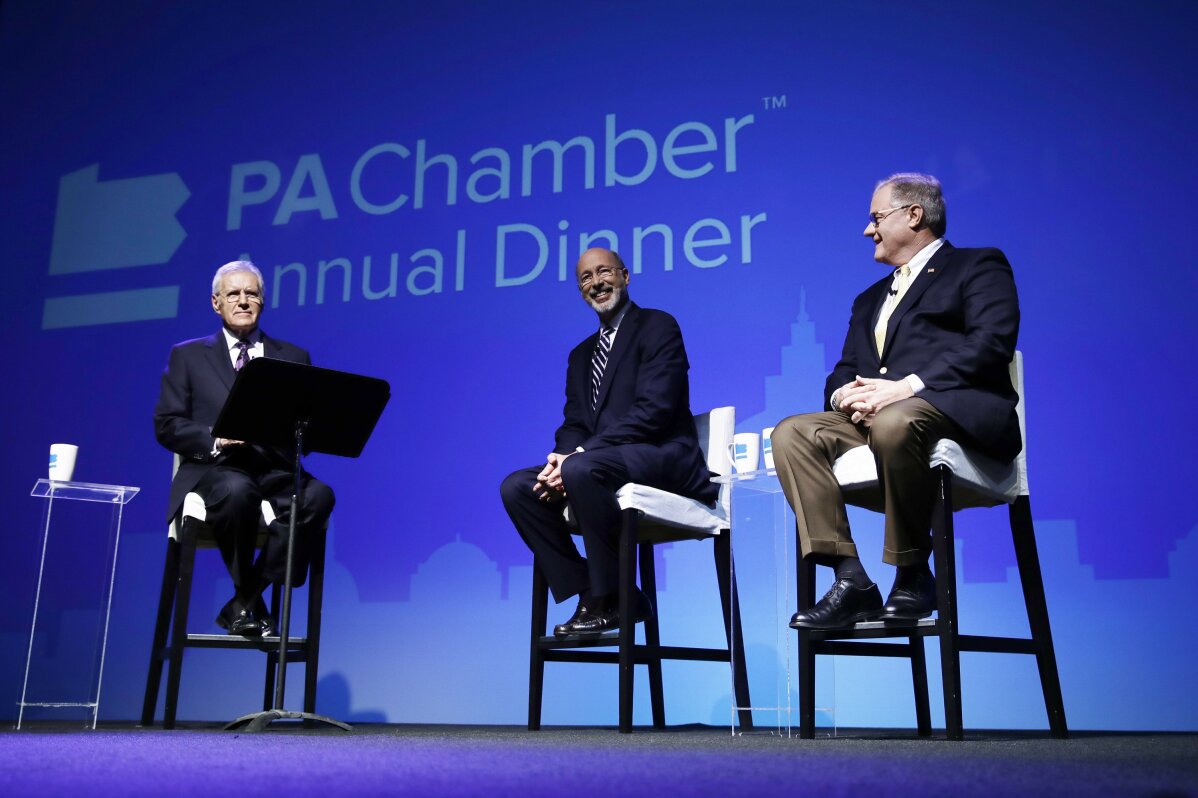 3 of 8

|
Alex Trebek, left, moderates a gubernatorial debate between Democratic Gov. Tom Wolf, center, and Republican Scott Wagner in Hershey, Pa., Monday, Oct. 1, 2018. The debate is hosted by the Pennsylvania Chamber of Business and Industry. (AP Photo/Matt Rourke)
3 of 8
Alex Trebek, left, moderates a gubernatorial debate between Democratic Gov. Tom Wolf, center, and Republican Scott Wagner in Hershey, Pa., Monday, Oct. 1, 2018. The debate is hosted by the Pennsylvania Chamber of Business and Industry. (AP Photo/Matt Rourke)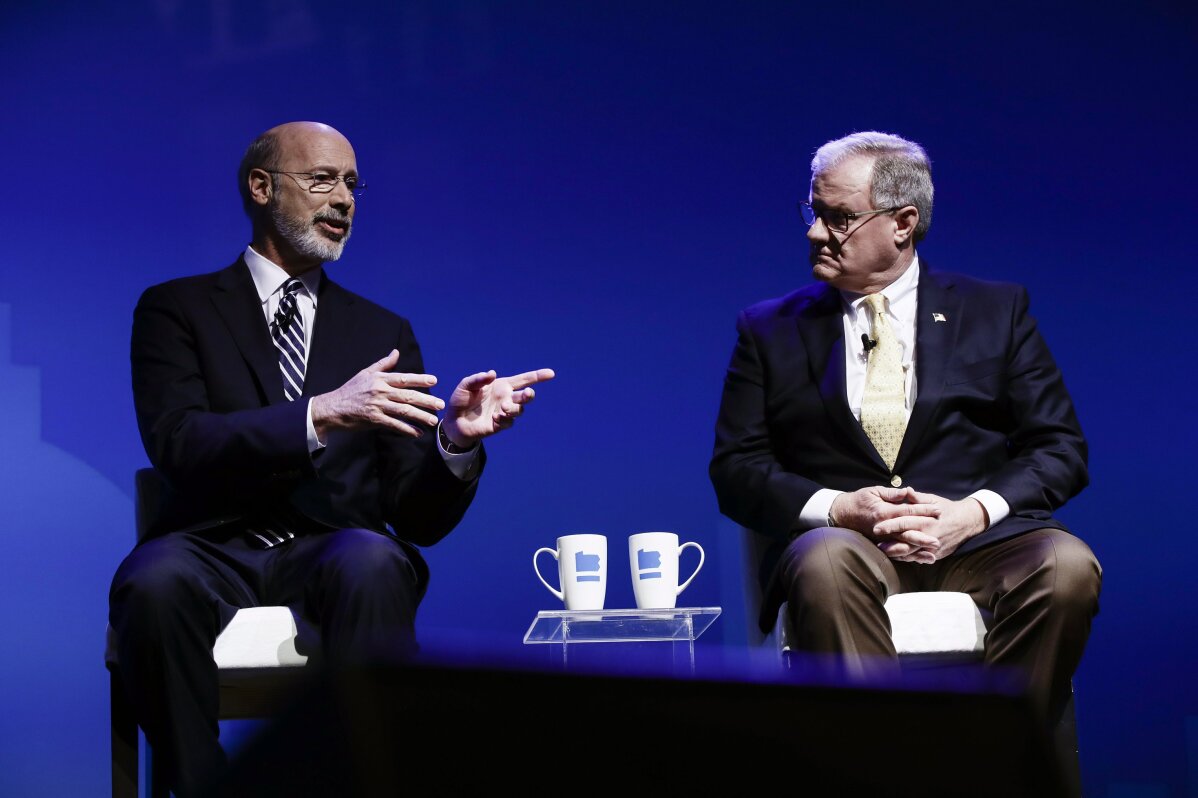 4 of 8

|
Democratic Gov. Tom Wolf, left, and Republican Scott Wagner take part in a gubernatorial debate in Hershey, Pa., Monday, Oct. 1, 2018. The debate is hosted by the Pennsylvania Chamber of Business and Industry. (AP Photo/Matt Rourke)
4 of 8
Democratic Gov. Tom Wolf, left, and Republican Scott Wagner take part in a gubernatorial debate in Hershey, Pa., Monday, Oct. 1, 2018. The debate is hosted by the Pennsylvania Chamber of Business and Industry. (AP Photo/Matt Rourke)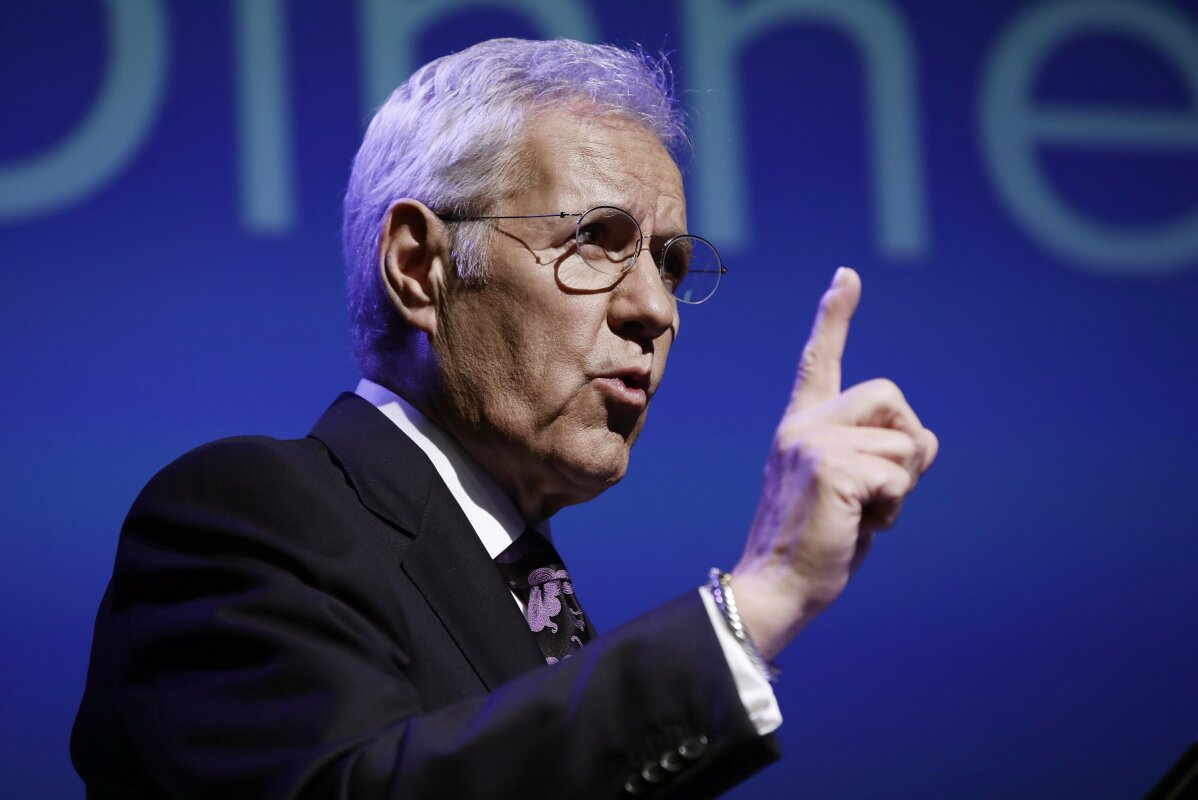 5 of 8

|
Moderator Alex Trebek speaks during a gubernatorial debate between Democratic Gov. Tom Wolf and Republican Scott Wagner in Hershey, Pa., Monday, Oct. 1, 2018. The debate is hosted by the Pennsylvania Chamber of Business and Industry. (AP Photo/Matt Rourke)
5 of 8
Moderator Alex Trebek speaks during a gubernatorial debate between Democratic Gov. Tom Wolf and Republican Scott Wagner in Hershey, Pa., Monday, Oct. 1, 2018. The debate is hosted by the Pennsylvania Chamber of Business and Industry. (AP Photo/Matt Rourke)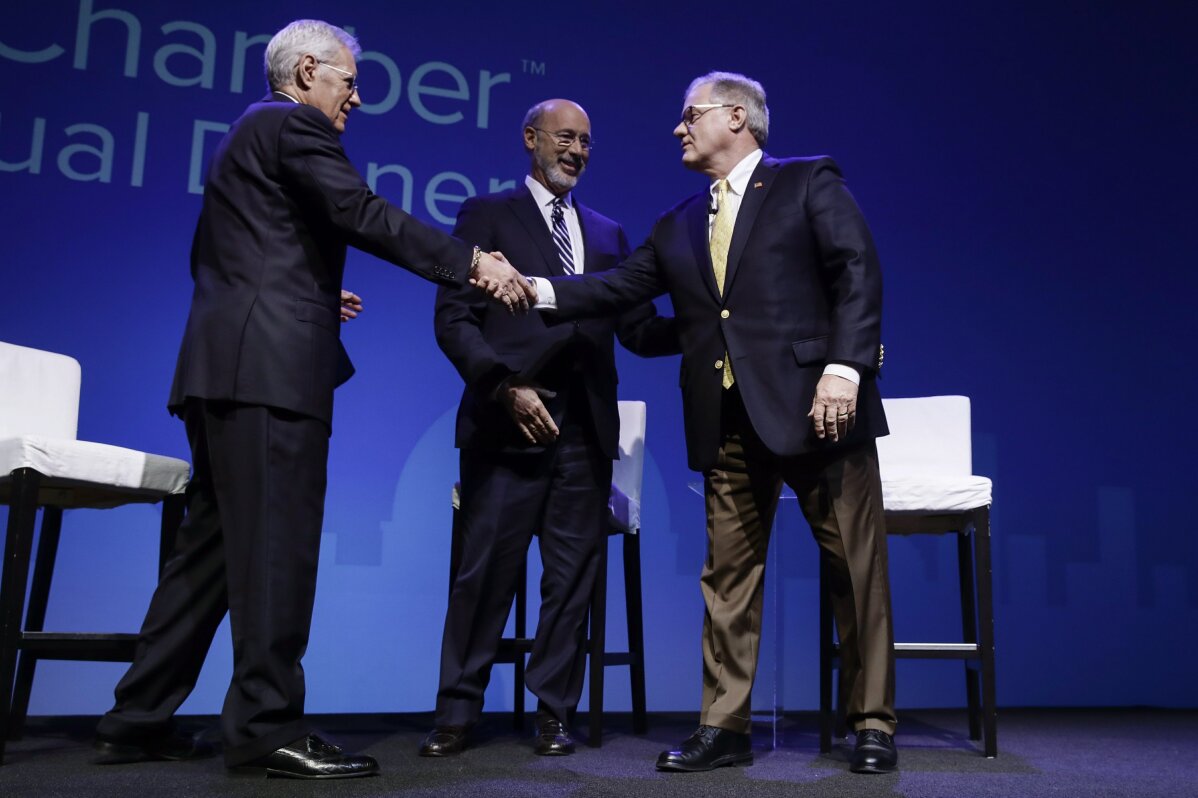 6 of 8

|
Republican Scott Wagner, right, shake hands with moderator Alex Trebek, left, as Democratic Gov. Tom Wolf, center, looks on at a gubernatorial debate in Hershey, Pa., Monday, Oct. 1, 2018. The debate is hosted by the Pennsylvania Chamber of Business and Industry. (AP Photo/Matt Rourke)
6 of 8
Republican Scott Wagner, right, shake hands with moderator Alex Trebek, left, as Democratic Gov. Tom Wolf, center, looks on at a gubernatorial debate in Hershey, Pa., Monday, Oct. 1, 2018. The debate is hosted by the Pennsylvania Chamber of Business and Industry. (AP Photo/Matt Rourke)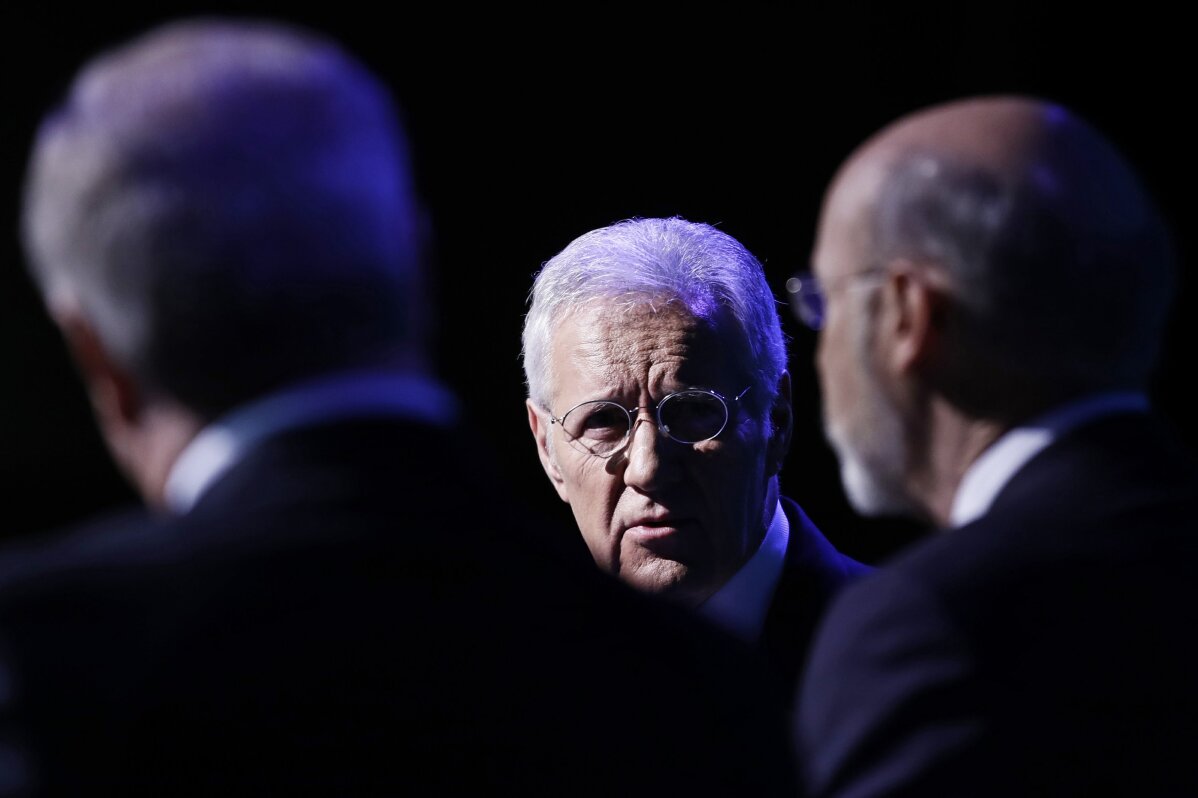 7 of 8

|
Moderator Alex Trebek, center, speaks during a gubernatorial debate between Democratic Gov. Tom Wolf, right, and Republican Scott Wagner in Hershey, Pa., Monday, Oct. 1, 2018. The debate is hosted by the Pennsylvania Chamber of Business and Industry. (AP Photo/Matt Rourke)
7 of 8
Moderator Alex Trebek, center, speaks during a gubernatorial debate between Democratic Gov. Tom Wolf, right, and Republican Scott Wagner in Hershey, Pa., Monday, Oct. 1, 2018. The debate is hosted by the Pennsylvania Chamber of Business and Industry. (AP Photo/Matt Rourke)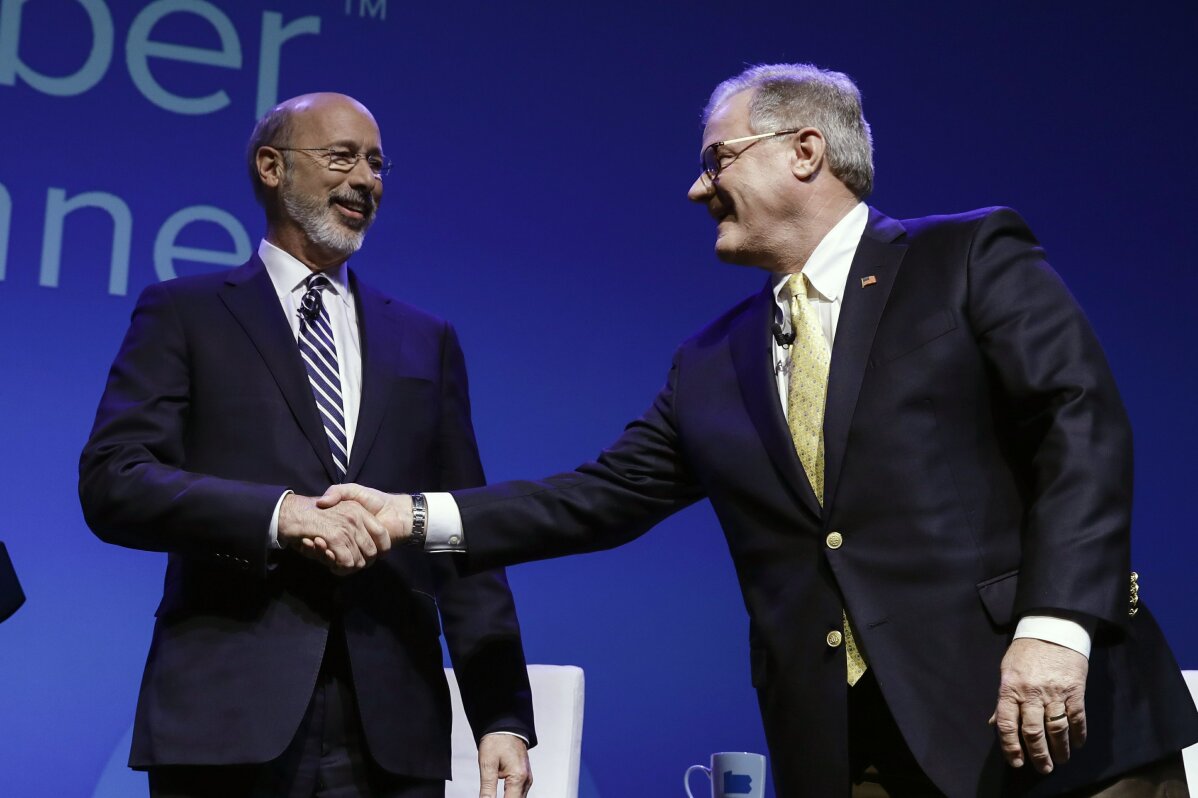 8 of 8

|
Democratic Gov. Tom Wolf, left, and Republican Scott Wagner shake hands at a gubernatorial debate in Hershey, Pa., Monday, Oct. 1, 2018. The debate is hosted by the Pennsylvania Chamber of Business and Industry. (AP Photo/Matt Rourke)
8 of 8
Democratic Gov. Tom Wolf, left, and Republican Scott Wagner shake hands at a gubernatorial debate in Hershey, Pa., Monday, Oct. 1, 2018. The debate is hosted by the Pennsylvania Chamber of Business and Industry. (AP Photo/Matt Rourke)
HERSHEY, Pa. (AP) — Pennsylvania's Democratic governor and his Republican challenger met in their only formal appearance together in the fall campaign, in which moderator Alex Trebek of "Jeopardy!" fame needled the candidates on their mudslinging and pressed them on their perceived exaggerations.
The event, billed by Trebek as conversational and not a debate, showed that Trebek had read up on Pennsylvania's issues and politics in drafting questions for Gov. Tom Wolf and GOP nominee Scott Wagner.
But it also led to unexpected moments at Monday night's annual Pennsylvania Chamber of Business and Industry dinner in Hershey, such as Trebek chastising policymakers broadly for "shortchanging education in this state for decades."
The nearly hourlong event attended by about 1,700 people ended with Wagner pacing the stage during his closing statement, brushing off Trebek's entreaty to wrap it up and declaring that he'd change his name to Tom Wolf "if I don't do anything in four years" if elected governor.
Trebek also touched on the death penalty, imposing a severance tax on natural gas drilling and gerrymandering congressional districts, while the men jousted over who can better deal with the state's huge pension debt.
At one point, Trebek asked Wolf and Wagner — seated on stools several feet apart — if they'd ever said anything about their opponent that they knew was untrue.
"Not that I remember, no," Wolf responded, drawing laughter from the audience.
Wolf went on to contend that neither he nor Wagner have said things they knew to be untrue about each other, "but we certainly disagree."
When it came to Wagner, Trebek took on the Republican's politically unrealistic pledge to pour another $1 billion into public schools in one year. But first, Trebek recounted a list of critical statements Wagner's made of public schools and teachers during his campaign for governor and four years as a gatecrashing conservative in the state Senate.
"Now it seems to me, you have done a full 180," Trebek told Wagner.
Wagner shot back by saying "here's a fact" and accused Wolf of not putting any new money into public schools for the first three years of his term because he had not signed an actual spending bill until 2018 amid thorny budget fights with the Republican-controlled Legislature.
That, however, ignored the fact that Wolf had agreed to spending bills passed by the Legislature in 2016 and 2017, but chose to let them lapse into law while he and lawmakers tussled over how to scrape up the money to pay for it. Wolf maintains that he has won $1 billion in increased aid for education from the Legislature in his first term.
Wolf is seeking a second term in the Nov. 6 election. Wagner served four years in the state Senate, resigning in June, and runs a $75 million waste-hauling business.
The night was to be the candidates' only formal appearance together this fall, as Wolf runs a low-key campaign, nurses a big lead in independent polls and barely acknowledges that he even has an opponent while he works the levers of government. Wolf also has held a huge fundraising lead over Wagner, who is largely self-funding his campaign.
Wagner, meanwhile, has accused Wolf of rejecting more than a dozen debate invitations from newspapers, TV stations and others. At one point, Trebek suggested that Wagner hadn't been serious several months ago when he suggested the two candidates meet for a debate in each of Pennsylvania's 67 counties.
Wagner insisted that he had been serious. Wolf countered that more debates effectively are unnecessary because voters are reading and listening to the media's coverage of the issues.
"I think people are listening," Wolf said, turning to Wagner. "They don't like what they're hearing from you, but they're listening."