The Latest: Trump says he doesn't feel betrayed by Saudis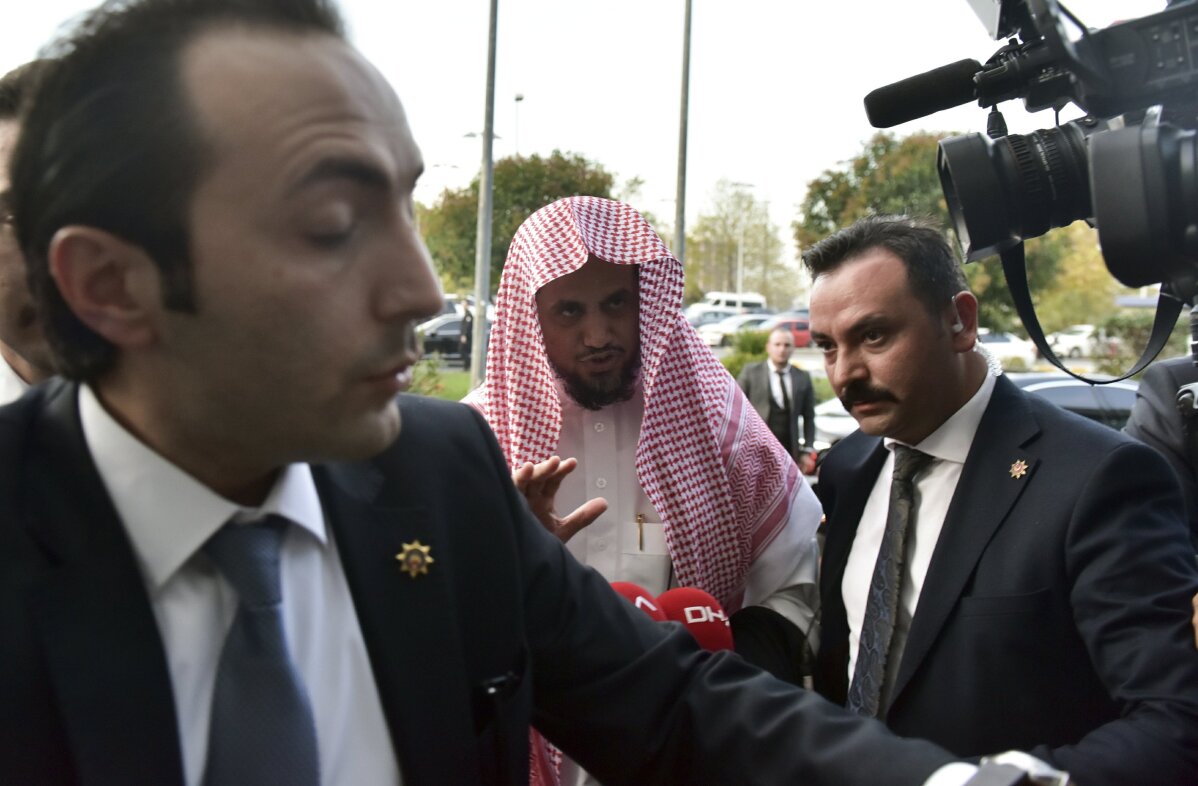 1 of 3

|
Saudi Arabia's top prosecutor Saud al-Mojeb walks to board a plane to leave Turkey, in Istanbul, Wednesday, Oct, 31, 2018. A top Turkish prosecutor said Wednesday that Saudi journalist Jamal Khashoggi was strangled as soon as he entered the Saudi Consulate in Istanbul as part of a premeditated killing, and that his body was dismembered before being disposed of. A statement from chief Istanbul prosecutor Irfan Fidan's office also said that discussions with Saudi chief prosecutor Saud al-Mojeb have yielded no "concrete results" despite "good-willed efforts" by Turkey to uncover the truth.(DHA via AP)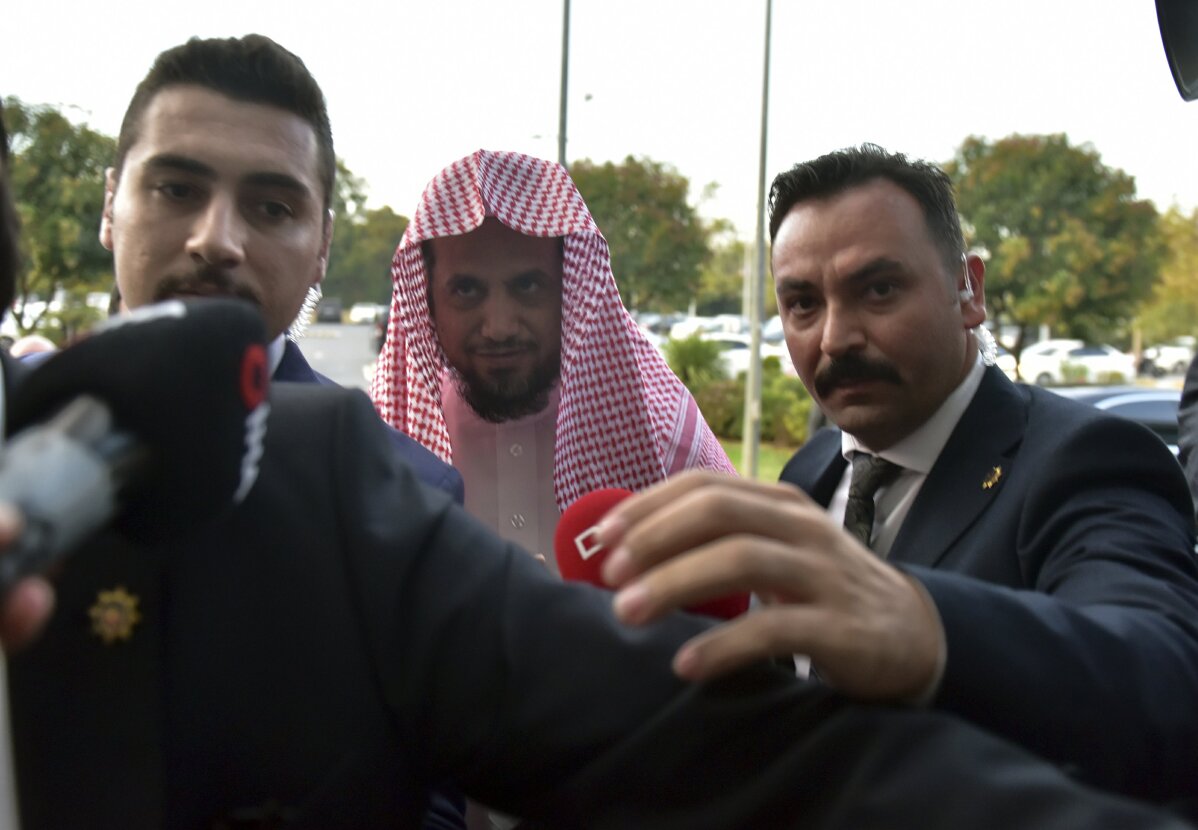 2 of 3

|
Saudi Arabia's top prosecutor Saud al-Mojeb walks to board a plane to leave Turkey, in Istanbul, Wednesday, Oct, 31, 2018. A top Turkish prosecutor said Wednesday that Saudi journalist Jamal Khashoggi was strangled as soon as he entered the Saudi Consulate in Istanbul as part of a premeditated killing, and that his body was dismembered before being disposed of. A statement from chief Istanbul prosecutor Irfan Fidan's office also said that discussions with Saudi chief prosecutor Saud al-Mojeb have yielded no "concrete results" despite "good-willed efforts" by Turkey to uncover the truth.(DHA via AP)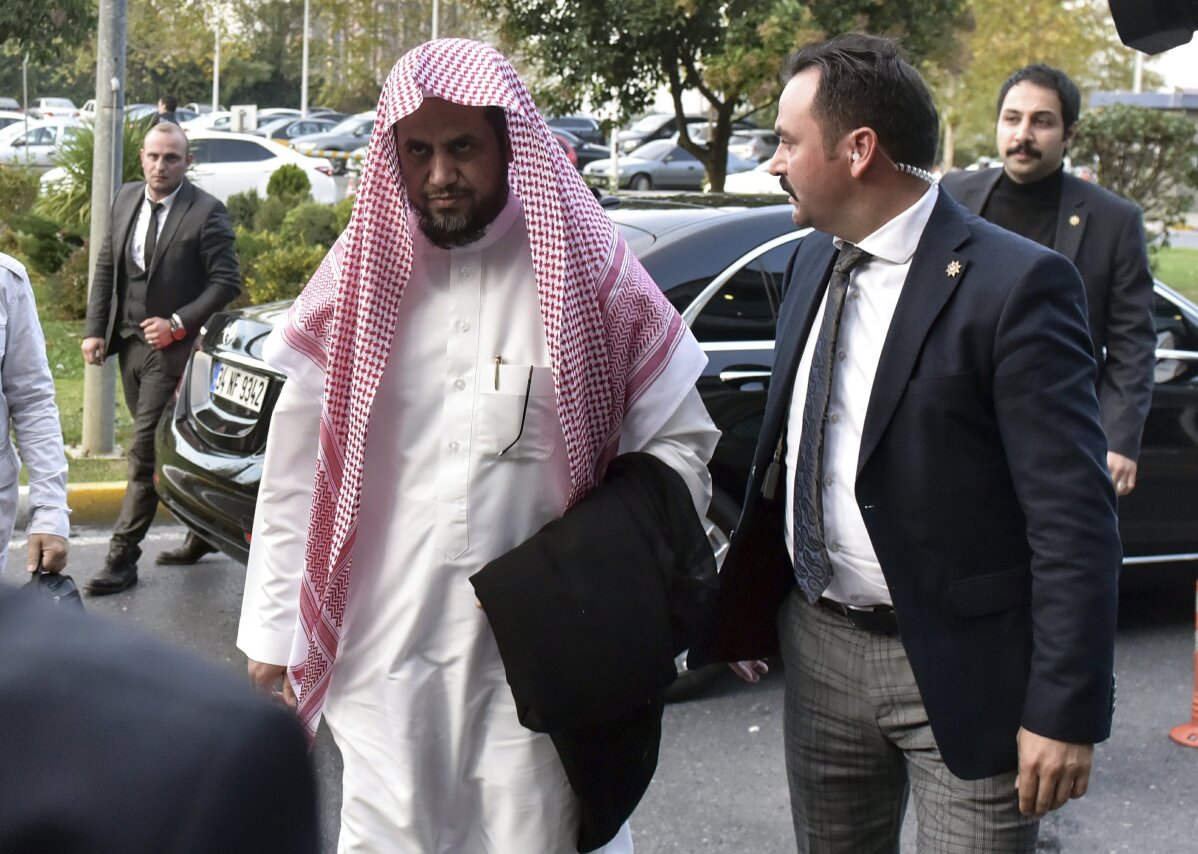 3 of 3

|
Saudi Arabia's top prosecutor Saud al-Mojeb walks to board a plane to leave Turkey, in Istanbul, Wednesday, Oct. 31, 2018. A top Turkish prosecutor said Wednesday that Saudi journalist Jamal Khashoggi was strangled as soon as he entered the Saudi Consulate in Istanbul as part of a premeditated killing, and that his body was dismembered before being disposed of. A statement from chief Istanbul prosecutor Irfan Fidan's office also said that discussions with Saudi chief prosecutor Saud al-Mojeb have yielded no "concrete results" despite "good-willed efforts" by Turkey to uncover the truth. (DHA via AP)
The Latest: Trump says he doesn't feel betrayed by Saudis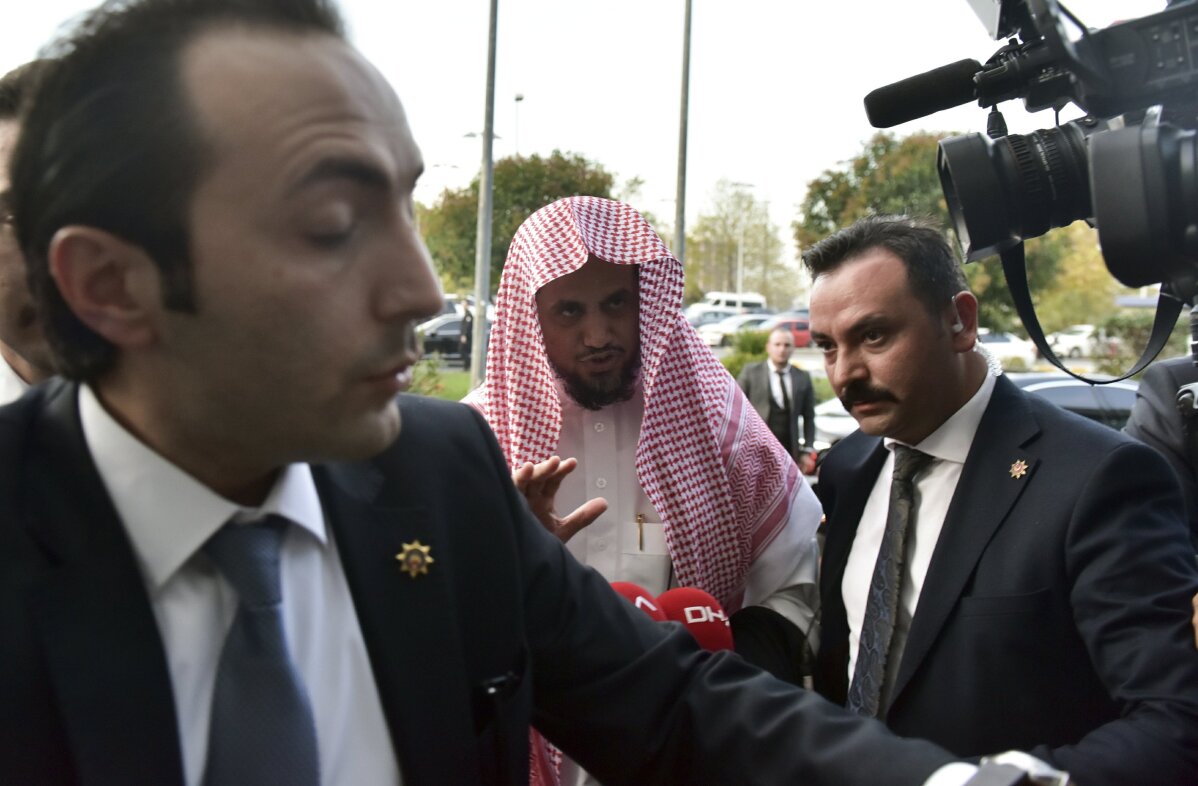 1 of 3

|
Saudi Arabia's top prosecutor Saud al-Mojeb walks to board a plane to leave Turkey, in Istanbul, Wednesday, Oct, 31, 2018. A top Turkish prosecutor said Wednesday that Saudi journalist Jamal Khashoggi was strangled as soon as he entered the Saudi Consulate in Istanbul as part of a premeditated killing, and that his body was dismembered before being disposed of. A statement from chief Istanbul prosecutor Irfan Fidan's office also said that discussions with Saudi chief prosecutor Saud al-Mojeb have yielded no "concrete results" despite "good-willed efforts" by Turkey to uncover the truth.(DHA via AP)
1 of 3
Saudi Arabia's top prosecutor Saud al-Mojeb walks to board a plane to leave Turkey, in Istanbul, Wednesday, Oct, 31, 2018. A top Turkish prosecutor said Wednesday that Saudi journalist Jamal Khashoggi was strangled as soon as he entered the Saudi Consulate in Istanbul as part of a premeditated killing, and that his body was dismembered before being disposed of. A statement from chief Istanbul prosecutor Irfan Fidan's office also said that discussions with Saudi chief prosecutor Saud al-Mojeb have yielded no "concrete results" despite "good-willed efforts" by Turkey to uncover the truth.(DHA via AP)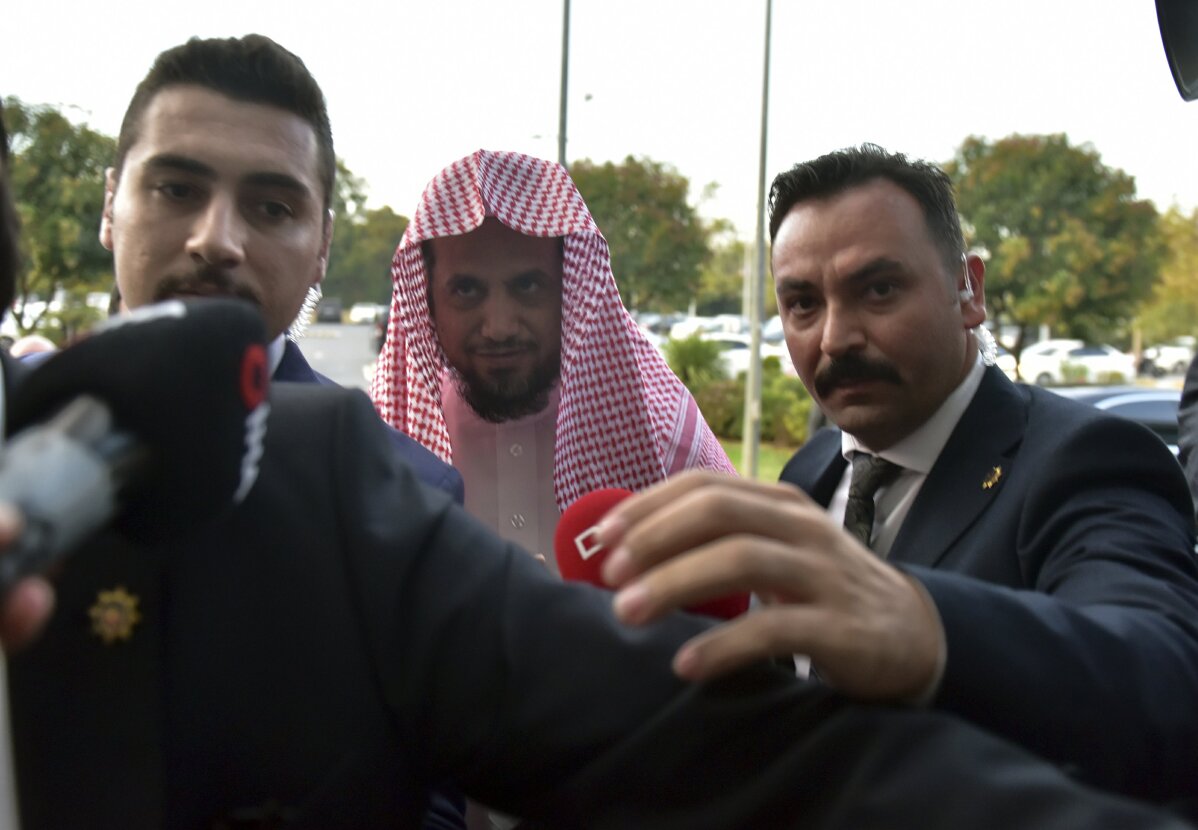 2 of 3

|
Saudi Arabia's top prosecutor Saud al-Mojeb walks to board a plane to leave Turkey, in Istanbul, Wednesday, Oct, 31, 2018. A top Turkish prosecutor said Wednesday that Saudi journalist Jamal Khashoggi was strangled as soon as he entered the Saudi Consulate in Istanbul as part of a premeditated killing, and that his body was dismembered before being disposed of. A statement from chief Istanbul prosecutor Irfan Fidan's office also said that discussions with Saudi chief prosecutor Saud al-Mojeb have yielded no "concrete results" despite "good-willed efforts" by Turkey to uncover the truth.(DHA via AP)
2 of 3
Saudi Arabia's top prosecutor Saud al-Mojeb walks to board a plane to leave Turkey, in Istanbul, Wednesday, Oct, 31, 2018. A top Turkish prosecutor said Wednesday that Saudi journalist Jamal Khashoggi was strangled as soon as he entered the Saudi Consulate in Istanbul as part of a premeditated killing, and that his body was dismembered before being disposed of. A statement from chief Istanbul prosecutor Irfan Fidan's office also said that discussions with Saudi chief prosecutor Saud al-Mojeb have yielded no "concrete results" despite "good-willed efforts" by Turkey to uncover the truth.(DHA via AP)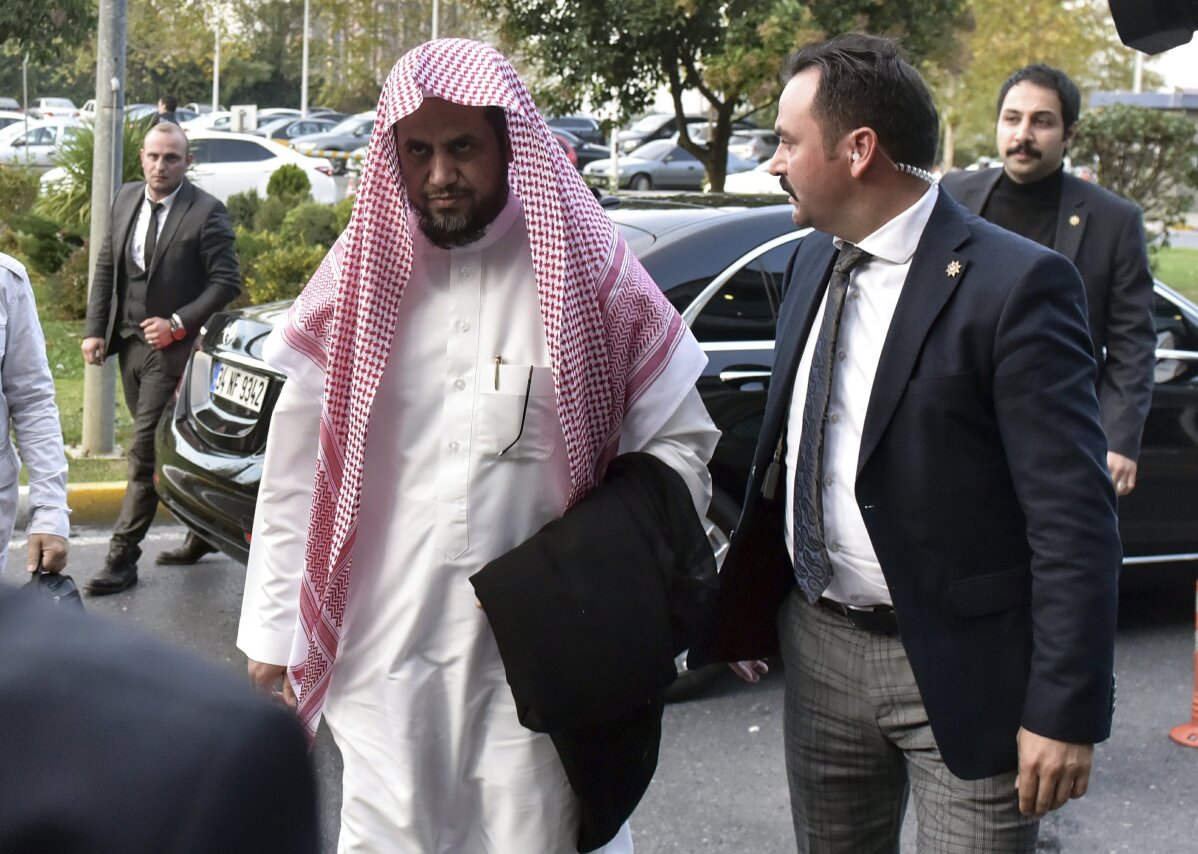 3 of 3

|
Saudi Arabia's top prosecutor Saud al-Mojeb walks to board a plane to leave Turkey, in Istanbul, Wednesday, Oct. 31, 2018. A top Turkish prosecutor said Wednesday that Saudi journalist Jamal Khashoggi was strangled as soon as he entered the Saudi Consulate in Istanbul as part of a premeditated killing, and that his body was dismembered before being disposed of. A statement from chief Istanbul prosecutor Irfan Fidan's office also said that discussions with Saudi chief prosecutor Saud al-Mojeb have yielded no "concrete results" despite "good-willed efforts" by Turkey to uncover the truth. (DHA via AP)
3 of 3
Saudi Arabia's top prosecutor Saud al-Mojeb walks to board a plane to leave Turkey, in Istanbul, Wednesday, Oct. 31, 2018. A top Turkish prosecutor said Wednesday that Saudi journalist Jamal Khashoggi was strangled as soon as he entered the Saudi Consulate in Istanbul as part of a premeditated killing, and that his body was dismembered before being disposed of. A statement from chief Istanbul prosecutor Irfan Fidan's office also said that discussions with Saudi chief prosecutor Saud al-Mojeb have yielded no "concrete results" despite "good-willed efforts" by Turkey to uncover the truth. (DHA via AP)
ANKARA, Turkey (AP) — The Latest on the killing of writer Jamal Khashoggi in the Saudi Consulate in Istanbul (all times local):
11:35 p.m.
U.S. President Donald Trump says he doesn't feel "betrayed" by Saudi Arabia over the death of a Saudi journalist who was killed inside the Saudi Consulate in Istanbul.
Trump, who made Saudi Arabia the destination of his first foreign trip as president, said the Saudis didn't betray him but "maybe they've betrayed themselves." Trump told reporters at the White House on Wednesday: "I just hope it all works out."
A top Turkish prosecutor said earlier in the day that journalist Jamal Khashoggi (jah-MAHL' khahr-SHOHK'-jee) was strangled as soon as he entered the consulate on Oct. 2 and his body was dismembered before it was removed.
Saudi Arabia changed its narrative about Khashoggi's killing several times, eventually admitting that he died inside the consulate. Saudi Arabia only recently acknowledged Turkish evidence showed the slaying was premeditated.
___
5 p.m.
A Turkish prosecutor says Saudi journalist Jamal Khashoggi was strangled as soon as he entered the Saudi Consulate in Istanbul as part of a premeditated killing, and his body was dismembered and disposed of.
A statement from chief Istanbul prosecutor Irfan Fidan's office also said Wednesday that discussions with Saudi chief prosecutor Saud al-Mojeb have yielded no "concrete results" despite "good-willed efforts" by Turkey to uncover the truth.
The statement is the first public confirmation by a Turkish official that Khashoggi was strangled and dismembered after he entered the Saudi Consulate on Oct. 2 to collect paperwork needed to marry his Turkish fiancee.
___
10:15 a.m.
Turkish media reports say Saudi Arabia's top prosecutor, who is in Istanbul for discussions on the killing of Saudi writer Jamal Khashoggi, has met with Turkish intelligence officials.
Private DHA news agency said Wednesday the prosecutor, Saud al-Mojeb, paid a midnight visit to the Turkish intelligence agency's Istanbul headquarters. Officials were not immediately available to comment.
Turkey is seeking the extradition of 18 Saudi suspects detained in Saudi Arabia over the killing of Khashoggi in the Saudi Consulate after he entered the building on Oct. 2. It is also pressing Saudi Arabia for information concerning Khashoggi's remains, which still haven't been found, as well as who ordered the journalist's slaying.
Saudi officials have said the kingdom will try the 18 and bring them to justice after the investigation is complete.