The Latest: Florence now a Category 2 storm, still dangerous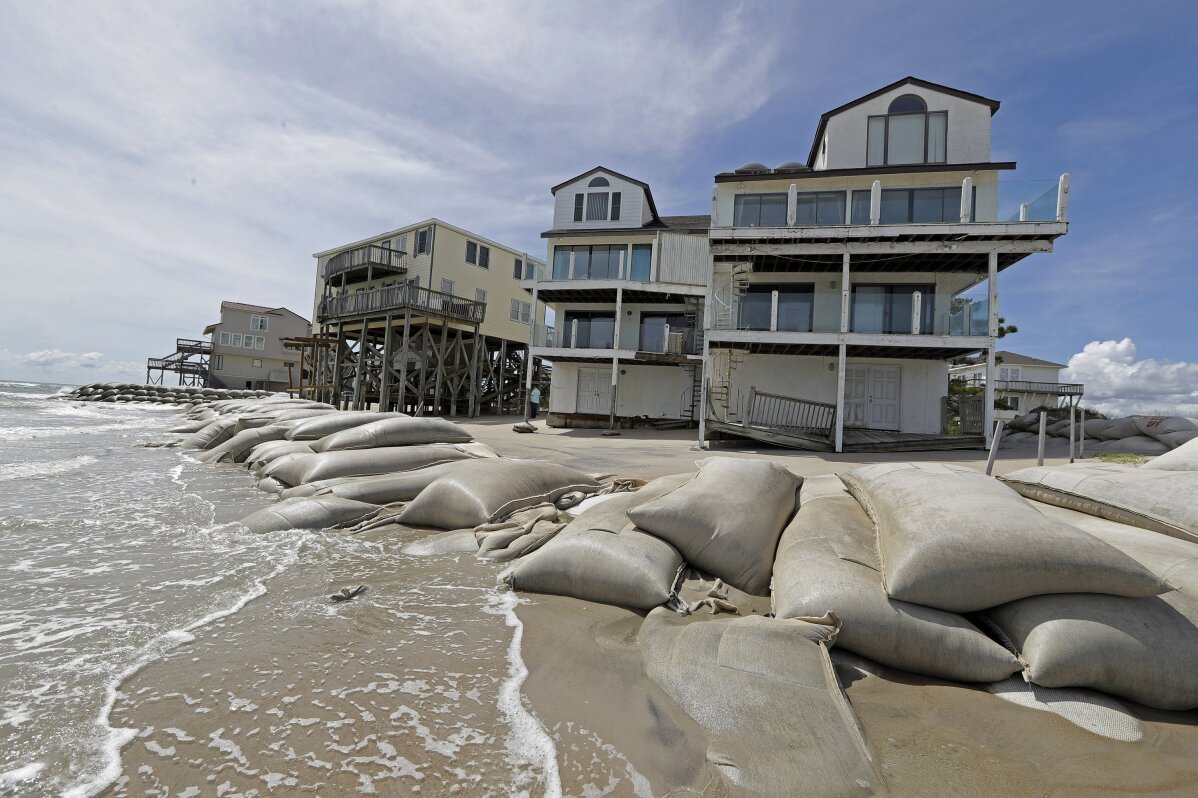 1 of 11

|
Sand bags surround homes on North Topsail Beach, N.C., Wednesday, Sept. 12, 2018, as Hurricane Florence threatens the coast. (AP Photo/Chuck Burton)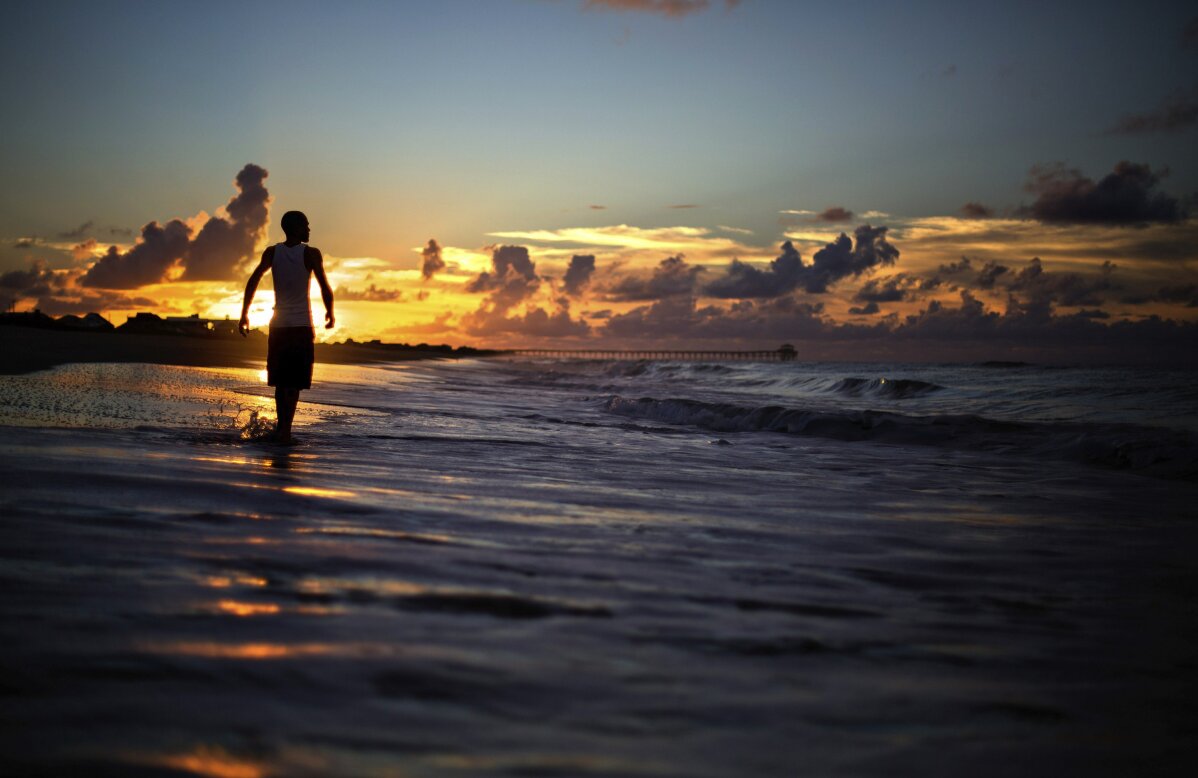 2 of 11

|
Andrew Lingle walks along the beach at sunrise as Hurricane Florence approaches the east coast in Atlantic Beach, N.C., Wednesday, Sept. 12, 2018. (AP Photo/David Goldman)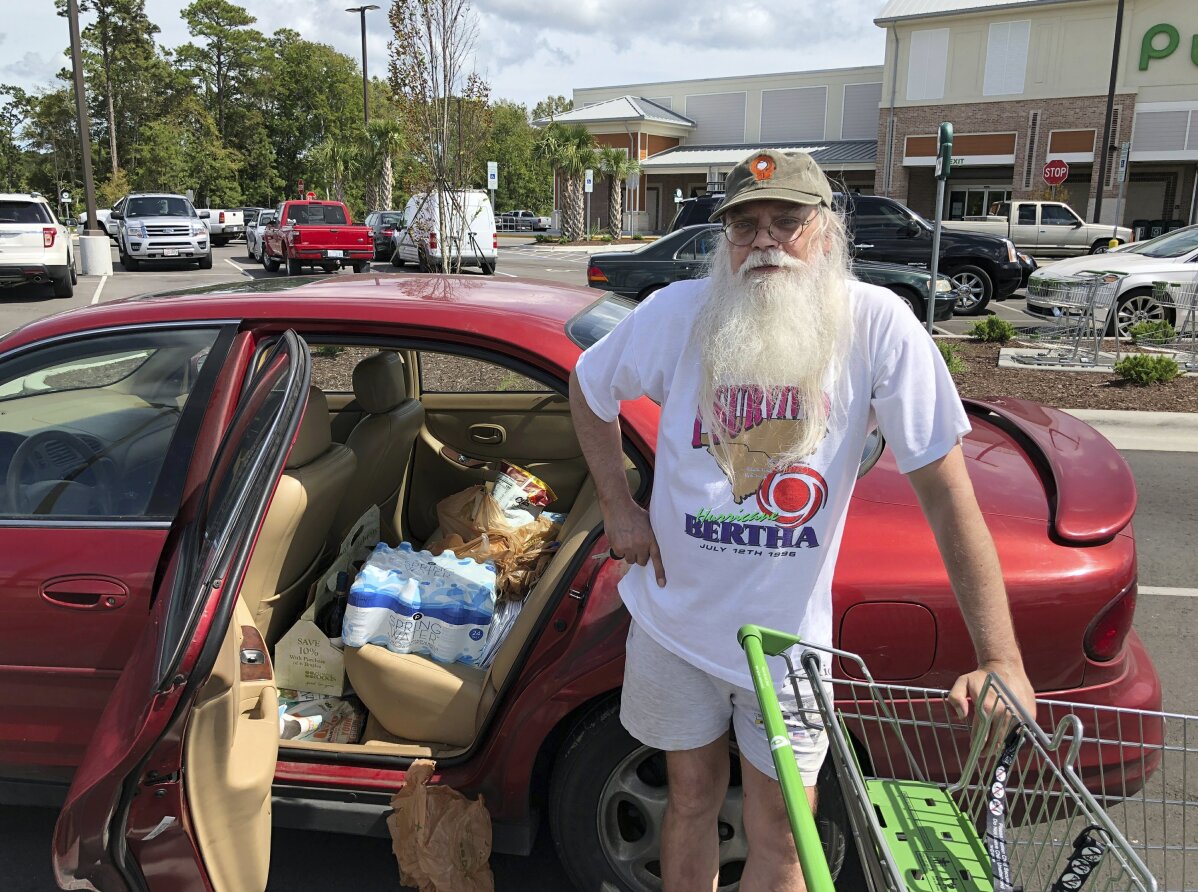 3 of 11

|
Steve Wareheim poses for a photo after making one last grocery run to prepare for Hurricane Florence at a grocery store in Ocean Isle Beach, N.C. on Wednesday, Sept. 12, 2018. Wareheim decided to ride out the storm at home after buying a generator this week. (AP Photo/Jeffrey Collins)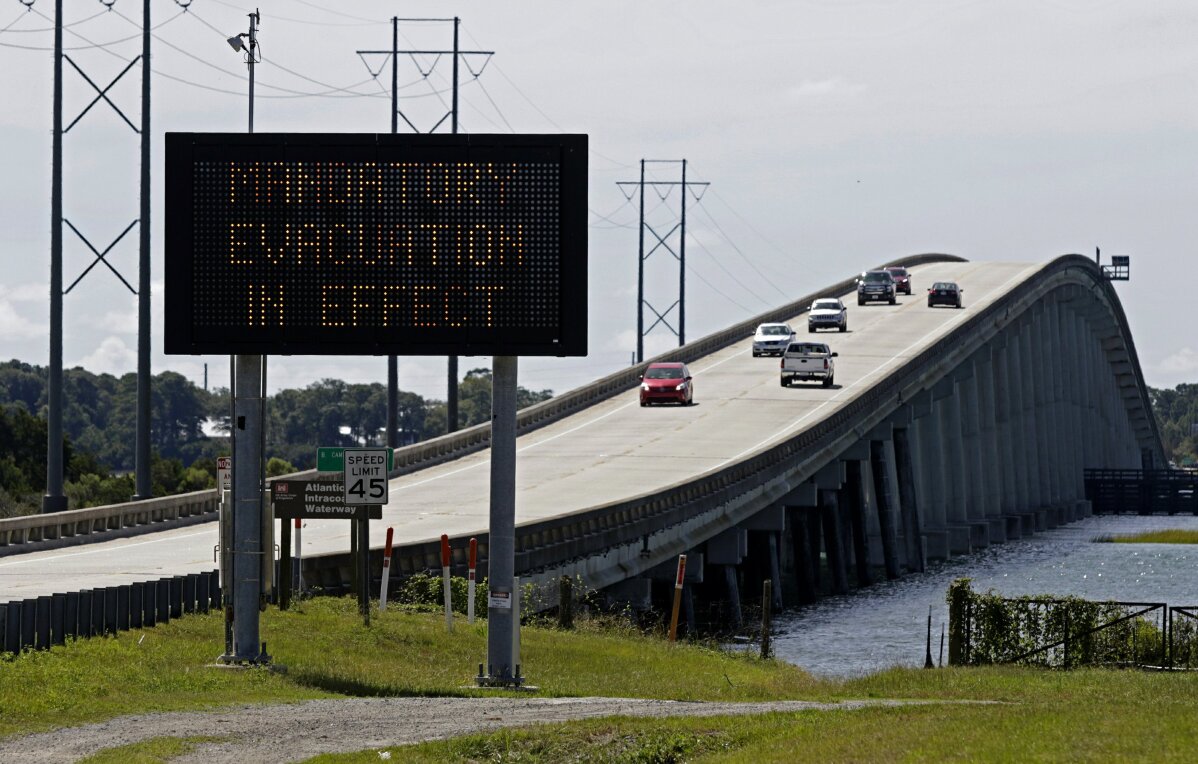 4 of 11

|
A sign posts a mandatory evacuation prior to Hurricane Florence in Emerald Isle N.C., Wednesday, Sept. 12, 2018. (AP Photo/Tom Copeland)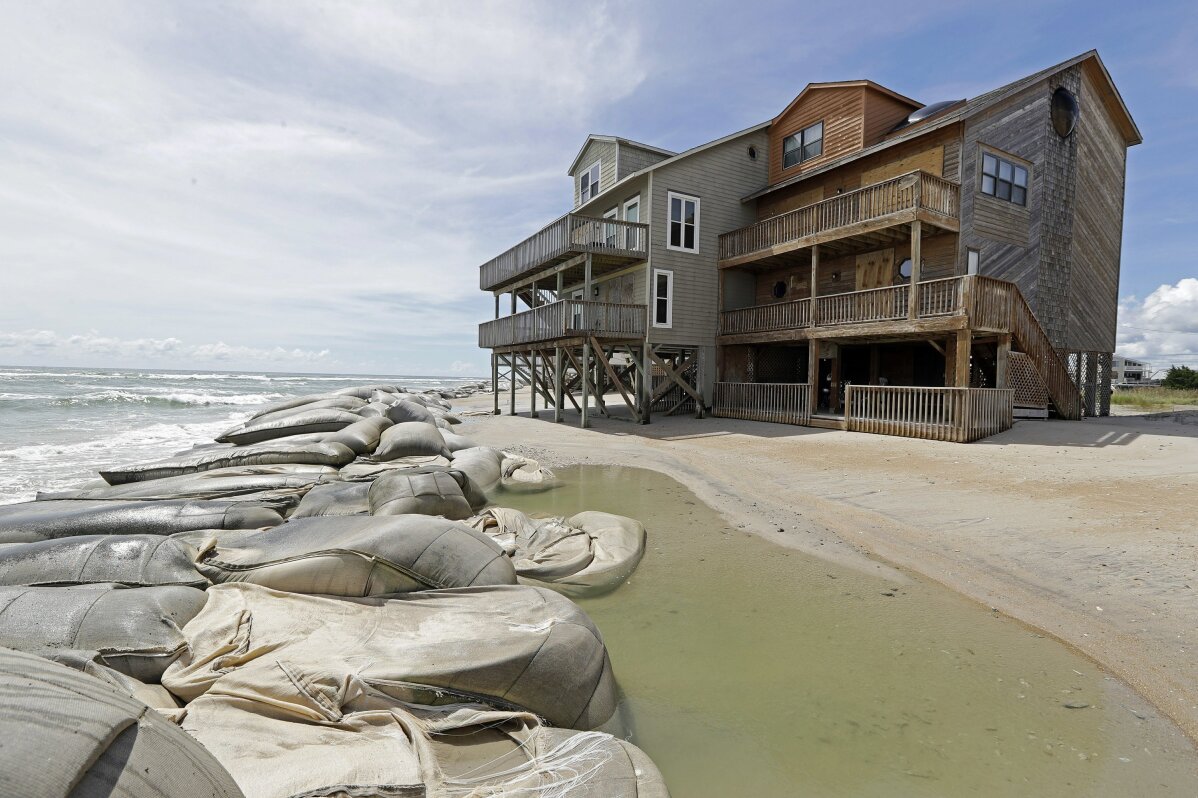 5 of 11

|
Sand bags surround homes on North Topsail Beach, N.C., Wednesday, Sept. 12, 2018 as Hurricane Florence threatens the coast. (AP Photo/Chuck Burton)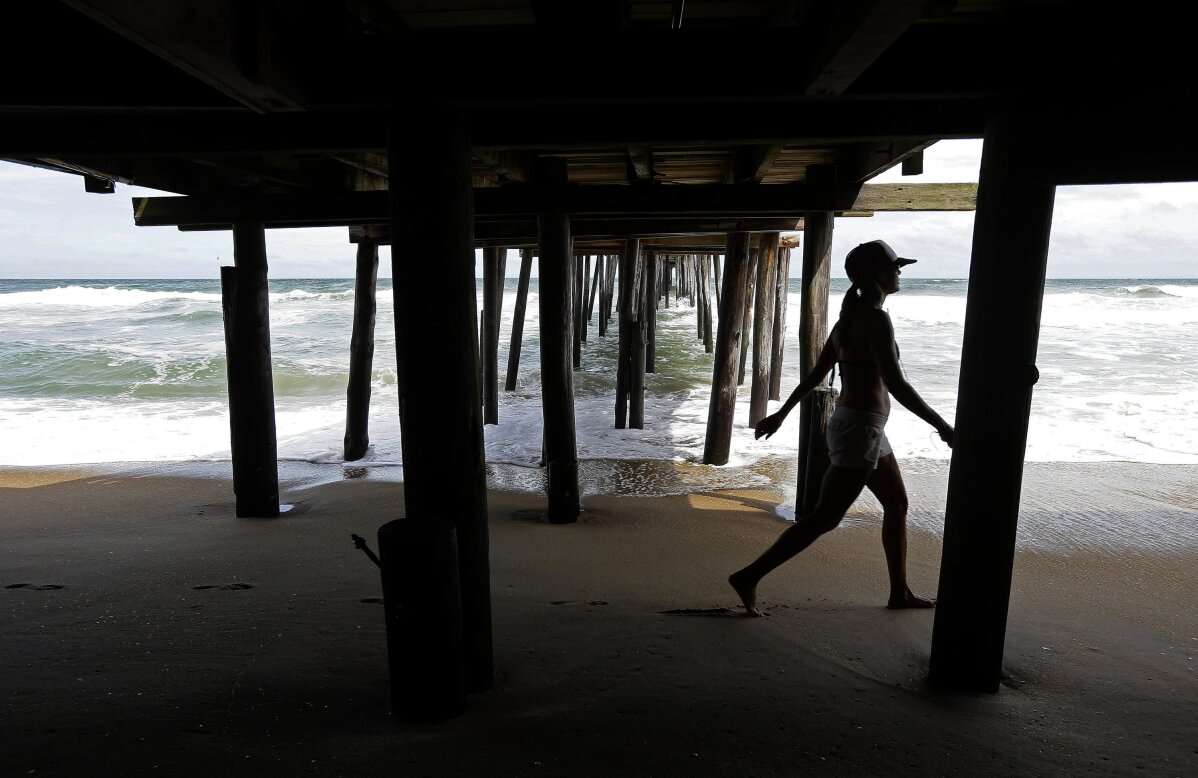 6 of 11

|
A lady walks under a pier while the surf rises Wednesday, Sept. 12, 2018, in Kill Devil Hills, N.C., as Hurricane Florence approaches the east coast. (AP Photo/Gerry Broome)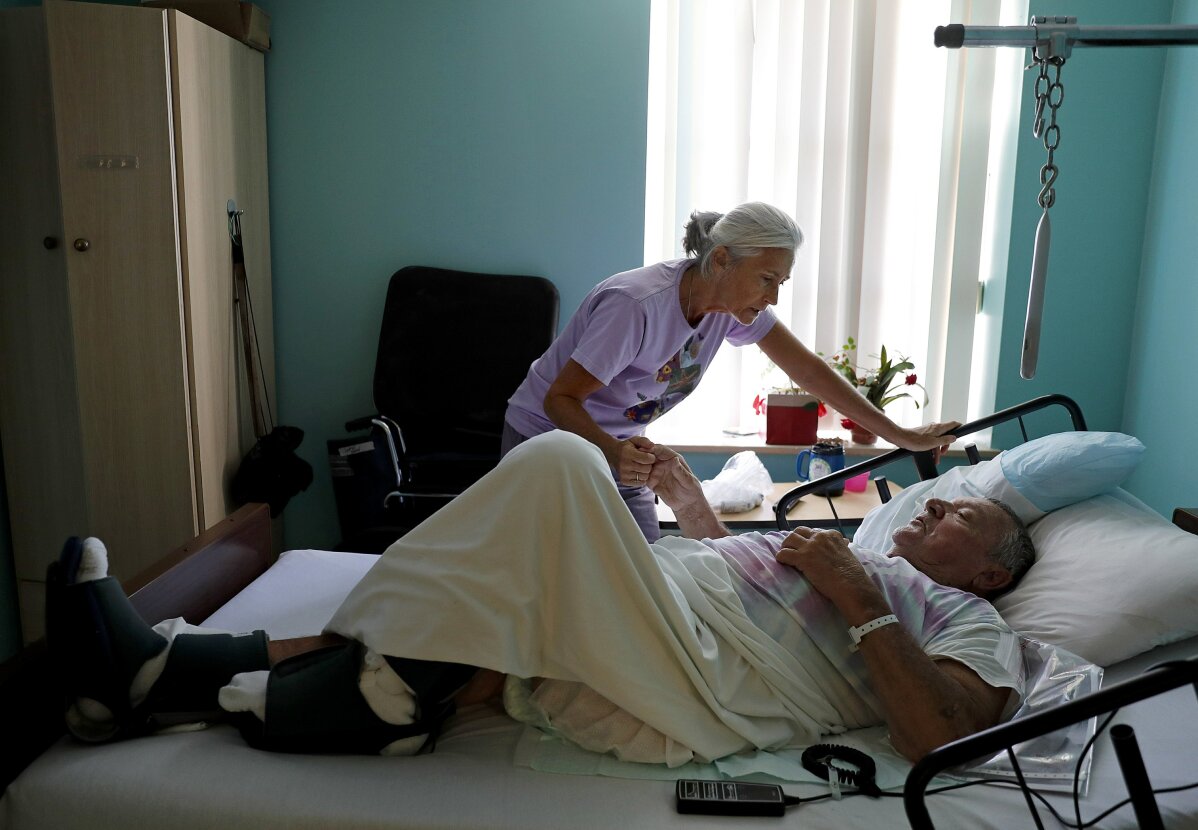 7 of 11

|
Marge Brown, 65, says goodbye to her father, George Brown, 90, before he is evacuated from a healthcare home in Morehead City, N.C., Wednesday, Sept. 12, 2018, as Hurricane Florence approaches the east coast. "I'd like to stay and see what happens. I'm 90 plus," said Brown, a WWII veteran who says he's survived a plane crash and severe burns from a laboratory fire where he once worked. (AP Photo/David Goldman)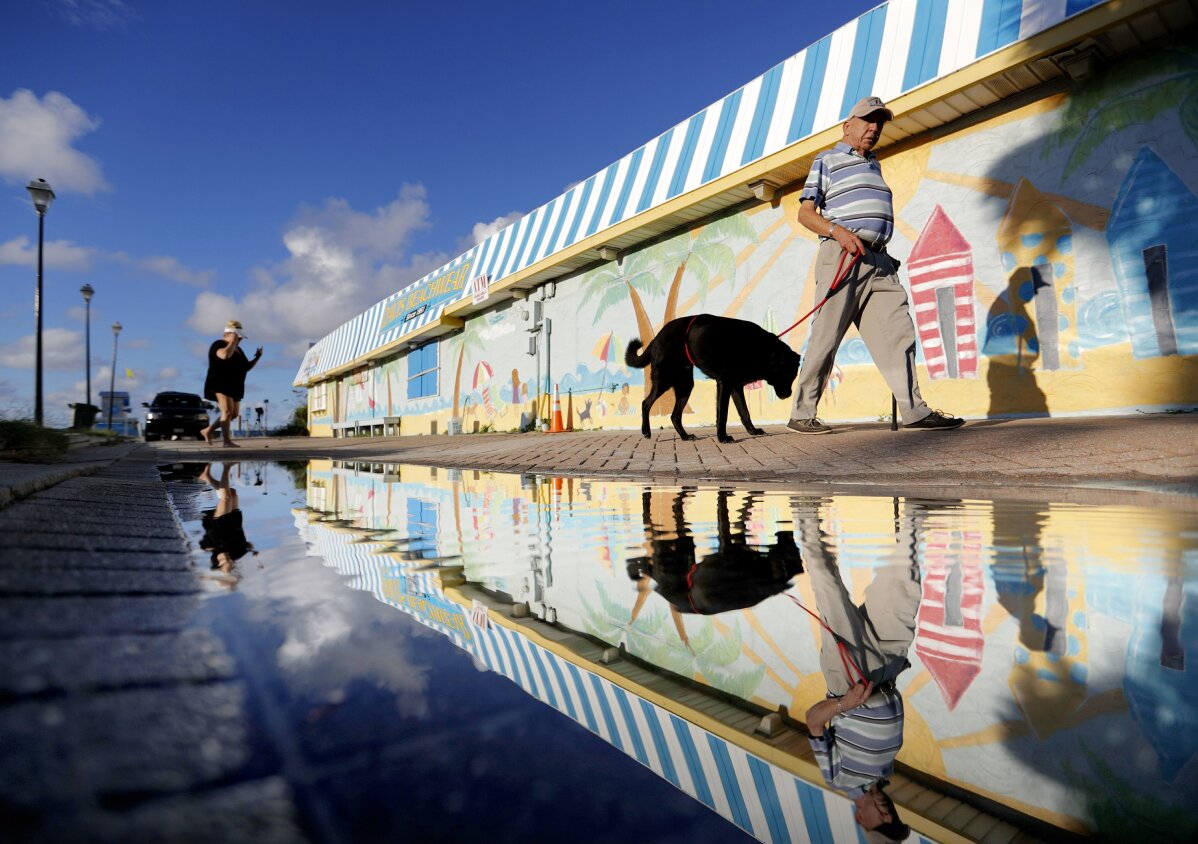 8 of 11

|
Beachgoers walk past a mural along the boardwalk as Hurricane Florence approaches the east coast in Atlantic Beach, N.C., Wednesday, Sept. 12, 2018. (AP Photo/David Goldman)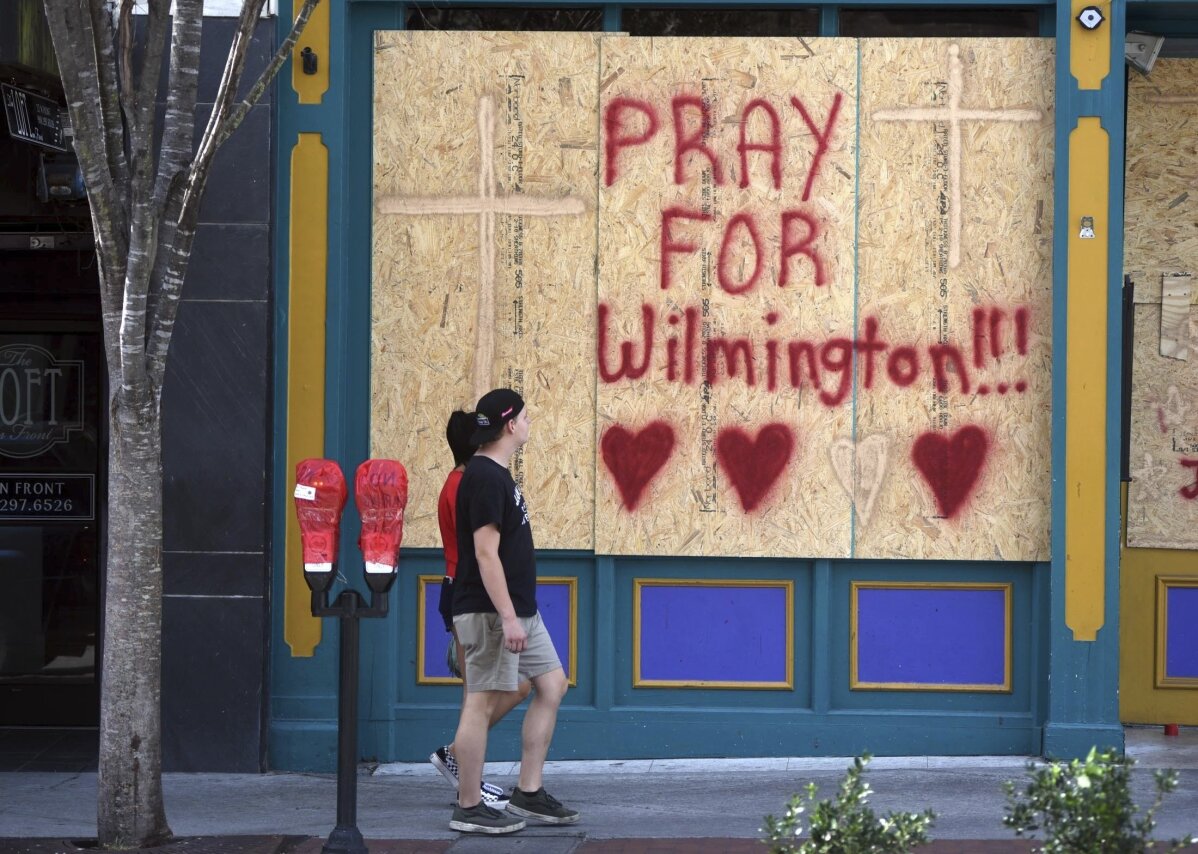 9 of 11

|
People walk by the boarded up front windows of Bourbon Street in preparation for Hurricane Florence in Wilmington, N.C., Wednesday, Sept. 12, 2018. The effects of Hurricane Florence in Southeastern North Carolina are expected to begin Thursday. (Matt Born/The Star-News via AP)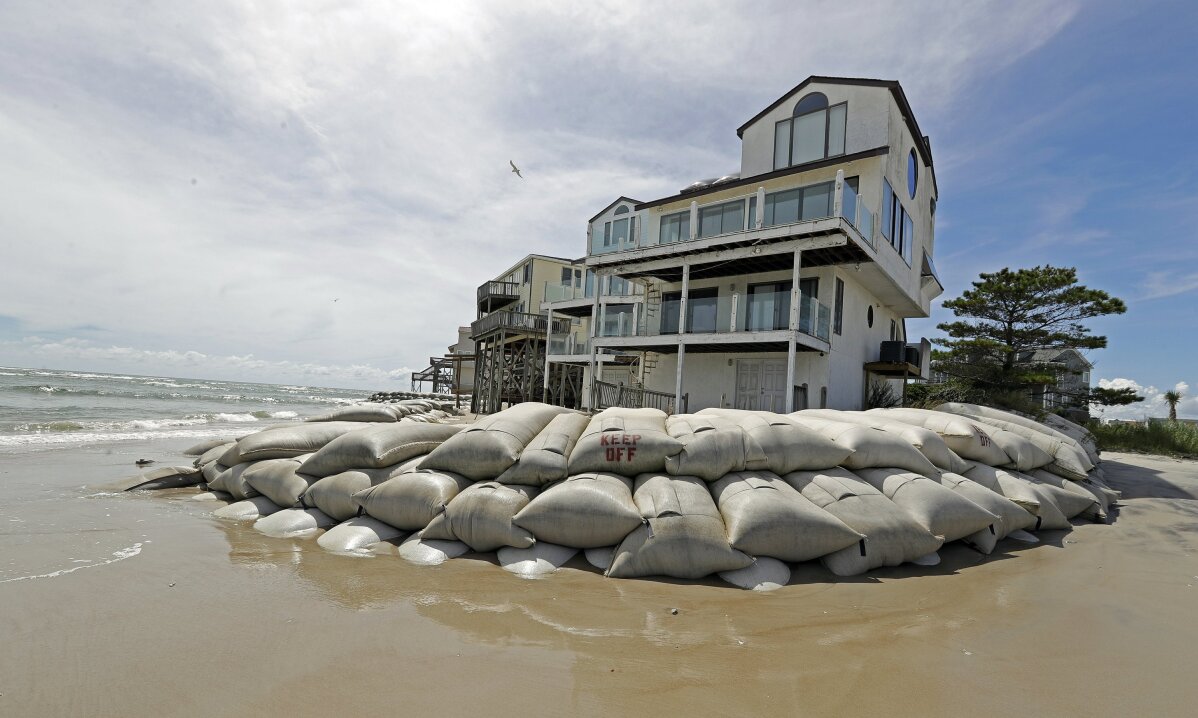 10 of 11

|
Sand bags surround homes on North Topsail Beach, N.C., Wednesday, Sept. 12, 2018, as Hurricane Florence threatens the coast. (AP Photo/Chuck Burton)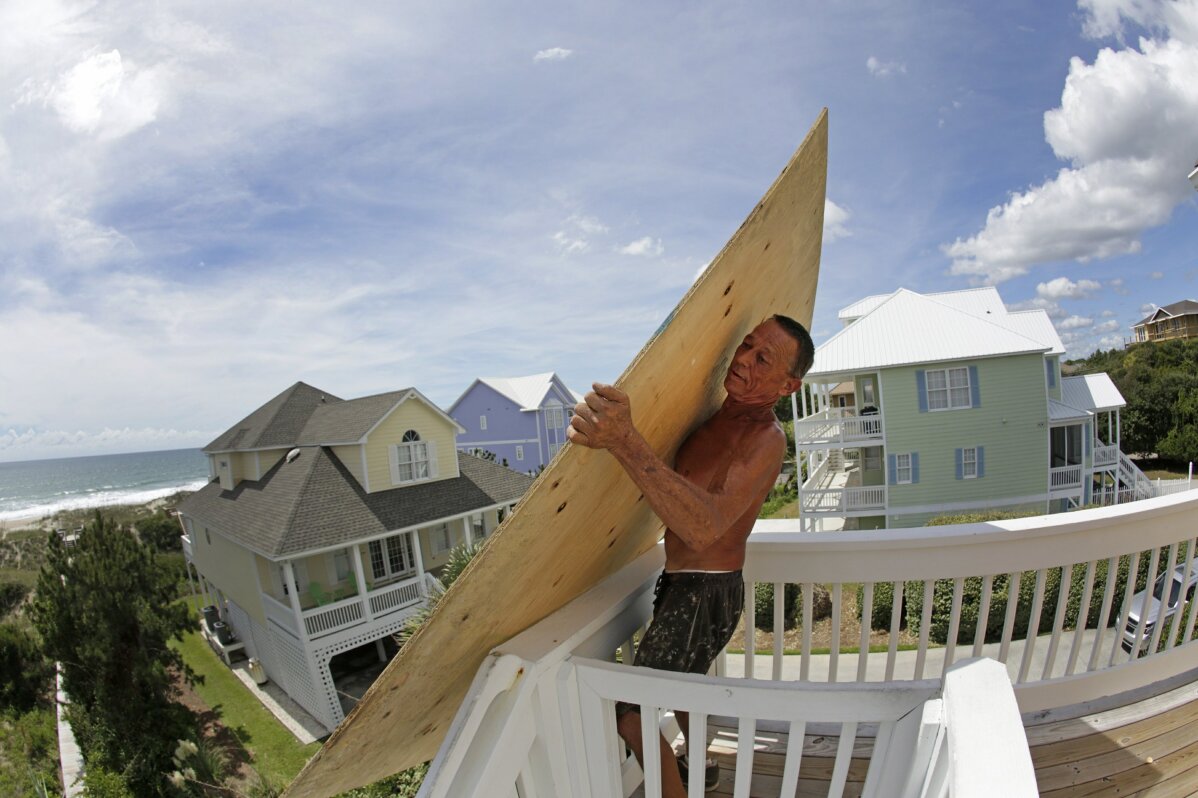 11 of 11

|
Tim Avery pulls boards to the third story of a home as he prepares for Hurricane Florence at a home in Emerald Isle N.C., Wednesday, Sept. 12, 2018. (AP Photo/Tom Copeland)
The Latest: Florence now a Category 2 storm, still dangerous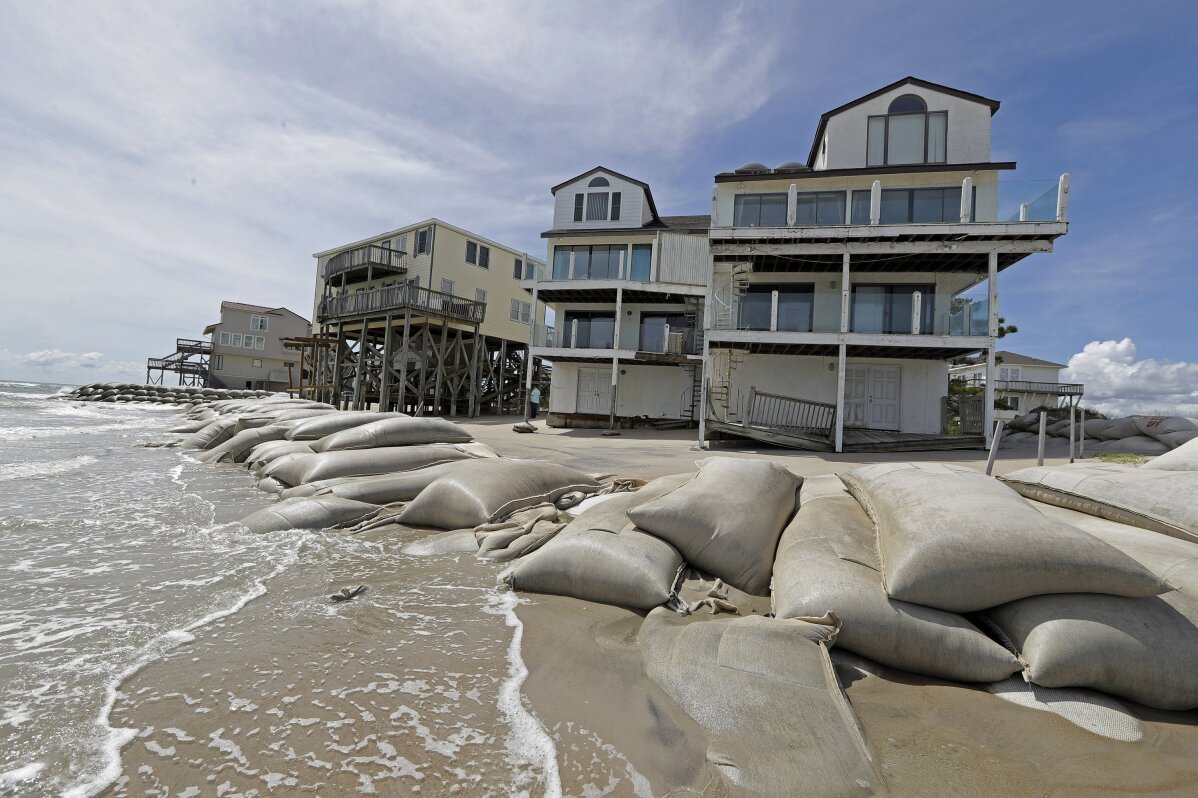 1 of 11

|
Sand bags surround homes on North Topsail Beach, N.C., Wednesday, Sept. 12, 2018, as Hurricane Florence threatens the coast. (AP Photo/Chuck Burton)
1 of 11
Sand bags surround homes on North Topsail Beach, N.C., Wednesday, Sept. 12, 2018, as Hurricane Florence threatens the coast. (AP Photo/Chuck Burton)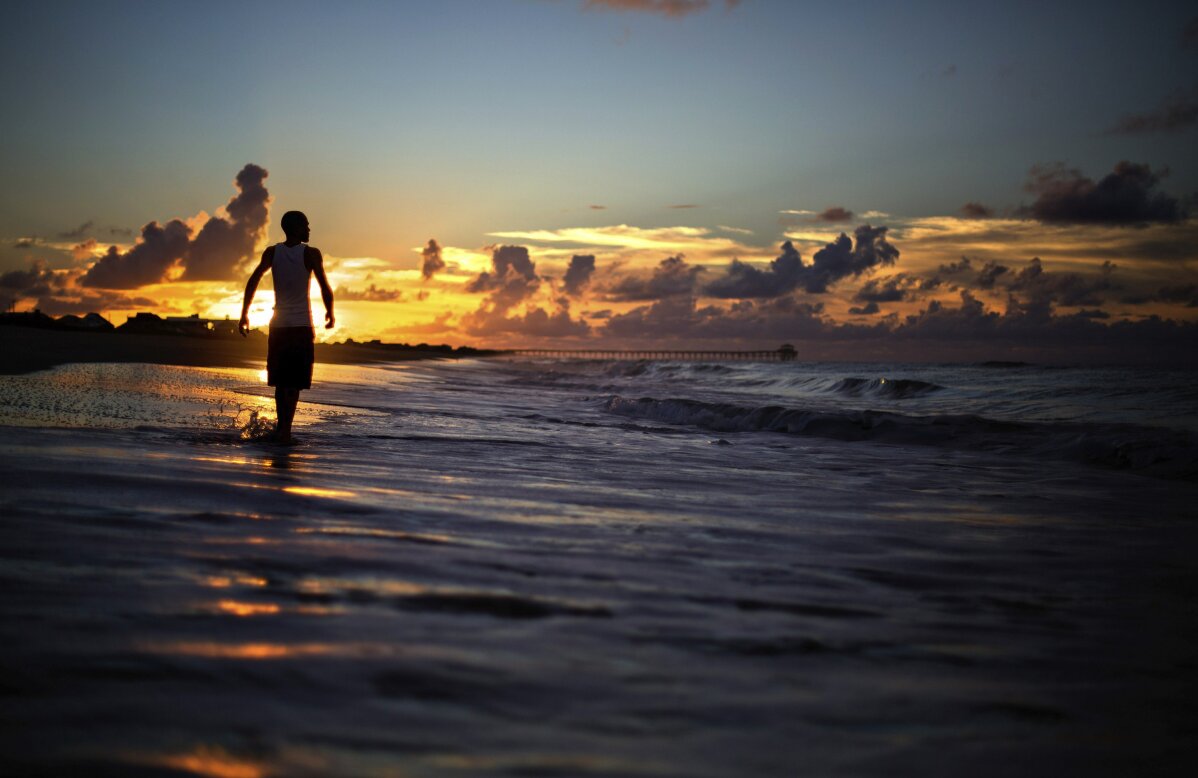 2 of 11

|
Andrew Lingle walks along the beach at sunrise as Hurricane Florence approaches the east coast in Atlantic Beach, N.C., Wednesday, Sept. 12, 2018. (AP Photo/David Goldman)
2 of 11
Andrew Lingle walks along the beach at sunrise as Hurricane Florence approaches the east coast in Atlantic Beach, N.C., Wednesday, Sept. 12, 2018. (AP Photo/David Goldman)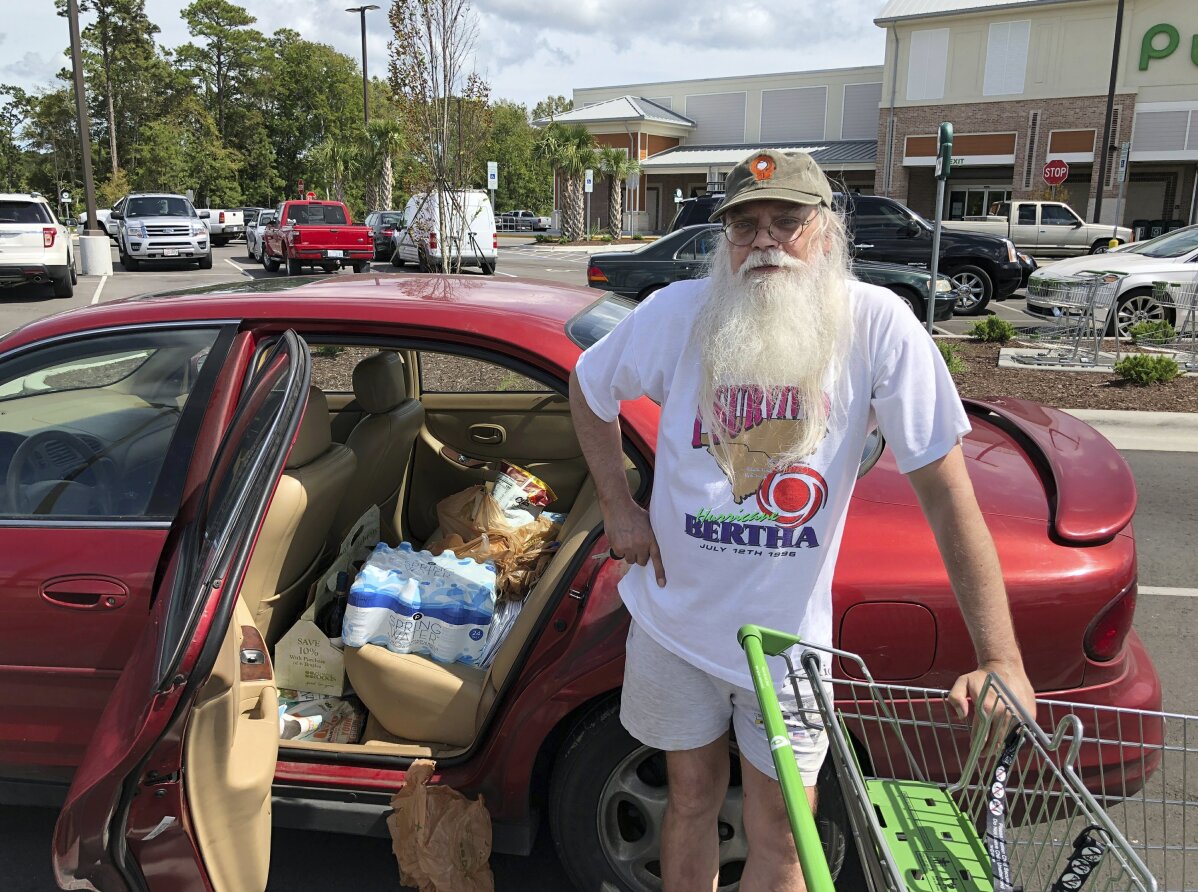 3 of 11

|
Steve Wareheim poses for a photo after making one last grocery run to prepare for Hurricane Florence at a grocery store in Ocean Isle Beach, N.C. on Wednesday, Sept. 12, 2018. Wareheim decided to ride out the storm at home after buying a generator this week. (AP Photo/Jeffrey Collins)
3 of 11
Steve Wareheim poses for a photo after making one last grocery run to prepare for Hurricane Florence at a grocery store in Ocean Isle Beach, N.C. on Wednesday, Sept. 12, 2018. Wareheim decided to ride out the storm at home after buying a generator this week. (AP Photo/Jeffrey Collins)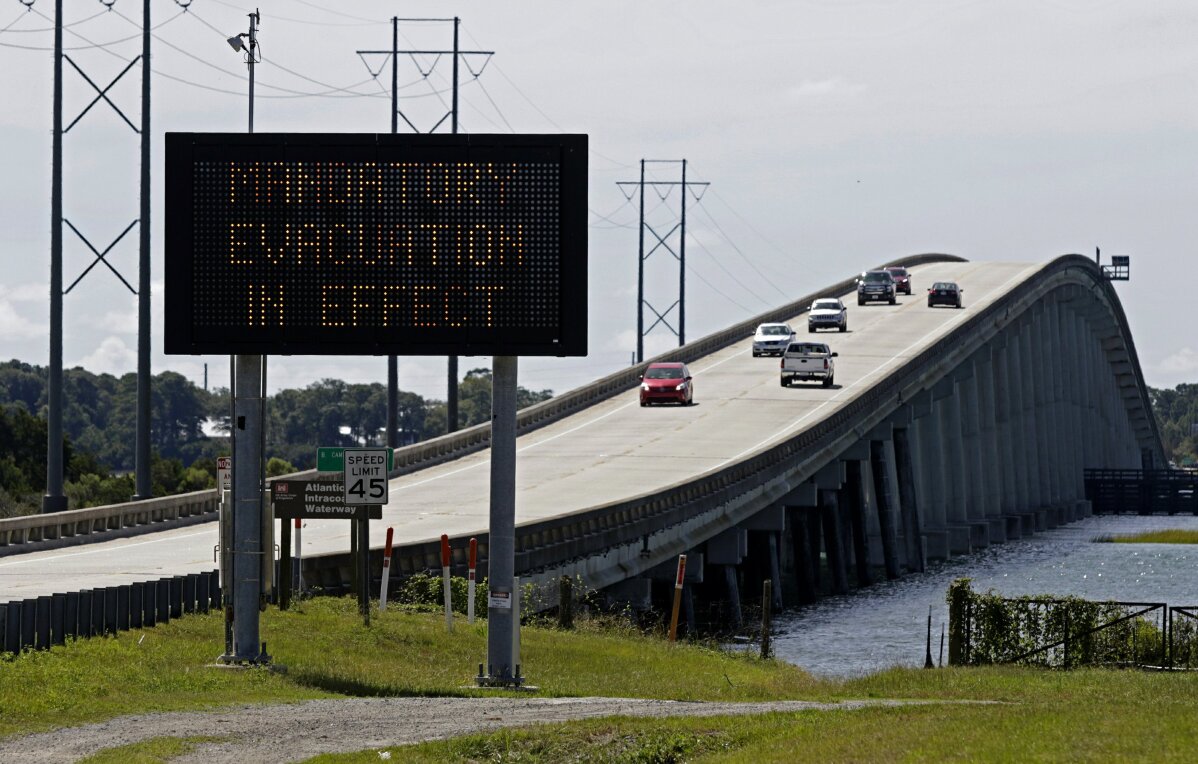 4 of 11

|
A sign posts a mandatory evacuation prior to Hurricane Florence in Emerald Isle N.C., Wednesday, Sept. 12, 2018. (AP Photo/Tom Copeland)
4 of 11
A sign posts a mandatory evacuation prior to Hurricane Florence in Emerald Isle N.C., Wednesday, Sept. 12, 2018. (AP Photo/Tom Copeland)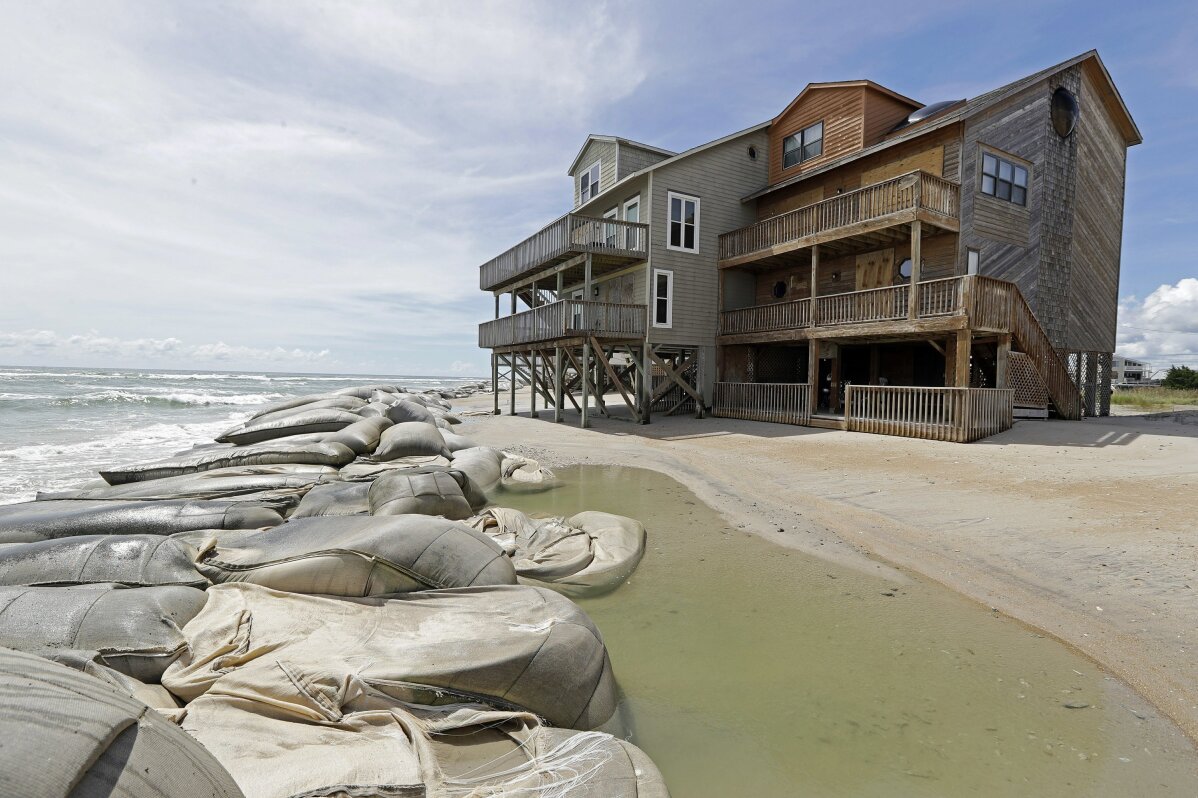 5 of 11

|
Sand bags surround homes on North Topsail Beach, N.C., Wednesday, Sept. 12, 2018 as Hurricane Florence threatens the coast. (AP Photo/Chuck Burton)
5 of 11
Sand bags surround homes on North Topsail Beach, N.C., Wednesday, Sept. 12, 2018 as Hurricane Florence threatens the coast. (AP Photo/Chuck Burton)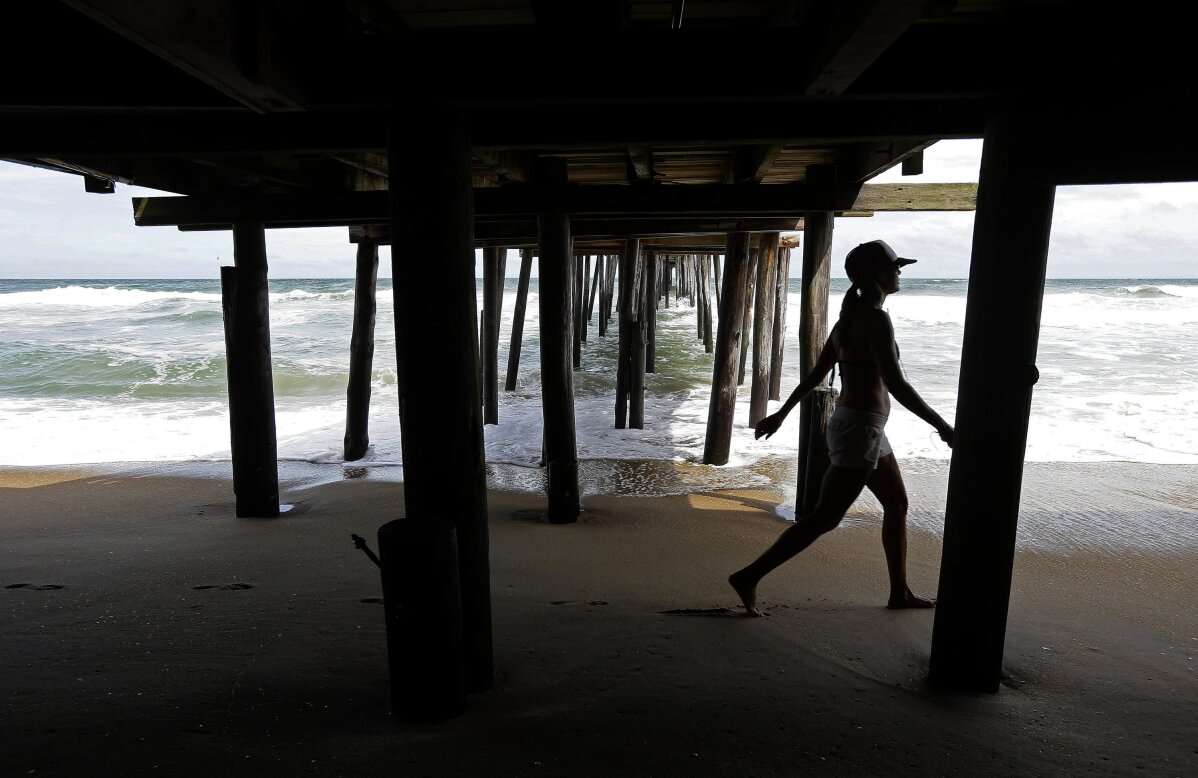 6 of 11

|
A lady walks under a pier while the surf rises Wednesday, Sept. 12, 2018, in Kill Devil Hills, N.C., as Hurricane Florence approaches the east coast. (AP Photo/Gerry Broome)
6 of 11
A lady walks under a pier while the surf rises Wednesday, Sept. 12, 2018, in Kill Devil Hills, N.C., as Hurricane Florence approaches the east coast. (AP Photo/Gerry Broome)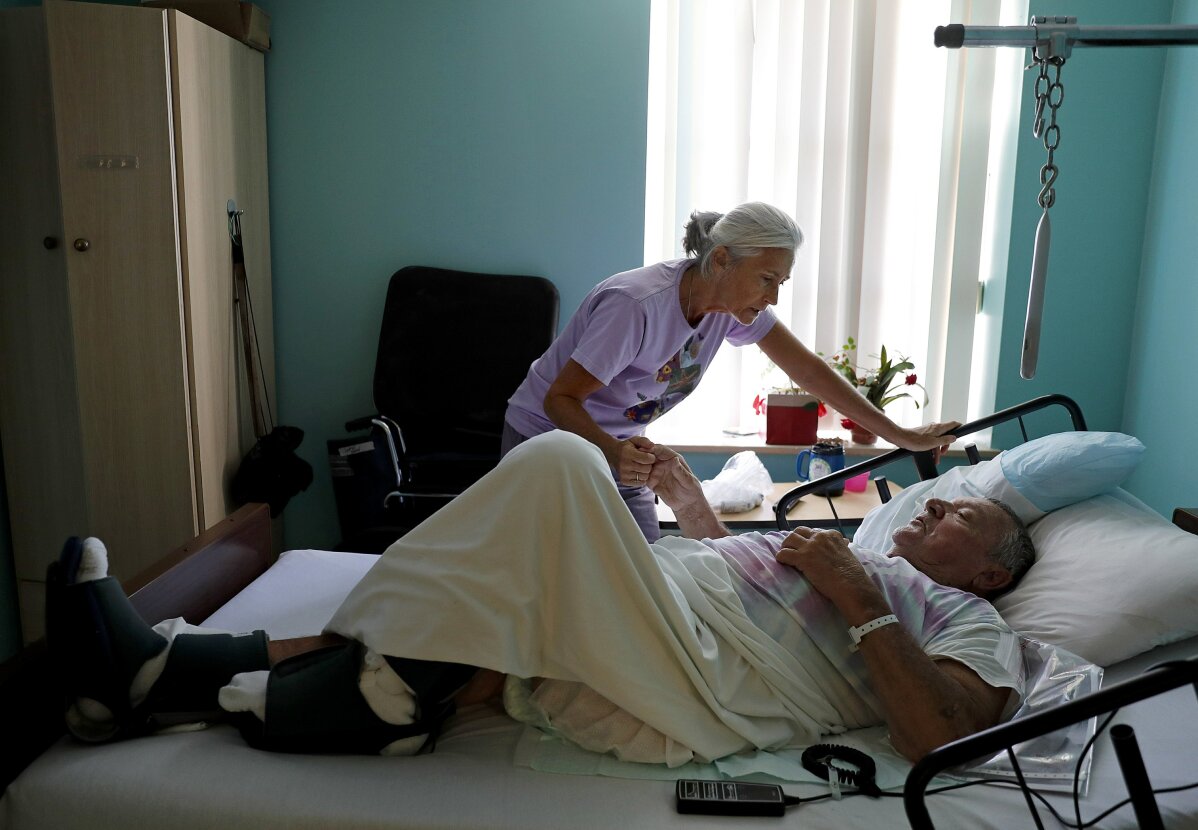 7 of 11

|
Marge Brown, 65, says goodbye to her father, George Brown, 90, before he is evacuated from a healthcare home in Morehead City, N.C., Wednesday, Sept. 12, 2018, as Hurricane Florence approaches the east coast. "I'd like to stay and see what happens. I'm 90 plus," said Brown, a WWII veteran who says he's survived a plane crash and severe burns from a laboratory fire where he once worked. (AP Photo/David Goldman)
7 of 11
Marge Brown, 65, says goodbye to her father, George Brown, 90, before he is evacuated from a healthcare home in Morehead City, N.C., Wednesday, Sept. 12, 2018, as Hurricane Florence approaches the east coast. "I'd like to stay and see what happens. I'm 90 plus," said Brown, a WWII veteran who says he's survived a plane crash and severe burns from a laboratory fire where he once worked. (AP Photo/David Goldman)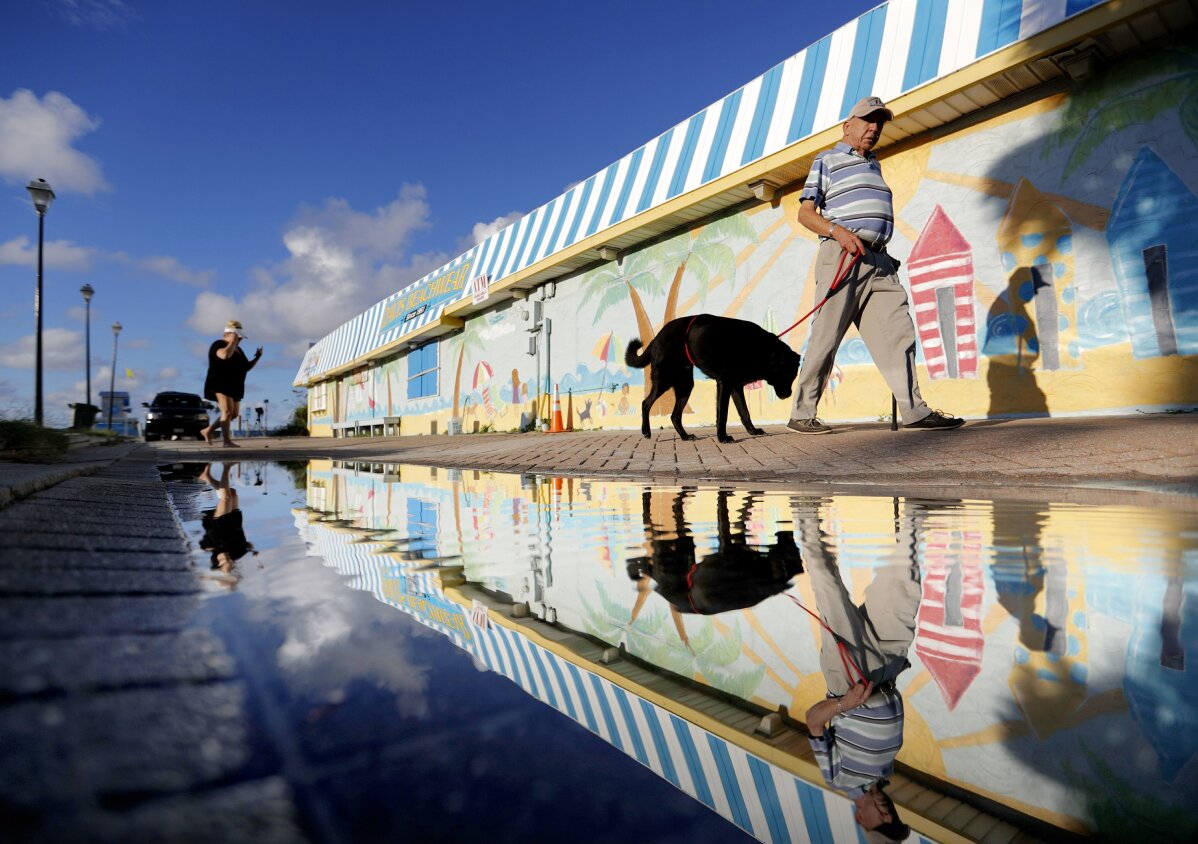 8 of 11

|
Beachgoers walk past a mural along the boardwalk as Hurricane Florence approaches the east coast in Atlantic Beach, N.C., Wednesday, Sept. 12, 2018. (AP Photo/David Goldman)
8 of 11
Beachgoers walk past a mural along the boardwalk as Hurricane Florence approaches the east coast in Atlantic Beach, N.C., Wednesday, Sept. 12, 2018. (AP Photo/David Goldman)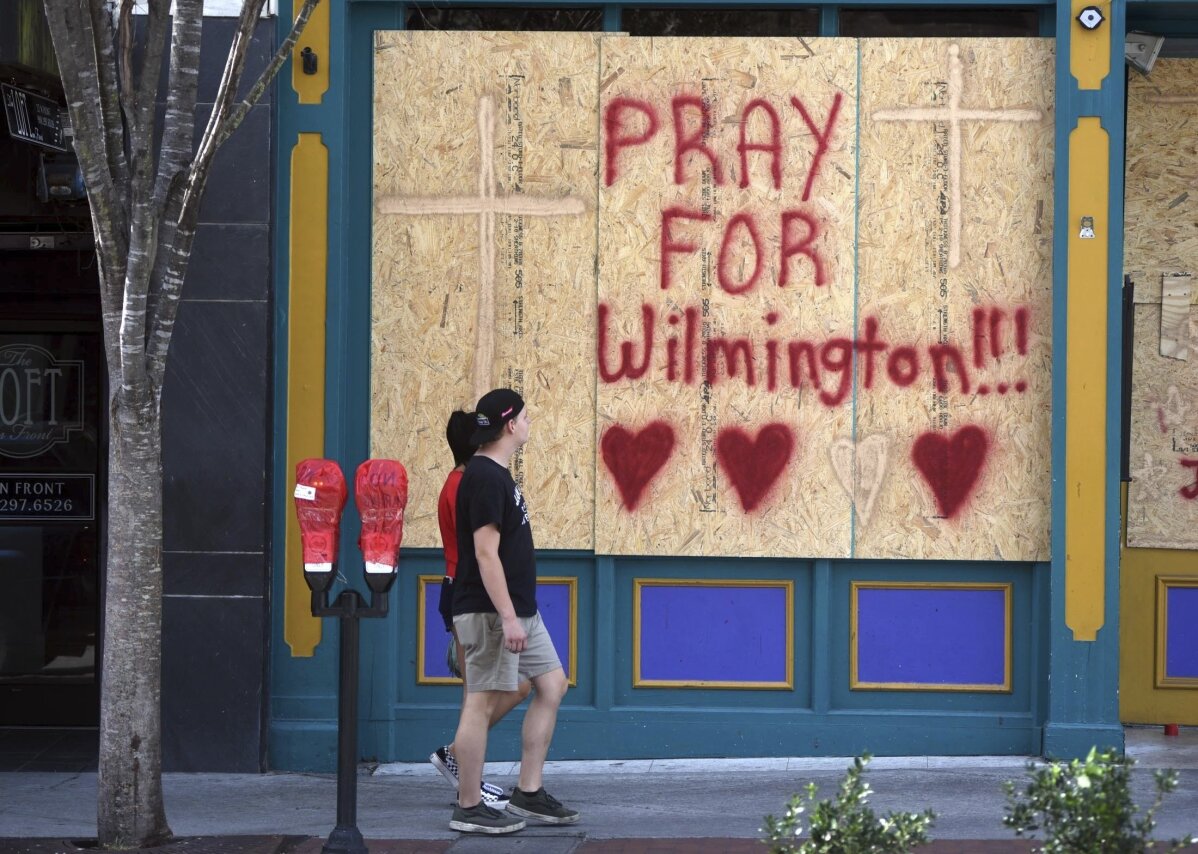 9 of 11

|
People walk by the boarded up front windows of Bourbon Street in preparation for Hurricane Florence in Wilmington, N.C., Wednesday, Sept. 12, 2018. The effects of Hurricane Florence in Southeastern North Carolina are expected to begin Thursday. (Matt Born/The Star-News via AP)
9 of 11
People walk by the boarded up front windows of Bourbon Street in preparation for Hurricane Florence in Wilmington, N.C., Wednesday, Sept. 12, 2018. The effects of Hurricane Florence in Southeastern North Carolina are expected to begin Thursday. (Matt Born/The Star-News via AP)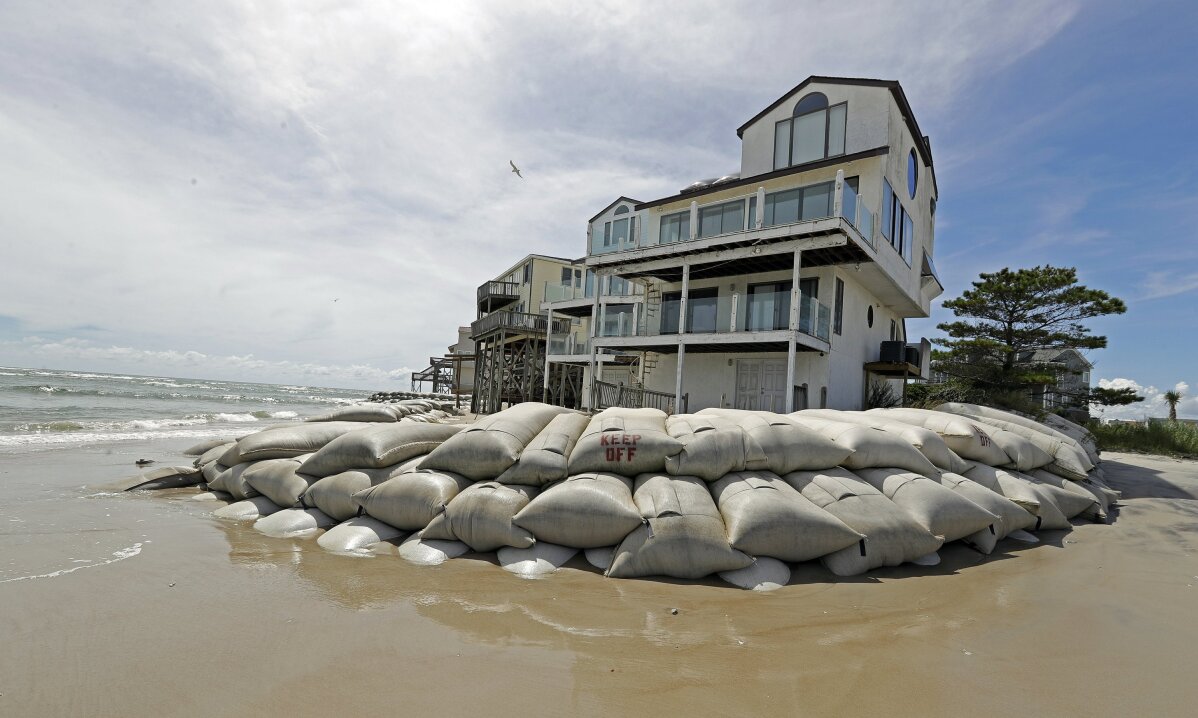 10 of 11

|
Sand bags surround homes on North Topsail Beach, N.C., Wednesday, Sept. 12, 2018, as Hurricane Florence threatens the coast. (AP Photo/Chuck Burton)
10 of 11
Sand bags surround homes on North Topsail Beach, N.C., Wednesday, Sept. 12, 2018, as Hurricane Florence threatens the coast. (AP Photo/Chuck Burton)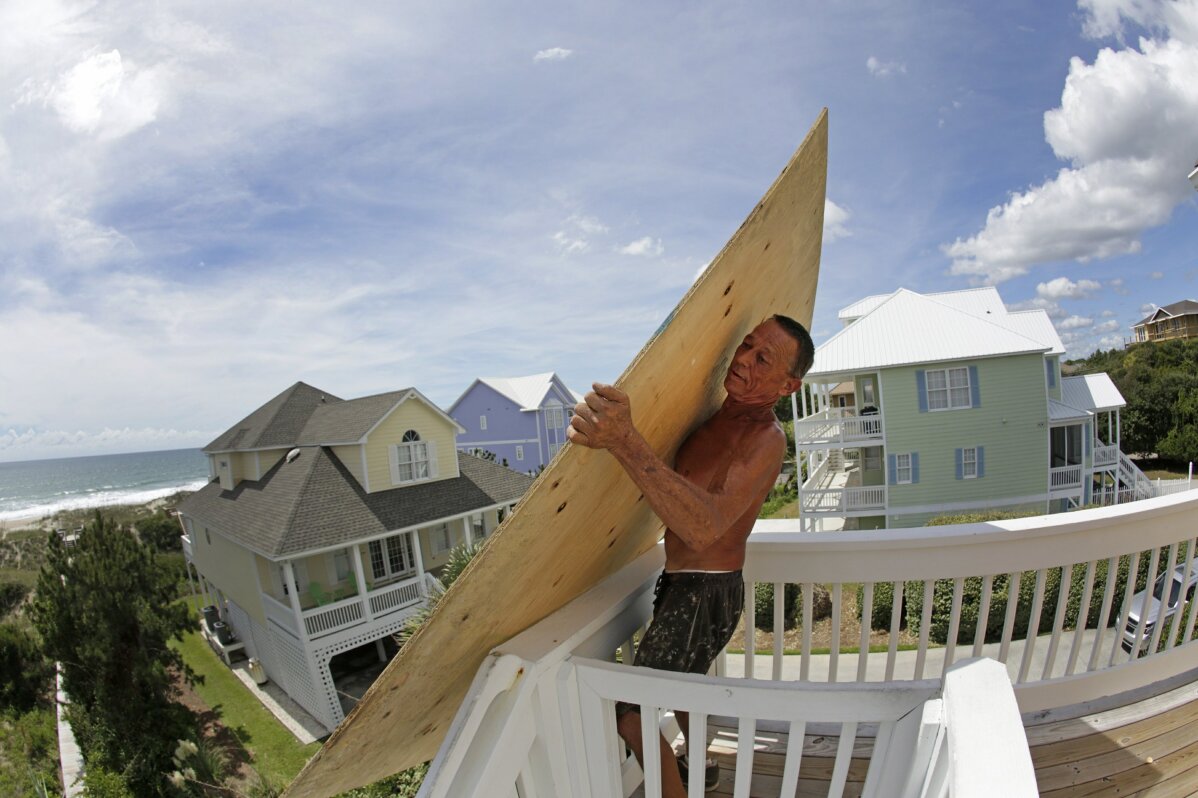 11 of 11

|
Tim Avery pulls boards to the third story of a home as he prepares for Hurricane Florence at a home in Emerald Isle N.C., Wednesday, Sept. 12, 2018. (AP Photo/Tom Copeland)
11 of 11
Tim Avery pulls boards to the third story of a home as he prepares for Hurricane Florence at a home in Emerald Isle N.C., Wednesday, Sept. 12, 2018. (AP Photo/Tom Copeland)
RALEIGH, N.C. (AP) — The Latest on Hurricane Florence (all times local):
11:00 p.m.
Hurricane Florence has been downgraded to a Category 2 storm but it is still considered an extremely dangerous and life-threatening storm.
As of 11 p.m., the storm was centered 280 miles (455 kilometers) east southeast of Wilmington, North Carolina, and was moving northwest at 17 mph (28 kph). Its maximum sustained winds have dropped slightly to 110 mph (175 kph).
But the National Hurricane Center said Wednesday evening that the storm is expected to bring life-threatening storm surge and rainfall to the Carolinas as it approaches the coast Thursday and Friday.
___
8:40 p.m.
Vice President Mike Pence has canceled his planned trip to Georgia on Thursday because of the updated track of Hurricane Florence.
The vice president's office says Pence will remain in Washington to monitor the federal response to the hurricane.
Georgia's governor declared a state of emergency after new storm forecasts showed a more southerly threat to residents.
Pence had been scheduled to hold a campaign event for Georgia gubernatorial candidate Brian Kemp and stop by an American Red Cross disaster field supply center in Atlanta and address employees at the Delta TechOps facility.
President Donald Trump has canceled campaign events in Missouri and Mississippi this week because of the impending hurricane.
___
8:40 p.m.
A South Carolina city in the projected path of Hurricane Florence has put a curfew into place for residents who remain.
The Myrtle Beach Chamber announced on Twitter Wednesday that the city had declared a curfew from 10 p.m. Wednesday through 6 a.m. Thursday. Officials say other coastal communities including Surfside Beach have implemented similar curfews.
Gov. Henry McMaster has ordered the evacuation of much of South Carolina's coast as the state waits for the storm projected to come ashore in the Carolinas later this week.
___
8 p.m.
Forecasters say Hurricane Florence has slightly weakened but remains a potentially catastrophic Category 3 storm as it continues toward North and South Carolina.
The National Hurricane Center said Wednesday evening that the storm is expected to bring life-threatening storm surge and rainfall to the Carolinas as it approaches the coast Thursday and Friday.
As of 8 p.m., the storm was centered 335 miles (540 kilometers) southeast of Wilmington, North Carolina and was moving northwest at 16 mph (26 kph). Its maximum sustained winds have dropped slightly to 115 mph (185 kph).
___
8 p.m.
President Donald Trump spent Wednesday monitoring federal preparations for Hurricane Florence's expected landfall in the Southeast.
The White House says Trump spoke with Sens. Lindsay Graham and Tim Scott of South Carolina and Sen. Richard Burr of North Carolina to convey that the full support of the federal government stands ready to assist their states.
Earlier Wednesday Trump warned people in the path of the storm to heed the advice of state and local officials. He says: "protection of life is the absolute highest priority."
Trump is also boasting about the state of federal preparedness. He says: "They're all ready and we're getting tremendous accolades from politicians and the people."
___
8 p.m.
Many who live in Virginia Beach began to take major storms more seriously after the remnants of Hurricane Matthew deluged the region in 2016. Homes that never flooded before were inundated.
Thirty-three-year-old Brady Osborne has not forgotten the 16 inches of rain that poured into his garage and the flooding the hurt home values in his neighborhood. He said he had used a canoe to reach dry land to pick up groceries.
He shoveled sand into sandbags on Wednesday to fortify his home.
He says "Matthew taught us."
___
8 p.m.
The forecast for Hurricane Florence's wrath was only improving Wednesday for coastal Virginia, which is more than 200 miles north of where the storm is expected to strike. But many who live in this low-lying and flood-prone region weren't taking any chances.
Je'Nein Ferrell is a 44-year-old adjunct professor at Norfolk State University. She shoveled sand into sandbags Wednesday with images of Houston following Hurricane Harvey in her head.
Ferrell was among throngs of people who took the city of Virginia Beach up on its offer of free sand for sandbagging. More than 100 people had cycled through in two hours, circling around sand piles as they were dumped from a truck.
Ferrell planned to secure some areas around her mother's Virginia Beach town home. She said she would then consider whether she would leave Norfolk, where she lives.
She added that the weather has become increasingly unpredictable with climate change.
She says, "We can't base our present on our past."
___
7:10 p.m.
South Carolina is planning to end the reversal of some interstate lanes that were switched to help move people away from the state's coast as Hurricane Florence approaches.
Department of Public Safety Director Leroy Smith told reporters that, starting Thursday at 6 p.m., officers will close Interstate 26 lanes that had been switched from eastbound to westbound to move people away from the Charleston area toward the center of the state.
Gov. Henry McMaster on Tuesday ordered much of the state's coast evacuated and reversed eastbound lanes to help people leave. Smith says officers will begin closing down the reversed lanes and gradually switch traffic back to its regular patterns.
Many officers are on the road during lane reversals, manning each exit and ensuring drivers don't drive around barricades. The change allows agencies like Smith's to pull back their officers when tropical storm-force winds are expected to arrive in the state.
___
7:10 p.m.
West Virginia agencies are mobilizing to respond to problems arising from Hurricane Florence.
The governor's office says in a news release the Division of Homeland Security and Emergency Management activated its emergency operations center Wednesday.
The statement says 50 National Guard members are prepared to assist in locations across the state. Nearly 70 tractor-trailer loads of supplies have arrived at the Guard's 167th Airlift Wing in Martinsburg.
In June 2016, a series of thunderstorms pelted a wide swath of West Virginia. Nine inches of rain fell in 36 hours in some areas, leaving 23 dead statewide and destroying thousands of homes, businesses and infrastructure.
The National Weather Service forecast says up to 4 inches of rain is possible in parts of the state through next week.
___
6:15 p.m.
President Donald Trump is urging those living in the path of Hurricane Florence to comply with all evacuation orders and emergency instructions.
Speaking Wednesday at the White House, Trump said "protection of life is the absolute highest priority."
He warned that Florence could be "one of the biggest ever to hit the East Coast."
The storm is still a Category 3 hurricane with winds of 120 mph (195 kph) as it approaches the North and South Carolina coasts.
Trump says his administration has been in "close contact" with the state and local governments soon to be impacted by the massive storm.
The National Weather Service is predicting that the hurricane will blow ashore as early as Friday afternoon along the North Carolina-South Carolina line, then push its rainy way westward, with a potential for catastrophic inland flooding.
(This item has been edited to clarify that forecasters are saying that the storm could reach land as early as Friday afternoon).
___
6:15 p.m.
Virginia officials are urging residents under a mandatory evacuation order not to return home, despite forecast changes showing Hurricane Florence's path largely missing the state.
Gov. Ralph Northam said Wednesday that the storm's path is still unpredictable and residents who were ordered to evacuate beginning Tuesday should continue to stay away. The evacuation order applies to about 245,000 people in low-lying coastal areas.
Northam said emergency management officials are still concerned about storm surges, high winds and potential flooding.
Officials said 59 local shelters and two state-managed shelters are either open or about to open across Virginia.
___
6:15 p.m.
A spokeswoman for Love's Travel Stops says demand for gasoline has doubled at many of the company's truck-stop locations in the path of Hurricane Florence.
At least 1.7 million people in the Carolinas and Virginia have been warned to evacuate, and others are hunkering down. Tracking service GasBuddy says that has led to a run on gas stations that left about 5 percent of all service stations in North Carolina out of gasoline by Wednesday.
Love's spokeswoman Kyla Turner says the company brought in drivers from other areas and increased deliveries to keep its locations stocked. She says it had not run out at any of its 27 locations in Georgia, the Carolinas and Virginia.
___
6:15 p.m.
North Carolina's top agriculture leader says farmers have made progress harvesting before Hurricane Florence arrives, thanks in part to loosened transportation rules before the storm. But he says several crops are still in the field and could be threatened by high winds and flooding.
Agriculture Commissioner Steve Troxler said Wednesday at a news conference that more than half of the state's tobacco crop has been harvested, along with three-quarters of the corn in eastern North Carolina fields. But he says the sweet potato and peanut harvests are just getting started and all of the cotton crop is still in the field. North Carolina is the nation's leading sweet potato producer.
Troxler says livestock is being moved to higher ground or sent to market earlier.
___
6 p.m.
Officials in the Carolinas are closing down ports as Hurricane Florence approaches their coastlines.
North Carolina officials said Wednesday that they were closing the Ports of Wilmington and Morehead City to commercial truck traffic on Wednesday. Both facilities will be closed to traffic of any kind starting Thursday.
South Carolina State Ports Authority spokeswoman Erin Dhand says the Port of Charleston is closing to container traffic Thursday and may re-open on Sunday, depending on the storm's track and overall conditions.
___
6 p.m.
North Carolina Gov. Roy Cooper says at least 50 shelters are open across the state as up to 1 million residents have been asked to evacuate ahead of Hurricane Florence.
Cooper spoke at a news conference with emergency management officials Wednesday. He announced that officials were opening a large shelter at the Lawrence Joel Veterans Memorial Coliseum in Winston-Salem at 6 p.m. Wednesday with a capacity of at least 1,000.
The governor issued an evacuation order for the state's barrier islands, and local officials have issued some evacuation orders inland as well. Altogether, Cooper says between 750,000 to 1 million residents have been asked to leave their homes.
He warned that the coast will "feel the wrath" of Florence starting Thursday morning but said all parts of North Carolina will see some impact. He's urging people not to wait to evacuate or get prepared.
___
6 p.m.
A law firm is suing three coastal Virginia sheriffs over the decision not to evacuate their local jails as Hurricane Florence approaches.
Nexus Derechos Humanos Attorneys filed the lawsuit Wednesday against Norfolk Sheriff Joe Baron, Chesapeake Sheriff Jim O'Sullivan and Portsmouth Sheriff Michael Moore.
The lawsuit says the sheriffs are refusing to evacuate nearly 2,500 inmates housed in their local jails, which are located in low-lying areas for which the state's governor has issued an evacuation order. It says the inmates are being placed in "dire straits."
Col. Marvin Waters, undersheriff of the Portsmouth office, said he couldn't comment on the lawsuit because the department hadn't been notified of it. But he said the jail is well equipped to withstand the storm, with food reserves, generators and medical care on site.
A spokesman for the Norfolk office declined comment, and a spokesman for the Chesapeake office couldn't immediately be reached.
___
5:40 p.m.
Yet another storm has formed in the Atlantic.
The National Hurricane Center said Wednesday that Subtropical Storm Joyce has formed in the north Atlantic, but is not currently a threat to land.
Joyce is centered about 870 miles (1,400 kilometers) southwest of the Azores and is moving southwest at 6 mph (9 kph).
The storm has maximum sustained winds of 45 mph (75 kph) with winds of 40 mph (65 kph) extending outward up to 115 miles (185 kms) from the center.
A true tropical storm draws heat energy from the ocean and has a warm core, with its highest winds around the center. A subtropical storm shares some characteristics but has a cooler core, draws energy from the atmosphere and has less-concentrated winds.
___
4:30 p.m.
The National Weather Service says more than 10 million residents in three states are under a storm watch or warning because of Hurricane Florence. There are 5.25 million people under hurricane warnings and watches and another 4.89 million under tropical storm watches and warnings.
Hurricane Warnings are in effect from the South Santee River in South Carolina to Duck, North Carolina. A hurricane watch stretches from Edisto Beach, South Carolina to the South Santee River.
A tropical storm warning is in effect from Duck, North Carolina, to the North Carolina/Virginia border, with a watch in effect from there to the Chesapeake Bay south of New Point Comfort.
___
4:20 p.m.
Duke Energy says damage from Hurricane Florence could cut off electricity to three-quarters of its 4 million customers in the Carolinas, and the outages could last for weeks.
The country's No. 2 power company said Wednesday that it's anticipating 1 million to 3 million homes and businesses could lose power for lengthy periods, depending on the storm's track.
Duke Energy North Carolina President David Fountain said Florence is so massive and its potential for damage so extensive that people could be without power for a very long time. Fountain says most storms are an inconvenience, "but Hurricane Florence will be a life-changing event for many people here in the Carolinas."
The company says it's already is shifting thousands of power workers from its Midwest and Florida regions and getting added workers from as far away as Texas.
___
4:20 p.m.
North Carolina election officials already delayed in assembling fall ballots due to litigation now are bracing for any additional delays spurred by Hurricane Florence.
State elections Executive Director Kim Strach has urged county election boards to prepare for possible flooding by ensuring all voting equipment and files are protected.
She also reminded them that printed ballots need to go out to military and absentee voters by Sept. 22. Ballots took longer to finalize this year because of legal battles over ballot wording.
Hurricane Matthew hit North Carolina in October 2016, unleashing flooding that damaged both early-voting and Election Day polling places. A court delayed voter-registration deadlines to give more time to people displaced by the storm.
North Carolina voters will cast ballots this fall for Congress, the legislature, judgeships and six constitutional referendums.
___
4:20 p.m.
About two dozen Kentucky firefighters are heading to North Carolina to help rescue people in the aftermath of Hurricane Florence.
Swift-water search-and-rescue teams from Louisville and Jefferson County left Frankfort shortly after 2 p.m. Wednesday. They will stay in Raleigh, North Carolina, while Hurricane Florence makes landfall. After that, they will be deployed to rescue people from anticipated flooding.
Kentucky Emergency Management Director Mike Dossett says the state is intentionally deploying firefighters from western Kentucky counties. That's because the remnants of Hurricane Florence are expected to dump up to 2 inches (5 centimeters) of rain in eastern Kentucky next week, which will likely cause flash flooding. Dossett said the state will be prepared if the storm comes to Kentucky.
___
3:30 p.m.
An official from South Carolina's Department of Natural Resources says officials are concerned about the potential for widespread flooding after Hurricane Florence's arrival, particularly in the northeastern part of the state.
The Yadkin-Pee Dee River Basin, which starts near Blowing Rock, North Carolina, and flows across the state, culminates in South Carolina's Winyah Bay, a coastal estuary near Georgetown.
Alvin Taylor said Wednesday that the area of concern includes the town of Nichols, a small community that experienced devastating flooding following Hurricane Matthew in 2016.
___
3:30 p.m.
Two major home-supply chains have activated emergency response centers this week to track Hurricane Florence and get supplies to stores before and after the storm.
A Home Depot spokeswoman says the company sent about 750 trucks to areas affected by the hurricane, and a Lowe's spokeswoman said it sent more than 1,000. The supplies include generators, trash bags and bottled water.
The companies say they plan to open their stores as soon as possible after the storm, and both are posting updates on store closures on their sites.
___
3:30 p.m.
Home hardware stores are bursting with business as residents in Southern states that could be affected by Hurricane Florence are trying to protect their property.
Ace Hardware managers Tom Roberts and Harold Cook said Wednesday that employees were wrapping up five of the busiest days they have ever seen in their store in the tiny village of Calabash, North Carolina.
Roberts says the store sold hundreds of gas cans and ran out of generators, but still had bottled water, sand bags and other items.
But he says now it's time for the employees themselves to get their own homes ready.
They also need to rest up, Roberts says, because the stores are "going to be just as busy with cleanup once this thing is gone."
___
3:30 p.m.
North Carolina builders will let tower cranes on construction sites rotate freely in the wind when Hurricane Florence arrives, a move designed to prevent them from being toppled or damaged by heavy wind.
Crews started preparing cranes on office building construction sites in Charlotte, Raleigh and Durham earlier this week. Before hurricane-force winds arrive, they'll disengage the brakes that normally hold a crane's boom in place, a practice called "weathervaning."
North Carolina-based Heede Construction president Dennis Kenna says a 300-foot (90-meter) tall crane can withstand wind speeds of more than 100 mph (160 kph). Shorter cranes can withstand much higher speeds. Most of Heede's 30 cranes in North Carolina are less than 300 feet tall.
Two cranes collapsed in Miami last year when strong winds from Hurricane Irma struck the city. It's unclear how fast the winds that brought down the cranes were, but gusts over 90 mph (145 kph) were reported at Miami International Airport.
Florence is expected to bring tropical storm-force winds to North Carolina's inland cities later this week.
___
3 p.m.
South Carolina Gov. Henry McMaster says more than 300,000 people have already evacuated the state's coasts ahead of Hurricane Florence.
McMaster told reporters Wednesday that the storm could bring more rain to the state than 1989's devastating Hurricane Hugo.
McMaster has ordered much of the state's coastline evacuated, reversing some lanes of a major interstate to direct all traffic inland.
Forecasters warned as much as 15 inches (38 centimeters) could fall in some portions of the state through at least Monday.
The head of the state's National Guard also says the federal government has positioned aid ships off South Carolina's coast and they'll be ready to assist after the storm moves through.
___
3 p.m.
Two of the nation's largest motor speedways have opened their vast campgrounds to Southerners escaping Hurricane Florence, part of a patchwork of shelters across the region serving as a last refuge for storm evacuees.
But gas shortages and jammed freeways loomed for evacuees seeking safety in far-away shelters, campgrounds and hotels. In North Carolina, 1 in 10 gas stations in Wilmington and Raleigh-Durham had no gas by midday Wednesday.
At Atlanta Motor Speedway in Hampton, Georgia, personal belongings were spread across an open field where the first few evacuees arrived Wednesday.
Melody Rawson left her first-floor apartment in Myrtle Beach, South Carolina, arriving at the Georgia speedway with two dogs and a cockatoo, and a couple of coolers holding some sandwich meat.
Bristol Motor Speedway, near the Tennessee-Virginia line, also opened its campgrounds to evacuees.
___
2:40 p.m.
Portions of the Georgia coast face a growing threat of strong winds as Hurricane Florence nears the Southeast coast, but officials there aren't calling for evacuations.
Dennis Jones is director of the Chatham County Emergency Management Agency that includes Savannah. Jones told a news conference Wednesday there's a "moderate" chance sustained tropical storm winds could reach the area as soon as Thursday evening. He said some storm impacts could last through the weekend.
The National Hurricane Center predicts the Category 3 hurricane will strike the Carolinas later this week. But forecasters say there's a chance the storm could turn to the southwest.
Jones said there's currently no need for evacuations in the Savannah area, but that could change if the forecast worsens. He said there's a low risk of flooding and storm surge risks are "very low."
(This item has been edited to correct the storm strength to category 3, not category 4).
___
2:25 p.m.
Hurricane Florence has gotten a little bit weaker but it remains a very large and dangerous storm.
At 2 p.m., the storm was centered 435 miles (700 kilometers) southeast of Wilmington, North Carolina, moving at 16 mph (26 kph).
It's a potentially catastrophic Category 3 storm with 125 mph (205 kph) maximum sustained winds.
Some fluctuations in strength are expected through Thursday morning. Florence will weaken once it stops drawing energy from warm ocean waters, but it's still expected to make landfall late Thursday or early Friday as an extremely dangerous major hurricane.
The National Hurricane Center says a buoy about 100 miles northeast of Florence's eye has clocked hurricane-force wind gusts and sustained winds of 53 mph (85 kph).
Florence is the most dangerous of three tropical systems in the Atlantic. Forecasters also were tracking two other disturbances.
___
2:15 p.m.
Vice President Mike Pence plans to thank American Red Cross employees and volunteers in Atlanta as they prepare for Hurricane Florence.
Pence's office said in a news release Wednesday that Pence would visit the Delta Air Lines TechOps facility in Atlanta on Thursday, and would later stop by the American Red Cross Disaster Field Supply Center to thank the staff and volunteers.
The TechOps facility provides aviation maintenance to Delta and services its fleet.
___
2 p.m.
As motorists try to get away from the path of Hurricane Florence they are learning that some service stations are running out of gasoline.
Patrick DeHaan is an analyst for GasBuddy, a service that tracks gasoline prices and outages.
DeHaan says there is plenty of gasoline in the region, but getting it from distribution terminals to stations is a challenge.
He says the situation is exacerbated because "everyone wants it at the same time."
By midday Wednesday, 5 percent of stations in North Carolina were out, including 10 percent of those in Wilmington and Raleigh-Durham. In South Carolina, 2 percent of stations had run out and in Virginia, 1 percent.
DeHaan says truck stops and major chains with bigger supply systems are more likely to have gas than small stations.
___
2 p.m.
Some airports in the Carolinas are shutting down as Hurricane Florence approaches, and American Airlines says it's canceling 565 flights through the weekend.
American said Wednesday that it has stopped flying at Greenville, Jacksonville and New Bern, North Carolina, and would shut down Wednesday night in Wilmington and Fayetteville, North Carolina, and Charleston, Myrtle Beach and Florence, South Carolina.
American plans to stop flights in Columbia, South Carolina, and Hampton-Newport News, Virginia, on Thursday evening.
Most of the closures will run through Sunday, with a few lifting after Saturday.
American says it's seeing no impact at its big hub in Charlotte, North Carolina, and expects only scattered cancellations through Saturday at Raleigh-Durham.
___
2 p.m.
Forecasters say the U.S. coast won't see waves generated by Hurricane Florence that are anywhere near as high as the 83-foot (25-meter) giant that was possibly picked up on a satellite.
Chris Landsea is chief of tropical analysis and the forecast branch at the National Hurricane Center. He says that when waves and the hurricane move in a straight and similar line, it's possible to get a wave as big as the image conveyed by the satellite Wednesday.
Storms this strong usually generate waves of 40 feet to 50 feet (12 to 15 meters).
But Landsea say the waves won't be anywhere in the same ballpark when they reach shore because they get smaller as the water gets shallower.
He also says that there is a chance that radar misinterpreted rain as an 83-foot wave.
Florence is such a huge storm that 12-foot (4-meter) seas extend for 345 miles (555 miles) from the storm's eye.
___
1:15 p.m.
Mississippi is sending National Guard members and search-and-rescue workers to areas affected by Hurricane Florence.
Two swift-water rescue teams including local firefighters from 22 communities have gone to Virginia to help with rescue operations in case of flooding.
Mississippi Emergency Management Agency Executive Director Greg Michel says Virginia is paying for the deployments under an interstate emergency-assistance compact. The Mississippi Office for Homeland Security says teams arrived Wednesday in the Virginia towns of Dublin and Pulaski.
Soldiers based in Meridian, Mississippi, will provide airlift support for relief after the storm using two CH-47 Chinook helicopters. Members of the Mississippi Air National Guard are deploying to Tyndall Air Force Base in Florida to help with relief planning and coordination.
More than 60 people are participating in the deployments.
___
1:15 p.m.
A program that provides health care benefits to military families and retirees is making it easier to get care during evacuations related to Hurricane Florence.
The Defense Health Agency announced in a new release on Wednesday that it is waiving referral requirements for TRICARE beneficiaries under mandatory evacuation orders in North Carolina, South Carolina and Virginia.
TRICARE says this means beneficiaries from 40 counties in those states may see a provider in any location without a referral from their primary care provider.
The waiver is in effect until Sept. 21. TRICARE says it has about 1.5 million beneficiaries in the Carolinas and Virginia.
___
12:55 p.m.
Georgia's governor has declared a state of emergency for all 159 counties as forecasters now say Hurricane Florence could take a southwest turn.
In a news release Wednesday, Gov. Nathan Deal says the state "is mobilizing all available resources to ensure public safety ahead of Hurricane Florence."
Deal's declaration Wednesday covers comes as the National Weather Service's storm forecast shows a chance that Florence's track might turn toward the southwest as it approaches the Carolinas later this week.
No storm watches or warnings are in effect for Georgia. But forecasters say there's an increased chance for tropical storm winds to reach Savannah.
Deal's emergency declaration cited potential "changes in the storm's trajectory" as well as an influx of evacuees coming to Georgia from the Carolinas. The order eases regulations on trucks hauling gasoline and relief supplies into Georgia.
___
12:40 p.m.
Airlines are starting to cancel more flights as Hurricane Florence approaches the Southeast coast.
At midday Wednesday, tracking service FlightAware said more than 400 U.S. flights scheduled for Thursday had been canceled, most of them in the Southeast.
In Wilmington, North Carolina, four-fifths of Thursday's departures have been scrapped. Anywhere from about one-third to more than half of departures have been canceled in Myrtle Beach and Charleston, South Carolina, and Raleigh-Durham, North Carolina.
The numbers are sure to rise as airlines begin cutting flights scheduled for Friday and Saturday. Airlines typically wait until about 24 hours before takeoff before canceling a flight.
Delta Air Lines says it's adding about 1,000 seats on flights to and from the Southeast for people trying to flee the storm.
___
12:40 p.m.
Virginia has opened two state-managed shelters to assist people evacuating ahead of Hurricane Florence.
The shelters at Christopher Newport University in Newport News and at The College of William & Mary Williamsburg opened Wednesday morning.
Gov. Ralph Northam's office said in a statement that they are open to Virginians or residents of other states who have nowhere else to go. No identification or proof of residency is needed to seek shelter.
The facilities will provide only basic services, so anyone reporting to one is encouraged to bring supplies including a personal emergency kit, medications and medical equipment.
The statement says 24 localities across the state are opening local shelters as well. Cities and counties have been distributing information about those sites through their websites and social media pages.
Virginia is under a state of emergency as Florence approaches, and Northam has issued a mandatory evacuation order for around 245,000 people in the state's lowest-lying coastal areas.
___
12:40 p.m.
Residents of South Carolina who thought they were going to be safe from Hurricane Florence are now rushing to prepare after a slight change in the forecast.
Current forecast models have the hurricane shifting south. Previously, North Carolina was forecast to be more at risk.
Chris Pennington was boarding up the windows of his Myrtle Beach house late Wednesday morning after noticing that the latest forecast has Florence coming inland nearly over his home.
Pennington says he is still leaning toward staying put, but that he'll keep a really close eye on the weather and leave by Thursday afternoon if necessary.
He says one reason for staying is that his wife would be available to help if needed at the local animal hospital where she works.
___
12:15 p.m.
President Donald Trump is urging those in the path of Hurricane Florence to act now to "get out of its way."
Trump is telling residents, "Don't play games with it. It's a big one."
The president made his comments in a videotaped message from the Rose Garden that he tweeted out on Wednesday morning.
Trump says the federal government and first responders stand ready to assist, but even so, "bad things can happen when you're talking about a storm this size."
Trump is telling people in the Carolinas and Virginia: "it's heading your way. ... Be ready and God be with you."
___
12:15 a.m.
The steady shift South that forecasters are expecting for Hurricane Florence has areas once thought to be in the clear worried. In Beaufort County, South Carolina, Emergency Management Division Commander Neil Baxley told residents Wednesday that they need to prepare for the worst — just in case.
Baxley says a direct hit from Florence could bring worse flooding than the state's great flood of 2015 after 10 inches (25 centimeters) of rain fell on parts of the county. The flooding closed several bridges and isolated big parts of the marshy, low lying county.
South Carolina Gov. Henry McMaster announced evacuations of Beaufort County on Monday, but then rescinded them the next day when forecasts appeared to be sending the storm into North Carolina.
___
12:15 a.m.
Forecasters say conditions are still good for already powerful Hurricane Florence to strengthen a little as it moves over very warm waters.
Senior National Hurricane Center specialist Stacy Stewart says as the Category 4 Florence slows down and moves into shallower waters close to shore, the cooler sea temperatures and increasing contact with land will help reduce its strength.
But in a forecast discussion on the center's website Wednesday, Stewart stressed the weaker winds will not diminish hazards from the storm.
Stewart says the impacts of the storm will cover a wide area "regardless of exactly where the center of Florence moves."
___
11:20 a.m.
Federal regulators are reviewing preparations for nuclear plants in the Carolinas as Hurricane Florence approaches the coast.
The U.S. Nuclear Regulatory Commission on Wednesday said it's sending additional inspectors to plants in North and South Carolina and is activating its regional incident response center in Atlanta, to provide around-the-clock staff support during the storm.
The NRC says Duke Energy's Brunswick nuclear plant south of Wilmington, North Carolina, could face hurricane-force winds, major storm surges and heavy rain.
Duke says it has a procedure to begin shutting down plants at least two hours before the arrival of hurricane-force winds. Duke also operates three nuclear plants in South Carolina, though none are on the coast.
___
11:20 a.m.
U.S. Coast Guard crews in Charleston, South Carolina, are making final preparations ahead of the arrival of Hurricane Florence.
Capt. John Reed says the Coast Guard is asking people to heed evacuation orders and leave coastal areas. The Coast Guard says mariners shouldn't go out to sea in recreational boats and should use 911 and not social media to report life-threatening distress.
Gov. Henry McMaster has ordered people in coastal areas including Charleston to evacuate the area ahead of the Category 4 storm. Reed says the Coast Guard will work with local officials as soon as it's safe to assess waterways and help anyone in distress.
___
11:20 a.m.
The mayor of a town outside Charleston, South Carolina, is telling people to "take control of your destiny" and leave town now before Hurricane Florence arrives.
Will Haynie is mayor of the Town of Mount Pleasant, just to the east of Charleston, South Carolina. He urged residents on Wednesday to get out of the path of the massive and powerful Category 4 storm, the likes of which he said the area hasn't seen since 1989's Hugo.
Haynie says local buses in the Charleston area will pick residents up and get them to shelters until 9 p.m. Wednesday.
Haynie says residents "can take control of your destiny by getting of the way of this dangerous storm."
___
11:20 a.m.
North Carolina Gov. Roy Cooper is urging residents in evacuation zones to move to safety, saying the effects of Hurricane Florence are "only hours away."
Cooper spoke at a news conference Wednesday morning with other emergency management officials. The governor said there's still time for coastal residents to evacuate if their home is at risk and time for others to finish preparing for the storm.
Cooper says "disaster is at the doorstep, and it's coming in."
The governor added that "a lot of people that might normally stay through a hurricane have recognized that this one is different."
Shelters began opening Tuesday and more will open Wednesday.
Cooper says state flood plain experts have been modeling the storm's projected impacts and found that from the storm surge alone, tens of thousands of structures are expected to be flooded.
The governor also announced he had activated more National Guard soldiers. Emergency management officials said 3,000 would be on active duty by Wednesday evening, with more on standby.
___
11:20 a.m.
The mayor of a South Carolina city in the projected path of Hurricane Florence says residents need to leave the area as soon as possible.
Myrtle Beach Mayor Brenda Bethune told CNN on Wednesday that seeing the storm's newly projected path toward her city was like "waking up to a sucker punch."
To the city's roughly 32,000 residents, Bethune says Myrtle Beach "is not a place where you want to be" when the storm arrives.
Myrtle Beach is one of the state's tourism centers. It is among coastal areas under mandatory evacuation orders by Gov. Henry McMaster. Bethune says she's particularly worried about projected storm surge from the storm, which has slowed down and could linger along South Carolina's coast, dumping inches (centimeters) of rain.
___
11:20 a.m.
Dozens of airmen are assembling at a New York Air National Guard base on Long Island to prepare for deployment to Southern states in the path of Hurricane Florence.
Gov. Andrew Cuomo said Wednesday that 50 members of the 106th Rescue Wing based at Gabreski Air National Guard Base in Westhampton Beach are preparing to travel to Dover Air Force Base in Delaware. He says elements of the unit will depart as early as Wednesday afternoon to offer assistance along coastal areas of North Carolina, South Carolina and Virginia.
The New York Army National Guard is ready to deploy four helicopters to help storm response efforts. The aircraft are based at the Army Aviation Support Facility at Rochester International Airport.
___
11:05 a.m.
Forecasters say Hurricane Florence is generating enormous waves, as high as 83 feet (25 meters) as it makes its way toward the East Coast.
The National Hurricane Center says the waves were measured by satellite.
The huge waves are being produced because currents are trapped by very strong winds moving in the same direction the storm's motion. The center's Tropical Analysis and Forecast Branch is tweeting about the phenomenon.
The center of the storm is about 485 miles (785 kilometers) out to sea, with tropical-storm-force winds extending outward up to 175
miles (280 kilometers).
___
11 a.m.
Forecasters say Hurricane Florence is expected to steadily slow down as it makes its way toward the East Coast.
At 11 a.m., the storm was centered 485 miles (785 kilometers) southeast of Wilmington, North Carolina, moving at 15 mph (24 kph).
It's a potentially catastrophic Category 4 storm with 130 mph (215 kph) maximum sustained winds.
Some strengthening is forecast through Wednesday night, drawing energy from the warm water. Its winds could approach Category 5 strength, which means winds of 157 mph (253 kph) or higher.
Florence is the most dangerous of three tropical systems in the Atlantic. Tropical Storm Isaac was expected to pass south of Puerto Rico, Hispaniola and Cuba. Hurricane Helene was expected to weaken over the eastern Atlantic. Forecasters also were tracking two other disturbances.
___
10:45 a.m.
Forecasters said Wednesday that Florence's wind field is expanding, making it a large, stable hurricane with a clearly defined eye at its center.
National Hurricane Center Director Ken Graham warns that a slight shift in Florence's forecast track does not mean that some communities north of the storm are now in the clear.
The "cone of error" in the forecast track only predicts where the storm's center might go, and even on its edges, winds can push a powerful storm surge into shore dozens of miles from where Florence's eyewall strikes land.
As Graham says, "just because you have a landfall to your south doesn't mean you're out of the woods, because the winds are huge around this system."
___
10:30 a.m.
The Homeland Security Department is pushing back against a Democratic U.S. senator's claim that the Trump administration transferred nearly $10 million from the government's disaster relief agency to immigration enforcement.
Sen. Jeff Merkley of Oregon said the administration was taking money from FEMA's "response and recovery" to the Immigration and Customs Enforcement agency at a time when Hurricane Florence is bearing down on the Southeast U.S. coast.
But DHS officials said the money was transferred from unspent operational accounts for training, office supplies and headquarters costs. That funding cannot be spent on disaster response, they said. FEMA's annual budget is about $15 billion.
Merkley provided no evidence for his suggestion that the money came from hurricane response funds.
___
9:30 a.m.
Jeff Byard of the Federal Emergency Management Agency says it is imperative locals heed the evacuation warnings.
He says the time to flee Hurricane Florence is now. Landfall was expected sometime late Thursday and FEMA officials said Wednesday was the last day for people to get out safely.
"Today's the day," he said. "It's time for our citizens to be a part of the team. Heed those warnings and evacuate if you're in one of the zones."
Byard told a news conference at FEMA headquarters in Washington that the agency has all the resources it needs to react to the natural disaster.
___
8:55 a.m.
The mayor of a South Carolina city in the path of powerful Hurricane Florence is warning citizens to get out or stay "at your own peril."
Charleston Mayor John Tecklenburg told CNN on Wednesday that the nearly 135,000 residents of his historic coastal city should leave now before the storm arrives later in the week.
Gov. Henry McMaster has ordered evacuations in counties along the state's coast, including Charleston. All lanes of Interstate 26 are westbound to allow more people to leave the coast and head inland toward the state capital of Columbia.
Tecklenburg said his flood-prone city is preparing for "copious rain" by clearing out the city's drainage system and getting boats and portable pumps ready. Many areas in the low-lying city flood with routine rain storms, causing street closures and detours.
___
8:30 a.m.
The National Weather Service says Hurricane Florence "will likely be the storm of a lifetime for portions of the Carolina coast."
That's saying a lot, given the impacts from Hurricanes Diana, Hugo, Fran, Bonnie, Floyd, and Matthew.
Forecasters in Wilmington, North Carolina, are emphasizing the potential for what they're calling "unbelievable damage from wind, storm surge, and inland flooding."
With predicted rainfall measured in feet not inches, forecasters say people living along creeks and rivers in the Carolinas should move to higher ground well ahead of the storm's arrival.
____
"For the latest on Hurricane Florence, visit www.apnews.com/tag/Hurricanes ."