Watch geeks drive booming trade in preowned pieces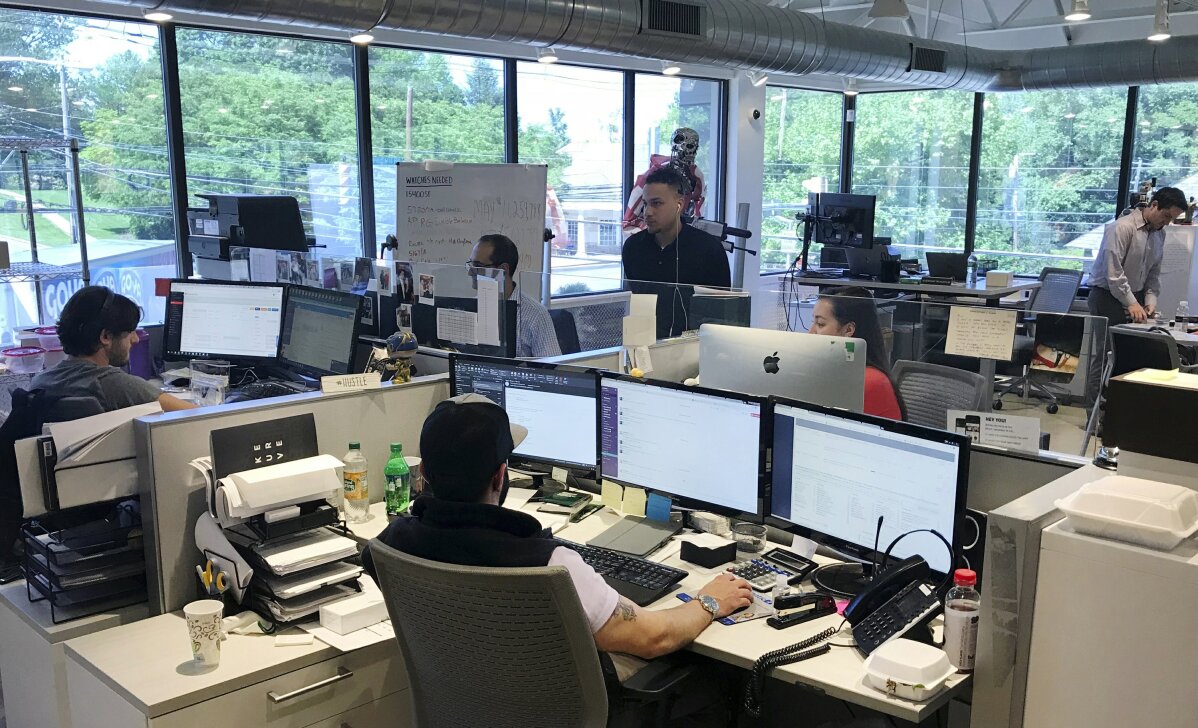 1 of 5

|
In this May 24 2018, photo watch traders work at the headquarters of Govberg in Bala Cynwyd, Pa., suburban Philadelphia. Roughly $200 million of preowned luxury watches are traded at the headquarters of Govberg every year. (AP Photo/Amir Bibawy)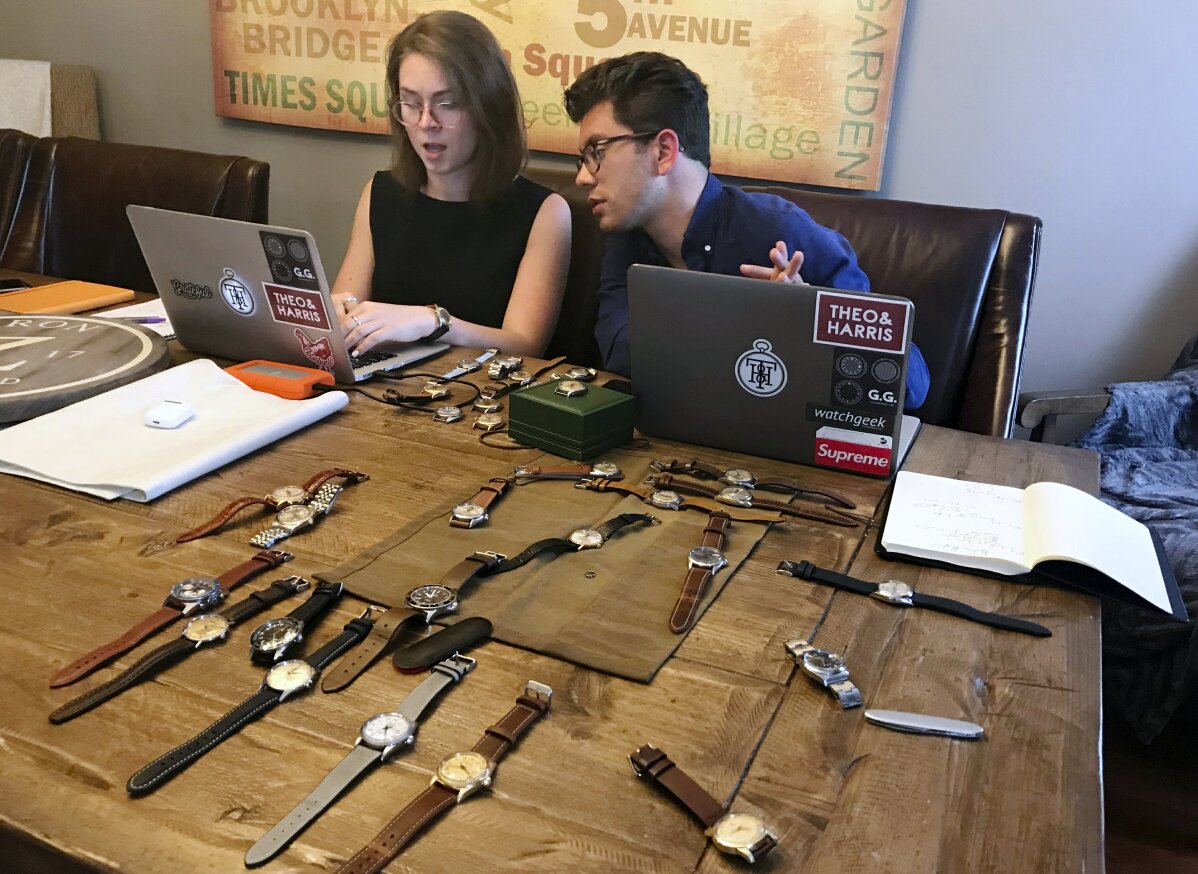 2 of 5

|
In this May 31, 2018, photo watches lie on a table in front of Christian Zeron as he talks with Anna Griffin in Westfield, N.J. Zeron's company website, theoandharris.com, sells $2 million's worth of watches annually. Regularly Zeron gets hundreds of thousands of views for his four weekly video posts on YouTube. (AP Photo/Amir Bibawy)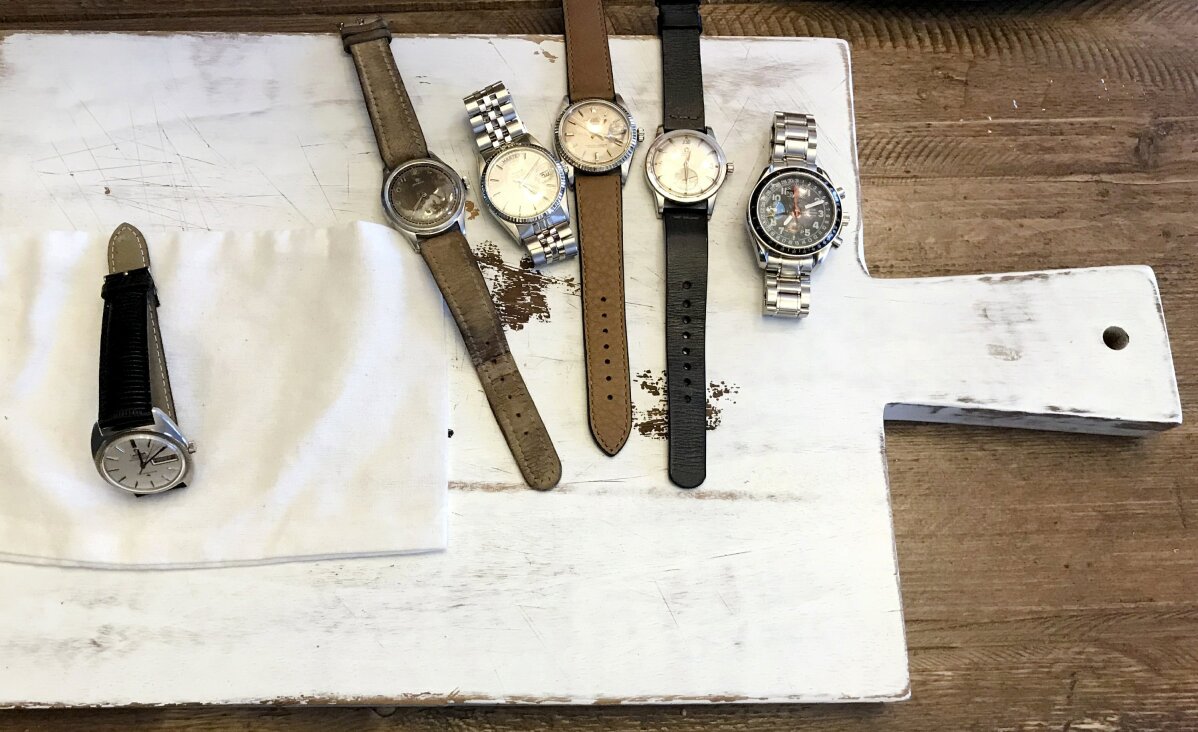 3 of 5

|
In this May 31 2018, photo watches lie on a cutting board that is uses for as photo backdrop at Christian Zeron's company Theo & Harris in Westfield, N.J. Zeron's company website, theoandharris.com, sells $2 million's worth of watches annually. (AP Photo/Amir Bibawy)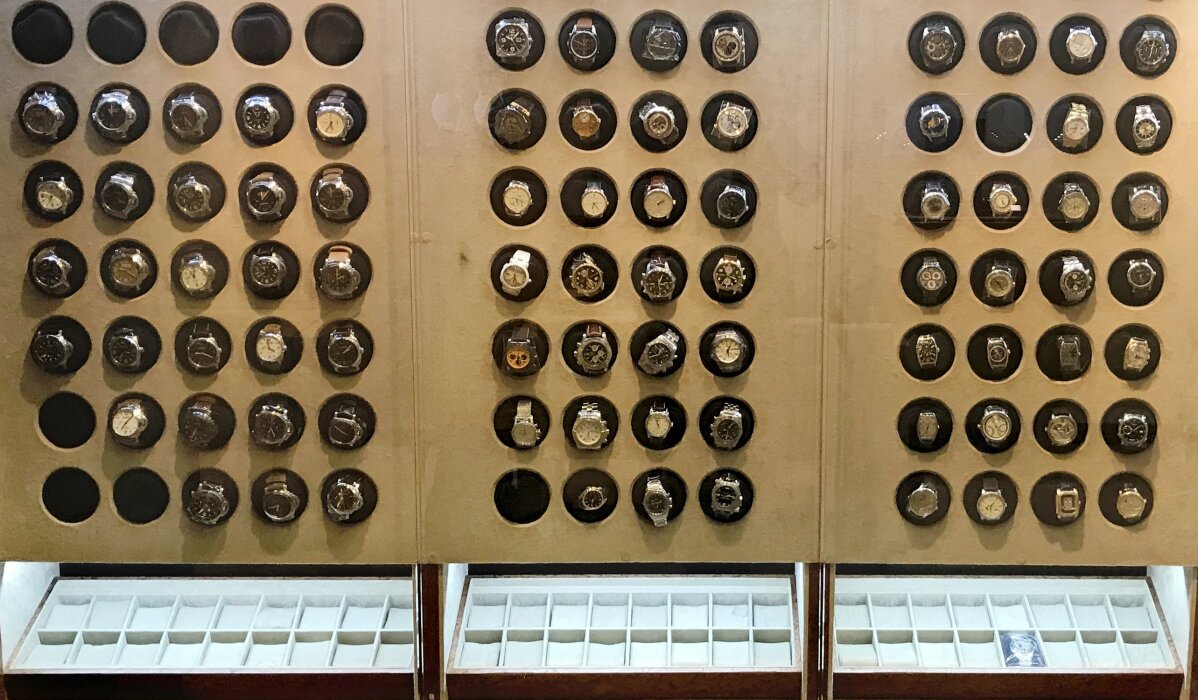 4 of 5

|
This May 24, 2018, photo shows preowned watches on display at Govberg's flagship store in Philadelphia. Even though watches have been disappearing from people's wrists with the spread of mobile phones, luxury watches remain a popular status symbol. In fact, sales have slightly crept up in the last two years. (AP Photo/Amir Bibawy)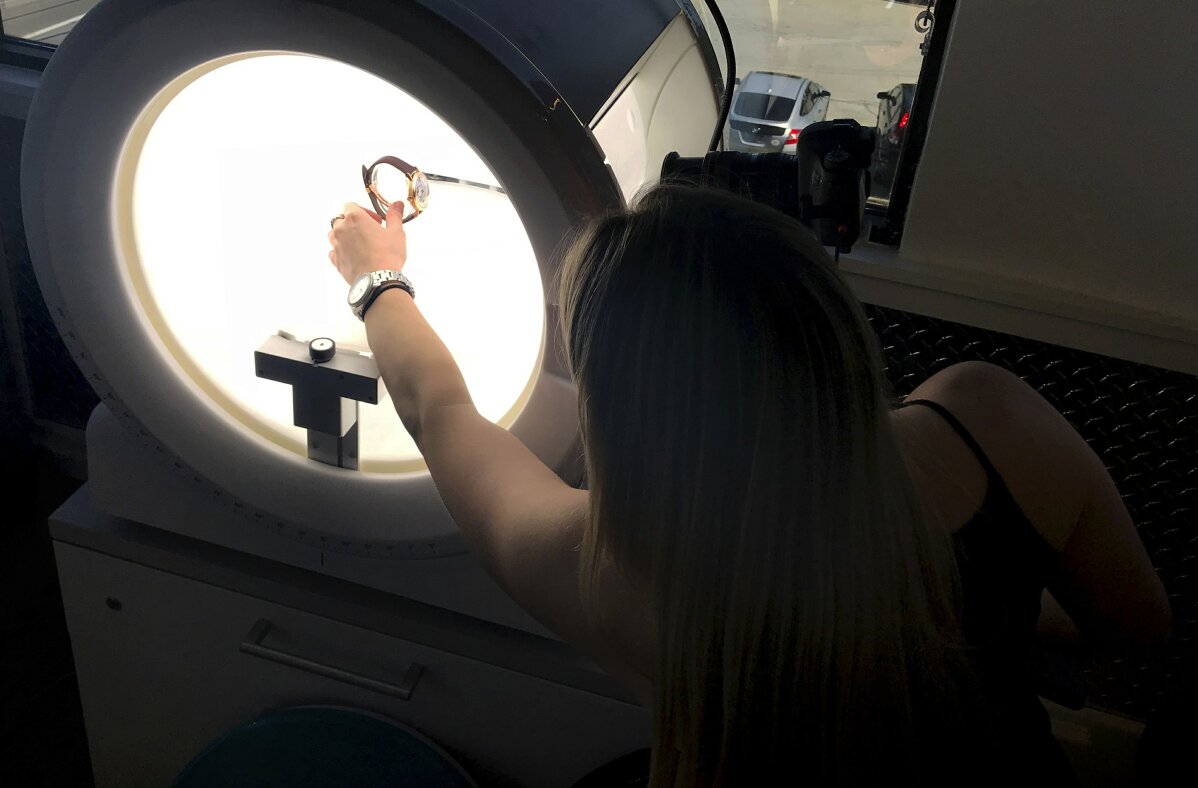 5 of 5

|
In this May 24 2018, photo a watch is photographed at the headquarters of Govberg in Bala Cynwyd, Pa., suburban Philadelphia. Even though watches have been disappearing from people's wrists with the spread of mobile phones, luxury watches remain a popular status symbol. In fact, sales have slightly crept up in the last two years. (AP Photo/Amir Bibawy)
Watch geeks drive booming trade in preowned pieces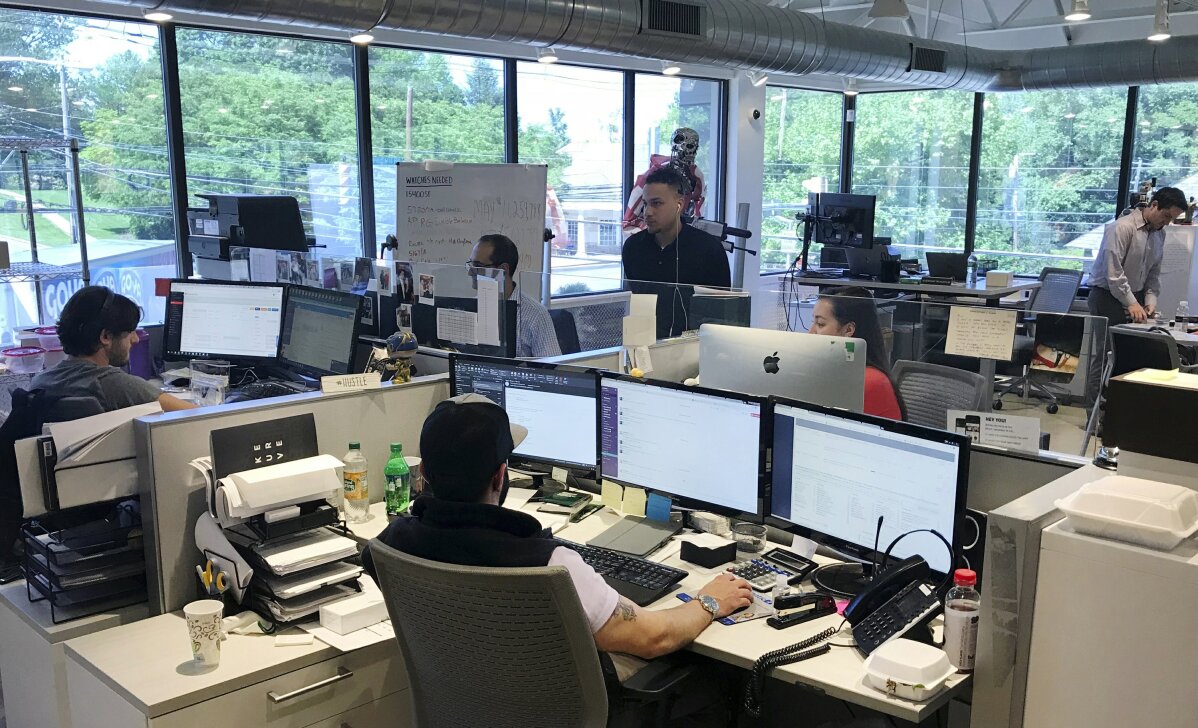 1 of 5

|
In this May 24 2018, photo watch traders work at the headquarters of Govberg in Bala Cynwyd, Pa., suburban Philadelphia. Roughly $200 million of preowned luxury watches are traded at the headquarters of Govberg every year. (AP Photo/Amir Bibawy)
1 of 5
In this May 24 2018, photo watch traders work at the headquarters of Govberg in Bala Cynwyd, Pa., suburban Philadelphia. Roughly $200 million of preowned luxury watches are traded at the headquarters of Govberg every year. (AP Photo/Amir Bibawy)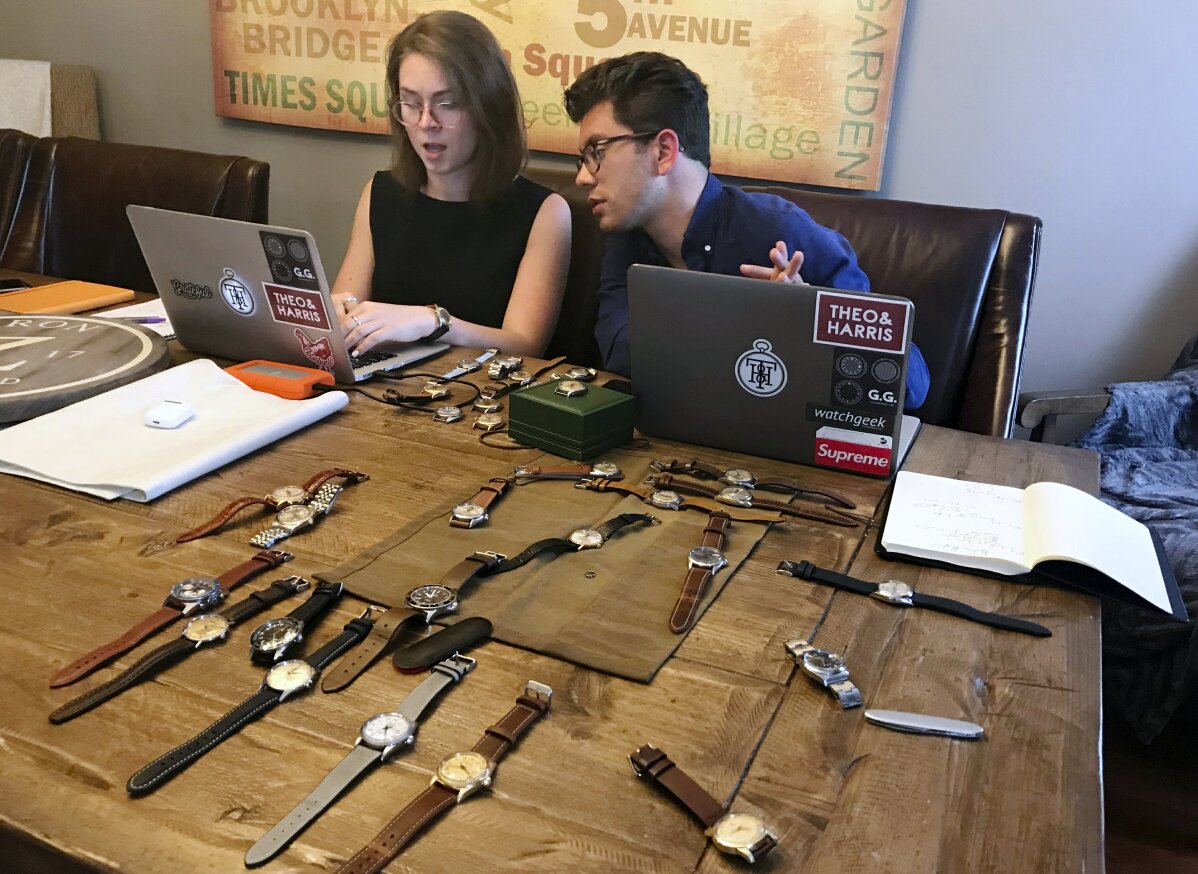 2 of 5

|
In this May 31, 2018, photo watches lie on a table in front of Christian Zeron as he talks with Anna Griffin in Westfield, N.J. Zeron's company website, theoandharris.com, sells $2 million's worth of watches annually. Regularly Zeron gets hundreds of thousands of views for his four weekly video posts on YouTube. (AP Photo/Amir Bibawy)
2 of 5
In this May 31, 2018, photo watches lie on a table in front of Christian Zeron as he talks with Anna Griffin in Westfield, N.J. Zeron's company website, theoandharris.com, sells $2 million's worth of watches annually. Regularly Zeron gets hundreds of thousands of views for his four weekly video posts on YouTube. (AP Photo/Amir Bibawy)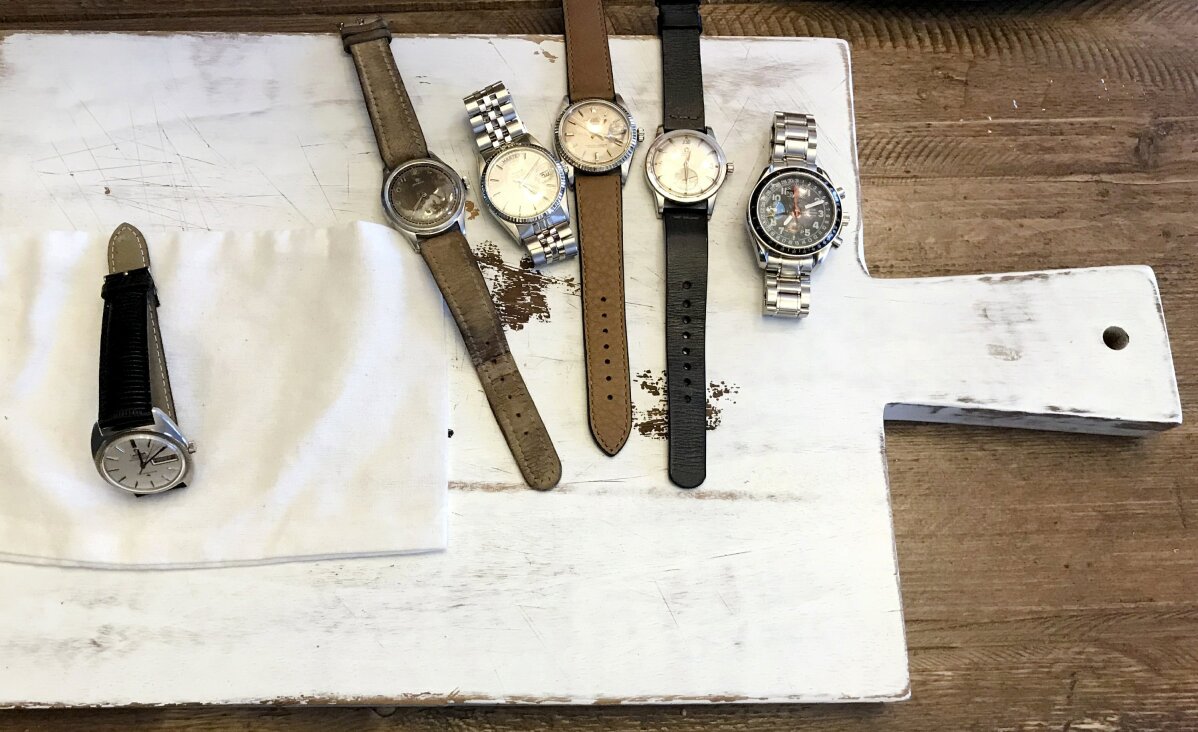 3 of 5

|
In this May 31 2018, photo watches lie on a cutting board that is uses for as photo backdrop at Christian Zeron's company Theo & Harris in Westfield, N.J. Zeron's company website, theoandharris.com, sells $2 million's worth of watches annually. (AP Photo/Amir Bibawy)
3 of 5
In this May 31 2018, photo watches lie on a cutting board that is uses for as photo backdrop at Christian Zeron's company Theo & Harris in Westfield, N.J. Zeron's company website, theoandharris.com, sells $2 million's worth of watches annually. (AP Photo/Amir Bibawy)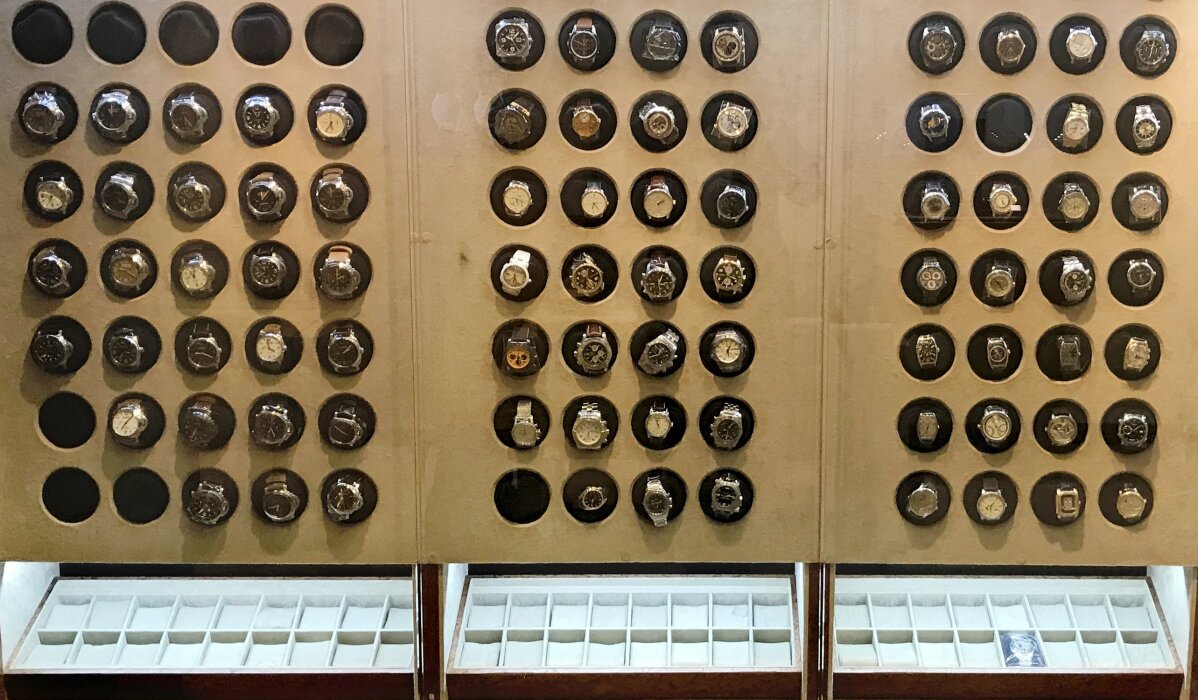 4 of 5

|
This May 24, 2018, photo shows preowned watches on display at Govberg's flagship store in Philadelphia. Even though watches have been disappearing from people's wrists with the spread of mobile phones, luxury watches remain a popular status symbol. In fact, sales have slightly crept up in the last two years. (AP Photo/Amir Bibawy)
4 of 5
This May 24, 2018, photo shows preowned watches on display at Govberg's flagship store in Philadelphia. Even though watches have been disappearing from people's wrists with the spread of mobile phones, luxury watches remain a popular status symbol. In fact, sales have slightly crept up in the last two years. (AP Photo/Amir Bibawy)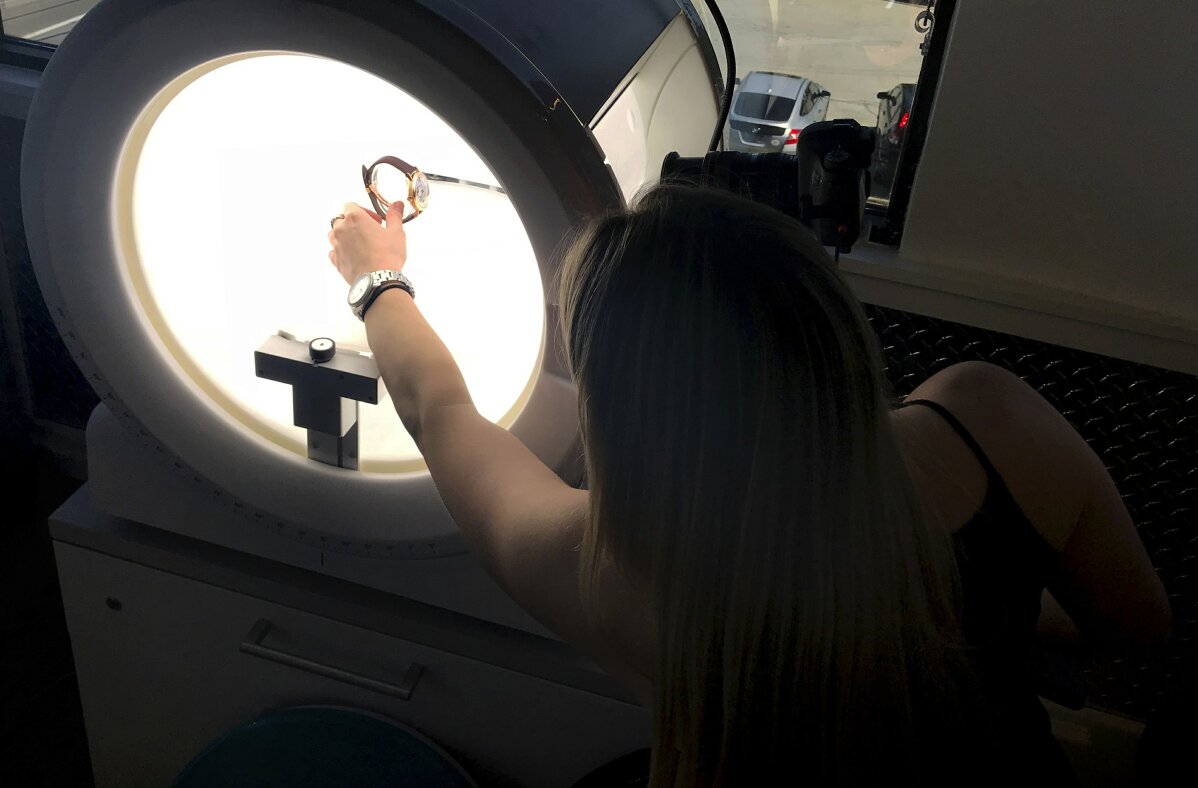 5 of 5

|
In this May 24 2018, photo a watch is photographed at the headquarters of Govberg in Bala Cynwyd, Pa., suburban Philadelphia. Even though watches have been disappearing from people's wrists with the spread of mobile phones, luxury watches remain a popular status symbol. In fact, sales have slightly crept up in the last two years. (AP Photo/Amir Bibawy)
5 of 5
In this May 24 2018, photo a watch is photographed at the headquarters of Govberg in Bala Cynwyd, Pa., suburban Philadelphia. Even though watches have been disappearing from people's wrists with the spread of mobile phones, luxury watches remain a popular status symbol. In fact, sales have slightly crept up in the last two years. (AP Photo/Amir Bibawy)
NEW YORK (AP) — Around two dozen traders sit in an open-layout second floor of a building in suburban Philadelphia. Surrounded by computer monitors, loud conversation and ringing phones, the energy on this trading floor is high and the commodity is blingy.
At the headquarters of Govberg, they're not dealing in diamonds or gold but preowned luxury watches, of which company sells about $200 million worth a year.
Some 100 miles (160 kilometers) northeast, 23-year-old Christian Zeron sits in his parents' dining room in suburban New Jersey looking at around 30 preowned vintage watches. In a few days, he'll put them up for sale on his company's website, theoandharris.com, which sells $2 million worth of watches annually.
Govberg, in the watch business for 35 years, and Theo&Harris, founded only three years ago, are part of the thriving preowned luxury watch business. Along with dozens of other companies, they are the core of an industry that has exploded over the past few years, rivaling the new luxury timepiece business in size.
"It's bigger than people think," said Reginald Brack, executive director and industry analyst for watches and luxury at NPD Group, which studies $2 trillion in consumer spending across 20 industries.
Brack said it's difficult to quantify precisely the market for preowned watches because nobody tracks it thoroughly. But some estimates put it at three times the new luxury watch market, itself estimated to be worth up to $10 billion just in the U.S.
"I wouldn't disagree with that statement," Brack said. "And it's only getting bigger."
Even though watches have been disappearing from people's wrists with the spread of mobile phones, luxury watches remain a popular status symbol. In fact, sales have slightly crept up in the last two years.
The preowned business allows shoppers to get a good deal on modern watches like Rolex Submariner, while also offering a large selection of vintage pieces like an early 20th-century Cartier Tank.
Danny Govberg, the founder of Govberg's global watch operation WatchBox, compared the rise of preowned watches to the "quartz revolution" nearly five decades ago.
The introduction of battery-operated quartz movements in wristwatches took a big bite out of the market share from major automatic or mechanical watch brands such as Rolex, Omega, Patek Philippe, Jaeger-LeCoultre, and Audemars Piguet. Those brands, which have since recovered, are now the bread and butter of today's preowned watch traders.
"Preowned watches are coming out of drawers so fast and furious now that I've never seen anything like it," Govberg said in an interview in the company's headquarters in Bala Cynwyd, just outside Philadelphia. "It's a real disruption coming to our industry."
Luxury brands have taken note. In June, Richemont, the owner of such brands as Cartier and IWC, bought Watchfinder, a British online platform for trading preowned watches.
"The preowned market has taken some business from the new market, there's no question," said Steven Kaiser, a veteran watch industry executive and founder of Kaiser Time, a New York-based luxury industry consulting firm.
Govberg entered the preowned watch business in 1983 when he introduced watches to his family's jewelry store on Jewelers' Row on Philadelphia's Sansom Street.
"People weren't collecting vintage watches back then," he said, recalling that he would travel to Europe to buy used Rolexes and Patek Philippes from watch shows. "Little shows that you would go to, almost like trading card shows. Like wristwatch swap shows."
At the turn of the millennium, new platforms such as eBay drove Govberg to adopt his own online strategy. Ultimately, he founded WatchBox, a digital platform and app that includes video reviews and a trading market for valuable timepieces. The company recently launched a second season of "The Classroom," a YouTube series that aims to educate watch enthusiasts about the intricacies of owning a watch that could be worth hundreds of thousands of dollars.
Zeron, of Theo&Harris, also uses video to offer his thoughts on the industry. He regularly gets hundreds of thousands of views for his four weekly YouTube posts.
"Social media is where it took off," he said, sitting in his parents' living room with Anna Griffin who was his first employee and a fellow student at Seton Hall University in New Jersey. "We don't have a retail store — there was no actual foot traffic. It was all social buzz."
The young entrepreneur, who founded the company with $10,000 in saved up birthday money when he was a college sophomore, has a larger-than-life persona on social media, with a no-holds-barred approach to roasting iconic brands such as Breitling. Some of his viewers comment that he needs to lay off the caffeine or sugar.
The internet has democratized horological knowledge, much like other niche areas of expertise like aviation.
A watch enthusiast can spend hours on web forums, debating the differences between the various iterations of a $4,500 Tudor Black Bay ("I love the domed crystal but I'd be interested to see it 1mm thicker," says one member on RolexForums.com of the latest "Fifty-Eight" release.)
The explosive growth of preowned watch sales has deeper roots than social media, however. There's an emotional and intellectual appeal to owning a mechanical device that could have three hundred small pieces inside.
"Nothing that anyone consumes is very interesting anymore," said Zeron, sporting a 1980s 18-karat gold Rolex Oyster Perpetual Day-Date.
Take the ubiquitous iPhone — easily replaceable, Zeron notes.
"If your vintage Omega breaks, that's it. It's over. You will never get another one like it," he said. "You are going to remember the drinks and the dates and the arguments you had in it. You are going to be sad that you lost it."
Then, there is the sheer volume and variety on offer, with supply constantly flowing out of people's drawers.
"If you went into an IWC boutique, they may have 50, 60, 70, 80 watches to choose from," Govberg said. "But in the preowned space of IWC, you may have 900 watches to choose from."
But the bottom line is that a preowned luxury watch in great condition is usually a third of the price of a new one.
"For someone that is collecting, for someone that's trying various pieces, is a natural fit," said Paul Bragan, a watch collector and senior partner at market research firm Wakefield Research, based in Arlington, Virginia.
Bragan spent hours quizzing Zeron online before taking the plunge with his first vintage watch purchase: a 1978 Rolex Datejust, which the Theo&Harris founder personally delivered during a trip to the Washington, D.C., area. It was the start of a friendship, and many more purchases for Bragan.
"There's a trade-in value proposition with preowned watches much like the car industry," said Brack, of NPD.
Watch executives often say their business is like the car industry — only better.
"In the car business, you have about 15 years on a car," Govberg said. "Watches are meant to last 100 years."
___
Follow Amir Bibawy on Twitter @AmirBibawy