Vatican nixes former Irish president from Women's Day event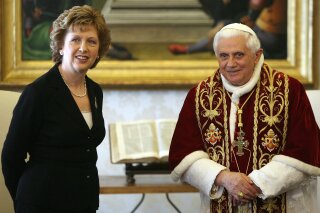 VATICAN CITY (AP) — The Vatican has barred former Irish President Mary McAleese from speaking at an annual event at the Vatican marking International Women's Day, just months before Pope Francis heads to Ireland for a big Catholic family conference, organizers said Friday.
McAleese, who has a gay son and has criticized the church's position on LGBT issues, was invited by the Voices of Faith Catholic women's advocacy group to participate in a March 8 panel discussion at the Vatican on women in church governance. In previous years, the Women's Day event has been held in a small palazzo in the Vatican gardens.
Voices of Faith said it submitted a dozen names of proposed panelists to Cardinal Kevin Farrell, head of the Vatican's laity office. It said Friday that he rejected McAleese and a Ugandan LGBT rights advocate, Ssenfuka Juanita Warry, as well as a third unnamed panelist. No reason was given, said Deborah Rose Milavac, a Voices of Faith advisory board member.
Voices of Faith then decided to change venues and hold the conference with its original panelists down the block at Jesuit headquarters.
Asked about Farrell's decision, the Vatican spokesman, Greg Burke, said: "This is not a Vatican-sponsored event, and given the nature of the topics being discussed, there should not be confusion about that."
Jesuit Refugee Services, a co-sponsor of the event, said it had been discussing using the large Jesuit auditorium well before the speakers list was confirmed just to handle the crowd.
"We don't necessarily agree with the views of all speakers, but it's important to have a broad range of women's voices at this event, including refugee women," said JRS international director the Rev. Thomas H. Smolich.
The conference, he added, would feature testimony from people in the Dzaleka refugee camp in Malawi.
Milavac said the daylong conference was following the same structure as previous years, with individual speakers — Catholic women — speaking about the innovative work they're doing in the field. The panel discussion was to focus on the Catholic Church itself and the challenges it's facing in integrating women into its decision-making.
McAleese, the Irish president from 1997-2011, is an outspoken advocate for gay rights and has urged the Vatican not to exclude gay Catholics from the upcoming World Meeting of Families, which Francis is expected to attend in Dublin in August.