Bitter cold tests winter-wise, delivers shock to South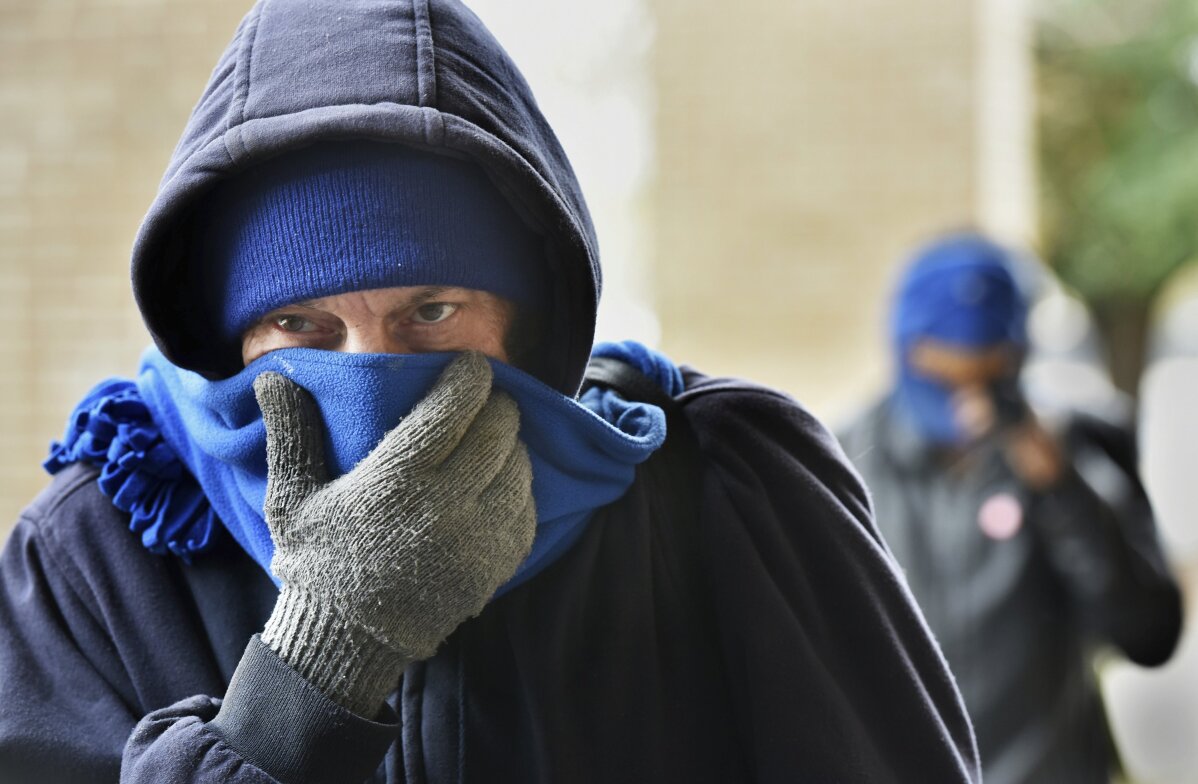 1 of 2

|
Chris McGuire tries to stay warm as he waits for a space at the City Rescue Mission on Tuesday, Jan. 2, 2018, in Jacksonville, Fla. Dangerously cold temperatures blamed for several deaths have wreaked havoc across a wide swath of the U.S., freezing a water tower in Iowa, halting ferry service in New York and leading officials to open warming centers even in the Deep South. (Will Dickey/The Florida Times-Union via AP)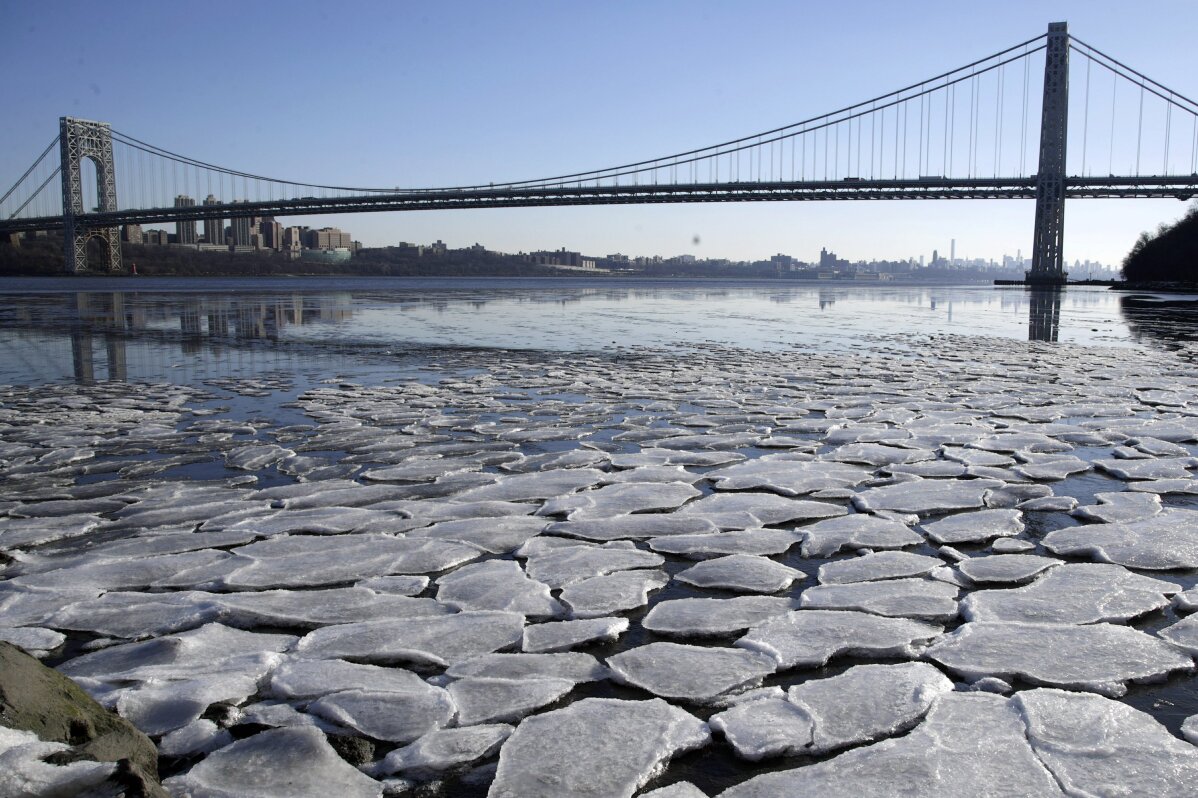 2 of 2

|
A layer of ice is broken into pieces floating along the banks of the Hudson River at the Palisades Interstate Park with the George Washington Bridge in the background, Tuesday, Jan. 2, 2018, in Fort Lee, N.J. The Northern New Jersey region continued to experienced deep cold weather to start the new year. (AP Photo/Julio Cortez)
Bitter cold tests winter-wise, delivers shock to South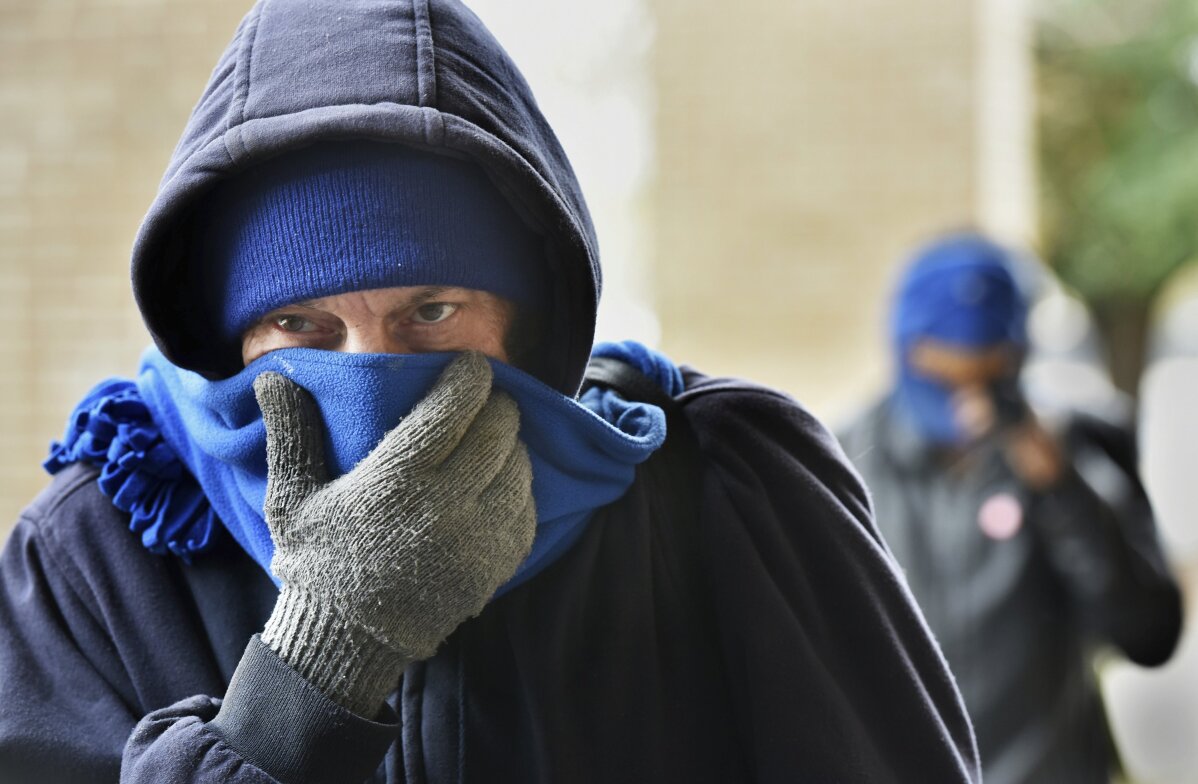 1 of 2

|
Chris McGuire tries to stay warm as he waits for a space at the City Rescue Mission on Tuesday, Jan. 2, 2018, in Jacksonville, Fla. Dangerously cold temperatures blamed for several deaths have wreaked havoc across a wide swath of the U.S., freezing a water tower in Iowa, halting ferry service in New York and leading officials to open warming centers even in the Deep South. (Will Dickey/The Florida Times-Union via AP)
1 of 2
Chris McGuire tries to stay warm as he waits for a space at the City Rescue Mission on Tuesday, Jan. 2, 2018, in Jacksonville, Fla. Dangerously cold temperatures blamed for several deaths have wreaked havoc across a wide swath of the U.S., freezing a water tower in Iowa, halting ferry service in New York and leading officials to open warming centers even in the Deep South. (Will Dickey/The Florida Times-Union via AP)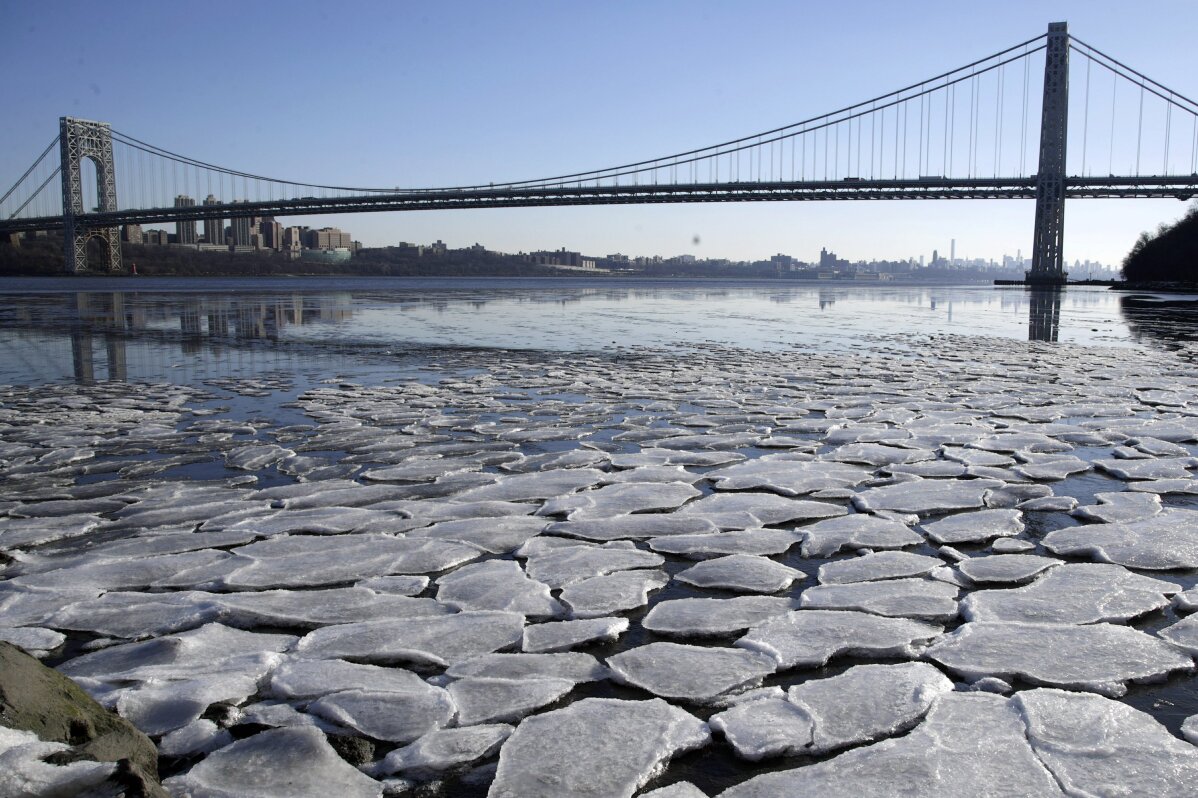 2 of 2

|
A layer of ice is broken into pieces floating along the banks of the Hudson River at the Palisades Interstate Park with the George Washington Bridge in the background, Tuesday, Jan. 2, 2018, in Fort Lee, N.J. The Northern New Jersey region continued to experienced deep cold weather to start the new year. (AP Photo/Julio Cortez)
2 of 2
A layer of ice is broken into pieces floating along the banks of the Hudson River at the Palisades Interstate Park with the George Washington Bridge in the background, Tuesday, Jan. 2, 2018, in Fort Lee, N.J. The Northern New Jersey region continued to experienced deep cold weather to start the new year. (AP Photo/Julio Cortez)
INDIANAPOLIS (AP) — Bitterly cold temperatures gripped much of the nation on Tuesday, testing the mettle of even winter-wise northerners and delivering a shock to those accustomed to far milder weather in the South.
The cold has been blamed for at least a dozen deaths, prompted officials to open warming centers in the Deep South and triggered pleas from government officials to check on neighbors, especially those who are elderly, sick or who live alone.
In St. Louis, where temperatures dipped 30 degrees below normal, Mayor Lyda Krewson warned it was "dangerously cold."
"It's important that people look out for anyone in need of shelter," she said.
The National Weather Service issued wind chill advisories and freeze warnings covering a vast area, from South Texas to Canada and from Montana to Maine. The arctic blast was blamed for freezing a water tower in Iowa, halting a ferry service in New York and even trapping a swan in a Virginia pond.
At the same time, a heatwave swept into the country's northernmost state: Anchorage, Alaska, tied a record high on Tuesday of 44 degrees (7 Celsius) — at the same time Jacksonville, Florida, was a mere 38 degrees (3 Celsius).
Indianapolis Public Schools canceled classes after the city tied a record low for the day — set in 1887 — of minus 12 degrees (-24 Celsius). The northwest Indiana city of Lafayette got down to minus 19 (-28 Celsius), shattering the previous record set in 1979. Many local residents noticed a hum, which Duke Energy said was caused by extra power surging through utility lines to meet electricity demands.
Although temperatures have been lower in Indiana — the all-time low was minus 36 (-38 Celsius) in 1994 — the current frigid weather is unusual because of how long it's lasted, experts said.
"It has just been relentlessly cold since Christmas," said Jeff Masters, meteorology director of the private Weather Underground.
And it's nothing to trifle with, forecasters warned.
The cold has been blamed in at least 12 deaths in the past week. Police in St. Louis said a 54-year-old homeless man found dead in a trash bin Monday evening apparently froze to death as the temperature dropped to negative 6 degrees (-21 Celsius).
Two other suspected cold-related deaths occurred in Wisconsin: a 27-year-old woman's body was found Monday evening on the shore of Lake Winnebago, and a 57-year-old man was found dead Sunday in a parking structure in Madison.
With Chicago-area wind chills expected as low as negative 35 degrees (-37 Celsius), forecasters warned of frost bite and hypothermia risks. They urged residents to take precautions, including dressing in layers, wearing a hat and gloves, covering exposed skin and bringing pets indoors.
"You thought you were cold last year. You thought you were cold last month. But you weren't cold. Now you're cold," said Jeanne Rivera, of Crystal Lake, Illinois, who was in Chicago on Tuesday to visit an art exhibit. "It hurts. It hurts the face."
In Tennessee, corrections officials at a maximum security prison used portable heaters and extra blankets to keep inmates and employees warm after the facility lost hot water pressure Monday, causing its boiler to go offline. A spokeswoman didn't provide a timeline for its return.
In Texas, advocates for the homeless fanned out Tuesday across Houston to provide blankets and other warm gear as the National Weather Service issued a hard freeze warning until Wednesday for parts of the state.
Atlanta hospitals were seeing a surge in emergency room visits for hypothermia and other ailments as temperatures plunged below freezing. The temperature in Atlanta fell to 13 degrees (-11 Celsius) before dawn Tuesday.
"We have a group of patients who are coming in off the street who are looking to escape the cold — we have dozens and dozens of those every day," said Dr. Brooks Moore, associate medical director in the emergency department of Grady Health System, which operates Georgia's largest hospital in Atlanta.
Warming shelters opened amid freeze watches and warnings in Louisiana, Mississippi and Alabama.
In Savannah, Georgia — where January's average high is 60 degrees (16 Celsius) — the temperature hovered at 30 (-1 Celsius) at noon Tuesday. It was cold enough for icicles to dangle from the ornate wrought-iron fountain in Forsyth Park at the edge of the city's downtown historic district.
The city could see up to 2 inches (5 centimeters) of snow and sleet on Wednesday. That would be the first measureable snow since February 2010.
"I've never seen icicles in Savannah, period," said Sean Dempsey, a local restaurant manager who wore a hat, gloves and a thick coat to walk his dogs Tuesday. "I'm pretty sure last year at New Year's lots of families were in the park playing catch, Frisbee football and stuff like that."
Along the East Coast, the cold was expected to worsen behind a winter storm brewing in the Atlantic and Caribbean. Forecasters don't think the storm will hit the coast, but parts of the Northeast will likely get sustained high winds, waves and some snow, forecasters said. And behind that storm is even colder weather than what the East Coast is feeling now.
"For the Northeast, this weekend might be the coldest of the coldest with the storm," said Jason Furtado, a University of Oklahoma meteorology professor. "We could be ending (the cold snap) with a big hurrah."
One area of reprieve: Phoenix, where residents wore short-sleeve shirts and flip-flops as temperatures topped out in the 70s.
"Don't let the people on the East Coast know how nice the weather is here today," said Mark O'Malley, a meteorologist for the National Weather Service in Phoenix.
___
Associated Press reporters contributing to this report include Jim Salter in St. Louis; Jeff Martin in Atlanta; Russ Bynum in Savannah, Georgia; Rachel D'Oro in Anchorage, Alaska; Teresa Crawford in Chicago; and Seth Borenstein in Washington.