For Ed Asner, comic-books and autism are family matters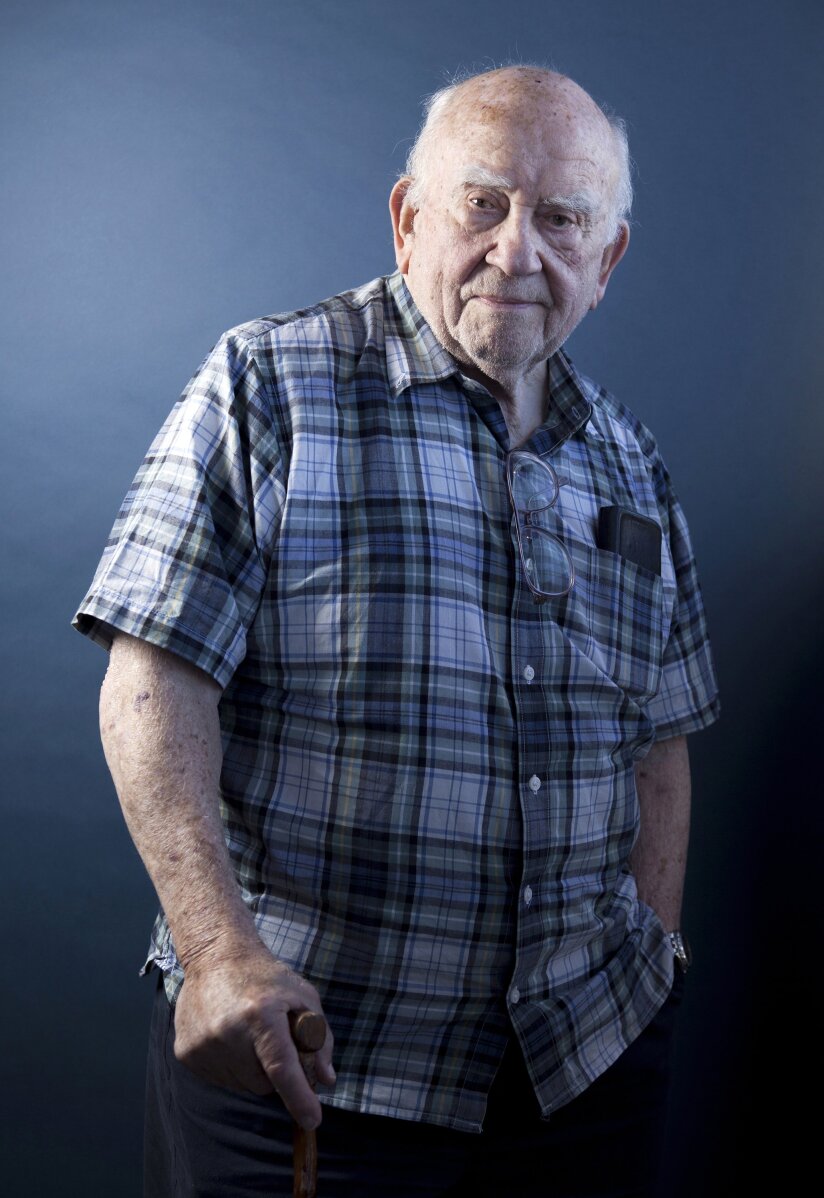 1 of 3

|
This Oct. 8, 2018 photo shows Ed Asner posing for a portrait at Golden Apple Comics in Los Angeles to promote an internet comic-art auction that will be held Wednesday, Oct 17, to raise funds for The Ed Asner Family Center. (Photo by Rebecca Cabage/Invision/AP)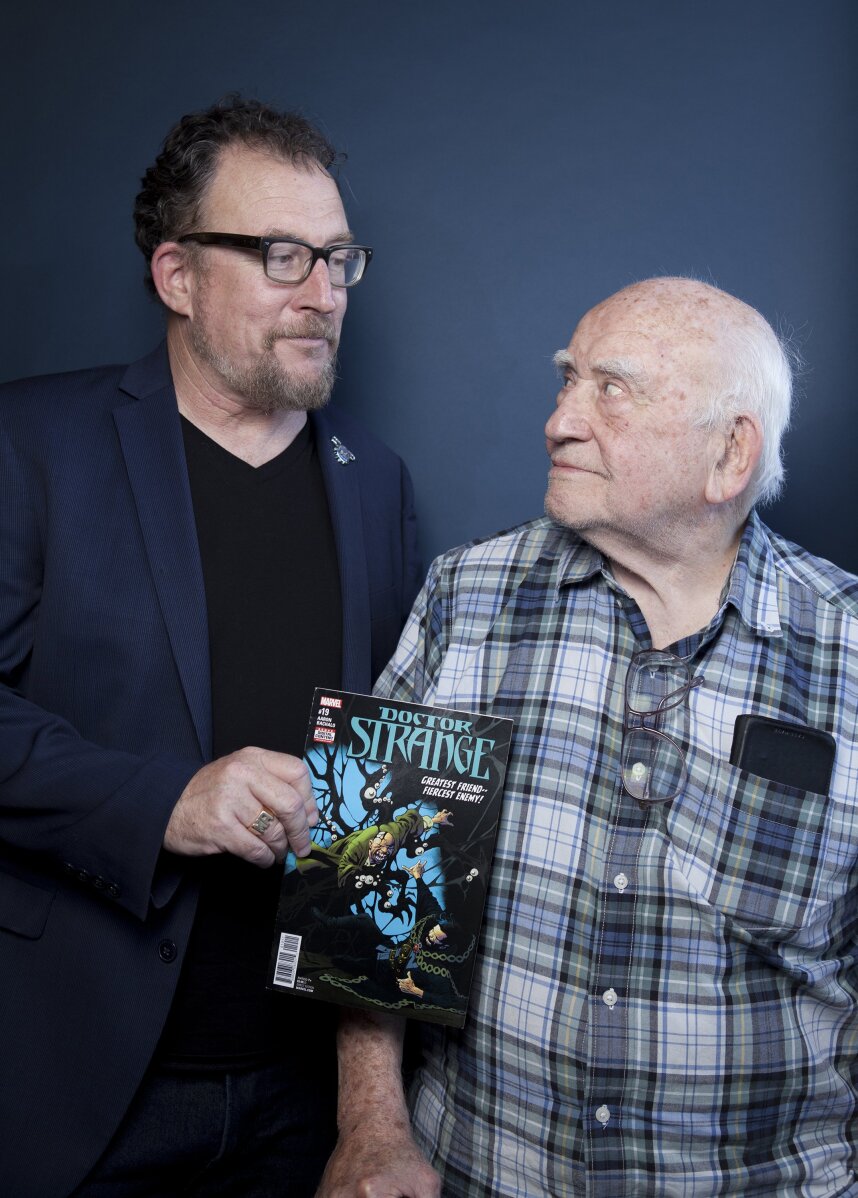 2 of 3

|
This Oct. 8, 2018 photo shows Ed Asner, right and his son Matt Asner posing for a portrait at Golden Apple Comics in Los Angeles to promote an internet comic-art auction that will be held Wednesday, Oct 17, to raise funds for The Ed Asner Family Center. (Photo by Rebecca Cabage/Invision/AP)
3 of 3

|
This Oct. 8, 2018 photo shows Ed Asner, right and his son Matt Asner posing for a portrait at Golden Apple Comics in Los Angeles to promote an internet comic-art auction that will be held Wednesday, Oct 17, to raise funds for The Ed Asner Family Center. (Photo by Rebecca Cabage/Invision/AP)
For Ed Asner, comic-books and autism are family matters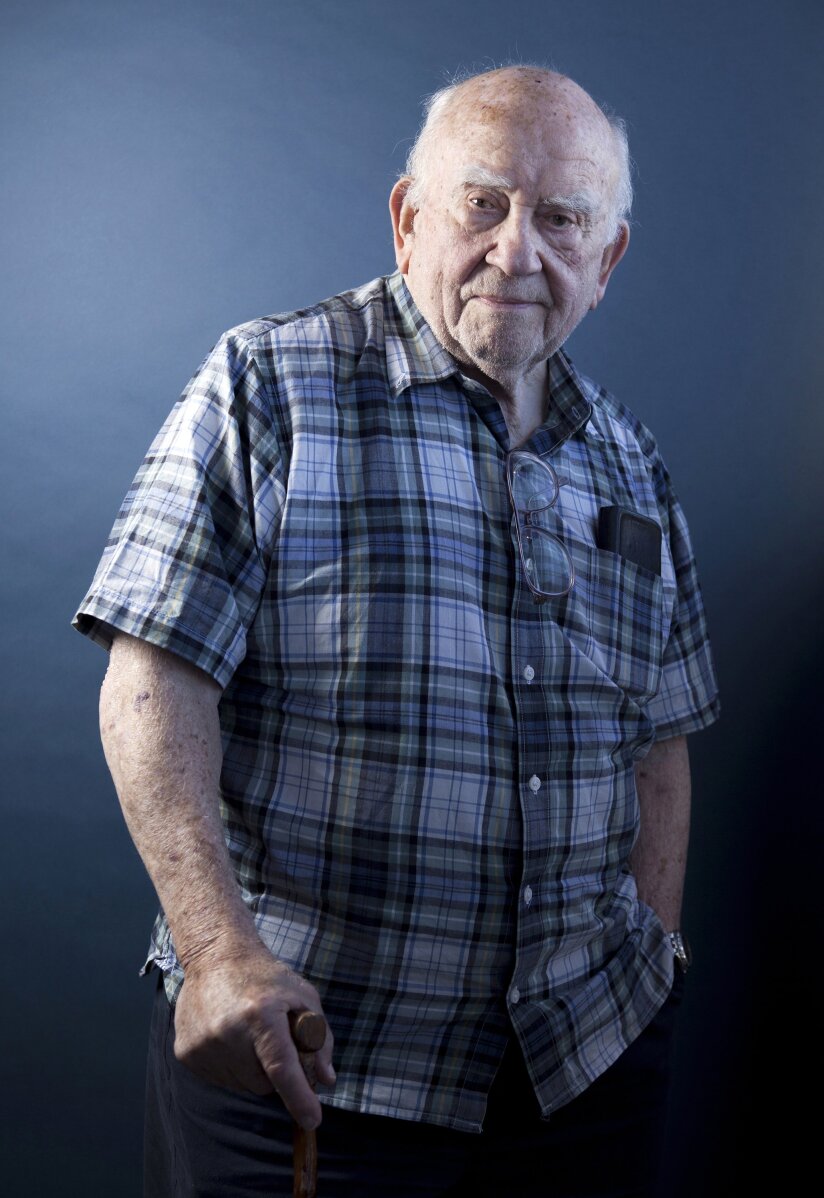 1 of 3

|
This Oct. 8, 2018 photo shows Ed Asner posing for a portrait at Golden Apple Comics in Los Angeles to promote an internet comic-art auction that will be held Wednesday, Oct 17, to raise funds for The Ed Asner Family Center. (Photo by Rebecca Cabage/Invision/AP)
1 of 3
This Oct. 8, 2018 photo shows Ed Asner posing for a portrait at Golden Apple Comics in Los Angeles to promote an internet comic-art auction that will be held Wednesday, Oct 17, to raise funds for The Ed Asner Family Center. (Photo by Rebecca Cabage/Invision/AP)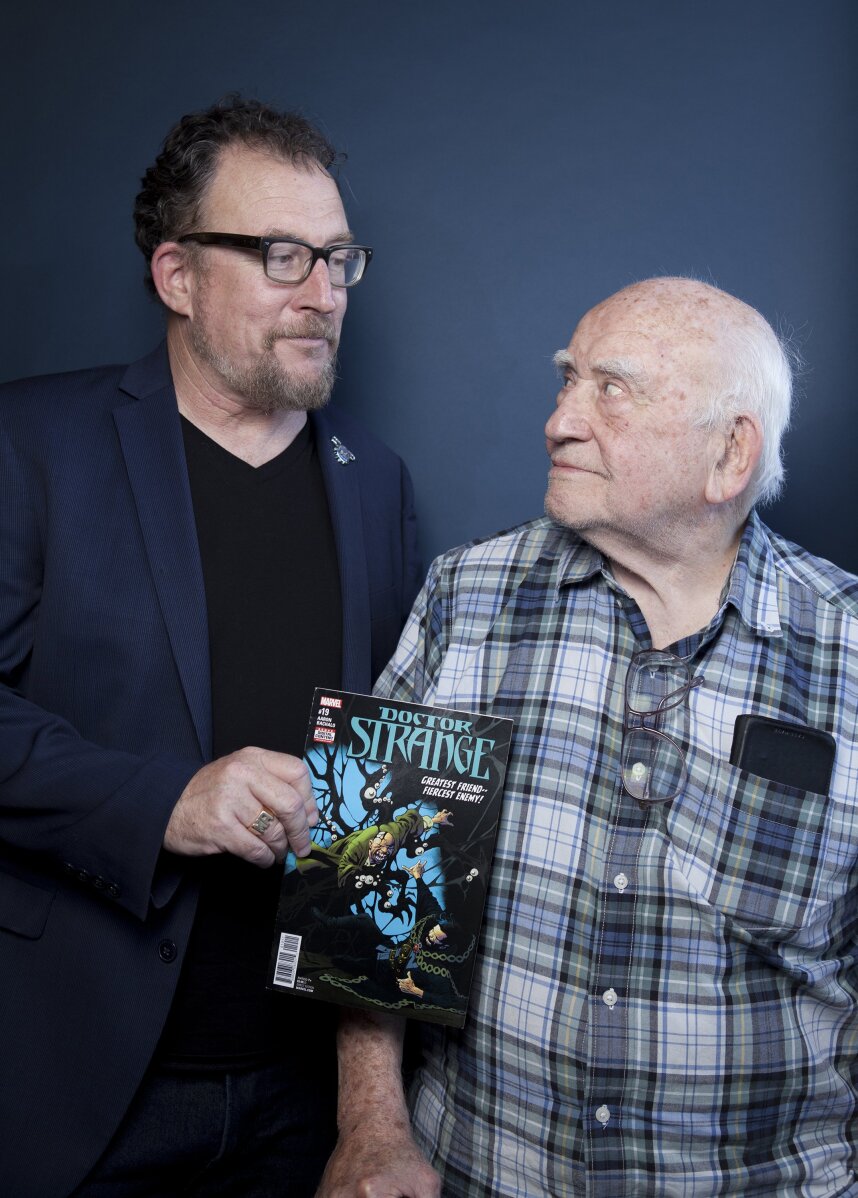 2 of 3

|
This Oct. 8, 2018 photo shows Ed Asner, right and his son Matt Asner posing for a portrait at Golden Apple Comics in Los Angeles to promote an internet comic-art auction that will be held Wednesday, Oct 17, to raise funds for The Ed Asner Family Center. (Photo by Rebecca Cabage/Invision/AP)
2 of 3
This Oct. 8, 2018 photo shows Ed Asner, right and his son Matt Asner posing for a portrait at Golden Apple Comics in Los Angeles to promote an internet comic-art auction that will be held Wednesday, Oct 17, to raise funds for The Ed Asner Family Center. (Photo by Rebecca Cabage/Invision/AP)
3 of 3

|
This Oct. 8, 2018 photo shows Ed Asner, right and his son Matt Asner posing for a portrait at Golden Apple Comics in Los Angeles to promote an internet comic-art auction that will be held Wednesday, Oct 17, to raise funds for The Ed Asner Family Center. (Photo by Rebecca Cabage/Invision/AP)
3 of 3
This Oct. 8, 2018 photo shows Ed Asner, right and his son Matt Asner posing for a portrait at Golden Apple Comics in Los Angeles to promote an internet comic-art auction that will be held Wednesday, Oct 17, to raise funds for The Ed Asner Family Center. (Photo by Rebecca Cabage/Invision/AP)
LOS ANGELES (AP) — Even at age 88, actor Ed Asner still hangs out at the comic-book store with his kid.
Early last week, the Asners could be spotted at Hollywood's legendary Golden Apple Comics. But they weren't shopping.
Instead, the two were promoting an internet comic-art auction to raise funds for The Ed Asner Family Center. The sale by Heritage Auctions went live on Wednesday.
Founded earlier this year by the actor's son, Matthew, and daughter-in-law, Navah, the center offers programs and education for both special-needs children and their families.
The star of "The Mary Tyler Moore Show," ''Lou Grant" and the lead voice in the Pixar animated favorite "Up," Ed Asner has a son and three grandchildren with autism.
"They're (all) beautiful people," the actor noted. "And, at the same time, they need all the help they can get maneuvering through life. The Family Center is designed to help them do that."
Father and son have had a comic-book connection for decades, when the two would buy a couple of new comic books before the elder Asner would take his son to work on "The Mary Tyler Moore Show."
Matthew became a serious comic-art fan, so the idea of an auction to raise funds for a permanent home for the center came about organically. The pair caught a break when Matthew's tweet asking for donations got a response and assist by the revered, award-winning comic artist Kevin Nowlan.
"His tenacity helped us to get to some of the greatest artists in the business: Alex Ross, Sam Kieth, Bill Sienkiewicz," said Matthew. Among auction highlights are rare original cover art from "Captain America," ''Astro City" books, as well as three donations from Nowlan himself.
Dad also enjoys comics: "My favorite cartoon or comic strip of all was 'Plastic Man,'" Asner recalled. "I adored his sense of humor. He had a great sense of humor. Perhaps that affected me in later years when I tried to develop one."
Eventually, he did. Asner may end up best remembered for playing hilariously crusty TV-news director Lou Grant on the sitcom classic "The Mary Tyler Moore Show."
"Lou Grant was a total birth of Ed Asner as a comedic personality," Asner said. "With 'Mary Tyler Moore,' I learned to do comedy, which I had always feared and run from, ignoring the fact that people found me innately funny — just to look at."
When counting wins for work on both "Mary" and "Lou," the role earned Asner a total seven Emmy awards. But Asner acknowledged success came at too big a price. "During my career, I stiffed the family. I let them come in second all too often."
Asner said he deeply regretted not being around for his children, crediting ex-wife Nancy Sykes for Matthew's successes.
Matthew disagreed: "He likes to tell people he had nothing to do with making me who I am, but he had everything to do with making me who I am. He instilled a sense of fairness and a sense of fight for the underdog and a sense of really what's important in life."
___
Online:
Ed Asner Family Center: http://www.edasnerfamilycenter.org
Heritage Auctions: www.HA.com/Asner
___
Follow AP Entertainment writer Mike Cidoni Lennox online at Twitter: @CidoniLennox
___
This story corrects the spelling of Sam Kieth's last name and typo in online link.