Prime-time matchup: Tua Tagovailoa takes on LSU secondary
1 of 4

|
Alabama quarterback Tua Tagovailoa (13) throws to a receiver in the first half of an NCAA college football game against Tennessee Saturday, Oct. 20, 2018, in Knoxville, Tenn. (AP Photo/Wade Payne)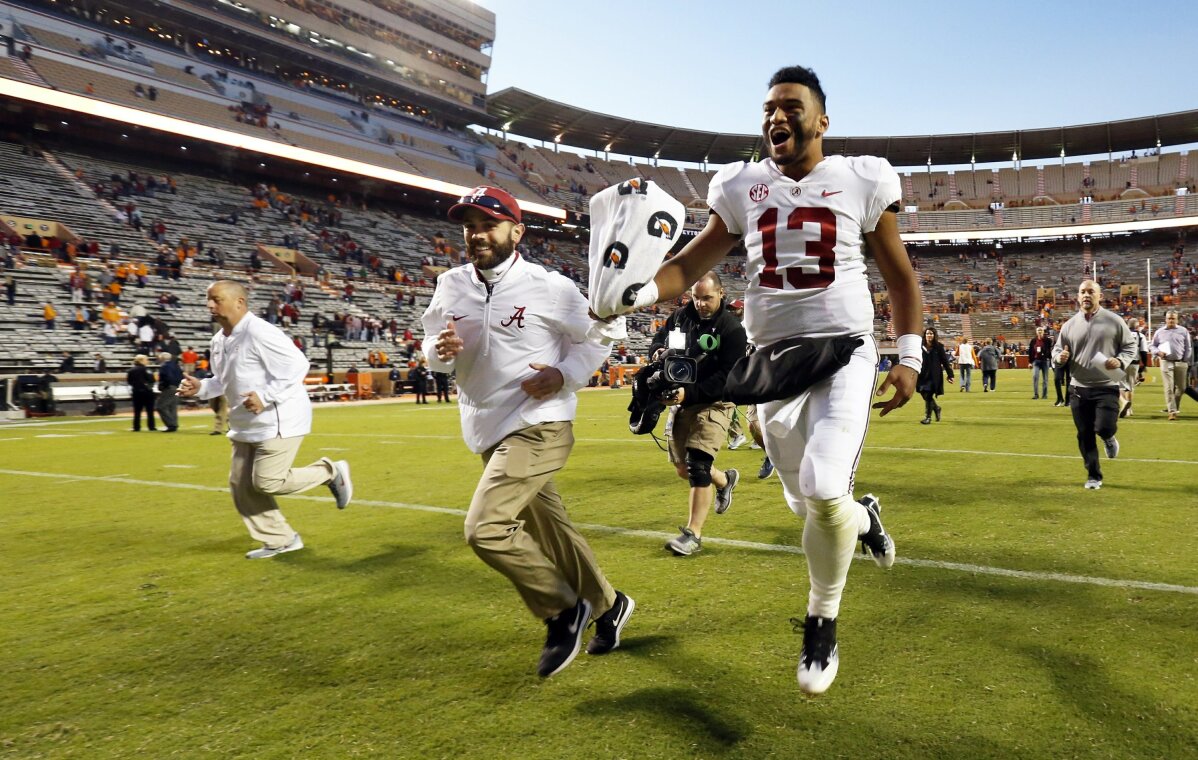 2 of 4

|
Alabama quarterback Tua Tagovailoa (13) celebrates as he leaves the field after an NCAA college football game against Tennessee Saturday, Oct. 20, 2018, in Knoxville, Tenn. Alabama won 58-21. (AP Photo/Wade Payne)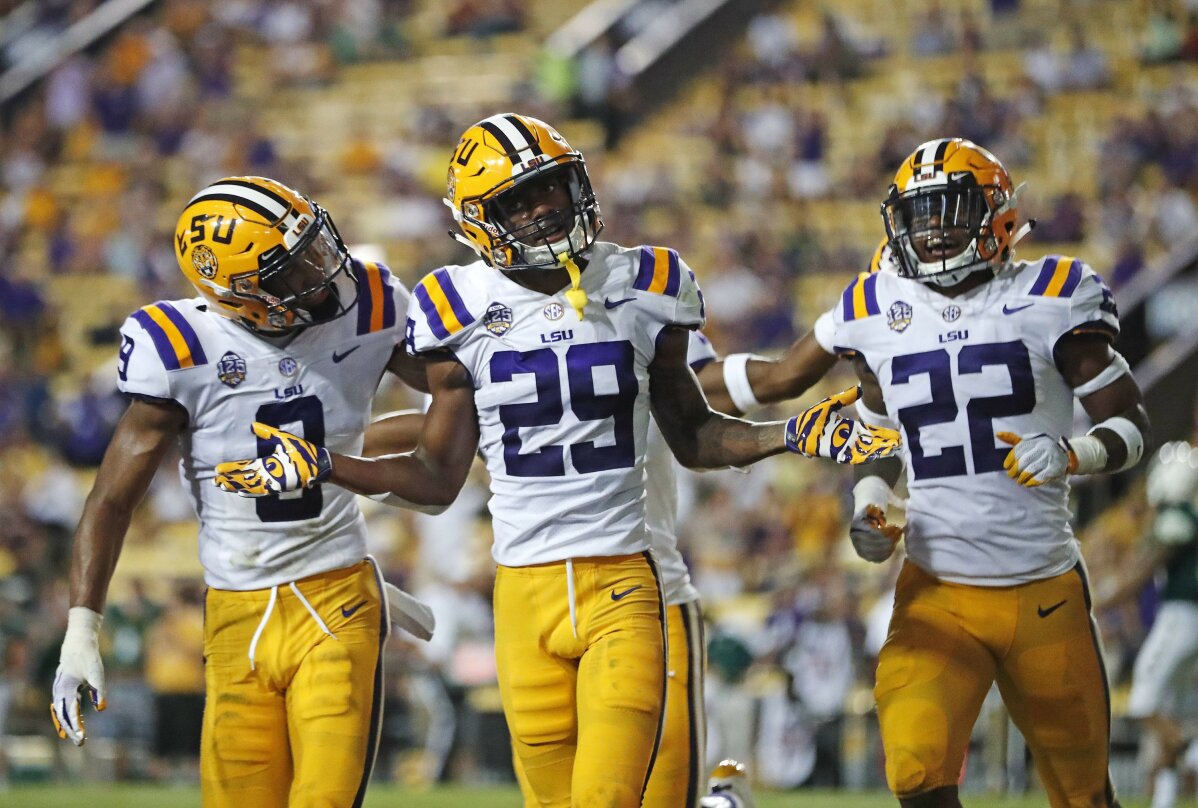 3 of 4

|
FILE - In this Sept. 8, 2018, file photo, LSU cornerback Greedy Williams (29) celebrates his interception with safety Grant Delpit (9) and cornerback Kristian Fulton (22) in the second half of an NCAA college football game against Southeastern Louisiana, in Baton Rouge, La. Greedy Williams, cornerback at LSU and a member of the preseason All-America team, will go up against fellow All-America preseason member Jerry Jeudy, a receiver at Alabama, on Saturday, Nov. 3 when No. 1 Alabama travels to Baton Rouge, La., to face No. 4 LSU. (AP Photo/Gerald Herbert, File)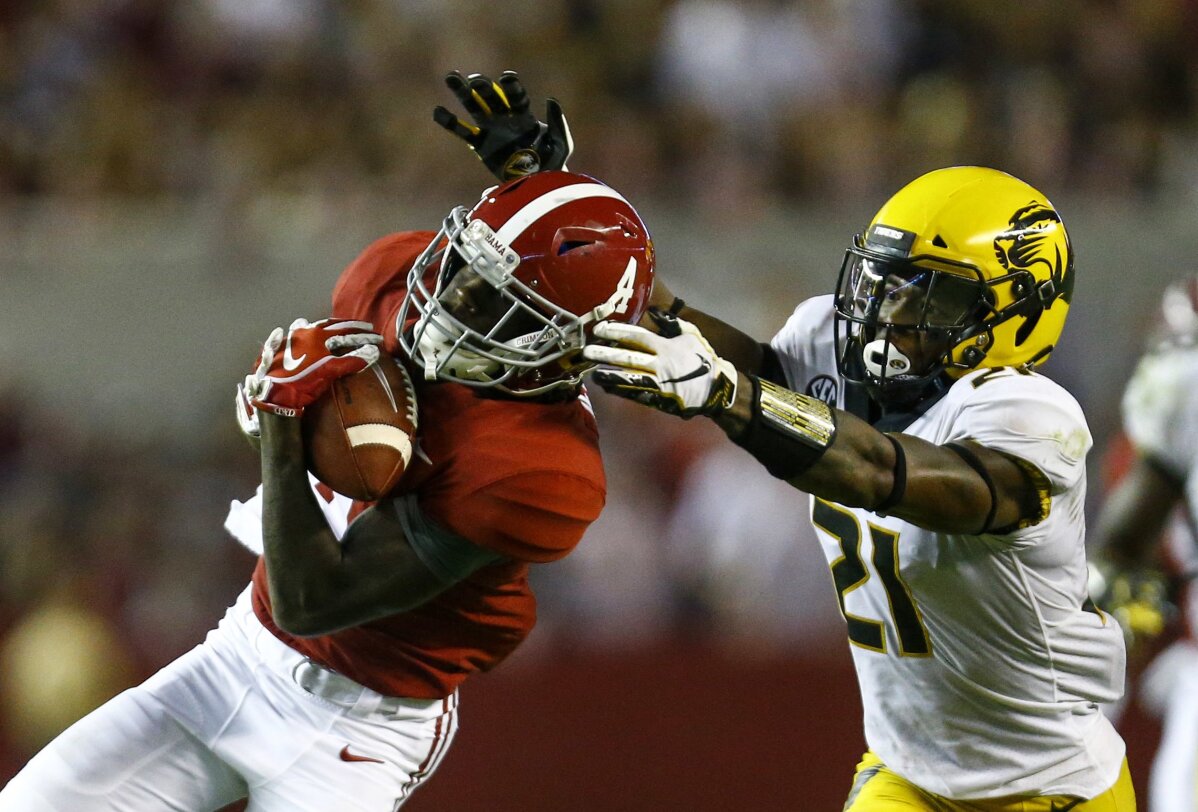 4 of 4

|
FILE - In this Oct. 13, 2018, file photo, Alabama wide receiver Jerry Jeudy (4) catches a pass over Missouri defensive back Christian Holmes (21) during the second half of an NCAA college football game, in Tuscaloosa, Ala. The sophomore receiver that made the preseason All-America team will be going up against fellow preseason All-America team member Greedy Williams, cornerback at LSU. No. 1 Alabama and No. 4 LSU play on Saturday, Nov. 3 in Baton Rouge, La. (AP Photo/Butch Dill, File)
Prime-time matchup: Tua Tagovailoa takes on LSU secondary
1 of 4

|
Alabama quarterback Tua Tagovailoa (13) throws to a receiver in the first half of an NCAA college football game against Tennessee Saturday, Oct. 20, 2018, in Knoxville, Tenn. (AP Photo/Wade Payne)
1 of 4
Alabama quarterback Tua Tagovailoa (13) throws to a receiver in the first half of an NCAA college football game against Tennessee Saturday, Oct. 20, 2018, in Knoxville, Tenn. (AP Photo/Wade Payne)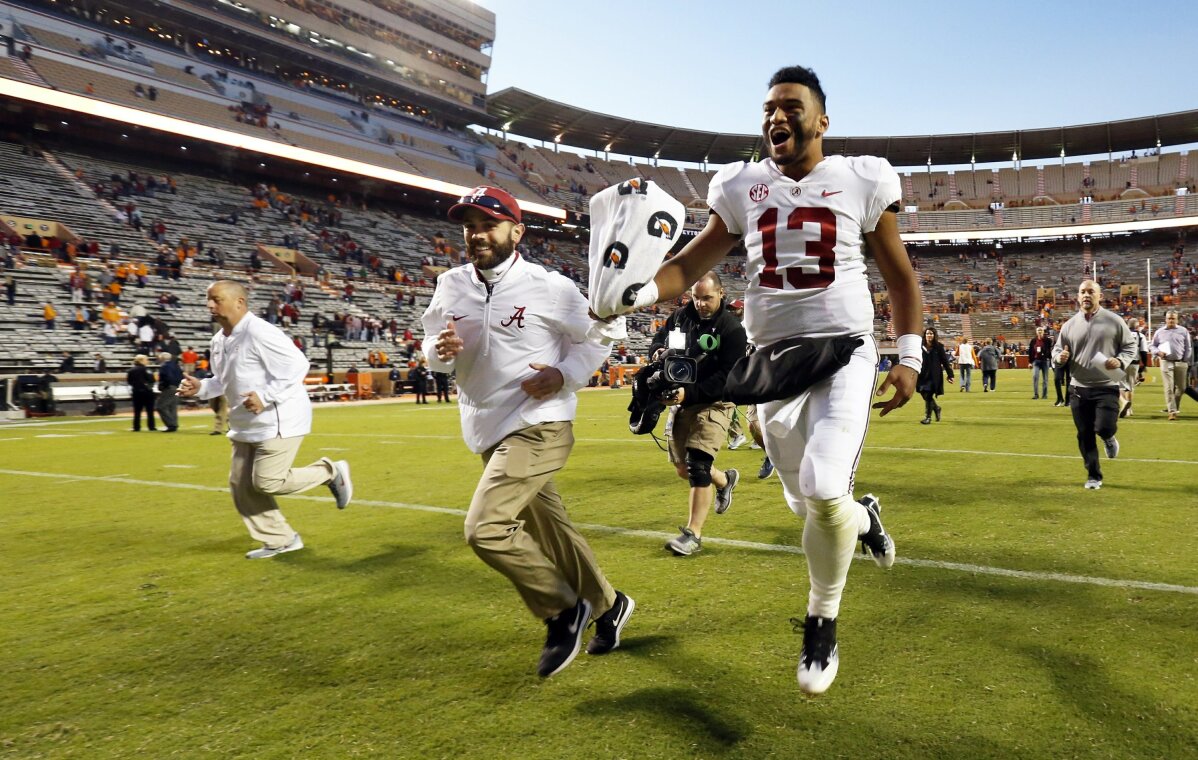 2 of 4

|
Alabama quarterback Tua Tagovailoa (13) celebrates as he leaves the field after an NCAA college football game against Tennessee Saturday, Oct. 20, 2018, in Knoxville, Tenn. Alabama won 58-21. (AP Photo/Wade Payne)
2 of 4
Alabama quarterback Tua Tagovailoa (13) celebrates as he leaves the field after an NCAA college football game against Tennessee Saturday, Oct. 20, 2018, in Knoxville, Tenn. Alabama won 58-21. (AP Photo/Wade Payne)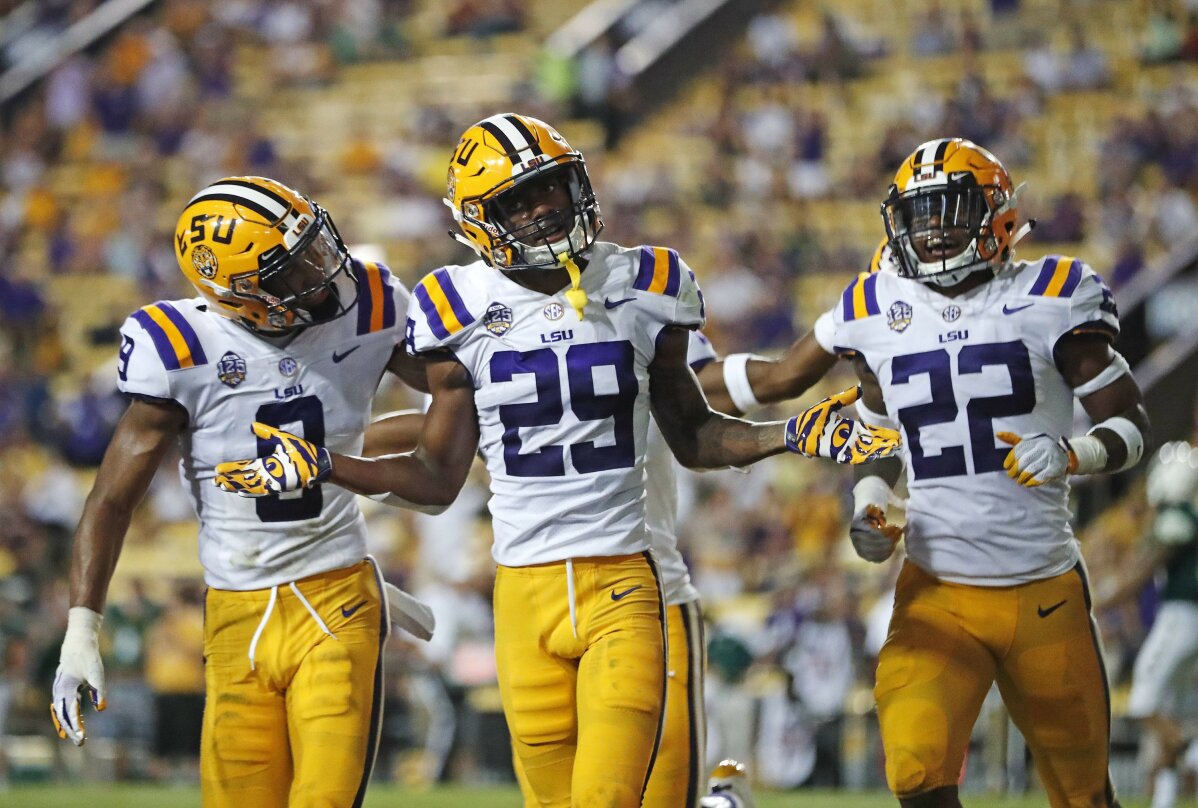 3 of 4

|
FILE - In this Sept. 8, 2018, file photo, LSU cornerback Greedy Williams (29) celebrates his interception with safety Grant Delpit (9) and cornerback Kristian Fulton (22) in the second half of an NCAA college football game against Southeastern Louisiana, in Baton Rouge, La. Greedy Williams, cornerback at LSU and a member of the preseason All-America team, will go up against fellow All-America preseason member Jerry Jeudy, a receiver at Alabama, on Saturday, Nov. 3 when No. 1 Alabama travels to Baton Rouge, La., to face No. 4 LSU. (AP Photo/Gerald Herbert, File)
3 of 4
FILE - In this Sept. 8, 2018, file photo, LSU cornerback Greedy Williams (29) celebrates his interception with safety Grant Delpit (9) and cornerback Kristian Fulton (22) in the second half of an NCAA college football game against Southeastern Louisiana, in Baton Rouge, La. Greedy Williams, cornerback at LSU and a member of the preseason All-America team, will go up against fellow All-America preseason member Jerry Jeudy, a receiver at Alabama, on Saturday, Nov. 3 when No. 1 Alabama travels to Baton Rouge, La., to face No. 4 LSU. (AP Photo/Gerald Herbert, File)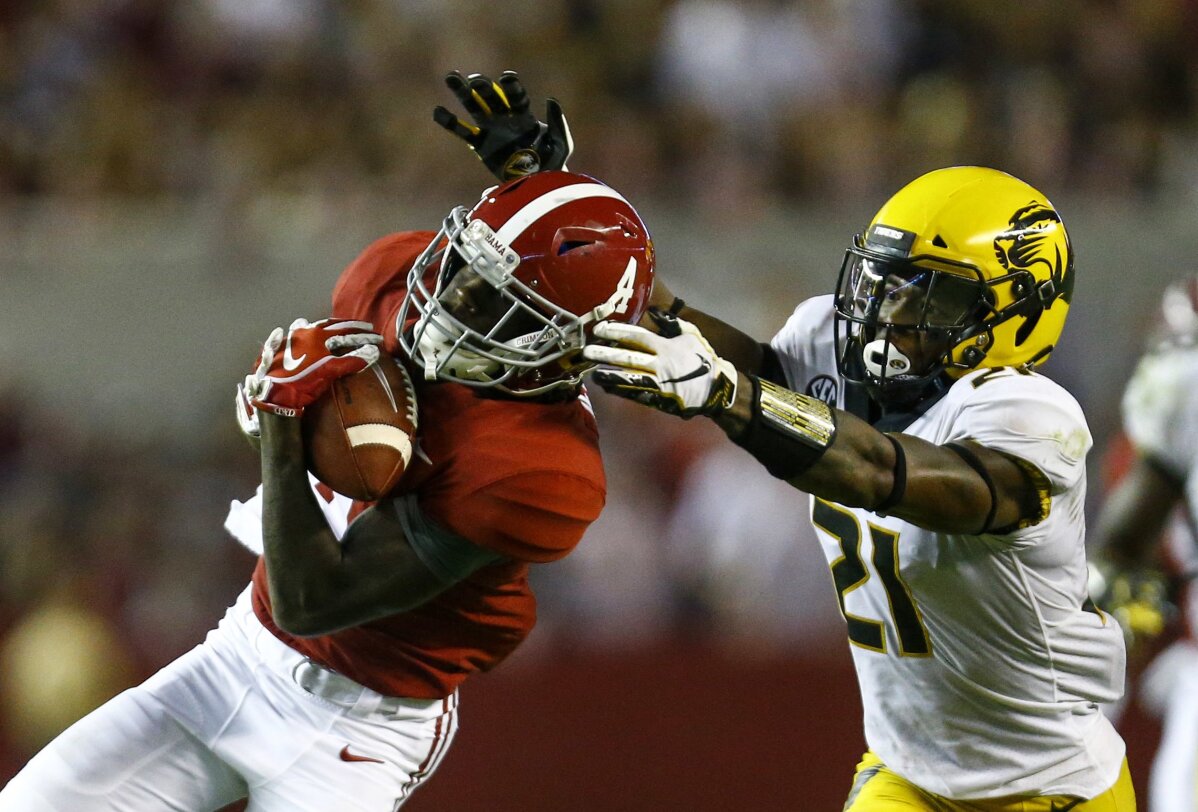 4 of 4

|
FILE - In this Oct. 13, 2018, file photo, Alabama wide receiver Jerry Jeudy (4) catches a pass over Missouri defensive back Christian Holmes (21) during the second half of an NCAA college football game, in Tuscaloosa, Ala. The sophomore receiver that made the preseason All-America team will be going up against fellow preseason All-America team member Greedy Williams, cornerback at LSU. No. 1 Alabama and No. 4 LSU play on Saturday, Nov. 3 in Baton Rouge, La. (AP Photo/Butch Dill, File)
4 of 4
FILE - In this Oct. 13, 2018, file photo, Alabama wide receiver Jerry Jeudy (4) catches a pass over Missouri defensive back Christian Holmes (21) during the second half of an NCAA college football game, in Tuscaloosa, Ala. The sophomore receiver that made the preseason All-America team will be going up against fellow preseason All-America team member Greedy Williams, cornerback at LSU. No. 1 Alabama and No. 4 LSU play on Saturday, Nov. 3 in Baton Rouge, La. (AP Photo/Butch Dill, File)
TUSCALOOSA, Ala. (AP) — Alabama's Tua Tagovailoa has been one of the nation's most electric quarterbacks, flinging one touchdown pass after another without a single interception.
Grant Delpit and the LSU defensive backs welcome the challenge.
"I think we match up well with them," the Tigers safety said. "We have the best DBs out there."
In a bruising SEC West rivalry known more for stout defense and running games, the most delectable matchup for Saturday night's game in Baton Rouge is Tua vs. the Tigers.
Tagovailoa has led the top-ranked Crimson Tide (8-0, 5-0 Southeastern Conference, No. 1 CFP) on an offensive onslaught starting in January with the second half of the national championship game and only building from there. No. 4 LSU (7-1, 4-1, No. 3) has bedeviled opposing quarterbacks with a nation's best 14 interceptions and ranks fifth in pass defense efficiency.
"This is probably going to be the best front seven that we're going to face to date as well as the best secondary to date," Tagovailoa said.
And LSU hasn't faced a hotter quarterback. Tagovailoa is the nation's highest rated passer while directing the top scoring offense. Most notably, facing such a thieving defense, he has thrown for 25 touchdowns without a pick.
Tagovailoa has passed for 2,066 yards, including a number of deep balls to Jerry Jeudy and a talented group of receivers. This might just present his first chance to play an entire game since high school in Hawaii.
Alabama has built up such big leads in every game that he has only taken 57.9 percent of the Tide's snaps and has been a spectator by the fourth quarter each time.
Tagovailoa also hasn't faced a secondary like LSU's. Delpit leads the SEC with five interceptions and Greedy Williams is one of the league's top cornerbacks. Both are among the 14 semifinalist for the Jim Thorpe Award given to the nation's top defensive back.
The Tide passing game typically hasn't been LSU's biggest concern .
An Alabama quarterback has only topped 200 passing yards against LSU once in the last eight meetings, and Blake Sims needed overtime to get to 209 yards in 2014.
This Tide team is different. LSU coach Ed Orgeron says that boils down to Tagovailoa opening up an offense that's always been loaded with tailback talent under Nick Saban.
"Now, you've got to add a great quarterback that can have any run-pass option at any time," Orgeron said. "It makes it very difficult to defend."
Tagovailoa also has one of the nation's best deep threats in Jeudy, who's averaging 25.1 yards on 31 catches with 10 touchdowns.
The Tigers already have given No. 6 Georgia's Jake Fromm fits in a 36-16 upset. The normally efficient Fromm completed just 16 of 34 passes and threw two of his four interceptions in that game.
"I remember when Georgia came here they were talking about how Tiger Stadium wouldn't affect the quarterback," Delpit said. "We've got the best stadium in the country, so our fans are going to affect him. It's all about affecting the quarterback.
"So, DBs, we're going to match up, so there's not going to be many open receivers. So, that's going to be definitely the biggest matchup of the game, the secondary vs. Tua. He's a great quarterback. He makes all the right decisions, but he's about to play us, so he might make a little mistake."
Tagovailoa just hasn't made many so far, and he also hasn't had to bounce back often within a game.
But an interception and sack didn't faze him in the national championship game against Georgia, when he came off the bench to lead a second-half comeback and delivered the winning touchdown pass in overtime.
This will be the closest thing to that pressurized environment that Tagovailoa has faced since then. Only now he has eight starts under his belt.
"No stage is too big for him," Alabama center Ross Pierschbacher said. "For him to come in as a true freshman in the national championship game last year just kind of proved that situation. That was as hard of a thing to step into as you could probably do and for him to go out and execute like the way that he did, we have complete confidence in him."
LSU's DBs aren't lacking confidence, either.
___
AP Sports Writer Brett Martel in Baton Rouge, Louisiana, contributed to this report.
___
More AP college football: https://apnews.com/Collegefootball and https://twitter.com/AP_Top25