Scientists to explore new sites in Puerto Rico, USVI waters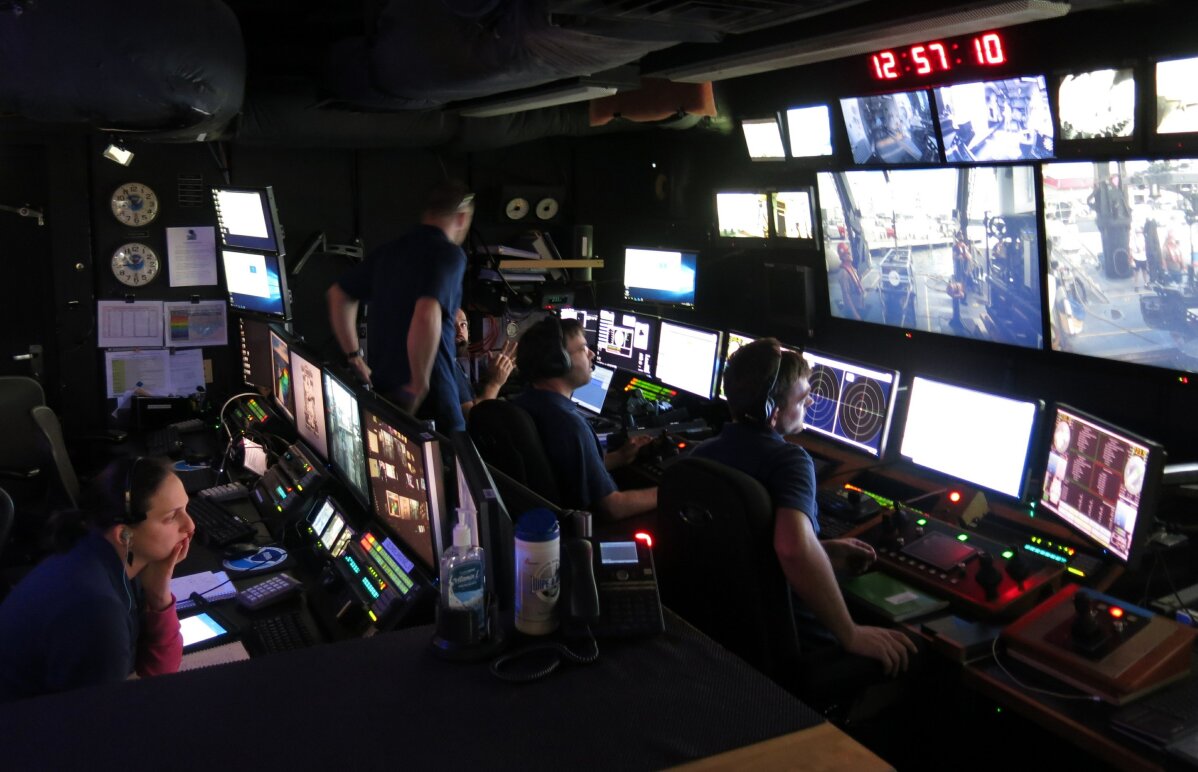 1 of 2

|
Scientists prepare to analyze data aboard the Okeanos Explorer ship of the U.S. National Oceanic and Atmospheric Administration in San Juan, Puerto Rico, Monday, Oct. 29, 2018. Scientists will analyze coral and fish habitats as well as map geological features, exploring new sites in deep waters around Puerto Rico and the U.S. Virgin Islands as part of the 22-day mission. (AP Photo/Danica Coto)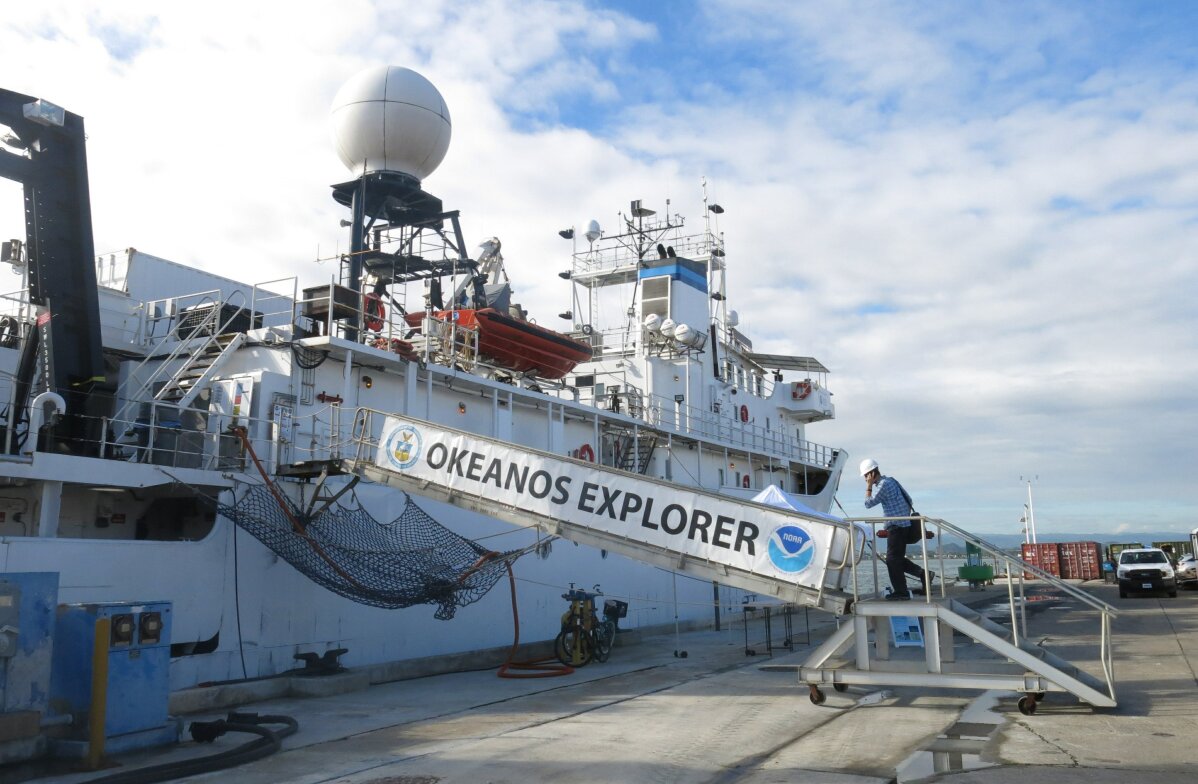 2 of 2

|
A member of a scientific team boards the Okeanos Explorer ship of the U.S. National Oceanic and Atmospheric Administration, in San Juan, Puerto Rico, Monday, Oct. 29, 2018. Scientists will analyze coral and fish habitats as well as map geological features, exploring new sites in deep waters around Puerto Rico and the U.S. Virgin Islands as part of the 22-day mission. (AP Photo/Danica Coto)
Scientists to explore new sites in Puerto Rico, USVI waters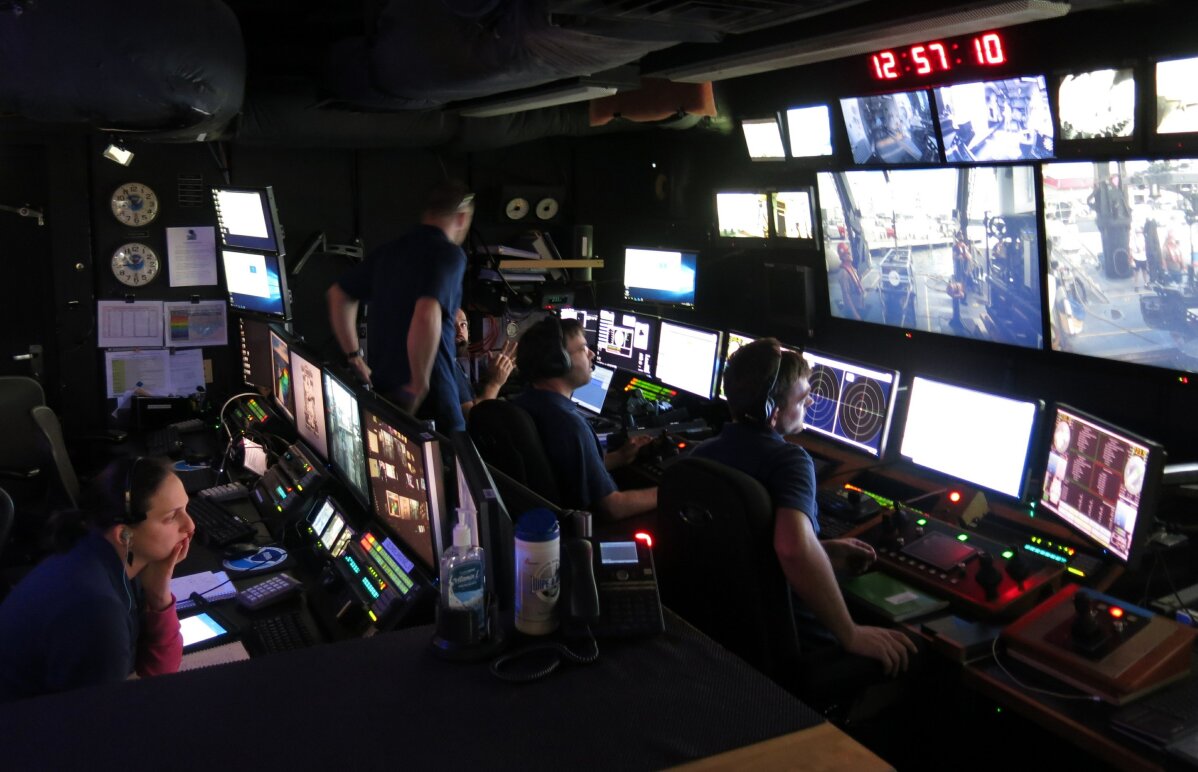 1 of 2

|
Scientists prepare to analyze data aboard the Okeanos Explorer ship of the U.S. National Oceanic and Atmospheric Administration in San Juan, Puerto Rico, Monday, Oct. 29, 2018. Scientists will analyze coral and fish habitats as well as map geological features, exploring new sites in deep waters around Puerto Rico and the U.S. Virgin Islands as part of the 22-day mission. (AP Photo/Danica Coto)
1 of 2
Scientists prepare to analyze data aboard the Okeanos Explorer ship of the U.S. National Oceanic and Atmospheric Administration in San Juan, Puerto Rico, Monday, Oct. 29, 2018. Scientists will analyze coral and fish habitats as well as map geological features, exploring new sites in deep waters around Puerto Rico and the U.S. Virgin Islands as part of the 22-day mission. (AP Photo/Danica Coto)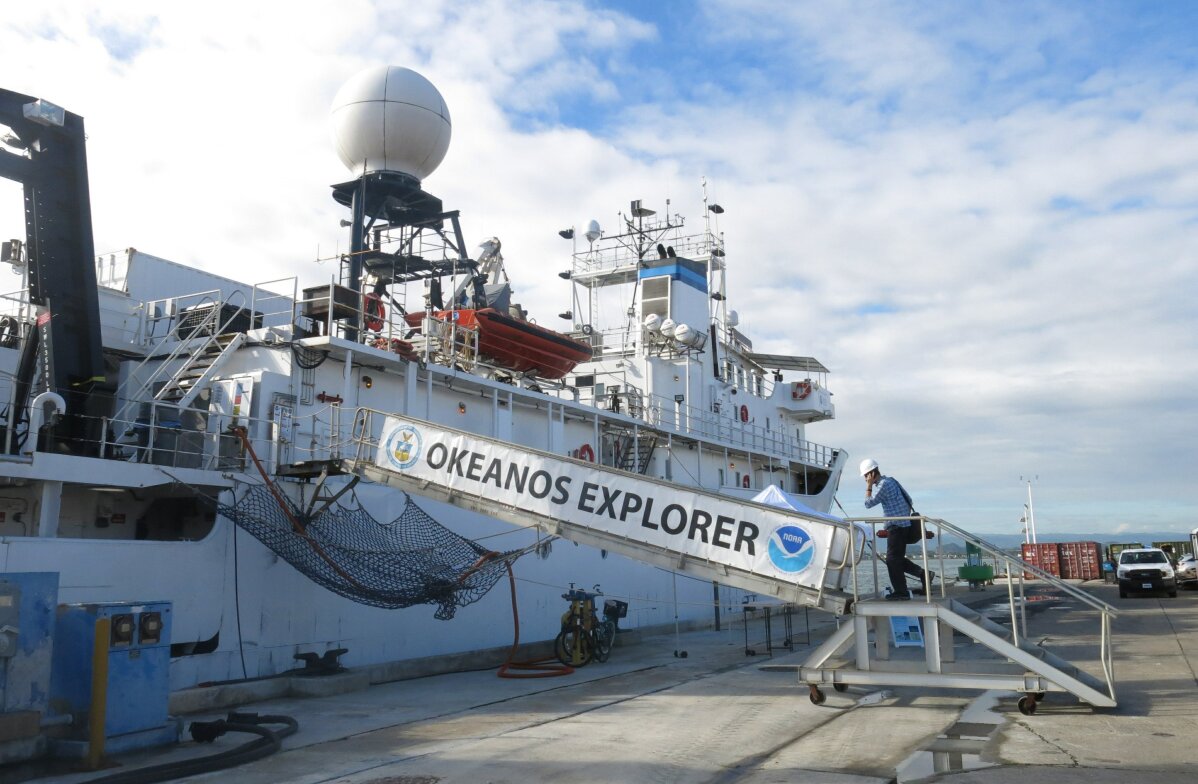 2 of 2

|
A member of a scientific team boards the Okeanos Explorer ship of the U.S. National Oceanic and Atmospheric Administration, in San Juan, Puerto Rico, Monday, Oct. 29, 2018. Scientists will analyze coral and fish habitats as well as map geological features, exploring new sites in deep waters around Puerto Rico and the U.S. Virgin Islands as part of the 22-day mission. (AP Photo/Danica Coto)
2 of 2
A member of a scientific team boards the Okeanos Explorer ship of the U.S. National Oceanic and Atmospheric Administration, in San Juan, Puerto Rico, Monday, Oct. 29, 2018. Scientists will analyze coral and fish habitats as well as map geological features, exploring new sites in deep waters around Puerto Rico and the U.S. Virgin Islands as part of the 22-day mission. (AP Photo/Danica Coto)
SAN JUAN, Puerto Rico (AP) — Scientists will explore new sites in deep waters surrounding Puerto Rico and the U.S. Virgin Islands to learn more about coral and fish habitats as part of a 22-day mission led by the U.S. government.
The team aboard the 224-foot (68-meter) Okeanos Explorer also will map geological features up to 3.7 miles (6,000 meters) deep to better understand hazards such as earthquakes that have hit the Caribbean region in recent years, Daniel Wagner, expedition coordinator with the U.S. National Oceanic and Atmospheric Administration, said Monday.
"We will probably see things that have never been documented," he said. "Some of the places we're diving have never been mapped before."
The mission starts Tuesday and ends Nov. 20. The team will target waters around Puerto Rico and St. Croix island in an operation involving 210 scientists around the world, most of whom will be watching live video feeds, with the ability to instantly request imagery or collection of samples.
The 20 sites the ship will visit were chosen from a list of 80 submitted by scientists worldwide, with eight-hour dives taking place during the day and mapping being done at night, Wagner said.
They include marine protected areas and the site of a 1918 earthquake that generated a tsunami, killing more than 100 people in Puerto Rico. The area where the quake originated has never been explored, Wagner said.
Scientists will use sonar systems and remotely operated vehicles to track deep-water fish, sponges and corals, as well as to explore valleys, trenches, submarine canyons and two large tectonic plates located north of Puerto Rico.
Studies of populations of groupers and red snapper are a priority because they are commercially popular fish, scientists said.
One of the mission's objectives is to support conservation and management efforts, said Steven Auscavitch, the expedition's co-leader.
"We know virtually nothing about what is at the bottom of these areas," he said.
Derek Sowers, who will oversee the mapping mission, said some sonars will help determine the abundance of life in deep waters, while others will be used to map the seafloor and analyze what it's composed of, down to 260 feet (80 meters) beyond the bottom.
It is part of a larger expedition aimed at learning more about the North Atlantic Ocean. The scientists say that waters around Puerto Rico and the U.S. Virgin Islands are among the least explored waters in any U.S. jurisdiction.