Protests, mayhem continue, lead to more California curfews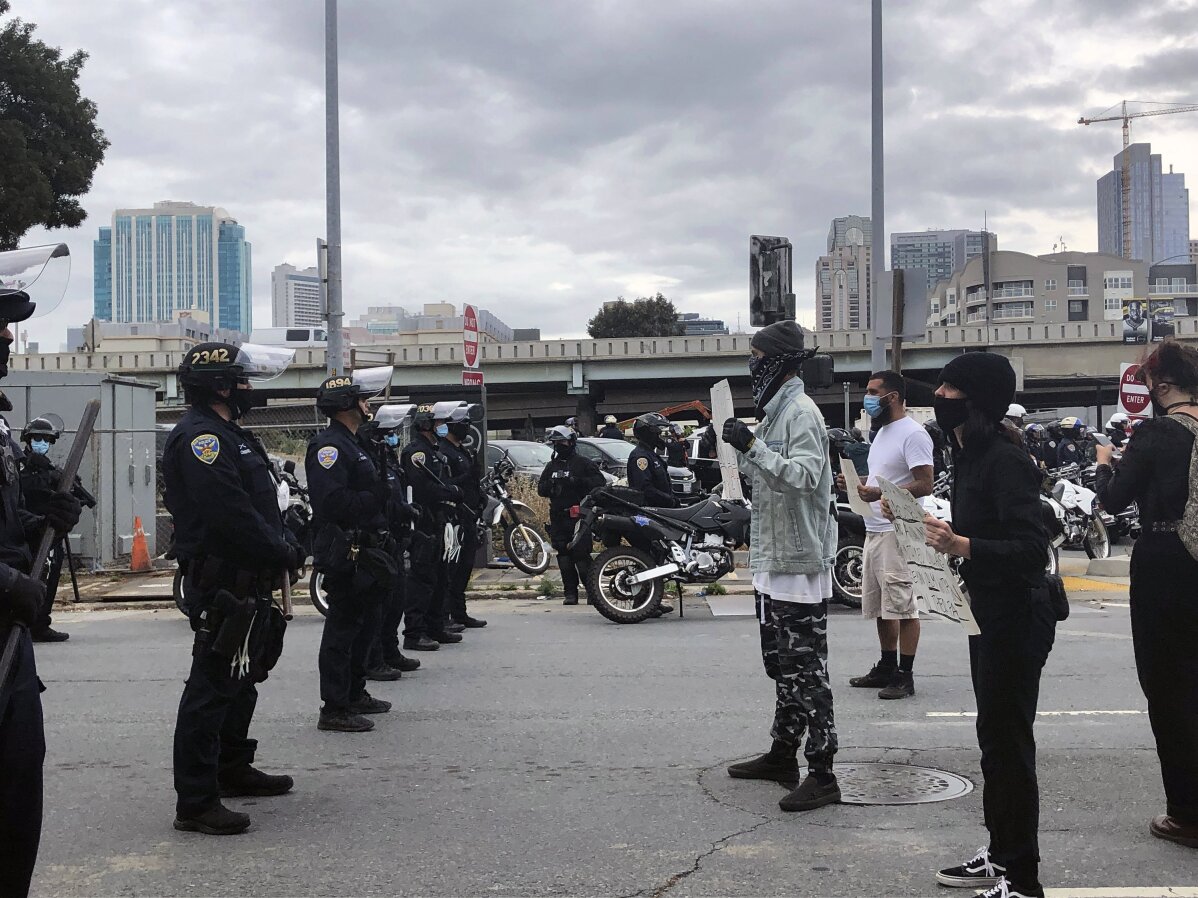 1 of 41

|
Demonstrators stand in front of police officers lined up Saturday, May 30, 2020, as part of a protest in response to the death of George Floyd, in San Francisco. About 200-300 marchers made their way through the city in a demonstration, at one point blocking a highway offramp while they sat at an intersection and chanted the Floyd's name. (AP Photo/Juliet A. Williams)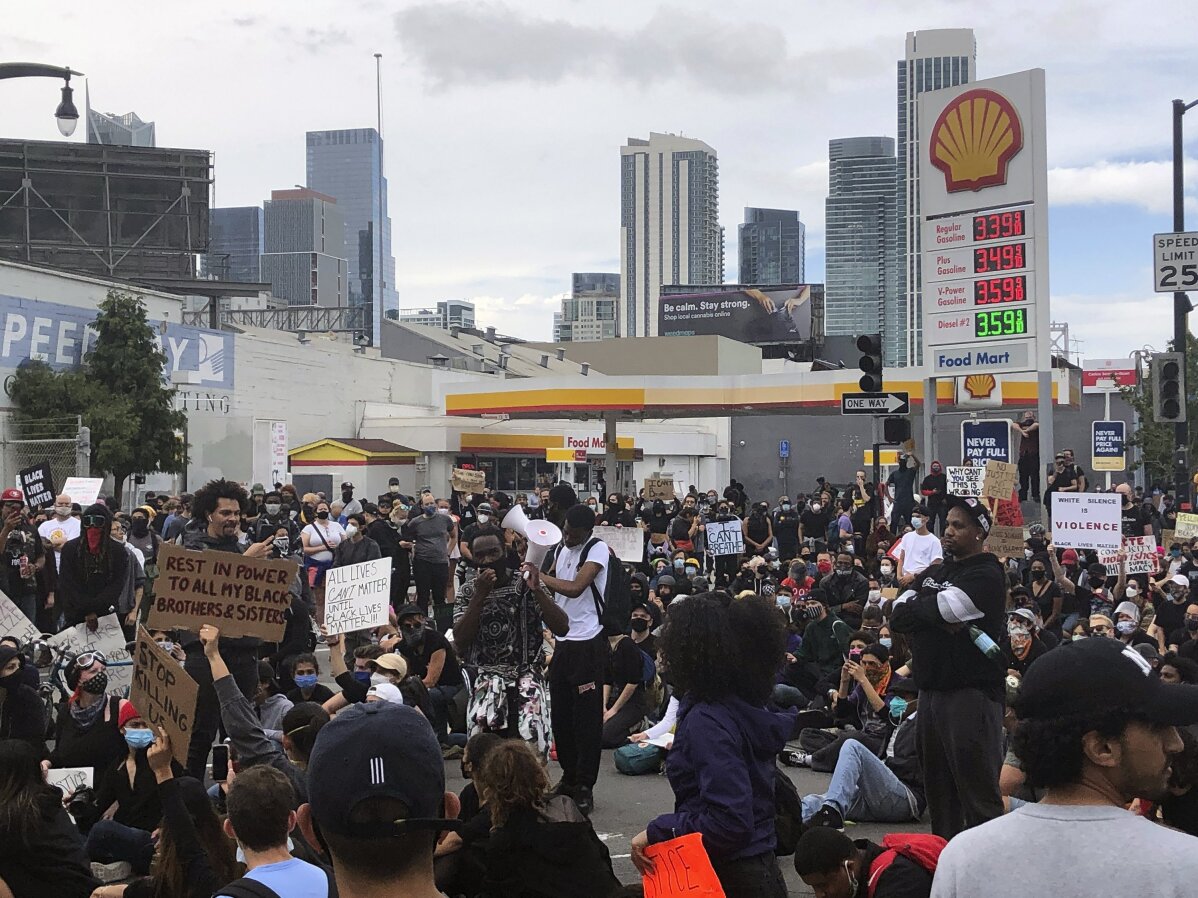 2 of 41

|
Demonstrators listen to speakers as part of a protest in response to the death of George Floyd in San Francisco in San Francisco Saturday, May 30, 2020. About 200-300 people made their way through the city in a demonstration, at one point blocking a highway offramp while they sat at an intersection and chanted the Floyd's name.(AP Photo/Juliet A. Williams)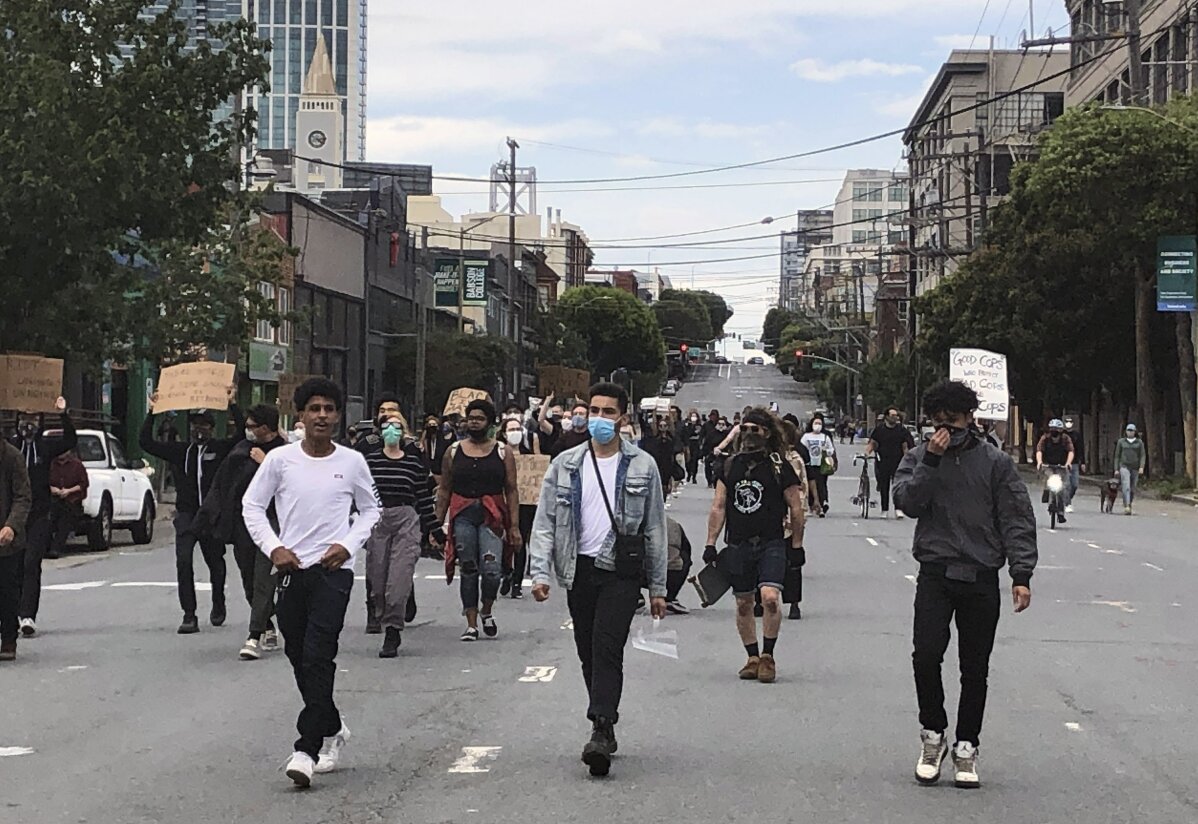 3 of 41

|
Marchers make their way down Bryant Street as part of a protest in response to the death of George Floyd in San Francisco Saturday, May 30, 2020. About 200-300 people made their way through the city in a demonstration, at one point blocking a highway offramp while they sat at an intersection and chanted the Floyd's name.(AP Photo/Juliet A. Williams)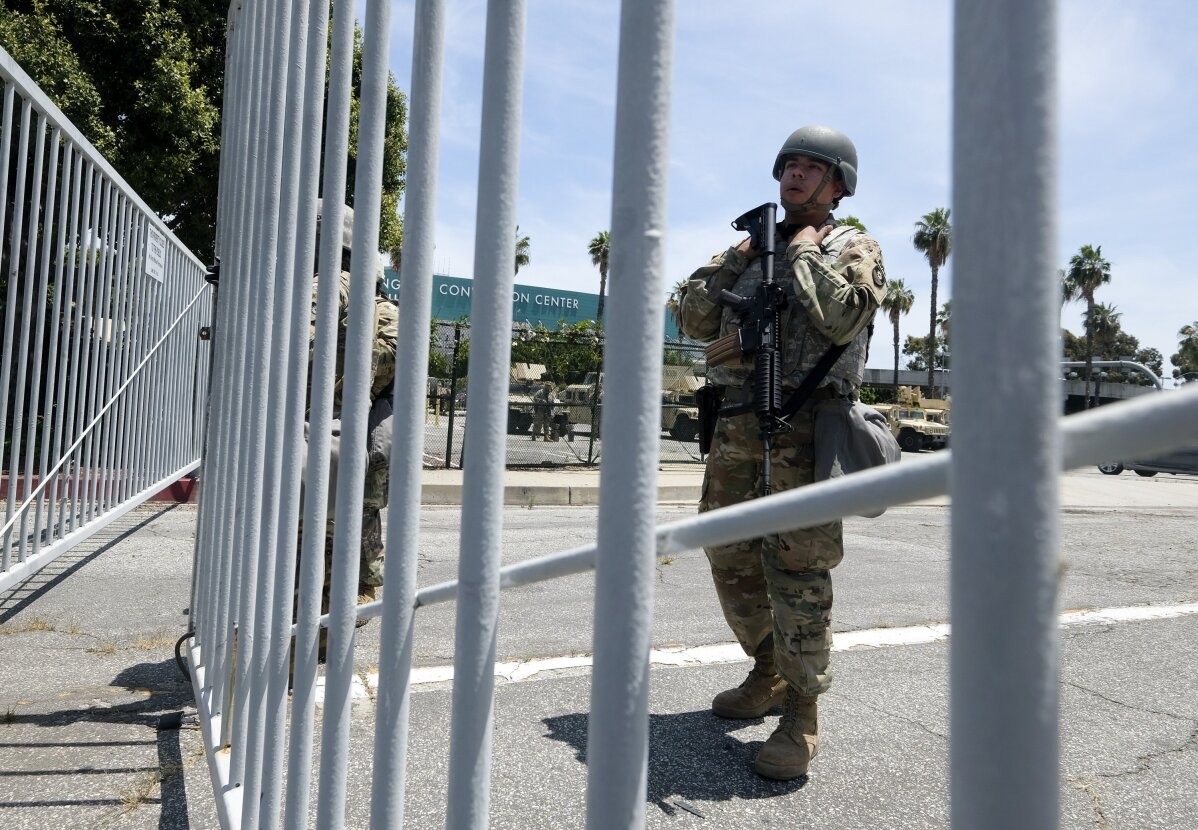 4 of 41

|
A member of California National Guard stands guard at a parking lot near Los Angeles Convention Center, Sunday, May 31, 2020, in Los Angeles. The National Guard is patrolling Los Angeles as the city begins cleaning up after a night of violence by demonstrators that saw clash with officers and torch police vehicles and pillage stores. (AP Photo/Ringo H.W. Chiu)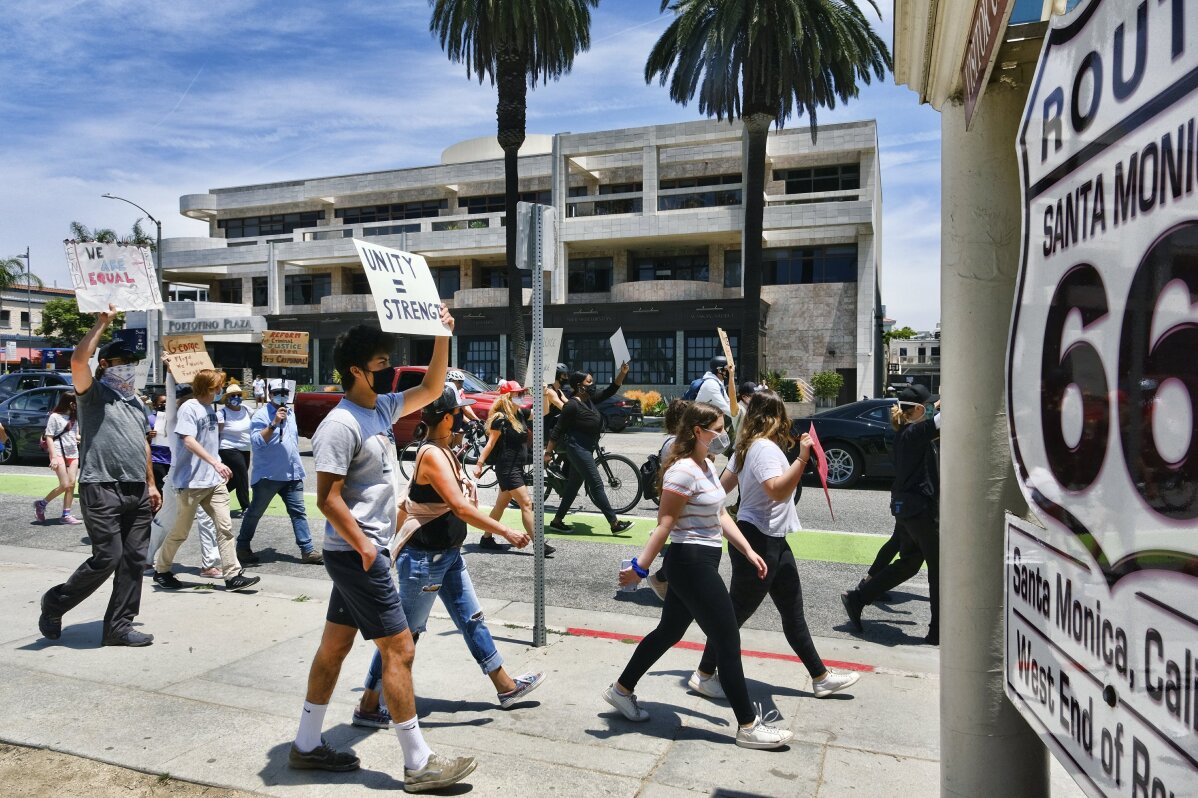 5 of 41

|
Protesters walk along Ocean Boulevard and chant slogans during a Black Lives Matter protest while blocking an intersection in Santa Monica, Calif. on Sunday, May 31, 2020, over the death of George Floyd, a black man who was in police custody in Minneapolis. Floyd died after being restrained by Minneapolis police officers on Memorial Day. (AP Photo/Richard Vogel)
6 of 41

|
Protesters stand on a corner and hold signs and chant slogan during a protest in Santa Monica, Calif., Sunday, May 31, 2020, over the death of George Floyd. Floyd died May 25 after he was pinned at the neck by a Minneapolis police officer. (AP Photo/Richard Vogel)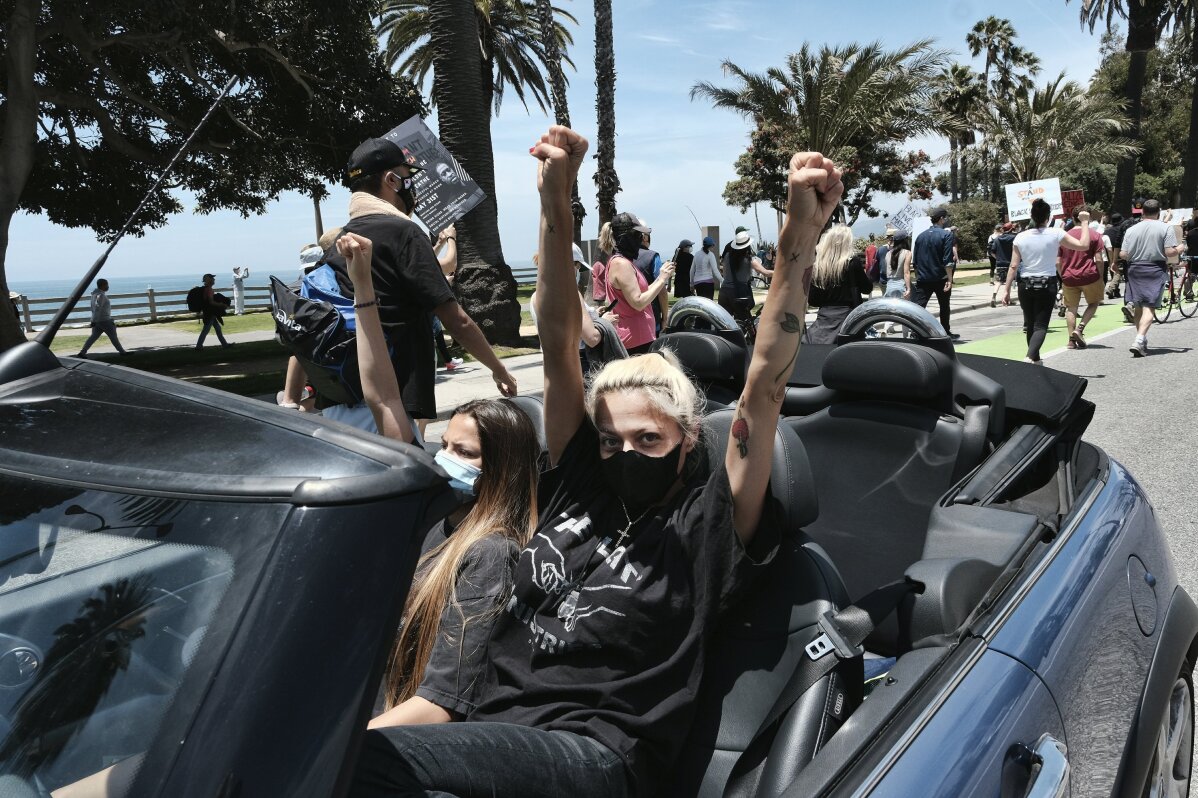 7 of 41

|
Women driving by in a convertible raise their fists in support as Black Lives Matter protesters march past along Ocean Boulevard in Santa Monica, Calif. on Sunday, May 31, 2020, over the death of George Floyd, a black man who was in police custody in Minneapolis. Floyd died after being restrained by Minneapolis police officers on Memorial Day. (AP Photo/Richard Vogel)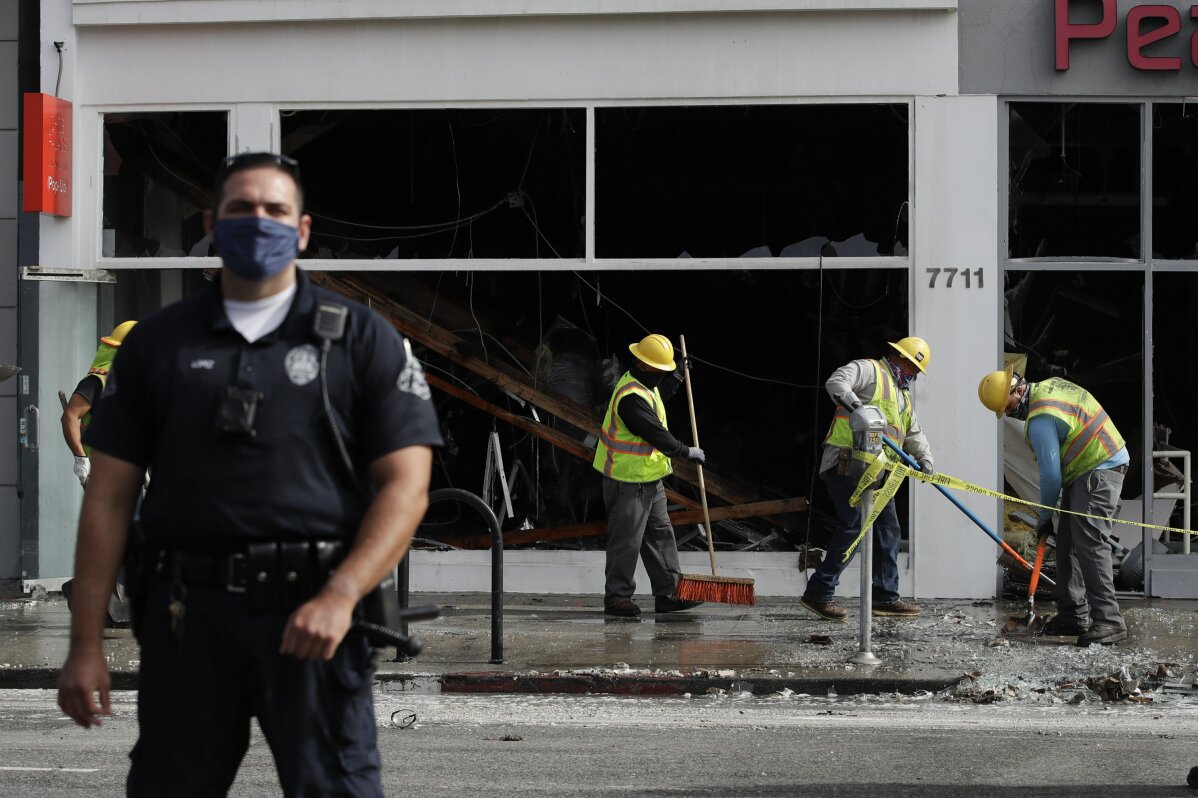 8 of 41

|
A police officer stands in front of a fire-damaged building as workers clean up, Sunday, May 31, 2020, in Los Angeles, following a night of unrest and protests over the death of George Floyd, a black man who was in police custody in Minneapolis. Floyd died after being restrained by Minneapolis police officers on May 25. (AP Photo/Marcio Jose Sanchez)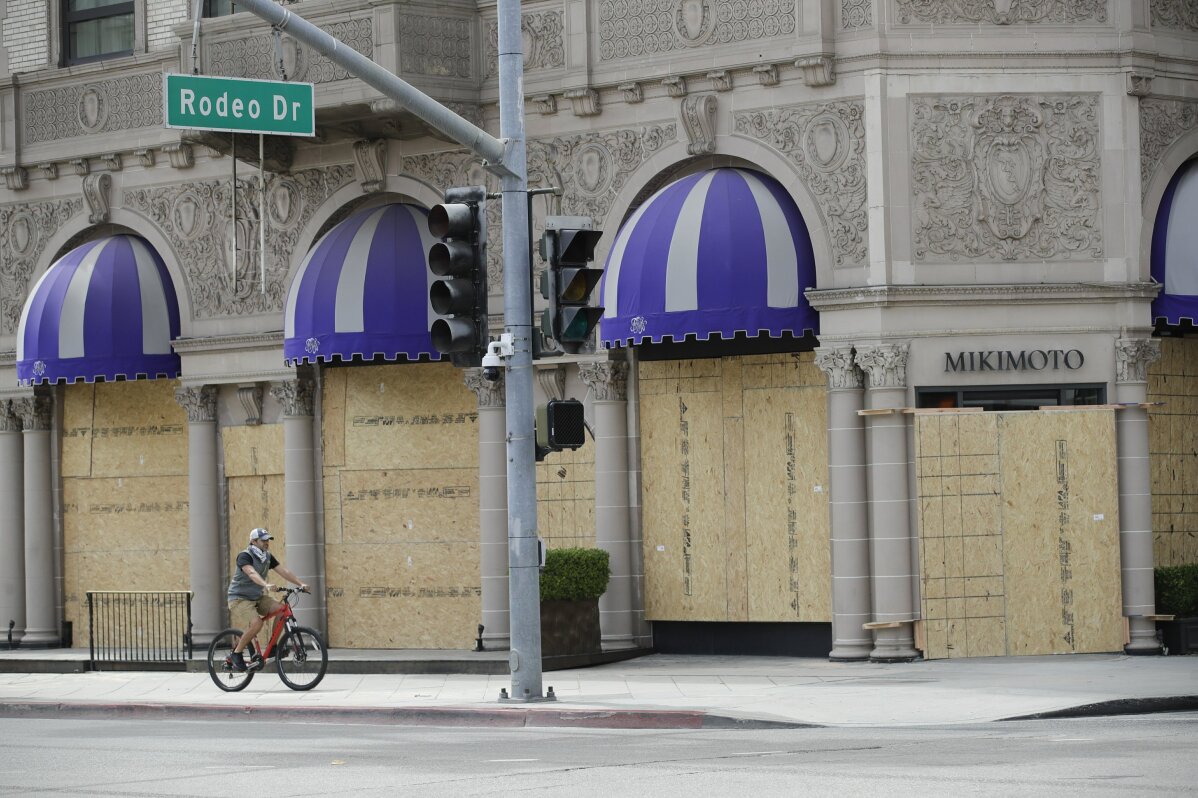 9 of 41

|
A man cycles past a boarded-up store a day after mass demonstrations over the death of George Floyd Sunday, May 31, 2020, in Beverly Hills, Calif. (AP Photo/Marcio Jose Sanchez)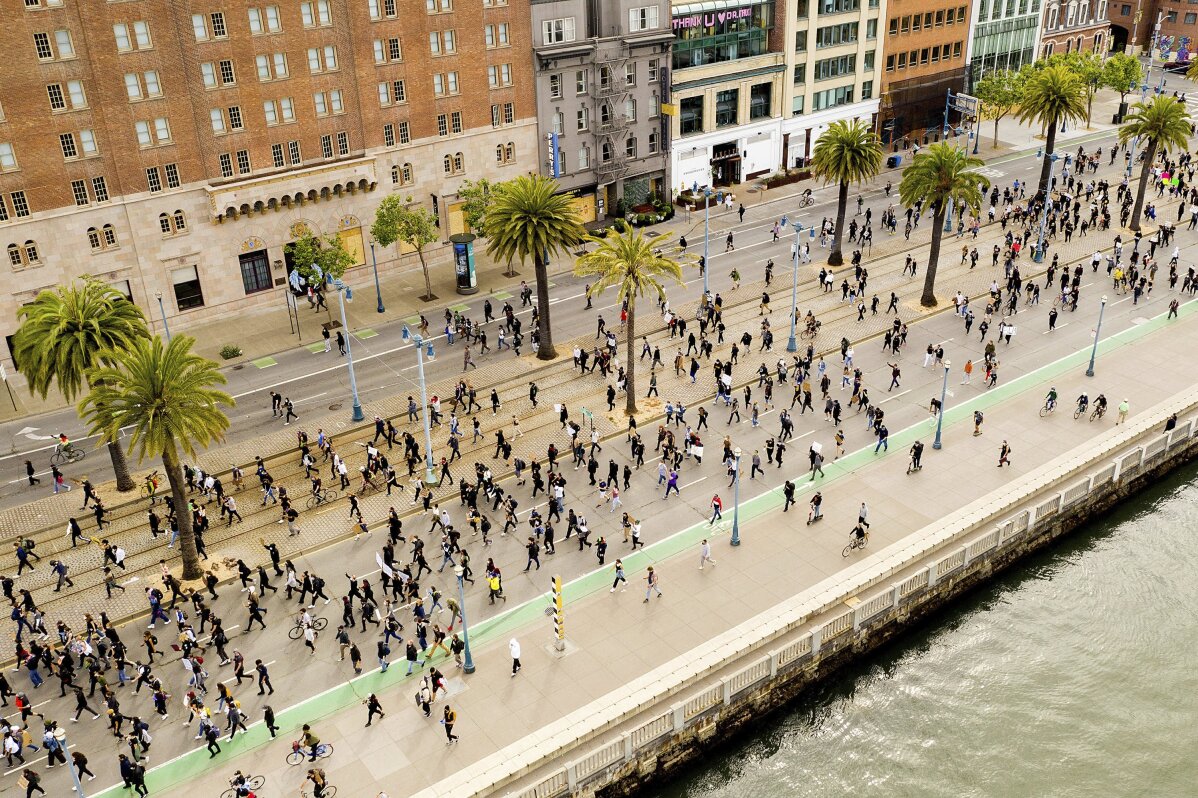 10 of 41

|
Protesters march along San Francisco's Embarcadero on Sunday, May 31, 2020. Widespread demonstrations have erupted throughout the By Area following following the death of George Floyd, who died after being restrained by Minneapolis police officers on May 25. (AP Photo/Noah Berger)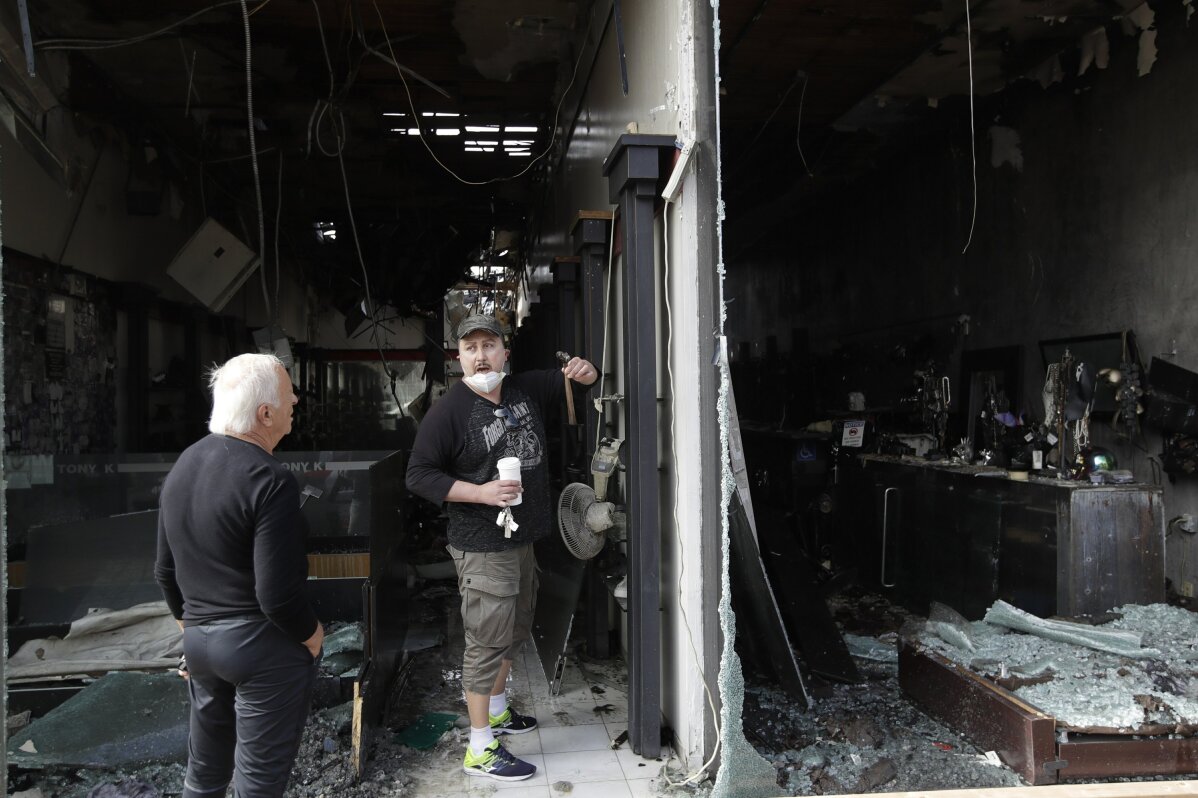 11 of 41

|
Alan Kokozian, center, oversees the damage to his shoe store Tony K, Sunday, May 31, 2020, in Los Angeles, following a night of unrest and protests over the death of George Floyd, a black man who was in police custody in Minneapolis. Floyd died after being restrained by Minneapolis police officers on May 25. (AP Photo/Marcio Jose Sanchez)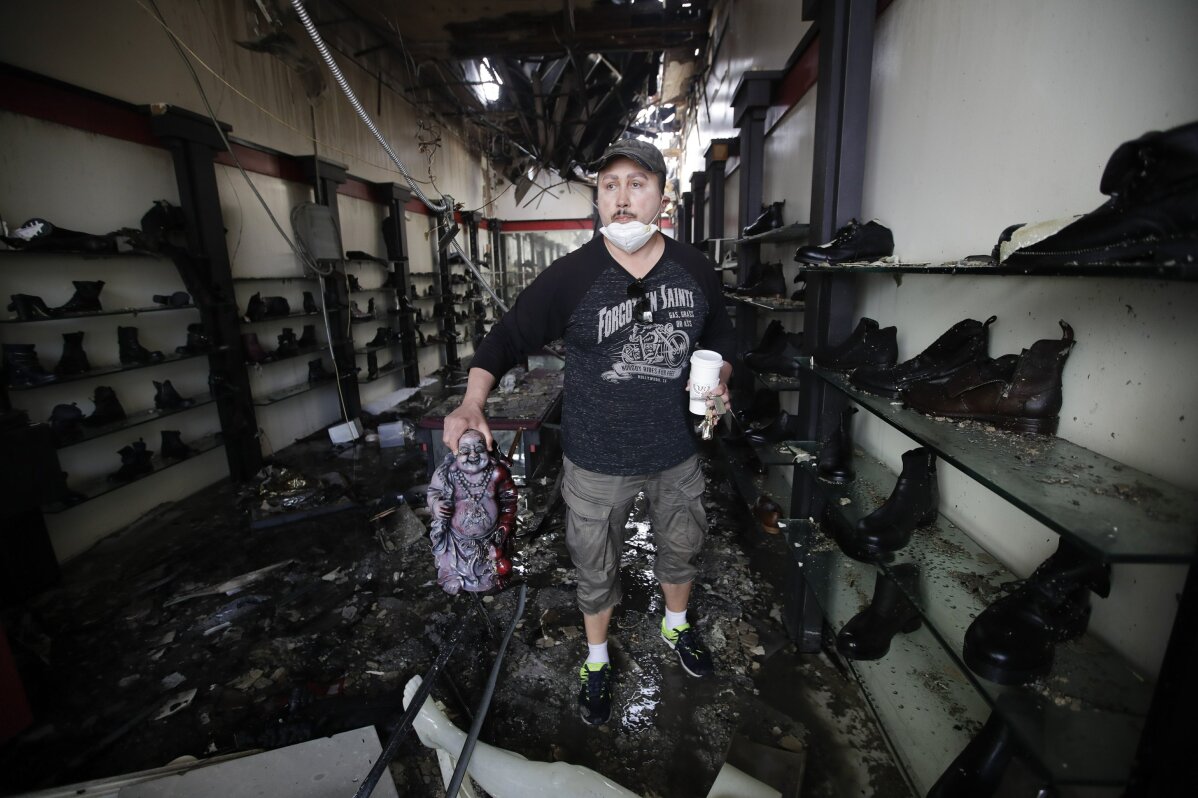 12 of 41

|
Alan Kokozian, center, oversees the damage to his shoe store Tony K, Sunday, May 31, 2020, in Los Angeles, following a night of unrest and protests over the death of George Floyd, a black man who was in police custody in Minneapolis. Floyd died after being restrained by Minneapolis police officers on May 25. (AP Photo/Marcio Jose Sanchez)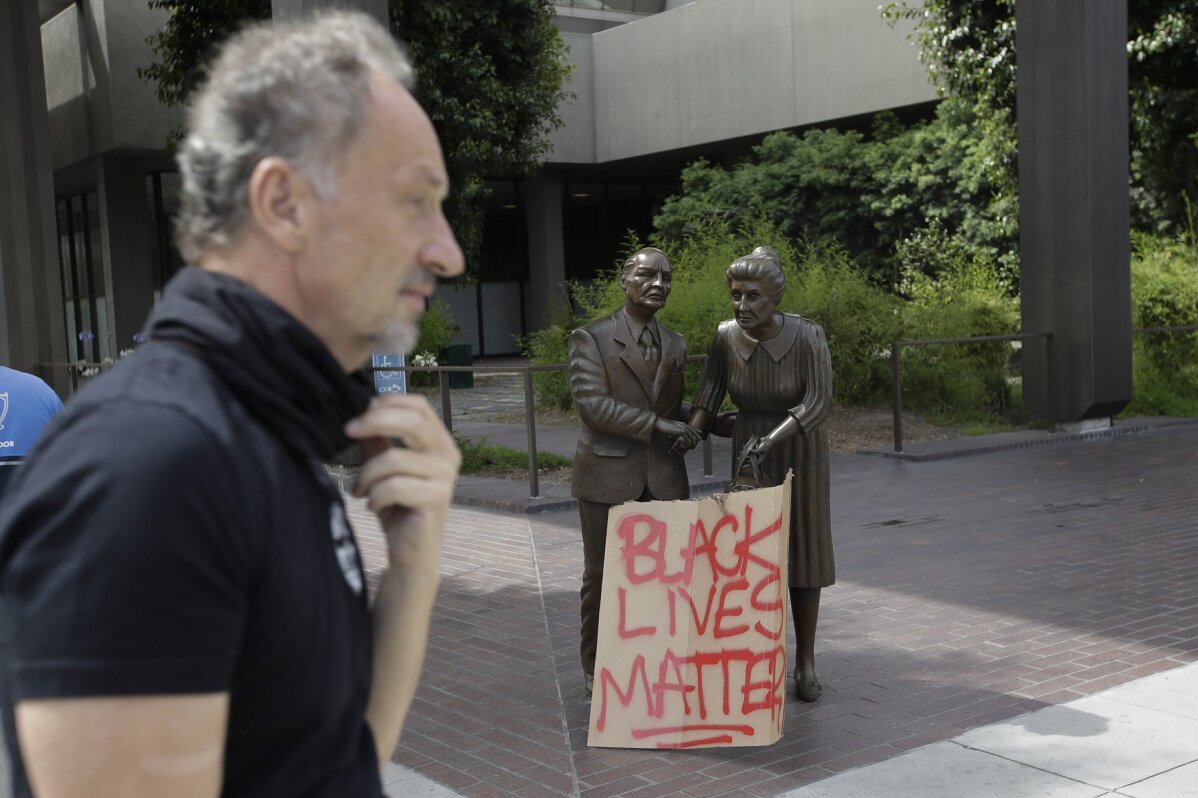 13 of 41

|
A man walks past a Black Lives Matter signs a day after mass demonstrations over the death of George Floyd Sunday, May 31, 2020, in Beverly Hills, Calif. (AP Photo/Marcio Jose Sanchez)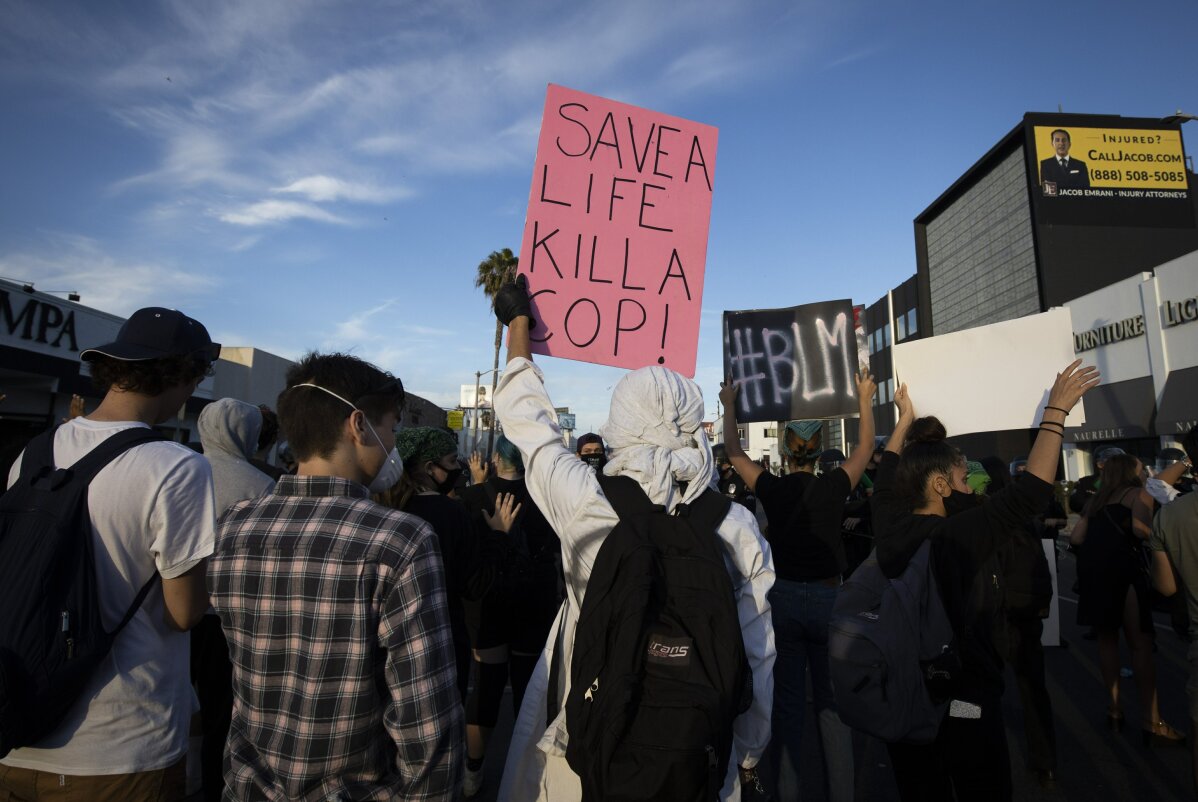 14 of 41

|
People protest during a demonstration in Los Angeles, Saturday, May 30, 2020, over the death of George Floyd, who died in police custody on Memorial Day in Minneapolis. (AP Photo/Christian Monterrosa)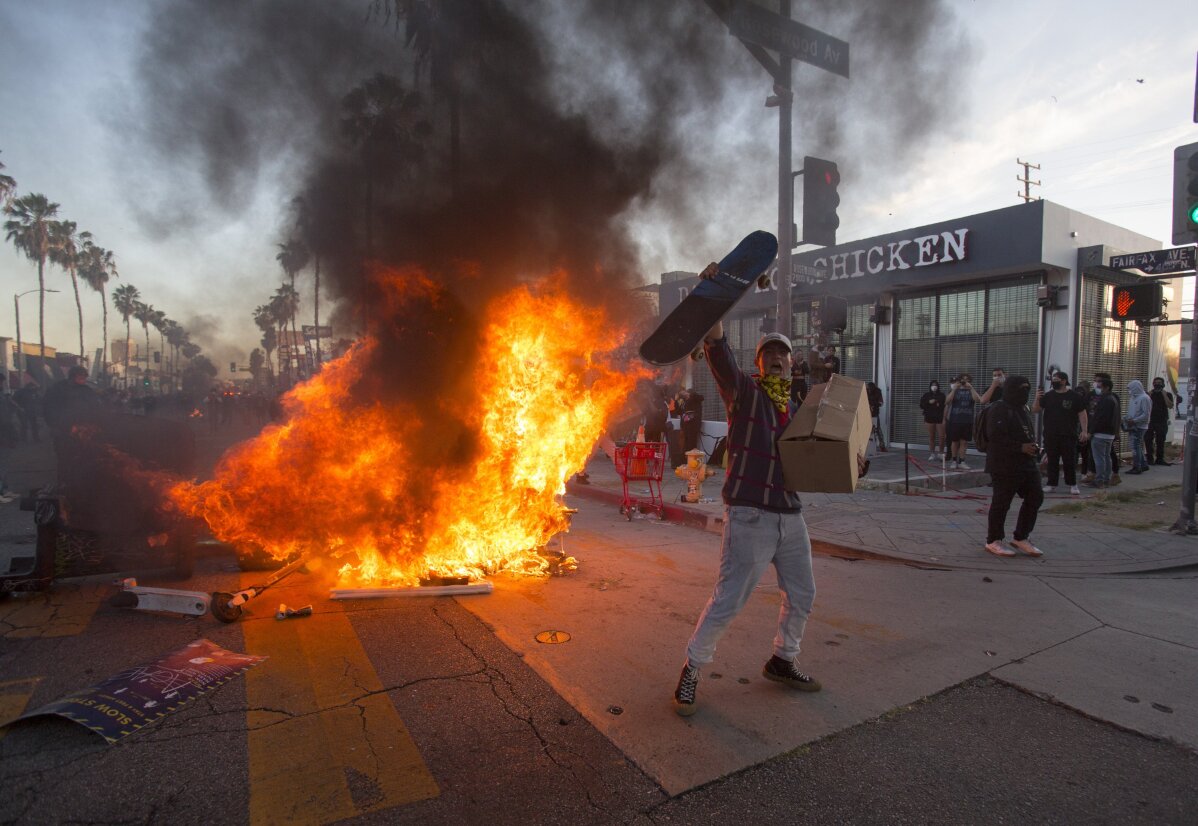 15 of 41

|
A protester shouts in front of a fire during a protest over the death of George Floyd, a handcuffed black man in police custody in Minneapolis, in Los Angeles, Saturday, May 30, 2020. (AP Photo/Ringo H.W. Chiu)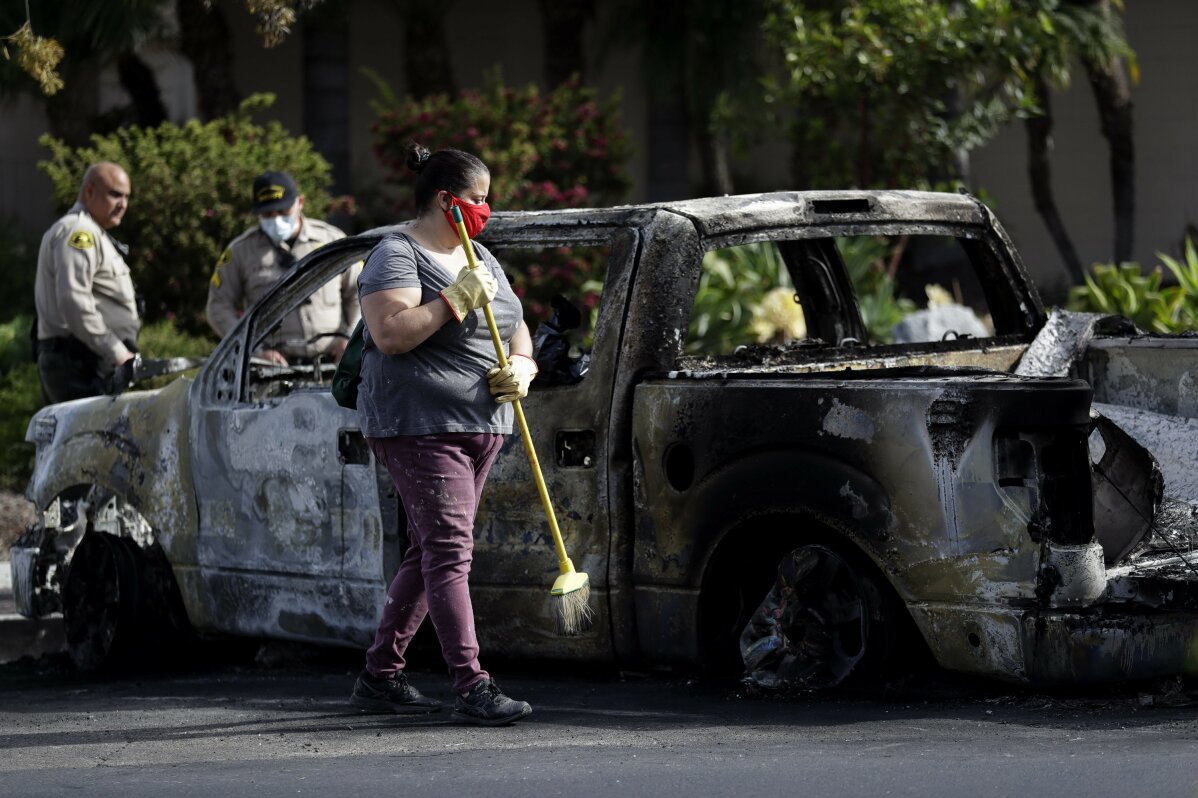 16 of 41

|
A woman sweeps around a burned truck after a protest over the death of George Floyd, Sunday, May 31, 2020, in La Mesa, Calif. Protests were held in U.S. cities over the death of Floyd, a black man who died after being restrained by Minneapolis police officers on May 25. (AP Photo/Gregory Bull)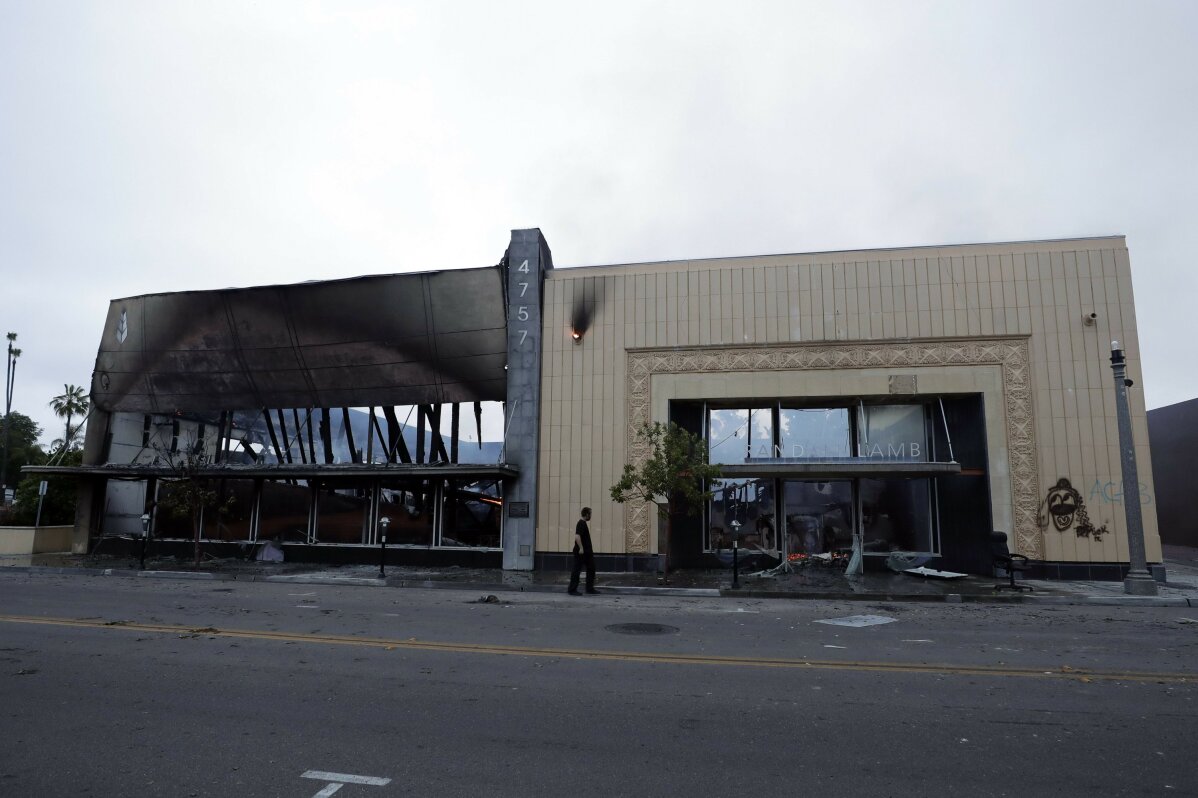 17 of 41

|
A man passes a burning building after a protest over the death of George Floyd, Sunday, May 31, 2020, in La Mesa, Calif. Protests were held in U.S. cities over the death of Floyd, a black man who died after being restrained by Minneapolis police officers on May 25. (AP Photo/Gregory Bull)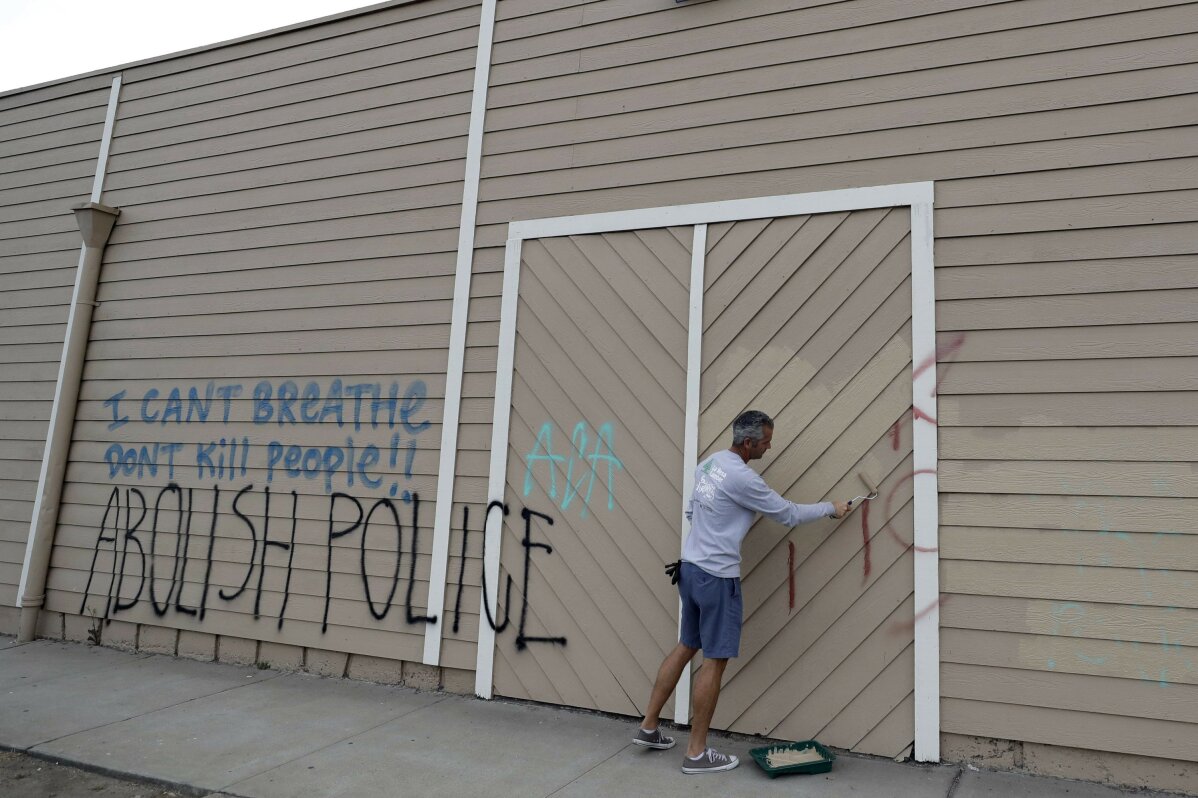 18 of 41

|
A worker for La Mesa Lumber paints over graffiti after a protest over the death of George Floyd, Sunday, May 31, 2020, in La Mesa, Calif. Protests were held in U.S. cities over the death of Floyd, a black man who died after being restrained by Minneapolis police officers on May 25. (AP Photo/Gregory Bull)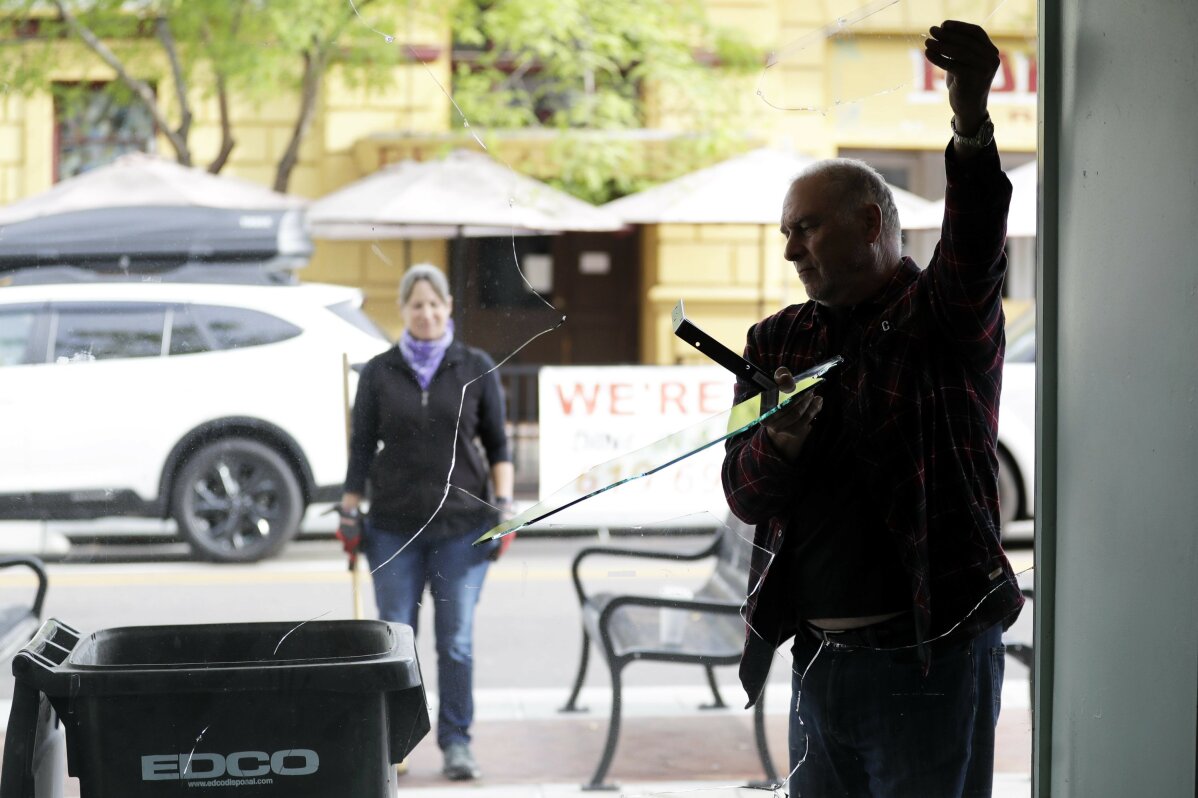 19 of 41

|
Building owner Tony Gaipa, right, removes broken glass from his storefront after a protest over the death of George Floyd, Sunday, May 31, 2020, in La Mesa, Calif. Protests were held in U.S. cities over the death of Floyd, a black man who died after being restrained by Minneapolis police officers on May 25. (AP Photo/Gregory Bull)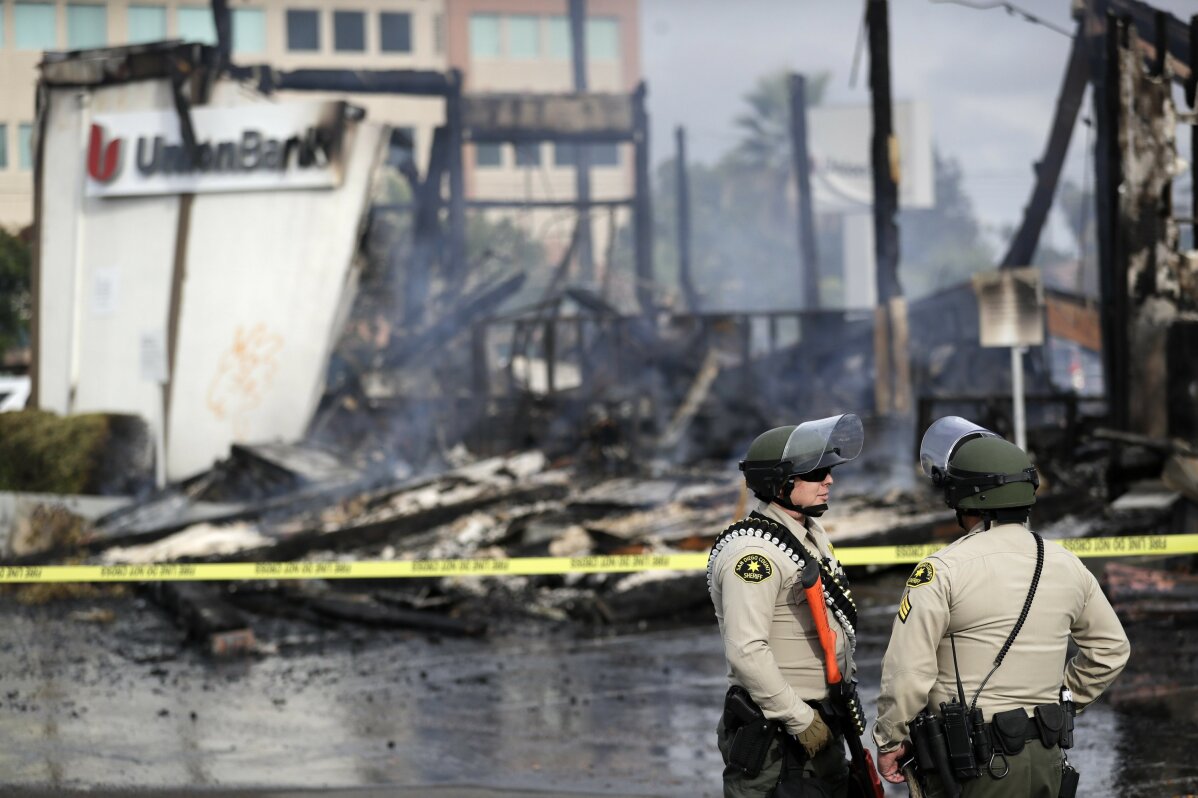 20 of 41

|
San Diego County sheriff officers stand guard in front of a burning bank building after a protest over the death of George Floyd, Sunday, May 31, 2020, in La Mesa, Calif. Protests were held in U.S. cities over the death of Floyd, a black man who died after being restrained by Minneapolis police officers on May 25. (AP Photo/Gregory Bull)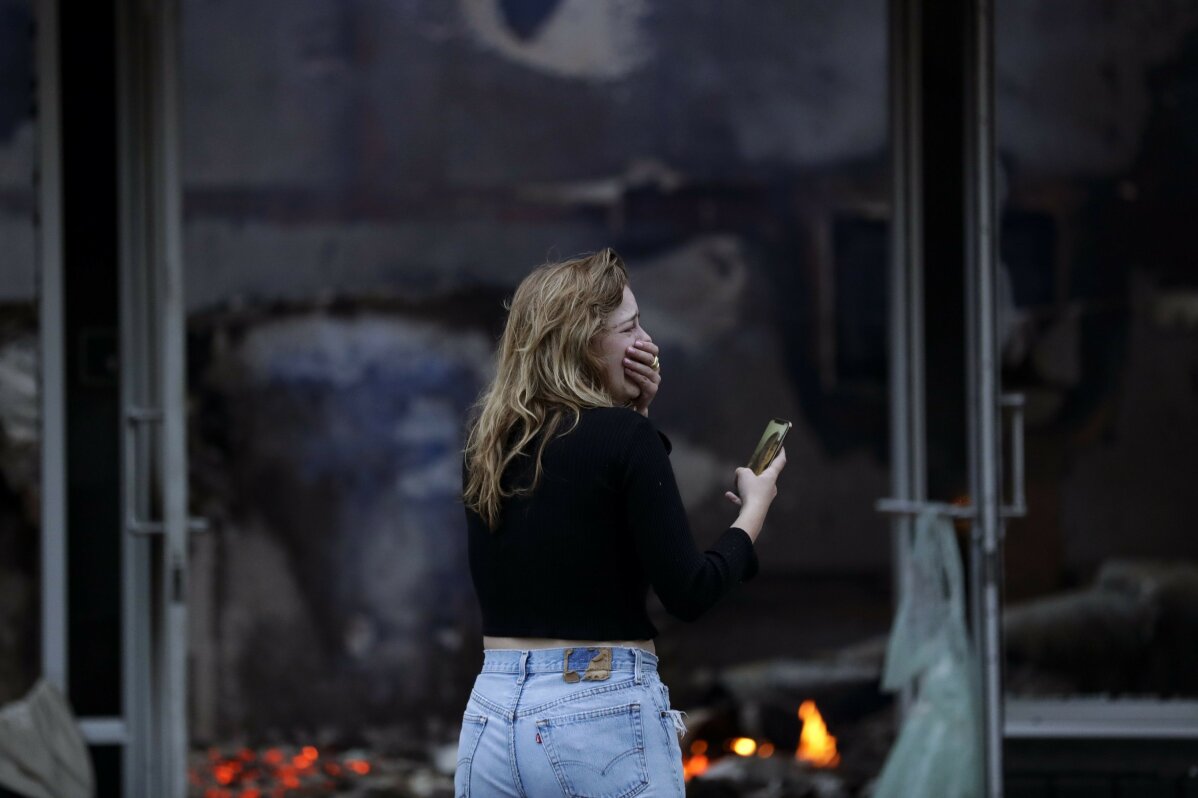 21 of 41

|
A woman cries as she watches a building burn after a protest over the death of George Floyd, Sunday, May 31, 2020, in La Mesa, Calif. Protests were held in U.S. cities over the death of Floyd, a black man who died after being restrained by Minneapolis police officers on May 25. (AP Photo/Gregory Bull)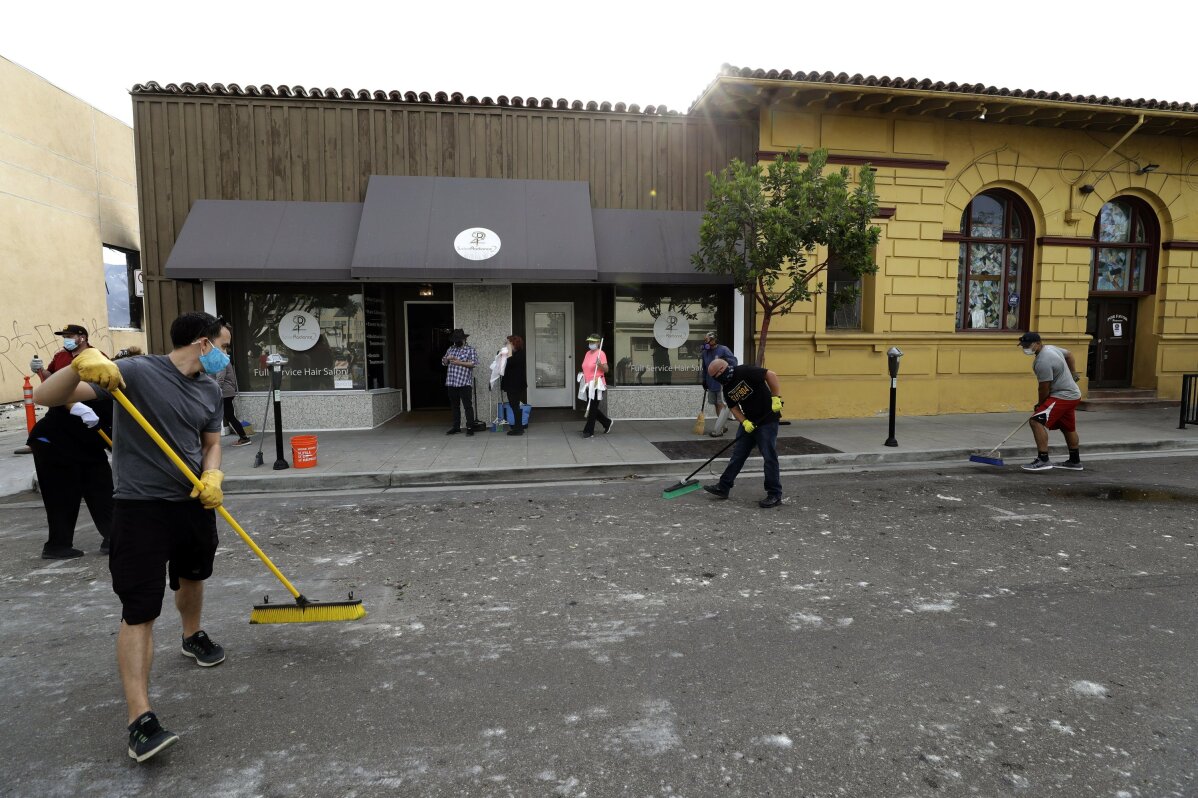 22 of 41

|
People help clean up broken glass and debris after a protest over the death of George Floyd, Sunday, May 31, 2020, in La Mesa, Calif. Protests were held in U.S. cities over the death of Floyd, a black man who died after being restrained by Minneapolis police officers on May 25. (AP Photo/Gregory Bull)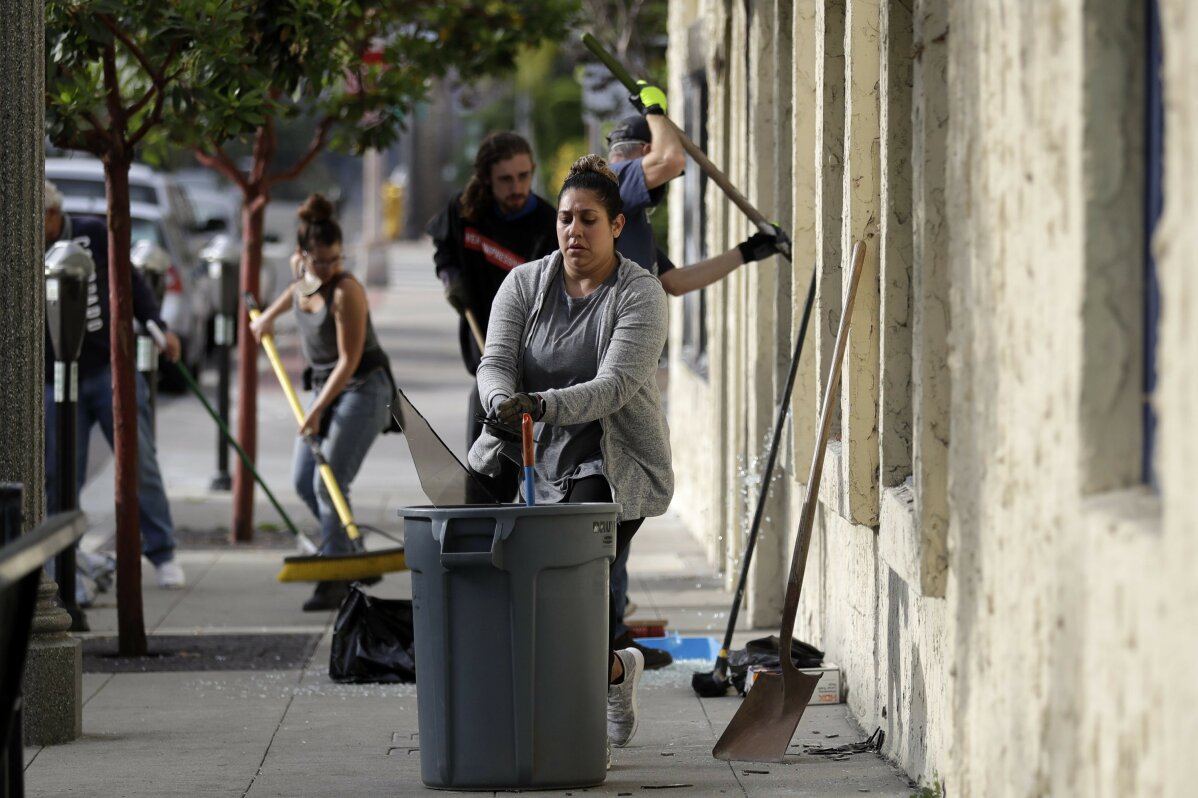 23 of 41

|
People help clean up broken glass and debris after a protest over the death of George Floyd, Sunday, May 31, 2020, in La Mesa, Calif. Protests were held in U.S. cities over the death of Floyd, a black man who died after being restrained by Minneapolis police officers on May 25. (AP Photo/Gregory Bull)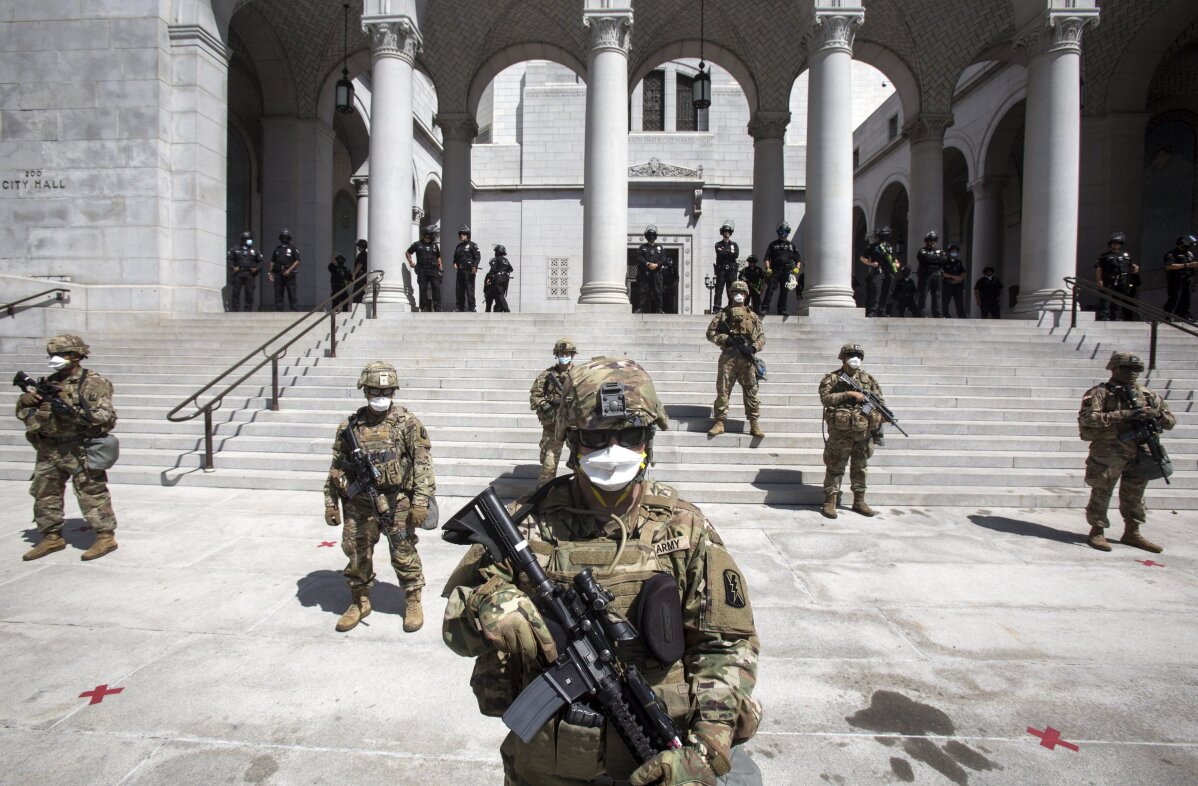 24 of 41

|
Members of California National Guard stand guard outside the City Hall, Sunday, May 31, 2020, in Los Angeles. The National Guard is patrolling Los Angeles as the city begins cleaning up following a night of violent protests against police brutality. The demonstration Saturday night was sparked by the death of George Floyd, a black man who was killed in police custody in Minneapolis on May 25. (AP Photo/Ringo H.W. Chiu)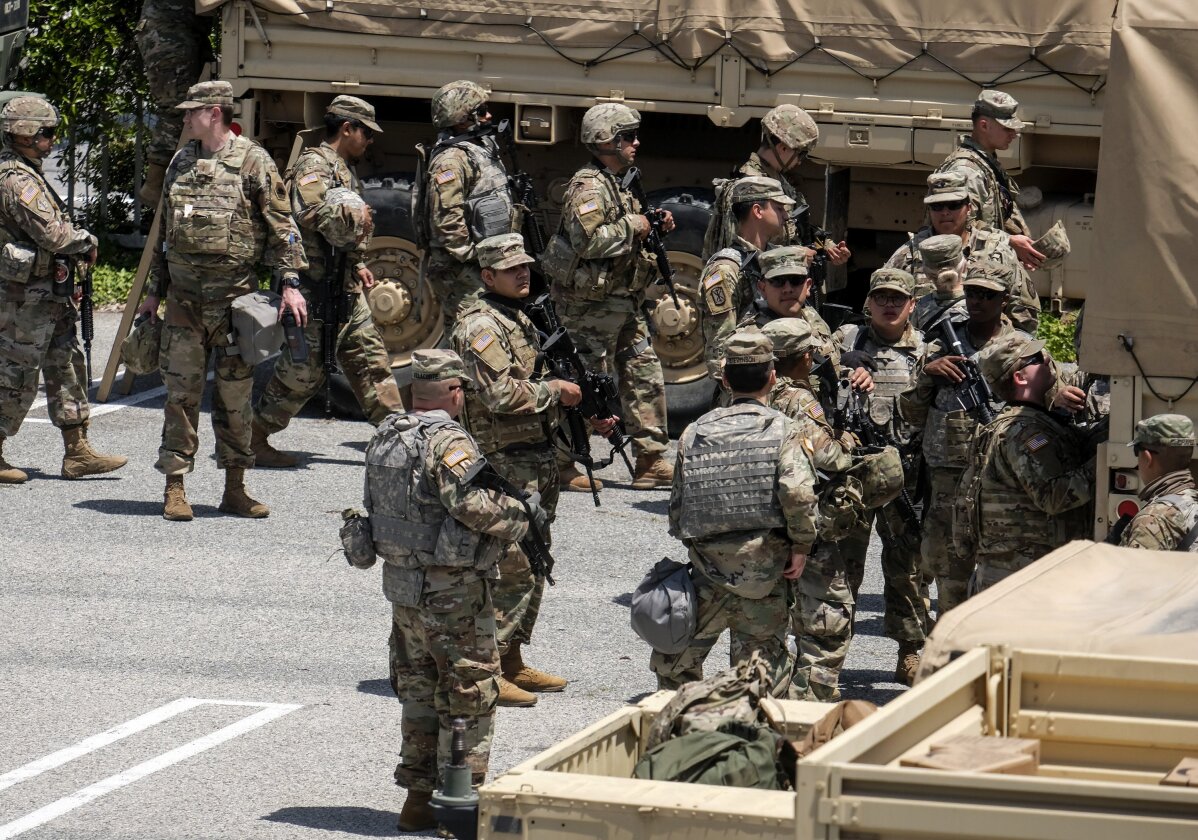 25 of 41

|
Members of California National Guard are seen at a parking lot near Los Angeles Convention Center, Sunday, May 31, 2020, in Los Angeles. The National Guard is patrolling Los Angeles as the city begins cleaning up after a night of violence by demonstrators that saw clash with officers and torch police vehicles and pillage stores. (AP Photo/Ringo H.W. Chiu)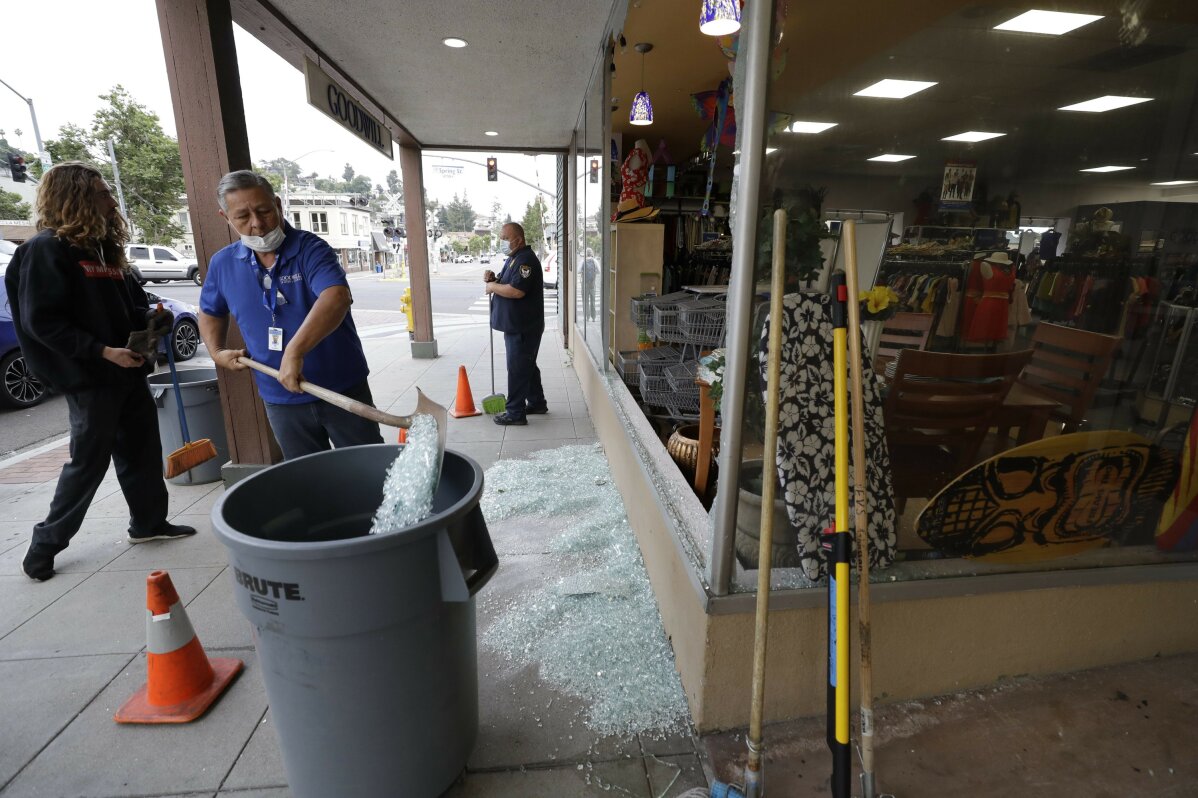 26 of 41

|
Workers clean up glass from a broken window at a Goodwill store after a protest over the death of George Floyd, Sunday, May 31, 2020, in La Mesa, Calif. Protests were held in U.S. cities over the death of Floyd, a black man who died after being restrained by Minneapolis police officers on May 25. (AP Photo/Gregory Bull)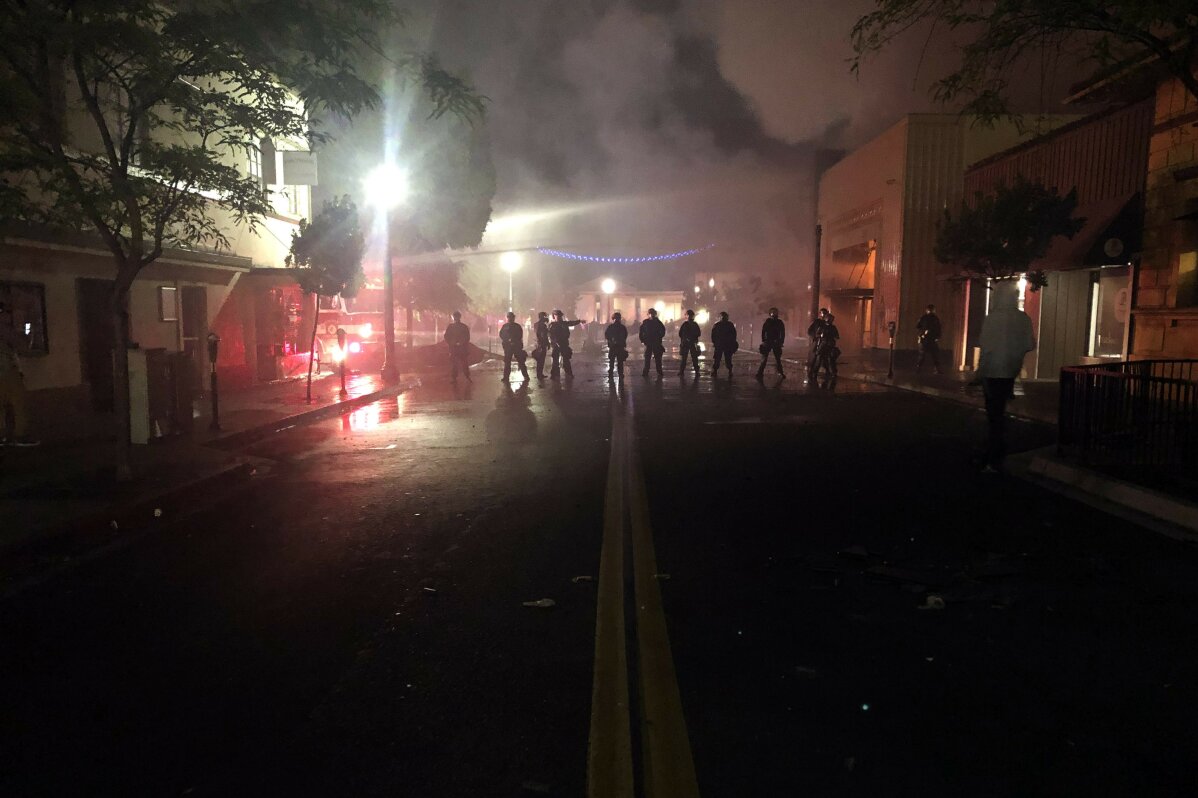 27 of 41

|
Police form a line during a protest over the death of George Floyd, Sunday, May 31, 2020, in La Mesa, Calif. Protests were held in U.S. cities over the death of Floyd, a black man who died after being restrained by Minneapolis police officers on May 25. (AP Photo/Elliot Spagat)
28 of 41

|
A bank burns during a protest over the death of George Floyd, Sunday, May 31, 2020, in La Mesa, Calif. Protests were held in U.S. cities over the death of Floyd, a black man who died after being restrained by Minneapolis police officers on May 25. (AP Photo/Elliot Spagat)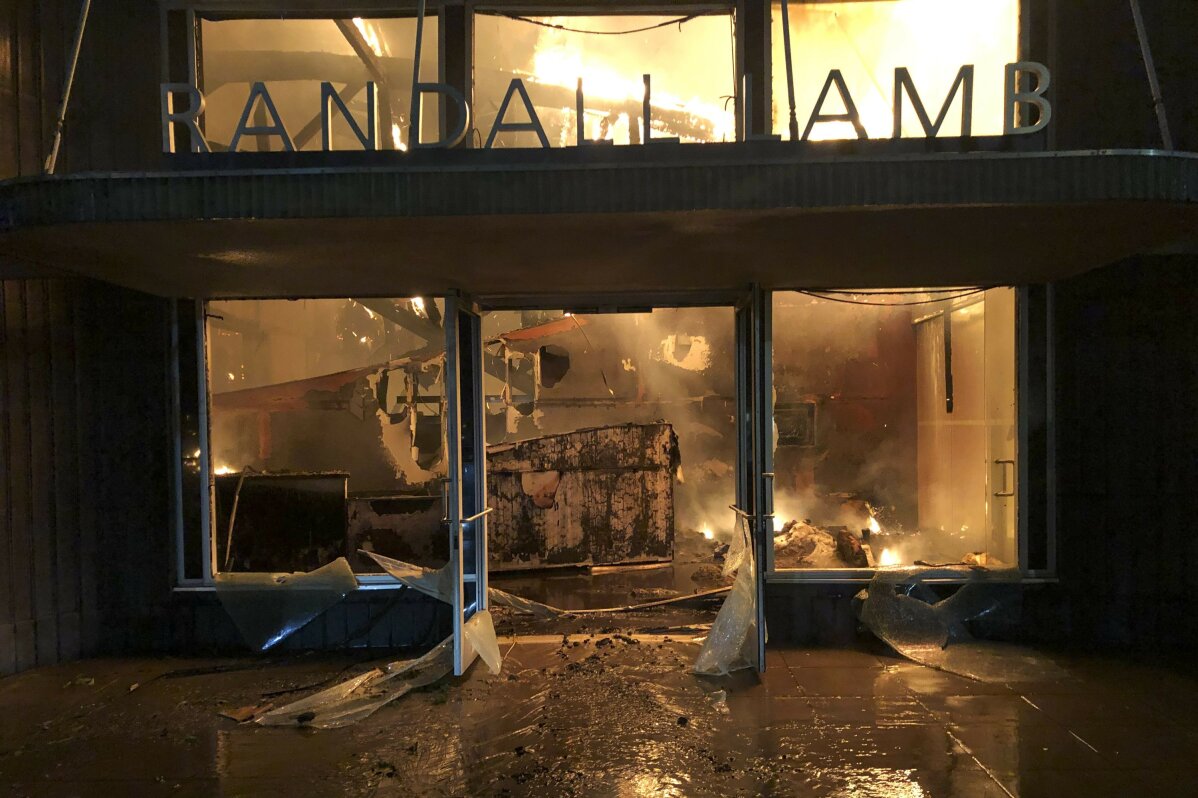 29 of 41

|
A building burns during a protest over the death of George Floyd, Sunday, May 31, 2020, in La Mesa, Calif. Protests were held in U.S. cities over the death of Floyd, a black man who died after being restrained by Minneapolis police officers on May 25. (AP Photo/Elliot Spagat)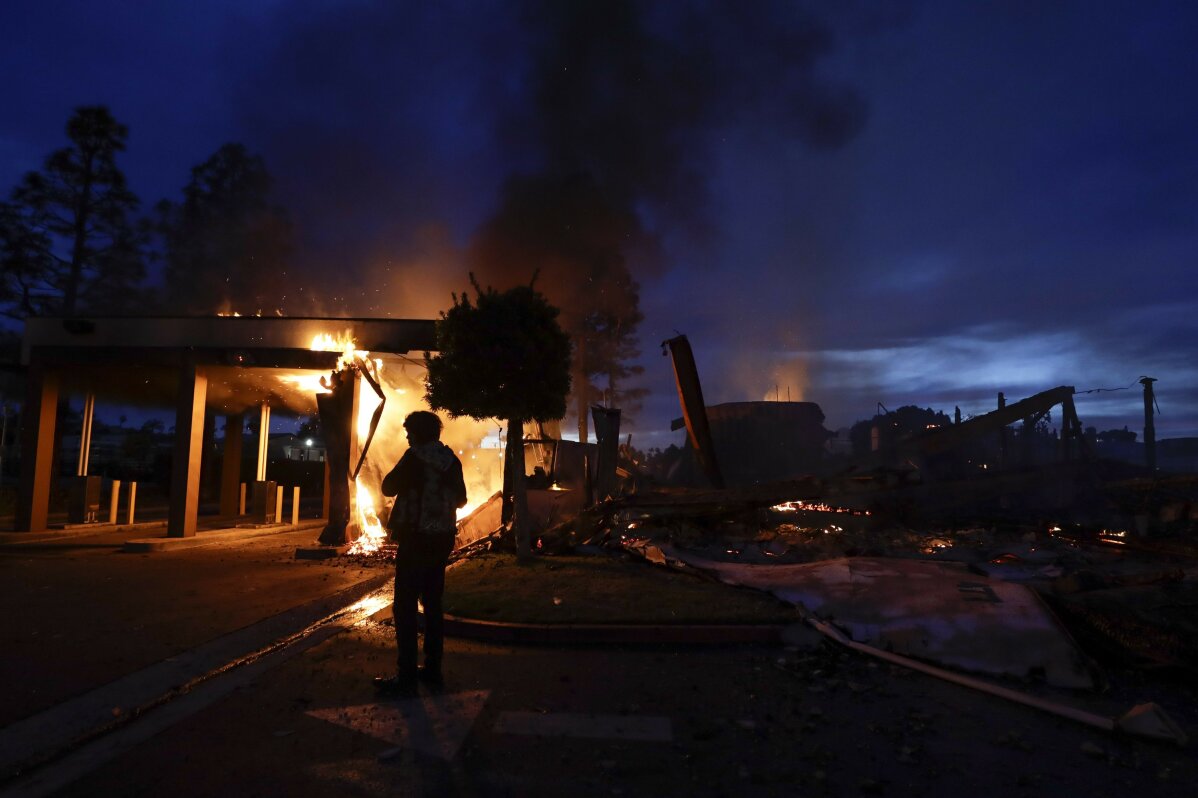 30 of 41

|
A man looks on as a bank burns after a protest over the death of George Floyd, Sunday, May 31, 2020, in La Mesa, Calif. Protests were held in U.S. cities over the death of Floyd, a black man who died after being restrained by Minneapolis police officers on May 25. (AP Photo/Gregory Bull)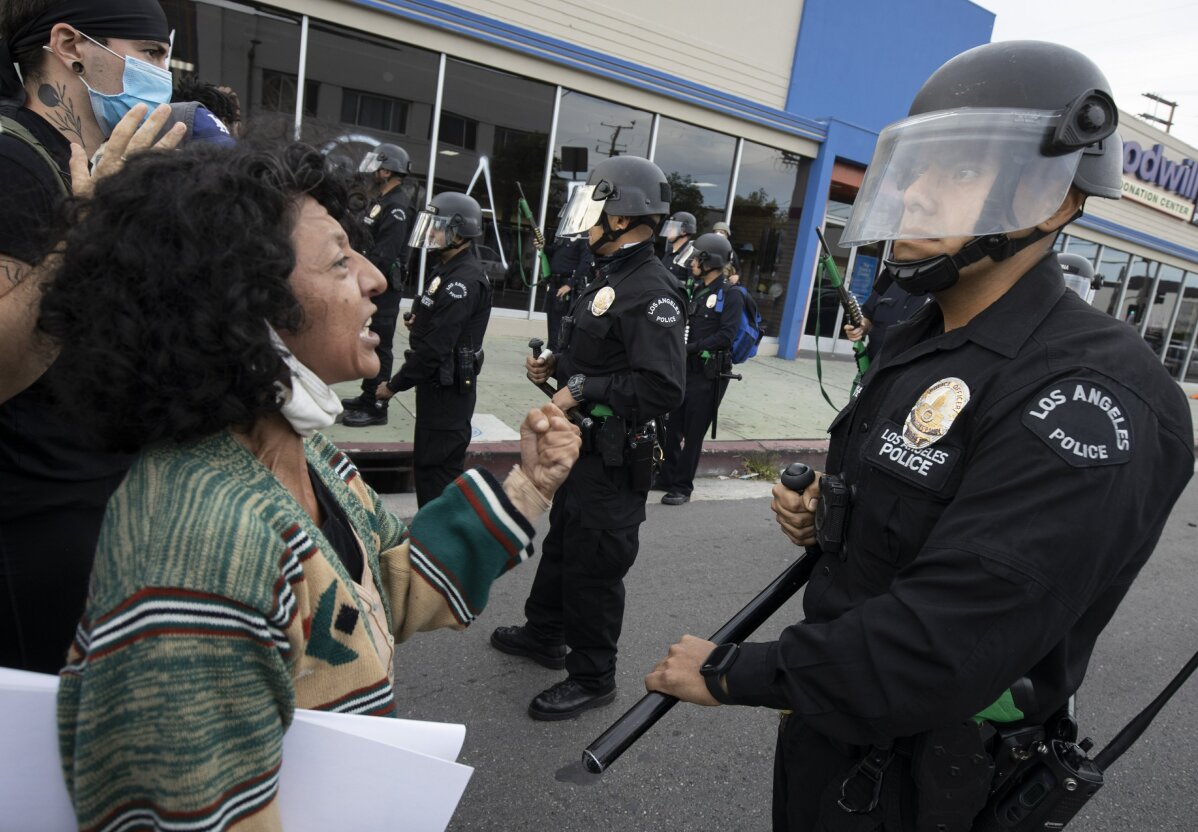 31 of 41

|
Protesters clash with police officers during a demonstration in Los Angeles, Saturday, May 30, 2020, over the death of George Floyd, who died in police custody on Memorial Day in Minneapolis. (AP Photo/ Christian Monterrosa)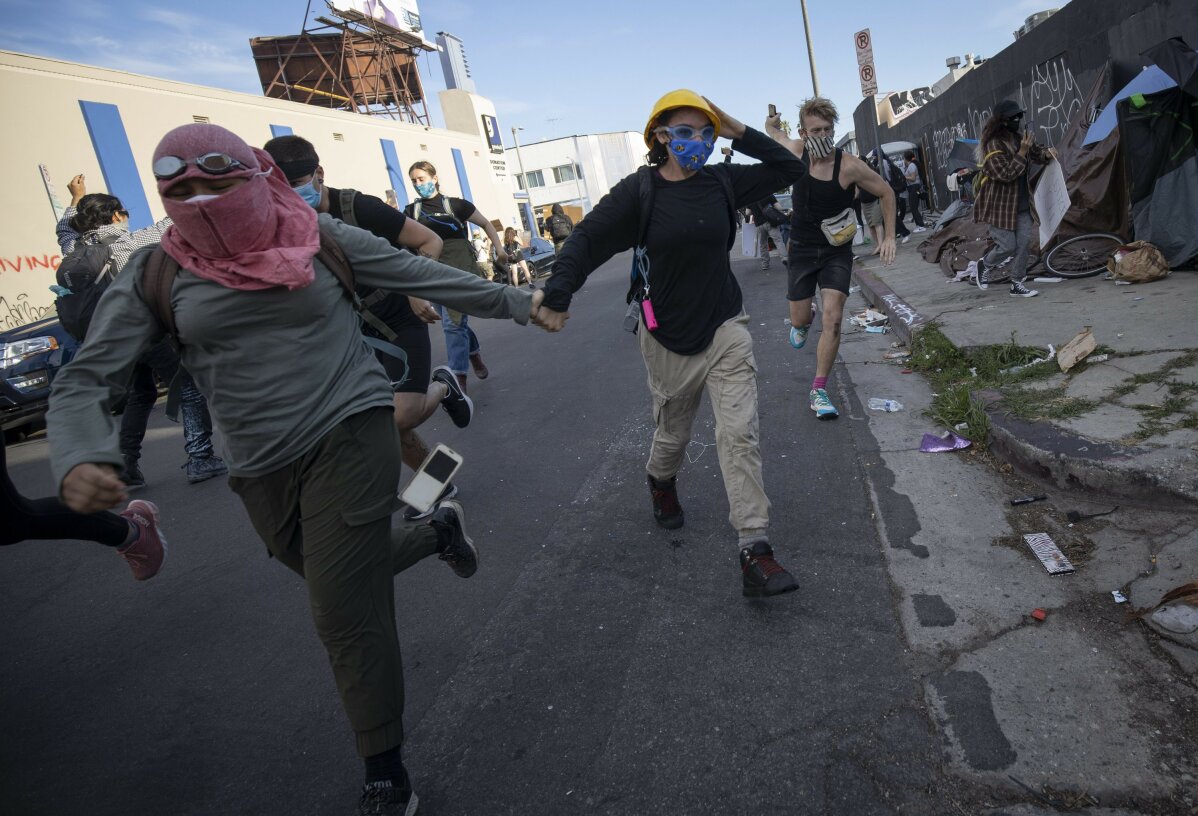 32 of 41

|
Protesters run during clashes with police officers in Los Angeles, Saturday, May 30, 2020, over the death of George Floyd, who died in police custody on Memorial Day in Minneapolis. (AP Photo/ Christian Monterrosa)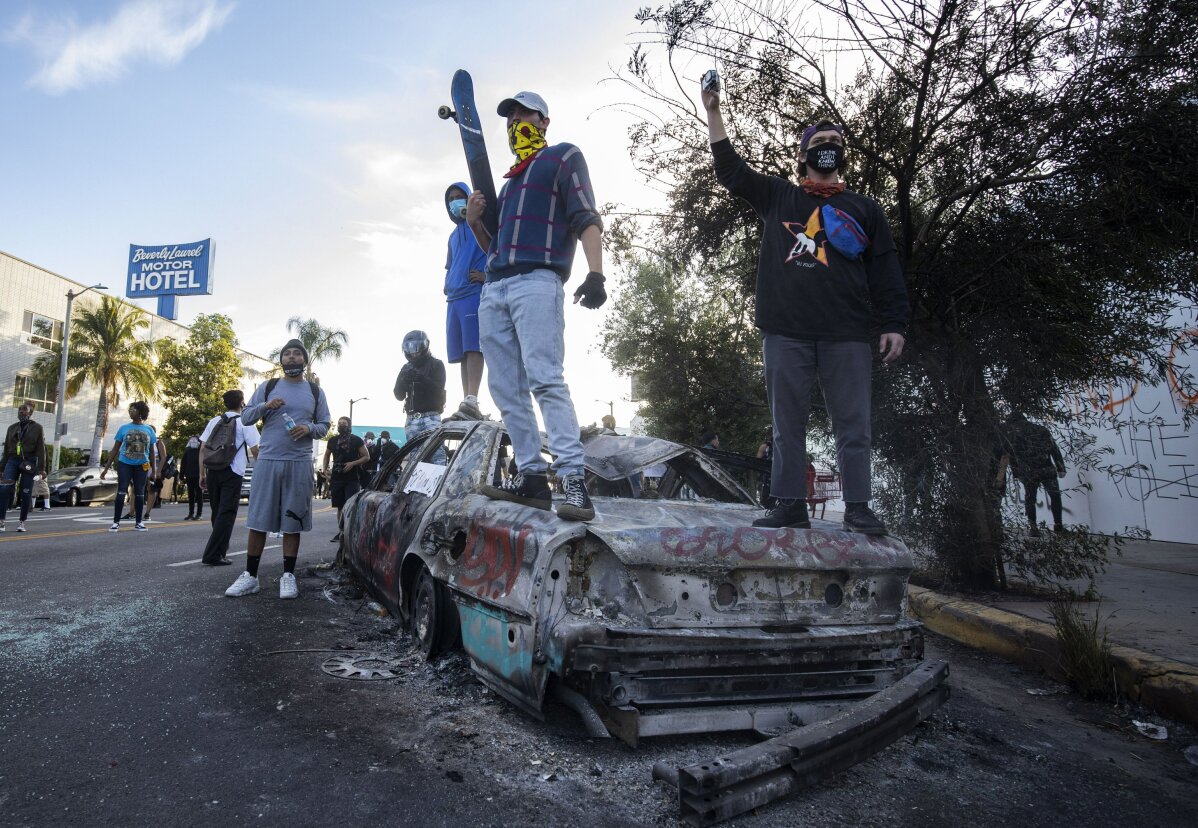 33 of 41

|
Protesters stand on top of a burned vehicle during a demonstration in Los Angeles, Saturday, May 30, 2020, over the death of George Floyd, who died in police custody on Memorial Day in Minneapolis. (AP Photo/ Christian Monterrosa)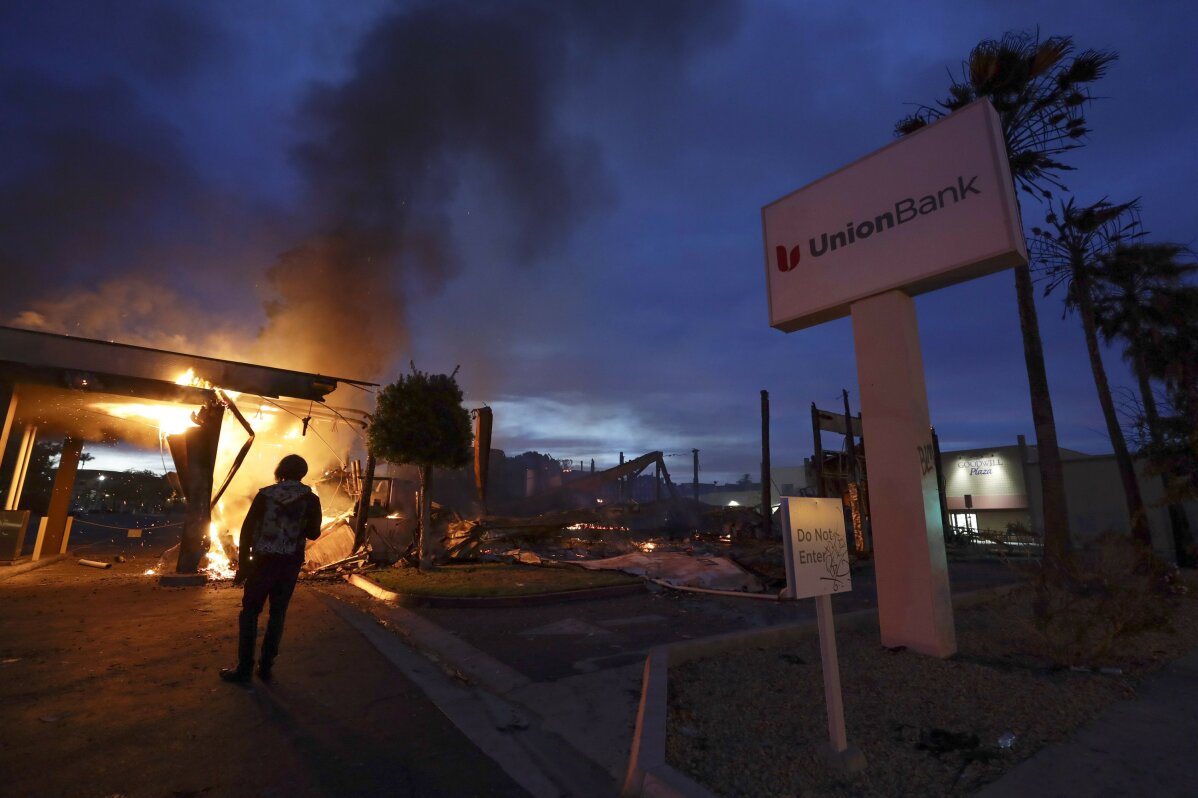 34 of 41

|
A man looks on as a bank burns after a protest over the death of George Floyd, Sunday, May 31, 2020, in La Mesa, Calif. Protests were held in U.S. cities over the death of Floyd, a black man who died after being restrained by Minneapolis police officers on May 25. (AP Photo/Gregory Bull)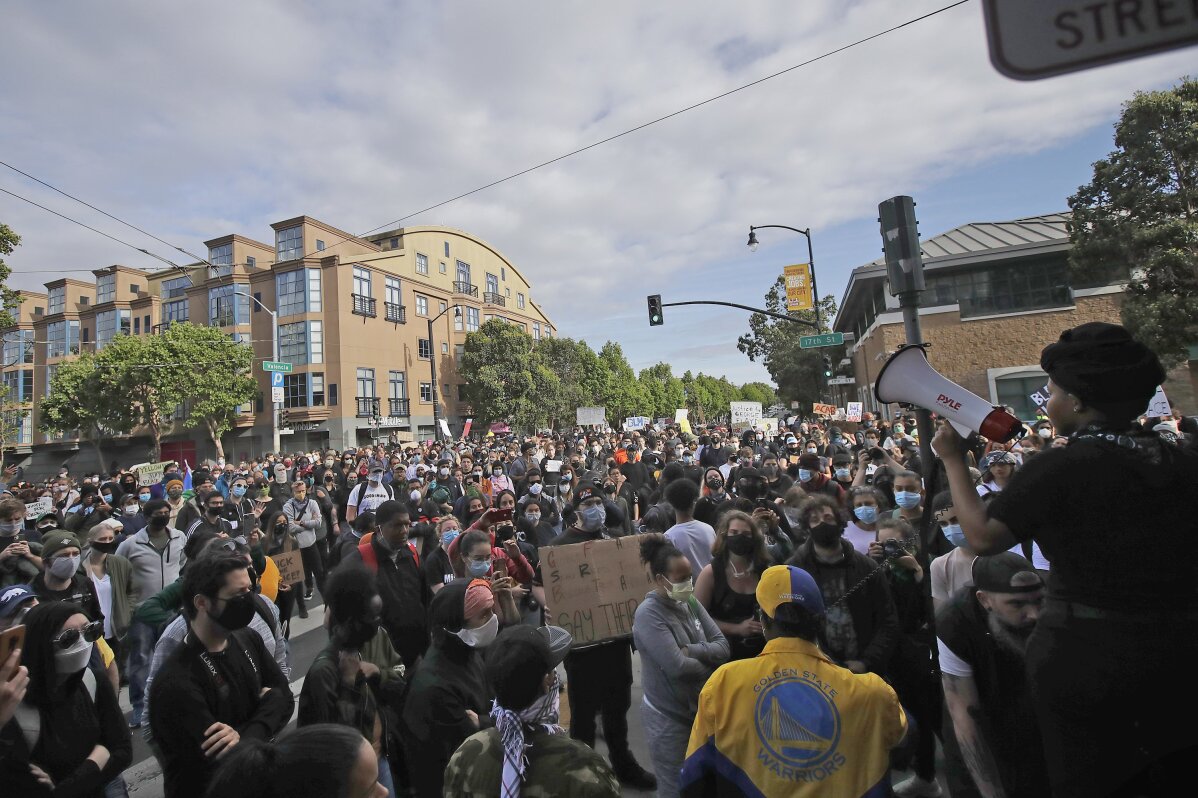 35 of 41

|
People protesting over the death of George Floyd, a handcuffed black man in police custody in Minneapolis, gather across from Mission Police Station in San Francisco, Saturday, May 30, 2020. (AP Photo/Jeff Chiu)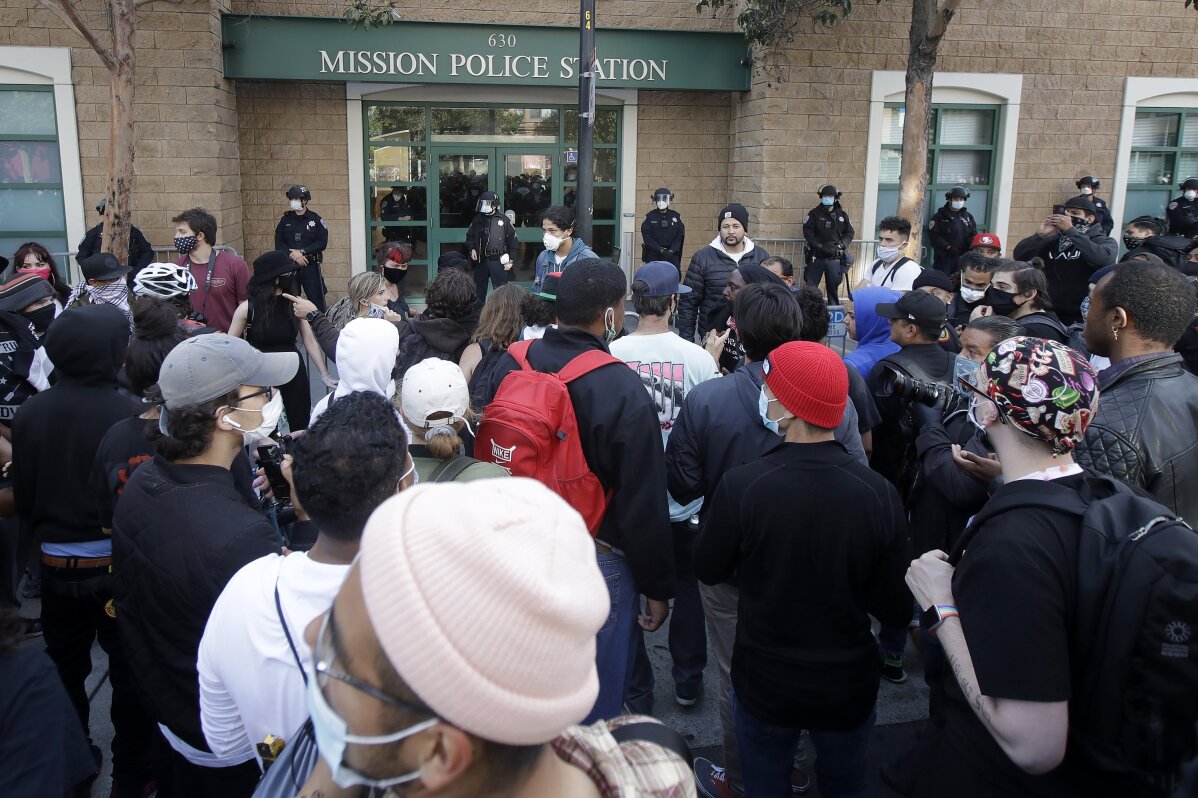 36 of 41

|
People protesting over the death of George Floyd, a handcuffed black man in police custody in Minneapolis, gather outside of Mission Police Station in San Francisco, Saturday, May 30, 2020. (AP Photo/Jeff Chiu)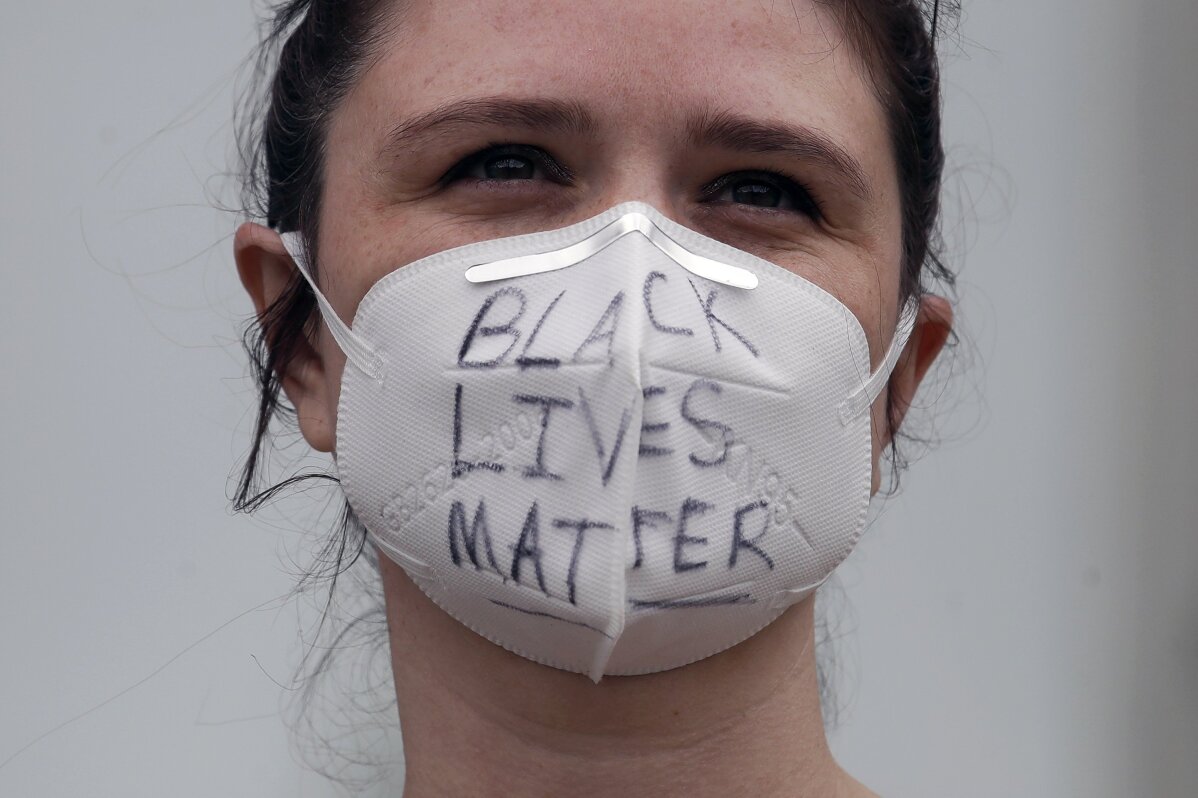 37 of 41

|
Annah Dominis wears a face mask with Black Lives Matter written on it, in San Francisco, Saturday, May 30, 2020,.at a protest over the Memorial Day death of George Floyd. Floyd was a black man who was killed in police custody in Minneapolis on May 25.. (AP Photo/Jeff Chiu)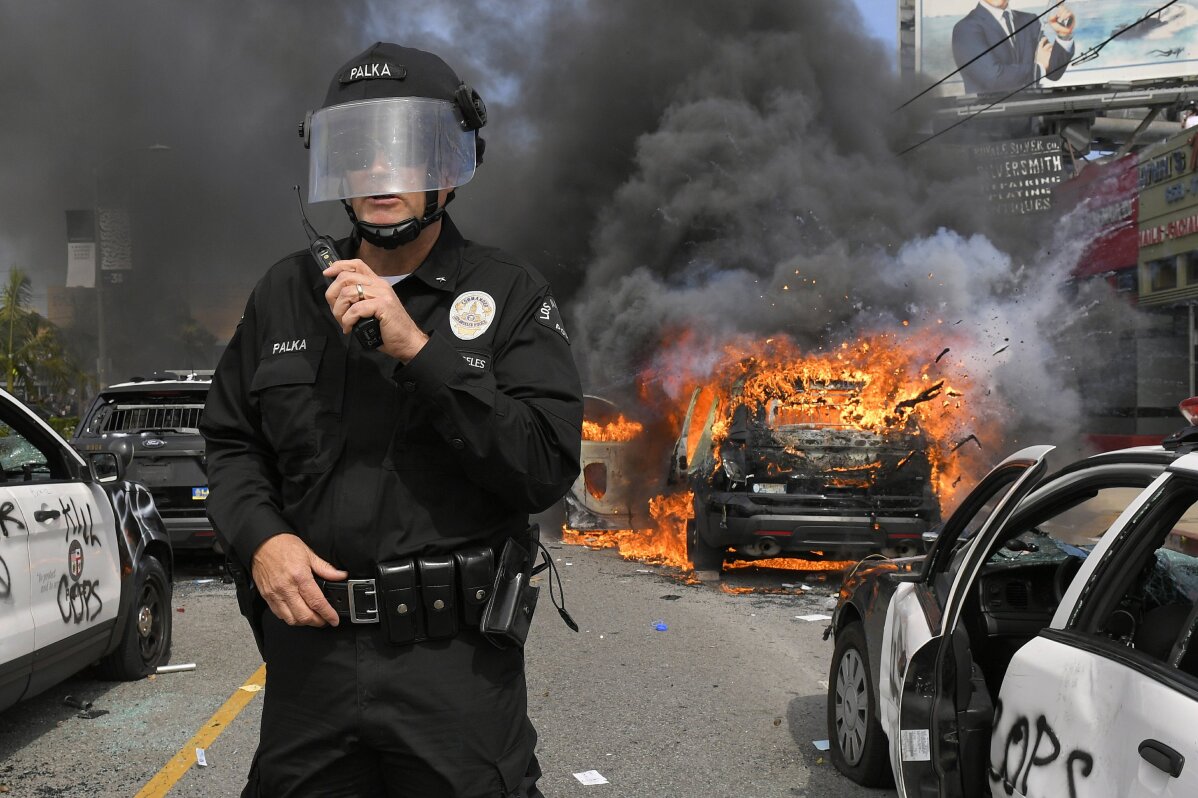 38 of 41

|
Los Angeles Police Department commander Cory Palka stands among several destroyed police cars as one explodes while on fire during a protest over the death of George Floyd, Saturday, May 30, 2020, in Los Angeles. Floyd died in police custody on Memorial Day in Minneapolis. (AP Photo/Mark J. Terrill)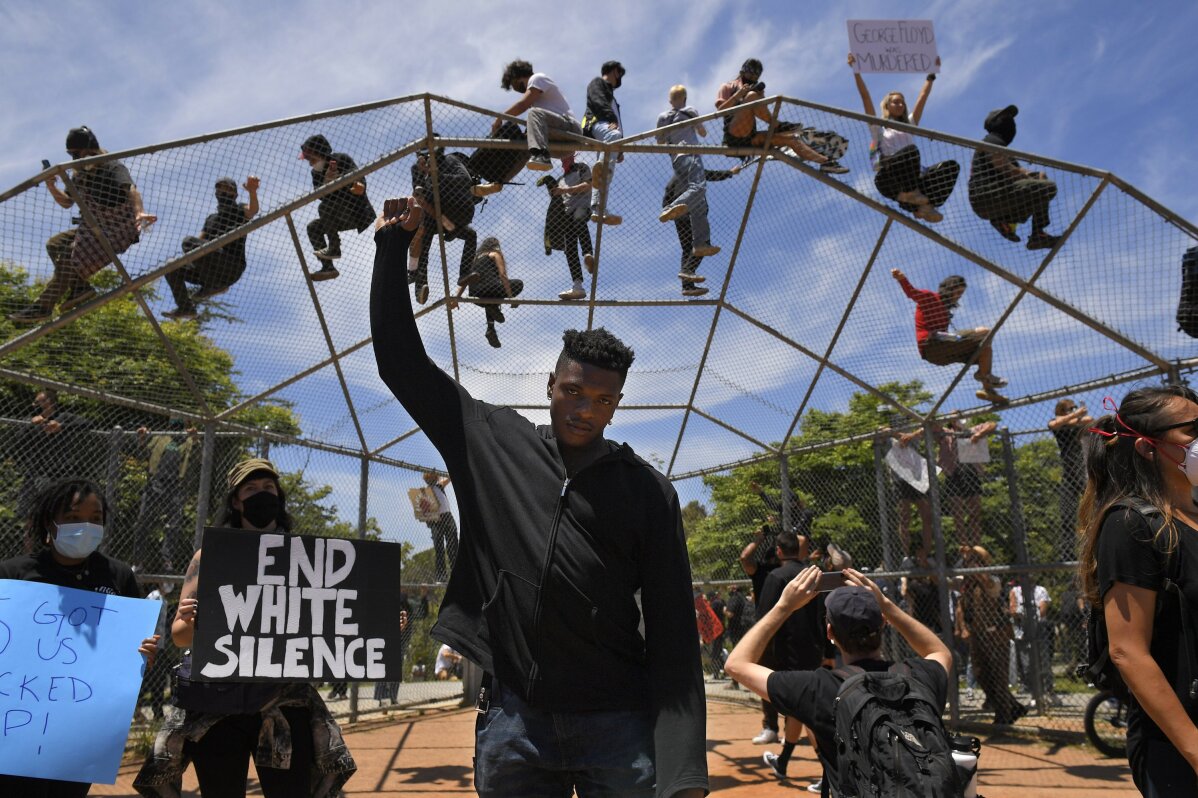 39 of 41

|
Musical artist Jeleel stands at a protest over the death of George Floyd, Saturday, May 30, 2020, in Los Angeles. Floyd died in police custody on Memorial Day in Minneapolis. (AP Photo/Mark J. Terrill)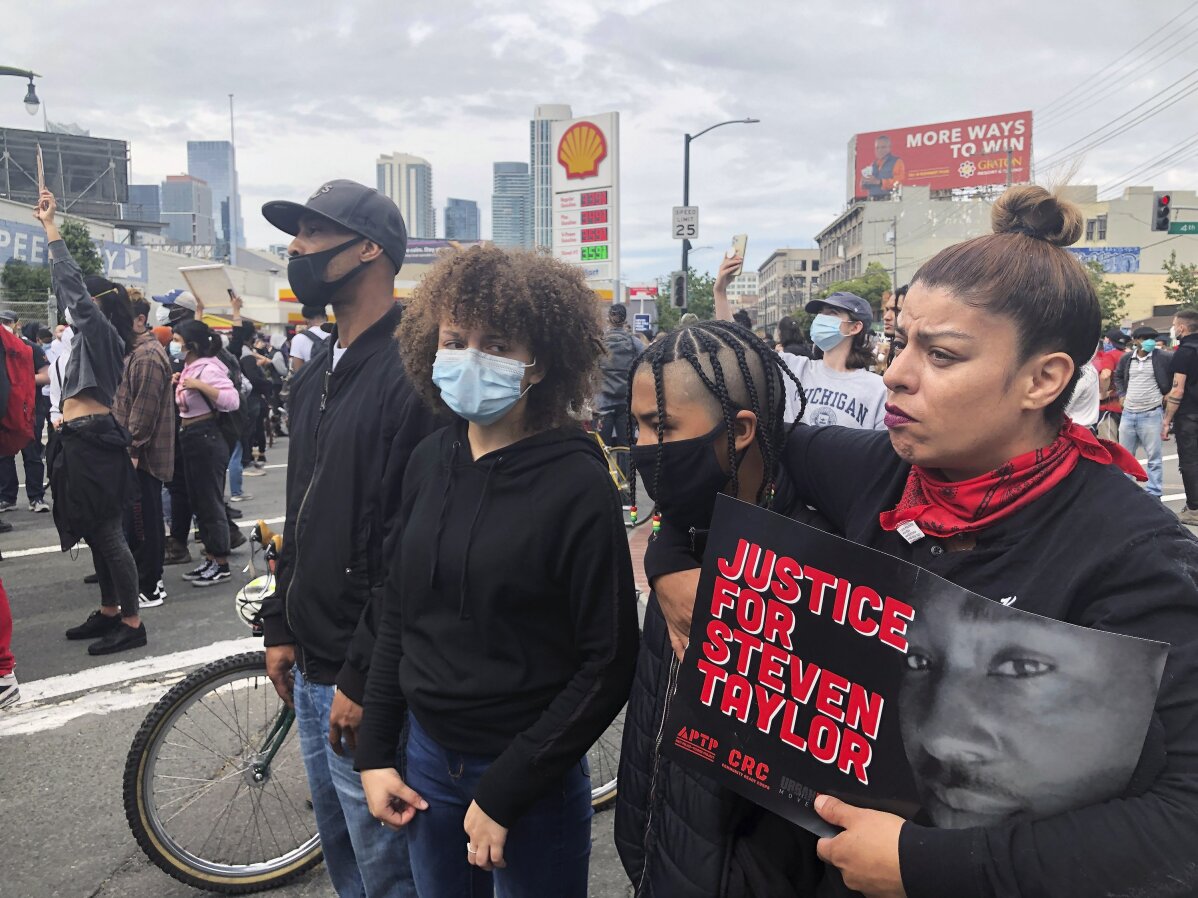 40 of 41

|
Nishelle Faith Seals, 13, stands with her family at a protest in response to the death of George Floyd in San Francisco Saturday, May 30, 2020. About 200-300 people made their way through the city in a demonstration, at one point blocking a highway offramp while they sat at an intersection and chanted the Floyd's name.(AP Photo/Juliet A. Williams)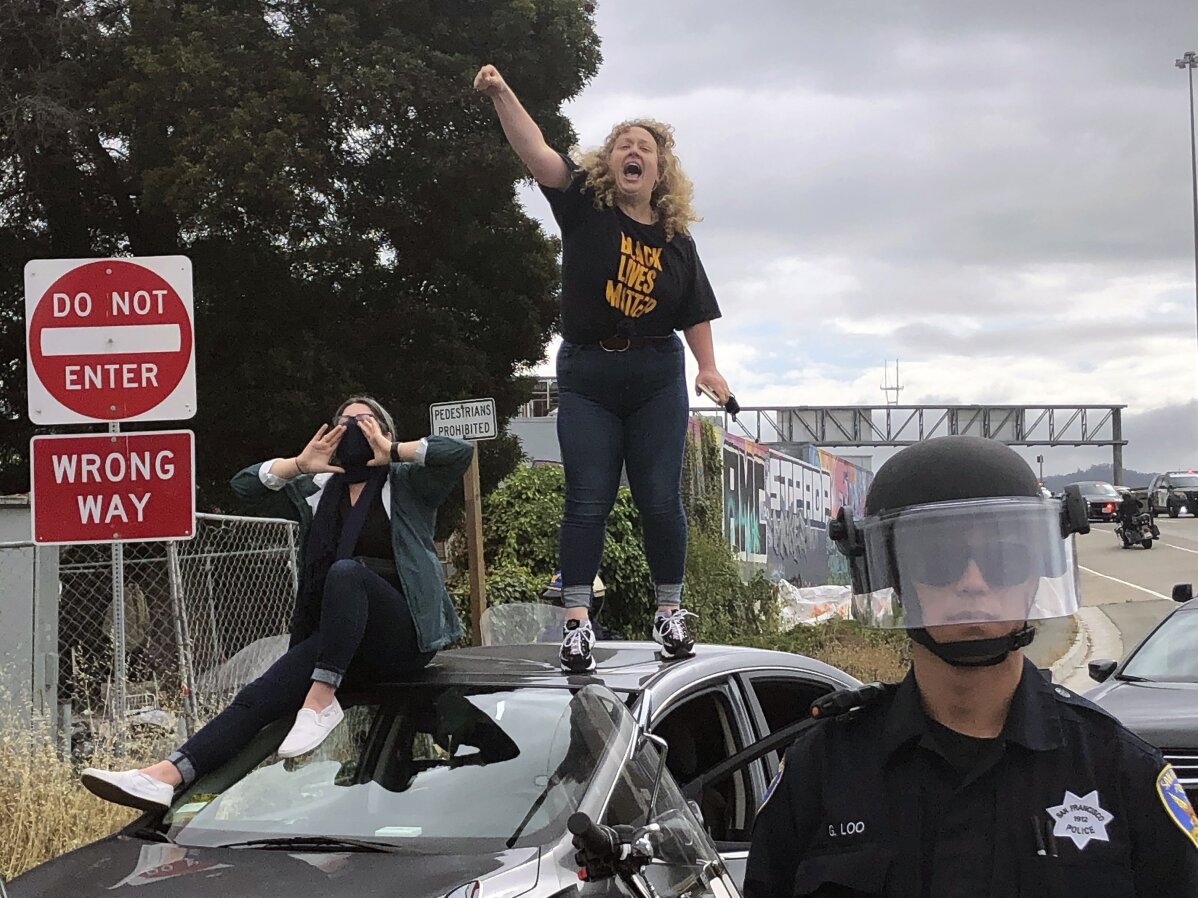 41 of 41

|
A woman stands on top of a car chanting as part of a protest in response to the death of George Floyd in San Francisco Saturday, May 30, 2020. About 200-300 marchers made their way through the city in a demonstration, at one point blocking a highway offramp while they sat at an intersection and chanted the Floyd's name. (AP Photo/Juliet A. Williams)
Protests, mayhem continue, lead to more California curfews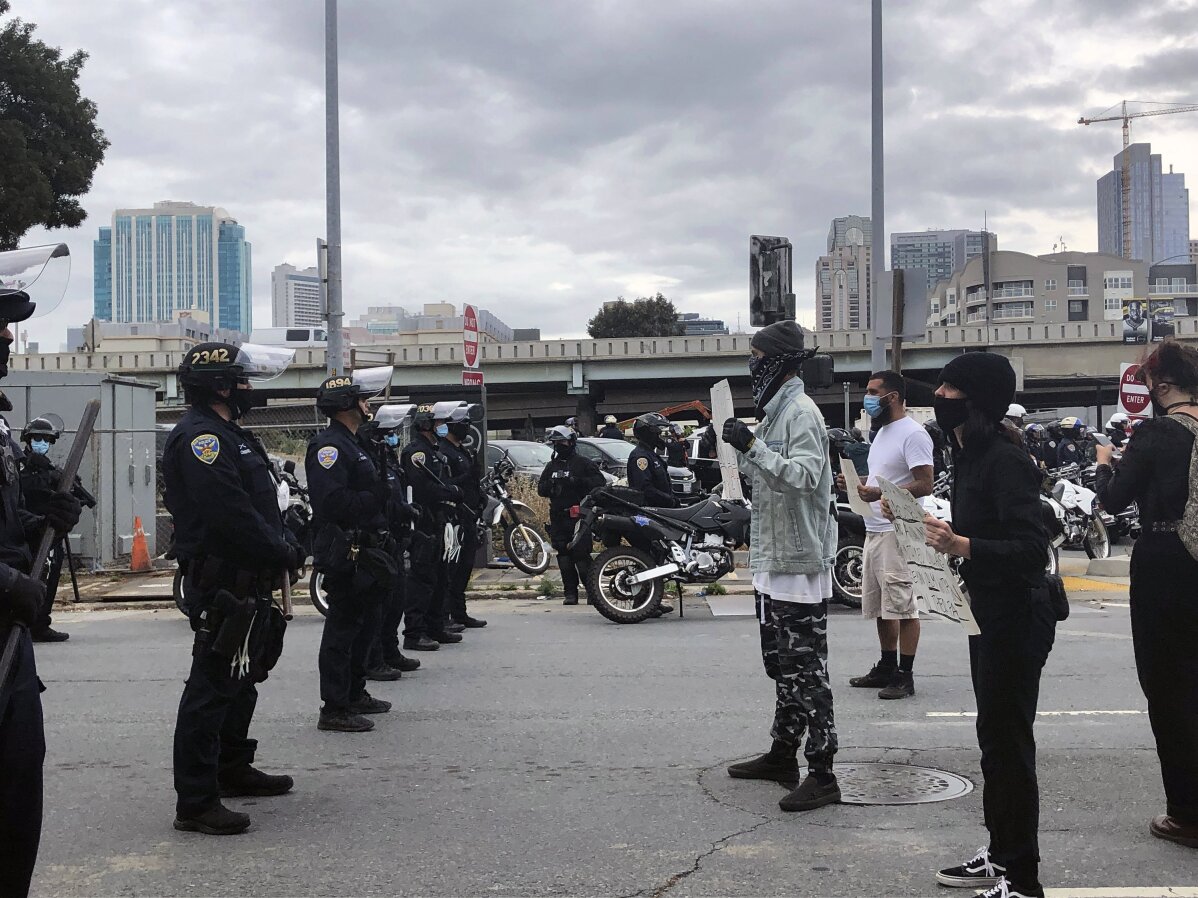 1 of 41

|
Demonstrators stand in front of police officers lined up Saturday, May 30, 2020, as part of a protest in response to the death of George Floyd, in San Francisco. About 200-300 marchers made their way through the city in a demonstration, at one point blocking a highway offramp while they sat at an intersection and chanted the Floyd's name. (AP Photo/Juliet A. Williams)
1 of 41
Demonstrators stand in front of police officers lined up Saturday, May 30, 2020, as part of a protest in response to the death of George Floyd, in San Francisco. About 200-300 marchers made their way through the city in a demonstration, at one point blocking a highway offramp while they sat at an intersection and chanted the Floyd's name. (AP Photo/Juliet A. Williams)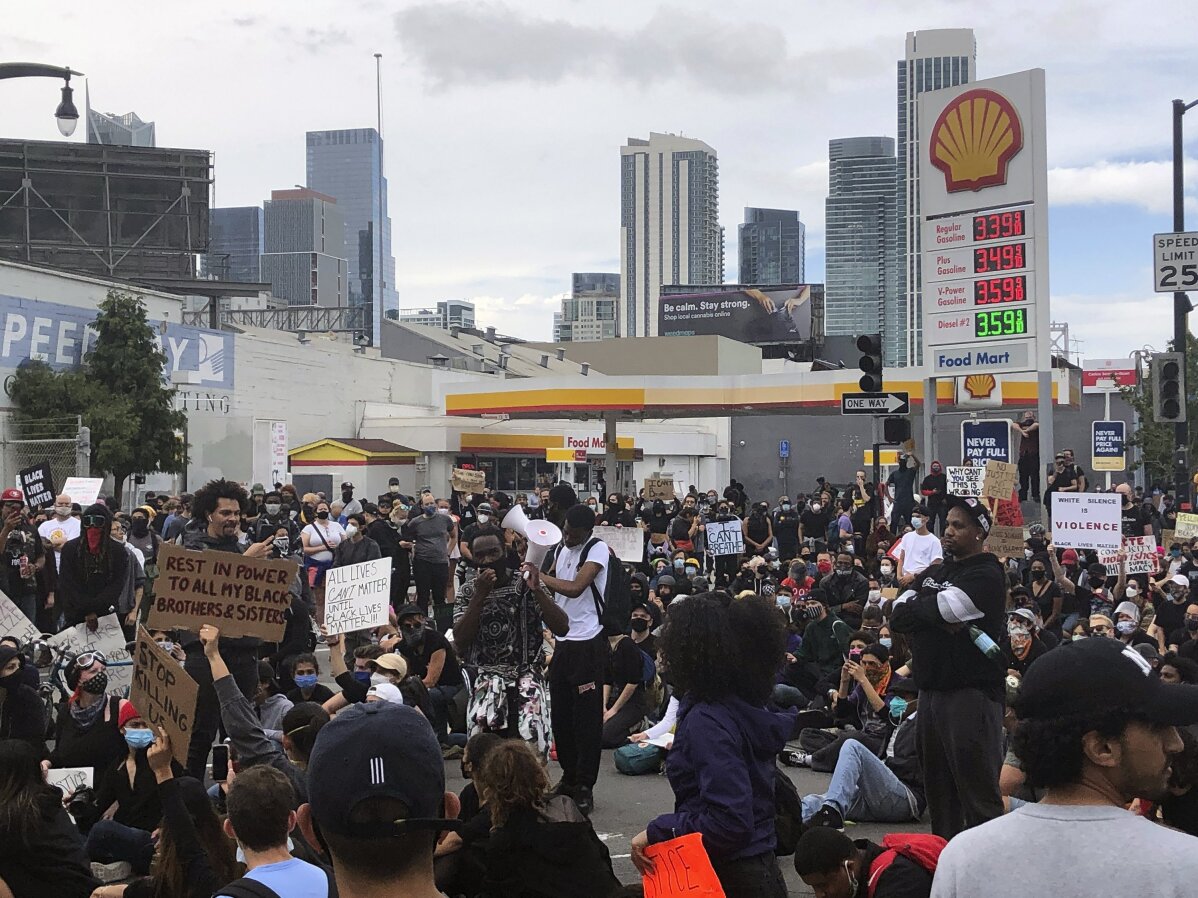 2 of 41

|
Demonstrators listen to speakers as part of a protest in response to the death of George Floyd in San Francisco in San Francisco Saturday, May 30, 2020. About 200-300 people made their way through the city in a demonstration, at one point blocking a highway offramp while they sat at an intersection and chanted the Floyd's name.(AP Photo/Juliet A. Williams)
2 of 41
Demonstrators listen to speakers as part of a protest in response to the death of George Floyd in San Francisco in San Francisco Saturday, May 30, 2020. About 200-300 people made their way through the city in a demonstration, at one point blocking a highway offramp while they sat at an intersection and chanted the Floyd's name.(AP Photo/Juliet A. Williams)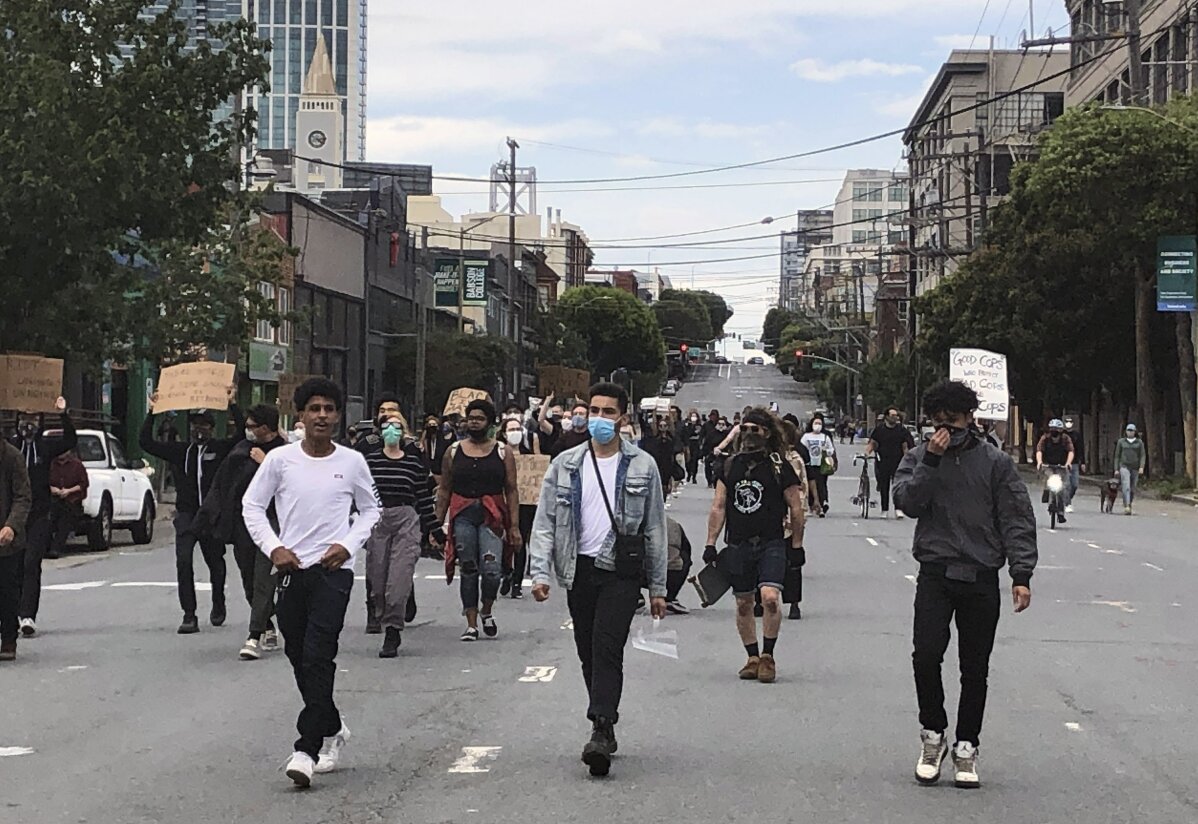 3 of 41

|
Marchers make their way down Bryant Street as part of a protest in response to the death of George Floyd in San Francisco Saturday, May 30, 2020. About 200-300 people made their way through the city in a demonstration, at one point blocking a highway offramp while they sat at an intersection and chanted the Floyd's name.(AP Photo/Juliet A. Williams)
3 of 41
Marchers make their way down Bryant Street as part of a protest in response to the death of George Floyd in San Francisco Saturday, May 30, 2020. About 200-300 people made their way through the city in a demonstration, at one point blocking a highway offramp while they sat at an intersection and chanted the Floyd's name.(AP Photo/Juliet A. Williams)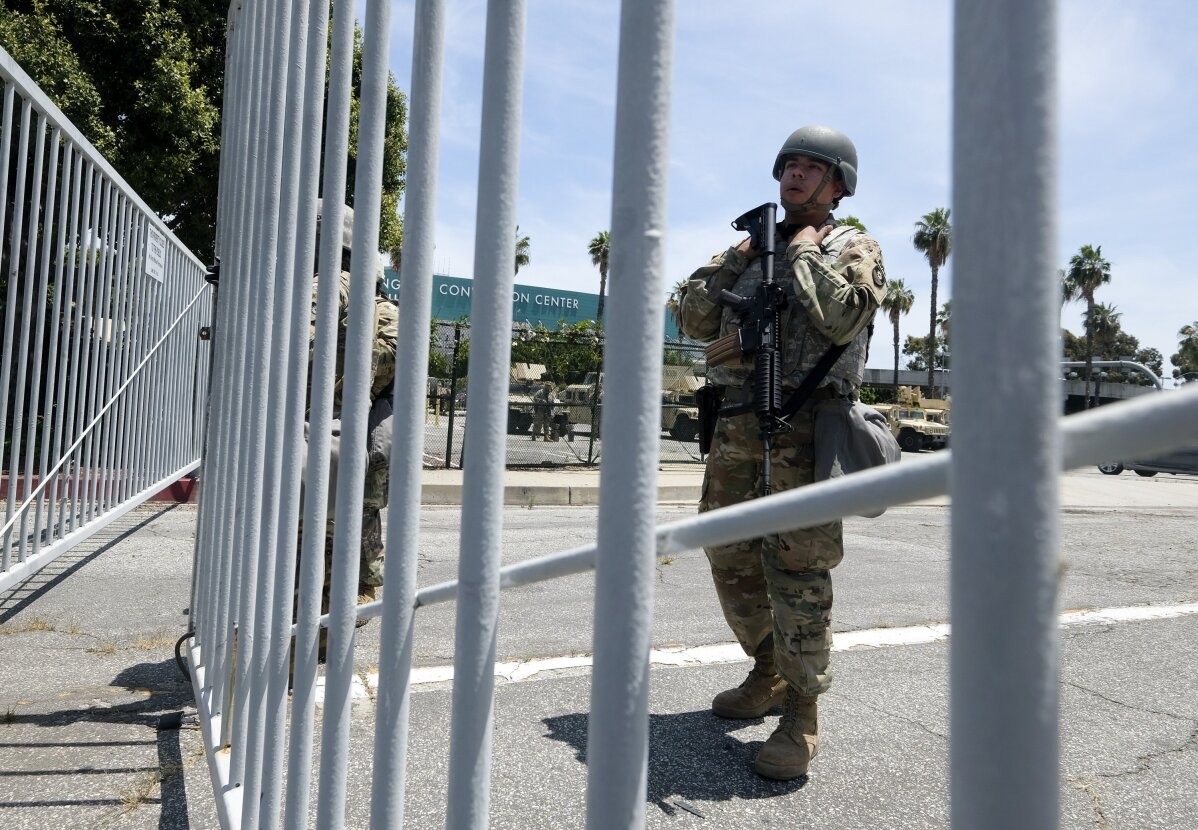 4 of 41

|
A member of California National Guard stands guard at a parking lot near Los Angeles Convention Center, Sunday, May 31, 2020, in Los Angeles. The National Guard is patrolling Los Angeles as the city begins cleaning up after a night of violence by demonstrators that saw clash with officers and torch police vehicles and pillage stores. (AP Photo/Ringo H.W. Chiu)
4 of 41
A member of California National Guard stands guard at a parking lot near Los Angeles Convention Center, Sunday, May 31, 2020, in Los Angeles. The National Guard is patrolling Los Angeles as the city begins cleaning up after a night of violence by demonstrators that saw clash with officers and torch police vehicles and pillage stores. (AP Photo/Ringo H.W. Chiu)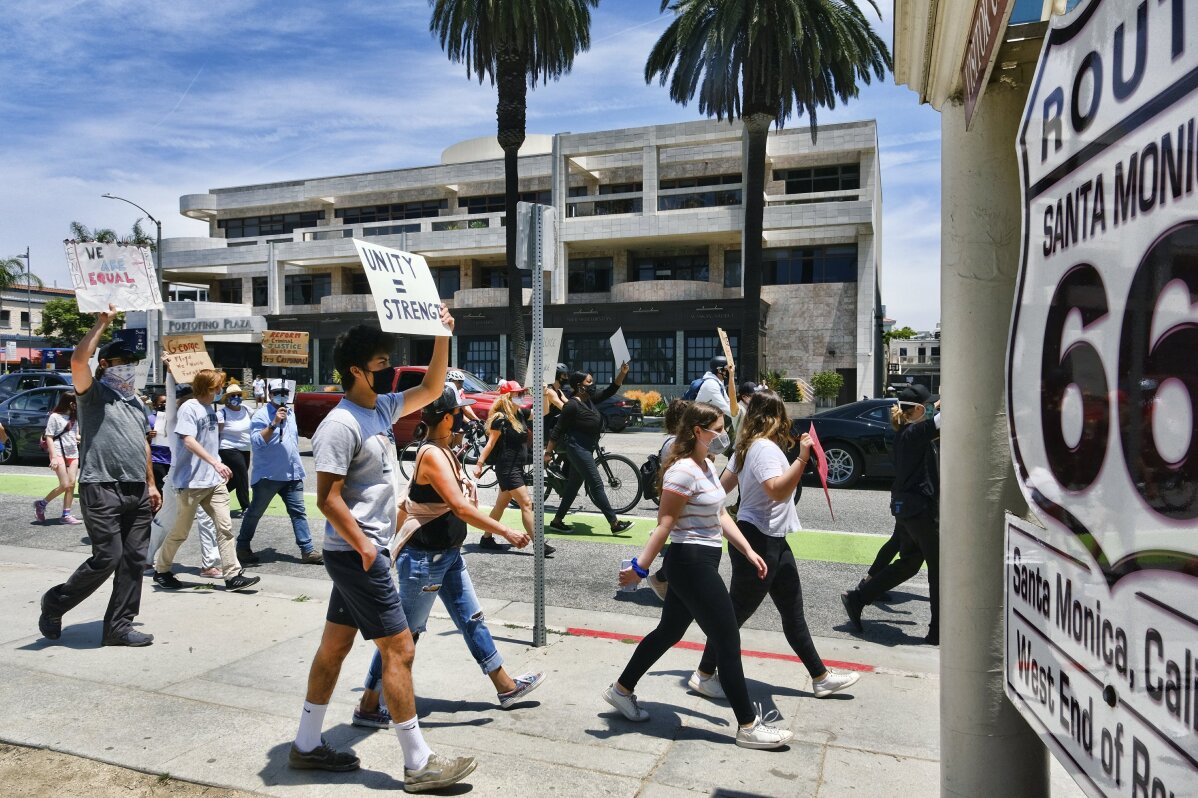 5 of 41

|
Protesters walk along Ocean Boulevard and chant slogans during a Black Lives Matter protest while blocking an intersection in Santa Monica, Calif. on Sunday, May 31, 2020, over the death of George Floyd, a black man who was in police custody in Minneapolis. Floyd died after being restrained by Minneapolis police officers on Memorial Day. (AP Photo/Richard Vogel)
5 of 41
Protesters walk along Ocean Boulevard and chant slogans during a Black Lives Matter protest while blocking an intersection in Santa Monica, Calif. on Sunday, May 31, 2020, over the death of George Floyd, a black man who was in police custody in Minneapolis. Floyd died after being restrained by Minneapolis police officers on Memorial Day. (AP Photo/Richard Vogel)
6 of 41

|
Protesters stand on a corner and hold signs and chant slogan during a protest in Santa Monica, Calif., Sunday, May 31, 2020, over the death of George Floyd. Floyd died May 25 after he was pinned at the neck by a Minneapolis police officer. (AP Photo/Richard Vogel)
6 of 41
Protesters stand on a corner and hold signs and chant slogan during a protest in Santa Monica, Calif., Sunday, May 31, 2020, over the death of George Floyd. Floyd died May 25 after he was pinned at the neck by a Minneapolis police officer. (AP Photo/Richard Vogel)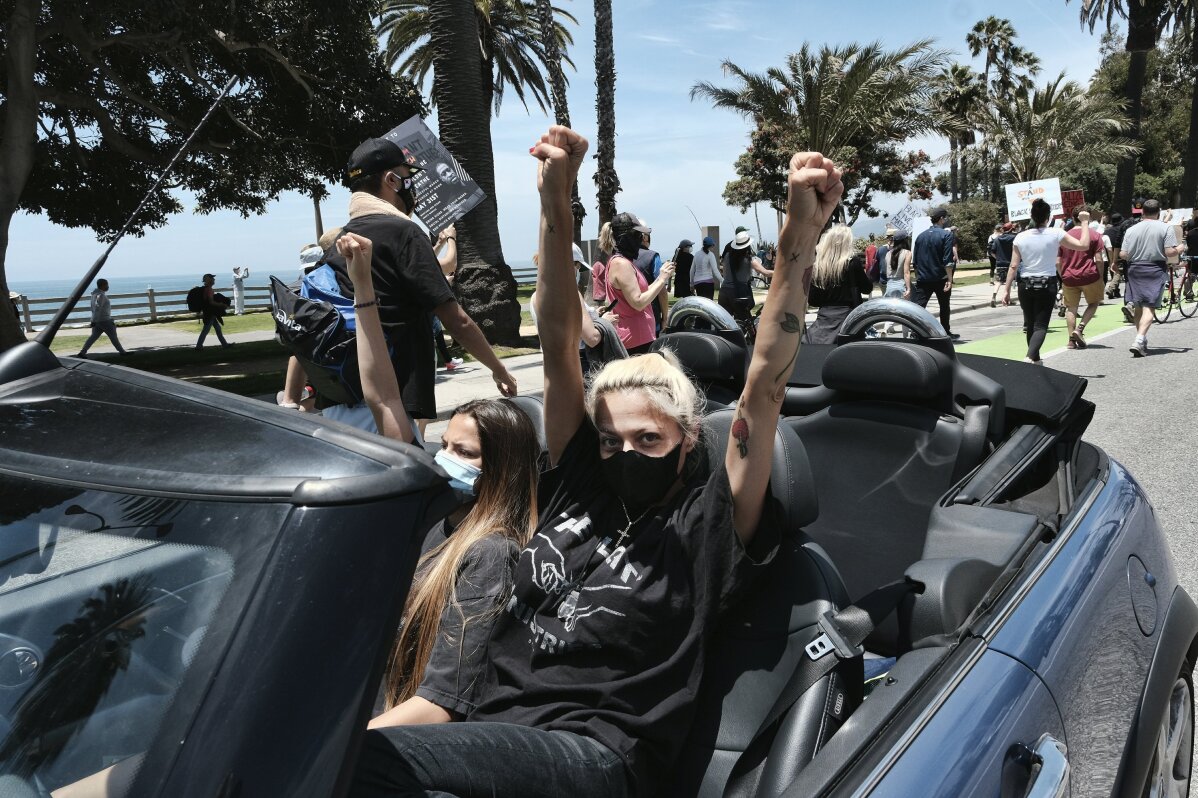 7 of 41

|
Women driving by in a convertible raise their fists in support as Black Lives Matter protesters march past along Ocean Boulevard in Santa Monica, Calif. on Sunday, May 31, 2020, over the death of George Floyd, a black man who was in police custody in Minneapolis. Floyd died after being restrained by Minneapolis police officers on Memorial Day. (AP Photo/Richard Vogel)
7 of 41
Women driving by in a convertible raise their fists in support as Black Lives Matter protesters march past along Ocean Boulevard in Santa Monica, Calif. on Sunday, May 31, 2020, over the death of George Floyd, a black man who was in police custody in Minneapolis. Floyd died after being restrained by Minneapolis police officers on Memorial Day. (AP Photo/Richard Vogel)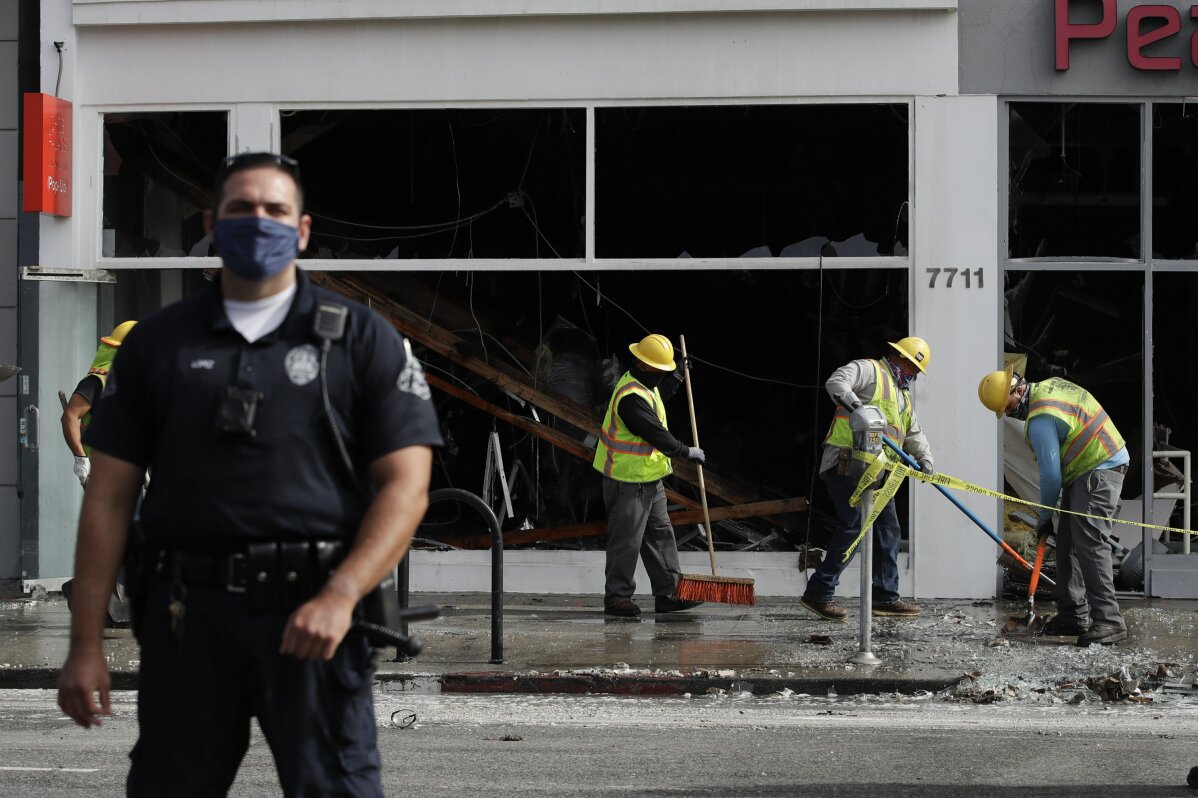 8 of 41

|
A police officer stands in front of a fire-damaged building as workers clean up, Sunday, May 31, 2020, in Los Angeles, following a night of unrest and protests over the death of George Floyd, a black man who was in police custody in Minneapolis. Floyd died after being restrained by Minneapolis police officers on May 25. (AP Photo/Marcio Jose Sanchez)
8 of 41
A police officer stands in front of a fire-damaged building as workers clean up, Sunday, May 31, 2020, in Los Angeles, following a night of unrest and protests over the death of George Floyd, a black man who was in police custody in Minneapolis. Floyd died after being restrained by Minneapolis police officers on May 25. (AP Photo/Marcio Jose Sanchez)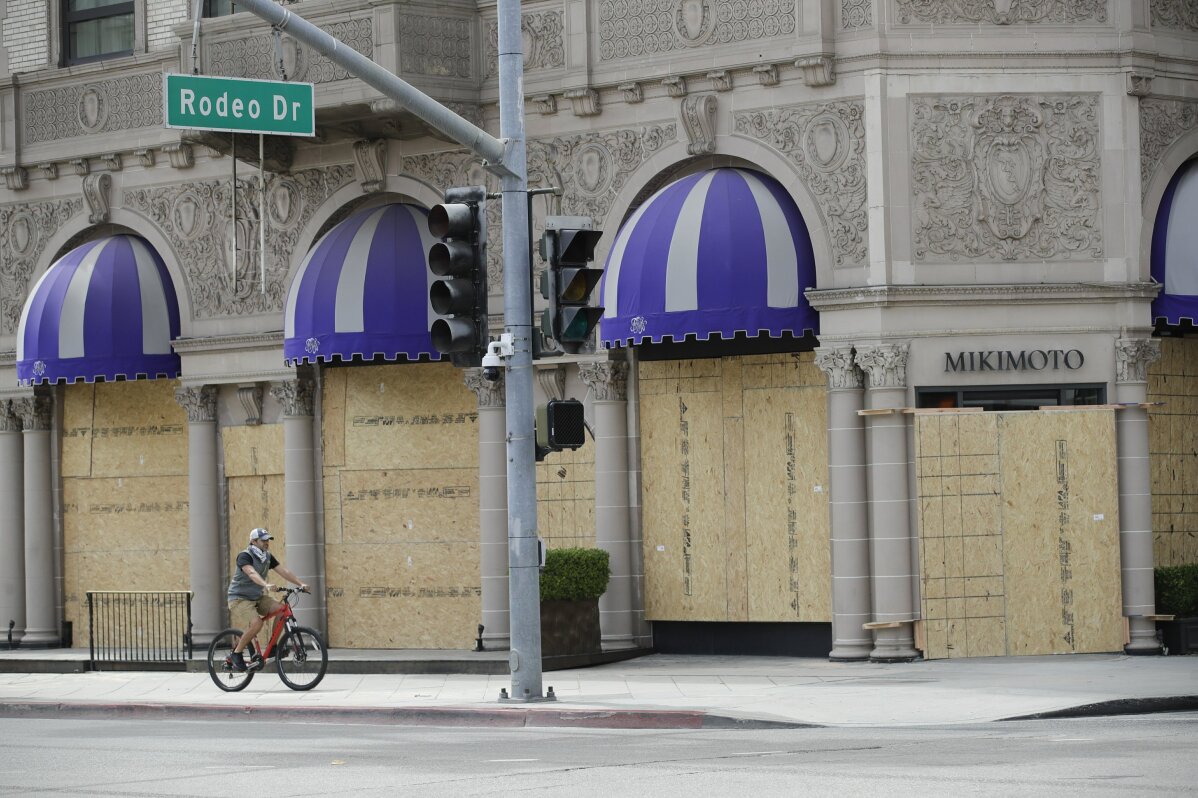 9 of 41

|
A man cycles past a boarded-up store a day after mass demonstrations over the death of George Floyd Sunday, May 31, 2020, in Beverly Hills, Calif. (AP Photo/Marcio Jose Sanchez)
9 of 41
A man cycles past a boarded-up store a day after mass demonstrations over the death of George Floyd Sunday, May 31, 2020, in Beverly Hills, Calif. (AP Photo/Marcio Jose Sanchez)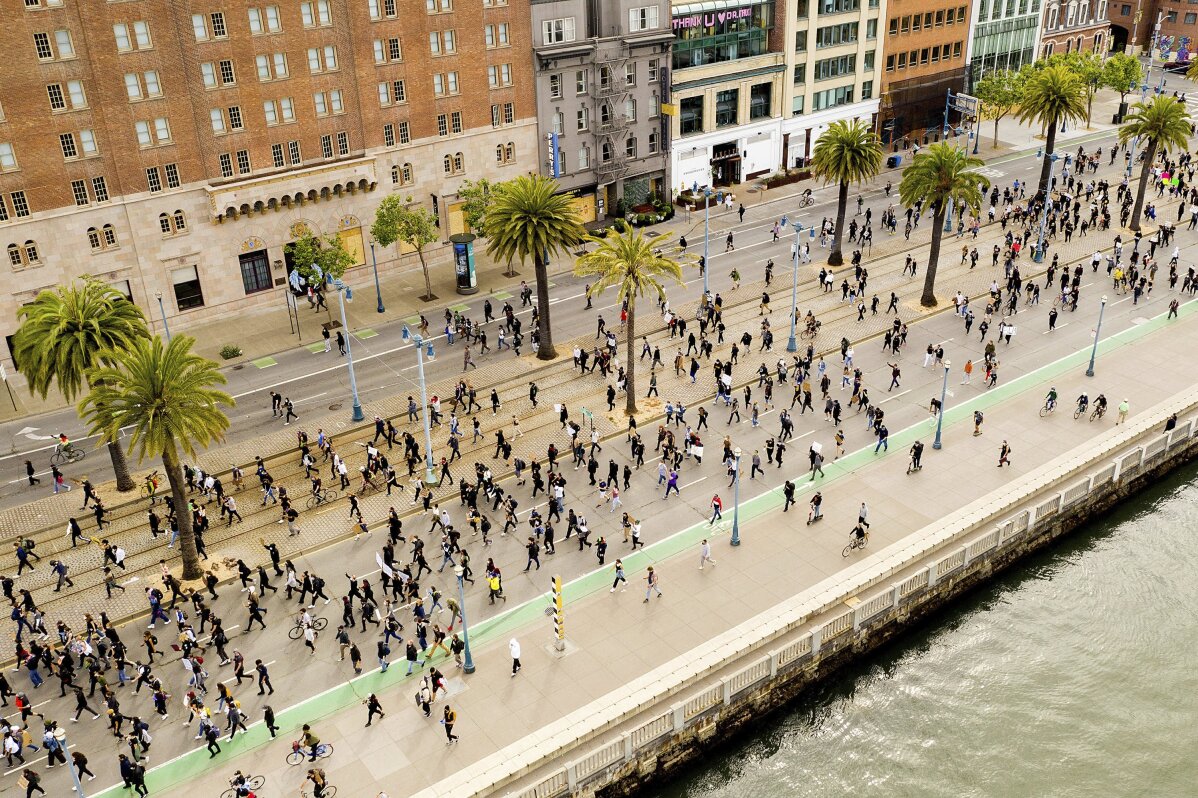 10 of 41

|
Protesters march along San Francisco's Embarcadero on Sunday, May 31, 2020. Widespread demonstrations have erupted throughout the By Area following following the death of George Floyd, who died after being restrained by Minneapolis police officers on May 25. (AP Photo/Noah Berger)
10 of 41
Protesters march along San Francisco's Embarcadero on Sunday, May 31, 2020. Widespread demonstrations have erupted throughout the By Area following following the death of George Floyd, who died after being restrained by Minneapolis police officers on May 25. (AP Photo/Noah Berger)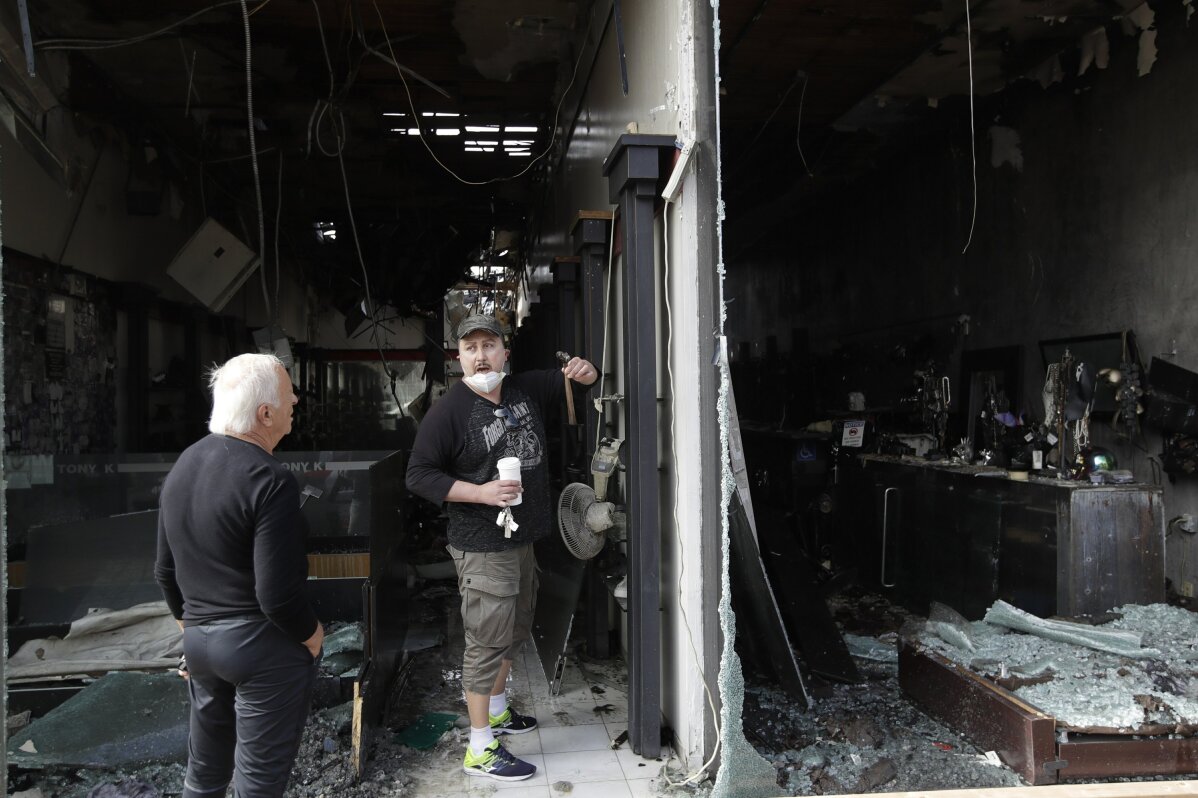 11 of 41

|
Alan Kokozian, center, oversees the damage to his shoe store Tony K, Sunday, May 31, 2020, in Los Angeles, following a night of unrest and protests over the death of George Floyd, a black man who was in police custody in Minneapolis. Floyd died after being restrained by Minneapolis police officers on May 25. (AP Photo/Marcio Jose Sanchez)
11 of 41
Alan Kokozian, center, oversees the damage to his shoe store Tony K, Sunday, May 31, 2020, in Los Angeles, following a night of unrest and protests over the death of George Floyd, a black man who was in police custody in Minneapolis. Floyd died after being restrained by Minneapolis police officers on May 25. (AP Photo/Marcio Jose Sanchez)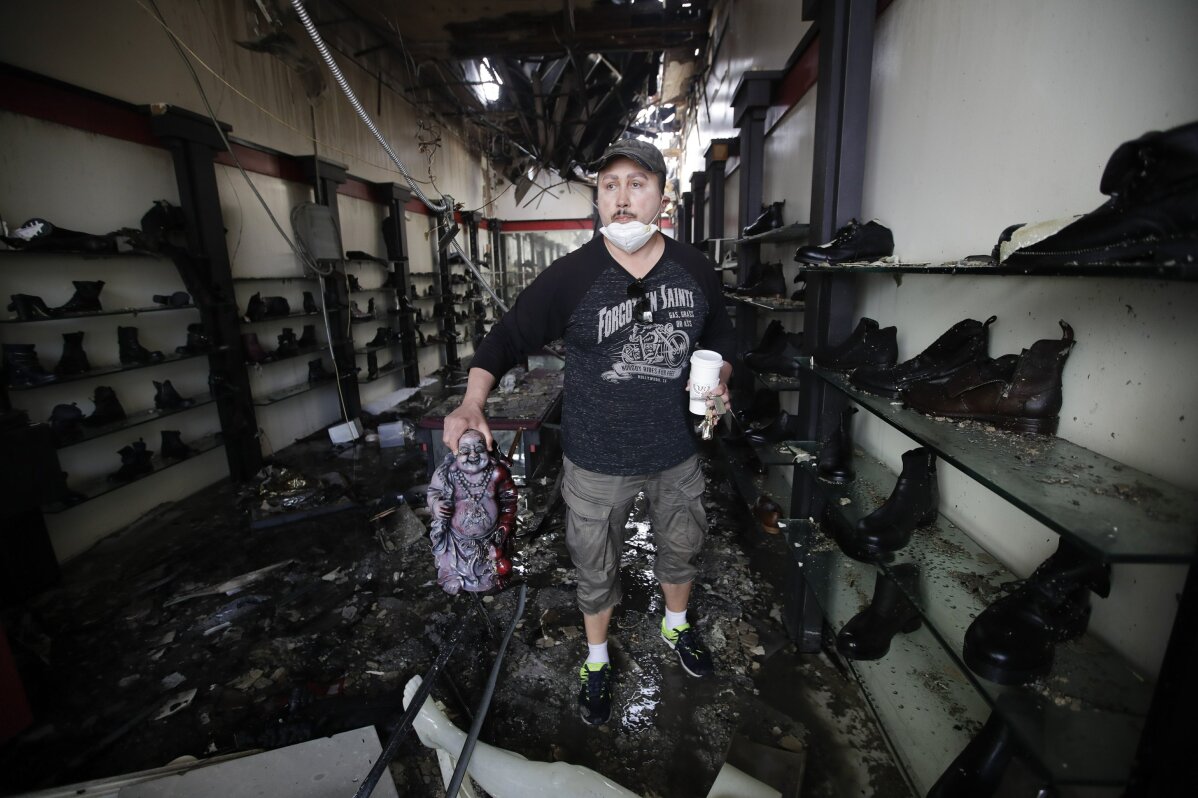 12 of 41

|
Alan Kokozian, center, oversees the damage to his shoe store Tony K, Sunday, May 31, 2020, in Los Angeles, following a night of unrest and protests over the death of George Floyd, a black man who was in police custody in Minneapolis. Floyd died after being restrained by Minneapolis police officers on May 25. (AP Photo/Marcio Jose Sanchez)
12 of 41
Alan Kokozian, center, oversees the damage to his shoe store Tony K, Sunday, May 31, 2020, in Los Angeles, following a night of unrest and protests over the death of George Floyd, a black man who was in police custody in Minneapolis. Floyd died after being restrained by Minneapolis police officers on May 25. (AP Photo/Marcio Jose Sanchez)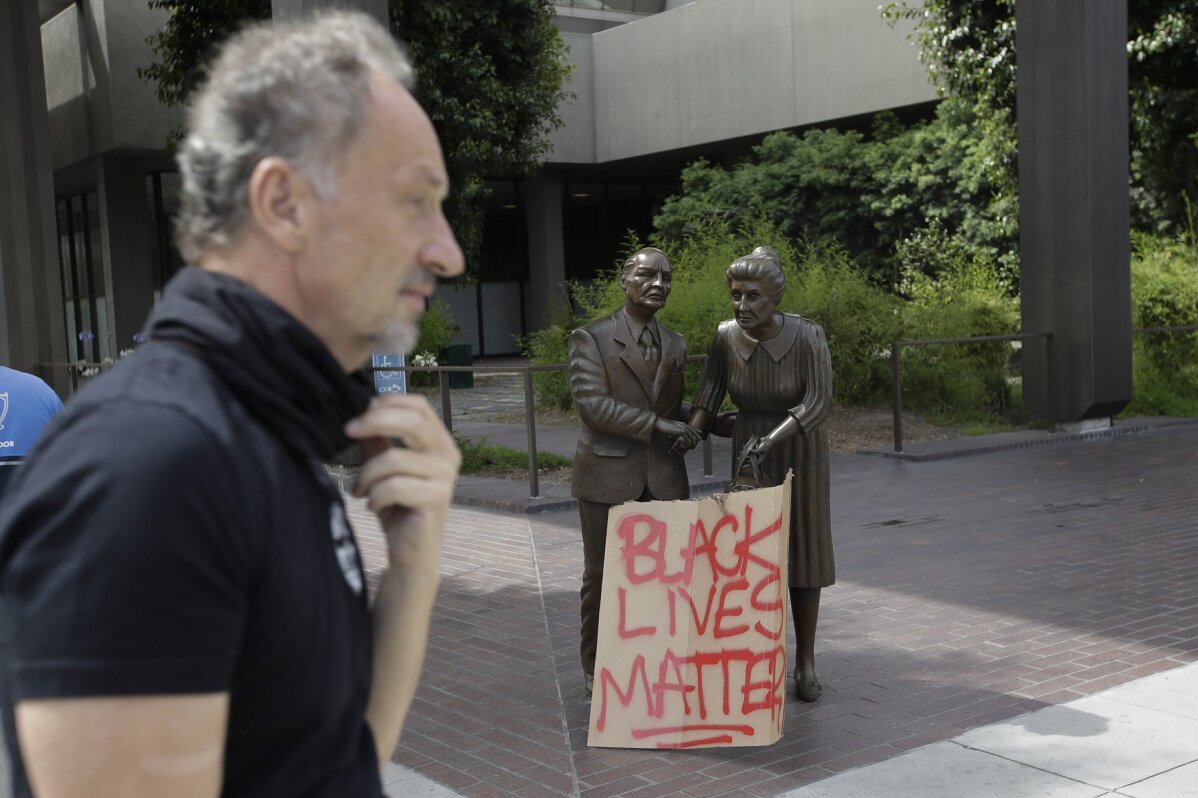 13 of 41

|
A man walks past a Black Lives Matter signs a day after mass demonstrations over the death of George Floyd Sunday, May 31, 2020, in Beverly Hills, Calif. (AP Photo/Marcio Jose Sanchez)
13 of 41
A man walks past a Black Lives Matter signs a day after mass demonstrations over the death of George Floyd Sunday, May 31, 2020, in Beverly Hills, Calif. (AP Photo/Marcio Jose Sanchez)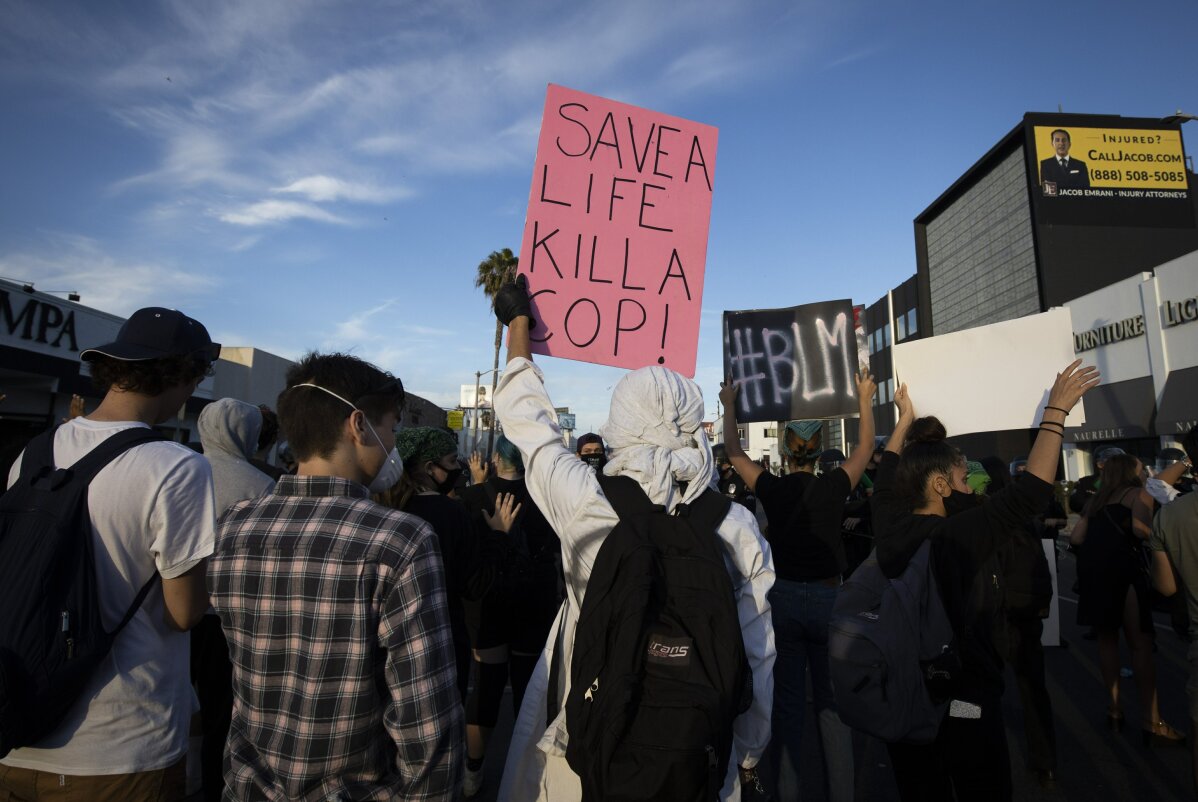 14 of 41

|
People protest during a demonstration in Los Angeles, Saturday, May 30, 2020, over the death of George Floyd, who died in police custody on Memorial Day in Minneapolis. (AP Photo/Christian Monterrosa)
14 of 41
People protest during a demonstration in Los Angeles, Saturday, May 30, 2020, over the death of George Floyd, who died in police custody on Memorial Day in Minneapolis. (AP Photo/Christian Monterrosa)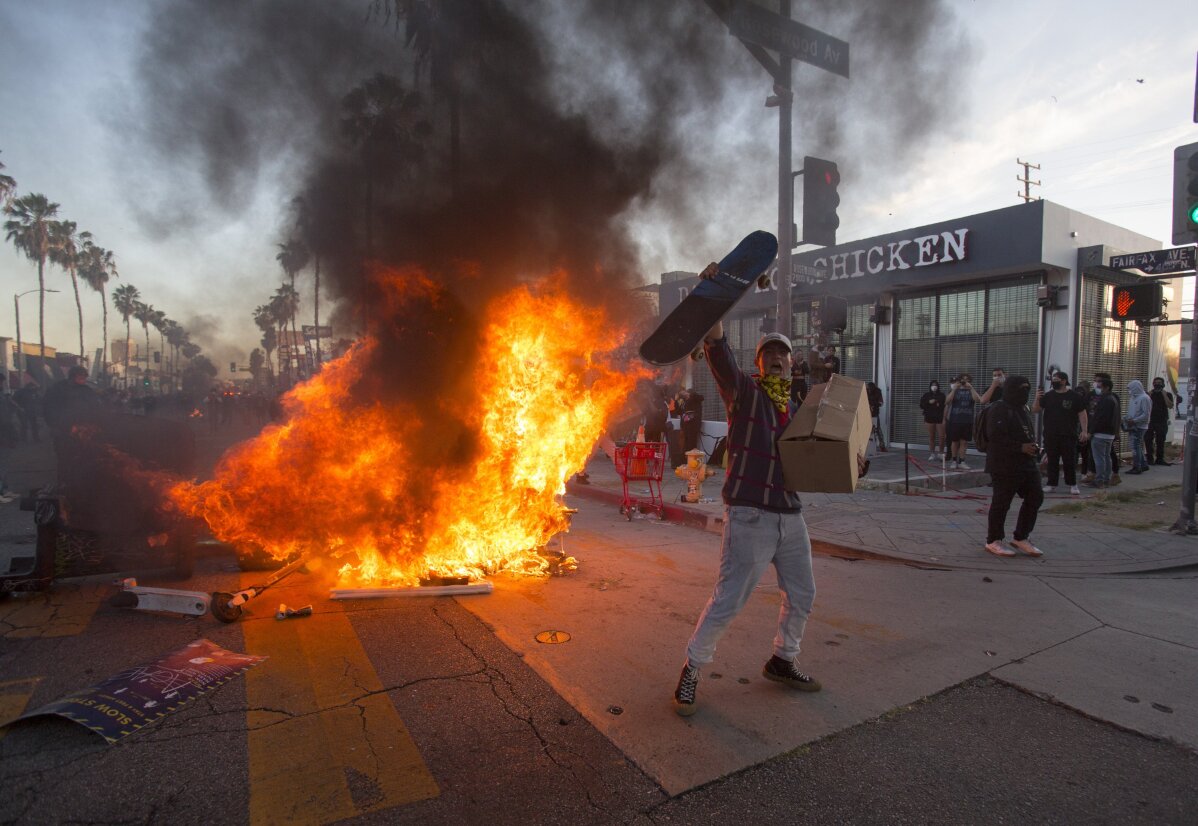 15 of 41

|
A protester shouts in front of a fire during a protest over the death of George Floyd, a handcuffed black man in police custody in Minneapolis, in Los Angeles, Saturday, May 30, 2020. (AP Photo/Ringo H.W. Chiu)
15 of 41
A protester shouts in front of a fire during a protest over the death of George Floyd, a handcuffed black man in police custody in Minneapolis, in Los Angeles, Saturday, May 30, 2020. (AP Photo/Ringo H.W. Chiu)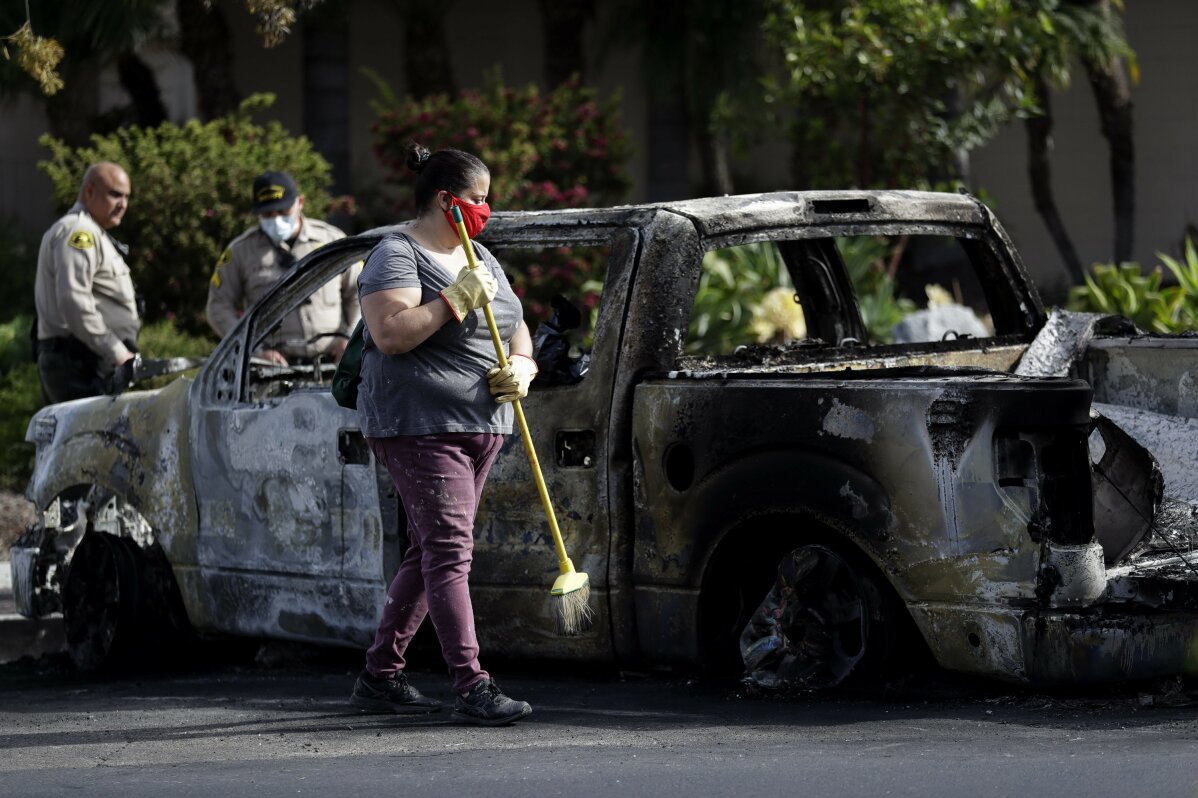 16 of 41

|
A woman sweeps around a burned truck after a protest over the death of George Floyd, Sunday, May 31, 2020, in La Mesa, Calif. Protests were held in U.S. cities over the death of Floyd, a black man who died after being restrained by Minneapolis police officers on May 25. (AP Photo/Gregory Bull)
16 of 41
A woman sweeps around a burned truck after a protest over the death of George Floyd, Sunday, May 31, 2020, in La Mesa, Calif. Protests were held in U.S. cities over the death of Floyd, a black man who died after being restrained by Minneapolis police officers on May 25. (AP Photo/Gregory Bull)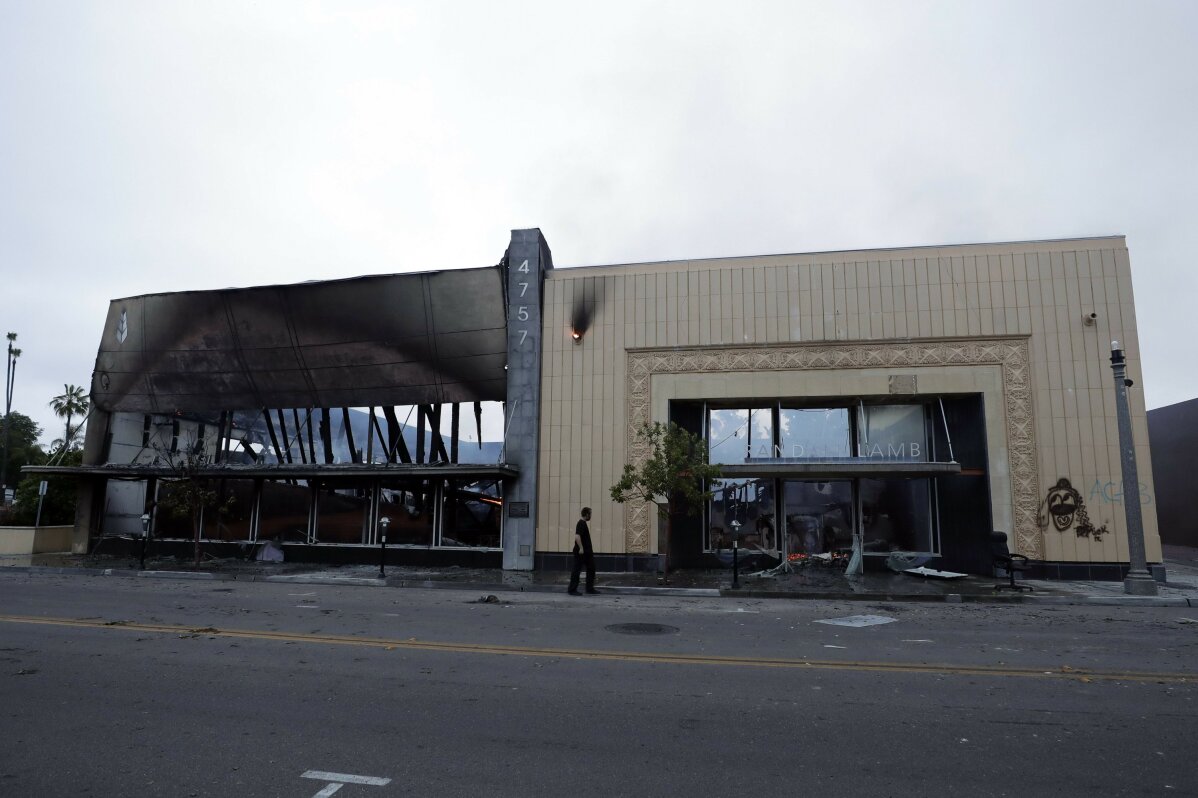 17 of 41

|
A man passes a burning building after a protest over the death of George Floyd, Sunday, May 31, 2020, in La Mesa, Calif. Protests were held in U.S. cities over the death of Floyd, a black man who died after being restrained by Minneapolis police officers on May 25. (AP Photo/Gregory Bull)
17 of 41
A man passes a burning building after a protest over the death of George Floyd, Sunday, May 31, 2020, in La Mesa, Calif. Protests were held in U.S. cities over the death of Floyd, a black man who died after being restrained by Minneapolis police officers on May 25. (AP Photo/Gregory Bull)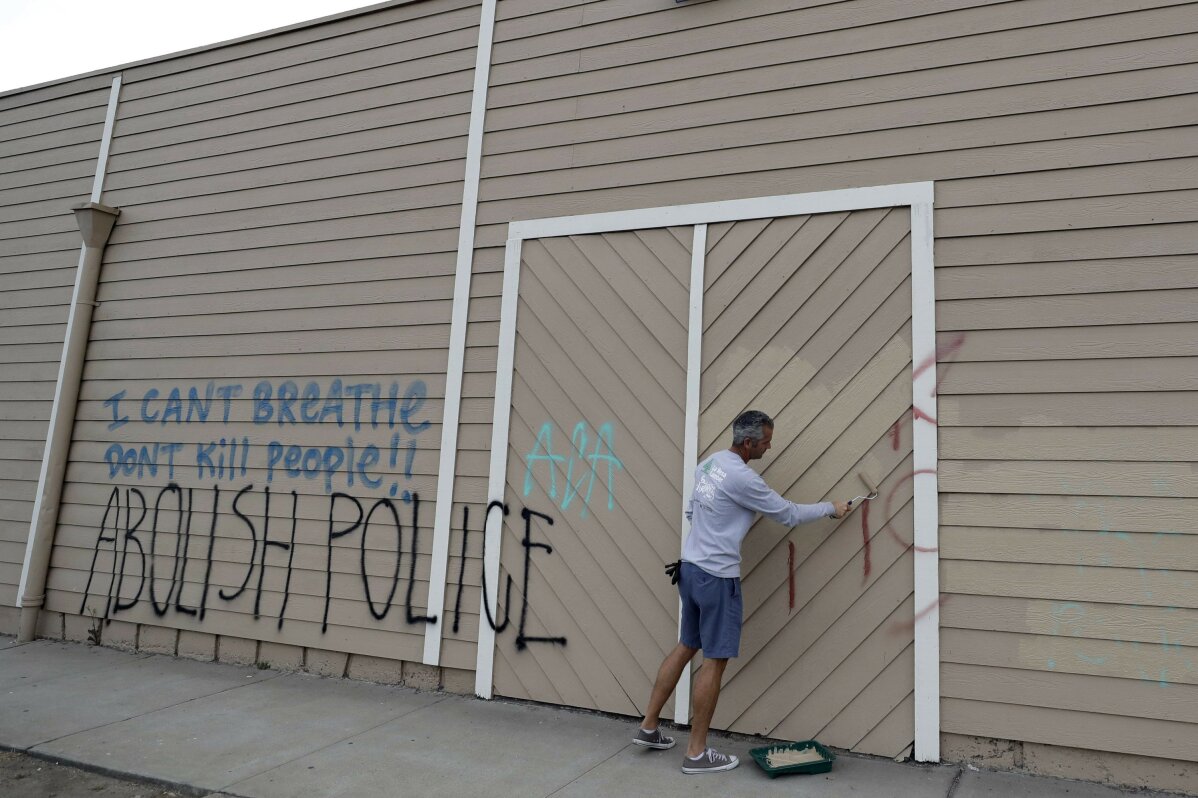 18 of 41

|
A worker for La Mesa Lumber paints over graffiti after a protest over the death of George Floyd, Sunday, May 31, 2020, in La Mesa, Calif. Protests were held in U.S. cities over the death of Floyd, a black man who died after being restrained by Minneapolis police officers on May 25. (AP Photo/Gregory Bull)
18 of 41
A worker for La Mesa Lumber paints over graffiti after a protest over the death of George Floyd, Sunday, May 31, 2020, in La Mesa, Calif. Protests were held in U.S. cities over the death of Floyd, a black man who died after being restrained by Minneapolis police officers on May 25. (AP Photo/Gregory Bull)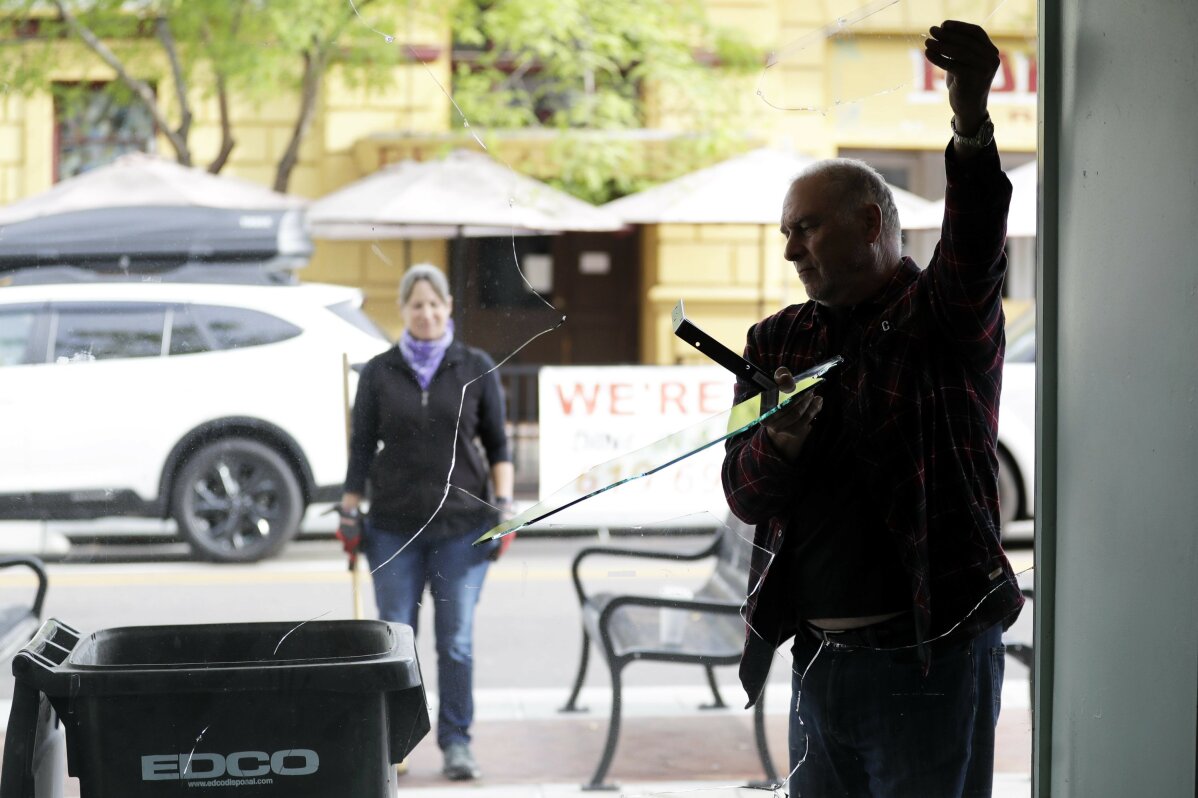 19 of 41

|
Building owner Tony Gaipa, right, removes broken glass from his storefront after a protest over the death of George Floyd, Sunday, May 31, 2020, in La Mesa, Calif. Protests were held in U.S. cities over the death of Floyd, a black man who died after being restrained by Minneapolis police officers on May 25. (AP Photo/Gregory Bull)
19 of 41
Building owner Tony Gaipa, right, removes broken glass from his storefront after a protest over the death of George Floyd, Sunday, May 31, 2020, in La Mesa, Calif. Protests were held in U.S. cities over the death of Floyd, a black man who died after being restrained by Minneapolis police officers on May 25. (AP Photo/Gregory Bull)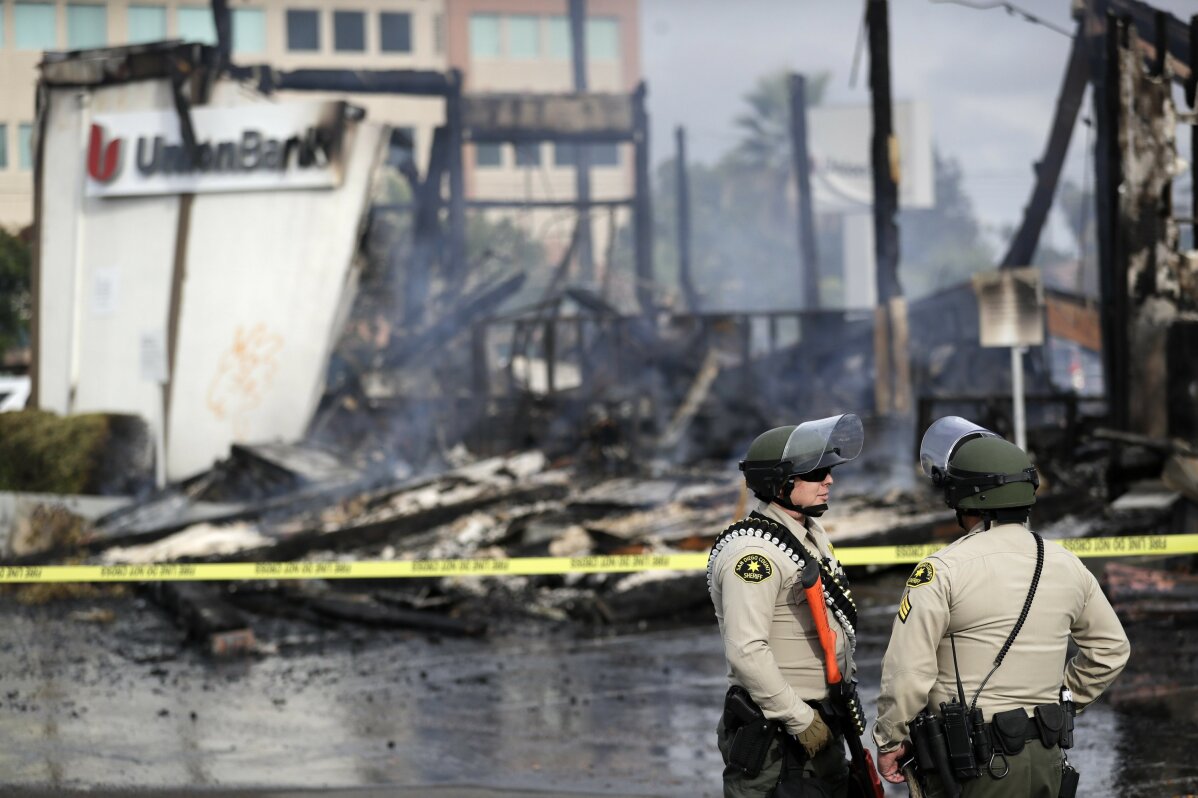 20 of 41

|
San Diego County sheriff officers stand guard in front of a burning bank building after a protest over the death of George Floyd, Sunday, May 31, 2020, in La Mesa, Calif. Protests were held in U.S. cities over the death of Floyd, a black man who died after being restrained by Minneapolis police officers on May 25. (AP Photo/Gregory Bull)
20 of 41
San Diego County sheriff officers stand guard in front of a burning bank building after a protest over the death of George Floyd, Sunday, May 31, 2020, in La Mesa, Calif. Protests were held in U.S. cities over the death of Floyd, a black man who died after being restrained by Minneapolis police officers on May 25. (AP Photo/Gregory Bull)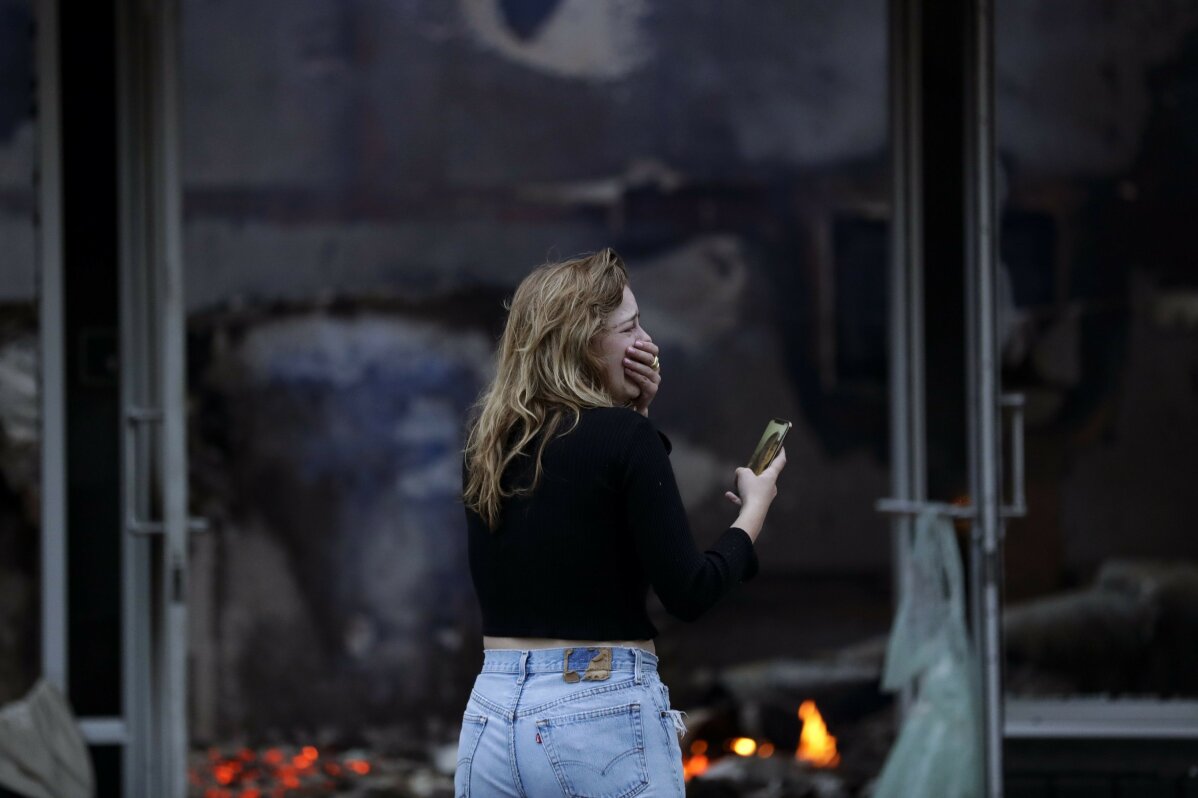 21 of 41

|
A woman cries as she watches a building burn after a protest over the death of George Floyd, Sunday, May 31, 2020, in La Mesa, Calif. Protests were held in U.S. cities over the death of Floyd, a black man who died after being restrained by Minneapolis police officers on May 25. (AP Photo/Gregory Bull)
21 of 41
A woman cries as she watches a building burn after a protest over the death of George Floyd, Sunday, May 31, 2020, in La Mesa, Calif. Protests were held in U.S. cities over the death of Floyd, a black man who died after being restrained by Minneapolis police officers on May 25. (AP Photo/Gregory Bull)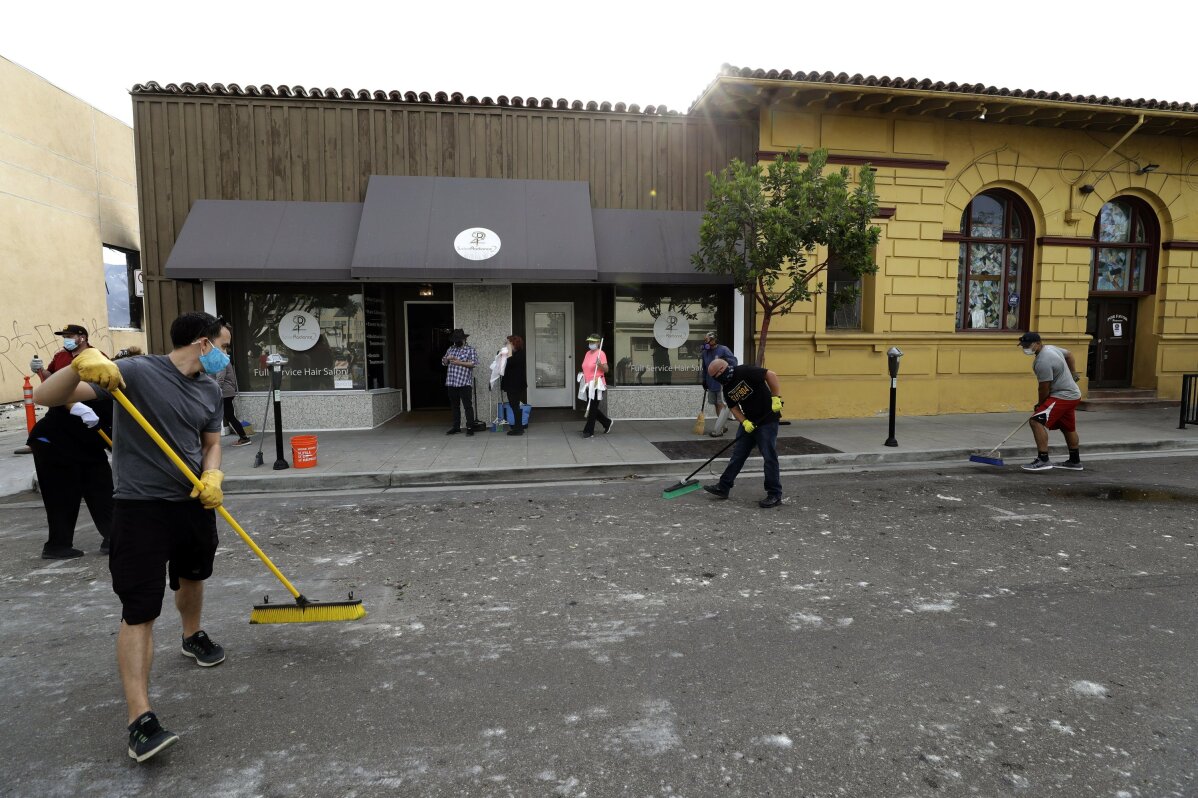 22 of 41

|
People help clean up broken glass and debris after a protest over the death of George Floyd, Sunday, May 31, 2020, in La Mesa, Calif. Protests were held in U.S. cities over the death of Floyd, a black man who died after being restrained by Minneapolis police officers on May 25. (AP Photo/Gregory Bull)
22 of 41
People help clean up broken glass and debris after a protest over the death of George Floyd, Sunday, May 31, 2020, in La Mesa, Calif. Protests were held in U.S. cities over the death of Floyd, a black man who died after being restrained by Minneapolis police officers on May 25. (AP Photo/Gregory Bull)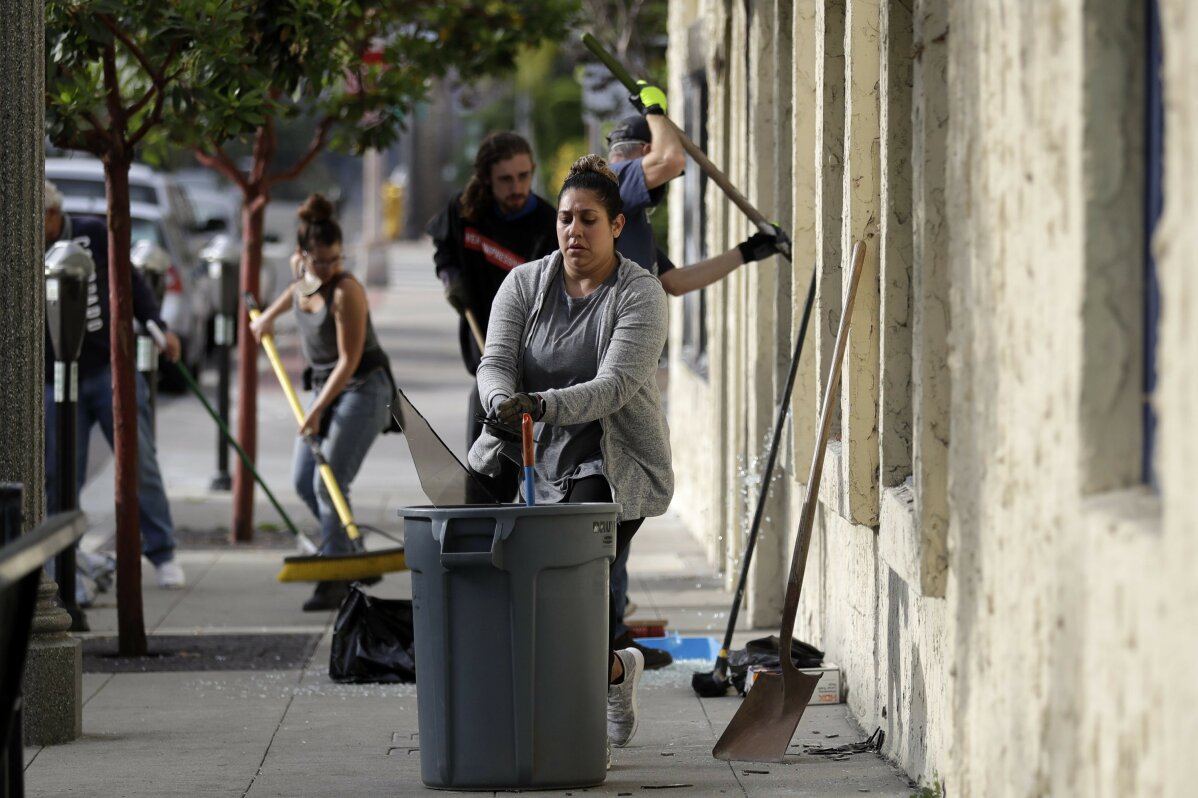 23 of 41

|
People help clean up broken glass and debris after a protest over the death of George Floyd, Sunday, May 31, 2020, in La Mesa, Calif. Protests were held in U.S. cities over the death of Floyd, a black man who died after being restrained by Minneapolis police officers on May 25. (AP Photo/Gregory Bull)
23 of 41
People help clean up broken glass and debris after a protest over the death of George Floyd, Sunday, May 31, 2020, in La Mesa, Calif. Protests were held in U.S. cities over the death of Floyd, a black man who died after being restrained by Minneapolis police officers on May 25. (AP Photo/Gregory Bull)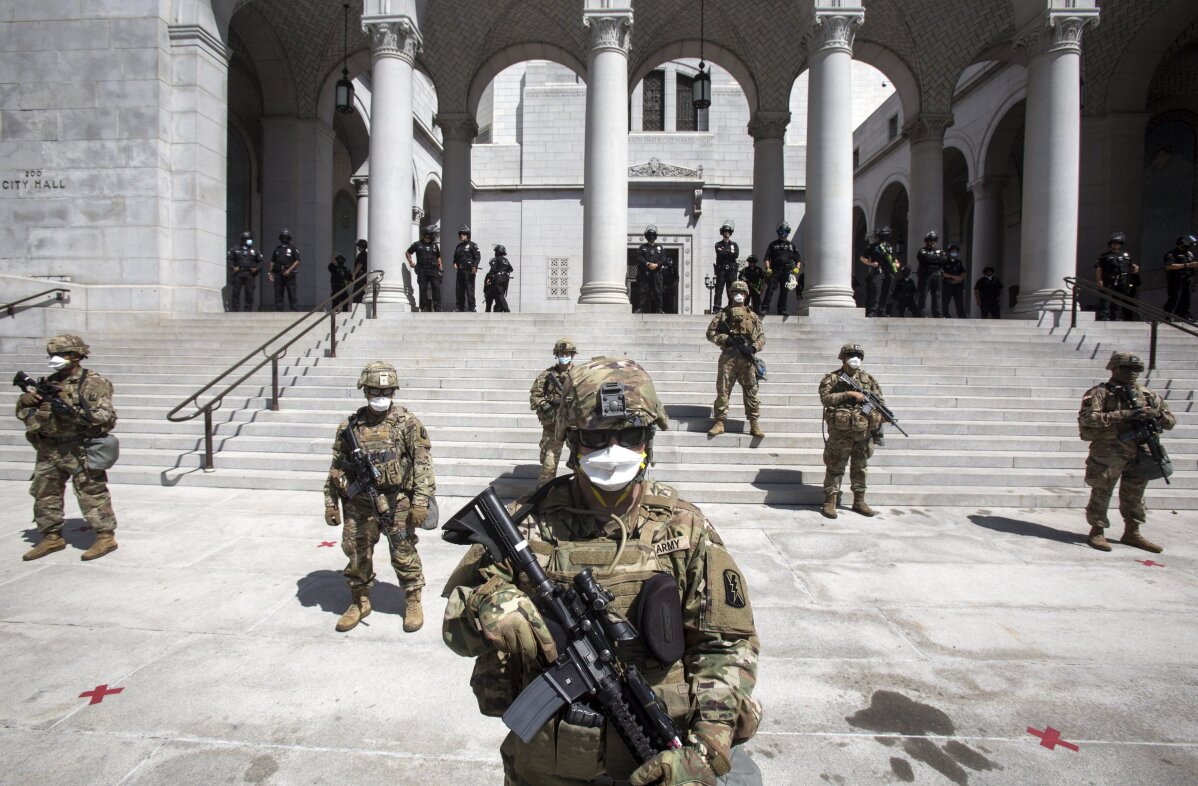 24 of 41

|
Members of California National Guard stand guard outside the City Hall, Sunday, May 31, 2020, in Los Angeles. The National Guard is patrolling Los Angeles as the city begins cleaning up following a night of violent protests against police brutality. The demonstration Saturday night was sparked by the death of George Floyd, a black man who was killed in police custody in Minneapolis on May 25. (AP Photo/Ringo H.W. Chiu)
24 of 41
Members of California National Guard stand guard outside the City Hall, Sunday, May 31, 2020, in Los Angeles. The National Guard is patrolling Los Angeles as the city begins cleaning up following a night of violent protests against police brutality. The demonstration Saturday night was sparked by the death of George Floyd, a black man who was killed in police custody in Minneapolis on May 25. (AP Photo/Ringo H.W. Chiu)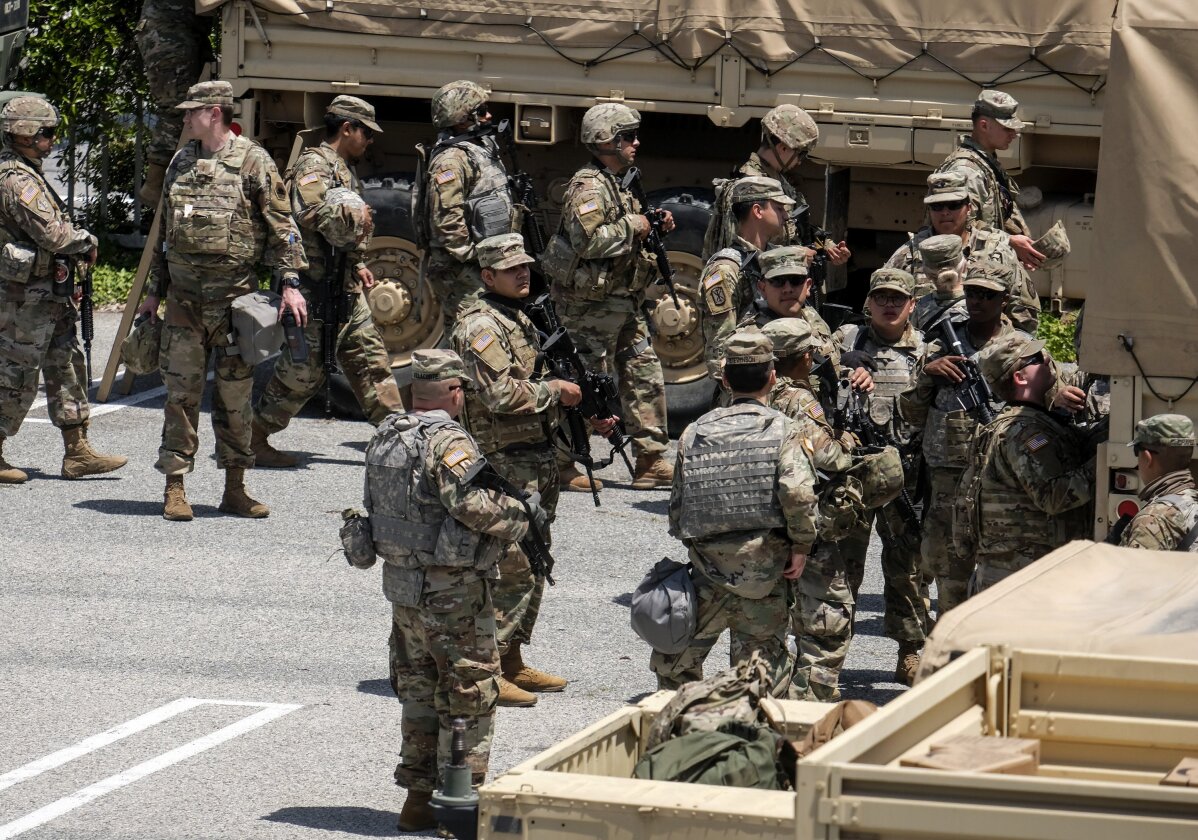 25 of 41

|
Members of California National Guard are seen at a parking lot near Los Angeles Convention Center, Sunday, May 31, 2020, in Los Angeles. The National Guard is patrolling Los Angeles as the city begins cleaning up after a night of violence by demonstrators that saw clash with officers and torch police vehicles and pillage stores. (AP Photo/Ringo H.W. Chiu)
25 of 41
Members of California National Guard are seen at a parking lot near Los Angeles Convention Center, Sunday, May 31, 2020, in Los Angeles. The National Guard is patrolling Los Angeles as the city begins cleaning up after a night of violence by demonstrators that saw clash with officers and torch police vehicles and pillage stores. (AP Photo/Ringo H.W. Chiu)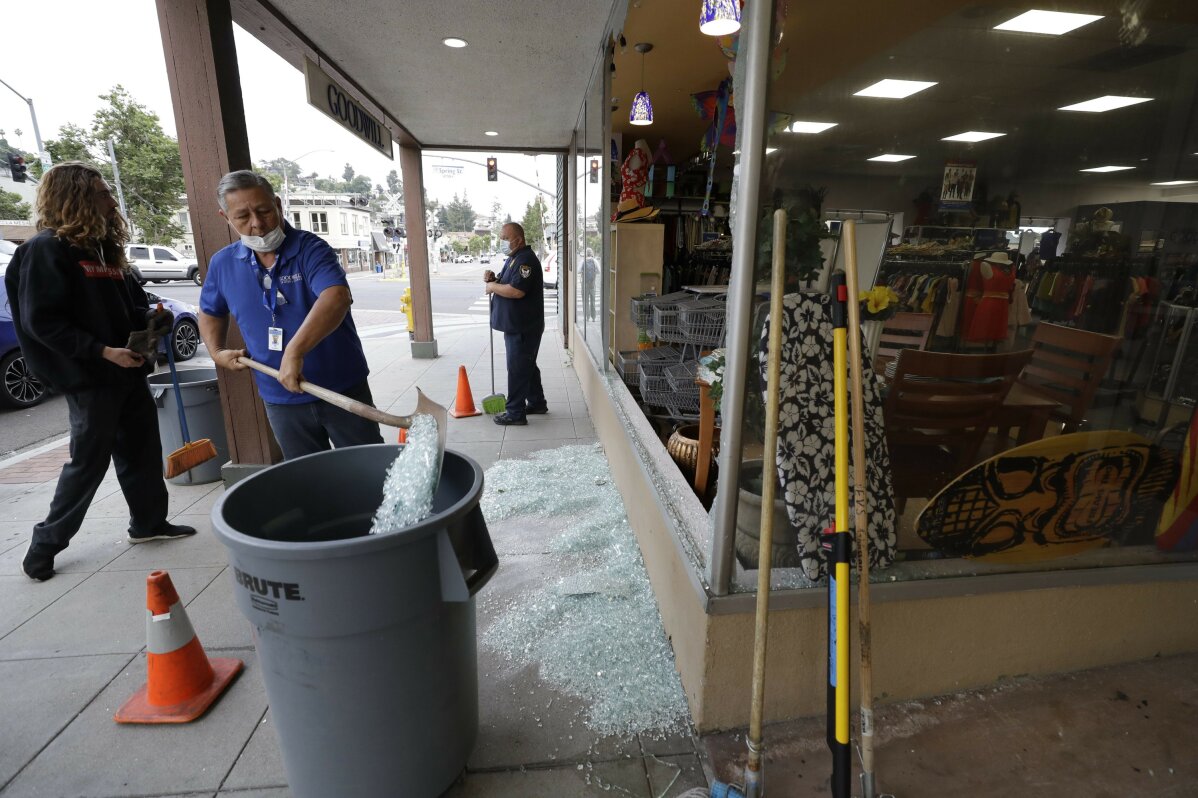 26 of 41

|
Workers clean up glass from a broken window at a Goodwill store after a protest over the death of George Floyd, Sunday, May 31, 2020, in La Mesa, Calif. Protests were held in U.S. cities over the death of Floyd, a black man who died after being restrained by Minneapolis police officers on May 25. (AP Photo/Gregory Bull)
26 of 41
Workers clean up glass from a broken window at a Goodwill store after a protest over the death of George Floyd, Sunday, May 31, 2020, in La Mesa, Calif. Protests were held in U.S. cities over the death of Floyd, a black man who died after being restrained by Minneapolis police officers on May 25. (AP Photo/Gregory Bull)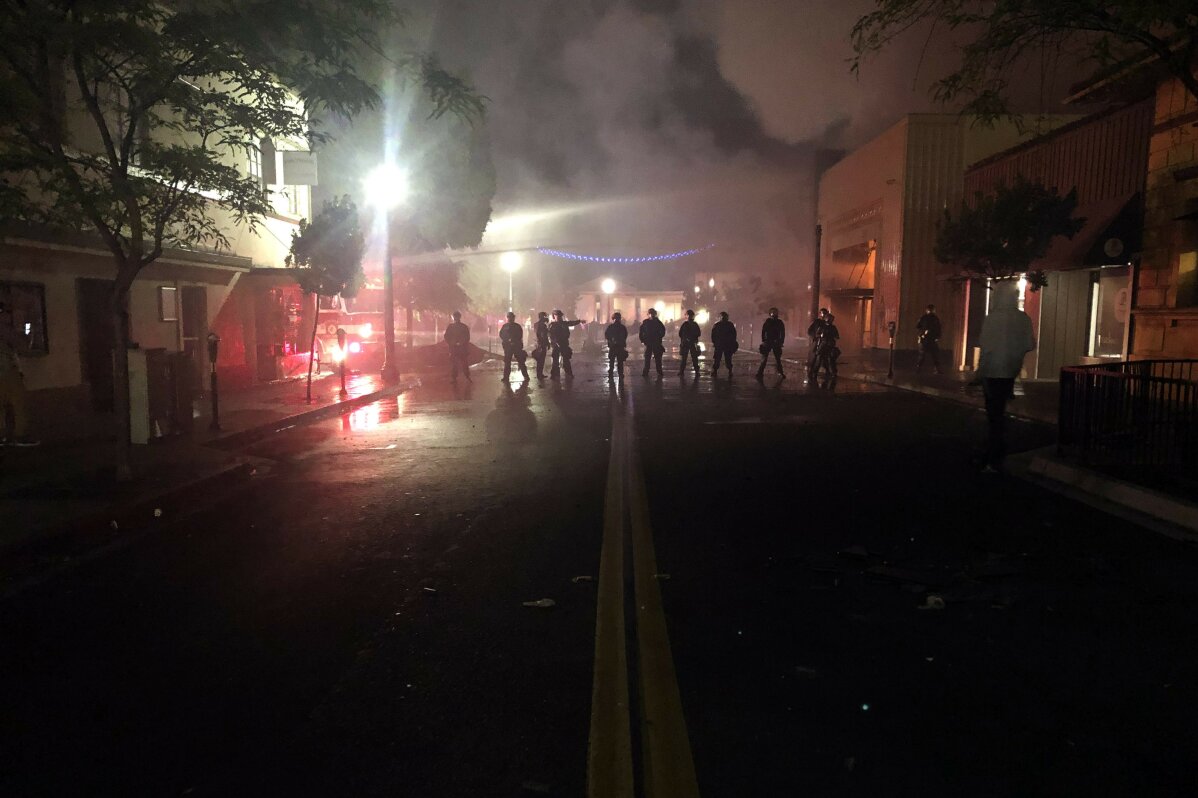 27 of 41

|
Police form a line during a protest over the death of George Floyd, Sunday, May 31, 2020, in La Mesa, Calif. Protests were held in U.S. cities over the death of Floyd, a black man who died after being restrained by Minneapolis police officers on May 25. (AP Photo/Elliot Spagat)
27 of 41
Police form a line during a protest over the death of George Floyd, Sunday, May 31, 2020, in La Mesa, Calif. Protests were held in U.S. cities over the death of Floyd, a black man who died after being restrained by Minneapolis police officers on May 25. (AP Photo/Elliot Spagat)
28 of 41

|
A bank burns during a protest over the death of George Floyd, Sunday, May 31, 2020, in La Mesa, Calif. Protests were held in U.S. cities over the death of Floyd, a black man who died after being restrained by Minneapolis police officers on May 25. (AP Photo/Elliot Spagat)
28 of 41
A bank burns during a protest over the death of George Floyd, Sunday, May 31, 2020, in La Mesa, Calif. Protests were held in U.S. cities over the death of Floyd, a black man who died after being restrained by Minneapolis police officers on May 25. (AP Photo/Elliot Spagat)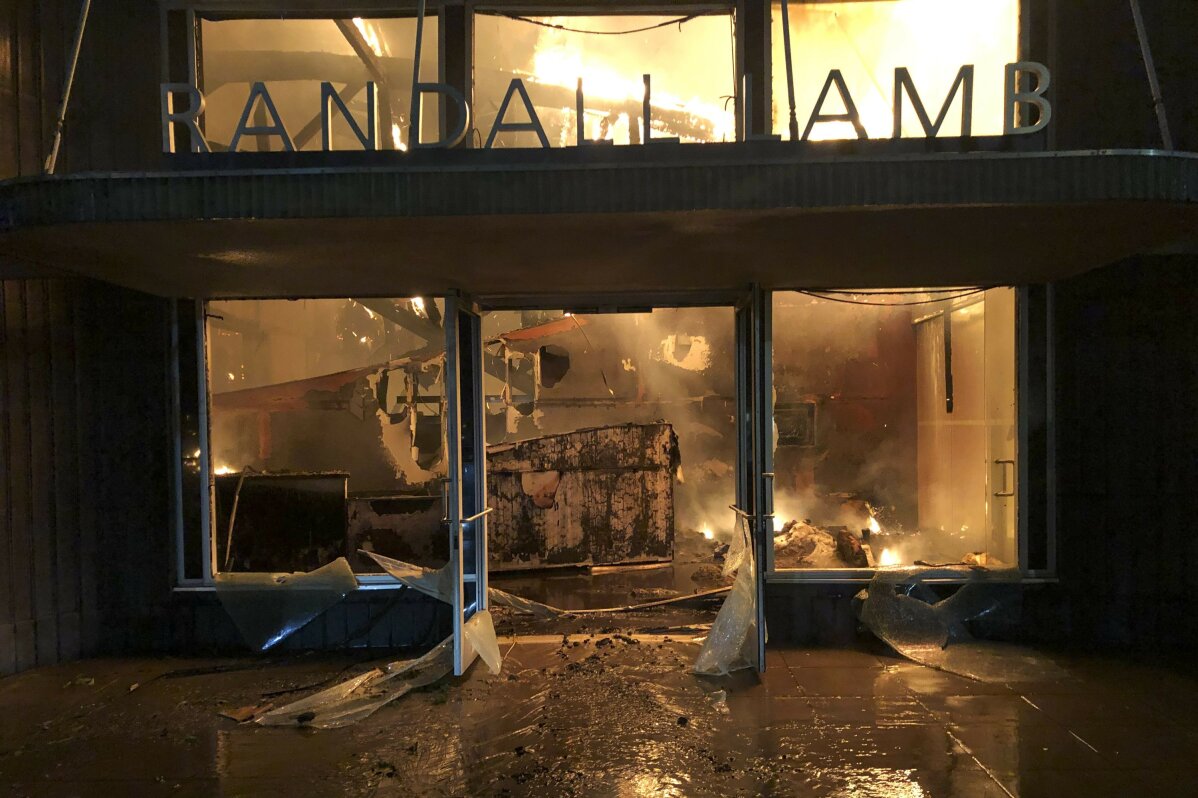 29 of 41

|
A building burns during a protest over the death of George Floyd, Sunday, May 31, 2020, in La Mesa, Calif. Protests were held in U.S. cities over the death of Floyd, a black man who died after being restrained by Minneapolis police officers on May 25. (AP Photo/Elliot Spagat)
29 of 41
A building burns during a protest over the death of George Floyd, Sunday, May 31, 2020, in La Mesa, Calif. Protests were held in U.S. cities over the death of Floyd, a black man who died after being restrained by Minneapolis police officers on May 25. (AP Photo/Elliot Spagat)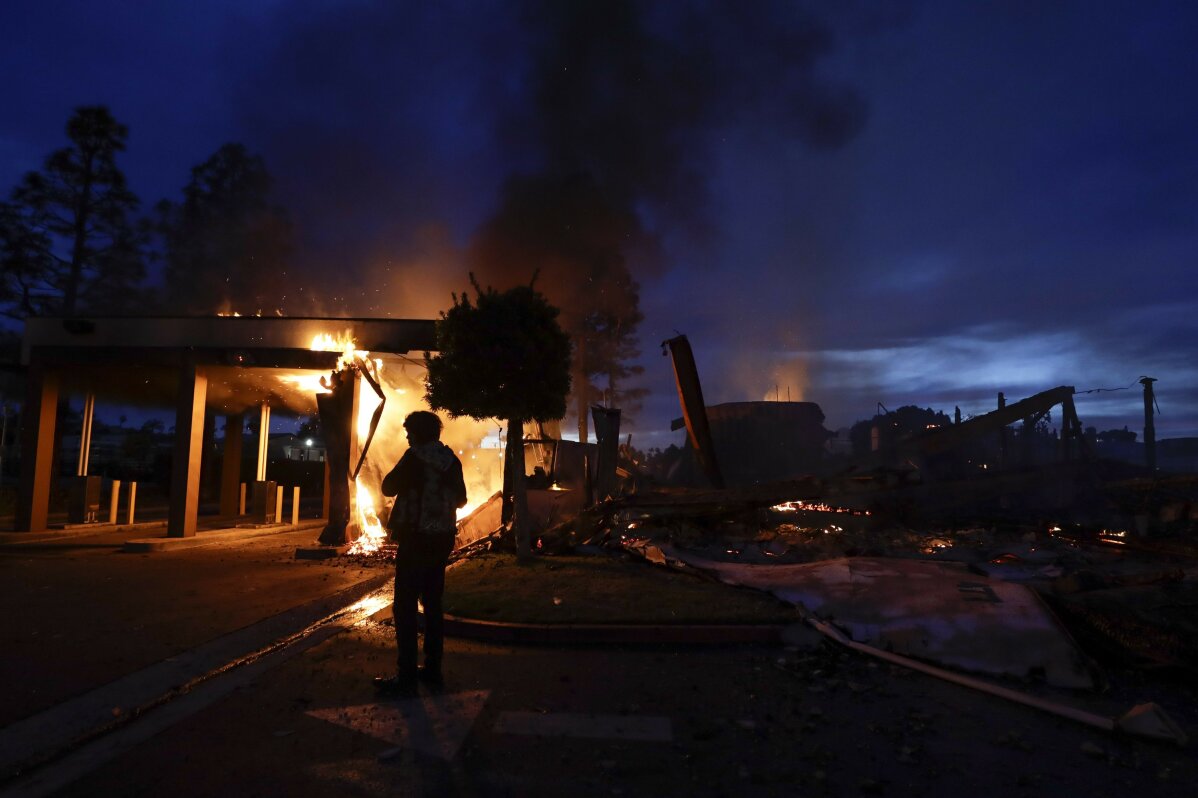 30 of 41

|
A man looks on as a bank burns after a protest over the death of George Floyd, Sunday, May 31, 2020, in La Mesa, Calif. Protests were held in U.S. cities over the death of Floyd, a black man who died after being restrained by Minneapolis police officers on May 25. (AP Photo/Gregory Bull)
30 of 41
A man looks on as a bank burns after a protest over the death of George Floyd, Sunday, May 31, 2020, in La Mesa, Calif. Protests were held in U.S. cities over the death of Floyd, a black man who died after being restrained by Minneapolis police officers on May 25. (AP Photo/Gregory Bull)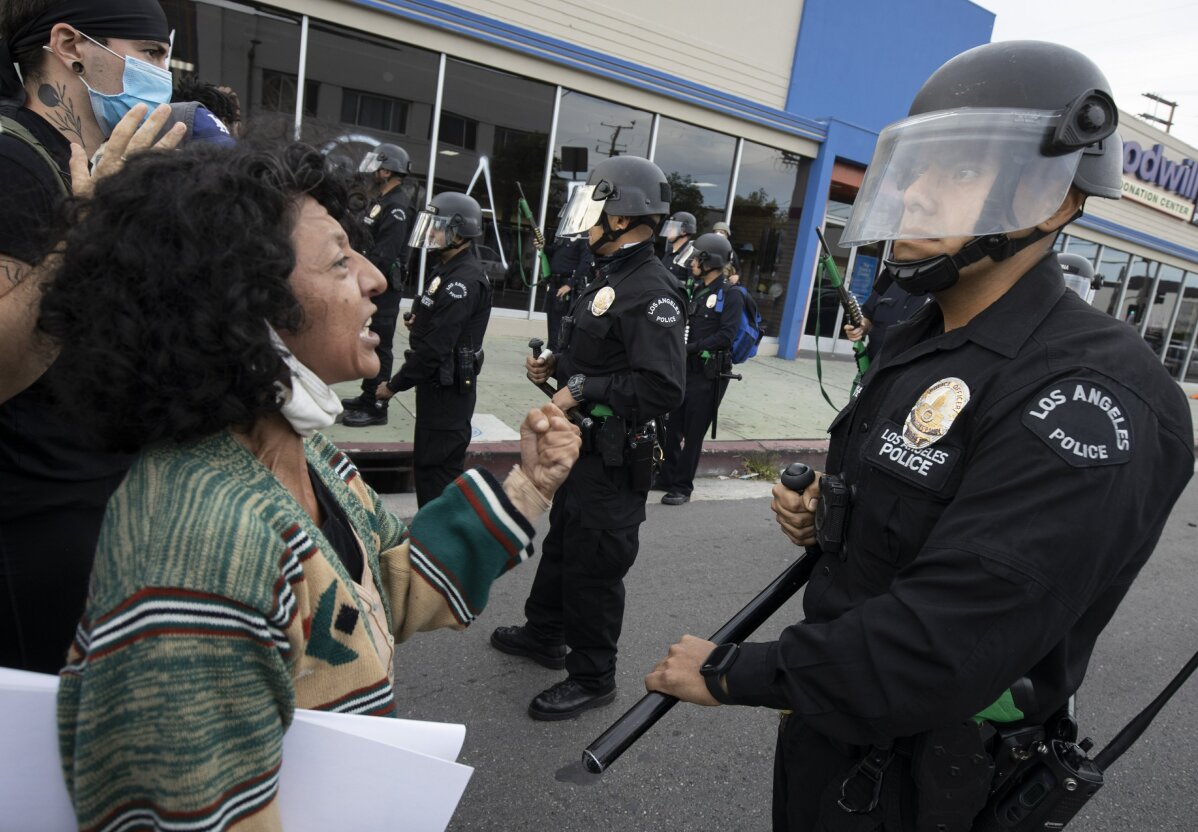 31 of 41

|
Protesters clash with police officers during a demonstration in Los Angeles, Saturday, May 30, 2020, over the death of George Floyd, who died in police custody on Memorial Day in Minneapolis. (AP Photo/ Christian Monterrosa)
31 of 41
Protesters clash with police officers during a demonstration in Los Angeles, Saturday, May 30, 2020, over the death of George Floyd, who died in police custody on Memorial Day in Minneapolis. (AP Photo/ Christian Monterrosa)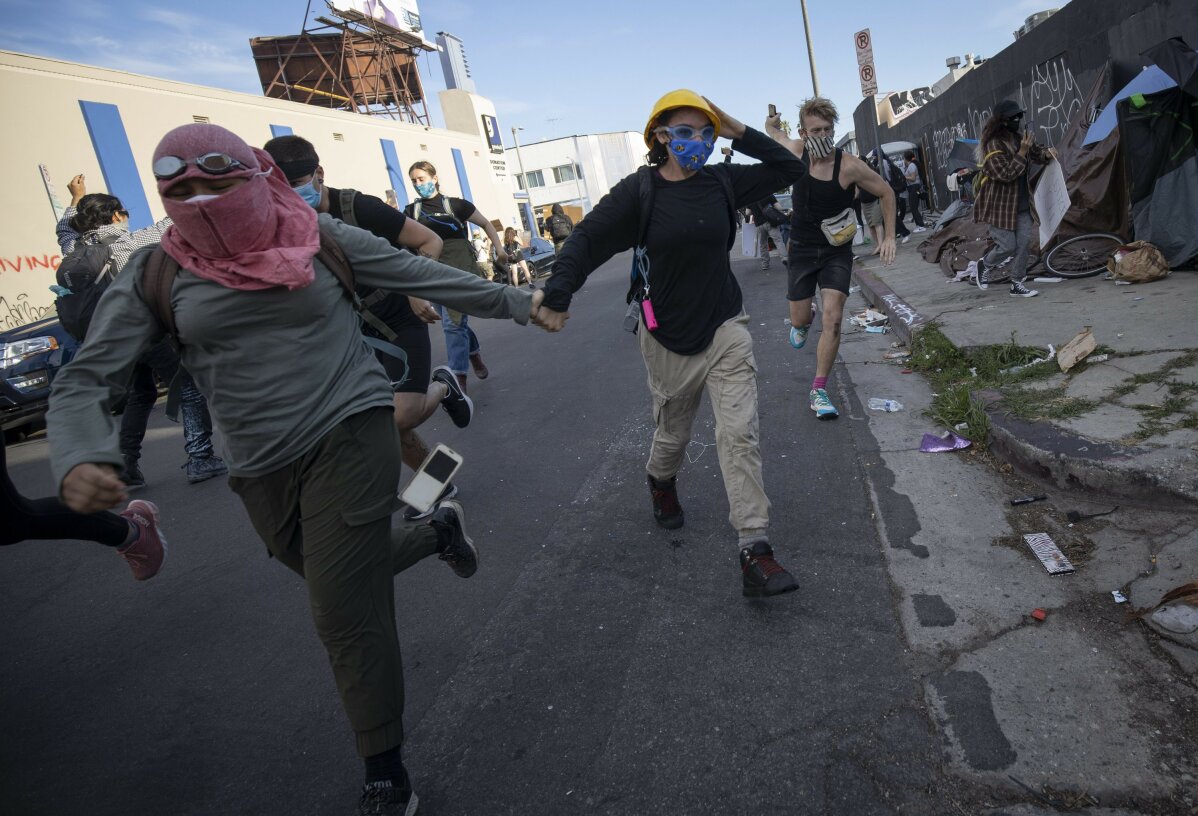 32 of 41

|
Protesters run during clashes with police officers in Los Angeles, Saturday, May 30, 2020, over the death of George Floyd, who died in police custody on Memorial Day in Minneapolis. (AP Photo/ Christian Monterrosa)
32 of 41
Protesters run during clashes with police officers in Los Angeles, Saturday, May 30, 2020, over the death of George Floyd, who died in police custody on Memorial Day in Minneapolis. (AP Photo/ Christian Monterrosa)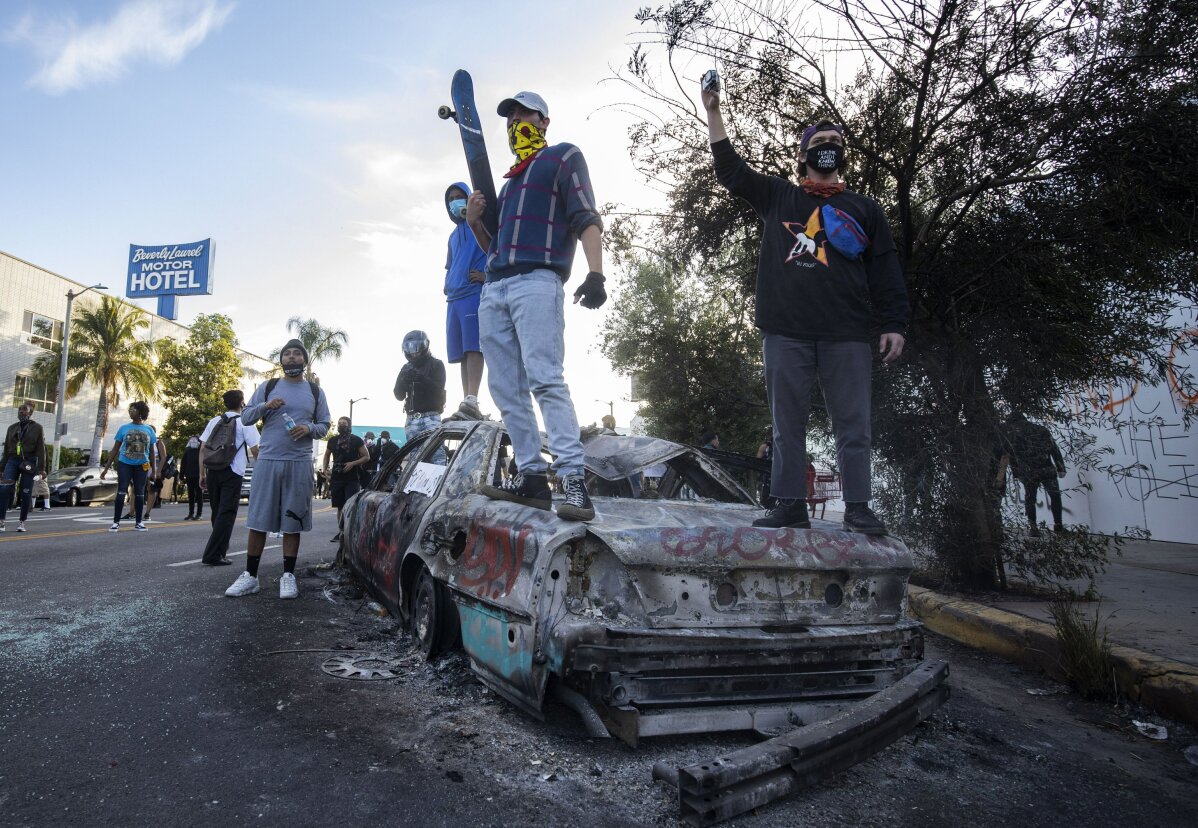 33 of 41

|
Protesters stand on top of a burned vehicle during a demonstration in Los Angeles, Saturday, May 30, 2020, over the death of George Floyd, who died in police custody on Memorial Day in Minneapolis. (AP Photo/ Christian Monterrosa)
33 of 41
Protesters stand on top of a burned vehicle during a demonstration in Los Angeles, Saturday, May 30, 2020, over the death of George Floyd, who died in police custody on Memorial Day in Minneapolis. (AP Photo/ Christian Monterrosa)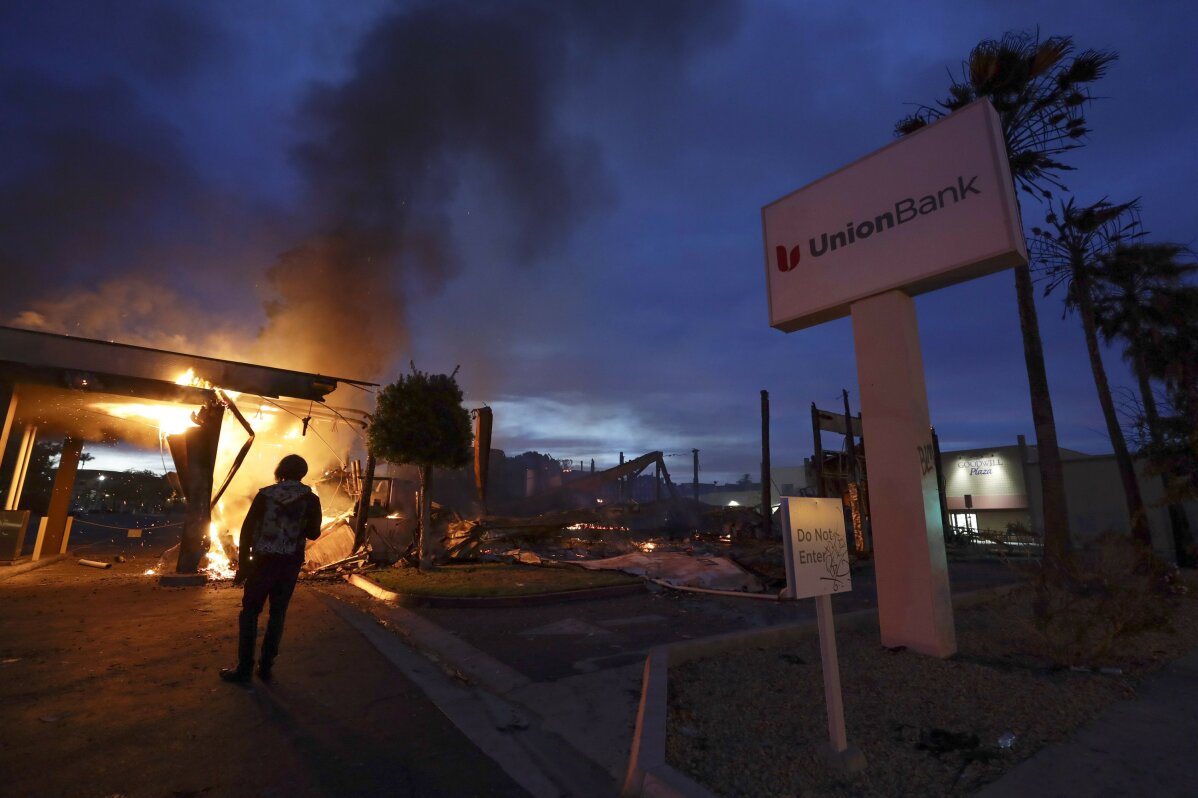 34 of 41

|
A man looks on as a bank burns after a protest over the death of George Floyd, Sunday, May 31, 2020, in La Mesa, Calif. Protests were held in U.S. cities over the death of Floyd, a black man who died after being restrained by Minneapolis police officers on May 25. (AP Photo/Gregory Bull)
34 of 41
A man looks on as a bank burns after a protest over the death of George Floyd, Sunday, May 31, 2020, in La Mesa, Calif. Protests were held in U.S. cities over the death of Floyd, a black man who died after being restrained by Minneapolis police officers on May 25. (AP Photo/Gregory Bull)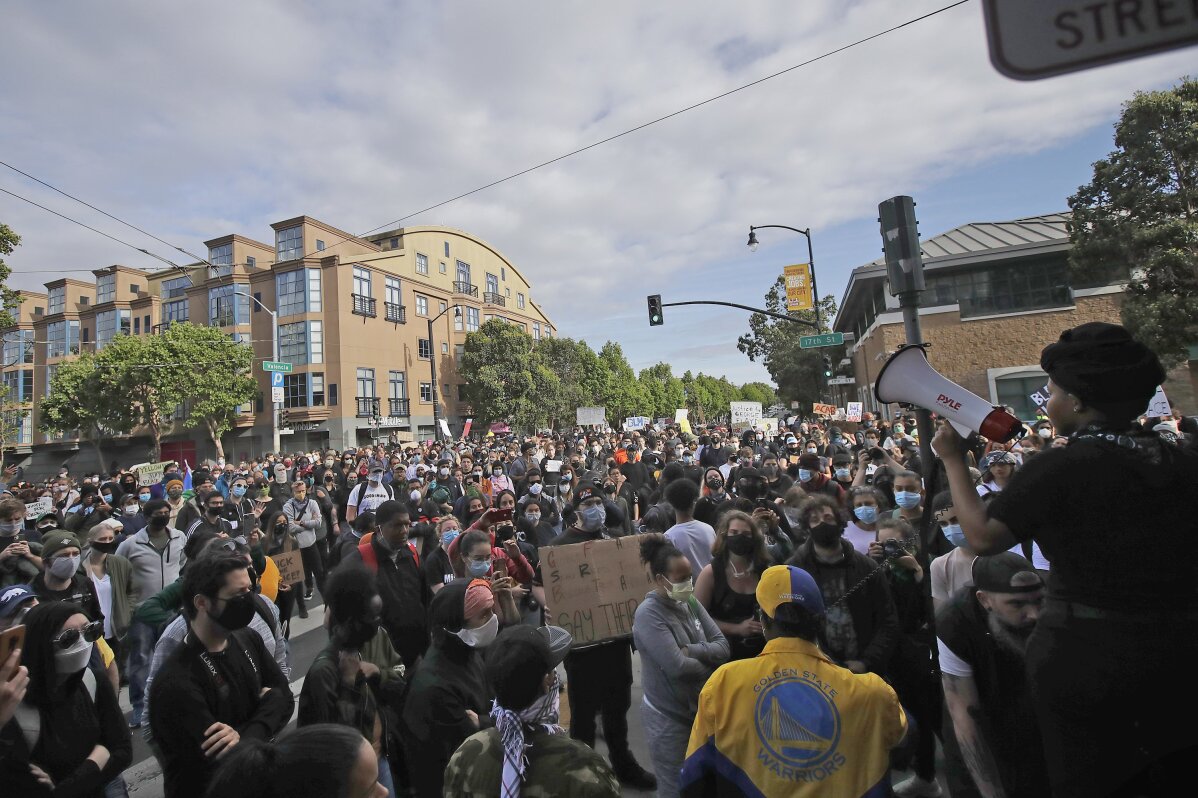 35 of 41

|
People protesting over the death of George Floyd, a handcuffed black man in police custody in Minneapolis, gather across from Mission Police Station in San Francisco, Saturday, May 30, 2020. (AP Photo/Jeff Chiu)
35 of 41
People protesting over the death of George Floyd, a handcuffed black man in police custody in Minneapolis, gather across from Mission Police Station in San Francisco, Saturday, May 30, 2020. (AP Photo/Jeff Chiu)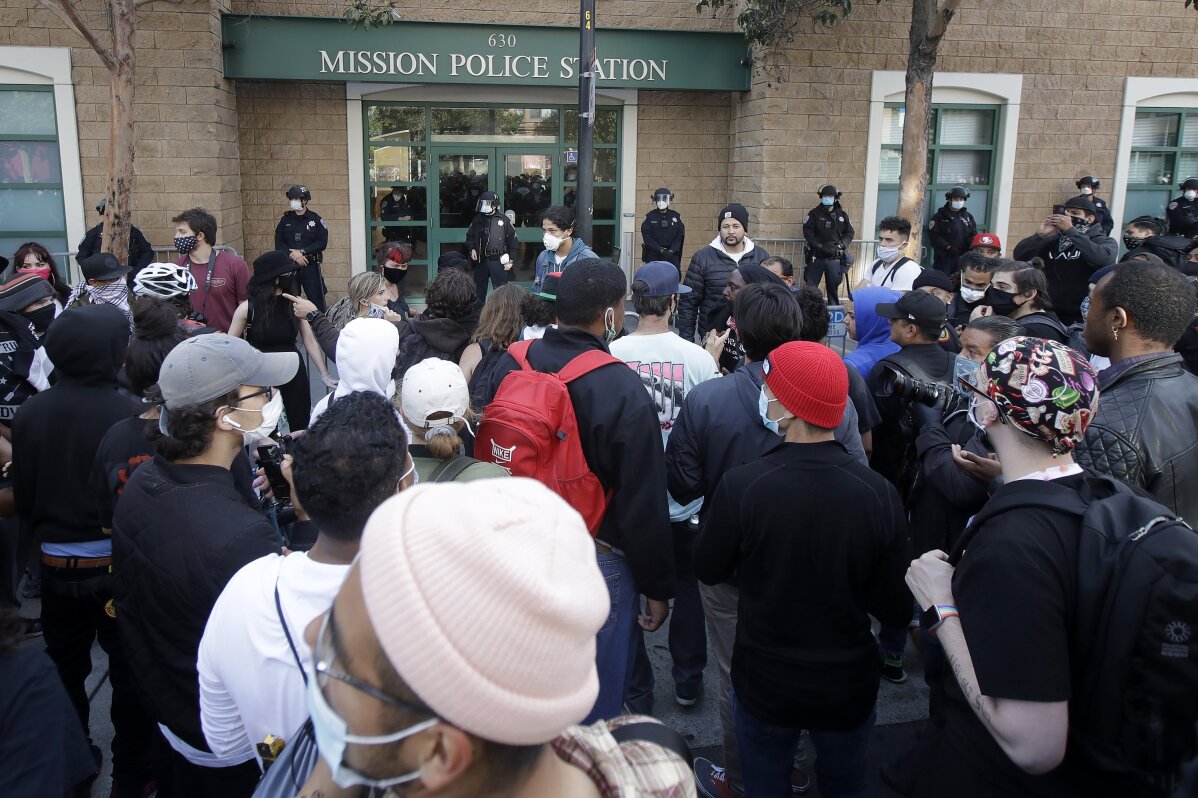 36 of 41

|
People protesting over the death of George Floyd, a handcuffed black man in police custody in Minneapolis, gather outside of Mission Police Station in San Francisco, Saturday, May 30, 2020. (AP Photo/Jeff Chiu)
36 of 41
People protesting over the death of George Floyd, a handcuffed black man in police custody in Minneapolis, gather outside of Mission Police Station in San Francisco, Saturday, May 30, 2020. (AP Photo/Jeff Chiu)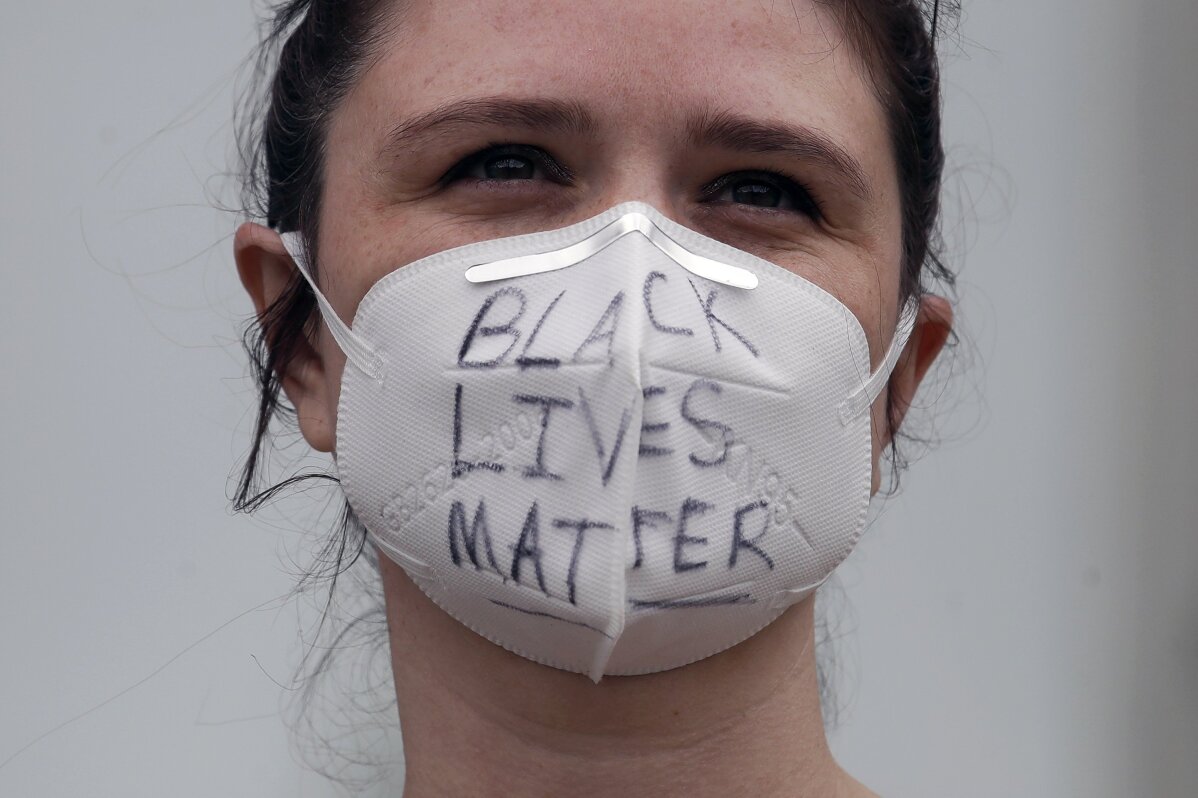 37 of 41

|
Annah Dominis wears a face mask with Black Lives Matter written on it, in San Francisco, Saturday, May 30, 2020,.at a protest over the Memorial Day death of George Floyd. Floyd was a black man who was killed in police custody in Minneapolis on May 25.. (AP Photo/Jeff Chiu)
37 of 41
Annah Dominis wears a face mask with Black Lives Matter written on it, in San Francisco, Saturday, May 30, 2020,.at a protest over the Memorial Day death of George Floyd. Floyd was a black man who was killed in police custody in Minneapolis on May 25.. (AP Photo/Jeff Chiu)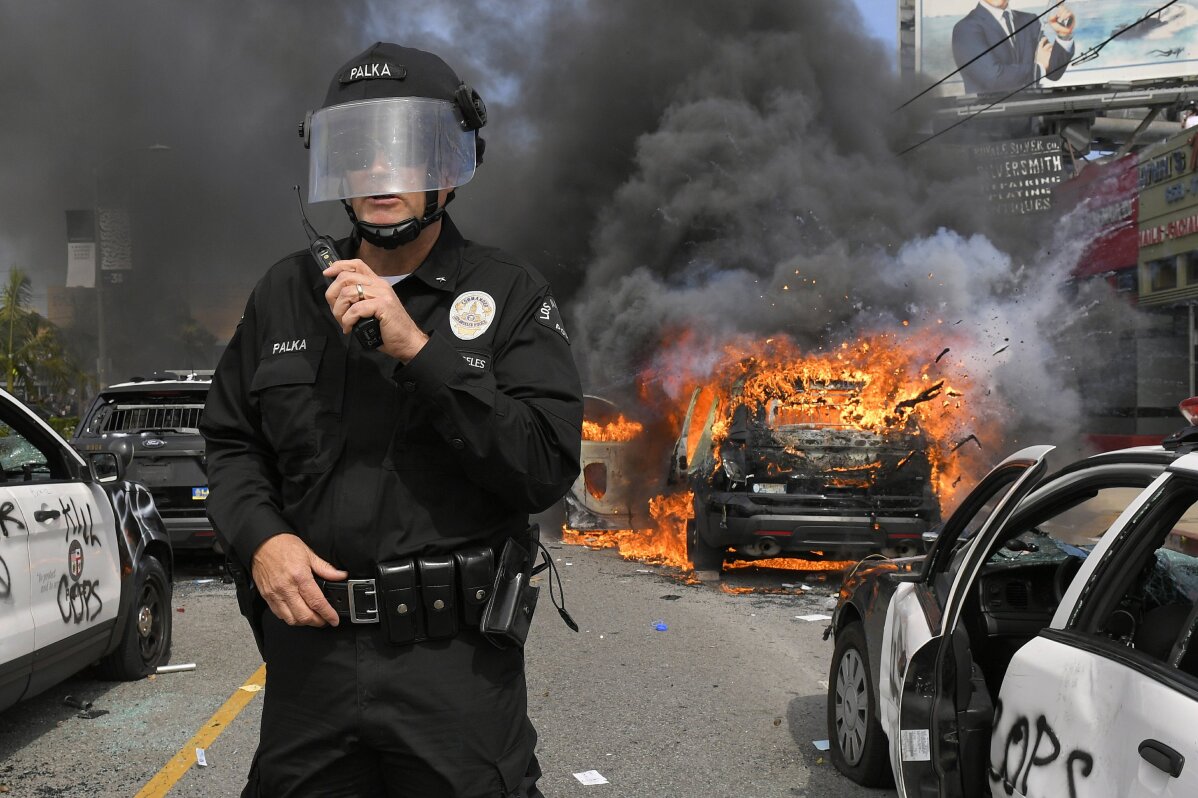 38 of 41

|
Los Angeles Police Department commander Cory Palka stands among several destroyed police cars as one explodes while on fire during a protest over the death of George Floyd, Saturday, May 30, 2020, in Los Angeles. Floyd died in police custody on Memorial Day in Minneapolis. (AP Photo/Mark J. Terrill)
38 of 41
Los Angeles Police Department commander Cory Palka stands among several destroyed police cars as one explodes while on fire during a protest over the death of George Floyd, Saturday, May 30, 2020, in Los Angeles. Floyd died in police custody on Memorial Day in Minneapolis. (AP Photo/Mark J. Terrill)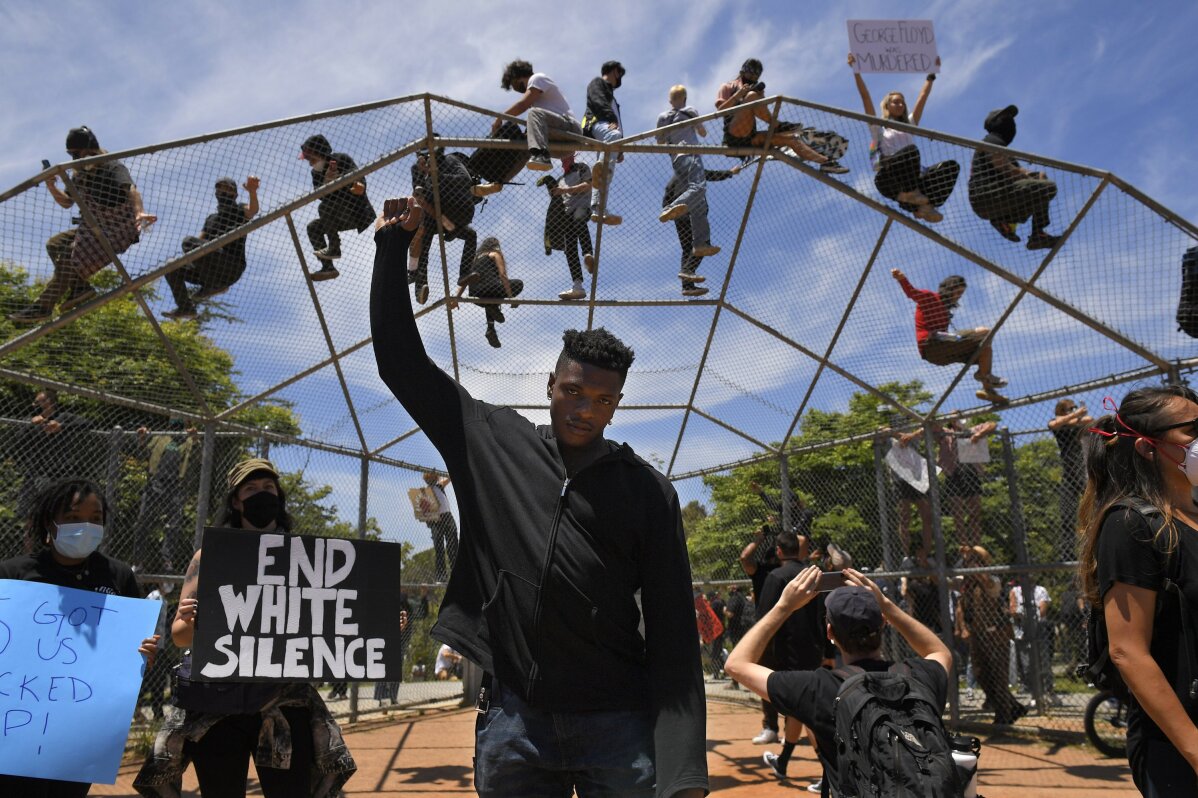 39 of 41

|
Musical artist Jeleel stands at a protest over the death of George Floyd, Saturday, May 30, 2020, in Los Angeles. Floyd died in police custody on Memorial Day in Minneapolis. (AP Photo/Mark J. Terrill)
39 of 41
Musical artist Jeleel stands at a protest over the death of George Floyd, Saturday, May 30, 2020, in Los Angeles. Floyd died in police custody on Memorial Day in Minneapolis. (AP Photo/Mark J. Terrill)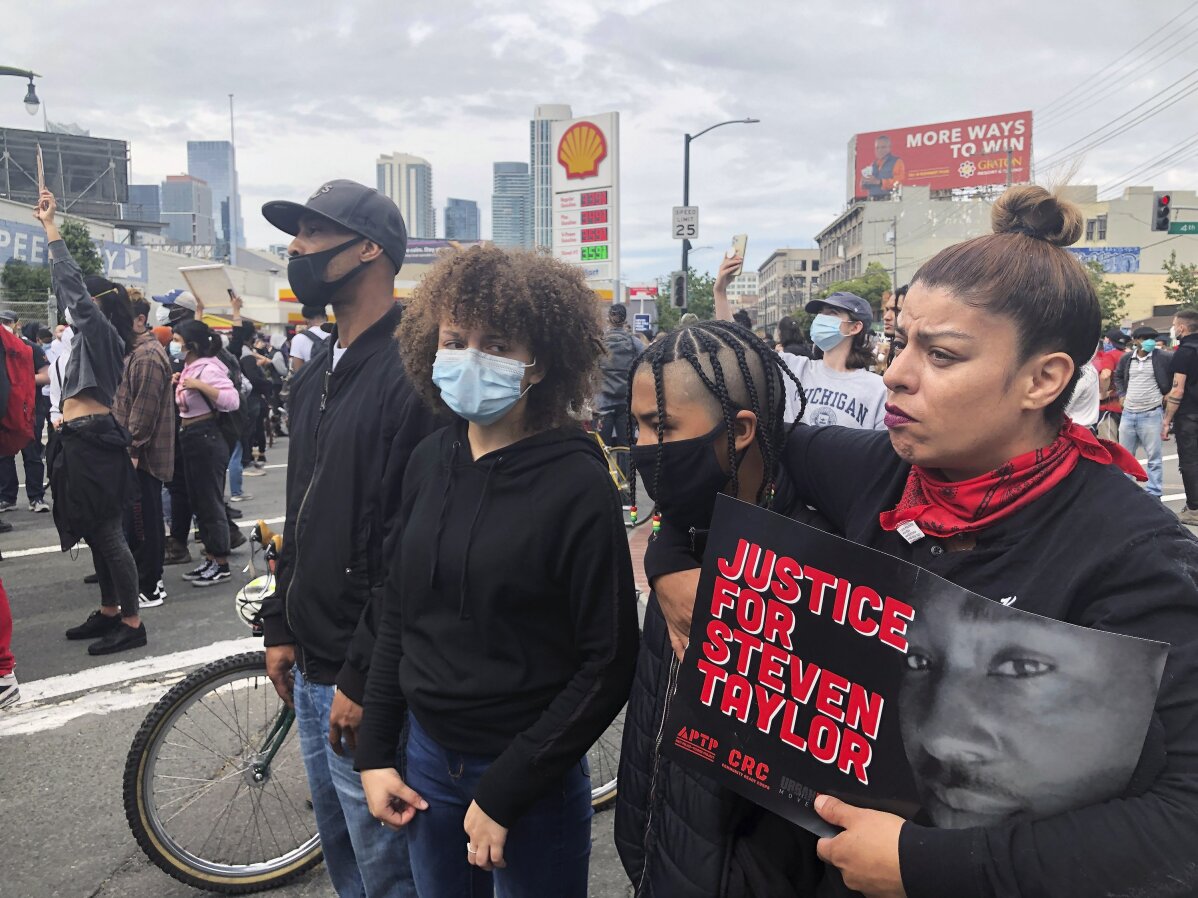 40 of 41

|
Nishelle Faith Seals, 13, stands with her family at a protest in response to the death of George Floyd in San Francisco Saturday, May 30, 2020. About 200-300 people made their way through the city in a demonstration, at one point blocking a highway offramp while they sat at an intersection and chanted the Floyd's name.(AP Photo/Juliet A. Williams)
40 of 41
Nishelle Faith Seals, 13, stands with her family at a protest in response to the death of George Floyd in San Francisco Saturday, May 30, 2020. About 200-300 people made their way through the city in a demonstration, at one point blocking a highway offramp while they sat at an intersection and chanted the Floyd's name.(AP Photo/Juliet A. Williams)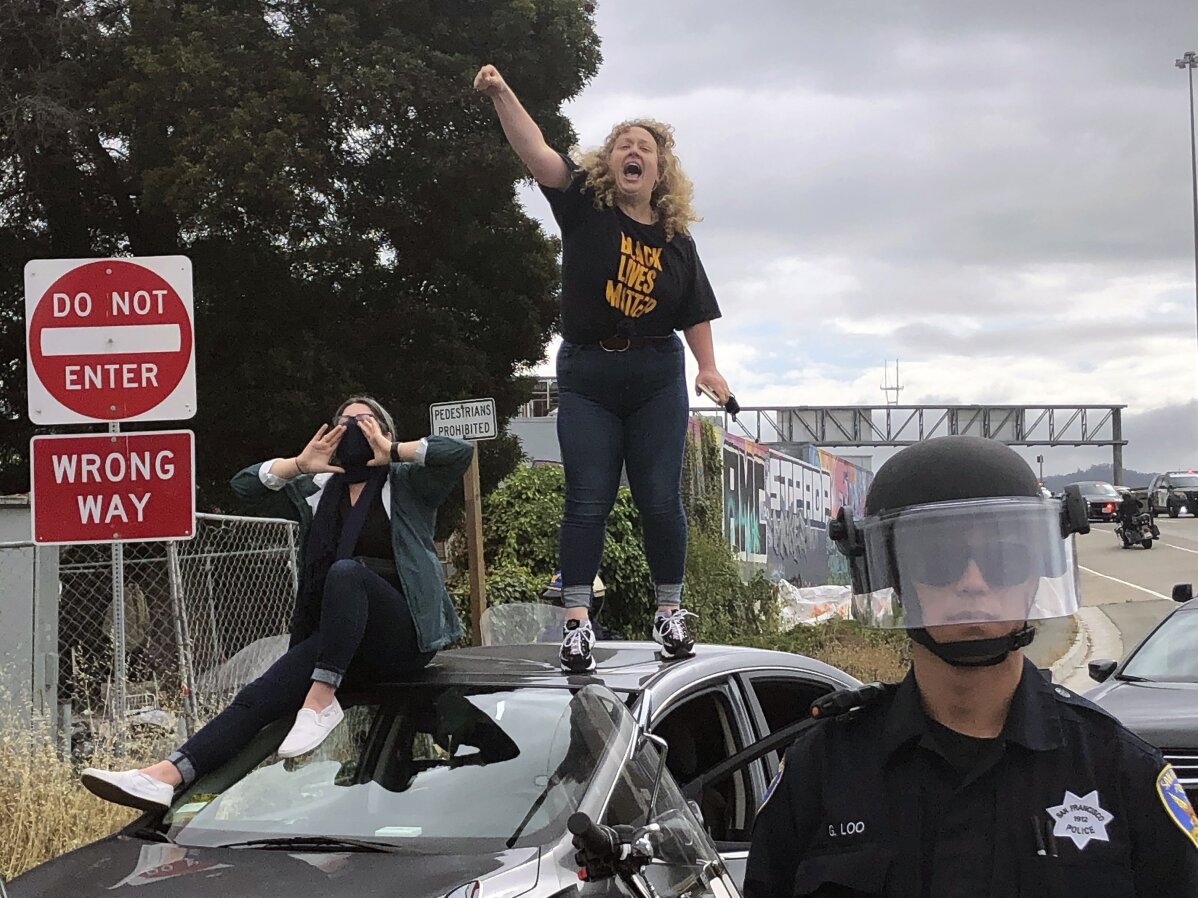 41 of 41

|
A woman stands on top of a car chanting as part of a protest in response to the death of George Floyd in San Francisco Saturday, May 30, 2020. About 200-300 marchers made their way through the city in a demonstration, at one point blocking a highway offramp while they sat at an intersection and chanted the Floyd's name. (AP Photo/Juliet A. Williams)
41 of 41
A woman stands on top of a car chanting as part of a protest in response to the death of George Floyd in San Francisco Saturday, May 30, 2020. About 200-300 marchers made their way through the city in a demonstration, at one point blocking a highway offramp while they sat at an intersection and chanted the Floyd's name. (AP Photo/Juliet A. Williams)
LOS ANGELES (AP) — Armed National Guard soldiers lined the steps of Los Angeles City Hall and cities across California declared curfews Sunday to head off more violence after unruly demonstrators at earlier protests burned police cars, broke into stores and skirmished with officers.
In more than 20 cities, thieves smashed their way into businesses and ran off with as much as they could carry — boxes of sneakers, armloads of clothes and cellphones and TVs.
Nearly 400 people were arrested in Los Angeles from unrest Saturday as protests have become increasingly violent over several nights because of outrage over the Minneapolis police killing of George Floyd, Police Chief Michel Moore said.
Moore said he hoped the National Guard and additional officers deployed would help. But before the sun set, there was brazen theft in Santa Monica and Long Beach even while nearby protests were mostly peaceful.